Goa has something to offer for everyone. Inspired by one of the famous Bollywood movie- "Dil Chahta Hai", every final year college student dreams of visiting Goa at least once with friends to strengthen their bond even further, though 90% of the time it never materializes. Goa is also a famous honeymoon destination for a large chunk of newlywed couples as well as is on the top tourist spot for maximum foreigners visiting India to experience Nirvana. Though popularly famous for parties, loud music and nightlife, Goa can be a good vacation spot with family too.
You can check out this link for my other travel stories.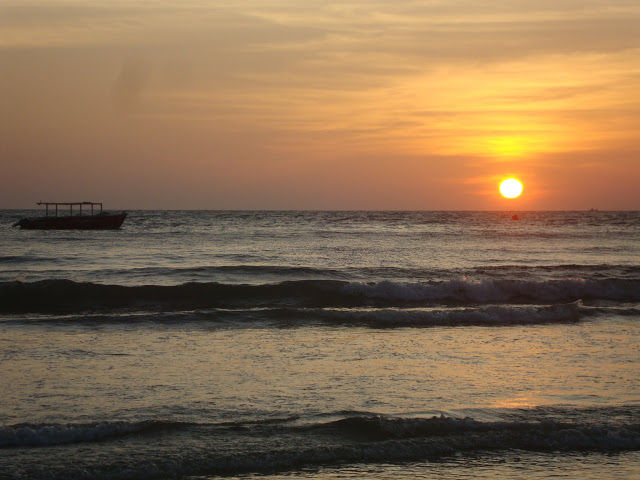 Before booking my tickets to this mecca of pubs and cafes, I too was a little skeptical of my visit there with my family as the culture there is a little liberal than what our parents are used to in other conservative cities. But I thought that this might be a good learning experience for them, exploring different cultures all together at one place.
I booked my tickets from Yatra.com well in advance (in October) and got a great deal of almost 6k per person return for my trip in the first week in February. Best time to visit Goa is from October to February as the temperature is most favorable during this period. Going further, I'll cover things to do, transport options, beaches to cover (as there are 70 beaches in Goa which obviously you can't cover), some good stay as well as restaurant options and perfect itinerary which one may follow while planning their trip.

T3 International Airport
So our trip started on a Thursday afternoon when we reached majestic T3 airport. I can still recall how my mom's eyes were gleaming as she was entering the airport and taking a look at the hustle and bustle of the boarding and security area. Since they were traveling after so long by airplane and the first time from the newly built T3 terminal, they could sense the change and level of rush which has increased over the past few years. My dad kept asking me about the things which he needs to keep in the security tray for checking and was praying inside that he gets through without any interruptions. After the successful security check and taking the 'cleared' boarding pass in hand, we moved to the lounge area where my dad happily tried almost everything despite being full. After the full tour of Terminal-3, we finally boarded almost 3-hour long flight and reached Goa airport at 11PM.
Stay
This is probably the most important part of any trip beside the flights/ trains. Goa has plenty of stay options ranging from hostels, airbnbs, hotels, sea resorts etc. We booked Pinnacle Holiday Homes which is managed by one of the most fabulous and warm hosts (Brendon and Angel). The property is really beautiful with clean rooms and is centrally located in Arpora which is like 10-15 mins from most of the famous beaches- Baga, Candolim, Calangute, and Vagator.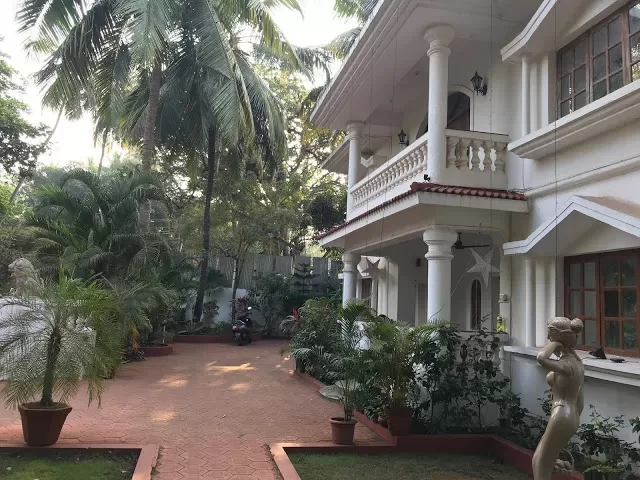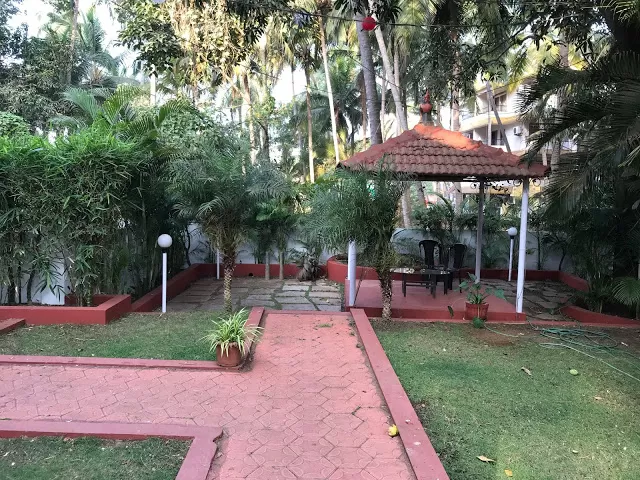 Hosts
Only one word- exceptional. Both Brendon and Angel didn't leave any stone unturned to make our 4 days comfortable in Goa. Right from arranging a brand new car to pick us at the airport to designing our 4-day itinerary, they were there making sure that how we can see the best of Goa in this limited time. I remember, the first day when we checked in at 12 Midnight, Brendon gave us a brief 20-minute session on how we can make these 4 days memorable explaining each and everything about Goa, where to go for parties, beaches to get a refreshing bath (which according to him is a must), transport options etc. Hence, I highly recommend that you check this place as one of your stay options here.
Transportation
Best way to commute in Goa is a two-wheeler. You can easily get a scooter at INR 300/- per day (fuel extra) and a bike from INR 500-800 per day (fuel extra) depending upon the model. Just make sure that the bike you have rented is NOT with the private number and examine all the scratches which are already there on it. Try making a video of the vehicle in front of the owner itself which you can use as proof later on if he charges extra money for scratches and dents.

You can also rent a car (starting INR 1200 per day) in case you have to cover south Goa but stick to a two-wheeler if your commute is short in distance.
Day-1
1. Sinquerium Beach: We hopped on our newly rented bikes and left for Sinquerium beach which is in North Goa itself. It is fairly less crowded and clean. The beach is quite picturesque and provides you with a lot of spots for your uploads on Instagram.
Where to sit: There are a few shacks to take a sunbath, one can read a book, sit and relax. We sat at Fish-hut shack which was giving free beach sunbeds for the entire day if we order something from them. This is where I made my dad taste the beer for the first time and as expected he didn't like the taste.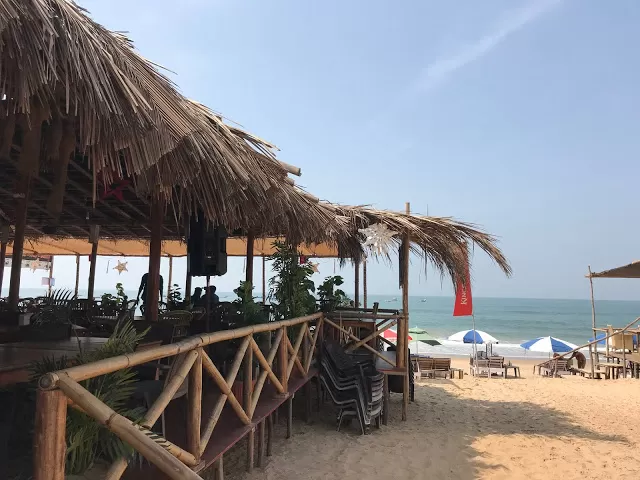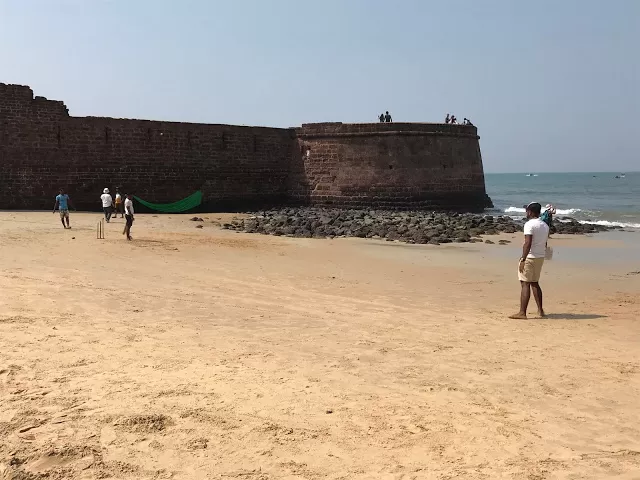 Another restaurant (few km from the beach) is Kailash Parbat which serves really delicious vegetarian north Indian food. Do try their Dal Makhani.
Goa is home to more than 70 beaches and hence it is impossible to cover each of them in a short 4-day trip. Also, the purpose of a vacation is not to cover each and everything but to relax and enjoy wherever you go. I'll cover some of the beaches which I visited and also try to cover the places around wherever possible.
2. Chapora Fort
After lunch around 4PM, we left for Chapora fort. This is yet another popular destination for tourists and is especially a favorite evening haunt for people to chill out. The fort overlooks the Chapora river and hence its name. However, there is a more interesting name given to this fort i.e. 'Dil Chahta Hai' Fort.
Purple Martini (Best sunset ever)- the location is on a top of a cliff overlooking at the sea. Just book a reservation in advance to avoid end moment disappointments.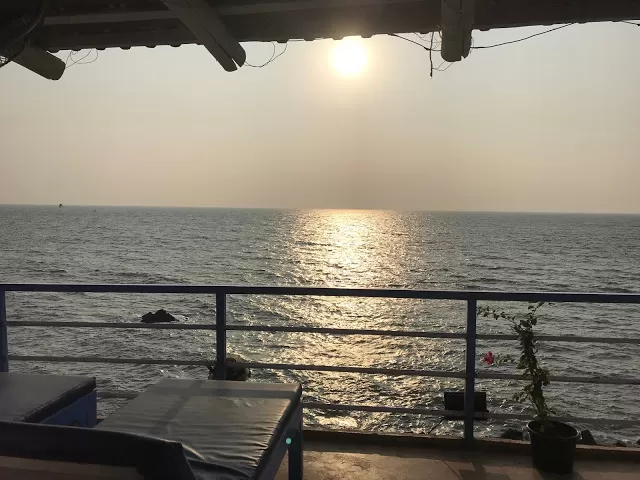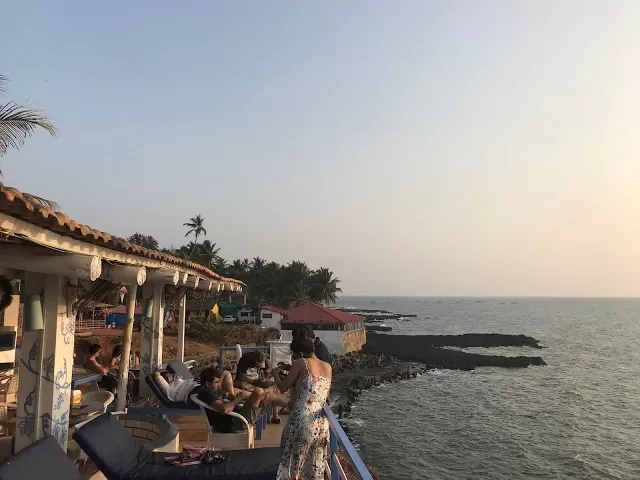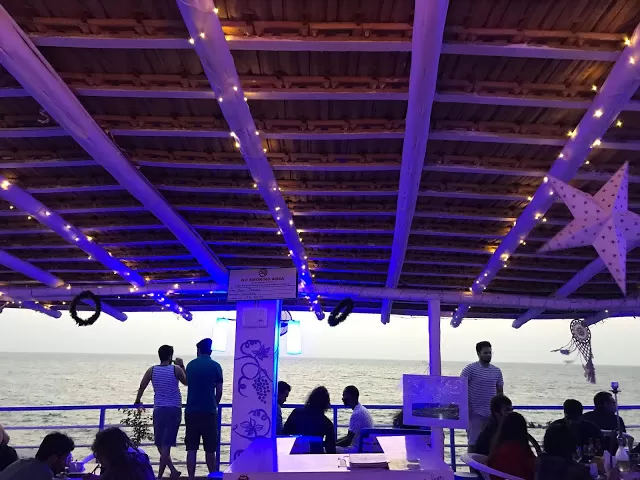 1. Fort Aguada
We started our day with fort Aguada which is one of the most popular tourist destinations of Goa. It receives a lot of tourist traffic all around the year. Reasons are that it's excellent for sightseeing and also that it stands as a testimony to the Portuguese empire.
2. Vagator Beach
After lunch, we headed to Vagator beach which is again less crowded compared to its peers such as Baga, Candolim, and Calangute. Also, it is not as clean but is perfect for sunset. It is a beach which is just adjacent to Chapora Fort where the iconic "Dil Chahta Hai" scenes were shot.
One of the cafes known by the name- Antares is well known for its amazing views and ambiance, but unfortunately, we didn't get the space there and was all booked. Hence, always do pre-booking for such places.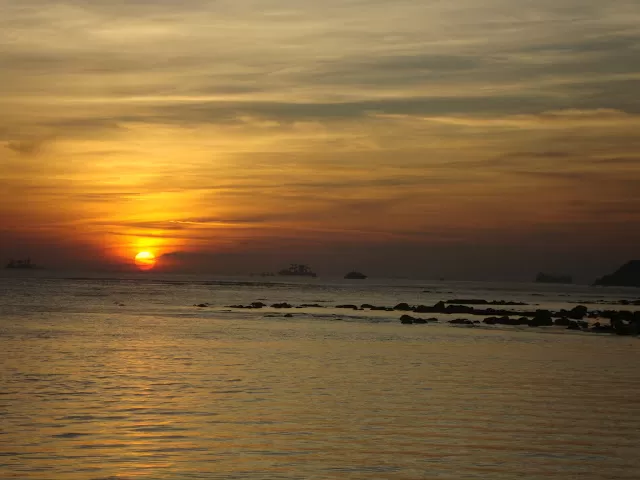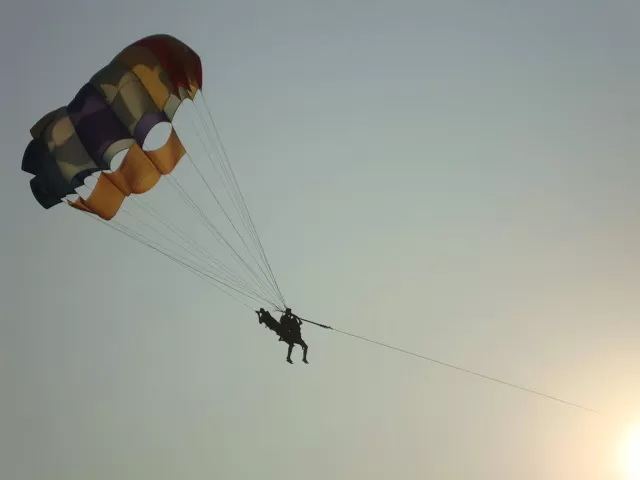 Other beaches which you may explore:
Baga, Candolim, and Calangute: To be honest, I didn't like any of the three beaches and that's why I have clubbed them together. All these are overcrowded and have been too commercialized. So you may go for a stroll in the morning if you are a morning person or also visit there at night if you are fond of too much crowd and loud music.
All three also offer plenty of water sports such as Banana boat, para-sailing, jet skiing etc. But they are mostly overcharged (and the same are offered at fewer prices on other beaches) and you won't experience the thrill as they are for very less time.
Where to sit: Britto's and St. Anthony are some good options. Also, the famous Tito's lane is adjacent to Baga which houses plenty of cafes, bars, and pubs.
3. Saturday Night Market: This is a new attraction which recently got kicked-off in Arpora Goa. This market unlike usual ones offer a huge variety of Goan culture and is perfect for shopping and buying souvenirs for their loved ones. The market is mostly crowded with foreigners, have food joints serving delicacies from across the country, bands performing from various geographies and variety of cocktails. So it is perfect for guys who get tired after lifting their girl friend's shopping bags as they can just grab a pint of beer and enjoy the live music.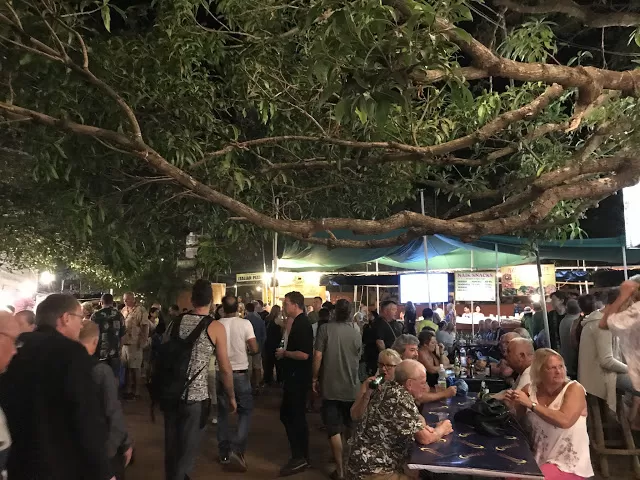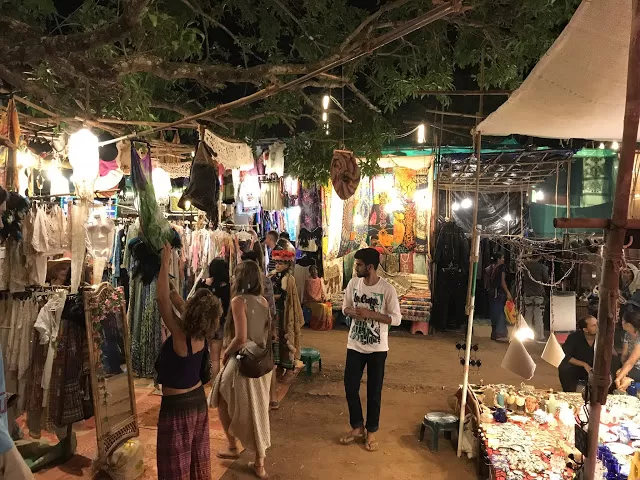 1. Ashwem and Morjim: The beaches are at a distance of almost 45 mins from central north Goa and road is lush green and one would love driving their rented bikes. They are way less crowded and have mostly foreigners who are there to appreciate natural beauty. There are 4 beaches which are all 10 mins distance from one another but you can choose these two as they are the famous one.
Other two are Mandarin and Arambol.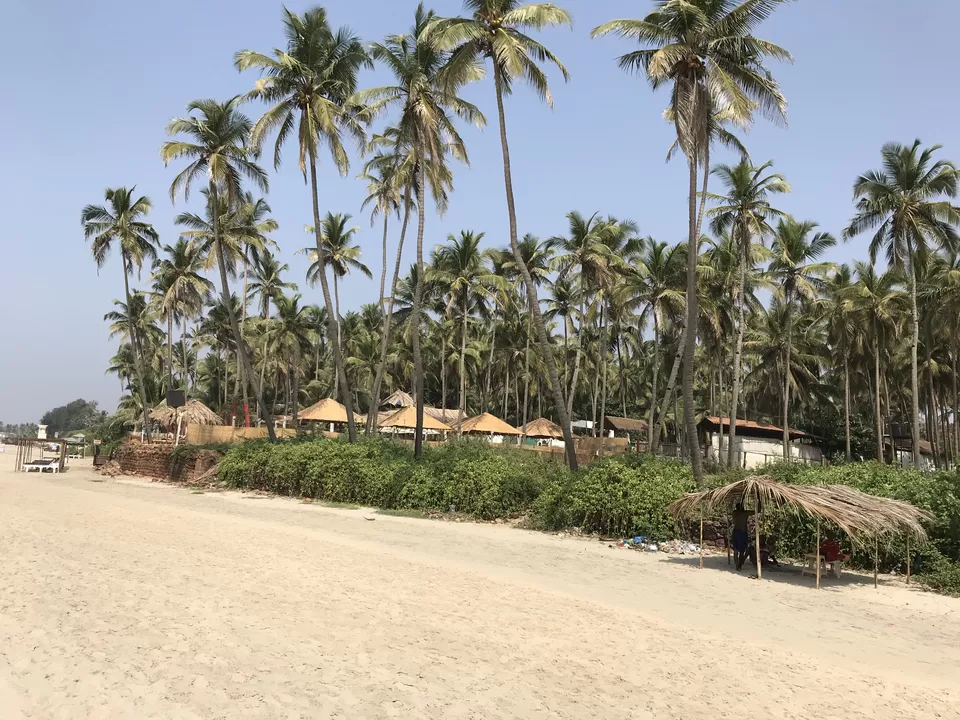 To my surprise, I even saw some of the foreigners cleaning the beach on their own which at the same time made me feel ashamed that how people from other countries are taking efforts to keep our country clean.
Where to sit: La Plage cafe (Ashwem)- this is a nice cafe at the beach itself and offers a good ambiance. People are really friendly and they also offer free sunbeds.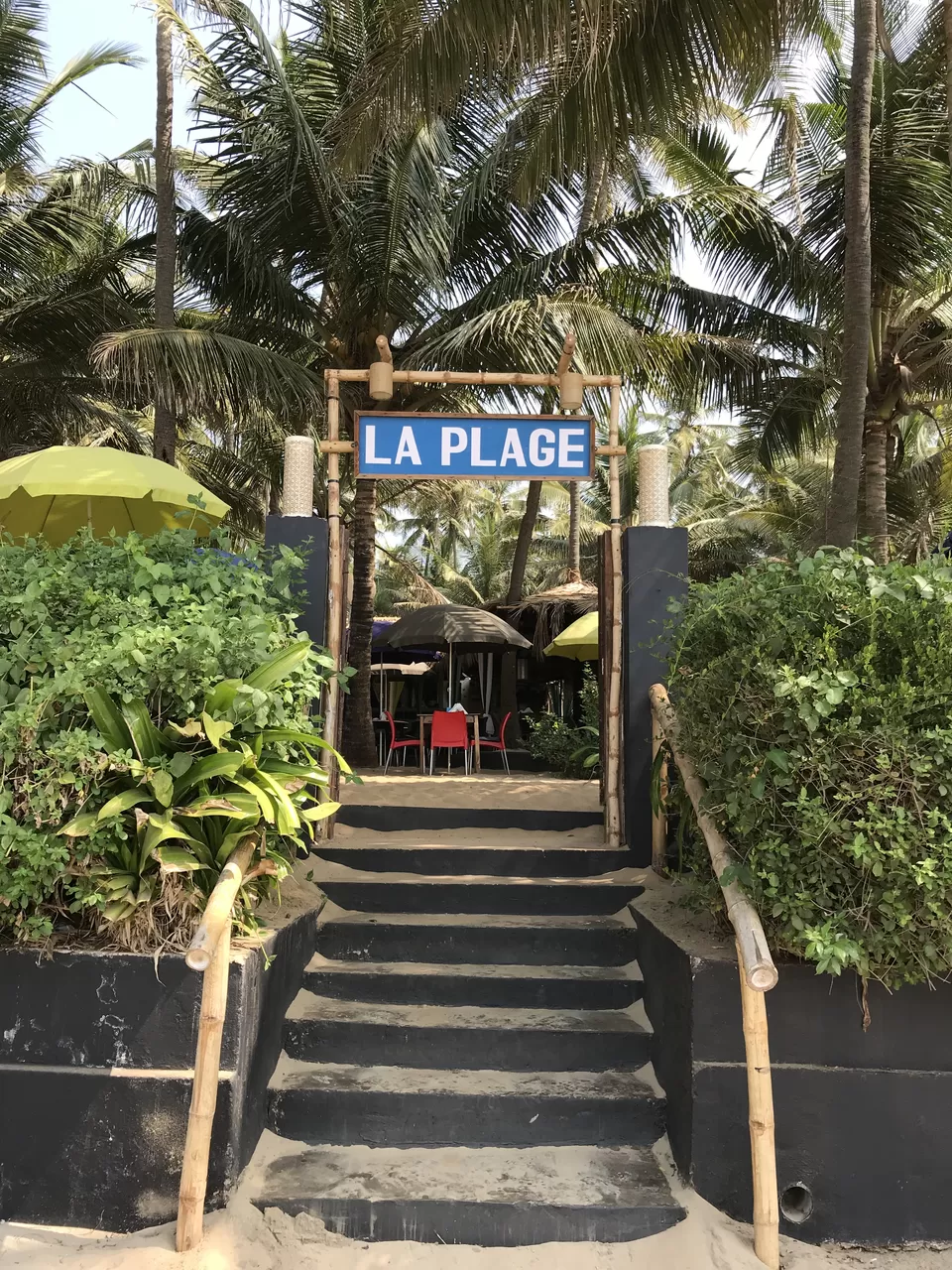 2. Cohiba
In the evening as we were heading to this famous partying spot, suddenly the electricity went off and everything got dark. I don't know why each of my travel stories has some horror component in it but it actually became quite dangerous. The road to Cohiba is a little far from the market area and on the way to Aguada Fort. As the place was totally dark with no street lights, I and my sister decided to head back towards the market area. And to be very frank, we both enjoy soothing light music with a beer than the loud party songs. It's probably the Instagram stories and social media which sometimes makes us do things which we actually don't like.
3. Earthen Oven
Anyhow while on our way back we heard some artists singing melodious Rajasthani folk music and actually this was the place which matched our interests and completed our day. The food was good, hospitality was awesome accompanied by a glass of whiskey and Rajasthani fol music and dance.
There are a lot of other clubs in Goa especially north. The main road is full of hustle bustle with a variety of music meddling together and can be heard on the street.
Some of the other famous clubs which one can visit include
Cabana (which was closed for the season when I visited)
LPK (It is the most famous and I'd say overrated) Again it is overrated and charges INR2500/- per couple as an entry, which includes some liquor as well. Crowd and food are okayish.
Other Attractions
Casinos: Goa is one of the few Indian states where gambling is legal. Casinos can be found anchoring in the middle of Mandovi river near Panjim city. The best one is the Deltin Royale which charges INR 2000 per person which is inclusive of chips and IMFL.
I didn't visit the casinos since I was with my family and 4 days of liberalism plus my parents watching me drink was already too much for them to handle.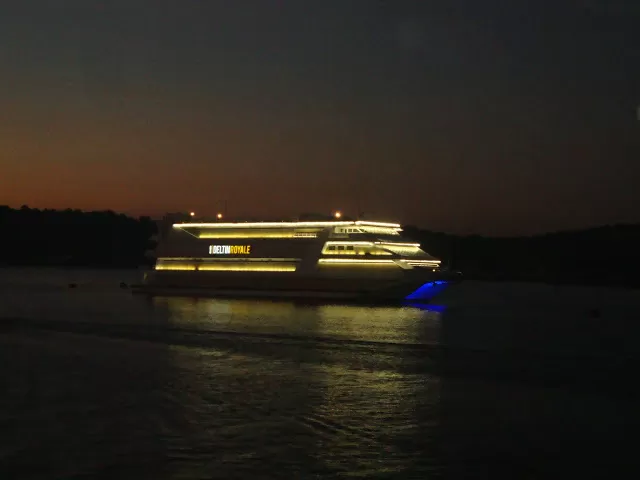 Panjim Cruise: There is an hour-long daily river cruise which starts from Santa Monica boat jetty and Panjim jetty. The cruise trips are usually accompanied by Goan cultural activities like Music, Dance, etc. The activities also include tourists joining the dance at end of the program. The charges are INR 300 per person. I visited this cruise during my last visit so skipped it this time. So if you have time and you are with family you may go for this but it is okay to miss this as well.
Basilica of Bom Jesus: is a biggest and perhaps the most famous church. It is around 25 km from North Goa. You can keep this in your itinerary if you have an extra day as it takes a lot of time to reach here. The best part about the church is that it is more than 4 centuries old and sacred relics of the body of St. Francis Xavier are kept.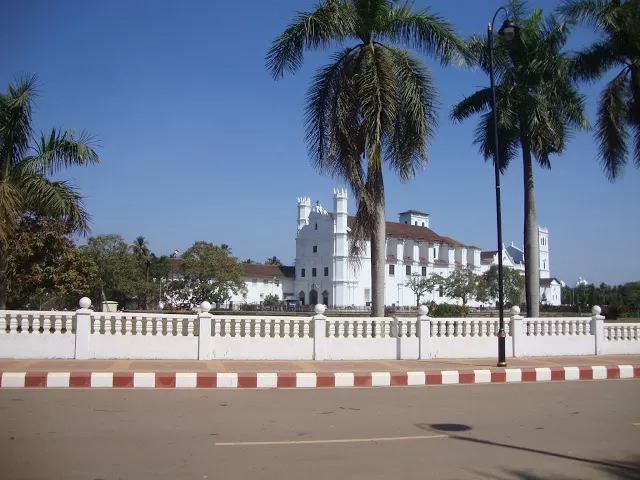 Best Part
The best part of the trip was these three in the picture with whom I visited Goa. Happiness on their faces especially my mom who was commuting via flight after so long and my dad who had his first meal at the airport lounge. They both relived their old days, clicked pictures, roamed around Goa on a rented scooter and experienced all together a new culture. Next is an international trip for them, let's see when it comes.