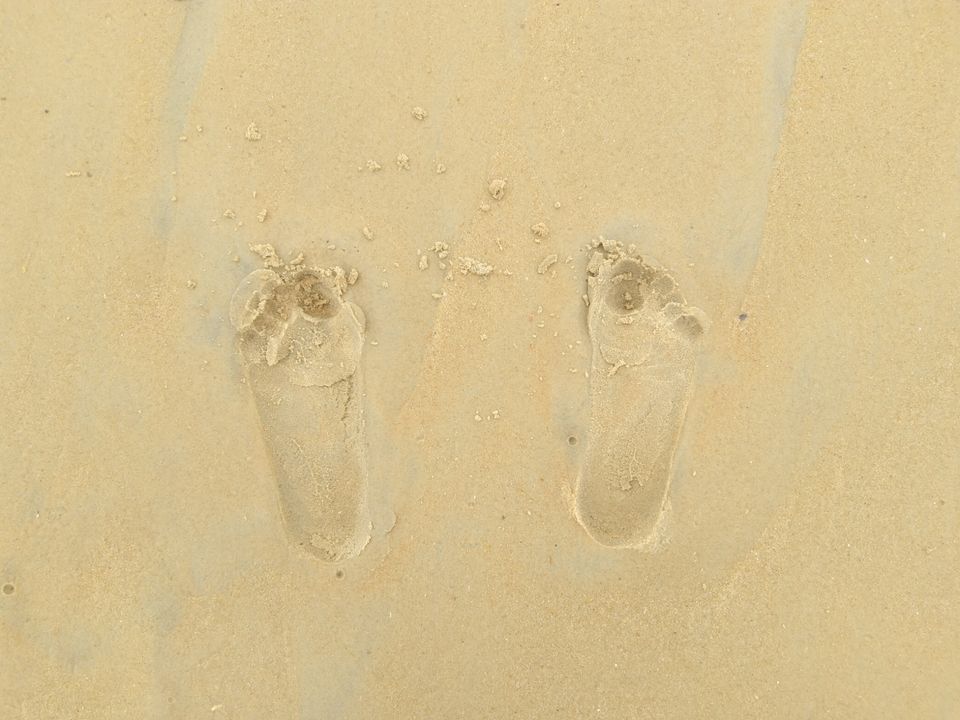 We planned to leave from Dharwad. We were 4 in number, 2 boys and 2 girls. I was already staying in my Granny's home. Other 3 arrived in the morning. We all freshened up and had breakfast at the famed Bombay Restaurant. And we embarked on our journey to Goa.
What seemed to be a simple and a stately journey, was later proved to be a rather convoluted one. We chose to drive to Goa via Dandeli for the sole purpose of its awesome on-road journey. We left from my home in Dharwad at around 10 am. It was my Grandfather's old,yet well maintained Maruti Suzuki Alto K10 car that we took. It was checked to be alright just a day before. Nevertheless it broke down on the way. Front right tyre was punctured. We seeked the help of fellow travellers to fix the problem and put up the spare tyre. We resumed our journey then. It was either drizzling or raining all through the way, and even the lane was covered with fog at times. Roads are pretty deserted especially during the monsoon. Being an isolated area during these times, roads are smooth enough to drive on. The noon seemed like a morning. You just can't miss out on such scenery. You got to make sure that your car is in a good condition before taking this route. And you won't find any petrol bunks either till you reach Goa. So fill the tank to the fullest before leaving. I'll be honest with you. It really was a tiresome journey. But it's worth it. There's a very little chance that you will witness such an awesome expedition again. Once we reached Goa, we rode to our villa which we had booked a month ago. "The Duchess Suite", a 2 BHK flat, hosted by Lucky Rai Chand Malhotra. Thanks to Airbnb. When we reached there we gotta know that the Suite is one of the flats situated in an apartment called Aqua Grandiosa. We were greeted warmly. The suite is situated in Arpora village, North Goa.
By the time we reached it was around 4 in the evening. We bought few drinks and chips and few other eatables along the way. Irrespective of how tired we were, the smell of entering this much awaited land and the rainy welcome here and a warm welcome to rather unexpected "The Duchess Suite" and importantly the feeling of finally being in Goa.. all these just appeased our exhausted bodies and elated our souls.
Since we lost half the day and we were dead tired and due to the fact that it was raining, we decided to spend rest of the day in the house itself. And so we spent the time in planning the places to go in the next 3-4 days. For dinner we ordered from Domino's.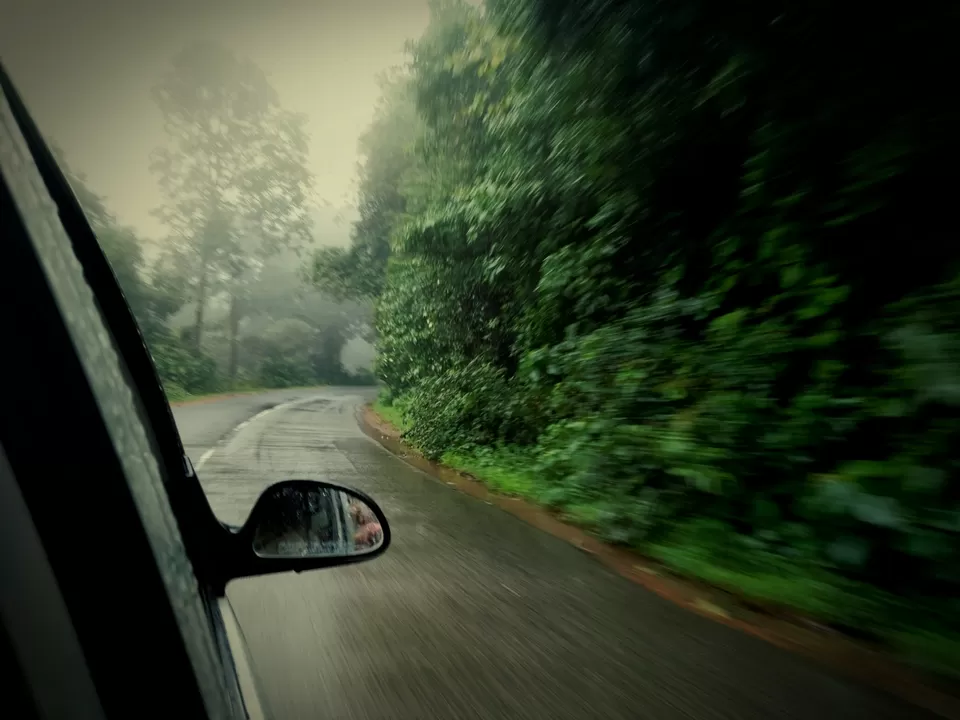 Well I think it's high time that we break the myth. Time to consider visiting Goa in Monsoon!
We planned to leave from Dharwad. We were 4 in number, 2 boys and 2 girls. I was already staying in my Granny's home. Other 3 arrived in the morning. We all freshened up and had breakfast at the famed Bombay Restaurant and bought Dharwad Pedha. And we embarked on our journey to Goa.
Calangute is the most famous beach here in Goa. This particular beach is more crowded compared to others. As the waves crashed on to the beach, it led to the formation of lather. I guess it's due to high tides, since this is monsoon. Nevertheless it was such a treat to our eyes to watch the phenomenon. The waves crashing and flowing by our legs and the cluster of bubbles formed carried over by the wind later, those moments.. just amazing. This beach, it has a really long stretch. Kinda perfect to lie down and relax on the beach. There is a long length of shops on the way to the beach. Tattoo shops, beach wears, eateries, etc.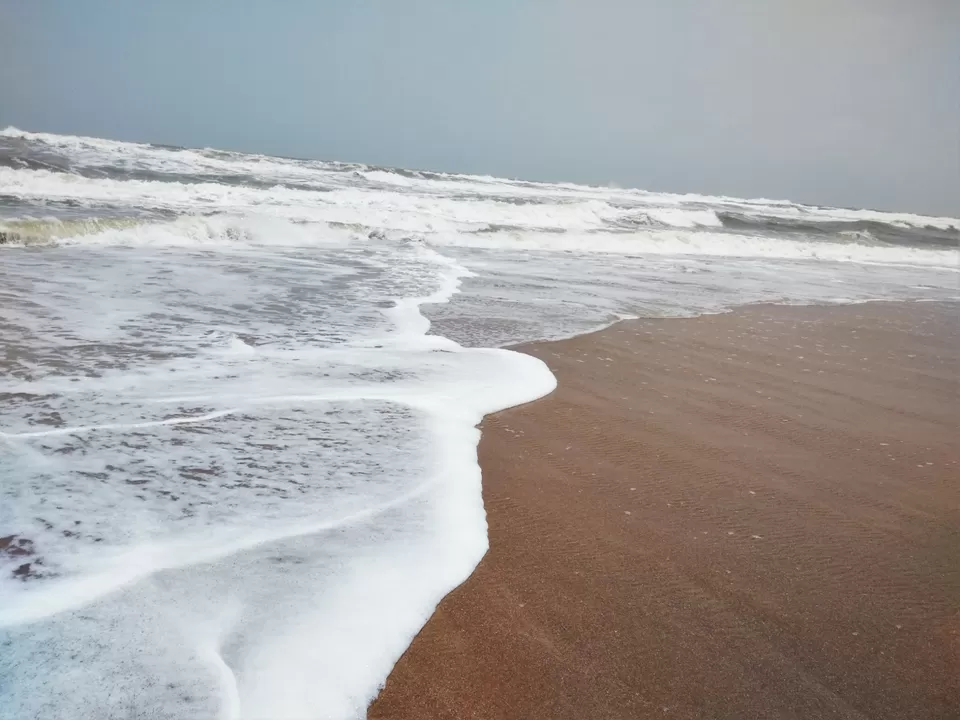 We prepared our own kind of sandwich for breakfast. We left in the morning at around 10:30. We drove to Calangute Beach, first among others that we visited.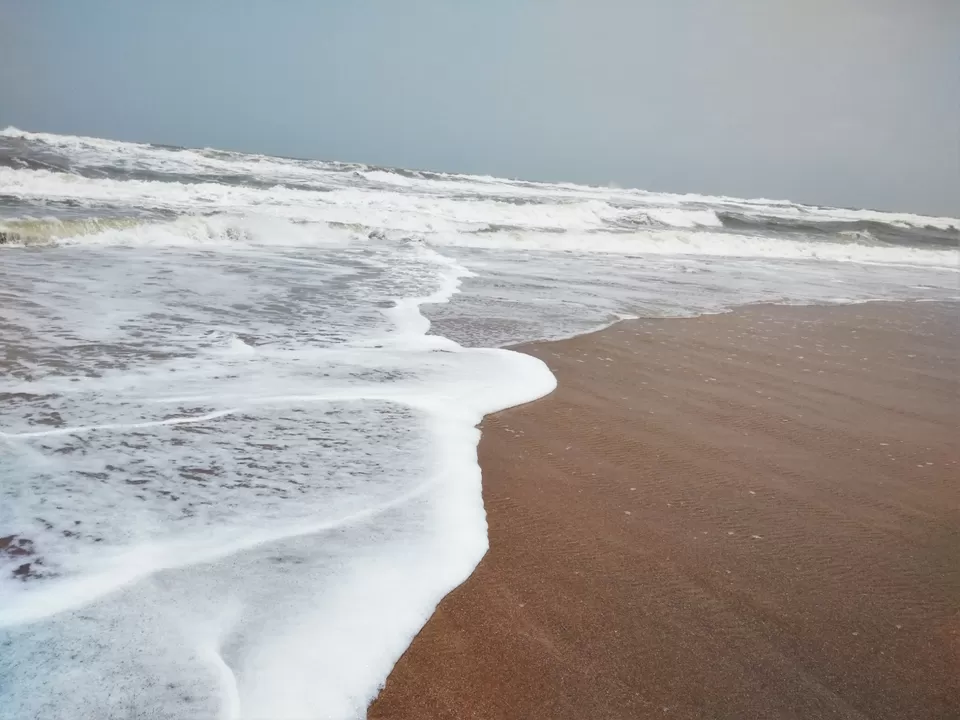 The next was Baga Beach in Baga town. It's the north end of the continuous beach stretch preceded by Calangute beach. It's comparatively quieter and more isolated. Unless you're in Goa during summer and you are interested in water sports, this beach isn't for you. But there are quite a few clubs near the beach. So better to check and enquire all those clubs before entering one. One sad thing about everything here is parking charges. We paid a minimum of 75 bucks wherever we parked our car in North Goa.
It was around 2 in the noon when we went to Krishna restaurant for lunch. We needed a typical South Indian food, so we chose that. After having lunch we went back to our house. We rested for a while. Then we dived into the swimming pool. The warm waters in the cold weather with a drizzle and your favourite people. Find me a better place for a more relaxing mood!
Back to the flat, we freshened up. It was the club night! The night belonged to Tito's and Mambo's.
Well this place in Goa is very much heard of. The club is situated in Tito's lane, Baga beach. So we were pumped up to go there. We went to Cafe Mambo's at around 8:45pm. It was free entry for couples and girls. Party was yet to start. We still had an hour and 15 minutes to spare. We ordered breezers for ourselves. We finally got up at 10. And then the girls showed up. There were Ukrainian girls that night to light up the party. FYI I don't dance. Well I never dance. So it might sound boring, but watching people around you party like that is never boring. Even if you don't want to dance, your feet automatically tap to the rhythm of the songs played by the DJ. There is a high probability of you getting laid if you're single ;). We stayed there until 1, then we got back to our flat.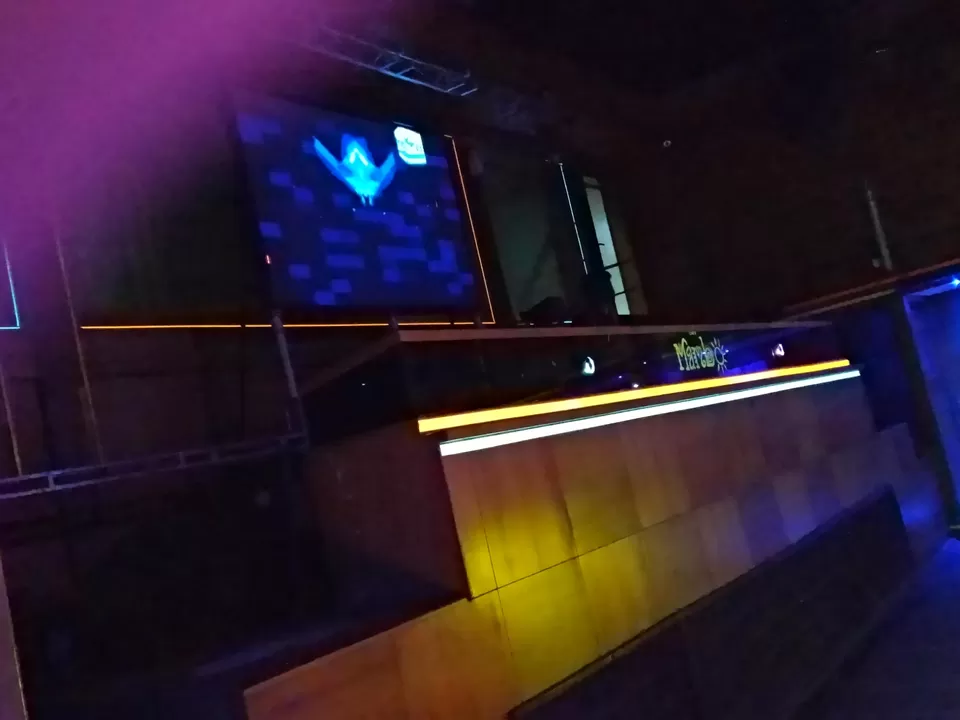 It's located in the Calangute village. We had to wait for like half an hour before we were allowed to enter the church as there was 'feast day' on that day. This feast is held every year on july 22nd. It is one of the oldest churches in Goa. The dome inside is stupendous. It was glowing golden bright when the lights were on. Treat to our eyes.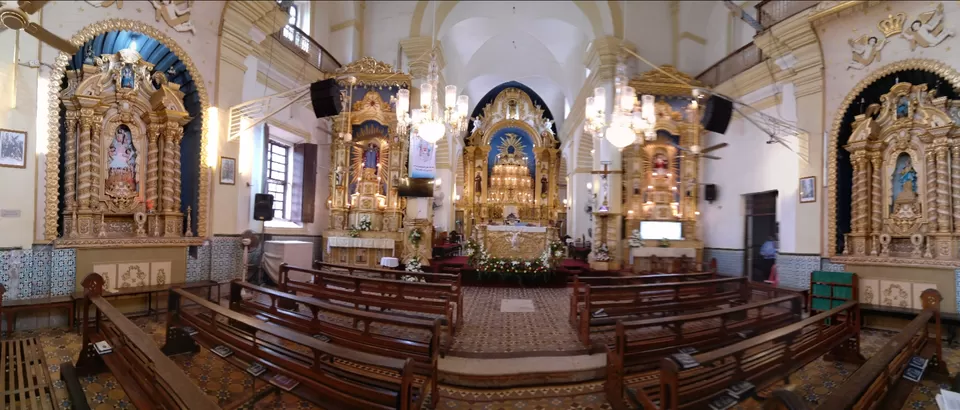 It was maggi this time for our breakfast. We left at around 11 am. We visited St Alex Church first.
A beautifully constructed fort I would say. Built by the Portuguese in 1600s, the fort provided a great defence base for the Portuguese. The fort has a lighthouse too, which was built much later. It gives a stunning view of the area around. Being one of the most visited tourist destination, it has a vast expanse of waters in front of it. There is also a prison house in the fort where the accused were jailed in. In summer, it provides an awe-inspiring view of the sunset too.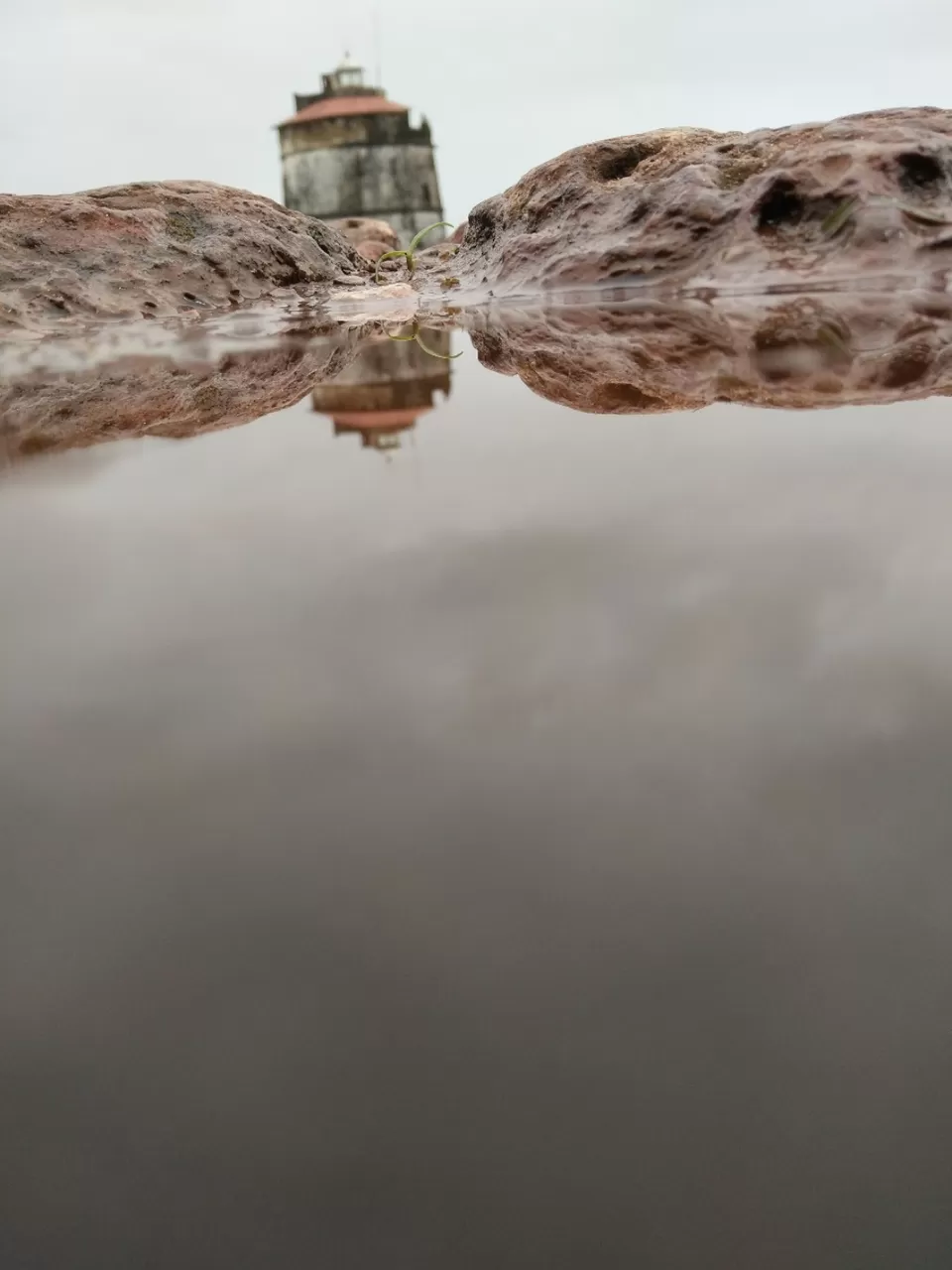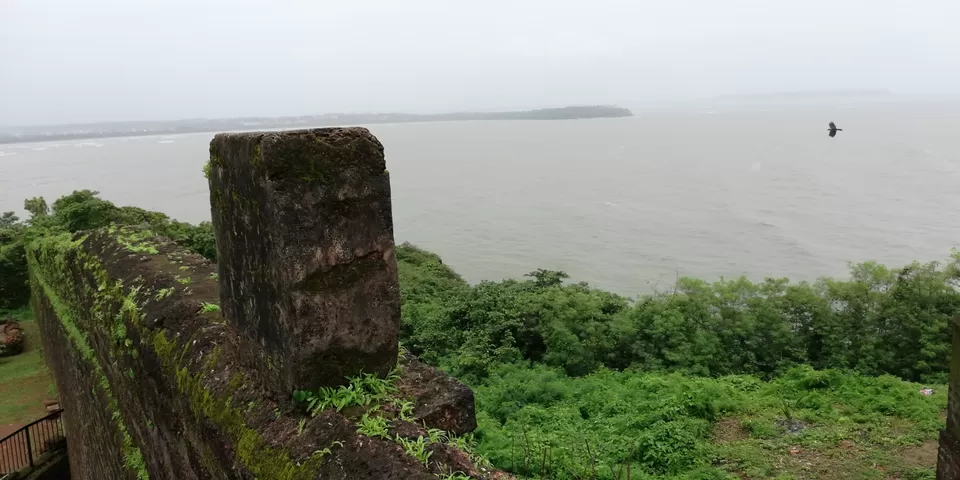 From Aguada we drove to Chapora Fort/Beach. The entry to the beach was kind of restricted. So we went to the fort instead. Being a favourite evening haunt for chilling out, the place is a must see. The famous 'Dil Chahta Hai' movie was shot here in 2001. If you're a nature lover and a fanatic for sunsets then this fort is an amazing choice for you. It looks spectacular. I seriously recommend you to visit this place in the evening and enjoy the sights of Arabian sea and Chapora beach river.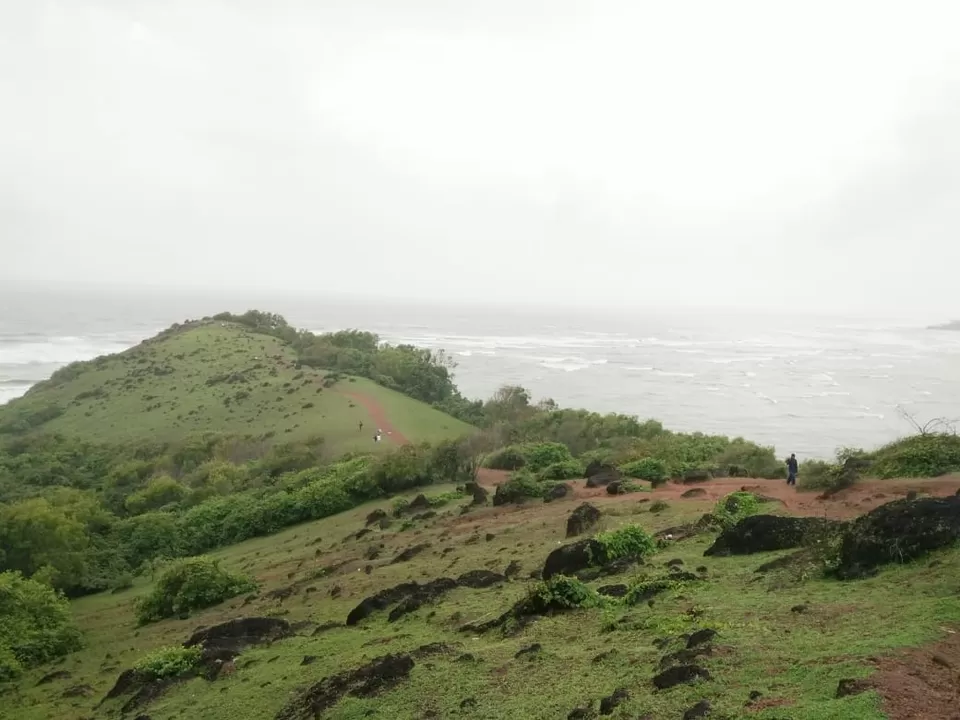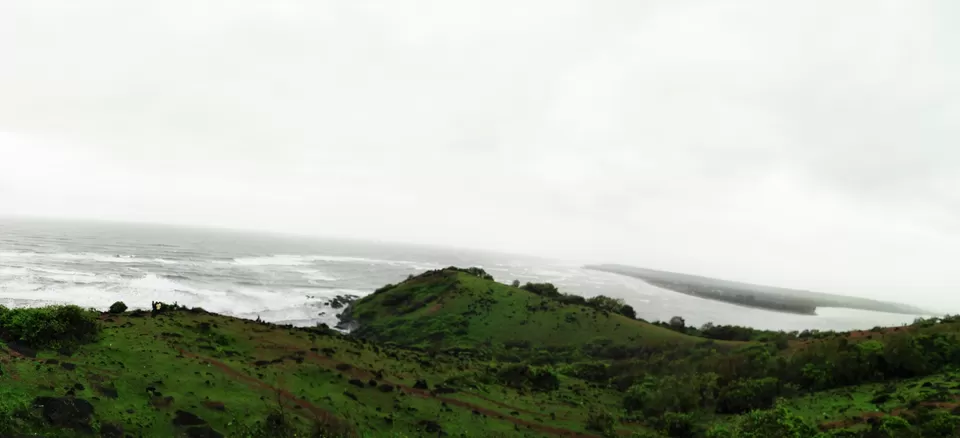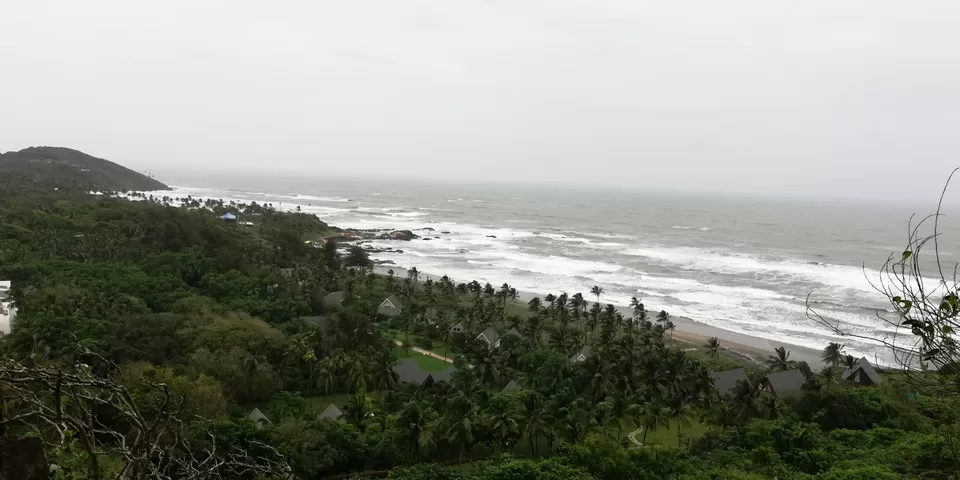 Then we headed back to our house. After resting for a while, we went to some Punjabi restaurant for starters before going to Sagar Restaurant for dinner. Then the whole night we stayed up talking and playing Truth or Dare, which went on till 4 o'clock. We finally fell asleep then.
Situated in South Goa, it is the most beautiful beach that I've come across in Goa. It creates a lovely ambience. It has contrasting black rocks and white sand, that just add its own radiance to this place. In monsoon, the beach is deserted, completely off of the hustle bustle of the Margao city. So if you prefer less crowded beach and want peace, then this beach is made for you. Whereas in summer, there are a lot of interesting activities like water sports, sightseeing, fishing, dolphin spotting, cruises, biking, spas and etcetera. The beach also provides an awesome nightlife with lots of activities. And Cavelossim is on the top 20 beaches in Asia. And also we found something is on the beach which seemed like a jellyfish at first. But after we googled, we gotta know that it is called as 'Portuguese man o' war', a marine hydrozoans. It had long tentacles, whose sting is venomous. Well something interesting it was. I had never seen that before.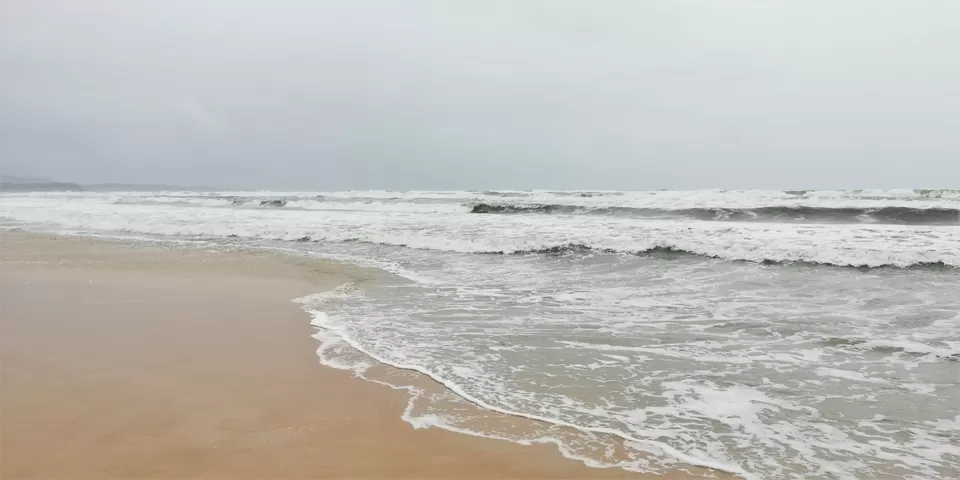 We woke up really late at around 10. We got ready and after having breakfast we left. Then we drove to Cavelossim.
From Cavelossim we embarked to Palolem Beach. Also situated in South Goa, it is the most famous beach. It is crescent shaped which adds to its uniqueness. Greenery on one side and sea on the other. It's a beach where lot of foreigners linger. Perfect beach for relaxation, just lie down and listen to music, take a walk on the beautiful white sand, make sand castles. Monkey Island is near to Palolem beach. It also offers a lot of activities like kayaking, dolphin spotting and paddleboard. You enjoy swimming here. The beach also offers a great market place. Nightlife here is said to be the best compared to others, mostly famous for its 'silent parties' where people go wearing headphones. Well this is monsoon. So, away from the usual crowd, you get to enjoy the pristine Goa beach.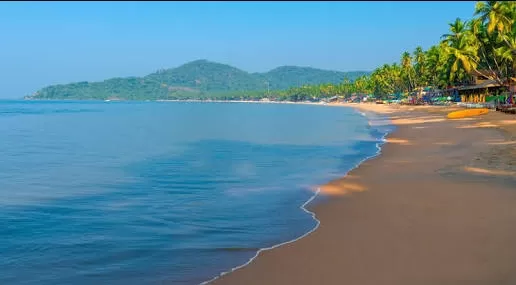 Located a little north of Palolem beach, there's a famous yet secret Butterfly Beach. You can either rent a boat from Palolem or Agonda beach to reach Butterfly beach or you can take a 2hr trek from Palolem beach which is adventurous and tough taking you through the steep climbs, lush greenery and forest.. We're here in monsoon. So boats won't be available neither could we have trekked as it is more tough and tiresome and more importantly we didn't have enough time. Often mistaken as an island, this semi-circular beach is a hidden gem in Goa. It is deranged with numerous butterflies flying over the top hills. The beach is also cluttered with crabs, sea urchins and etc. Dolphins can be seen playing too. It also offers some breathtaking views. Doesn't this sound must visit? Well it indeed is. Being in my bucket list, I seriously regret not being able to pop in here.
After Palolem, we paid a visit to Big Bazaar on our way to the house. We ate at McDonalds and played games at Amoeba, which was really fun. We messed up the route while going to our house, due to which we jaunted an extra 16-18kms. And that meant that we roamed most of the Goa which was meant to be hitched! We finally reached our flat and ordered from Domino's. One last night in Goa. We again stayed awake late playing uno, rummy.
On our way back to Dharwad, we stopped by Basilica of Bom Jesus. Bom meaning 'good'. It's one of a kind, known for its ornate architecture. It is over 400 years old. This church holds the remains of St. Francis Xavier. The remains are taken out once every decade. Basilica of Bom Jesus has been declared a World Heritage Site by UNESCO. Near to it, it also has an art gallery, which consists of paintings, sculptures.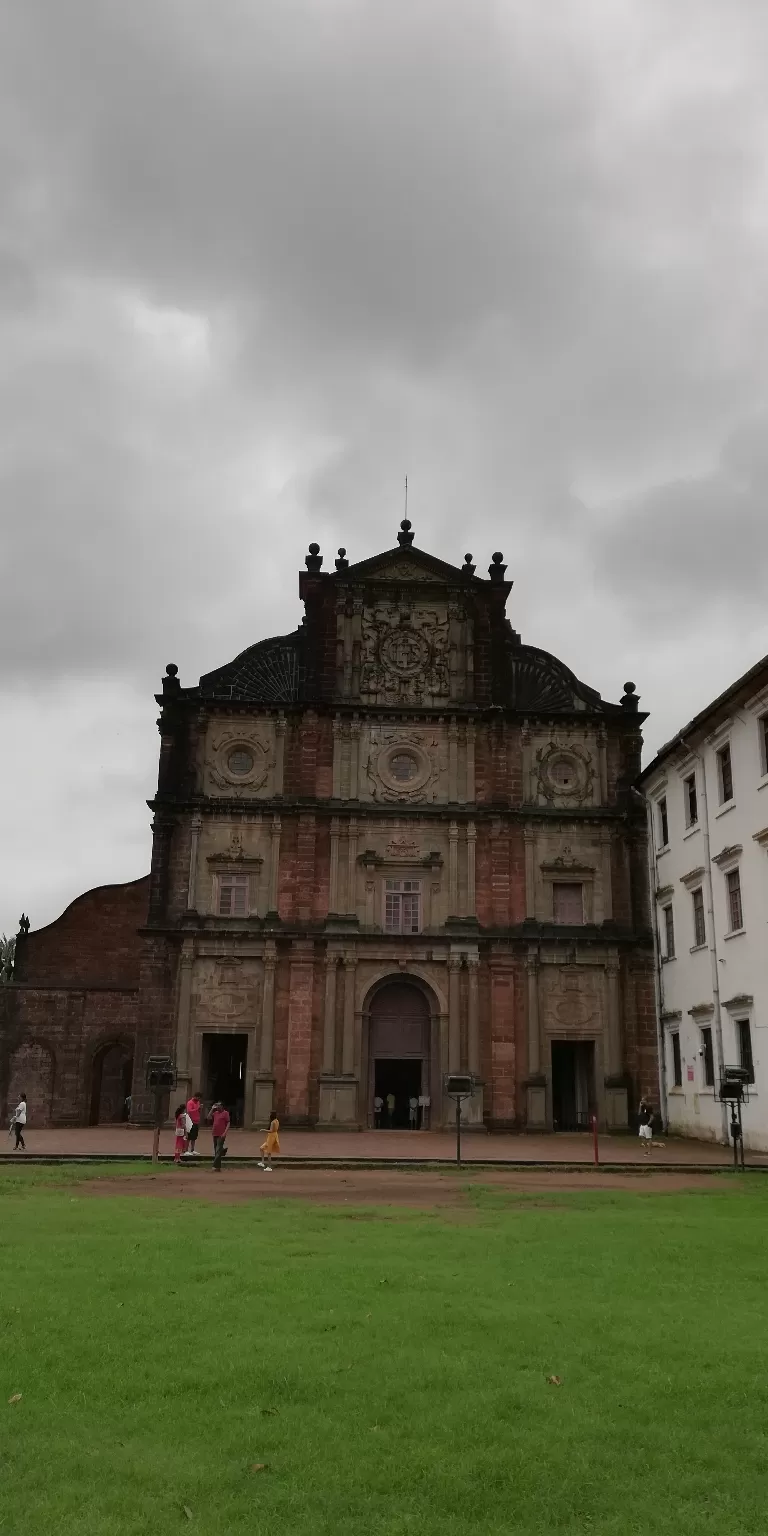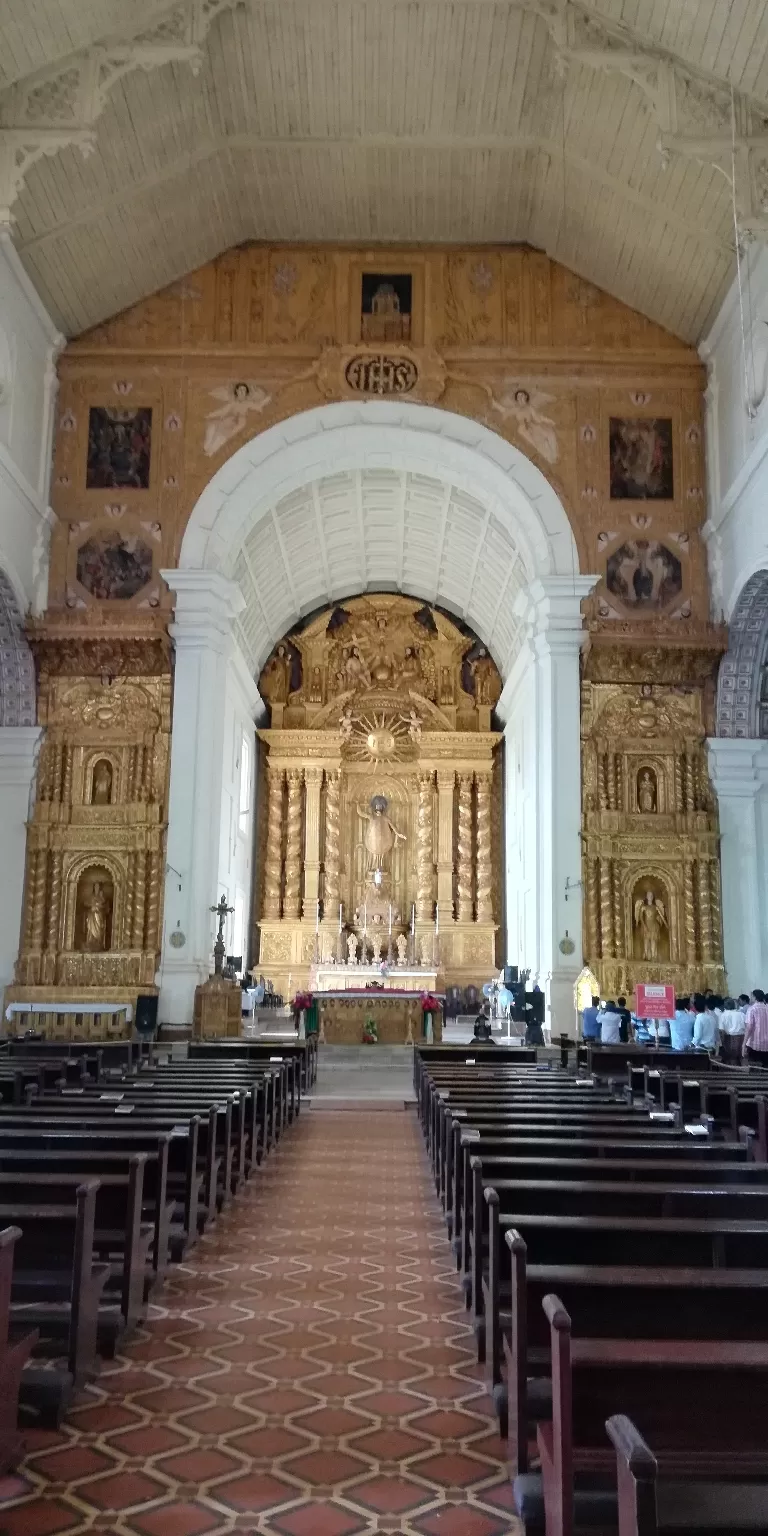 Check out was at 10am, which meant that we had to wake up early than our usual timings! So we got ready soon and packed everything. All checked before leaving. It won't be wrong saying that 'The Duchess Suite' had kinda become our home in these 4 days. Leaving back our footprints and carrying with us a million of memories.
And thus our return journey began. We took a different route i.e., a direct route. We didn't go through Dandeli this time, cutting our path short. We reached at around 5 in the evening. And the end.