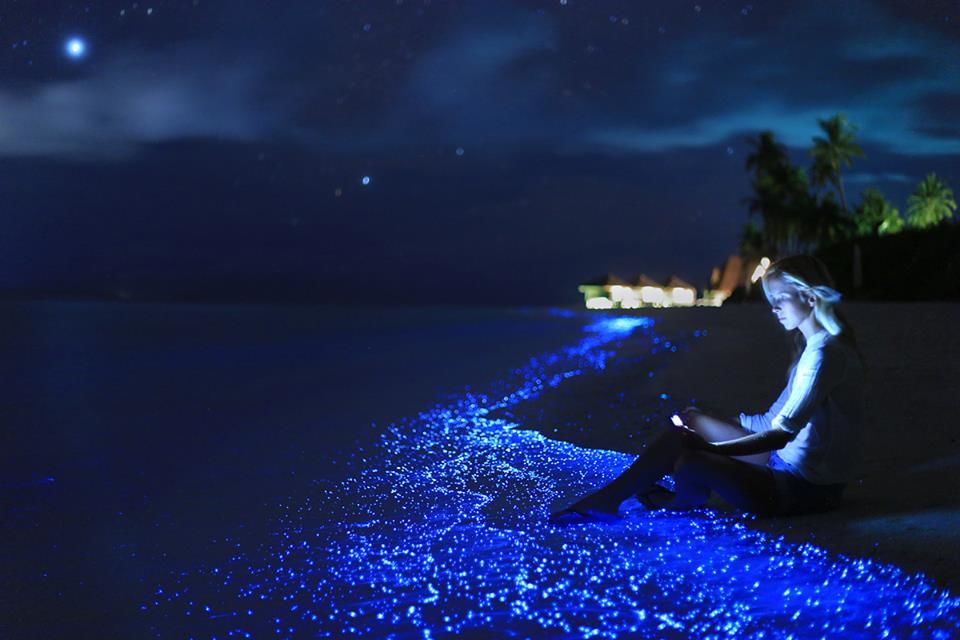 Known for its pristine beauty and breathtaking views, Maldives has another gorgeous reason to be on your bucket list. There's a beach in the Maldives known as Vaadhoo Island that shines at night creating a view that looks straight from science-fiction fairytale. It looks like the waves are decorated with Christmas lights, like millions of stars have crashed into the waves from above, glowing in the tide.
The view is basically because of a natural phenomenon called 'bioluminescence' which means that light is emitted or created by a living organism. While the gorgeous mystery is still beyond an exact explanation, it is believed that the sea here is home to several marine organisms capable of performing light producing action. People from across the world travel to Vaadhoo Beach to witness this magical otherworldly occurrence that lights up the sea's shorelines.
Where is the Vaadhoo Island?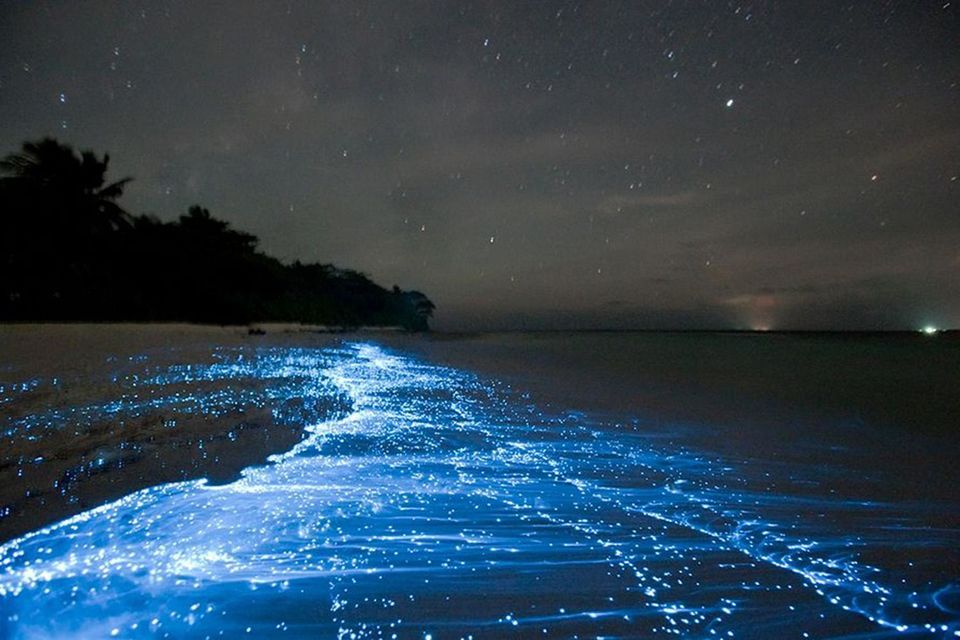 The glowing beach is located on Vaadhoo Island, one of the islands of Raa Atoll. This small island is inhabited by less than 500 people. Irrespective of its size and population, the beach island has earned global recognition and appreciation for its magical Sea of Stars. While the place has long been a secret, it now remains a must visit attraction for tourists visiting Maldives.
Secret of the sea of stars
The natural phenomenon called 'bioluminescence' is because of a microorganism called phytoplankton or plankton. Because of their bioluminescent nature, these aquatic microbes radiate a vibrant blue light under sea. It's almost like the stars have come down to embellish the sea. If mere view of the waves is not enough to delight your soul, you can even swim in the water. As you walk along the beach look behind to see your footprints in the glowing waters.
How to reach Vaadhoo Island?
Located around 8 km away from Male, the capital city of Maldives and the main airport, Vaadhoo Island is well connected to the rest part of Maldives. Hire a speedboat to reach the magical land.
If you love sea, stars and a pinch of magic then Vaadhoo Island will transport you to the fairyland in no time. This time when you plan a trip to Maldives, do catch a glimpse of this incredible phenomenon.
Have you ever been to Maldives? Share your experience with Tripoto community here.
Meanwhile, watch some amazing travel videos on Tripoto's YouTube channel.