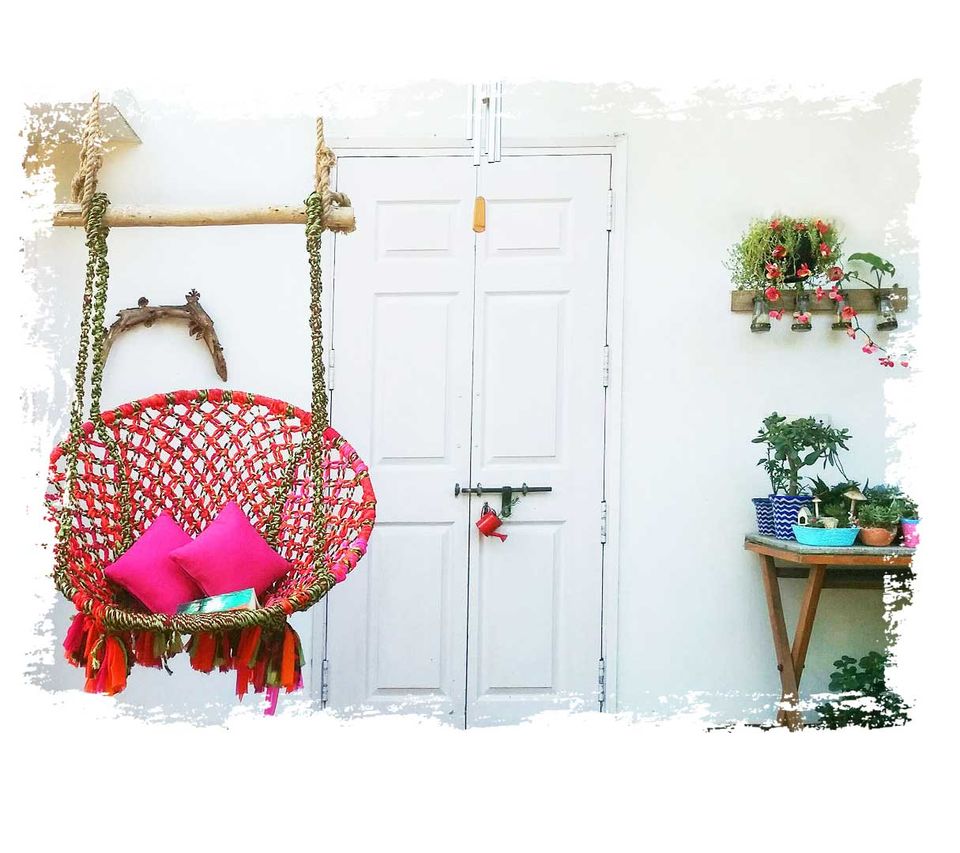 Staying in a city and working a full time job makes it difficult for anyone to take out time for weekend getaways to offbeat destinations. However, things have been made a bit easier for those who love to escape the city buzz once in a while. House of Kapaali is a newly opened boutique b&b and is located just minutes away from Delhi in greens of Greater Noida. The b&b has a perfect balance of modern and vintage, making it an attractive and unique spot for travellers.
→ Ideal for
Generally, in cities, it is difficult to find places designed with simplicity, but this company offers you a soulful stay experience. People who are looking for a similar kind of experience while taking a break from your regular life in Delhi must visit this place.
→ About the property
The property is a brainchild of two sisters who love fitness, design and travel. With the motto of good health and great vibes, this property opened its gates in Greater Noida in 2008. The b&b has been designed in a way to make all its guests feel at home. One can find several pretty corners to sit and complete a book, garden spaces for yoga, outdoor seating for meals and barbecues. There are eight vintage looking rooms filled with modern day comforts. Two guests are allowed in each room.
→ Food
The b&b has applied the philosophy of healthy living in every aspect. They mostly serve Indian cuisine. However, there are several Chinese, Continental and Italian dishes on the menu. All the ingredients used in the kitchen are locally produced. Here, ingredients like sugar have healthier alternatives like jaggery and honey.
→ Cost
The cost of per night stay in each room is ₹5000. This includes WiFi and breakfast.

→ Best time to go
It is considered that the best months to book your room at this property is the of October, November, February and March. This is the time when the weather is pleasant in Delhi and you can fully enjoy your stay here.
→ What to do here and around the property
Yoga and Meditation
There are various schools of Yoga practised here. Be a part of guided meditations and yoga classes taken by certified yoga instructor Mansi, who is also the co-founder of House of Kapaali.
Experience Healthy Food:
Your stay in House of Kapaali will take you on an altogether new journey of healthy eating. The food on their menu is not just healthy, but delicious too. They believe in the principle of - positive prana food.
Spa:
Pamper yourself in one of the many spa sessions that the place has to offer.
Visit the organic farm:
Take a trip to the b&b's organic farm. Spend your day under the Sun on large hammocks or dive into the groundwater pool. Bird watchers can get to see some Baya weavers, Indian rollers, spotted owlets and many other species.
→ Getting there
The nearest metro city is New Delhi. Generally, airport or railway station transfers are arranged on prior notice.
By road: A 40 minutes drive from New Delhi Railway Station can get you to this rustic stay.
Example CTA: Know of a hotel, homestay or resort that made you fall in love with the destination? Write about it on Tripoto and help the traveller community discover something new.