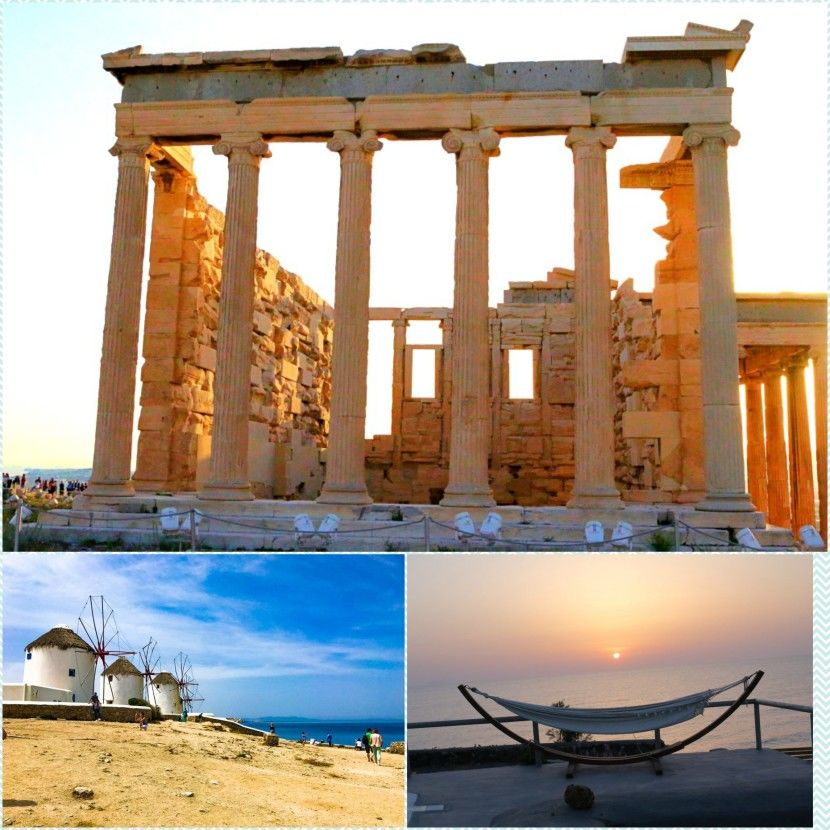 Hello Everyone,
We are going to share a detailed itinerary of Greece to help you decide where should you stay, what should you do and what to eat while in Greece. We were absolutely in awe of Greece since the time we landed and have tried to capture the beautiful country through our lens. Do check out the photos at the end of the blog!
There are no direct flights to Greece from India. The best time to visit Greece is between April-September.We travelled with Air France, which was a very comfortable experience. You can also try Turkish Airlines, Emirates etc, Turkish airlines being the cheapest amongst all. After reaching Athens, we went to our pre booked Hotel via Booking.com.
Name of Hotel: Best Western My Athens Hotel
The hotel was 45 min from airport.. The best way to travel in Athens is through Metro as the city is well connected by Metro. The taxi is very expensive and should be avoided. To reach the hotel we took the metro from Airport to Syntagma and then hired a taxi from Syntagma station. This should cost you around Euro 19 in total.
We loved our stay at this hotel because of its location, we could reach the metro station in 10 minutes on foot.
Room details:
Location: 5 star | Cleanliness: 4 star | Size of room: 3star | Size of Bathroom: 3 Star | Amenities & facilities: 4Star | Staff: 4 star | Over all rating: 3.8 star
We loved our stay at this hotel because of its location, we could reach the metro station in 10 minutes on foot.
Things to do nearby
Acropolis of Athens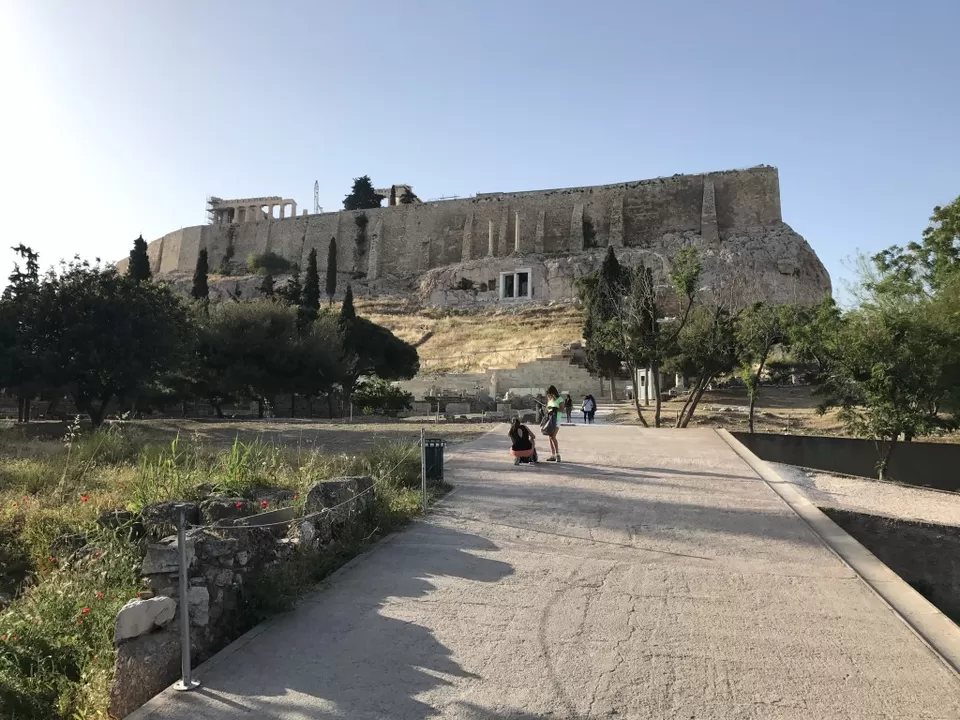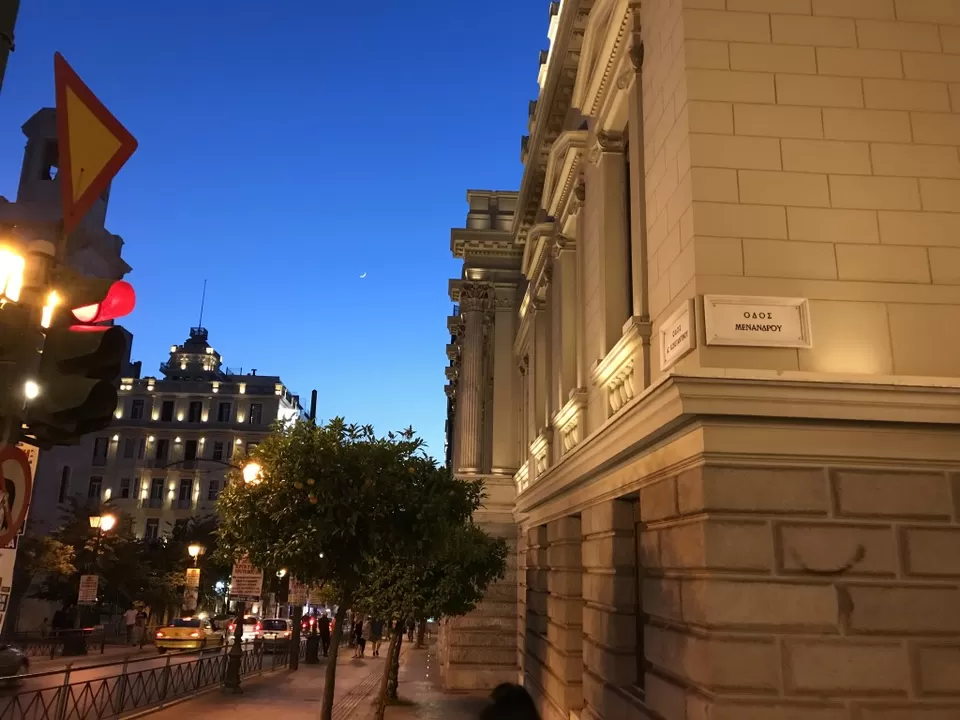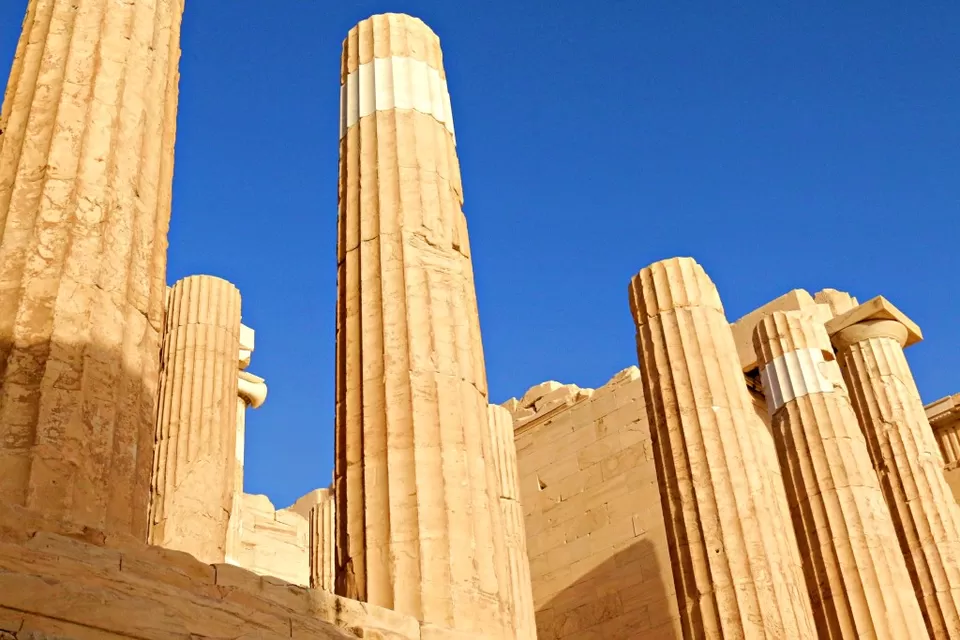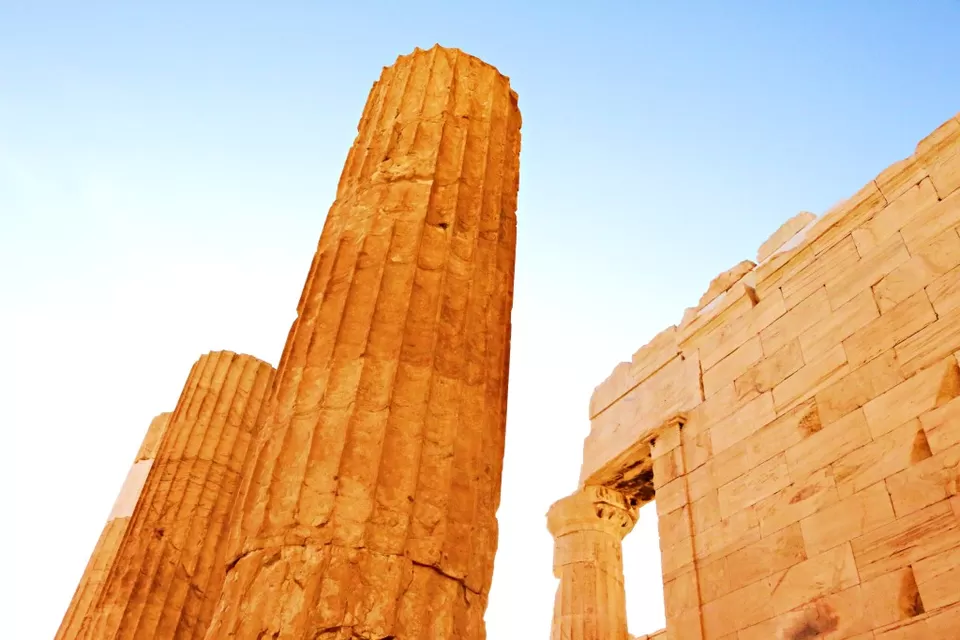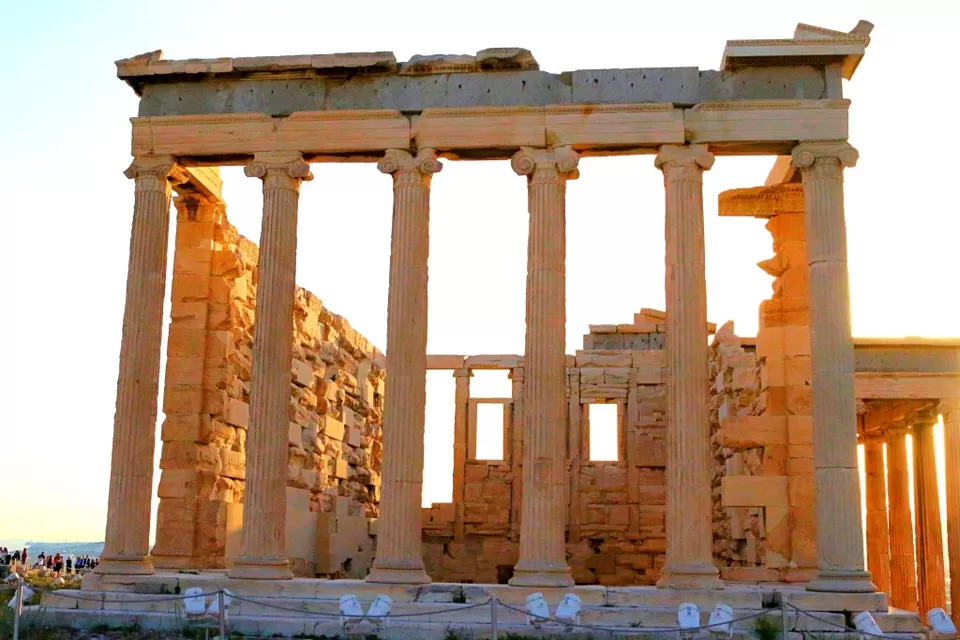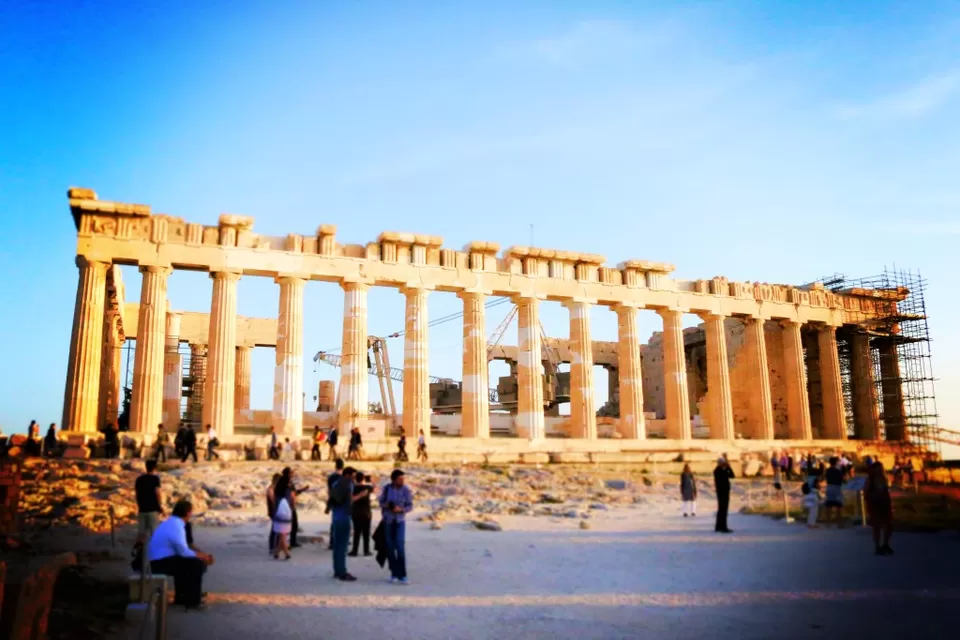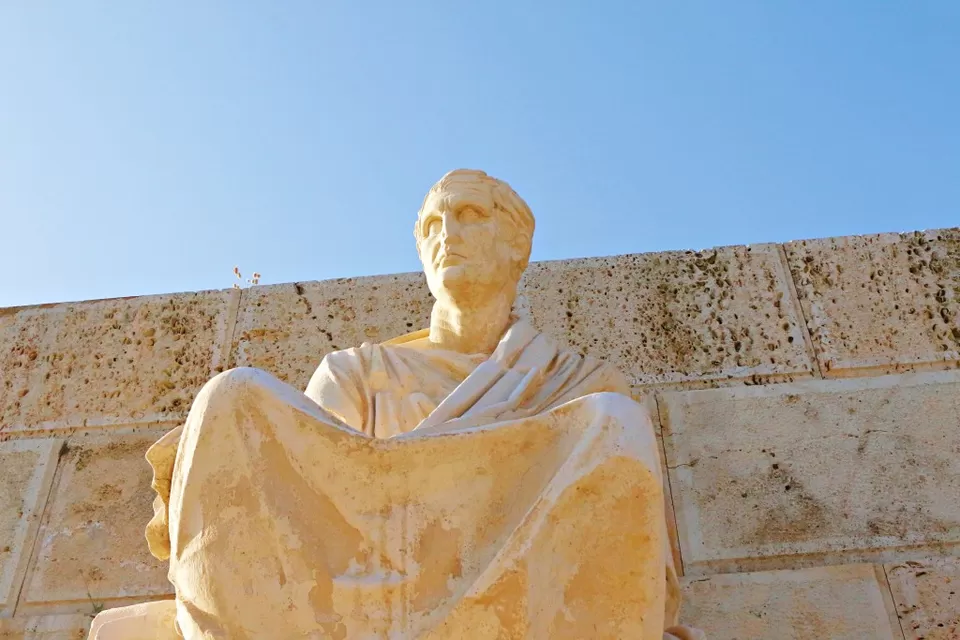 * Mount Lycabetus
Cable car ride to Mt Lycabettus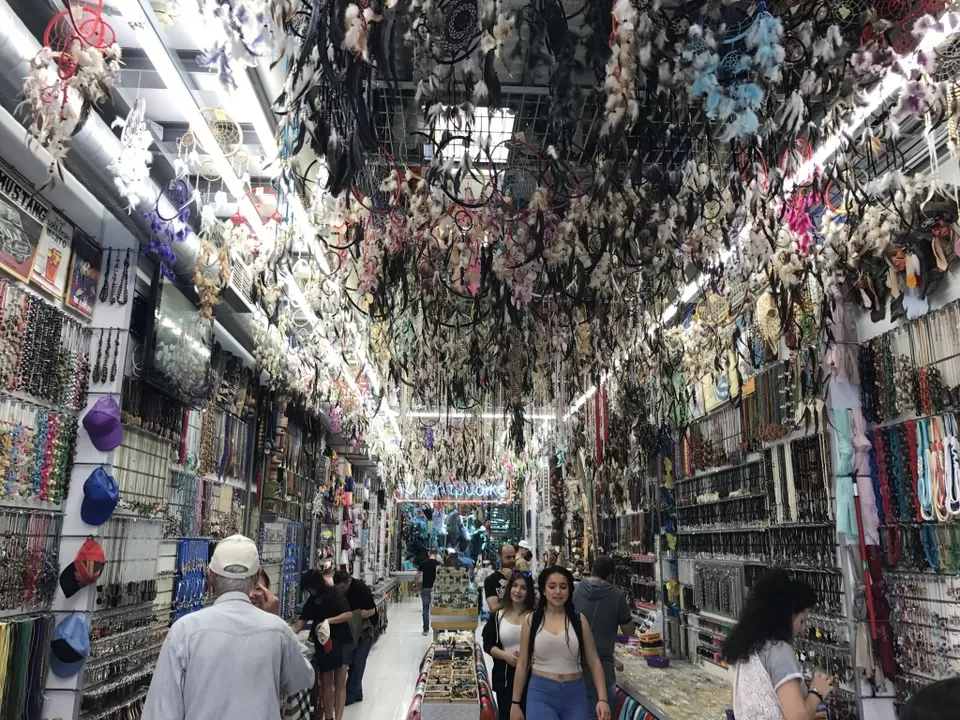 * Shopping at Monastariki
https://youtu.be/xHT2V9b00F4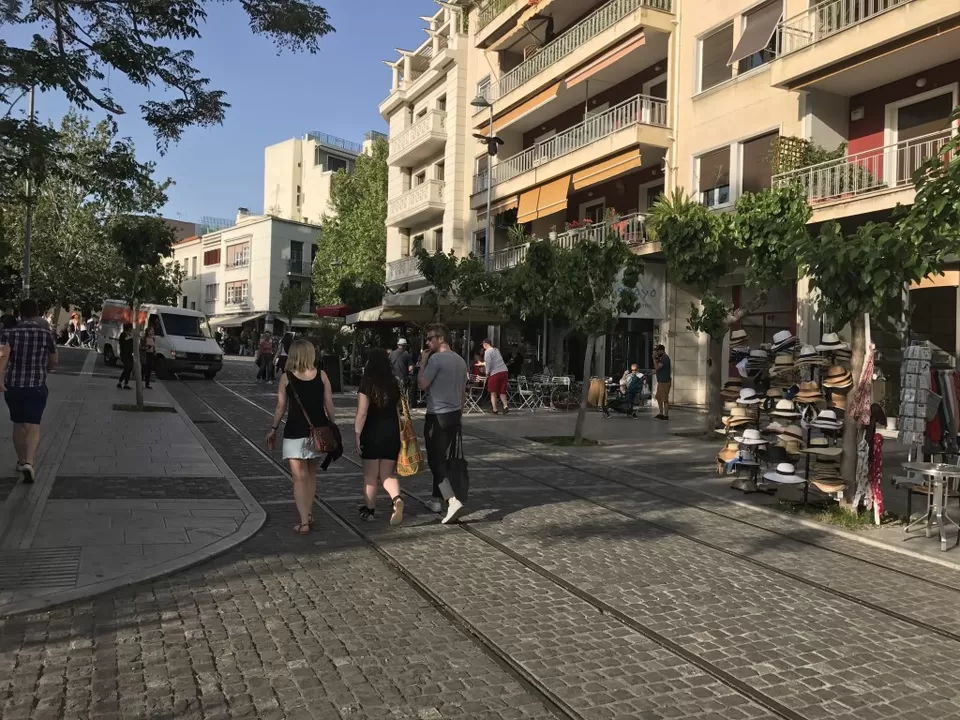 * Panathenaic Stadium, Athens
* Lake Vouliagmeni, Athens
* Academy of Athens
* Church Panagia Eleftherotria, Politeia, Athens
* Horizons Restaurant, Lycabettus, Athens A
Above places are not mandate to cover as you will get flavour of history of Athens by visiting Acropolis of Athens. You can cover the rest only if you have hunger for history.
Travelling from Myokonos to Athens
You have only two options to go island hopping.
Flight Cruise by seajet or any other company
Both the options would cost you almost similar. Amongst all the ferry companies, Seajet is the fastest taking 3 hours to reach Mykonos from Athens. However, if you go by flight it will take around 2 hours considering you have to reach 1 hour before boarding time. Experience of cruise is surreal.
Name of Hotel : Mykonos Beach Hotel, situated on Megali Ammos Beach
Cost: INR 5000 per person
The hotel provides a shuttle service from the port to the hotel, which takes only ten minutes to reach the hotel.
Room details
Location: 5 star | Cleanliness: 4 star | Size of room: 4Star | Size of Bathroom: 4 Star | Amenities & facilities: 4.5 Star | Staff: 4.5 star
The hotel is 500 metres from the main city center (Chora) with Beach view.
Things to do
Rent a quadbike or two wheeler/scooty, which will cost you Euro 15 and Euro 25 respectively.
Don't rent 4 wheeler. You wont be able to drive as the roads are narrow.
We had filled 3 Euros worth of petrol, which was sufficient for two days on the islands.
Scooty normally comes with 60CC engine which consumes lot of fuel during steep road, so keep that in mind before renting.
Buy wine and beer from supermart rather than drinking it in any restaurant as it its much cheaper at store. Greece a lot of vineries and you must try local wine when in Greece.
TIPS = You cannot consume tap water for drinking like Athens. You need to buy bottle which will cost you around Eur 1 to 2 for one bottle. But if you buy it from supermart, you get it for Eur 2.6 for 6 bottles.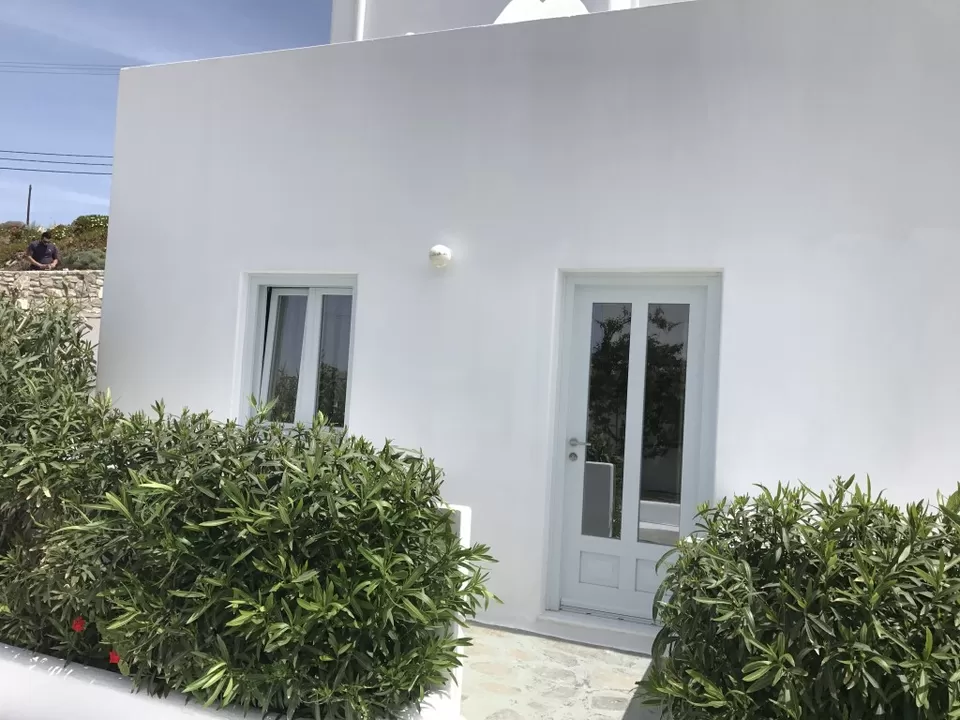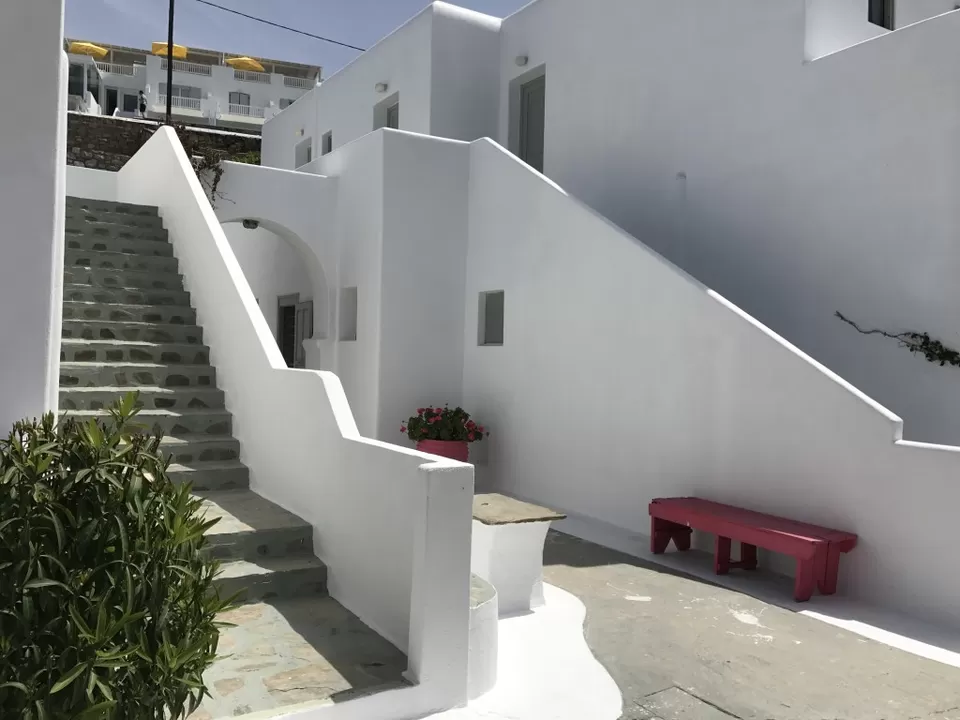 Room exterior 2
Room interior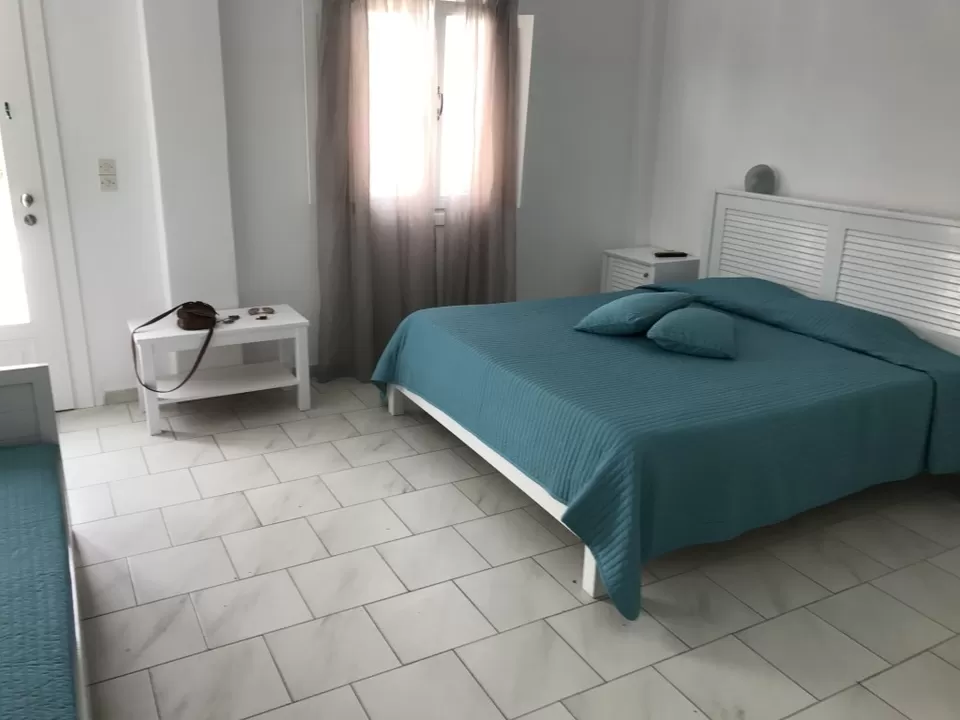 Highlights: * Visit Paradise beach * Visit Paraga beach * Visit little venice * Windmill,Mykonos Island
Landscape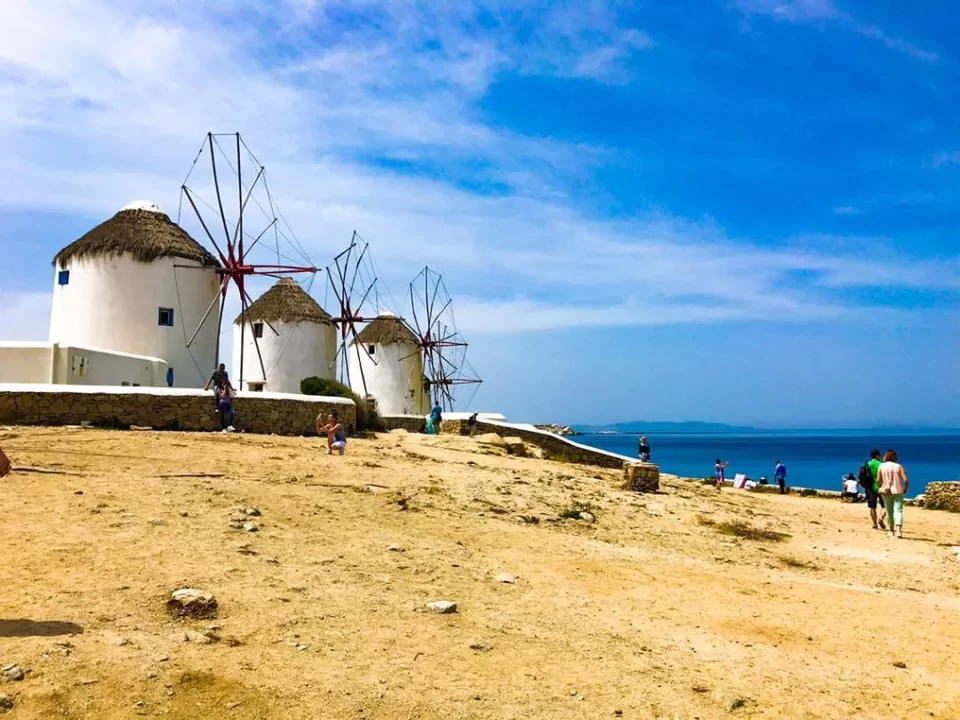 Mykonos takes you back to the Shahrukh Khan and Rani Mukherjee song from the movie, 'Chalte Chalte' * Street shopping while walking on cobbled stone and white house everywhere with blue window.
* Have meal at tavern Niko's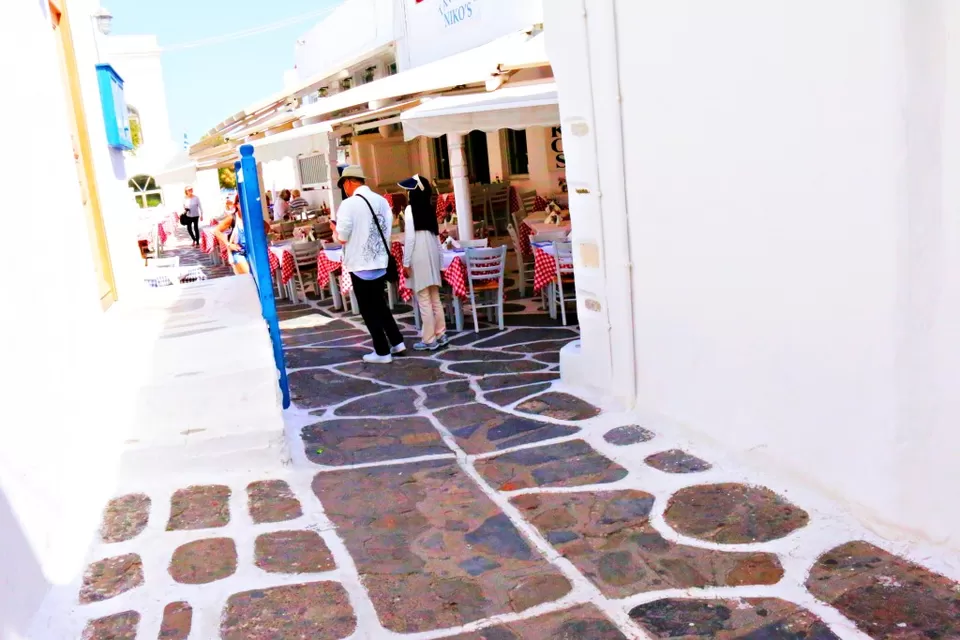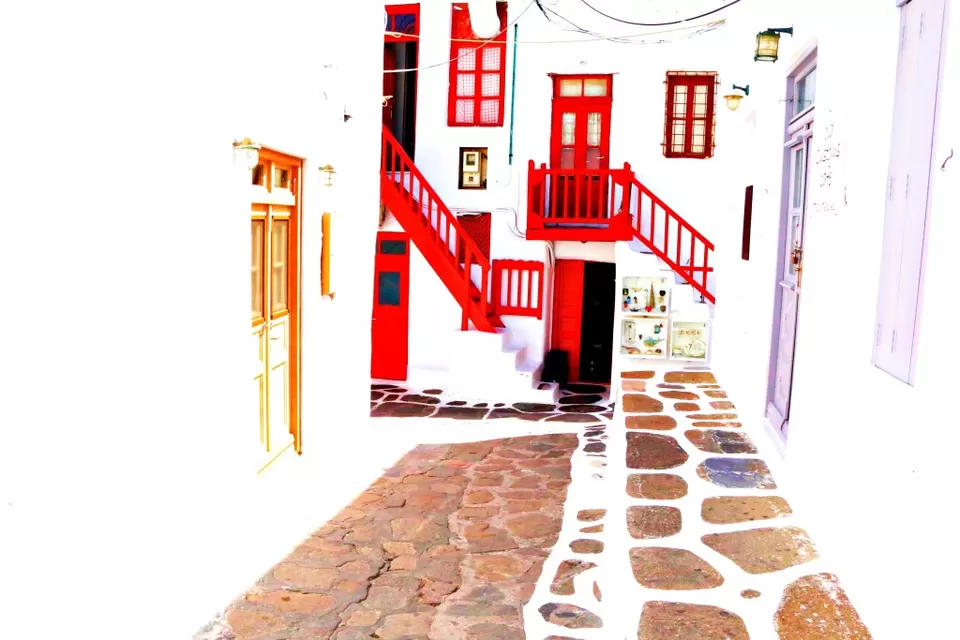 You can have a tour in the traditional alleys of the downtown, see the sunset in Little Venice, enjoy your lunch in the taverns in the port and visit Delos Island.
Enroute Santorini
After spending two wonderful days in Mykonos, we traveled to Santorini, which is 150 kms away from Mykonos. It takes approx. 3 hours to reach via Seajet carrier. We had booked Champion Jet2 vessel, which was a giant cruise with an upper deck where you can spend time and click lot of photographs to cherish your blue water moments.
We had booked our stay via Airbnb. It was located at Panagia kalou, Pori / Imerovigli. Name of villa was Abelomilos Exclusive Villa.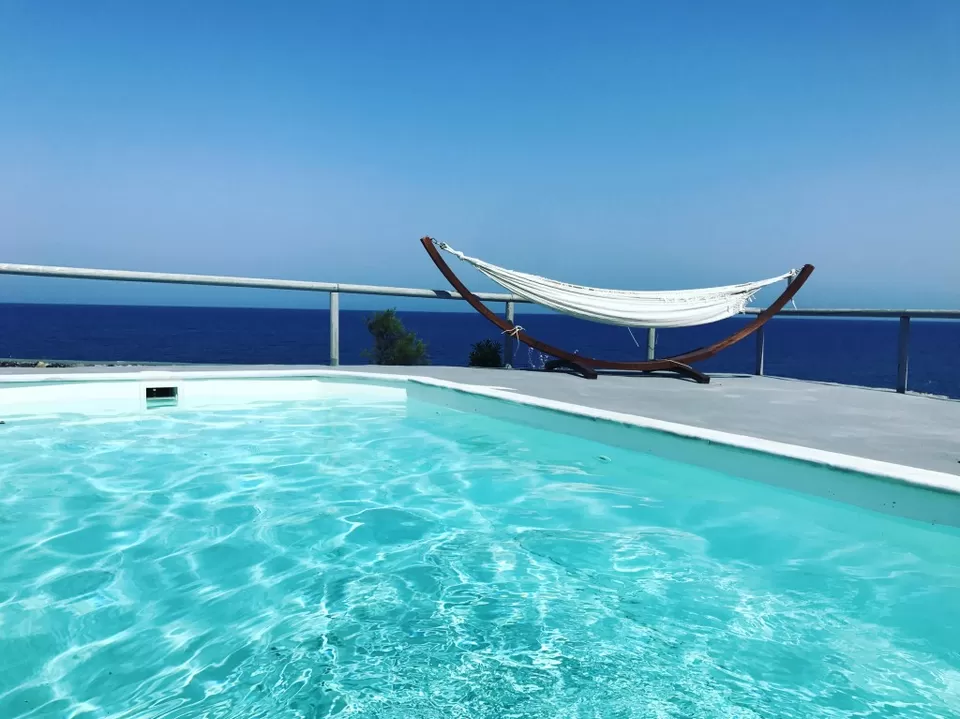 Bright morning view from our room
Honestly this was our best stay with a dream like view. The room wasn't the best but yes, best view for sure. It is very much evident from the pictures we have clicked. Airbnb Villa tour. Have a love at this exclusive video of exclusive villa.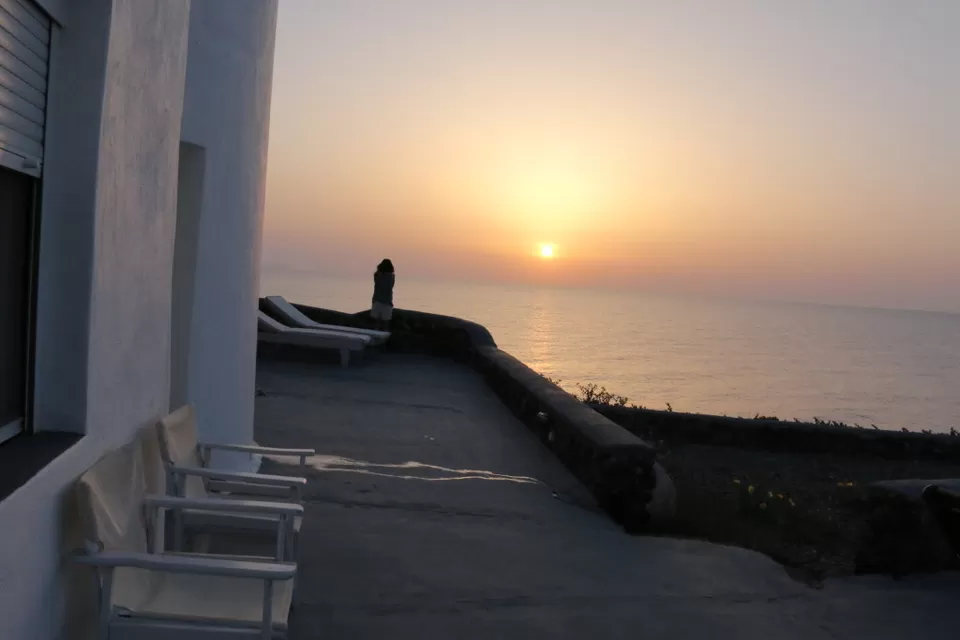 Sunrise at 6 am, 1st look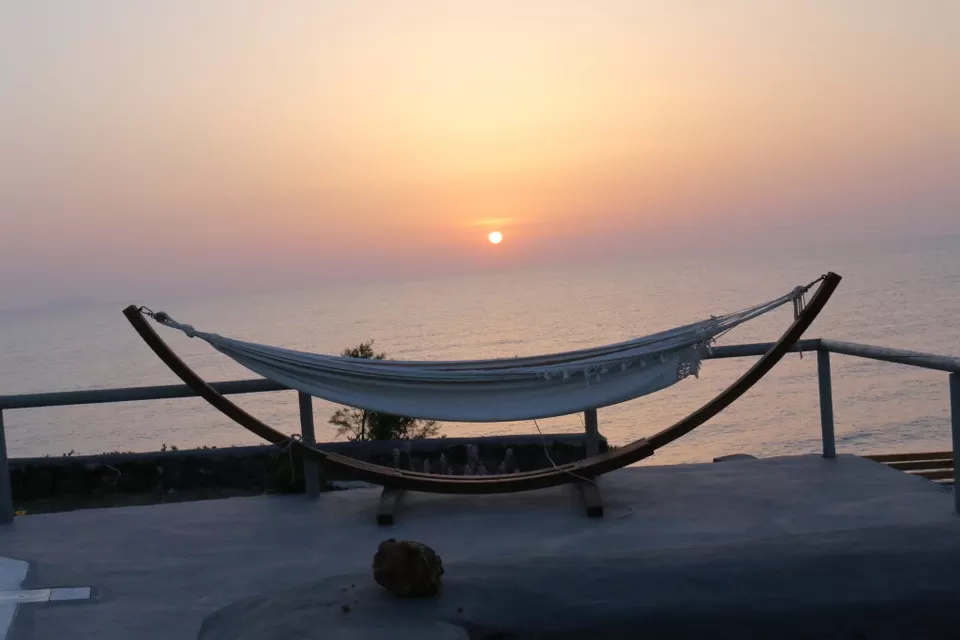 Beautiful sunrise at 6 am, another view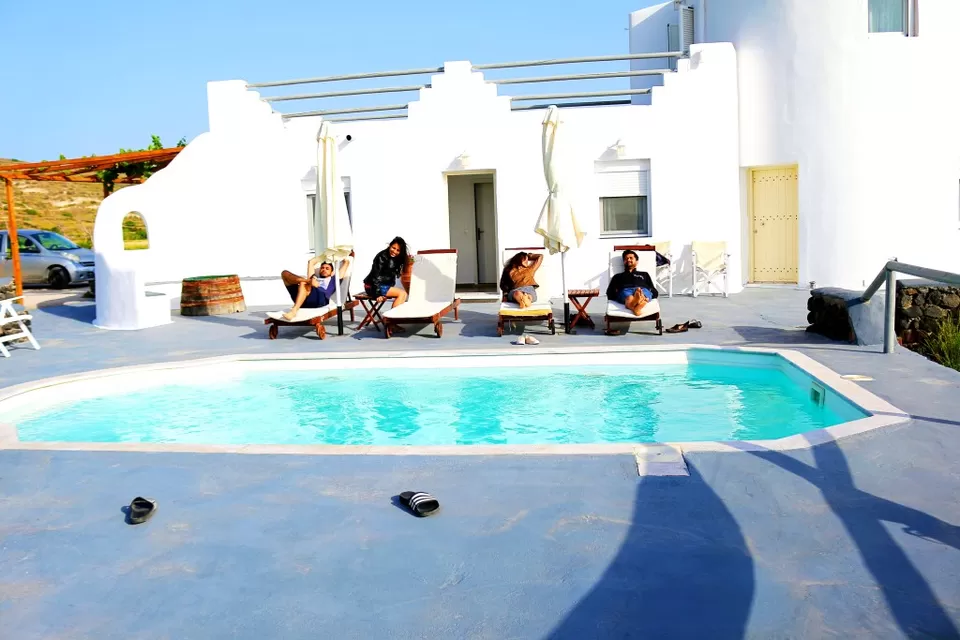 Front Facade of villa,Entrance
The villa had two bedrooms, a living room, a private pool, kitchen with dinning & the beautiful Aegean Sea right in front of us. The kitchen had all the necessary culinary and utensils like microwave, stove, mixer, coffee maker were accessible. They provide you with bread, jam, butter, corn flakes, milk, fruits, cookies and all those basic amenities, which will never let you, be hungry at any point of time.
Things to do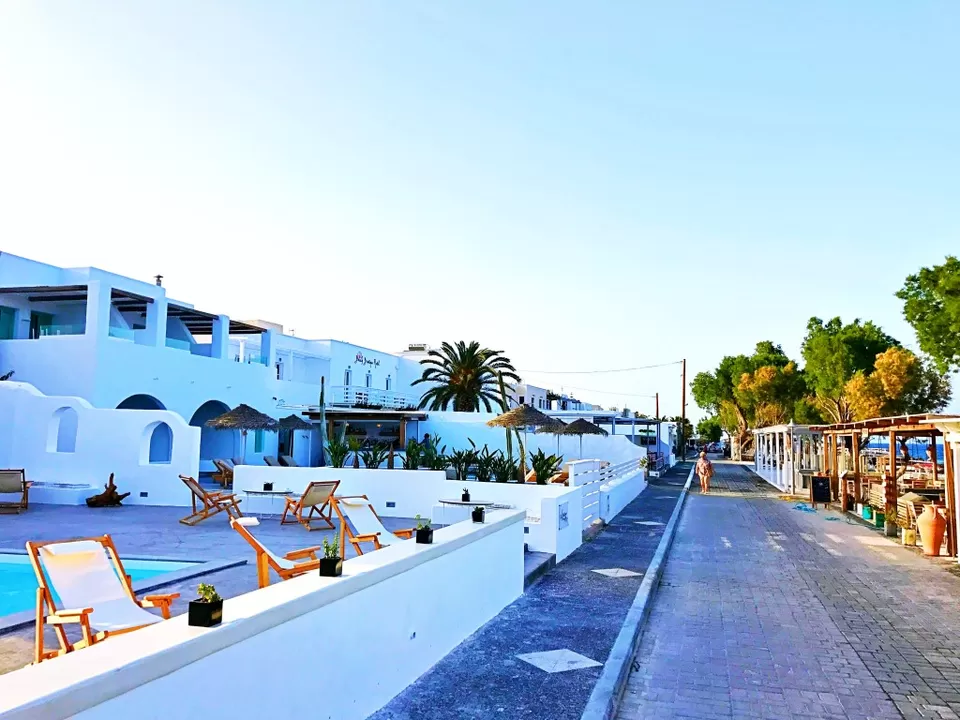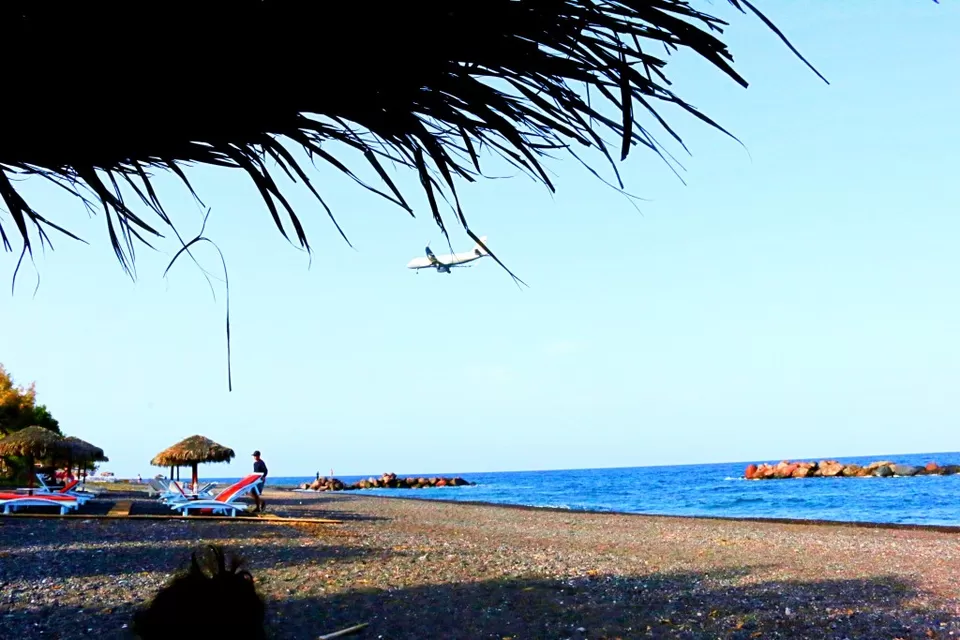 1. Go to Oia for Shopping
2. Fira for dinner
3. Snorkelling and Yatch tour from Fira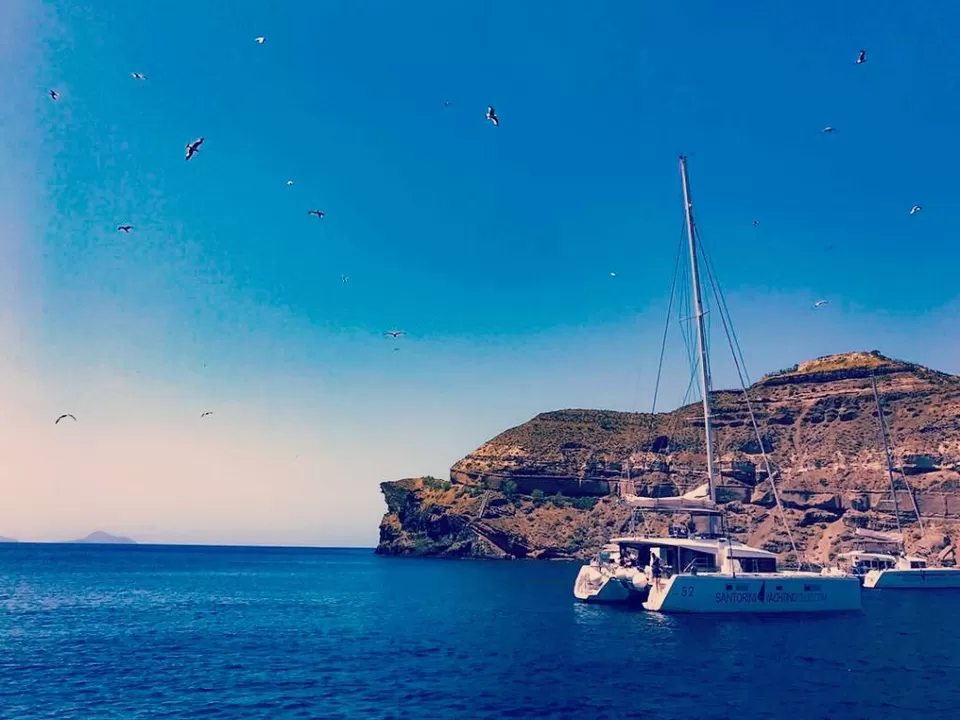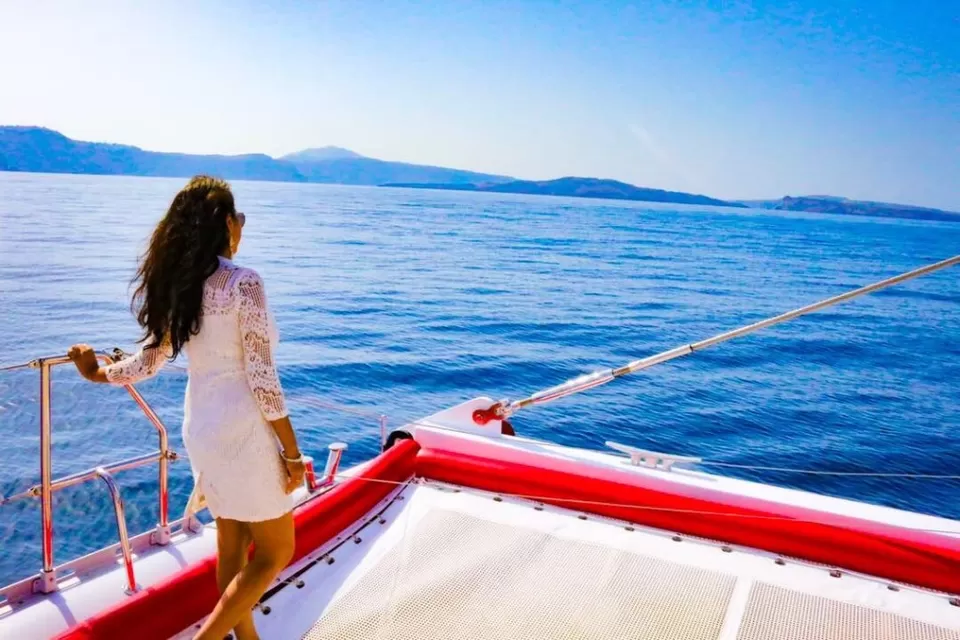 4. Senor Zorba for late lunch till sunset. Sunset is must see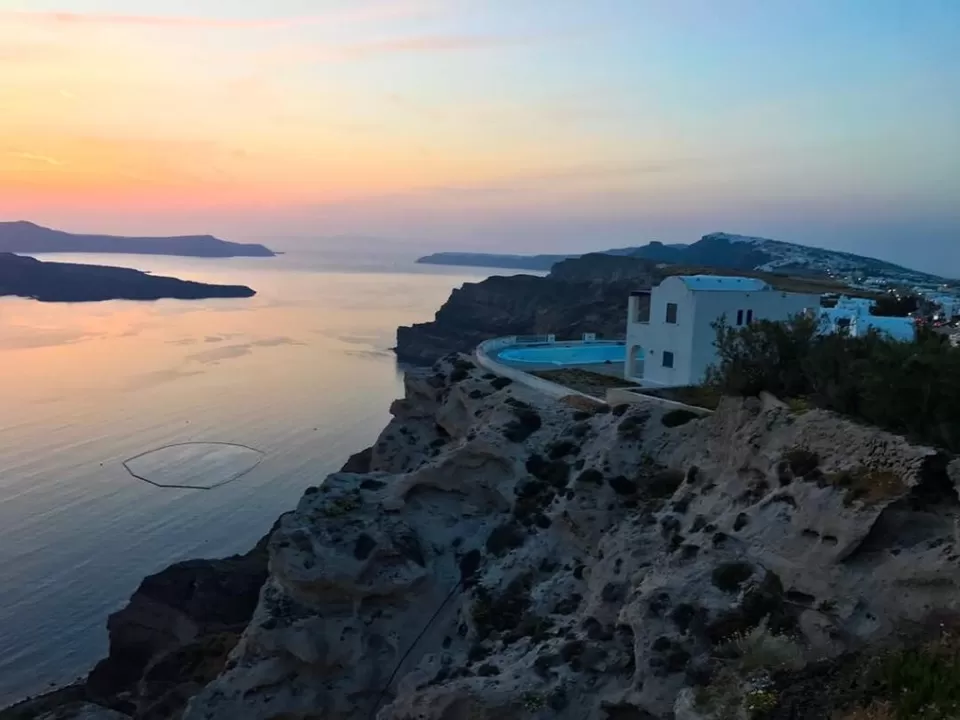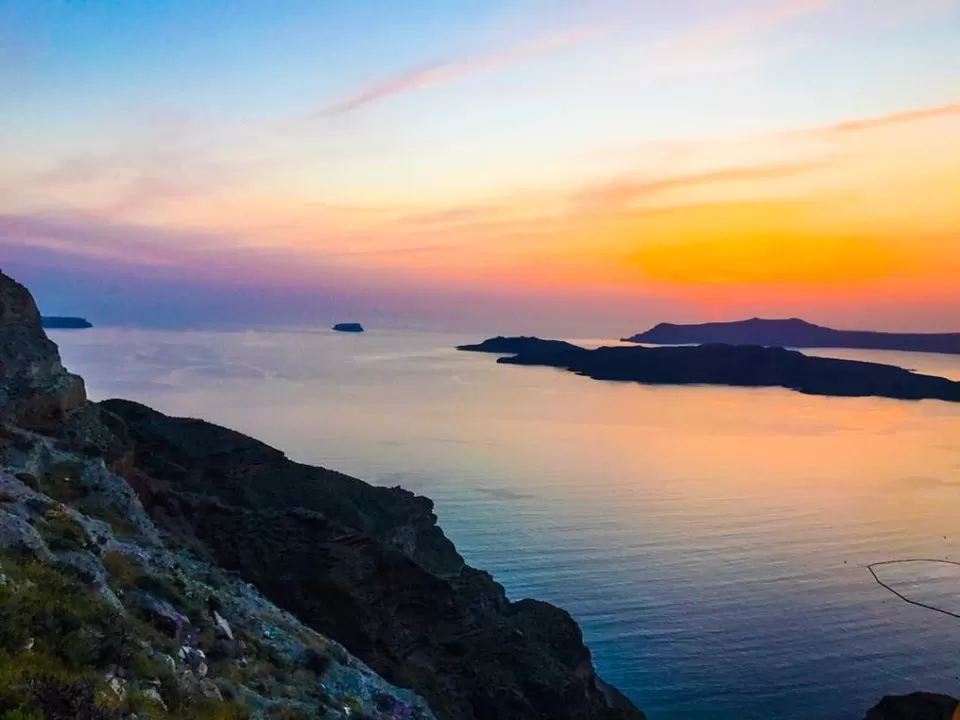 5. Go to Kamari beach. Unique Black beach with street shopping
6. Go to Red beach, as it is something that you have must not have experienced before.
TIPS:
Rent a four wheeler (Gearless) @ Eur 40 per day which is way economical than renting a car with a driver. Eur 20 petrol would be sufficient for exploring the island.
Name of our Super Host On Airbnb: Maro
She also arranged our tour for the next day without any commission. Infact she had bargained on our behalf and got us the best deal.
Next morning we had our bags ready for the 5 hours tour on yatch, which included unlimited food, drinks and snorkeling at two spots. It costed us 80 Euros per head. But it was worth the money considering the unlimited food and drink and the experience of snorkeling in such clean & pristine turquoise colour water. That day we had dinner at Senor Zorba, a Mexican restaurant with breathtaking Caldera view. The food was yummy and the lady who was serving the food was super sweet. A must visit restaurant when in Santorini.
We also visited an Indian restaurant in Santorini, Jaipur Palace. The food wasn't that good and we found it a bit pricey too.
We tried a lot of Greek cuisine too in Santorini, loved the Fava (a traditional Greek dish of yellow split beans).
After tiring long day we had everything packed and we were ready to go back to Athens. We flew back to Athens and reached Varaba country house. Its like a huge mansion converted into commercial homestay. Hosts are really good but we would not suggest you for stay because of poor connectivity. I can share the contact details of the host. You may mail us at info@designpandits.com for any much information regarding Greece. Stay was INR4500 per night.