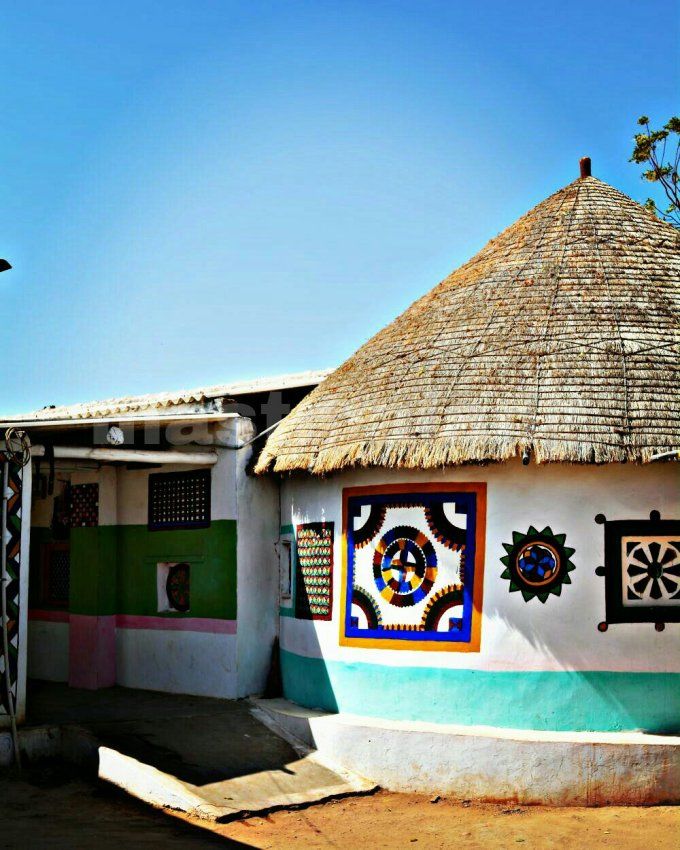 There is so much more to explore in Kutch other than the famous White Rann.
I was fortunate to feel the beat of this amazing place with its equally warm and beautiful people when my family temporarily relocated to this region.
Bhuj, the capital of Kutch district of Gujarat, became our base from where we explored Unseen Kutch.
How we Plan?
So every Sunday, we comb the Google maps and hunt for any 'good-looking' route or a water-body or any natural terrain promising some adventure at least. Then we load our motorcycles (He rides Bullet and me an Avenger) with snacks, camera, camping chair, Frisbee, Bluetooth speakers, etc. Often we carry the picnic along but at times hop into some eating joint at the end of the ride. Most importantly, we carry a waste bag to pick up all the litter at the end of the picnic. In the process, often we come across unexplored water-bodies (read unexplored by internet), craft villages, hatke eating joints.
In this post and following posts I will be sharing some of the places we have explored, which may or may not pop up among the 'popular destinations'.
This time I will take you to two Artisan villages in Kutch: Lodai and Gandhi Nu Gam. Both stand in contrast to each other, while one has suffered decline post-earthquake, other has thrived as a major tourist attraction because of its well-planned relocation.
Lodai village is about 32km from Bhuj. It is well-connected by road.
The art of pottery in Kutch has its roots in erstwhile Indus Valley Civilization (IVC), popularly known as Harappan civilization. Remains of IVC can be seen in the nearby archaeological site at Dholavira.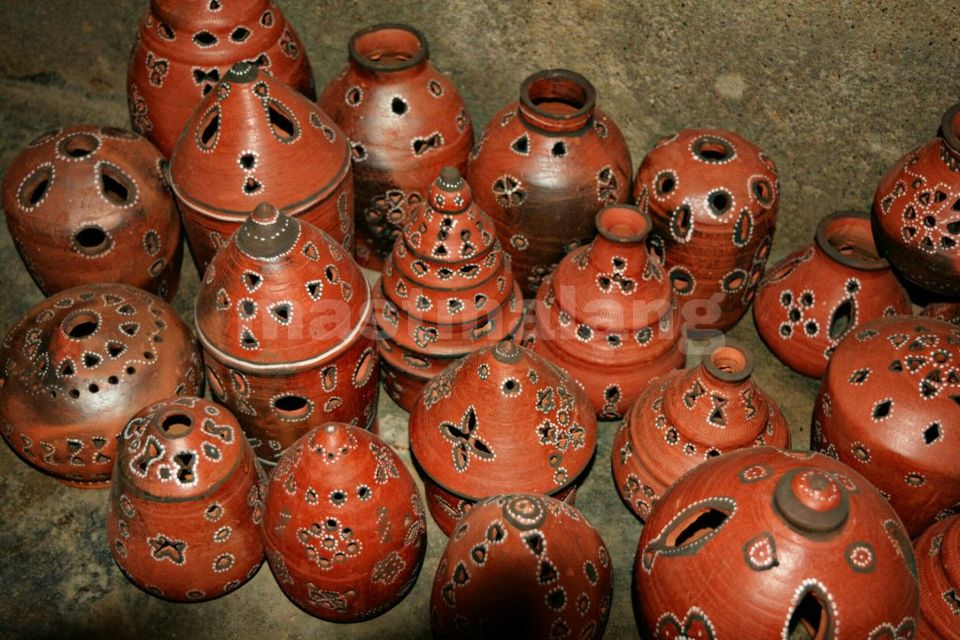 At one time almost every village in the region had Kumbhars or potters of their own. After all, before the advent of the plastic era, pottery was a way of life. But gradually, and especially after the devastating earthquake of 2001, the art saw a steep decline. Now only handful of villages, such as Lodai, Bhuj, Khawda, Anjar, Gondiyalli practice this art.
Like any other village of Kutchch, Lodai is also dusty and having a crude appearance. Most of the houses have a verandah with an open kitchen and toilet in one corner. There are two rooms side by side along the corridor. The walls are plastered but not painted. Most of this construction is done under the rehabilitation programme after the devastating earthquake of 2001.
The Potters' way of life
The Kumbhars had always been an integral part of agriculture-dominant India. They fulfilled utilitarian as well as religious needs of the community. This was the reason that they were given the title of "Prajapati" (lord of the people). Have you noticed the important role Kumbhars play in various rituals, like the marriage ceremony, child birth, and even death?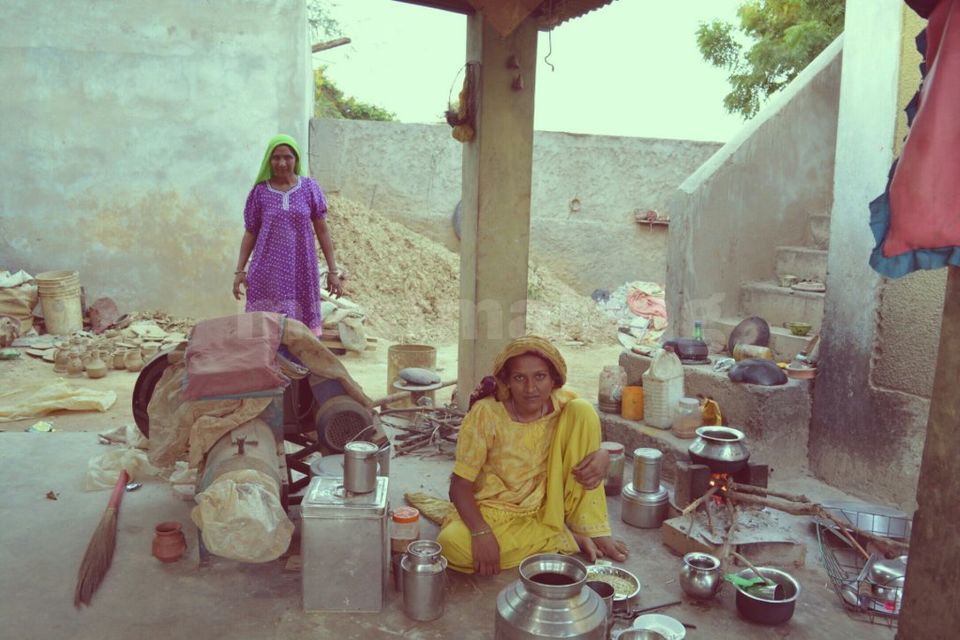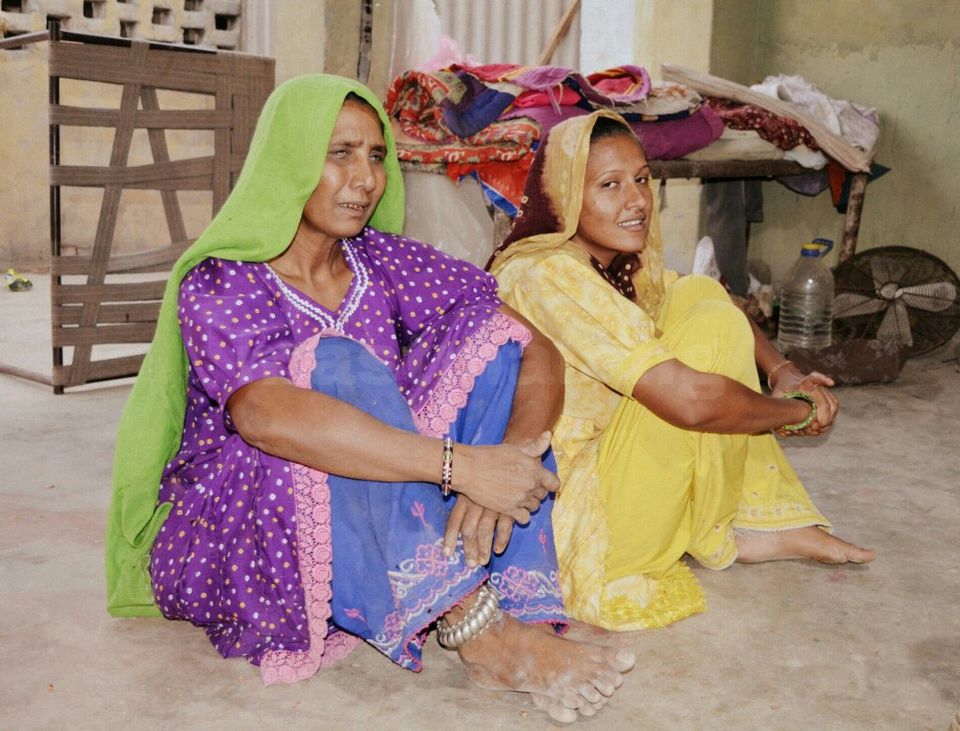 The life of a potter is not easy, it demands intense labor and time. Potters use a special type of clay, which is the salt-water clay from the sea. This clay has calcareous remains of the marine creatures which are burnt using the frying method. This adds porosity to the clay, which is an important attribute for the cooling property of the earthenware.
The Kutchch potters use a special technique called Gadhai to create large objects of pottery. In this, they beat the earthenware softly with a spatula to give it shape.
With the diminishing prospects of the art, now very few families are taking this up as a family vocation. In Lodai itself, from 40-45 families now only about 4-5 families are engaged in pottery.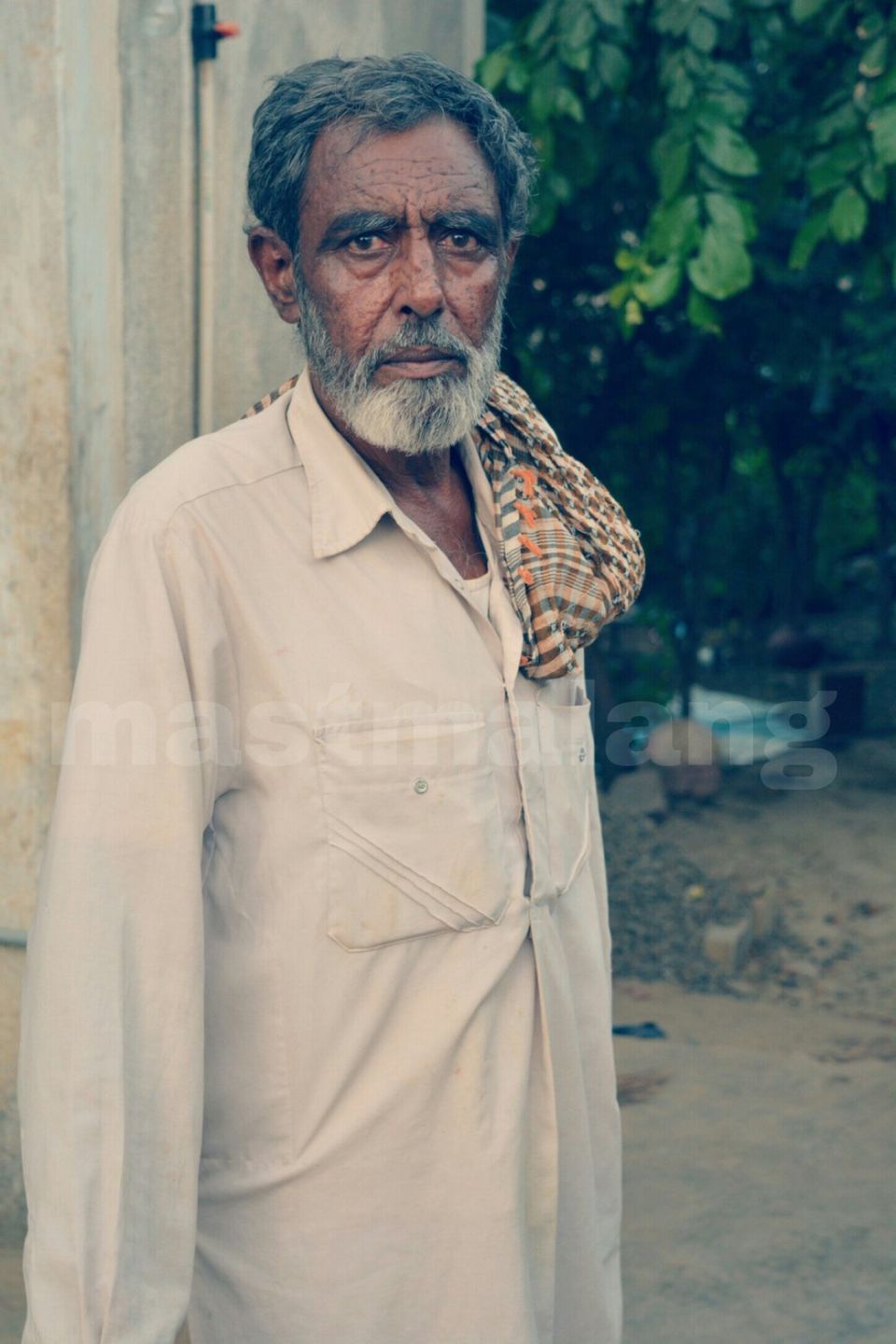 The potters make maximum profit during the time of Rann Festival. At times they get lucky when they get direct orders from a foreign client. But still this skill is not paying them the way other handicrafts of Kutch are thriving.
Like Ismail Hussain, a potter, laments that after the arrival of plastics and refrigerators the future of pottery is bleak. A major grievance of the community is the apathy of Government. They believe that while the administration is working for the upliftment of other crafts, they are just not doing anything for the preservation of this art-form.
Sadly, in absence of proper documentation and formalized curation, many unique designs and technique are now lost to the time. This thing I noticed on my visit to the Kutchch museum as well, as the museum housed all the famous art-forms of the region except the pottery. Thankfully, through the endeavor of some NGOs and individuals with artistic taste, there are now some efforts to revive this art. Noteworthy is the dedicated efforts by the Team Khamir, which works closely with the artisans of the region and give them a platform to showcase their skills. Here I am sharing the link to their page.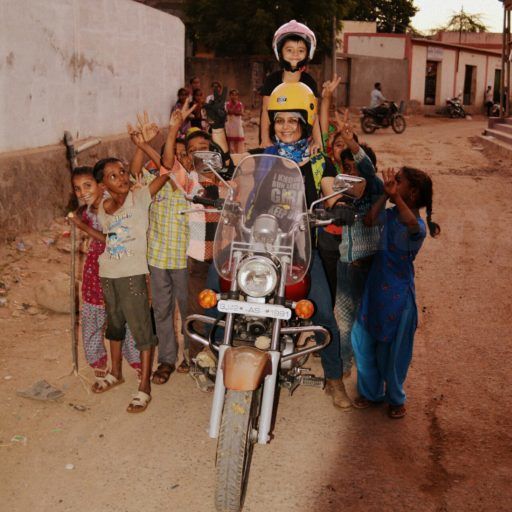 GANDHI NU GAM
This village is the new site where some of the settlements of Ludiya village were re-located after the 2001 earthquake. It is about 3km from Khavda and about 72 km from Bhuj.
This village has a predominantly Muslim population and a few Harijan families from Meghwal community, which are originally from Rajasthan.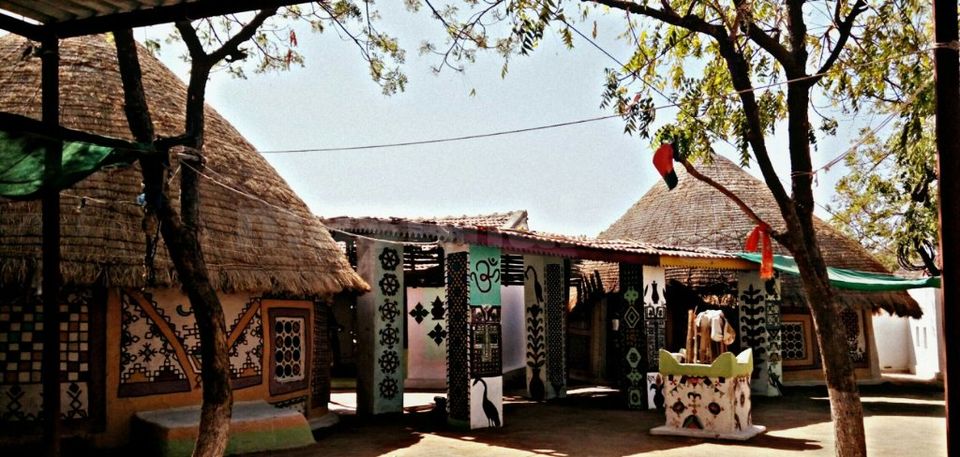 My first impression of the village was as if I had entered some themed resort, like choki Dhani or Dilli Haat. Beautifully painted Bhungas with their marvelous interior and exterior carving and gorgeously dressed up womenfolk. It was a feast to my eyes.
Before I introduce you to the skills of the village, let me first make you familiar with Bhungas. It is the hut like house, somewhat circular in shape and with a high-rise thatched roof in the shape of a conical hat. Both the exterior and interior of the huts are decorated tastefully with clay patterns and door intricately carved. On the high-shelves inside the Bhunga, shining brassware is arranged neatly. The thing which is remarkable about these dwelling space is their simplicity and yet architectural excellence. Despite the smoldering heat outside, the interiors are cooler because of the thick walls. There is an absence of modern-day gadgets, instead of traditional methods are used to adapt to the surroundings.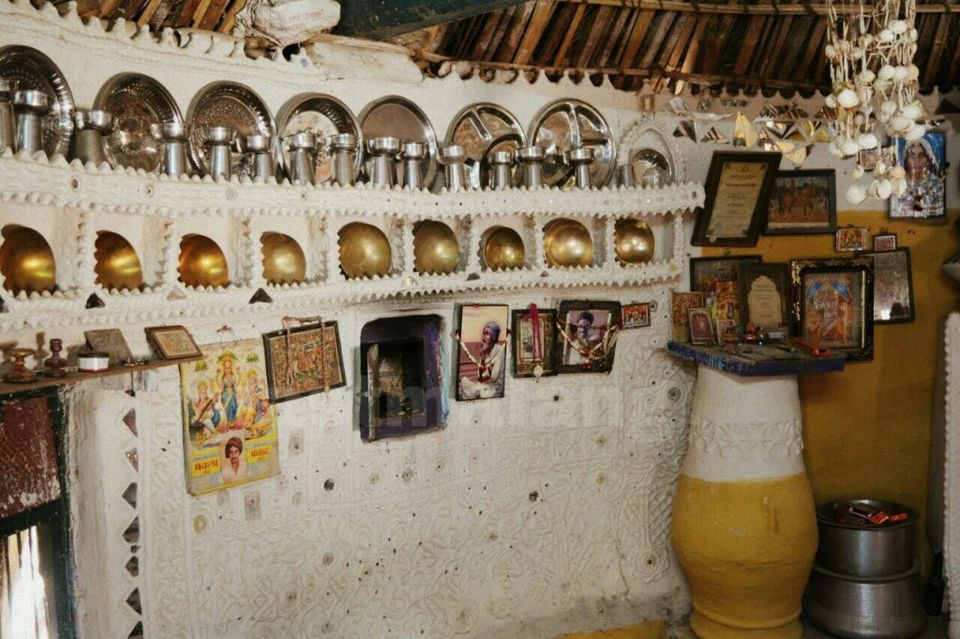 If by this you are getting an impression of some crude architecture then you are wrong. One will be surprised to know that in the 6.9 Richter scale earthquake of 2001 (which had the epicenter in nearby Khawda) almost all the modern brick structures were razed to the ground, but the Bhungas with their unique design remained unscathed. And this was the reason that the administration, in its post-calamity rehabilitation, constructed Gandhi nu Gam which has about 500 traditional Bhungas, including schools, community buildings, religious shrines, etc. Never before I have come across such a well-planned rehabilitation programme. In close participation with the villagers, the new location was planned, keeping in mind their economic and social needs.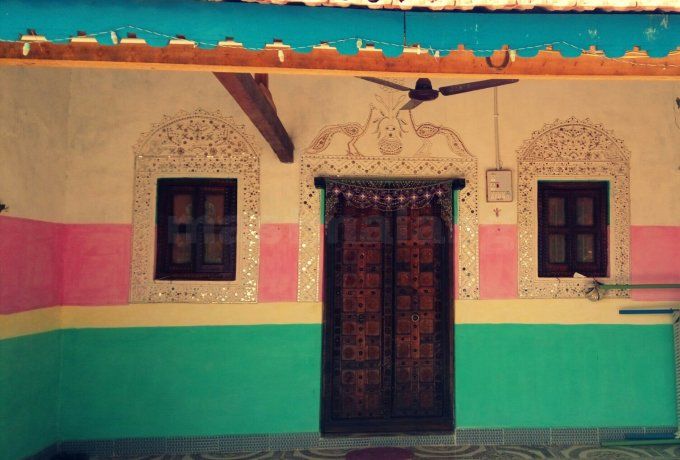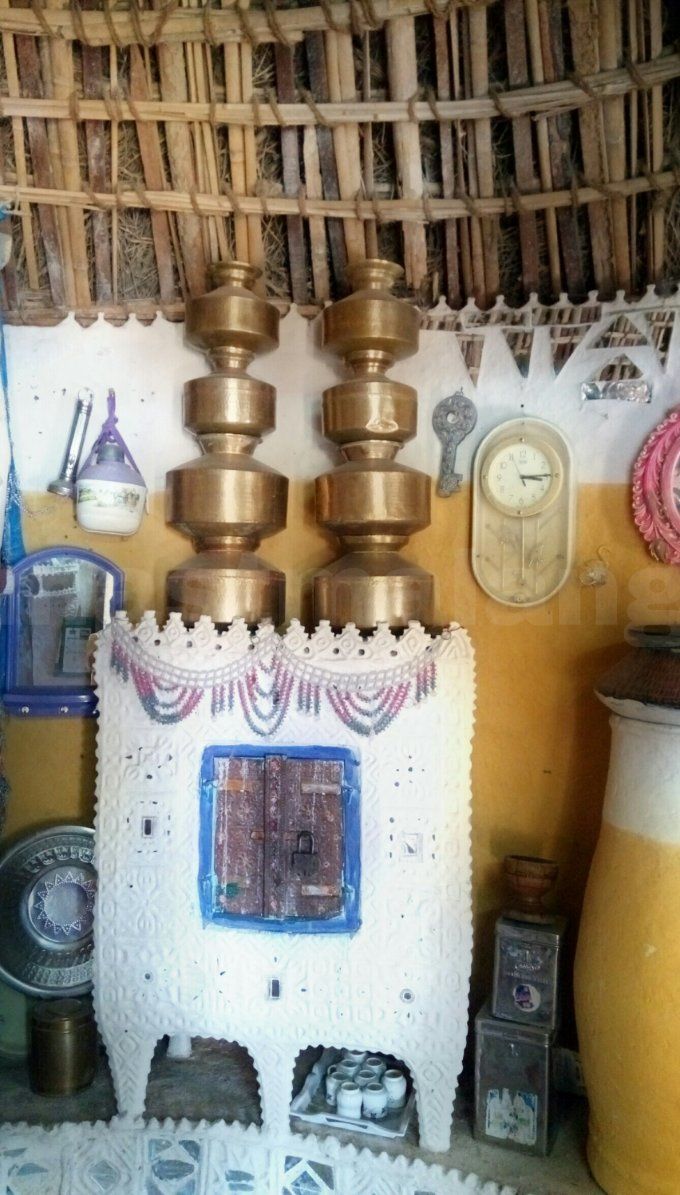 There are no streets in the village. The houses are inter-connected and the complete floor is neatly plastered with mud-cow dung paste. I have not seen a cleaner place than this.
While the men are engaged in carpentry and wooden carving work, women are engaged in embroidery work. You will find plethora of handicrafts here such as beaded jewelry, skirts, kurtis, blouses, jackets with Kutchi embroidery, decorative cloth dolls, wall and doorway hangings, wooden decorative items, quilts, bedsheets, etc. Tourism is a major source of income for these families, besides agriculture and construction work.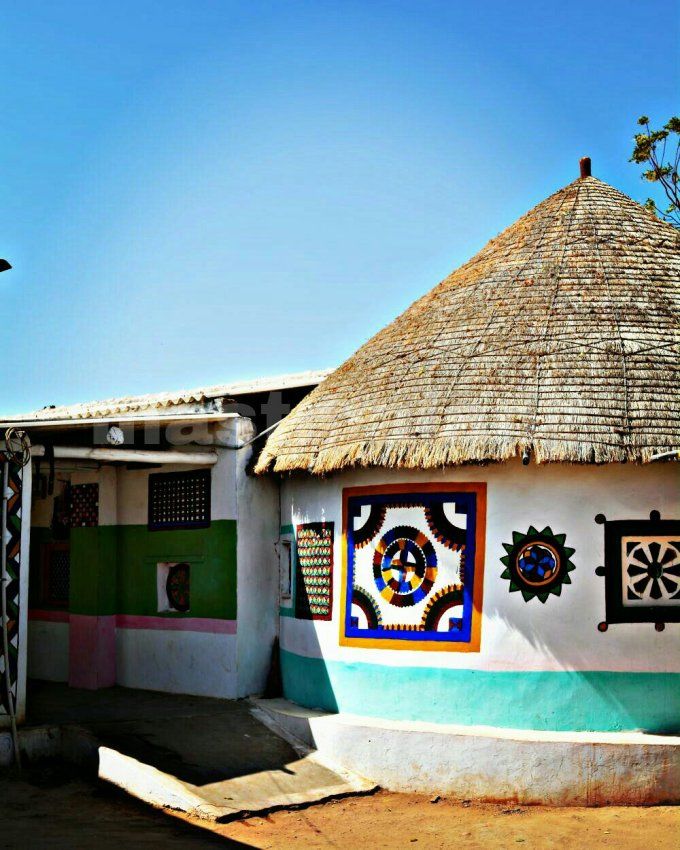 The women and girls are as beautiful as their skills. Fair complexioned, long face with sharp features accentuated by the traditional and heavy jewelry they wear, makes them so picture perfect. But they don't allow to be clicked. An old woman said that their face is displayed on the internet, which is against their culture; instead, she offered to take pictures of the men and the artifacts. However, few women allowed taking their picture for a fee of 100 Rs.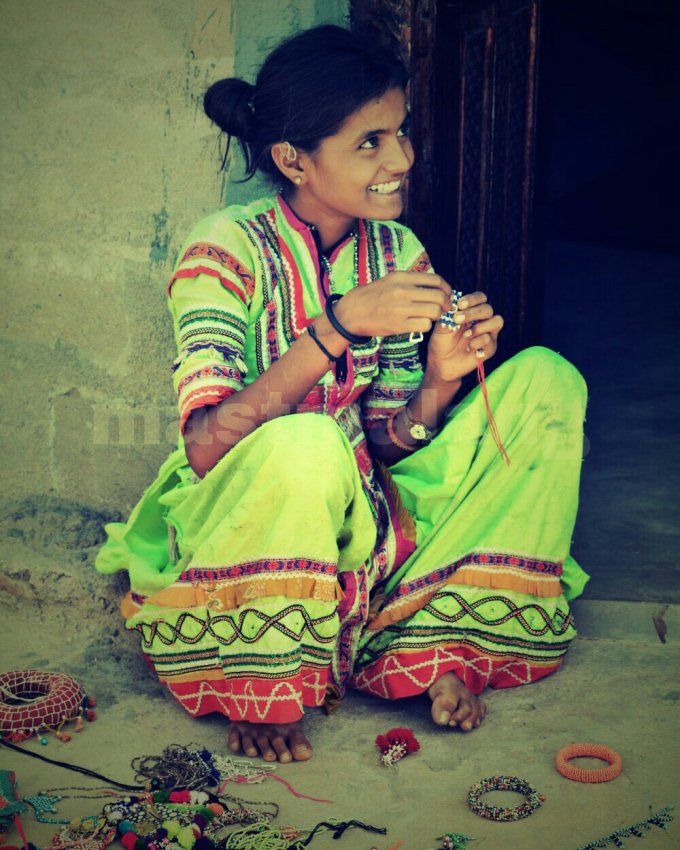 A quick look at what you can buy from these villages:
Lodai - Unique pottery designs as well as everyday use pottery. (One can even send designs on Whatsapp to these potters and they will make that)
Gandhi nu Gam: Bead jewelry, embroidery items such as quilts, skirts, jackets, wall-hanging, dolls. Wooden furniture with traditional patterns, like side stools, carved trunk. Wooden decorative items such as photo-frames, ashtray, etc.
*
In my next post in the series, I will share the popular and unexplored beaches around Bhuj, which are ideal of couple getaways and family picnics....and flamingo spotting.