Everyone have some wishlist when one starts travelling, like that I am also having such checklist of the destinations. I started chasing wishlist and one of the memorable ride which i came across was my ride to Raan of Kutch, North west temple of India and Lakhpat (20 kms from Pakistan border,last village of india near Kutch district) in January 2016.
It's very difficult to manage when you are working and managing leaves from office and having a ride, but no matters it's always fun to live like this ;)
It was a month of January there was 26 jan on Tuesday so I planned to take a leave of Monday and to leave Pune on Friday after office for 2800+ kms circuit of Pune- Raan of Kutch - Narayan Sarovar - Lakhpat - Pune in next 4 days.
Me and one of My friend Neeraj was planned for this road-trip and day arrived we both were set with own bikes, Bikes were fully loaded with bag, tent, sleeping bag,etc.. ( Pure happiness) :P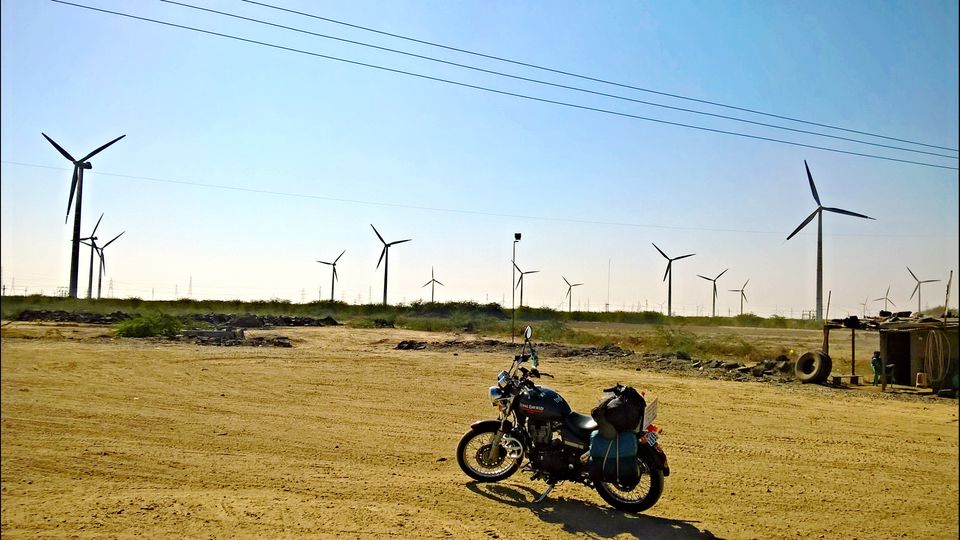 As per plan we left office in evening by 5 and hit the NH4(Pune-Mumbai highway) for this ride. Meanwhile i was putting a board saying "Always give way to ambulance, Just think some day it could be you... Always wear helmet" on my BLACKPEARL for spreading some awareness in people :) .
We bypassed mumbai by 9 PM and we hit NH8, after riding 260 kms from Pune it was 11 PM in the clock so we decided to take a dinner and just 2 hours sleep before Talasari, Maharashtra. We had a dinner and slept on the roadside dhaba khatiyas.
Its was freezing cold night, after just one and half hour sleep we wake up and had a tea @1.15 AM. We left dhaba by 1.30 AM. Usually i avoid night riding, but I was totally aware of the highway discipline so we decided to roll on for our further journey in night. It was 3.15 AM and were shivering with cold while riding, we took a halt after navsari toll plaza. Some police people were sitting in front of bonfire, to get warm we also joined them for few mins had a chat with them and left for further journey.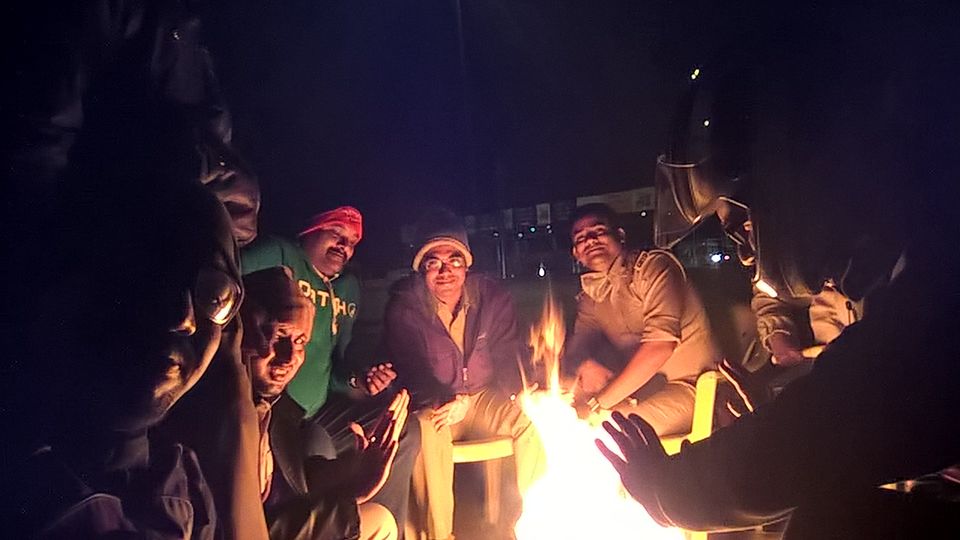 It was pleasant morning.. Smooth roads, shivering cold and we were thumping on the road. Distance was getting covered so fast.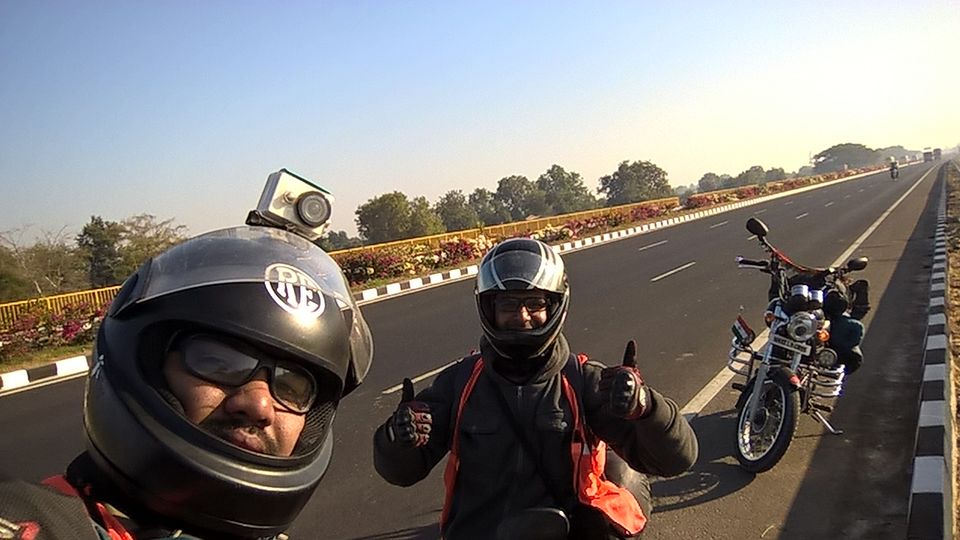 After covering 400 kms from Talsari by 9,30 AM we reached Ahmadabad, Founder of Enfield Pirates Ahmadabad chapter "late. Kalpesh Mewada" was waiting for us at one of the hotel in Ahmadabad. We had a breakfast and gupshup with him and moved further for our Raan of Kutch.
Road was awesome, scenic, beast were running so fast on butter smooth roads. At any cost we wanted to reach Kala Dungar, Kutch by 7 PM which was 430 Kms from Ahmedabad. 
We had a short cut from Bhachau to reach BHUJ and by 5.15PM we reached bhuj after covering almost 1000 kms from Pune in 23 hours, A NEW RECORD was set for us by us :P . And finally we were smiling as tag line of Kutch says itself "MUSKURATE RAHIYE , AAP KUTCH ME HAI" (SMILE YOU ARE IN KUTCH)
Still it was very cold, we were unable to ride in such condition so again we decided to take a halt for another round of tea. Nothing can beat the hot tea with bourbon.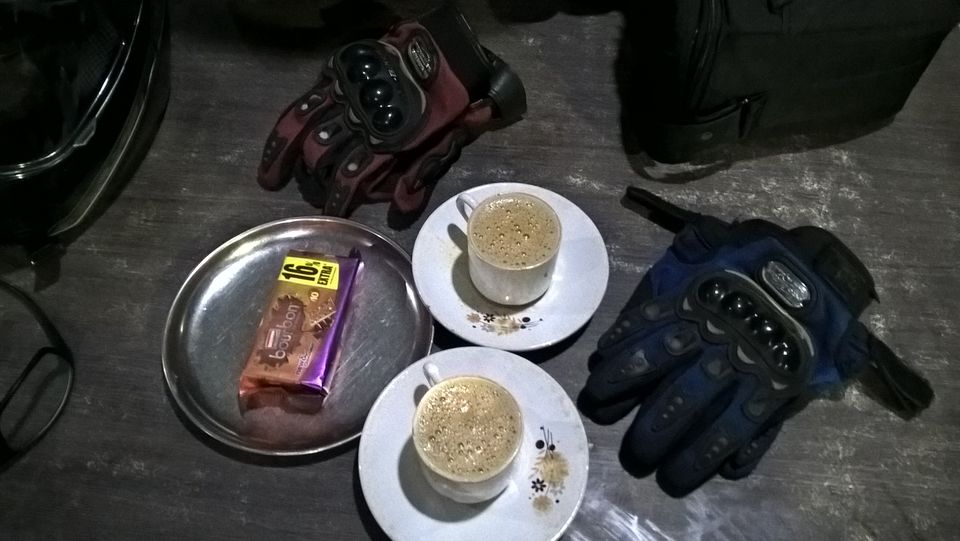 After fuel up the tanks in Bhuj we started bhuj- Raan of Kutch road.
With speedy wind we were approaching Kala dungar which is highest point in Kutch and we were done with the advance booking of the hotel in Kala dungar. While heading we came across board of passing of line of tropic cancer.
The scene was like this, from one side sun was setting down and from other side Full moon was rising which was first beautiful scene witnessed in Kutch. It was 6.45 PM and darkness was about spread over the salt marsh and one mishap happened with me. Me and my BLACKPEARL was badly got hit by buffalo en-route, I went to other side of road with broken speedometer, left indicator and misaligned handle bar. I saved by a fraction of seconds, from other way Innova was coming and I was entered in his lane due to buffalo's stroke, Heart stopped beating for a sec, BLACKPEARL got hurt very badly, still somehow with misaligned handle I managed to reach Bhunga (Room of the hotel) that we pre-booked which was our first mistake (We booked room hotel a week before our ride for Rs,3000/night and after reaching there we came to know that there was clean and nit dormitory was also there which was pretty cheap as compared to room) :P
Anyways we finally reached at KALA DUNGAR (Highest point in Raan of Kutch) We visited Temple at top, had a chat with BSF jawans over there, and witnessed salt marsh in full moon light :) .
We covered almost 1100 Kms in almost 26 hours, it was very tired day so after dinner immediately we went to bed...
Somehow in the back of the mind Me and Neeraj was worrying about the broken BLACKPEARL, but someone(will come to later on) was taking care of us remotely who was knowing each in and out Raan of Kutch.. Riding Brotherhood Is was !
Total distance covered : 1100 Kms from Pune in 26 Hours
Road conditions : Pune- Mumbai(NH4) 4 Lane smooth road
Ghodbandar, Mumbai- Ahmedabad (NH8): 6 lane butter smooth road
Ahmedabad- Bhuj(NH947) : 4 lane road smooth road
Bhuj - Kala Dungar (NH341) : 2 Lane road.
Accommodation expenditure : Rs. 0 for the Dhaba Khatiya
Rs. 3000/night for two people for the hotel in Kala Dungar.
Food expenditure : Around 300/head.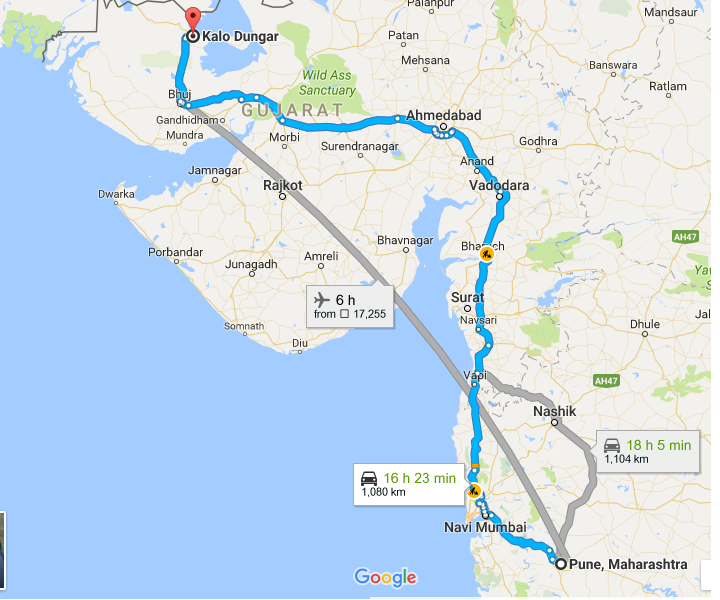 Day 2 travelogue coming soon, stay tuned ! :)