Fix You
Sky full of stars
Hymn for the Weekend
Magic
Paradise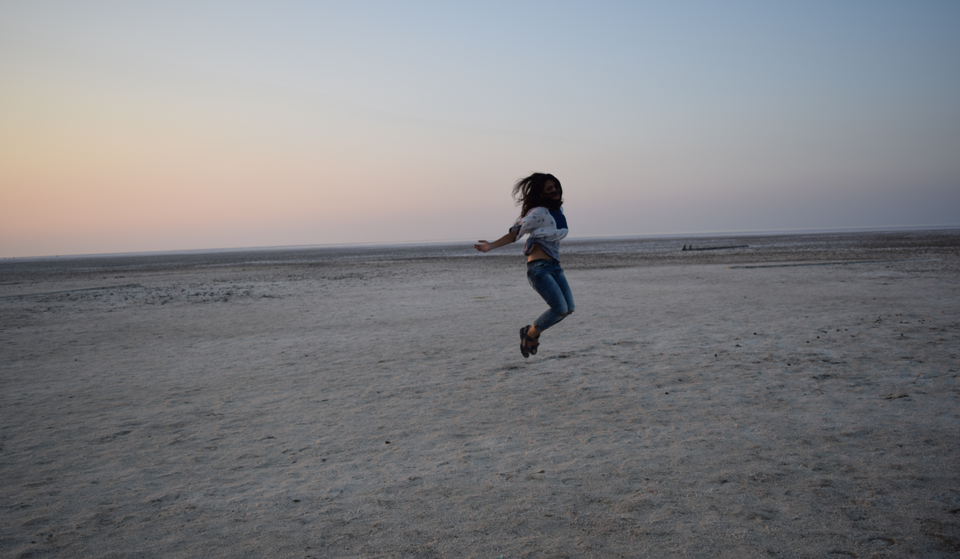 Most of you would know by now that this is a Coldplay playlist and an awkward start to a travel blog but I promise this is relevant. The thought occurred the day and I was returning from an impulse trip to Pune. With my head out of the window, annoying the co-passenger with the chilly air and thinking where to go next. Lonavala's chaiwala had a Gujarati Khakra on sale and I thought Why not? Searched Makemytrip and there it was –Return ticket from Mumbai to Bhuj for 5.5K.. I didn't need another second to think and counted days on the abacus before boarding the pretty little Air India 30 seater plane to Bhuj.
Enter Bhuj!!!
So one of the first things on entering Bhuj was this!! And it actually made me give a 32 tooth smile ( I don't think I have 32 teeth yet and I am too bored to count!!) to a signboard making the autowala bhaiya judge me.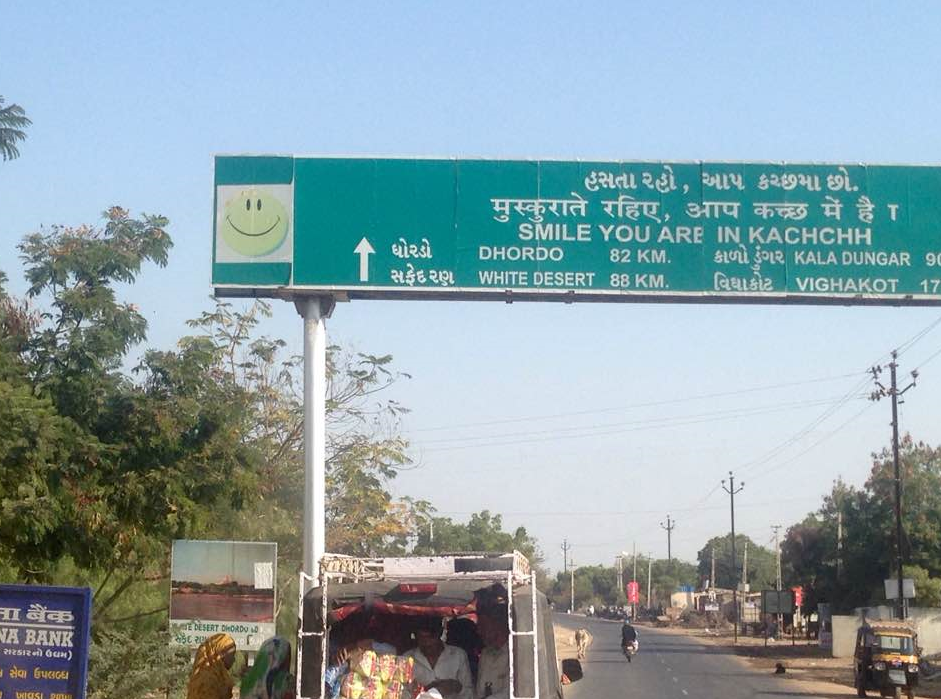 Another hour of the thrill ride later and chats with the autowala bhaiya –listening to local myths of Bhuj being built on the head of a hugeeeeeeee snake and when the snake moves- Bhuj shakes and hence the earthquakes , passing through the Rann Utsav stalls I finally reached the entrance to the White desert. So its nothing like I imagined it to be. I wanted to run with the wind on the vast expanse of white nothingness , just my 20kg backpack with a borrowed tent didn't let me run too far.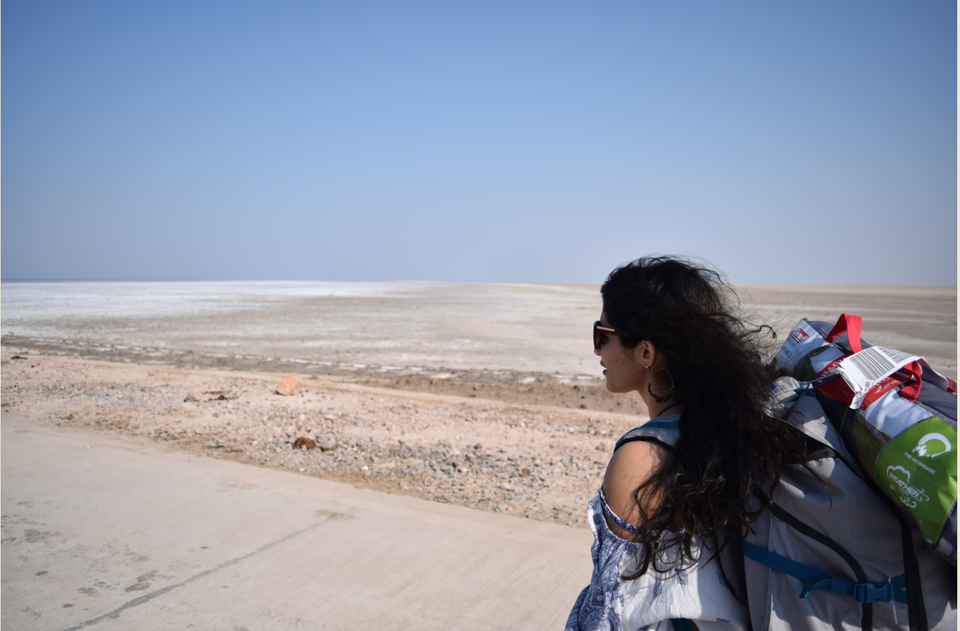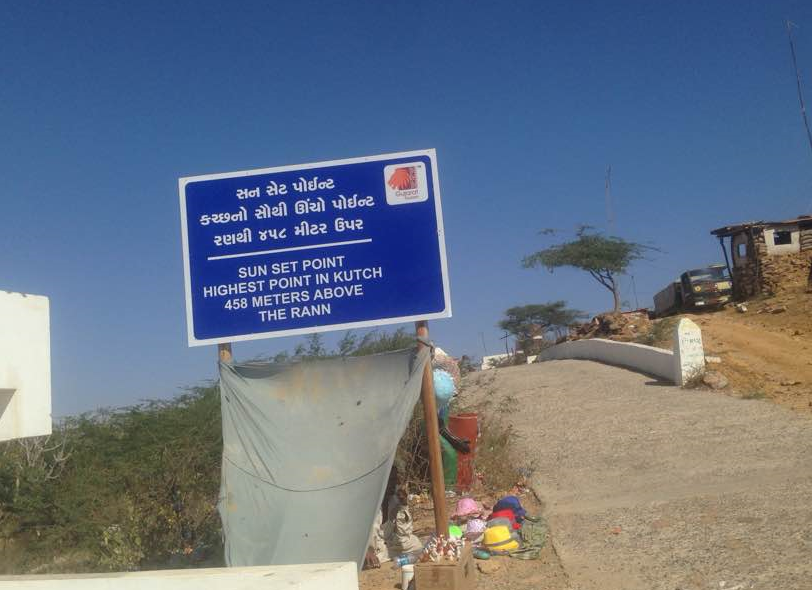 Initially I had thought of taking a place in Bhuj and then going to the desert but somehow I couldn't hold it and decided to go with the flow. I took a shared auto to Kutch (Rs 450) which is about 92 kms from Bhuj Bus stand. It's a 2 hour journey through the vast deserts. Beyond the desert lands and some more deserts which merge into the horizon.About 40 kms into the desert there is a desert security checkpost where you have to get a pass for a 100 bucks to do further via Dhordo road into Kutch.
It was just the start of the trip but on either side of the road, passing through caravans and camels and almost everyone waving as you go, I felt blessed that there are people who aren't corrupt with the citylife- people who still care about the little things in life, people whose faces are lit-up with a smile when a stranger waves to them.
It was a landform I had never seen before. Walking on a dried up salt marsh alongside the Gulf of Kachchh which was one a part of Arabian Sea was exhilarating in itself.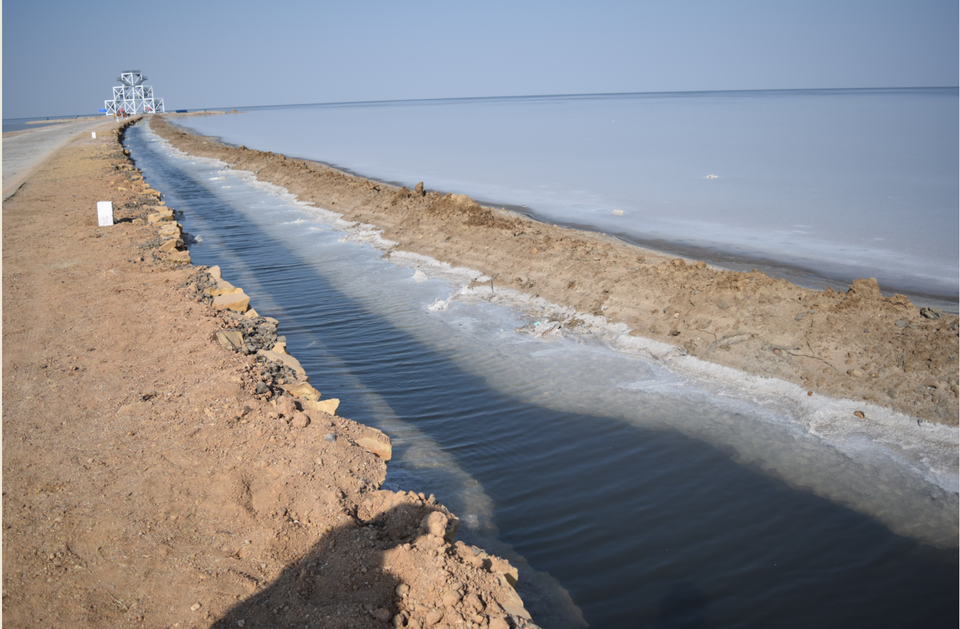 Google says it's the largest area of "Nothingness on Earth". Well Yea!! Factually I trust Google but something about the nothingness and more nothingness and water beyond was really special.
Actually taking out salt from the Gulf!!! :P
I went at the Utsav time but demonetization did me a huge favor ,the usually overcrowded desert at this peak time was almost empty.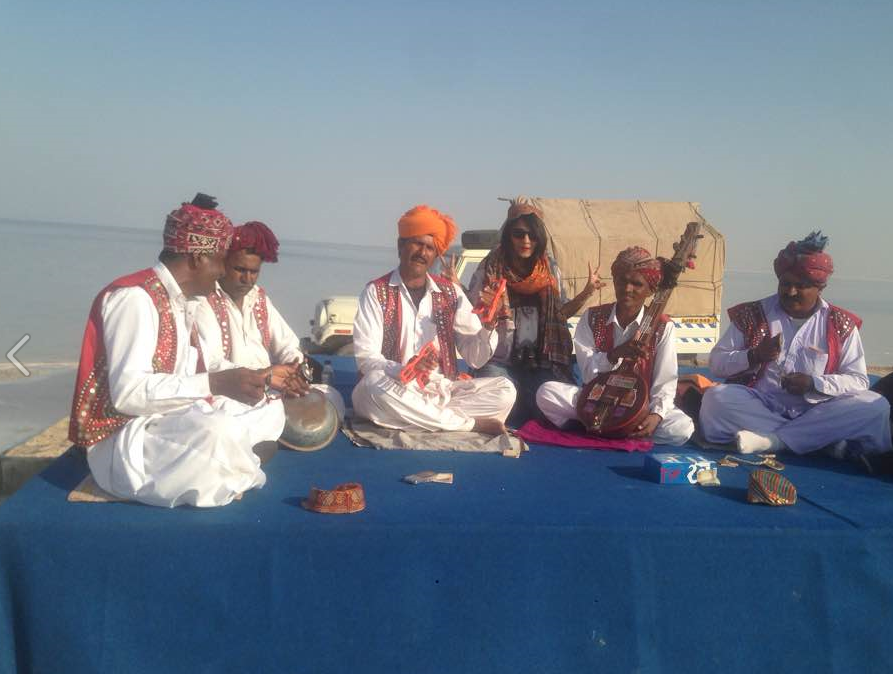 Another fact here, you are not allowed to pitch your own tents anywhere on the salt desert but I don't know, they were kind enough to me and since there were no people around they let me pitch mine!!
After an hour of setting the tent, the tripod the cameras and the speakers ,I finally settled down and waited for the sunset with Coldplay in the background.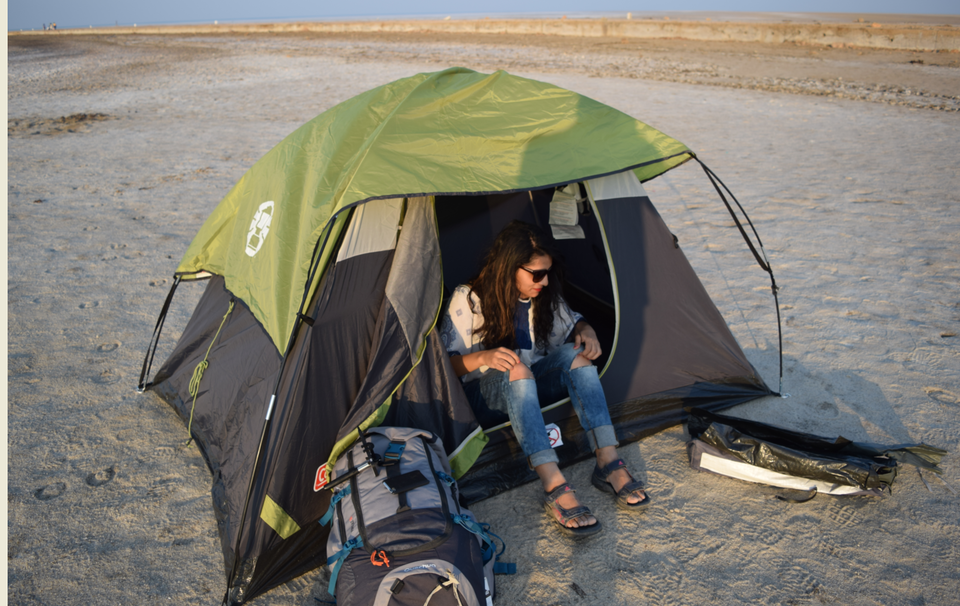 The sunset actually has all the colors of the vibgyor..i am not a huge fan of sunsets but this really was something .The rays reflected on the white salt to make all sorts of color dances.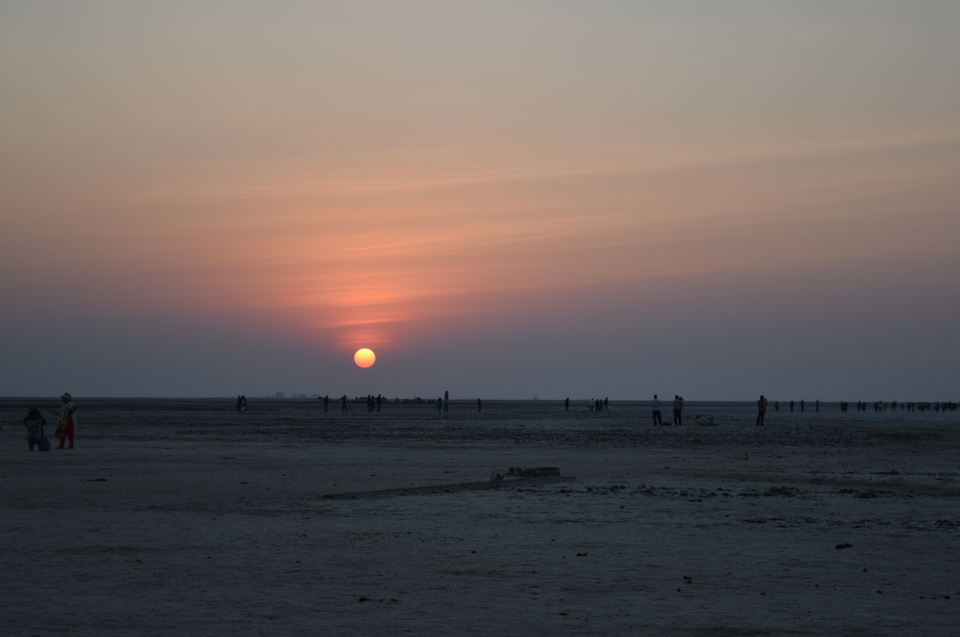 Around 9, I packed my tent, but I didn't want to leave the desert. The sky was literally silver with stars and the sand was white and I was drawings constellations with my fingers. If felt like another parallel dimension of existence. As I lay back on the white sand facing the sky and "A sky full of stars" just sounded perfect on the playlist. There was no one around for miles, but interestingly enough I wasn't scared. On the night of 25th Nov, 2016 I was the last person to leave the white desert!!
I pitched my tent inside Kutch resort. Rooms are hefty priced at 5k per night with very less scope of bargaining. Demonetization to the rescue!! Resort was almost empty so I paid 1k to for pitching my own tent. Make sure you are inside a closed premises in the night as it's a border area so better to stay safe. I had the mostttt amazing Kutchi Thali here for just 150 bucks and trust me :It was out of the world heavenly.. This coming from me, being a devotee of non-vegetarian food should give you an idea.
The next morning had a trip to Kala Dungar which is about 80 kms from Kutch.I took various lifts, village autos, a water tanker to reach my destination since there is nothing which runs direct between Kutch and Kala Dungar. 2 hours and 300 bucks later, I was in India's last inhabited village and 60Kms later, it's Pakistan on one side and Arabian Sea on the other.
On way to Kala Dungar, you cross a magnetic hill where the car does uphill on neutral. So the theory is the Earth holds a lot of iron below the road and hence the no-acceleration journey. Kala Dungar has the highest point to view the vast expanse of Rann beneath.
Next destination was Indian International Bridge. Now the best part! I came back from Kutch to Bhuj -90kms in Rs 60 –the cheapest and the best ride of my life - on the roof of a big Tum-Tum auto. Simple Swades things!!!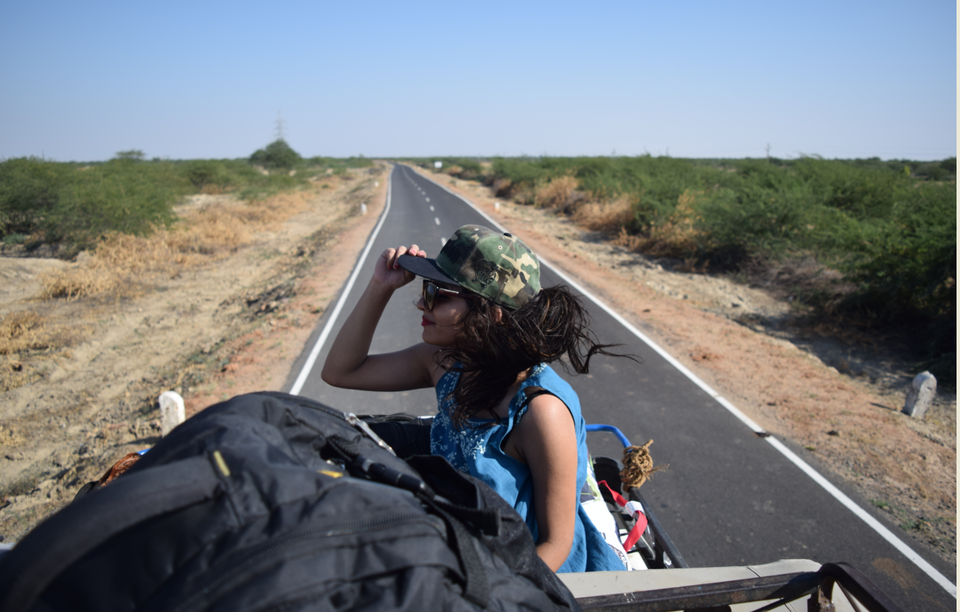 It was around 5pm when I reached Bhuj and I decided to explore the city on foot.There is this very pretty market near Parag Mahal which is around 400 years old.This is a good place to shop for souvenirs. Next I went to Aaina Mahal which is nothing like a conventional Museum.. Its somewhat a mirror maze-amazingly intact and transports you back to the 18th century.
My last stop was the Bhuj lake- Sunset over the lake with the flamingos was an amazing way to wrap-up Bhuj.
So finally, getting back to Coldplay- Kutch was Magic in a Sky full of Starts – a Paradise far far away , a perfect Hymn for the Weekend and even more perfect way to Fix myself 
Okay just some points for the ladies!
It is very safe so don't worry about travelling alone.
The people are genuinely friendly, so don't be scared to ask for help.
Be sure to carry a lot of sunscreen and cash as there are no card machines at most of the places.
Keep traveling :D <3
Until next time
KP