Dry leaves welcomed my jeep. The safari had begun. We had 3 hours to find the elusive prize, and it was all or nothing. A few meters ahead, a peacock flashed its feathers at me. Vibrant, blue and beautiful. I knew that day was going to be special.
That day, I had my first rendezvous with the Asiatic Lion at Gir.
Gir Wildlife Sanctuary, in Gujarat, is the sole home to the Asiatic Lion in its natural habitat and that made my sighting very very special.
To reach Gir, the quickest way is a flight to Rajkot and a drive for 3-4 hours depending upon the stops made on the way. That was the way I reached Club Mahindra, my stay for the next few days.
The Gir Wildlife Sanctuary opens its doors for tourists from 6 AM to 9 AM and from 3 PM to 6 PM every day. I decided to visit the Sanctuary in the afternoon.
The drive to the Sanctuary itself was beautiful. The cool January air was refreshing. The village itself was clean and the Forest Department has done a good job maintaining the approach road.
Pre-booking the sanctuary visit is highly recommended in case the batches get full. However since I was visiting during the off-season, getting a booking was not difficult.
The Gir Sanctuary is a 1412 acre expanse out of which only 10-15% is open for visitors. There are specific marked routes, which each jeep gets allocated on a random basis. There are 3 routes, which jeeps enter either from the beginning or the end, this makes it 6 different routes that a jeep can go on.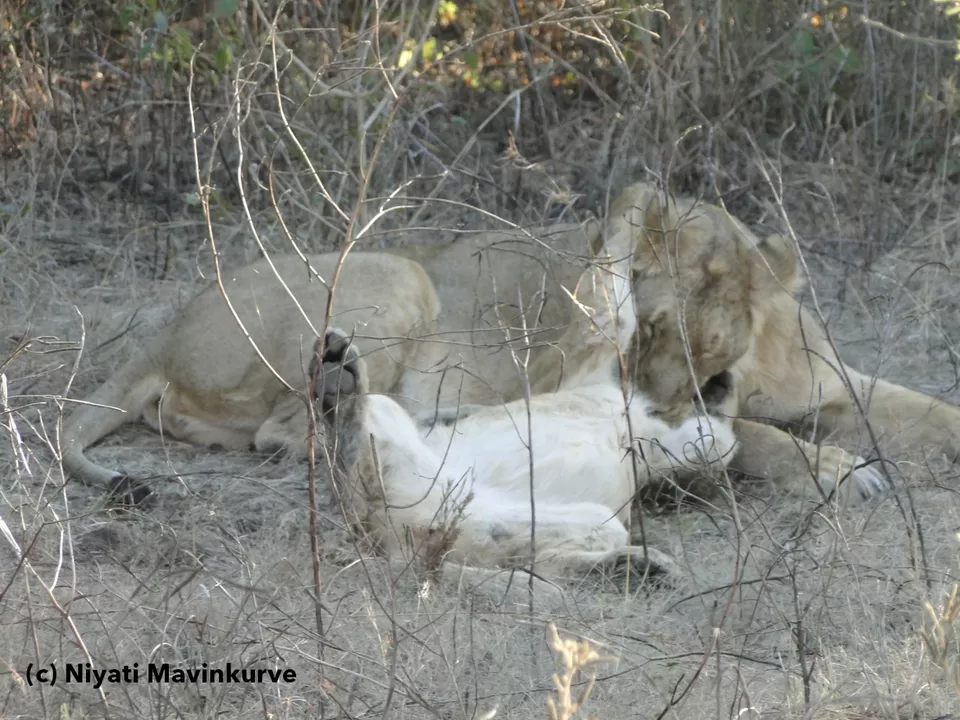 The route that I was allocated was Route 6, which was the one Amitabh Bacchan was allocated when he came to shoot the Gujarat Tourism Ad in Gir a while ago. I learned from my guide, Abu Bhai, that since the tourism ads had started running, the Sanctuary had seen a 5-fold increase in tourists during the peak season time. This had a ripple effect on the village earnings and employment. It was so heartening to hear that initiatives that the Government took were brining about a change.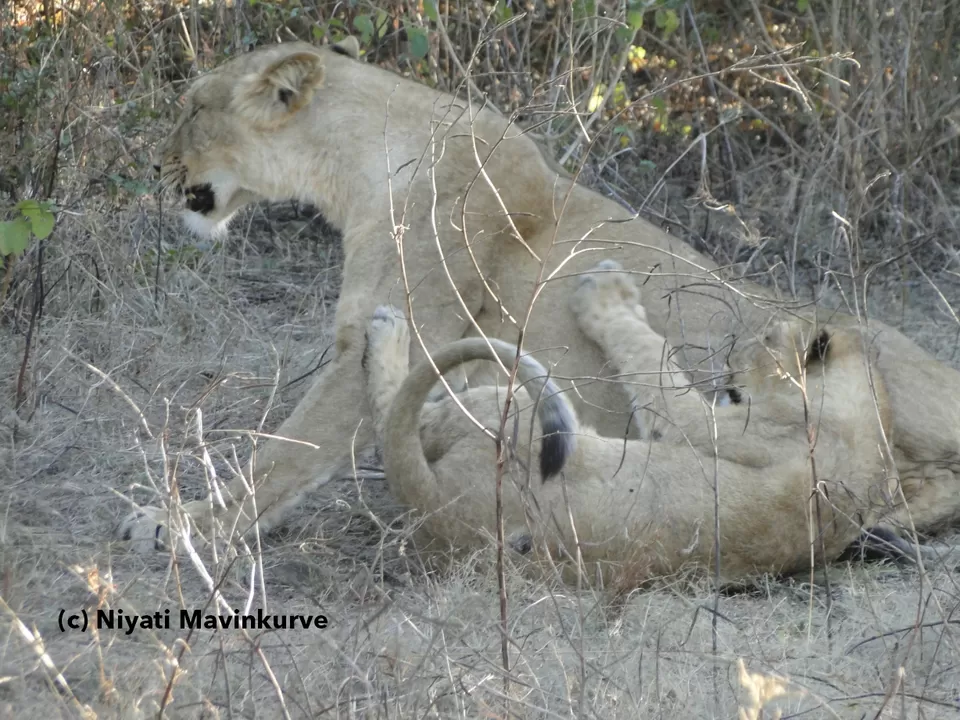 Abu Bhai was my eyes and ears for my journey into the forest. He spotted animal tracks and also pointed out birds while giving me tidbits of knowledge. Like for instance, there were tribals called Maldharis who stayed in the Sanctuary despite it being protected land. Their harmonious co-existence with nature and their intimate knowledge of the forest helped the Forest Department with their tracking efforts.
Our Tata Safari took us deeper and deeper into a drying forest, mostly in hues of yellow and brown. Our guide interacted with a Tracker which meant that there was a lion nearby.
As the jeep ventured further into the forest, we came across one area where there was a lioness and a cub. It was surreal seeing the majestic lioness so close. The jeep was silent and I stood completely mesmerized. The cub was trying to play with his mother and watching this playful banter was an out of world experience. There was a grown up cub sitting a little further away who, was watching the whole episode without getting affected.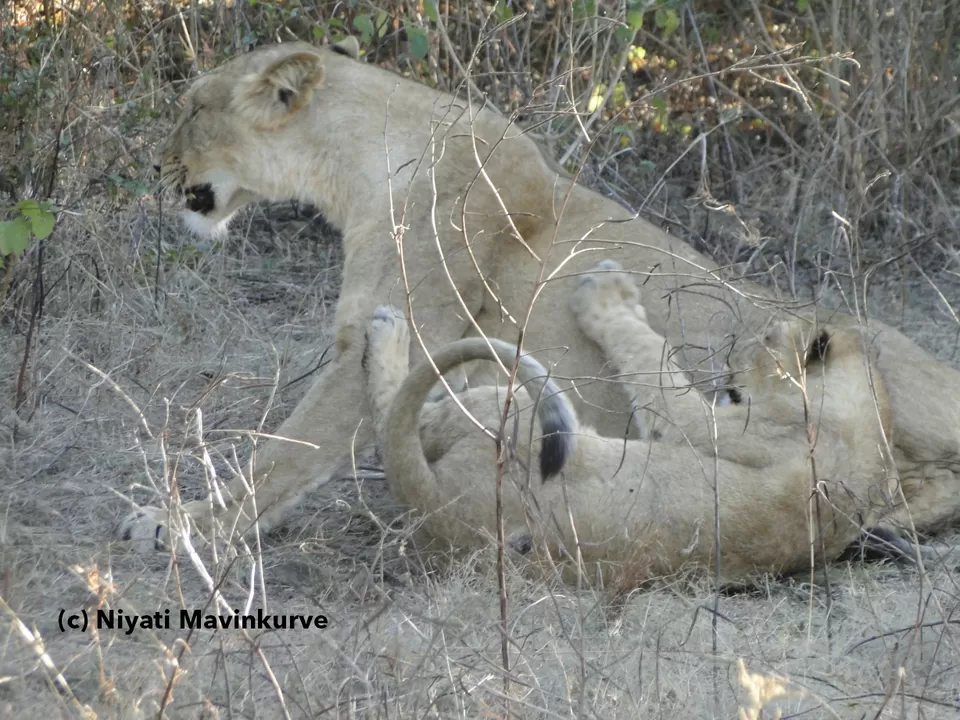 A little further ahead, we came across another lioness who was hidden among the grass. There were a few jeeps who were waiting and watching. There was a cacophony from the people, who finally our guide managed to silence. The noise didn't disturb the lioness and I was glad to have a few extra moments with such a majestic creature.
After the third lioness sighting, the jeep managed to come across a wild boar and a few bird species, all of who played an important part in managing the ecosystem. There were several spotted deer along the way, grazing at a distance.
My trip into the Sanctuary ended on a high note. Watching the lions at such a short distance was beyond anything I could have ever imagined. Such a close interaction with nature tends to humble you and my experience validated that.
It is rare for us city dwellers to imagine how animals live and such experiences enable us to appreciate them and work a little harder for their conservation. The officials at Gir work day and night to improve the Asiatic Lion population and my trip introduced us to wildlife lovers in a small village.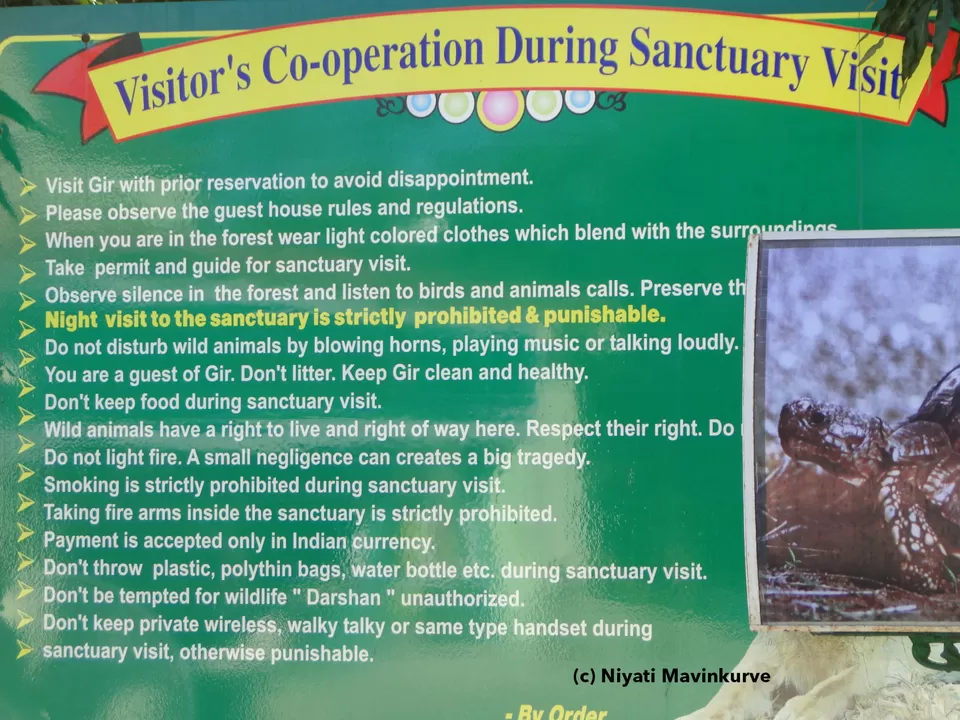 Gir is a beautiful sanctuary and the village surrounding has good and friendly people. There are small food outlets serving wholesome, homely meals. The park officials and the guides are committed to their job and are very knowledgeable about the sanctuary and the species that are in the park.
Travel Tips and Tricks
• A trip to Gir can be managed in 2 to 3 days
• The Sanctuary is open from Mid October to Mid June
• The Sanctuary runs trips from 6am-9am, 9am-12pm, 3pm-6pm
• The Gujarat Tourism website has a list of hotels in Gir along with Sanctuary timings
• A guided tour works out very well to spot different creatures and learn about them
• The peak season for sightings is April-May, however, be mindful of the weather in Gujarat. Trips in the winter are pleasant.
• Gir can be reached from Rajkot airport. It is 65kms from Junagarh and 40kms from Veraval Railway stations.
Frequent Searches Leading To This Page:-
Best Tour Packages for Gujarat, Top Gujarat tour packages with price, Best Travel Packages for Gujarat, Best Budget Trip to Gujarat, Gujarat Holiday Tour Packages, Top Gujarat Packages for Family, Gujarat Honeymoon Packages from Delhi, Places to Visit in Gujarat Other Than Beaches