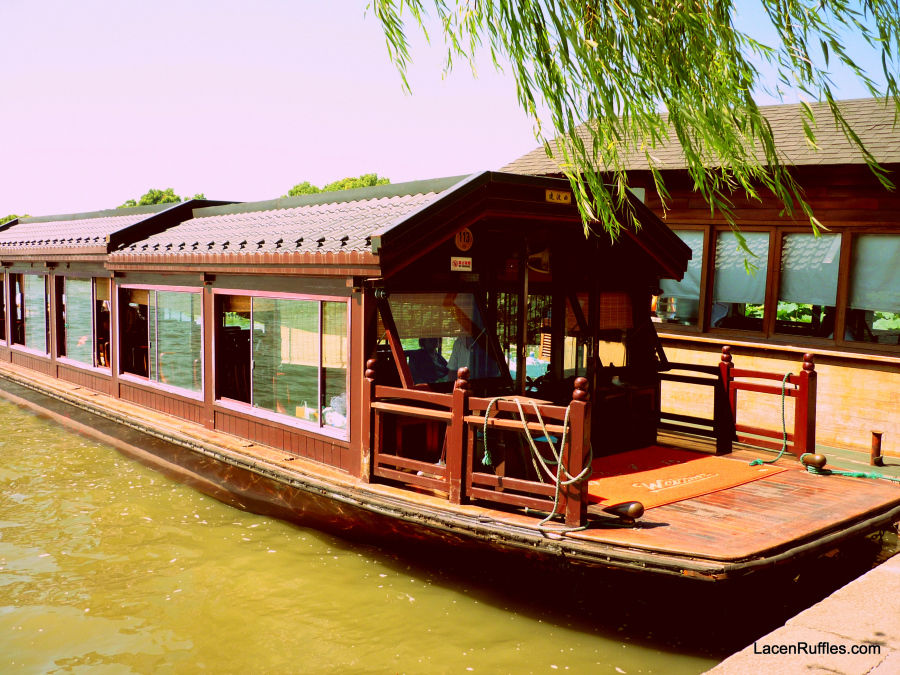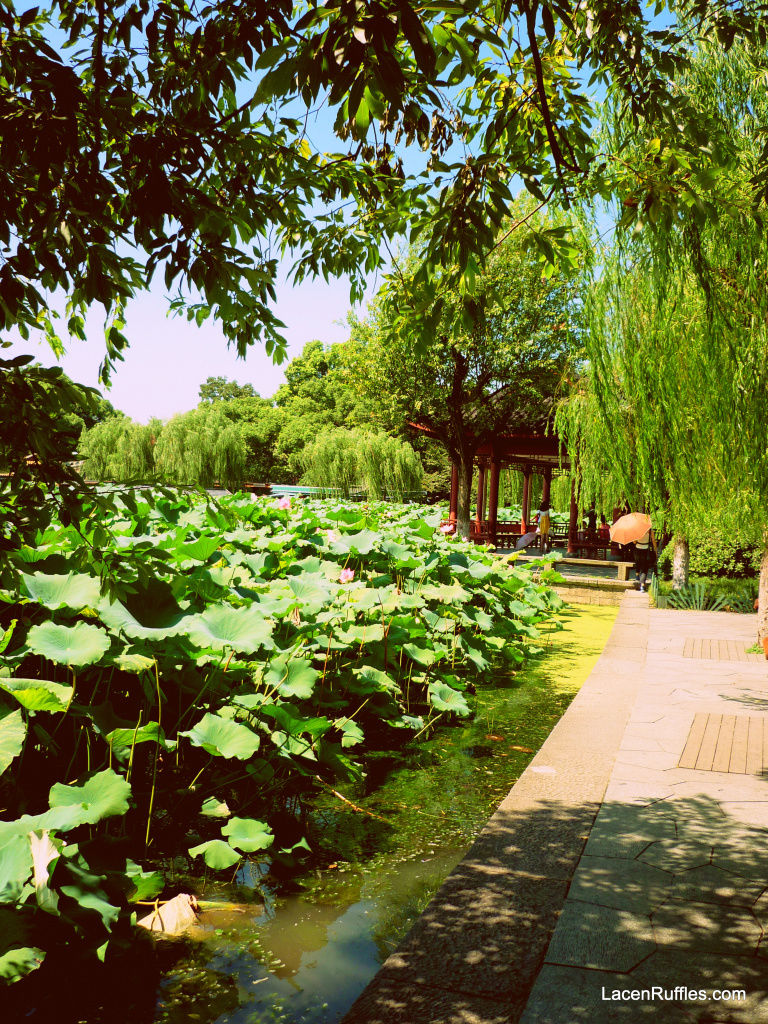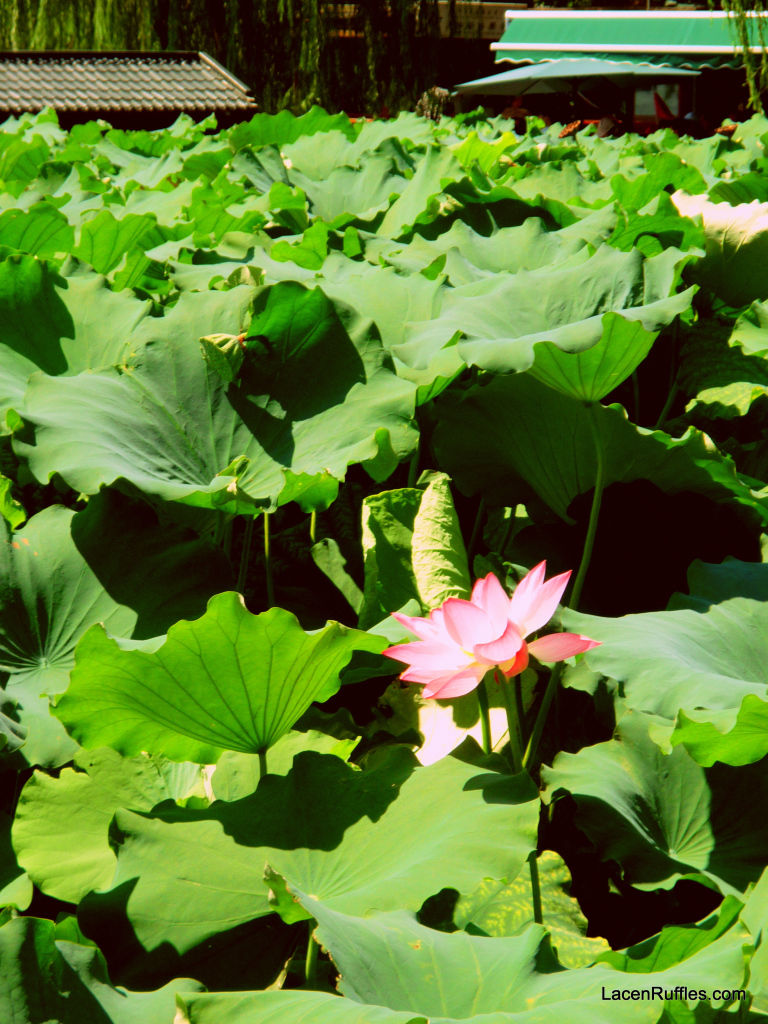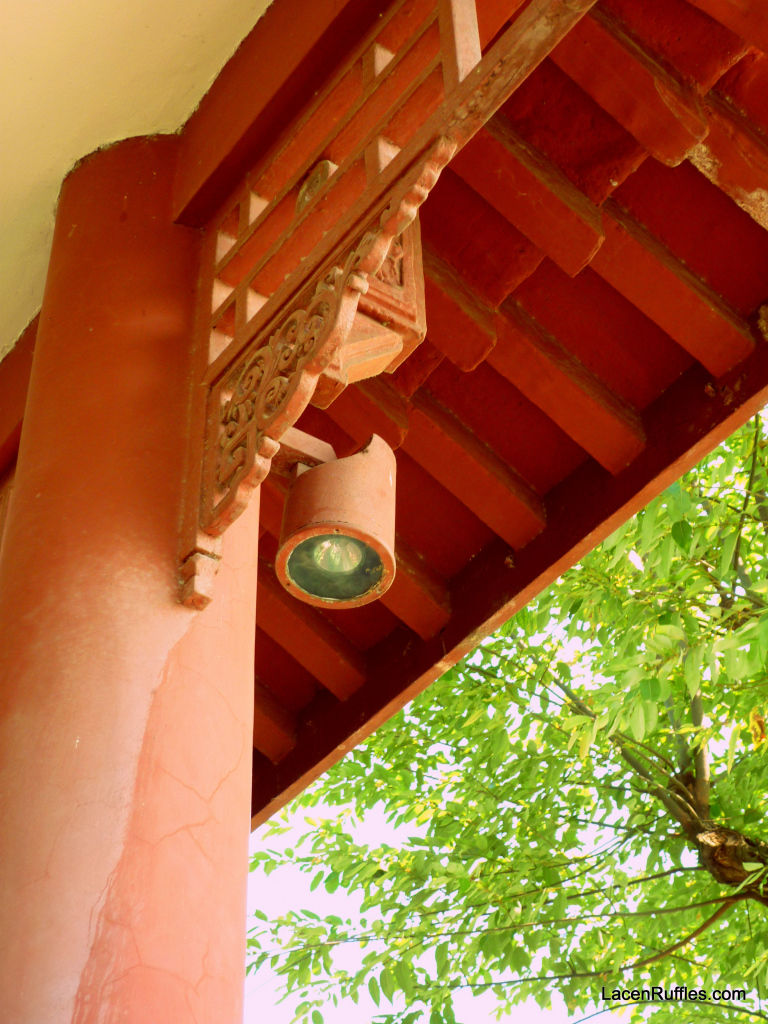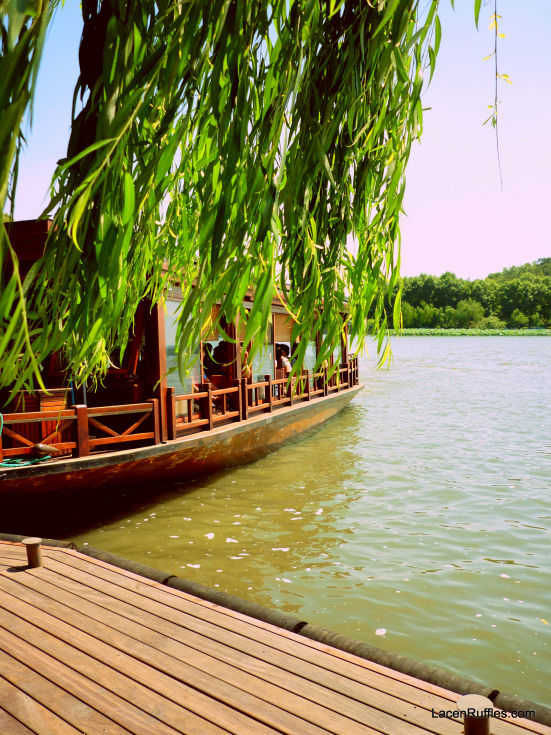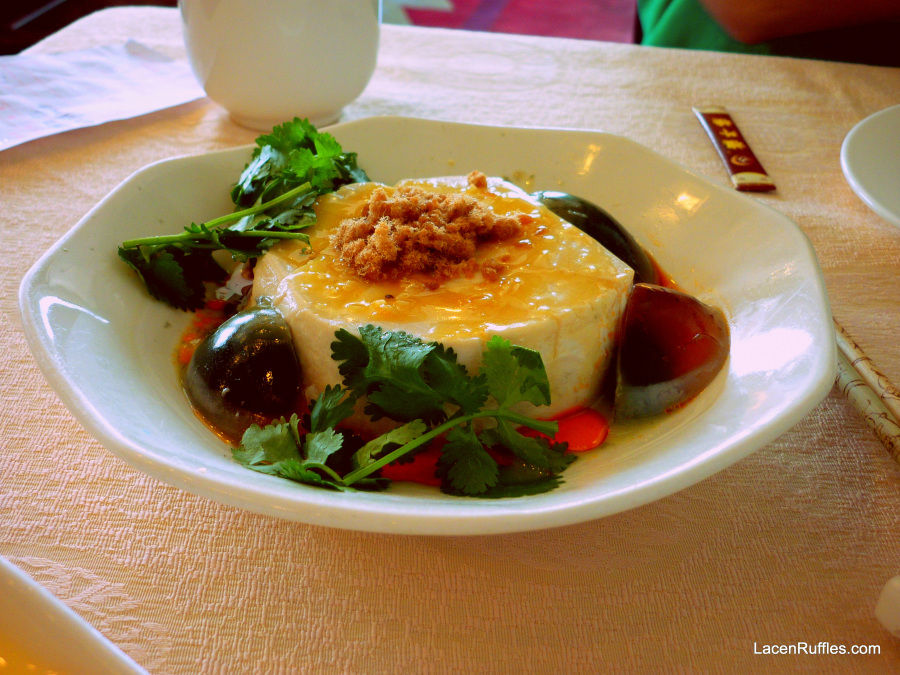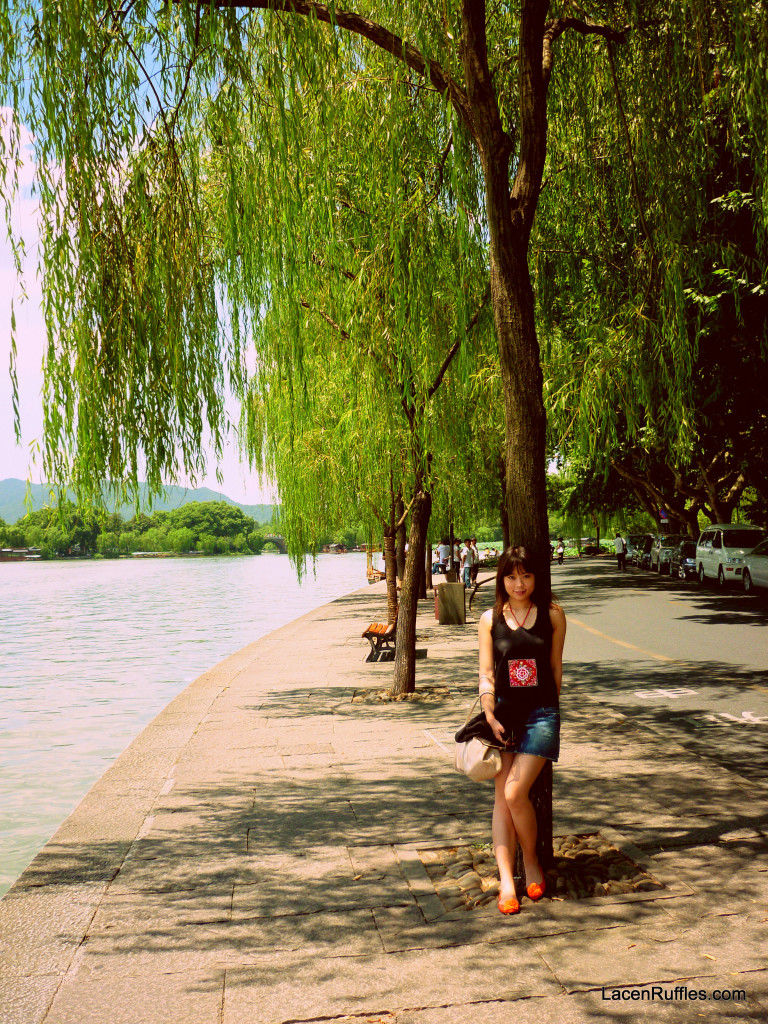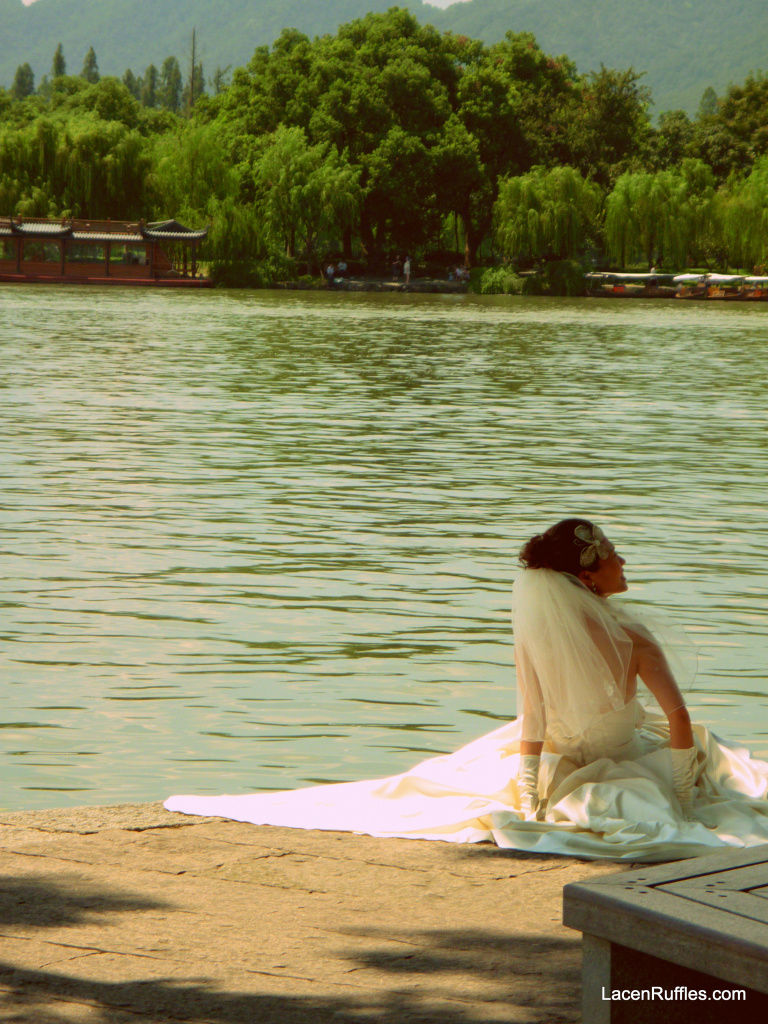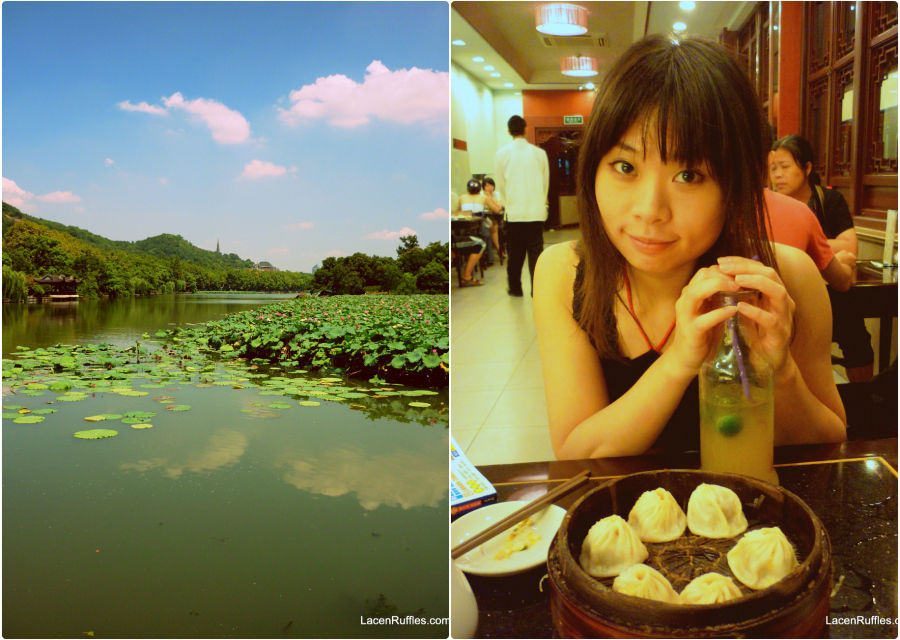 For those who may not have heard of this grand ancient city which is just an hour's train ride from Shanghai, it was actually named as 'the most splendid city in the world' by Marco Polo more than eight centuries ago. On the way to my hotel near Westlake in my taxi ride, I felt rejuvenated by looking at the lush green that lined the shores of Westlake district, the carefully crafted and preserved pagodas and pavilions, and the peacefulness of this mountain-fringed city. It was simply splendid by the look of it for sure. Here I began my journey to find myself in a love-hate relationship with this mysteriously enchanting place. Check out my visual travel diary through Hangzhou and I'll share with you the things that got me like and dislike this garden city.
What I LOVED:
The idyllic rowboat ride on a misty morning. Apart from peddling, another fascinating way to see Hangzhou (without sweating up a storm!) is to let someone else do the hard work and row you on a charming Qing dynasty style boat. I was there during Moon Cake Festival and seeing the candle-lit stone towers in a distance was simply one of most mystical travel moments. Riding alongside the reflections of pagodas that was enveloped in the morning mist, I totally see why this mysterious place has ignited creative sparks among some famous Chinese poets.
Best Time To Visit: Apart from during Moon Cake Festival in autumn other great time to see Hangzhou on the lake is during springtime in April when peach and plum are in full blossom – what a sheer delight!

The bittersweet tastes of tea-infused Hangzhou cuisine. I'm a massive fan of Chinese tea and being able to taste Longjing tea in all different dishes from entrees to desserts has sent me on a food coma! Hangzhou is rightly called the 'Capital of Tea' and is the birthplace of the beautiful Longjing tea (Dragon's Well). With its sweet-at-throat sensation and malty aftertaste, the culinary masters in Hangzhou have found Longjing to be a match made in heaven for desserts – did someone say Longjing creme brulee and Longjing honey smoothies? Oh my!
Best Pick: I had the most decadent and complex Longjing infused flavours at Crystal Jade Garden restaurant and some family style local teahouse where there isn't any English sign – the local places are definitely worth checking out.

What I LOATHE:
Be aware of pickpocket gangs and they're everywhere. That was indeed the number one party pooper during my Hangzhou trip – a 3-minute walk down to bus stop from my hotel and my camera bag was cut open with my Nikkon lens no where to be seen – boo! Our conversations with local police has alerted me to the astonishing fact that local pickpocket gangs even use chopsticks to pick mobile phones from pockets and, apparently they do it so skillfully! I was pretty lucky to have my loss covered by my American Express annual multi trip insurance in a breeze – just a phone call and they got most of the paperwork sorted. From that day onward I'd call a reliable travel insurance my number one essential for travelling to China, perhaps even more so my Mel jelly flats that I've taken to places…

Dodgy merchants, taxi drivers who all try so hard to rip you off. If you've travelled a bit in South East Asia, you're no stranger to the concept of bargaining hard at the markets and being alert of travel scam. Sadly, you do have to take your bargaining skill to the next level in Hangzhou and throughout China generally speaking. I go by slashing at least 50% off the marked prices and never buy at shops where buses of group tours visitors get taken to. Ask your concierge to give you an idea how much your taxi ride will cost and negotiate with the taxi drivers beforehand.

The absolute chaos on the road. Hire car is a big NO NO in Hangzhou unless you enjoy being stuck in hours of traffic staring at walls of people and cars on the roads that resemble swarms of bees. Best way to get around this chaos? Bikes and tourist rowboats are guaranteed to be the most scenic means of transport and reliable. Even if you want to get to the outskirts of the city, the new high speed train is a much smarter and safer choice. Hangzhou certainly did put on a splendid show. It has been a breath of fresh air compared to the big smoke in Shanghai. And I didn't let a few hiccups ruin my travel moments.
Originally published on Lace n Ruffles.
Hopping off the Chinese bullet train at Hangzhou Station from Shanghai, a few things that are distinctively Hangzhou have struck me right away.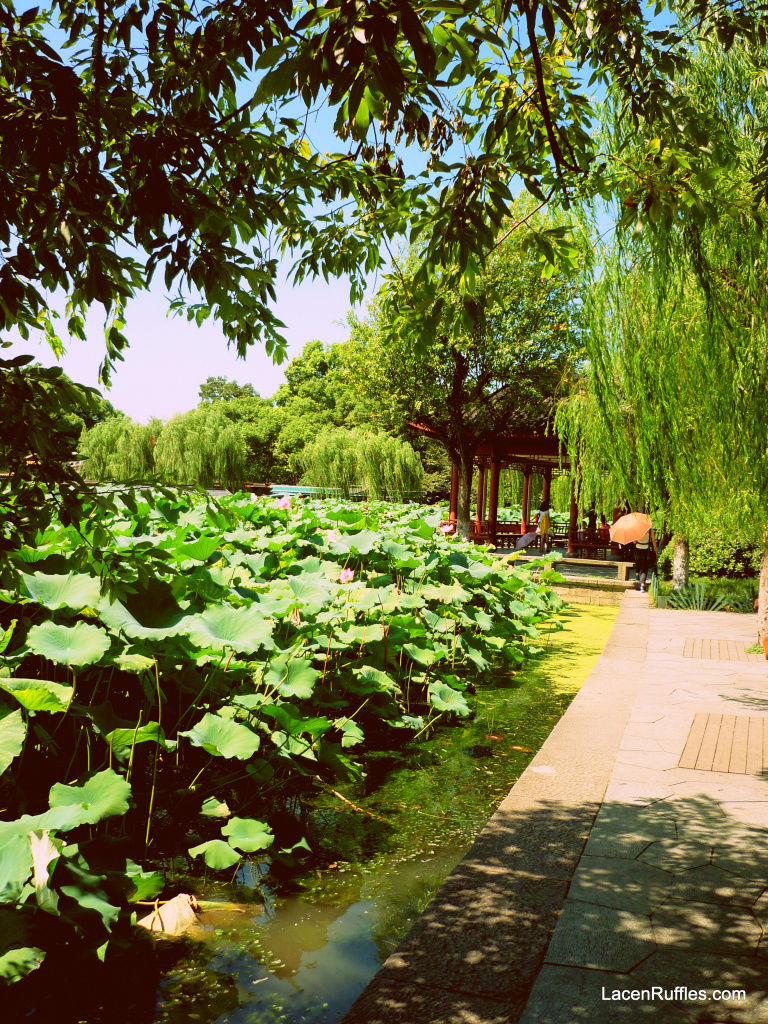 Westlake is named the pinnacle Hangzhou experience, and the willows help set the movie-like scene for the most picturesque spot to shoot wedding photos. There's something about these willows by the lake that make them oh-so-romantic. Perhaps it's them waving gently in the wind like they're having a dang good time soaking up the golden sun. Best Way To See Them: Hire a bike and peddle your way through some scenic routes such as around the iconic Broken Bridge.