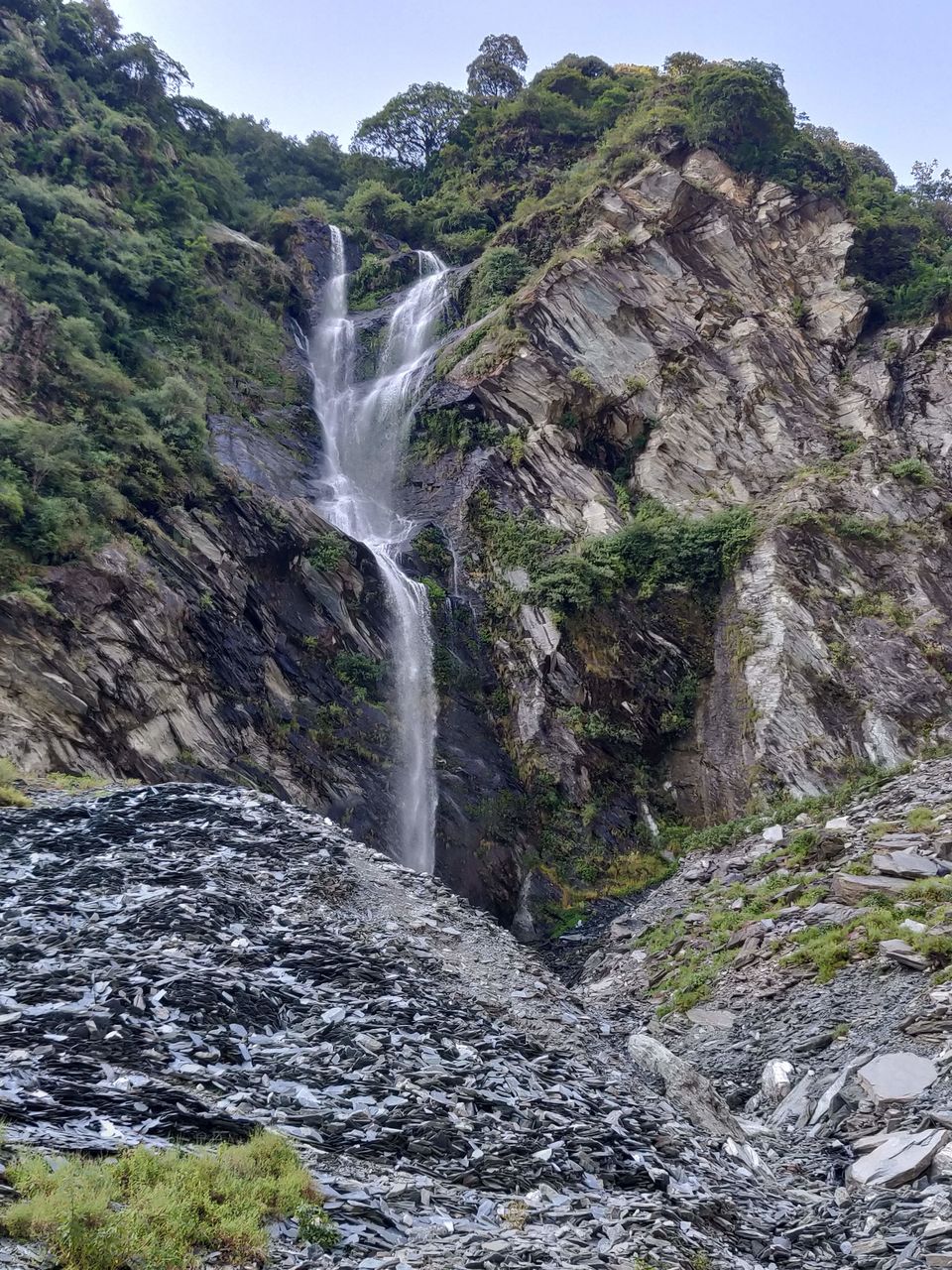 Do you ever wonder how the interior of a jungle looks like? Would it be a land full of lush green trees, vibrant flowers and towering waterfalls? Or maybe just worn-out trees waiting for their "fall"?
I got all my answers.
We, a group of 11 sophomores, rented a 12-seater tempo traveller and set out for Dharamshala in Himachal Pradesh.
The journey to the destination was a rather ordinary one. Curvy roads, chilly breeze and soothing music - typical to hilly regions.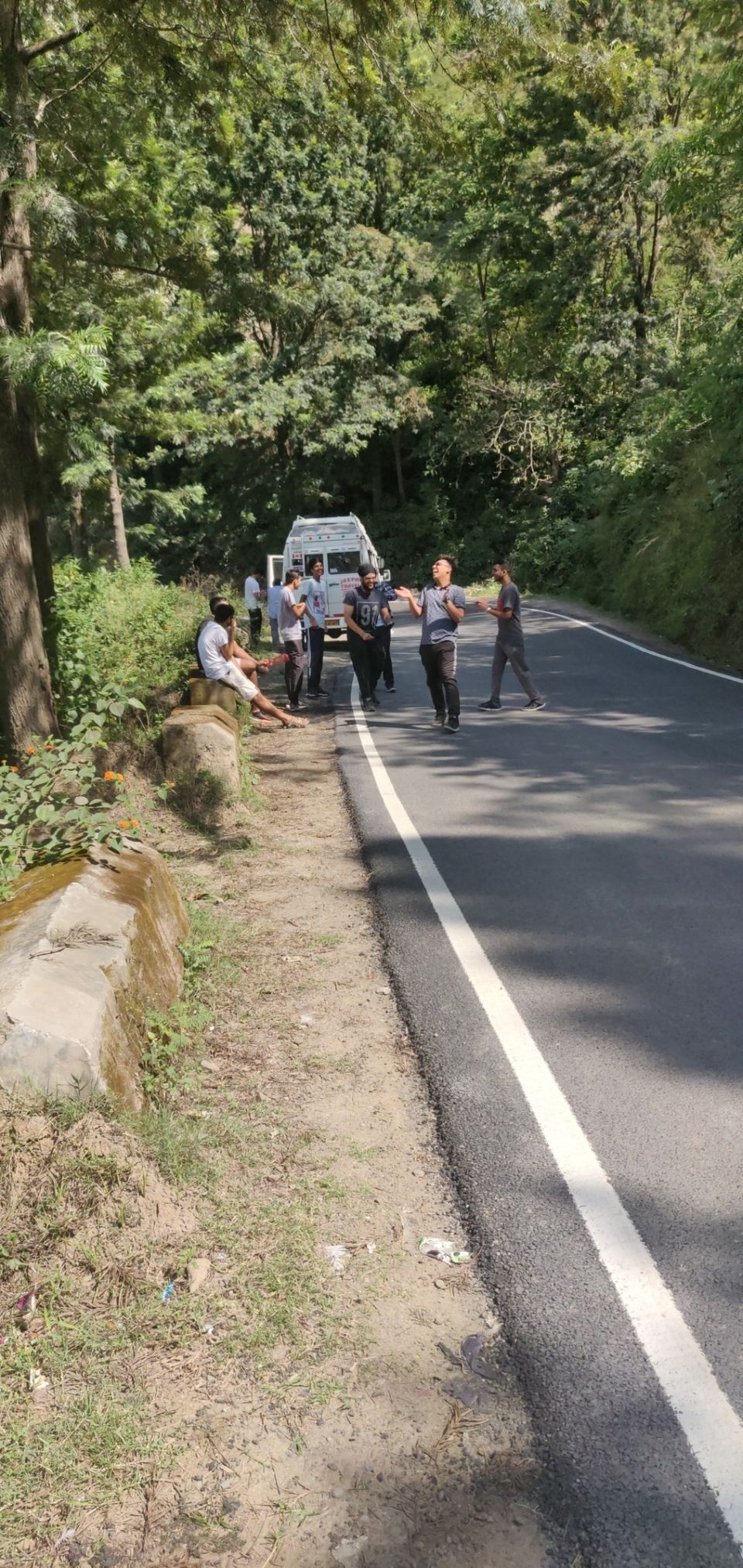 We reached the Hobo Hostel at around 10 PM where we had pre-booked our stay for the night. We had a great dinner and relaxed while we discussed the wonderment that is Dharamshala.
Waking up to widespread mountains, green grasslands and the morning breeze rustling through your hair is a truly delightful experience. Add a good book to the mix and you are in paradise!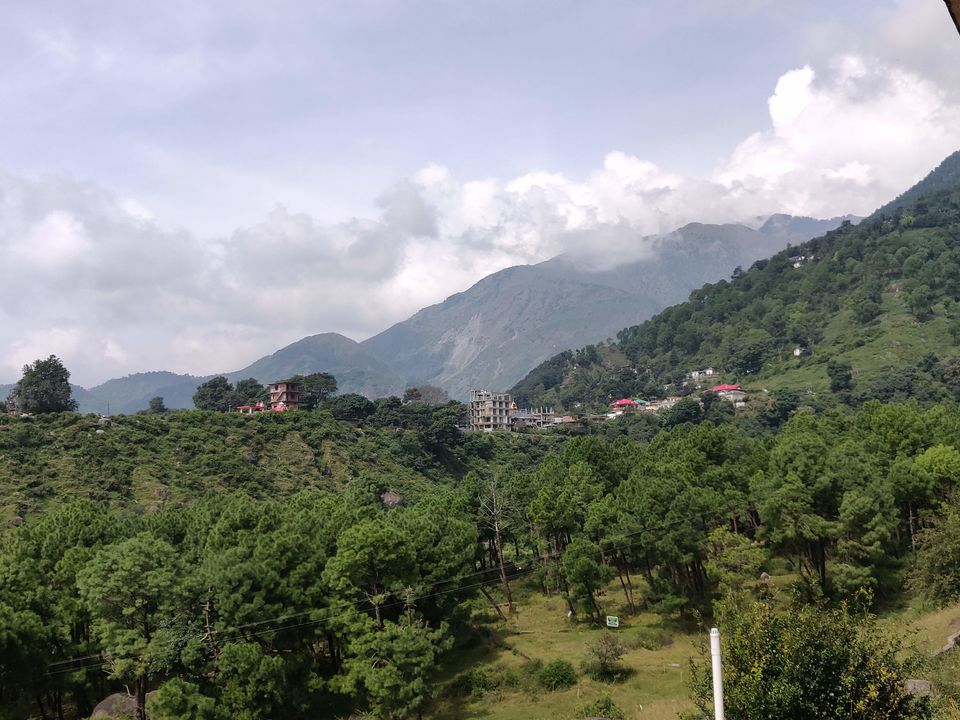 The other travelers' in my group were ardent cricket fans, so a visit to the international cricket stadium in Dharamshala was inevitable.
We reached the stadium a little before the permitted entry time, had a cup of tea accompanied by some cotton candy - what a nostalgic moment!
Upon walking into the stadium, we took no time to realise that it was smaller than our expectations. Naturally, we started a debate on how easy it must be to play there.

It was lunchtime and we were pondering over the options of places to eat at. For meals, there are many exceptional cafes in McLeod Ganj. We chose the Moonlight Cafe, situated in the main market.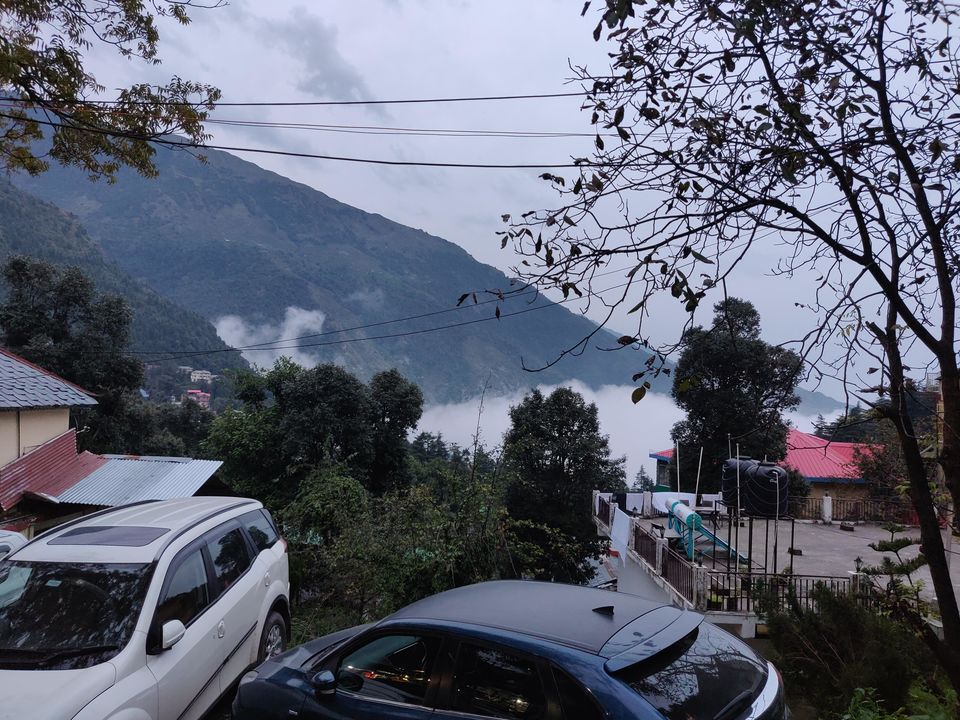 Although people from across the globe visit this place, there are well-established settlements of Israelis in McLeod Ganj and you'll find everything written in particularly two languages: English and Hebrew. Also, it can be really interesting to know more about the Tibetan culture and the famous marijuana plantations here.
We returned to the hostel in time for dinner and participated in an hour-long bonfire along with some delectable hot chocolate. The comforting warmth that a bonfire provides on a chilly night can bring solace to anyone!
The next day, we departed in the afternoon after lunch, rather late for a trek. This was Hobo Hostel's "exclusive" trek - the one that only the hostel's guests had access to. The plan was to trek through a forest and reach a cave, where we were supposed to stay for the night.
The initial part of the trek was an easy one, consisting mainly of a semi-paved tracks with little or no slope. On either side of the way were hills known for slate mining. In the past, the nearby villages used to be Asia's richest due to the extensive slate mining.
Soon after, it became a lot more difficult to walk because the path was covered with slate. We were also warned about a particular plant (nettle leaf plant) that causes intense itching on contact with skin. However, it purifies our blood.
Our first halt was near a gigantic waterfall, the thundering splash of whom could be felt from a large distance. One of my expectations from the forest was met, I had found a towering waterfall!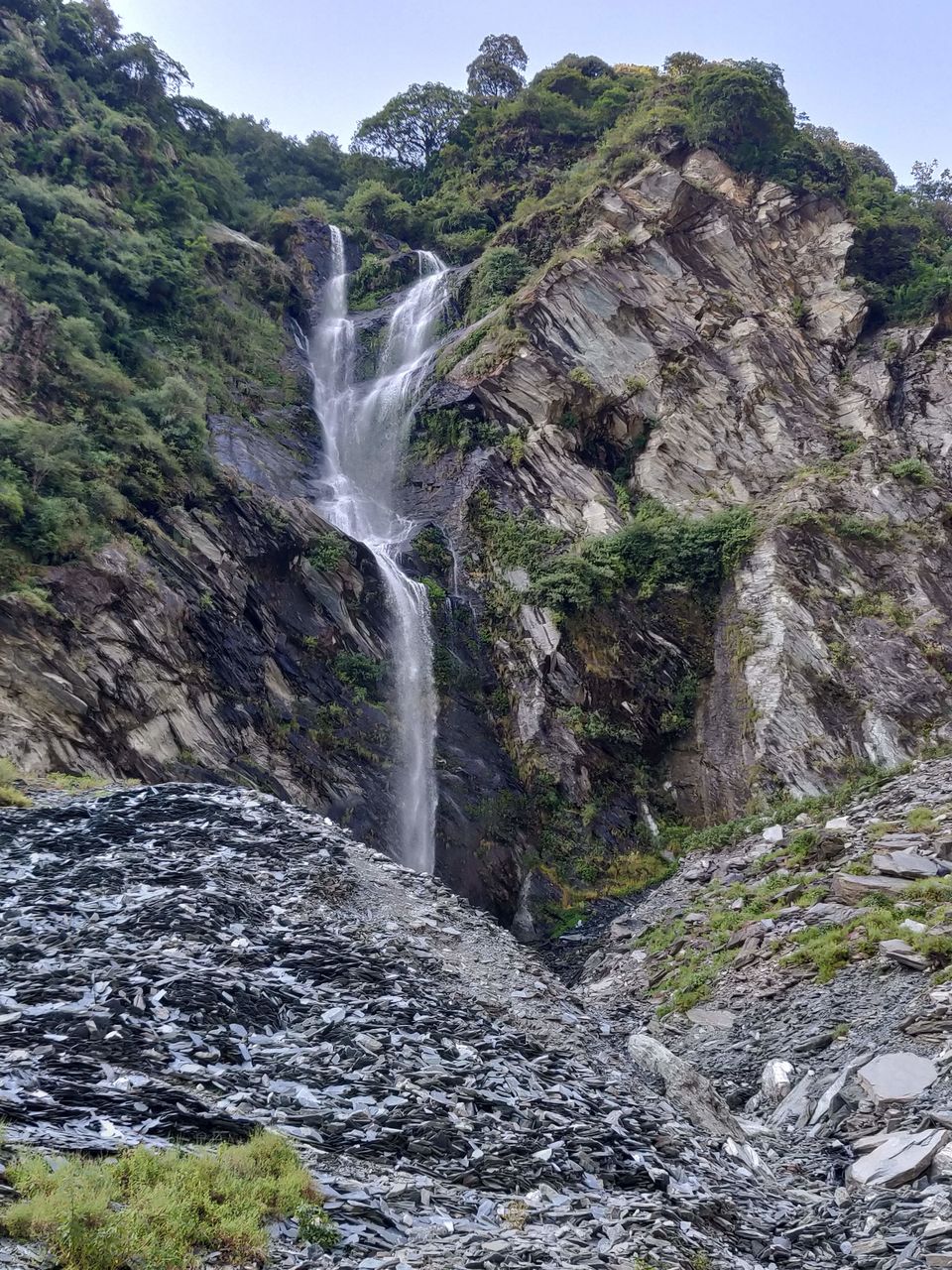 Up till here, the trek was easy: semi-paved paths guiding us to our destination. But, we didn't have the slightest of ideas about what lay ahead.
Imagine, you are in the middle of the Amazon Rainforest - lush green trees around you as long as the eye can see, with absolutely no hint of where to proceed. That is exactly how we felt.
We soon found ourselves crossing minuscule streams of water, battling with the protruding bushes and struggling to keep up with our trekkers. It had rained heavily the previous day, making it difficult for us to maintain our grip on the ground.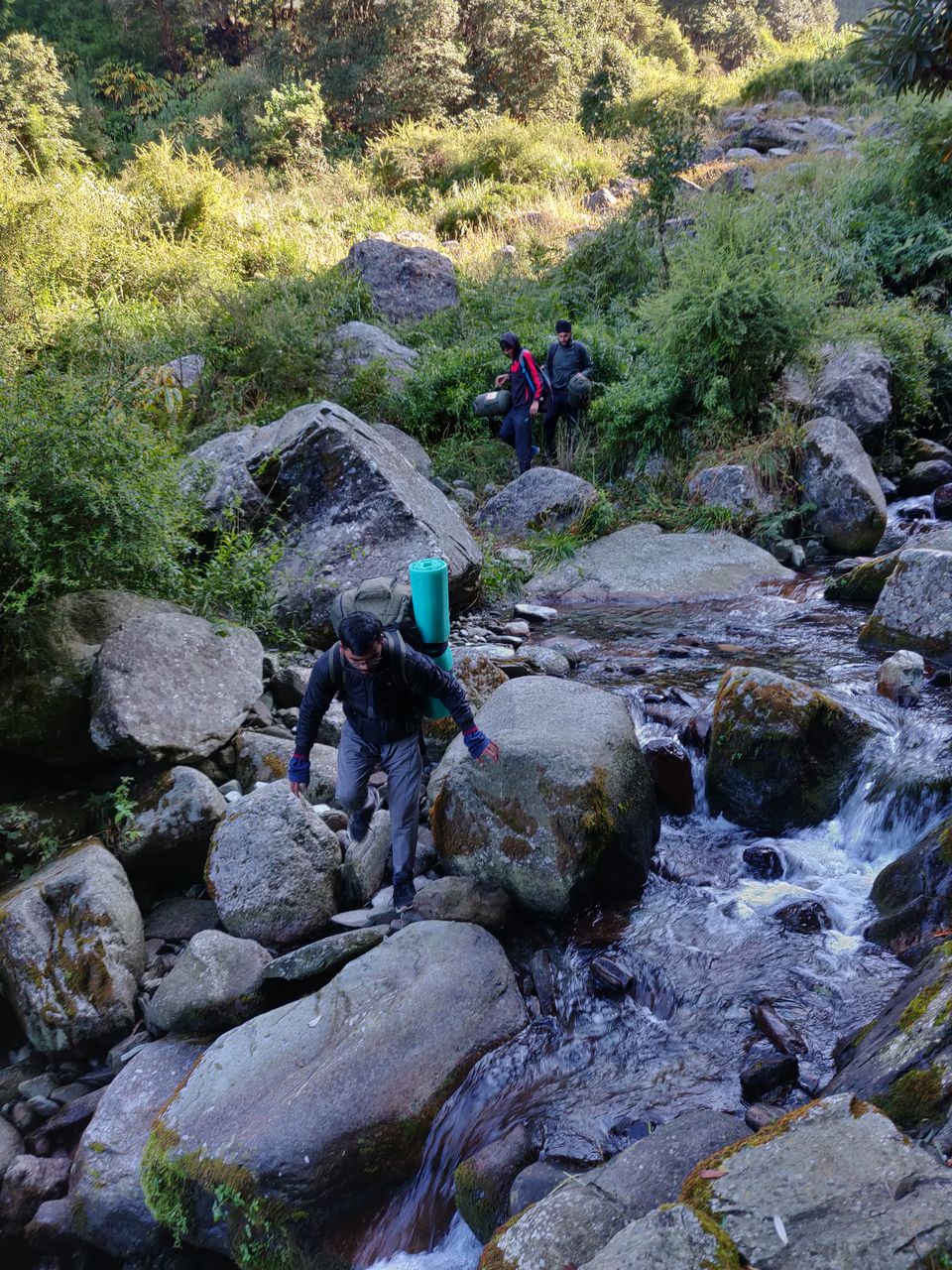 It was almost dark when we reached the cave.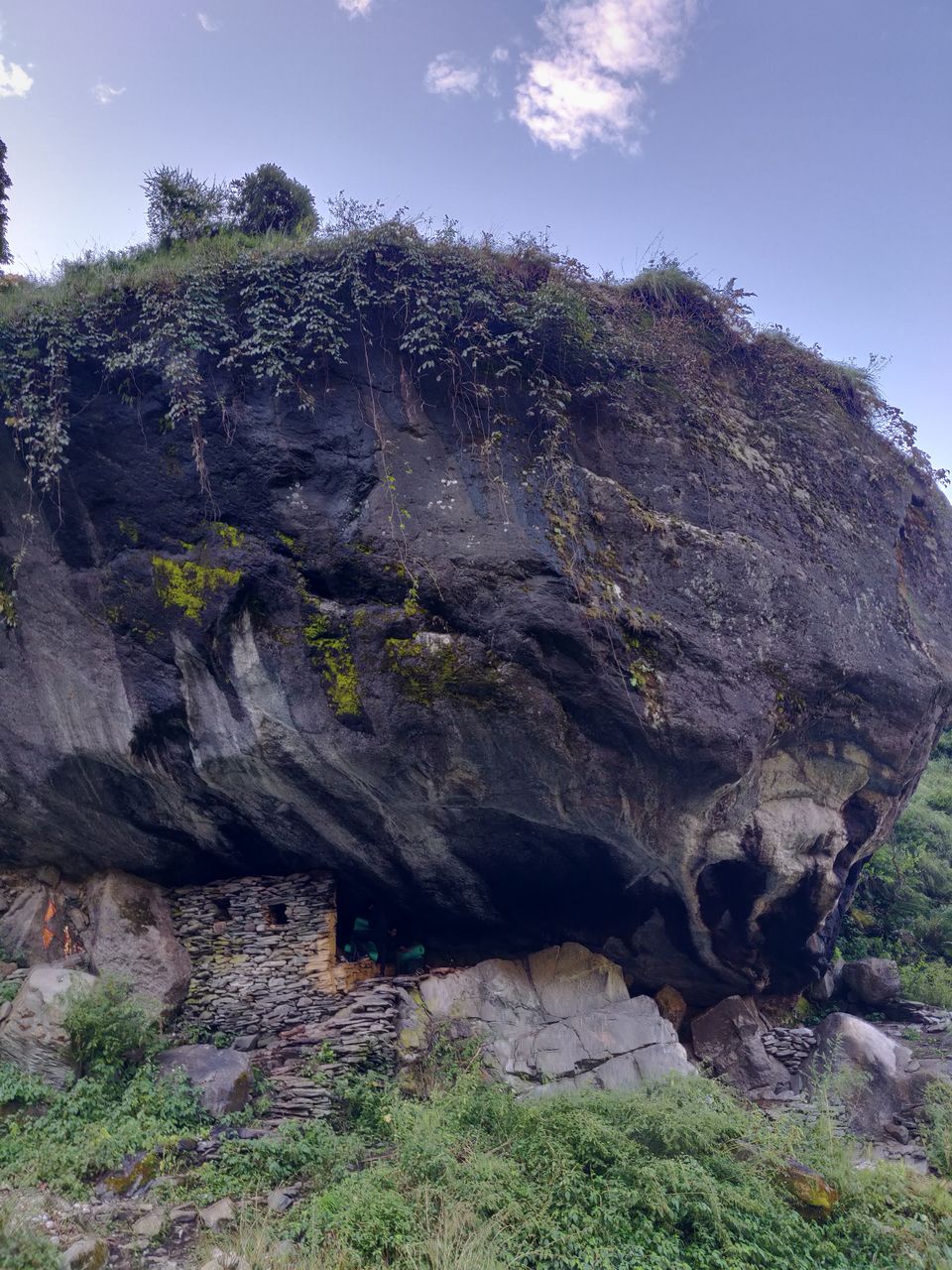 It was a giant rock being supported by two smaller rocks. It got extremely cold when we reached, in addition to that our shoes and socks were wet due to the streams we had to cross. The two guys from the Hobo Hostel, who were leading the trek, built us a small fire. We quickly gathered around the fire and within no time, we felt at ease. We were served tea. It warmed our bodies and worked like a bandaid on our sore muscles. Some paneer fritters also contributed in relieving our hunger. Those two guys left to make dinner at a nearby tent where some local people were residing along with their flock of sheep. These people reside in the mountains to find optimal temperatures for their flock of sheep. And after about staying for a month or two, descend back to their village.
They returned with some well-cooked dal and rice. Steaming hot dal-chawal in a cave on a chilly night! After munching on them, we decided to sleep. We had no tents with ourselves, just mats and sleeping bags to aid us with our sleep. Some people felt a little claustrophobic as eleven people had to squeeze into that little cave.
The morning was as beautiful as we had ever seen, with hills and trees all around us and sheep feeding on grass patches. We were full of energy and enthusiasm for the descent. It was a luminous morning, we clicked some group photographs and started the descent. Just like any other trek, the descent took much less time and effort than the ascent. We reached the base camp in no time. We rejoiced on the way when we received network on our mobile phones and watched as the stream of notifications flooded our phones - something typical to treks.
We freshened up at Hobo Hostel, had some lunch and left for home. After a 12 hour long joyous ride with several pit stops, we were back home.