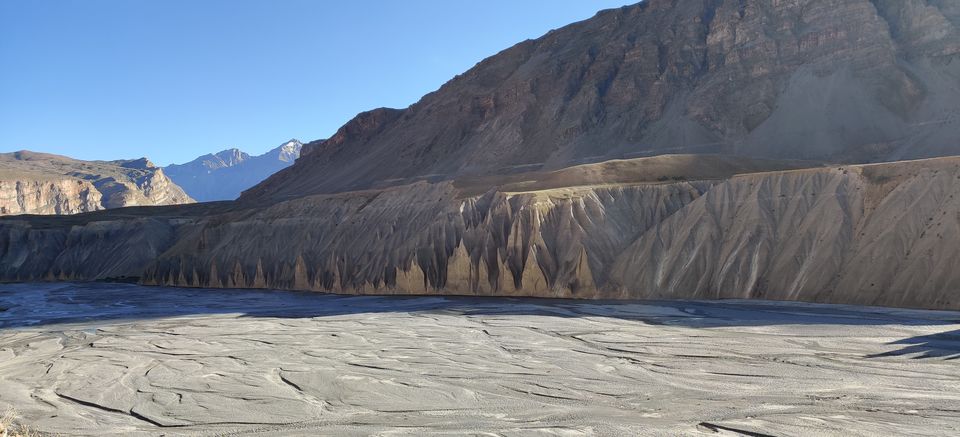 Congratulations, if you have decided to visit Spiti Valley for your next vacation, as it a place unlike any other and not many people wake up and decide to plan for a visit there. If you have planned your route from Manali side, I doff my hat to you, as this route delivers some early scares. Most of the people who visit Spiti Valley chart their course from Shimla, go to Kaza via Nako and Tabo, and if they are interested, visit Komic - the highest village in the world and Chandrataal and then make their way to Manali via Batal and Rohtang. However, we did the opposite, as we had only six and a half days with us. Many people were skeptical about our tight time frame to cover all the places and the choice of one SUV and a motorcycle for the trip. However, we were determined to complete the loop and see some of the most stunning places in the world en route. Were there setbacks? Did we manage to see all the places as per the plan? Here is a brief of our tour to some of the most spectacular places on God's green earth, right here in India.
Day 1- A slow progress from Chandigarh to Manali
After two red eye flights from Pune to Chandigarh and some refreshments later, we went to pick up our rental SUV from Zoomcar – the Tata Hexa. Next up was to get the rental Royal Enfield Himalayan, as one friend has insisted that he would ride a bike for the entire duration. When you plan to tour the Himalayas on two wheels, the Himalayan is a truly versatile motorcycle that fits the bill. Rugged, reliable, with excellent suspension, a set of good stock off road tyres and a seating position that gives a commanding view of the road are motorcycle's strengths. It was a no-brainer to recommend it to my friend. With all formalities done and a hearty roadside breakfast later, we proceeded towards our first stop in this Himalayan journey – Manali, by 11:30AM.
The distance from Chandigarh to Manali is 333km. It was a gradual hill climb with road works going on in many places and progress was slow. The authorities are building tunnels there as I write this story, to improve road connectivity in winter. Slowly we learnt that the distance in kilometers does not matter when you are in the Himalayas. Instead, people tell the duration to reach a place and we were told that it would take 8-9 hours to reach Manali and it took a little more than nine hours to reach there. We hit the sack as we had an early morning start and a long drive to the camp near Chandrataal Lake.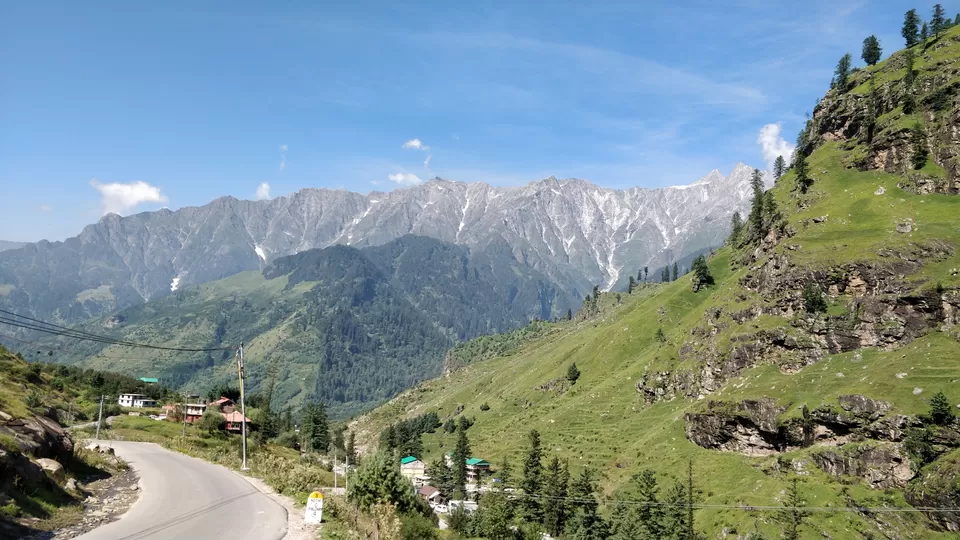 Day 2: Fighting a setback - Manali to Batal via Rohtang pass
Not many people will say this, but crossing Rohtang pass was actually a breeze. It used to be a dangerous road to go to the upper Himalayas, but not anymore, thanks to the road works done by the local authorities to make the passage easier. Once you cross Rohtang pass, the road to Spiti valley is not marked by any sign boards or hoardings – you have to look out for a Dhabba and make a U-turn to the right to go to Spiti valley. If you miss the turn and proceed further (4km, to be precise) without taking the U-turn (just like we did), you will come across a check post where the friendly police officer will politely tell you that you are on the way to Leh, not Spiti valley. Koksar, the area near the check post, is also a good place to grab a bite to eat, as there are limited eateries that serve lunch. This is probably the last place before you get to get some good non-veg delicacies, as you will not get those before you enter Kaza, which is a good 150km away. There is one small shop some distance away from Koksar, which sells some snacks and tea. Stack up whatever you want here as Batal is more than 50km away from this place and Batal has an emergency camp for travelers who fail to make it to Chandrataal.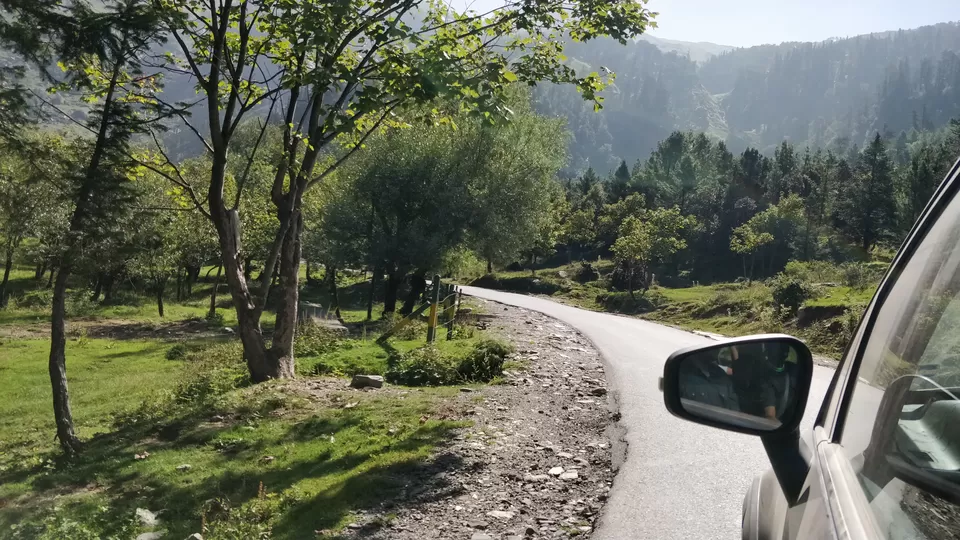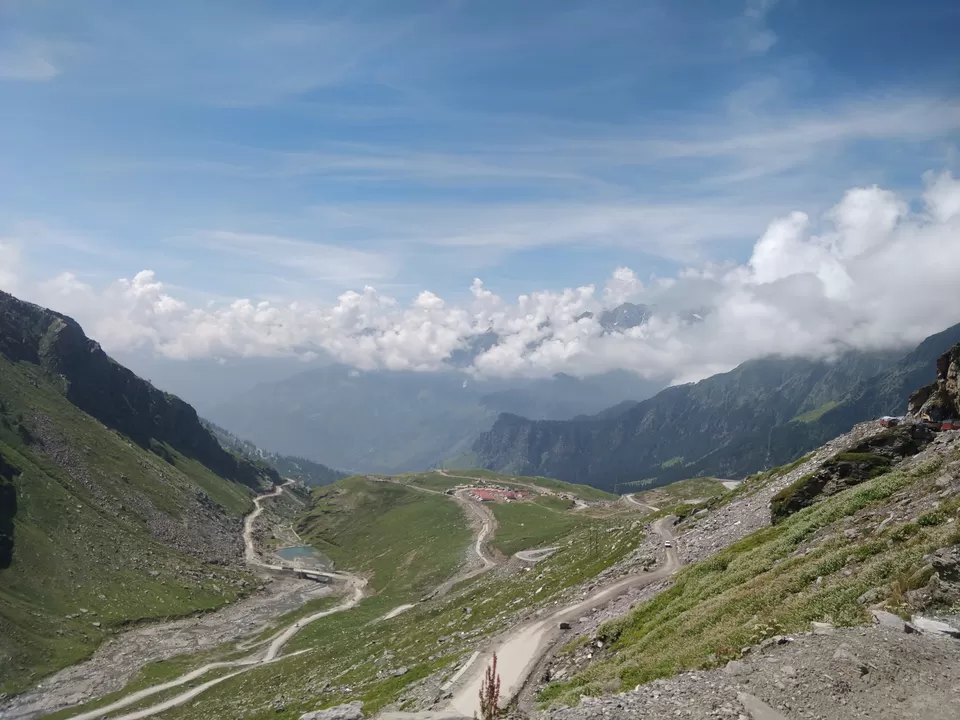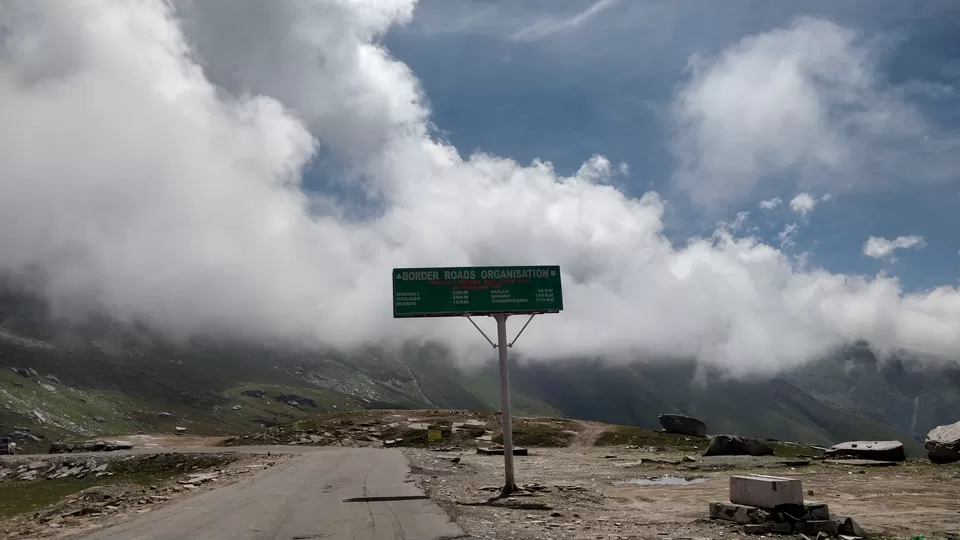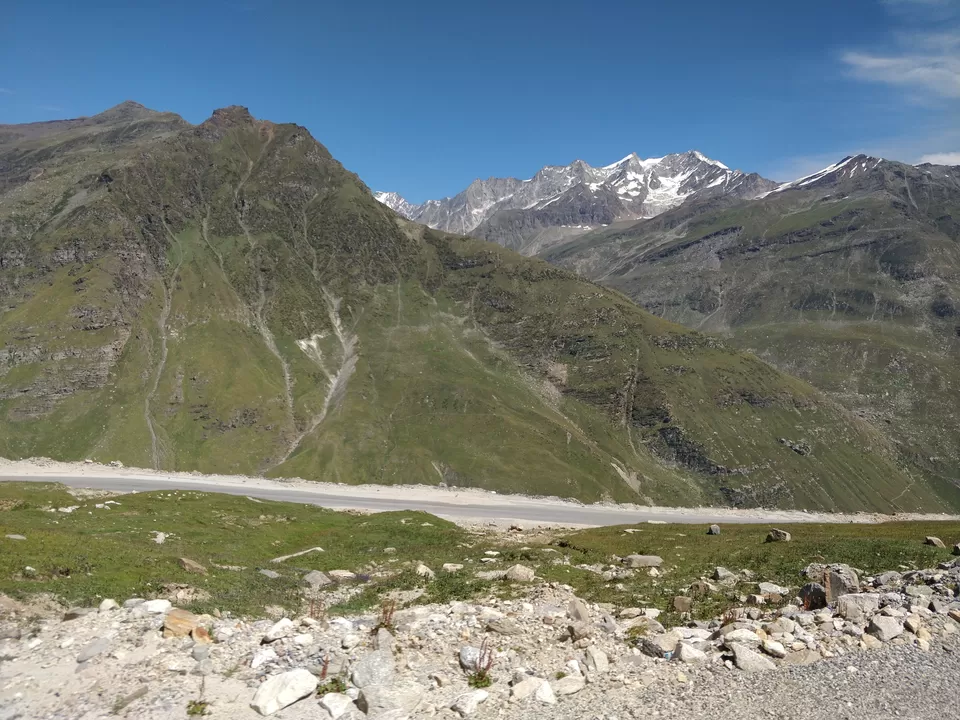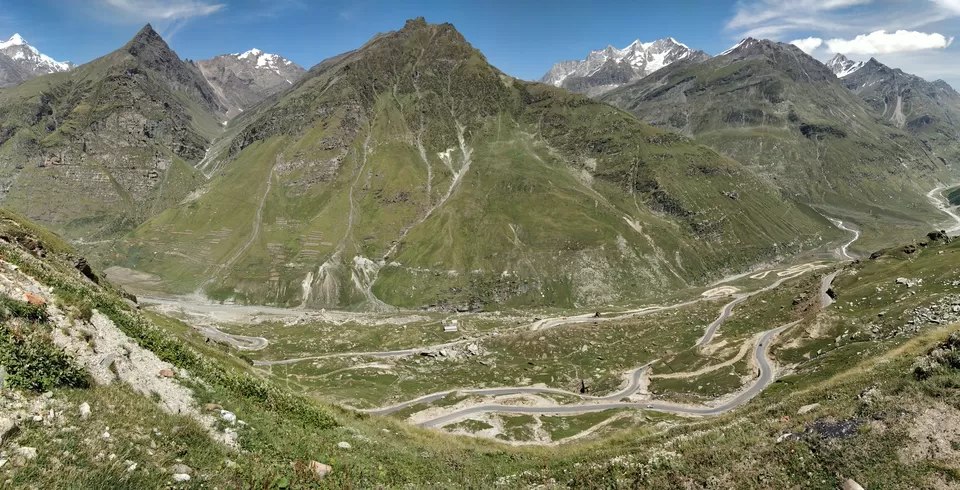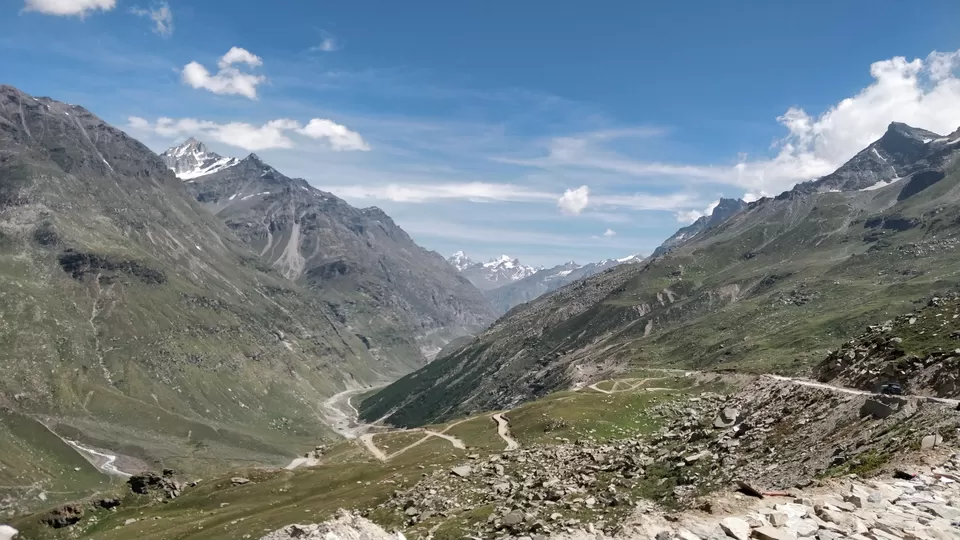 The wind was cold and the temperature was hovering around 5-6°C. After a lot of waiting, a local chap came and helped us out and we ended up helping him as his vehicle too was stuck downhill. It is the mutual helping tendency and the friendly people that got us out of that mess. The route from Koksar to Batal via Gramphu and Chhatru was the most challenging terrain with some phenomenal views that we encountered in the trip. You also see the Chenab river by your side in this route. It was quite a task to reach the other side without any incidents, that too after driving three hours in the night in the isolated terrain. Our speed was less than 15kmph for most of the part and it took roughly six hours for us to cover 63km Koksar-Batal route on the NH505! We were relieved when we saw a faint light in the dead of the night, which was Tenzin camp run by Tashi, the caretaker. The rum, camp fire and the hot food prepared by the Tashi and his guys was the perfect end to a tiring day.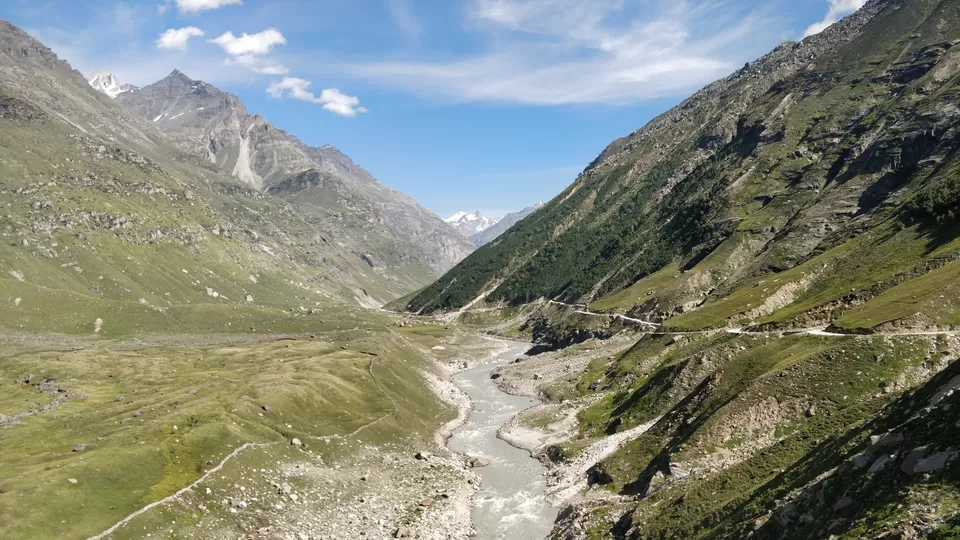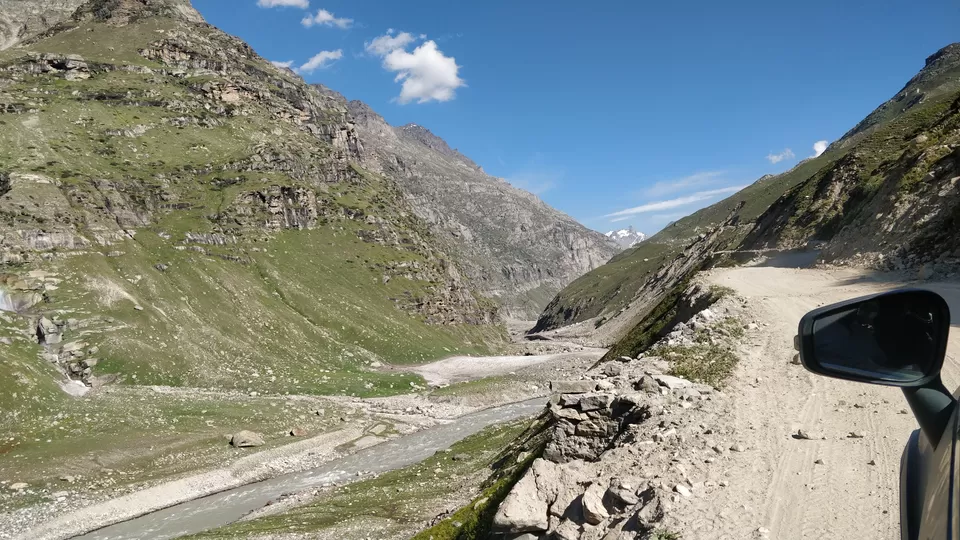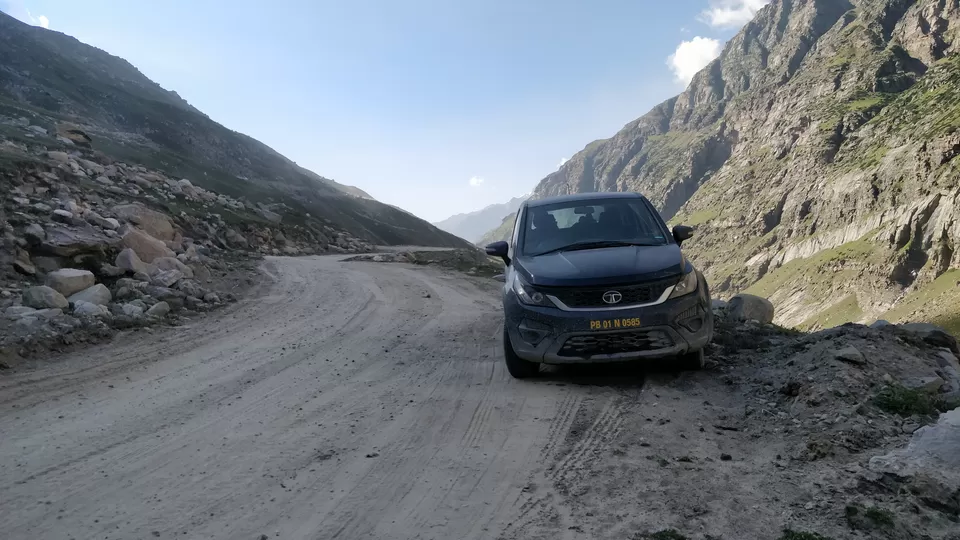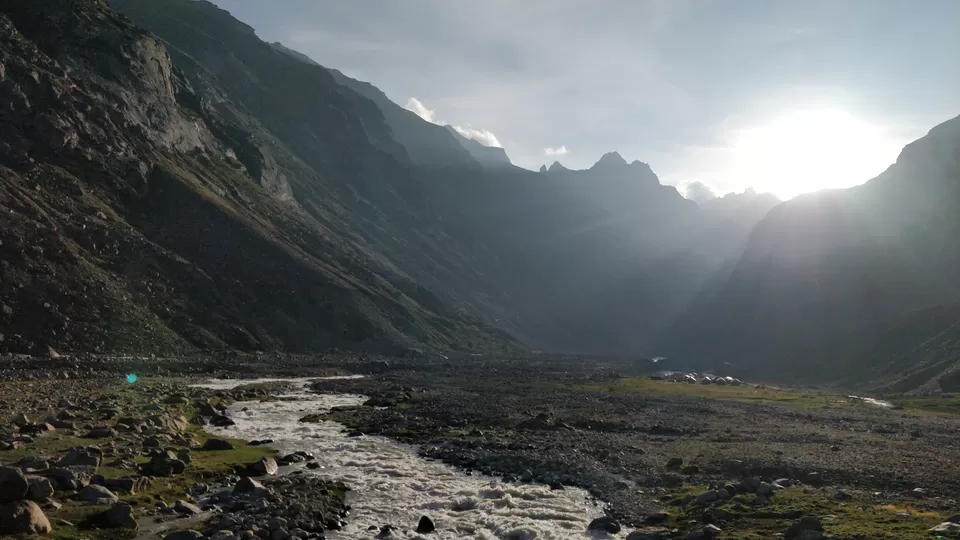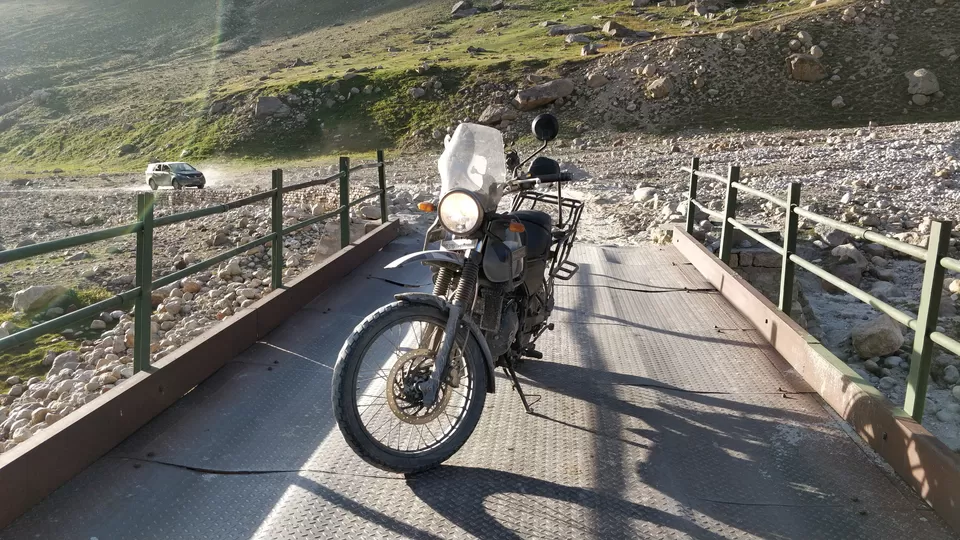 Pro tip 1: A rugged and reliable 4x4 will save your skin in this situation. Good driving/riding skill is important here. Knowing how to drive and ride in the hills is very useful as driving and riding in the hills is what you will be doing the entire trip. The Himalayas is an unforgivable place, mind you.
Pro tip 2: Get a pair of gum boots in Manali itself if you plan to ride through this route. There are numerous water crossings once you cross Koksar and the glacier water is cold.
Day 3: Lake placid - Chandrataal
We had an early morning drive and ride from the camp in Batal, at 7AM to be precise. After a quick breakfast and checking our rides for any issues, we were ready to hit the road. This time I learnt my lesson to not get over excited and conserve energy, as oxygen at these altitudes is less dense and you get tired easily. The route to Chandrataal Lake from Batal is a challenging one - it is an uphill climb on narrow dirt roads with loose sand, rocks and a couple of water crossings. Gumboots saved my feet from freezing, as the glacier water is quite cold. You then have to climb up a hill to see the lake, which is picturesque. It was at this place we felt the lack of oxygen. Even walking slowly resulted in exhaustion and we were taking deep breaths. But with such profound beauty around us, we forgot about the tiredness and soaked in the sights. The emerald waters of the lake were still and reflected the mighty dry mountains surrounding the lake. A lot of pictures were taken and then it was time to hit the trails again, to Losar.
After a quick lunch break in Losar, it was time to saddle up. One of the most scenic routes in this trip has to be the ride from Losar to Kaza. This time, we were going so close to the mountains and boy, what a sight it was! The majestic mountains were intimidating for sure, but the sheer beauty of the cold and desolate place where the mountains were only partly illuminated by the sunlight was breathtaking. Add to that some of the natural formations and very big structures suddenly popping up after the next curve, was something otherworldly. Excitement was running high and a lot of time was spent admiring the scenery and taking photos. As we entered Kibber wild life sanctuary and the mesmerizing scenery continued. We were gobsmacked at the beauty of the landscape surrounding us. The roads were smooth after we entered Kibber wildlife sanctuary and the scenery changed from the intimidating mountains to deep gorges as we were going uphill. This is surely one of the greatest roads in India and should be at the top of your bucket list if you are planning a visit to Spiti.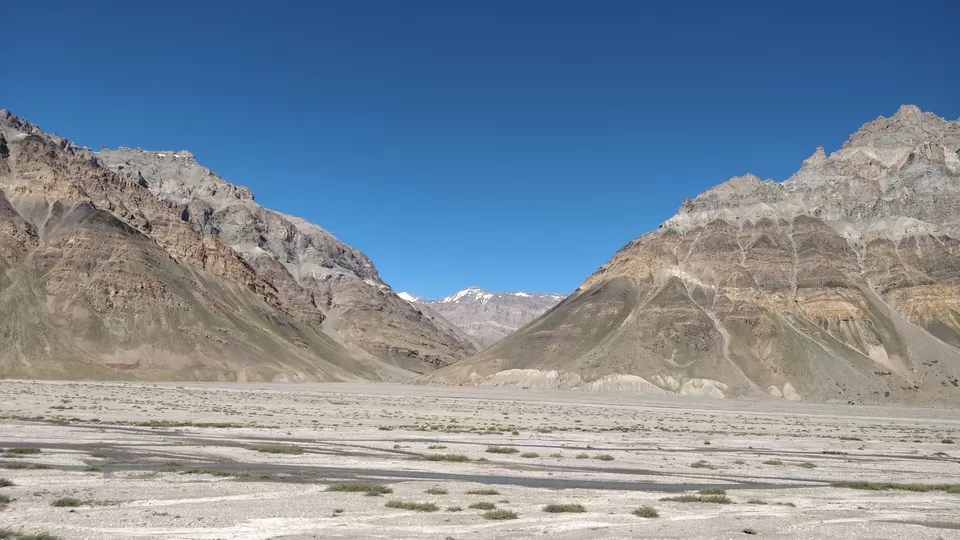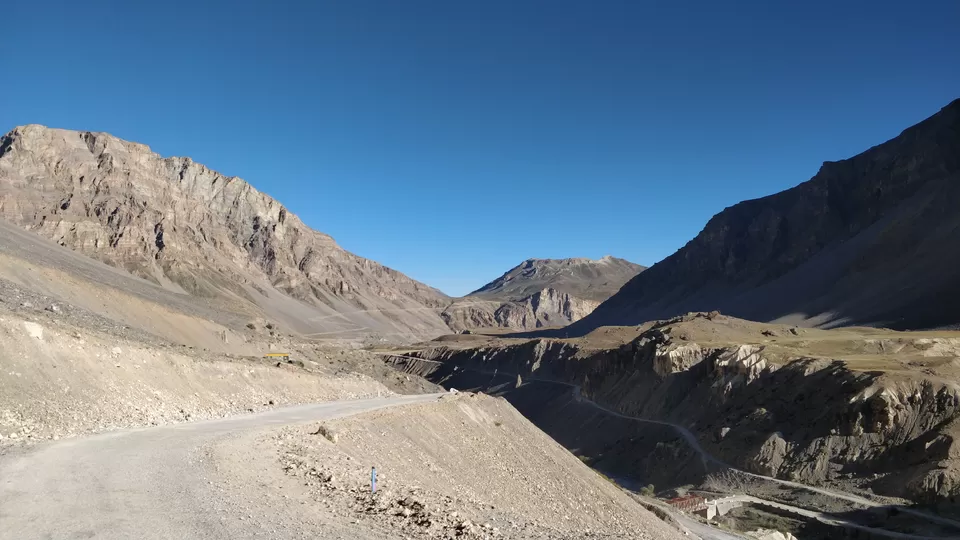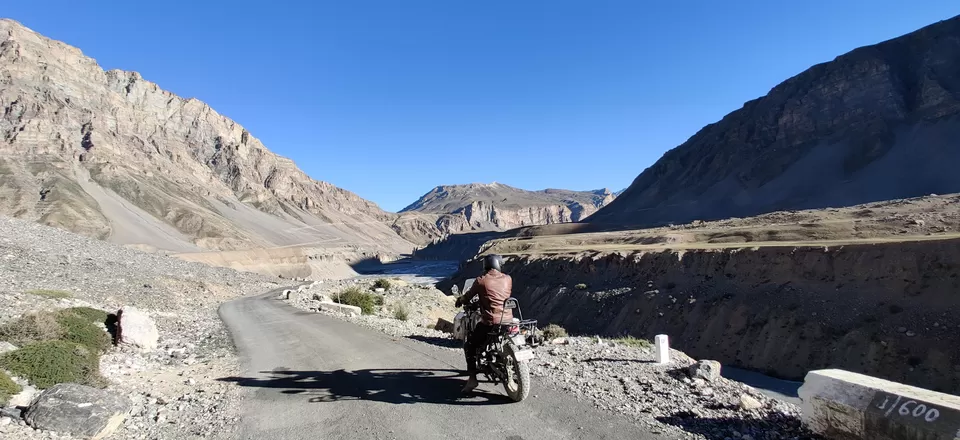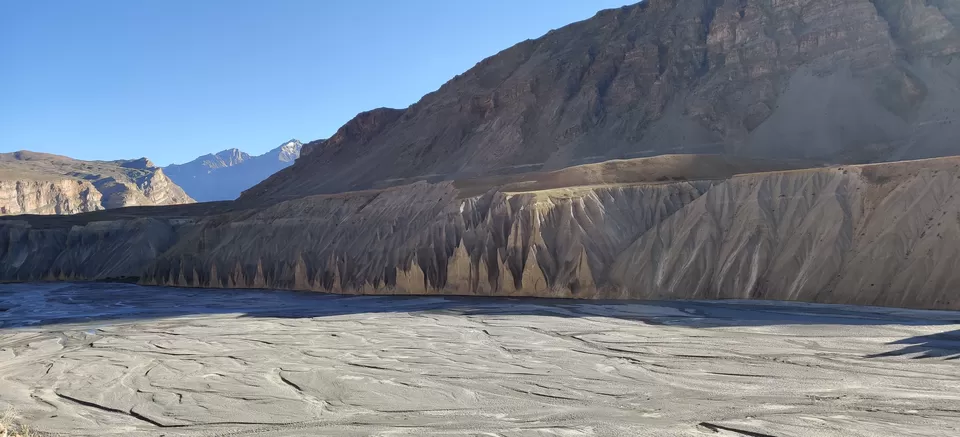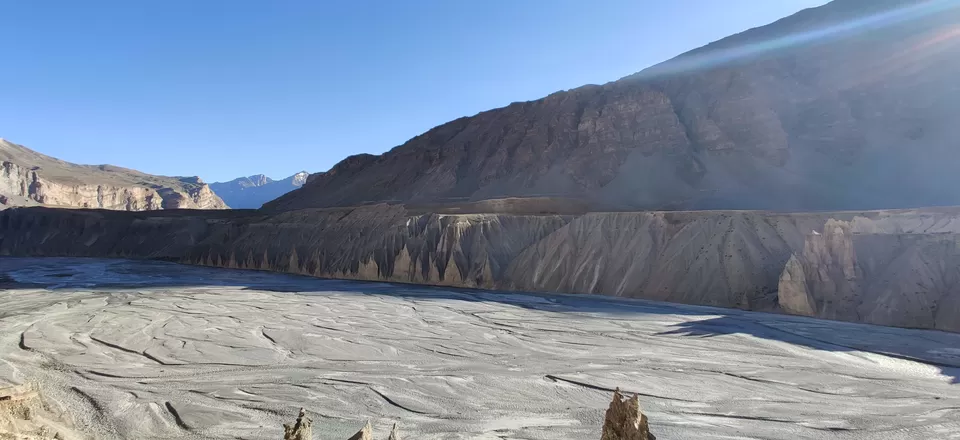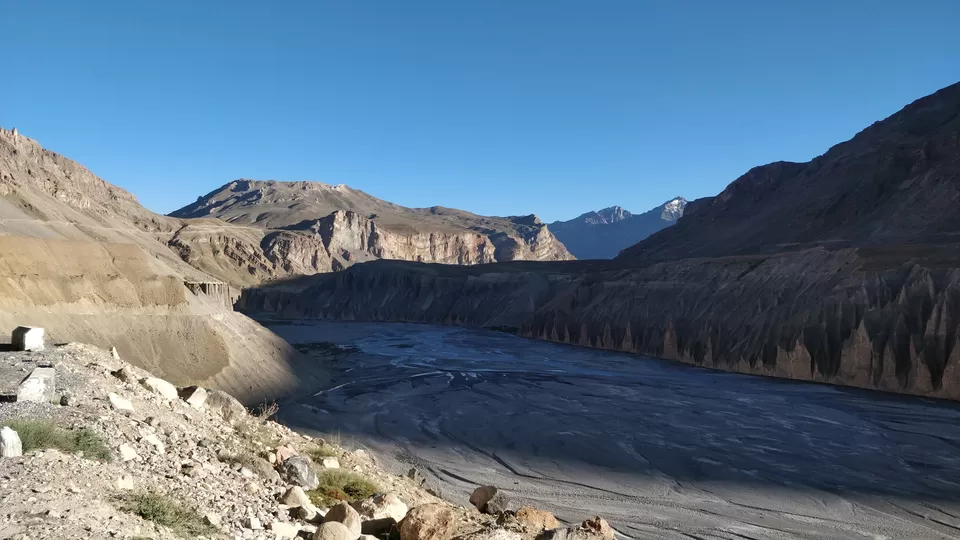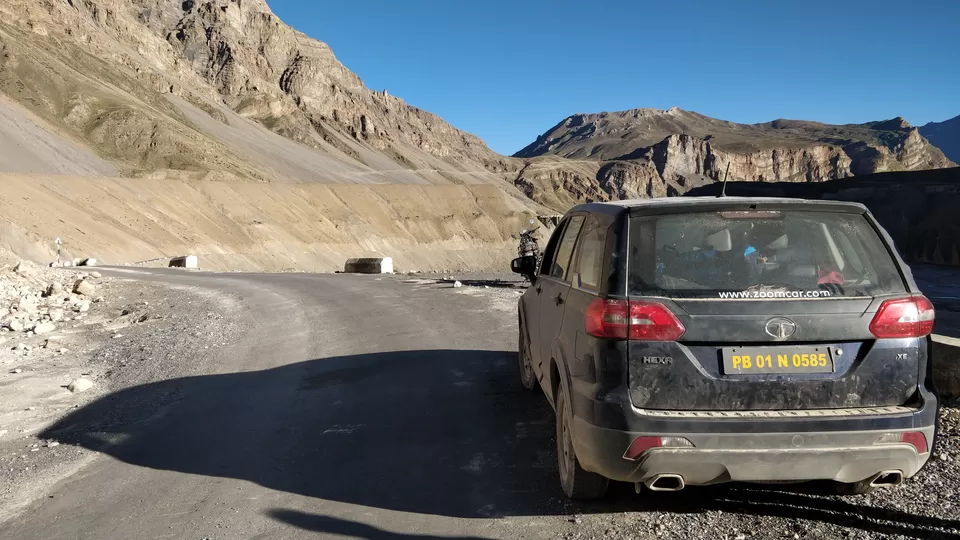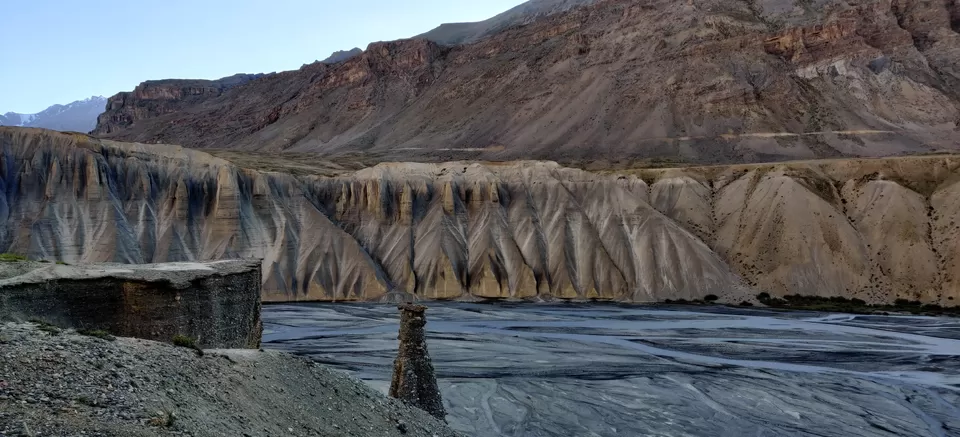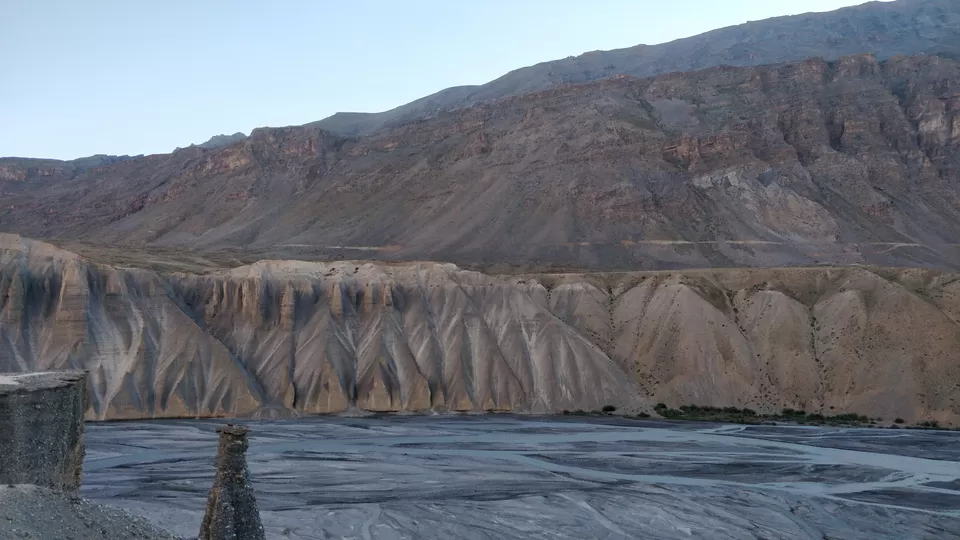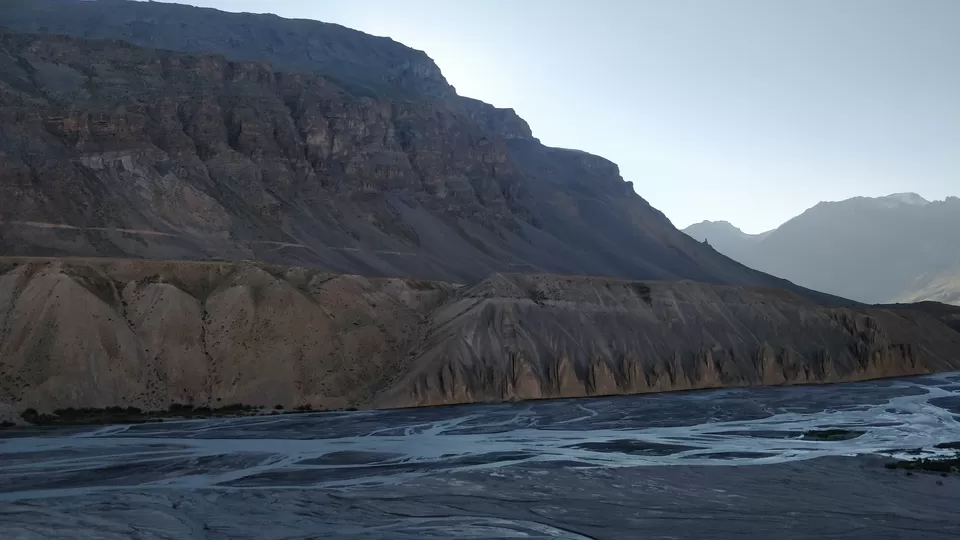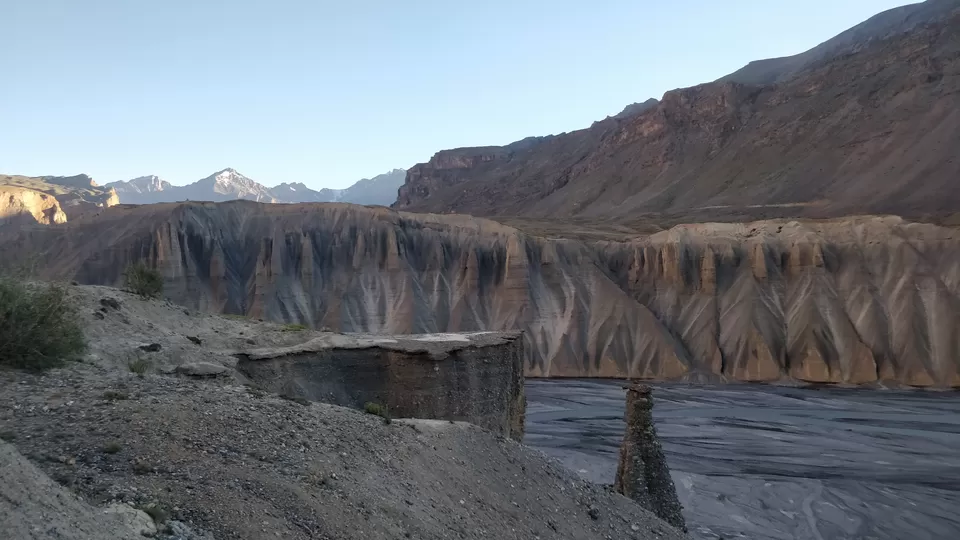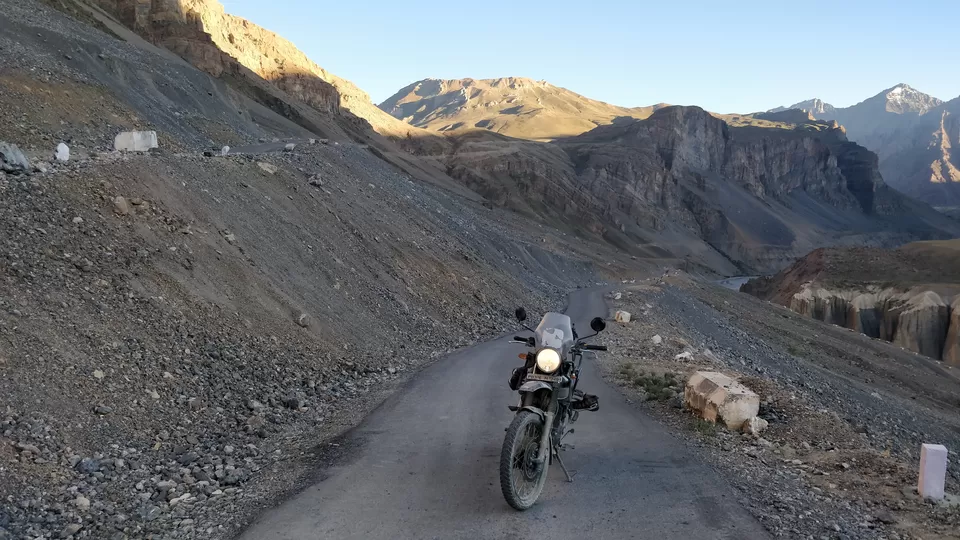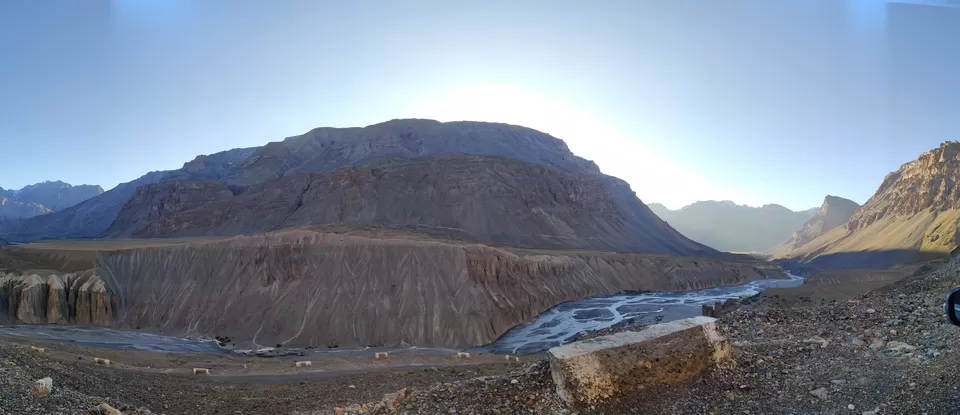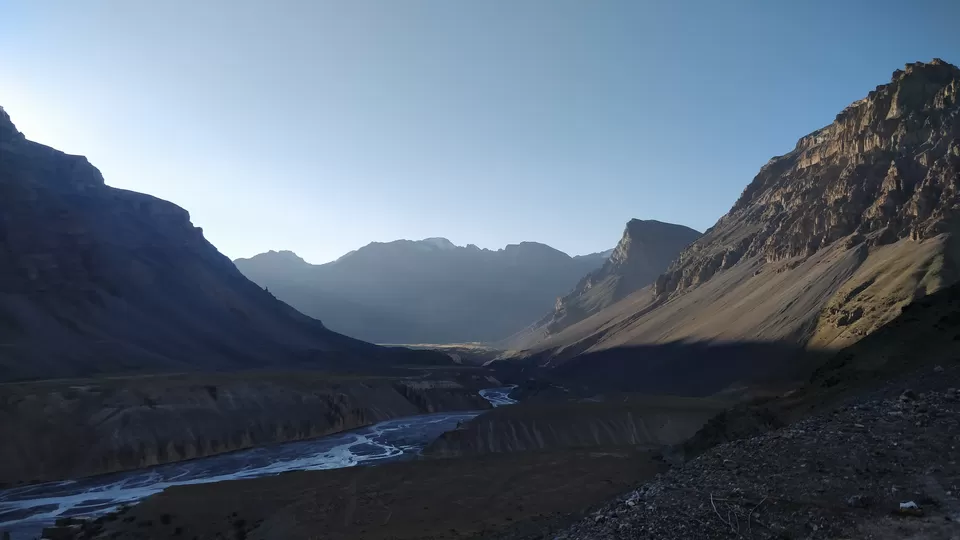 Soon, we arrived at the scenic Chicham Bridge. What is so special about the bridge, you ask? Well, you have to look down from the bridge for the answer. Once you do that, you will be terrified of the 1000ft drop to the Spiti river gushing below. It was scary to look down, let alone take pictures. Second, it is Asia's highest bridge, at an altitude of 13,596ft above msl. The suspension stiffened steel truss bridge connects Chicham with Kibber village. We think this location would be great for bungee jumping, delivering thrills and scares in equal measures. Opened for public in 2017, the 113.83 metre-long bridge was under construction for 14 years. I shudder to think how people would have crossed over to go to the other village before this bridge was opened.
Some say that the locals used dangerous rope ways to get to the other side. Gulp. After scaring ourselves silly by looking down and taking some photos, we were on our way. Kibber is another small village that you come across and we were bowled over by the sheer beauty surrounding the village. Green peas is grown here and shipped to many parts in Himachal. As nightfall approached, we were near Kaza, the sub-divisional headquarters of Spiti. We got a good home stay at Kaza at a reasonable price. Tired and exhausted, we had several rounds of rum, a hearty dinner and slept like babies - especially after the ordeal at Batal.
Pro tip 3: Once you cross Rohtang pass, there is no mobile network. Even in Kaza, which is 150km away, only BSNL network is available and it does not connect too easily.
Day 4: Highest village in the world
Another long day of riding and driving awaited us, for we had to visit many places starting with Komic. Perched at an altitude of 15,050 above msl, Komic is the highest village in the world. Only 114 people live in this tiny village and the place offers some phenomenal views as well.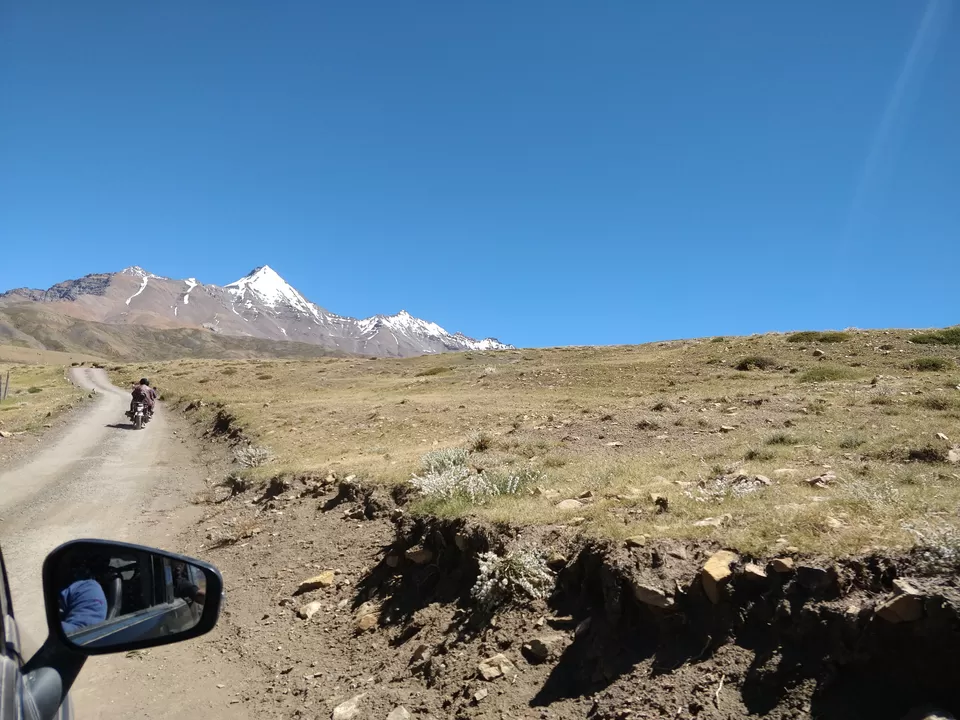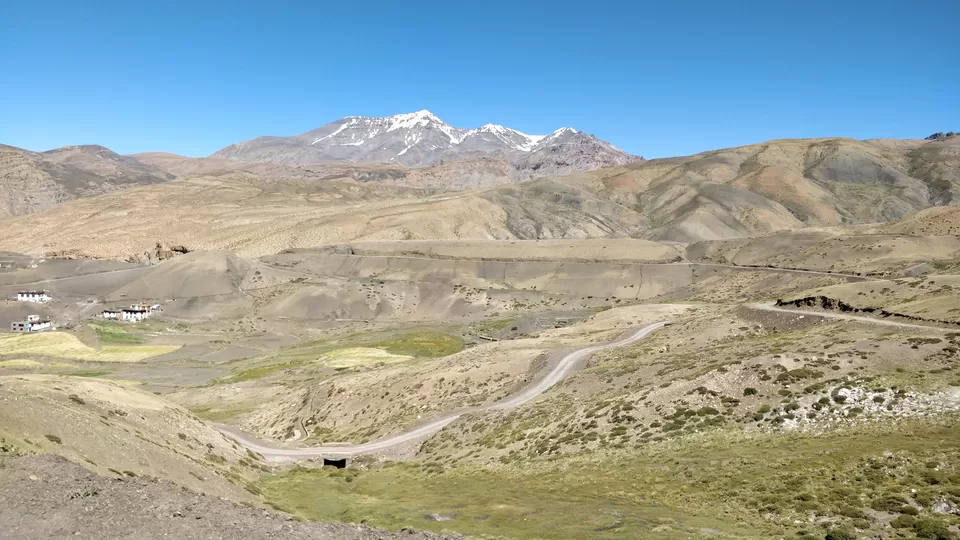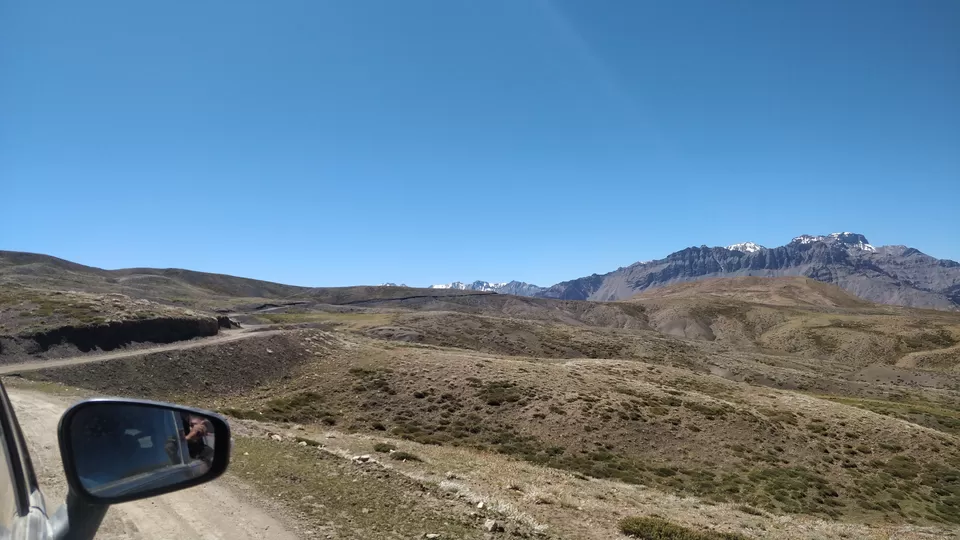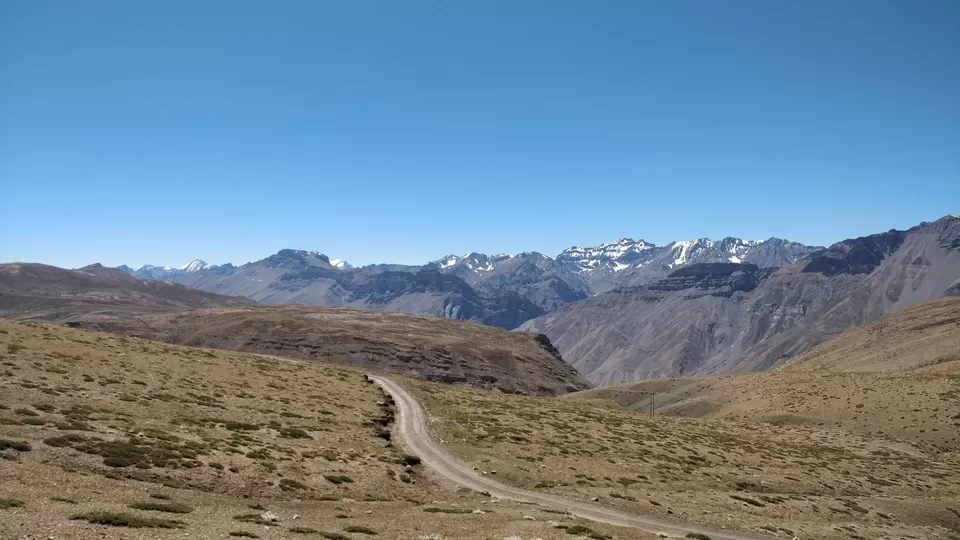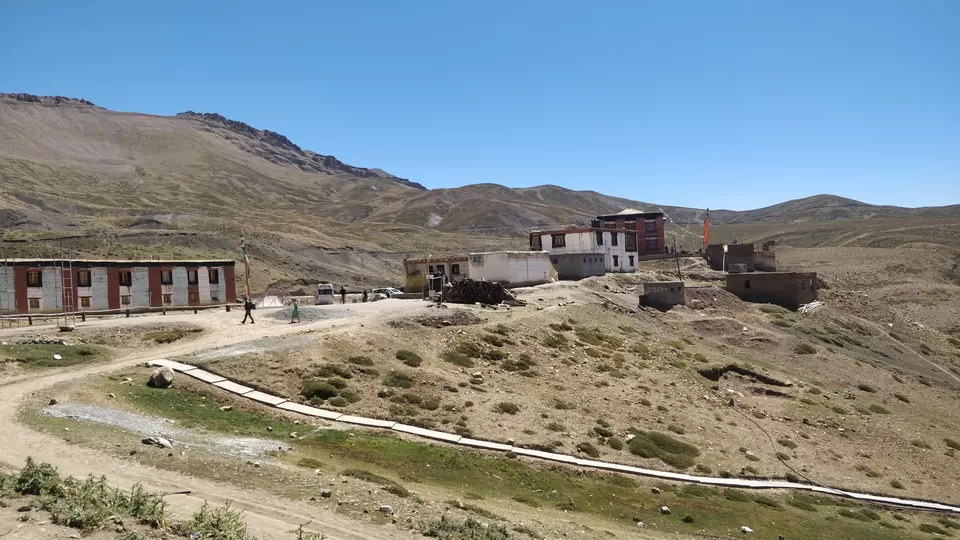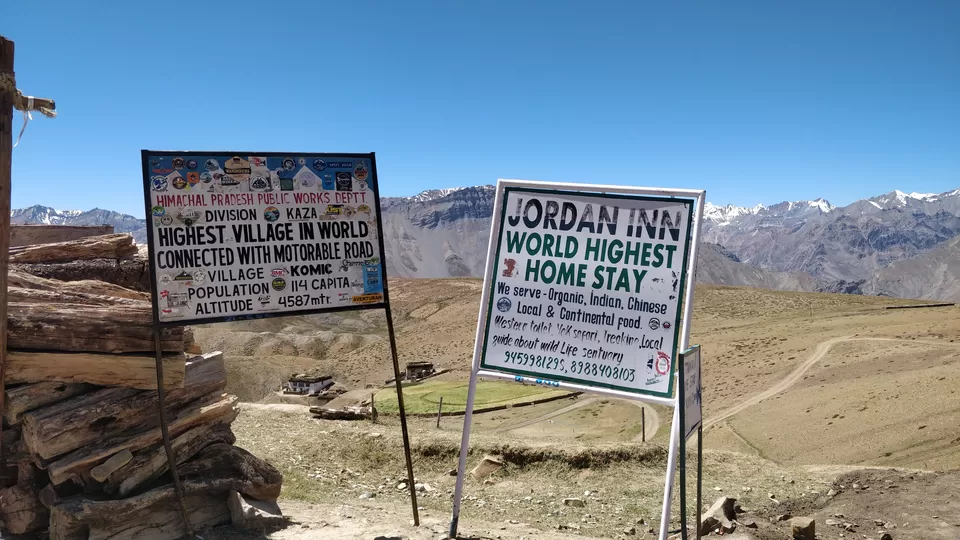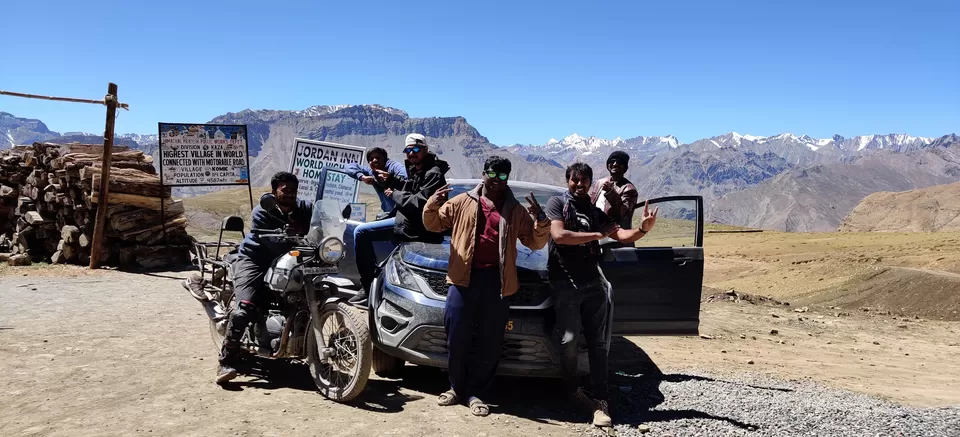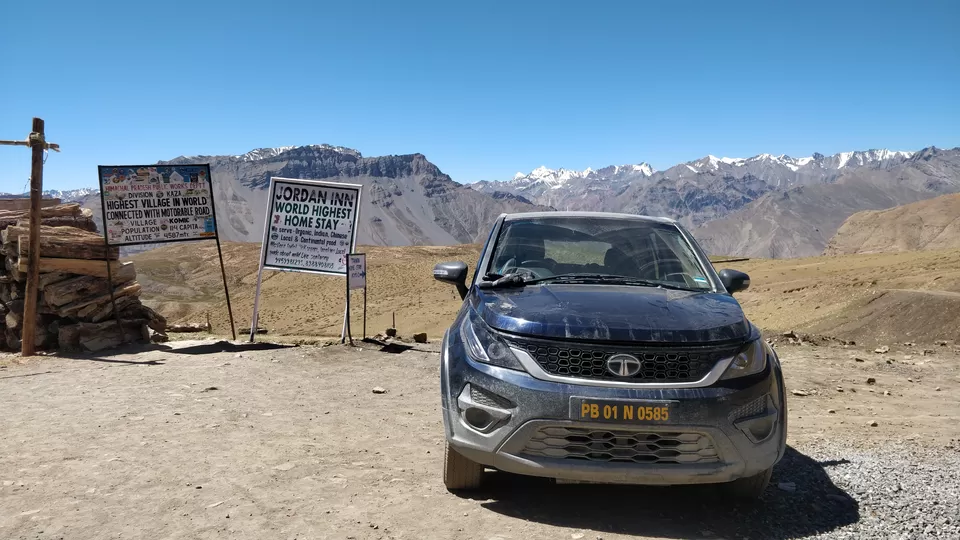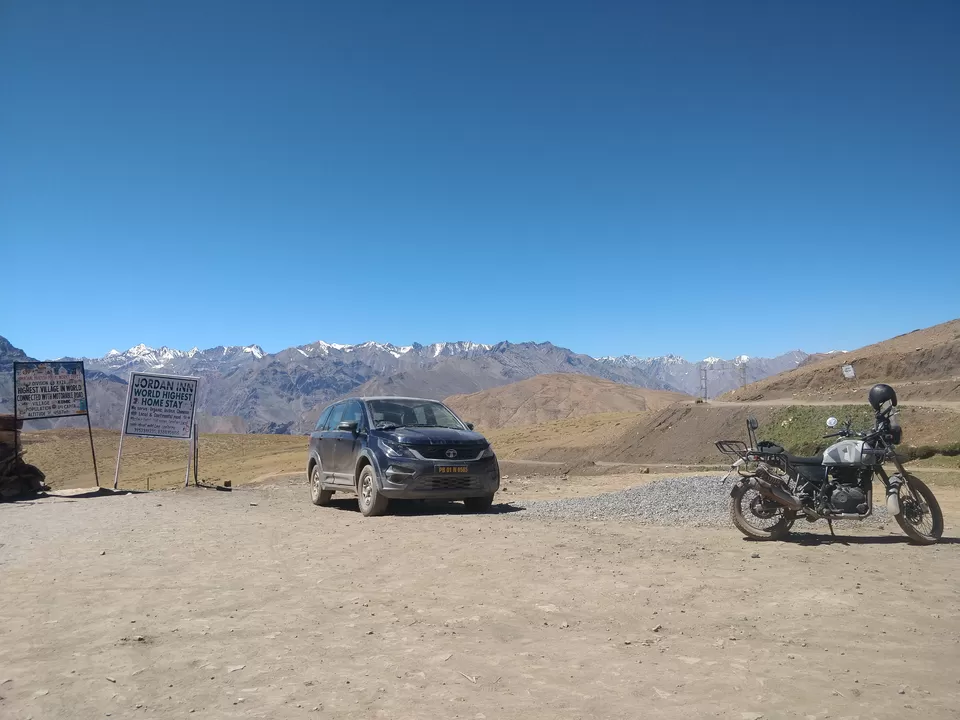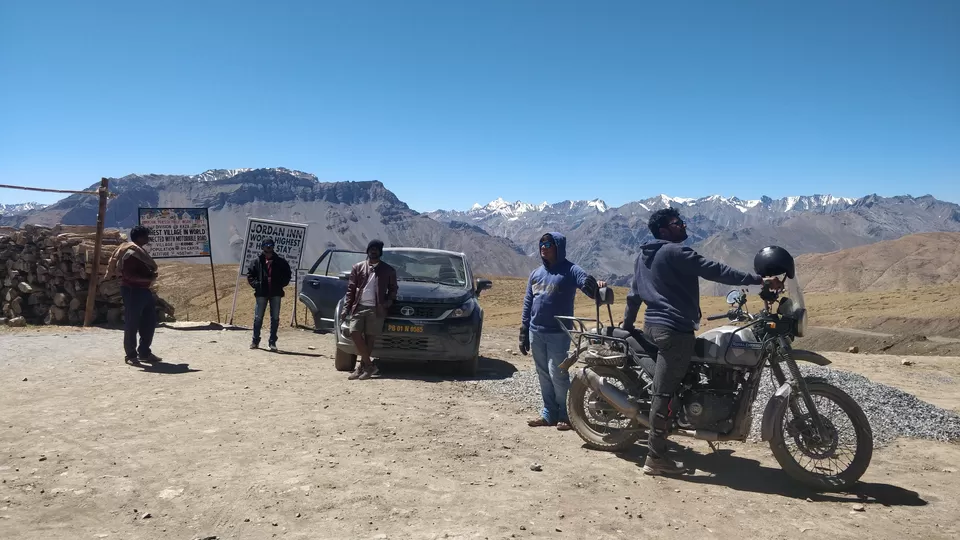 After sipping some Spiti special tea at the world's highest restaurant and several pictures later, we drove down to Kaza. This time, I was behind the wheel of the Hexa and the drive down was simply terrifying due to a number of reasons. First, the inclines are sharp and there are no guardrails or blocks to stop a fall. Second, the drop on the sides is sharp and you will end up on the river thousands of feet below if you make one wrong move. Driving slowly and carefully is the key here, especially when there are four people in the car and one of them is married. At one particular area at the top, as I drove down, I could see the river straight ahead that was deep down - such was the angle of incline! After the adrenaline filled drive down to Kaza, we now pointed our vehicles to Nako, which was 111km away. It was past 12PM already.
A starry night ride from Tabo to Nako
If the views in the day were breathtaking, the views at night were in a different league altogether. As darkness fell, the night sky became prominent. The road was empty and it was only us on the bike, the SUV behind us at a long distance. It is difficult to put in words the beauty of the ride at night, in an isolated road with the intimidating mountains faintly lit by the moon light and the whooshing sound of the Spiti river giving us company. Did I forget to mention how stunning it was to see the river lit by the moonlight? It was a remarkable sight. Shame, we could not capture this spellbinding beauty in a DSLR camera or a go pro (sorry, we had neither) but it came close to the splendid night images of Spiti you see on the internet. Stopping at a place, switching the headlights off and just standing in the night with no one for miles around and listening to the wind and sound of the river was serene and overwhelming.
The ambiance of the place was such that it felt like an alien planet. Christopher Nolan could have shot some scenes for Interstellar here. It would have saved him a lot of money and given him an outlandish location at the same time. The three-hour ride from Tabo to Nako in the night was definitely one the high points of the trip and qualifies to be among the greatest roads in India or even the world, owing to the sheer isolation, jaw-droppingly amazing landscape, good surface to ride and the sense of elation you feel while you travel in this route. We reached the hill village of Nako quite late at 9:30PM.
Day 5: Nako to Chitkul via Sangla
As you proceed further to Spello from Nako, the dry brown mountains fade in the background and you are greeted with mountains with pine trees and a number of snow clad peaks in the vicinity. The river of course, follows you and completes the backdrop. There was not a single day that we lost sight of the river that gave us company. The road to Karacham was mostly good with a few occasional bad patches. Another thing to look out for is the 'shooting stones' signboards. Since there are loose rocks and sands on the mountains beside the road, rocks and stones randomly fall on the road and we saw many stones on the road at some places. To go to Chitkul, you have to cross Karacham bridge and take a left towards Sangla and go uphill. While the route to Chitkul itself is a spectacle, it is off road riding for most of the time and there are no guardrails or blocks to prevent the sharp drop hundreds of feet below to the Baspa river, so keep your eyes on the road.
After you visit cold, isolated, dry and dusty high altitude places like Batal, Chandrataal, Kaza, Komic and Nako, Chitkul comes as a breath of fresh air. Literally. According to a study conducted by IIT Delhi, you can breathe the cleanest air in the country at Chitkul in Kinnaur district, thanks to the forest cover in the place. It is the last village in India before the Indo-Tibetan border. The landscape is truly mesmerizing as you cross Karacham bridge and make a hill climb to Sangla and finally, Chitkul. The Indo-Tibetan Border Police (ITBP) greets you a few kilometres before Chitkul. One of the most beautiful village in India and easily the best place we visited during this trip, Chitkul should be on your wish list. Around 900 people live in this picture-perfect village and the main occupation is farming - green peas, potato, mustard, Jowar and a local crop called Ogla (Buckwheat) is grown here. July to October is the best time to visit as the valley is in full bloom and in October, a flower show takes place.
Pro tip 4: If you visit Chitkul, stay the night there and explore the village as it is one of the most beautiful villages you will come across in India.
Pro tip 5: Take basic medicines to counter headaches, fever and common cold. Acute Mountain Sickness (AMS) is common at these altitudes and Diamox tablets are useful to reduce the same.
Chitkul to Rampur
I really wanted to stay the night at Chitkul, as it would have made such a great stay. Imagine staying the night in one of the most beautiful villages in the country and taking leisure walks to the river in the morning and sit simply in awe of the place. Unfortunately, that did not happen as my friends wanted to go and relax at Shimla and do some shopping there. One of the guys had booked a suite for us at Club Mahindra resort in Mashobra and we were all dreaming of a hot shower and a warm bed considering the previous days, when we were looking like nomads. This plan required us to cover as much distance as possible, reach Rampur before nightfall so that the next day's journey to Shimla could be completed in the first half, and enjoy the rest of the day at Shimla before making an early morning dash to Chandigarh on day 7.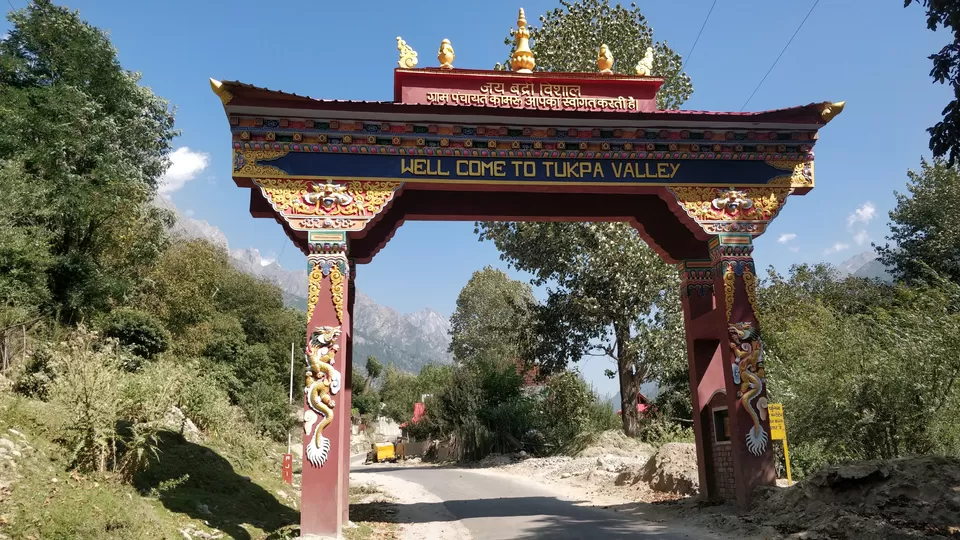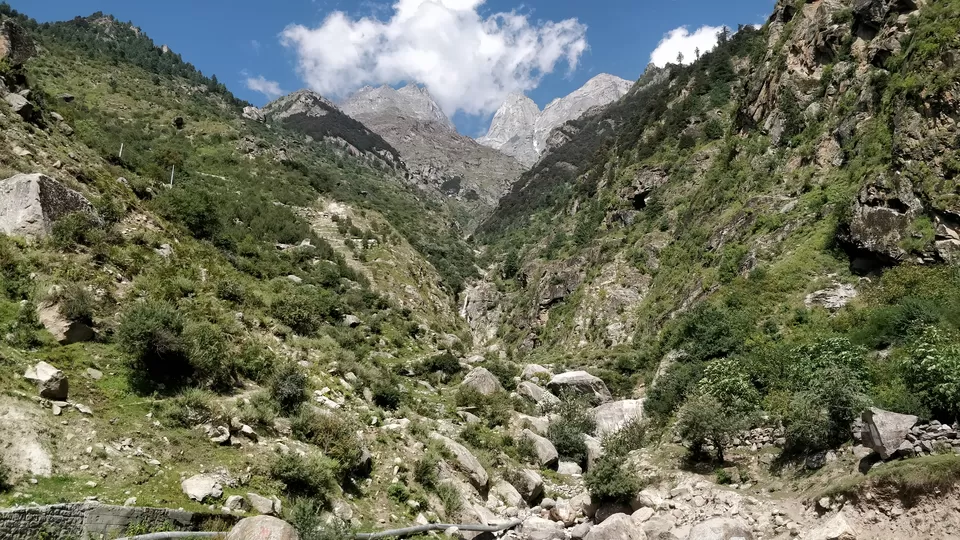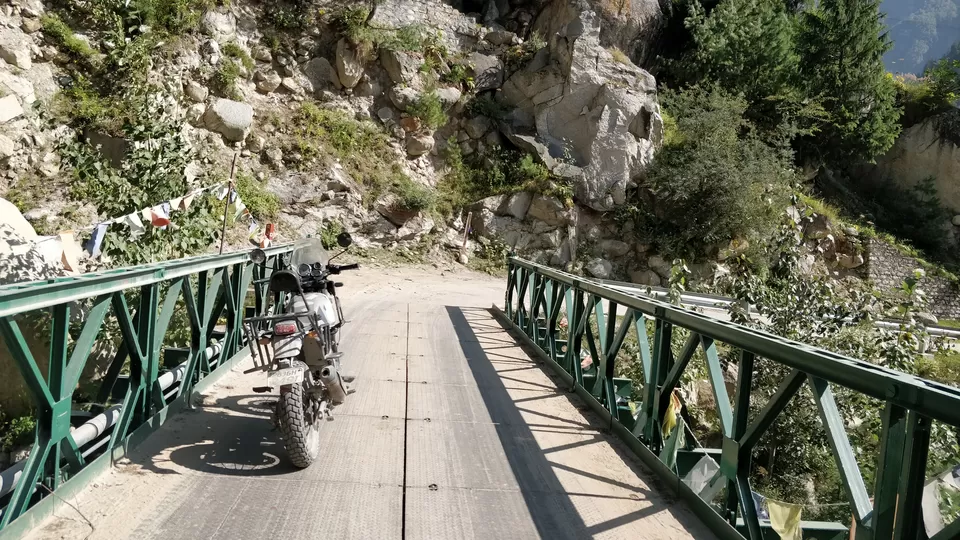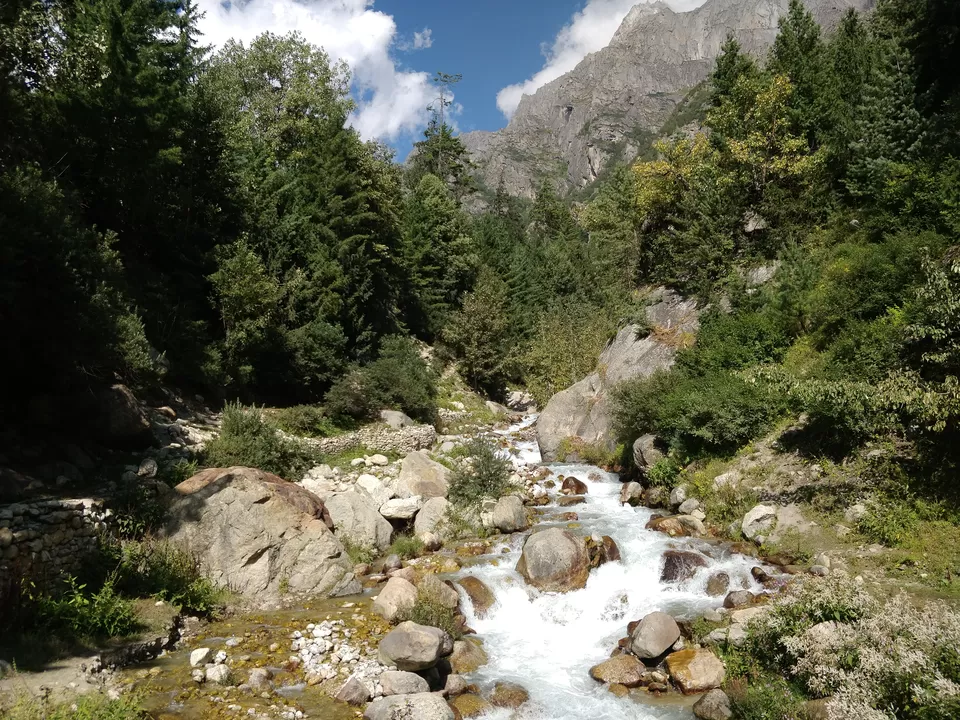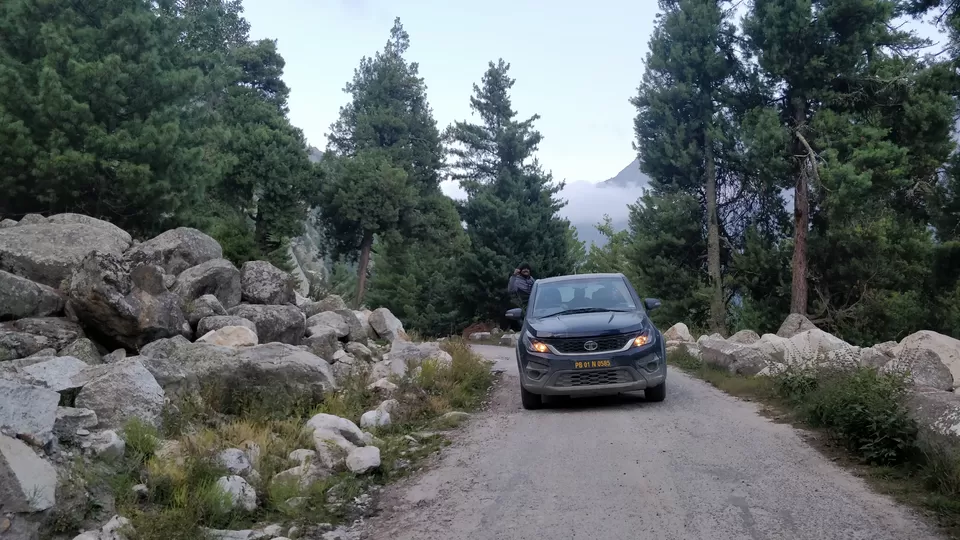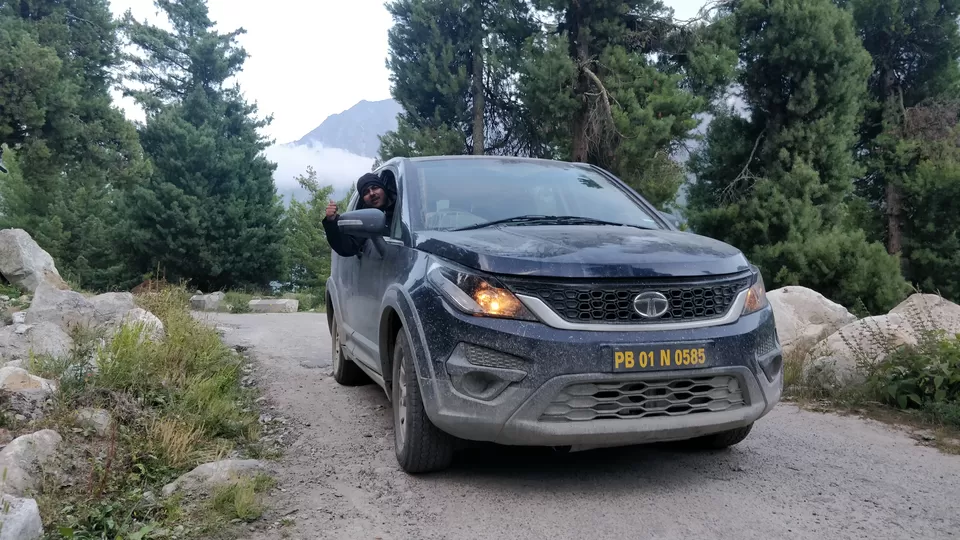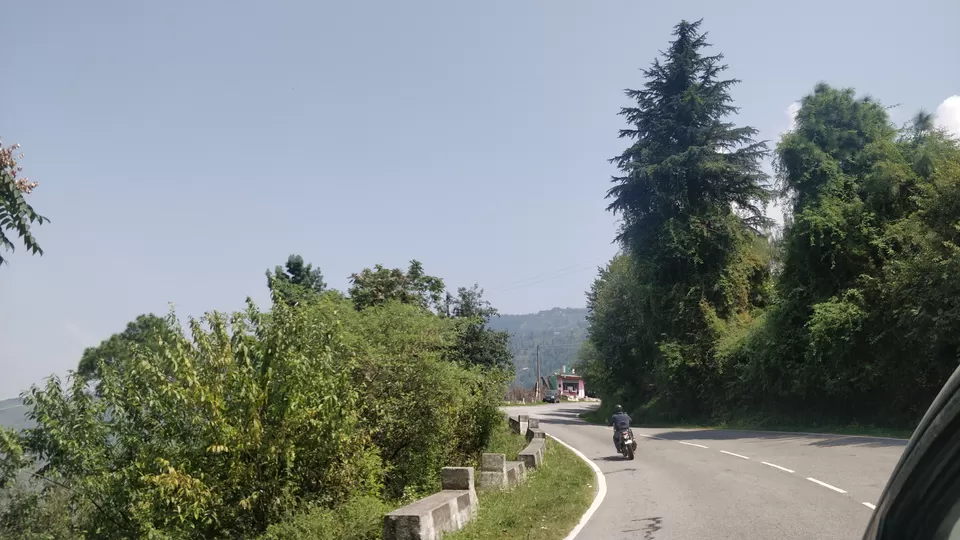 And so, next stop was Rampur, 118km away. Time was running out as it was already past 6PM. It was too ambitious and frankly, was a bit too much for us to try and go all the way to Rampur after the tough and slow climb up to Chitkul. The descent was even slower and we ended up reaching Rampur at midnight and all hotels were shut. Luckily, we got a much needed break when a friendly local helped us to find a decent stay for the night, at a time when we were mentally prepared to drive and ride all the way to Shimla in the dead of night. People in the hills are really nice and actually try to help you.
Day 6 and 7: Rampur to Chandigarh
Next day, we headed to Mashobra where a cozy suite in a Club Mahindra resort was waiting for us. After a few hours of rest and some indoor games later, we went to the famous mall road in Shimla, 14km away.
Do not forget to get the various apple products that are on sale in Shimla - apple jam, apple barfi, dried apple chips and even apple pickle! You can also get apples at very reasonable prices. We bought a box (12kg) of green apples for just Rs 600 - apart from the various apples we ate from orchards en route to Kaza, courtesy Vinoth Krishnan.
With mixed feelings, we bid goodbye to the incredible place that is Spiti Valley in Himachal Pradesh, taking back some great moments and many apples. In the end, we had covered roughly 1400km in six and a half days, navigating through some of the greatest and worst terrains the Himalayas had to offer us. One of my friends rightly said – it is not an easy task to assemble six friends, that too eight years after we finished college; plan and execute a trip to one of the most isolated places with some of the most dangerous roads in the country and have a ton of fun despite some setbacks and many arguments along the way. Apart the superb landscape, the drive and ride, what made the trip memorable for us were the challenges and the team work that we did to get ourselves out of sticky situations. Challenging terrain? Bring it on! It is true when they say that the Himalayas makes men out of boys.
Images by Vinoth Krishnan, Ganesh Murthy and KM Karthik