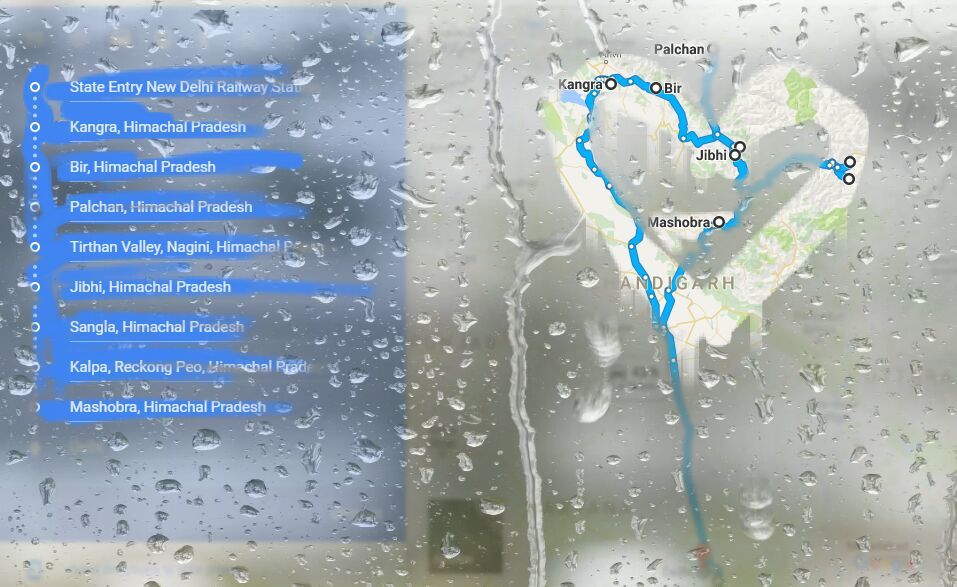 Trip Goals: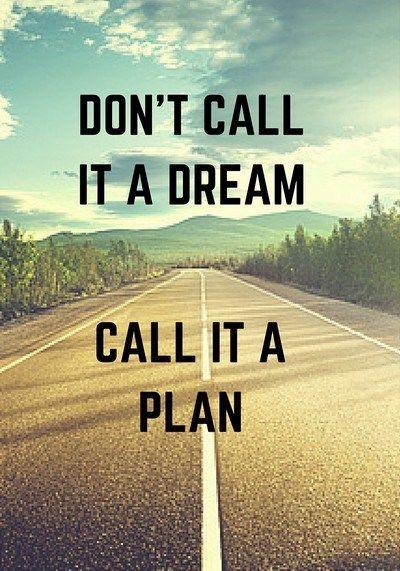 But our plan went erratic with the train getting cancelled (due to farmers' protests) and no whereabouts of our rented car (unavailable due to some aleatory maintenance issue at our pickup location).
We were stranded in our hometown station with all plans bundled in our backpacks and dream vacation brought to a standstill like our empty train. But we had no intention to return to the mundane anarchy that we had tried so hard escaping after pleading our bosses to release on a week's interlude.
So we called a porter to move our luggage out of railway platform to look for some other means to reach our destination since all the trains following the Indore-Nizamuddin course were being stopped or cancelled.
Little did we know that our story was actually meant to commence from this juncture. Adventure is not planned, and so our plan had to pocket adventure in the most capricious way. The porter turned out to be seraph in disguise who informed us that another train had been arranged and scheduled after 3 hours that will take a different route but steer us back to our plans.

Generally, compared to an AC ticket,a general class would have caused a disrupt in the excitement quotient, but for us, it outclassed any meandering qualms and gave us the right jostle to land us straight into adventure psyche. We enjoyed the frantic fight for seats, numerous stops, an engine failure causing 2 hour delay, wheels jamming and railway-track photography sessions till we reached Gurgaon (instead of Delhi, since we received a call that a new rental vehicle had been arranged for us there).
Luck favors the bold, and having picked up our vehicle, we were now resolute with the fervor of an amazing expedition that lay ahead.

Route : Delhi-Nangal-Una-Kangra Valley-Palampur-Bir
We had to catch-up with our trip goals so as not to miss out on anything due to the delay caused by our previous setback. So we drove through the night from Delhi as we had lined up for paragliding in Bir (The paragliding mecca in our country).
We passed the beautiful Kangra Valley and witnessed the golden sunrise in quaint town of Palampur behind the majestic hills: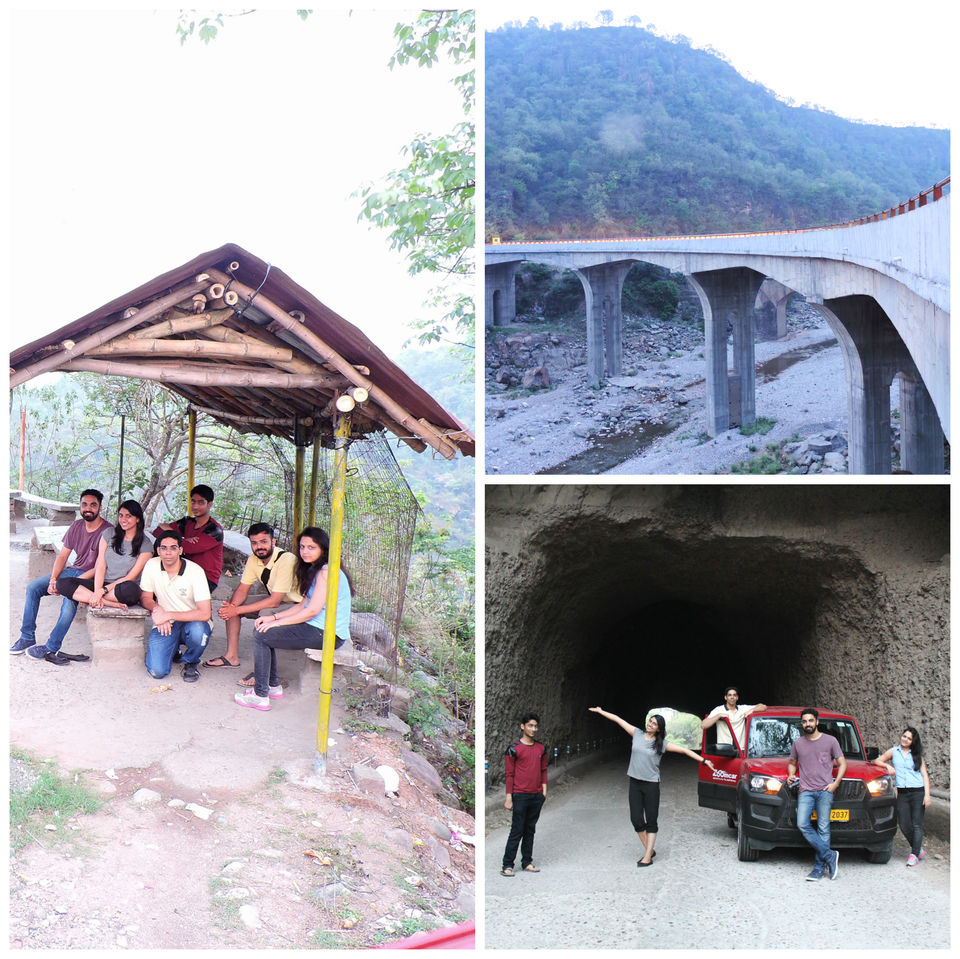 Chirping birds, sounds of mushy drizzle on the roof and smell of earth mingled with piping hot tea- we could not have wished for a better morning. Invigorated after a sound sleep, we browsed our list to find that our first checkpoint was still hanging midair which we were persistent to complete. On inquiring about the possibility of paragliding nearby, our host, Mr. Kapil graciously sat us down for breakfast in his fabulous lawn and told that he could arrange for Paragliding by talking to one of his friend: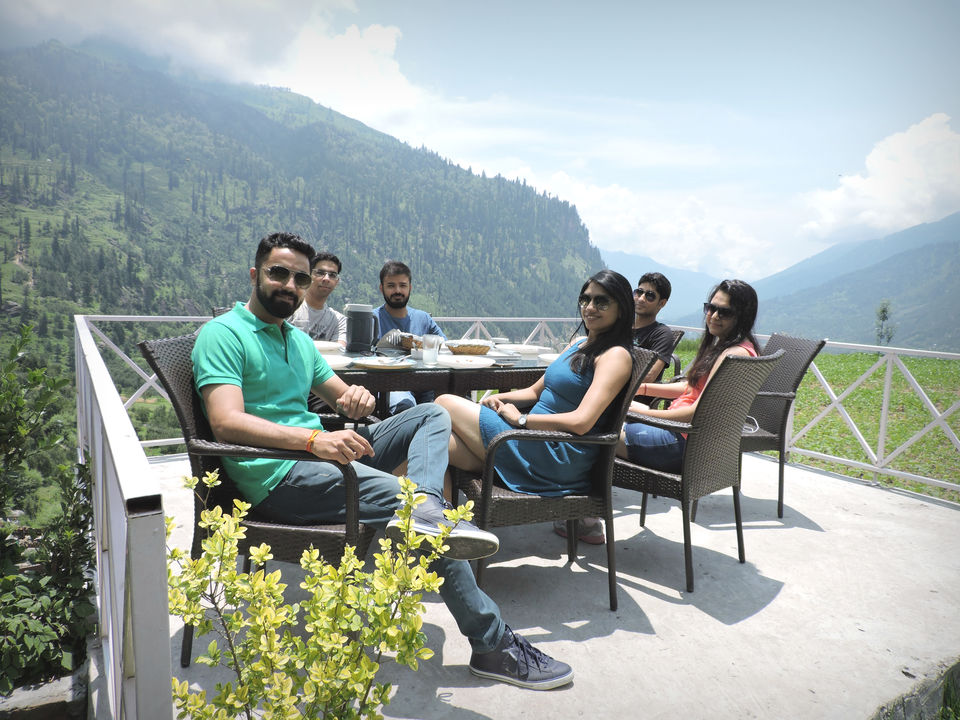 The next morning we felt the urge to visit the waterfall as we didn't have enough of it the previous evening: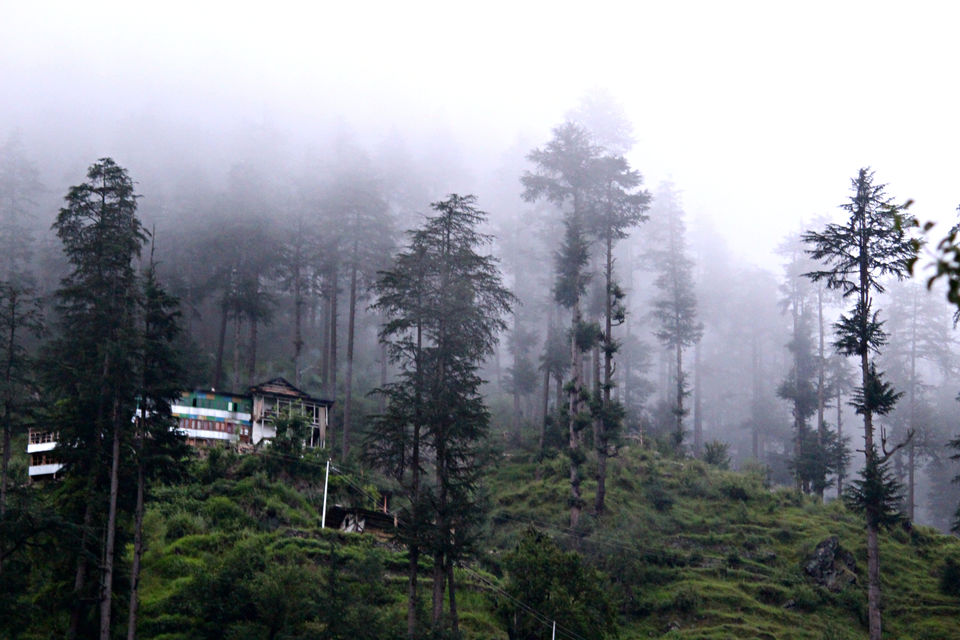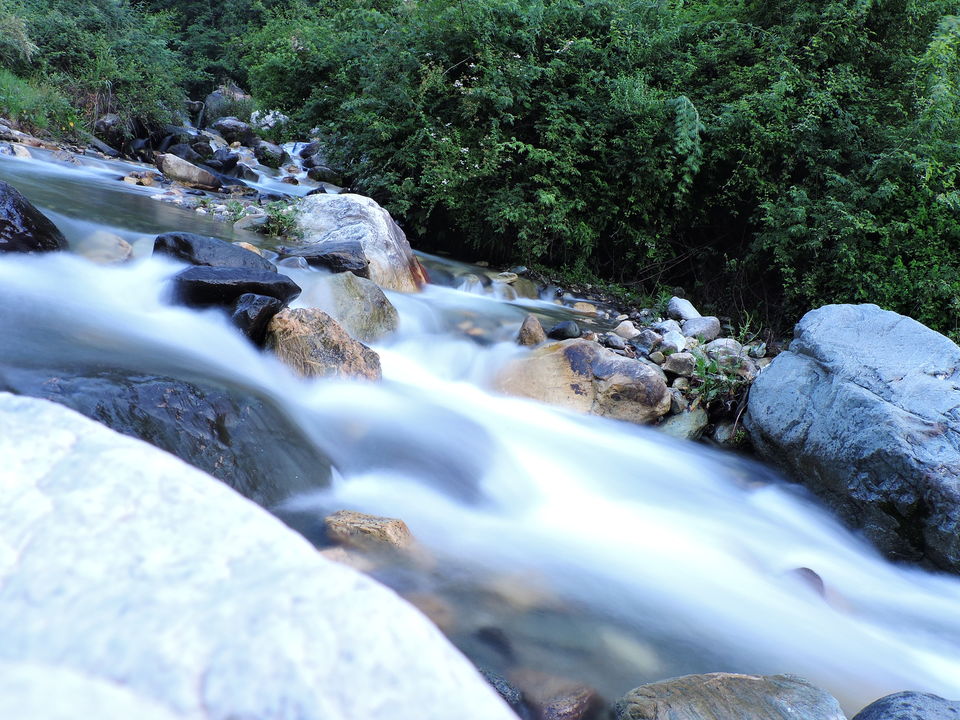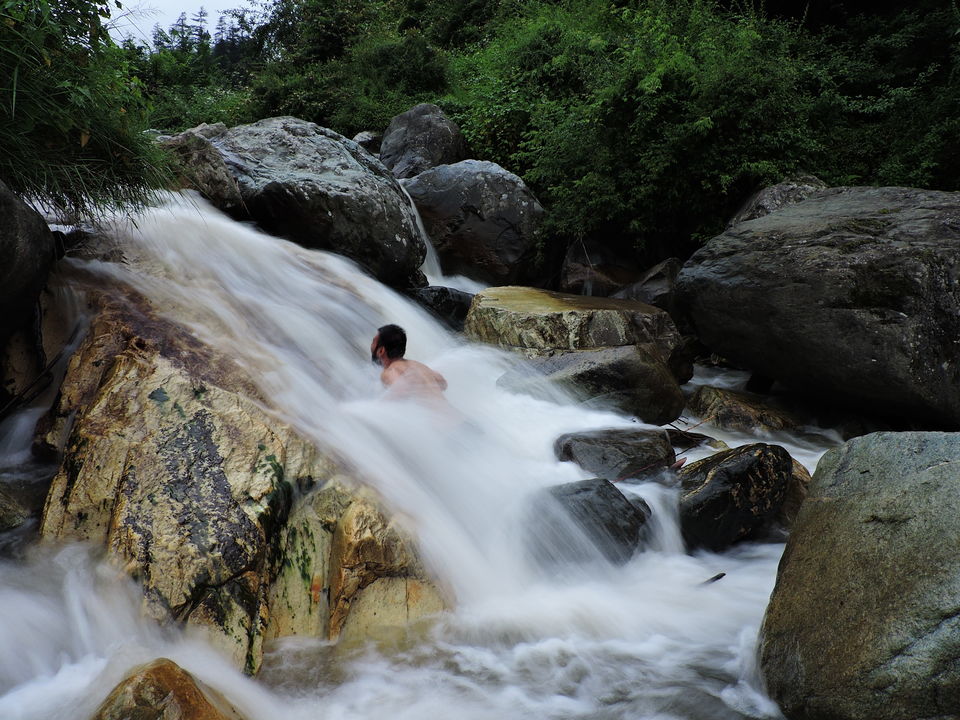 Next day early morning went for a walk besides the river: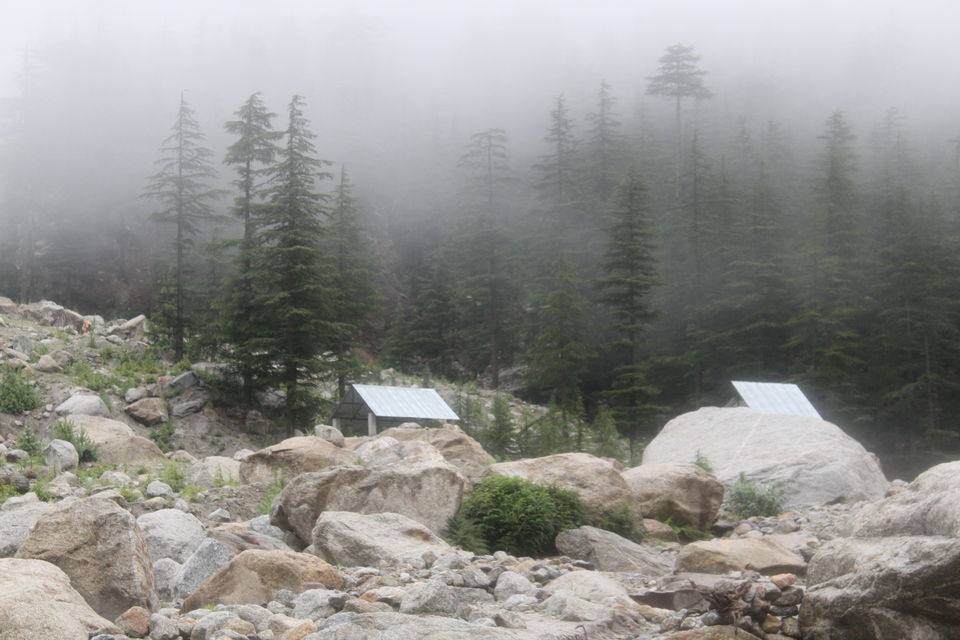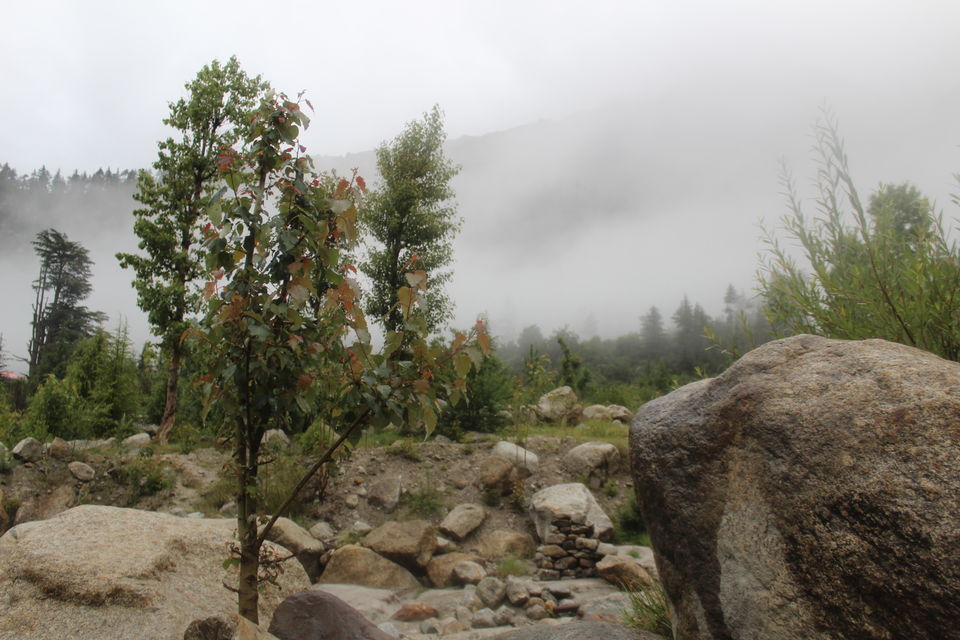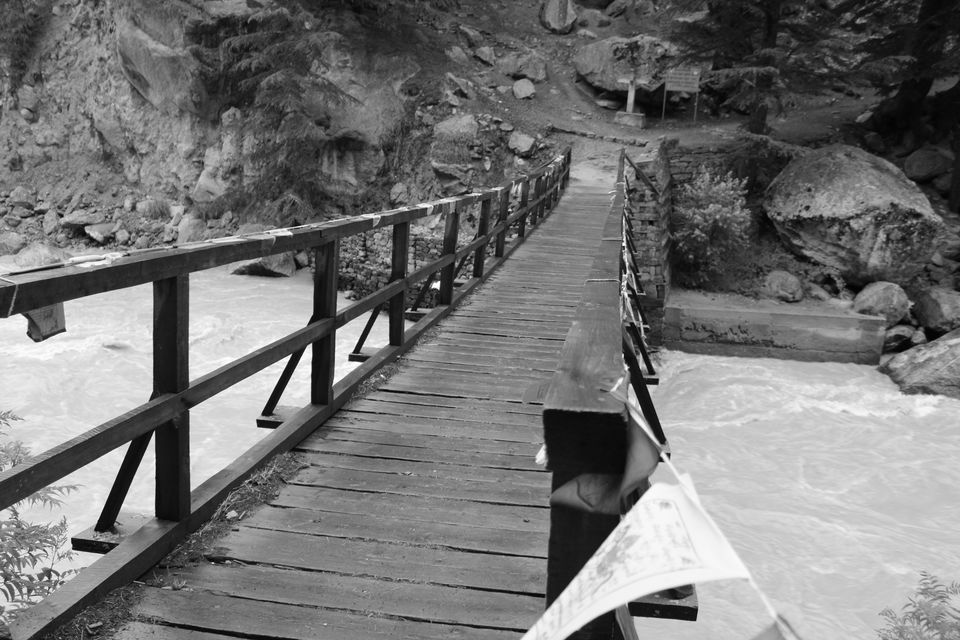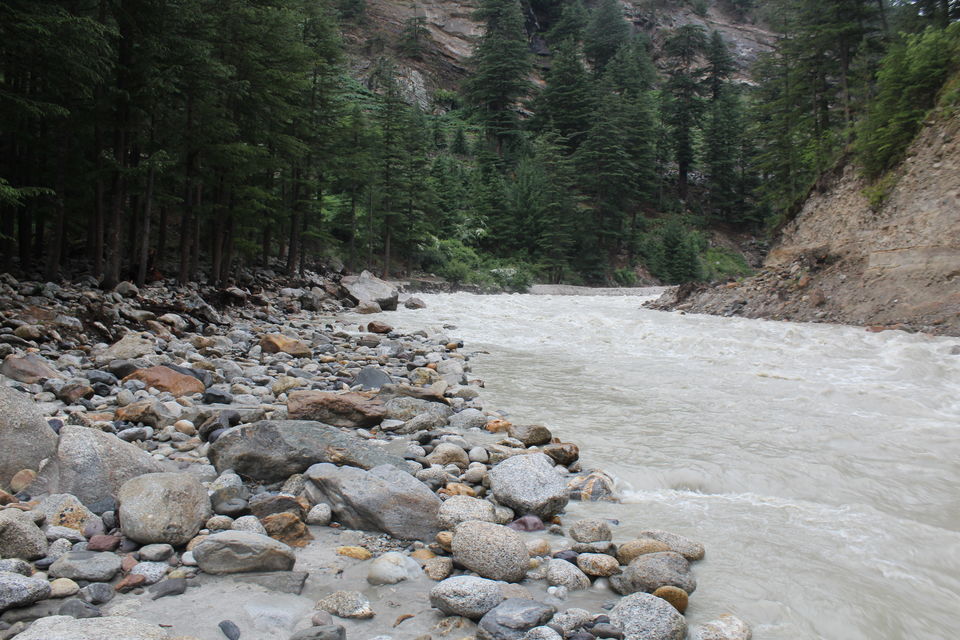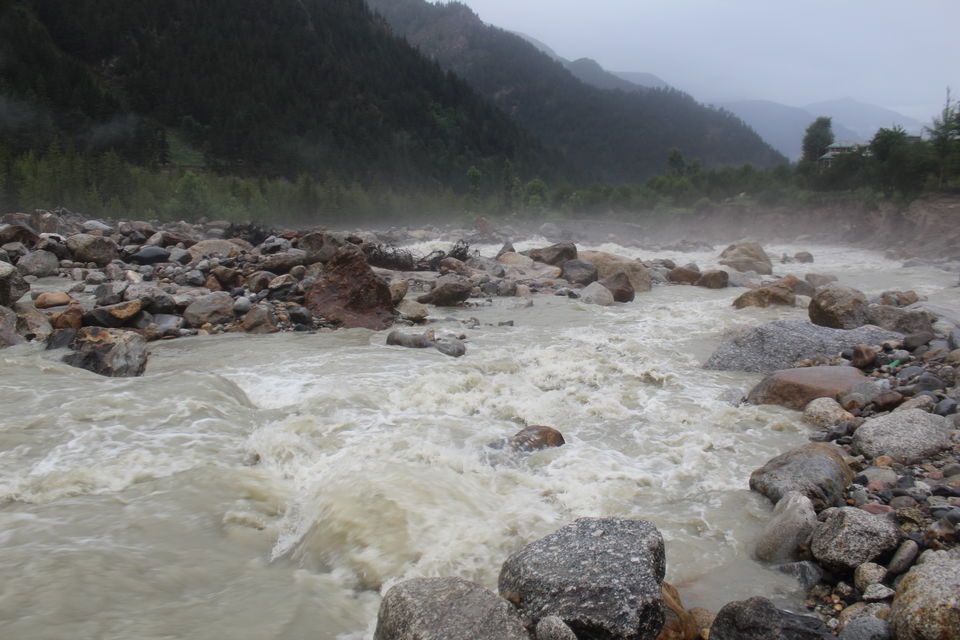 We reached a drizzly Bir where we got to know that weather has played spoilsport thus disallowing us to spread our wings (parachute).
So instead we roamed around the village near our wonderful accommodation (Sagar Holidays) and breathed in the rejuvenating aura of the place: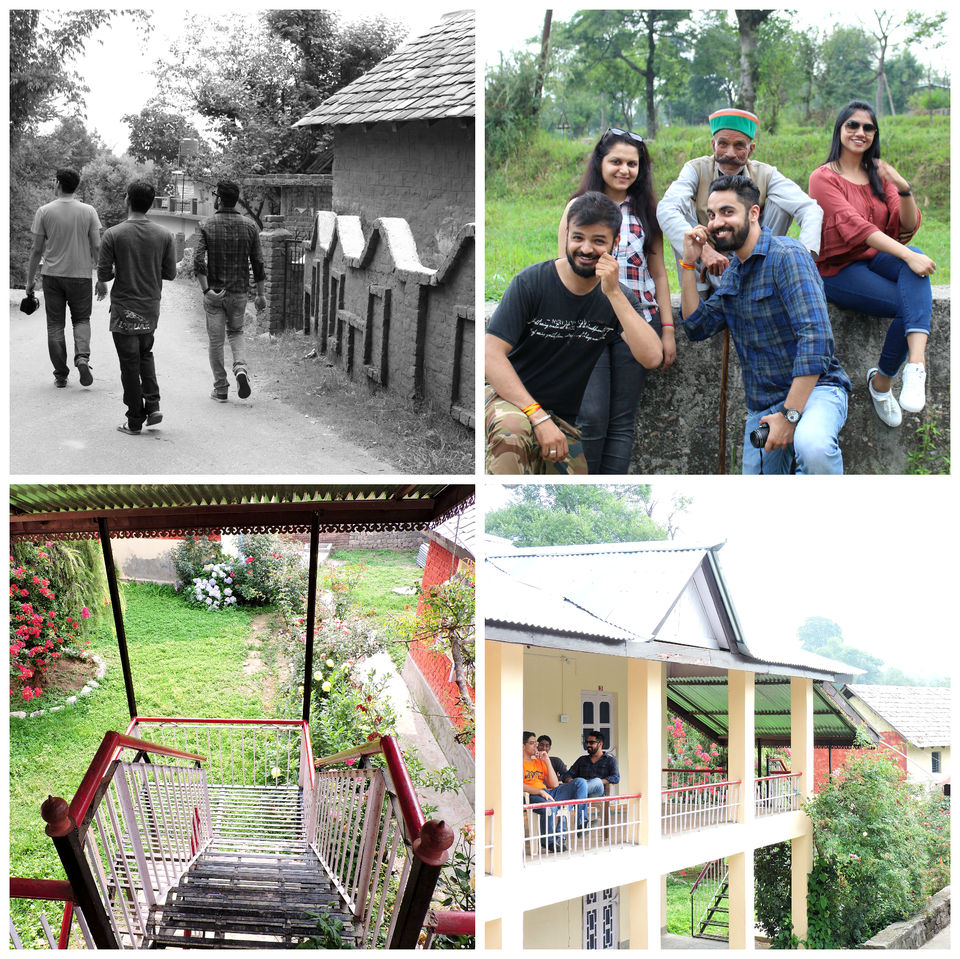 Next day we bid farewell to the Elysium and took to the roads for a midway halt at Shimla. The morning azure of sky adorned with fluffy clouds embracing the mystic mountains left us wistful that we can pack some of this fascinating illusion and take back with us enclosed in our coveted vaults to rejoice and rekindle that emprise after our bail is over.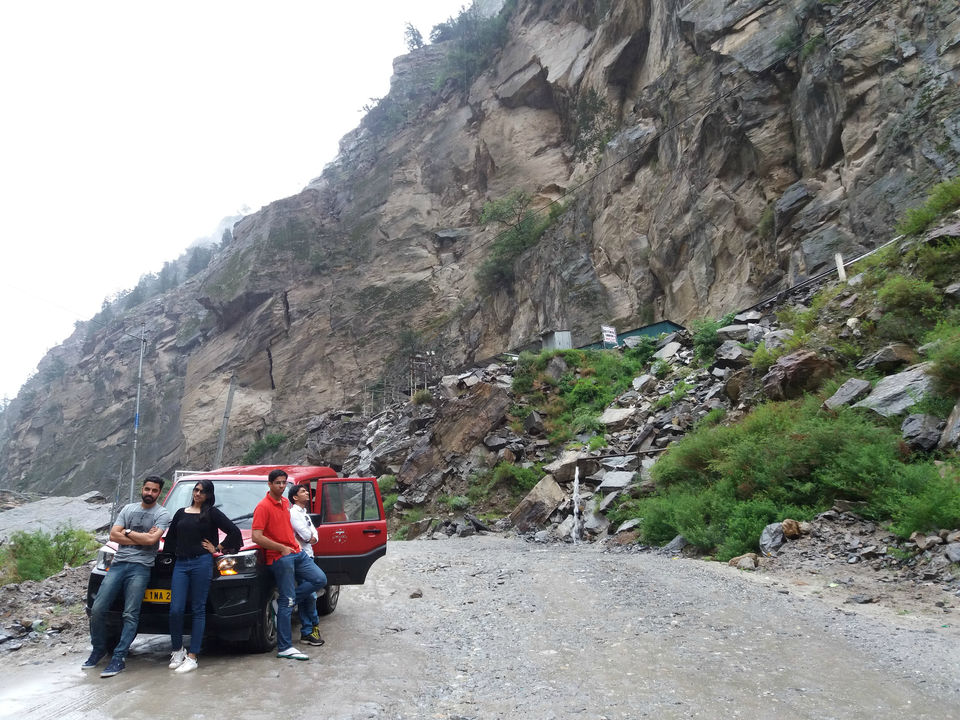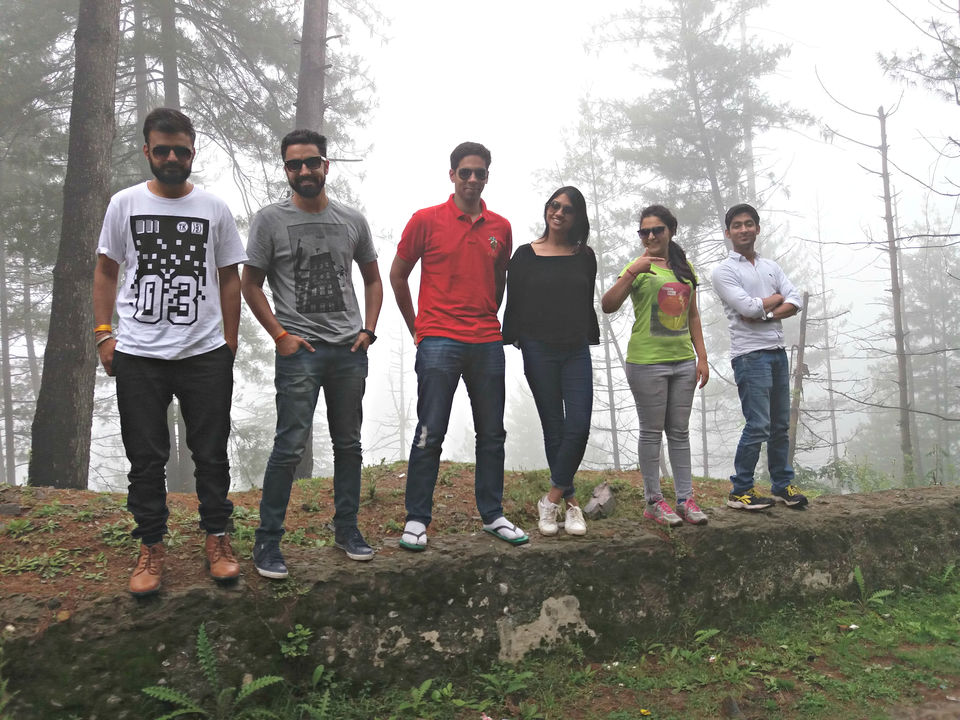 However one more surprise awaited us at Shimla that acted as a revitalizing dose for our dreary spirits. The Heritage Villa we had booked was emanating utter royal luxury and immense homecoming love.
The host, Mr. Sukhdeep welcomed and helped us settle down in his snug, fully equipped and charming art-work festooned wooden home.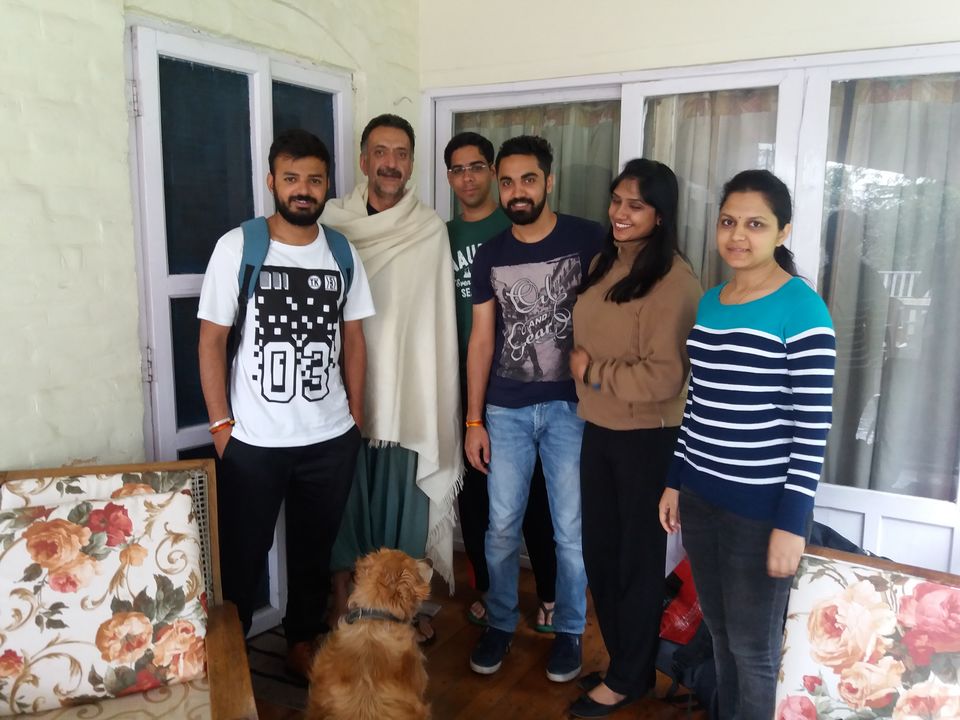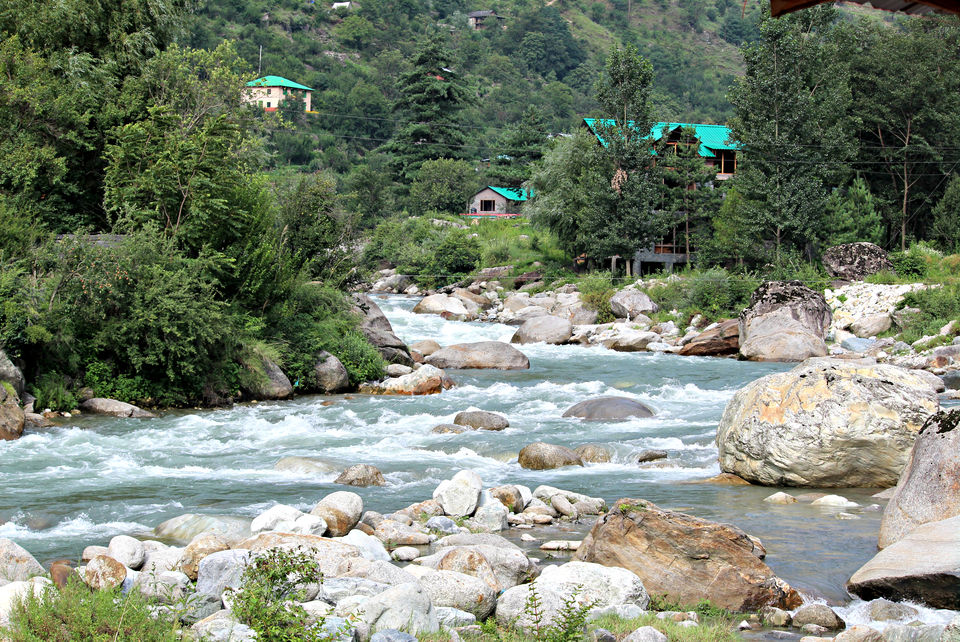 There is no coincidence to the fact that days start with a smile and insanely splendid scenery every morning. Today was no different with dew on grass in Clifftop cottage lawn and fog knocking on the veranda: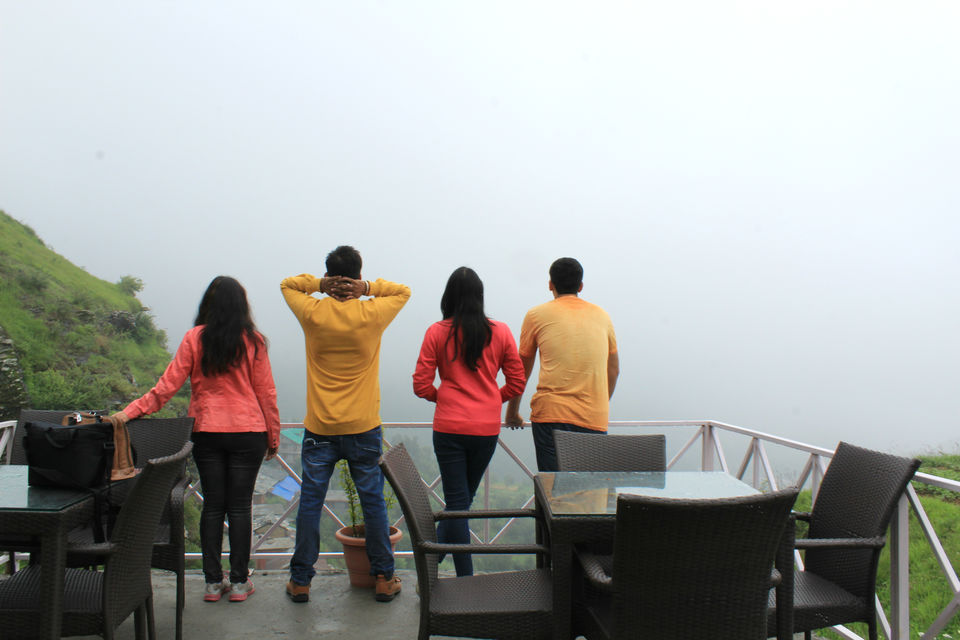 Talking to this merry mustached gentleman lifted our spirits further after the whole night's long drive and we decided to get on with our checklist once again.
Infused with fresh enthusiasm we scampered towards Palchan.
On the way these gorgeous vistas greeted us: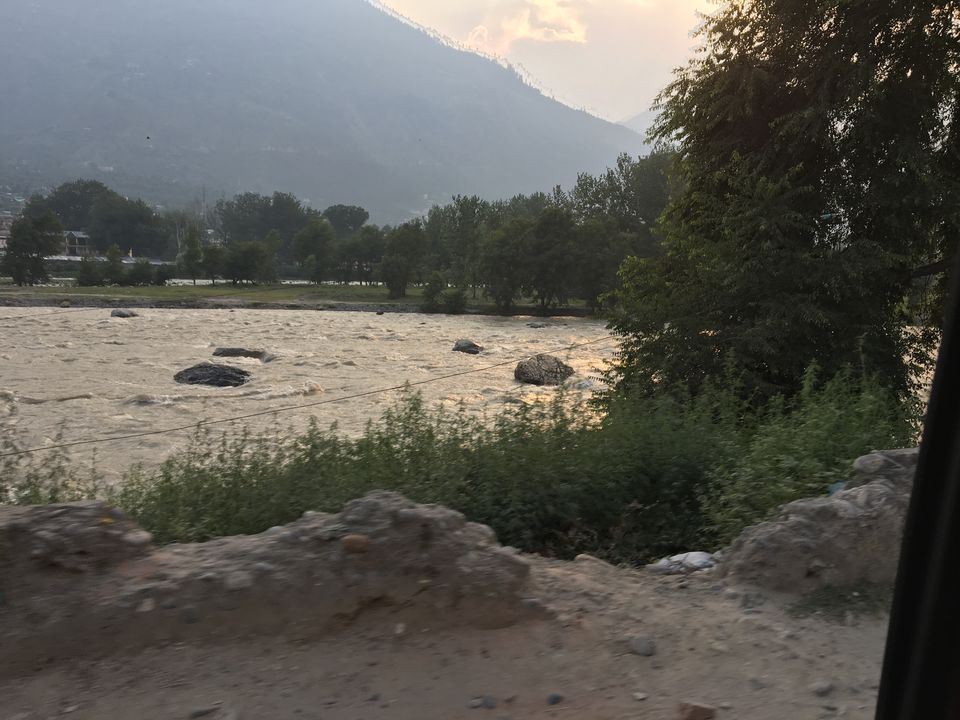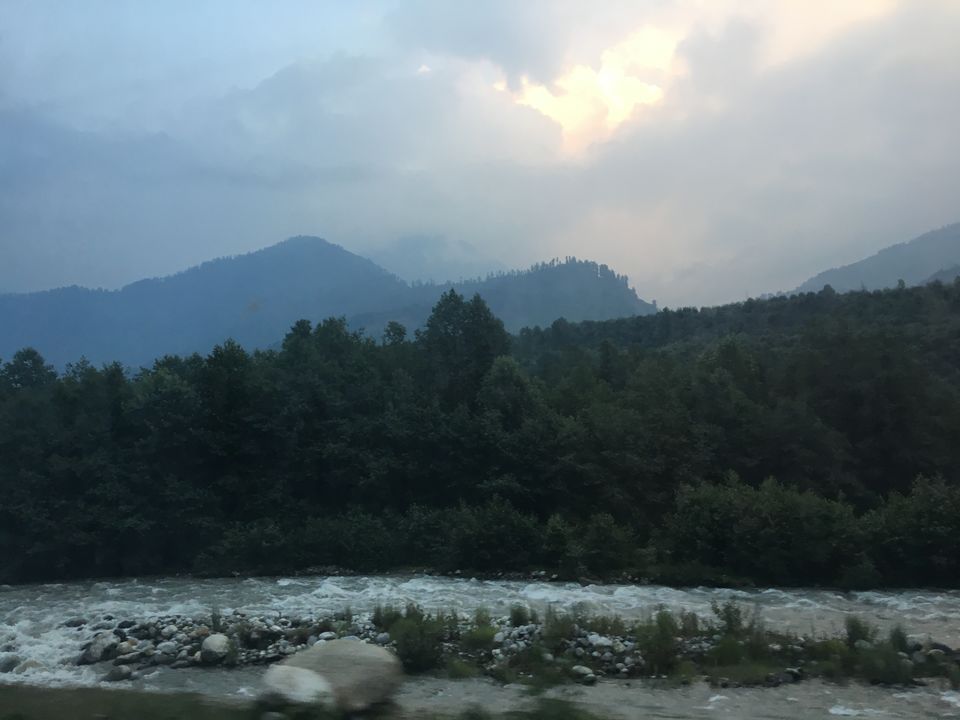 Finally we reached late at night after scurrying our way through the Manali traffic. We dropped our luggage and rushed inside our luxury abode to be greeted with the coziest of interiors and bathed in amicable ambiance: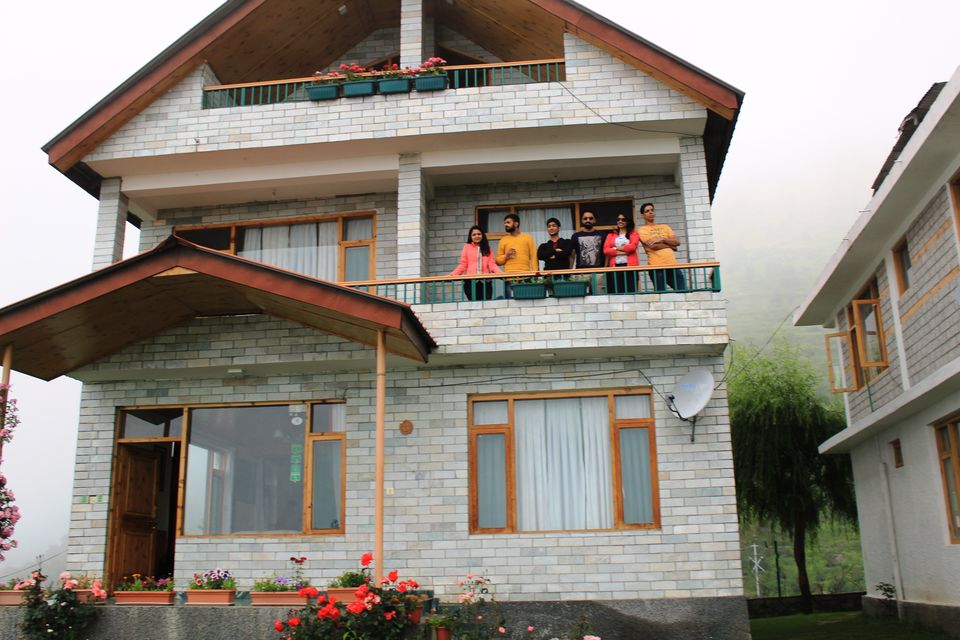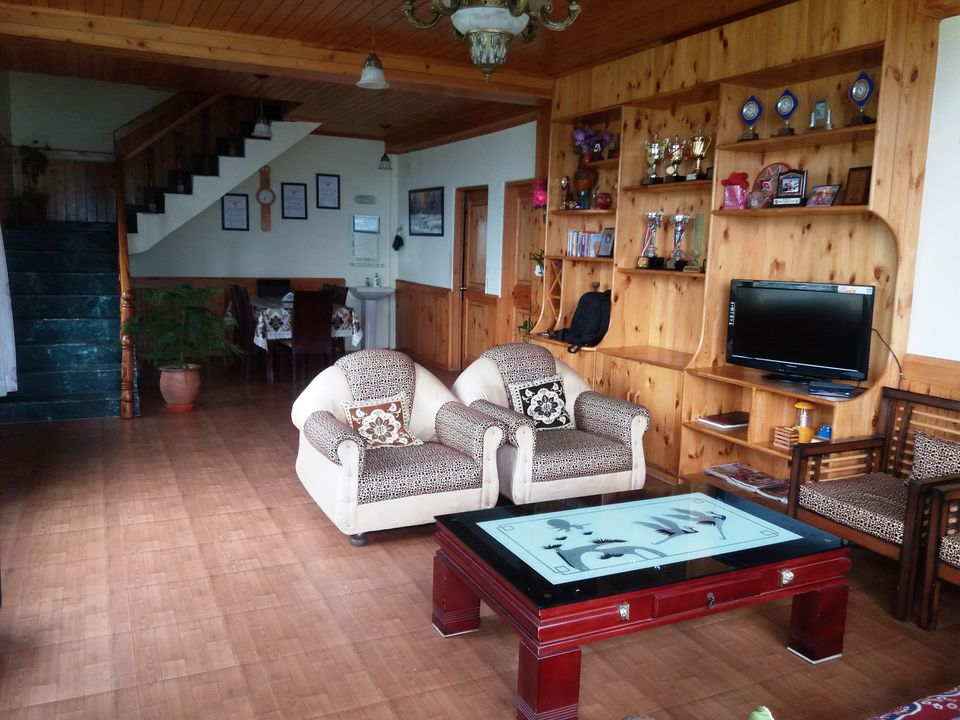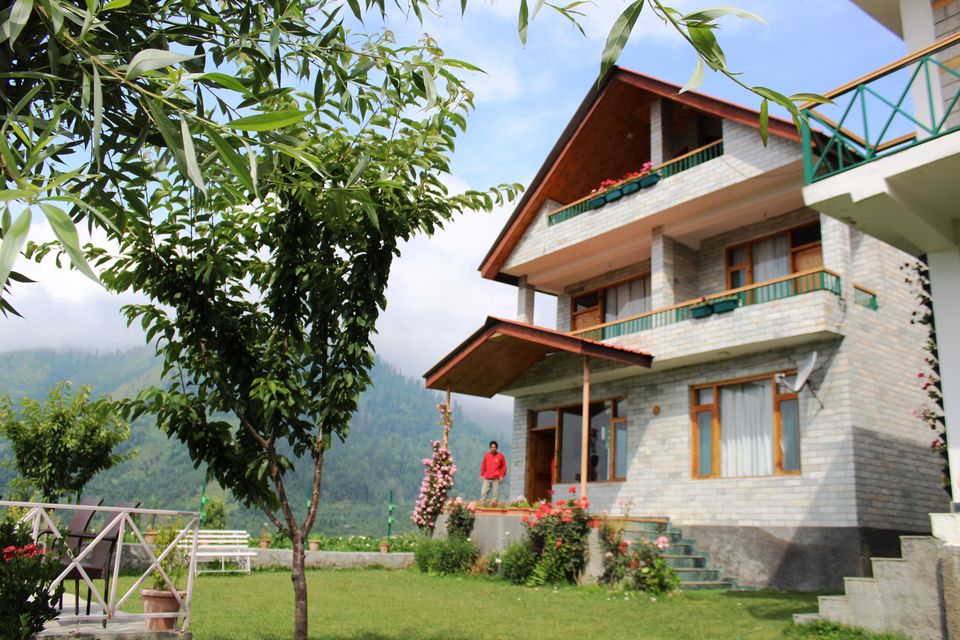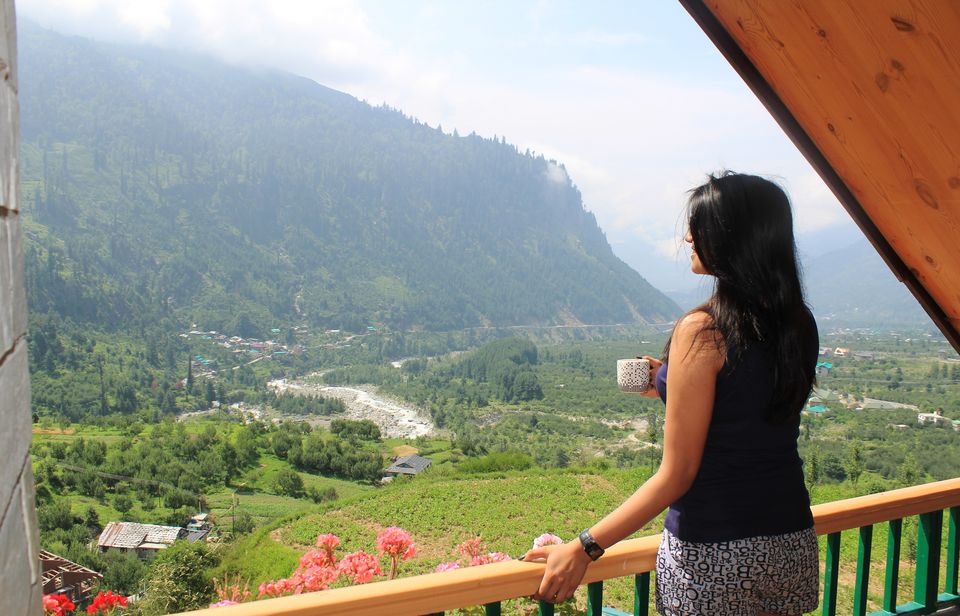 The host welcomed us with utmost cordiality and showed us towards our sumptuous dinner which he had kindly inquired and kept ready at our arrival. We gulped our meals in a jiffy, cheered to our upcoming ventures now that everything was back on track and slept with happy faces and a exultant soul.
That was music to our ears and we quickly gobbled rest of the breakfast and set off to Paragliding site in our red machine.
Enroute to paragliding takeoff site: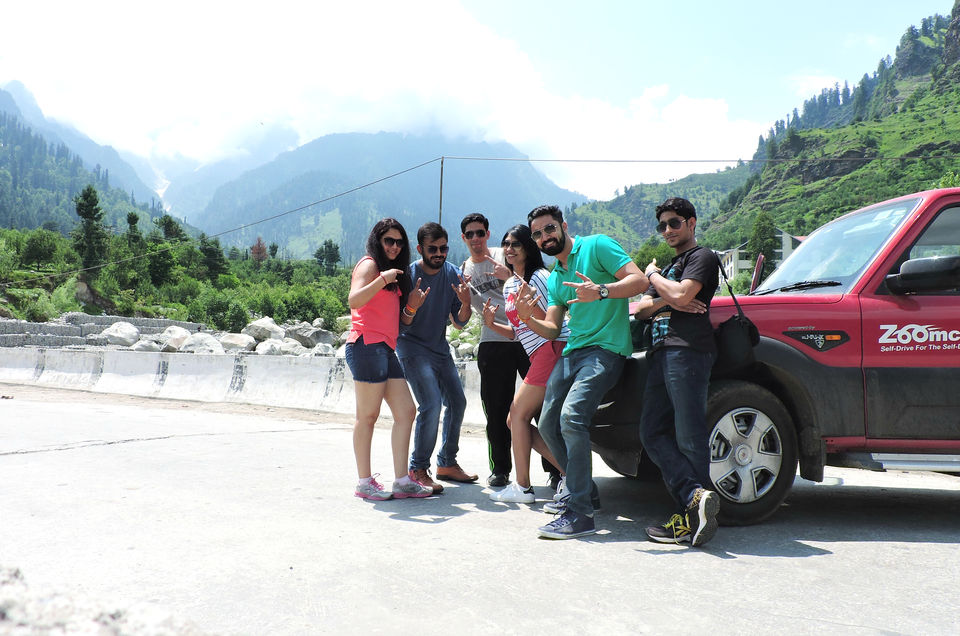 Mr. SherSingh was our paragliding organizer. We quickly filled the undertaking forms and a bolero took us to the the top of mountain from where we were supposed to jump to ecstasy.
Waiting for our turn at Paragliding takeoff: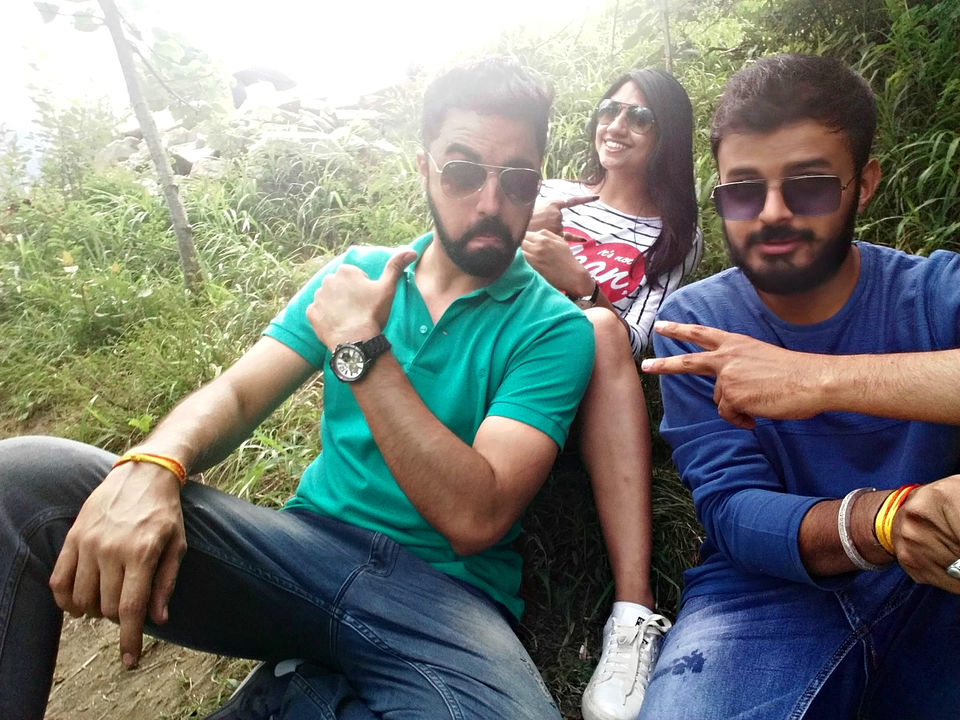 The anticipation of floating in the skies was nothing compared to the actual flight. The feeling of soaring high with nature's magnificent spectacle around you and gush of cool mountain breeze was outright bliss. There was a sense of achievement, adrenaline and appeasement that was palpable. The milieu seemed more akin to our purpose of existence now that we had experienced a whole new level of affinity towards mother nature: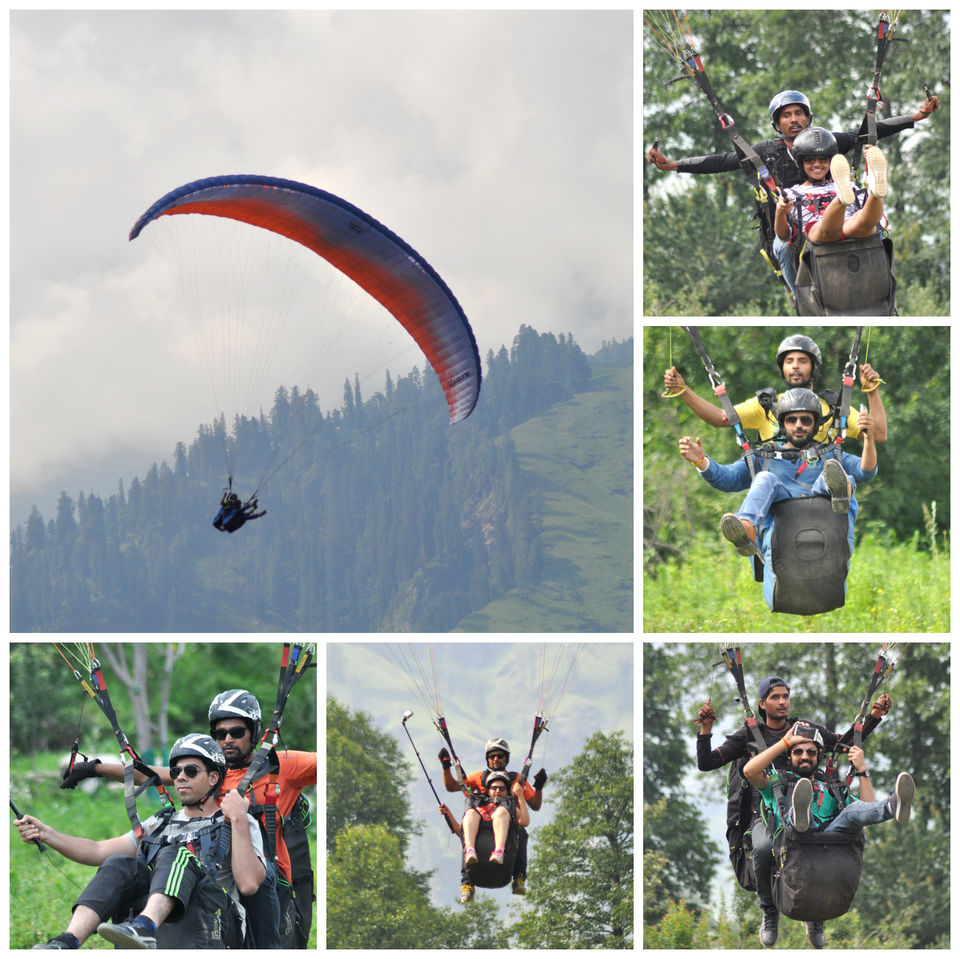 We were already so pumped up after the freedom voyage up in the air, that after Mr. Yogi from Sky Sparrow (who took our paragliding pictures) suggested that we should cover Jogni falls, everyone instantly jumped at the opportune even though it was a 1.5 hour trek uphill. We collected some instant energy foods and started climbing through lush green forest on a narrow track leading to the waterfall.
We took some halts not because we were tired but the incredible scenery was compelling us to feast our eyes and senses on it: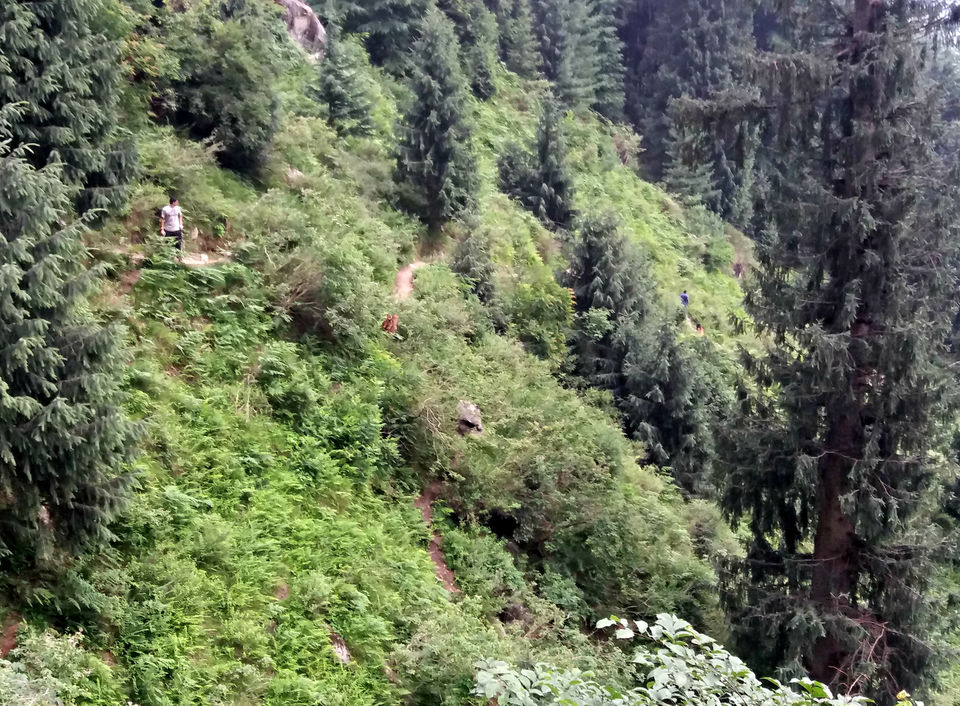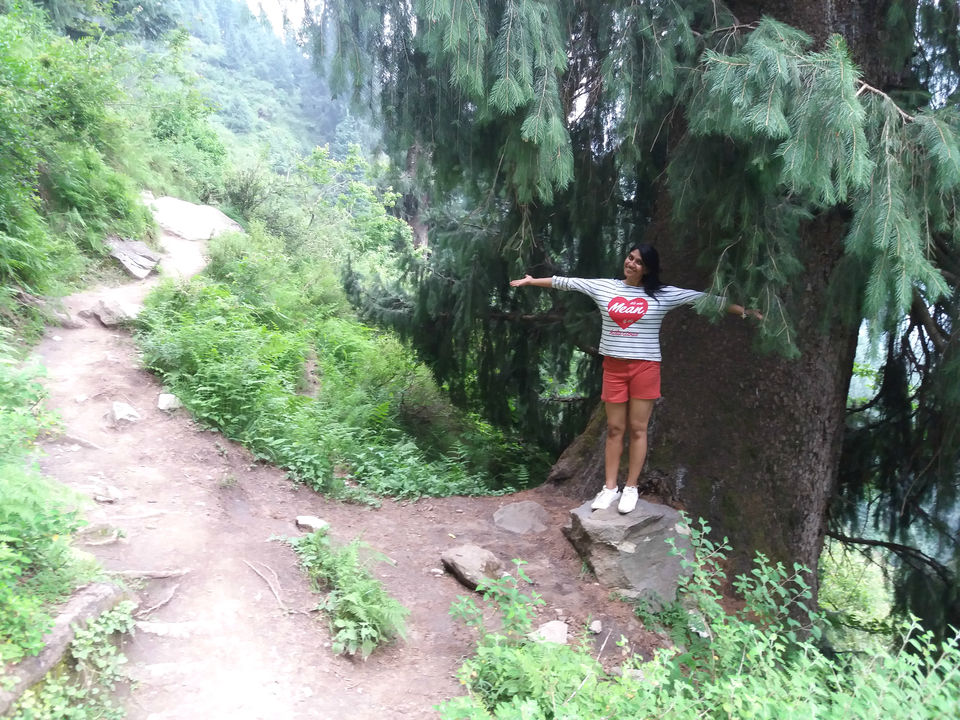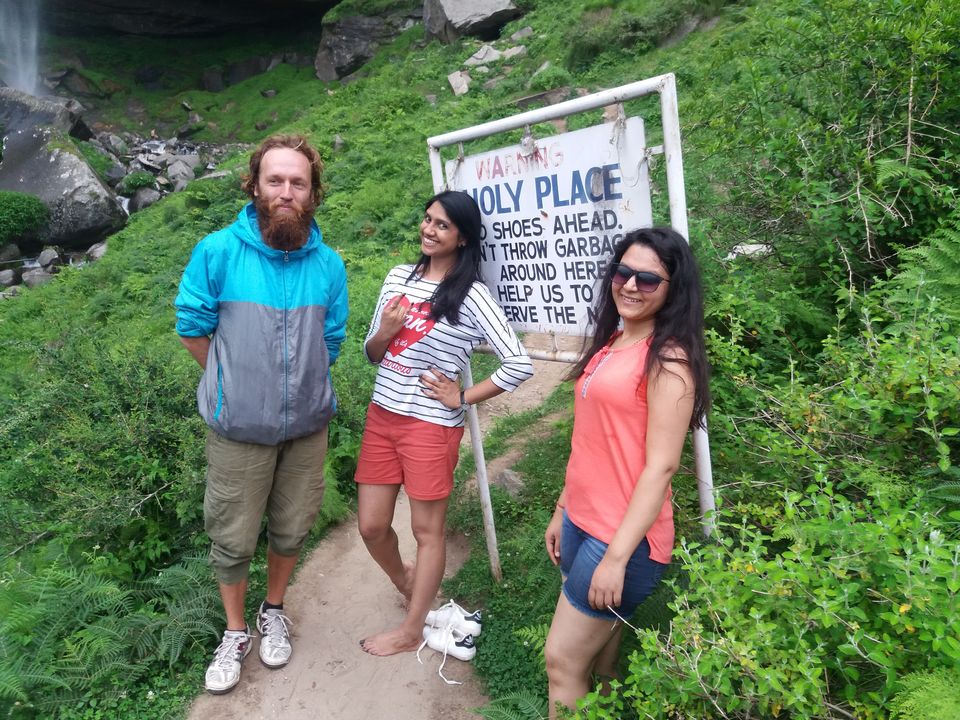 There is a part of waterfall at the base which one can enjoy if trekking is not your cup of tea: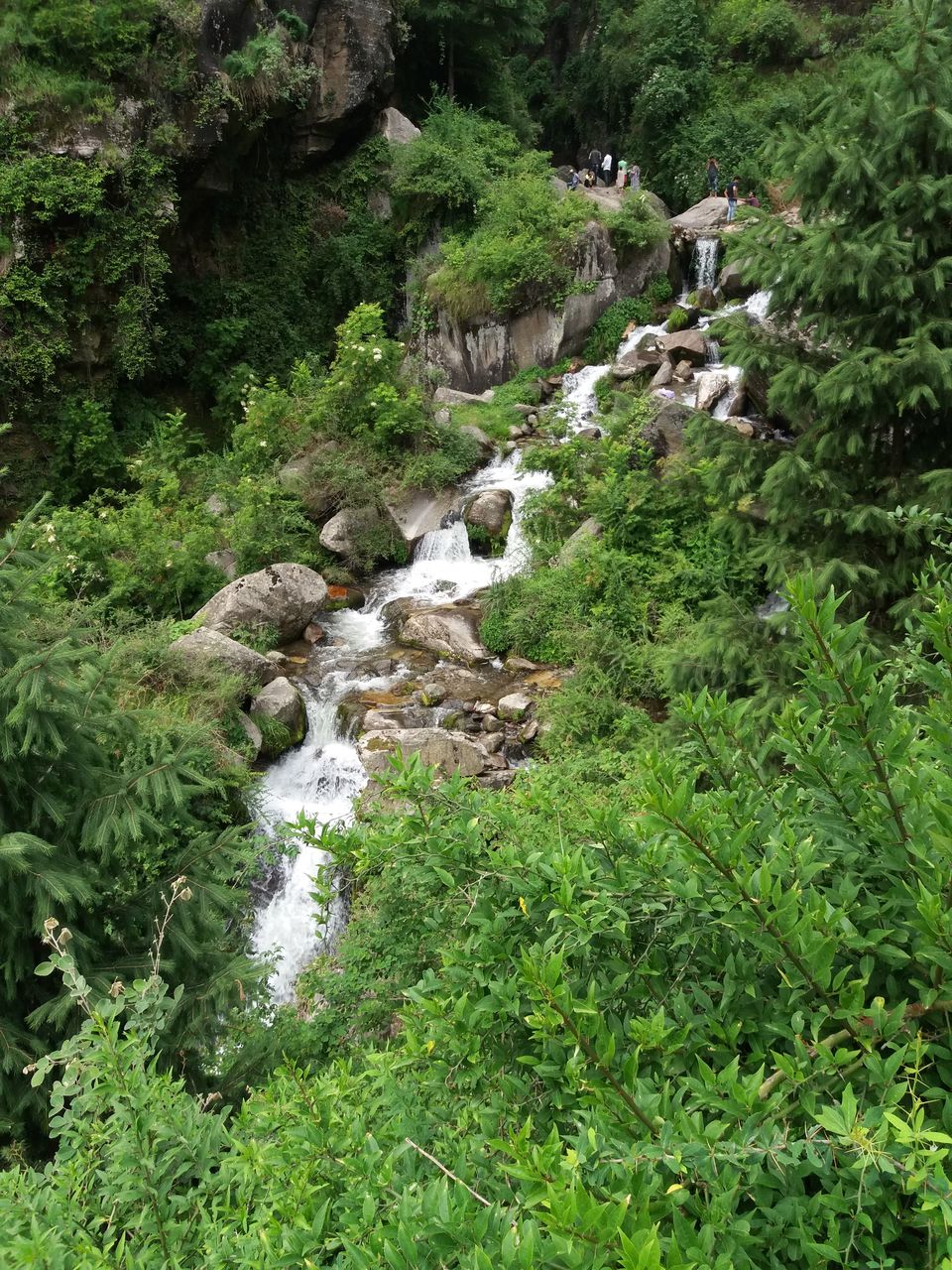 But I strongly recommend to take time to reach the ultimate waterfall; because afterall the joy of discovering hidden treasures after putting a considerable effort is spectacular, something for which words are not enough, but I hope the picture can justify its exquisite charm: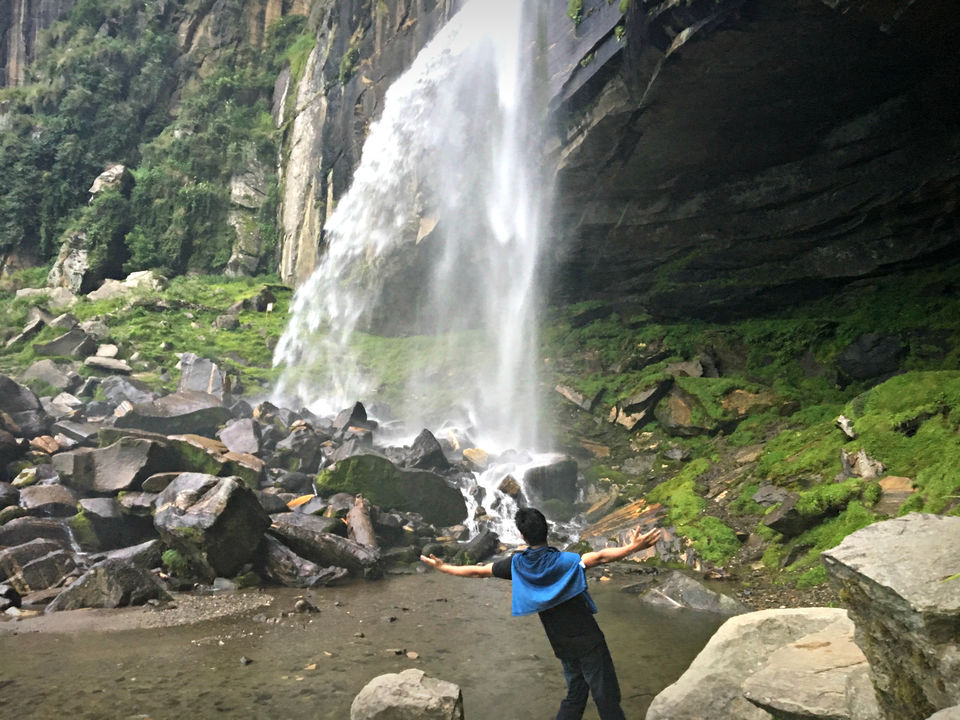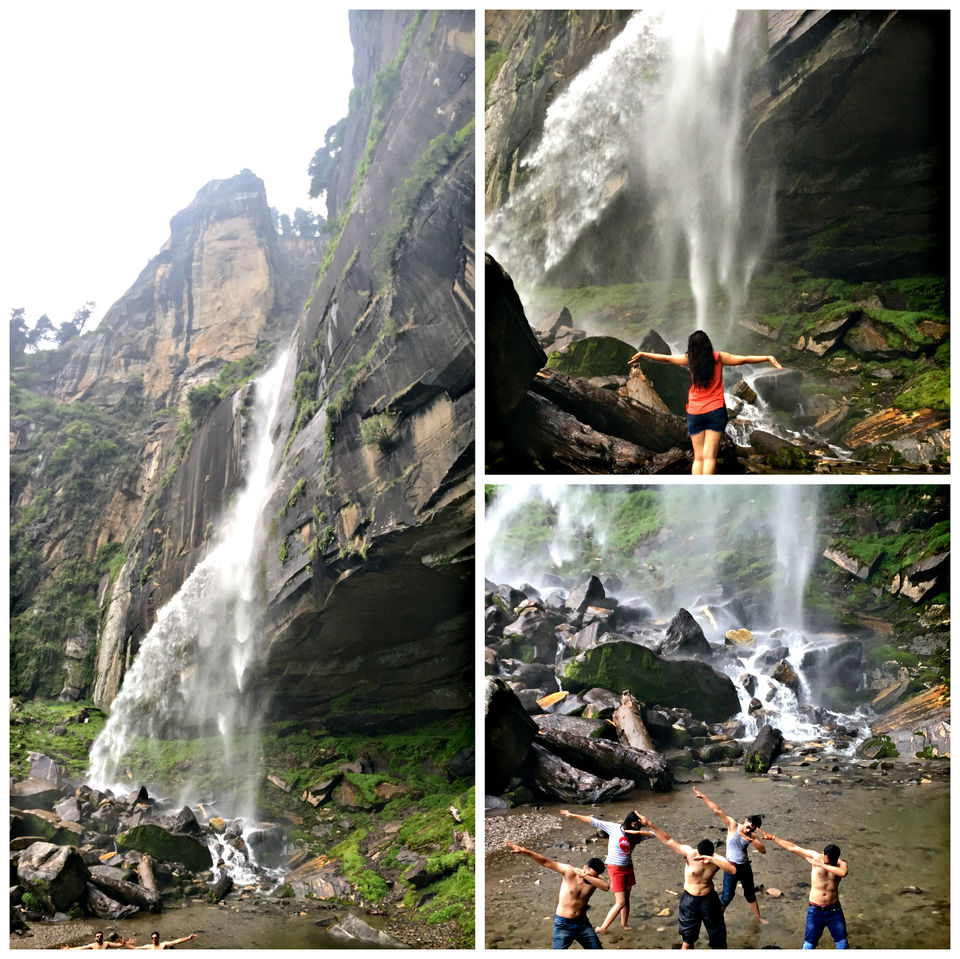 As the twilight engulfed the forest, we quickly descended to the base where we had parked the car (near to Annapurna Punjabi Hotel) and had tea/snacks. After such an enthralling adventure injected day, we gently dozed into slumber with dreams of more forays to come.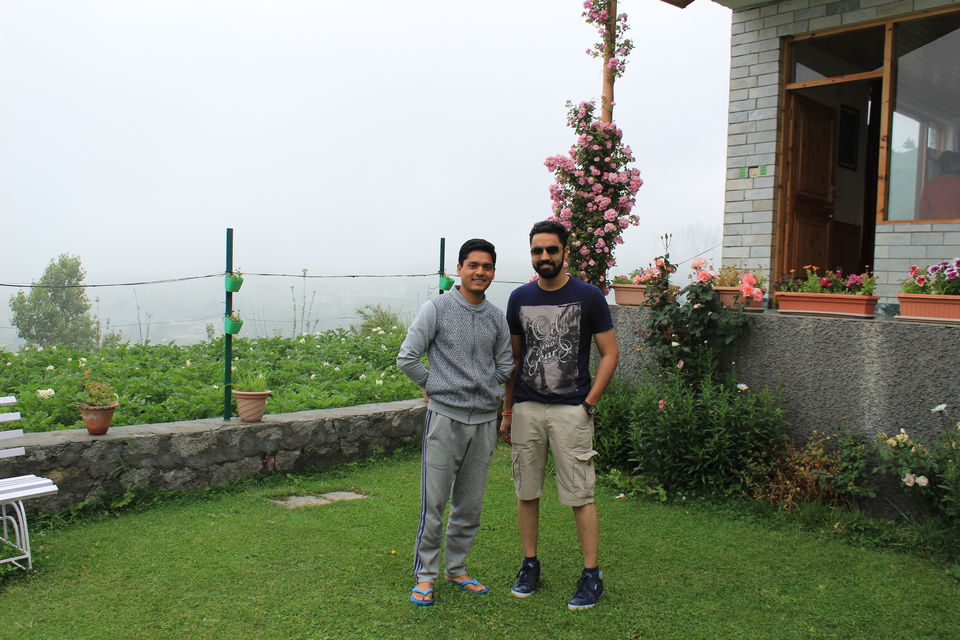 We got ready for drive to Jibhi, an offbeat forest laden destination, via Tirthan Valley.
As soon as we started moving, we had to stop and admire the myriad forms of beauty enshrined in nature's arsenal. The river flowing alongside the road had a mist enveloped over its waves and the pine tree backdrop provided for a breathtaking view. We clicked some pictures and then settled down to relax and listen to the melancholy of flowing water before we headed further: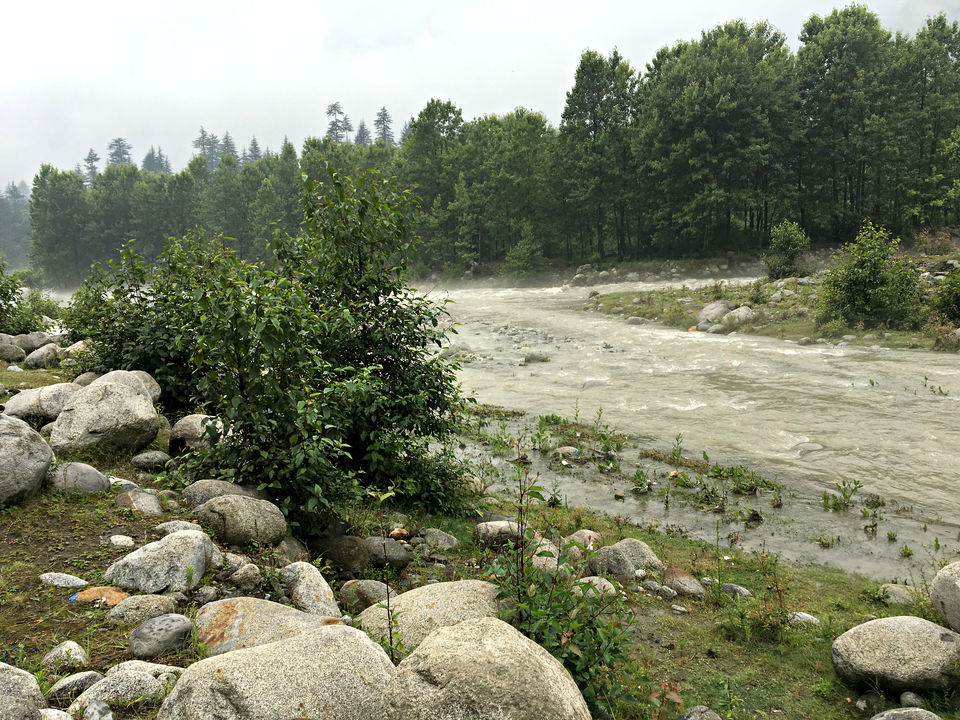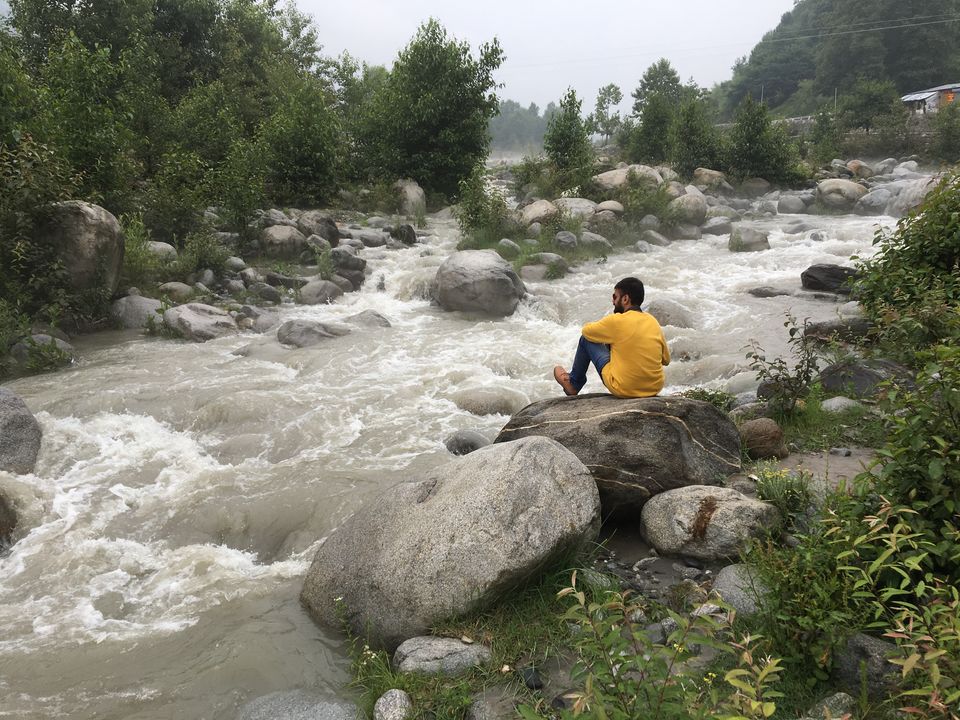 We took a slight detour from our main route towards Jibhi to catch a glimpse of the great Himalayan National Park while covering Tirthan Valley. The valley is serene and a preserved area, devoid of any touristy stuff. There is no fuel pump even and because we were running low on gas, we probed and found a shop that sells cans of fuel:
Persistent shouts from our Google maps to navigate to Jibhi then made us rejoin the main route and after traversing through some narrow market lanes, we finally reached Junglebook homestay, our modest residence for the night:
We visited a stream flowing down nearby and watched the sun go down behind the massive mountains.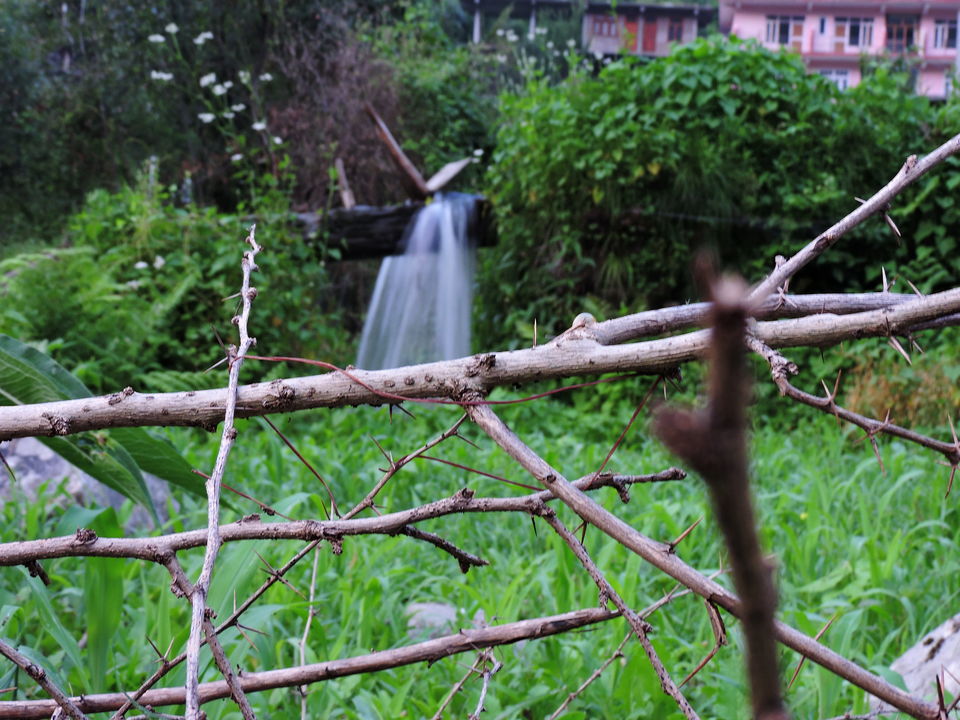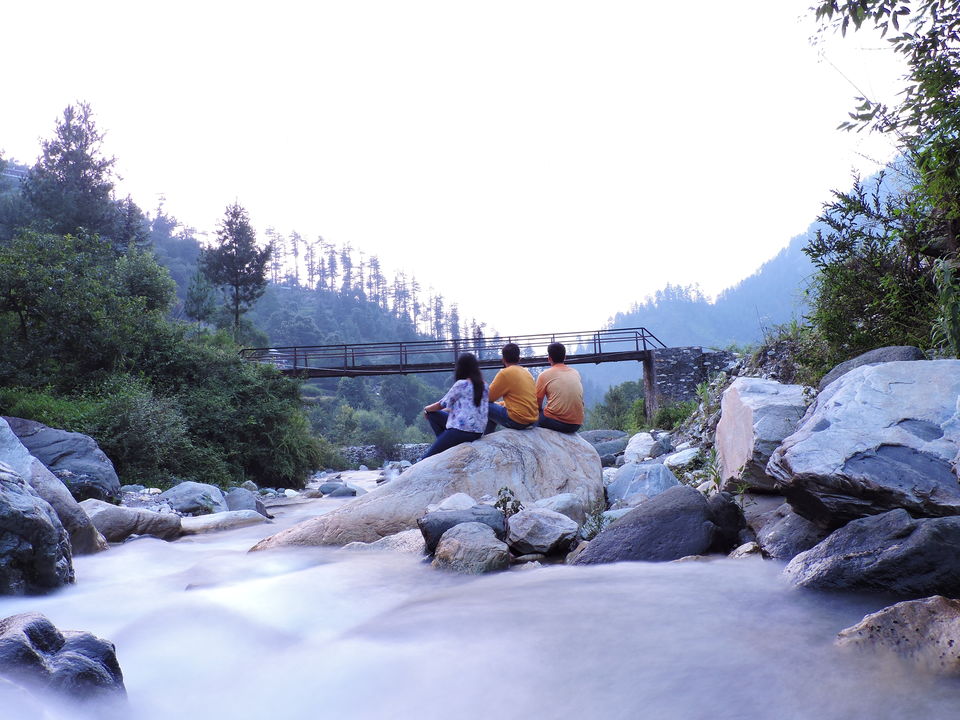 We called it an night soon after we devoured the tasty home food by caretaker and called it a night.
After such a revitalizing start to the day, we were looking forward to conquer one of the high passes of the trip - Jalori Pass.
We had delicious Parathas and then bid farewell to the hosts. We began our ascend in our might Scorpio towards the Jalori pass. The sublime views on our way up were deterring our pace but then we were helplessly docile to the tremendously beautiful nature's captivity that encompassed us and we cheerfully gave in to these panoramas: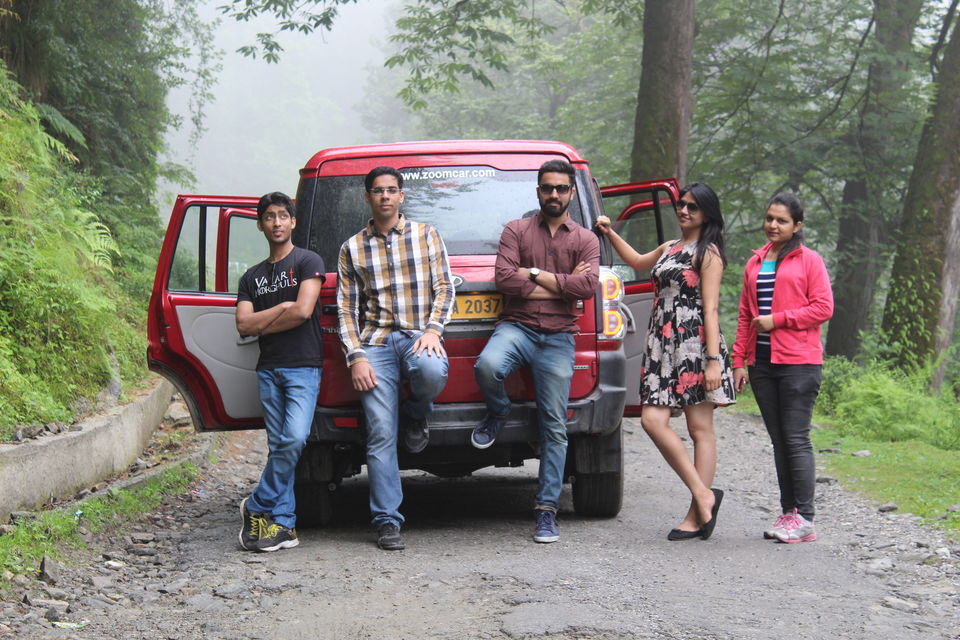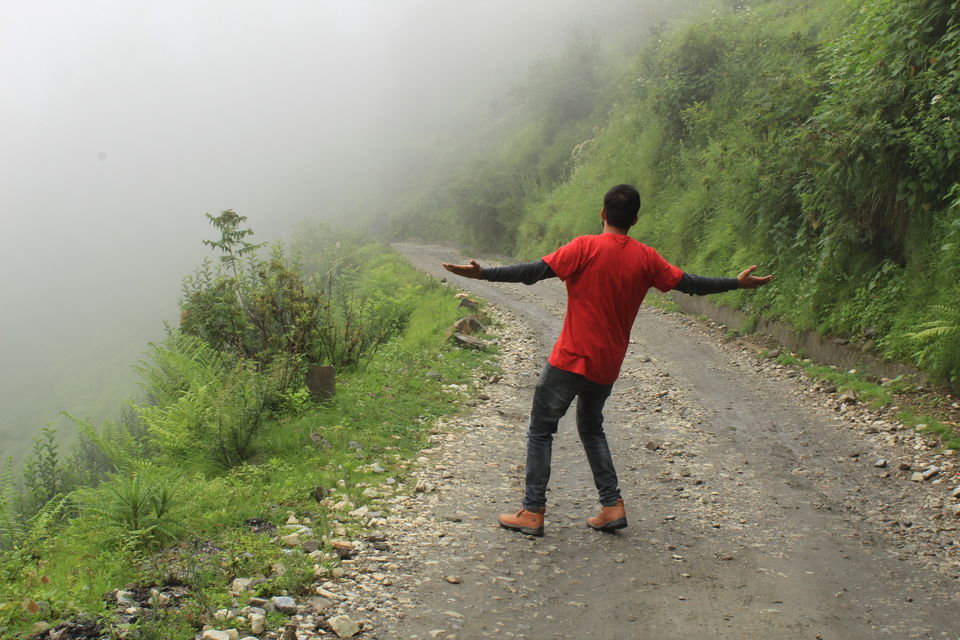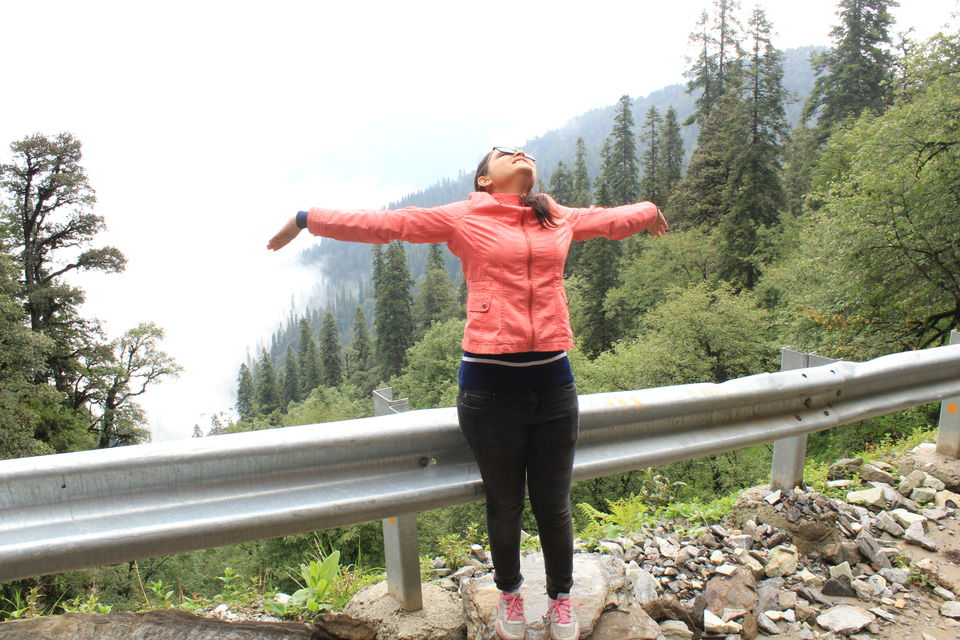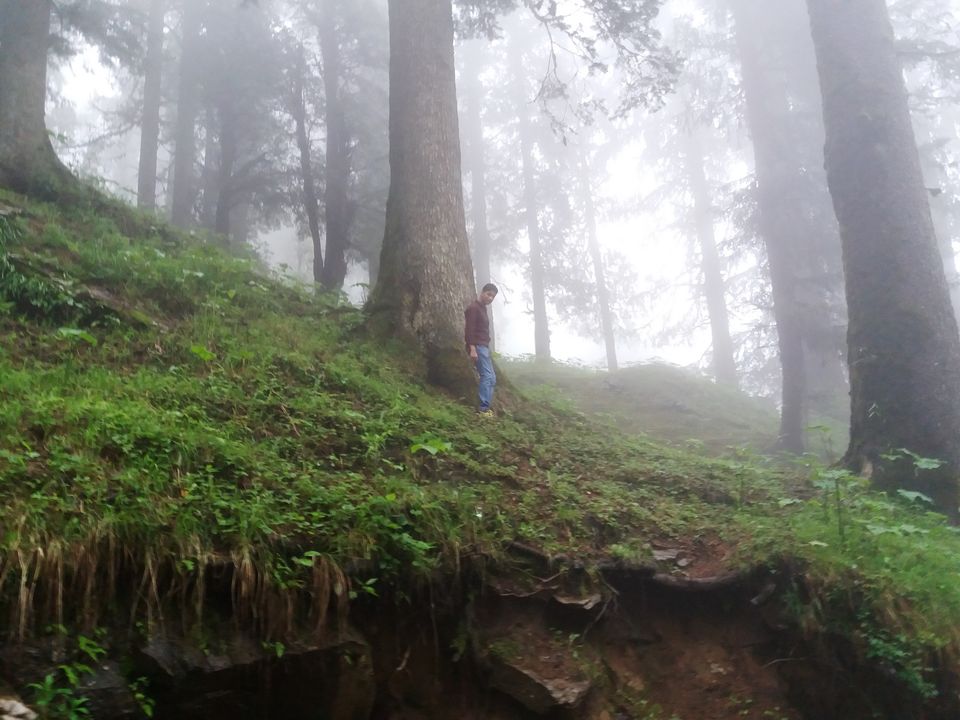 It took us an hour to cover a mere 12km to Jalori; not because it was a difficult path, but the amalgamation of perfect weather conditions and magical landscapes were so alluring that we kept getting pulled towards its ecosphere.
Heaps of aeon later, we reached the summit where lies Jalori Mata Temple and infinite calm in neck of its woods at the top of the pass. We explored the area for a while, capturing only a lens-capable serenity and glory in our cameras:
We moved after half an hour or so since the destination was far away and the downpour was getting frantic.
We crossed Rampur and then entered into the lands of famous rock cave formation in Kinnaur :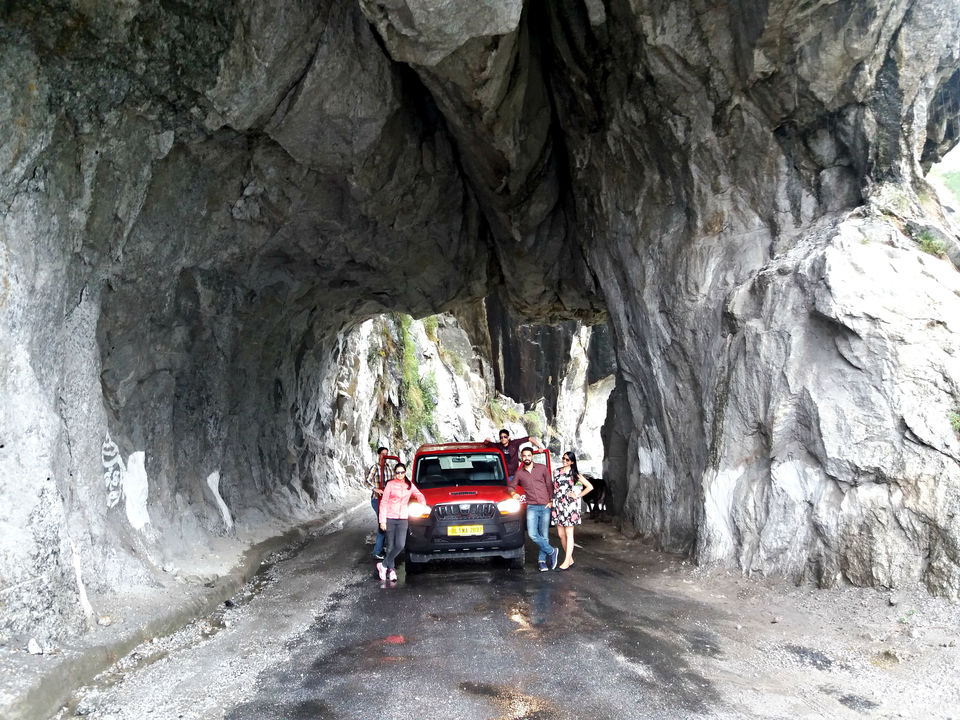 The rain subsided and we were able to reach our campsite on time. After a long day, the Kinner camps provided a sigh of relief to the jiggered bones . Nestled amidst the snow covered mountains and river flowing besides, this luxurious, all amenities equipped dwelling mingles with the surrounding vistas and provides a perfect paradise for a nature addict traveler: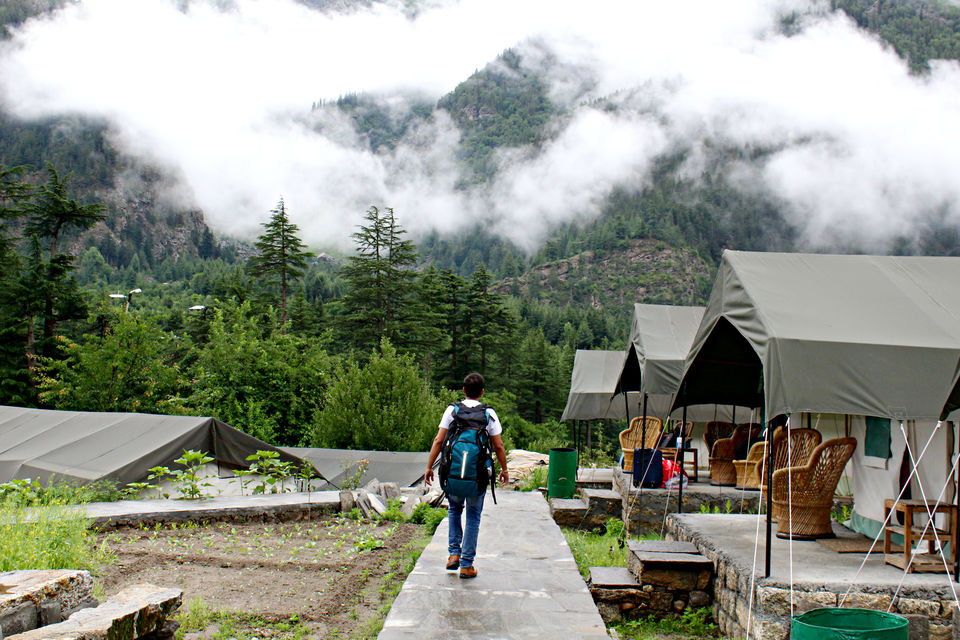 We quickly threw our baggage into the tents and rushed towards the river flowing down through a steep decline at the back-end of campsite.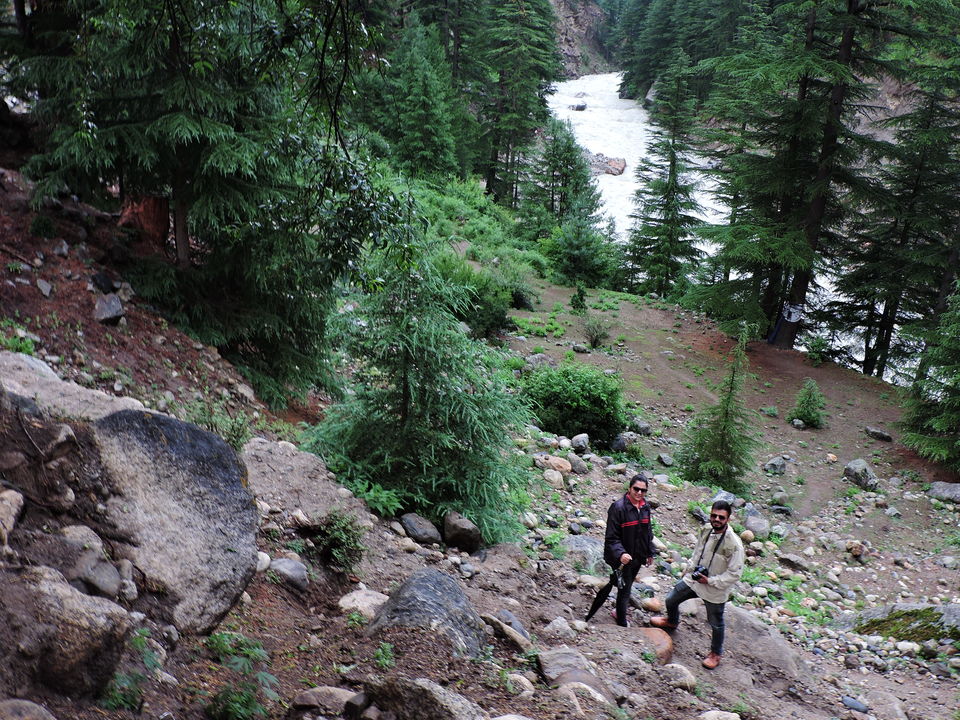 We spent some quality moments soaking in the moments we got to live past few days and few precious ones that are left before the dream collapses.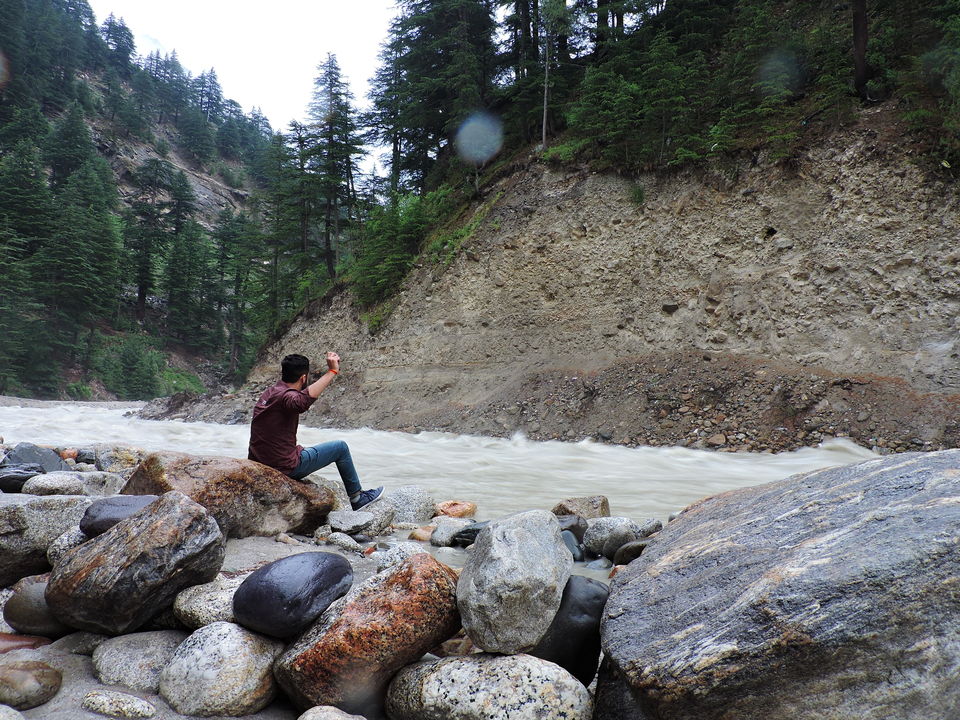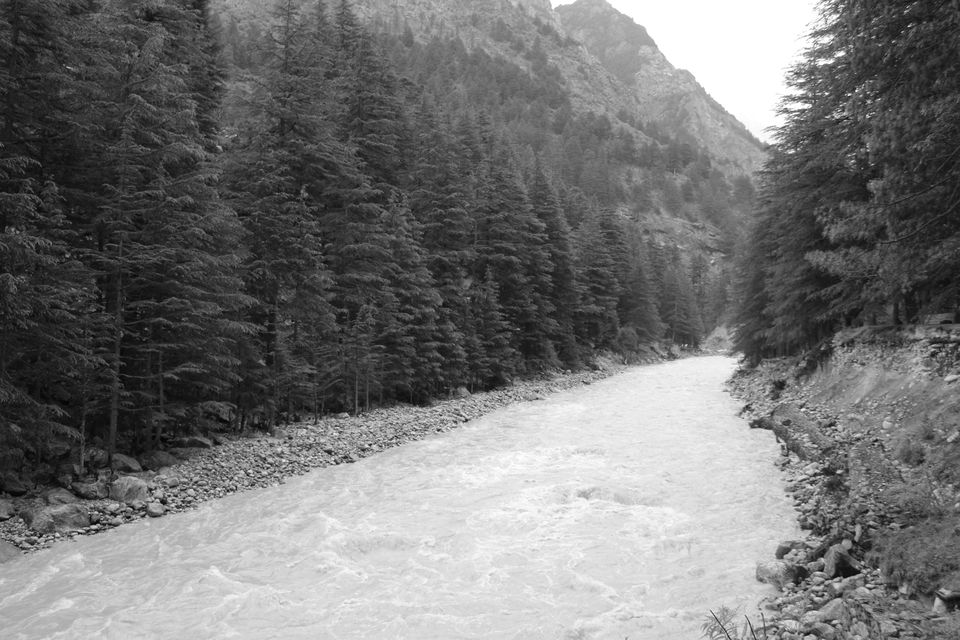 River flow steadily kept increasing at dusk so we retired to our campsite where a bonfire was arranged. We had a tasty dinner and enjoyed the warmth around which we shared stories and aspirations of future planned trips. No consolation better for a traveler than talks of more voyages :)
Soon after we slept excited with reality of upcoming dreams!
Afterwards we packed the luggage and drove towards the most enchanting place of the trip- Chitkul (last village on Indo-tibet border in this part) .
Last year also when I drove to Chitkul (read my blog here - https://spitisurmount.blogspot.in/ ) I could not help but wonder how much awe inspiring a place could be. Thankfully it was still the peaceful, unscathed and lovely village with oodles of enticing semblance and romantic charisma: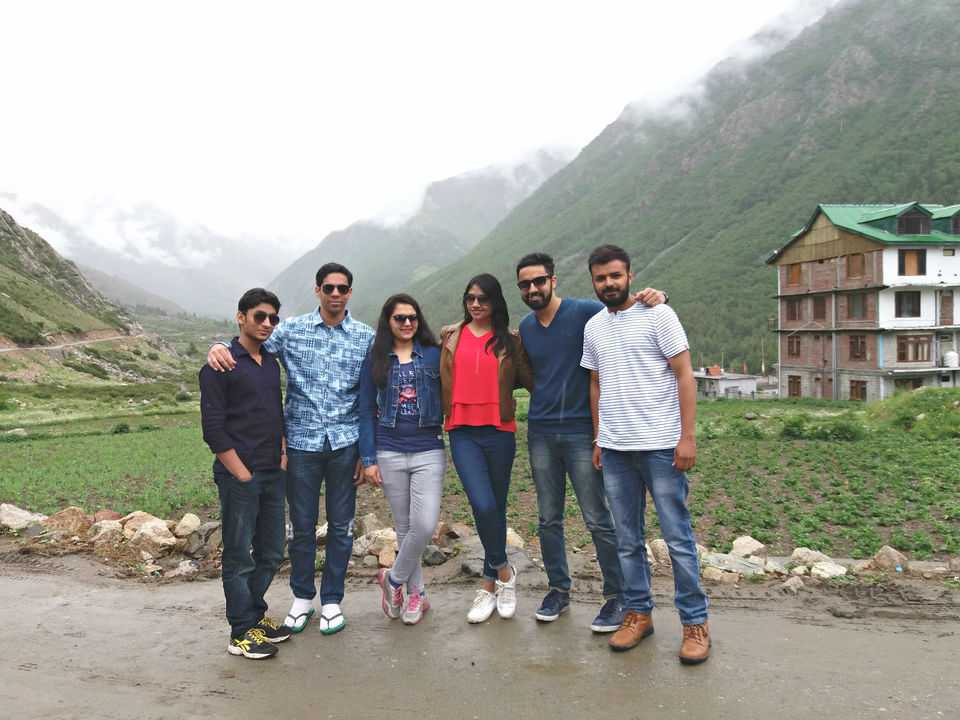 We walked leisurely around the empty green fields, had tea with a marvelous view and went around its many waterfalls and bridges: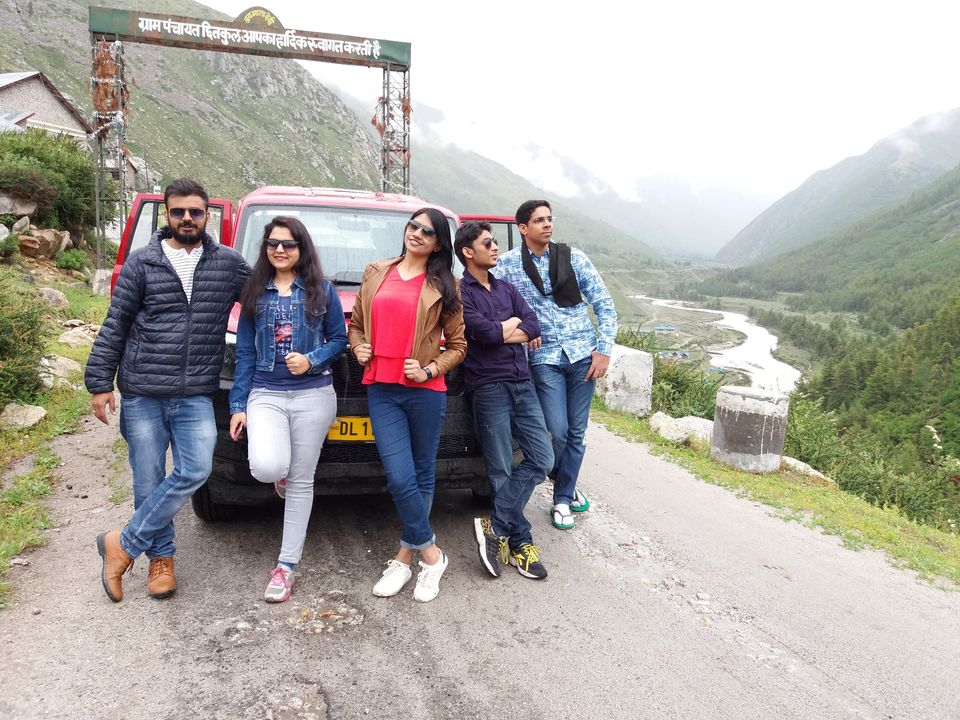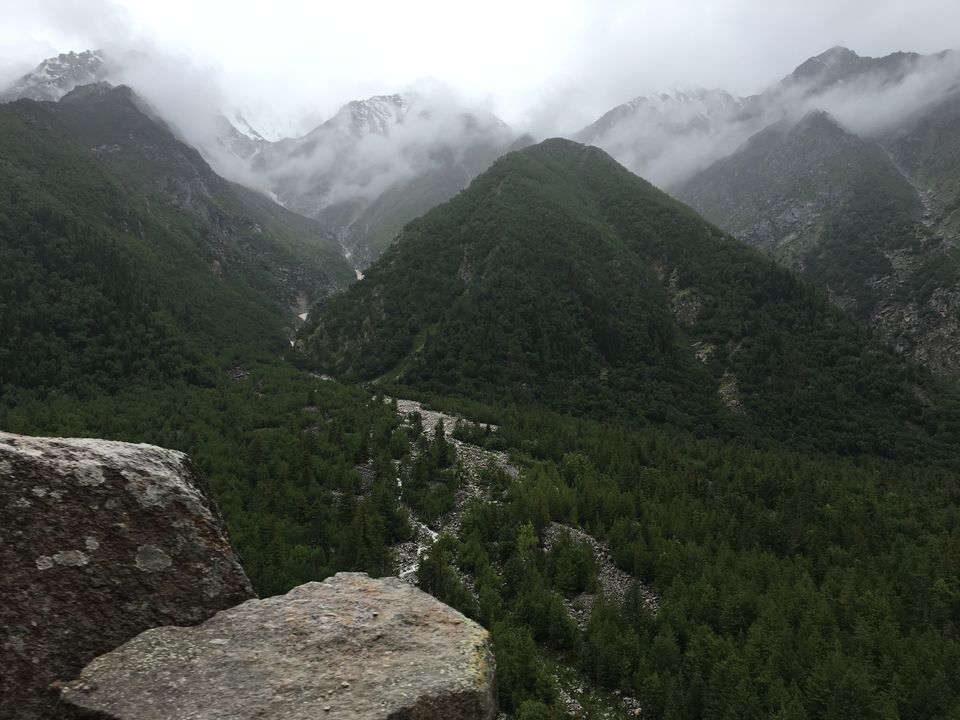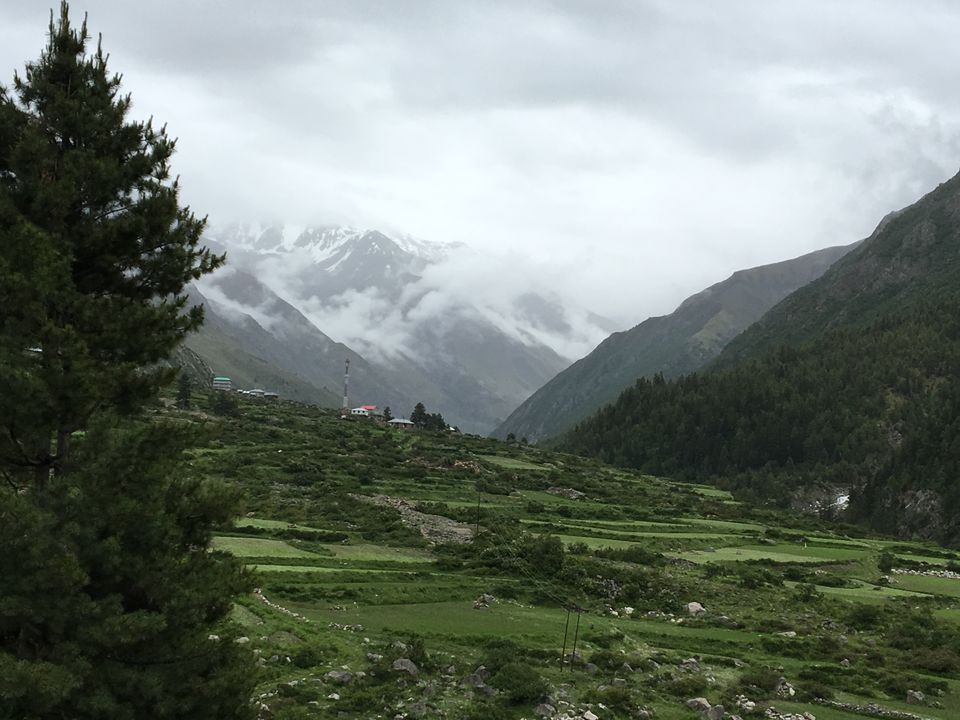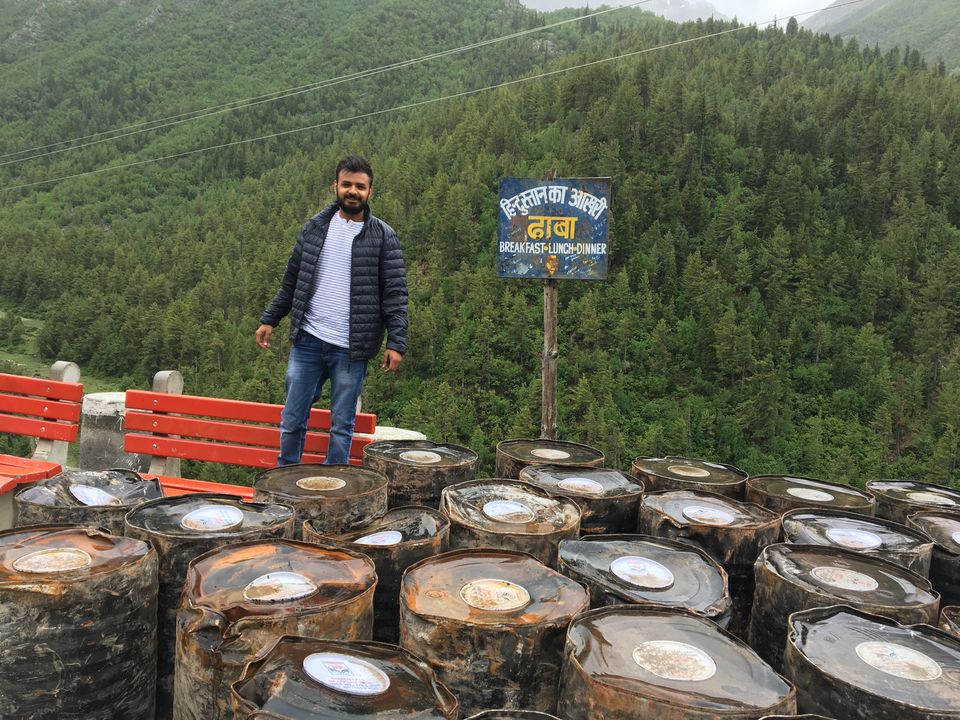 After what seemed like an eternity we decided to head for the last place on our itinerary.
It would have been quite an uneventful drive up till Kalpa had it not been for the huge thuds that interrupted every sleeping passenger's peace midway. Landslide struck without any warning and we had to carve our way through the falling stones to avoid getting hit. We sped the Scorpio until nearest safe point and parked car there to take a moment and inspect car and our heartbeats.
Everyone was safe but the car suffered some damages and a broken tail light: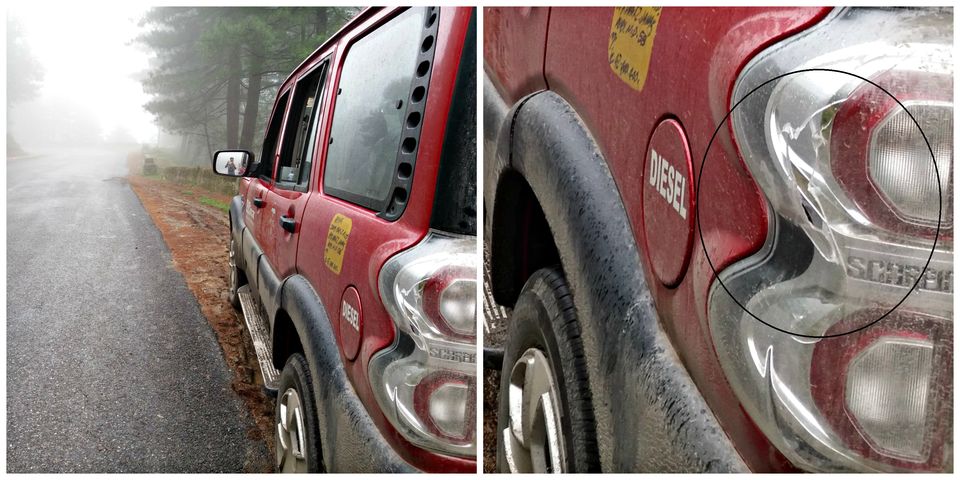 After ensuring that there everything else is in order, we continued forward to reach our stay for the night- Kailash view cottages (HPTDC hotel) in Kalpa.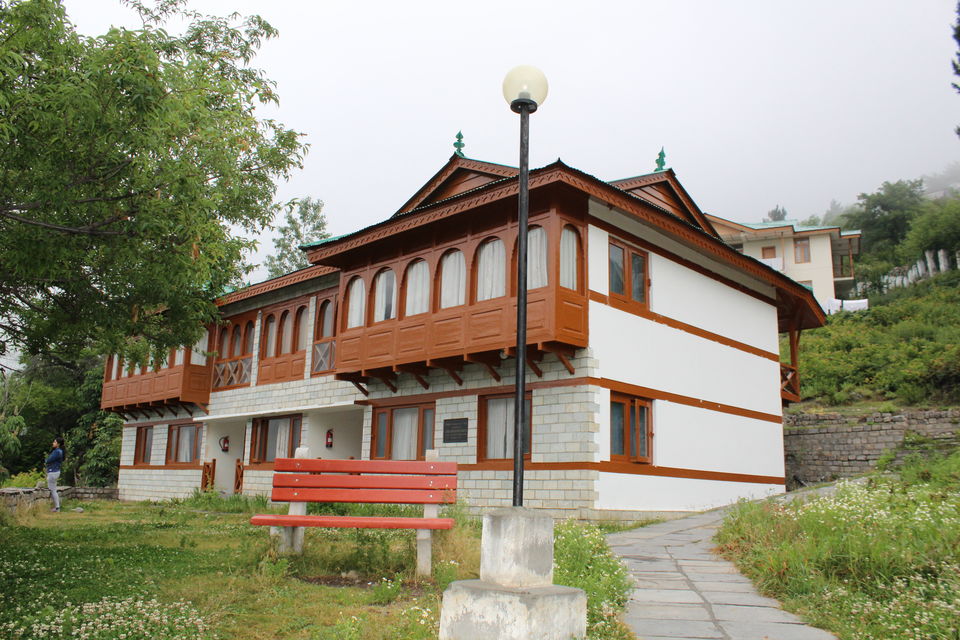 The view from our hotel was mesmerizing to say the least. The snow capped peaks of Mount Shiv and Parvati were basking in the halo of setting sun painting a scintillating canvas in the backdrop of our hotel: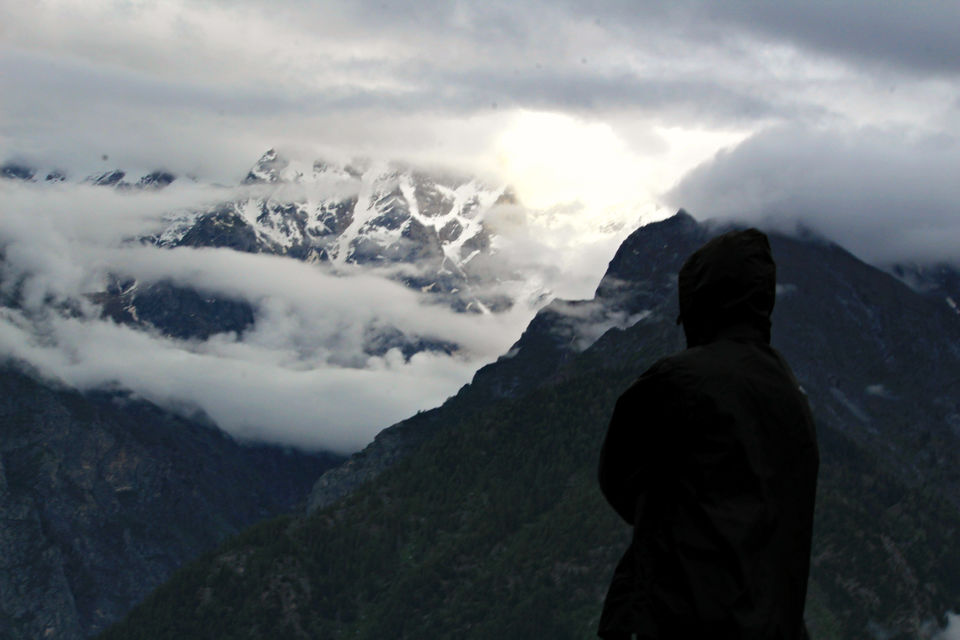 Being the last destination before we began our return journey to Delhi, everyone wanted to absorb the parting rays of wishful nirvana, and nurture these transcendent reminiscence forever in the jubilant fragment of our existence.
His pets, Brella, Dude and Diesel were also very friendly and we had awesome time pampering and playing with them: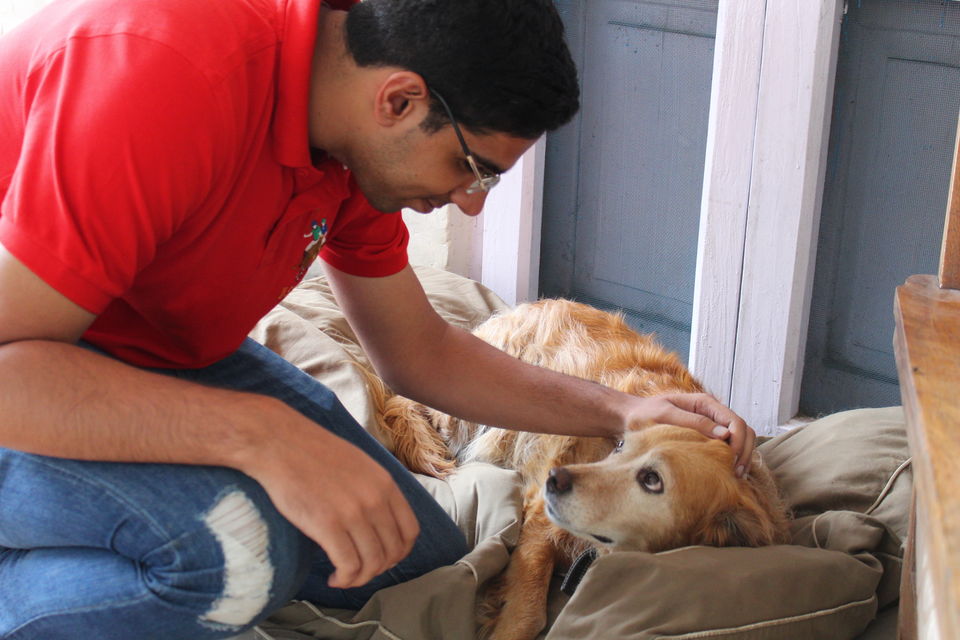 There were so many artifacts, preserved objects of bygone era, some quirky and innovative props, games, library and best of all the lounge places in open veranda with a view that we were engrossed in exploring and posing with them and didn't feel the need to even go outside of the chic home: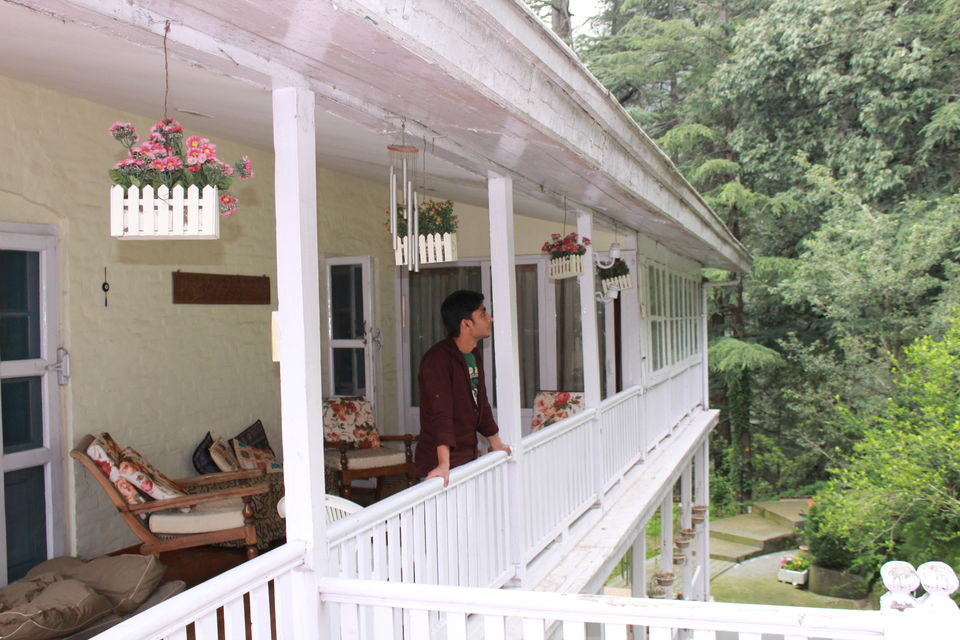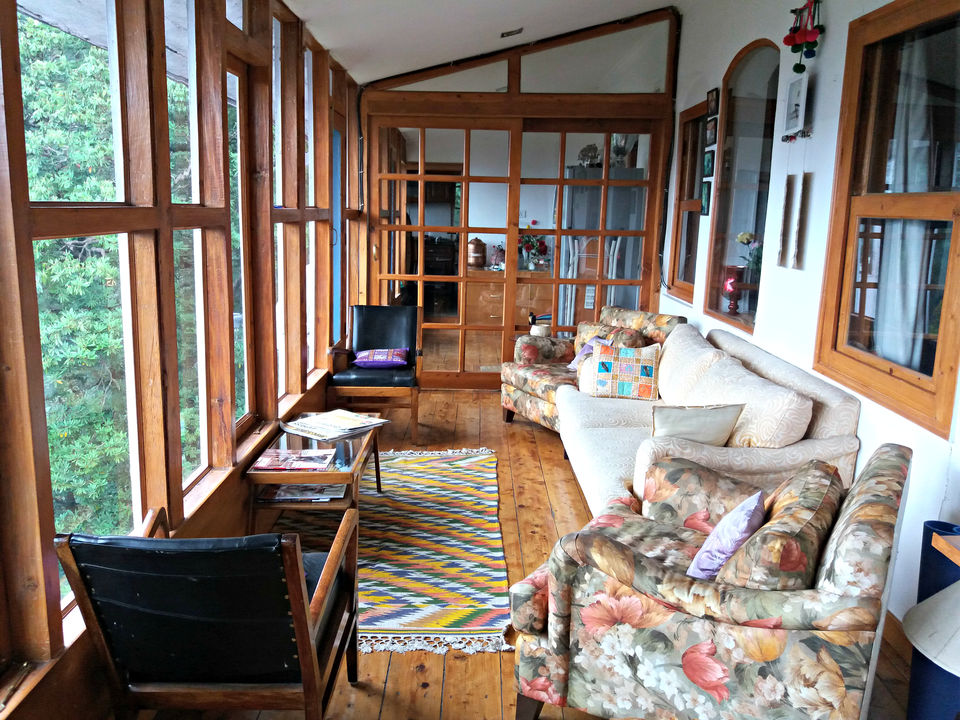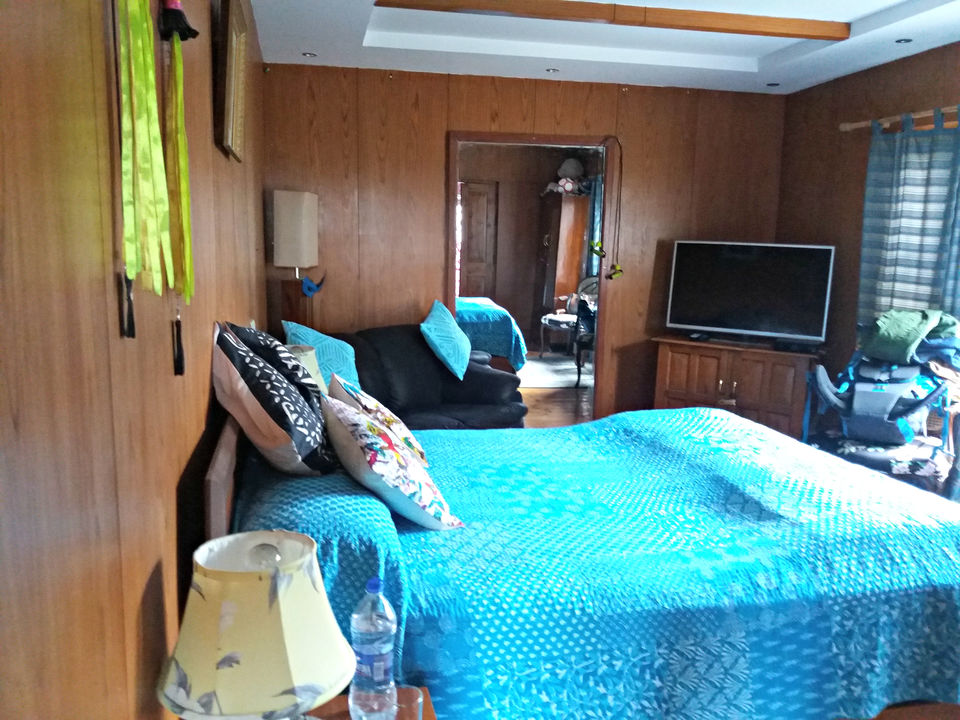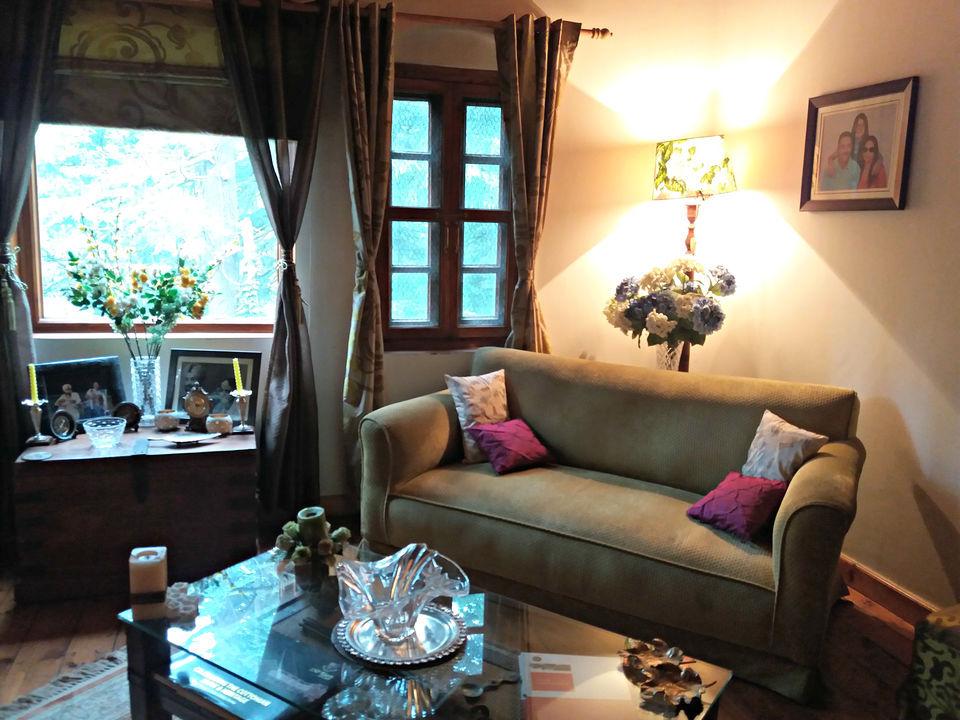 We had sumptuous dinner prepared by in-house chef, played scrabble and browsed through our 4000 odd pictures that had mysteriously collated over last 7 days of our wonderland expedition.
We slept with a content heart and a pact of a more audacious, grander and a exquisite trip with even bigger 'Trip goals'.