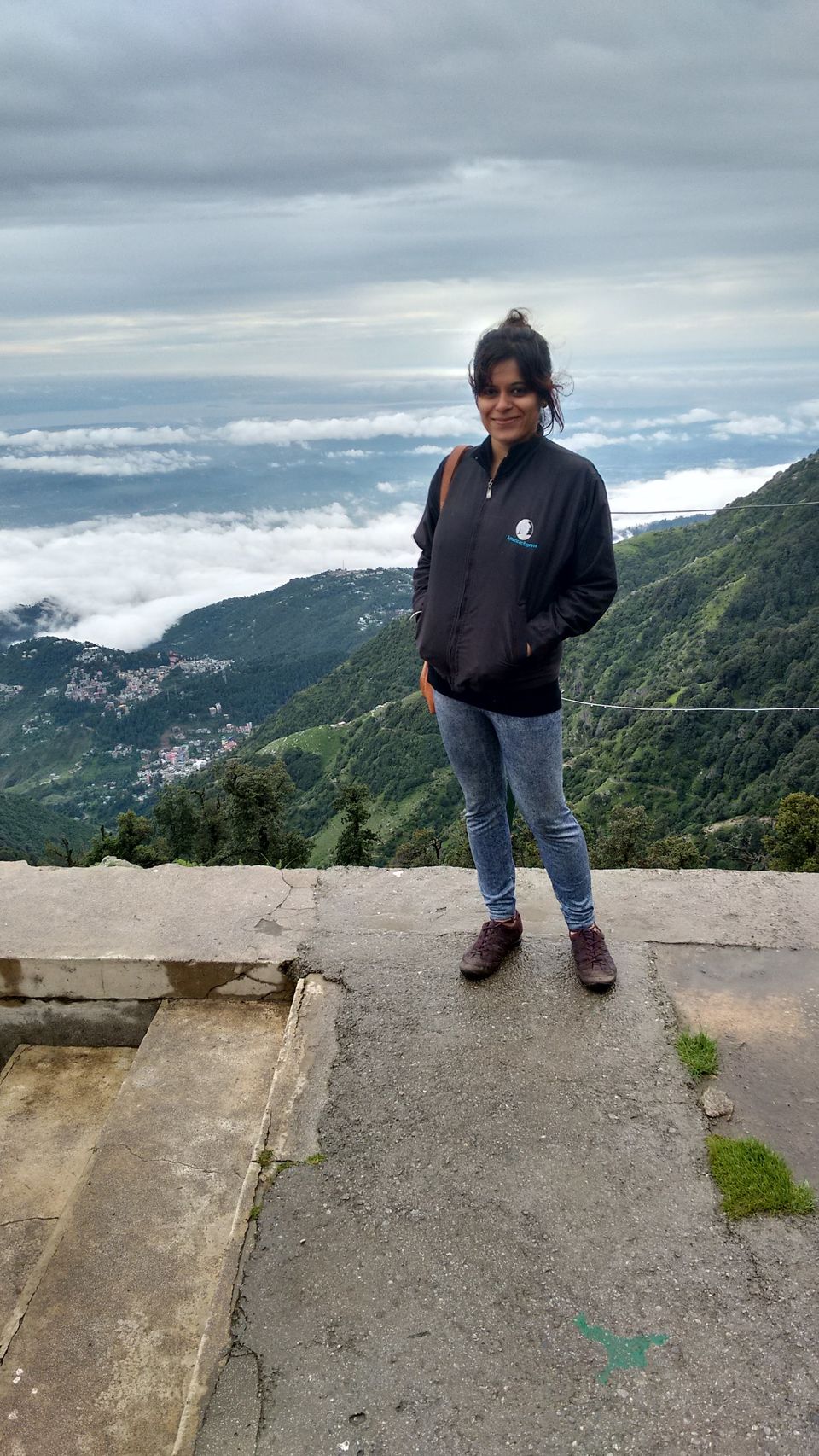 As a luxury loving traveler, I was always a bit apprehensive towards trips that require one to brave the wilderness as 'come as they are'. A reason why I wasn't really convinced that I could withstand a 15 km trek was a lot of self doubt, however, a close friend dragged me along after a mindful convincing session and so we decided to trek up to the Triund, atop the Dhauladar range in H.P.
The journey began with us missing the scheduled bus to McleodGanj and instead hopping on to a detoured route for Pathankot. Nonetheless, we were spirited and gung-ho about the days ahead so we managed to reach the Dharamkot area after a 16 hour long, Volvo, HRTC bus and a breathtaking cab ride. Greeted by heavy rains at our arrival, we decided to take rest, freshen up and grab a bite before commencing the trek. As luck would have it, our host at Morgans's Cafe was well versed with the area and and upon a quick discussed warned us of the dire consequences, the rain can have on the trek route. Fellow travelers who were also waiting for the rain to stop, advised us against trekking as it was 4 pm and hills begin to get dark by the time its 5 pm or so.
Abiding the advise, we decided to take it easy and take a stroll to Mcleod area which was a 3 km downhill walk from the magical Dharamkot area. The 20 minute walk left us wanting for good food and we decided to explore a tiny alley around the main market and settled for a steaming hot thupka. After an hour of wandering around, chatting with the locals and some junk shopping we decided to go back to Morgan's guest house and took an auto to reach there. An early dinner of cheesy lasgane was filling enough for us and we hit the bed earlier than we thought.
The next morning was slightly kind with the weather being a bit clear, however there was drizzling in spurts, but we were prepared for almost everything. Post a quick breakfast at around 8 am we hired a cab to reach the temple where the trek begins from. Finally, my moment of epiphany was to arrive. The route looked doable with half laid roads covered with tree bushes and leftover marsh from the rain, the day before. To ensure we could stay the night up, at the hill top, each of us carried some bare essentials, food items, extra socks and ofcourse a couple of bottles of water each. The journey became fun as kept meeting other trekkers at regular intervals, some of whom had come from as far as Belgium and others from down South India. Quirky discussions along the route, quick questions to passerbys on the right direction made it an easy and fun trek. The stretch is not very isolated as there are local chai shops and dhabas at almost every 4 kms.
Considering I wasn't sure, if i will make it without regular halts, I almost stopped at every tapri to dig in a bite of maggi and the most delicious, lemon & honey concoction, that kept my hydrated and energetic throughout. ( I strongly recommend trekkers to wear comfortable shoes and keep eating to ensure they do not get nauseous from the altitude or over exerted by the journey). The entire trek including the leisurely breaks took about 7 hours to complete and by 5 pm we reached the Triund hilltop. The view up there was every bit worth the pain undertaken. Lush green hills, a pale blue and pink sky with a sun that was due to set any minute and a mischievous rainbow that played hide and seek for minutes, an imagery that got imprinted in my head, forever.
The hilltop has no power, no water and no network, so be prepared for a day of isolation and self introspection. There are 2-3 chai shops run by natives who are amicable and fun loving, especially with the trekkers. One of the dhaba owners got us a hearty meal of dal chawal and even offered us a place to sit inside the dhaba and play endless games of car0m-board to keep us entertained. 2 hours of anecdotes from him and chit-chat with the other trekkers, we were happy that we finally conquered the destination. Late in the night, the sky becomes a mystical sight with no clouds and almost all constellations visible with naked eye. Star gazing on this hilltop was nothing short of a dream come true and we slept off at peace post this.
The next morning was dry and sunny, paving way for a quick departure and the downhill journey was a cakewalk, covered in only 2 hours.