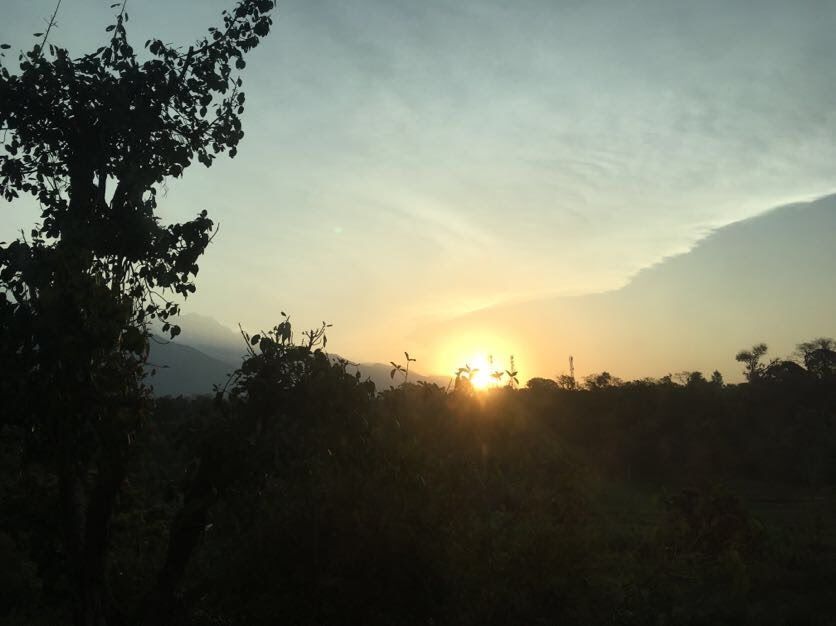 The trip started from Kashmere Gate, New Delhi on 23 March 8:00 PM. The Himachal Volvo reached McleodGanj on 24 March at 6:30 AM, pretty much on scheduled time with two, dinner and loo breaks, total of one hour. The volvo, to and fro, costed Rs. 2500/- [er person.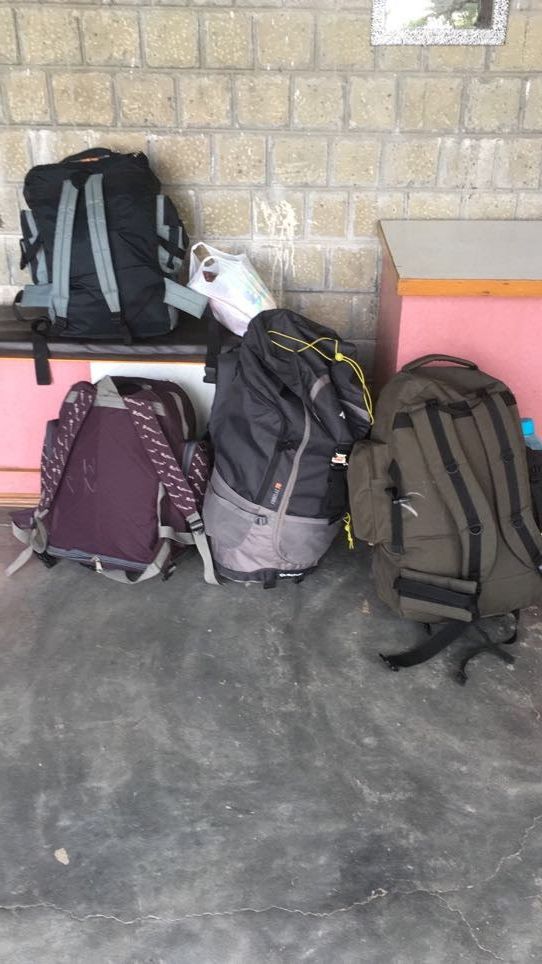 we freshened up, found place to eat and relax and get used to the temperature. we started our trek for Triund at 10:00 AM from Mcledoganj. We did not start from Dharamkot and thus, it was 9 Kms trek for us instead of 7 kms, which is from Base (Dharamkot). Cars, taxis and buses can access the base (Dharamkot) from where the trek starts. This base is very well regulated by government. Officers maintain a register to keep a track of number of people trekking up, their address and contact details. There is strict check on any illegal usage of drugs at Triund area.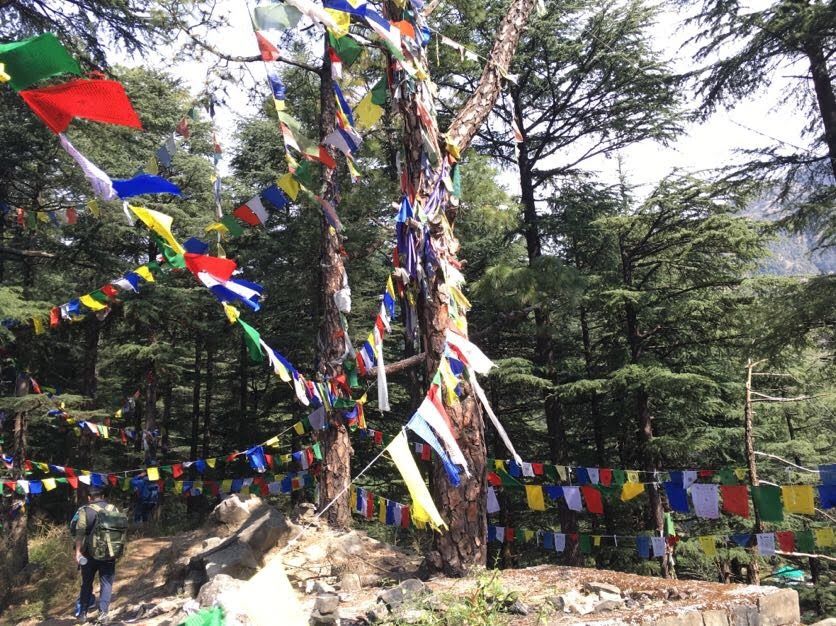 The trek is tiring as its very steep. But the trail to walk on, is very much defined and there is no scope for anybody to get lost or lose the track. The path is rocky which makes it tiring. Coming from Delhi, we had difficulty in breathing for initial one hour of the trek. The thin and pure oxygen gives burning sensation to nose. We stopped at every second cafe to buy water bottles and some sneakers. Cafe were all made of plastics, tents and bamboos. Local villagers earned their livelihood through these cafes.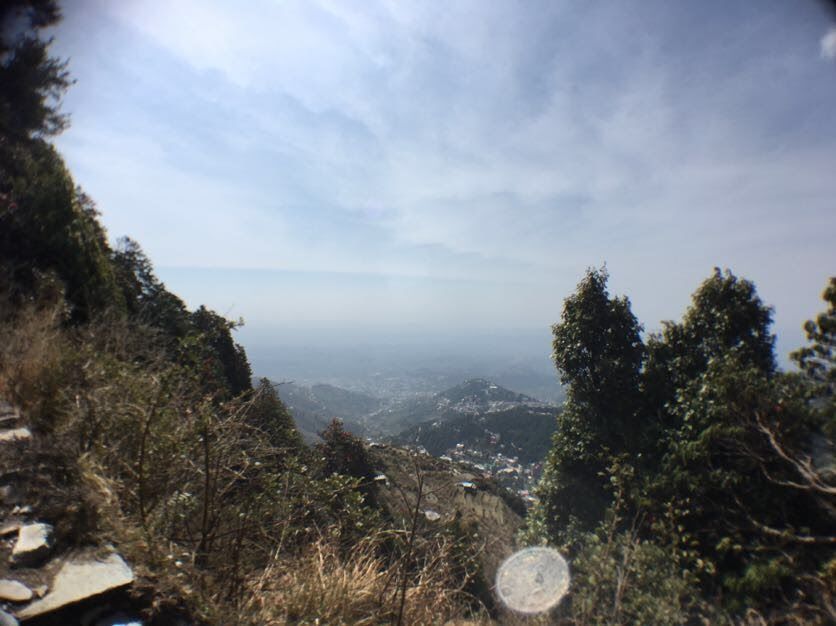 By 3 PM, we reached Triund. Last one hour of the trek was most difficult one, for two reasons, one we were tired and second, the trek had become even more steep. But on reaching Triund, the Dhauladhar range with snow covered peaks made us felt relaxed. The rest of the evening was spent exploring the area, clicking pictures, enjoying bornfire and locally made food.
Tents are made warm by sleeping bags. The temperature went down to 10 degree at night along with cold breeze. But still it was serene and comfortable to enjoy the place after putting on the socks and one jacket. There is no river around and no source of water, thus, water is an issue here. Also, toilet tents are set up for use. It is strict instructions, not to use water in the toilet pits. This makes the pits useless and muddy for others to use. (Learning to live in wild)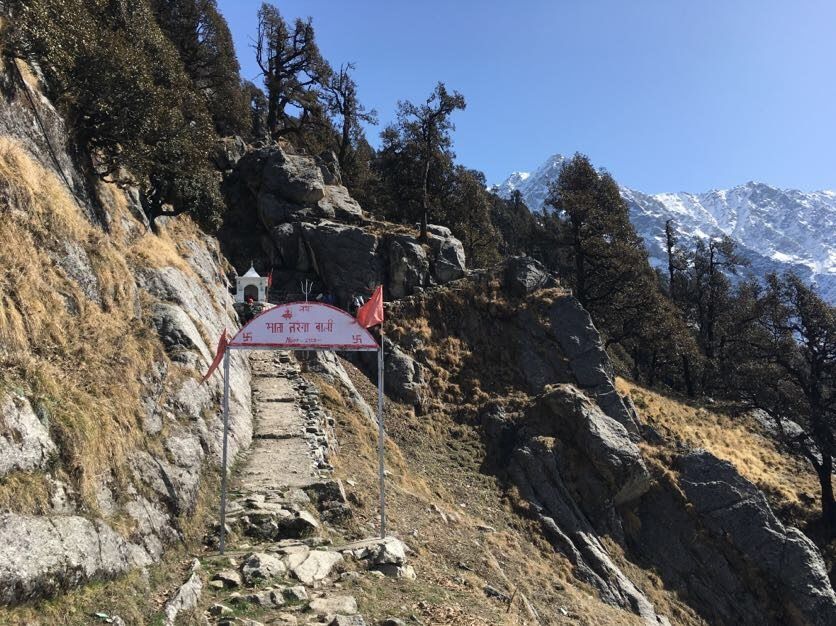 Next day, the trek continued and this was more steep. it was almost 45 degree. carrying our rucksacks, climbing mountains, here we go. The difficulty level increases as we trek up the hill. The landscape is beautiful. The mountains are scary. It is recommended not to look behind or downhill while you trek this area.
Our next stop is Snow line cafe or "Sanow line cafe". This is where the snow and the tricky part starts. Trek in snow is not easy as it seems. Pointers to keep in mind: 1. shoe that does not slips in snow, does not get wet in snow ( to protect feet from frost bites); 2. Having water proof gloves, so that in case one needs to have grip in ice, fingers can be used; 3. Use stick while going downhill the snow is helpful; 4. Do not over eat or fill the stomach (eat light); 5. stay hydrated.
This is one difficult Patch. once we crossed this, the stony trek with slight snow comes our way. But this is not as difficult. We reached Ilaka and halted here. We pitched our tents here. It is very windy here. water is available by melting the snow.This Dhauladhar Cafe is of big help for food and the basic amenities.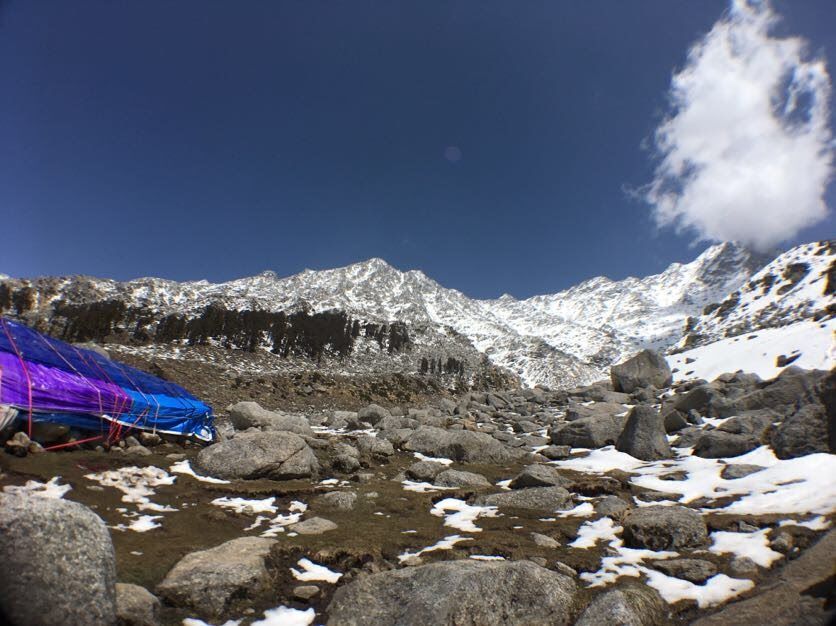 There is a cave nearby, where you can send night. It is warm and the people of Dhauladhar cafe helps you with sleeping bags.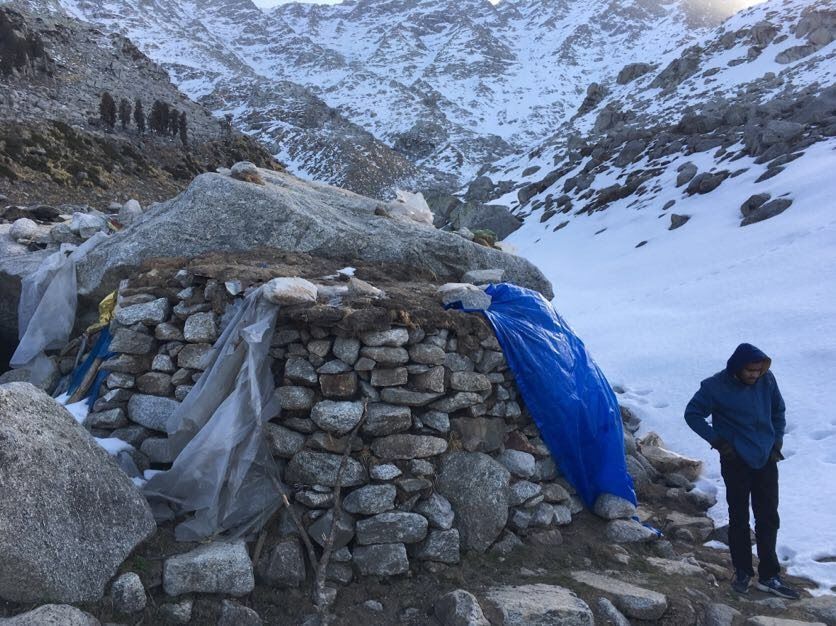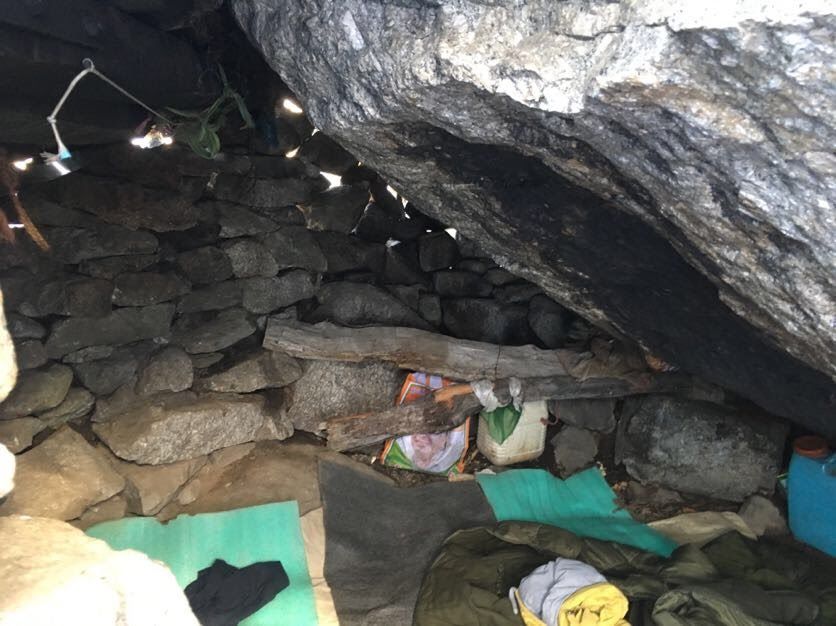 Trek to Lahesh caves began next day. All glaciers, risky with deep crevices. Its better to start trek before the ice melts but also when ice is slightly softer for foot grip.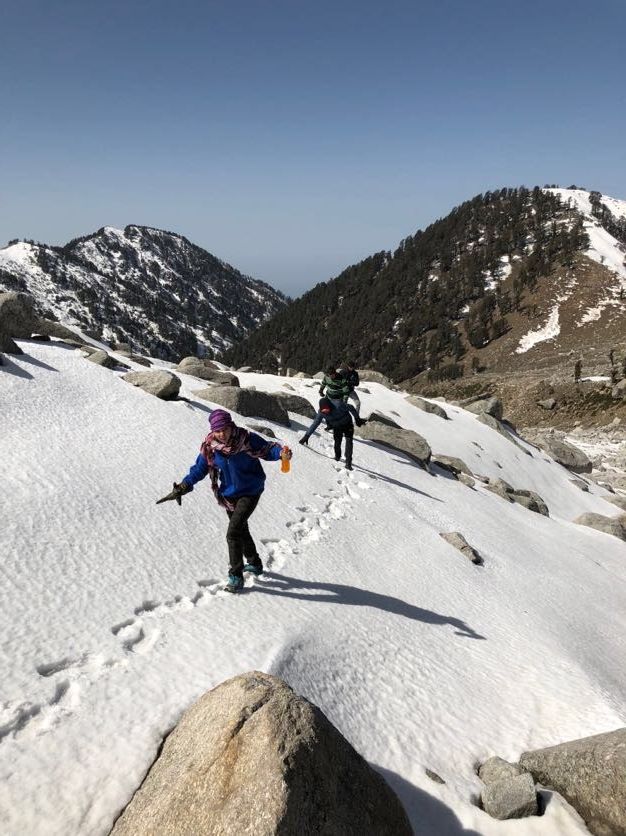 It is recommended to have all the equipment (if you are professional trekker) and guide with you (If you are not professional trekker). The mountain is at 80 degree angle. It is very steep. Even though easier to climb than to descend this mountain. The Snow is risky. The rocks can fall if they are not strong. Hence, everything on your trek now adds to the difficulty level.
Because in this weather, its snow and glacier, not everybody can reach Indrahar pass. The path is open for travelers from April mid onward.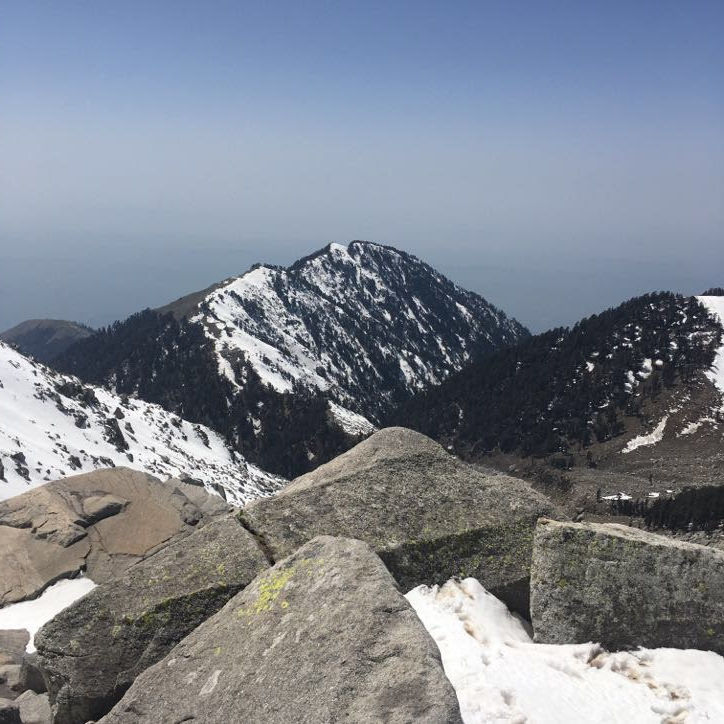 It is very rightly said that the journey is more beautiful and enchanting than the destination. And trek deos not challenge your physical abilities, it knocks your mental capabilities.
Downhill trek is super difficult and risky. Night halt is again at Ilaka, the same place which we made our base and didn't carry any bags with us. carry sufficient water. There are chances that your water will finish, then look around and eat snow in case of thirst so that you can trek down.
Next day is a good day to trek down, Via triund to Mcleodganj. There is a bus at 8:00 Pm from Mcleodganj which reaches Delhi, next morning at 6:00 AM, with one hat of half hour for dinner and loo break.