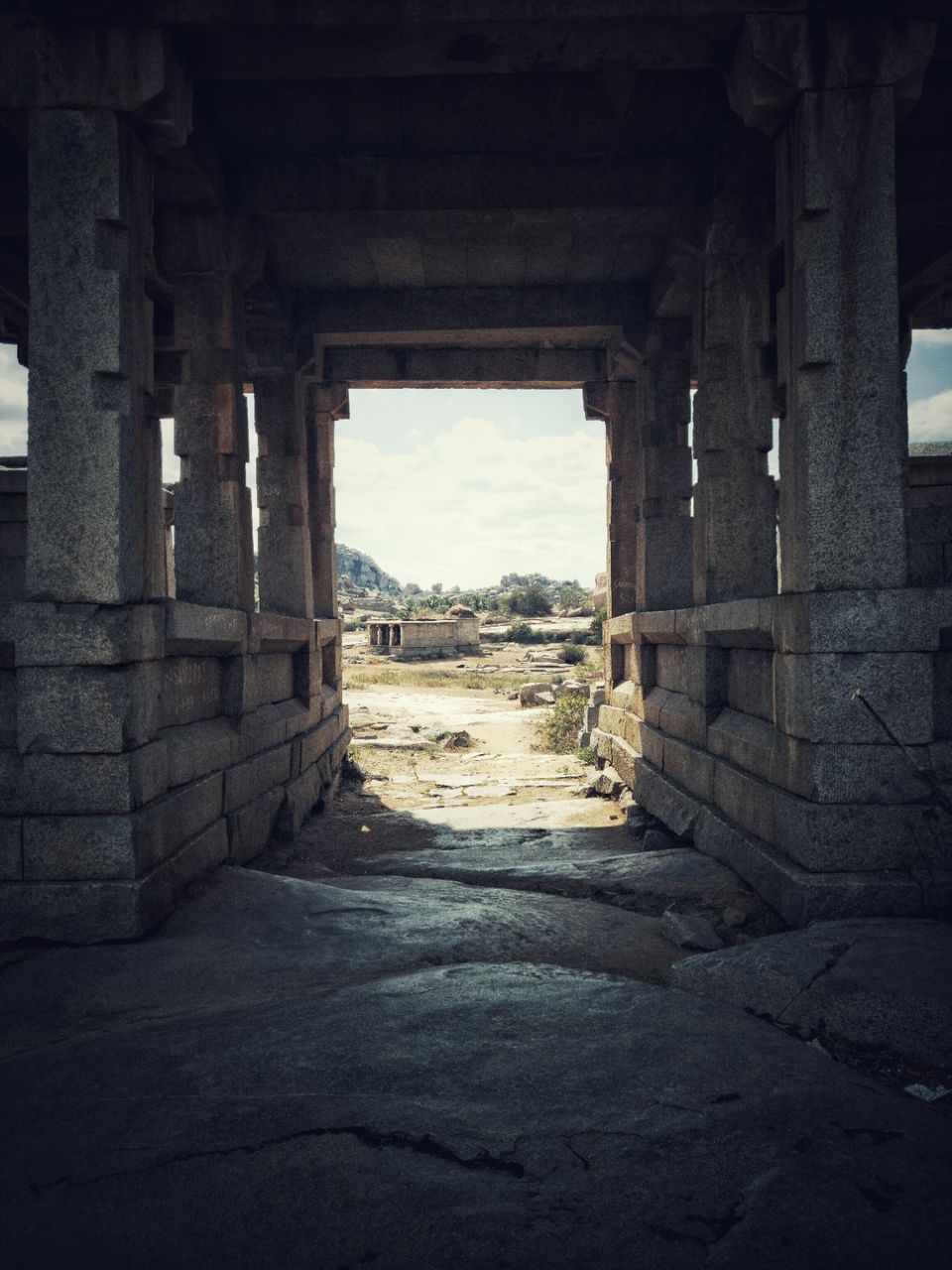 "This trip will change you", were the words someone told me, just as I was about to hop onto the bus to Hampi that day. A Solo trip was what I always was fascinated with, since I do enjoy my own company and over the years I realised that I like to travel a certain way and if I do not find like-minded travellers, I always have regrets, in short I'm a loner, or a total control freak.
So I started reading about the safest places in India for women travellers, Hampi popped up in a lot of articles and I had heard about it from a few other friends. People go there mostly for a weekend and spent those two days baked in their rooms. But as I kept reading about the place, I found out Hampi was so much more than that.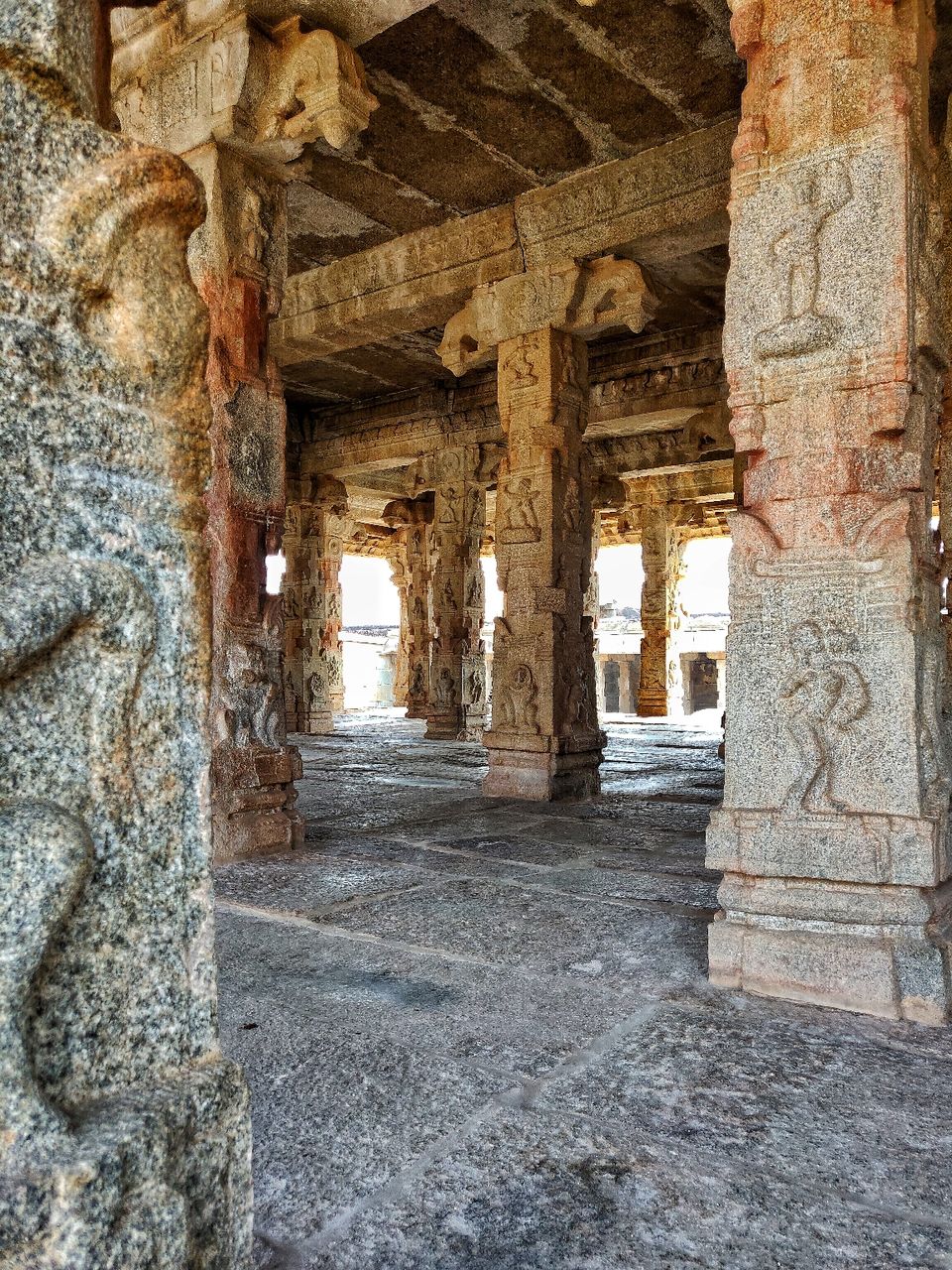 I had accidentally booked a place in New Hampi which was 4kms on the outskirts of Hampi. So except for the lift I got from the owner of the guesthouse on the first day and the bus I took to the guesthouse on the last day, I rode a bicycle to and fro and all around Hampi. The 4km road from Hampi to New Hampi was an amazing route alongside fields, and it really gave a fresh start and gratifying end to my day.
I had chalked out a hasty itinerary on my bus to Hospet and I stuck to it for all the 4 days I stayed in Hampi. Some of the places I visited, were so crowded that I was getting pushed around by school children on educational trips, devotees and tourists. But then some others were really deserted and I took my own time looking at all the carvings.
I really learned the art of clicking self-timed pictures by balancing my phone onto my shades, running back and posing, all in a matter of 10 seconds. Another great thing about being alone at most places was that nobody was there to judge me or take pity on me while I did my self-timed picture circus.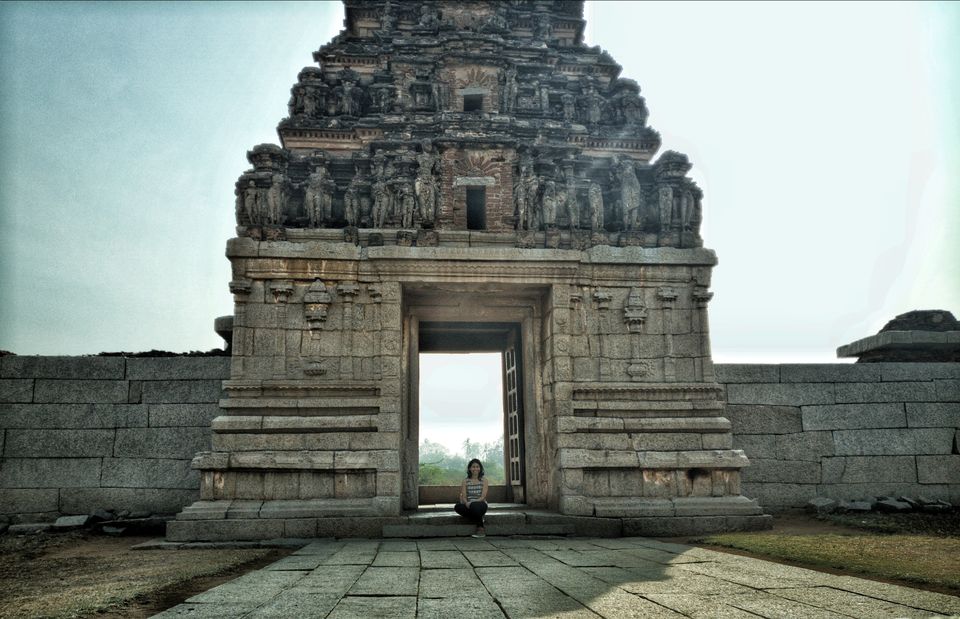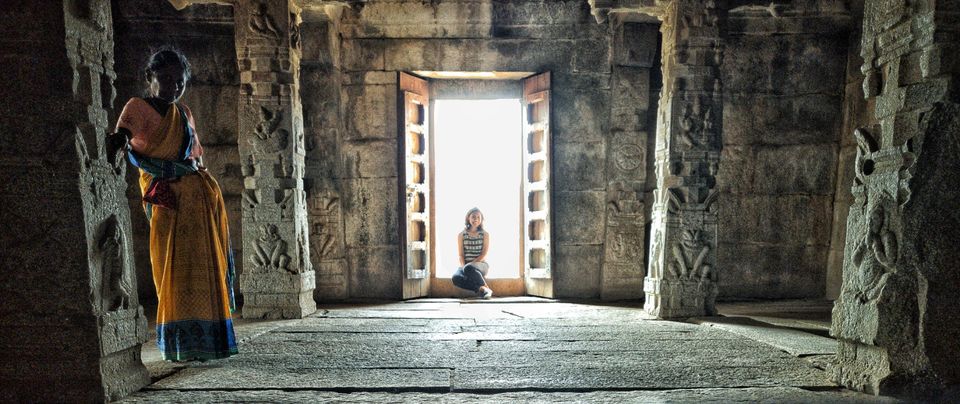 One temple that stood out among the rest was Hazara Rama Temple. On my second day I visited this one and found it to be strikingly beautiful and very different from the others. Its pillars were made of black stone and there were carvings all over the temple depicting various scenes from the Ramayana. I did not however get a good look at everything, since it was filled with people. But as destiny would have it, I was not done with this temple yet.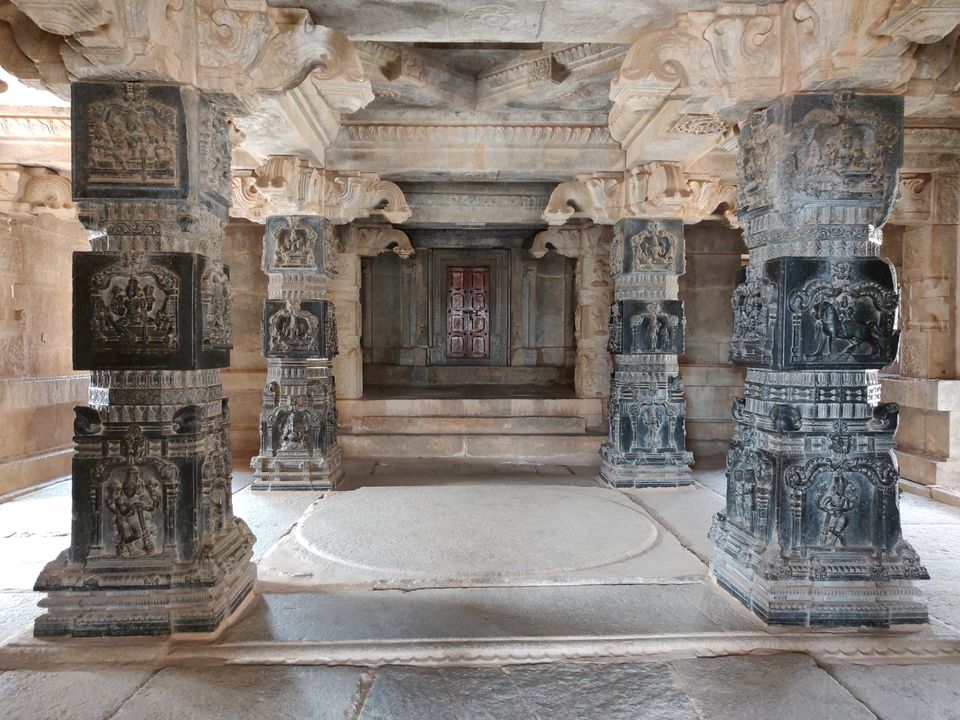 On my last day in Hampi, I decided to go to the Mathanga Hill for the sunrise. I started out early and it was only a 4km ride to the hill, so I knew I would get the sunrise. I rode in the dark and just as I reached the base of the hill, I could see a hint of dawn. There was only one other person in sight but I located the way up the hill and started climbing. It was not as difficult in the start, but after cycling that distance, the climb was a bit tiring. I realized soon enough that I would not be able to reach the top in time for the sunrise, when there came a part, where I had to climb a boulder and walk on the edge of it to go further. This is where I almost gave up and decided the view from that point wasn't as bad in itself. But then I decided to push myself and climbed that stretch to reach the top, where around 20-25 people including a Temple Pandit cum chai wala were enjoying or rather were done enjoying the sunrise. So I just sat there and reveled in the view and whatever was left of the sunrise.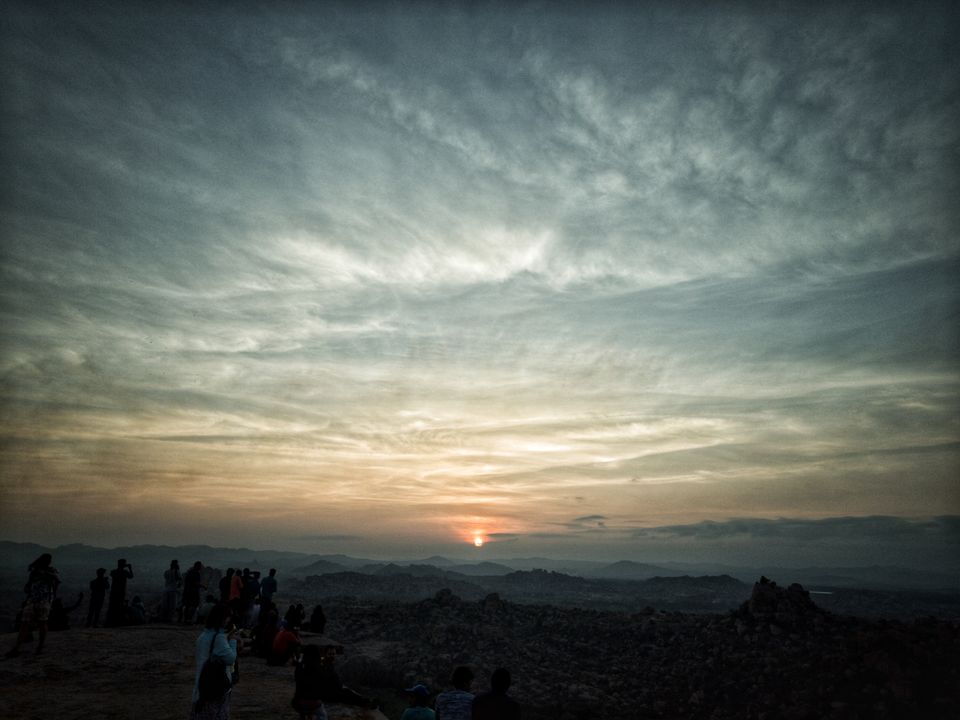 About my exit strategy, I had decided to choose someone from the crowd and follow them on their way down. So once I saw that people were beginning to leave, I quickly made my way to the entrance. I was just trying to choose the right group of people to descend with when I heard a couple in their mid-40s discussing on the best route way down. So I quickly jumped in on the conversation and they informed me that there were 3 ways of climbing the hill and the other 2 were relatively simpler. I asked them the simplest route, and they showed me the way, they even gave me a disclaimer that the route would take me on the other side of the hill and I would have to walk almost a kilometer to come the place where my bicycle was parked. I was ready for the trade-off, since I couldn't imagine myself getting down that same path which I took to get up there. I saw that the easy path was just steps made out of stones and they weren't even very steep. So I decided to have some more time to myself on top of the hill. I clicked a lot pictures, visited a small temple on the top, and by the time I decided to leave, there was no one in sight. I started the descent through the steps and very soon I reached the bottom of the hill.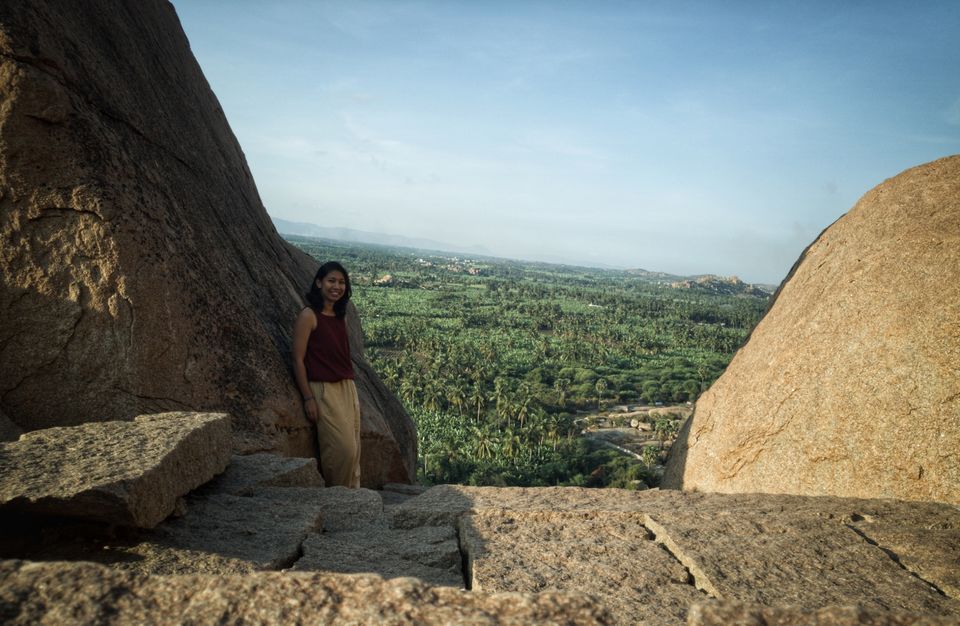 The events which followed seem adventurous and exciting in retrospect but it didn't feel so in the moment. There was a small stone temple there and I could see a straight road along the fields and into the jungle and another route alongside the hill which I had just climbed. I chose the road by the hill assuming it would lead me to the other side of that hill. I kept walking on a road with no one in sight and a stream flowing alongside. It was a beautiful road, but I wasn't in the state of mind to appreciate its beauty.
After walking for about 15-20mins, I realized from Google maps that I was walking towards nothingness, there was a road in front of me but not on my phone. All I could see was a vast nothingness on the map and I was walking into it. So I decided to head back and climb the hill again and then descend by the route I had taken to climb up, at least it was a known route.  By the time I came back to the place, to start climbing the hill again through the steps, I saw a man who had a sickle in his hand and I, very casually asked him if he knew the way out of there. He did not understand me much, just pointed to the other road and said "Hampi" .
Taking his word for it I made my way through the opposite road and into the jungle. I even crossed a stream by hopping onto the rocks and then into the fields. Even here on the Google maps, I was shown no road, but some temples which I was walking towards and I was sure they were connected to a road with vehicles. It was a long walk, but I made my way to this temple called Venkateshwara Temple but it had no road attached to it. I then decided to walk straight even if it would lead me to the other end of Hampi which I had visited on my second day and I
knew the area.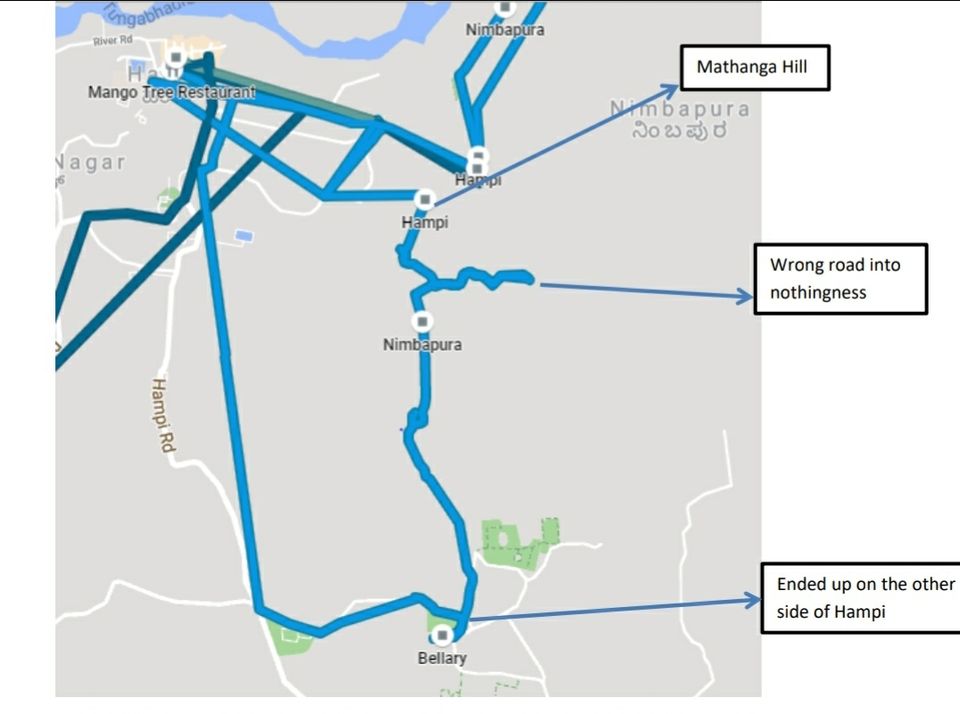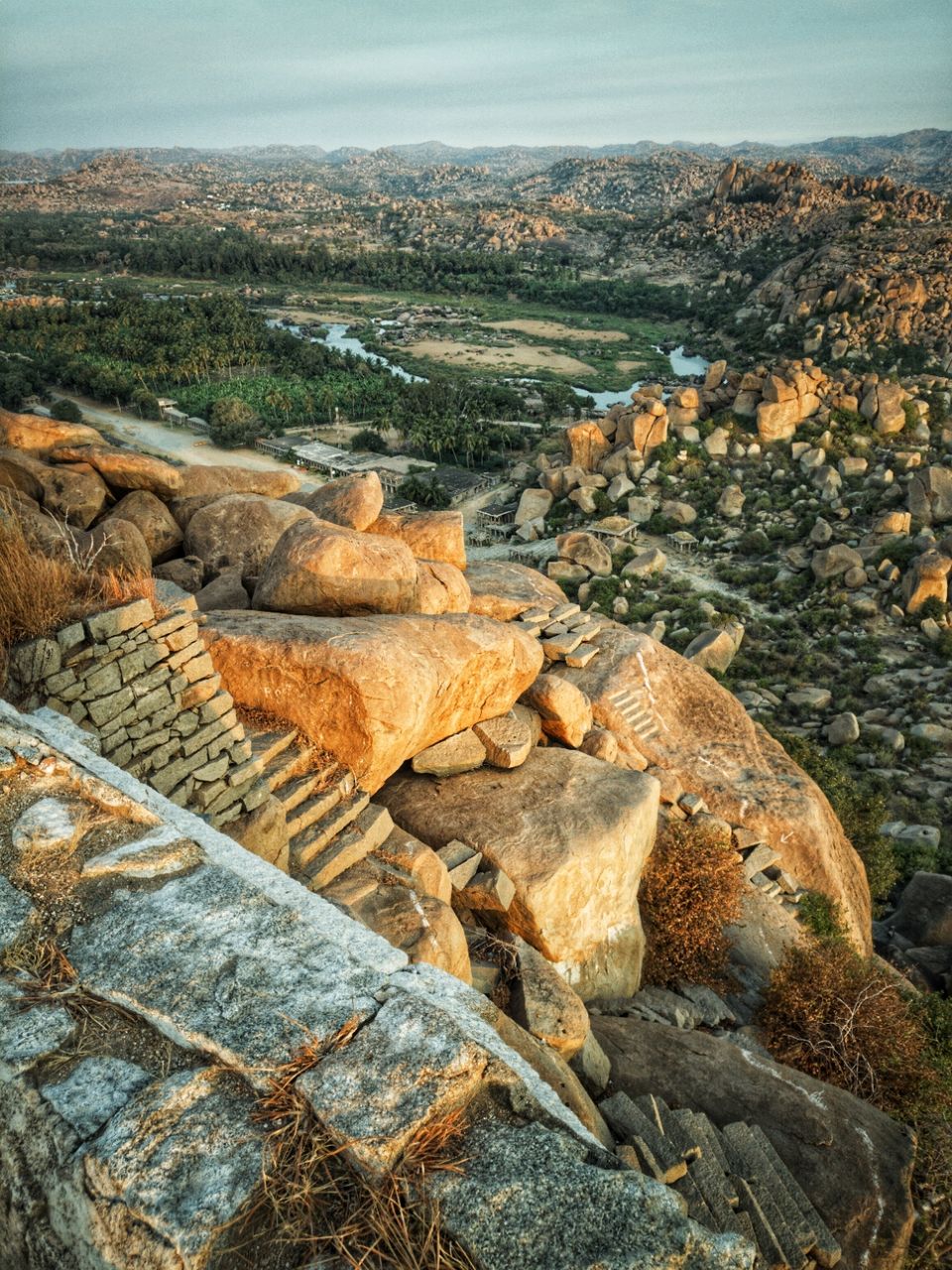 Around 9 am, I reached the other end of Hampi and saw familiar ground. I was so relieved to have finally found my way somewhere safely. After all the walking in the sun, I was really tired. I had water and a box of Pringles, but I was hungry for some breakfast, so I decided to search for a rickshaw or even beg for a lift to get back. There were no tourists, just the security and some maintenance ladies, when I passed the Hazara Rama Temple. It was completely empty at that hour; I forgot my hunger, went inside, made myself at home, ate my Pringles and relaxed for some time. Then I decided to look at all the beautiful carvings on the walls and on the pillars and on the adjoining structures, clicked loads of pictures when a tourist bus screeched to a stop outside and I knew it was time to head back.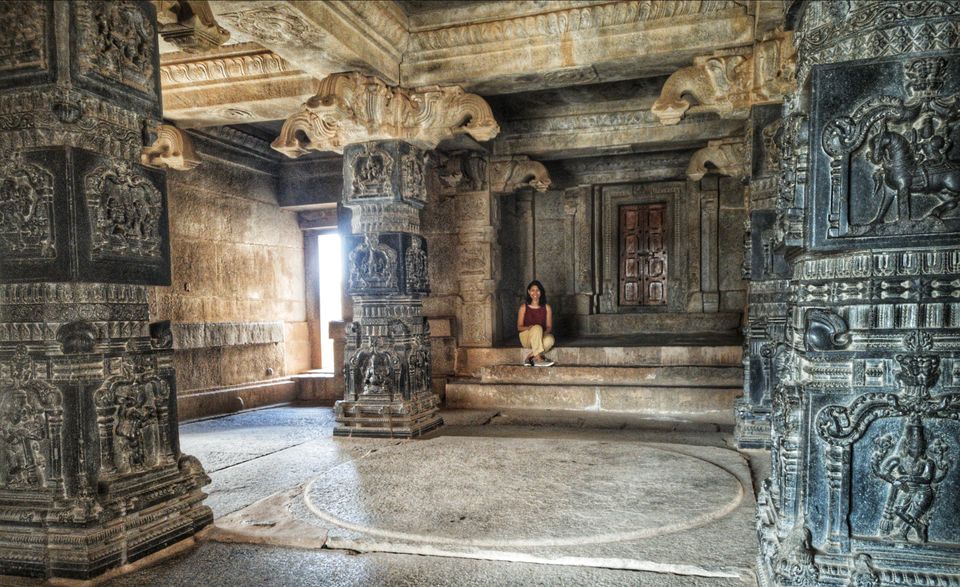 Sometimes you need to take a wrong turn to land yourself in the right place. It's true that I took a wrong turn, but it got me to a deserted Hazara Rama Temple which I was longing to have all for myself even if it was for a little time that morning.
I had told one of my friends, before leaving "I hope I don't fuck this up!" and here I was by the end of it on my way back home with memories of not only a non fucked up trip but so much more.
I would also like to make a special mention of Sagar Hotel, in the lane opposite the Mango tree Restuarant, it was the best place to have Paddus and I had breakfast there every morning and even packed some for later because I just couldn't have enough of those.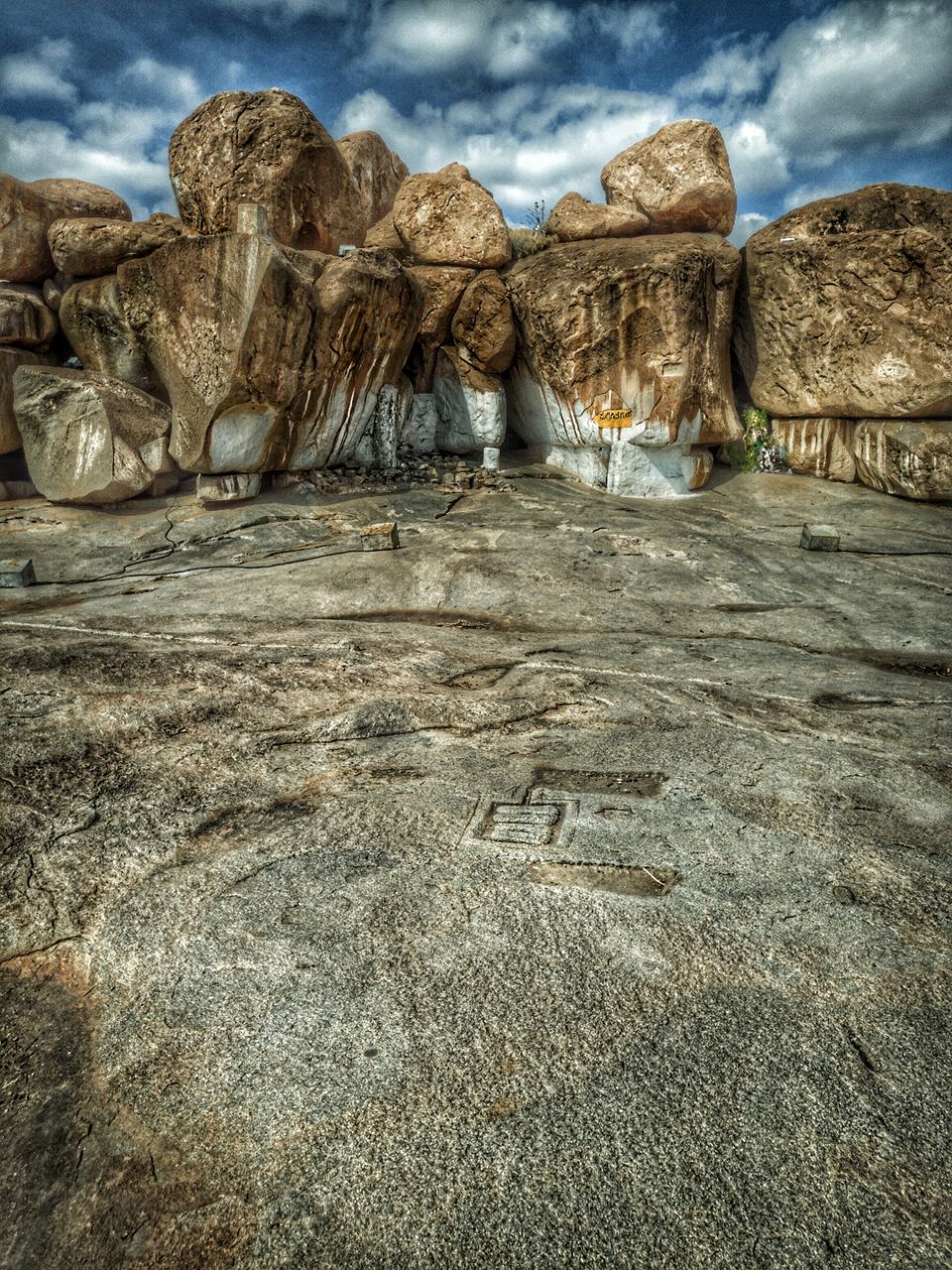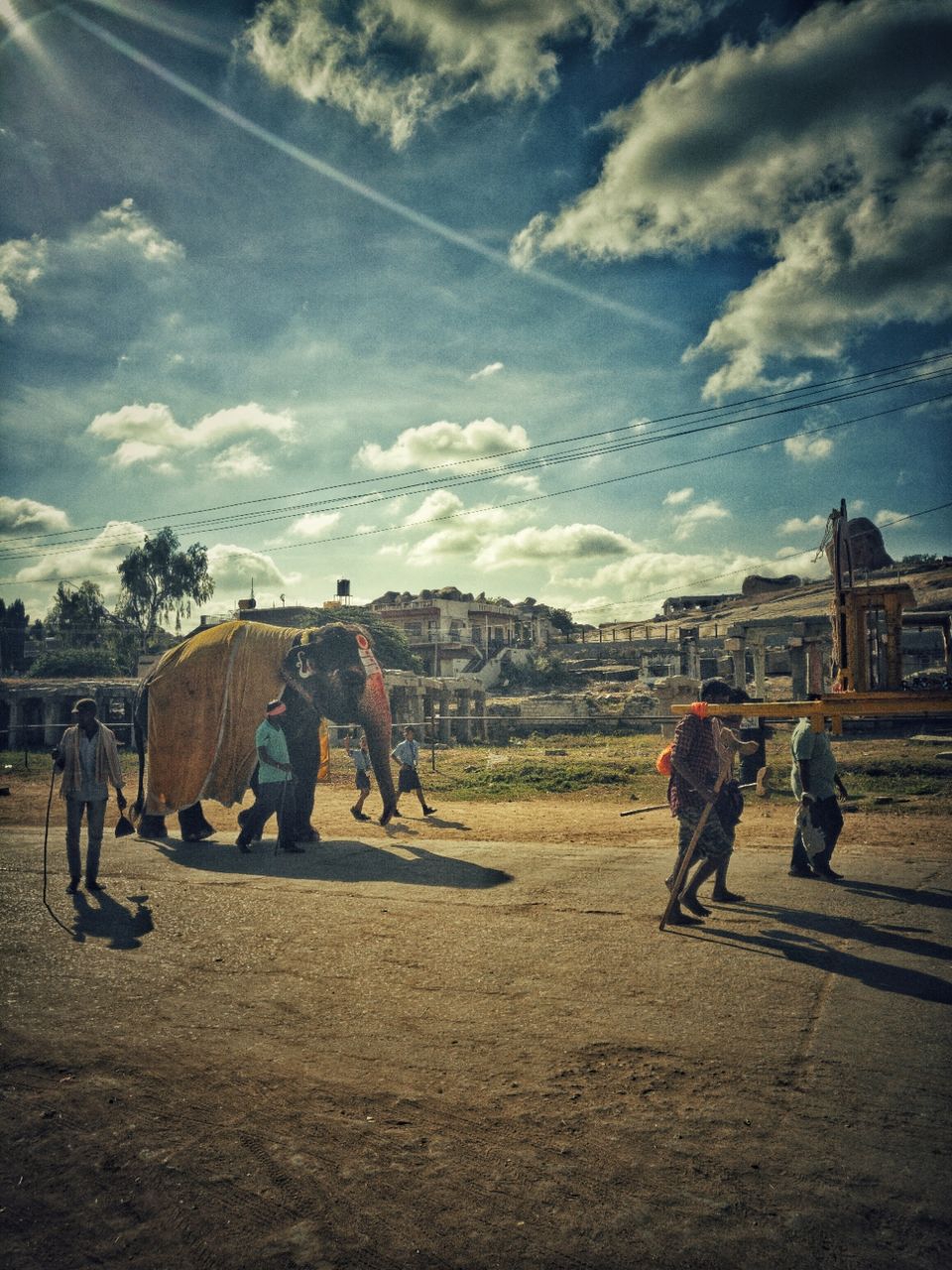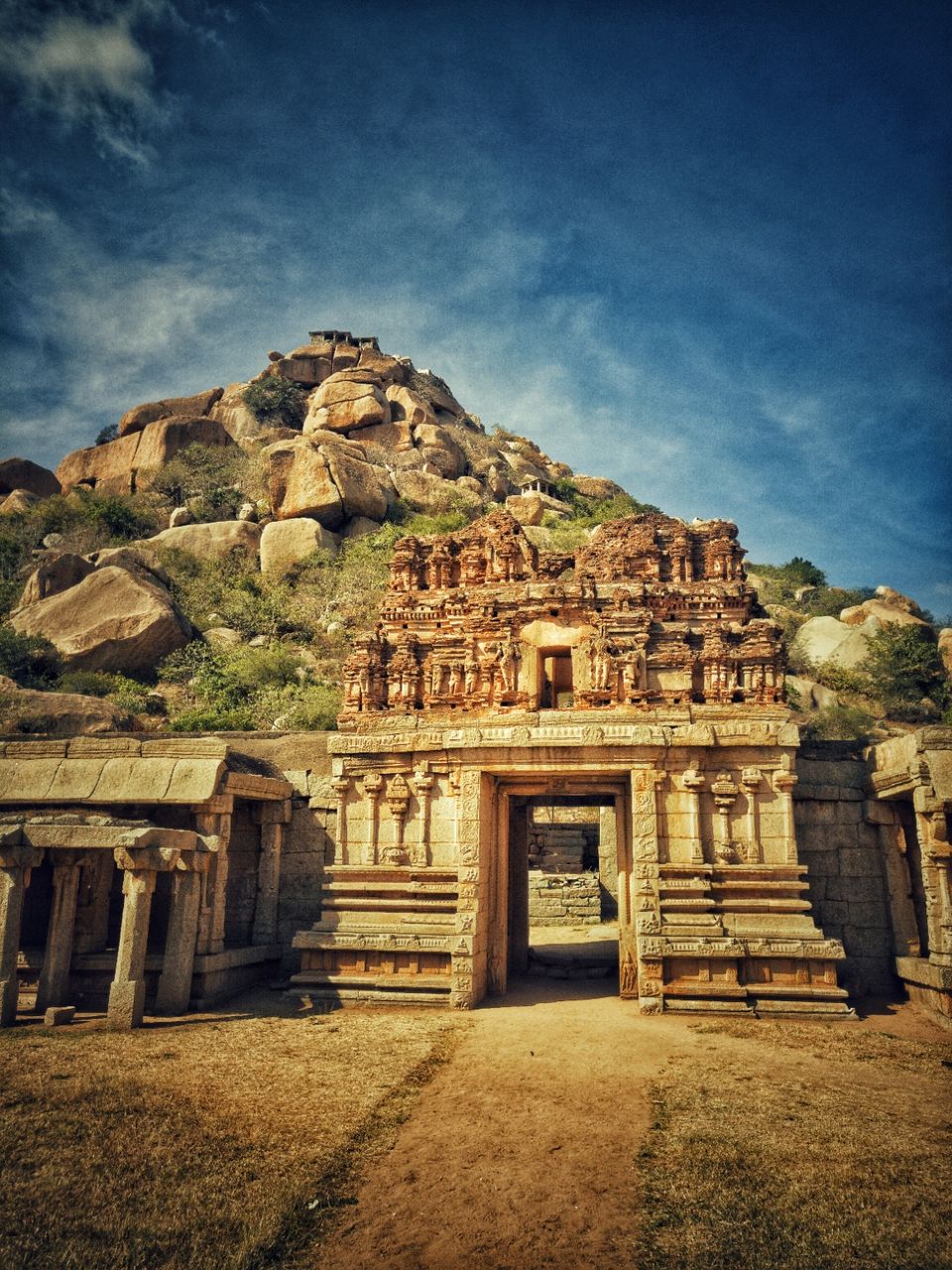 Itinerary
Day 1
 Virupaksha Temple
 Hamuman Temple
 Hemakuta Temple
 Krishna Temple
 Ugra Narasimha Temple
 Badavilinga Temple
 Underground Shiva Temple
 Noblemen's Quarters
 Mohamadden's Quarters and Mosque
Day 2
 Sunrise Point, Malyavantha Hill
 Malyavanta RaghunathaTemple
 Hanuman Temple Cave
 Chandrashekara Temple
 Sarasvati Temple
 Octagonal Bath
 Queen's Bath
 Mahanavmi Dibba
 Stepped Tank
 Royal Enclosure
 Hazara Rama Temple
 Zanana Enclosure
 Lotus Mahal
 Elephant Stables
 Krishna Temple
 Hemakuta Sunset Point
Day 3
Hippie Island
 Monkey Temple
 Sanapur Lake
 Anegundi
 Gagan Mahal
 Sri Krishnadevaraya Tomb
 Krishna Temple
 Hemakuta Sunset Point
Day 4
 Mathanga Hill
 Hazara Rama Temple
 Monolithic Bull
 Department of Archaeology Museum
 Vitthala Temple
 Vishnu Temple Hampi
 Achyutaraya Temple
 Achyutaraya Bazaar
 Pushkarani
 Ranganatha Temple
 Varsha Temple
 Sugriva's Cave
 Narasimha Temple
 King's Balance
 Vijaya Vitthala temple