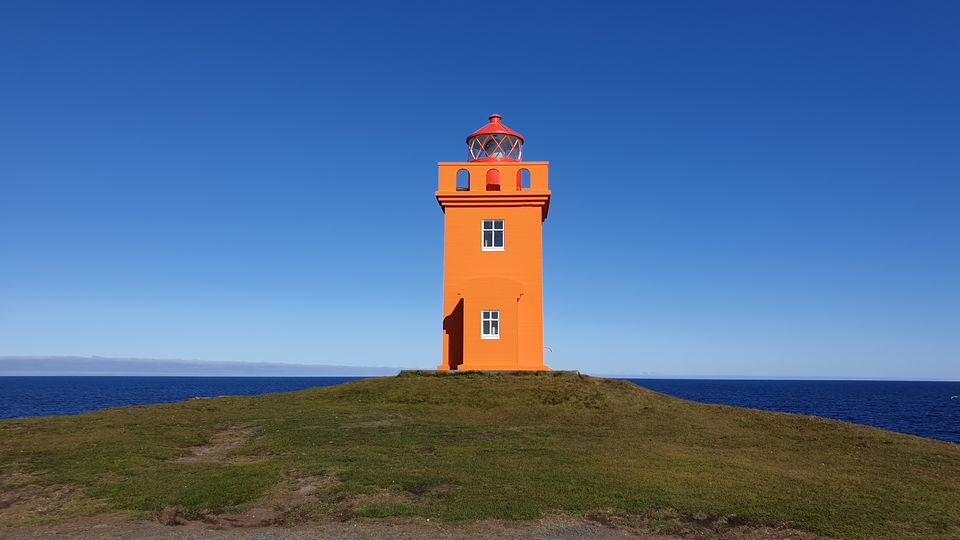 How did I end up on an island 3 hours by a ferry ride from the mainland and literally nonexistent to the world? Shuru se shurwat karte hai. Mayur, one of my really close friends, came to Iceland couple of years ago and sowed the seed of visiting this country. He introduced me to Grímsey and told me about how one could cross the "Arctic circle" here and get a certificate saying "you've crossed the Arctic circle".
Now apart from visiting this secluded Island to see how life inhabits even in the remote places on earth, I wanted that certificate. I also knew of much easier ways to cross the circle but then you don't get the certificate, do you? So, Yes, I can be that petty and do things absolutely unnecessary for silly things like these!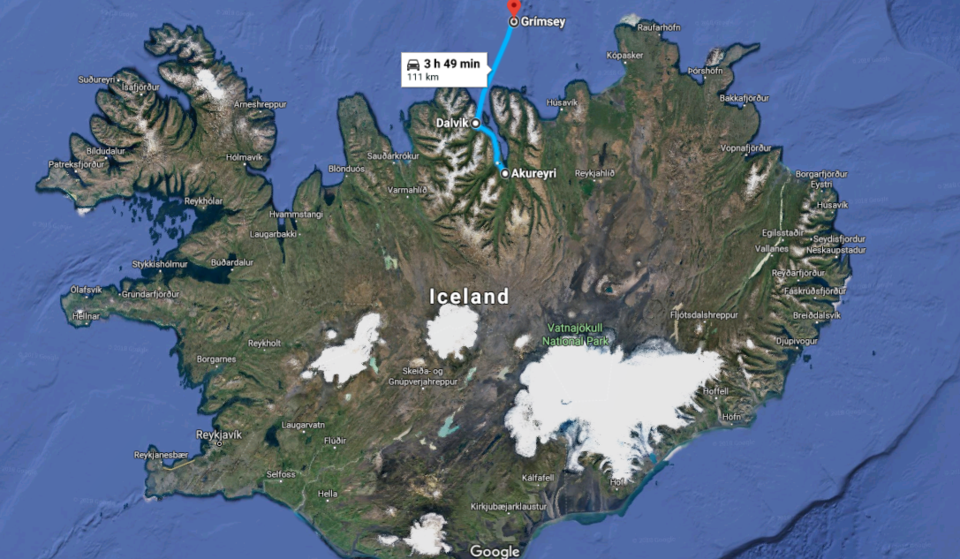 Meeting a Travel Companion
To visit Grimsey, the easiest way would be from Akureyri, the second largest city of Iceland. I chose the Backpackers hostel in Akureyri, where I met Ane, the stranger who loved my crazy plan and decided to join me. Ane is 21, from Germany, a student in agriculture sciences and was in Iceland to work on an organic farm for a school project.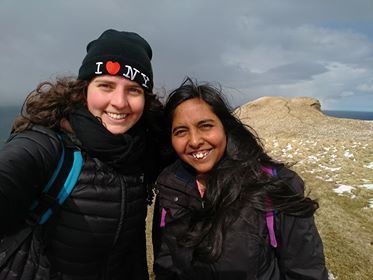 You'll meet many people in your life but some come exactly when you need them. I was perfectly OK in going alone, but Ane's presence made it a million times better.
A Journey into Nothingness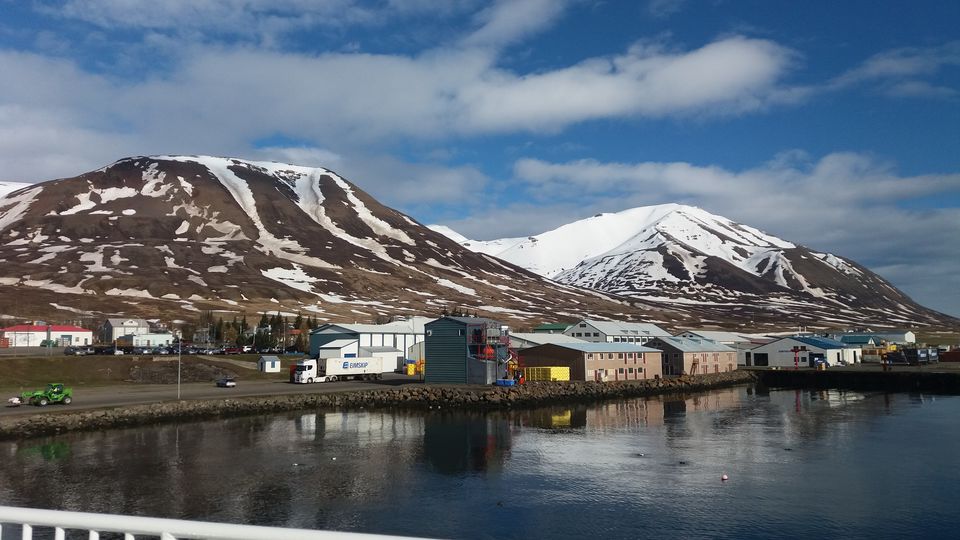 The ride began in huge excitement! From leaving the Fjords to the vast blue ocean. From Ane's presence to our little picnic on the deck. Everything was perfect except that we were freezing! The only people crazy enough to visit this remote Island were the people delivering the necessities to the Island, Ane, me and 2 other Germans. That's all. I fell asleep during the long journey sub bathing in my six layers of clothing and Ane woke me up for the first glimpse of the Island. Right in the middle of nothingness.
Iceland's Best Kept Secret
To describe Grímsey, it's stupefying! The name when literally translated from Icelandic means: The storm and how appropriate it is! It has a population of 30 people and 25 horses. Wikipedia says that they are 100 but the locals told me the real number. They all live like one big happy family. They have a light house, a church, a school and even a football field.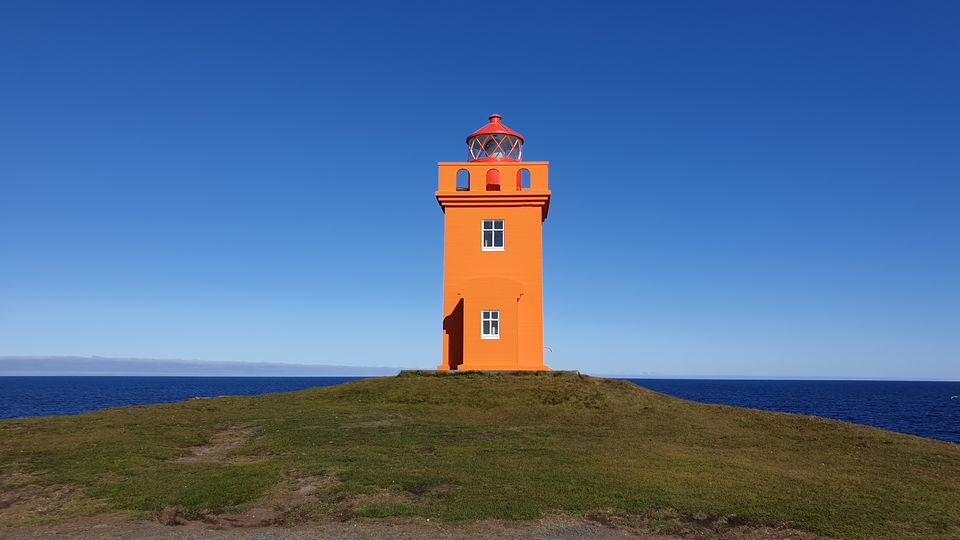 The quietness and the solitude of this place are something so alluring that the locals find the mainland too busy. It's Iceland! It's the least populated place I've been to. How can anyone find it populated, it baffles me!
Fishing is their lively hood and the only other thing apart from it is, tourism. They have two hotels and one more upcoming. While not many people visit this place, the ones who do leave with a mark on their hearts forever.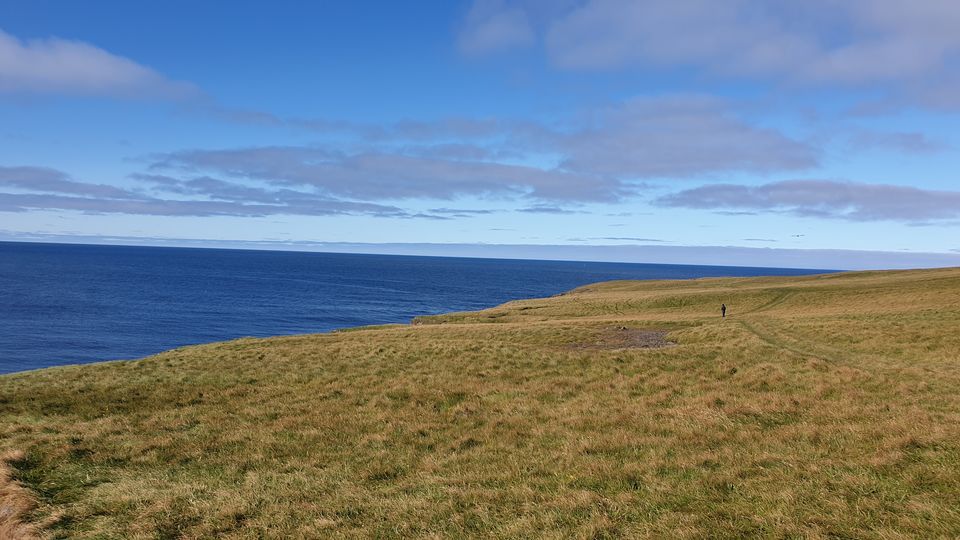 Even though most of the tourism happens during the summer for the puffins and the scuba diving, they do have tours in winter to watch the Aurora Borealis or as you would know them: The Northern Lights. They also have a small gift shop that gives you your certificate for crossing the Arctic Circle.
Direction Towards the Arctic Circle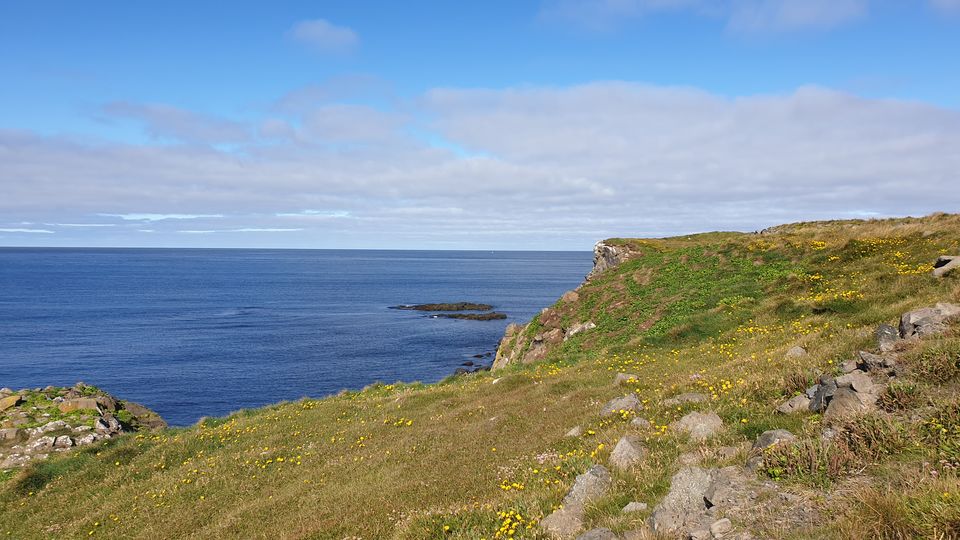 I wasn't expecting the island to be actually a sight to the sore eyes. The looming cliffs, the Icelandic horses, and the light house. The island is perfection squeezed into 5.5 km. We saw the map and started in the direction towards the Arctic Circle.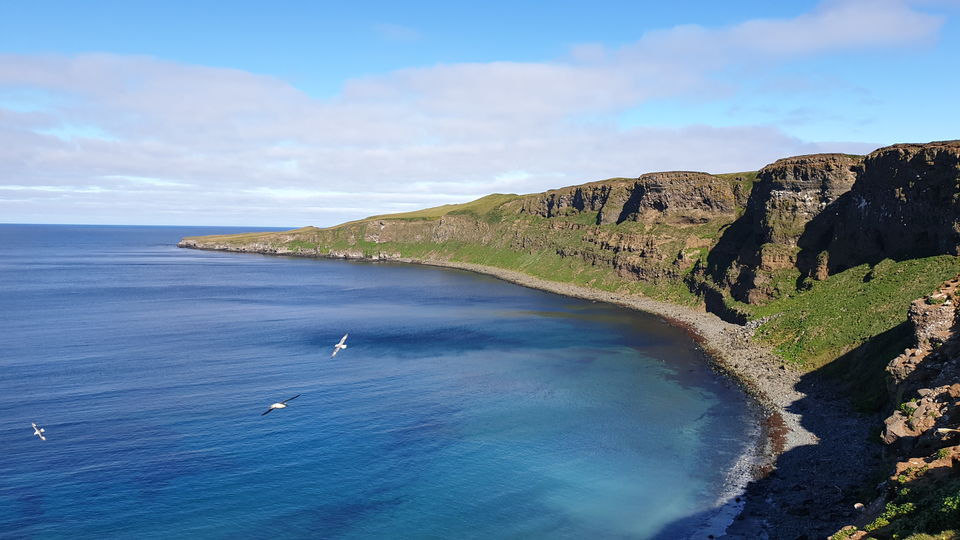 I never thought I would have a chance to see things like these
Unexpected Visitors
Puffins only arrive during the summer and this being "spring" it was not expected to see them. We were extremely lucky to catch a glimpse of these little penguins that can fly.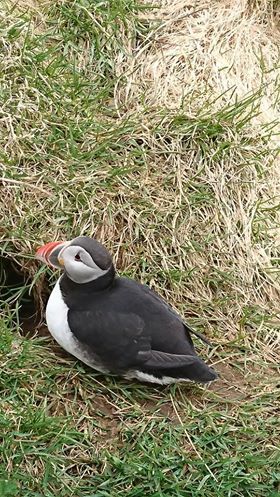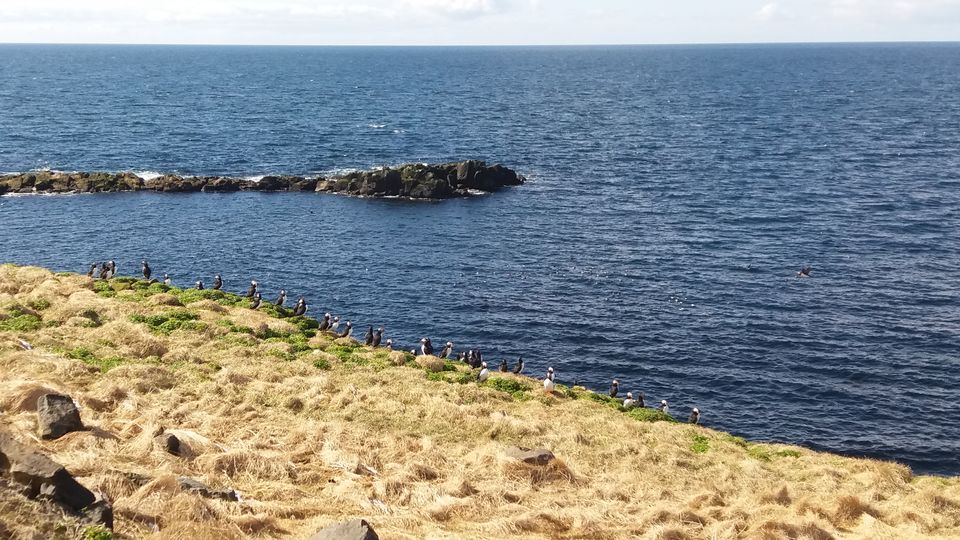 Crossing the Arctic Circle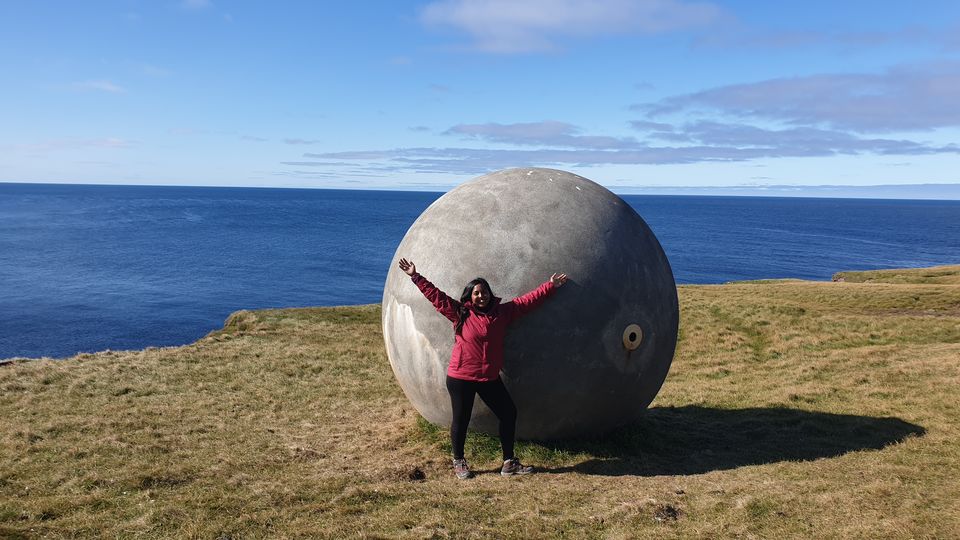 On the road we were expecting a sign or mark stating the location of the Arctic circle but there is none. There happens to be an arctic ball that rests at the northern edge of the island but the circle cuts the island way before that. We were running, huffing and puffing. Trying to cross one hill after another to reach the circle when a local informed that we had indeed crossed the circle already!!! Wohooooo!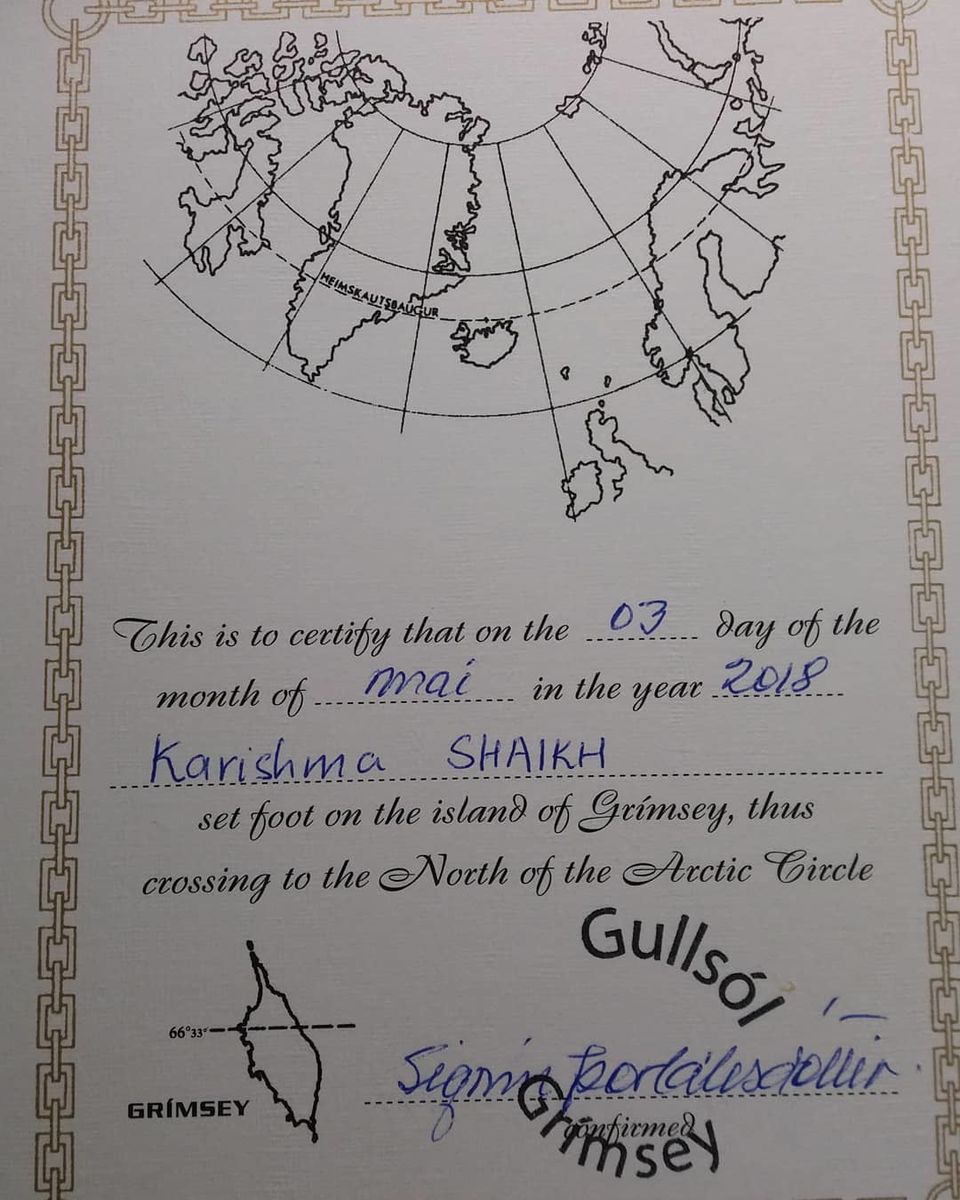 If absolute solitude is what you are looking for, I highly recommend staying a night here. Since it's Iceland, it is of course super expensive. and costs around 18, 000 ISK (144 Euros= 12,400 INR) for a night. Unfortunately being a budget traveller I haven't had the opportunity of staying back. Maybe Third time's the charm huh?
Hitch-Hiking Myself Into the Best Day of My Life
Now the next issue was, how do we get back to the hostel from Dalvík? The last bus from Dalvík to Akureyri is at 2 pm, and we would reach at 5 pm. Hitchhiking was the only option!
Right then we saw two new people on the ferry and that's how we met Guillermo and his mother. Once again destiny randomly placing amazing humans in my path. I walked up to him to ask if by any chance they had a car and they were going back to Akureyri. He said, "yes but before we go back, we are going around the Fjords and then to the pool!" He took a pause and continued with words that were music to my ears, "You are welcome to join us".
The northern Fjords were not even in my itinerary but here I was, in the car with a Spanish guy, his mom and a German girl. Passing through the Fjords was an exhilarating experience in itself. There were multiple tunnels to be crossed and each time we got out from one, a completely new scenery was presented to us with different weather. Snow, hail, rains, winds that would throw you away and sunshine. We saw it all.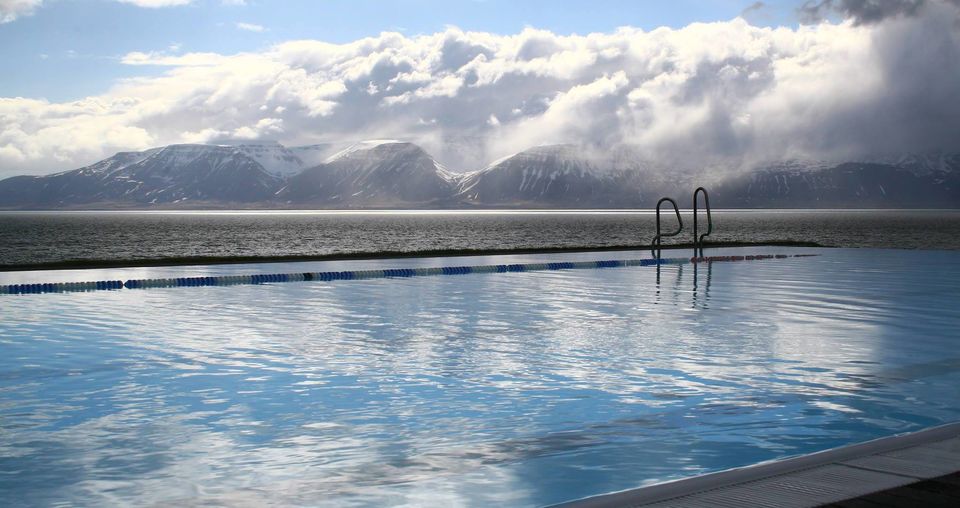 We finally reached the Hofsos swimming pool and I can't even begin to put it in words how beautiful it was. At the edge of the fjords, facing the serene ocean , Ane and I were just laughing at how this day was turning into one of the best days of our lives. From gazing at the snow capped mountains to watching Guillermo act like a seal, from the snow freezing our heads to the water warming our bodies, everything about this place and people was perfection.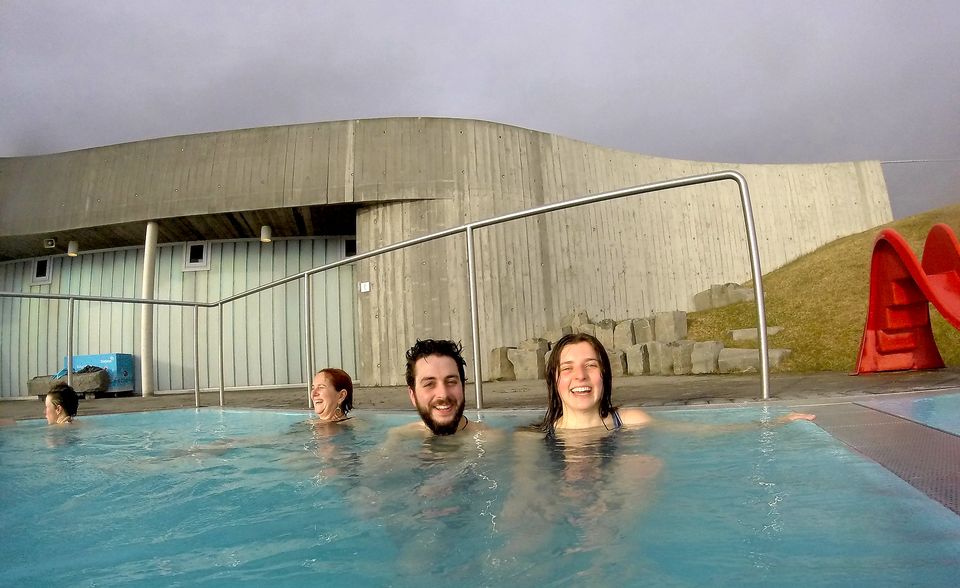 Till today I relive this day on my bad ones to remind me that if I can have days like these, I know the bad is temporary.
How to Get to Grimsey
The best way to get to Grímsey is by a ferry from Dalvík. The Ferry to Grímsey leaves from Dalvík at 9 am. Dalvík is 40 minutes (44 km) from Akureyri. The first bus is at 8.20 am and you reach Dalvík exactly at 9 am. A small glitch anywhere on the road and you'll end up missing the only ferry.
Ferry
The ferry leaves at 9 am from Dalvík and takes approximately 3 hours to reach Grímsey. So you reach at 12 pm.
The price of one way ticket is 3500 ISK which makes a return journey of 7000 ISK (56 euros= 4800 INR)
In winter (valid from 15 January to 14 May and 1 October to 31 December) the ferry runs on Monday, Wednesday, Thursday and Friday.
During this period the ferry stays for two hours. i.e. it leaves at 14h/ 2pm. So there isn't much you could do but it's still worth it.
In spring and autumn (5 May to 31 May and 1 September to 30 September) the ferry runs on Monday, Wednesday, Thursday and Friday.
During this period the ferry stays for 4 hours i.e. it leaves at 16h/ 4pm
In summer (valid from 1 June to 31 August 2018) it runs all through the week except Saturdays.
During summer it stays 5 hours i.e. it leaves at 17h/ 5pm
luckily I had the opportunity to visit Grimsey in winter and summer and both the times the island showed us a different charm
If you haven't rented a car like all the other tourist, to get to Dalvík you have Strætó bus from Akureyri. The bus arrives at 8.20 am and takes 40 minutes to reach Dalvík. The time gap is too close and hence it is better to get your ferry tickets beforehand. you can buy them here. The bus stop is 10 minutes' walk from the port but you can ask the bus driver to drop you close to the port. They usually do. The bus ticket costs 700 ISK. They do not accept cards and hence be ready with cash.
Unfortunately there are no buses to get back from Dalvík so you need to have a car to drive back or hitch-hike like me.
Most importantly remember that the ferry isn't there only for tourism so while they have seats for you, it's mainly to deliver necessities to the island.
During winter there might be no ferry leaving at all due to the harsh weather. So plan your visit accordingly.
Flight
There are flights from Akureyri to the Grímsey airstrip.
Norlandair offers scheduled flight to Grímsey from Akureyri, all year. Five times a week during summer (July through August) and three times a week during the rest of the year (Sundays, Wednesdays and Fridays).
Given how remote the island is, I bet they are super expensive.
The flight duration is 30 minutes and it stays for 1h 30 minutes
Swimming
Grímsey is 150 km from Akureyri and 110 Km from Dalvík. If you can swim right from the beginning, why not? But I guess there is high chance of dying due to hypothermia! Meh…take your chances maybe?
Things to do in Grímsey
1) CROSS THE FREAKING ARCTIC CIRCLE!!!
2) Enjoy the time in spring and summer puffin watching.
3) Spend time with the most friendly horses, they will capture your heart
4) Talk to the locals, they are amazing. Trust me
5) Check out the church, the light house and the restaurants.
6) Walk to the Arctic ball. It's at the edge of the island and gives you a chance to feel like you're at the edge of the world
7) Dive with the locals into the pristine untouched ocean during summer.
8) And most importantly, Fall in love with the solitude.