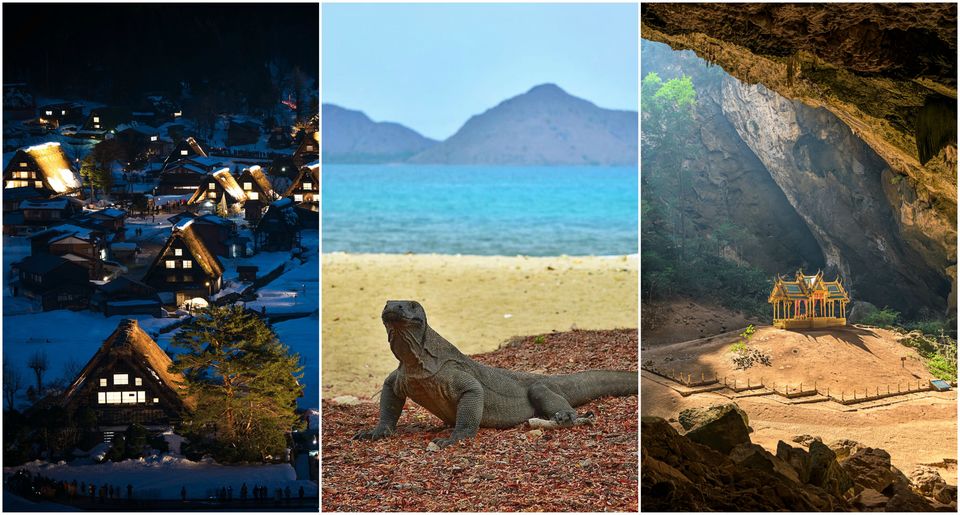 While some of you might have heard of the sites listed down here, there's a fair chance that you didn't know that these are actually listed as World Heritage Sites by UNESCO. For those who aren't aware, a World Heritage Site is selected and recognised by the United Nations on the basis of its "cultural, historical, scientific or any other form of significance". These sites are preserved and protected by UNESCO and international treaties.
There are 271 such sites in Asia, that include the usual suspects such as Taj Mahal in India, Angkor Wat in Cambodia, Sumatra in Indonesia, etc. But there are many more incredible sites that most of us aren't aware of. Hence, I'm listing down seven of the most surreal UNESCO World Heritage Sites in Asia you most probably had no idea about:
Located between the islands of Sumbawa and Flores in the Indonesian archipelago, Komodo National Park is one of the major residences of Komodo dragons in this world. Established in 1980, the park boasts of an area of just under 2,000 square km and is currently dedicated to protecting the entire biodiversity. There are three major islands within the park – Komodo, Padar and Rinca, that house both terrestrial as well as marine animals. Some of the notable endangered species here are the timor deer, orange-footed scrub fowl, endemic rat, etc. Besides being a UNESCO World Heritage Site, the park has also been selected as one of the New 7 Wonders of Nature.
Where is it: Lesser Sunda Islands, Indonesia
Why visit: For a glimpse of the unique Komodo Dragon and over 2,000 other species of flora and fauna
How to reach: Fly to Bali Airport and then to Labuan Bajo on Flores Island. There are several ways to reach the Komodo National Park from Labuan Bajo.
Became a heritage site in: 1991
The Phong Nha-Ke Bang National Park is the one-stop paradise for cave explorers. According to geologists, this natural park was formed at least 400 million years ago. Hence it boasts of intricate detailing and complete life forms inside it. There are hundreds of cave systems with ecologies of their own that include underground rivers as well. The entire region of Son Trach has become extremely tourist-friendly now with modern accommodations such as restaurants, an ATM, and transport facilities connecting with major cities. Besides the caves, the area's forest trekking, mountain biking, and war history are also worth attention.
Where is it: Quảng Bình Province, Vietnam
Why visit: The intricate underground cave system is one of a kind
How to reach: You can take a flight till Dong Hoi from most major cities in Vietnam. From Dong Hoi, it's a 45-minute taxi ride to the national park.
Became a heritage site in: 2003
Known for more than 3,000 majestic sandstone pillars, Wulingyuan in China is an extremely intriguing site. This historical park is full of natural wonders such as gorges, streams, ravines, pools, rivers, lakes, and even rainfalls. Moreover, there are 40 caves and two bridges (known as the "Bridge of the Immortals" and "Bridge Across the Sky"). Some of the sandstone pillars clock at over 200 metres! The 690-square-km area has four national parks that include 560 attraction sights.
Where is it: Hunan, China
Why visit: Remember the movie 'Avatar'? Those mountains depicted in the fictional land of Pandora can be seen in reality right here.
How to reach: You can get direct flight till Zhangjiajie from most Chinese cities. From Zhangjiajie, you can get taxis to the Wulingyuan park; the duration of this journey is around 50 mins.
Became a heritage site in: 1992
Situated in the exotic country of South Korea, the Yangdong Folk Village is a reminder of the great Joseon Dynasty. It is located along the gorgeous Hyeongsan River and the majestic Mt. Seolchang standing on the north makes it even more scenic. The village has been preserved by the South Korean government and the numerous cultural assets and traditions of the area are still intact. This has led to it being a major tourist attraction.
Where is it: Gyeongju, South Korea
Why visit: It is the quintessential epitome of the Yangban (Korean aristocracy) lifestyle and Neo-Confucian traditions.
How to reach: You can fly down to Gyeongju from most South Korean cities. From there, you can board frequent public buses all the way till Yangdong; the journey takes around an hour.
Became a heritage site in: 2010
This mammoth national park in Sri Lanka is a virgin rainforest courtesy of its inaccessibility, and the name literally translates to "Lion Kingdom". Although not as big as the Nha Ke Bang National Park mentioned above, Sinharaja is a treasure trove of several endangered species of trees, reptiles, amphibians, insects, birds and mammals. There are elephants, leopards, purple-faced langurs, orange-billed babblers, red-faced malkohas, green-billed coucals, blue magpies, vipers, and other species, living naturally in the dense forest. It is actually a sight to behold.
Where is it: Sabaragamuwa and Southern Provinces, Sri Lanka
Why visit: It is a natural habitat of several endemic species of flora and fauna
How to reach: Reach Deniyaya from any of Sri Lanka's major cities, and then take a public transport or a cab from Deniyaya till the park.
Became a heritage site in: 1988
The Japanese farmhouses of Shirakawa-go resemble the hands of a Buddhist monk pressed together in a prayer. And that's what the name 'gassho-zukuri' farmhouses translates to – "constructed like hands in prayer". These stunning thatched roofs were originally designed this way to withstand the heavy snow in the region. Now the huts serve as hotels to tourists from all over the world who want to stay overnight in Ogimachi, Shirakawa-go's largest village. There's also the region of Gokayama, which I personally recommend more because of its smaller and more intimate villages.
Where is it: Shirakawa, Ono District, Japan
Why visit: The traditional 'gassho-zukuri' farmhouses, some of which are more than 250 years old, which are stunning to look at put '.' everywhere uniformly
How to reach: Reach Tokyo from anywhere in the world, and from there go to Shin-Takaoka Station via train in 3 hours. Take the 2-hour bus ride to Shirakawa-go thence.
Became a heritage site in: 1995
The Western Ghats are also known as Sahyadris in Hindi, which literally translates to "the benevolent mountains". The colloquial christening must have been done owing to how important they are in terms of biophysical and ecological processes that take place through the entire western coast of the Indian peninsula. Surprisingly, the Western Ghats are even older than the Himalayas, which is a testimony to their significance in moderating the climate of the region. The mountain chain is approximately 1,600km long and runs through the states of Gujarat, Maharashtra, Goa, Karnataka, Kerala and Tamil Nadu.
Where is it: Everywhere between Gujarat and Tamil Nadu on the Indian west coast.
Why visit: The mountain chain is home to at least 325 species of flora and fauna that are universally endangered.
How to reach: Travel to any of the states listed above via whichever medium of transport and you will be able to spot them.
Became a heritage site in: 2012
If you have just been introduced to some or most of these locations, do not be saddened for you are not alone in this circumstance. In fact, be happy that you now have seven new locations to add your ever-blooming personal list called "Places to visit before I die". However, if you have already been to any of these destinations before, please share your experience with your fellow travellers in Tripoto community. We are already proud of you, but make us more proud by writing about your trip.
If you liked this article, you can also check out 8 Surreal UNESCO World Heritage Sites In India You Had Absolutely No Idea About.
Frequent Searches Leading To This Page:-
heritage sites in Asia, srilanka tour package from kerala, unesco world heritage city in Asia, world heritage sites in India