It's always better to opt for the hostels as they are quite cheap. Hotels are a better idea if you are with family, also if you want to feel that royal gesture around. I hardly spent time at 'Lazy Mozo Backpackers' but its host was very friendly and helpful.
Also, as I was saying earlier about my entry at the hostel, the owner took us in after checking our proper ID's. None of his helpers were awake, so probably no one was responsible for it.
What happened to me?
Coming back to reality I had this utter stomach pain due to dehydration and nothing else. After waiting for more than an hour we got inside our hostel and laid back on the sofa as-is for another 20 minutes. Our dorm was our sleeping bag for another hour and we were ready for the day to explore the 'Pink City'.
Jaipur foods must try
We all love trying different cuisines at new places and this city definitely has some great places to try out. Next time I am gonna do a food tour to satisfy my taste bud. Anyway, I definitely had 'Pyaaz Kachori' at Rawat Misthan Bhandar and a 'Rajasthani Thali' at Thali and more.
What to see?
There are many places which were on my list and I knew it would not be possible to see everything in just one day.
Hawa Mahal
The beauty of this place is better to be seen either in the morning or maybe late at night. When the place bathe in the colorful light and looks like the king of all the alley. Many people(like me) didn't know that its entrance is from City Palace. It opens to a spacious courtyard, specially made for Rajput woman. They could have looked around freely from behind the honeycomb structure of the windows. After all, there was a 'Purdah system' and customs to be maintained. And its visiting hour is from 9 a.m to 4:30 p.m.
As per the record, it is the tallest building in the world without foundation. One of the best example of Rajput and Mughal architecture. Nevertheless, the curves are so important!
Royal City Palace
The city palace is huge and took me around 2 hours to see everything with all the photo sessions alongside. There are many recommended areas to be seen and selfies to be taken at:
the huge entrance gate( c'mon the entrance only would make you all swirl)
Mubarak Mahal, one of my must-visit area because of course it is a textile gallery and I had to. It made me wonder how designing was an actual thing in that era also. Intricacy, delicacy and the silhouettes, everything had its charm!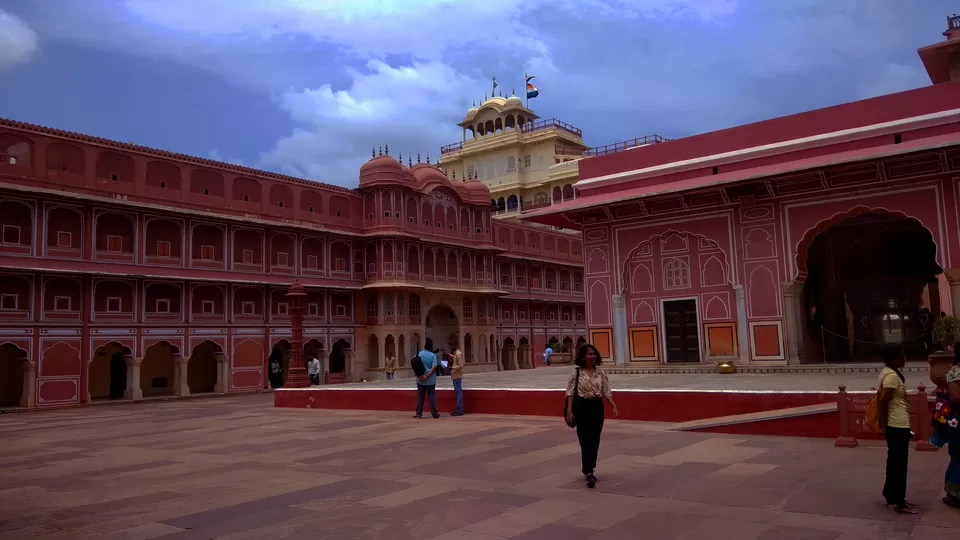 Chand Baori in Aabaneri village is amongst the largest step-wells containing 3500 stairs. The walls are quite steep and the stairs form a diamond-shaped tessellation like structure. This place doesn't seem to have many visitors nowadays but people often come to pray at the temple situated in front of this place i.e Harshat Mata, goddess of joy and happiness.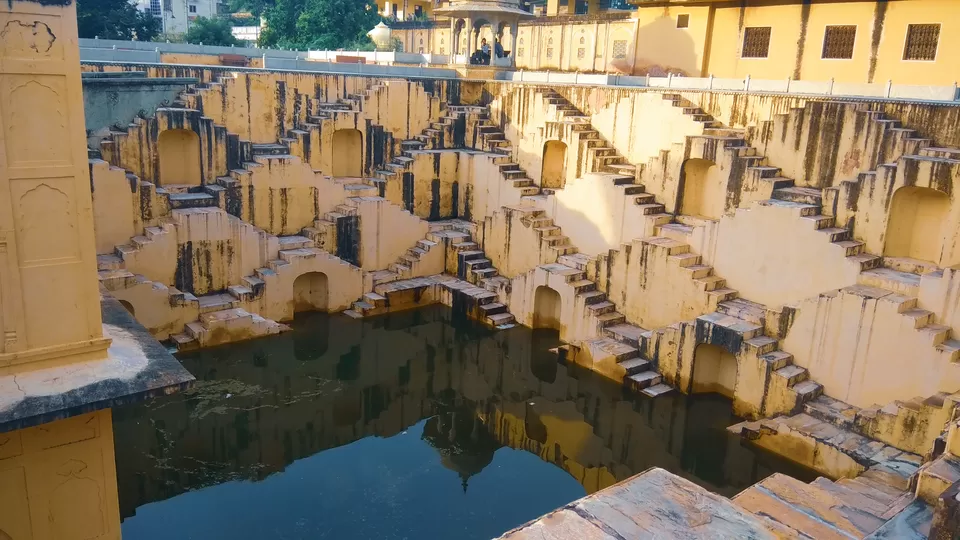 A board reading 'Hathi Gaon' aka 'Village of elephants' would welcome you by paying 30 bucks. This place is untouched and a little bit far away from the main city. Not many people know about this but if you are an animal lover, do visit these people and show some love to these kind creatures.
This village has all the elephants of the city and been adopted by each of the family living there. Of course, it is their mean of survival also. You can go and buy food, feed, play with them, use natural colors to make designs and then clean them with your own hands after that. One needs to pay some amounts to do so starting from 3000 INR and they all would be use in their welfare for sure.
Have a ride if you want to see the whole village or just simply have a walk. Do pay attention to the conditions of the elephants before you decide to take the ride.
The 'Pink City'
I reached this city in a hush at dawn and felt that rusty smell instantly. The sky was pink and proving to be the absolute beauty of the early morning. Heading towards my hostel and hoping for the owner to be awake was a mistake and clearly a dumb idea. And my thoughts came into reality after reaching there. Well, no one to be blamed because the perfect entry timing has been mentioned already and I was early, way too early. When I looked around from inside of tuk-tuk(auto-rickshaw) the city seems to be sleeping beauty till I found the mountains. The time when you will realize the warmth of a different city, a sense of being in between the royalty. My mind stopped working, suddenly. I felt that utter pain, and punching in my stomach.
Was it the morning call, oh well it could be because of everything I ate the other night. What is this pain! Did I get into my hostel? Let's rewind.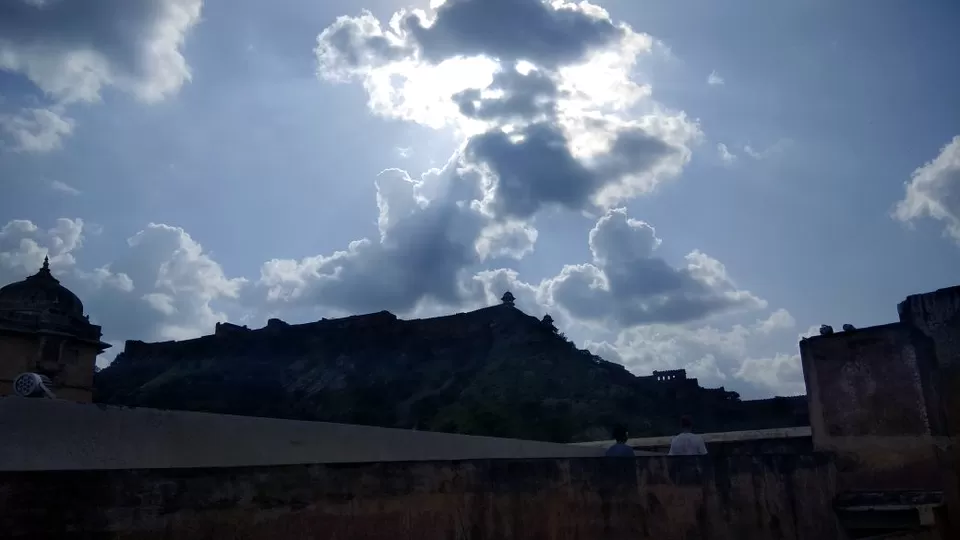 Unplanned August
This unplanned trip started from Delhi, well actually Noida. We headed for our bus at around 10 p.m and reached at Airport Metro Station quite on time. But then the Airport metro stops at just before two metro stations and we had no idea if we could make it to our departure spot. Our timing was 11:45 p.m and to be honest we were in the metro till then. We got the bus somehow at the very end moment.
Rule 1: Take extra time to reach before your boarding time.
Rule 2: Eat very light. Keep yourself hydrated.
Rule 3: Have patience. You will make it even if you miss out sometimes.
Rule 4: Keep all the important numbers handy.
How to reach?
All the main cities has a direct flight to Jaipur. From Delhi, you can travel via flights, trains, buses, taxis, private cars, motorbikes or even by bicycle! Voila, people do that also! Let see some convenient options first.
By Air
Sanganer Airport is 10 km away from the main city and has both national and international terminus. You can find direct flights from most of the city and direct flights to Muscat, Dubai, Kuala Lumpur, and Sharjah is also available from here.
By Train
The city has 3 railway stations i.e Gandhinagar, Jaipur main and Durgapur. It connects all the major cities like Mumbai, Delhi, Kolkata, Bangalore, Ahmedabad, Chennai, Jammu, Bhubaneshwar, Kanpur, Agra, etc.
By Road
You can take buses running from Delhi, Agra and the other cities of Rajasthan like Jaisalmer, Udaipur, Jodhpur, Bikaner. Main bus stops for these buses are Sindhi camp and Narayan Singh Circle. RSRTC and other private buses also run making it an easy and affordable option to travel. Not to forget private or rented vehicles are always welcome.
Where to stay?
Sarvato Bhadra(Diwan-e-Khas)
Pritam Niwas- courtyard of the Chandra Mahal
Baggi khana
Sileh Khana(Armour gallery)
Chandra Mahal is the place where the royal family resides. And its ground floor is Pritam Niwas which is open to the public.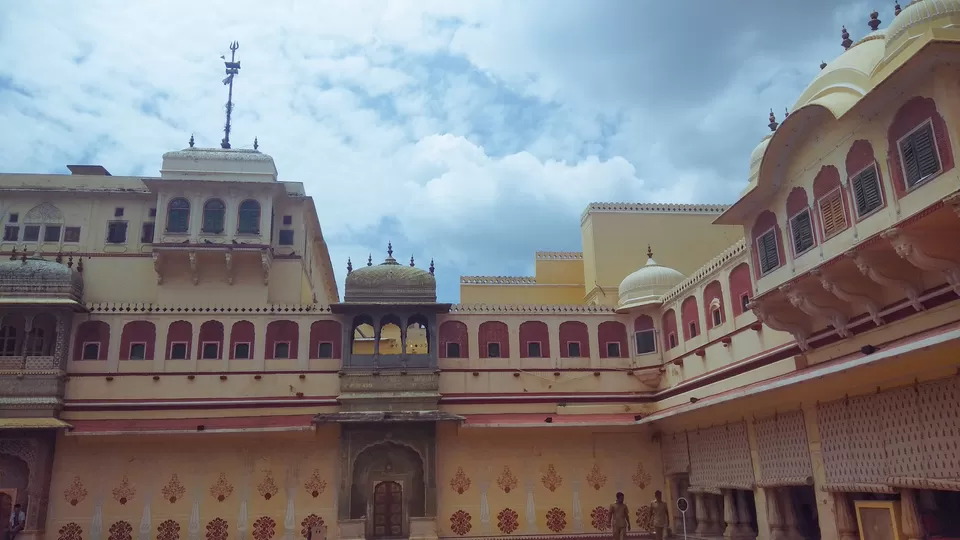 One of the many places which is mysterious and way too huge for someone like me who wants to see every hidden corner. There are mainly four section which is basically the tourist attractions. Sun gate, Diwan-i-Aam, Sheesh mahal and the palace for other royal ladies and their attendants.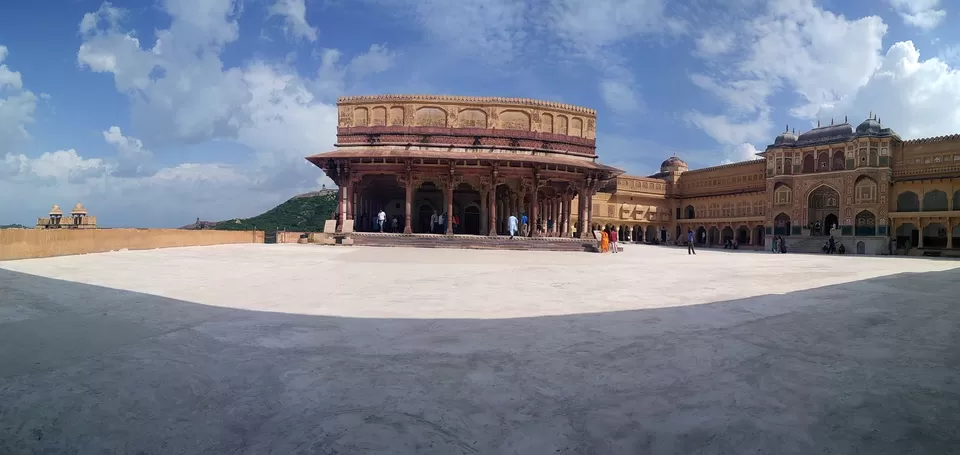 What I like basically was the long lanes where you feel like walking in royalty, the very intelligently made 'Sheesh mahal' and some of the places where no one was going.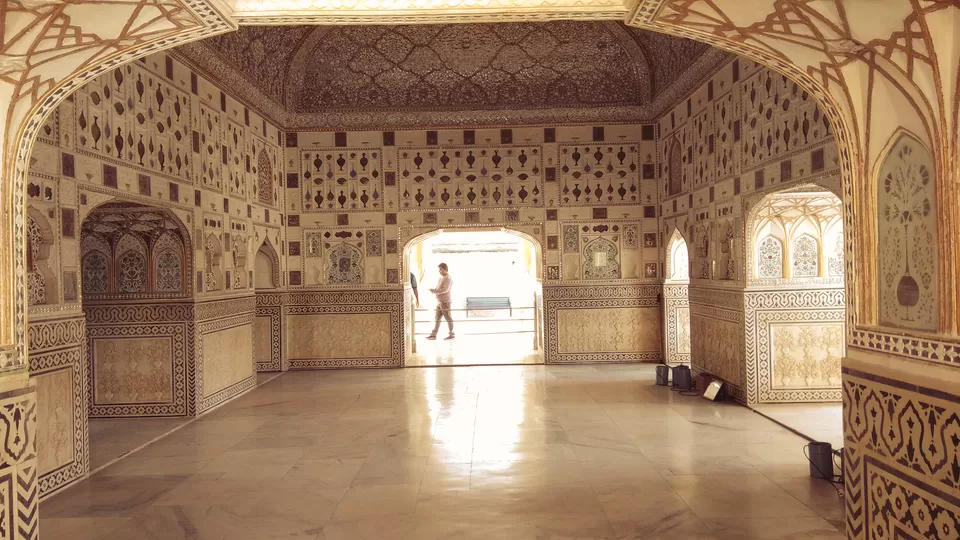 Jal Mahal
One of the most amazing work by Mughals and the Rajputs could be seen in the middle of the Man Sagar Lake i.e. 'Jal Mahal'. One could see the palace from distant with the backdrop of Aravali hills and it looks eye soothing. Boat rides are available to have a nearby look catching different migratory birds at the same place.
I wonder why this 200 years old beauty is not open for any visitors. All such gems are to be kept safe after all. In monsoon, this place looks amazing with the lush green hill and gardens all around the lake.
Entry fee is 25 INR for Indians and 200 INR for foreigners.
Chand Baori Step Well
Birla Mandir Temple (Laxmi Narayan Mandir)
The place is an example of modern architecture and is built by the famous Birla family. It is located beneath the Moti Dungri Fort where the royal family lives. Surrounded by the gorgeous green garden this place makes you actually feel in peace. The three domes represent different religions, showing the secular nature of our country.
You might find Peacock flying over branches, making beautiful sound on the upper side where there is a fort, private residence to be precise.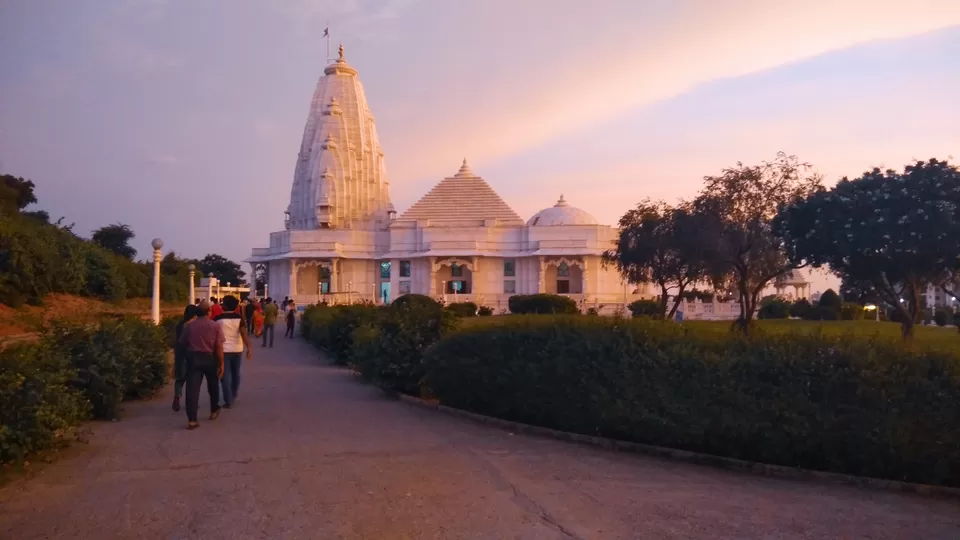 Bapu Bazar
Lanes of freshly made snacks, beautifully crafted shoes, and bags, hand block printed textiles, woodcraft products, and bandhani are some of the main attractions over here. They allure you just like the people but be cautious of the highly ranged products and bargain as much as you can.
To be honest, these are made with so much effort, hard work and love. Sometimes I even don't like to bargain much. You just need to have a little knowledge and here you go with smile and satisfaction.
Best time to Travel
Traveling all over the city on auto was fun but the heat was too much to handle. Also, at the time of monsoon, you get to see that dewy and green side of the city which makes you feel relaxed but the sun is always ready to peek around. Still, winter is considered as the best time to visit any of the city of Rajasthan, India.
Village of Happiness
One of the best experiences was to see a village made especially for elephants and ended up to be one of our favorite spots.
Elephant Joy
What I missed?
Well yes, the very famous Nahargarh fort, Jaigarh fort is yet to be mentioned about which is definitely a must-visit place. These two forts are on height and you can see the whole city from there. These two could be covered in one day which I did on my next visit to Jaipur.
'One's destination is never a place but a new way of seeing things'- Henry Miller
I am glad I took this unplanned trip which turned out to be an unforgettable experience. I was guided by the landscape and the architecture. Sometimes you learn and experience for life unknowingly. There is so much to learn about traveling that one time in one place is never enough.
Plan your next trip to a known or unknown place and just go with the flow. Let us know if we have missed out on any of the things. We would love to hear in comment section.