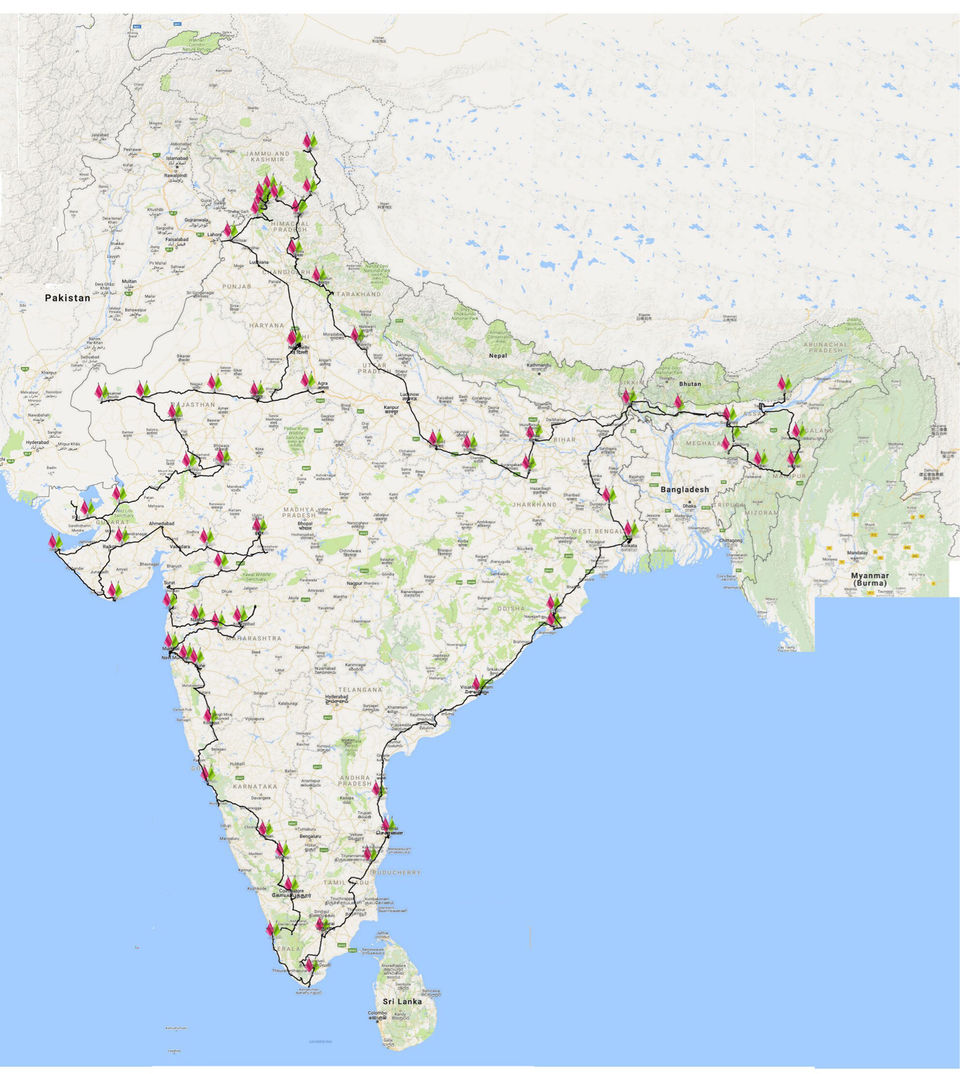 I am Siddharth. K"passionate long rider with molecular riding experience of 3 lakh+ kilometers, Infant larcener of Shadows (Photographer), relinquished my job for this dream" living in one of the Major cities of India- Chennai, TN.
This all India trip was a long term dream which sparkled between us. Us- oh yeah! I should say about this person. He is my pillion Rider, my friend, my support - emotionally and physically throughout the trip. I know him for past 6 years from Post Graduation. He is a wonderful person with identical kind of perspective, idea & dream like I had.

His name is Mr. Rajesh. S from Coimbatore and he is a Dreamer & Believer. We started our exploration together from 2014 and have traveled to most parts of South India covering Kerala, Tamilnadu, Karnataka, Goa and some parts of Andhrapradesh.
The last trip before this all India trip was from Chennai - Hampi - Goa - Dudhsagar Waterfalls Exploration - Mangalore - Bangalore and back to Chennai riding almost 2100 kms as New Year Special.
Idea of Traveling All India
It was a sunny evening, we were exploring the roads across the Kochi- Kerala. The roads, beach views, greenness greeted us with pleasure and suddenly we put through the wringer for us - "Why shouldn't we explore full India instead of covering part by part?"
That question sparked! A causal quest between us, developed to extreme eagerness of challenging the question to Dream of traveling all India. Beyond any doubt, the true strength of Belief in accomplishing the dream made us to achieve them.
Our Authentic Companion
Our travel companion is Pulsar 220F - about 4 years old now. It's a 220cc sporty bike acquired only for long rides.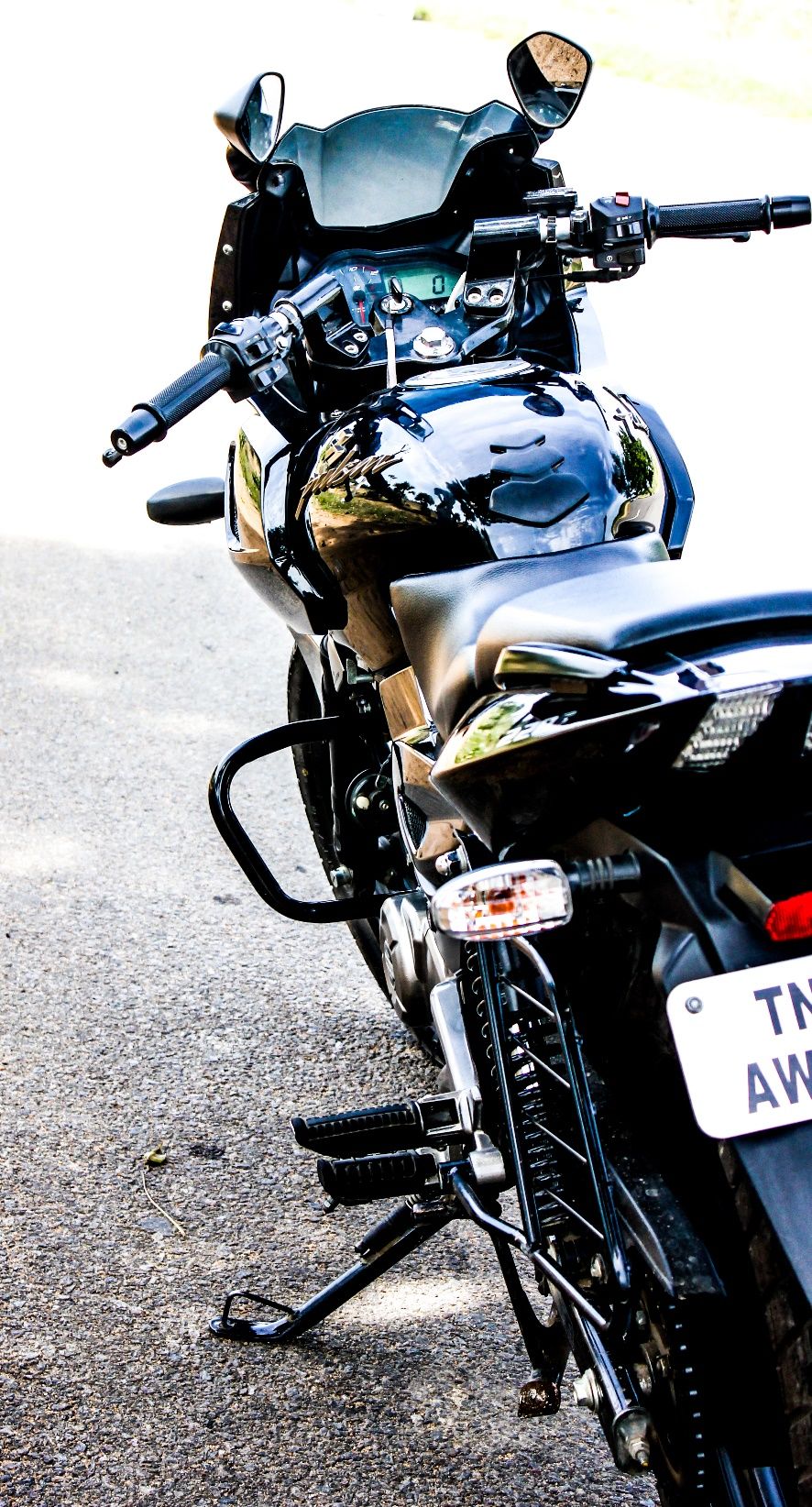 Course of action
And finally we drafted for about 3 months spending all the weekends in course of action for the All India Trip and we perfected the entire plan 2 months prior to the travel date. We tried to reaching out for sponsorship for this achievement by approaching the leading manufacturers like Bajaj, Shell, MRF, Indian Oil and so on. But no one was in a position to encourage us in making this achievement. Instead everyone doubted our capabilities which gave us a negative thoughts of attaining this trip.. "thinking whether it would be so challenging to complete as the companies are rejecting us"
But, soon after we realized to change the negative vibes to Positive one of executing this trip with our own efforts in terms of every support. When I verge upon my parents, it was so hard to convince them but after making them realize of our dream, plan and safe travel we got the major support from them.
We also reached out many magazines and newspaper editors through mail, calls and none supported us. We outlined to take a Safe Travel insisting an idea of safety and so we named this trip as "ALL INDIA TRIP FOR ROAD SAFETY AWARENESS"
Meanwhile, my bike have already reached 80000 kms by our previous trips and when I beared my bike to the Bajaj Authorized Service Centre, they gave me a shocking news that "my bike engine was entirely worn-out so I have to replace the entire engine spares which would cost about Rs. 25000 and even after absolute replacement, there is no certainty that the bike would take the trip fully", worried me of taking this trip.
I doubted their statement of engine problem and reviewed with many other Authorized Service Centres in Chennai but everyone said the same. Being much worried, accidentally I got to meet a service technician Mr. Gopi near Aminjikarai, Chennai when I went leave my friend's Royal Enfield for service. Mr. Gopi and his brother Mr. Rahmad surveyed my bike and gave a hope that the bike is in good condition where there is no need for replacing engine spares.
Preferring his advice, I gave my bike to him for rectification at his service station - FRIENDS AUTOWORKS and he just changed the Clutch Plates, Timings Chains, Tap- Head Barrings. Also, he renovated by making Chain Adjustments, Carburetor Cleaning, Cone-set adjustments, replaced & services oil seals for shock observers and brake fine tuning.
When I was with him in this service station - FRIENDS AUTOWORKS , I came to know about the GPS device which can be placed in the vehicle for tracking and immobilizing remotely through a mobile phone application in case of thefts and other such situation. Since, I assured my parents and friends for the safe travel we installed the GPS device in my bike and the service provider "KINGSTRACK GPS" provided us a online portal through which my bike position and running can be tracked remotely via PC's. This online portal gave my parents and friends an additional hope of safe travel.

Accompanying the service, we ordered Safety items such as Rider Jackets, Gloves, Knee Pads, Elbow Safety pad and we also went to Decathlon for buying Tents, Hand Gloves for Cold Climates, Rain Coats and Bag safety covers and so on. Meanwhile I went for some other essentials purchases like 52 ltrs Travel Bag, Track Pants, 3/4 Pants from Adidas.
Coming to the Bike spares to take along with travel, I ordered the "BOLT Bike Charger" online, purchased 8 liters of Engine Oil - Shell 10w-40 Full Synthetic Variant, Tubeless Puncher Kit, 14" Spanner for opening the oil flush bolt, Leg Air Pump, Tyre-pressure Gauge digital, Insulation Tapes, Spark Plugs, Disc Oils, etc.,
At last, their comes the carrier for the bike to take all the things with us. A day before, I went to carrier making place where I had to make the person make a new carrier for my bike and all was set at 1600 the previous day of the trip.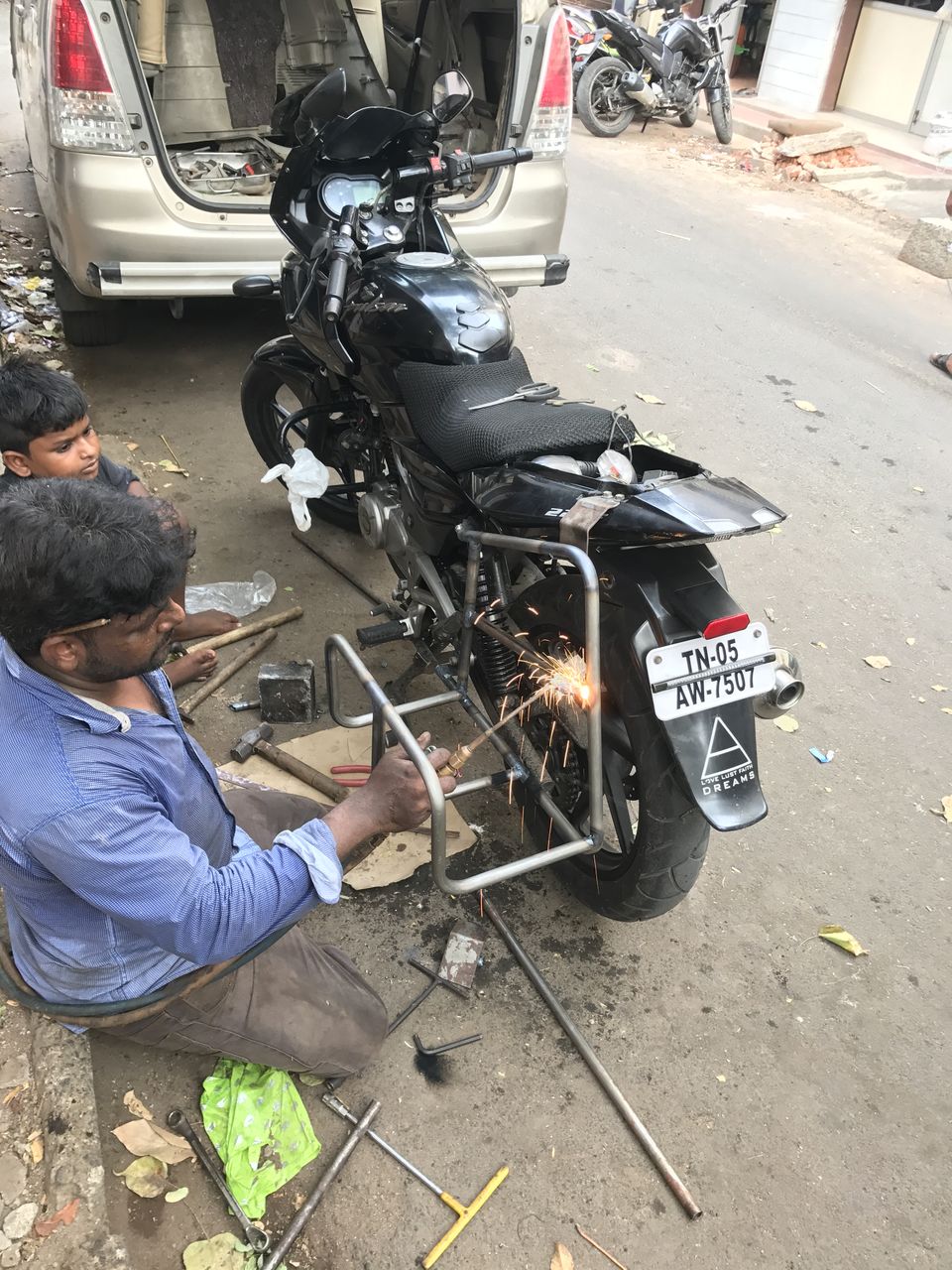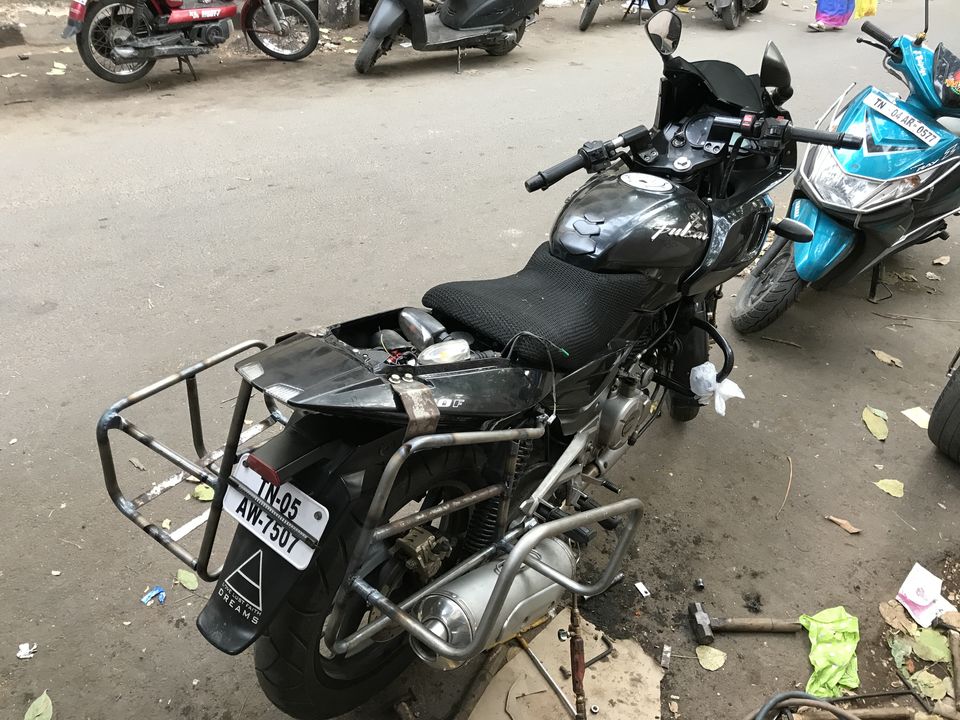 Ready to Trip
The bike was too good to start the trip after some replacements and rectifications but the bike engine was untouched, it was the same manufactures Engine- nothing has been changed. Mr. Gopi - Service technician have played an excellent job and bike was ready for the trip with all the accessories, carrier and other stuffs stuffed packed and ready to go.
It was late in the evening, we started our All India Trip from my home at Perambur, Chennai which was earlier decided to start the travel at 10:00. Unfortunately, due to last minute problem over placing the carrier/racks we had to start the trip late by 16:45.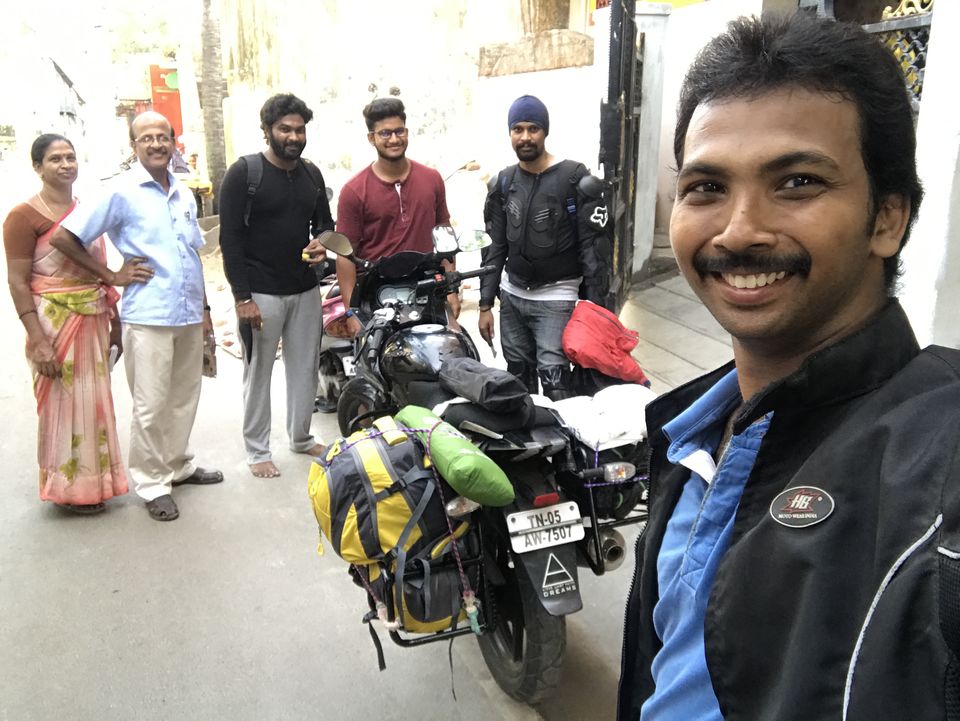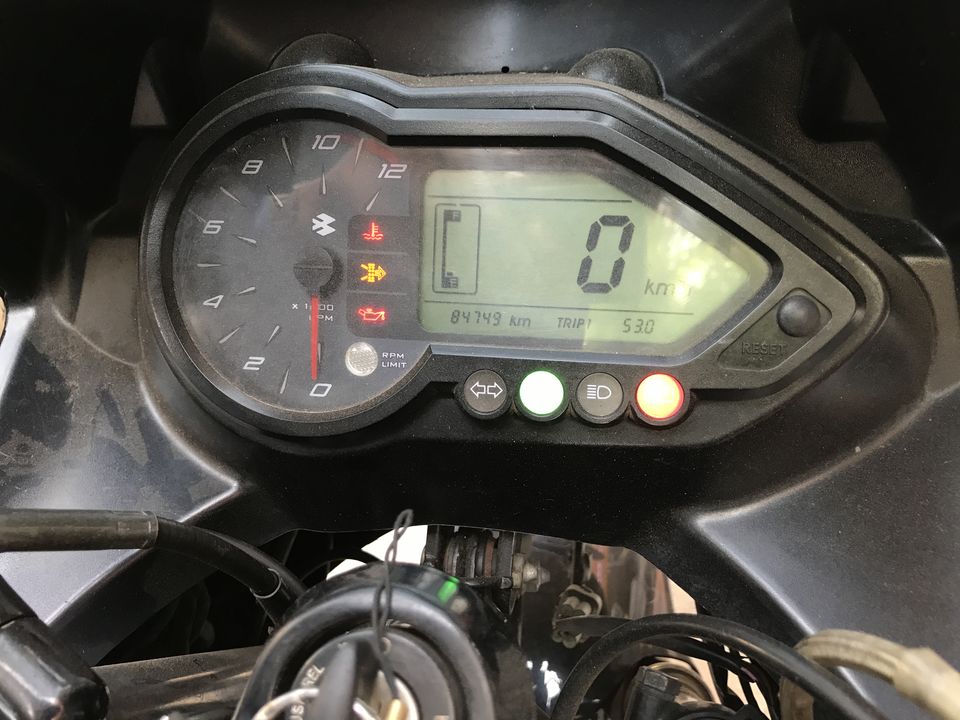 So, we decided to go to Salem via Thiruvannamalai, Yercaud covering 350 kms. As, we started the day so late, we ended up travelling 139 kms only near Sridevi Boodevi Hindu Temple, Kannigapuram Rd, Kannigapuram, Kiledayalam, Tamil Nadu 604302 at 11 pm after a heavy traffic.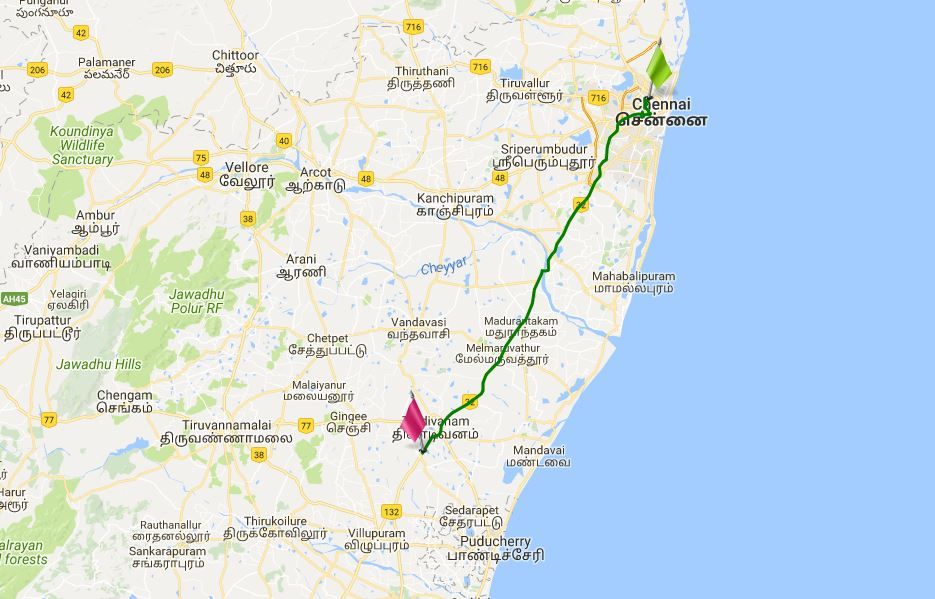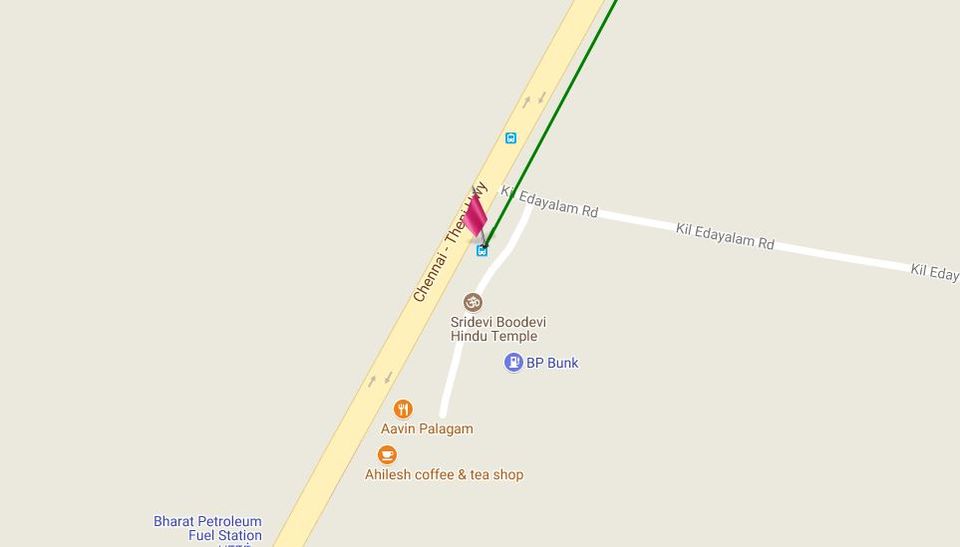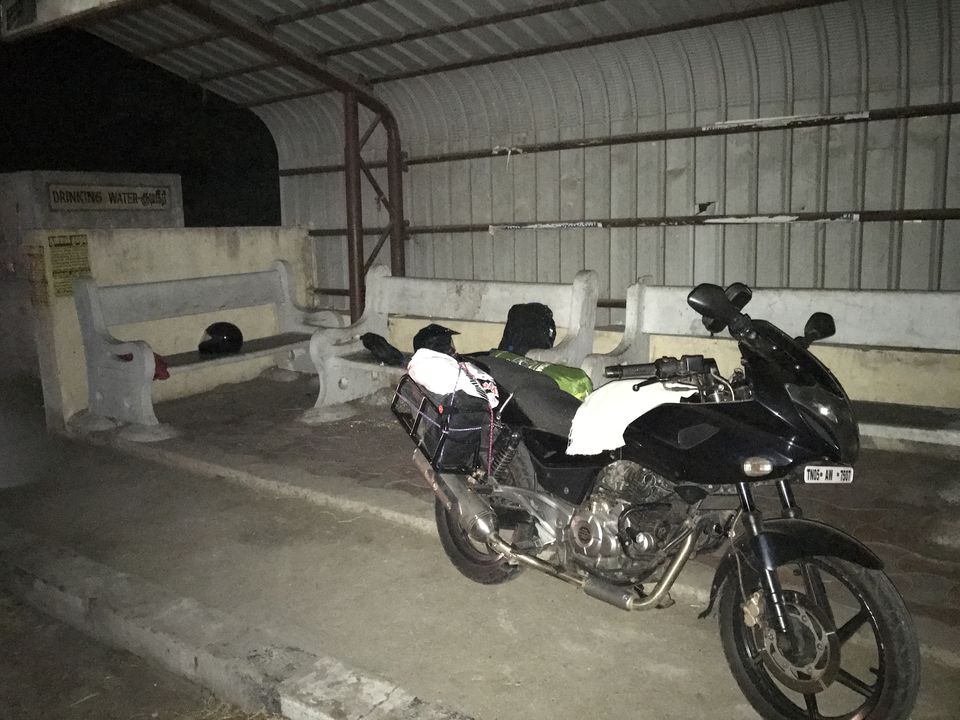 We had a nap at a bus stand for 4 hours and we decided to travel to Chinnasalem, where we had our friend house to rest and refresh ourselves.
From Chinnasalem after refreshing, we started at 11:00 hrs and as planned we traveled to Madurai via Thanjavur. We reached Thanjavur at 14:10 hrs. As I have already visited, Rajesh alone went to the Thanjai Periyakovil and continued our trip to Madurai.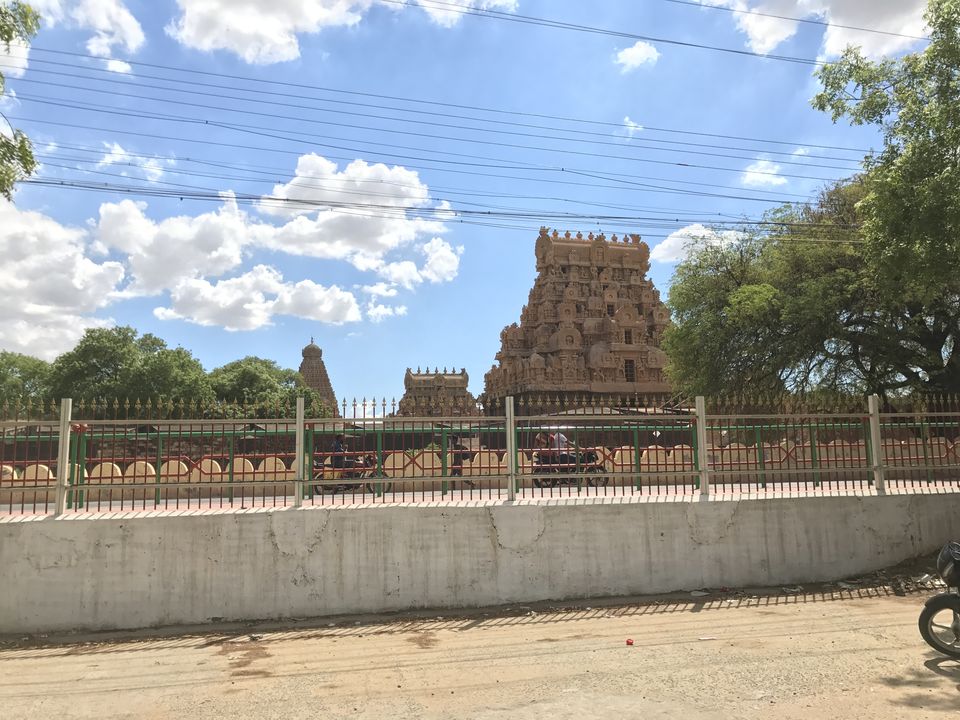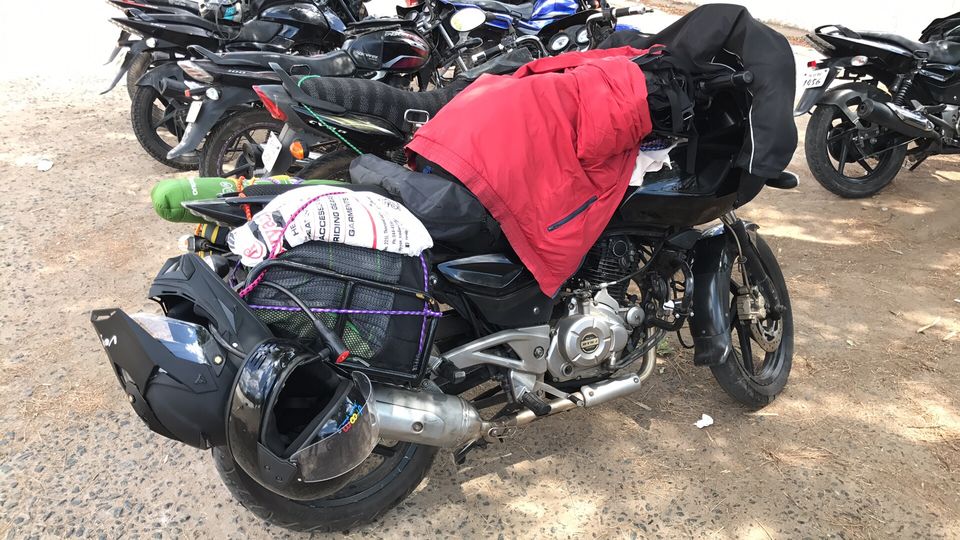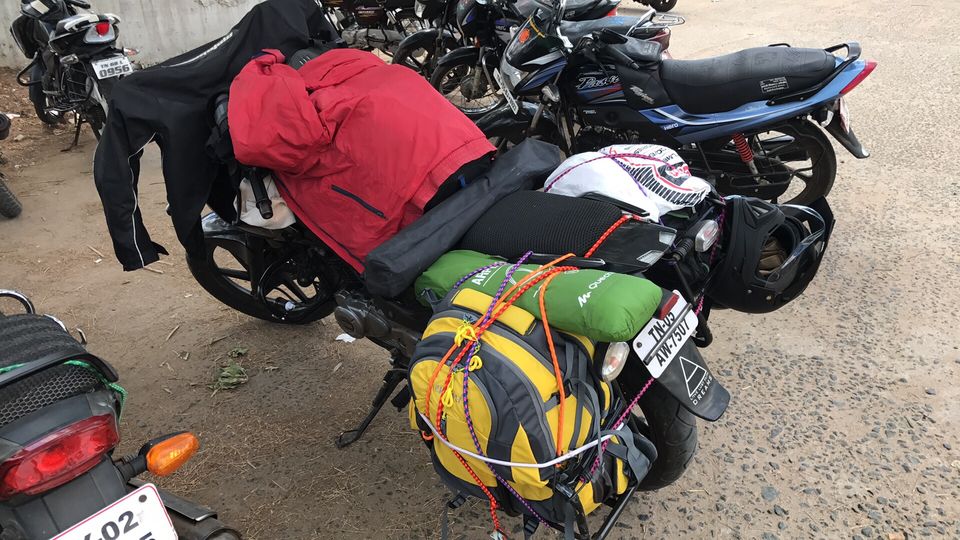 All the we traveled to Madurai, we reached a toll gate and it started to Drizzle as our luggage's are left uncovered, we stayed in the toll till it stopped. We enjoyed the Drizzle - the day was so hot of 37.5'c and we had a rough day. We had a friend in Madurai and we decided to head towards his home for night stay and sleep.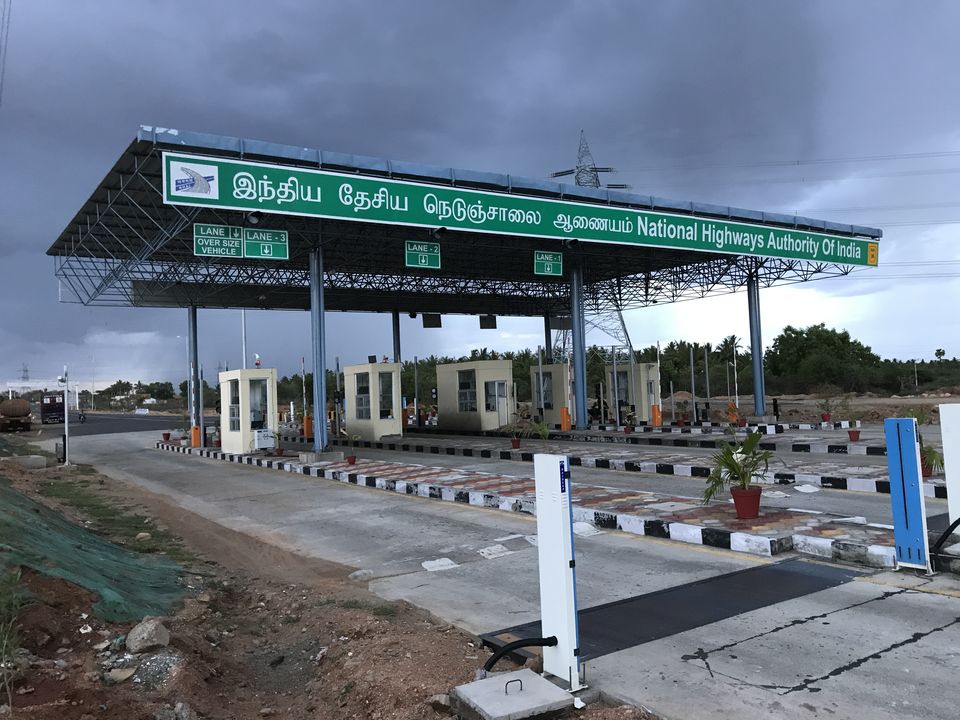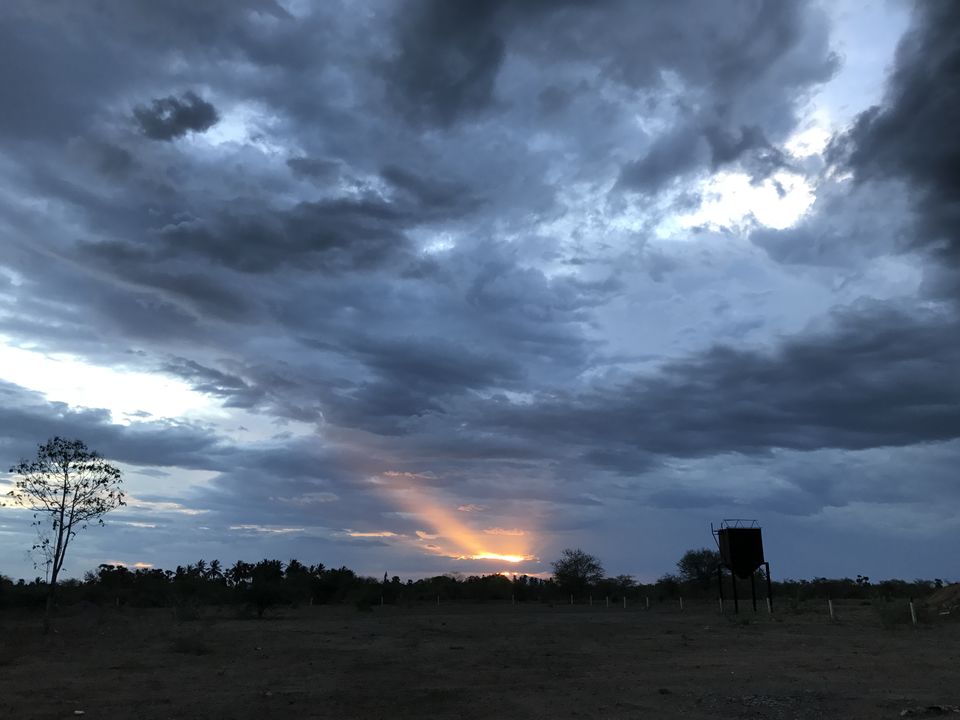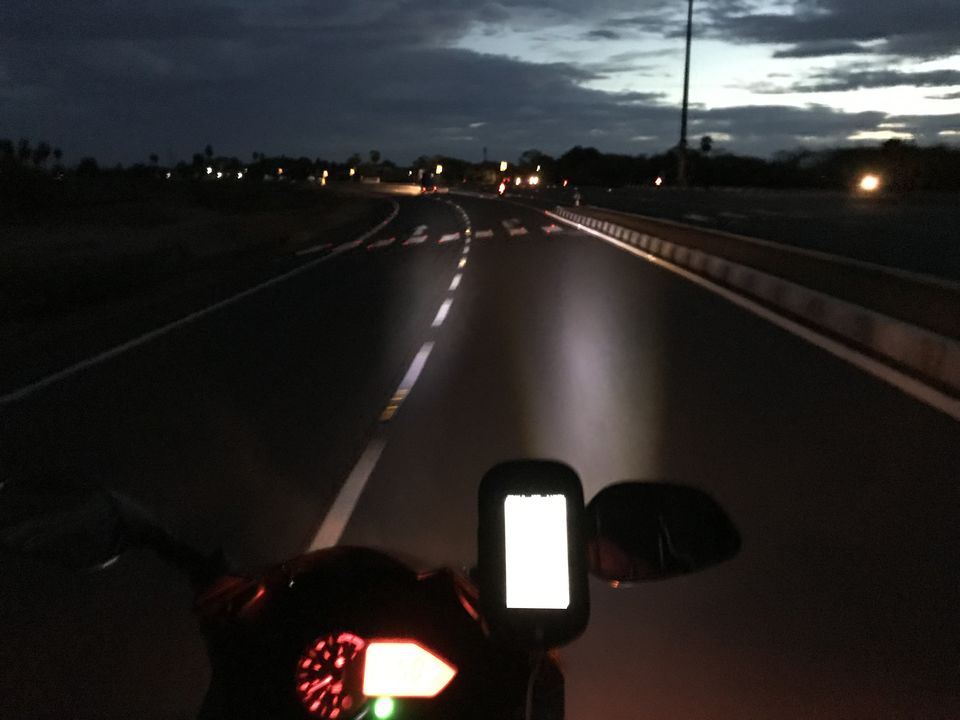 After traveling for 524 km, we reached our friend's home near Thirumangalam. Finally, had a great sleep and good food. Thanks to Mr. Solai for sharing his residence to us for taking rest and refreshing ourselves. Fortunately, Mr. Solai from Chennai came to Madurai for sending off us for the successful ride.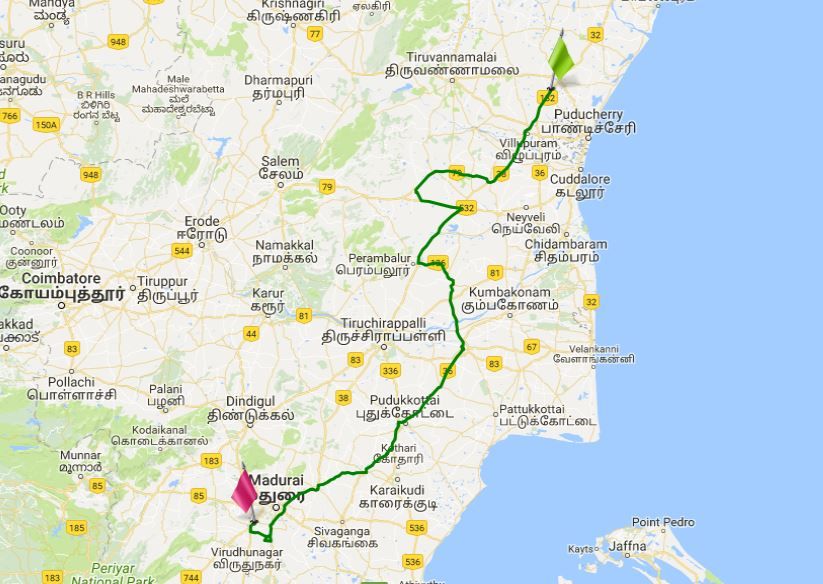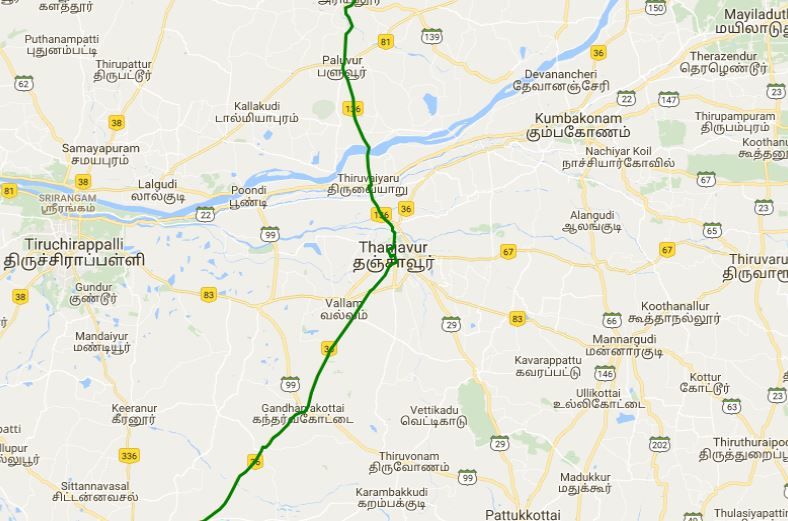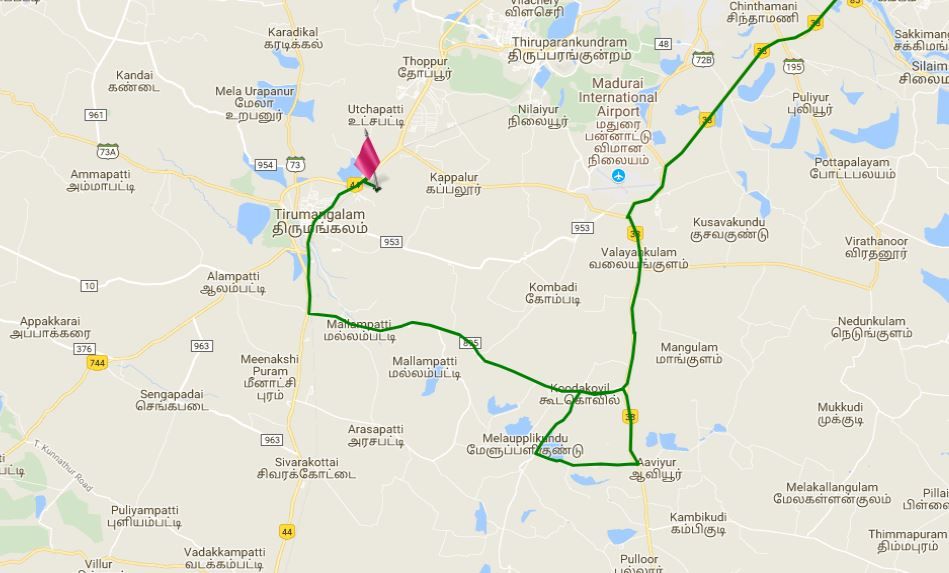 Long stories uh! So, it has to be said in parts... Hence this will be continued in next blog.
Further the blog will be continued in the following Days under the title " ALL INDIA ROAD-TRIP CONTINUATION...".
Day 3 to Day 10