In today's modern era we are slowly citing back to artefacts and their importance. India being a home to thousands of artefacts and handicrafts historically every one of us would be having at least a wooden or a terracotta toy or a pot in our homes. India women are attracted to the hand woven designs on saris till date. The handicrafts of India have been valued throughout ages. The existence of such handicraft items to date proves the infinite demand for such traditional art forms and antiquity of importance. There are few arts' villages in India, where even today you can visit and have a look at how these intricate items are made. Below are few villages and towns which are carrying the culture dated back to centuries.
Raghurajpur near Puri:
Situated just around 30 minutes of drive from Puri in Orissa, Raghurajpur is named as Odisha's first heritage village. With over families of 200 homes in the entire town busy making one or the other forms of art culture that depicts Mahabharata and Ramayana most of the time; this village is a must for heritage and art lovers. Art is a way of life here from 12th century, as every home front is painted with art and the paintings defy everything from socialism to consumerism and also about our historical tales. The art comes alive here on wood, stones, palm leaves, beetle nuts and also by cow dung. The most common and famous art form here is Pattachitra, which is made on canvas. In Oriya, pata means cloth and chitra means picture. The canvas or patta is prepared by binding two layers of cotton with a gum made of powdered conch shell and tamarind seeds. Stones are used to polish the surface until it is a smooth base for the painting. This art village is supported by government and also NGOs, and one can also buy art forms here directly with much lesser rates.
Attractions:-
Raghurajpur hosts annual Basant Utsav - Parampara Raghurajpur (Spring Festival), which was first organized in 1993.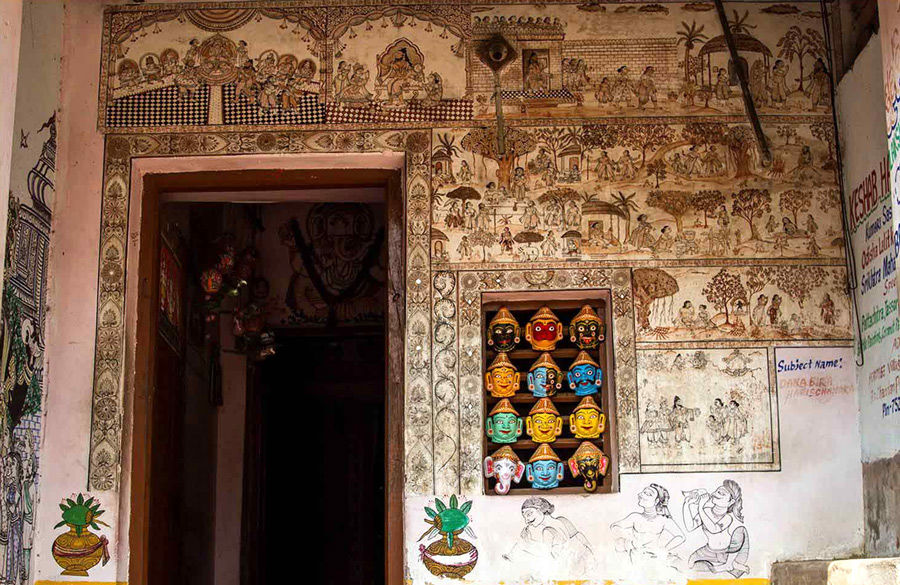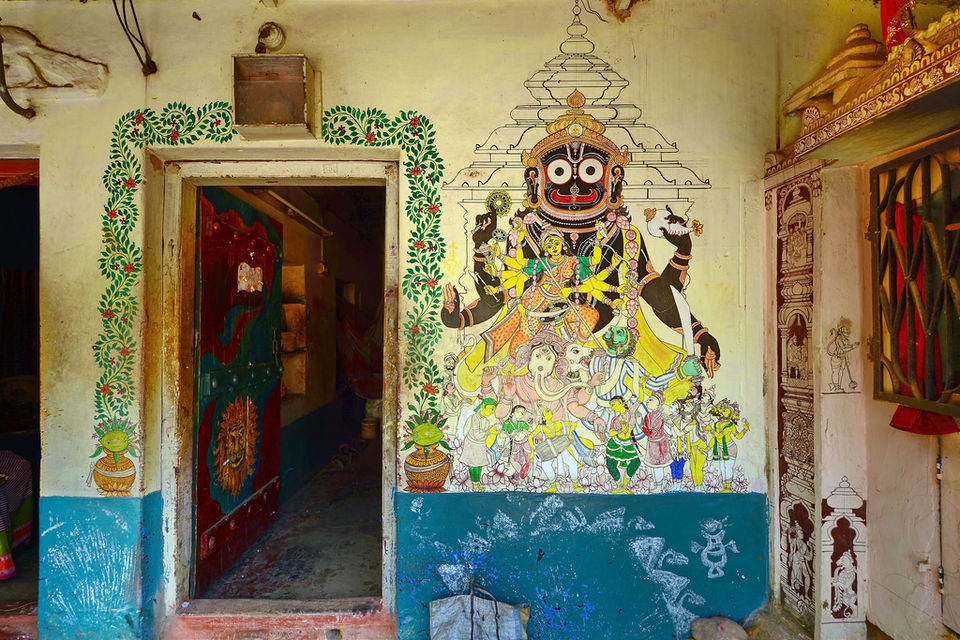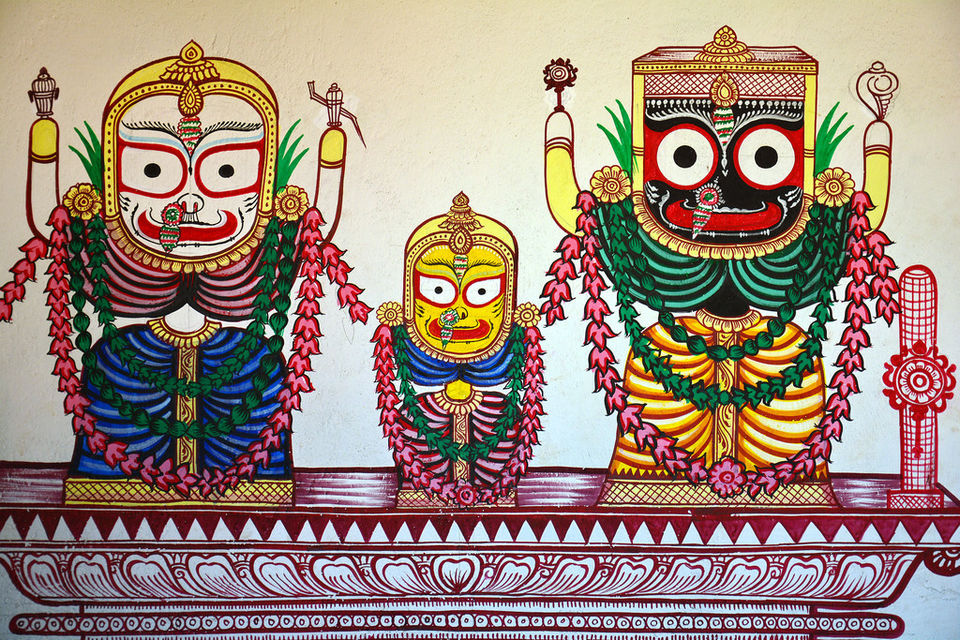 How to get there:-
The nearest airport is Biju Patnaik airport in Bhubaneshwar which is 60 kms and the railway station is in Puri. One can get an auto rickshaw from Puri and reach Raghurajpur in only 30mins.
Naya Pingla in Midnapore:
This village of Naya, in Pingla block in West Midnapore district is a home to artists who are a best mixture of art and music. The Bengali artisans here are named as Potuas alias Chitrakars (picture makers) specialized in creation of painted narrative scrolls (pot) paint tales from Mangalkavyas (narratives of Hindu Bengali religious Text), Hindu Epic Ramayana and Mahabharata, social messages on long canvas fixed on scrolls of cloth and sing them as they unfold the scrolls. The Potuas have their own songs written by them. These songs are known as Poter Gaan. Since 2004, banglanatak.com is working with the Patuas to bring life to this dying art form. Since 2010, a three day festival at the end of November named Pot Maya is being held at Naya, where the artworks are being displayed. Usually it takes place during end of November. The Patuas insists on using of natural paints. Often natural paints are prepared in advance in coconut shells and stored in plastic jars for year round use.
Attractions:-
The scrolls created here are of mainly three different types:
Jarano (Rolled)
Chaukosh (Square or rectangular)
Kalighat (style of Patuas residing near Kalighat temple of Kolkata).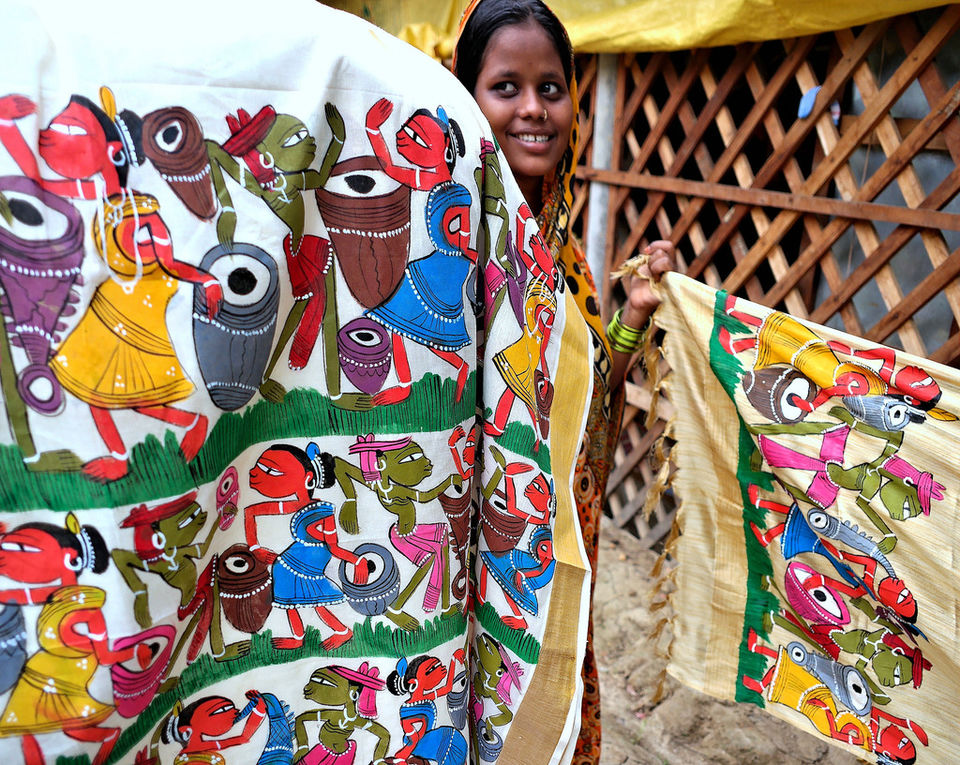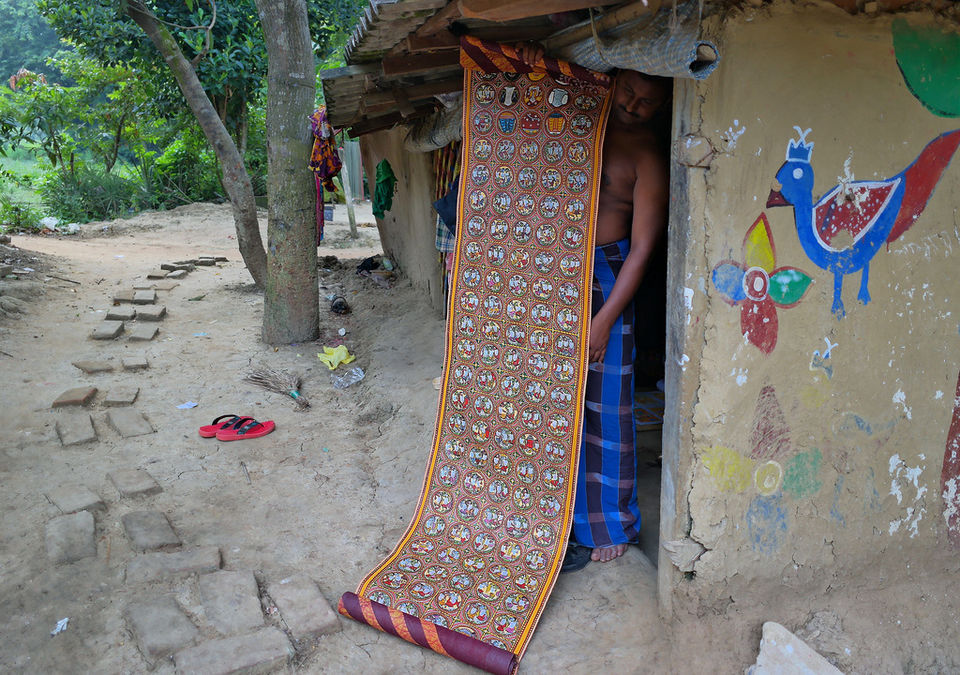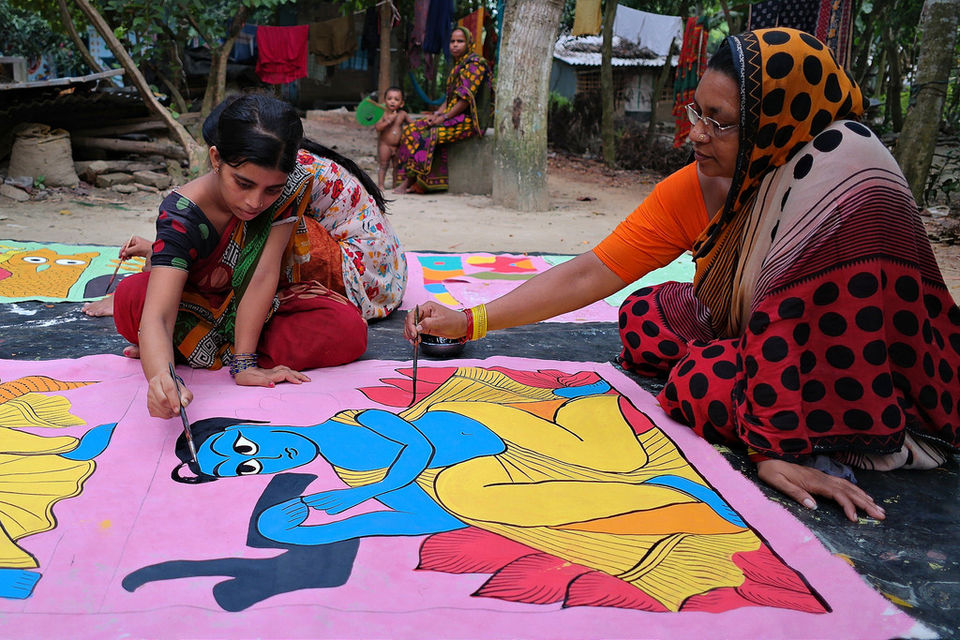 How to get there:-
The nearest airport to this village is Netaji Subash chnadra Bose airport in Kolkata which is approximately 120 kms, from where you can get a bus often. The nearest railway station is Balichak which is 10 kms from the village.
Andretta Village in Kangra:
With Himalayan ranges on all sides, Experience India's oldest working studio pottery here in Andretta, near Palampur in kangra district of Himachal Pradesh. Andretta is a village and an artists' colony established in 1920s, when Irish theatre artiste and environmentalist, Norah Richards. Andretta over the years has attracted many noted artists, theatre practitioners, painters and more recently potters.
Legend goes that Norah was unhappy in England and longed to return, and married an English man in Lahore and came to this village on a horseback and built herself a traditional Kangra-style mud house, known as 'Chameli Niwas', employing local style and material, using mud, slate and bamboo. The pottery made here is been sold on many international platforms and till day the place attracts visitors.
Attractions:
You can visit these places for more arts
• Andretta Pottery and Craft Society
• Norah Richard's House
• Norah Richard's Centre for the Arts
• Sir Sobha Singh Art Gallery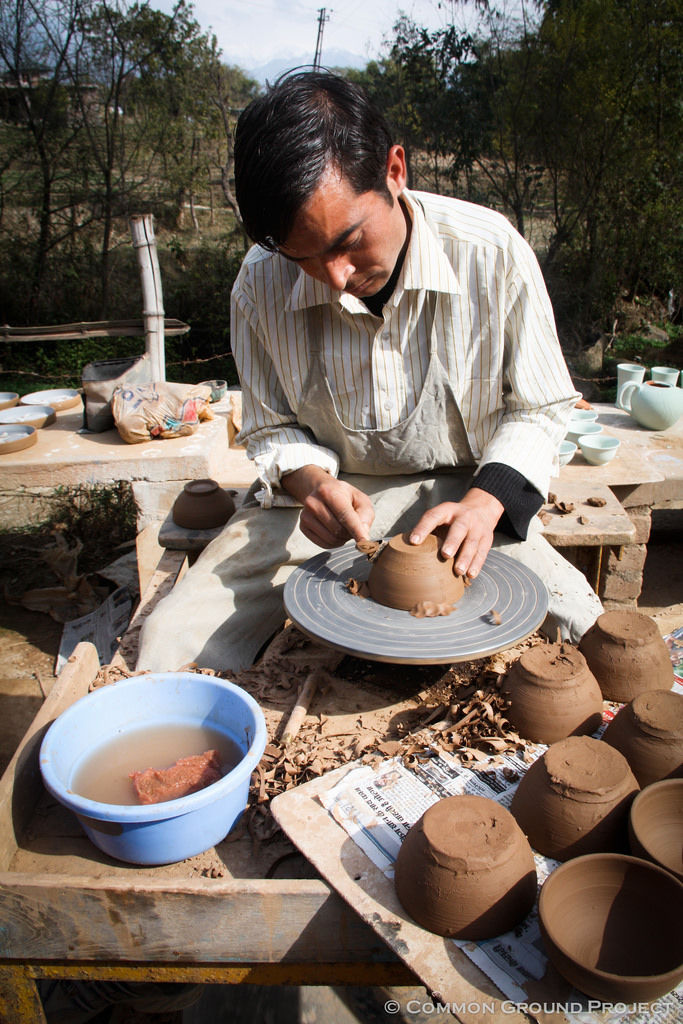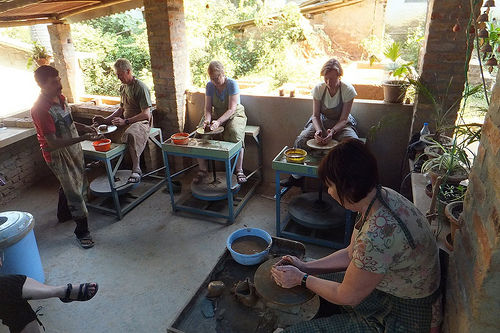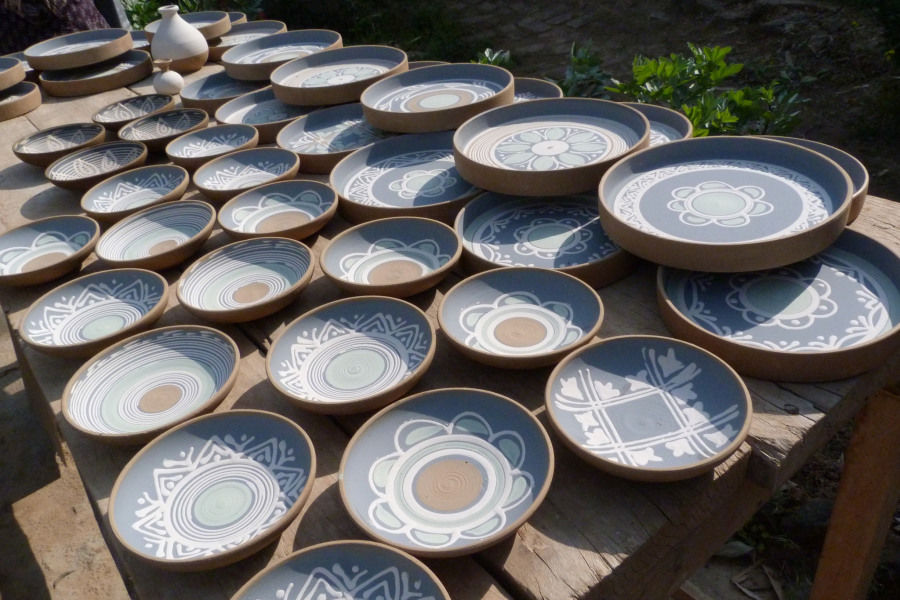 How to get there:
The nearest airport is Gaggal airport in Kangra and is only 40kms of distance which can be reached by bus. The nearest railway station is Palampur railway station which is 12 kms from Andretta.
Gandharvapur in Saputara:
This quaint artistic village is set up in Gujarat district. A lovely spot afloat with beautiful artefacts, the artist village is a site where visitors can not just enjoy watching artisans work and purchase artsy items but can also enjoy the privilege of trying their hands on crafting a few art pieces themselves. These artistic communities include Bhils, Gamits, Warli tribes who form a part of Artist Village at Saputara. These tribes rely on forest for extracting timber and honey. Saputara is a plateau in Dang forest area of Sahyadri range at an altitude of 1000m.One can find fine pieces of pottery, jewellery, vases, paintings, and pen stands, key chains, made from bamboo chips and other locally found material and craftsmen at work. It is a good place to learn about the culture of this region.
Attractions:
The artists organise various workshops for teaching their crafts, especially for school groups.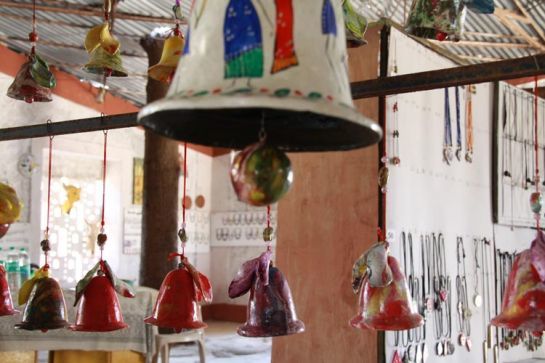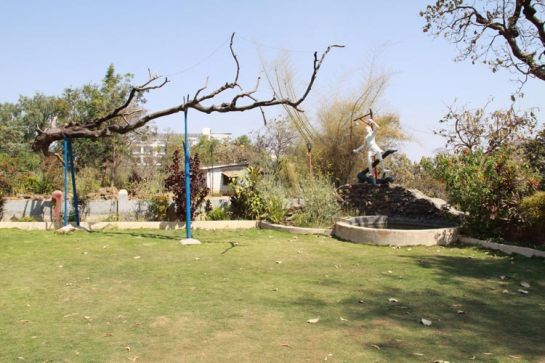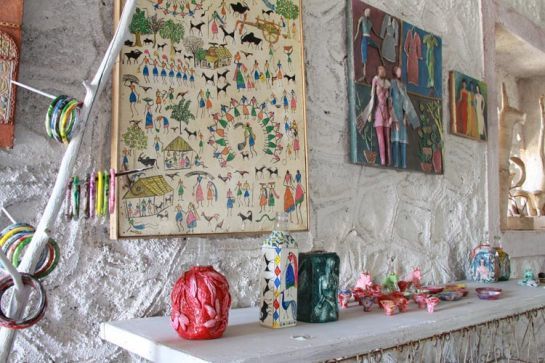 How to get there:
The nearest airport is in Vadodara and is 310 kms away. The nearest Railway station is Waghai, on the Billimora-Waghai narrow gauge section of the Western Railway.
Kondapalli near Vijayawada:
This urban touch artisan's village is just about 25 kms north from the second most populous city of Andhra Pradesh, Vijayawada in South India. Village is full of artisan wood carvers who have been making intricate toys for Indian maharajas, ministers and their children for generations since 16th century. Their tradition depends on the Tella Poniki, a rare tree that only survives around the nearby city of Vijayawada. Every other person here is an artist and the art form has been carried from generations. They make toys—colourful wooden toys of gods and goddesses, dancing girls with tilting heads, bullock carts, village scenes recreating festivals, homes, and presents. Every house is a highly skilled cottage industry, every open veranda a workshop.
Attractions:
The toys made here are sold online and are really intricate with details.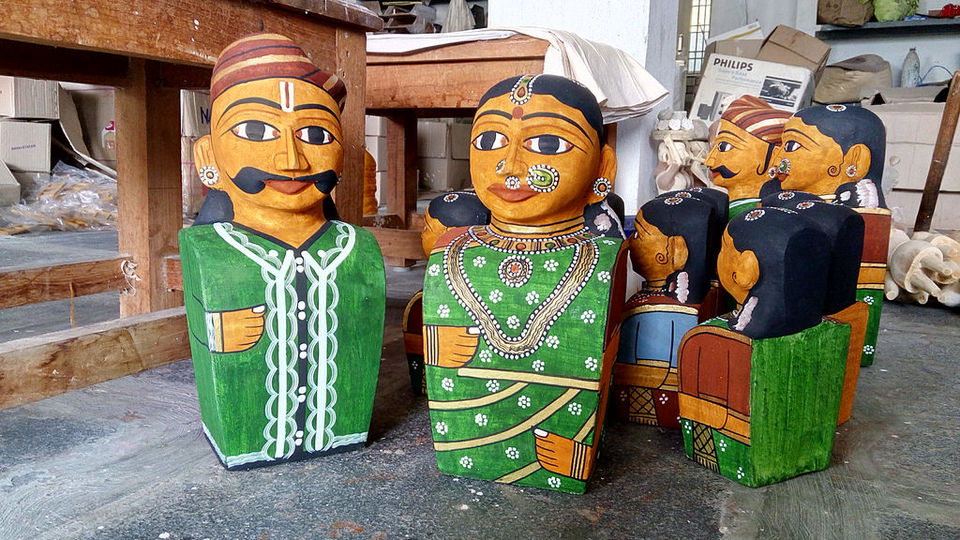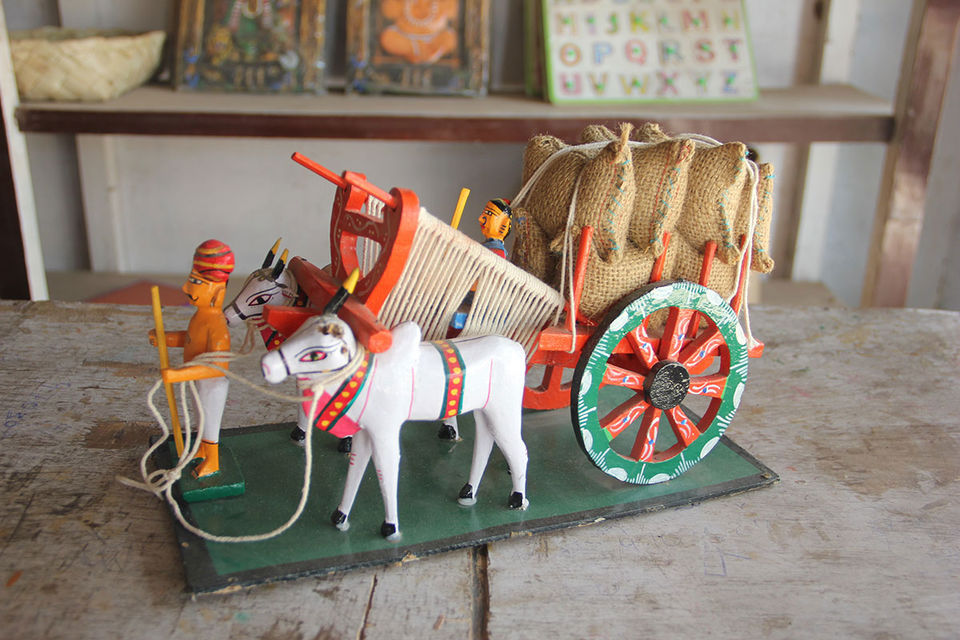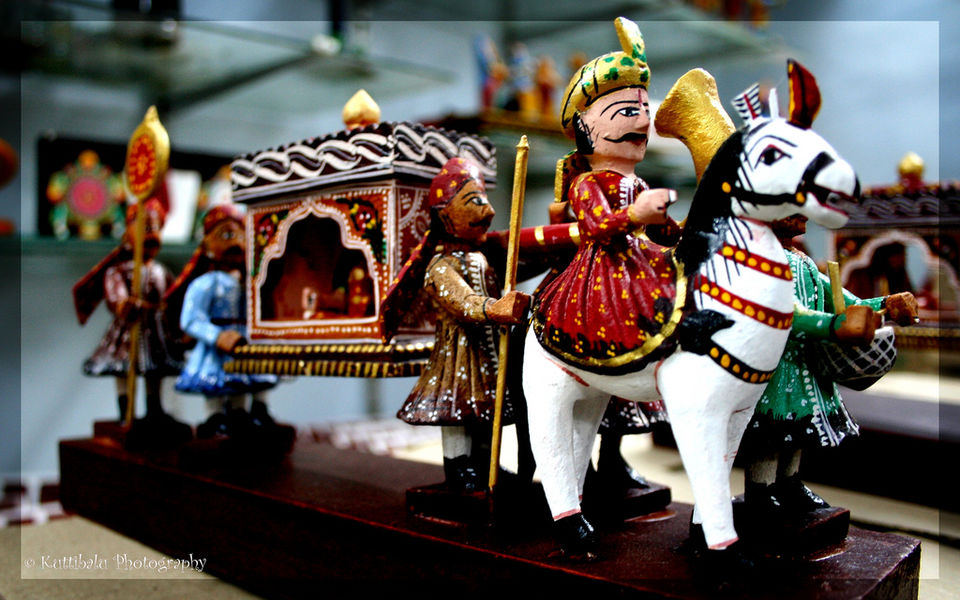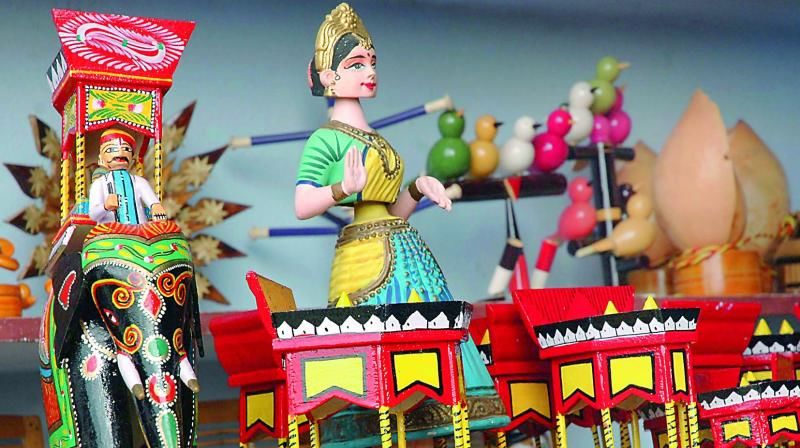 How to get there:
The nearest airport and railway stations are in Vijayawada and the place can be reached by a local bus and it hardly takes an hour.
Sanganer near Jaipur:
This village lies very much near to the capital of Rajasthan, Jaipur. Screen Printing and Block printing are the main art forms those can be seen here. Screen Printing is a process used to print large volumes of fabric allowing various intricate patterns with digital and traditional processes. Block printing, on the other hand, is a technique where a wooden block is carved into a pattern and then dipped in a paste of colour and pressed on fabric to leave a motif. Traditionally these patterns are inspired by the flora and fauna. Mostly small flower motifs, birds, animals are used in designing sari borders, kurtas and home textiles. The most common motifs are floral repeats in traditional bright colours. Blocks of all sizes are made for different results. Printing can be done both on dyed fabric as well as whites.
Attractions:
Visit the Anokhi Museum dedicated to amazing art of block printing of Sanganer and Bazzars of Jaipur to experience how the art is encrypted in the life of people there. Private tours are also taken to this place as a part of few package tours in Jaipur.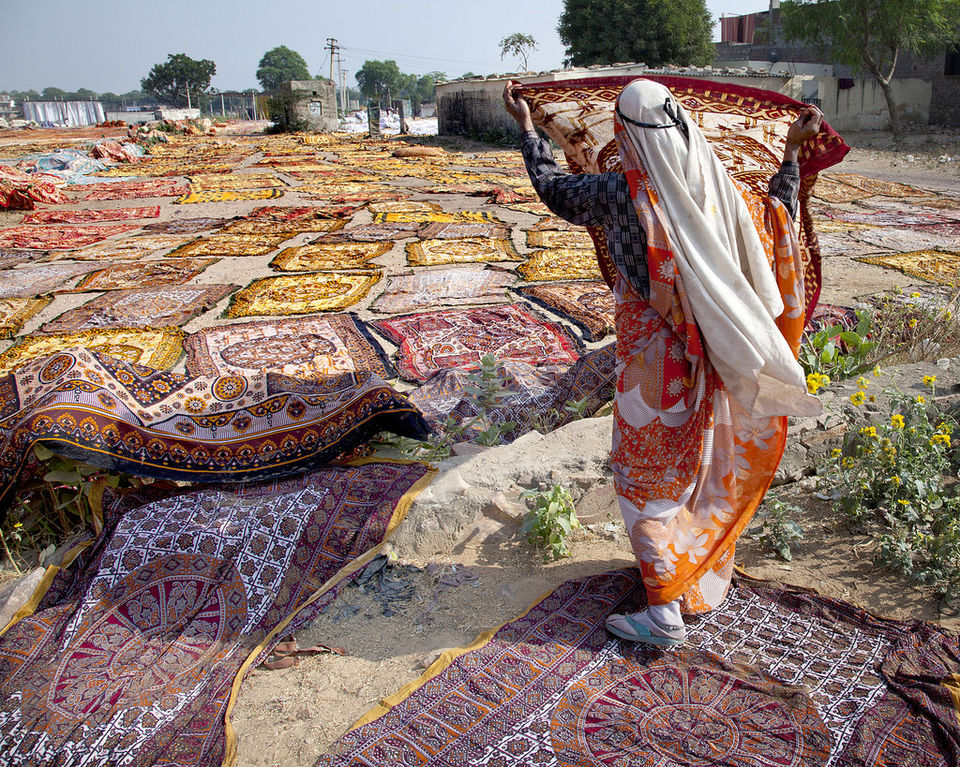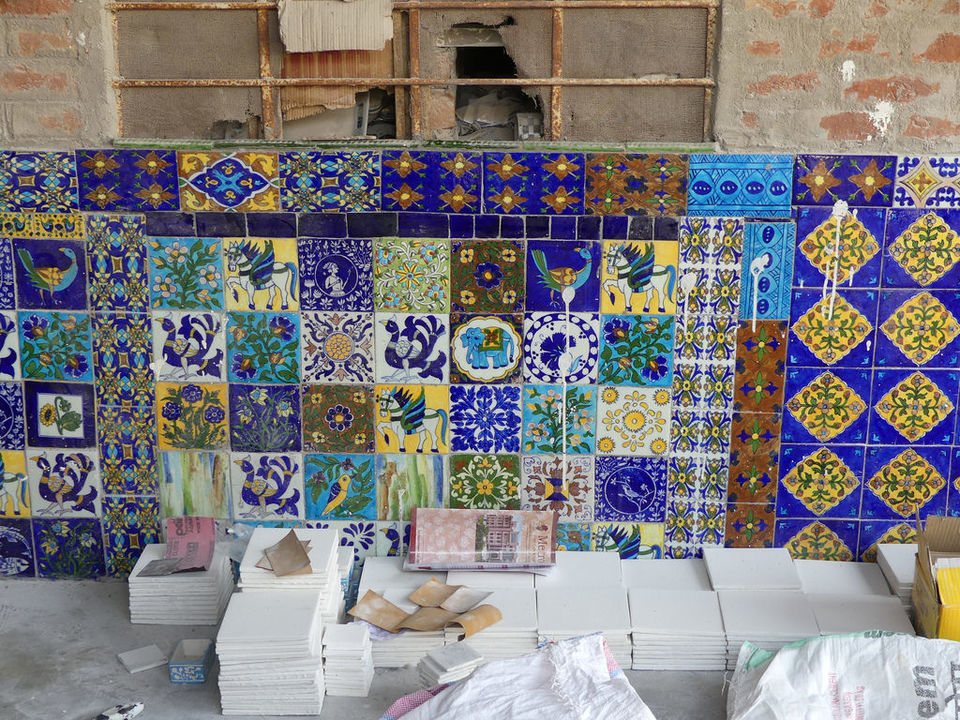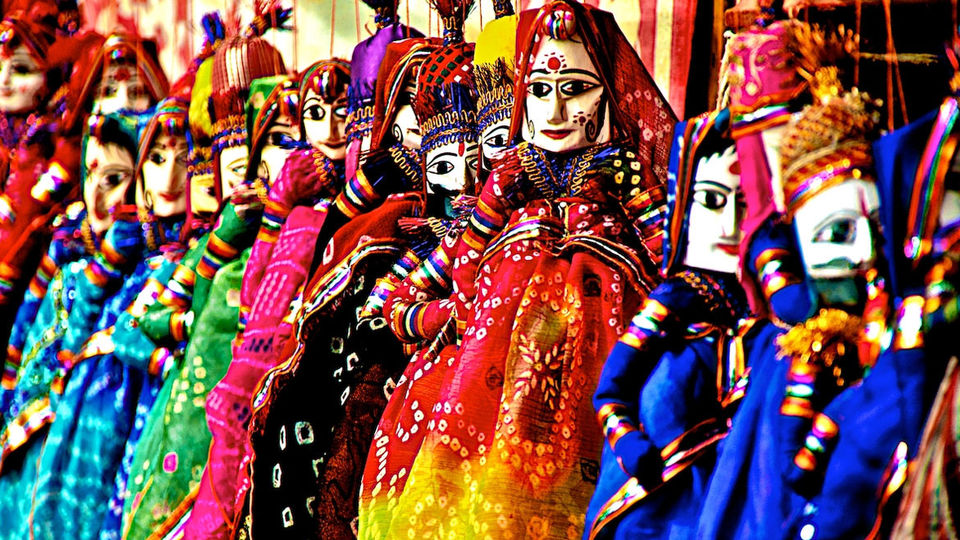 How to get there:
The nearest airport and railway stations are in Jaipur and the distance is only 16 kms.
Channapatna toy village near Bangalore:
This town infamously called as doll town is only 60kms far from Namma Bengaluru. The toys produced here are so vibrant that these are famous worldwide and World Trade Organization has also given a GI tag for the toys to preserve the culture forever. The toy making tradition, which has a geographical indication tag, dates back to the times of Tippu Sultan. Legend says, Tippu received a wooden craft piece as a gift from Persia and he fall in love with it. He is believed to have invited Persian artisans to train his people in the art of wooden toy making. Many saw mills and 500-odd toy factories show the higher graph of employment and the way the craft adds to the local economy.
Attractions:
The toys produced here have attracted children a lot and also people from all around Karnataka purchase toys here during Mysore Dasara for celebrating Gombe Habba.