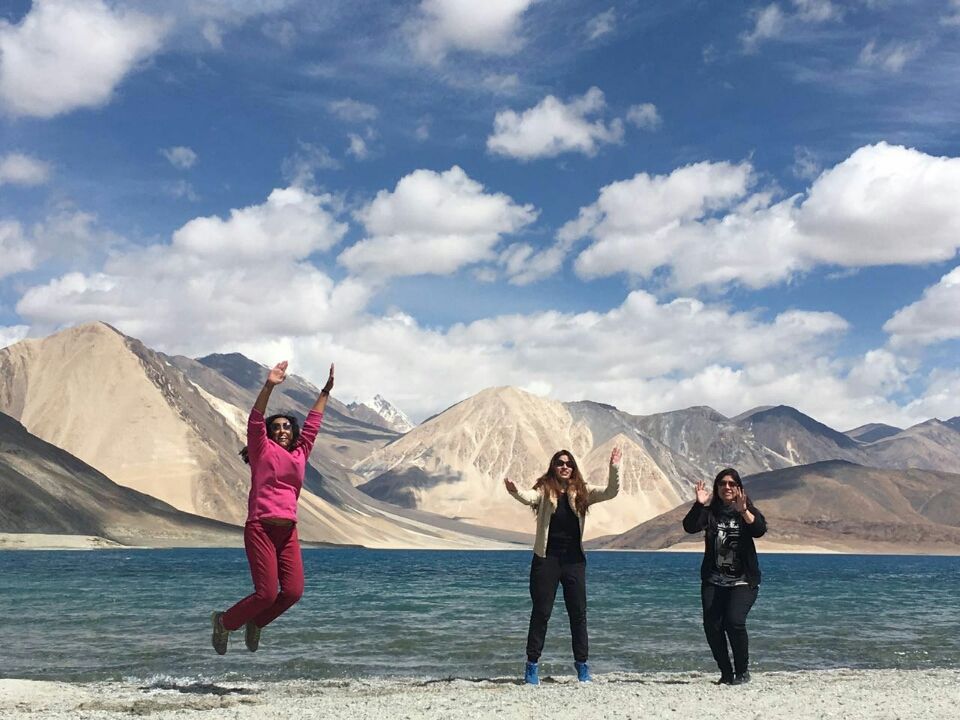 Spectacular. Magnificent. Unreal and More~ I can fill this blog with every adjective that I know of to describe what I have experienced, but I will try to keep this one brief and informative. When I decided to join this road trip of 10 days, I did a bit of googling and asked couple of questions, but still managed to get lot of surprises...so I am peppering this blog with all the information which I felt I should have known before!
So Why Leh? Because it is a perfect destination to Escape. Escape from work pressures, pain of a broken heart, space from family members, daily grind and 24X7 connectivity! It all started with my search for a place to escape, a friend recommended this 'Raw way to experience Leh Facebook page' and I decided in an instant to be part of it! So find your escape here with the most stunning sights, in the simple conversations with warm locals and in the stimulating debates with the fellow bikers. This was my reason..what is yours?
Who did I go with? A group of 9 strangers who I first met on the day our Journey started from Majnu Ka Tila, New Delhi.
Travelling with friends and family is regular, travelling Solo is Passe... travel with strangers and see what magic happens!

This is the link to the detailed itinerary that we followed for Delhi - Manali- Leh https://www.facebook.com/kerryadventures/posts/1360823980599632:0 and now let's talk about-
What to expect while you try to get Leh'ed?
Day 0: Left Delhi in a volvo from majnu ka tila with a 60ltrs rucksack, a sleeping bag (5degree-10degree), sleeping mattress and one shoulder bag.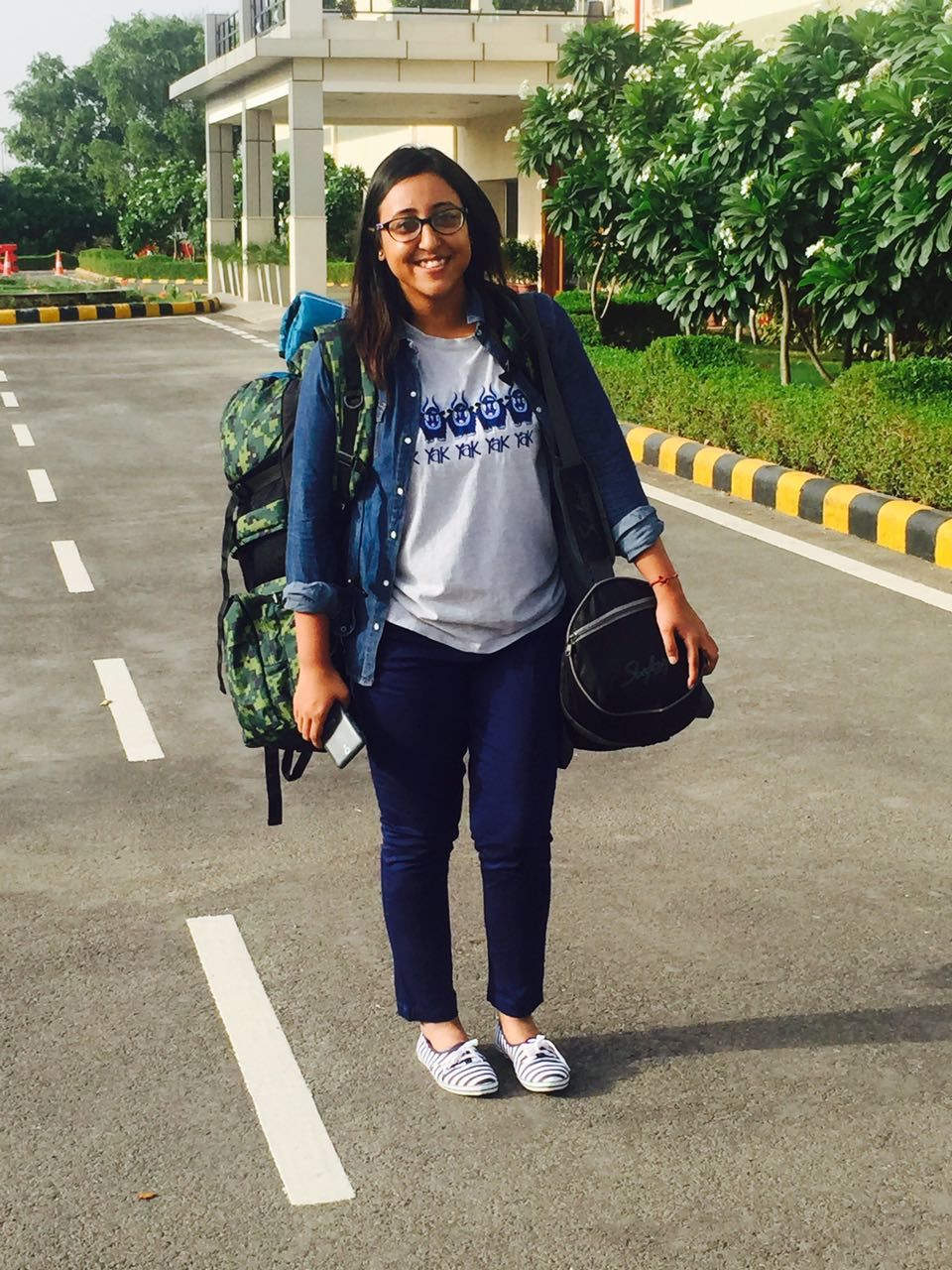 Day 1: Enjoy the Manali Trance!
We reached Manali at 12:00 pm and stayed at Brahma Guest house in Old Manali. Now, Old Manali is a little piece of heaven and after almost 14 hours of bus journey, we were rewarded with sunny weather, chilled beer, gurgling stream, feet dipping in freezing river, lip smacking food, cycling and shopping. You may stroll around the bazaar area or go for a walk in the forest area. Head up to the hot water springs at Vashisht, a small village 3 kms from Manali. There is also the option of heading up to Solang for adventure activities.Try some authentic Israeli and delicious Italian food. I definitely recommend People Cafe for karoake, live music and sushi, Chopstick for Thupka and momos, Sunshine Cafe for English breakfast and Lazy Dog for your Italian dinner.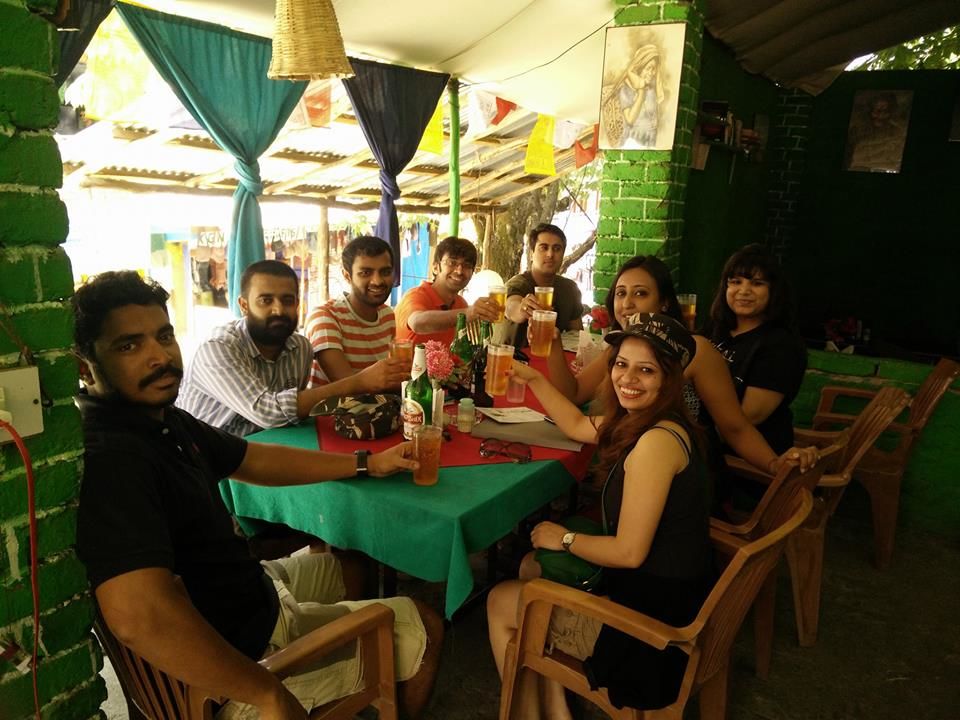 Day 2: Experienced first view of Snow, Emerald lake and bone chilling cold
Manali - Rohtang Pass - Jispa - Surajtaal - Zing Zing Bar
We departed for Sarchu early in the morning at 6:30 am and crossed the Rohtang Pass and got our first glimpse of snow. Rohtang literally means pile of corpses due to people dying in bad weather trying to cross the pass. Though very touristy and dirty patches of slushy snow, we did not really went in there as we did not had those rented jumpsuits and rubber boots. I would suggest that if you are going in the peak summers, you better wait for Baralach La pass to enjoy the snow.
After crossing Jispa, enjoy this gorgeous view of Surajtal, the beautiful emerald like lake that lies just below the Baralacha la pass and is also the third highest lake in India. We made a pitstop at Zing Zing bar and enjoyed the community camping. This was the coldest place that we came across with temperature going below 5 degree, so carry your warmest jacket, woollen caps and gloves. We were lucky enough to enjoy the full moon night. Experience the sleep in tents under a blanket of stars on this night.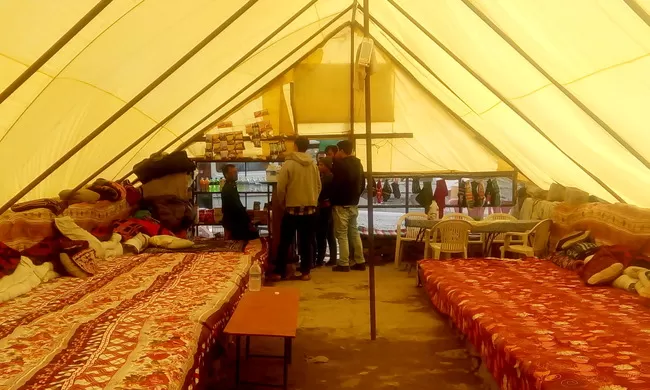 Day 3: Experience being at 17000 feet, encounter the jagged mountains and the winding roads that can only be in Leh
Zingzing bar - Patseo - Baralach La pass - Taglang La pass - Sarchu - Leh City
We left the Zing Zing bar at around 7:30 am for the rustic and remarkable city of Leh. Enjoy the high mountain pass of Baralach la with the view of snow hugging the sides of the road. Get a mandatory click at Tanlang La Pass which is known (though incorrectly) for being the world's second highest motorable pass.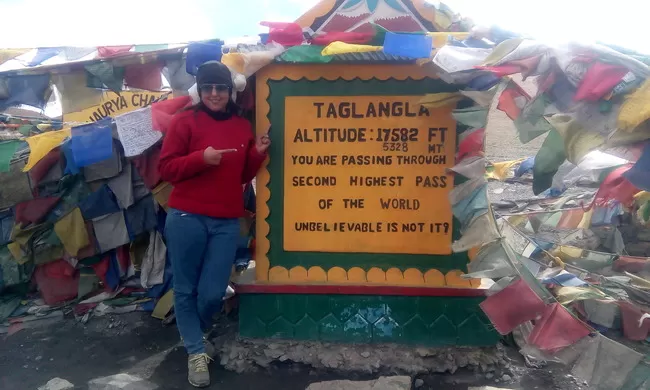 And then, experience the Gata Loops which literally took our breath away! These are a series of twenty one hairpin bends in the Manali and Leh highway, no photo can prepare you for it. This filled us with awe and wonder.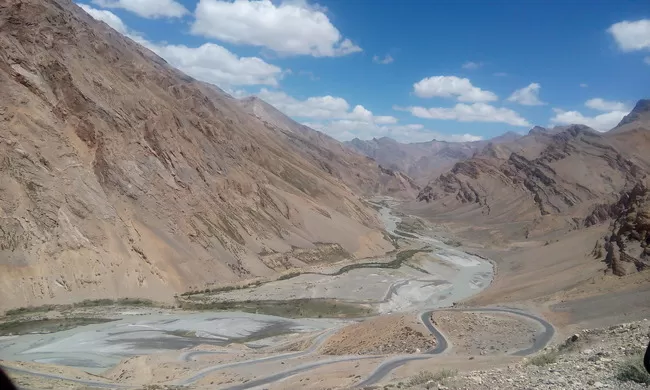 Day 4: German bakeries, Biker cafes, shopping and everything Ladakhi
We stayed at the Homestay Chandan guest house at the most happening lane of Leh City- Changspa lane. Enjoyed the Kasmiri kebabs and Tabak mass on Old Fort Road for dinner and a breakfast of fresh apple juice, Yak cheese sandwich and nutella pancake! After surving on Wai Wai noodles and dal chawal for the entire road travel, It was time to treat my stomach!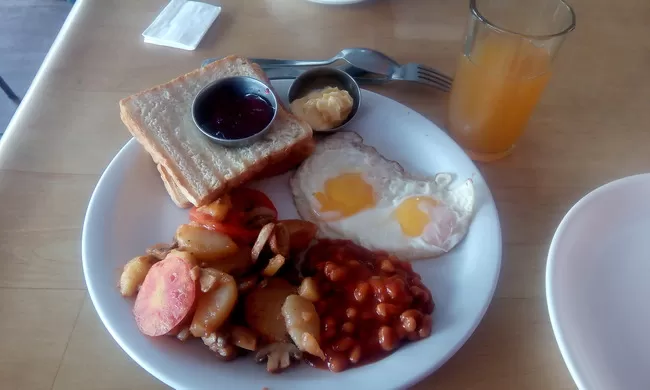 Day 5: Pangong Tso Lake and hospitality of Yokma house
We left the rucksack in the guest house and left for Pangong early morning with a smaller bag as we planned to stay overnight at Pangong. This iconic highest salt lake is divided between China and India. This place was an oasis of calm and such a brilliantly hued color palette. We stayed at a homestay-'Yokma' and our day here reminds me of delicious chicken curry, warm bottle of old monk, cosy beds, hot tea and the wrinkled happy faces of our hosts! And this place was as serene as it looks...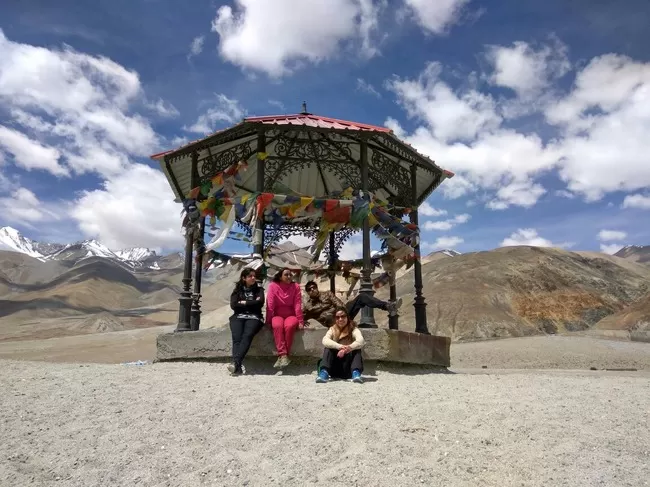 Day 6- 3 Idiots school, Rancho's cafe and a night in the city
We left Pangong at around 11am after getting all typical shots of jumping and getting clicked in the midair, we reached Leh City to enjoy a relaxed evening with some bonfire, music and conversations! Check out the 3-idiot fame Rancho school too (Druk White Lotus school). They have 15 minute guided tours in the school for visitors to show you the shooting point and also why is it awarded by BBC for innovation. Reach there before 5 and carry some cash to buy 'All is Well' fridge magnets or other souvenirs from the school!
Day 7- Our Leisure and sightseeing day in Leh
This morning was supposed to be our leisure day after covering some 1200 kms and 17000ft in few days, but our overexcited group decided to do rafting on Zanskar river. Get prepared to change into bodysuits which are mandatory to wear to save your body from freezing water! So carry an extra pair of clothes and enjoy the 16 kms rafting as we did in Rs 1400 including lunch. On our drive back, we stopped at Magnet Hill. This was a bit of an anti-climax as we were expecting to see a car being pulled towards a hill, then we were told it is an optical illusion and nothing more! But this highway is beautiful, though my advice, do not go there only to see this 'spot'.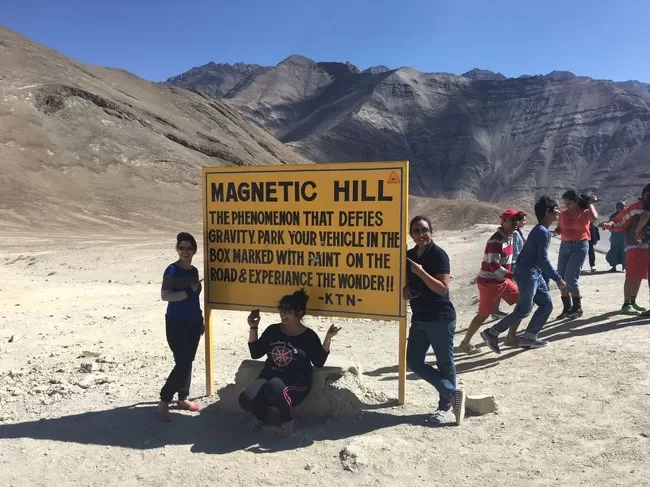 Day 8 - Aaj hum upar, aasmaan neeche!! cheesy...but hell....yes!
After spending a night in the Leh City again, we left early morning for Nubra Valley with one change of clothes. On our way to Nubra we crossed Khardung la Pass, the highest motorable road in the world.Stop for a cup of tea or a plate of maggi at the highest cafeteria in the world.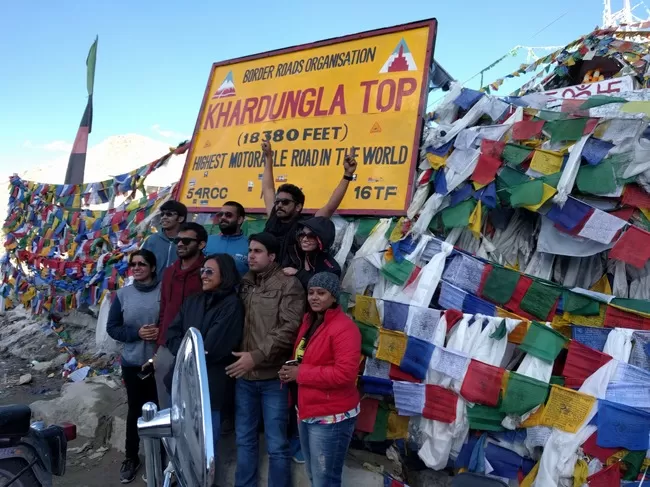 Nubra, is a high altitude cold desert. We reached our guest house-Gharyok by 4:00 pm and got delighted to see our rooms right next to a gushing stream. It is like a small village nestled in the middle of nowhere. Walk to discover this quaint small place. We followed the path to a 'Yak farm' but couldnt find any Yaks..instead we found a gem of a place serving chilled beer in small private areas in an open 'restaurant' (no food though), think of it as Gurgaon's Machan! Speak with the locals and they may just take you there!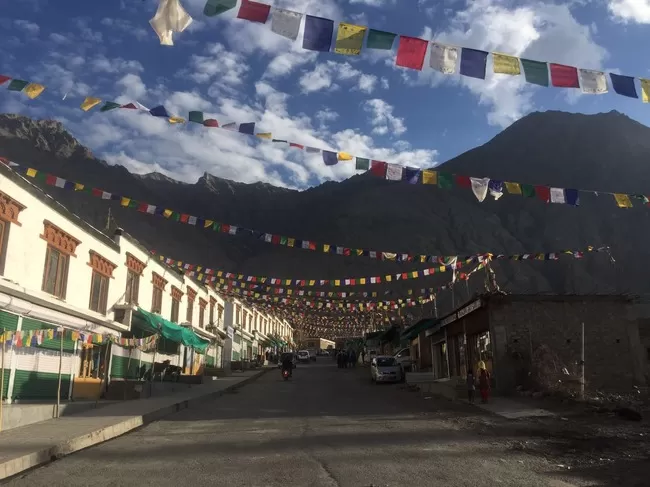 Day 9: Exploring the desert of Ladakh-Nubra Valley
Next morning, we visited the Diskit Monastry. It is a long walk uphill, I will suggest hitchike or ride till the vehicles are allowed and then start walking. After your prayers, visit the tea room which offers tea to all the visitors. This place encourages you to be silent and will bring you sense of peace. It did to me.
Then we visited the 30metres Buddha statue near the monastery, lunched at one of the restaurants just outside the Monsatery. Carry some cash to buy some beautiful souvenirs from the Lama shop there. And, finally see some double hump or Bactrian camels. We were lucky enough to see the entire herd on whom our entire silk route depended and out of them one closed enough to get clicked...camera friendly guy!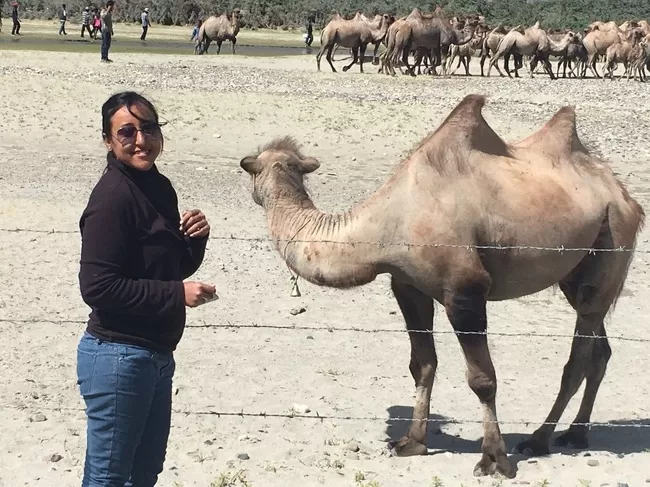 Day 10- We reached Leh to spend the night there after Nubra and then early morning bid farewell to Leh and headed back to Manali. Last night in Leh-we had the dinner with the amazing family who opened their houses. Their hospitality was genuine, unconditional and inspiring!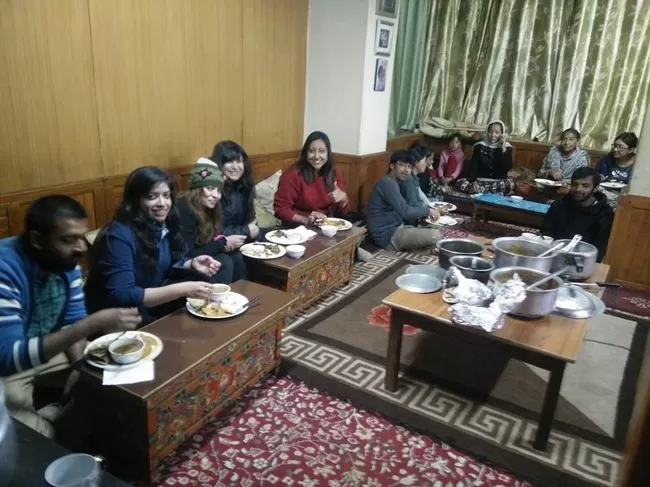 Day 11- The last day at Manali, we stuffed ourselves with every cuisine possible, sang songs on karaoke and discovered how these 10 days made 10 of us strangers into one gang of friends. And I an quoting, '10 of us became one'.
THIS!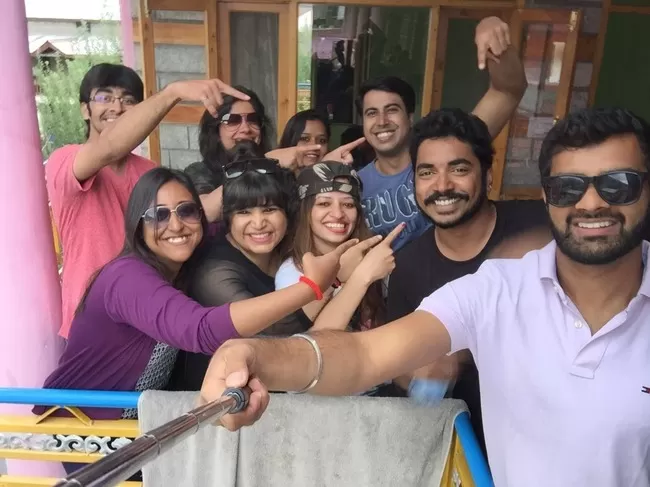 Some last pointers:
1. This trip costed me Rs 32,000 all inclusive (including shopping, drinks and binge eating)
2. We all will have altitude sickness at somepoint or the other, diomox is a very popular medicine among Leh travellers which helps in acclimatisation. Couple of my co-travellers took it at the start of the trip, others when nausea hit them. I avoided it inspite of my asthma. I suggest speak with your doctor and only then take any medicine it. You may not need it all. Remember, the fear of altitude sickness is worse than altitude sickness! Keep your body hydrated, drink lots of water, wear good woollens and cover your ears! I followed it and remained healthy throughout.
3. Pack smart! Carry T-shirts for day time, warm jackets. Layering works best in this kind of hot-cold-hot weather. Keep gloves, lot of socks and woollen caps to cover your ears when its very cold at night and at high altitude. Carry 2 pair of shoes, so that you have a spare one in case one is wet because of snow or water. Travel light, you will be carrying your own bags there! Carry sunscreen, wetwipes, petroleum jelly, a very very good moisturizer(weather is VERY dry) and lip balm!
4. Carry Cash- ATMs you will find only in Leh city and Manali. Do not depend on ATMs.
5. Phone connectivity- Leh city have all postpaid connections working. Wifi availability is also good. Places like Nubra, Pangong have zero phone connectivity, be prepared for that.
6. Be prepared for No toilets! or err...well..weirdest of 'toilets' (if a ditch, a stone, a 3x3 tin or cloth covered corner can be called that) ..but have to say, the view and the ventilation was fantastic in every one..nice and open..if you know what I mean! Infact, I can probably write a separate blog on my toilet stories.. Cos we took the locals advise of staying hydrated pretty seriously and drank water as if our life depended on it..and that made us take a leak after every 45 minutes in the most adventurous of places! Anyway, so carry lot of tissues(you do not want a UTI here) and carry on
6. This is the first time when I went with these many strangers and a public group. It happened because of the comfort provided by Rayn Dalton whose initiative was to organise this trip, do check out their their page https://www.facebook.com/kerryadventures/?fref=ts
Picture credits and inputs for this blog: Everyone who was on this trip, and let me repeat myself:
Travelling with family is regular, Travelling Solo is passe..Travel with strangers and experience Magic!
Go, get Leh'ed!