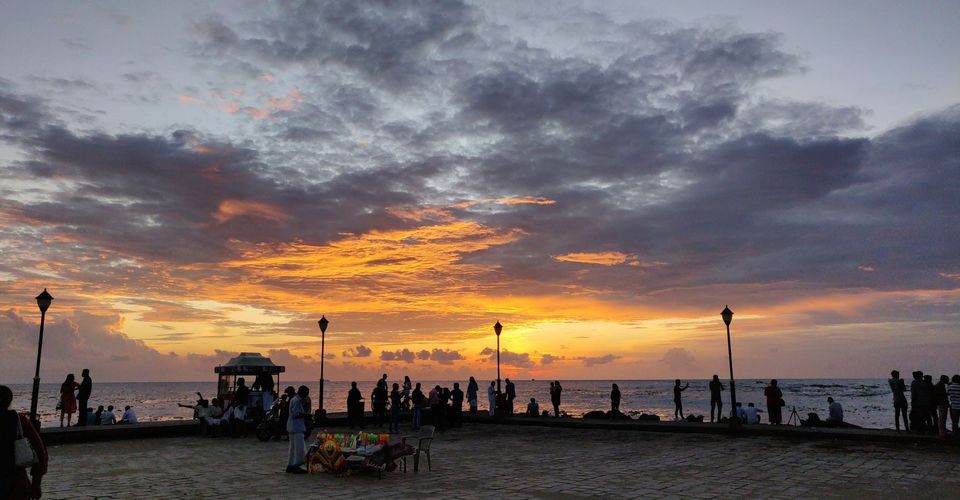 You call it an unplanned trip or a compelled one - but it was by far one of the best one day trips in South India. Me and friend had to reach Delhi on 26th October for Diwali holidays but couldn't find the direct perfect flight from Mysore for the same, so we planned a stop in Kochi and booked a flight from Kochi to Delhi early morning.
We had our flight from Mysore to Kochi early morning. The airport is really shady and isolated but the weather and the clouds can draw your attention from the airport completely. Mysore always win my heart when you watch the clouds. There is just one flight which is a 40 seater and in the one hour 20 minutes journey you really don't get time to sleep.
The never ending sea and the city looks damn beautiful from the flight window (maybe you should consider taking the window seat). We really got excited looking at a coastal area in this way from the top as we saw the green vegetation covered like patches with water everywhere. There are a number of bridges, inter-connecting roads and small shacks on the beaches which arises the curiosity inside you.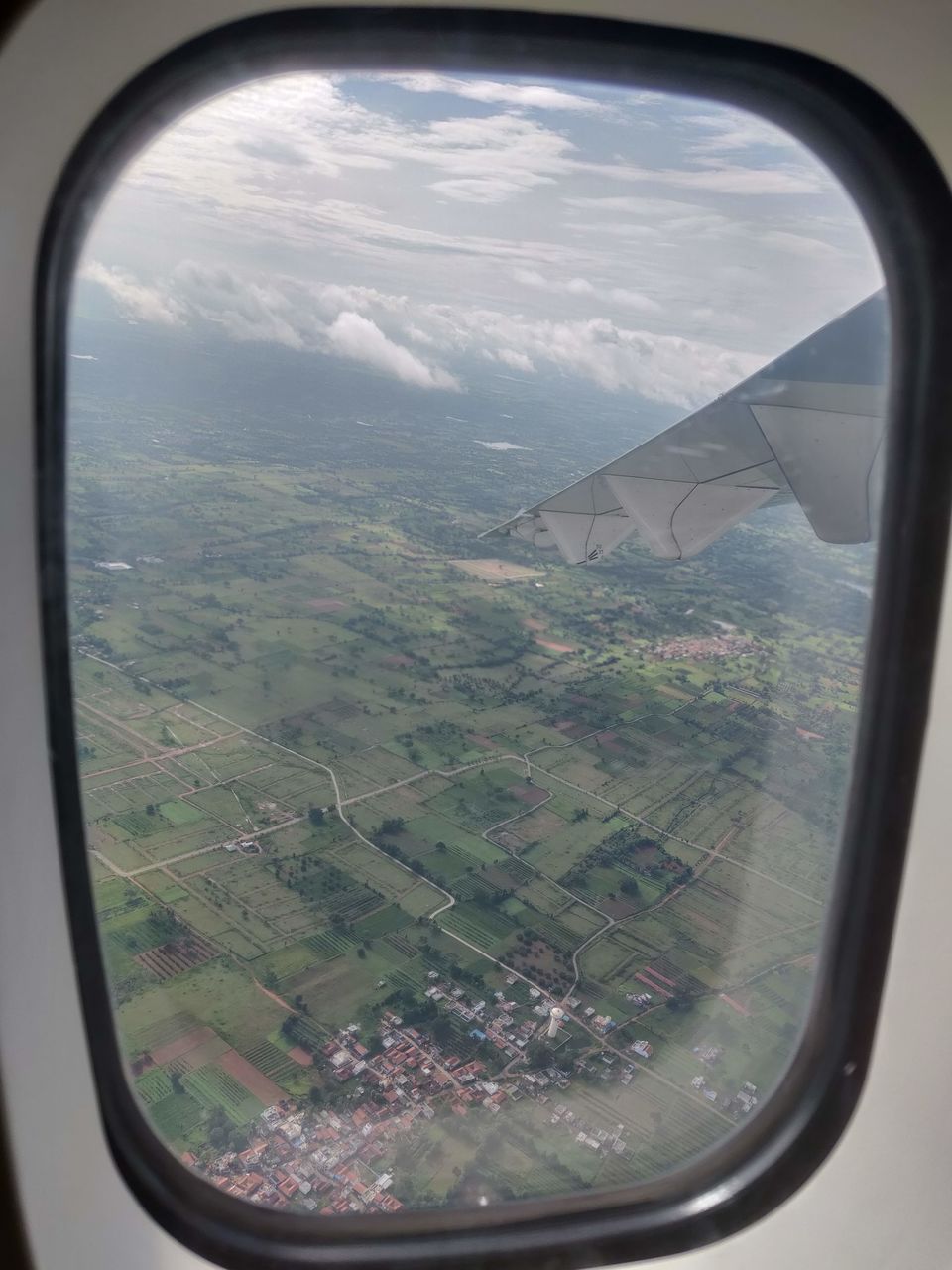 We collected our baggage from the counter and stepped out from the airport. To our surprise it was hot even in October (maybe because Mysore was comparatively cooler). We had no clue, so enquired at the Kerala tourism counter and she provided us with all the required details. We found out that the Kerala State has started low-floor buses directly from the airport to Fort Kochi, where we had planned to visit as it is considered to be one of the main location for tourists in Kochi. The journey to Fort Kochi was really tiring as it almost took us an hour to reach there but you can still look out and enjoy the greenery.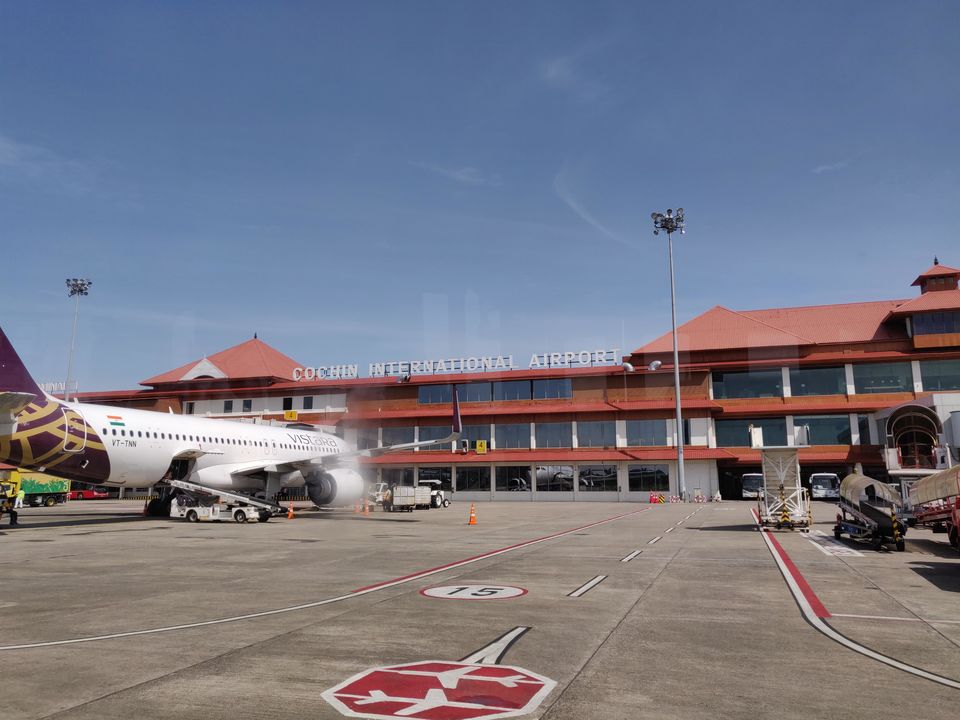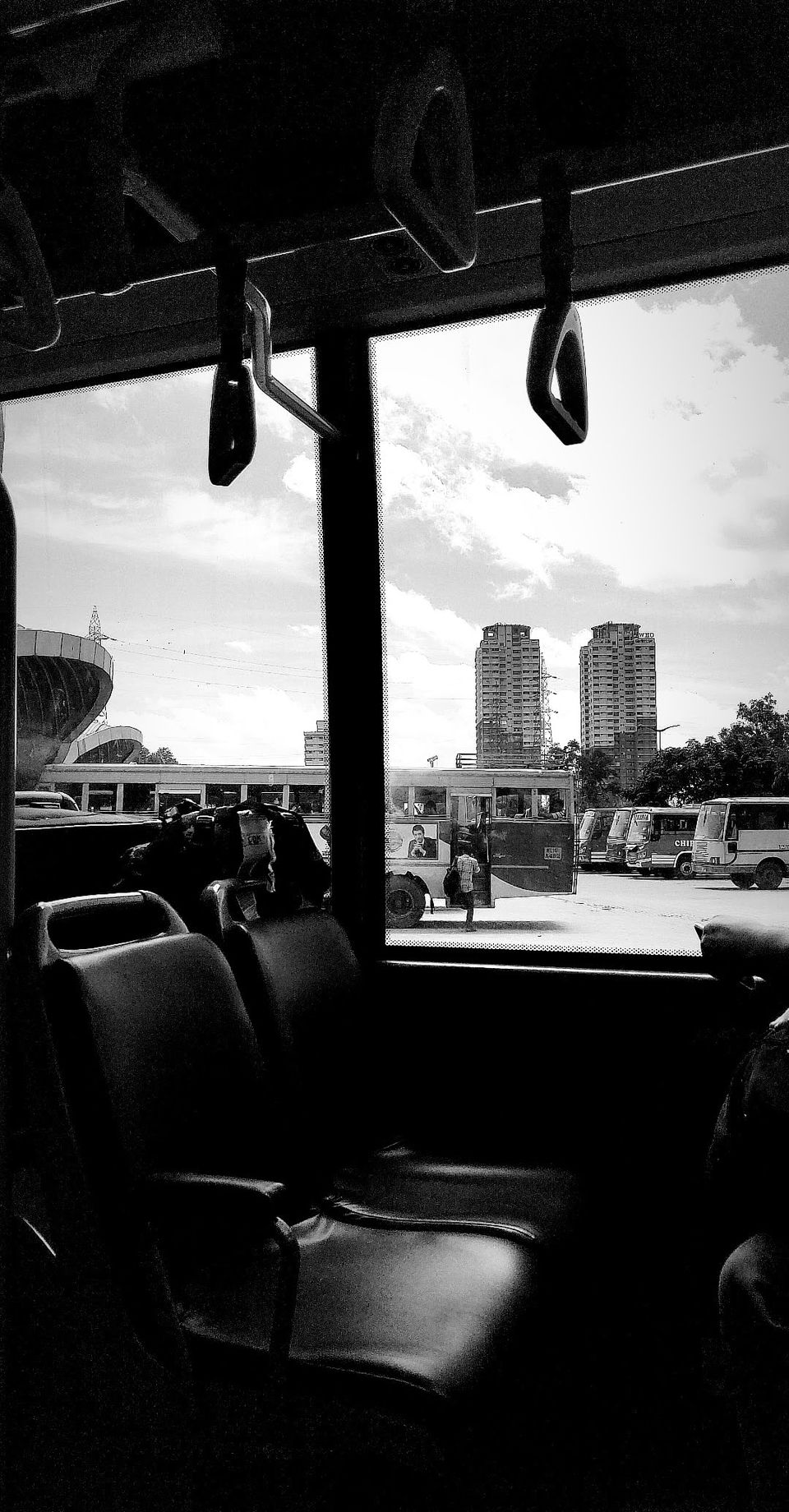 The bus dropped us at the last station which is near the Vypin-Fort Kochi Ferry place opposite to the Indian Oil petrol station. We could see the sea adjacent to the petrol station. The roads were clean and greenery all over. We first decide to look for a place to keep our bags and finally looking after for a number of places - decided to book a room at Niyati Stays which was at a walking distance. The charming old streets, food and music of Kochini people is a beautiful synchronisation of all these cultures. The architecture is really awe-inspiring as it was the first colony of the Portuguese. We checked in the hotel and kept our baggage. The hotel looked quite old and could see a lot of foreigners there. We were really hungry after the tiring bus ride so first decided to eat something. Luckily found the Loafer Corner's cafe - which had beautiful walls and an amazing menu.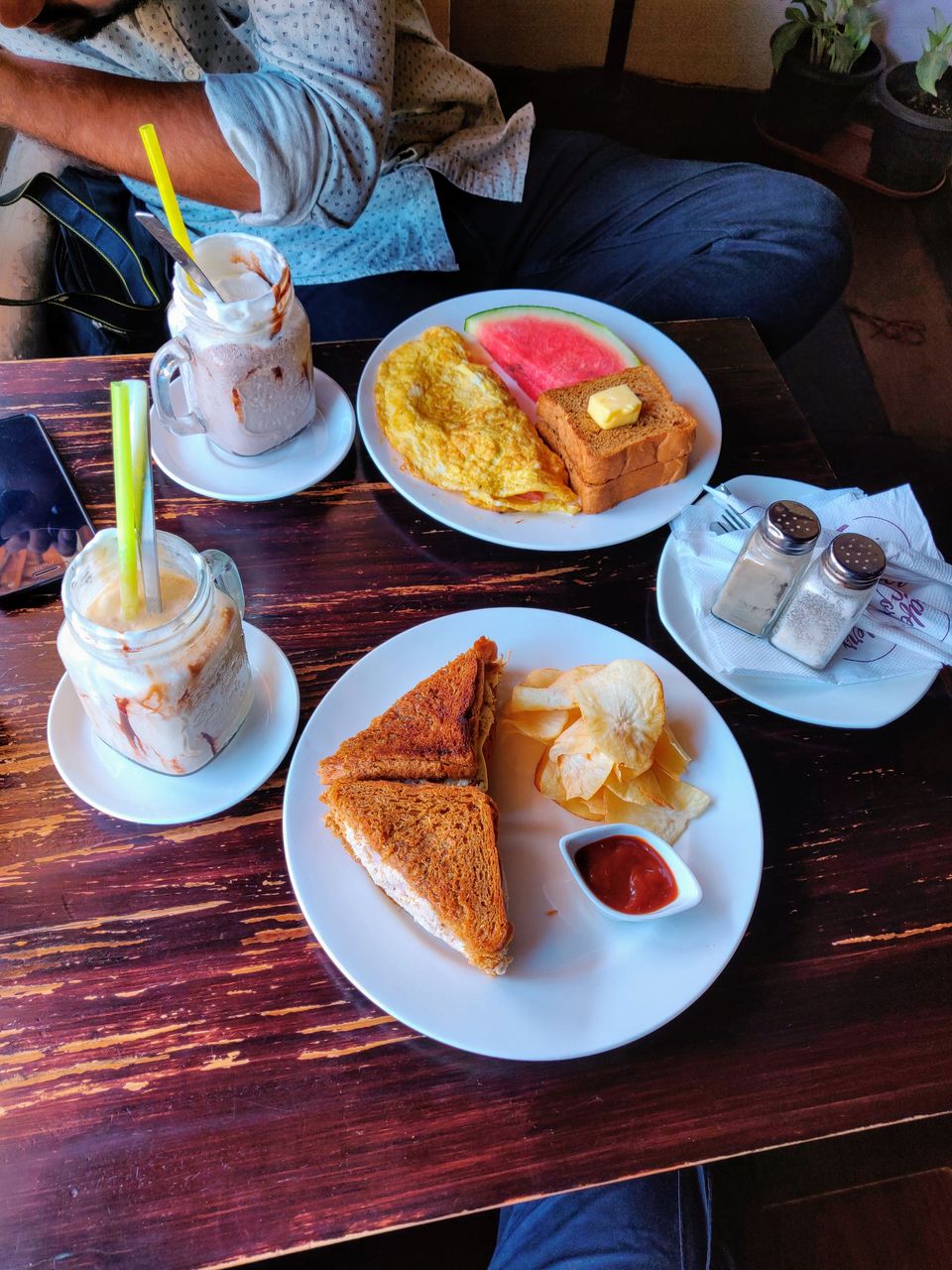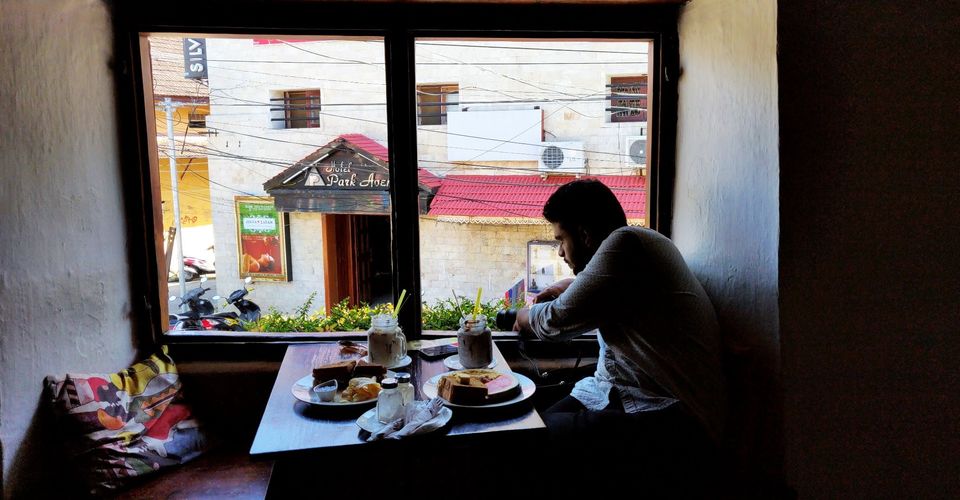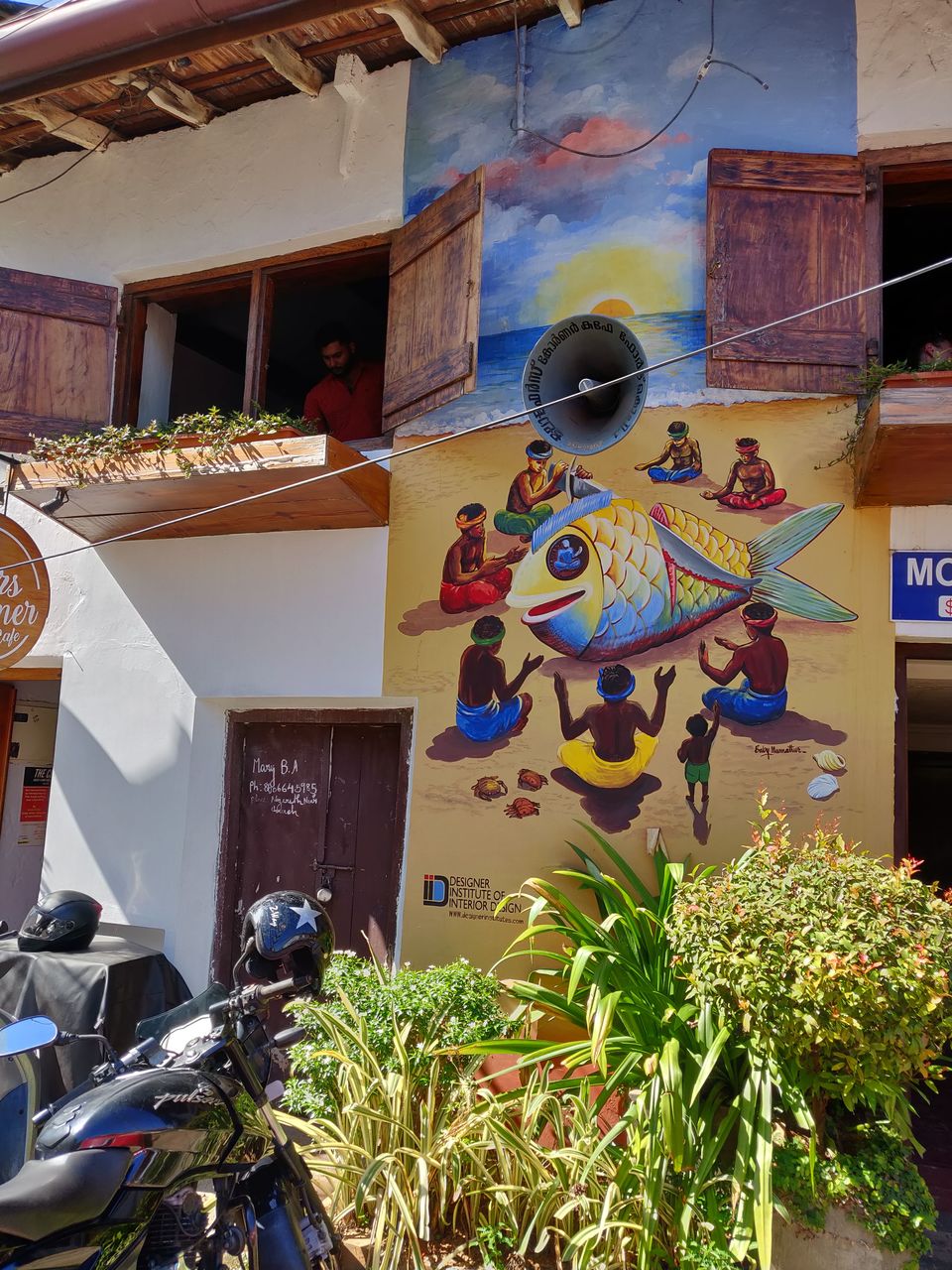 After filling up our bellies we took a scooty on rent from the nearby store and started to choose places to go as we just had one day. So we started with Jew street as it was known for street shopping - antiques and hand-made clothes. Also you can find hand-made incense sticks. Later we went to this Vypin-Fort Kochi ferry which connects Vypin to Fort Kochi and you can take your scooty along just at the minimal cost of 10 rupees. It was a thrilling experience - sitting on the scooter while the ferry takes to another island. It was yet another place which had some beaches - of which we decide to go Puthuvype beach. It was sunny and there were very few people on the beach. We sat there for sometime and then came back to Fort Kochi.(as we decided to watch the sunset from the Fort Kochi beach)
Next we reached the famous Fort Kochi beach where we saw number of stalls and one or two Chinese fishing nets. far away we could see some ships as well. The scenery looked really fantastic with the sun closer to the horizon, ships sailing in the background and a tree with its branches running everywhere.
Finally after such a beautiful sunset, we decided to go for dinner and found this place called Seagull. It had waters on one side and the perfect lightning. Although the food wasn't that good but its really popular among the tourists because of its view. We returned the scooty and had a cheese cake at the Loafer's corner cafe as it was really mouth-watering and went back to our hotel as we had an early morning flight to Delhi.
Kochi deserved more than a day but we were helpless. The streets, ferry ride, food and beaches really appealed to us. I think it is a place where you can go and chill for a day or two - relax your mind away from everything. Roam in the streets, go shopping, go the churches and watch sunset. Even the people are helpful and interactive. The culture is awesome and it creates an aura worth visiting.