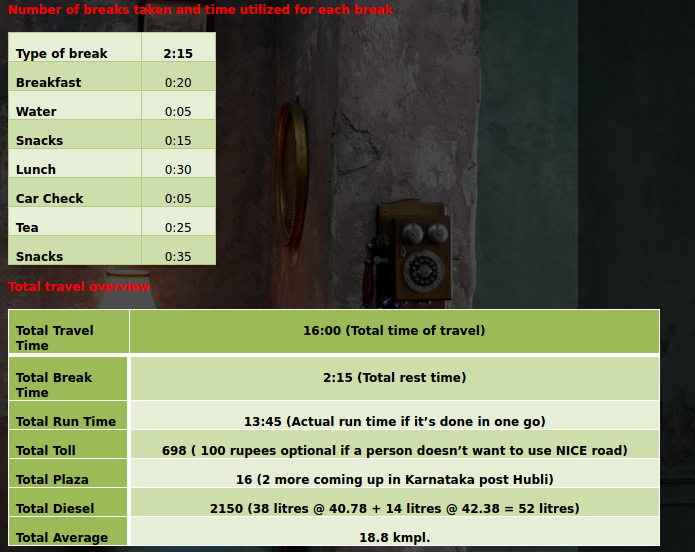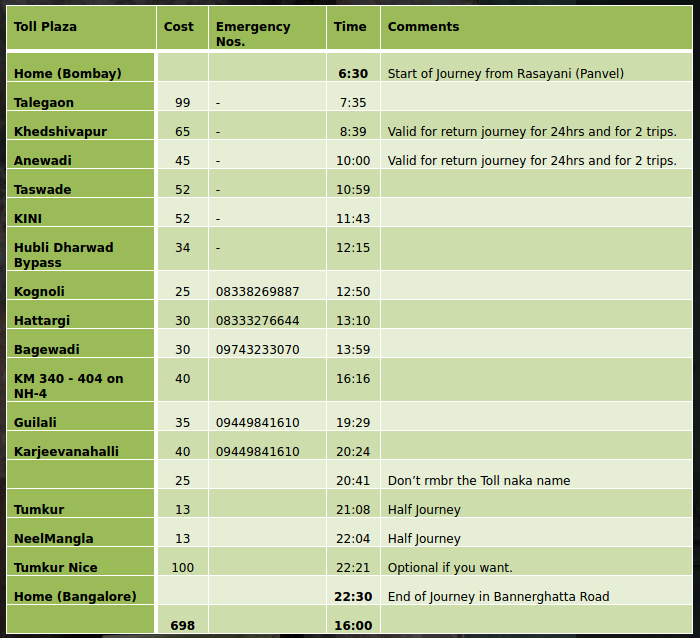 Travelogue – Mumbai to Bangalore by Road!!!
By – Kashyap Dhar
Travel Start Time – 06:35AM
Travel End Time – 22:30PM
Total Stops - Breakfast – 20 Water - 5 Snacks - 15 Lunch - 30 Car Check - 10 Tea – 25 Snacks – 35 (Total = 7 stops à 140 min's à 2:10hrs)
Car – Fiat Linea Multijet 1.3 emotion pk.
Diesel – 2100/- @ 40.78 (Maharashtra) + 42.53 (Karnataka)
Mileage – 18.8kmpl with A/C on full time for whole of 950kms.
Average speed – 83kms/hr
Average temp (outside car) – 34*C
Average temp (inside car) – 20*C
Toll tax paid – 698/- (one way)
Road used – Panvel à Khopoli à Khandala à Wakad àKhothrud à Pune à Satara à Karad à Kolhapur à Belgaum à Hubli à Chittadurgaa à Tumkur à Bangalore
Imp Tips:-
Ø Leave early in the morning from Mumbai.
Ø Try to exit Pune early.
Ø Have the Diesel / Petrol tanked up.
Ø Have proper documents handy.
Ø Check the below properly:
1. Car AC
2. Coolant
3. Water
4. Break oil
5. Wiper
6. Air filter
7. Music player
8. Puncture Kit
9. Emergency contact nos.
10. Cell phone Charger
11. Lights
12. Tyre pressure and stepane
13. Energy drinks and quick snacks
Ø Toll naka's in Maharashtra will take lot of time to pass by. Lots of traffic get's jammed unnecessarily.
Ø Keep change in range of 25, 35, 45, 65 handy.
Ø Toll up to 700/- can be charged.
Ø Try to reach Chittadurga as early as possible as traffic post Chittadurga keeps on increasing and is mostly of big trucks and tempo's.
Ø Keep note of all the imp numbers that are displayed on highway.
Ø Keep a detailed map handy.
Roads and traffic: (Light / Moderate / Heavy / Dense)
v Traffic on Mumbai – Pune expressway will be low early in morning.
v Traffic will be moderate on highway till Kolhapur.
v Post Kolhapur traffic eases.
v Traffic will increase again once you cross Chittadurga
v Traffic will be heavy once Tumkur is crossed.
v Traffic in Bangalore will be dense by evening. (Be aware of this)
Traffic will be dense at toll naka's in Maharashtra.
Karnataka toll naka's are simply superb.
v Roadways in Maharashtra are nearly smooth.
v Road stretch between Pune and Satara has a ghat in between apart from which the road is smooth.
v Road post Satara till Chittadurga is just amazing.
v Roads moving from Satara towards Bangalore are just amazing.
o Greenery is just too good.
v Roads in Karnataka are superb.
v Karnataka govt is expanding the road stretch on the NH-4. This will smoothen the drive even more once all works out in couple of years (2013)
Actual Travelogue starts here.
Note: Time is as per the 24Hr clock. GMT + 05:30
Road Trip from Mumbai to Bangalore
This was one of the trips planned randomly. The encouragement for planning the trip came when my younger bro came to celebrate my Birthday in Mumbai. Had to do something nice for him as well and there I was planning a road trip to Bangalore to meet and celebrate his birthday. Trip was planned in such a way that we get ample time to visit various landmarks and also be at home to celebrate birthday.
Trip commences on 29th April 2011 @ 06:30 IST from our residence which is 60km off Mumbai. The place is called Rasayani (an industrial belt governed by MIDC which has approximately over 40 companies). I was supposed to take the trip alone but at last moment my Mom agreed to give me company (actually she is scared to death by idea of me driving / riding alone for nearly 1000kms). We started the trip by taking the old Bombay – Pune road and joined the main Expressway from Lonavla. I should say the old road is all tar road and is amazing to drive with curves and greenery. On joining the expressway there was a huge truck Jam near Khandala Tunnel (usually there is a jam here as it's a steep gradient and heavy trucks usually drive on all the three lanes while trying negotiate with the gradient. After almost 15 minutes we were able to free ourselves from the jam and continue with our leisure pace on the expressway. After almost an hour we reached the first toll naka on expressway.
At 07:30 and 82KMs after paying the toll we stopped on the expressway for quick tea. Expressway outlets if not branded eateries are way too costly. It's better to have a tea flask with you to enjoy the early morning breeze on expressway.
Once again the road trip started and we were nearing Chakhan exit (not to be exited) which has a huge bronze Ganeshji's idol exactly near the Chakhan toll naka on old highway which runs parallel for 1km with expressway. I used to visit the temple almost daily when I used to work at Hingewadi and travel on my bike from my home which is approximately 95KMs from Hingewadi. Within 10 min's expressway ended and we were on Pune bypass road. Crossing the bypass road and making Pune exit via Kothrud took approximately 1 hour to reach 2nd toll naka.
Once the 2nd toll naka was crossed we were passing through via duct, the feeling was so good this is an amazing stretch of road. Moving ahead the road became a one way as a huge accident involving a trailer happened on a bridge.
Post the 2nd toll naka the road is part of Golden Quadrilateral project and is totally a concrete road. Greenery on both the sides and plantations between the divider is just amazing. The road is smooth unlike the Expressway which is totally bumpy ride. Toll naka 3 and 4 are separated by 15 min's and they charge you 52/- each toll which is just way too high for usage of road. A Porche Cayenne with Dubai registration was approaching very fast with sleek headlamps and front grill the car wouldn't go unnoticed. It zipped past me, I am using zipped as I was on 130kmphr and the Porche just went past me without a sweat.
At 10:55 and 236KMs we stopped for a light breakfast (sort off) post 4th toll naka and 15km from Satara on left hand side of highway @ Hotel Navmi. A reasonable and quiet eatery with parking. Road leading to Kolhapur is again full concrete road and is part of Golden Quadrilateral which makes driving fun as you can easily top speeds of 130 to 150 kmphr.
At 12:36 and 340KMs on exiting Kolhapur there is a Mac D besides road on the right hand side. Crossing to the right hand side can be tedious as there are no near to Mac D road splits available. It's better to park the car on left hand side of the road and cross over to the big M. nicely filled with college crowd and people like me who are on road trip. Post the Mac D stop and exiting Kolhapur it was non-stop till Hubli.
At 15:25 and 556.5KMs after crossing Hubli and yet another toll naka we stopped to have homemade food i.e. our lunch. Under the shade of trees near the Jain temple (as people call it). The temple is basically situated 5 Kms off Hubli and has 9 planets and on each planet a statue of Mahavir is standing tall. Once we had our tummy full it was time to rev up the engine once again and approach the destination. The road post Hubli is again very good.
At 16:35 and 623KMs there came a diversion on road. The diversion took us onto a service road due to construction of railway over bridge to connect the highway. Note the service road at the diversion is very narrow and we were lucky that there was a big rig in front of us due to which the oncoming traffic was halted. The railway over bridge is being constructed (basically widened) to match the smooth highway. Work on the bridge is supposed to get completed by June end as per the people working there. Once the service road ended it was back to normal smooth road and time to move on.
At 16:55 and 639KMs we met another diversion on road. The diversion is similar to last diversion as there is another railway over bridge coming up. Only problem with this diversion if you are coming from Bombay is that the diversion starts just as a normal flyover ends and has a unmarked speed hump (not breaker as called in Bombay). Since been new to the road I took the hump at speed in access of 120Kmphr. This moment was something to remember as my head shook and my mom was totally terrified. Luckily nothing bad happened and we continued our journey smoothly.
At 17:15 and 660KMs there is a new toll booth coming up.
At 17:27 and 664KMs we met with another diversion. This was something I misread and was forced to drive through the city / town / village of Harihar. It took me approximately an hour's drive to get through Harihar and back on the main highway. The distance covered to get out of Harihar was around 20Kms. Finally when we left Harihar it was again smooth Karnataka highways.
At 18:35 and 712KMs there is again a new toll booth coming up.
At 19:07 and 750KMs we crossed city of Chittadurga and stopped at VRL depot on right hand side of road. As soon as the flyover ends there is a small split on the left side of the road which takes you to the VRL depot on right hand side of the road. After having a cup of tea and few biscuits it was time to leave the depot and head for Tumkur which is another 130KMs from Chittadurga.
At 20:40 and 880KMs we stopped at hotel Kamath on the left hand side of the road adjoining an IOC petrol pump for some snacks. The hotel was packed with people having dinner. Family's usually flock at the hotel as confirmed by the watchman. Nice cool place to eat before entering main Bangalore border. One thing good about the break was that there was nice smell of soil coming as rain god's showered Tumkur few moments back. Also this was the place where my brother had come from Bangalore to recieve us and takes us to Bangalore home. It was real fun as the reaction on my Mom's face couldn't be missed.
At 21:55 we started to enter Bangalore outskirts and city started. Traffic was normal for night and we zipped pass through most of it.
At 22:08 and 942KMs we started our journey into main Bangalore by using the N.I.C.E (pronounced as nyce) road. This is private toll operated road. This is the first and only road in India which charges the two wheelers as well. Yes you read it correctly two wheelers have to pay toll tax on this road. To get into Bangalore this is the most convenient bypass one can use. Charges till Bannerghatta exit (which we had to take) is 100/-. If driven at 100Kmphr the stretch can be completed in 10 min's and if we use the normal road we would have easily spent 1.5hrs trying to reach destination.
Finally at 22:30 we reached our destination on Bannerghatta road Bangalore. The place where my brother stays is just near to IIMB. The climate in Bangalore was too good as the air was cool and a terrace apartment on top floor with open area on all three sides is topping on a well covered 950KMS.
From Bangalore to Mumbai
Takeaways from the trip:-
v The road post Satara is very nice.
v Toll spent in Karnataka is money well spent as the Karnataka government is maintaining the roads in pretty good state. Also the current stretch is 4 laning which is superb above which the government has acquired more land adjoining the highway and already is filling it to make the highway 6 lane from Karnataka border.
v Driving is not an issue.
v Petrol pumps though maybe issues as there are few petrol pumps along the highway.
v Air in Karnataka is much breezier than Maharashtra.
v One major thing to note is that eateries post Kolhapur become very scarce. For longer distance there are no eateries.
v In Karnataka till Hubli the stretch of road has proper markings on road to identify Bus, truck lane. Also the Bus stops here have attached toilets and water facilities.
v Your car performs better if the speed is kept constant with lesser variations and driving is simply superb.
v Once Hubli is crossed getting off the highway is a pain.
v There are good service roads on both sides of the highway maintained by the state to facilitate the local movement smoothly and to avoid traffic on highway.
v Be ready and prepared as people in Karnataka don't speak Hindi or English apart from Bangalore.
v Diesel cost and all other costs in Bangalore are much higher than what it is in Bombay.
v Night life in Bangalore ends at 11:00PM as most of Bangalore is in house by then.
v Speed breakers which we are usually encountered in Bombay are replaced by speed humps in Bangalore.
v People in Bangalore don't know how to abide by traffic rules and the driving abilities are zero in Bangalore. You will have to be on toes while driving in city.
v Traffic police in Bangalore is very strict and have classy gadgets while entering your offence which otherwise you can get away with if you are in Bombay.
v Bangalore as a city post retirement is nice place to stay climate wise.
v Bangalore is good city from investment point of view.
v Bangalore is not good from travel perspective.
Finally take a note of this statement: - "Bangalore is a Speed Breaking city!!!"
Places to visit in Bangalore:-
1. Bannerghatta National Park
2. Lal Bagh botanical gardens
3. Bangalore airport road and airport
4. NICE road if you like racing
5. Hard Rock café.
6. Brigade road…. And much more.
This post was originally published on 'Mumbai_Bangalore_Road_Trip'.