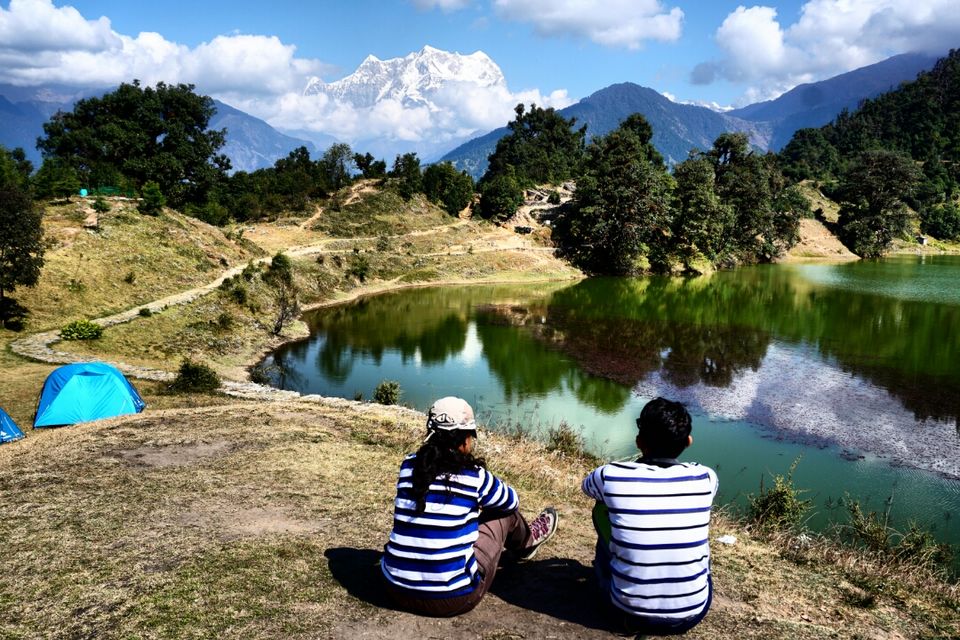 It was an impulsive decision and i knew it was going to be one of those good decisions when u don't think and just do...so was this trek. I had done Kedarkantha before so this one was one of easier trek, at least i thought so before booking it on 12 just to leave on 15th and an incredible journey started from Gujarat to Uttarakhand...
journey started from Ahmedabad to Delhi by flight and Delhi to hardware via train and we reach Haridwar 7.30 am and vehicle was arranged to take us to Sari a small village from where we were going to start trekking from next day...On the way from Haridwar to Sari we saw Devprayag where there is a confluence of river Alaknanda and Bhagirathi to from River Ganga and you can see two shades of greens merge itself to from a mosaic pattern and then dissolve completely into one another and make one uniform shade.
we reached Sari in evening and there was small village festival where a marriage of Nandadevi was going on and it was beautiful to become a part of traditions you are not aware of and become involve in them and become a part of them even for a few moments.... We had a little introduction and everyone seems so nice. I love this about trekking. You get the best of people when you are in such a divine and pure atmosphere away from all the noise and chaos of city and let's be honest sometimes the people you know. So i feel nice to spend a week in between strangers and some of them may turn out to be great and you would love to have their acquaintance and you get to know that people share what you feel at that moment in that mountains. And your frequency matches...
Anyways I am here now...no more waiting...mountains here i come to be with you for a few days from my life and forget everything else...
We started next day from Sari walking and even though I thought it will be easy, acclimatisation was happening and heavy breathing started and as usual I knew I was going to be last...beautiful meadows and beautiful green trails were there all along....it was an October so there wasn't much cold. Atmosphere was so much pleasant and air was so pure...no doubt God has the best purifier and without any manufacturing defects if only we knew how to maintain it... The sins of city haven't reached here yet and it was untouched by every impurity there is!!...to everything from people to nature...i don't want to jinx it but I think I might...
We were walking and joking and having fun and taking pictures and admiring beauty of picturesque canvas god has painted.
after walking about 4 km there we were. The Deoariatal Lake the name derived from Devi means goddess and Tal means lake. Chawkhambha mountain shadowing himself into the green water of Deoriatal lake and it was amazing view.
I cannot paint these shades even if try thousand different colours...green was so green and sky was so blue and Chokhambha peak was so white.. as white as it can be...i was just starring and I could not get enough...my eyes were not enough to capture it..I needed different set. May be that's why Lord Shiva had three!!
We were sitting and chatting and having snacks and Rhododendron juice and everything seemed delicious. We do not uses our senses in its full capacity...we hear less we see less we touch less and we feel less...and sometimes we breathe less too...i could feel air feeling every alveoli in my lungs and heart beating so deep that i could hear it..Maybe you feel i am exaggerating but then you will never know for sure until you are here...
What an amazing experience!!! Lake side tent and lake side mountain. A rare combination...I wonder who would have founded this place!!. It is really surprising to see there are so many unexplored beauties right under our nose and we are absolutely unaware of them...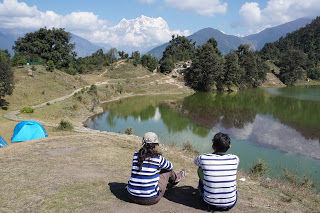 We were sitting beside lake and it was a full moon and I was dying to see moon rise so that I can see its impression in the lake...this was second time I was on the trek and it was a Full moon!!! What a day to pick. Moon light was doing its job famously in shining that very edge of Chawkhambha and its peak. Moon emerged behind the mountain...it was a view to die for... Oh god!!! If only i could make you see from my eyes...!!!
There were some stories kind of horror or myth may be that so many people die in the lake and there wasn't single dead body found or its water is never ever dries. I don't believe any of them but in that atmosphere it has its way to intimidate you...damn you lake and moon... don't try too hard it's very easy to intimidate me!!
Next day began. We had a breakfast and tea and started trekking for out next stop Rohini bugyal ...it was a walk for 7 to 8 km and within the deep forest and slim trail.After about 5 hours we reach to Rohini bugyal and camp site was astonishing...there was a long green velvet carpet and the view was spectacular....My eyes were filled such immense satisfaction and heart was fulfilled and I could just stay there;just stop the clock right there...!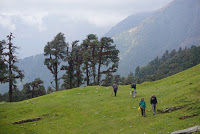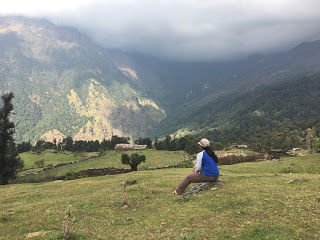 After some time the surroundings suddenly started changing. Dark clouds started emerging and it was little droplets of rain fell down...rain in mountains not a good combination. But thankfully it stopped after few minutes.
Next stop was Bhrujgali after 7 to 8 km and 6 hours...on the way there was a small rivulet named Akash kamini. The water was so pure and knee deep...we removed our shoes and jump into it...it was chilled...small pebbles were visible beneath the water and ripples of water were making beautiful abstract art underneath the surface...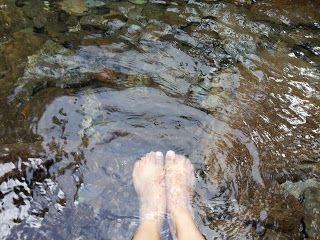 We were there in Bhrujgali and it gets better and better. There were small slopes and hills and huge valley just behind the camp site. There was incredible view of Himalayan range and an amazing sunset...in a moment the whole site turn into orange hue and slowly sun became invisible in front of our eyes...I have never encountered such a mesmerising sunset and I have visited my fair share of sunset points...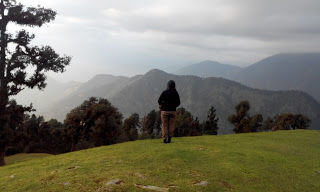 Finally summit day arrived... the trail to Chandrashilla peak is made of rock except last half kilometre...sunrise around 5.50 am and so we had to leave at 3.30 am..And as instructed we had to climb in a line and as being a slow trekker I was kept in front and it was a difficult day as my nose was completely chocked and it was difficult to breathe in such situation...and I had to stop every 2 minutes just to slow my breathing down. And it felt like i have reached my maximum capacity to use my lung and i am still short of breath.
Anyways everyone completed the climb and it was breath-taking...whole range of Nandadevi was visible and when sun started rising there was saffron paint all over and at first one peak started appearing orange and then another and then peak of every mountain was saffron and it was mesmerising....and after few moments the sunlight outlined the edge of Nandadevi and it was sheer pleasure to watch...The sky wasn't very clear that day. Clouds were become sieve to filter the rays and it was spreading in a diagonal pattern tearing apart the cloud...so we were just sitting there admiring the most astonishing sunrise. It was so cold out there... like pins and needles were pocking in our fingers...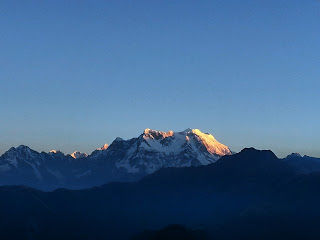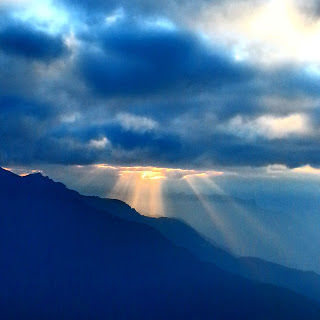 I survived another mountain....it was an amazing experience...one thing i learnt that day....height of the peak doesn't decide whether it's easy or difficult. It is you on that day and that moment that decides the difficulty...
It was all downhill from there...i fear going down...because going down back mean going back to mundane life, noise and impure air. I promise I will be back. Soon to have a chat with you may be not here...may be somewhere else...somewhere my impulsive mind takes to explore more and more and we will meet again....!