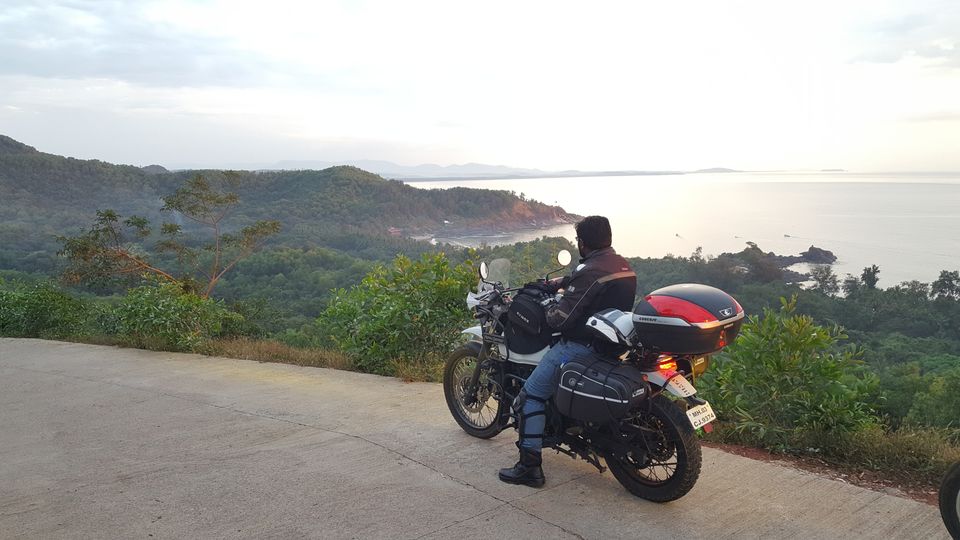 Grand Southindian Ride
A ride that lasted for
30 Days
7500 wonderful kilometres
7 Indian States
1 Union territory.
The best way to explore a new place is by a combination of bike and foot. That's what i had done to create the memory which took just 30 days. This blog won't have any poetic words or paragraph, it's just an expression of my memory which i managed to collect it during the ride. First of all would like to tell you how this ride was planned. A year before i went on a solo ride mumbai to ladakh and back. After completion of this ride i planned at least one ride every year. So already been to north of india for the ladakh ride and finalized south for the current ride. Initially it requires a lot of planning regarding to route to take, places to visit, things to carry,etc. The plan was to create a V shape in the map covering the costal route from Mumbai-Goa-Karnataka-Kerala-Tamilnadu-Andrapradesh-Telangana-Mumbai. Then thought there are so many places in the south to be explored which till date i have heard from people or seen in television. And then the detailed exploration of the south was planned. The best time to visit south is immediately after monsoon. Also during monsoon it's good, but it needs more precaution and attention while riding a bike. For the first time one of my friend Mr.Mateen wanted to join me for the ride which i still wonder how did that happen. Because most of my rides became solo not because it was planned such a way, it's because most of my friends would turn down their decision for the ride at the end moment. So it was fixed 2 riders on a mission to explore the south on their machines
South india needs no introduction for it's beauty ,though my whole country is beautiful. So we were on a mission to explore this beauty for the coming 30 Days. After changes in dates twice,we fixed it as 1st of November. Servicing the bike and making it ready for the ride got it the schedule delayed by a day, also i had brought a 11inch laptop few months back so that i can copy all the sports cam video's malfunctioned 2 weeks before ride and they informed that it will take a months time to service it. But luckily i got it on 1st November evening. So it was all set now.
Day 1:- Mumbai to Kolhapur
Initially it was NH17 which was decided. But the condition of the road was bad so we chose the kolhapur route. Time was scheduled as 7 am. But when i got the laptop from the service center yesterday forgot to take the charger from them. So had to wait till 10am for them to open the store. Everything was packed and neatly arranged. By the time my best friend Navin came to see me off. So we both picked the luggage and proceeded  towards my machine also my mom and sis came down. Loaded all the luggage on my White tiger ( name of my himalayan). All the safety riding gears were on. Finally sat on my machine clicked few pics and said bye to all and left for the most epic and scenic ride. First task was to collect the charger from the service center and then proceed towards mateens house. Finally around 11am reached mateens house. His dad wanted to meet me as this was the first ride for mateen, so he was little concerned. I assured them everything will be fine and left around 11.30am. Both were super excited about the ride and coming days. Though it was a delayed start i knew the roads ahead were good. Mateen said that some of our friends were waiting at nerul to meet us. We met them at nerul clicked few pics and explained them about our ride. And you won't believe the meeting went on till 1.30pm. We realized that we are super delayed and proceeded and took a lunch halt at lonavala. Once done with lunch we took the old pune route and then proceeded towards kolhapur. Within hours we hit the kolhapur road. It was too good for start smooth 6 lane highways with no potholes anywhere. Though we could have hit high speeds but restricted ourselves to 80kmph as we were on a ride not race. Now everything was coming into place after a delayed start. It was 5pm and we decided to halt for some snacks and tea. So we stopped at vittal kamath. Kolhapur was still too far from there and it already started becoming dark. We resumed our ride and took break occasionally. Around 8.30 we halted at a place and had some tea and snacks. People there started asking about the ride some took photos with my bike and Mateen was like someone click pic with my bike as well. We knew it would take another 2 to 2.30 hrs to reach kolhapur. During a ride there was a dark patch on the road and at the same time there was little fog, we were at our normal pace, suddenly a few feet ahead there was a truck without tail lamps and it was mud stained. Due to which it was not visible when it came close to us, we somehow managed as taking a sudden right for changing the lane at high speed can be fatal if there a vehicle approaching from behind. So i instructed mateen under such situations never suddenly change the lanes. After few hours of ride it was 11pm and we reached kolhapur so we sat for dinner at a hotel and used online apps to book a hotel. We found one at our budget and booked it and then we found that the hotel which we booked was right opposite to the hotel where we sat for dinner. Finally we had some dal khichidi and aloo mutter. Went to the hotel did the entry formalities, went to the room , freshened up and crashed on the bed.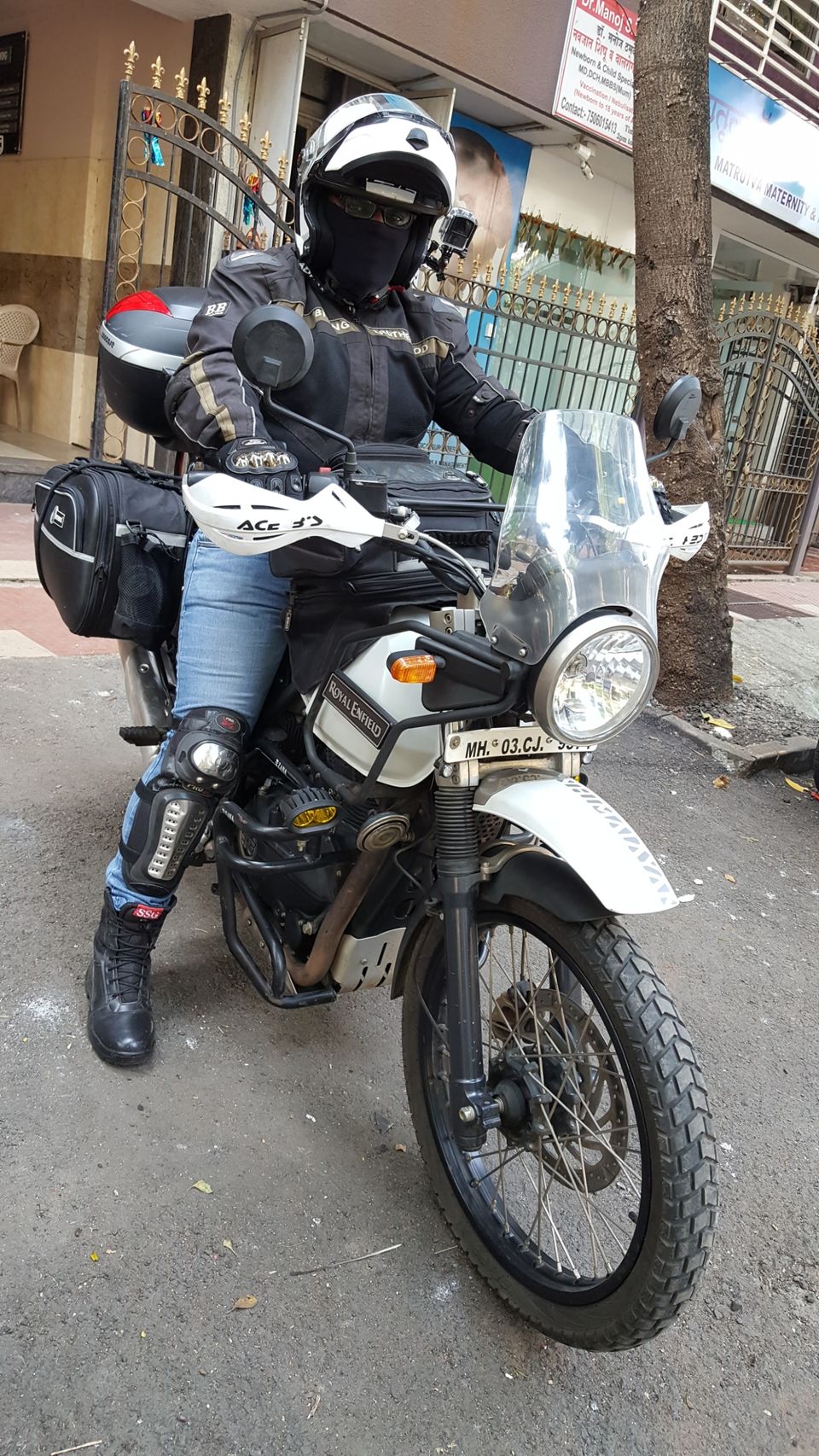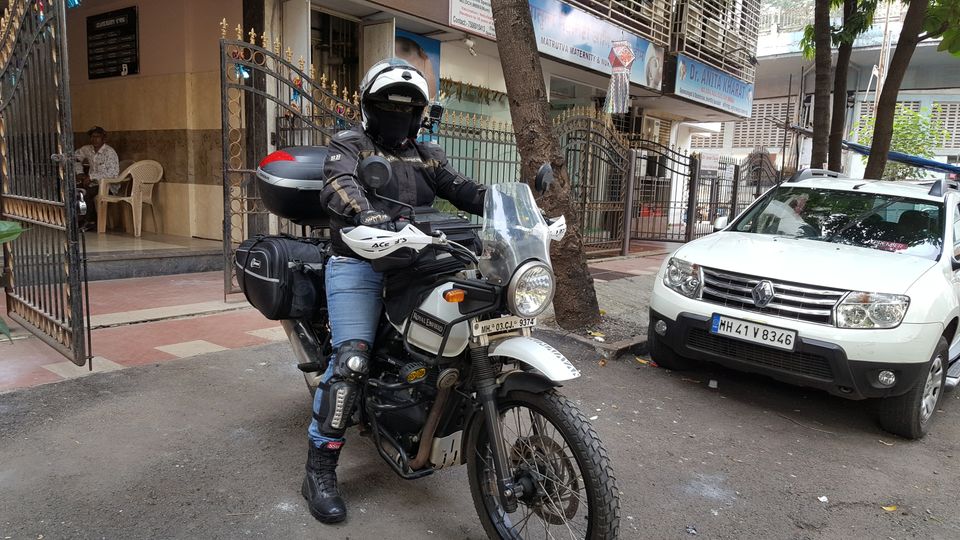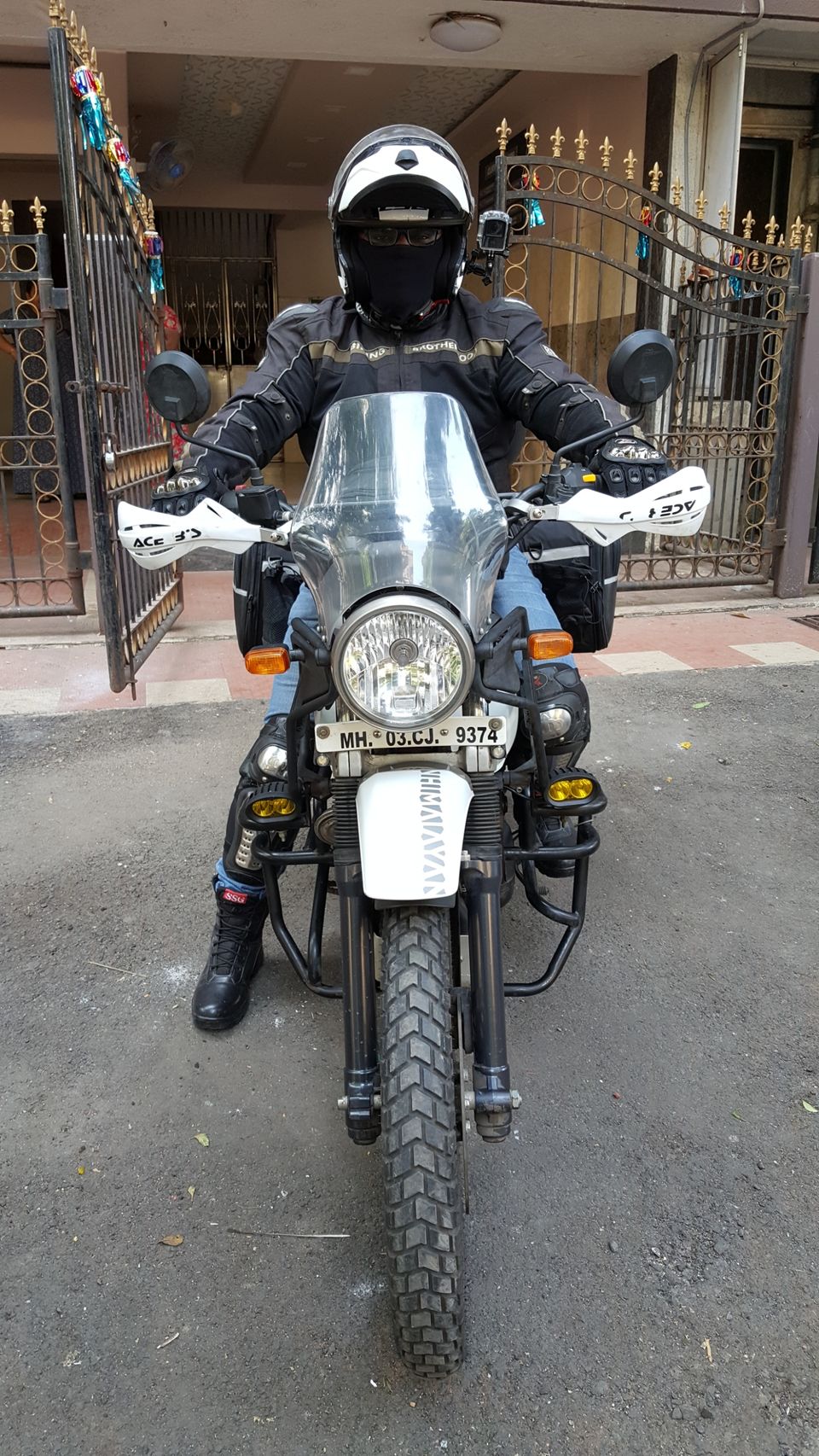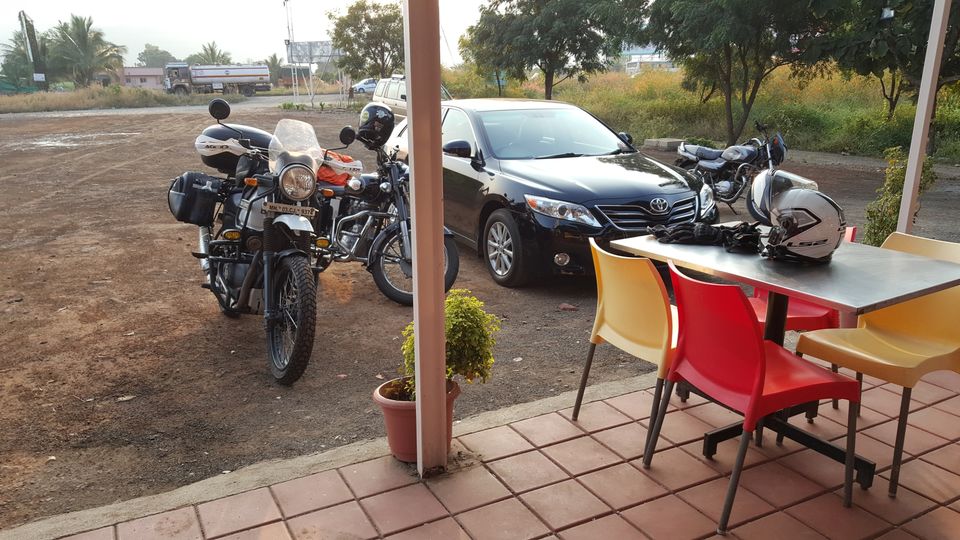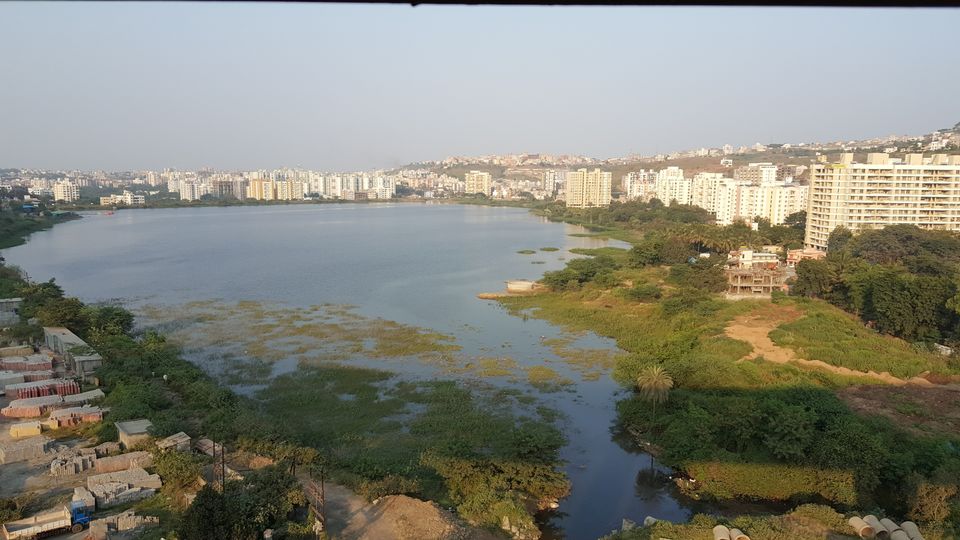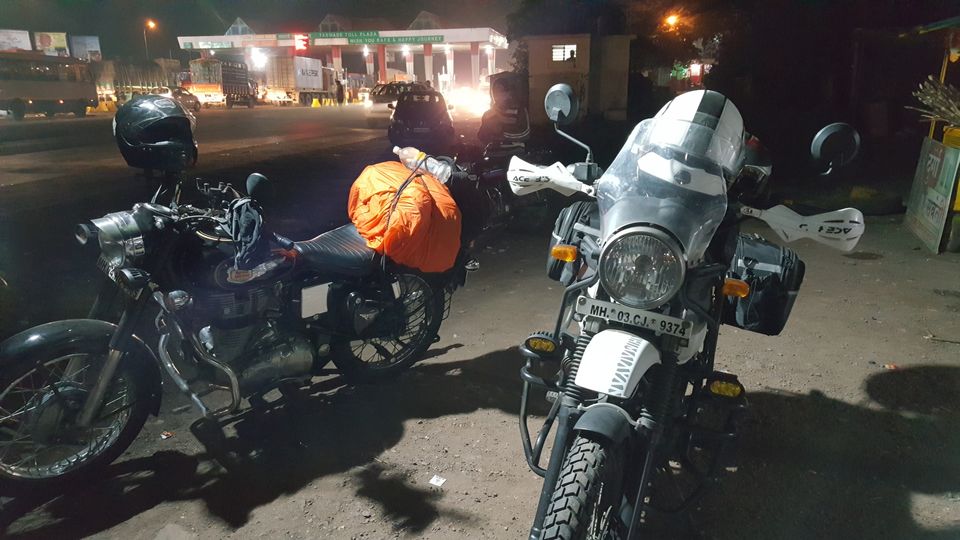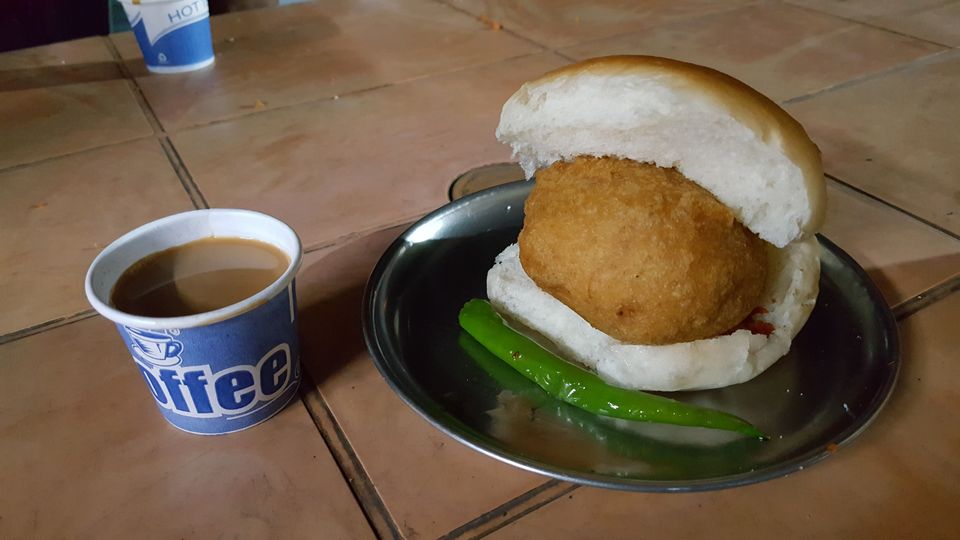 Day 2: Kolhapur to Goa
We got up by 7Am as we slept little late yesterday. Was feeling good because our destination was Goa. We took our own time at a normal pace, As the distance to be covered today was far less than yesterday.  Went down had some kanda poha and tea for breakfast. Came to room put on all the gears and took all the luggage and did the exit formalities. Loaded our machines. And started our ride for the day. Stopped many times for clicking photos. Then resumed again. Finally we had to leave the 6 lane NH48 highway and take a single lane road which leads to amboli ghat then towards goa. So at the entry to the amboli ghat road we decided to take a small snacks break and we halted at a hotel and while leaving i noticed a MH02 bike at the parking close to our bike as we were checking it suddenly the owner of the bike exclaimed hey jagan, i wondered how did he know my name. As soon as he removed his balaclava, it was my friend Mr.Kris from mumbai. We hardly met when we were in mumbai. And now we met nearly 500km away from home. He suggested another route instead of the amboli route for goa. He said that route runs through a sanctuary. As soon as i heard it runs through a sanctuary. We decided to go through it. We clicked a photo with him and left. On the way we came across a beautiful waterbody. This time without me signaling mateen and i stopped as the place was too beautiful. Even here we clicked few pics and met few youngsters who started enquiring about ride. They wanted to click photos with us. So took some photos with them. They were on their way to goa,that's what they said. As they were 5 very young guys on 2 bikes without helmets and necessary gears. We then continued and rode till belgaum and took the route that runs through bhimgad wildlife sanctuary. Believe me it was one of the awesome of the awesome road in this journey. It was too good feeling to ride through the jungle with lush greenery  and picturesque scene on both side. By evening  we halted for a tea break within the sanctuary. We continued as we were little far from goa. We were expecting some wild animals would cross the road. But didn't find any. Few vehicles slowed down suddenly, as there was some animals ahead i thought it was bison and finally saw some wild animal. But we got closer found those were cows. Anyhow we had to cross many sanctuaries in our coming days so we left the animal sightings for then. We entered goa. Mateens friend Mr Muntasir was staying there and we were going to stay at his house. So we called him and proceeded towards his house. We met him and freshened up and by 8 we went out to explore goa with him. Initially we rode through some interior roads of goa. We had a good dinner all the dishes were too good. Then he took us to a harbour where few big ships were stationed there were many fishing boats many getting ready to sail for a catch as there were loading the fishing nets and some arrived with their fresh catch. It was first kind of experience. Then we left to a small private island. It was too calm and we sat there for nearly an hour. Next stop muntasir took us to a private property which had a house few coconut trees and next to it was sea. Now from here we finally left for his house and called it for a day.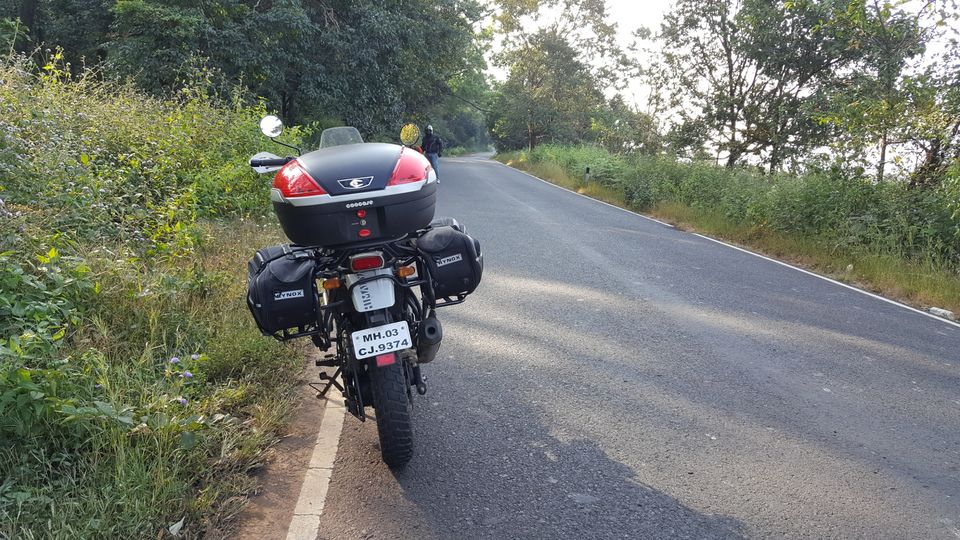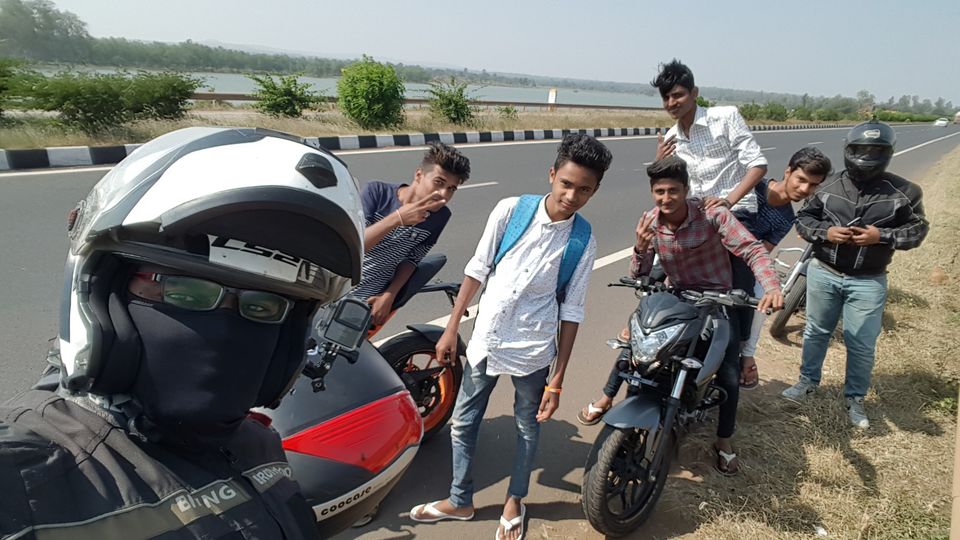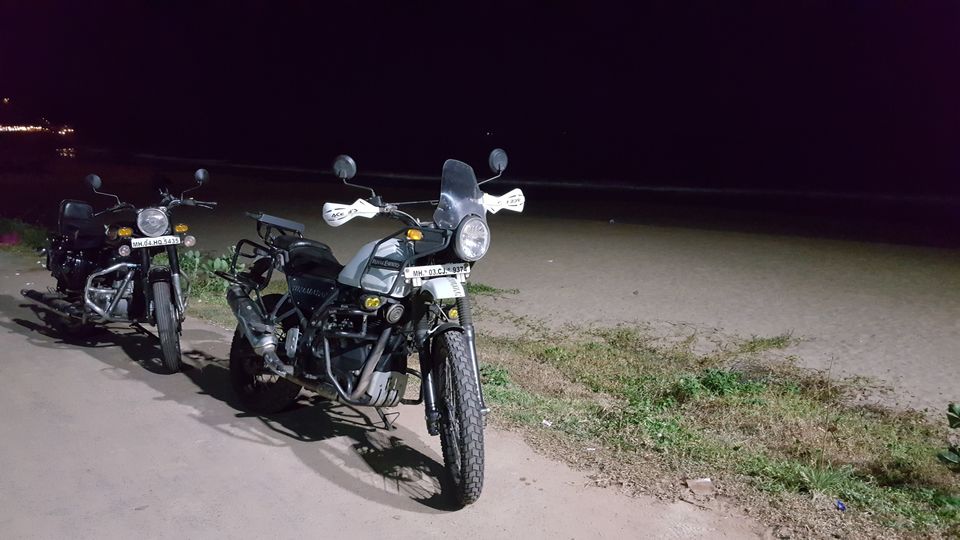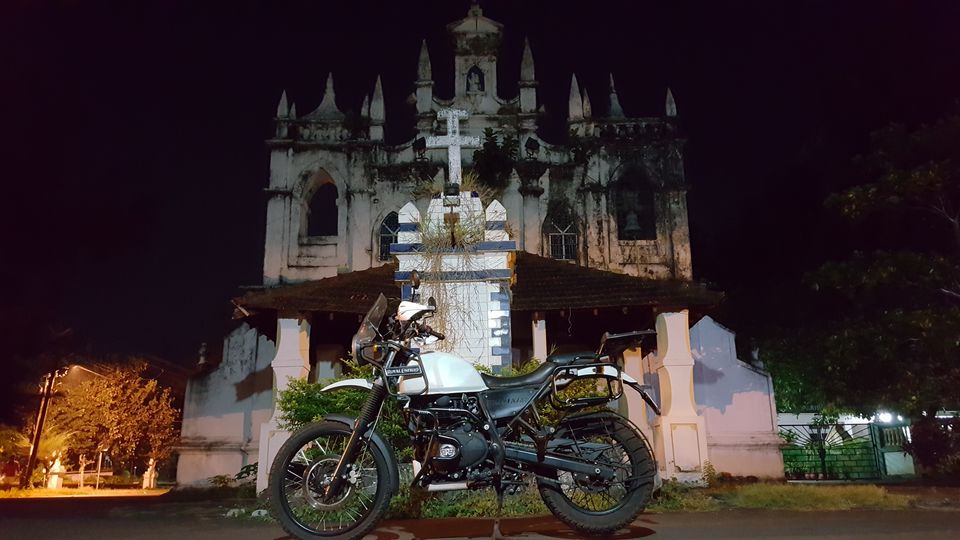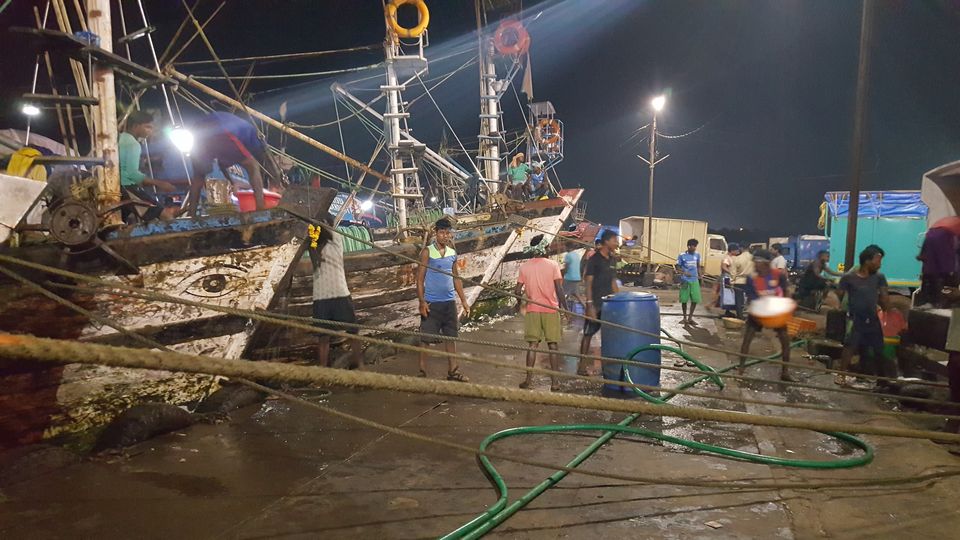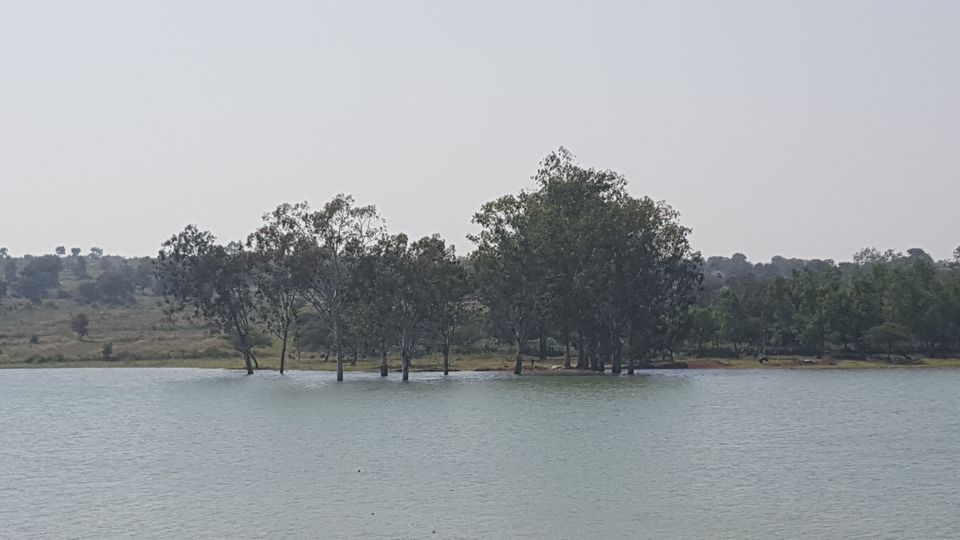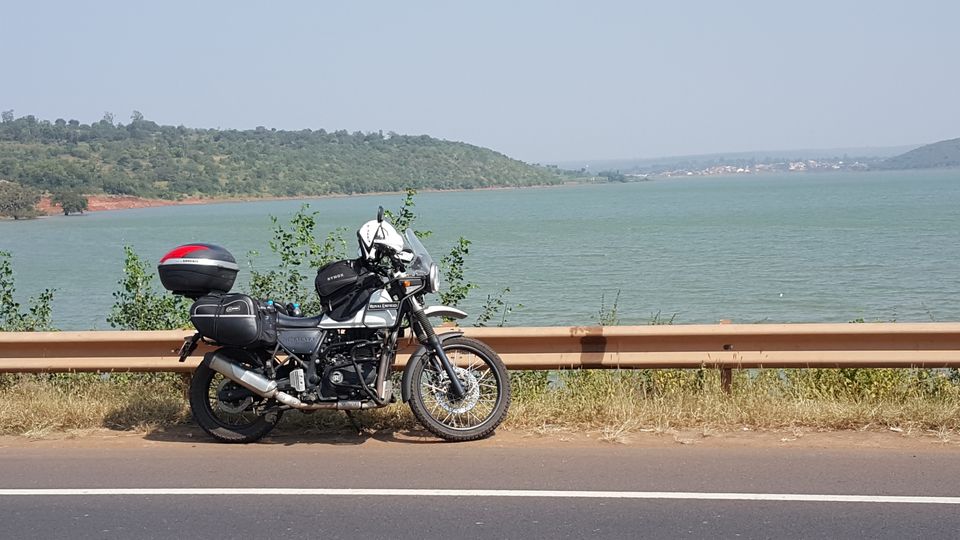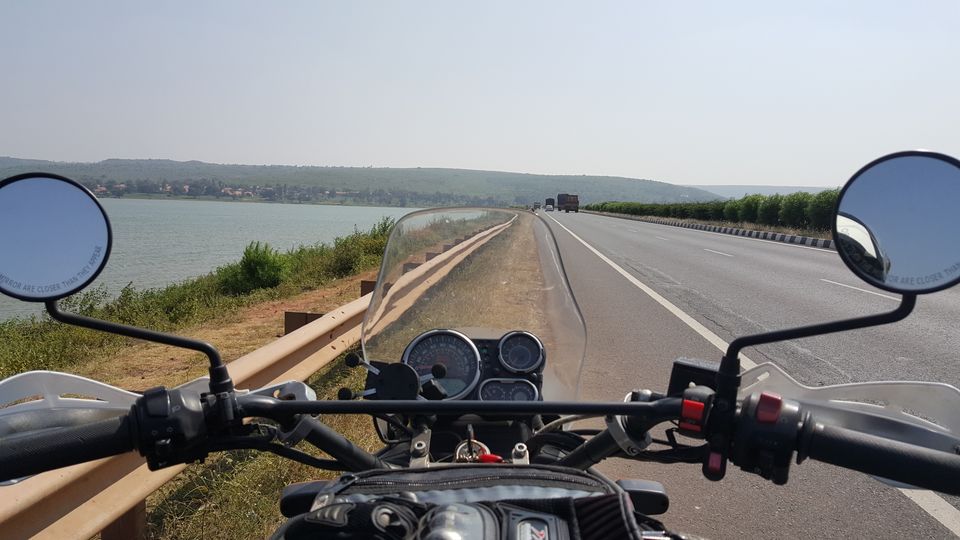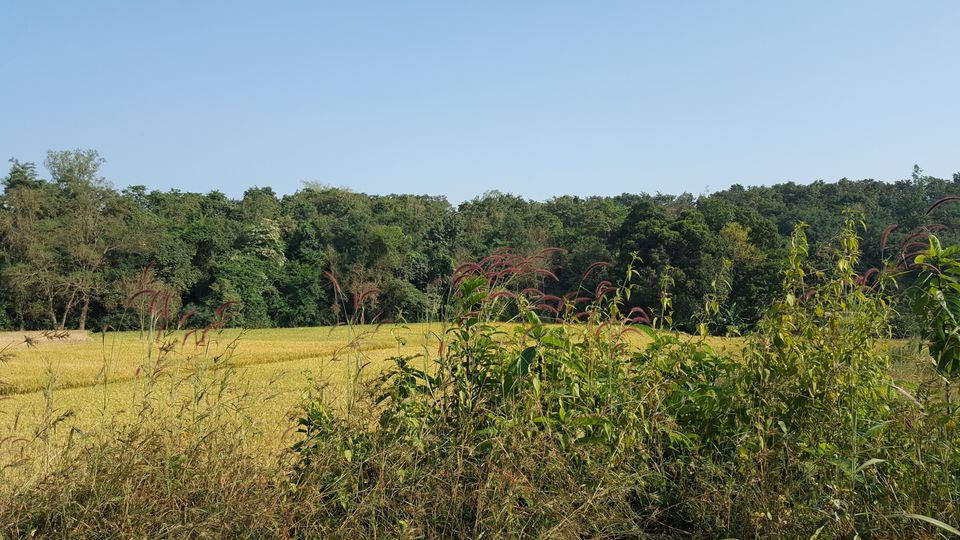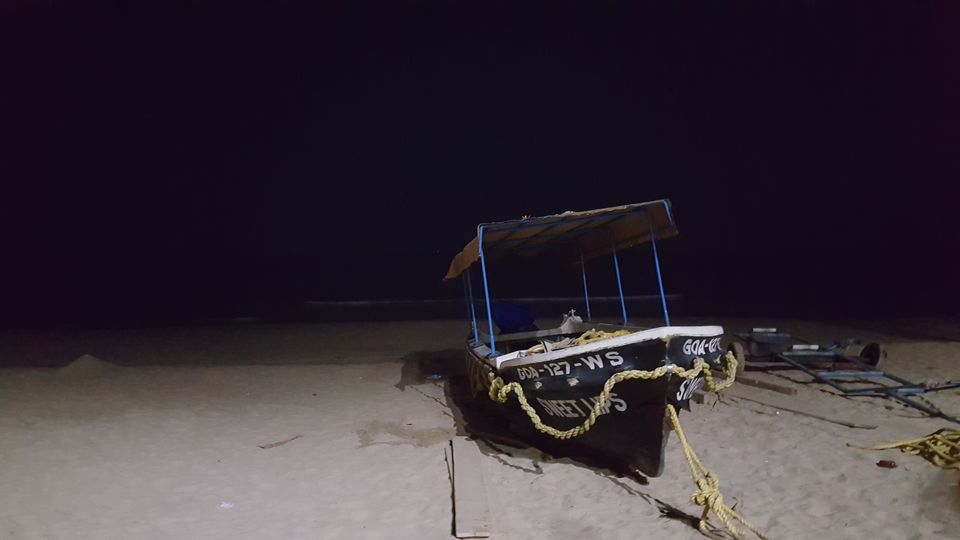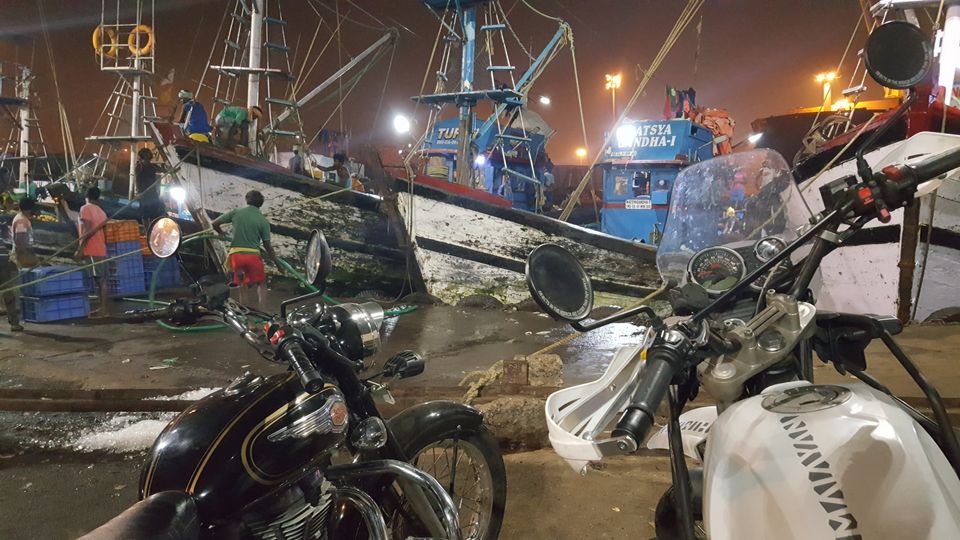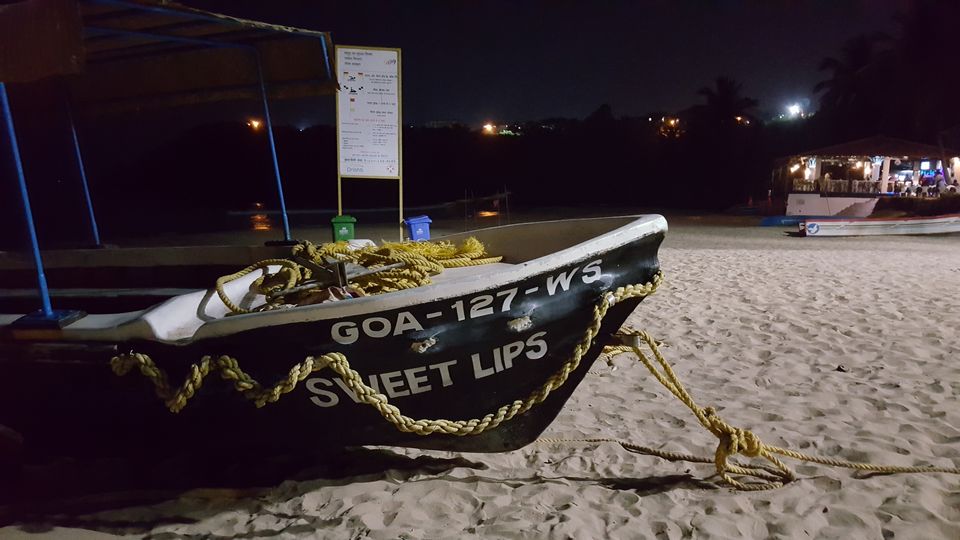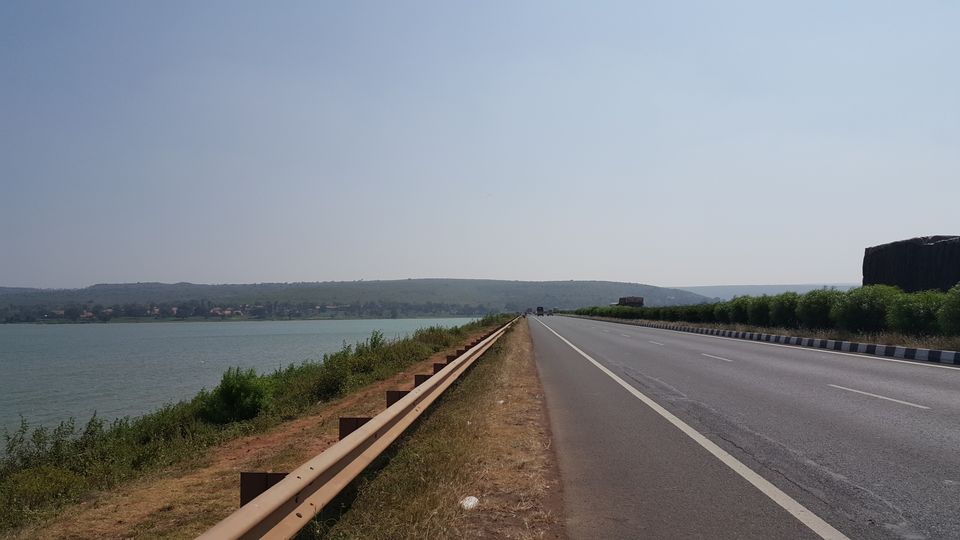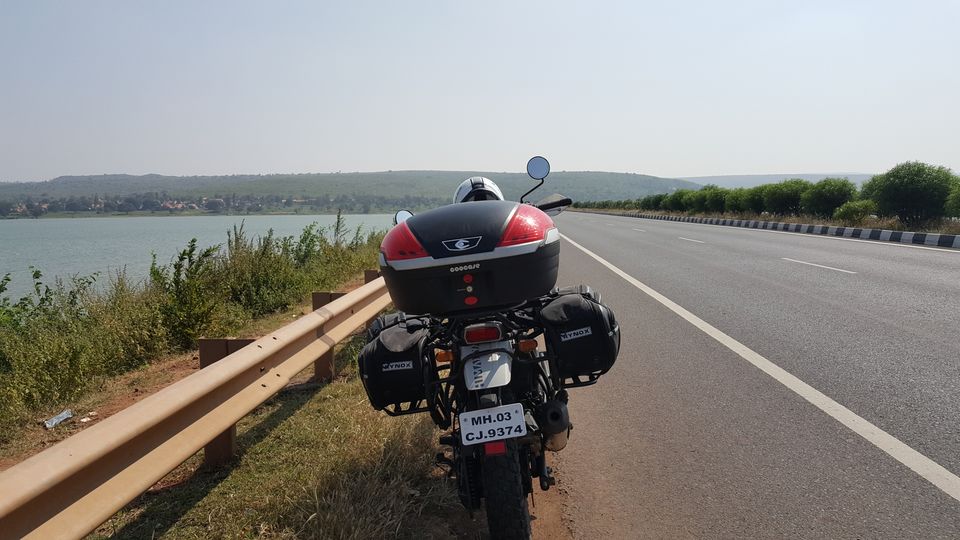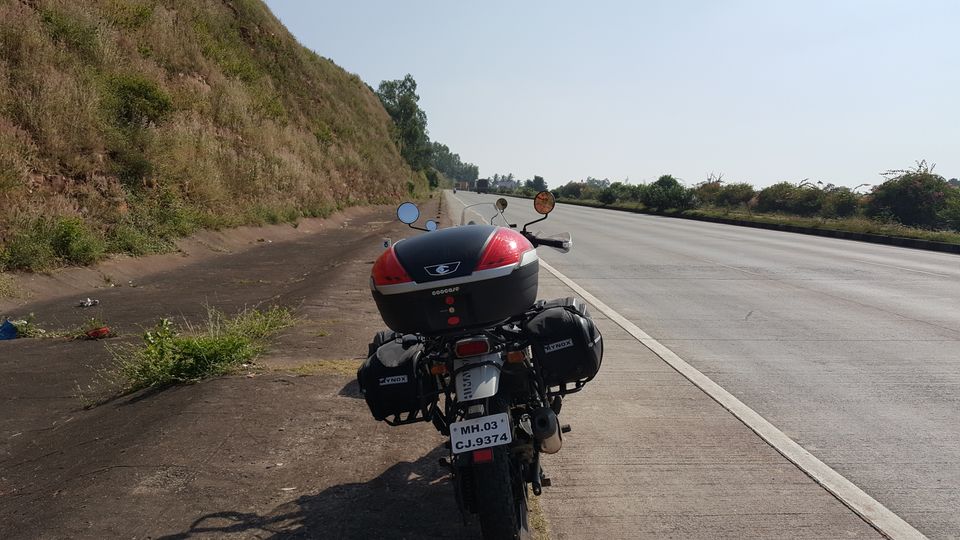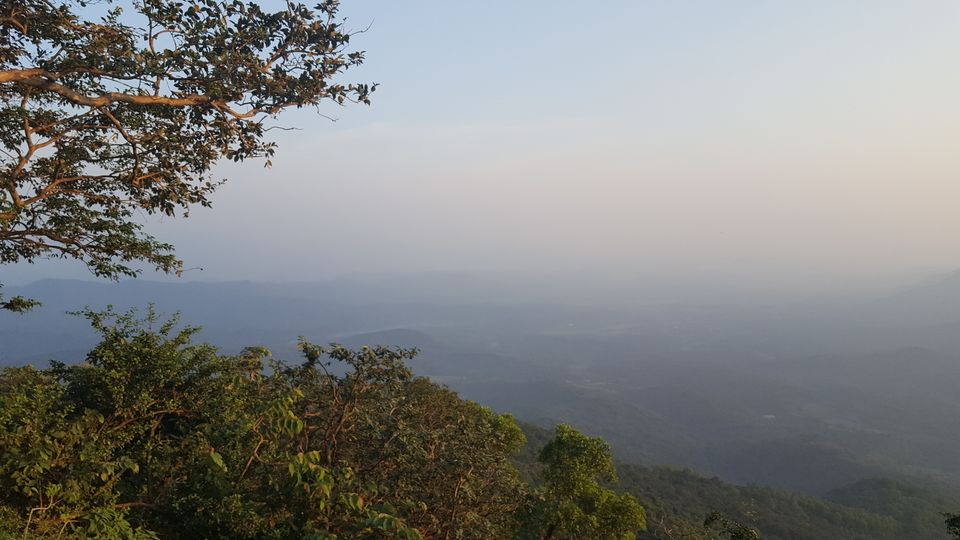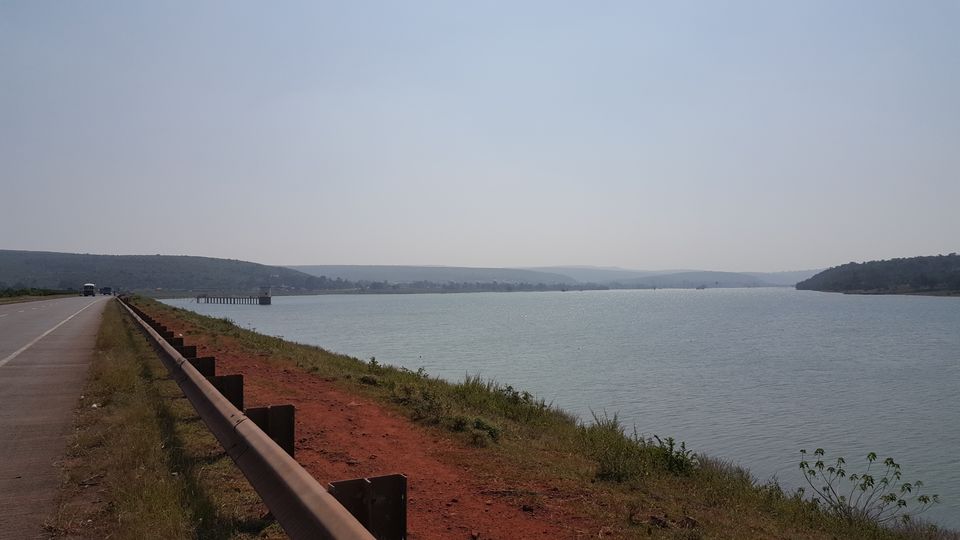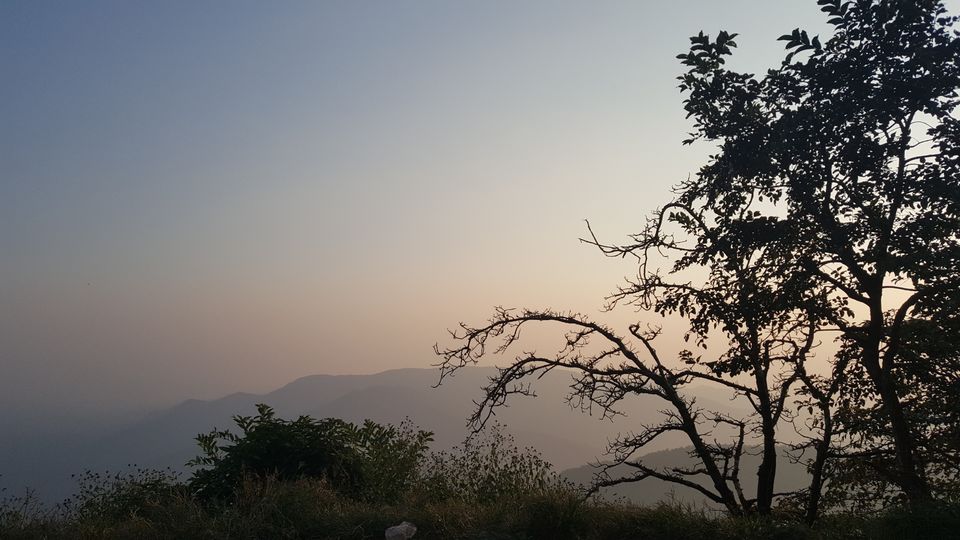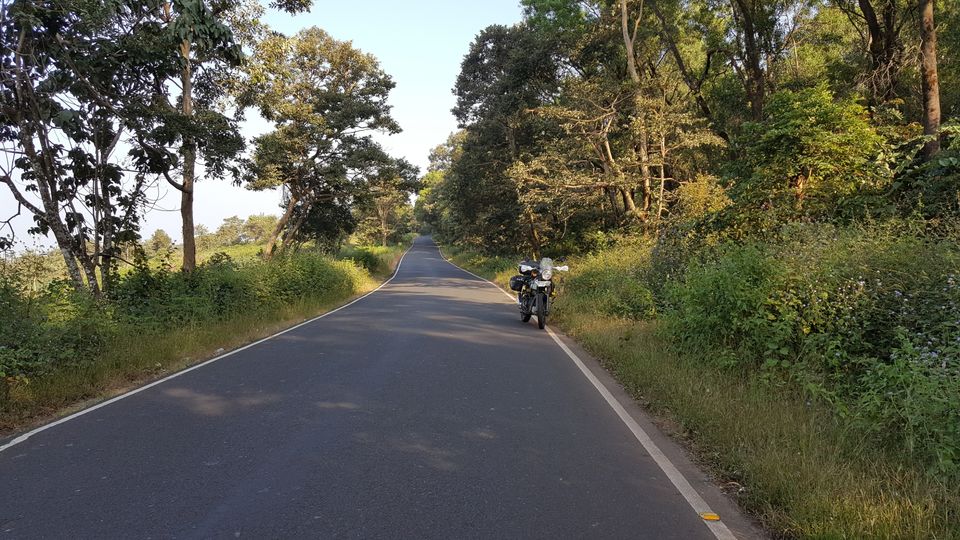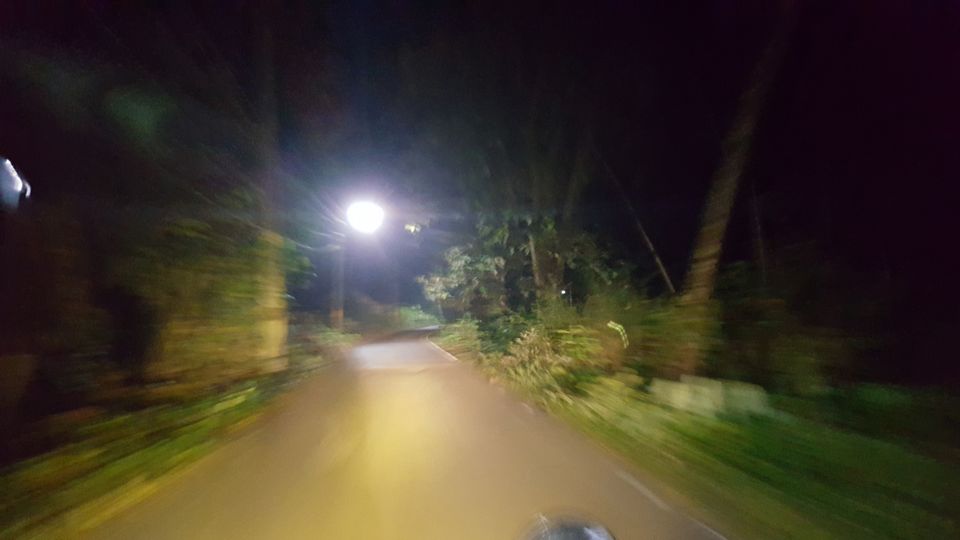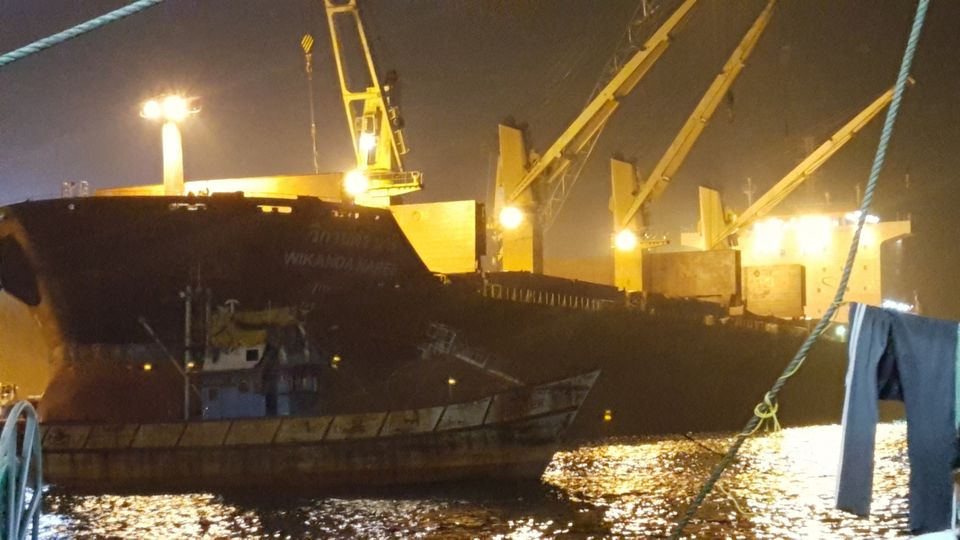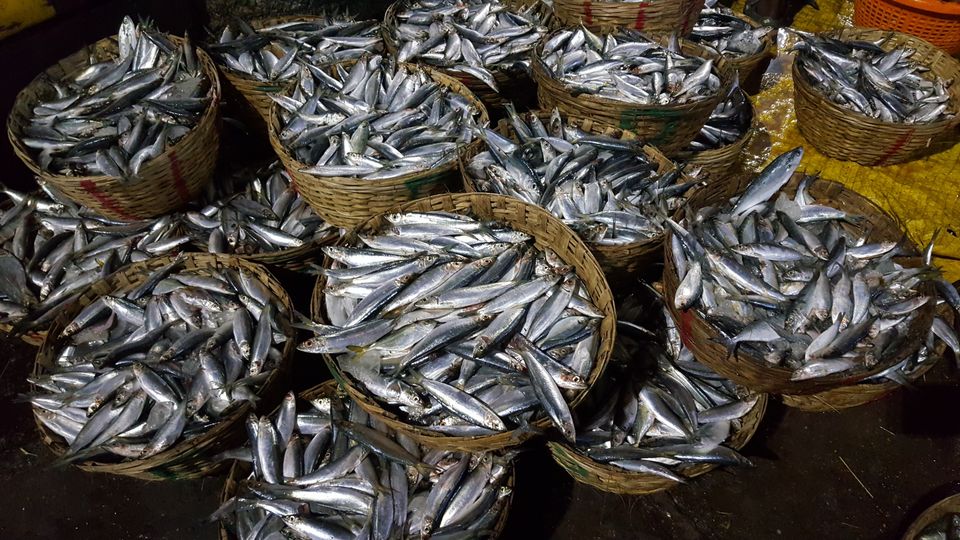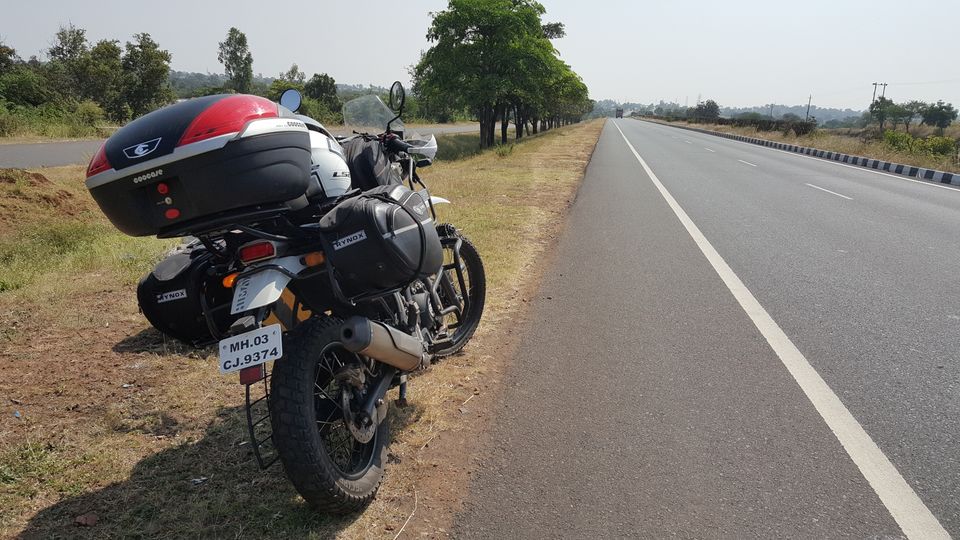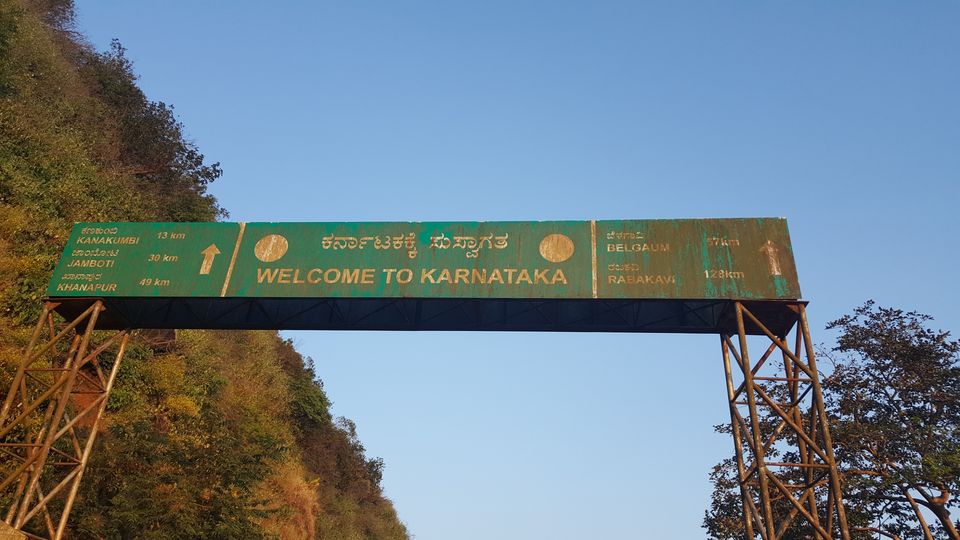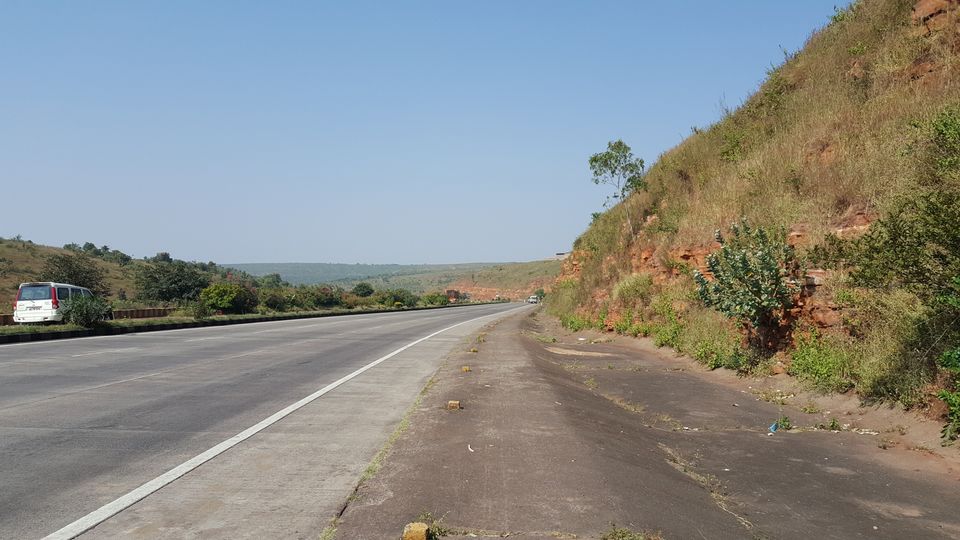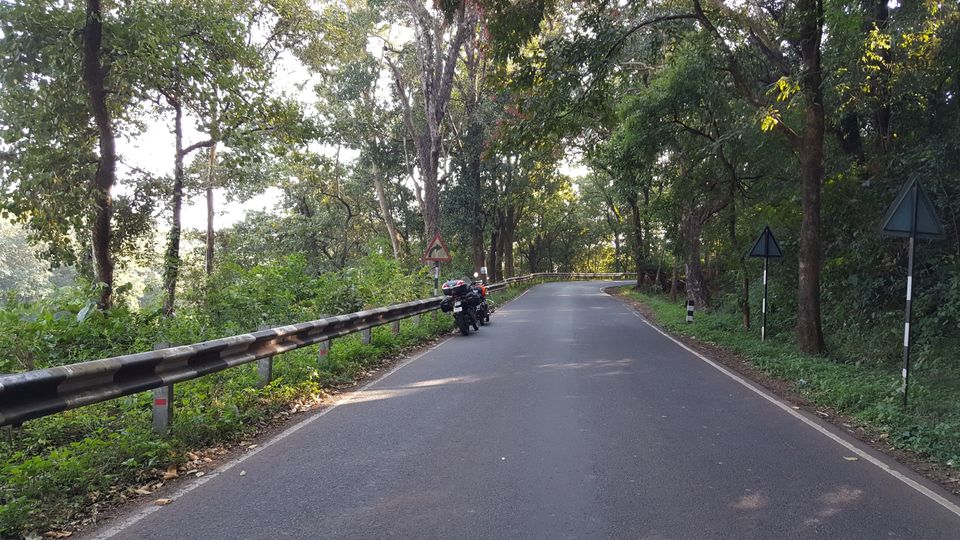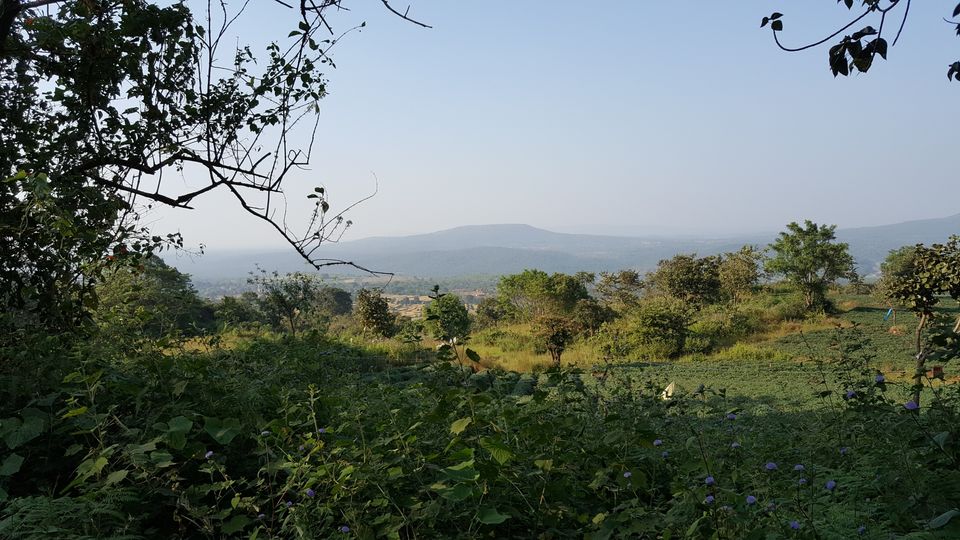 Day 3:- Goa
Today's plan was to explore goa.Muntazir couldn't take a day off so he said he will join us in the evening .so i and mateen went ahead. I had already seen the most of the popular beaches of goa like baga,calangute,anjuna,vagator,etc several times, so decided to skip all these and see the places which i had not seen. So we decided to see a port nearby where we were staying. We went there as there was many ships which come for minor repair work, clicked few photos and started towards chapora fort. The one which was seen in dil chata hai movie. Meanwhile i got a call from a school friend who was holidaying in goa. So we decided to meet for lunch after visiting chapora fort. It didn't take much time to reach the fort. We had to park the bike at a distance and walk till the fort. The way to the fort was accent it was a sunny day which  took a considerable amount of energy. Once inside the fort which has only the walls. We tried to take a photo in dil chata hai style. But there was two problem we were 2 people instead of 3 in the movie and other obstacle was crowd. For the first time we took few pics using Dslr after which i never used it in the whole trip. We started to descend. I heard someone calling by my name from behind but mateen was ahead of me. So i continued to walk. I heard someone calling again, i didn't pay heed and continued. For the third time i heard my name. This time i was sure someone is really calling me. When i turned back it was my school friend kiran who had come to goa with his friends for partying. We chatted for sometime and took a pic and left for lunch as my other school friend were already waiting for me at a restaurant at baga. We met there had lunch and they had to leave for airport to catch a flight for mumbai. So they left and we called muntasir to check where he is, as he told us he would join in the evening. He asked us to wait in baga beach and he came there in an hour. We then explored few places and private resorts and sat down at a beach side resturant called curliez near anjuna. We spent around 2 hours there. It was a good feeling to sit in beach and stare at the sea. From there we left by the evening 8pm and he took us to a spot in dona paula where a fight scene in singham movie was shot. It was already 9pm so we had our dinner at a khau galli on the way. Before we head towards home which was 40km from there i wanted to go to Our Lady of the Immaculate Conception Church. Though i know it would be closed i just wanted to take a pic of my machine in front of it. Luckily it was on the way so we went there took some pic and now finally left for the room.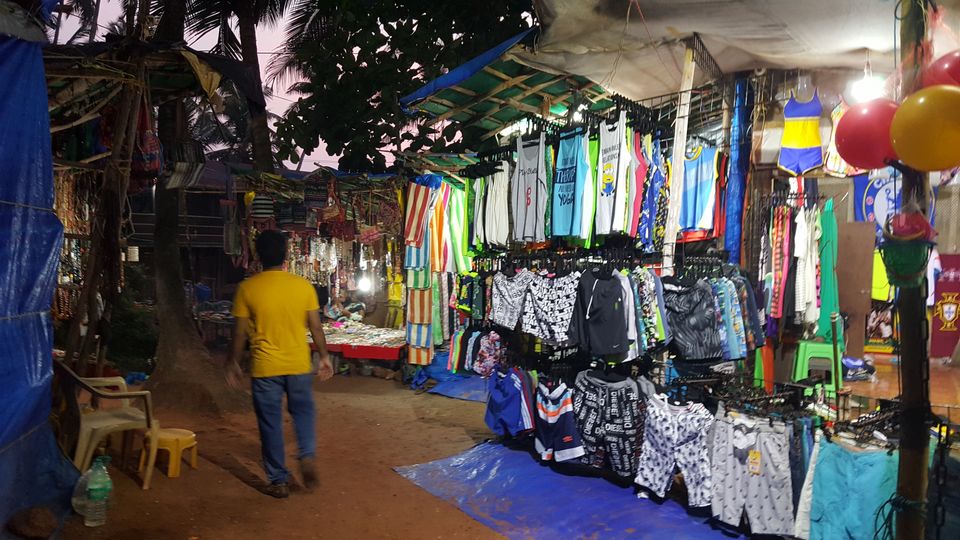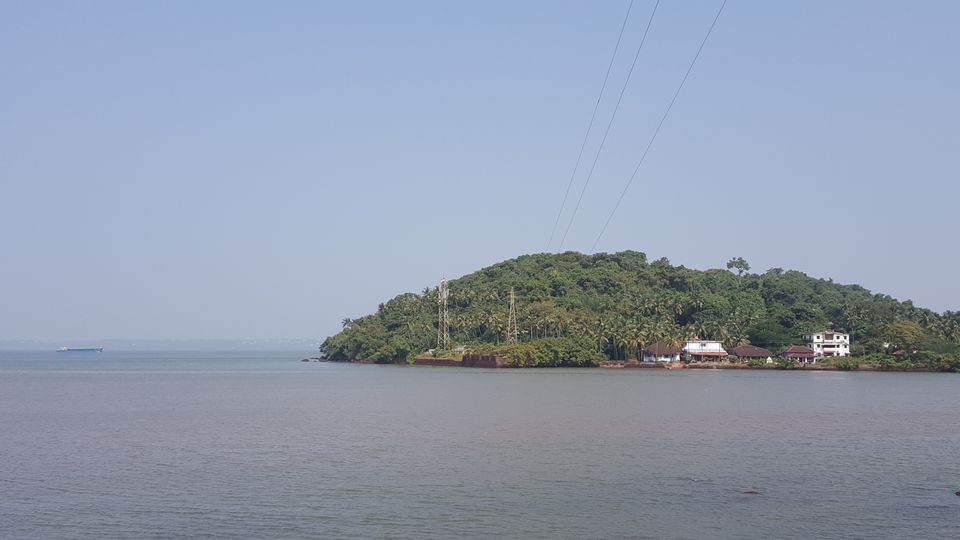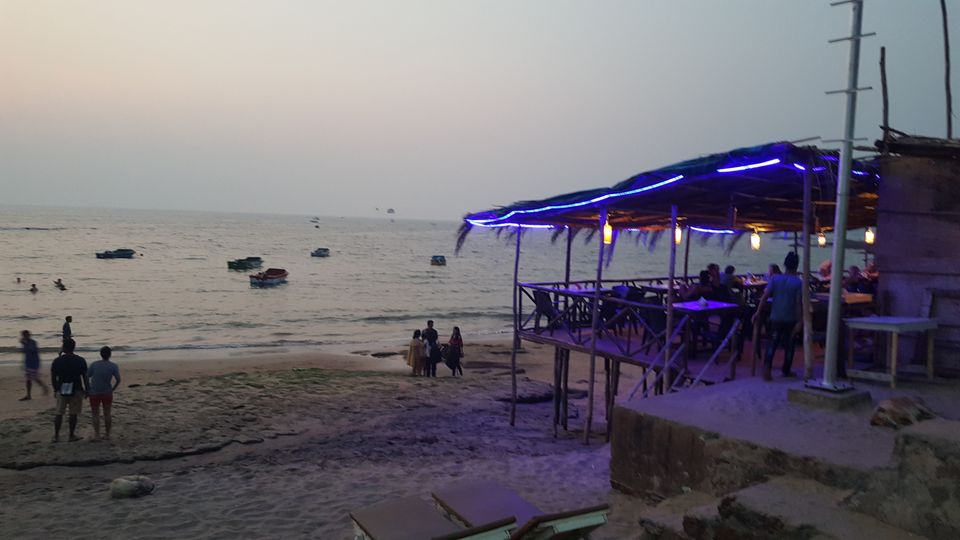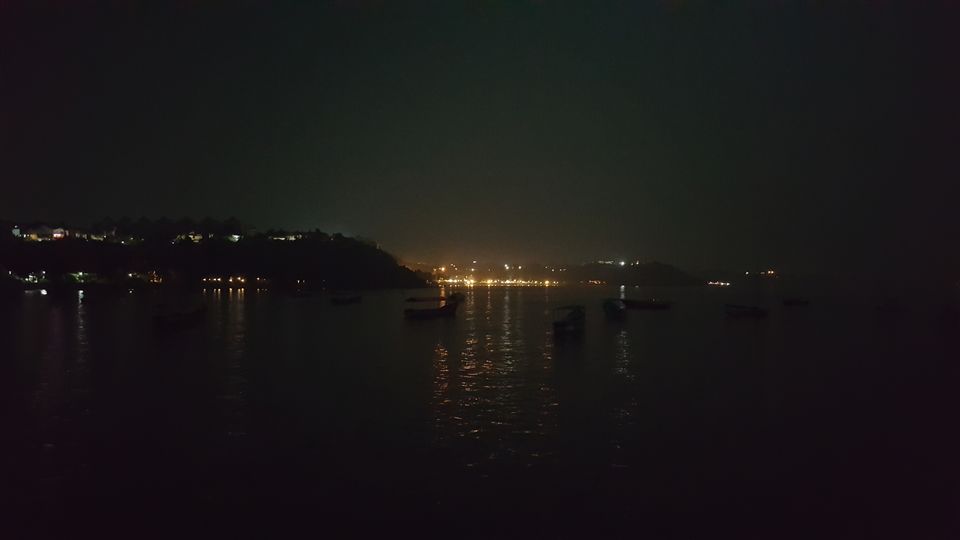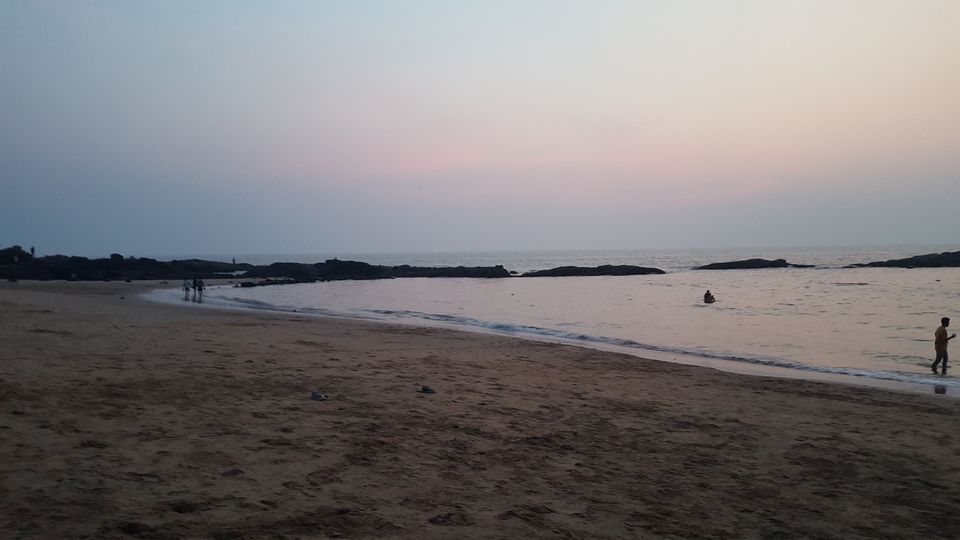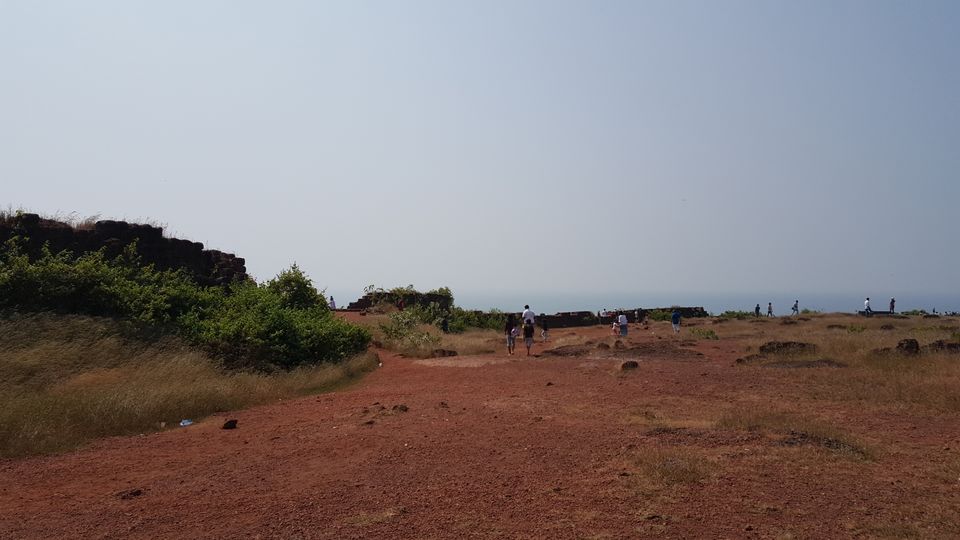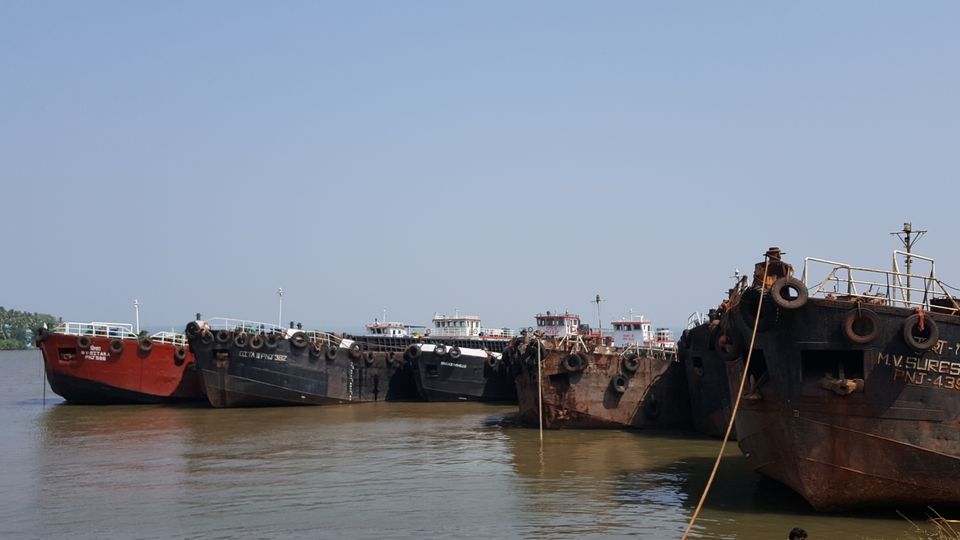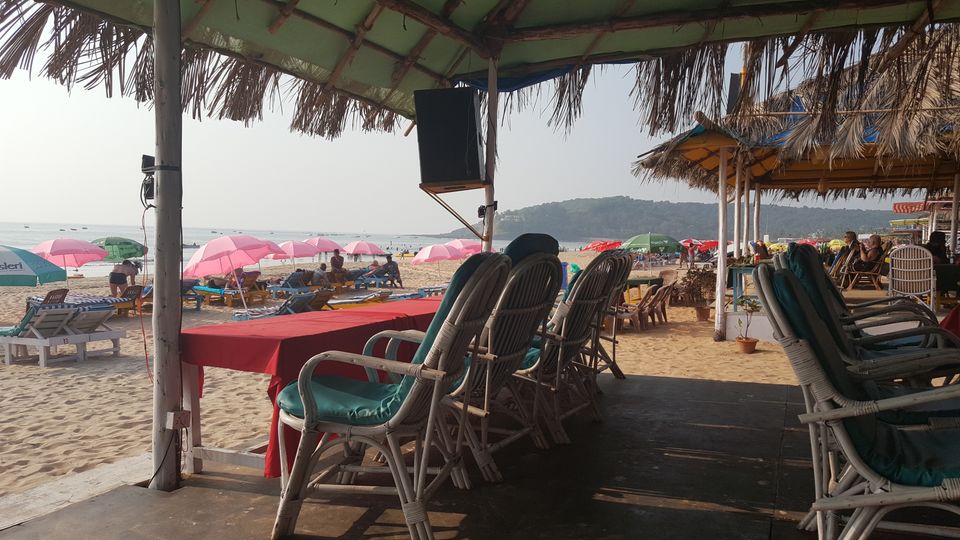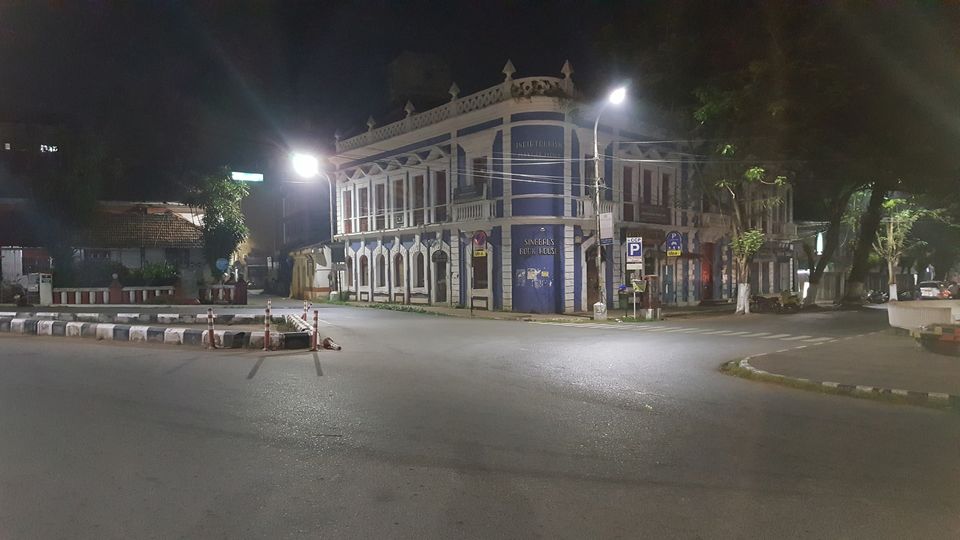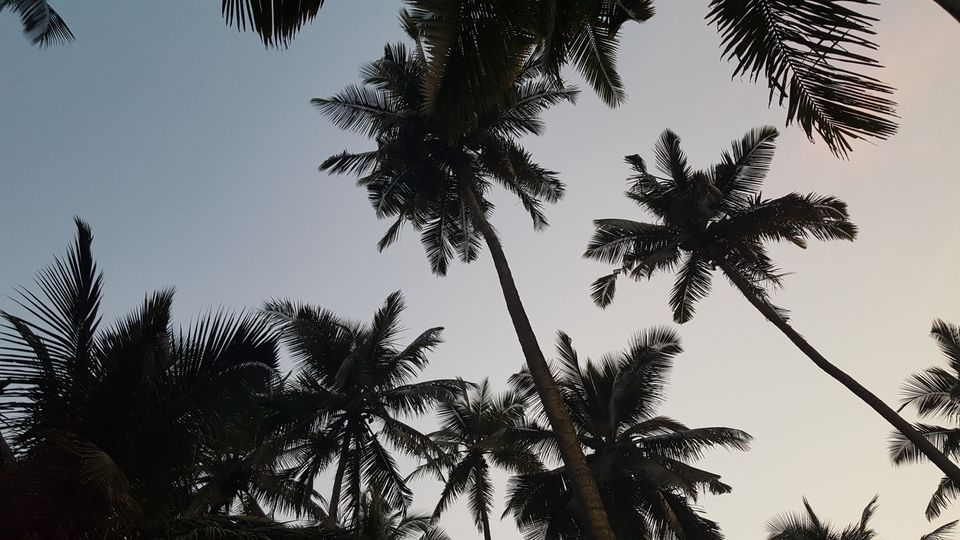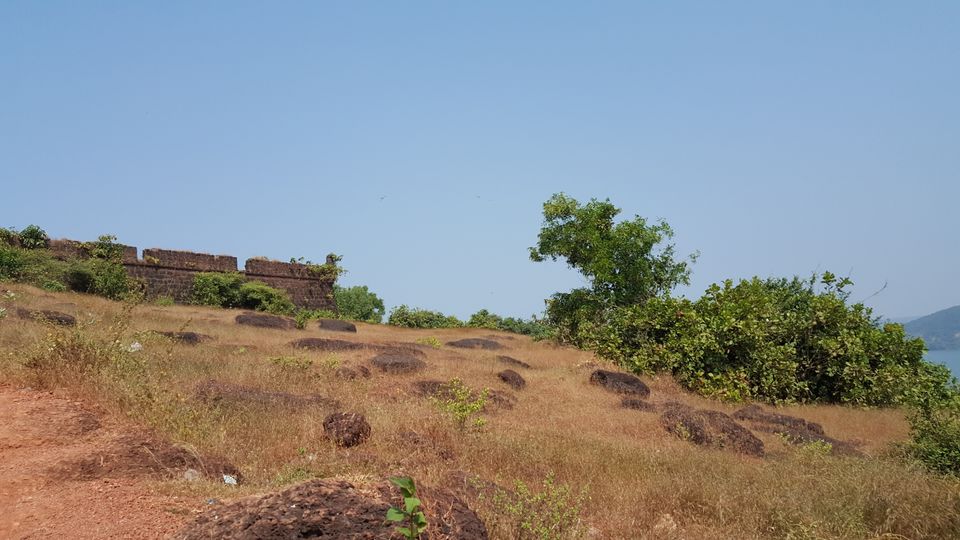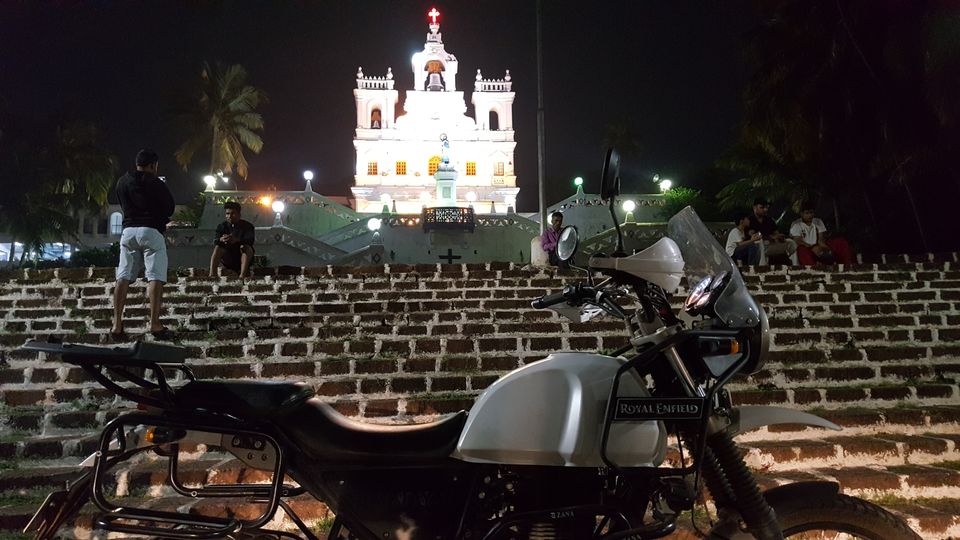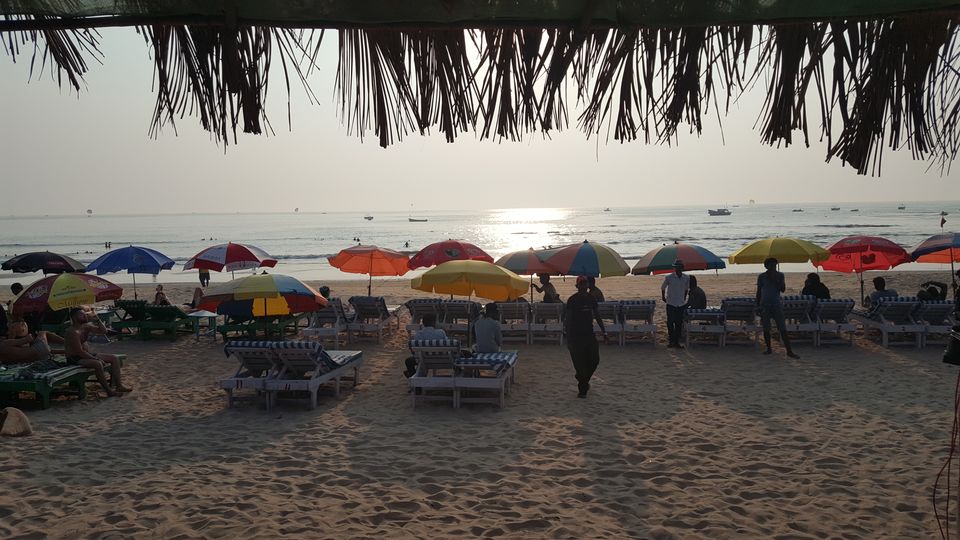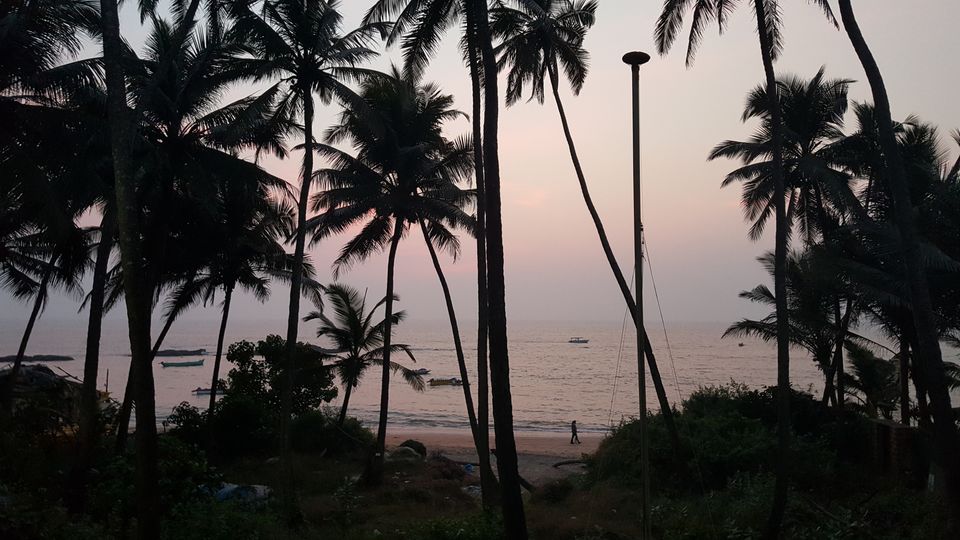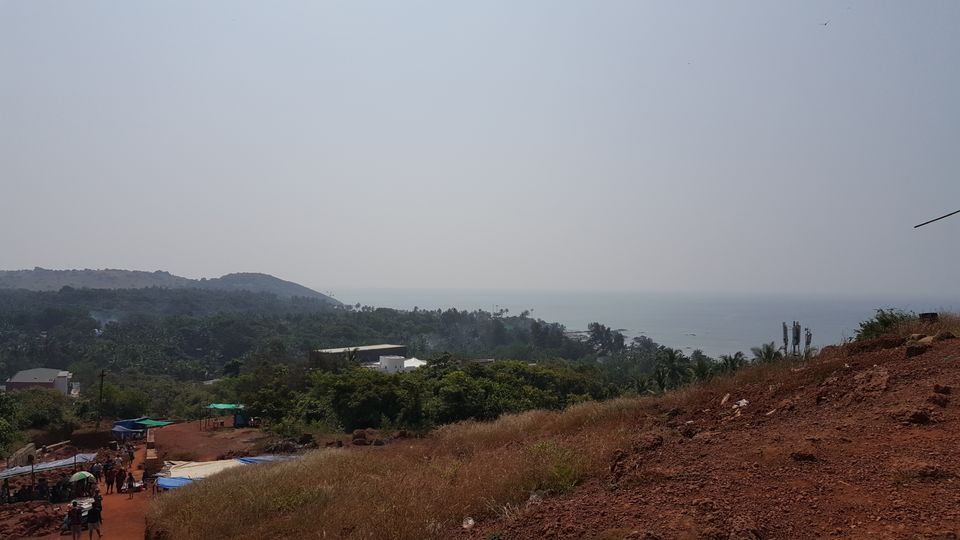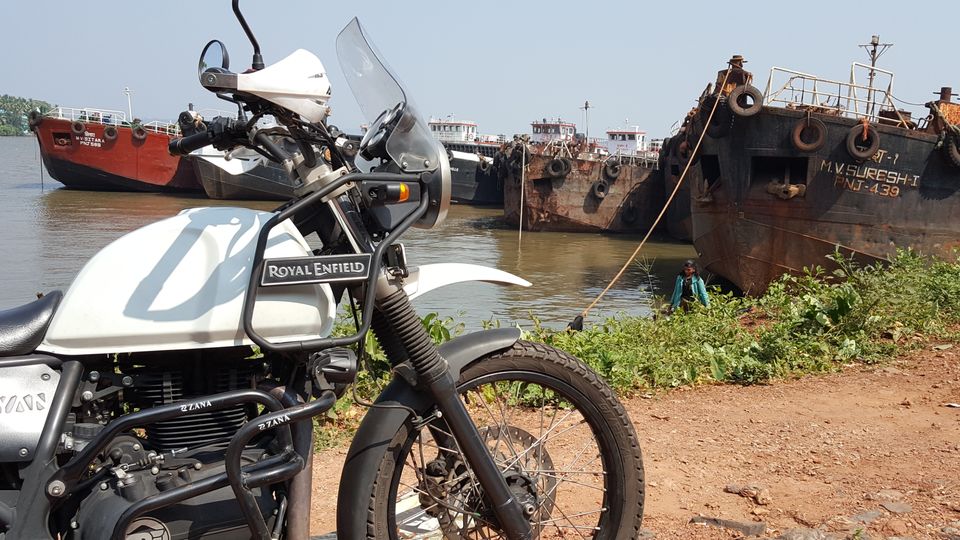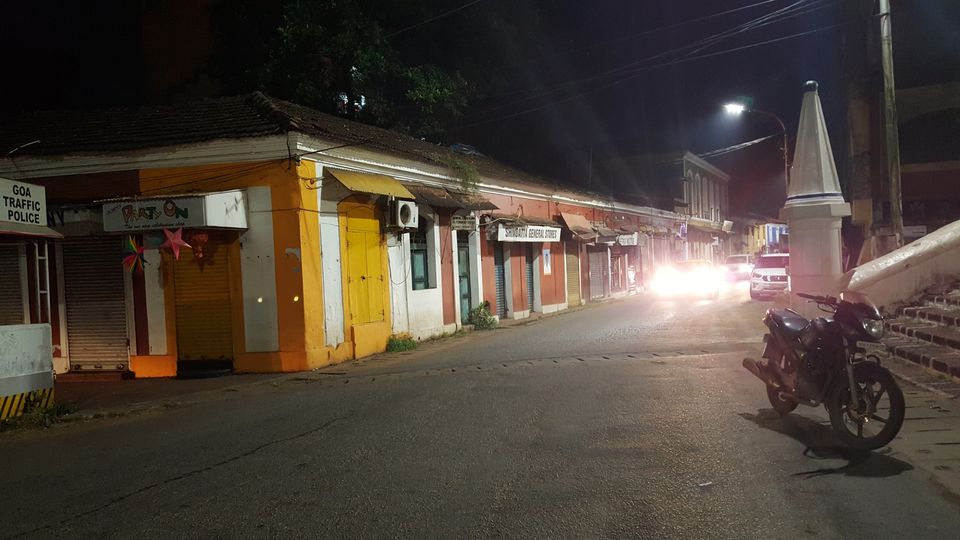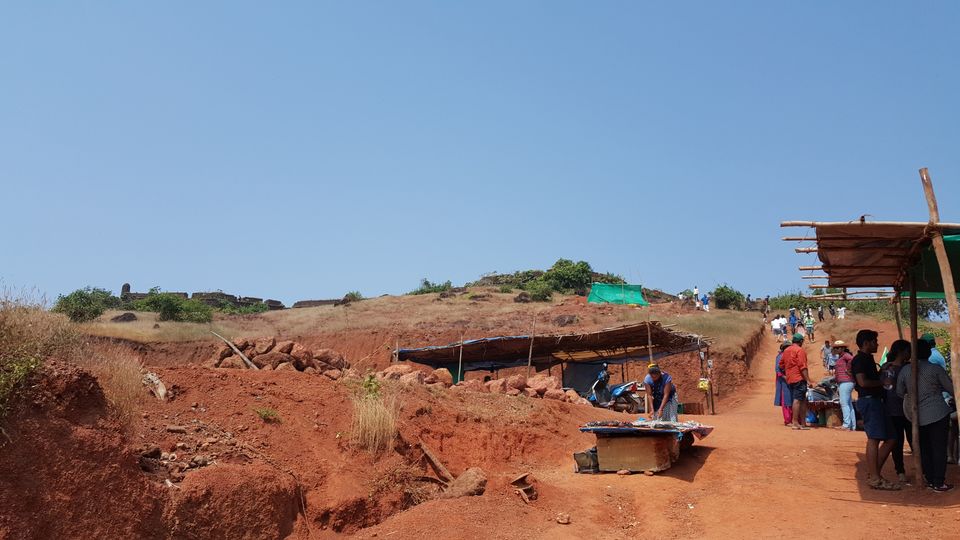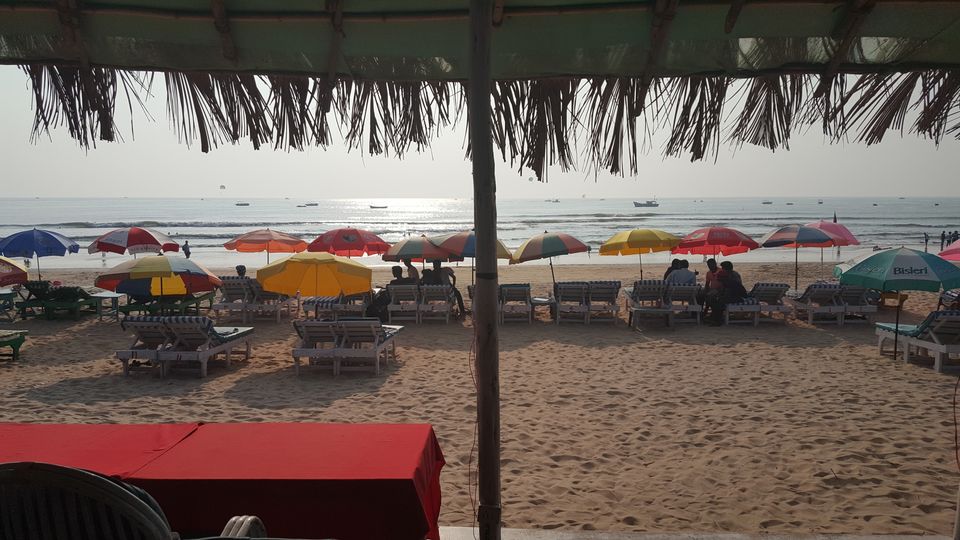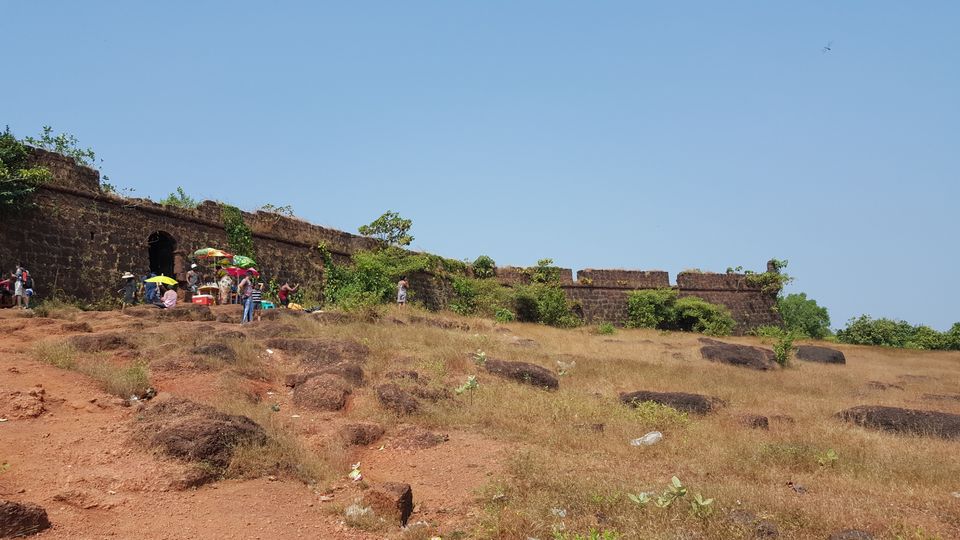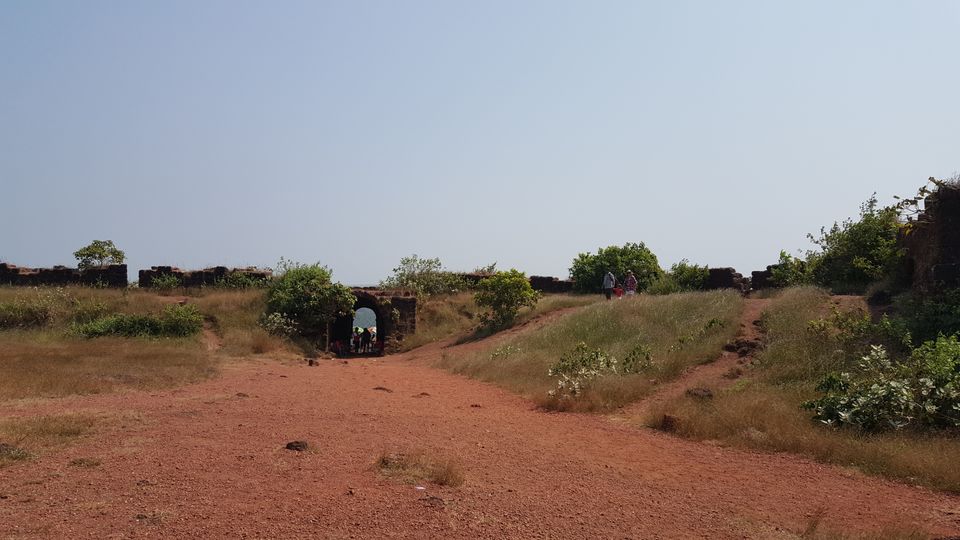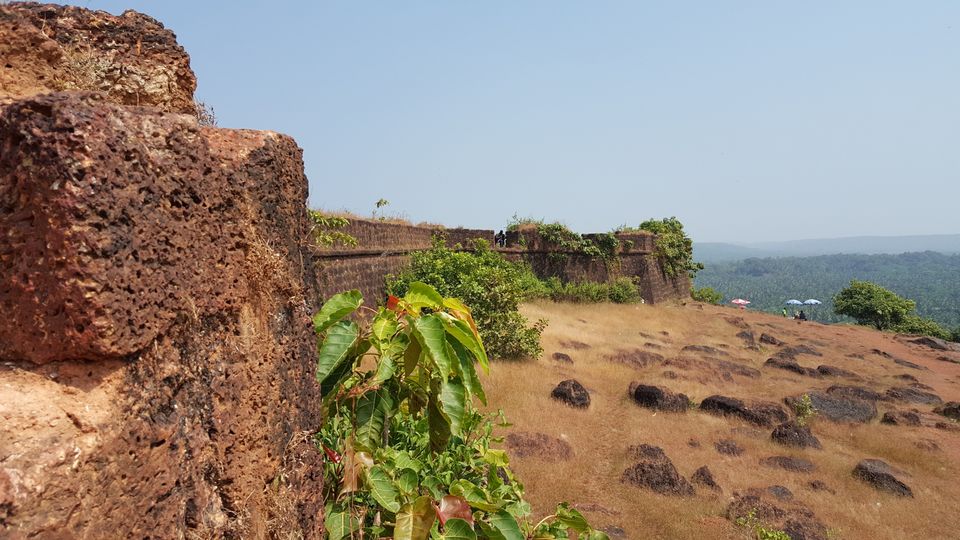 Day 4:- Dudhsagar Falls
Today's schedule was to visit the dudhsagar falls. This falls remain closed during rainy season. Due to the excessive flow of water it becomes nearly impossible to cross the rivers to reach the foothills of the falls. But you can visit by the railway line. For that you need to walk several kilometers. Which was not possible according to our schedule. So we choose the first option. It was hardly 70km from the place where we were staying. So there was not much extensive ride for the day. So we left and reached there hardly less than 2 hrs. Once we reached there we parked our bikes in pay and park which charged some 10 to 30rs. I had a top box on my bike so all my riding jacket, knee guard and mateens jacket was kept inside it. We handed over our helmets to them. Within minutes i remembered that i forgot to remove the sports cam from the helmet. So went and removed it. It was 12 by then so we thought will have lunch and then proceed.  As we were not sure that we will get something to eat ahead. We had a good fish thali. The falls is 9km from the starting point which has to covered on a mahindra bolero. Rent of it is 2800rs per car and they take max 8 person in a car. But we were 2. So we waited for sometime and they gathered 2 more couples. We were allotted a car and the 2800 was divided between 6 people. Also they charge 30rs for the life jacket which is compulsory. The ride began it goes through the forest area and you could only see mahindra bolero. You will have to cross several rivers to reach there. The whole way is scenic going through jungle with occasional river crossings. The lane is a single lane muddy patch. It took 45minutes to cover 9km. Once we reached there the vehicle in which you went will give you some time for you to explore the place. Say around 2 to 2.5 hrs. You will have to walk some 800meters to reach the falls. But you will enjoy those distance and it's easy to cover. We were still wondering why they said life jacket is compulsory till we reached the falls. When we reached there the view was so stunning. The water from the falls has made a pond beneath it for which we required the life jacket. But unfortunately we didn't carry any clothes for changing so we couldn't get into the water which was the sad part. The view is so good that you can spent more than a hour sitting on the rocks. Wanted to click the scene with a train passing by. Within few minutes a train passed so we clicked few picks there. We have to carry water and other snacks and there is no provision there. Only a small store where you get tea and water (only in glass not bottle ) at the place where the vehicle leaves you near the fall. I was happy that for many days i was thinking of being there. It became true. We came back to our car. So it was other 45minutes drive back to the place outside the jungle. We had some snacks and left for the day. By evening we went out to have a good biriyani for dinner. After which had some fruit juice. Mateen wanted to buy some cashews, as we were traveling for another 25 days i didn't buy one, he brought it. Then we went to a beach where there were no people. Sat down in front of the sea, the waves were rough. A small bridge like way was being constructed there over the sea, upon enquiring they said that there will boating facility for tourist in future from there. It was around 10pm so we left from there. That's all for the day.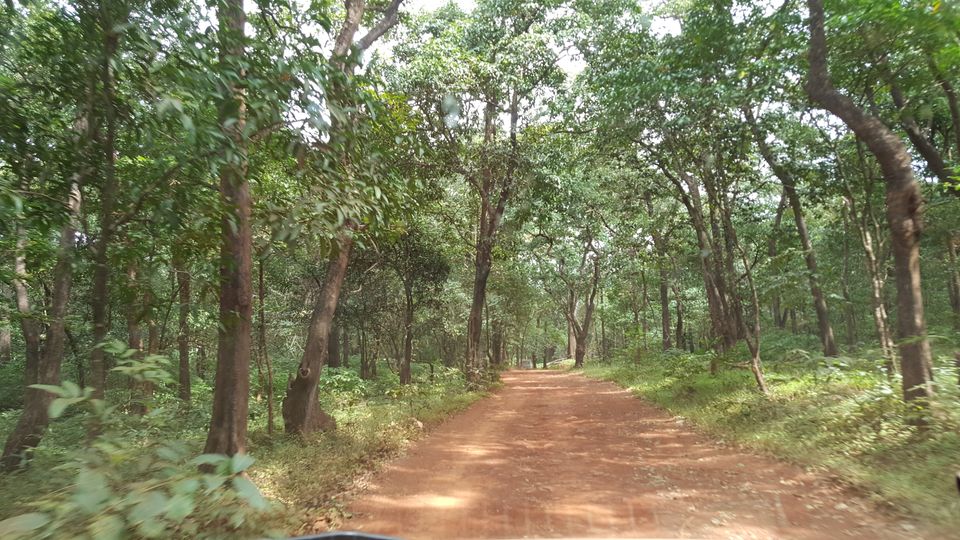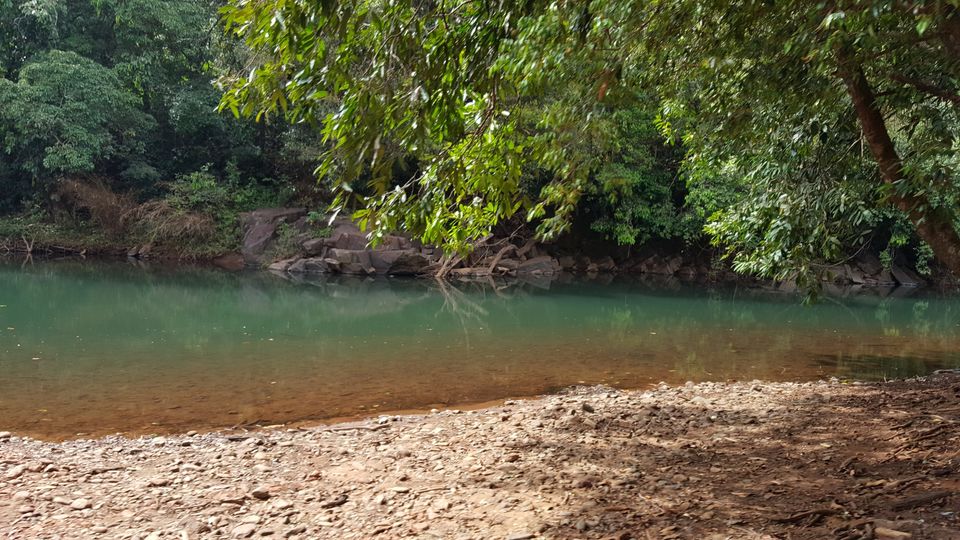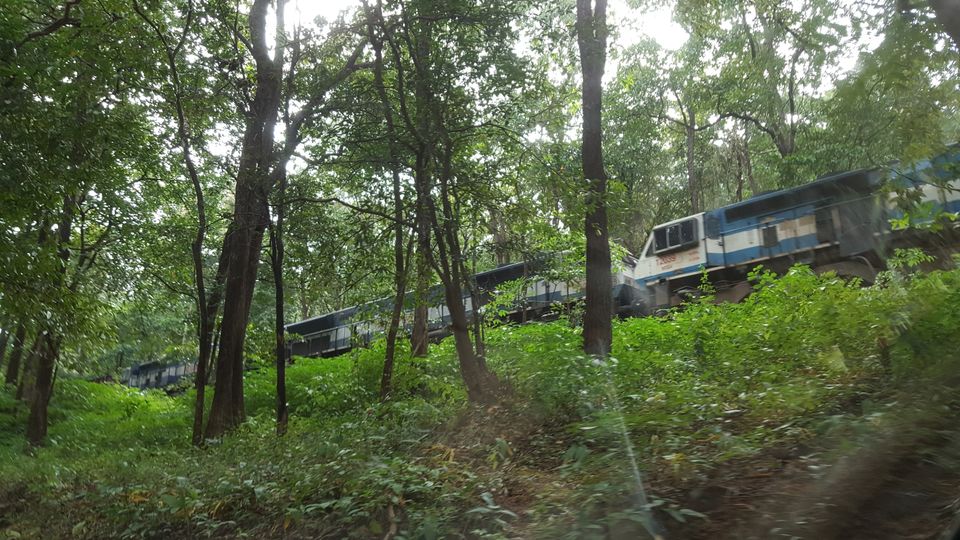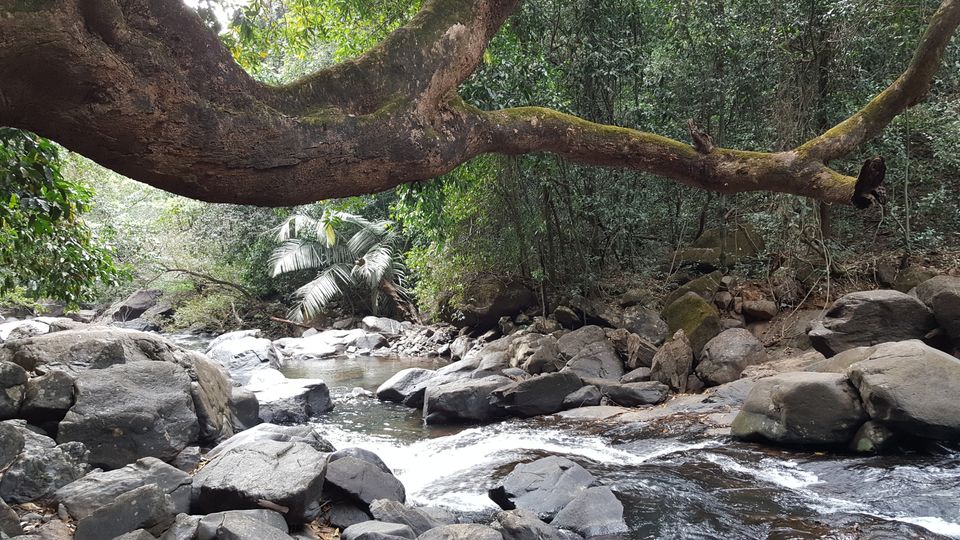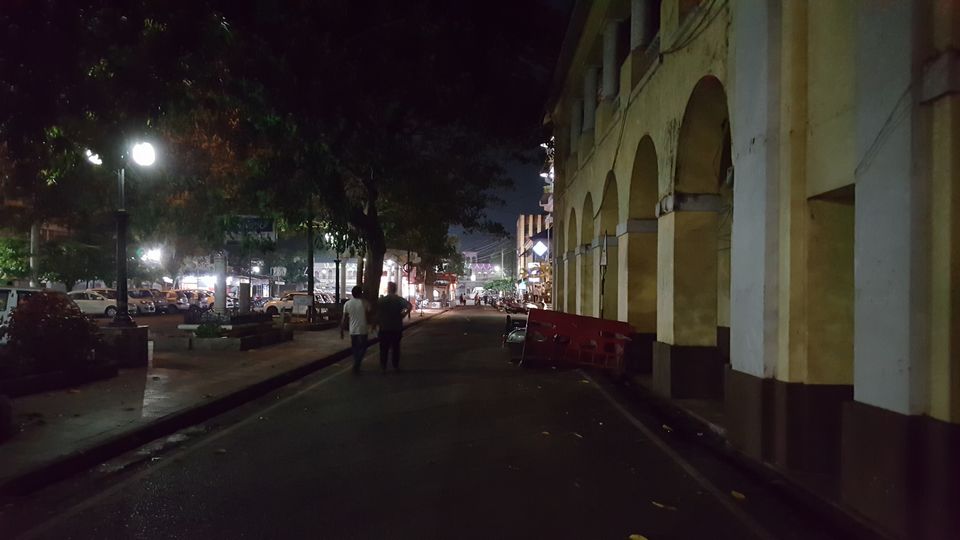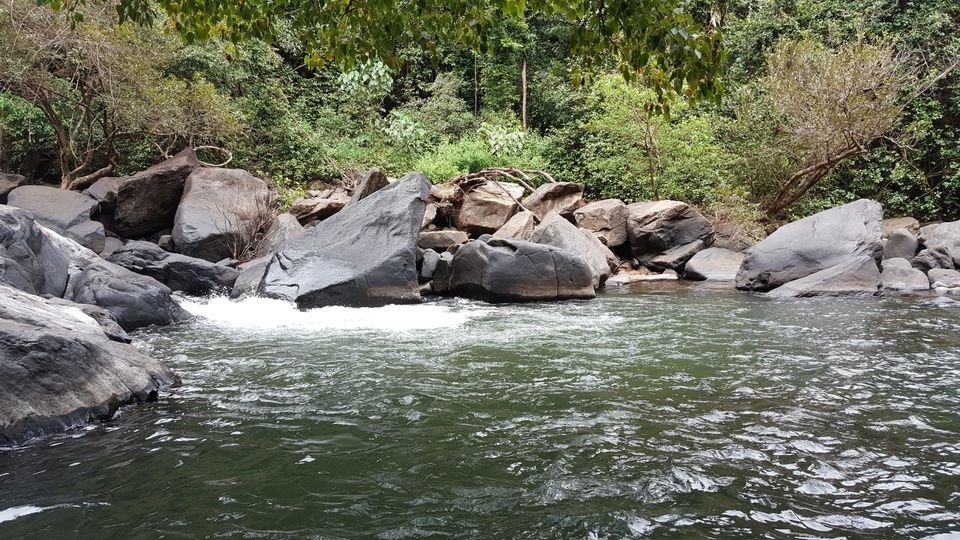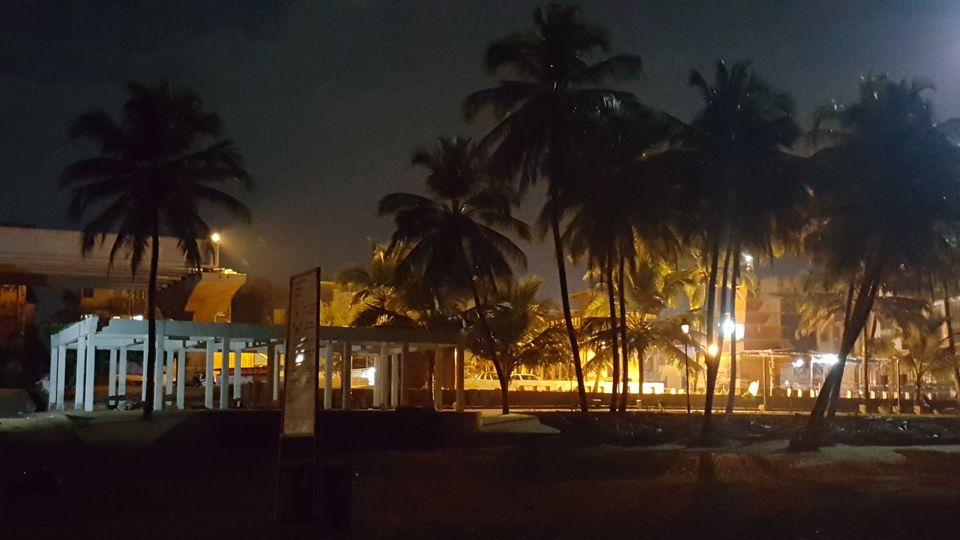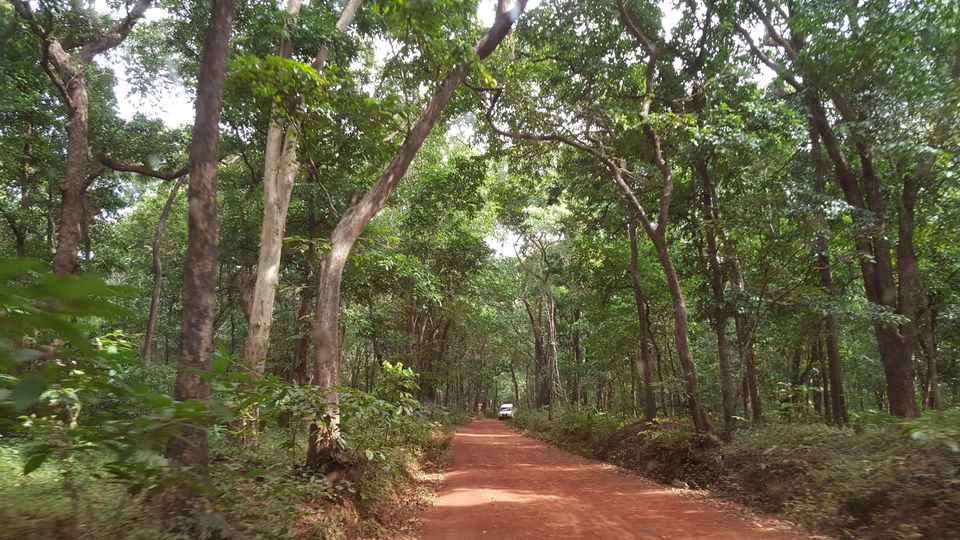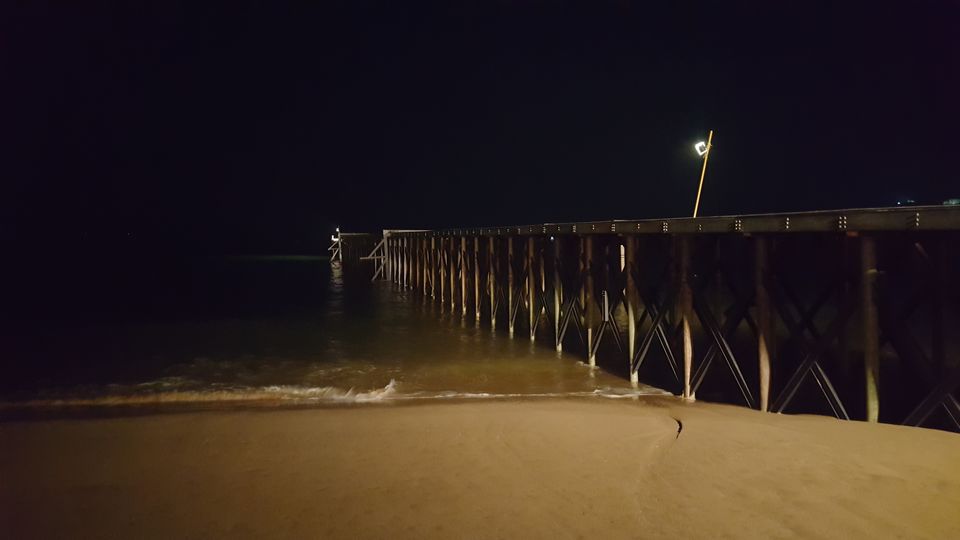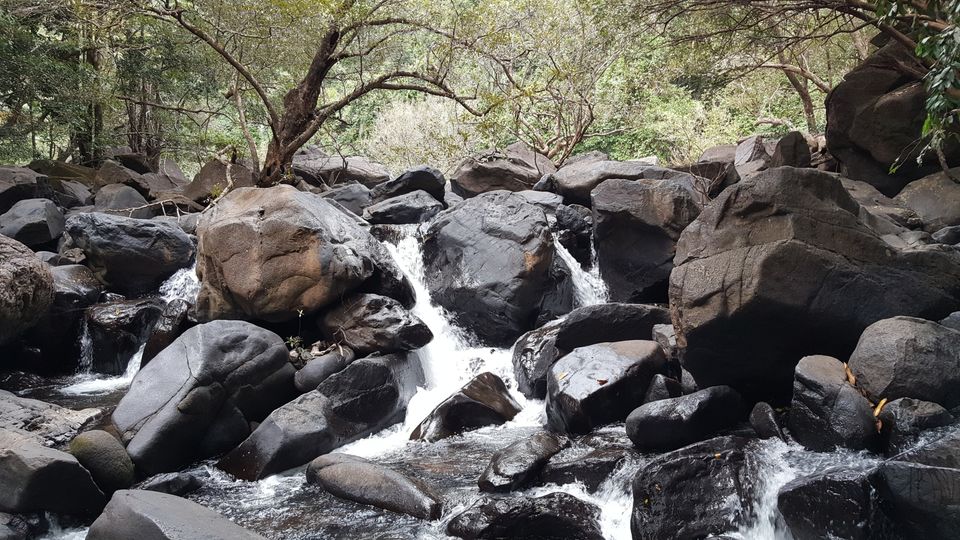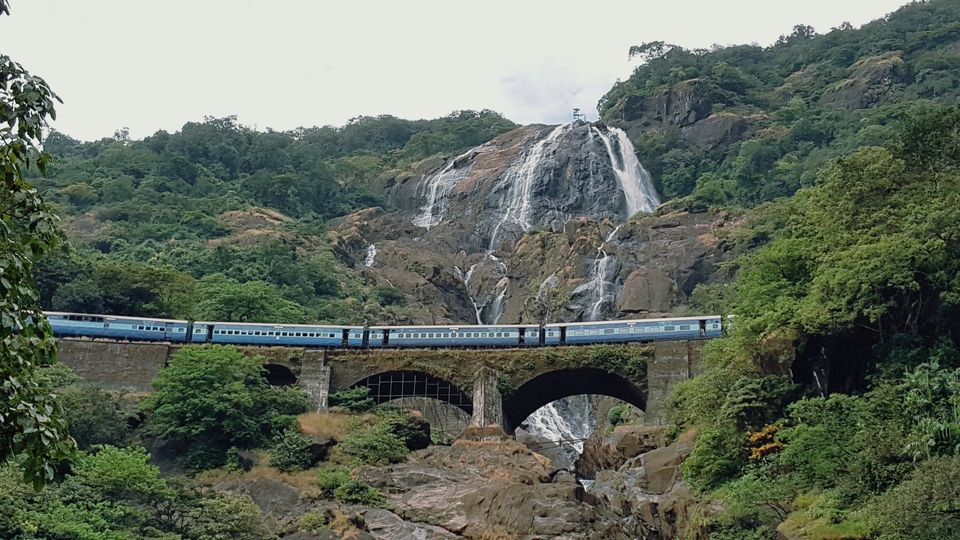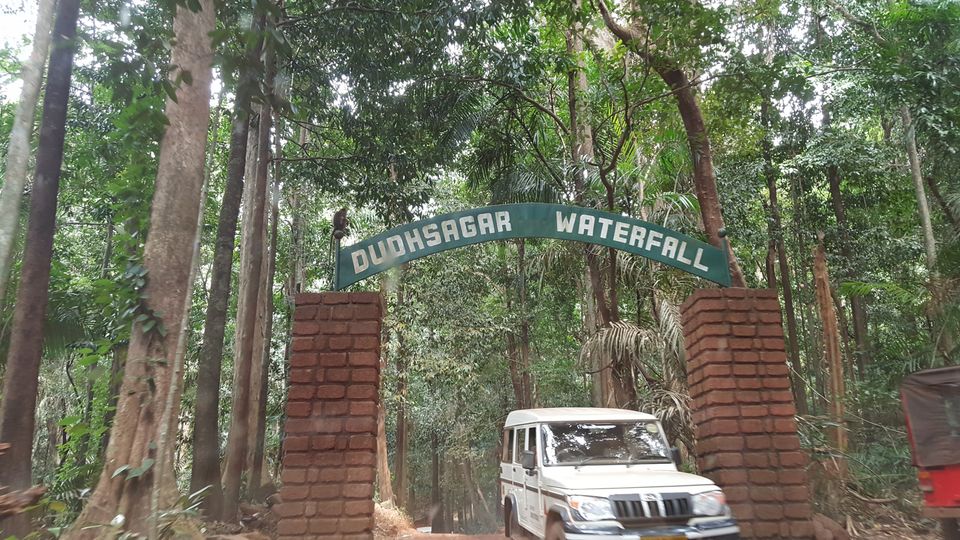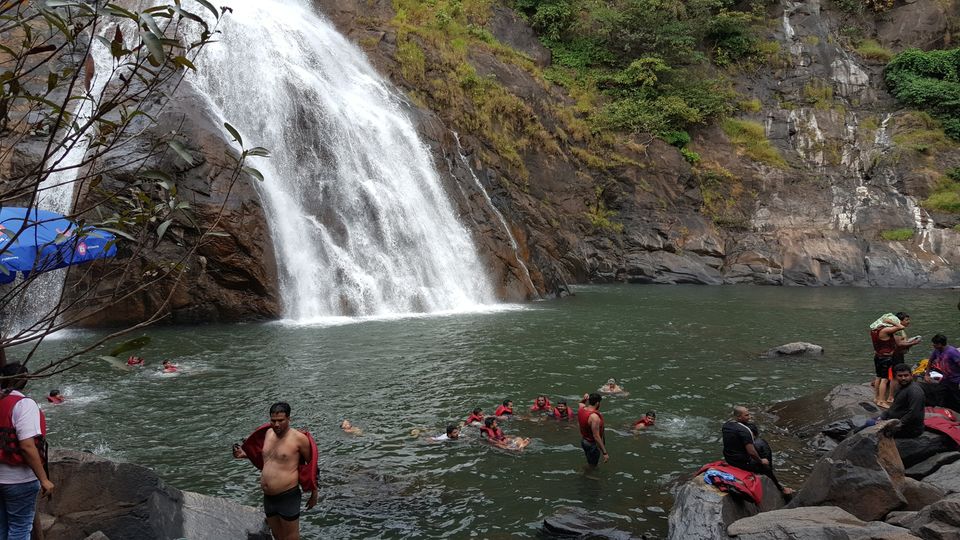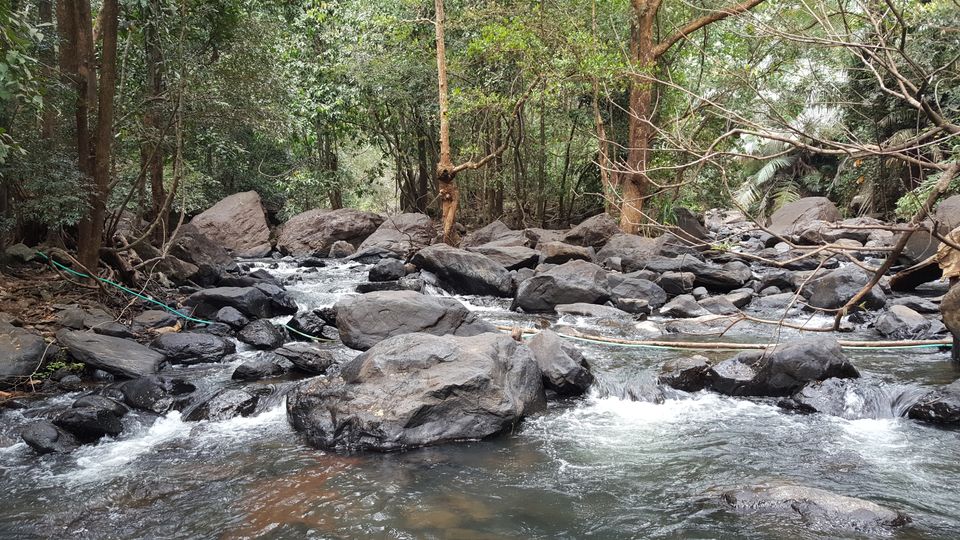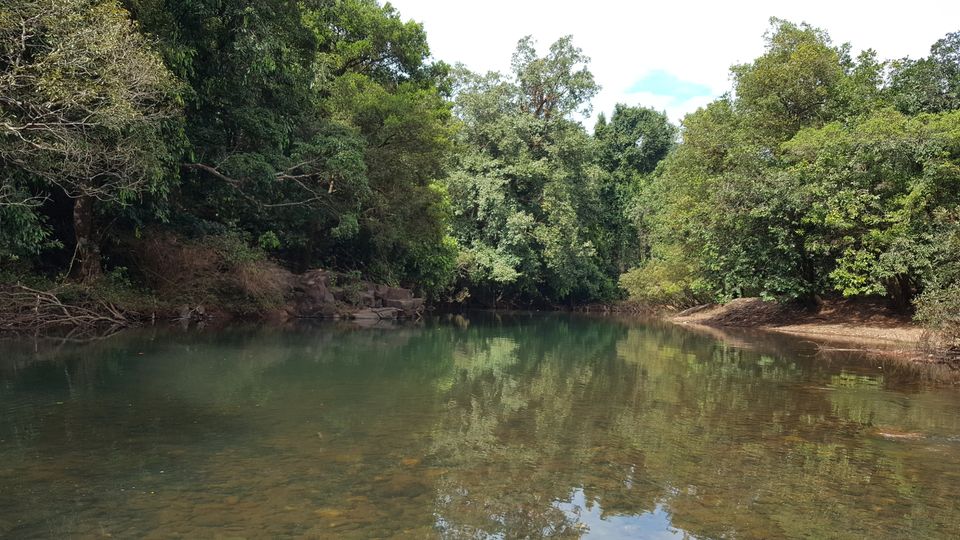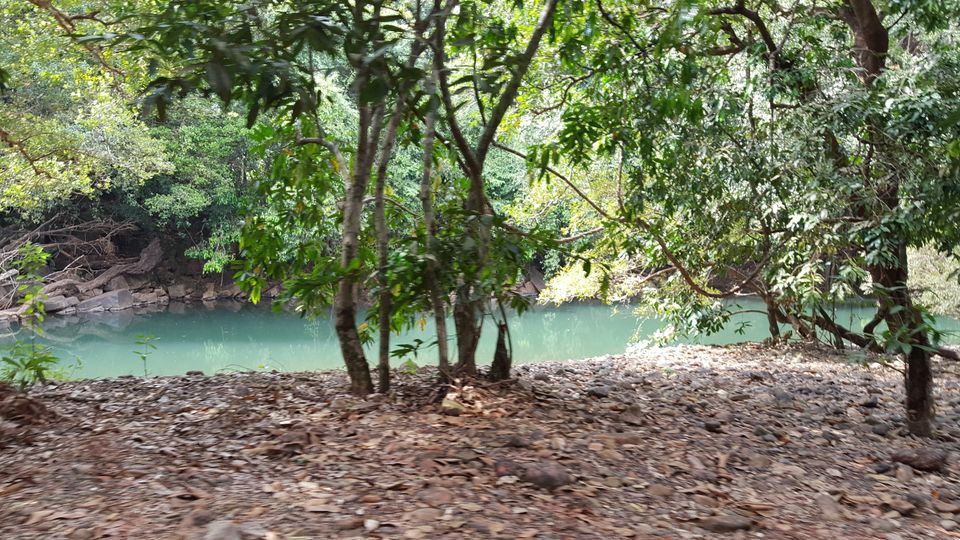 Day 5:- Goa to Jog falls(karnataka) via Gokarna.
After exploring enough of goa. It was time to cross the state now. Todays plan was to go to jog falls, which is known as the second tallest waterfall in India After exploring enough of goa. It was time to cross the state now. Todays plan was to go to jog falls, which is known as the second tallest waterfall in India. But before going to jog falls we had to explore gokarna on the way. So we started our ride and tanked up in goa as the petrol costs less. Mateen was a coffee maniac so wherever he sees a stall he parks his bike there. We used to stop at various place for taking pic, wherever the scenes were good. When we crossed the border and entered karnataka suddenly we could feel the rise in temperature. It was afternoon by now we searching for some hotel for lunch and after a long search we saw one , which was a very normal one. But we didn't want to miss this keep searching other. So we sat there had a good rajma chawal with buttermilk. We had to reach gokarna before sunset . So we continued further. Enroute we found a nice river front i wanted to halt for taking some pics and mateen wanted to halt for coffee. So after clicking some pics we had some coffee as most of the coffee plantations could be seen in karnataka, chances of getting good coffee is higher.As time was passing by and we had to keep a watch on gmaps at there was a deviation to taken from the main road towards gokarna. It is some 15 to 20km away from the highway and the route passes through some villages. It was a single lane route. By looking at which we were not sure it leads to gokarna. But it does. We got a ariel view of kudle beach. Took some nice snaps. We came to om beach. It was quite a calm beach with good scenery. It was getting darker so went towards kudle beach but found that it could be reached only through a resort. We returned back and few meters from there it was an awesome view to see the sunset so again it was time for photo shoot. Finally we left and we had to cover 20km back again to come to highway. By the time we reached there it was totally dark. We had to cover honnavar which was 50km from the highway. At times we had to follow other cars as it was dark. By 8 pm we reached honnavar from there we had to take a single lane route for the next 60km to reach jog falls. We had some refreshments and started towards it. As i said it was a single lane road and it had rained heavily before we reached there so the whole road was wet. This road passes through a dense jungle. We continued as we had to reach our destination. The condition of the road was poor as it had many potholes. Now we had to face darkness, jungle and wet road with potholes. There was no lights on the road and hardly any village. While riding on the road i saw something moving on the road and it was some 1 feet height. From a distance it seemed like a baby crawling and the very next moment i realized that were no houses nearby then what it will be. So flashed the upper light and found it was a huge porcupine. As soon as the light fell on it , it raised it quills which are like needles so its height grew even more but it soon crossed the road. Now i was in doubt that what if a tiger comes in the road. Anyways we continued further in the pothole laden dark road. We couldn't speed because it was dark and the road were wet and had potholes. We didn't even want to take a small halt. The ride was tiring we rode for several kilometers but we were not sure that there will be some hotel to stay for night. Every minute went like an hour. Finally after 2 hours we saw a small tea stall we halted our bikes there and had some bread omlett and coffee. He was a nice person. I asked him is there any tigers in this jungle. He said yes but mostly  leopard are spotted and till now they haven't attacked any humans mostly they prey on dogs. Even his own dog was eaten by a leopard. It was scary to hear that but one good thing was it has never attacked humans.  We enquired about some stay he gave us two contact and out of that he said one has been opened recently so the room will be neat and clean and it has a tv other one doesn't . Both are 6km from here. Which brought  a smile to our face as we had to ride only 6 more km. Found the guest house, it was good and clean . Bargained a got the room for 800rs. Believe me it was such a feeling to lay your ass on bed after riding for the whole day and that too the scary final 60km in that dark jungle.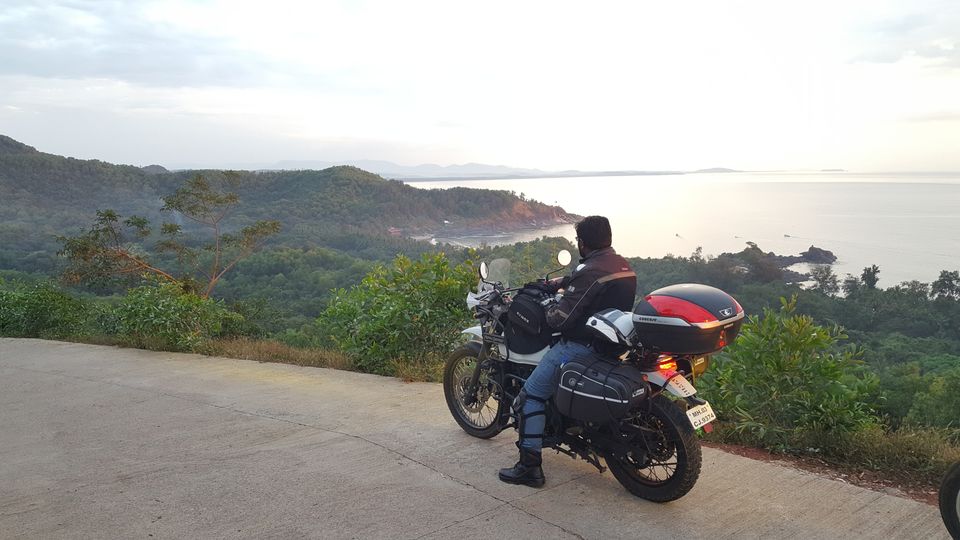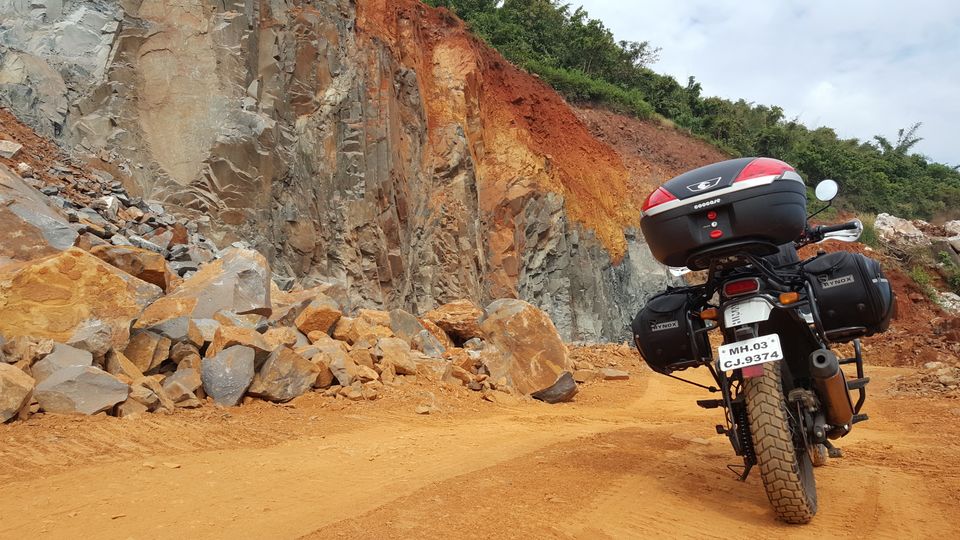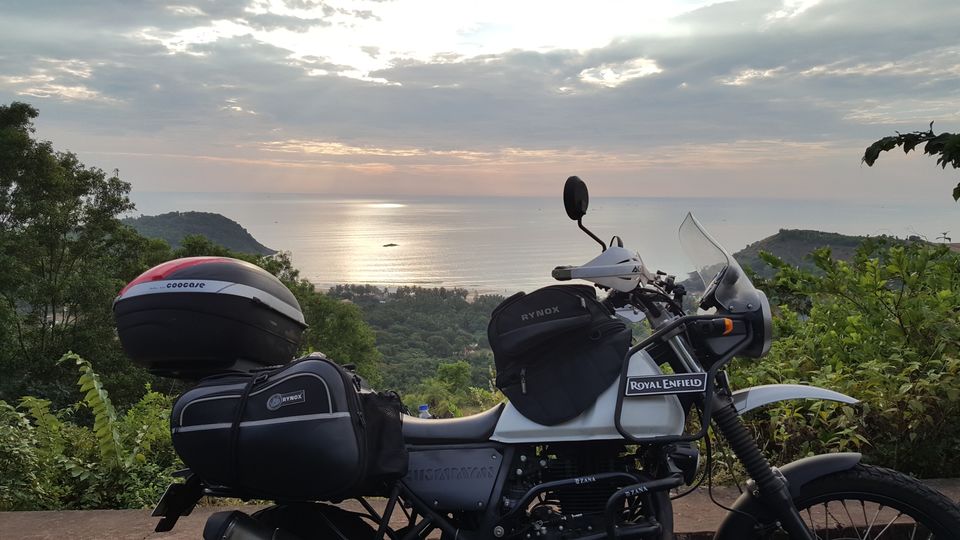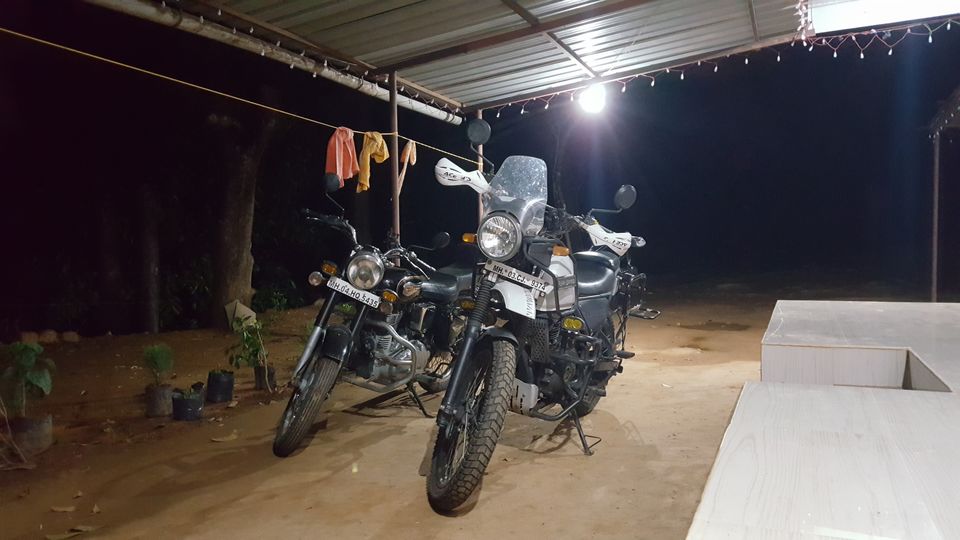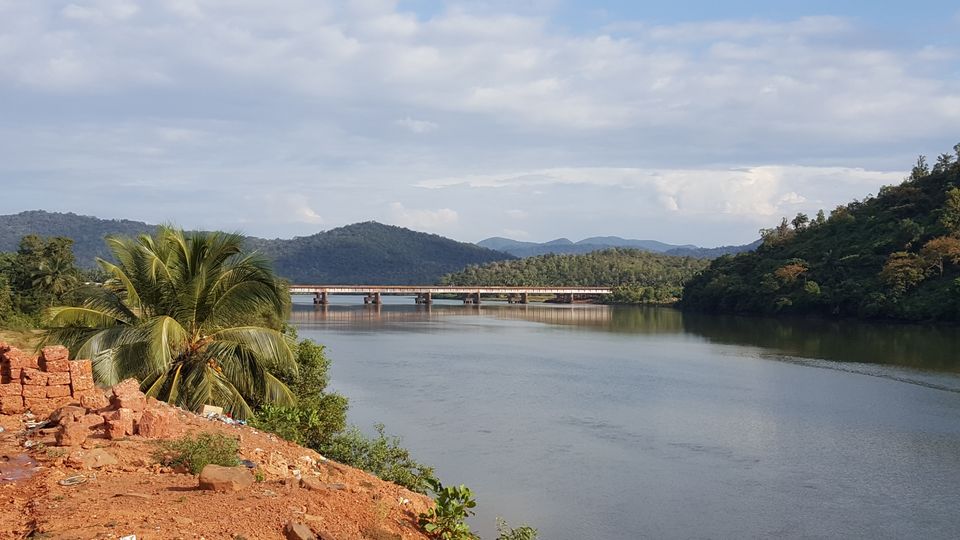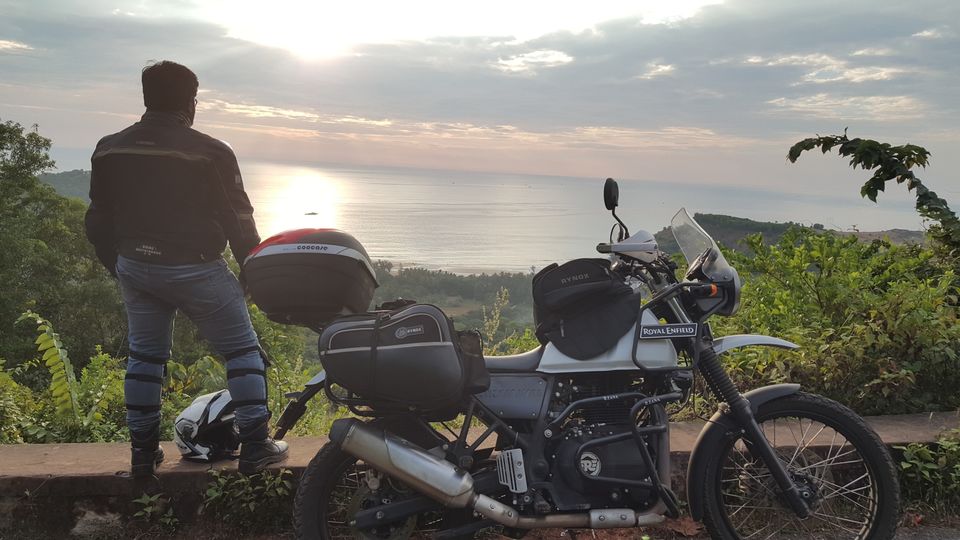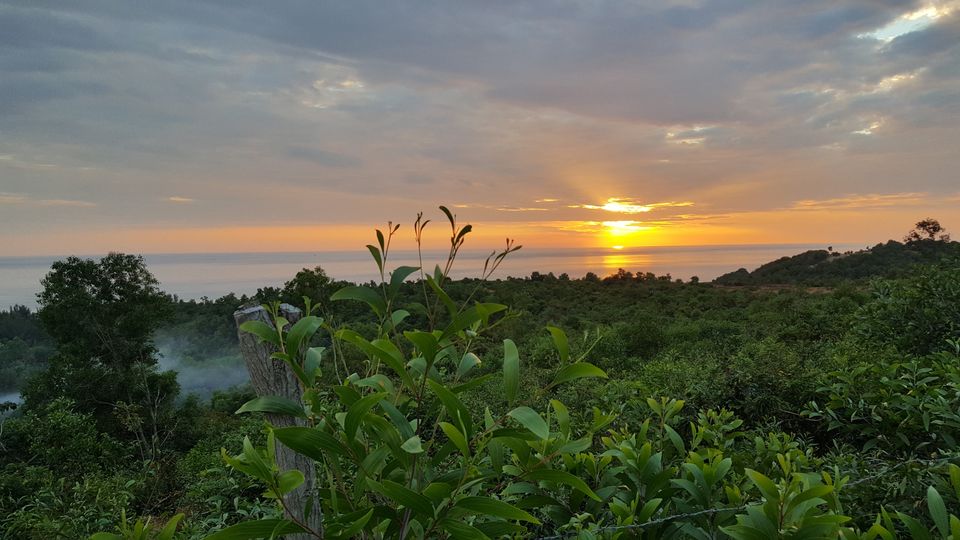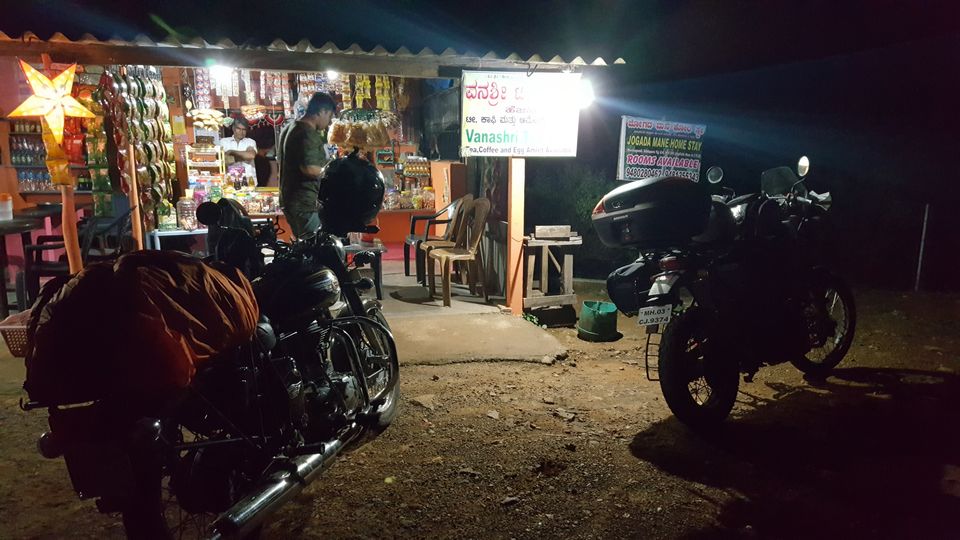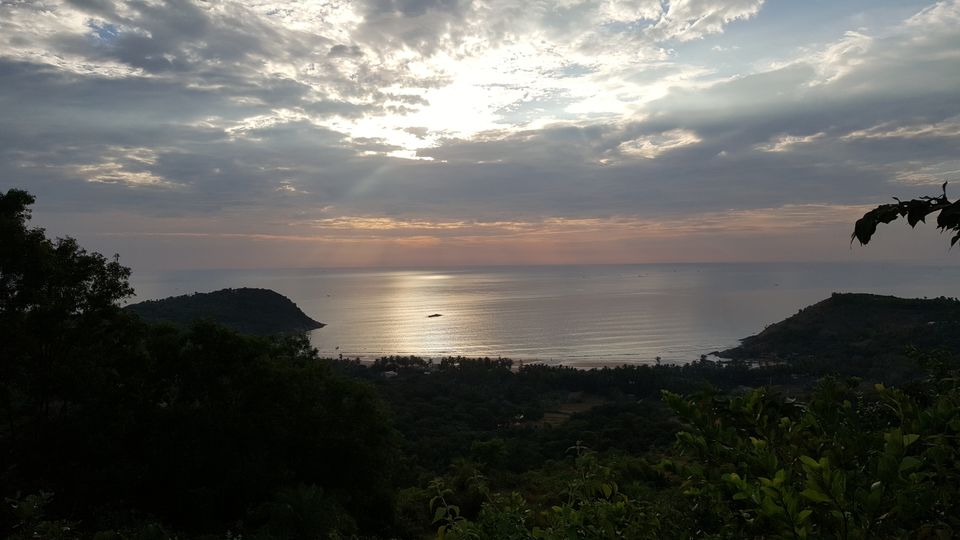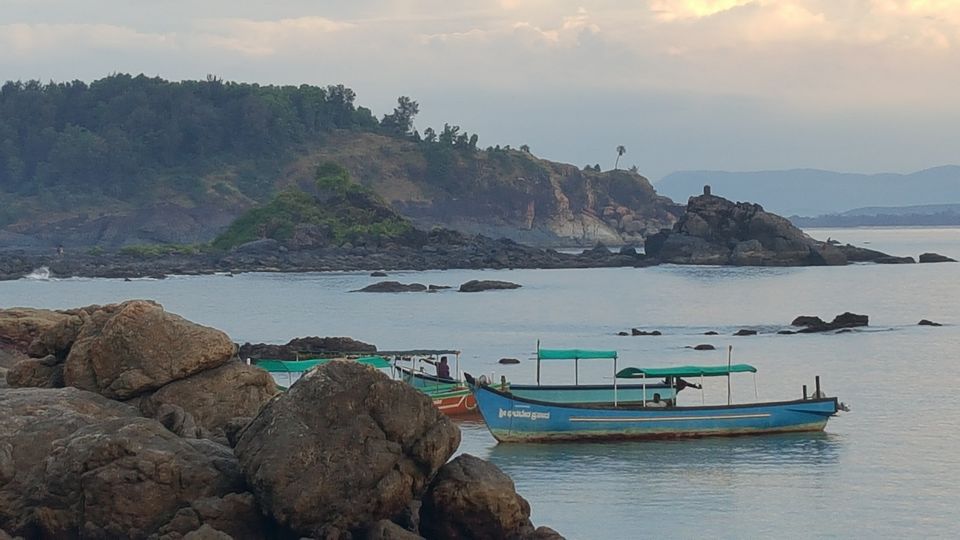 Day 6:- Jog Falls to Madikeri (Coorg)
Got up from yesterday's scary ride as the biggest scare was if the bike would have stopped for any reason it would have been a big problem. But thank God nothing happened. The jog falls was 10minutes form the hotel where we were staying. So we first got up and went to have breakfast by walk. Came back and freshened up and decided to visit jog falls first and then come back to the hotel and take all our luggage. It hardly took 10 to 15 minutes to reach the jog falls. At the entrance you will find a huge granite board in which it is written as welcome to world famous jog falls. Once you get inside you have to take entrance tickets for you and your vehicle. The whole area is quite well maintained. You have cafeteria, atm ,washroom and other facilities inside it. We went to the spot from where the falls was visible. As the rainy season had already ended the water was less in the falls. But the falls actually huge. After the photo shoot we had a good coffee there and left for the hotel. We loaded all the luggage on our bike and left for coorg as it was already past 12 noon. Also it was 350km from there. On the way we came across a lake so we stopped there for sometime. Enroute i saw a small lane leading to woods so we took our machines there and clicked few pics after which halted for beverages. After few hours of ride we halted for lunch and spent around without realizing it. At some parts google maps took us through small lanes of villages and then we were on good road. We had already blocked a room at madikeri through one of my contact so we didn't have to search for a room once we reach there. The route was scenic as it went through villages. On the way we missed a turn and went ahead so we had to take a u turn and come back to take the exact route. Then we came across a ghat section and it was fun to ride the bike as the roads have many twist and turns. Once down the ghat mateen wanted to halt for coffee. By the time it had started becoming dark. The road at several parts were small also it had turned dark so we had to maintain our pace. We had to halt twice in another 3 hours.Suddenly  the temperature dropped down. By the time we reached coorg it was 11pm. It was a tiring day. We went into the hotel to find that the cost of the rooms were thrice our budget. We had to bargain as it was already late to find another hotel they gave a 50% as we said we won't be here for whole day we will leave in the morning. Also the attending guys was so good that he provided some bread butter and jam by himself even though the restaurant had closed. But the rooms were individual cottages and very nice. Nevertheless we were so tired so we went off to sleep.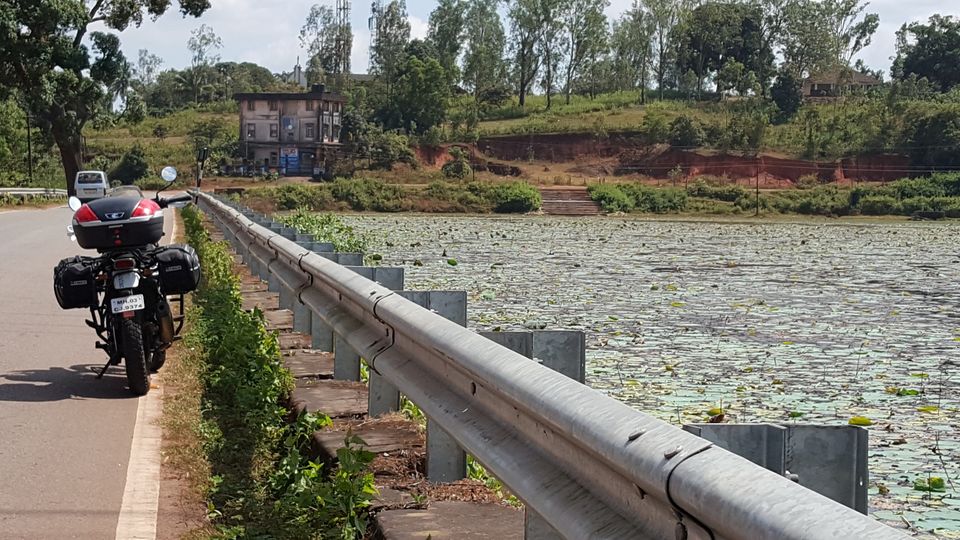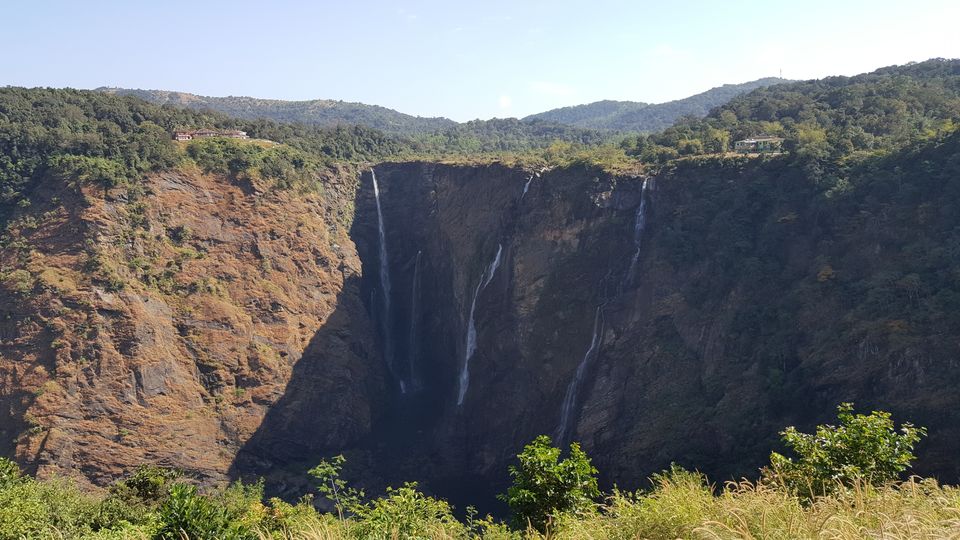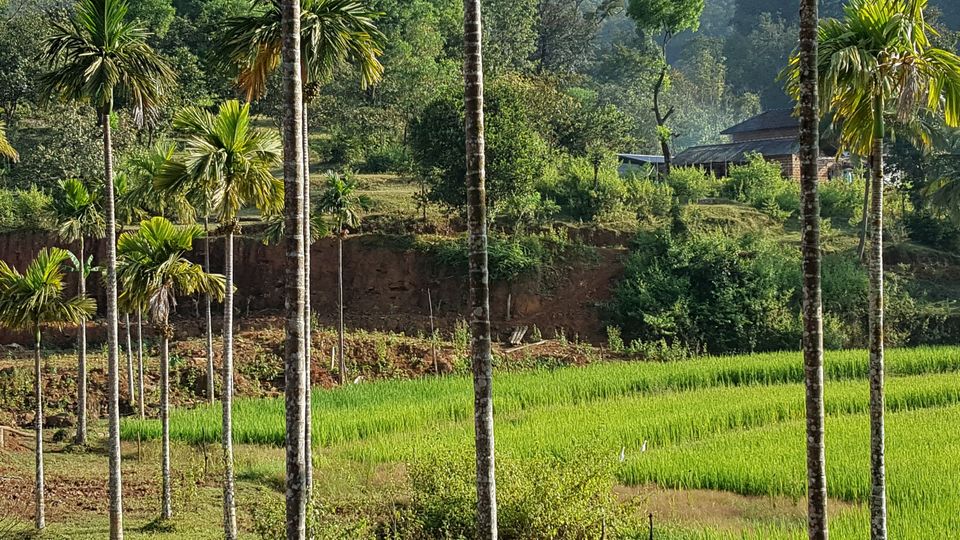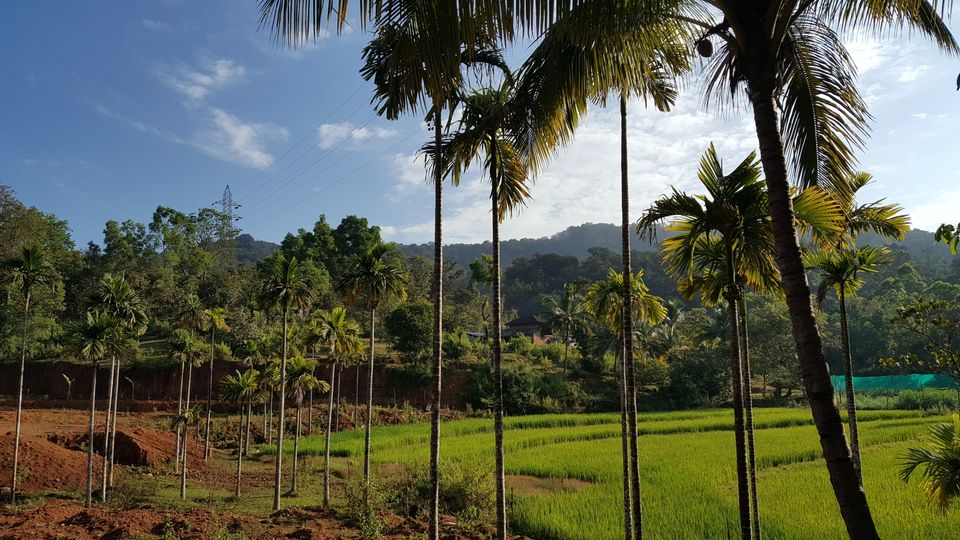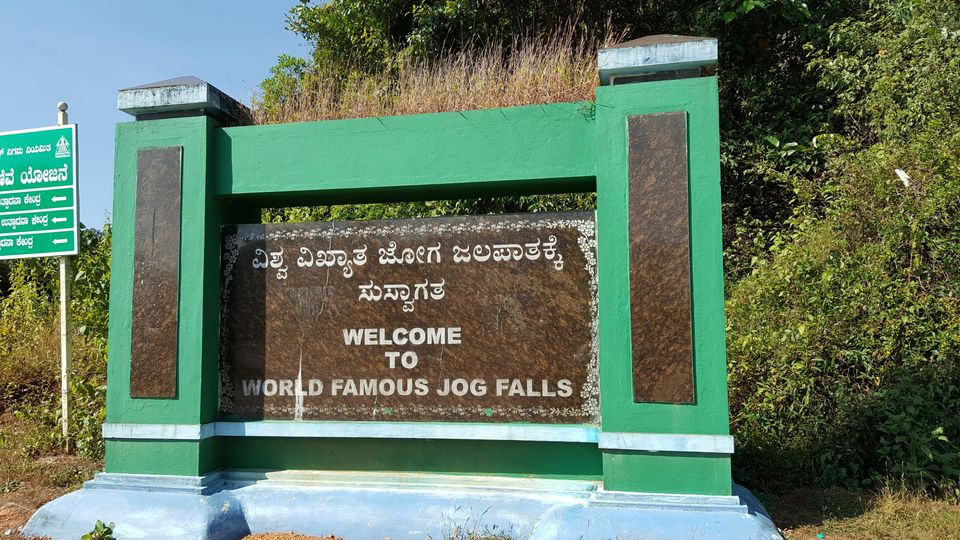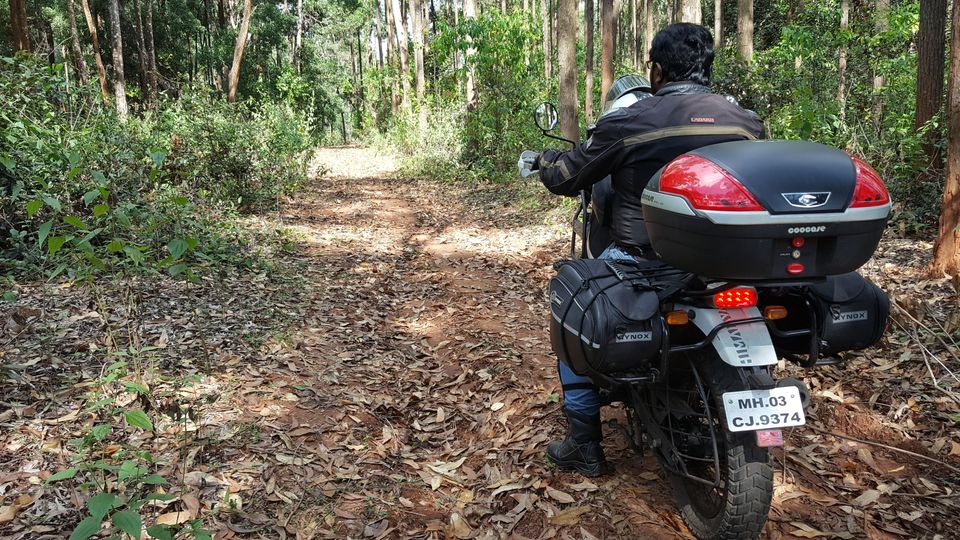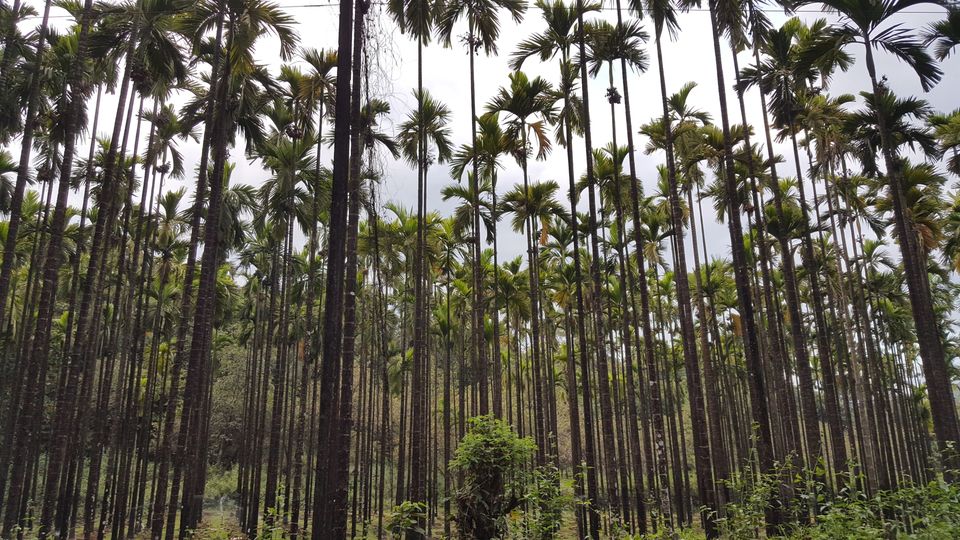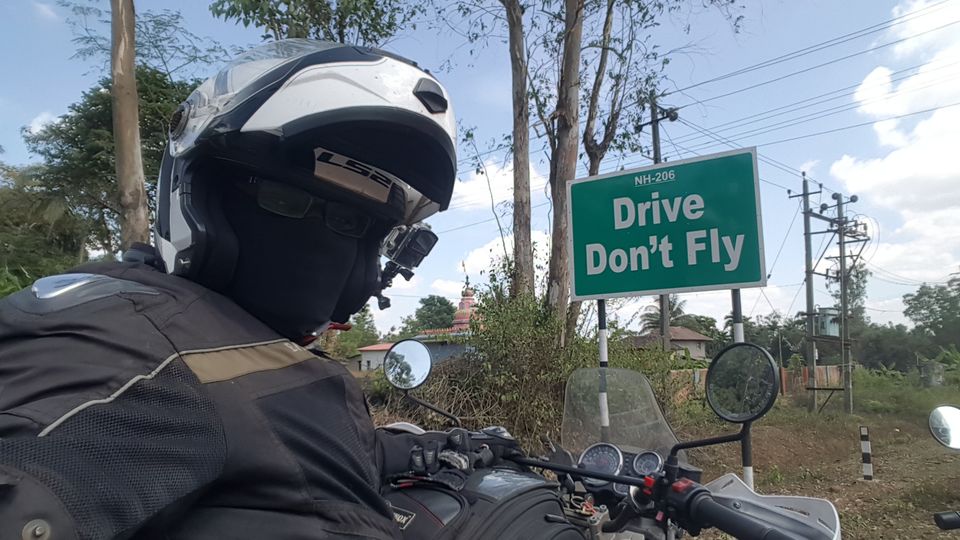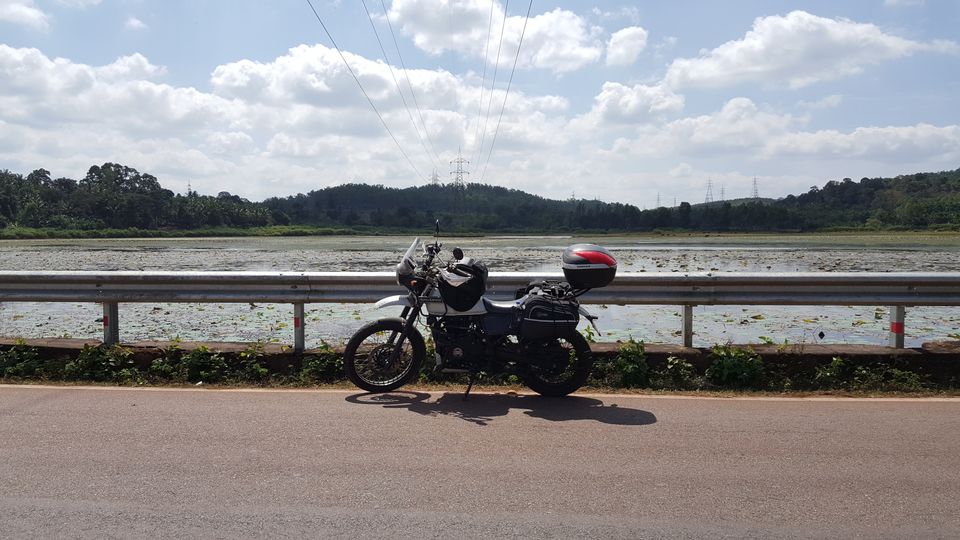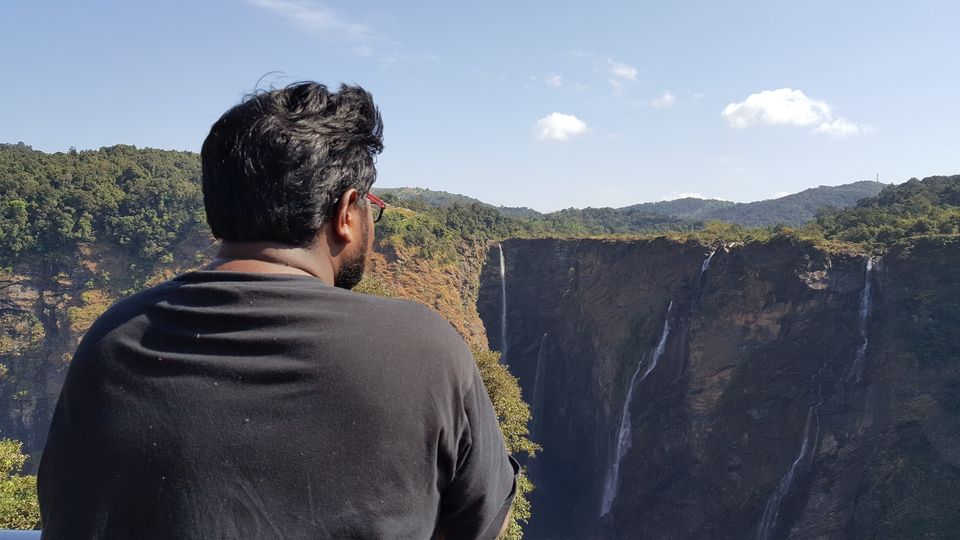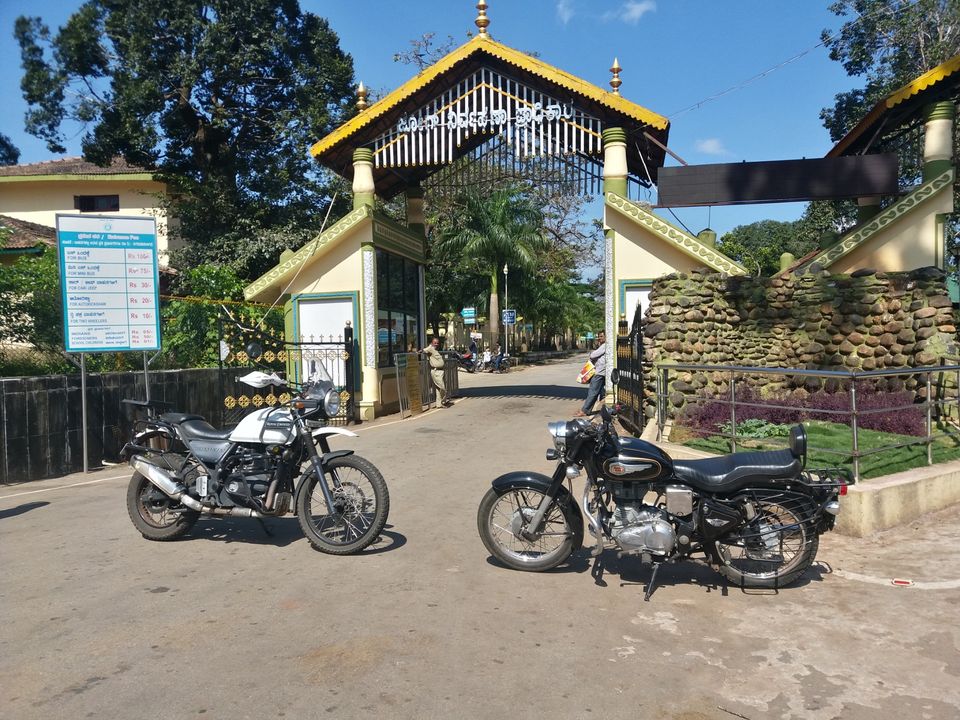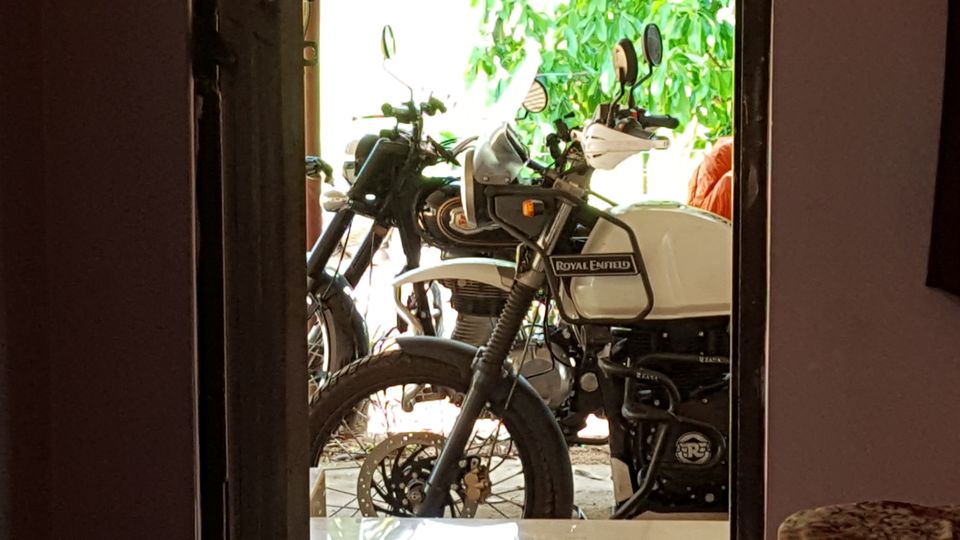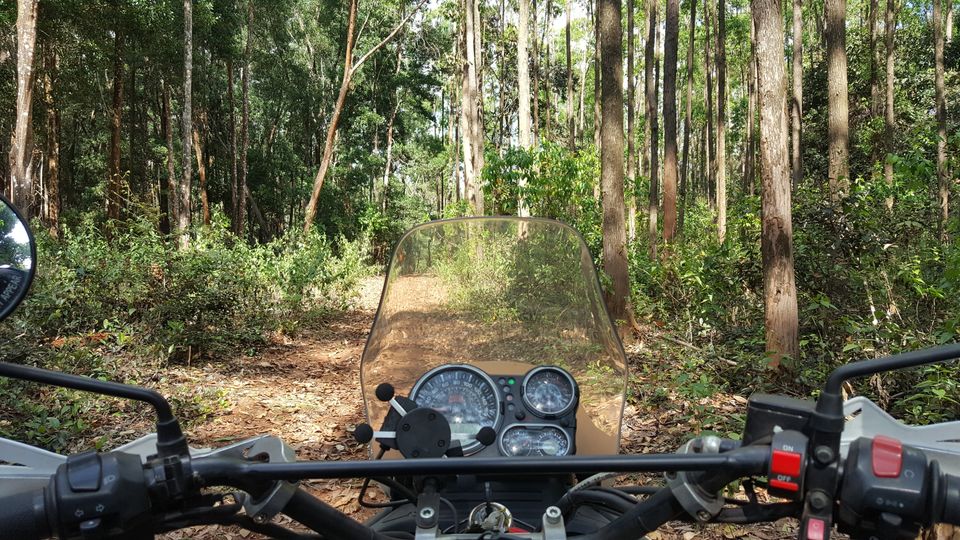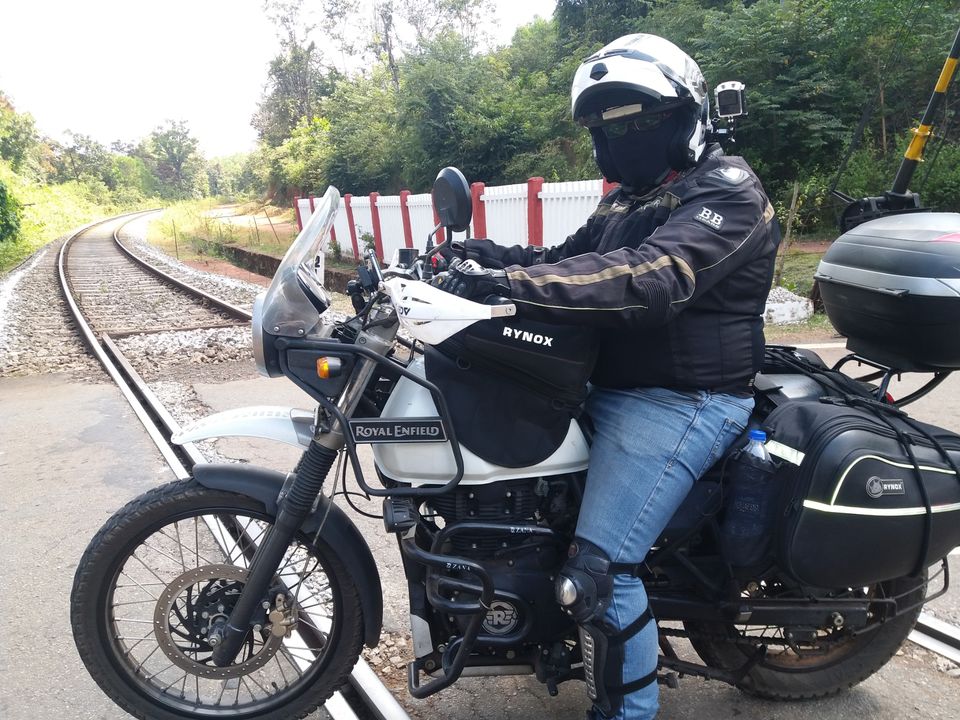 Day 7:- Madikeri (coorg)
Got up in the cold morning. As we were a going to stay in coorg today as well so we booked a hotel through oyo. Which was hardly 4km from where we were staying. So we freshened up and they provided breakfast as complimentary. After which we loaded our bikes and went to the hotel where we booked a new room for the day. The check in time was 11am but we went before that but by them the double occupancy room was not vacated so we suggested them to keep our luggages at reception and once the room is vacant put our luggages into the room and meanwhile we will go to explore coorg. But the person at reception said no need to keep the luggages here i will upgrade your room at the same cost. And he gave us a deluxe room with two kingsize beds in it. The rooms we got was too good. So plan was to visit Abbey falls,raja seat and a coffee plantation tour. At the hotel they had displayed a hoarding of coffee plantations, so i enquired that where can we get to see coffee plantation. They said it is some 17km from here and it belongs to the same owner of this hotel. So i asked them what is the cost of coffee plantation tour , he said its complimentary for those who had taken room here also boating is complimentary there. They also provide barbecue but we have to pay them and they also have rooms inside the coffee estate. He said he will inform the concerned person there about our arrival so they can give us a detailed tour. So we said we will go there after lunch.  So we first went to visit abbey falls which was 6km from the hotel. We have to take a ticket and park our bikes and walk through footsteps for around 5 minutes to reach the falls. This falls had nice amount of water. The whole scene was good except for the garbage which visitors throw in the open. We cannot go near the falls as they have build a stage with railing around it. Came back to our bike had some coconut water and left for raja seat. This place has a very nominal ticket and it has been maintained well. They say that kings used to sit here. Which gives a view of entire village. Though there was nothing much to see here. We clicked few pic here. Went back to our hotel and had lunch then left for the plantation tour. Thought it was not far. After riding few kilometers we got two route option one was through the main road which was closer and other was off road through the coffee estates.  So we choose the later. It was only 3km more but it was fun to ride through the coffee plantations. Roads were rough and at a decent i was at good speed, but i cannot apply the brake as the bike would skid. I thought i am going to crash now but luckily survived and still wonder how did the speed increase that much. We reached our destination but there were 2 gates first one was shut so we went inside the second gate, but it was someone else's house. We opened the gate and went inside 200 to 300 meters where there was rooms and the care taker. He took us to a brief tour and it lasted for more than an hour. Explained everything about coffee plantation and coffee beans and its process. There were beatle nut trees, pepper plantation as well. We then went for boating for sometime. So we were done with the plantation tour. And out had some coffee and reached hotel by 6pm and had some snack there and went to our room. Took rest and came down for dinner and went inside the market area where we found kfc kind of restaurant so for a change we had some fried chicken and burgers. Had a small walk around the area then went back to our room.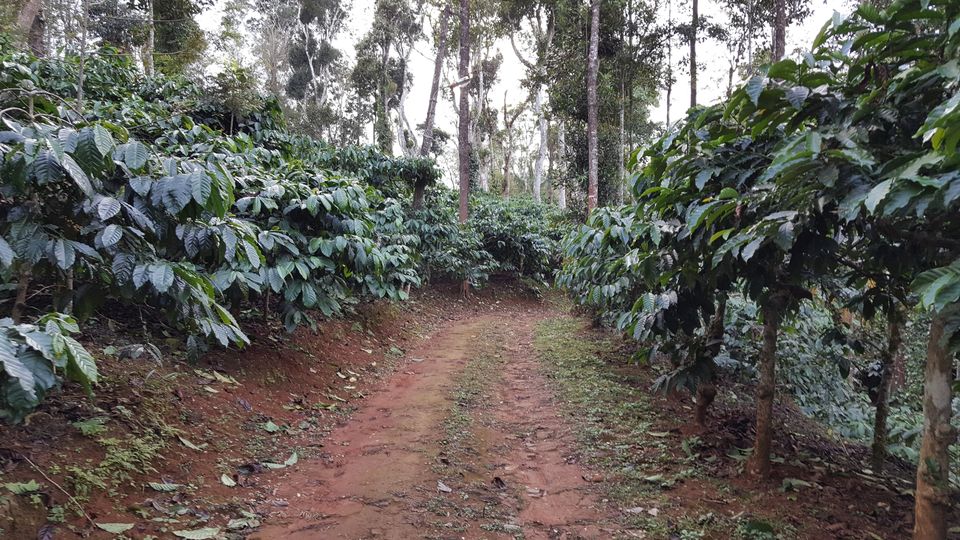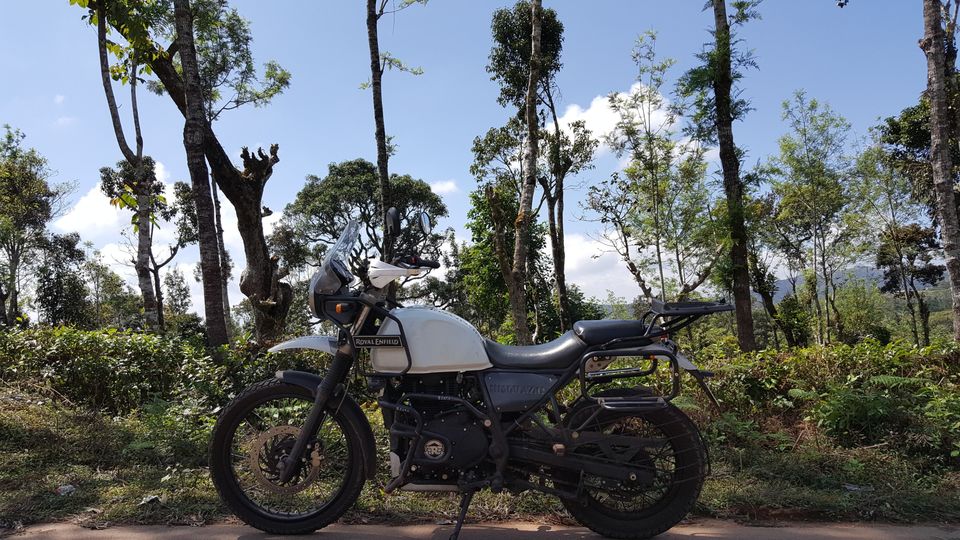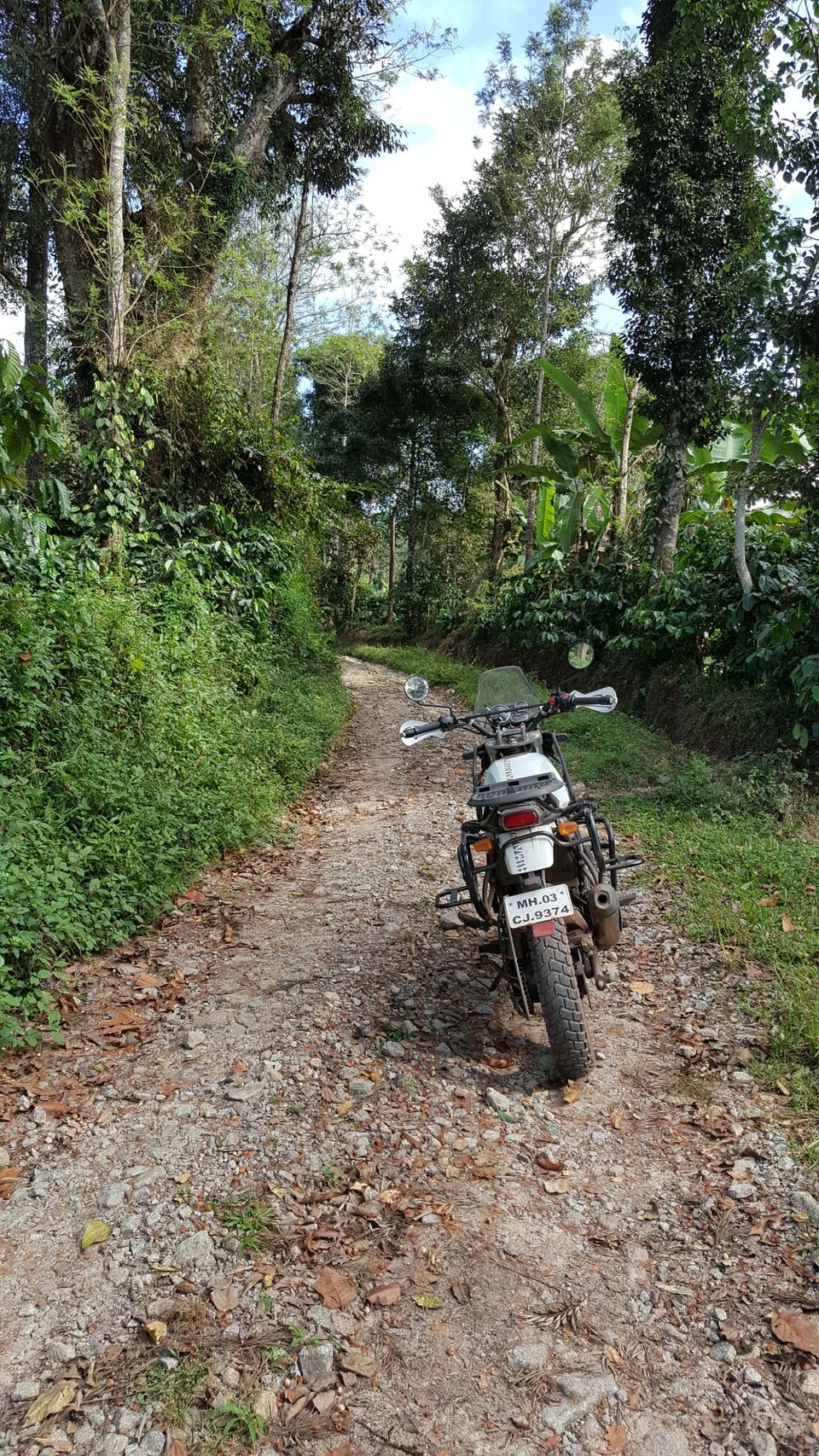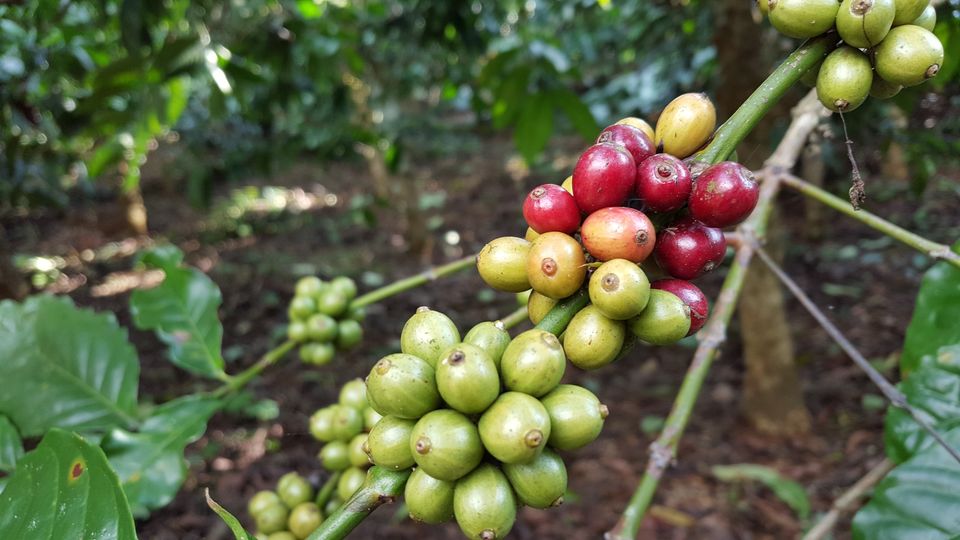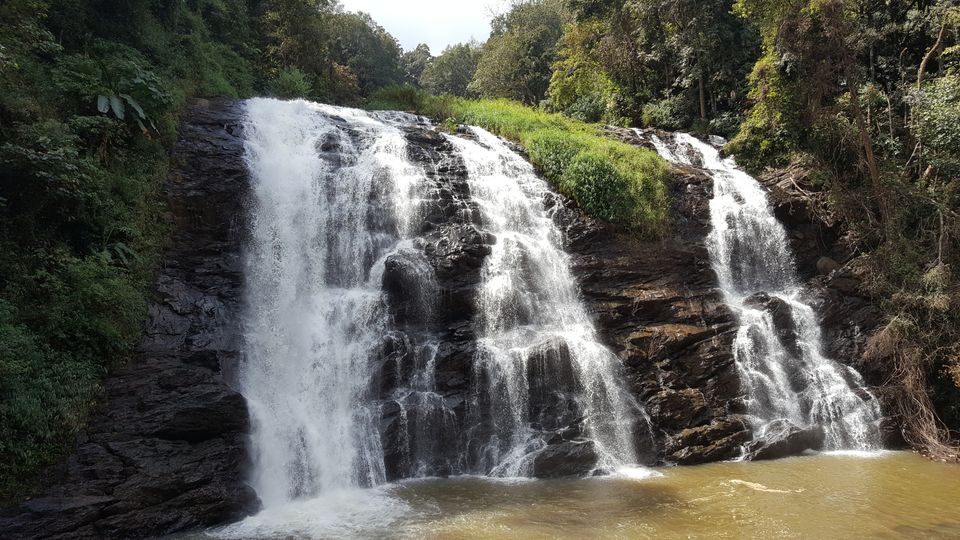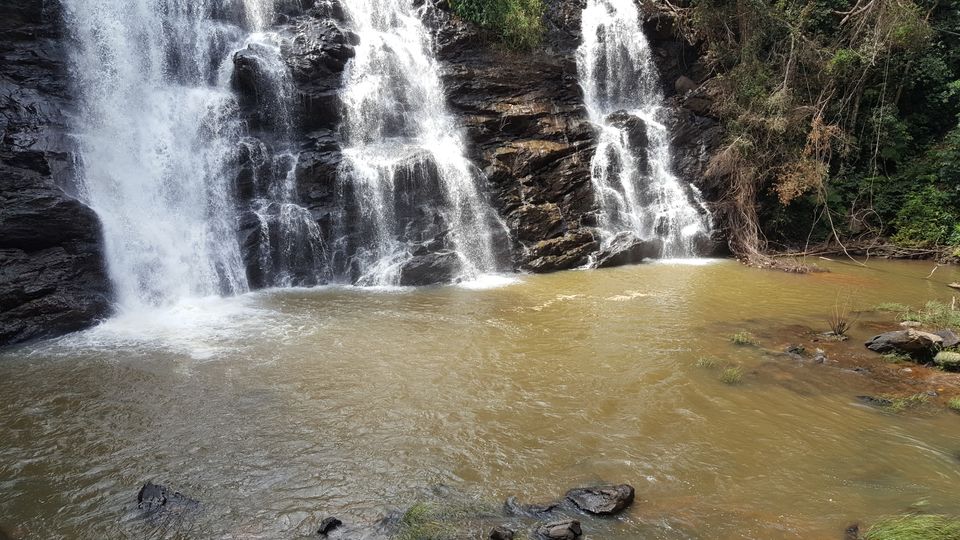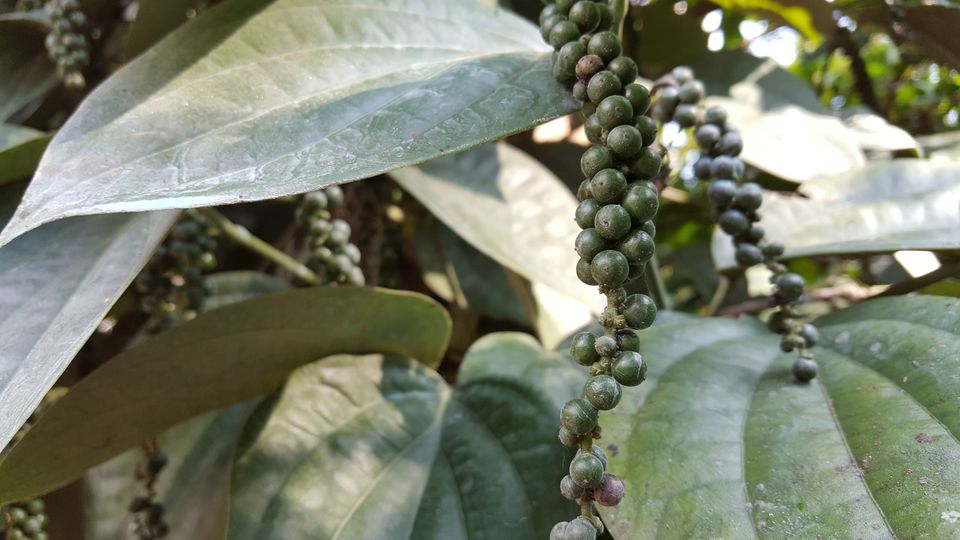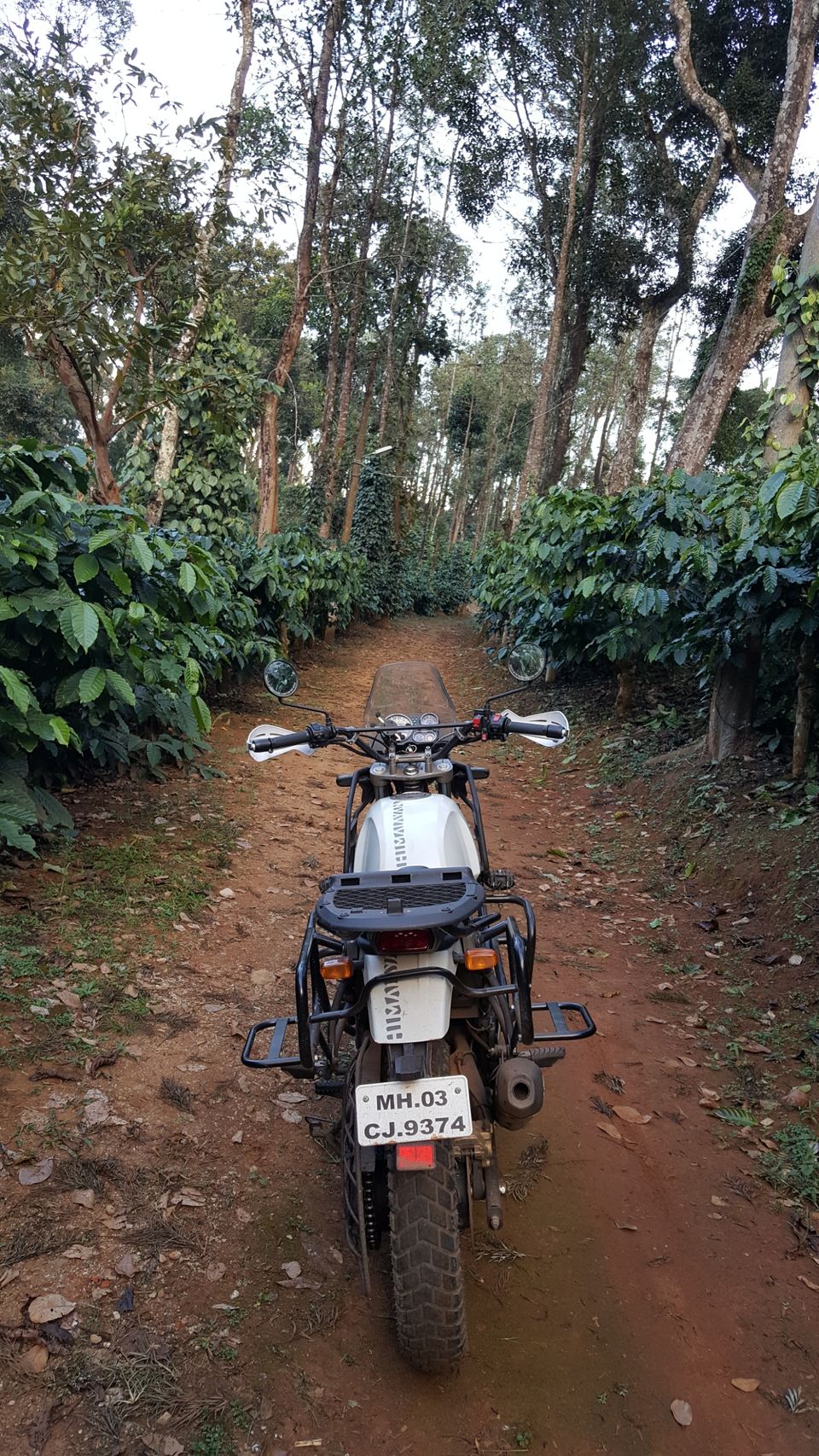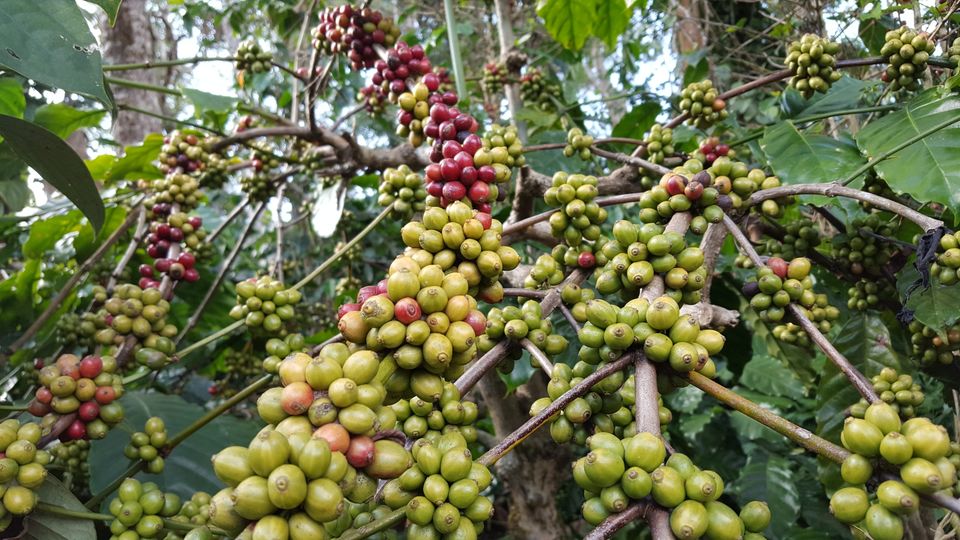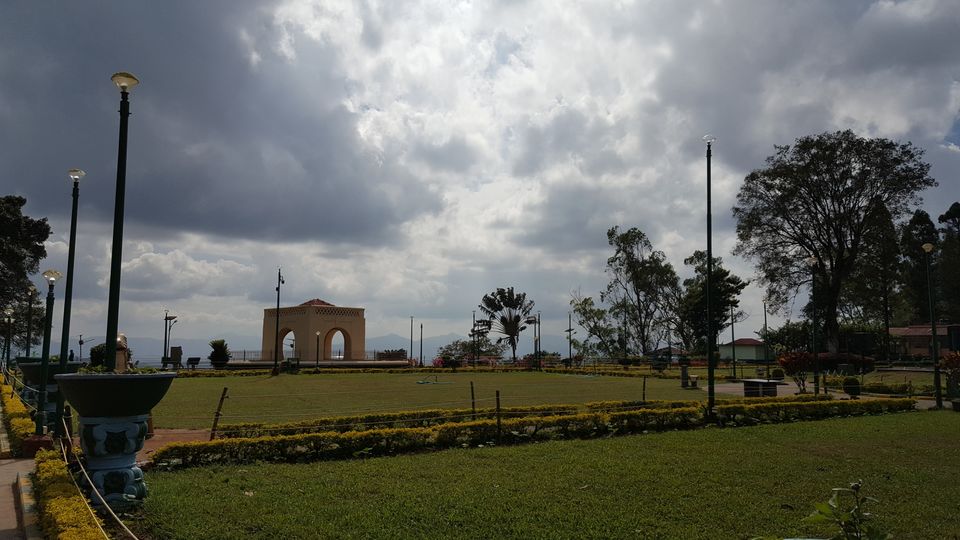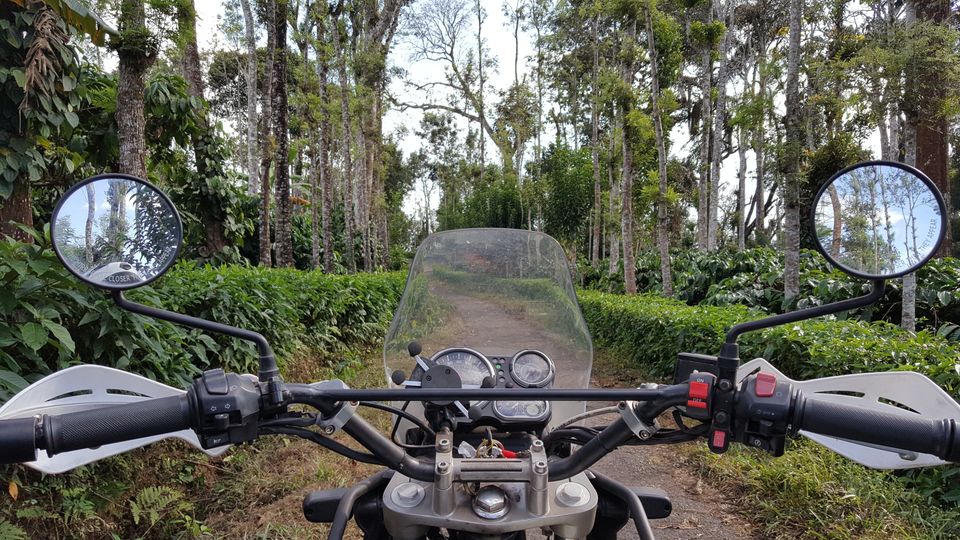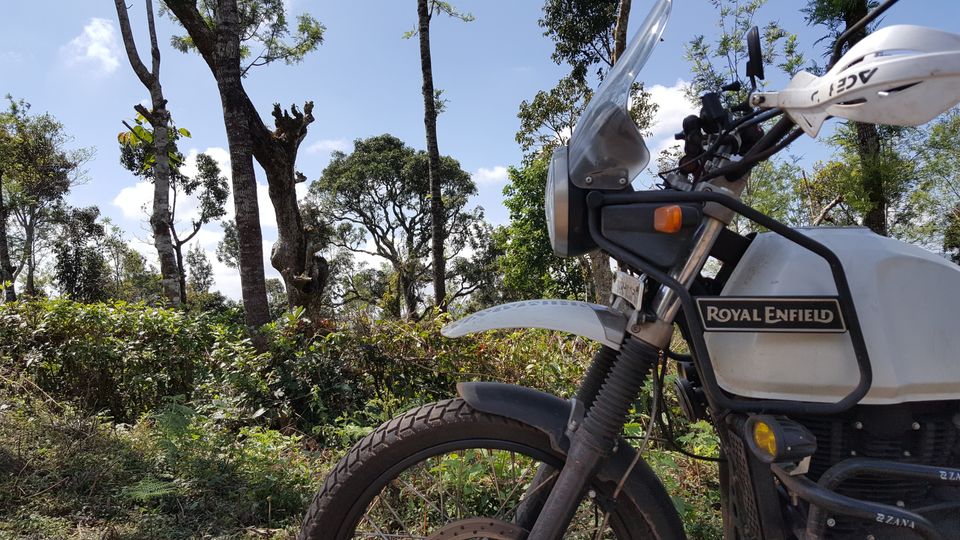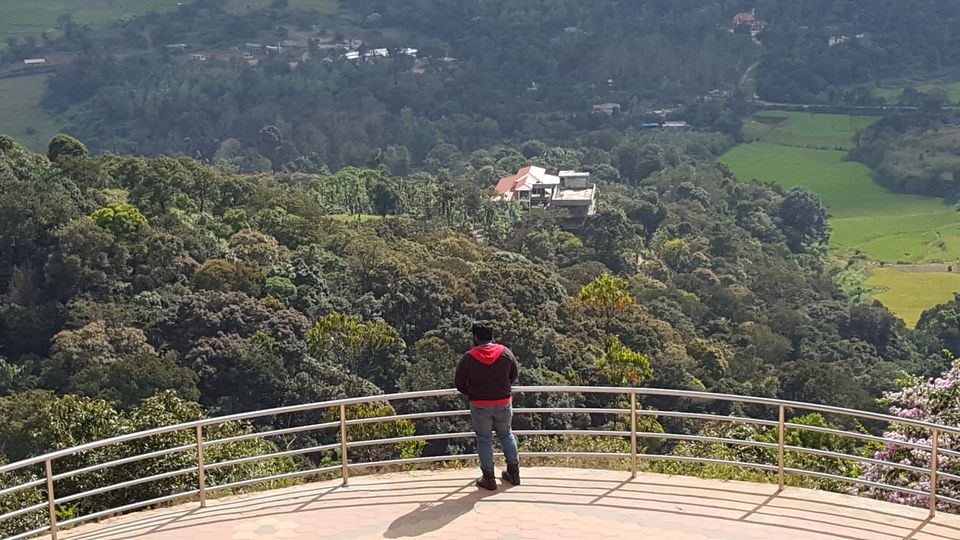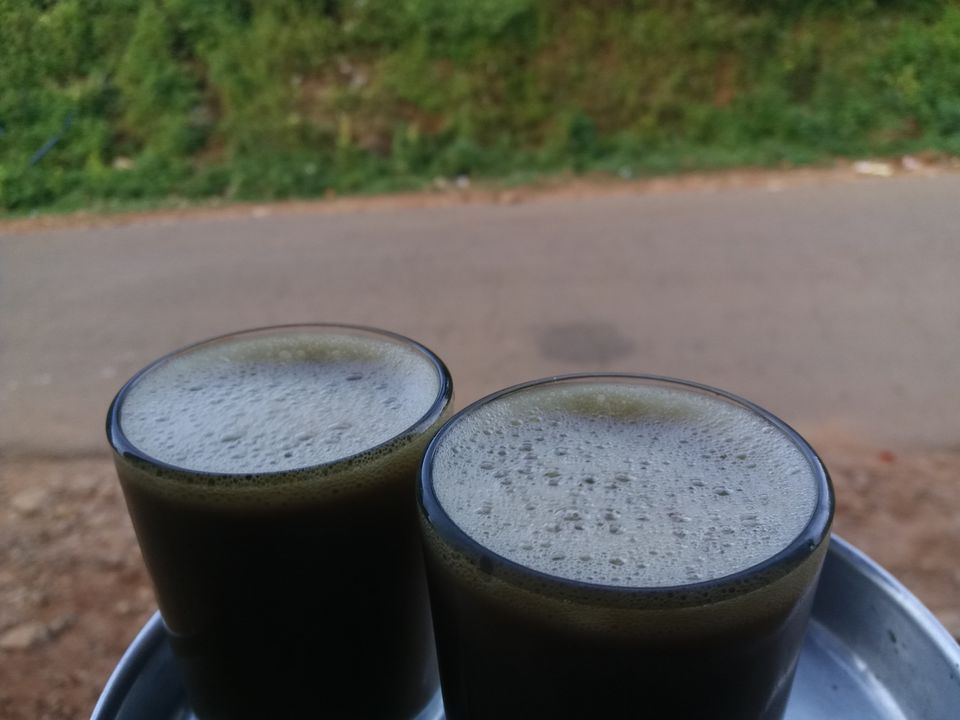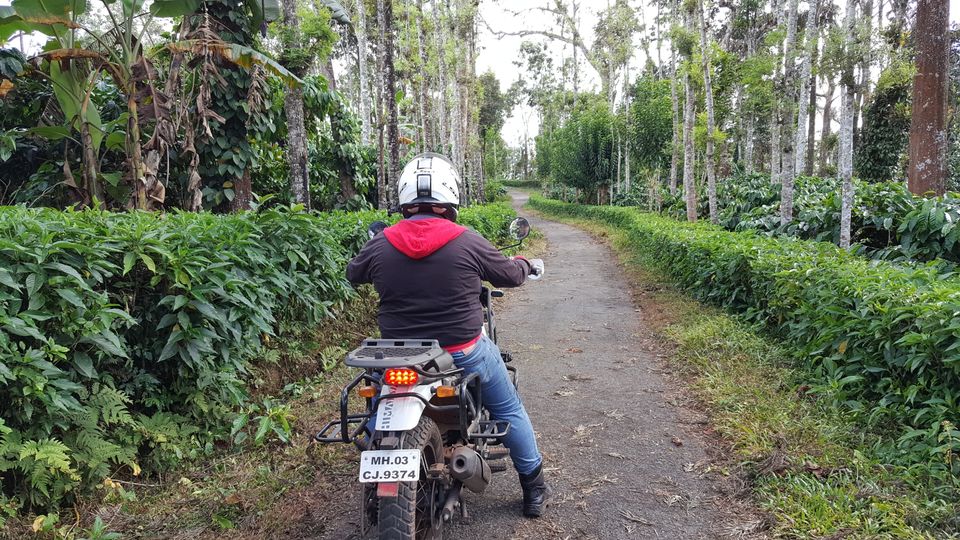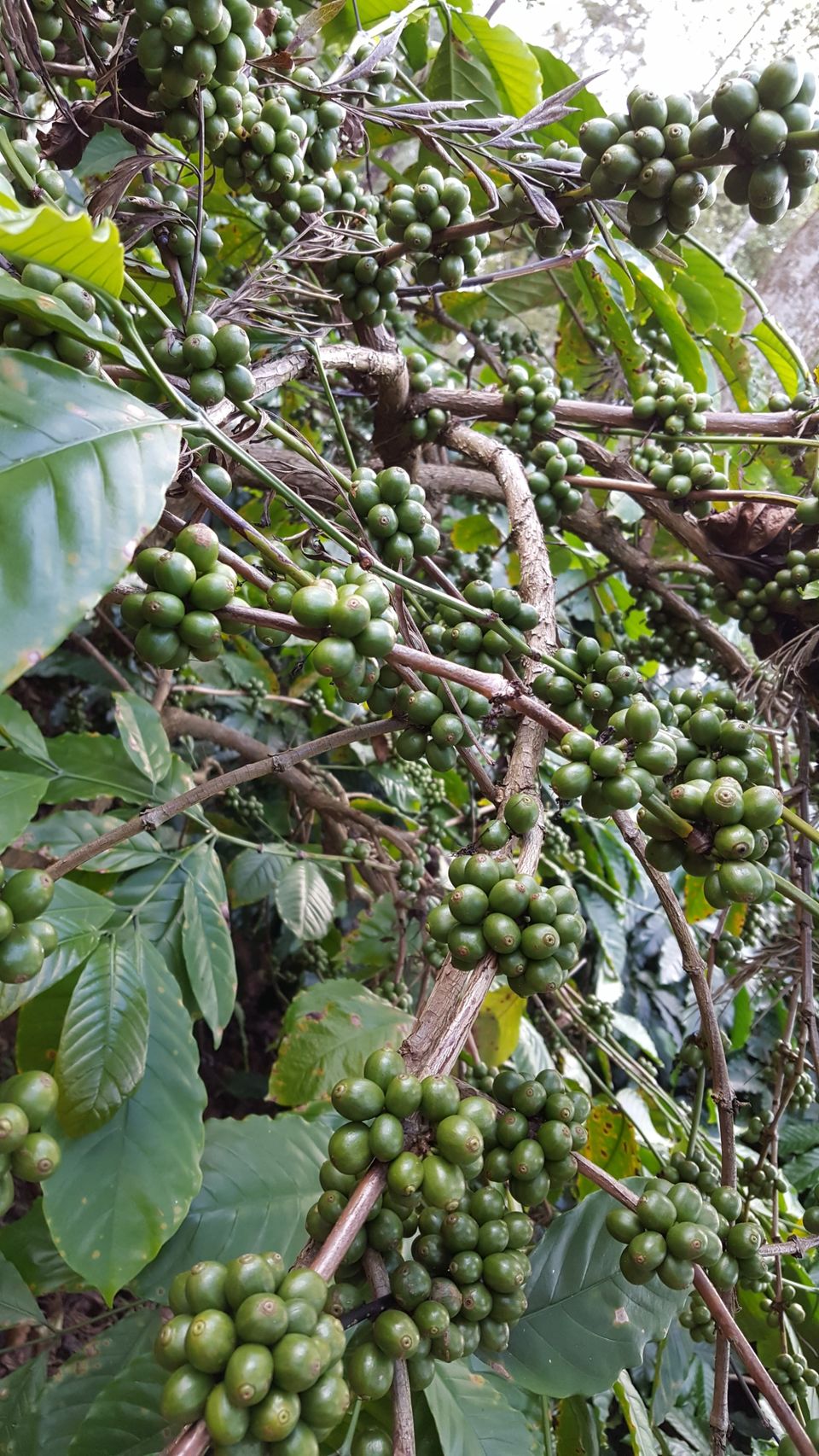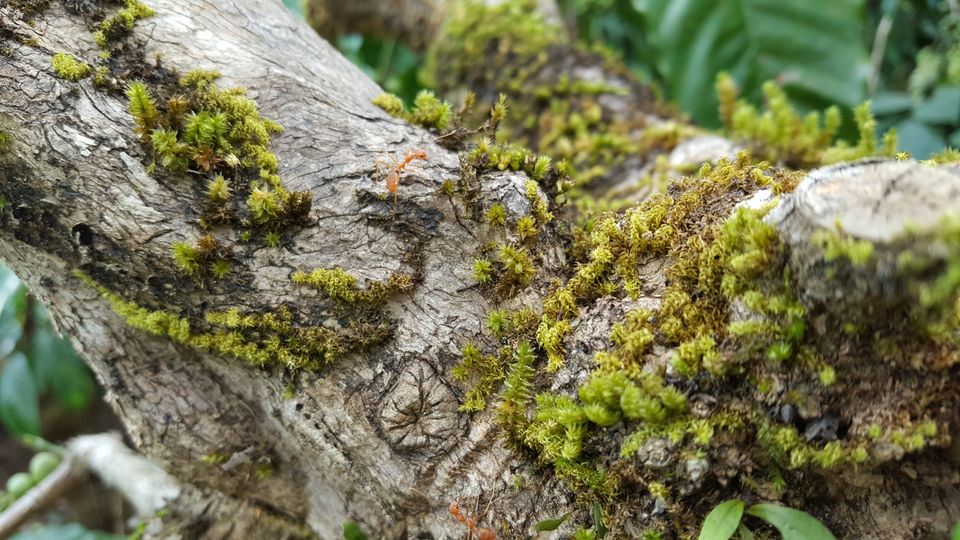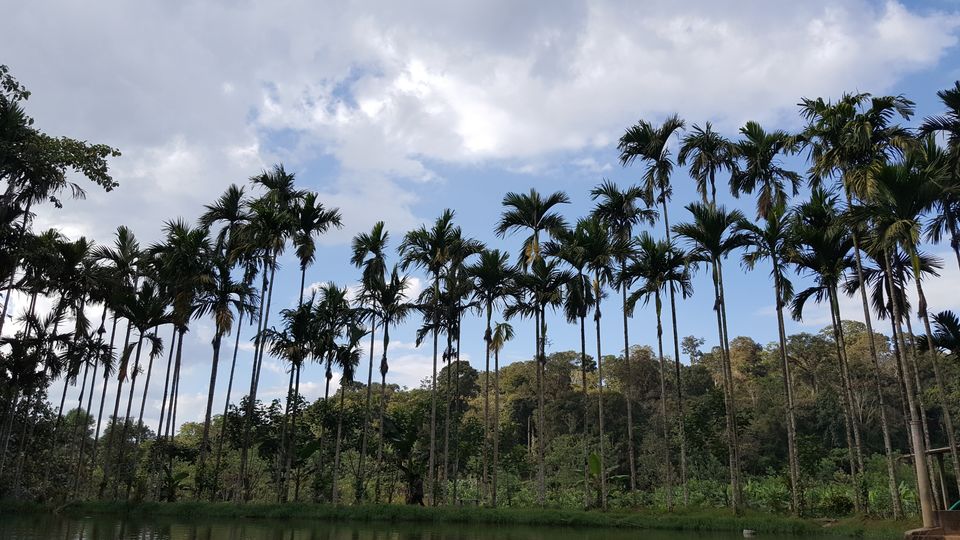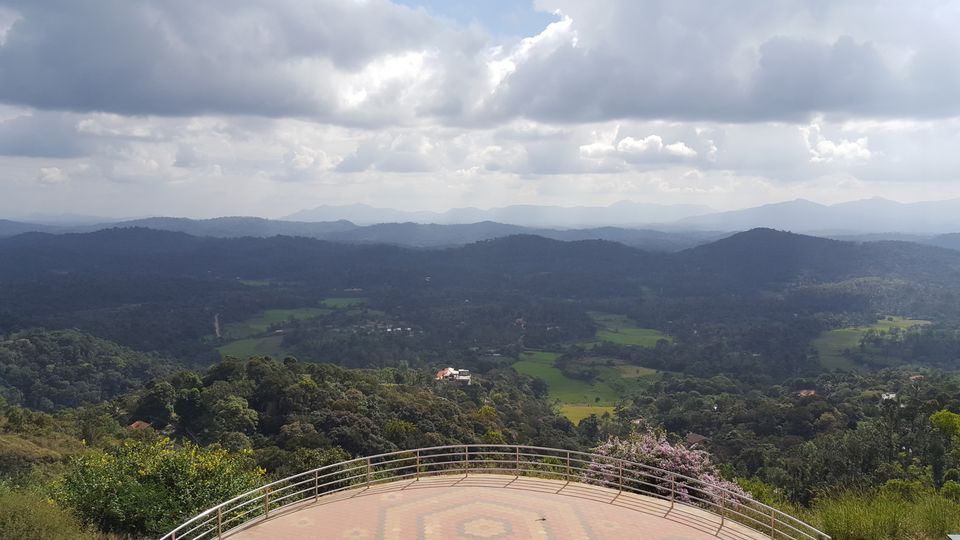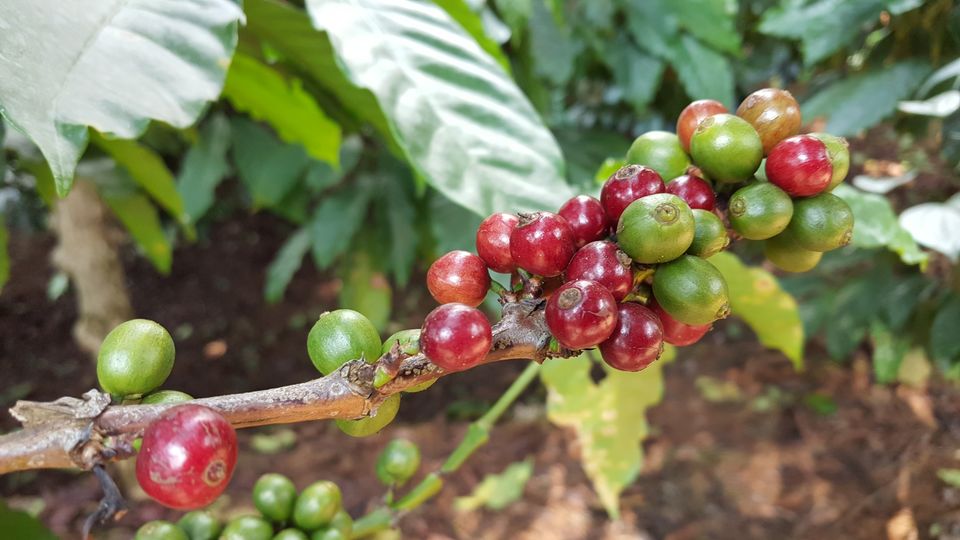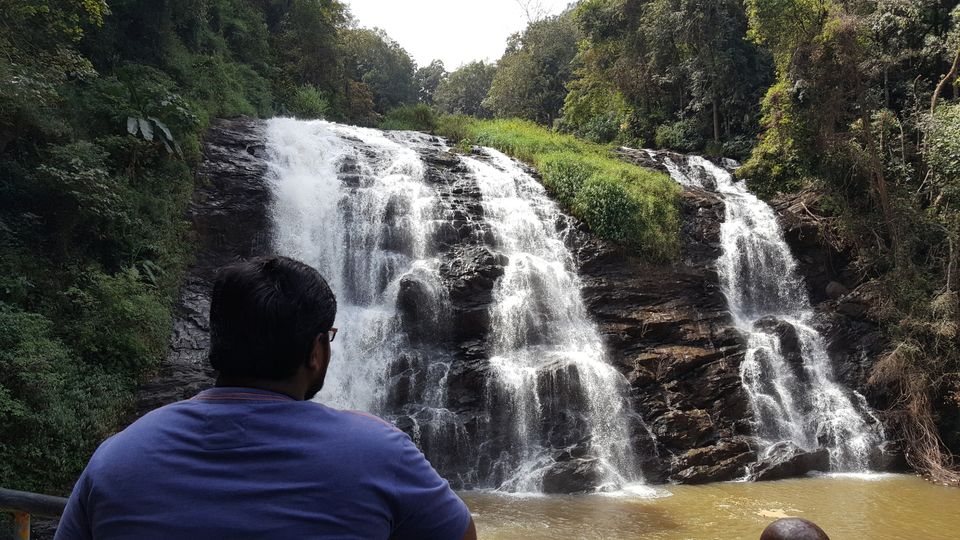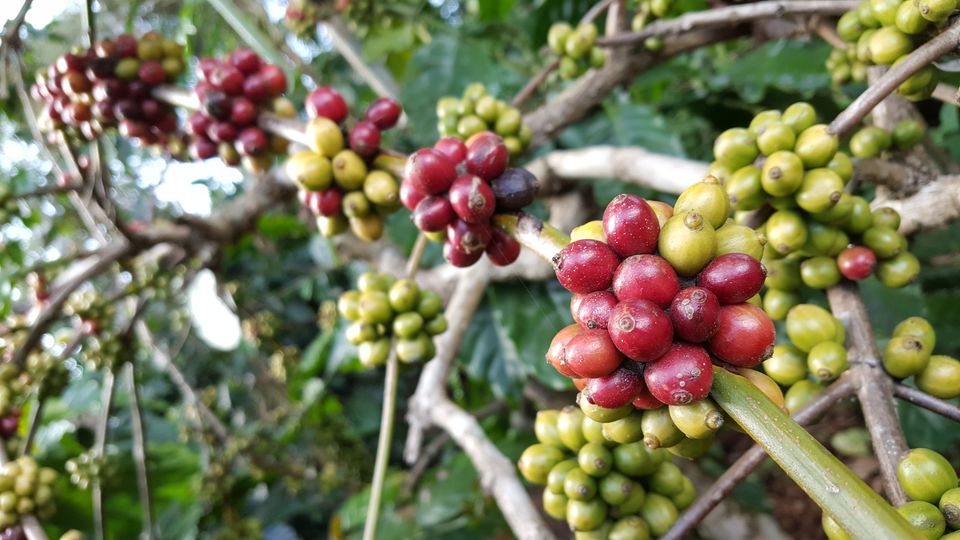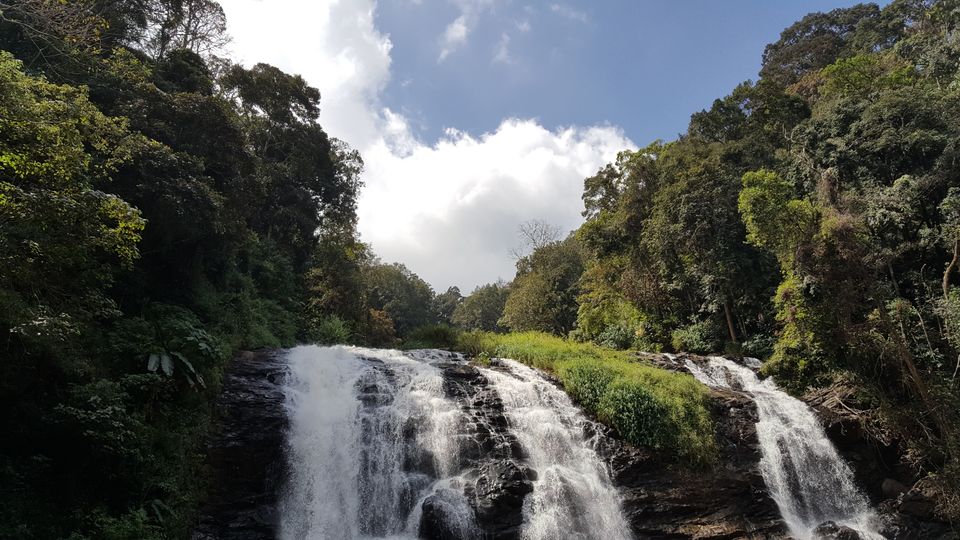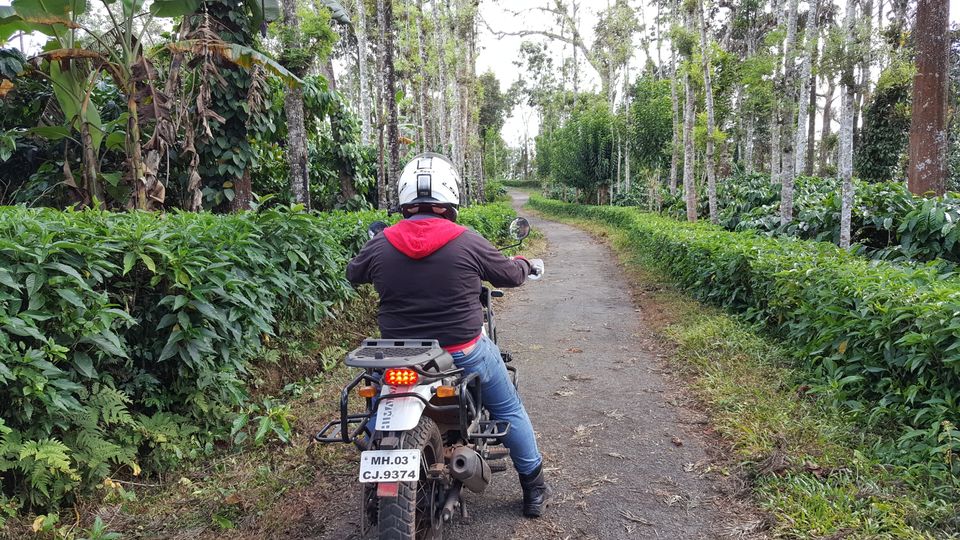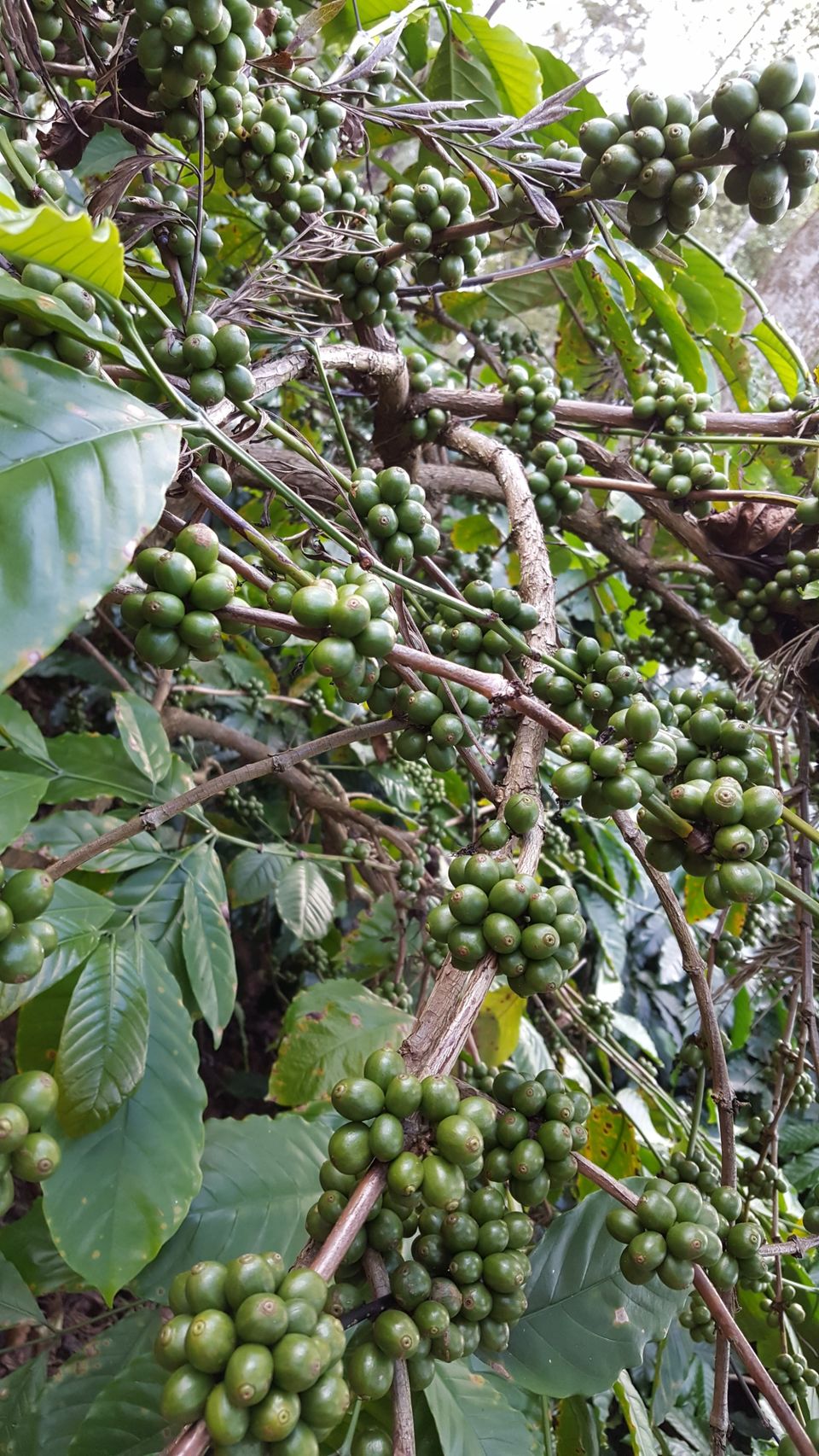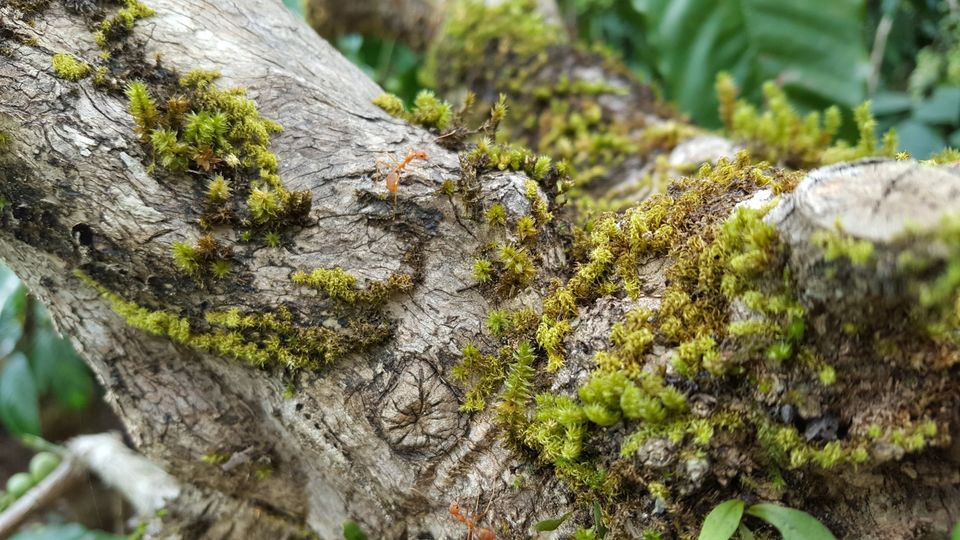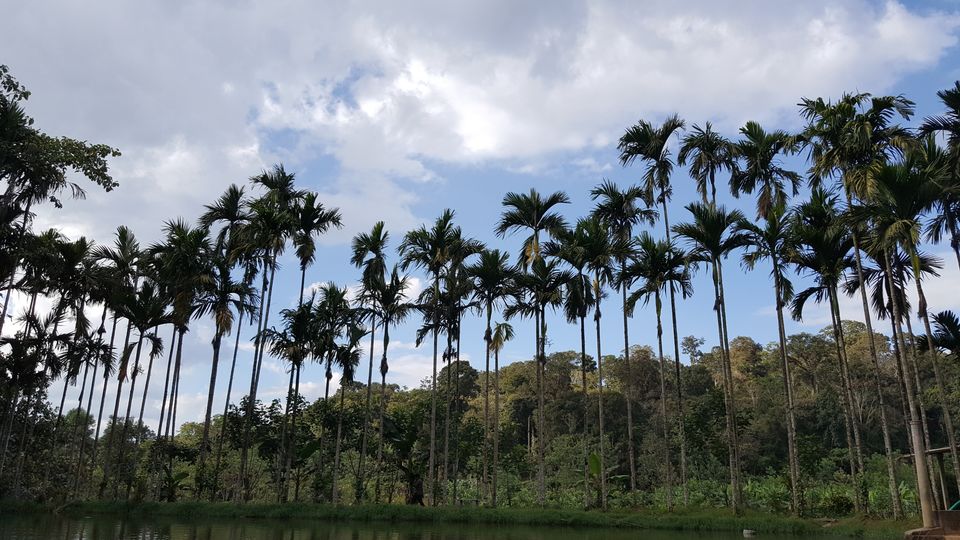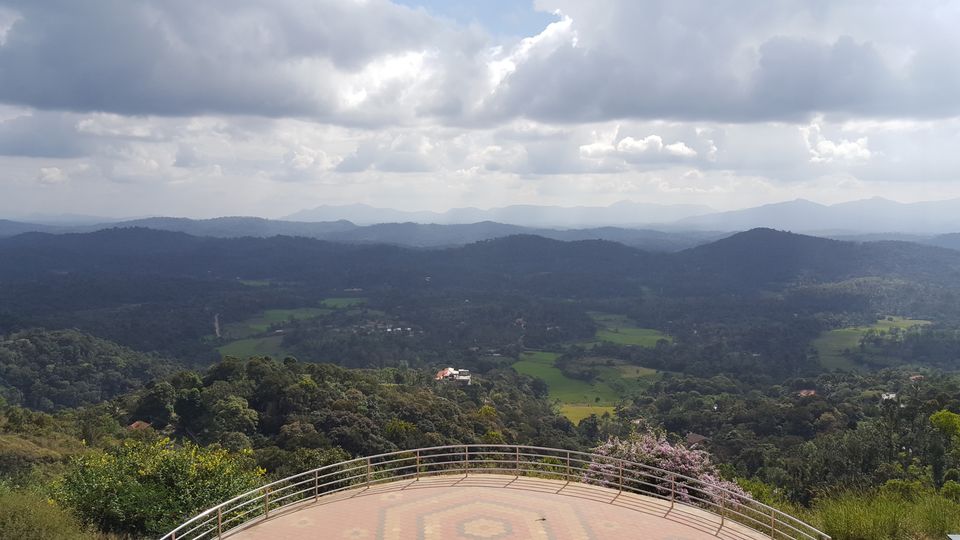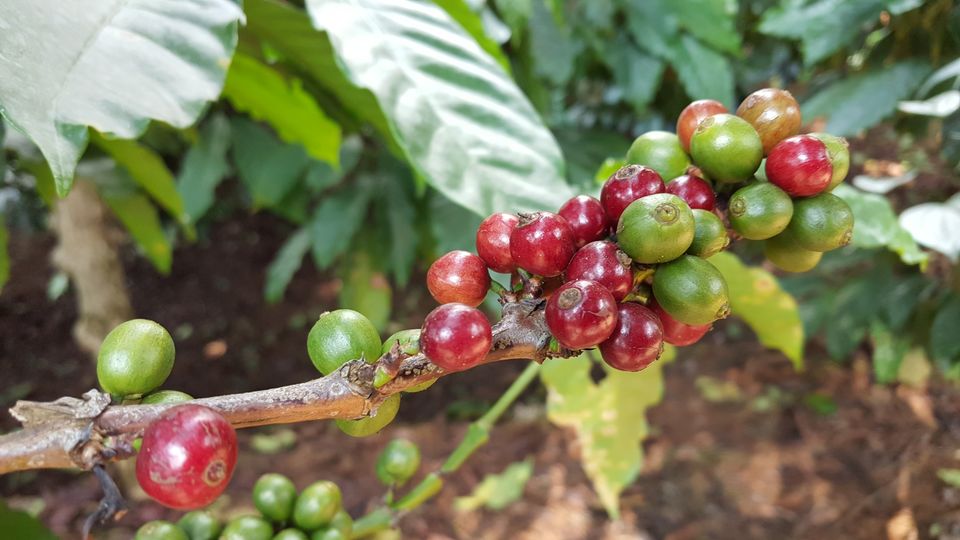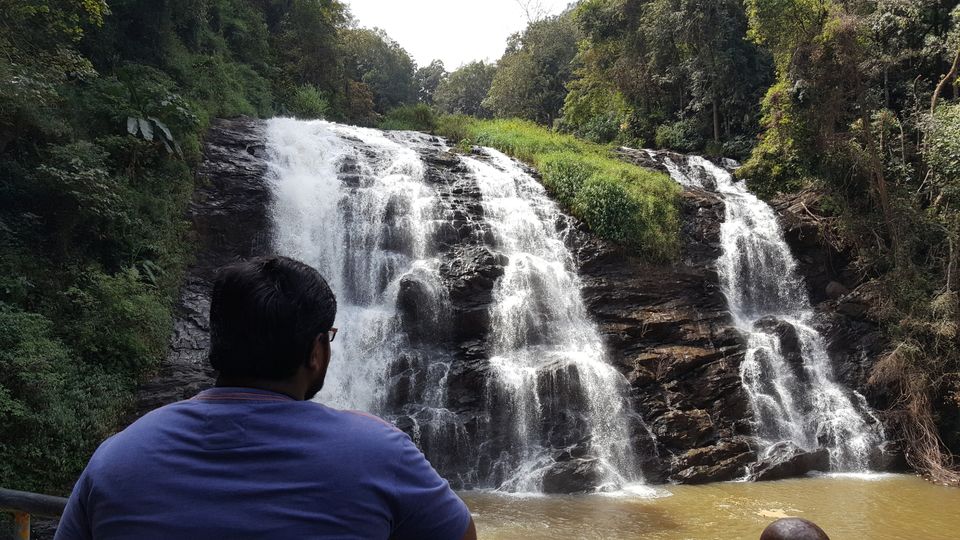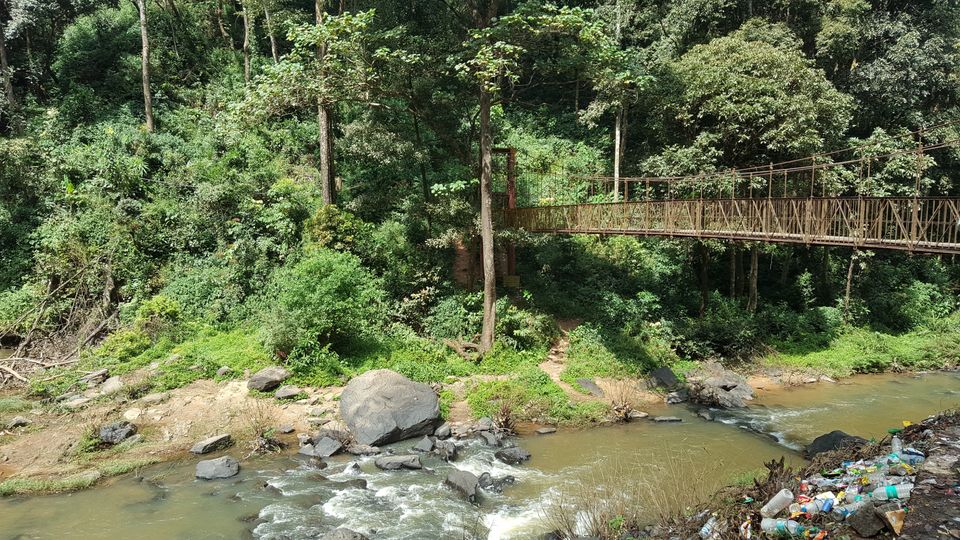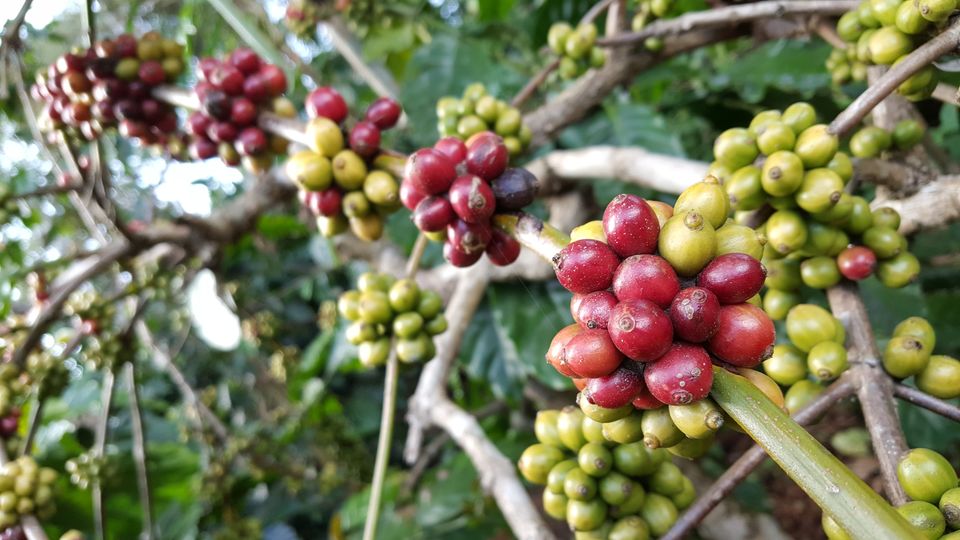 Day 8:- Coorg to Ooty
I was well aware that today's ride is going to be a super awesome ride as we have to ride from one cold place Coorg to the queen of hills the other cold place Ooty. And the main attraction for the day was that we had to cross 3 states karnataka, kerala and Tamil nadu and the road runs through bandipur national park(karnataka), wayanad (kerala) and mudumalai with masinagudi (tamilnadu). So most of the time the road runs through dense forest. But there was a big risk involved in it, as it was a tiger reserve so you can get a change to see a tiger. If not that there been several cases of elephant attacks on these road. They are wild not the tamed one, so imagine if you are on bike and happen to meet these animals right in front of you. So with great joy we started our day from coorg and after a few hours of ride we reached nagarhole national park. We were stopped at the entrance. After enquiring we came to know that bikes are not allowed only cars and buses are allowed.  Because it's a tiger reserve. So we came to the main road and started towards bandipur . For that you will come across a place called kutta after which the kerala border starts and we have to ride for somtime inside kerala in order take the road for bandipur. It was already past 2pm so we decided to stop for lunch. Found a hotel and had an authentic kerala food on banana leaves with fried fish. After that we had to first cross wayanad forest then enter bandipur. Actually all the 3 forest wayanad,bandipur and mudumalai is a single forest but divided due to state boundaries. One important thing to be kept in mind is that we are not allowed to enter these places after 6pm. So we have to make sure we enter these place before that. If you have to go through the forest road from bandipur towards ooty, you have to take route 766 because only this route will take you through forest or else you will miss the forest ride. So once you enter bandipur by 766 it will take you out of bandipur towards gundlupete, from there you have to take the route 181 which is known as the coimbatore ooty gundlupete highway which will take us to the second entrance to the bandipur national park. The initial ride before exiting was also awesome. We are not allowed to stop anywhere on the road as it's a forest area either you be in car or bike. No photography is allowed.  But people were stopping at certain place wherever they spot deers and other wild animal's . So unless no forest officials caught us there is no issue or else we will have to pay fine. In the first ride we spotted only deer,monkey,peacocks. So after exiting from 766 route we took the 181 route which brought us to the second entrance of bandipur national park which leads to Ooty via mudumalai forest. Only after reaching there we knew that we have to go through 2 entrances. And luckily at the second entrance when we reached it was 5:45pm , if we would have been 20 minutes late. They wouldn't have allowed us to pass through. We now entered the gate after some distance we spotted deers again, but the fear was that neither tiger nor elephant should cross the route. And it was getting darker. Finally saw an elephant close to the road as other cars were pass we also didn't stop. Then at many places we spotted groups of elephants some were only 2 to 3 feet close to road but none of them did anything. At a place even we spotted a tiger footprints. But luckily no tiger around. Finally we crossed bandipur and entered tamilnadu through mudumalai national park. At the entrance of mudumalai the forest officials informed me that few minutes back a herd of elephants passed from here so be care full they can turn violent anytime. It was getting colder and colder and by now it had already become dark. And we have to cross this forest . I followed a mahindra thar as this is easy way because the roads were zigzag so you need to concentrate more and chances of hitting any animal is also less during night. It had a good caption behind it which read "I may get lost somewhere. But i will not get stuck anywhere ". Kept following it as he was driving at a good pace till we exited the forest area. We came to a Junction called theppakadu, from there we took route 700 which is known as mysuru ooty road and exited the forest through masinagudi. Once out of forest we stopped for a hot coffee and bhajji. Sat there for some time. Then continued we came across a valley which is known as bison valley after which we had to take 36 hairpin bends upwards. I stopped and clicked a photo and continued as the height went increasing it became cooler and cooler. Which showed us that we are reaching ooty. But it was super fun to take those 36 hairpin bends as it was too steep. Once done with it we reached ooty in some time again halted for coffee break before searching for hotel. We came inside ooty for hotels and we saw an oyo board near a hotel and asked mateen to stop. By then a person came from the opposite direction and asked us are you looking for hotel. We said yes and he took us to the same hotel where we stopped bargained and took a room for 2 nights as 800 per day. In the end it was an awesome ride we ordered our dinner , had it and went to sleep.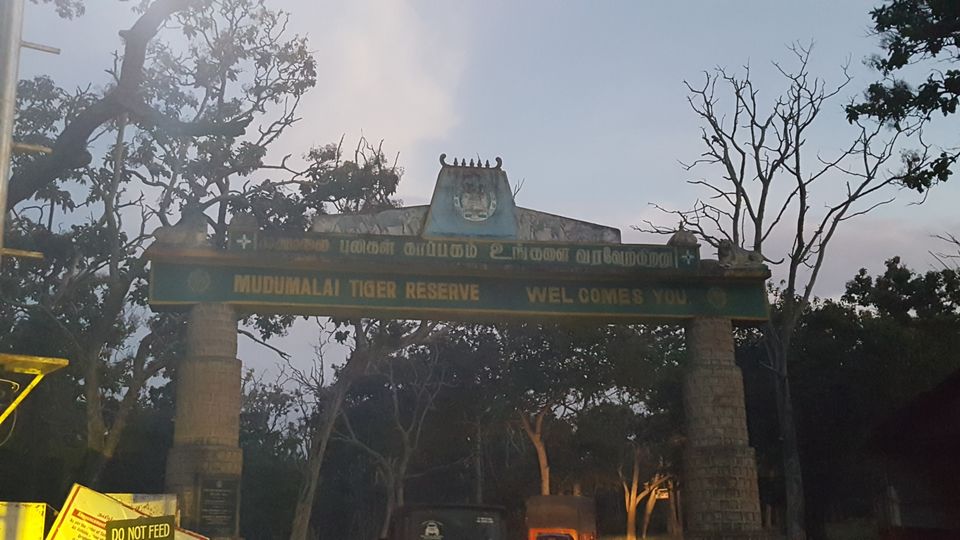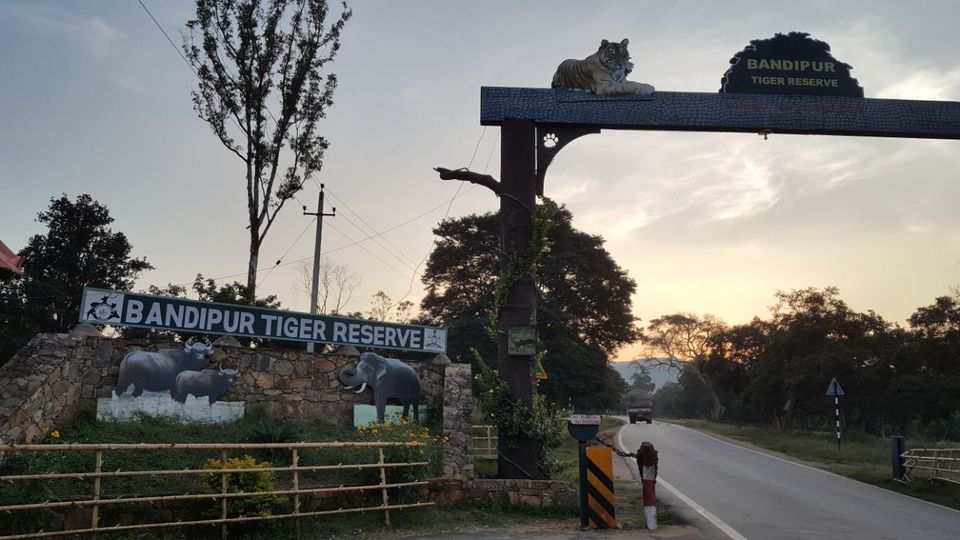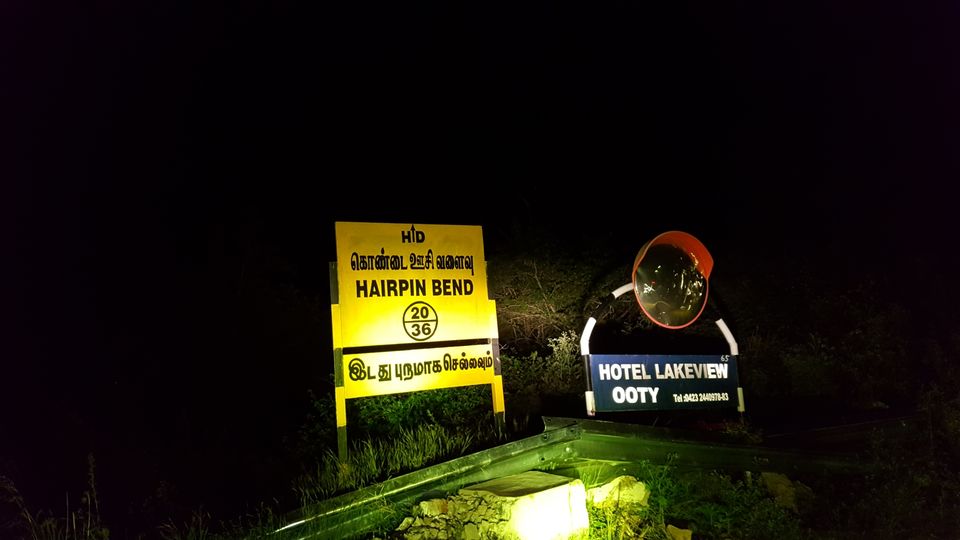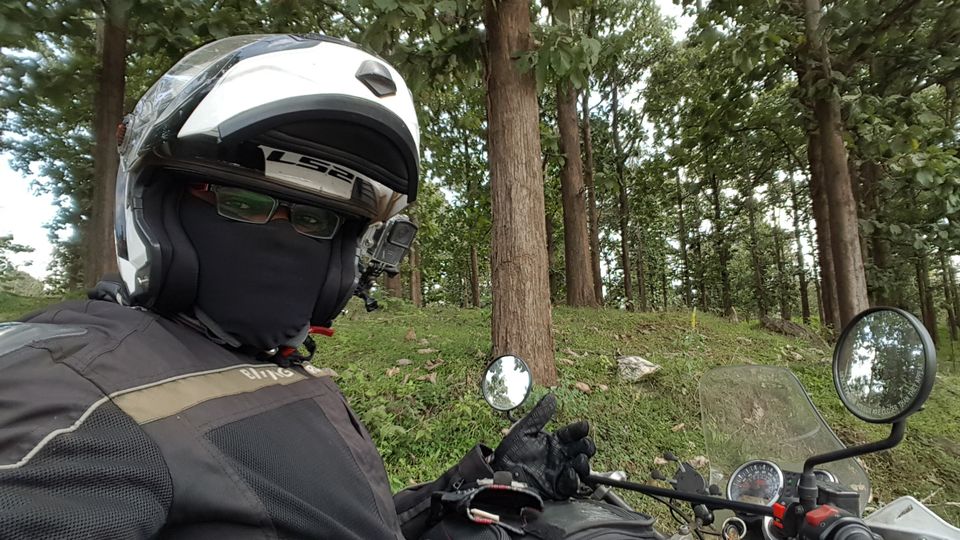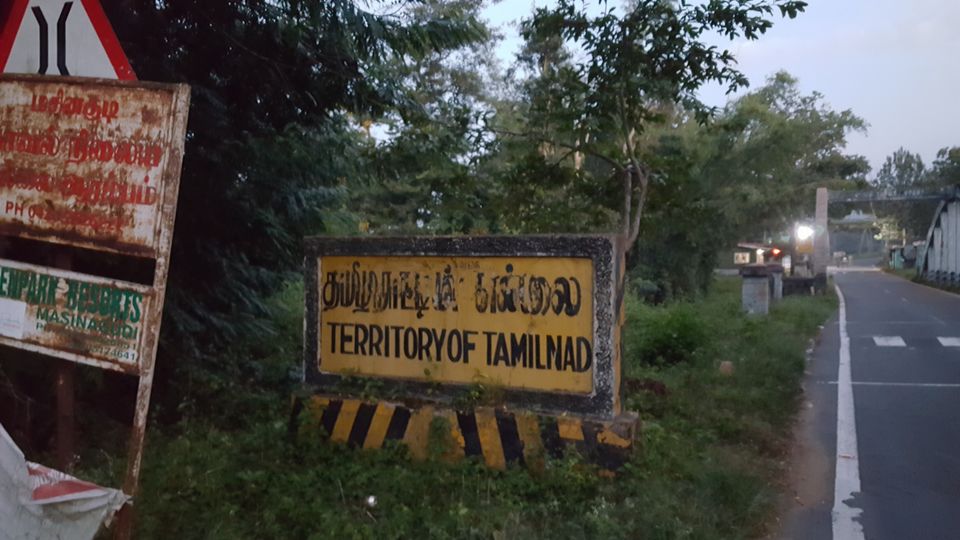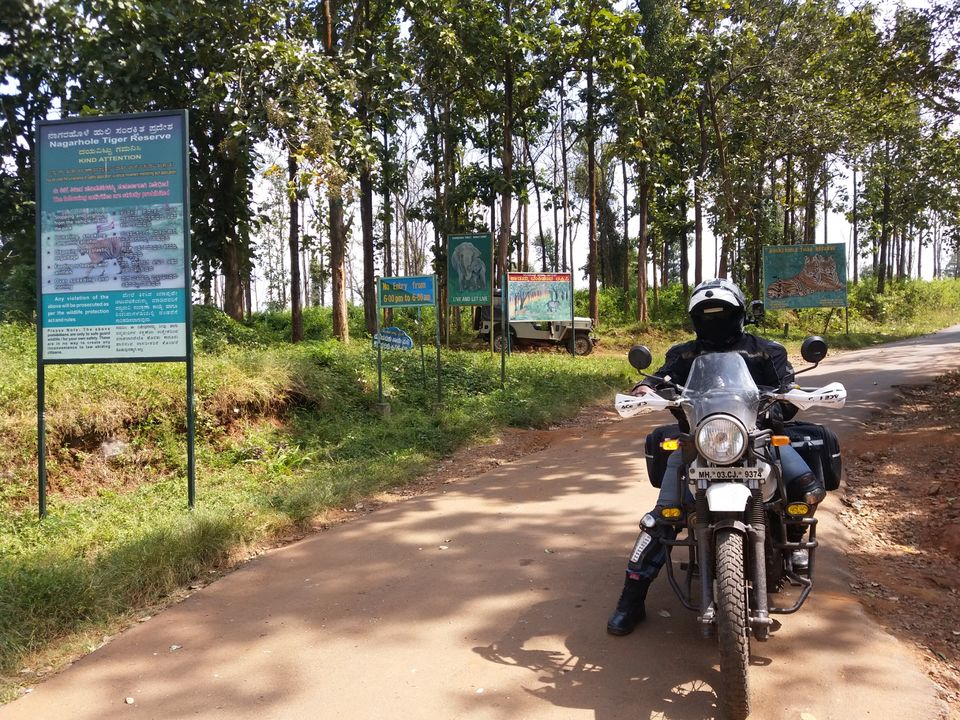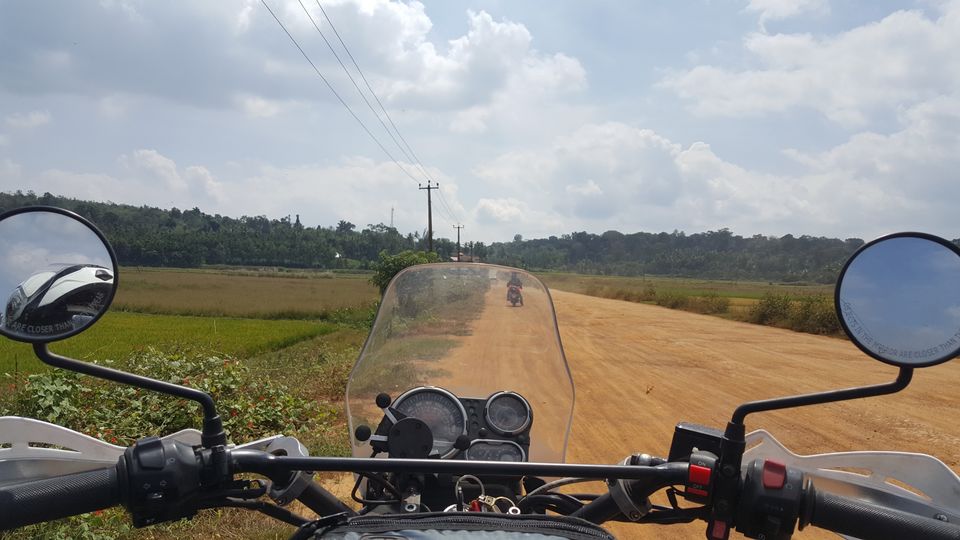 Day 9:- Ooty
Today's task to just explore the place. This place is called as the queen of hills and according to it's name it is a queen of hills. The scene, climate, places, etc everything is so beautiful. Our first point of visit was the scenic pykara lake. As usual our day started slow. It feels good to have a hot coffee in such a cold climate. So after the coffee we continued our ride on the way saw an eucalyptus forest. So we both took our bikes inside it for some good photos. Then again we stopped near a lake for photo shoot. It's a total different feel to ride a bike through the curves of hills in cold . We stopped at a place to have some hot corn, also he had fresh carrots,beatroots and radish. We had a corn and engaged in talks with the seller. I asked him where are these carrots grown as i wanted to see its field. He said its hardly a 5 mins walk from here so mateen chose to stay back and have another corn and i left my bike with him and went to see the carrot field. When reached there the scene in front of me was a bright green carpet placed on the slopes of the mountains. There were few houses close to the farm. So had a few word with a farmer who was working in the field and left. Came down towards the bike , thanked the person who showed the way and we left for pykara. After reaching there we parked our bikes and moved towards the lake. It was a huge green lake with a nice view. We didn't opt for boating. Went upto the deck stood there watching its beauty and clicked few pics. Then we sat at a restaurant which had this lakes view for breakfast. Had a good bread omlett and coffee. We had to visit a couple of more places so we moved towards Ooty Botanical garden which is one of the best place for a person who is fond of flowers. Its a vast place covering 52 acres. Which a person has gifted to the government. I really don't know how many pics i took of all the flowers, but i am sure i would have clicked 250 to 300 pictures. One can easily spend more than 2 hours here. From here we went out a purchased an artifact made of pine wood, found very low cash in my vallet so mateen said he will go to the atm and get it for me, but he had to walk for more than 1km in search of atm. Then went to the shop where kept our helmets and parked our bikes closer to it. It was a general store and he agreed to keep our helmets just for helping us. After seeing the milk packages kept outside instead of refrigerator,  he said even if these packets are kept in open for 3 days this won't get spoiled and we use this refrigerator only for storage box without switching it on and switches it on for 10min every 3 days so that it doesn't get malfunctioned. It was already 3.30 by now and we started for dodabetta viewpoint. The entry tickets was 7rs. Didn't understand why such an odd figure. But when we reached the view point more than half of it was covered by fog. We sat there in a open restaurant for some snacks. Spent some time there. Then left towards our hotel. After a few meters away from the dodabetta where the road were covered with pine trees both the side. We saw several bisons standing there. They were so close to us. I stopped to click its pic. The moment i stopped one of the bison which was busy eating grass raised its head and stared at me. Till this time i did switch off my engine as in case if it comes towards me i can move from there. It again started eating the grass. Then i clicked its pic. From here we planned to ride till coonor to see the toy train. The initial plan was to travel in the train but we were short on time also we have to reserve tickets in advance, so we rode till coonor station. We parked our bikes outside and enquired that need we take a platform ticket to a person for which he replied it's not necessary. As there was some 20minutes left for the last train yo arrive. We sat at the station waiting for it. And the train arrived in time so we clicked few pics with it and left for hotel. While returning google took us from a route which was a small road between the tea plantation where only a two wheeler can travel. The view might have been awesome but it was already dark so nothing was much visible. It was only 8.30pm by now so on the way we finished our dinner early and went to room for rest. It was too cold which mateen couldn't bear so he asked for a heater. After which spent some time chatting and went for sleep.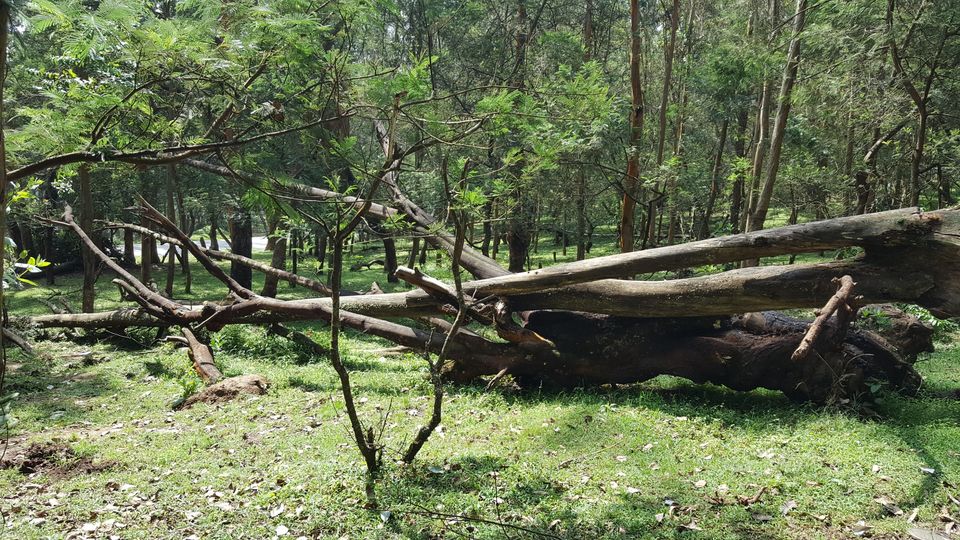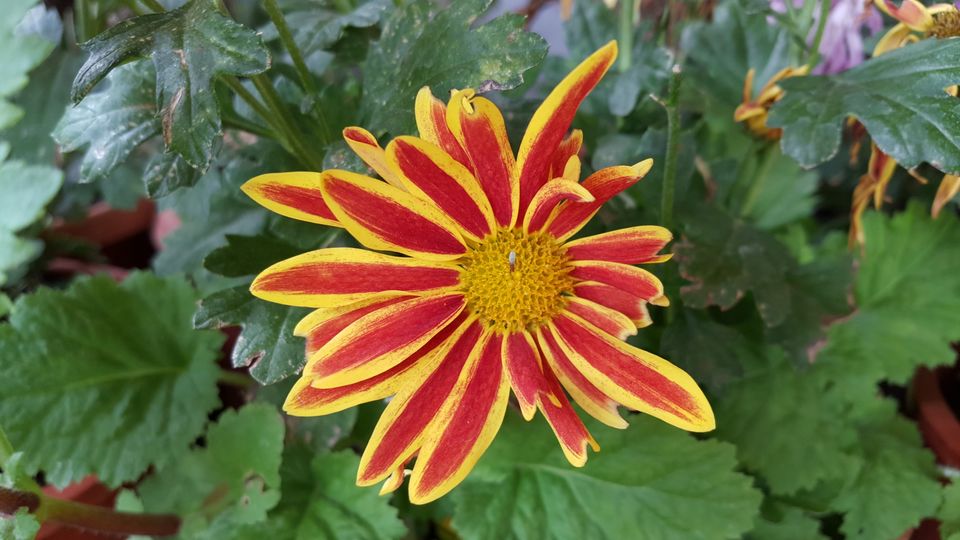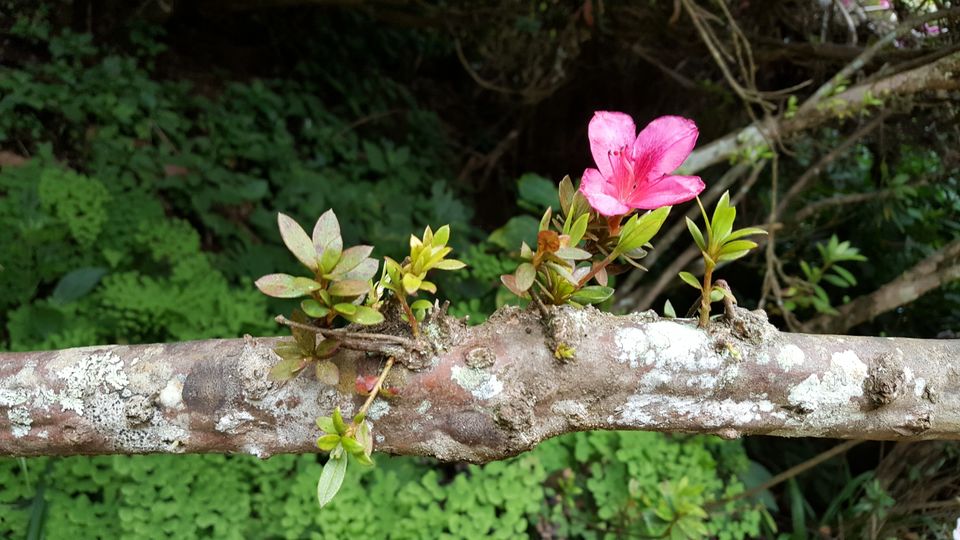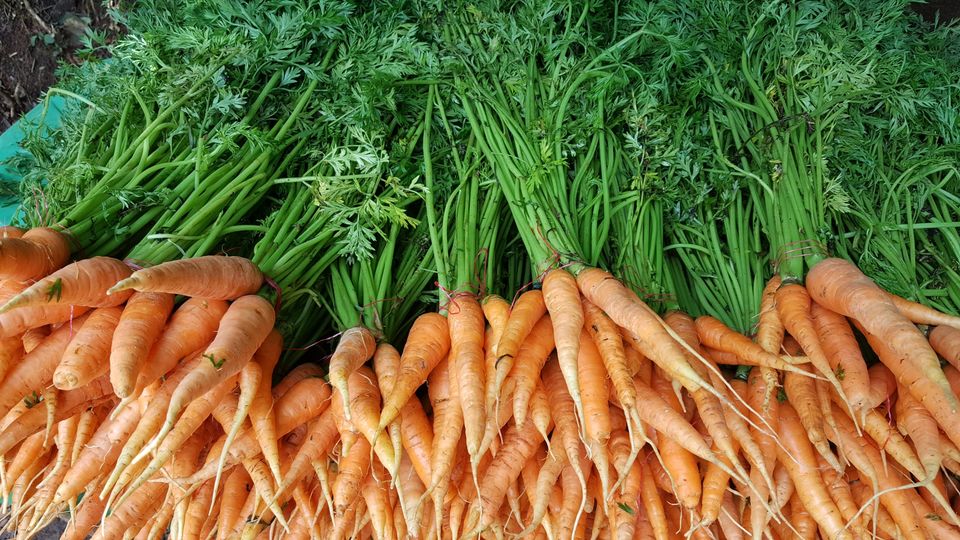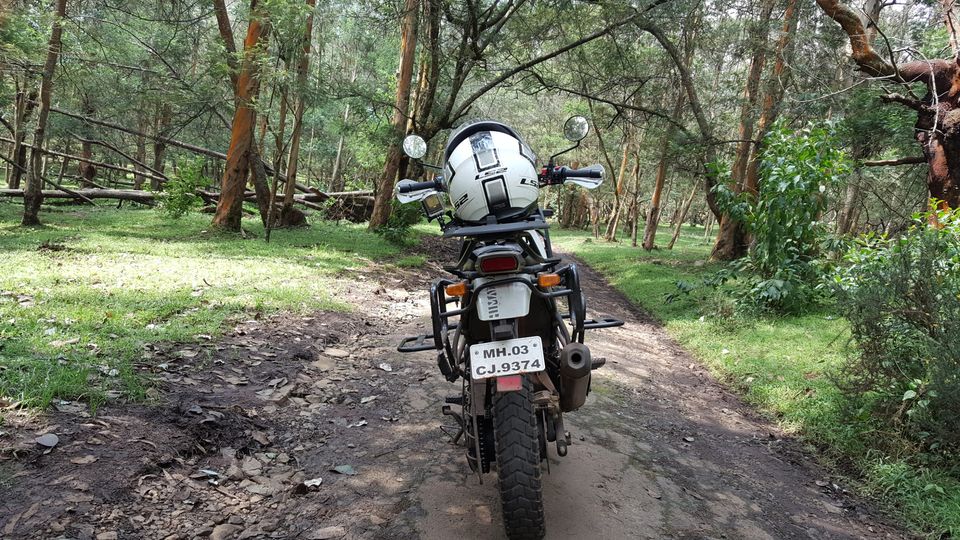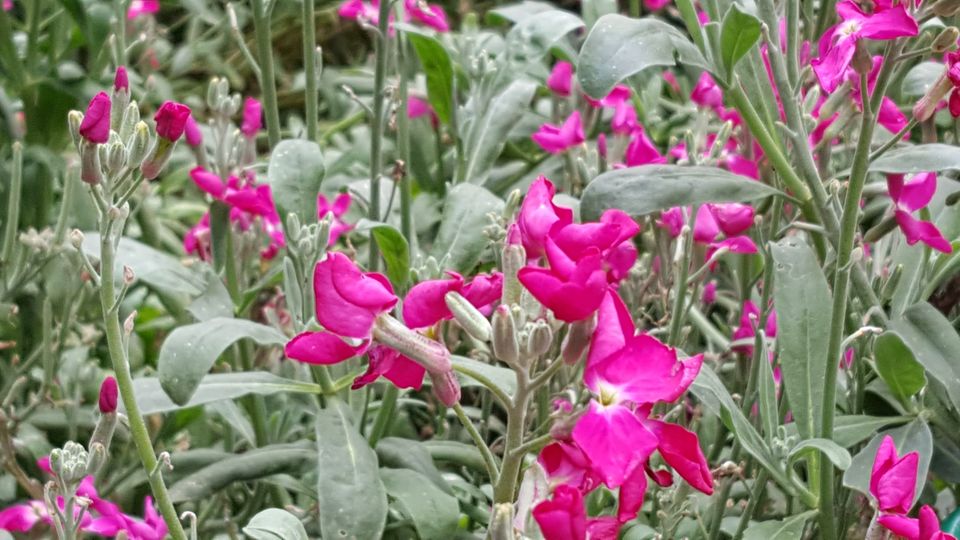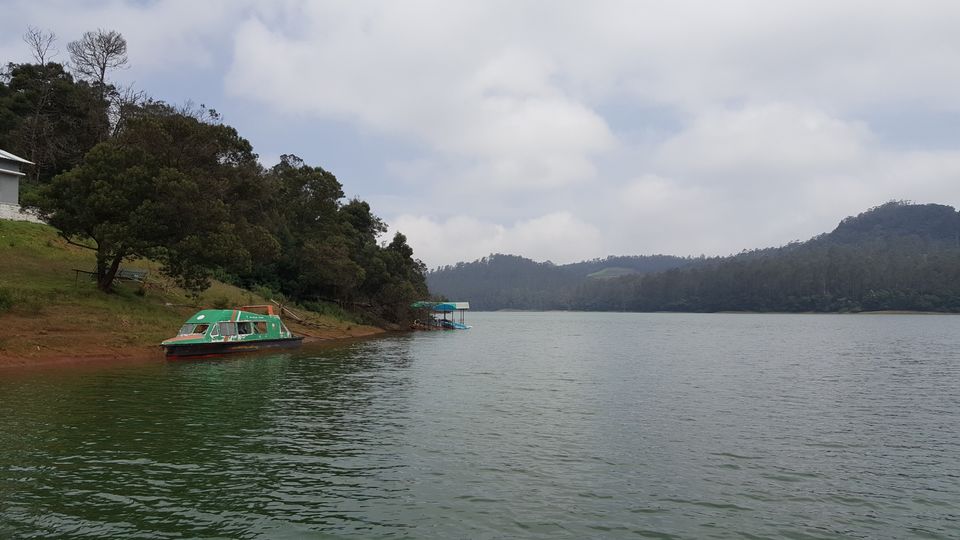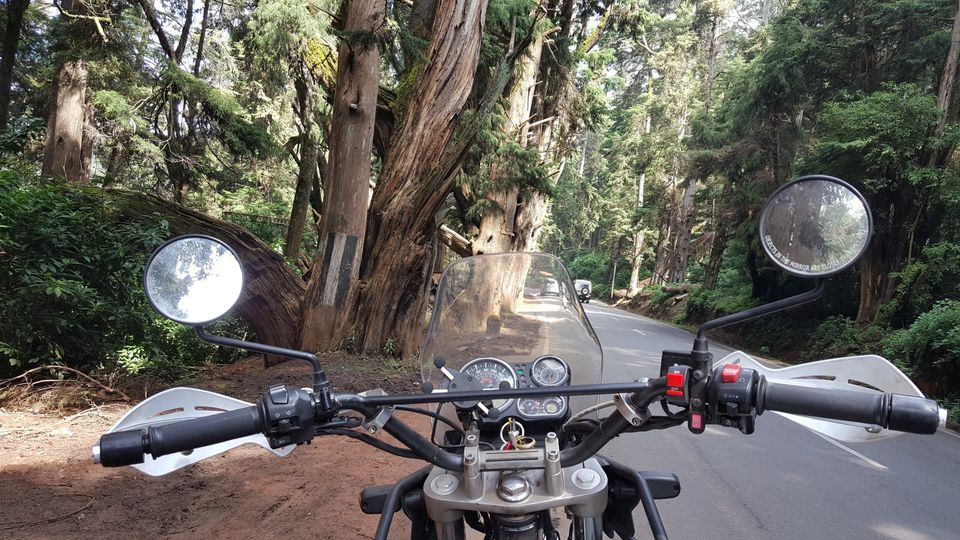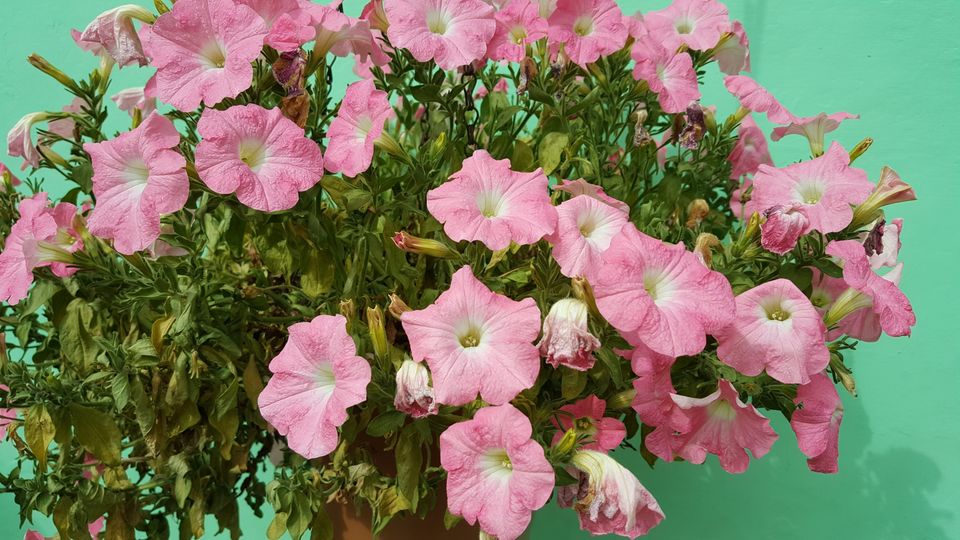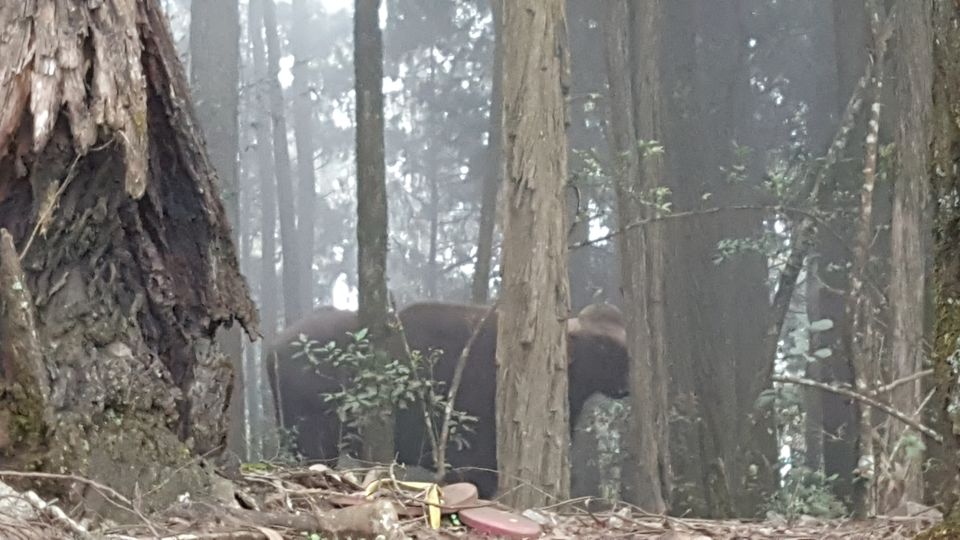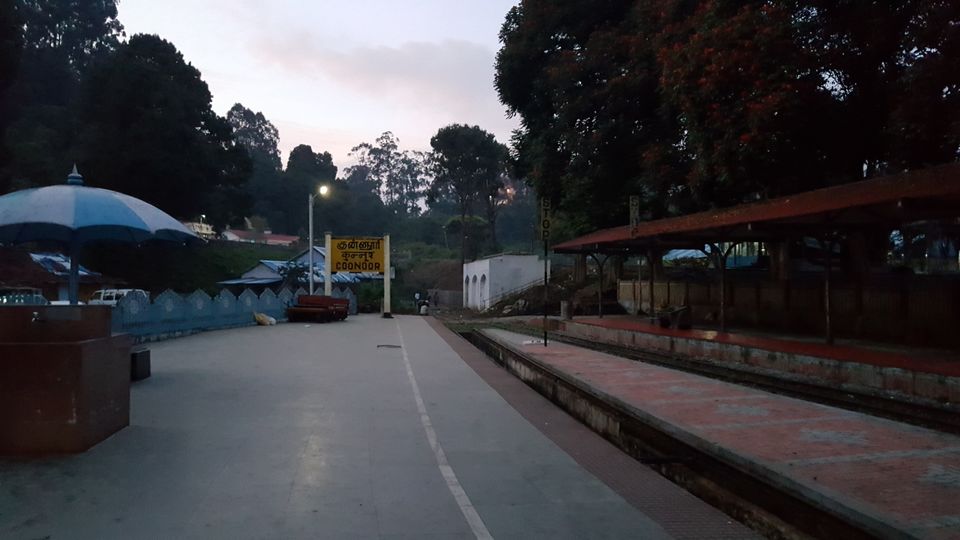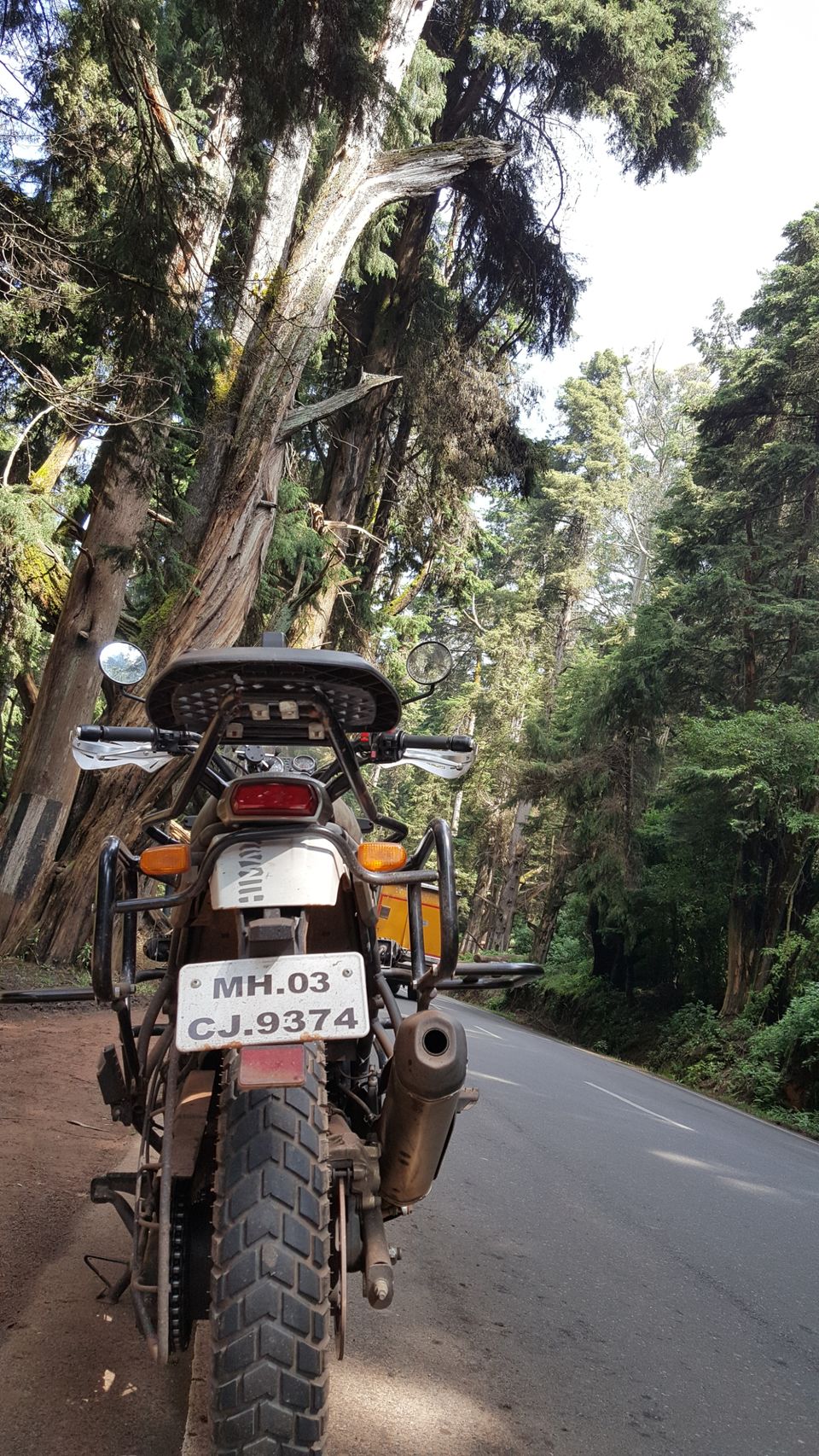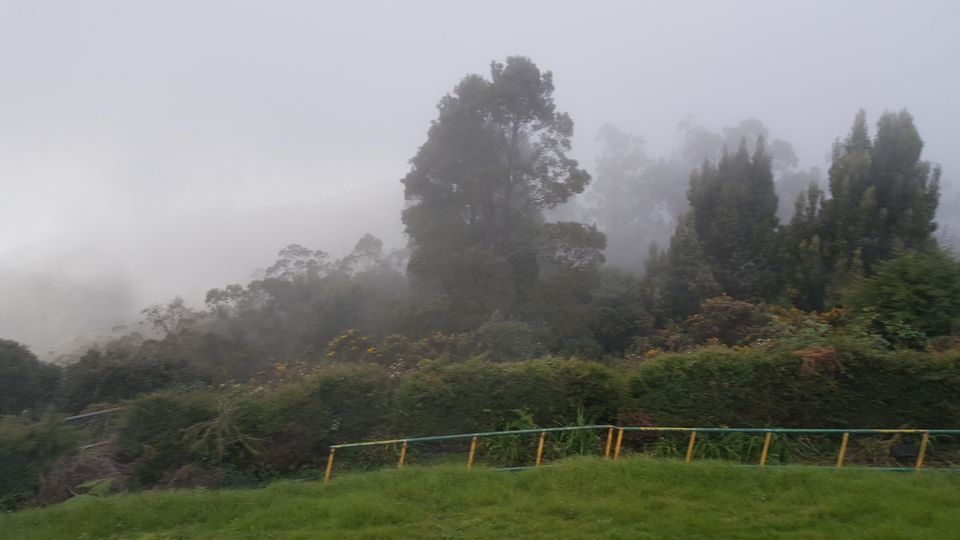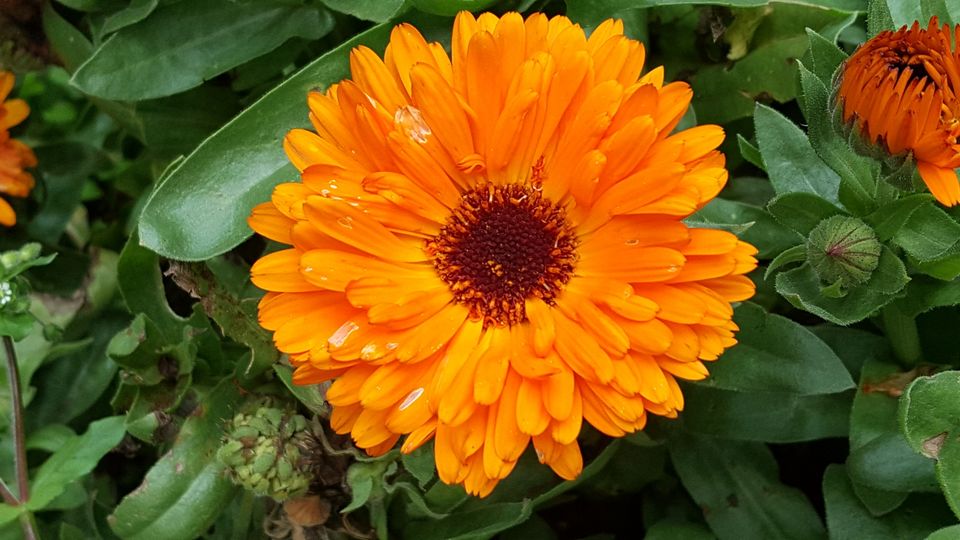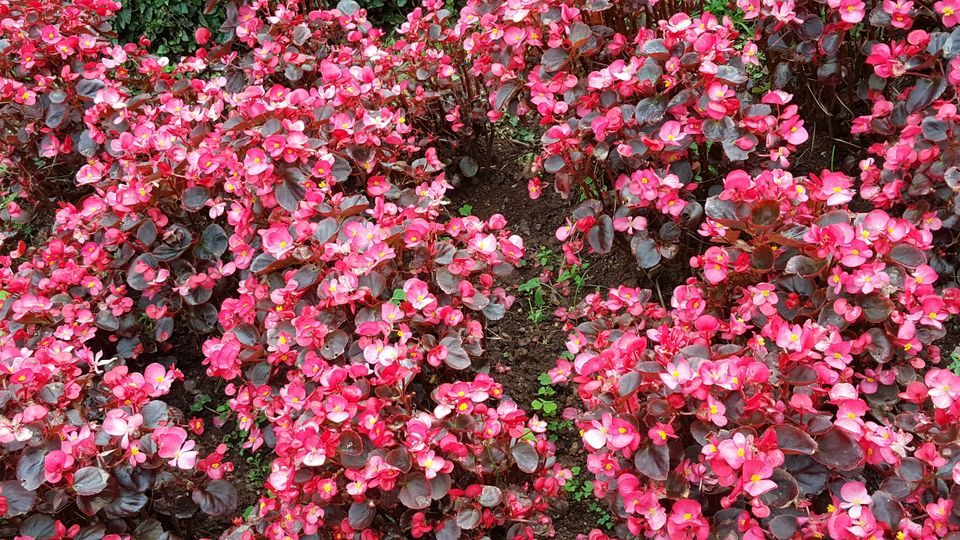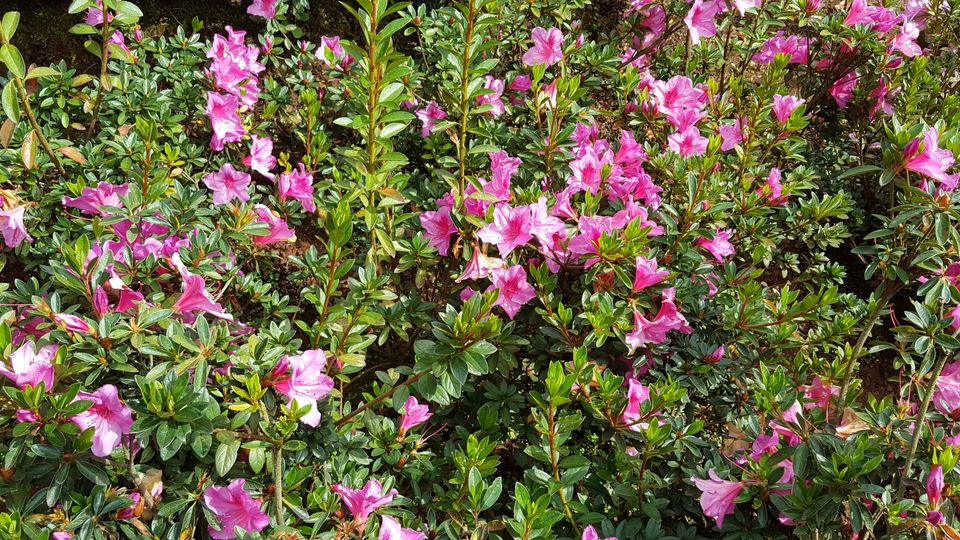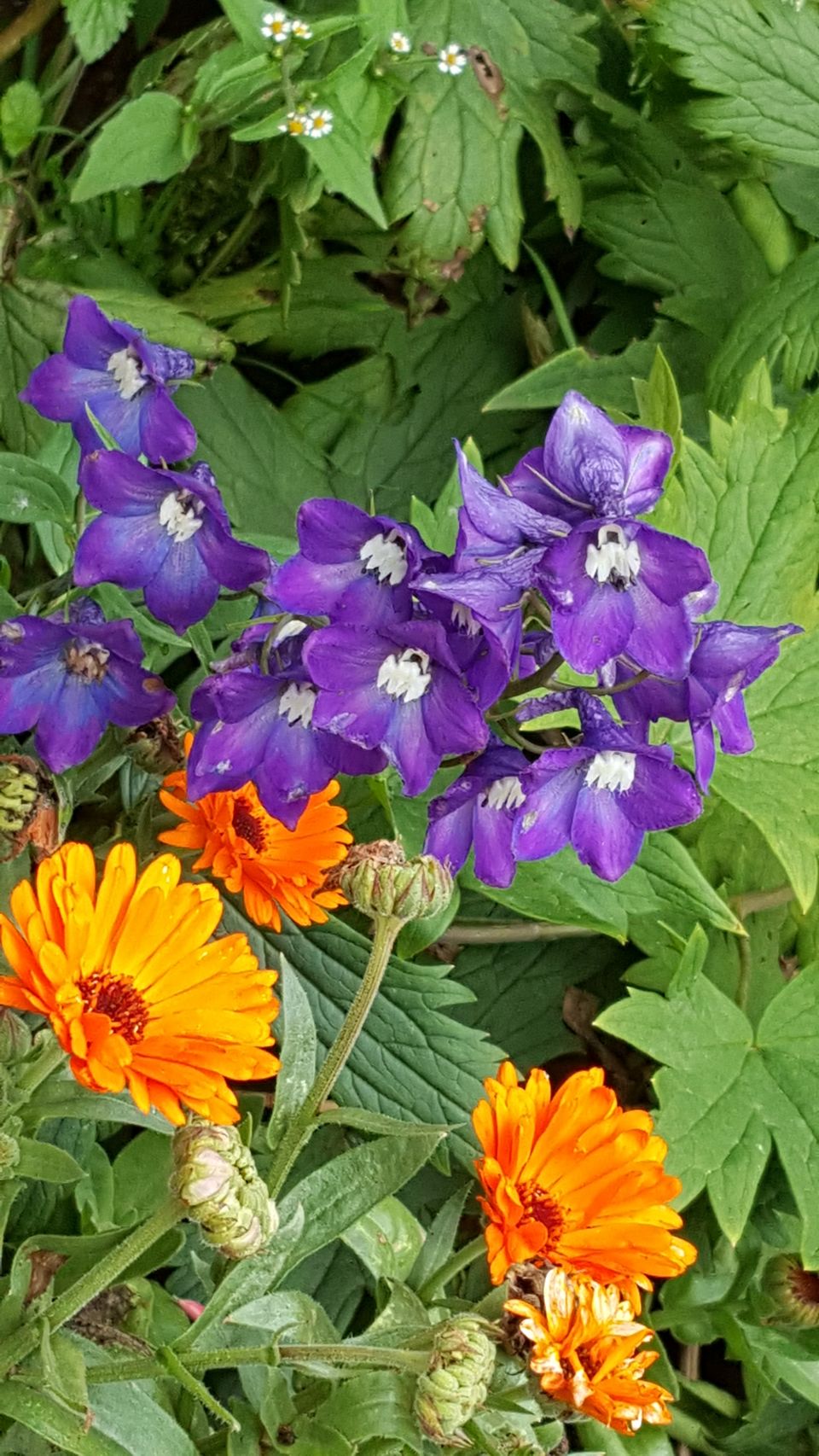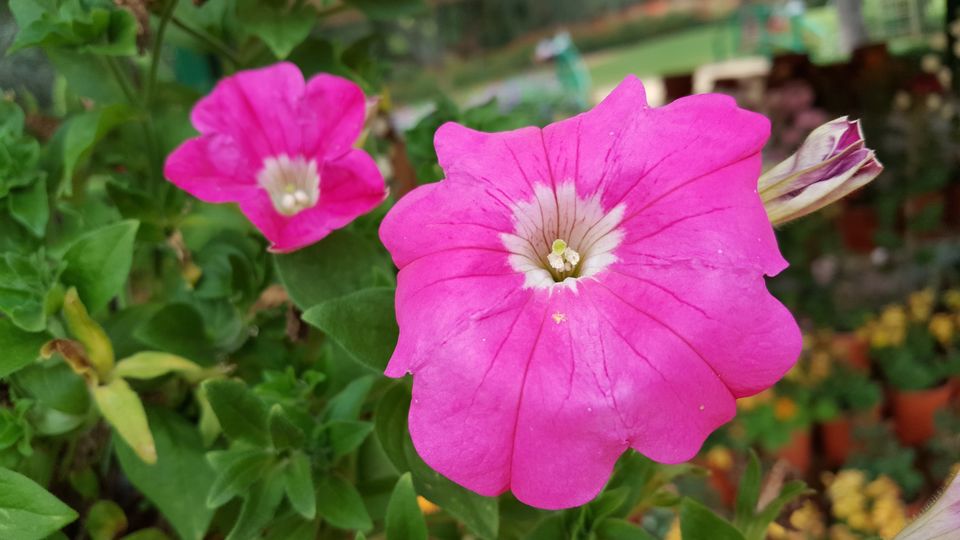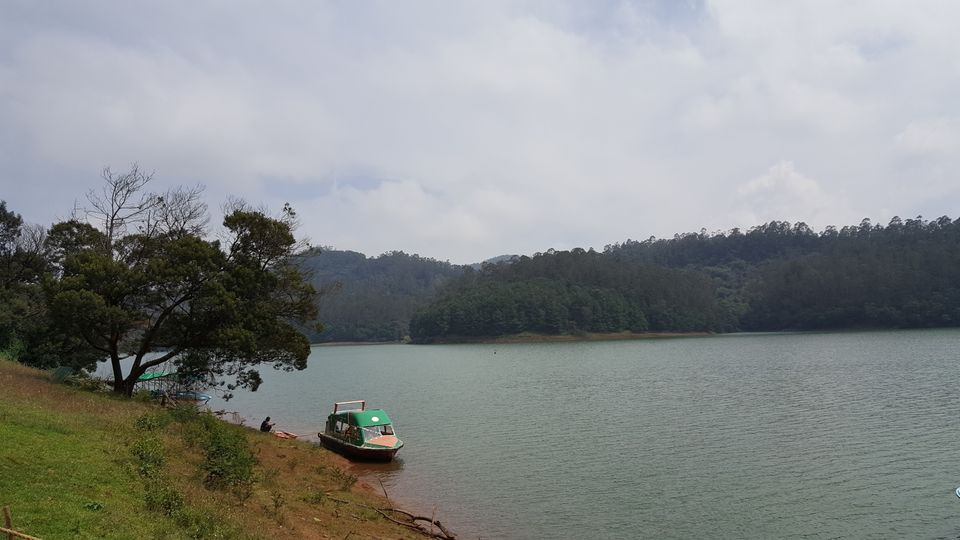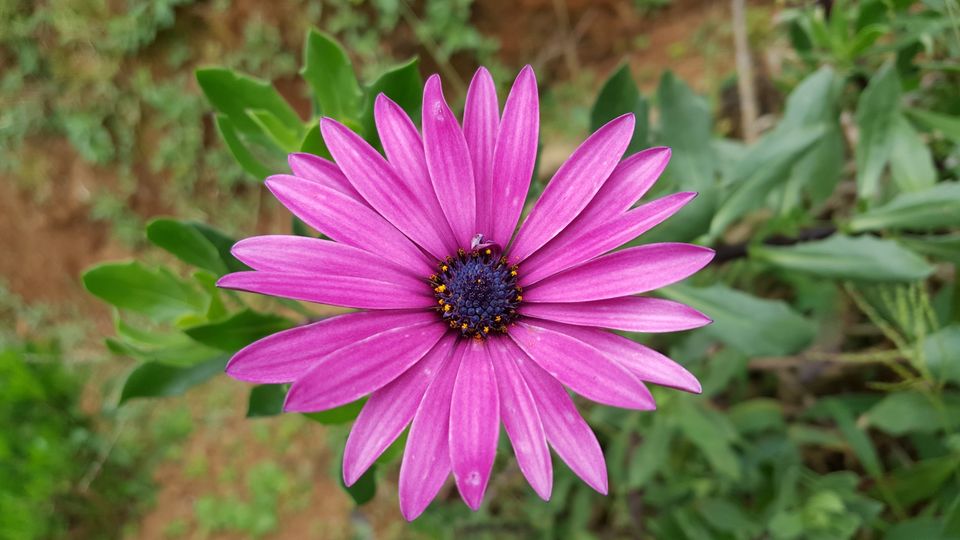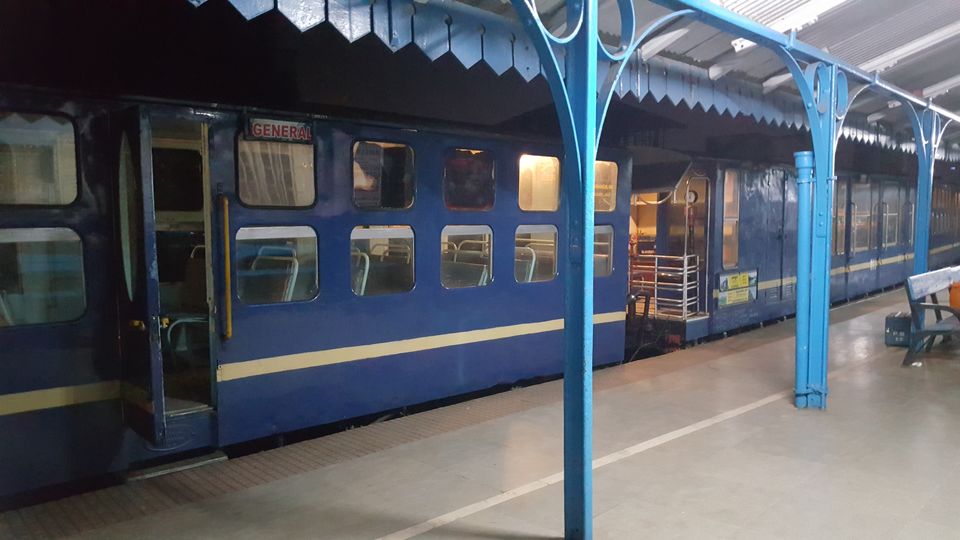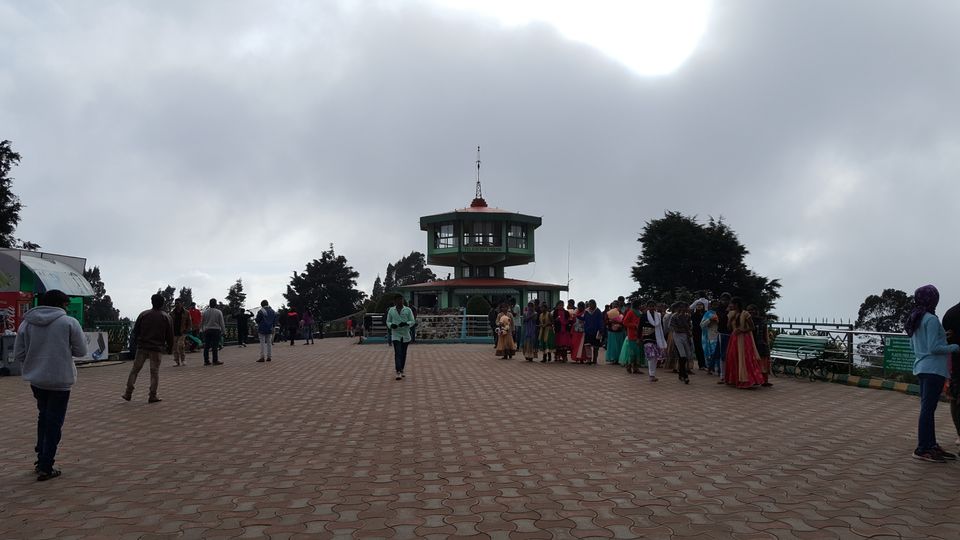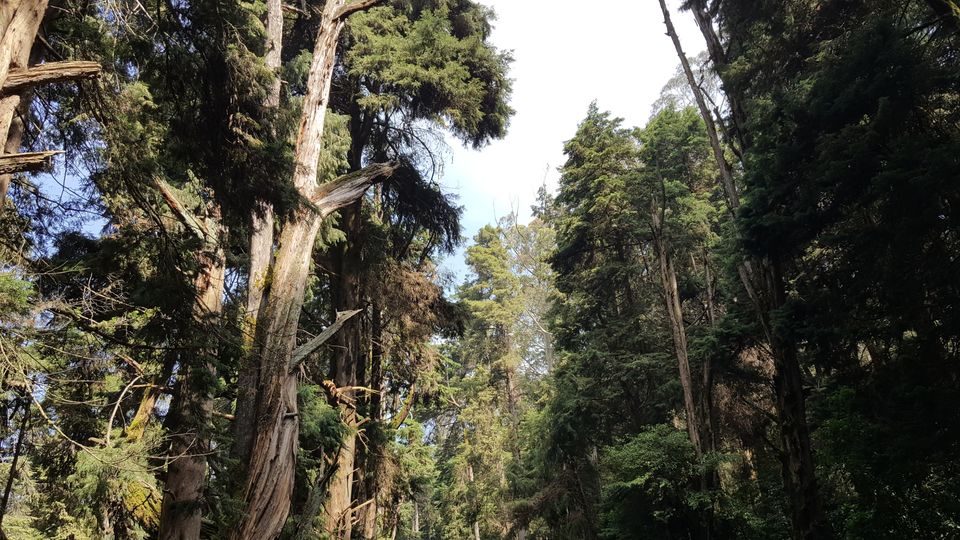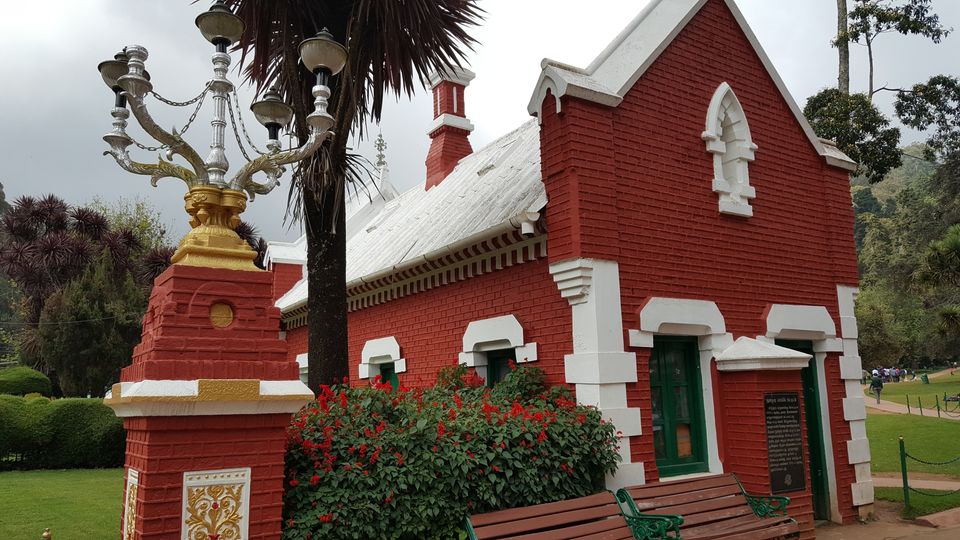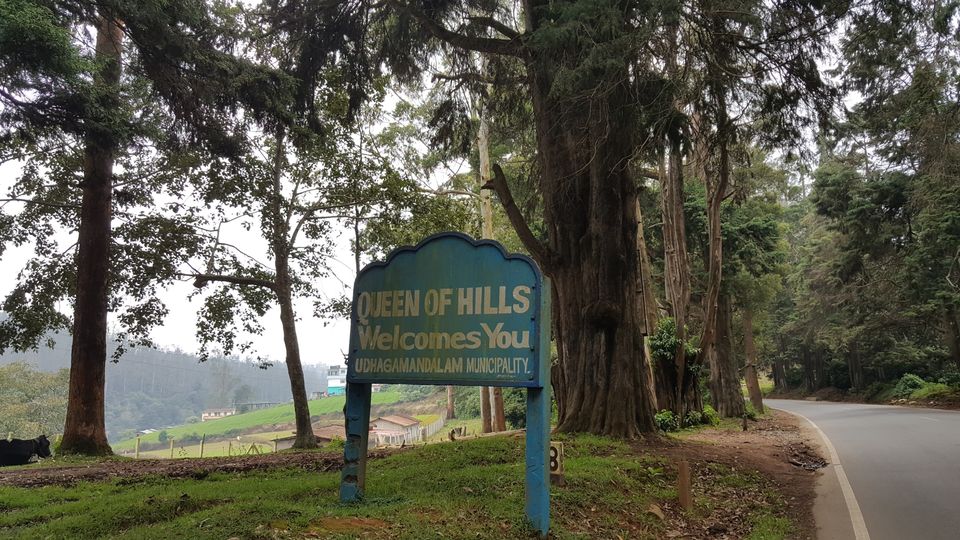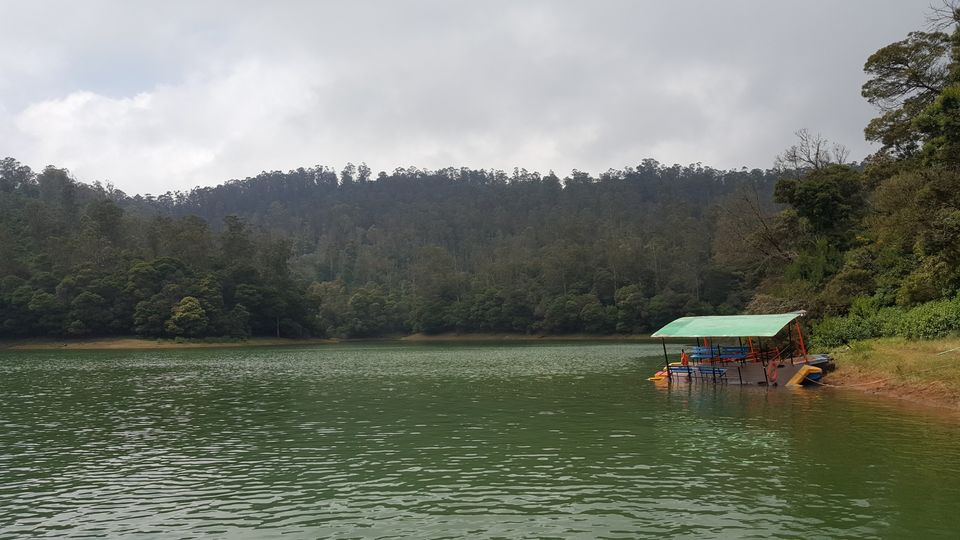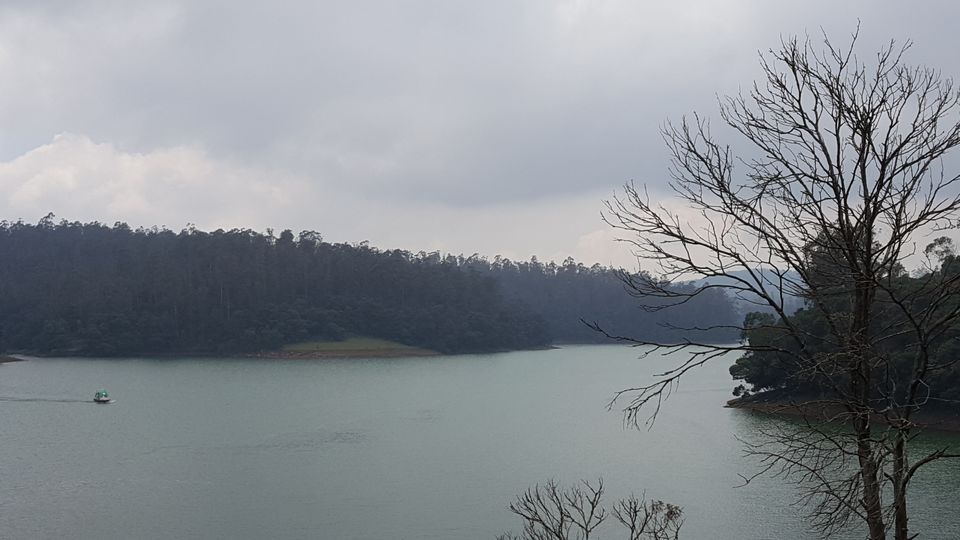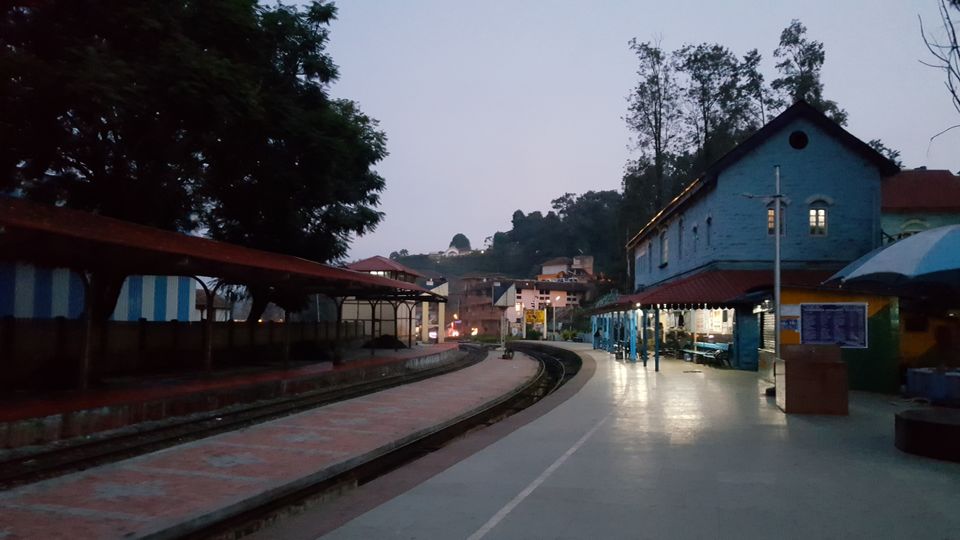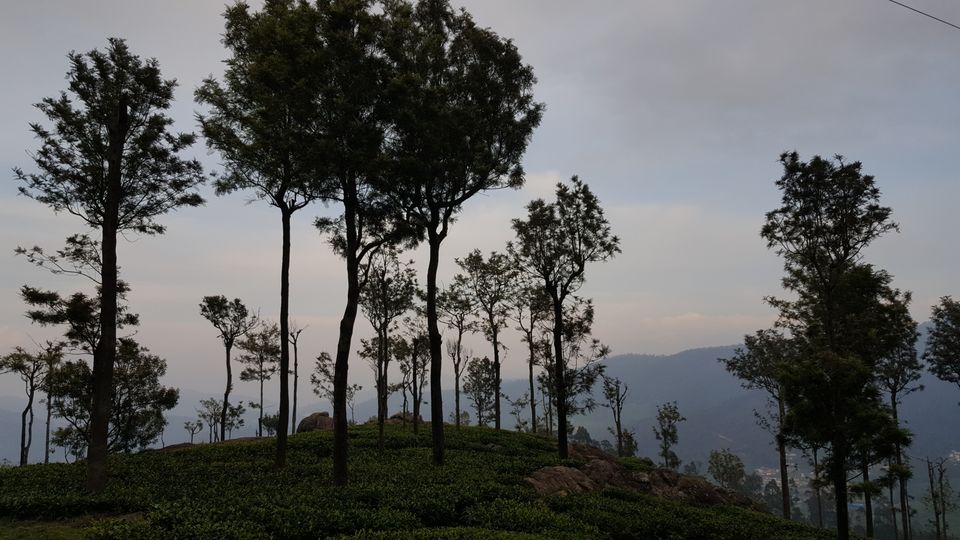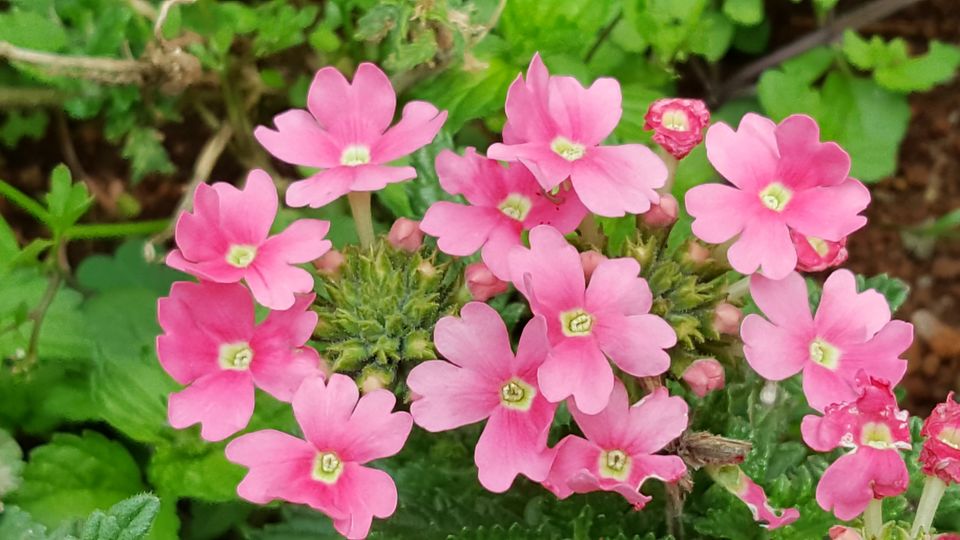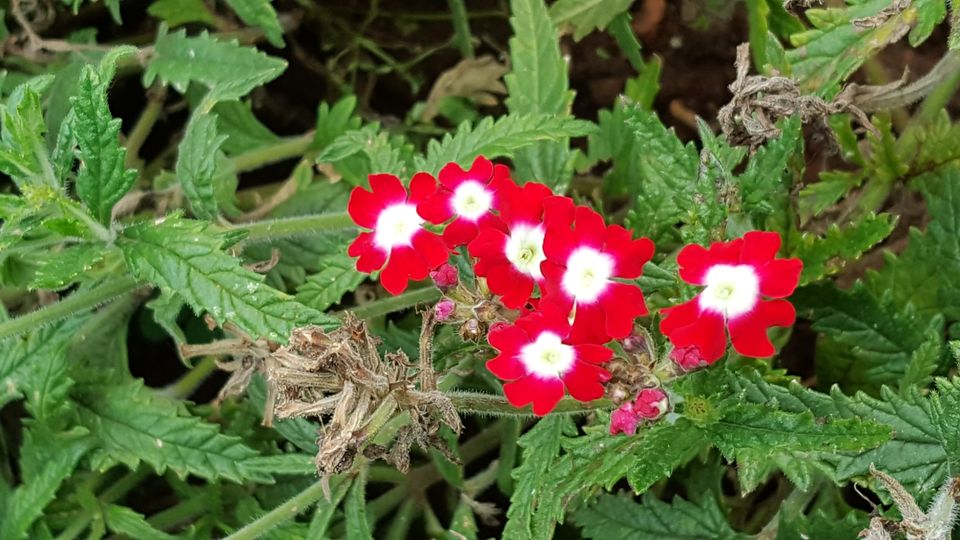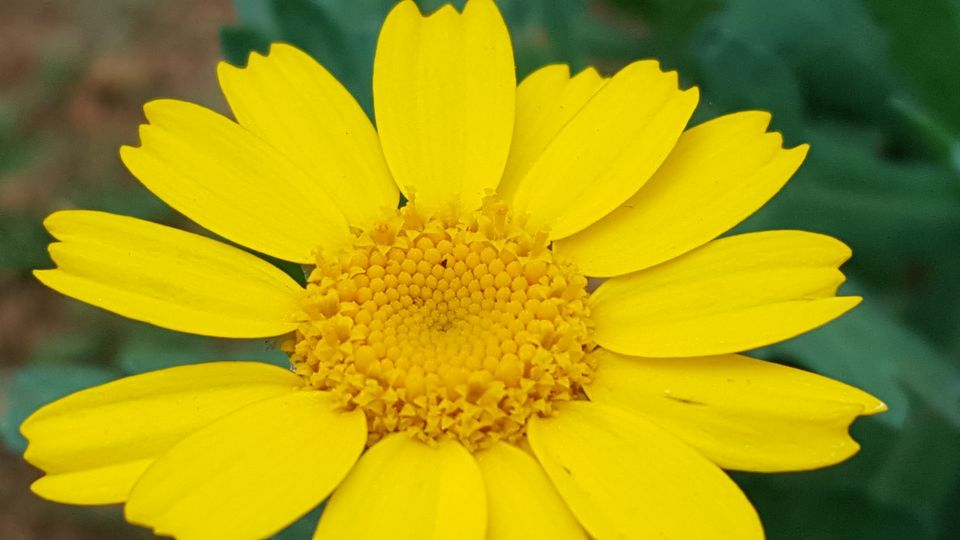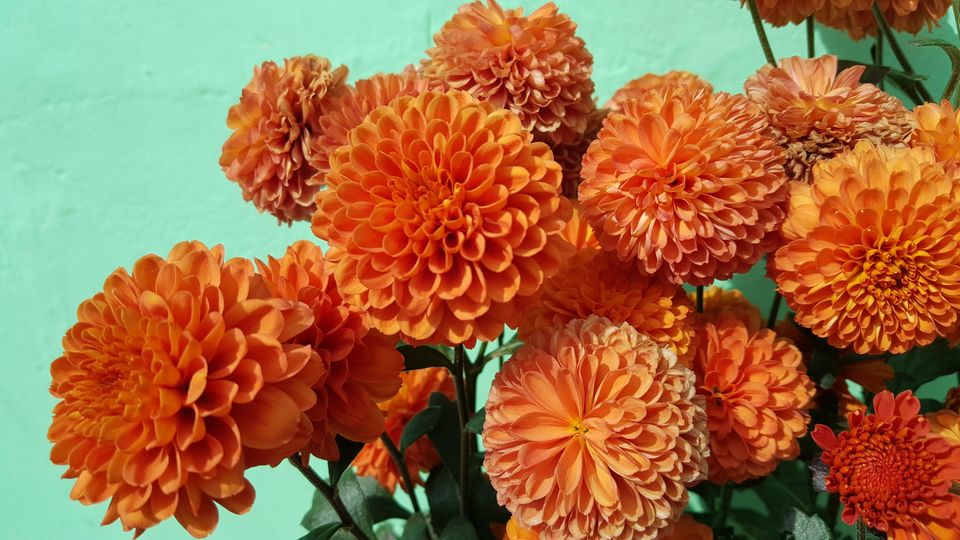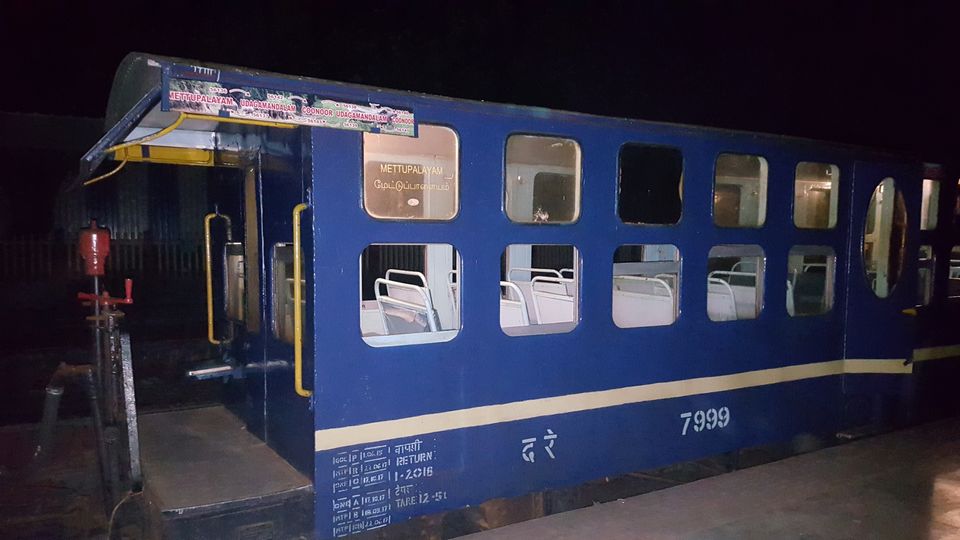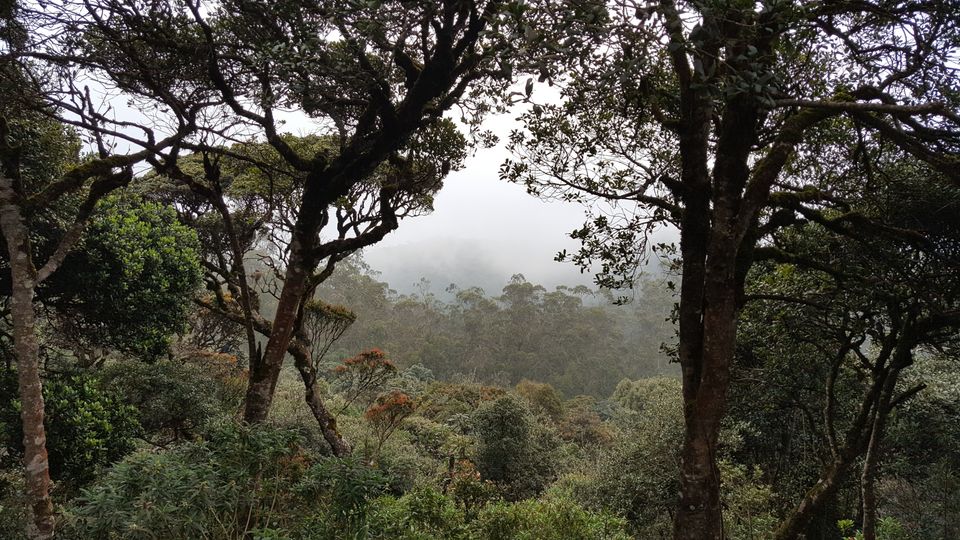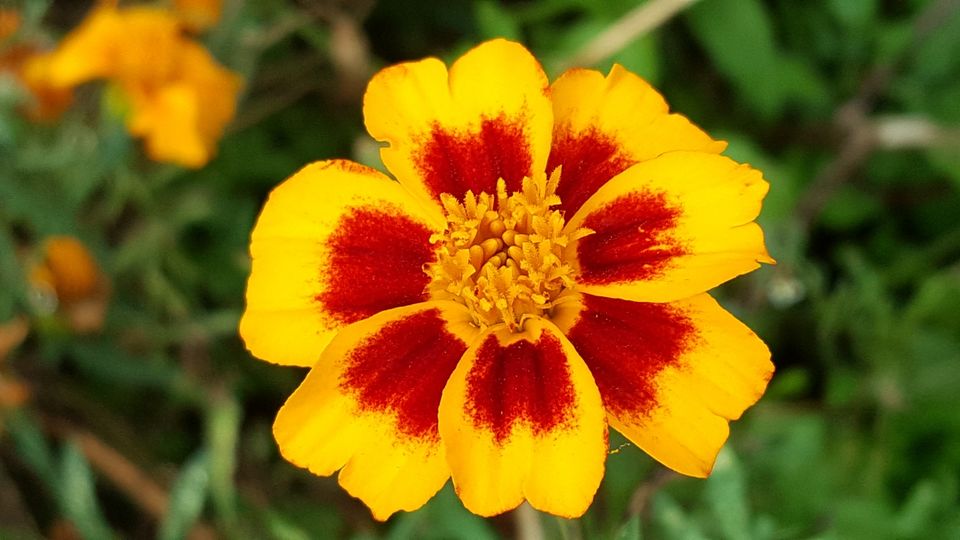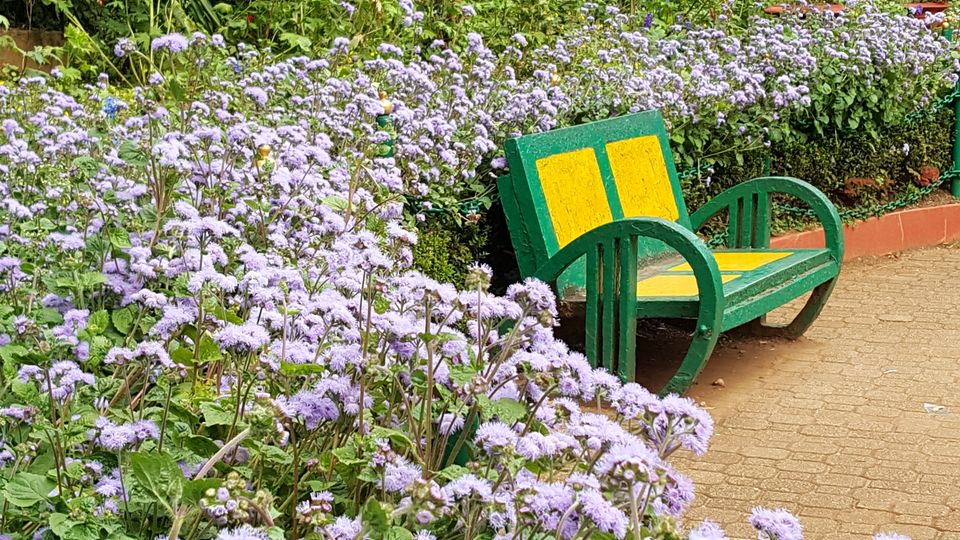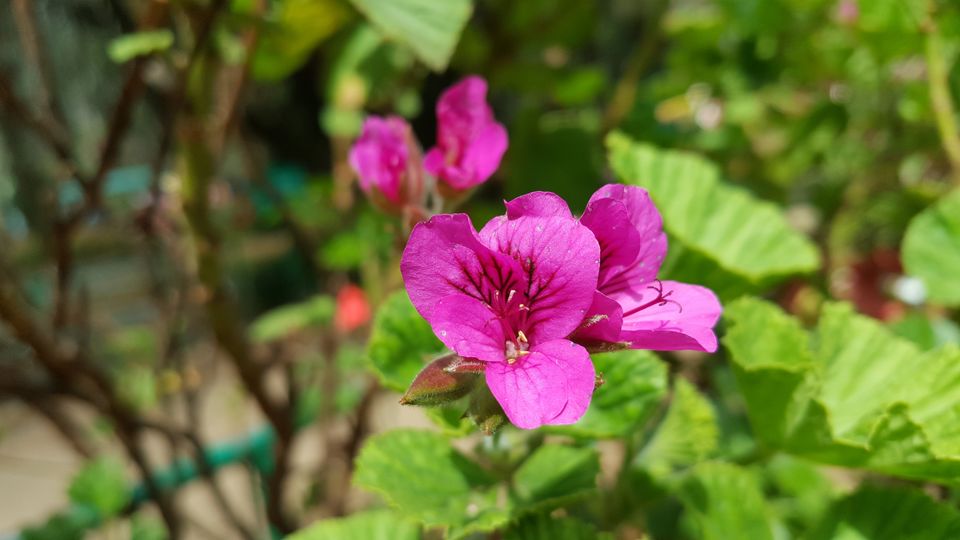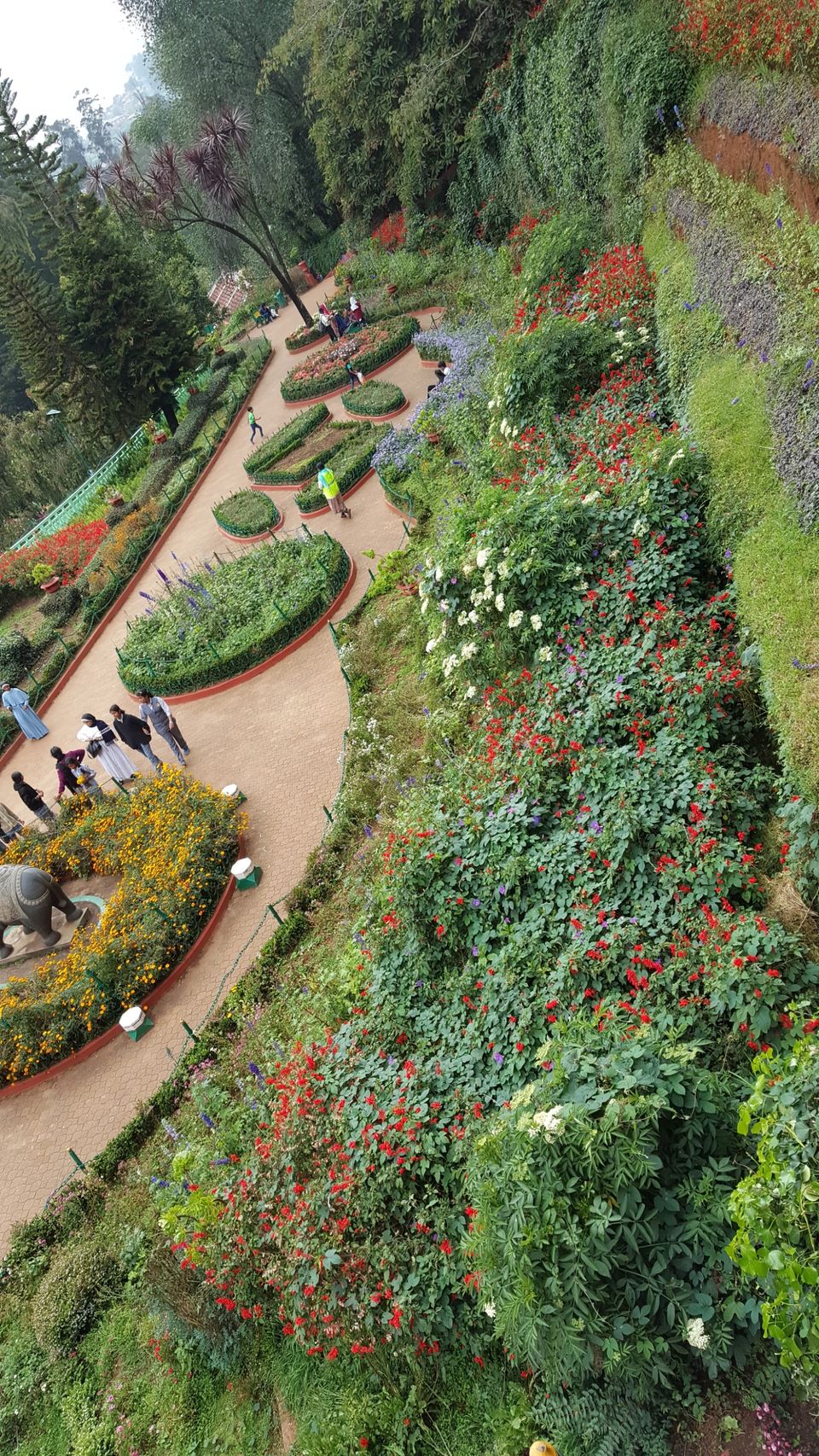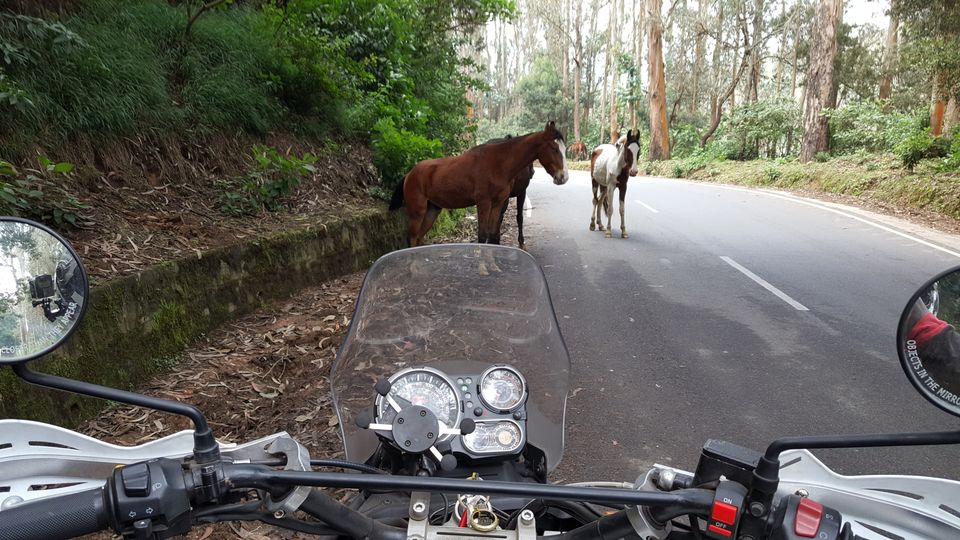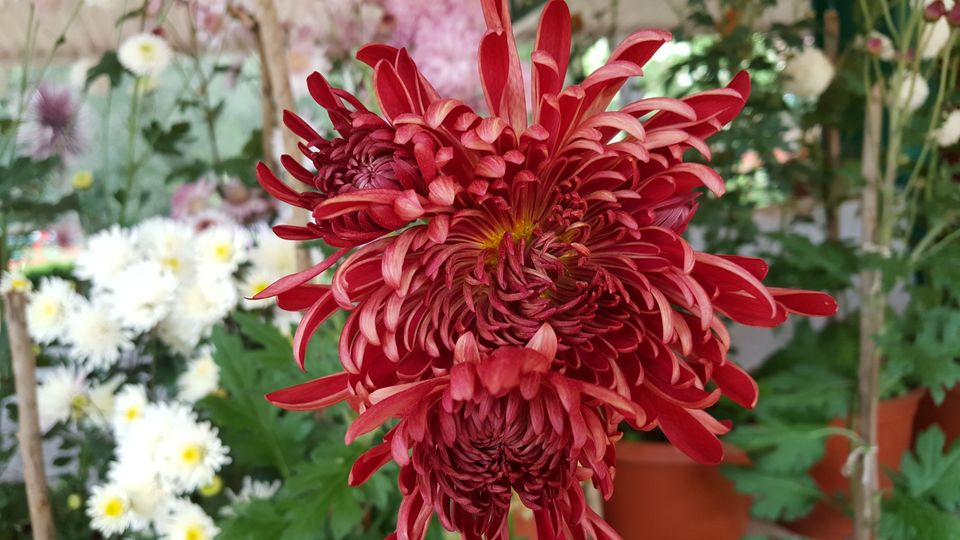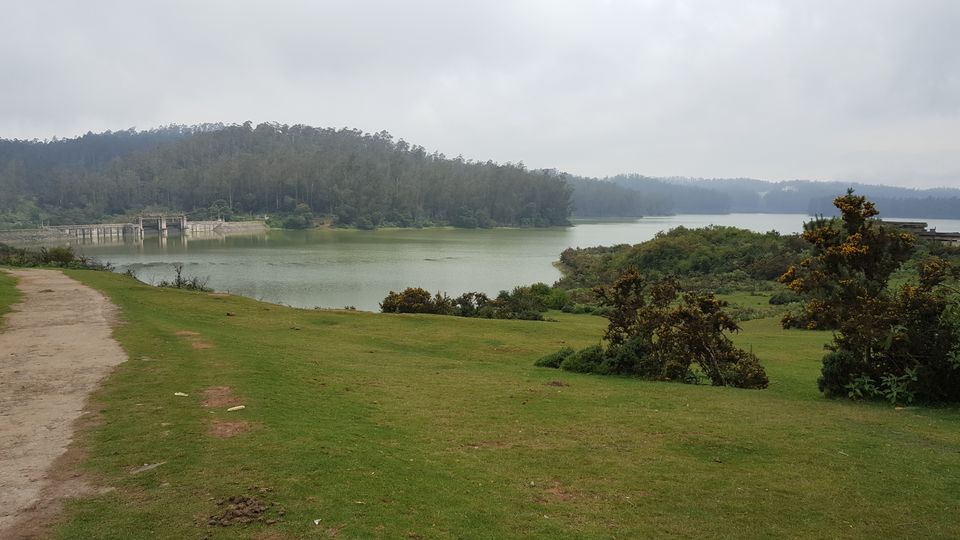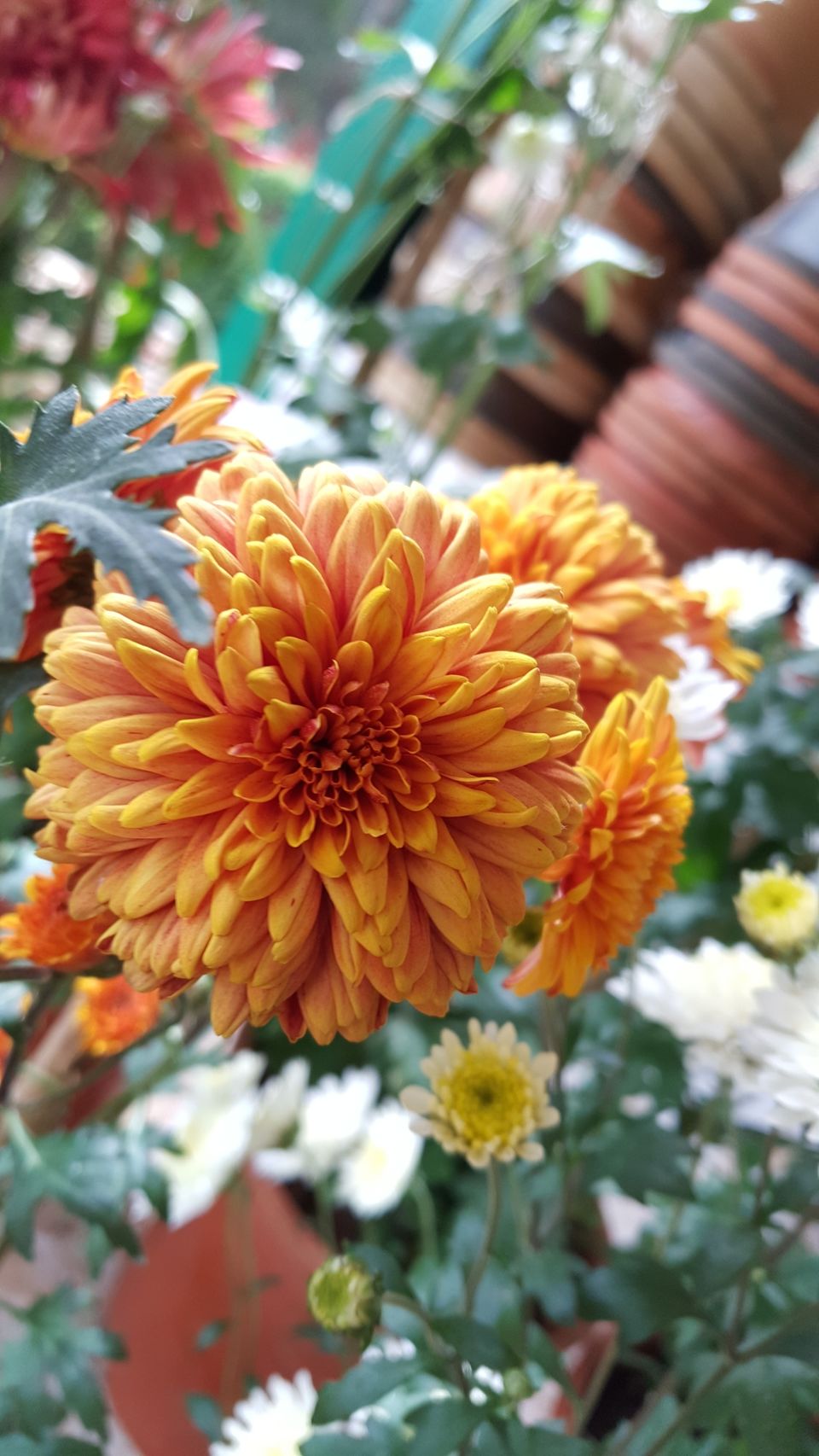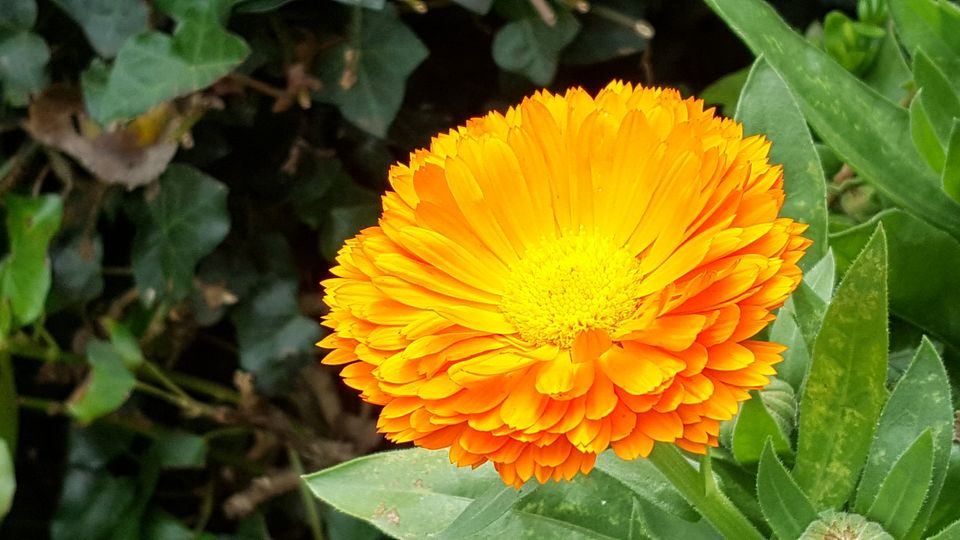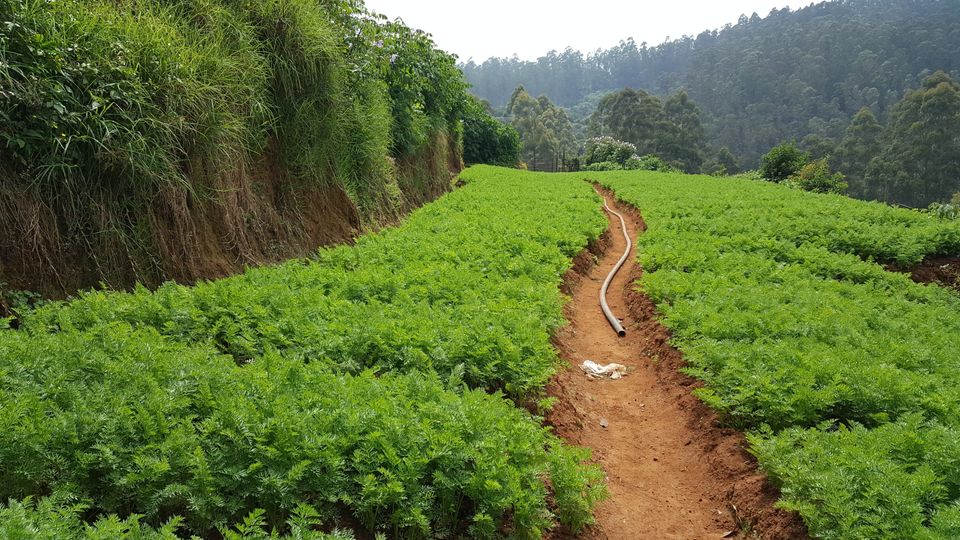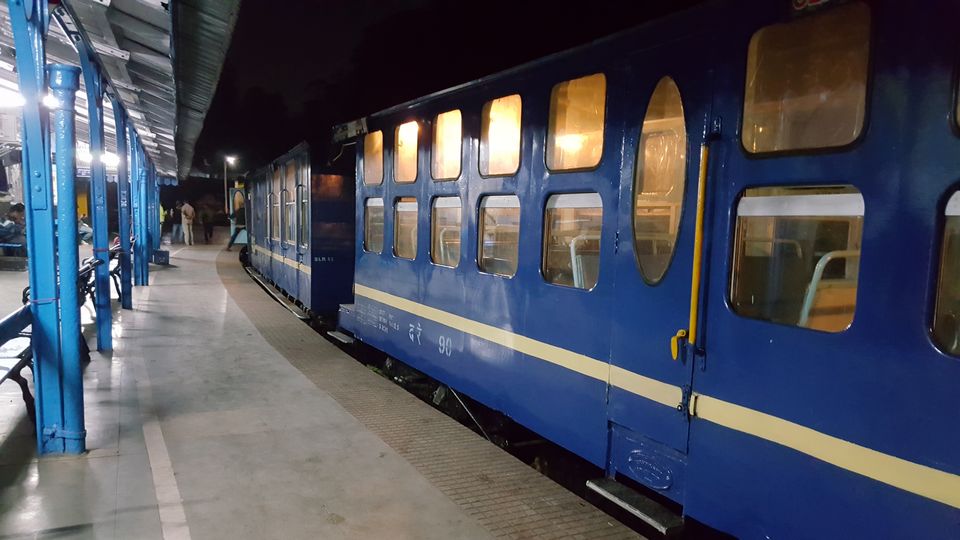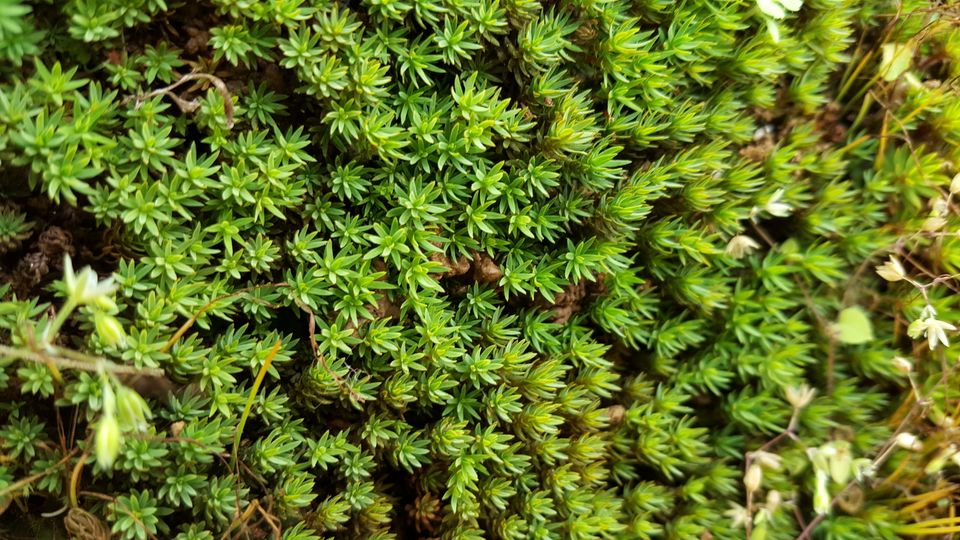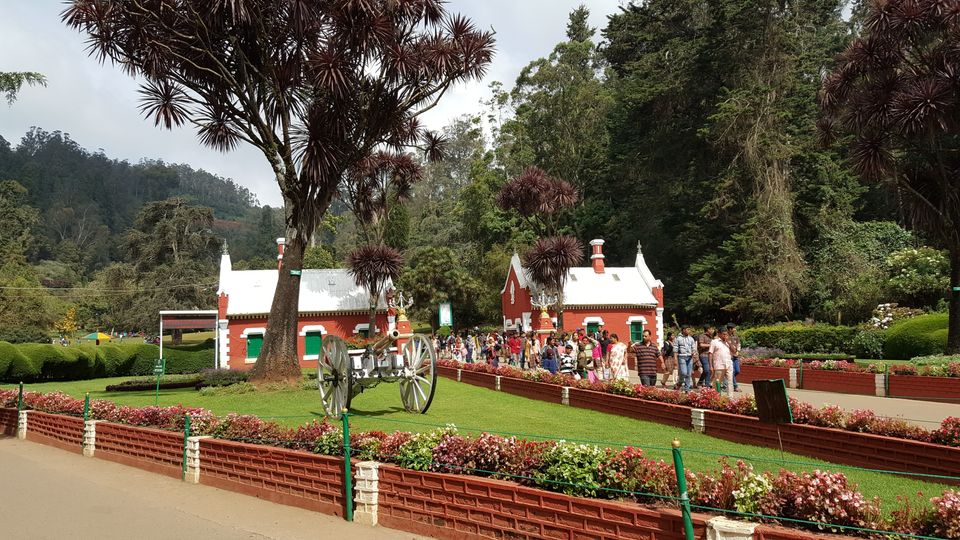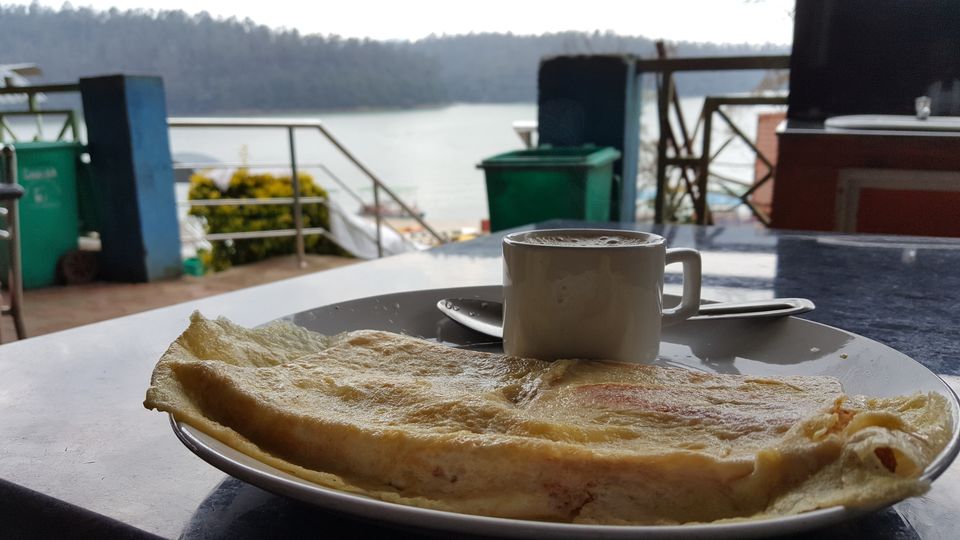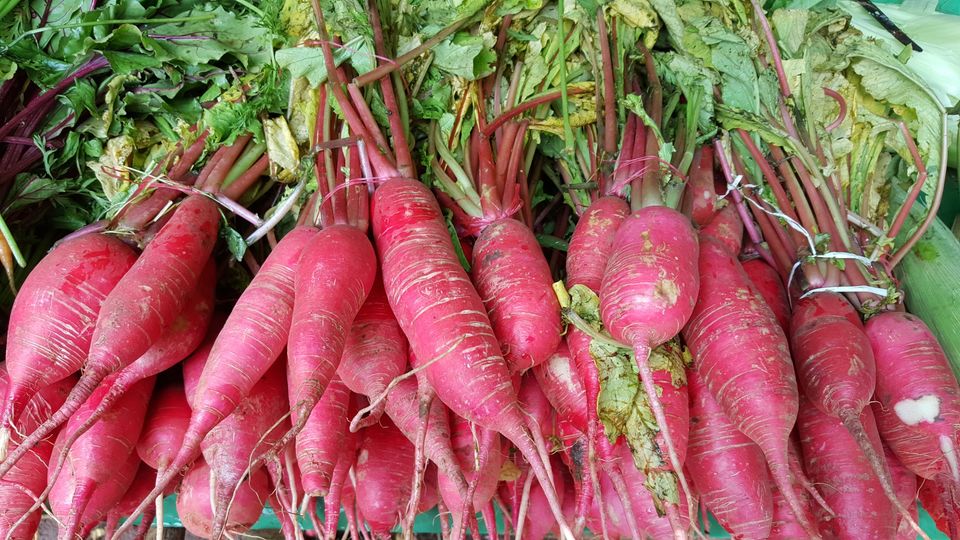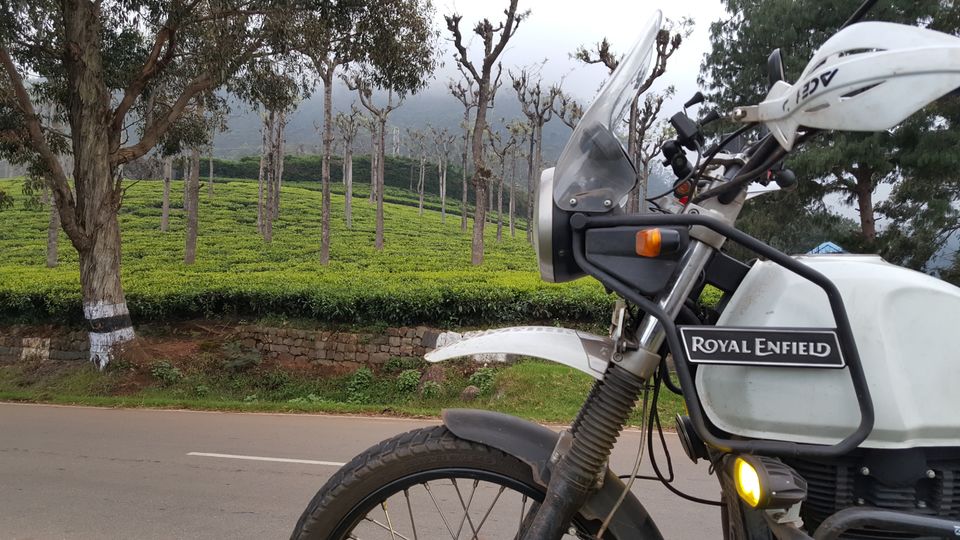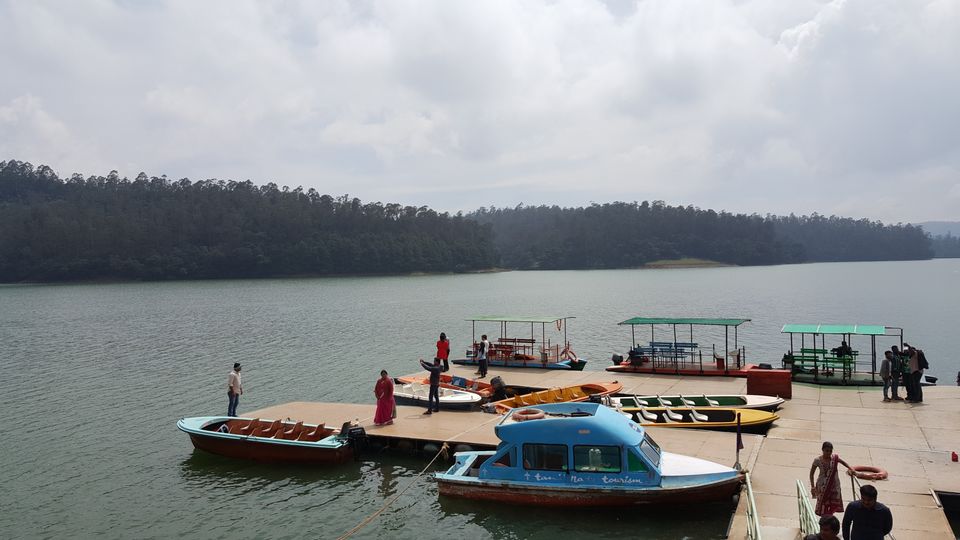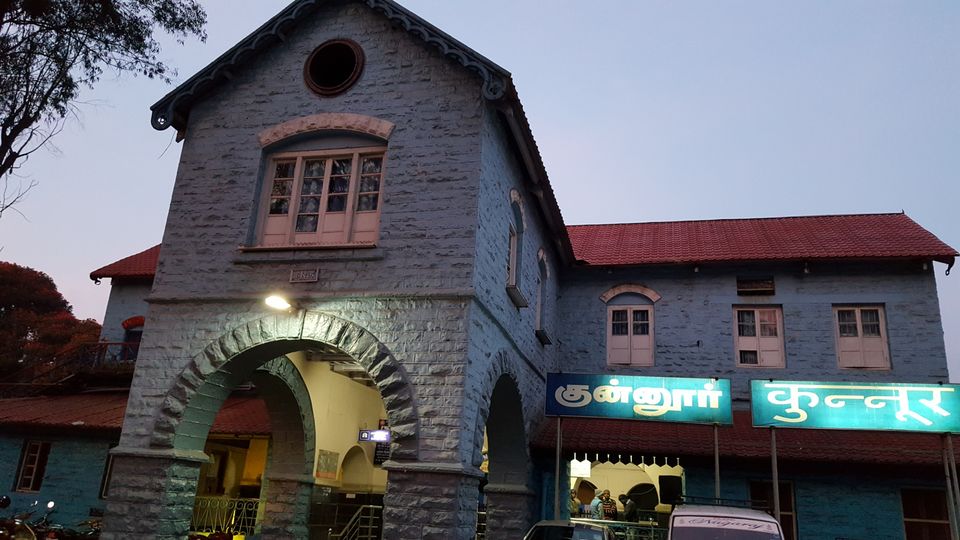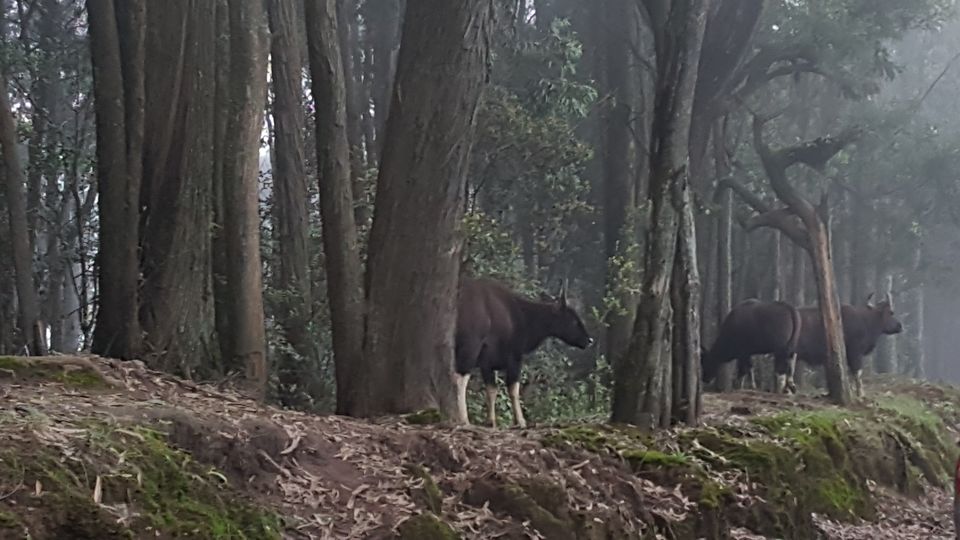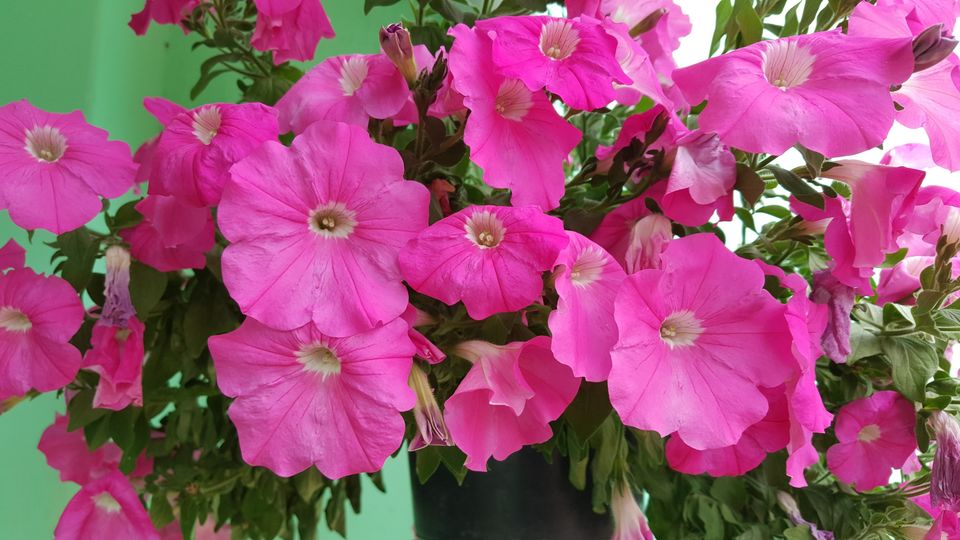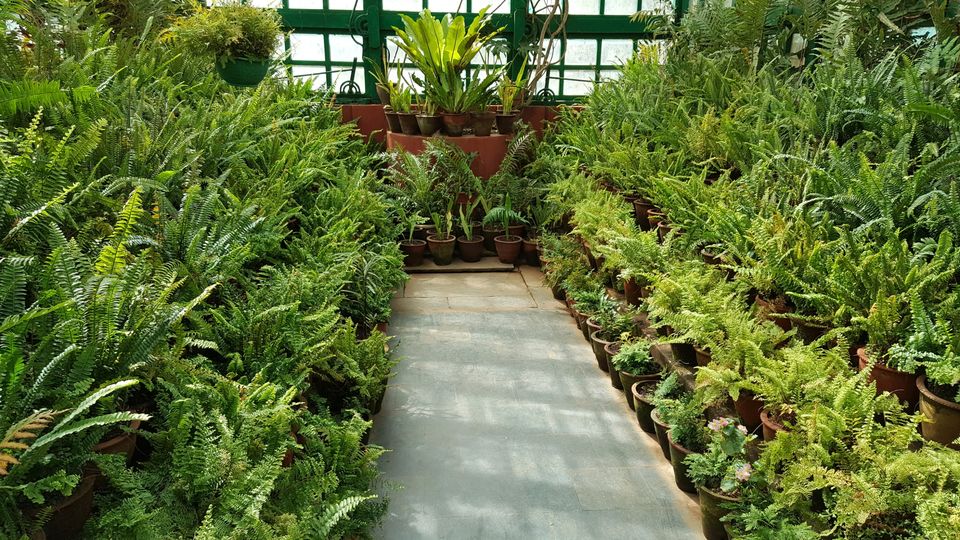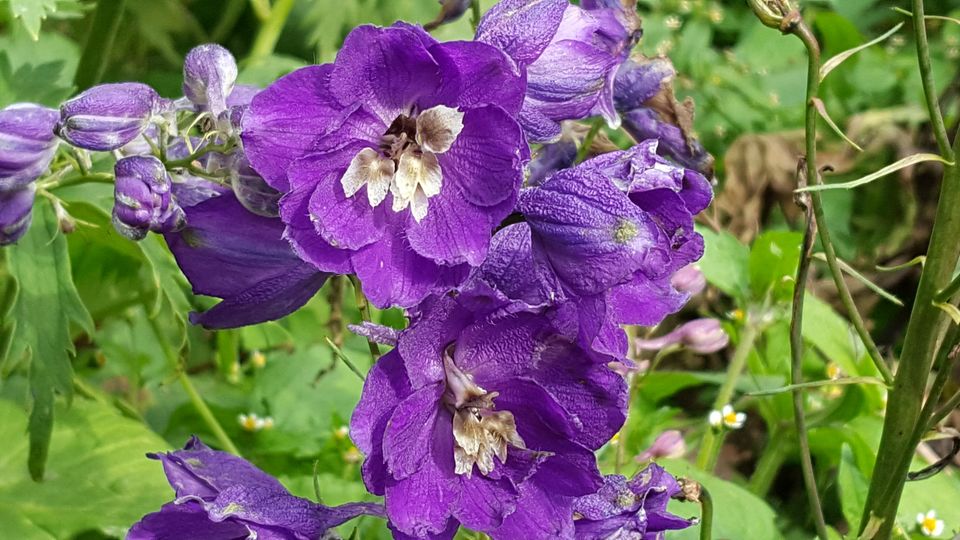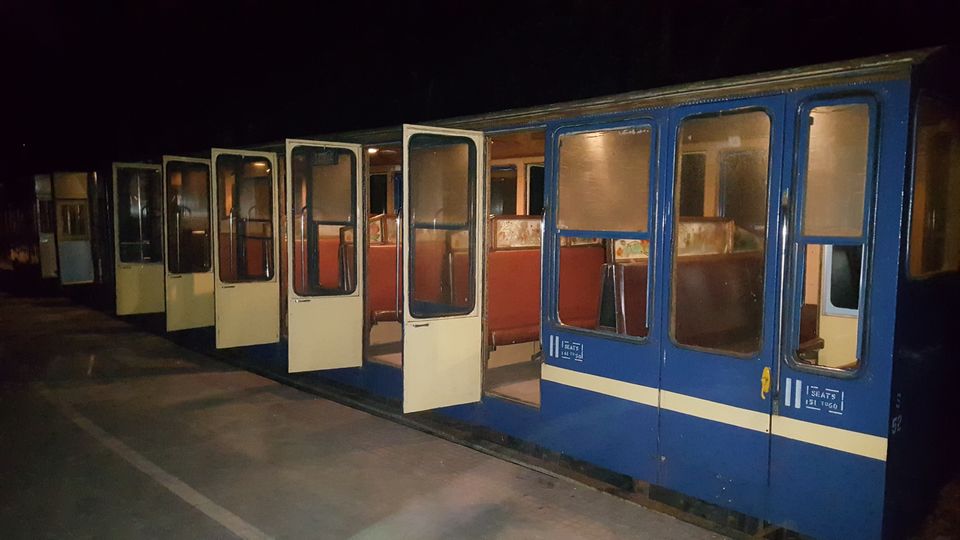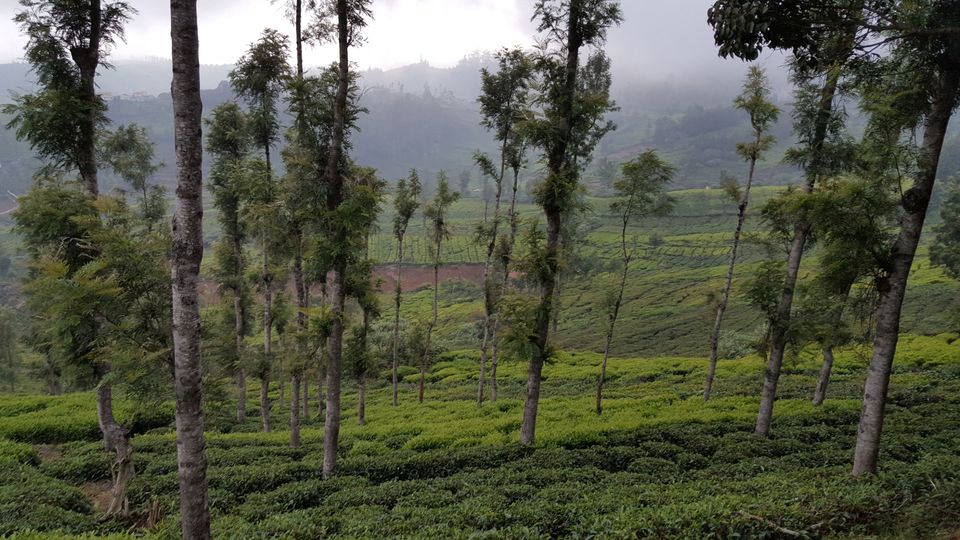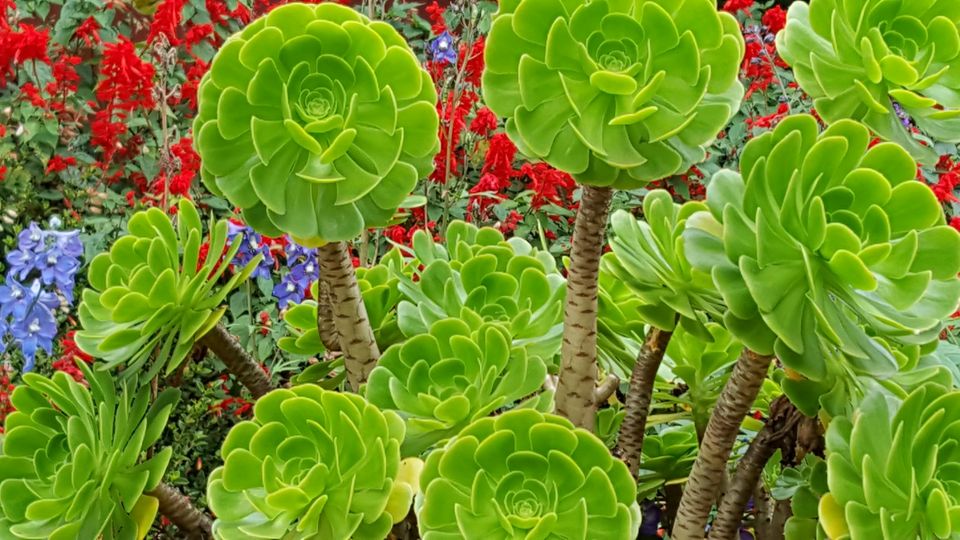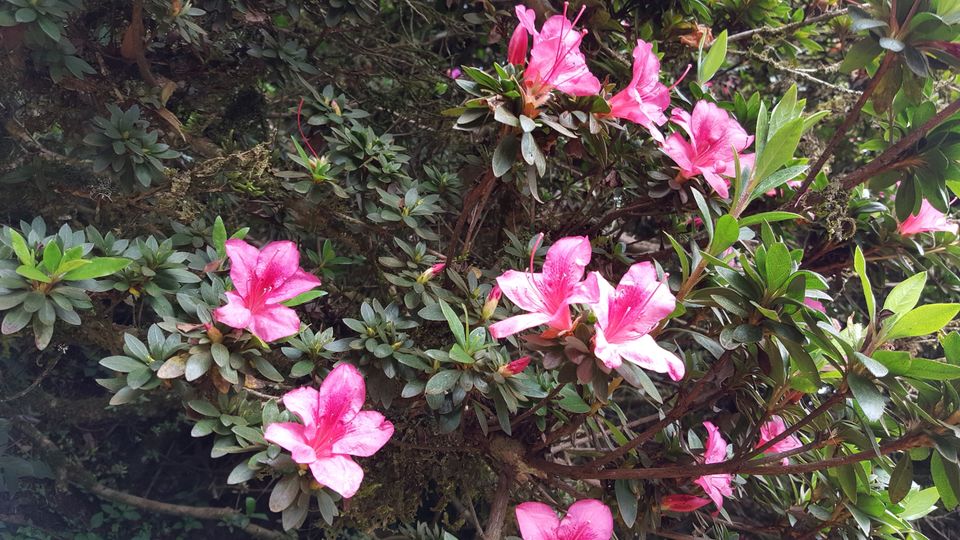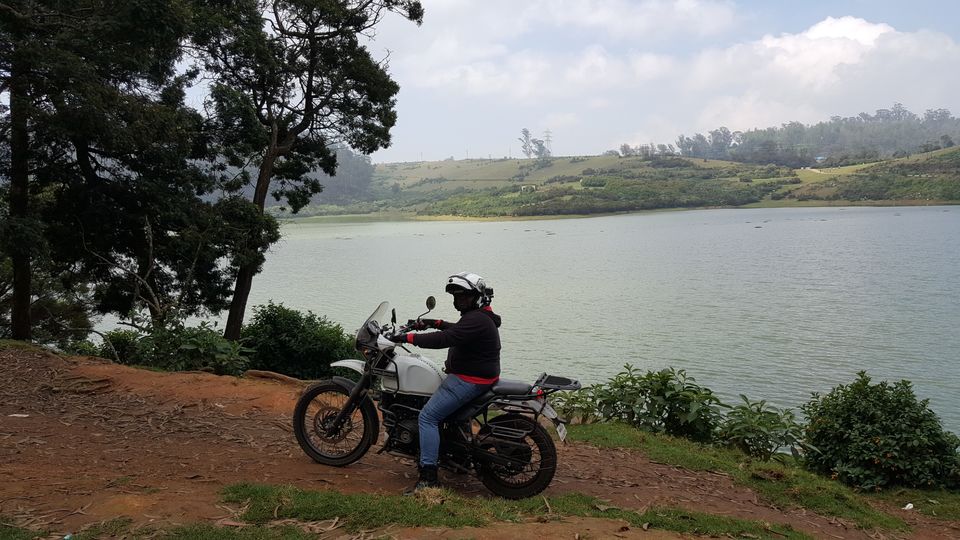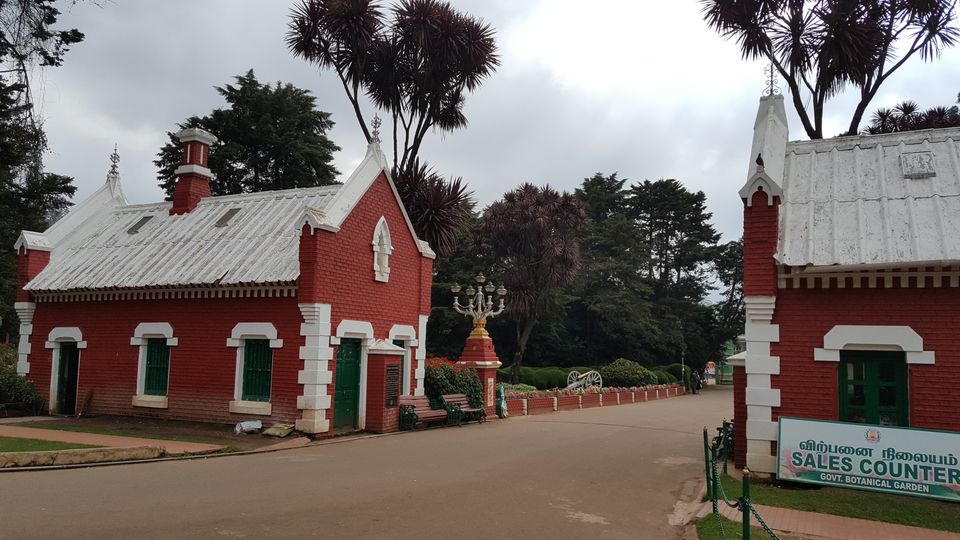 Day 10 ooty to kochi
So it was time to leave ooty now. After all our morning duties we were on our bike ready to ride till kochi today. And we started our ride as usual. The climate was too good as well as the scenes as the roads passes through the tea plantations. Which made the ride too good. After enjoying the ride for sometime we decide to halt for a breakfast at a small hotel bang opposite to a tea field. Here we also clicked few pics before having our breakfast. I spotted a furry kitty which was too cute whose pic i have shared below. The cats here have more fur maybe due to the low temperature here. As we were at the hotel we met a kerala guy who was working here and was on his way to his home on his royal enfield. We had a small chat and asked us about the route for which we said we will go to kozhicode and then to kochi. He advised us to go directly to kochi as the other way would be too long and hectic as well. So we decide to go directly to kochi. After which that guys was with us for few kilometers and also took a video of me riding my bike from behind and gave it me. The route was too scenic as we were riding between the woods. After our lunch we started again and now google took us from all the way it could. As the roads were not in that good condition and we don't remember how many turns we took or rather we couldn't count how many turns we took. And it was as if we were taking either right or left every 1 or 2 kilometers.  And we this for the next 150 odd kilometers. We were tired by now as we were riding on some interior road. Finally we hit the highway and till now we took some 4 hours to cover that 150km and now when we were on highway and some 100km left to reach kochi. We covered this 100km in 1.30hrs. We were that happy as we got a good highway. At a signal we heard a person inside the car saying to his wife look at the number plate, these guys are riding from maharashtra. We decided we will look for a hotel by the highway as it will be easy for us to start our ride next day. Just found a decent hotel and checked in and asked the guard to look after our bikes and he was talking to me in tamil and i also replied to him in tamil. He didn't knew malayalam and he looked at me as i replied to him in tamil. He asked how do you know tamil. Then i explained to him that my mother tongue is tamil then i found out that his native and my native is hardly 20km apart. It was time for a good biriyani then followed by sleep.
TO BE CONTINUED IN PART 2