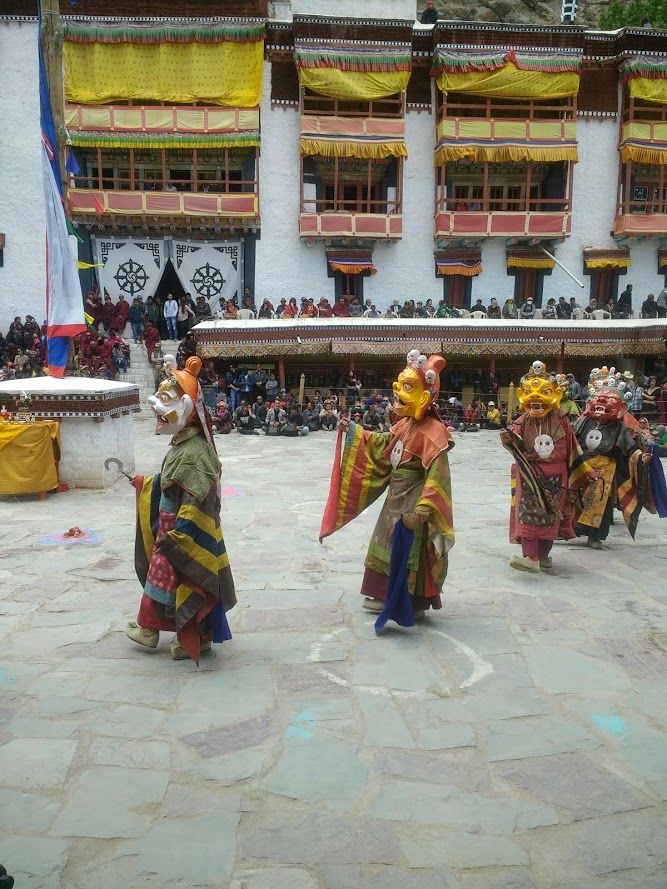 My journey to Ladakh was of a different kind, as I spent a total of 5 weeks over there. So, the most I can do is share the highlights of my journey with this travelogue.
I believe, no place shares its secrets easily. You have to look dearly and unceasingly, wait for it to unfold, or maybe grab your hand and take you somewhere not all people have been. As I say, the farther you will go, the prettier it will get.
How long should the trip to Ladakh be? If you are planning on covering the lakes and the valleys all together, please spare a minimum of 12 days for Ladakh. Your body will need at least one and a half days to just get used to the atmosphere, so the best would be, to use that time for rest and local sightseeing. Here's what an ideal itinerary for Ladakh looks like, according to me.
Day 1- Reach, give time for acclimatization
Day 2- Shey Palace, Thiksey Monastrey, Hemis Monastrey, Stok Palace, Shanti Stupa
Day 3- Leh Palace, Phyang Monastery, Magnetic Hill, Sangam, Local Market
Day 4- Nubra Valley- stay at Hunder after exploring Diskit
Day 5- Head to Turtuk, stay overnight
Day 6- Head to Pangong Tso, stay overnight
Day 7- Head back to Leh, take rest
Day 8- Head to Tso Moriri, stay overnight (Can also cover Chumathang and Tso Kar, which are on the way)
Day 9- Head to Hanle, stay overnight
Day 10- Back to Leh, take rest
How to commute in Ladakh?
The most popular means of covering all the tourist places in Ladakh is the motorbike. However, the journeys are long and tedious, and most parts uncomfortable. If you are not a hardcore biker, there are other ways to get to all the villages of Ladakh.
As a solo traveller on a budget, I preferred taking the local bus. The fares were cheap and the journey more comfortable than bikes (I am speaking from experience, as I went to Tso Moriri on bike). It helped me save a significant amount of money. The only drawback of the buses is that they follow a unique schedule. For example, the bus to Tso Moriri runs only on the 10th, 20th, and 30th of each month. For Pangong, the bus runs thrice a week, and for Nubra Valley, one bus departs every day. It is the best to check the bus schedule in advance to making a plan. The fares vary from 200-400 per person, depending on how far the destination is.
Another convenient way of commuting is by shared taxis, which, although a little expensive, save you the hassle of long and tiring road journeys. Shared cabs are easily available from Leh. A cab usually takes 4 to 5 people, and charges 2500-3500 per person for a 1N-2D trip (bargain is possible up to some extent).
Where to stay?
If you are looking for something dirt cheap, go for homestays. All the villages of Ladakh offer homestays, which are cosy and comfortable. Most importantly, they introduce you to the locals, and through their houses and stories, you get a glimpse of the Ladakhi culture, food, and traditions. The hosts are very friendly, and upon asking them about the place, you will get to know way more than any catalogue in a hotel will ever reveal.
If you are looking forward to a relaxing, luxurious trip, you will easily find accommodation in 3-star tents, hotels, and guest houses at the lakes as well as in Nubra Valley. Leh being a popular as well as established tourist destination, boasts of multiple ultra-luxurious 5 star hotels as well. In most cases, no prior booking is required.
Hunder, a small, very green village in Nubra Valley is everything like the scenery we used to draw as kids. Encircled with mountains, small and big streams flow along all its streets and houses made of stone and brick lie dispersed, separated by needle-like, dry violet stems of old trees.
80 km farther from Hunder lies, what you'll agree, is the prettiest village in India. Just a few kilometres away from the northern border, Turtuk is a delight to the heart. Sandwiched between the Shyok River and mountains, the village generously grows cherries, blueberries, and even apricots.
Famous for its double humped camels and dessert sands among the mountains, Nubra Valley is a popular tourist attraction. Painted in a palette of brown, grey, white, and golden, the landscape is breathtaking especially during sunsets.
3 rainbows in 3 hours. Yes, that's how Pangong Lake welcomed me. Although a tourist favourite, if you walk far enough, you'll find a spot where you can sit and marvel at its beauty with no one to interrupt the view. Go, walk as far as you can, the lake's 106 km long, and ends in China!
One of the less popular lakes, Tso Moriri is an exhibit of enormous beauty, topped with the fortune of tranquility. 'Tso' stands for lake, and 'Moriri' for mountain, and that's exactly what you'll find in abundance over there. If not for the lake, go there for the marvelous view during the journey.
Every year, the Hemis Gompa (Monastery) organizes the Hemis Festival, which sees abundant tourists from all over the world. Decked in colourful masks and traditional dresses, the priests perform ceremonial dances in front of an overwhelming audience, all in the lap of giant mountains.
All in all, Ladakh is a highly recommended travel destination. I believe every Indian should visit this place at least once, if not more. It is high time we give India the credit of holding enormous beauty, because it does.