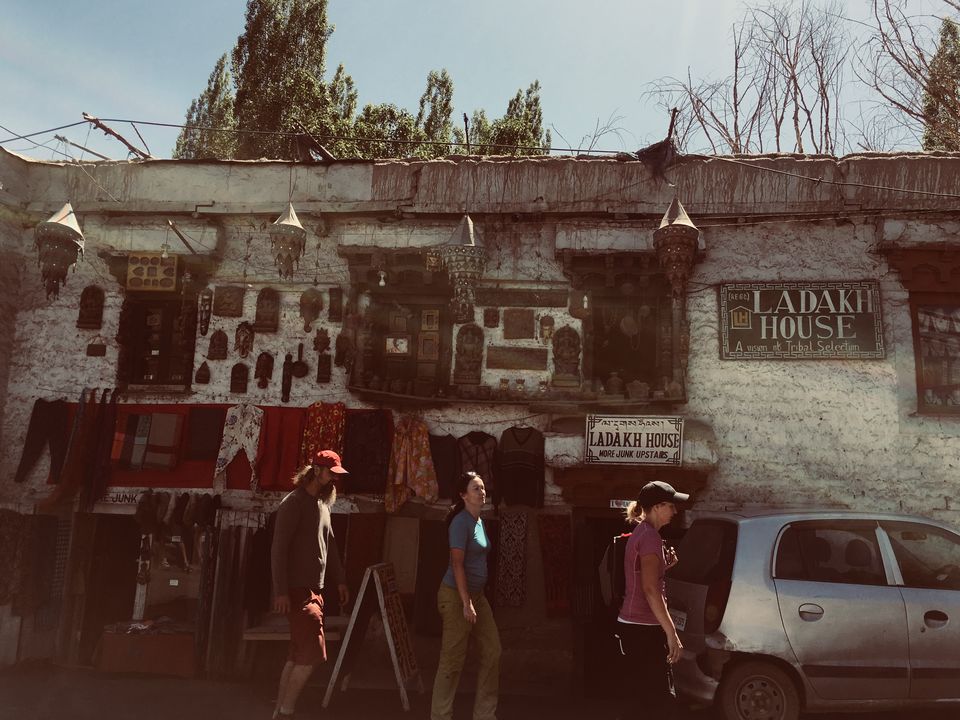 There's a saying by John Muir – "You are not in the mountains. The Mountains are in you."
Every bit of the line is true for me when it's defining me. As I have mentioned in my previous blogs, I am a doctor and frankly speaking I don't have a lot of free time to travel. But, when there's a bit of holiday - I always give a visit to the mountains.
Leh-Ladakh is a must to go places in the travelers' list, be it Indian or foreigner. So, it was on my list also. After traveling to a place like Ladakh actually needs an extensive research about the place, I had started to read various blogs to gather information about my trip. But, life is full of surprises. All these research and planning went in vain when I had to cancel my trip 3 times in the month of June this year. Shattered, exhausted all I did was packed all the papers and bags and put that back in the almirah.
Now, when the mountains want to see you, it will give you a silver lining. Suddenly, on the 4th day of July, I got an opportunity to have a break of my own. The first things I did back then were booked tickets for the bus for Manali from Kashmere Gate ISBT and another bus tickets from Manali to Leh via HRTC. Let me tell you, I didn't have a single booking for any of the hotel and didn't have a travel plan with me. And yes, I was going SOLO.
Having a solo trip to Ladakh is the best-est thing I could imagine then, and that was going to happen.
Now, if you are thinking, that surprises end here, then you are wrong.
*Note: To all those travelers, who have a sudden plan with a short time to visit Ladakh and booked tickets to go via bus, do check the airfare to Leh 1 day before your journey date. If you are lucky like me, you can have an air ticket of less than Rs. 2500.
So, on 6th July evening, finally, I had a ticket with SpiceJet to Leh from Delhi. All I need to do back then was to pack my rucksack and camera.
On 7th morning, I was ready to enjoy my first solo trip to the Land of High Passes. The flight was on time.
*Note: Always do web check-in for a flight to Leh and grab the window seat. Don't wait for the airport check-in, as if you missed the window, you will miss the opportunity to see, how the heaven looks like from above.
Now, I won't describe the experience of the flight in words. Instead, the pictures do the honor.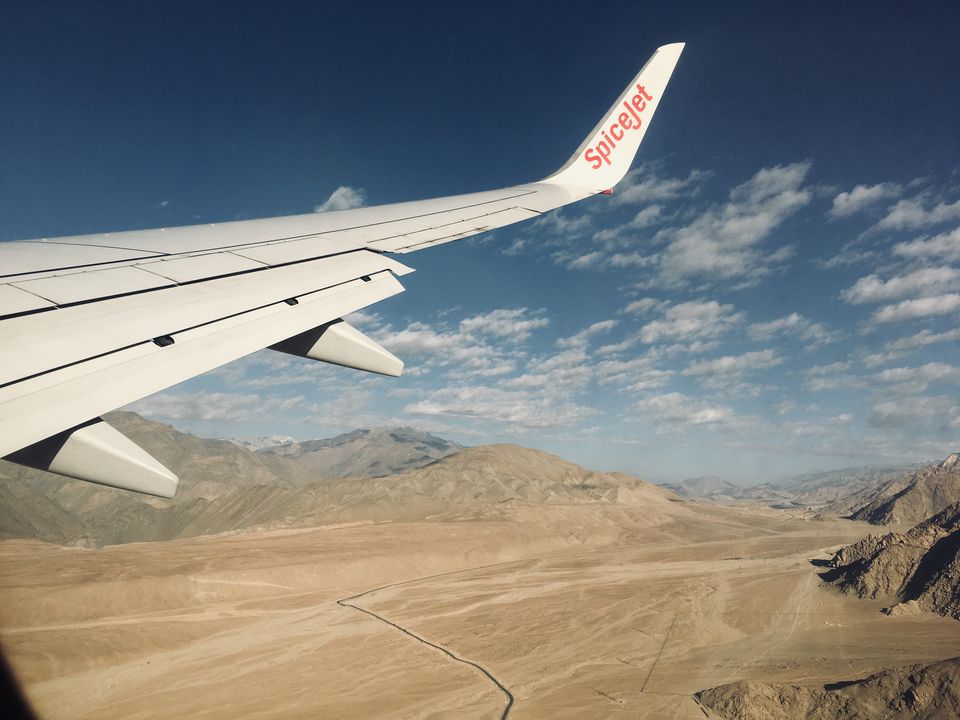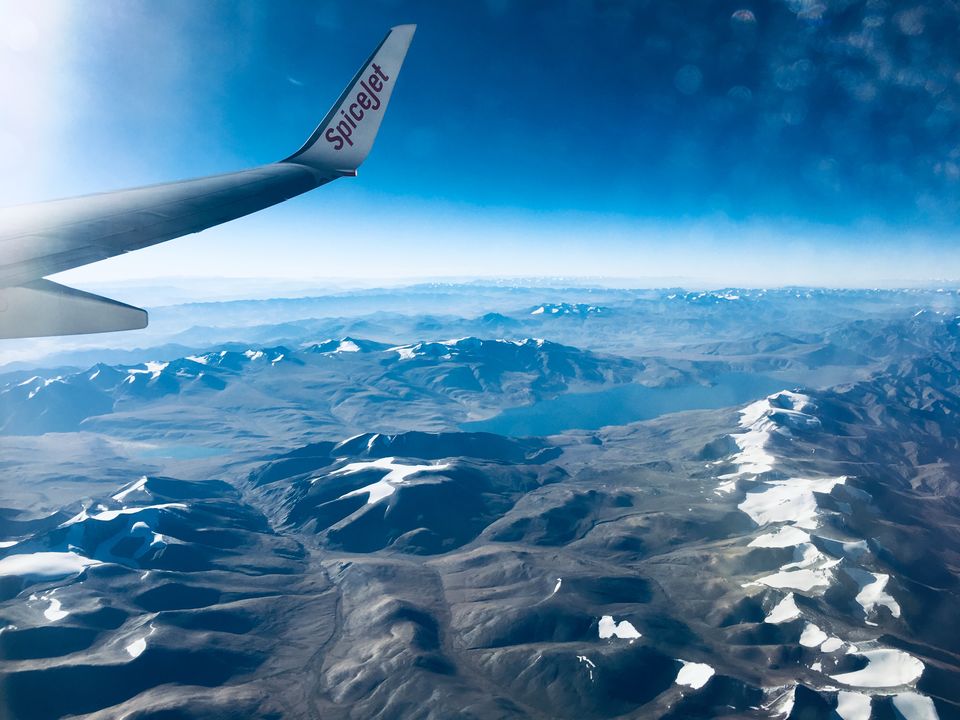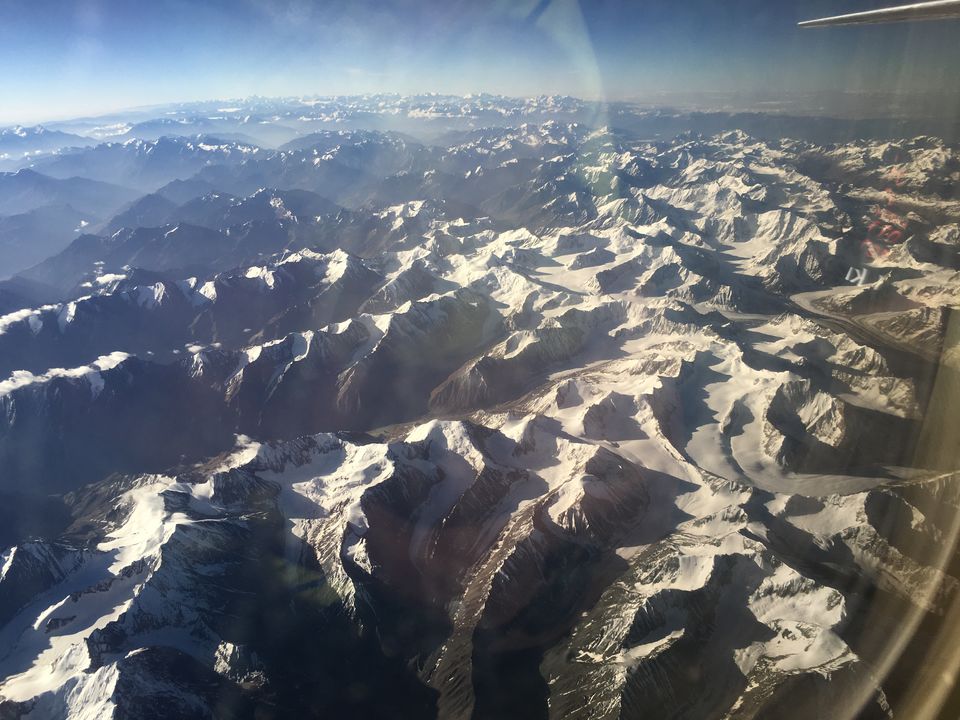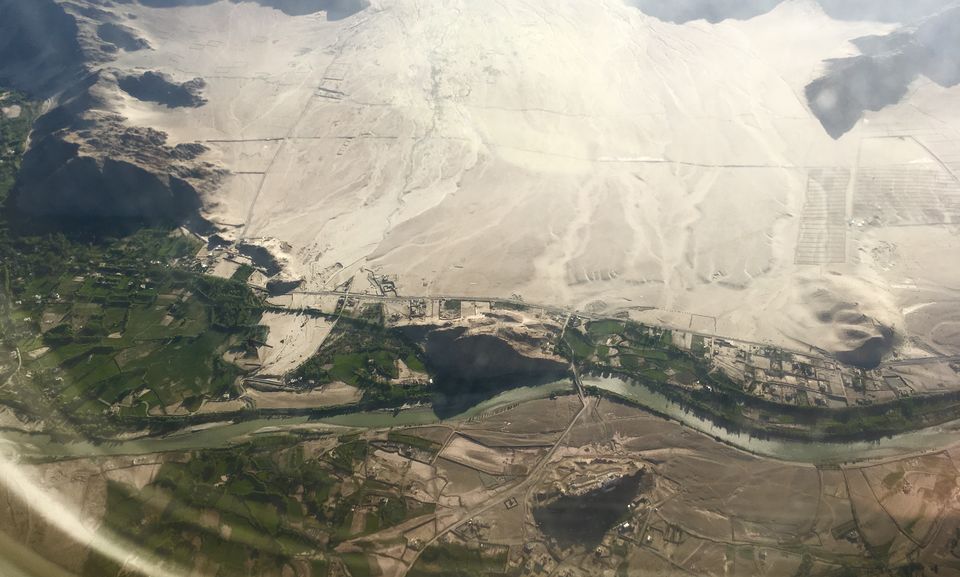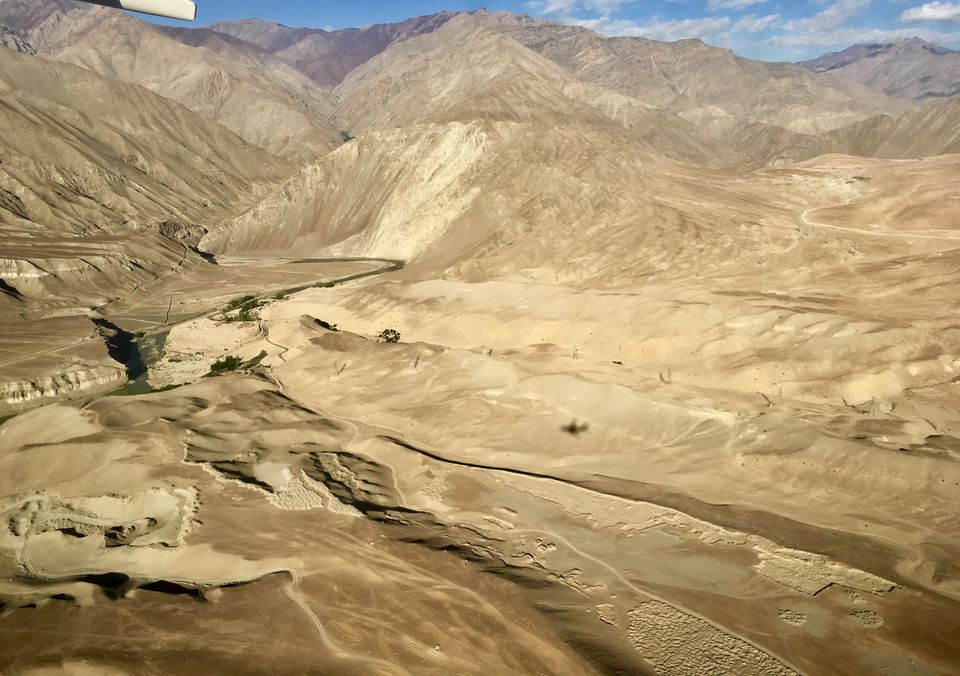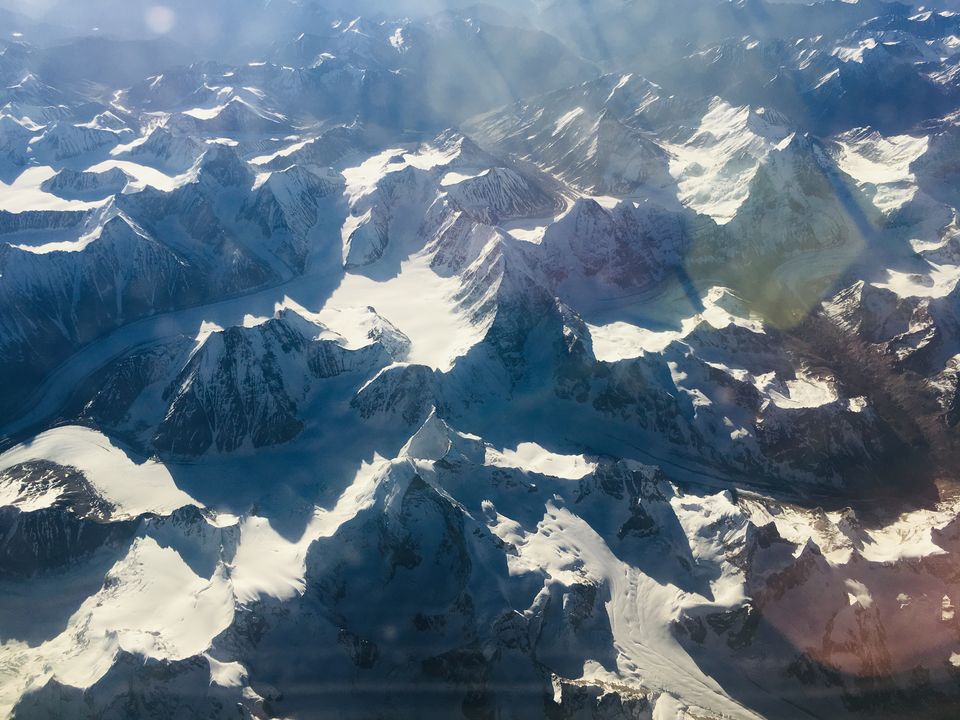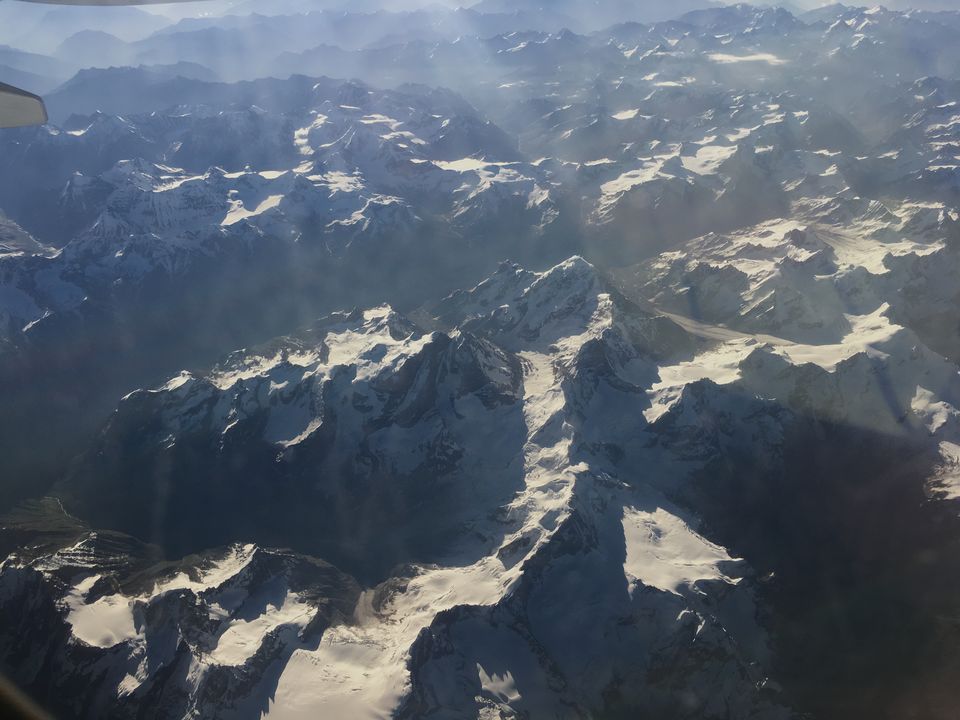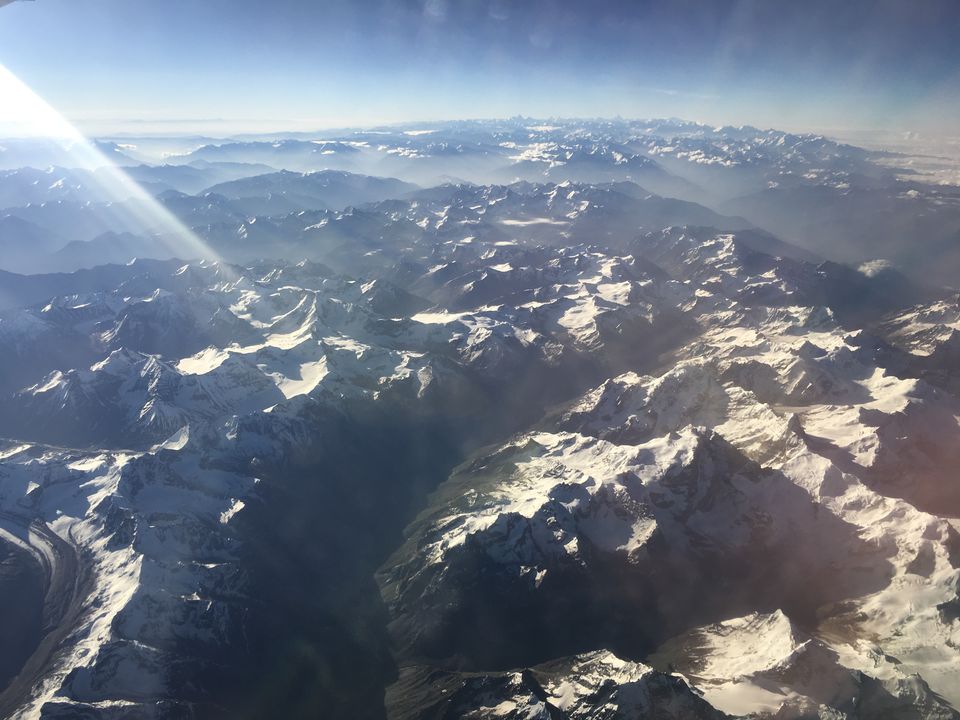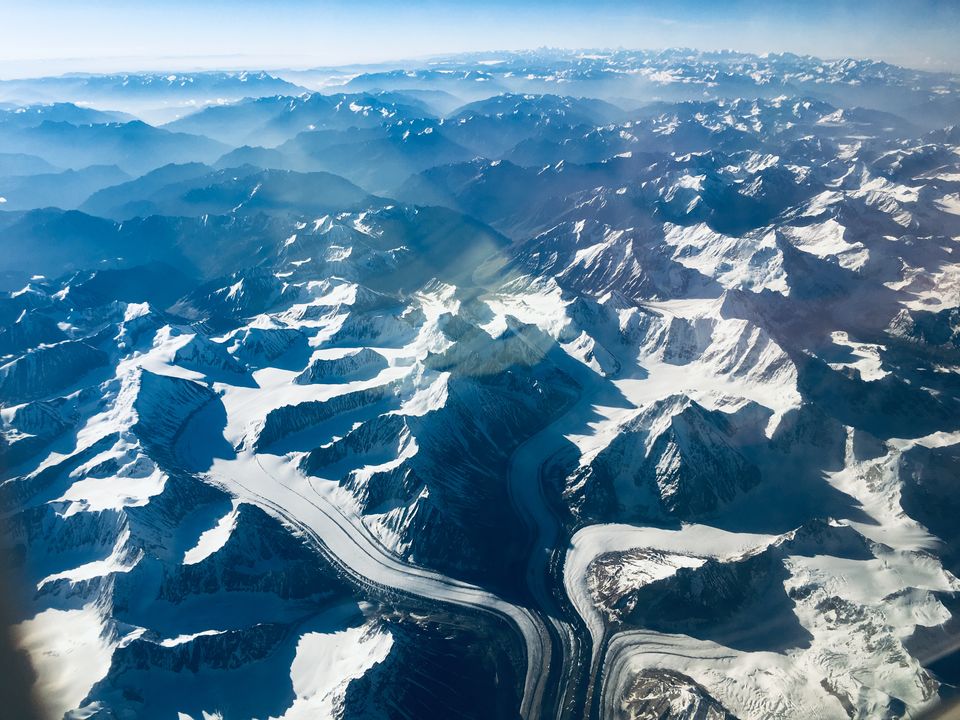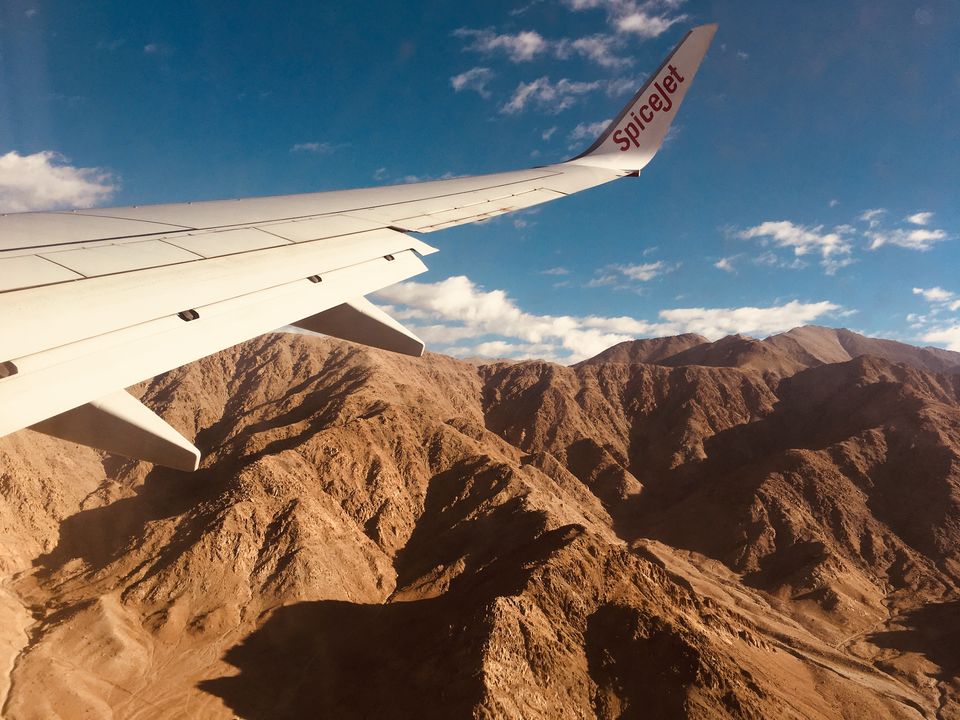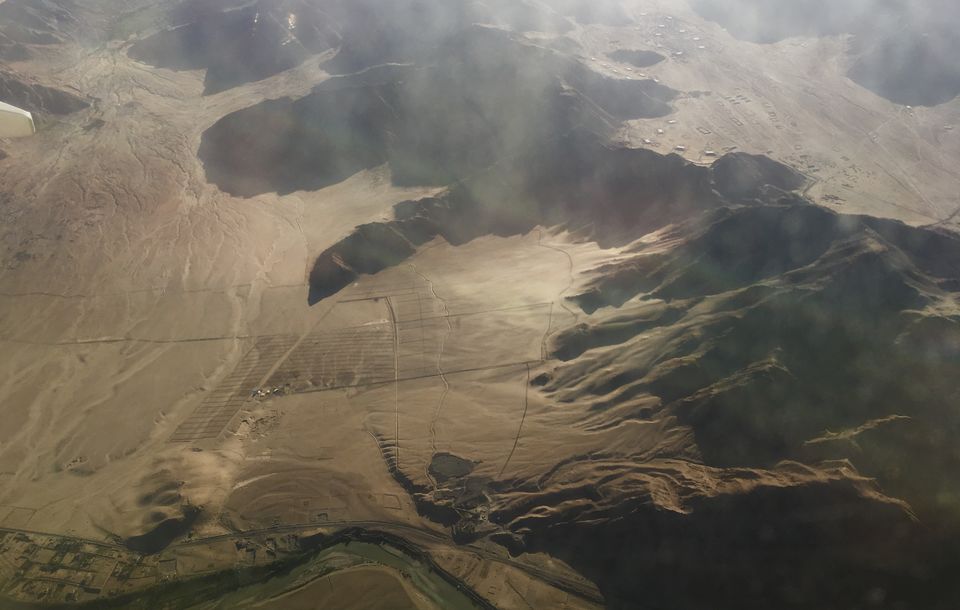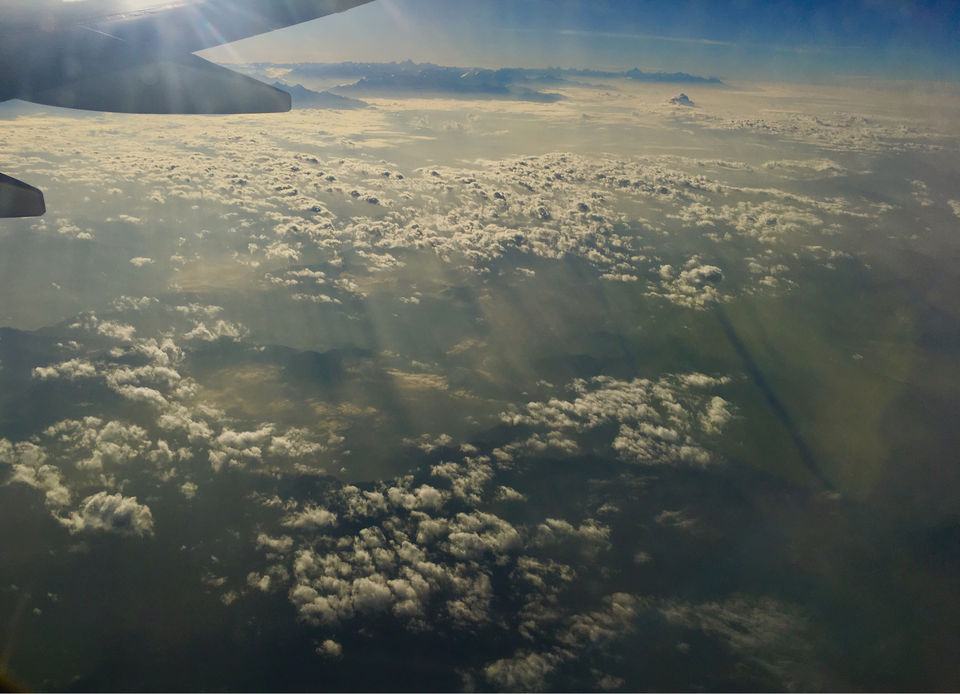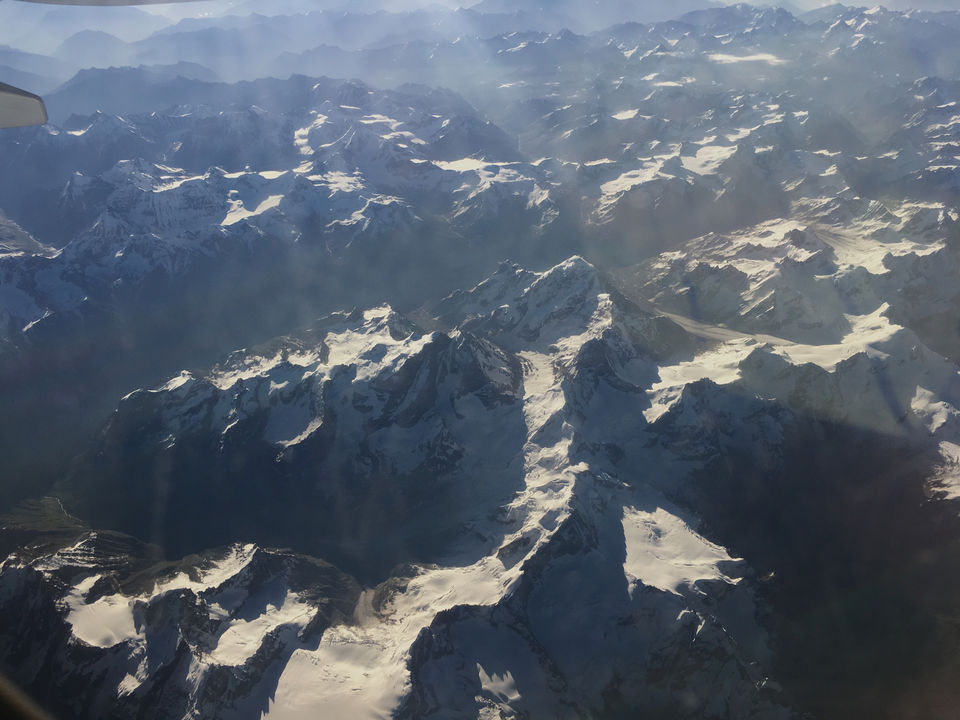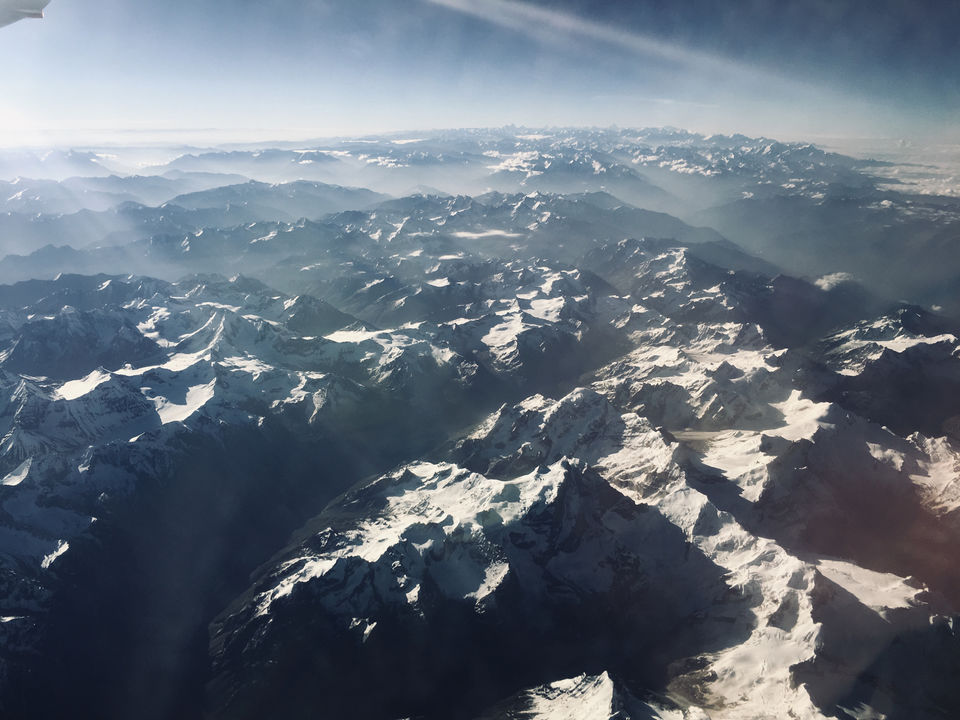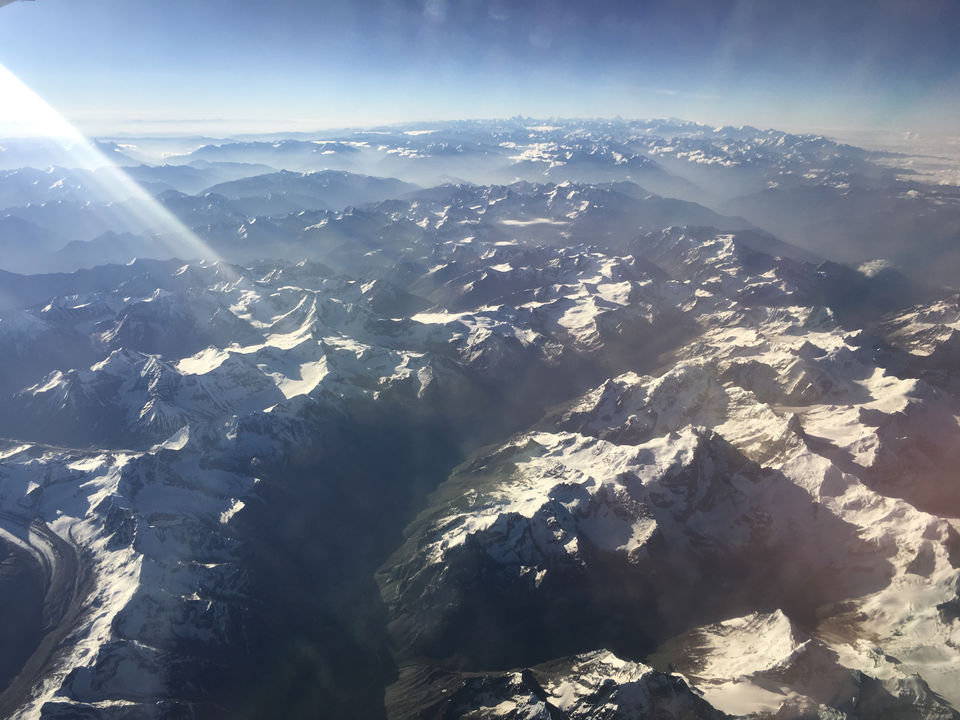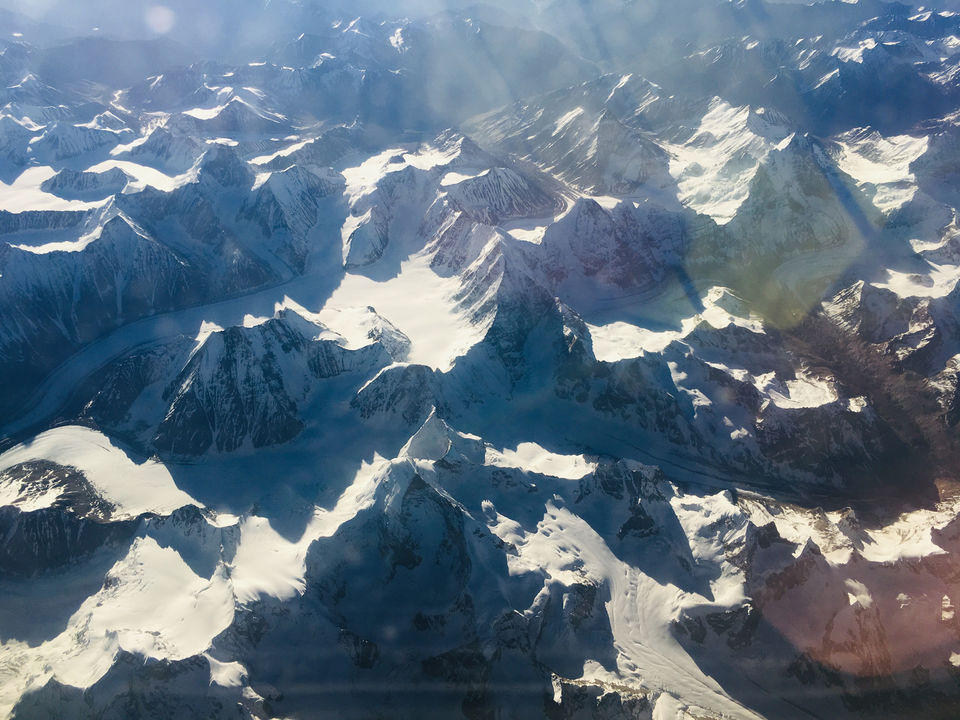 Leh airport is a small airport with a single runway and beautiful surroundings. Better not to take out your camera here, as its an army airport and they were continuously requesting not to take photographs.
After having my rucksack from the belt, I went to the taxi counter, which will be on the left-hand side of the exit gate. I booked a cab to my hostel, where I had done a booking in the early morning while sitting at the airport.
There are many hostels for solo travelers, especially for the foreigners. They are cheap and you can have an exposure to local Ladakhi culture and environment to stay and can interact with many people across the world. My booking was at Tsetan Guest House. It's a bit far from the main market and behind the Shanti Stupa.
The cab driver I had booked to my hostel was very generous and offered me to help regarding the trip planning, as I have none with me.
After reaching the hostel, I was allotted a dorm. I was so tired, that I just put down my bag and without having my breakfast, went for a nap.
After having a two hours sleep, went for bathing and then head to market. It was a 3 km walk and everything seems fine till then. I had lunch in the market – Thukpa – with some raw vegetables in it and as usual had a less amount of liquids.
Roaming around Leh Main Bazar was fun. It was colourful and it made me reliase that next 5-6 days will be fun.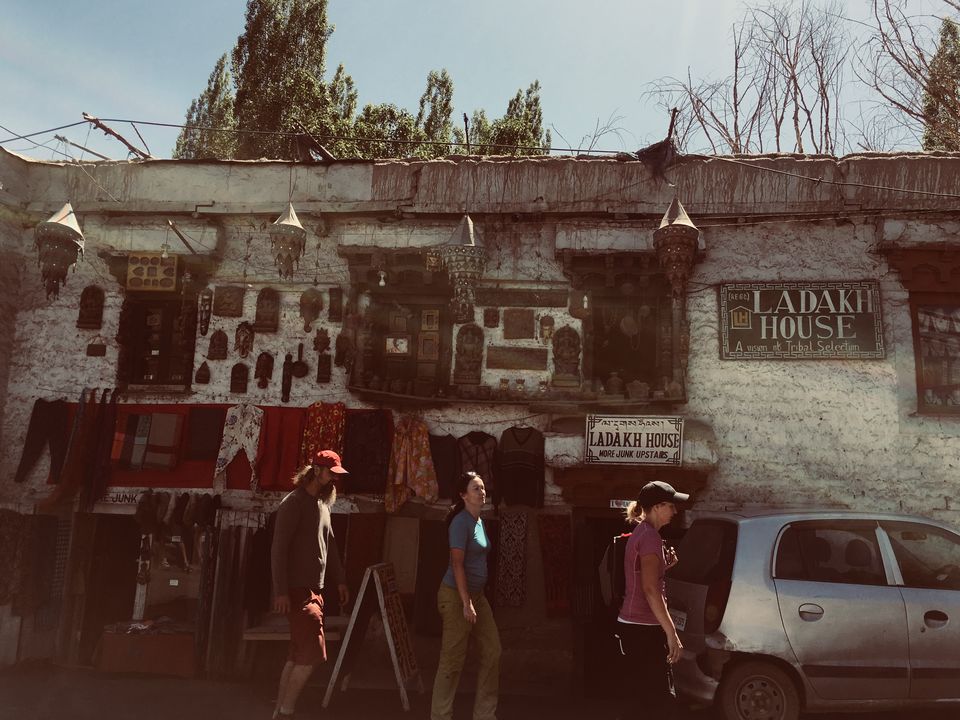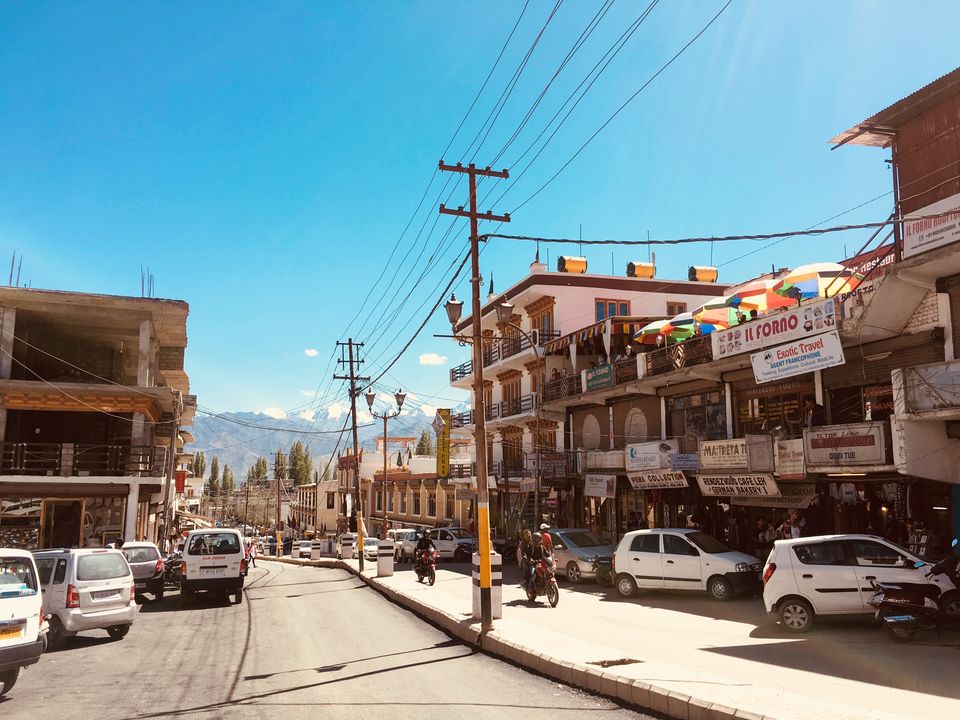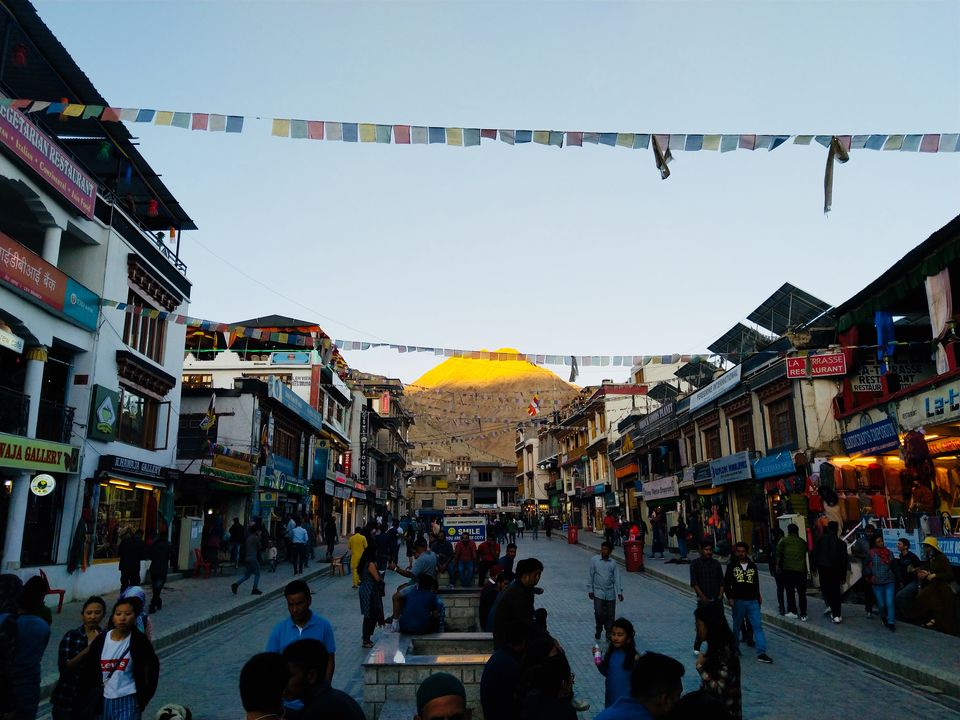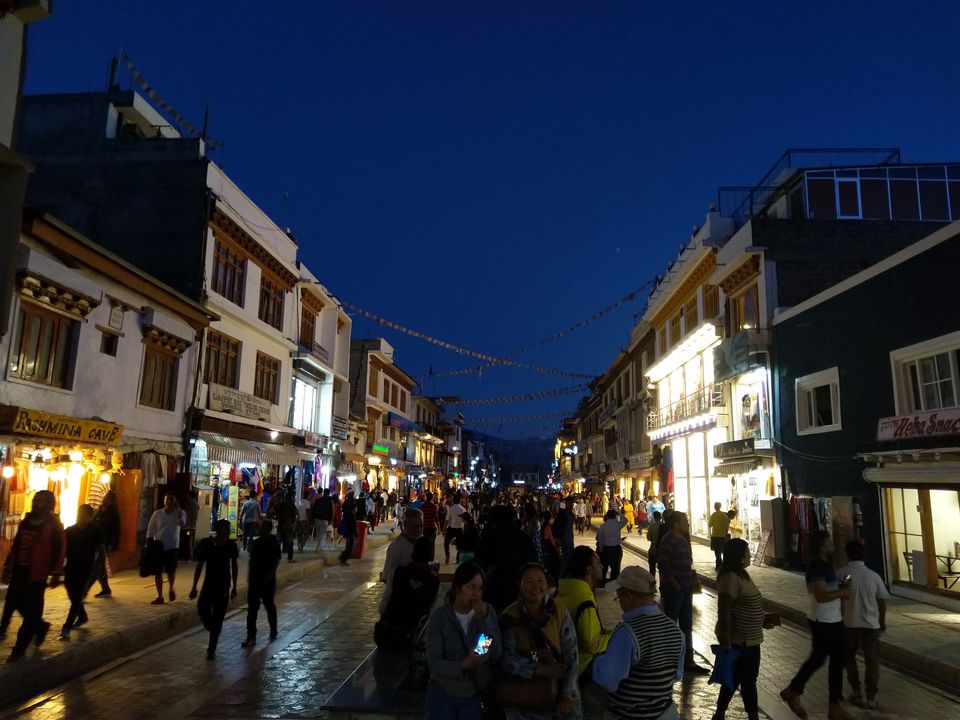 But, little did I know, that I had made some terrible mistakes.
*Note: Travelling to Leh via air has its demerits also. You will be unable to cop up with the increase in the altitude and the mountain sickness will definitely hit you hard. It will be worse if you didn't have enough water and eat solid and raw vegetables and roam around much - and I had done these altogether.
So, altitude sickness took its toll - I had the worst headache of my life in the evening and lastly had to vomit out everything I ate since noon. Now, in this situation, I had to follow the advice of the hostel owner. I took some medicines, drank a good amount of water and went to sleep without making a single plan for the next 4-5 days.
After a sleep of almost 12 hours, when I got up the next day, I was fully charged up. I went for my breakfast to the dining room and was surprised by being greeted by a man, who introduced himself as my cab driver for sightseeing in Leh. Thanks to Tsetan, my hostel owner, he had arranged this for me.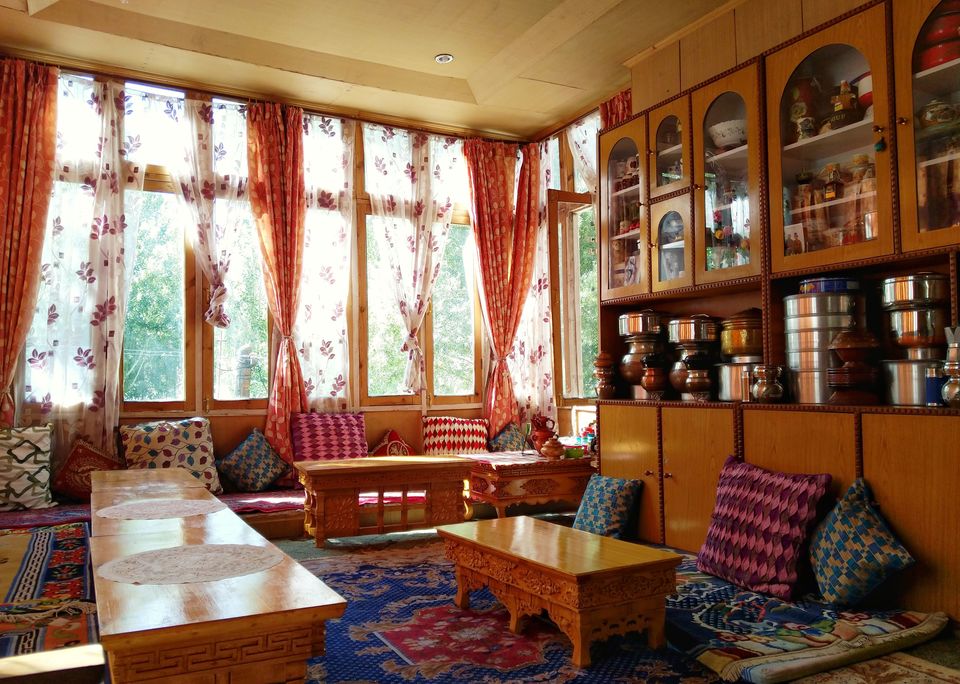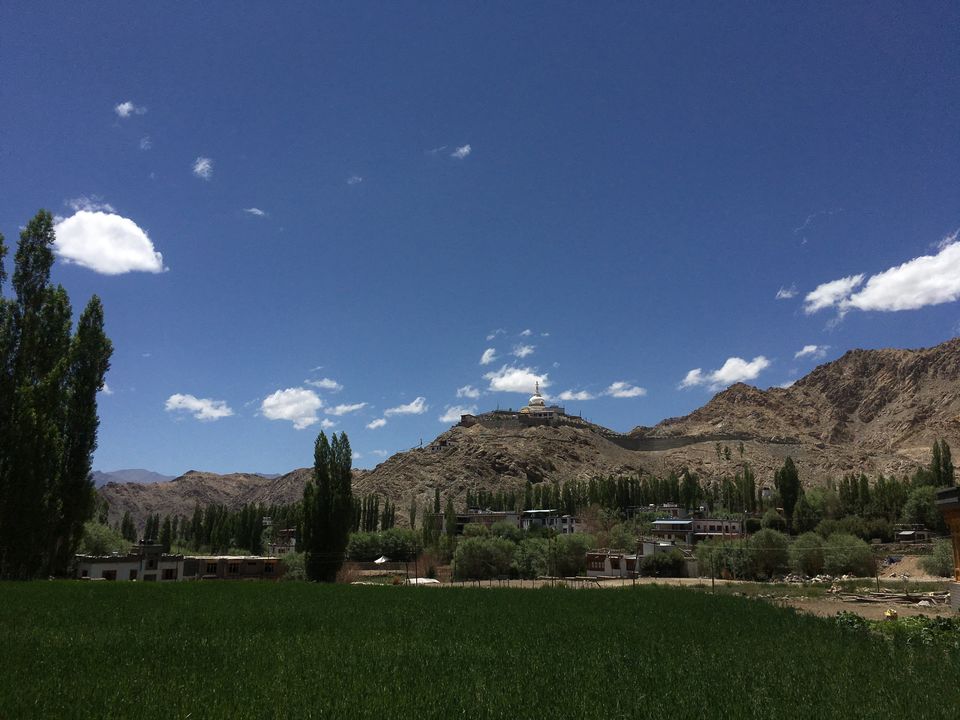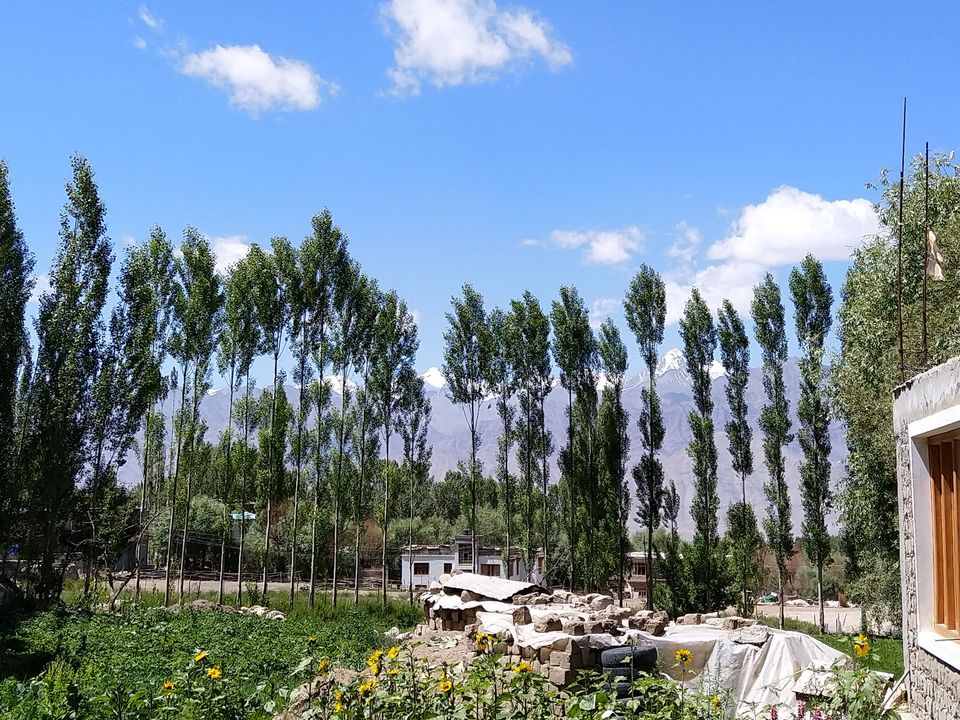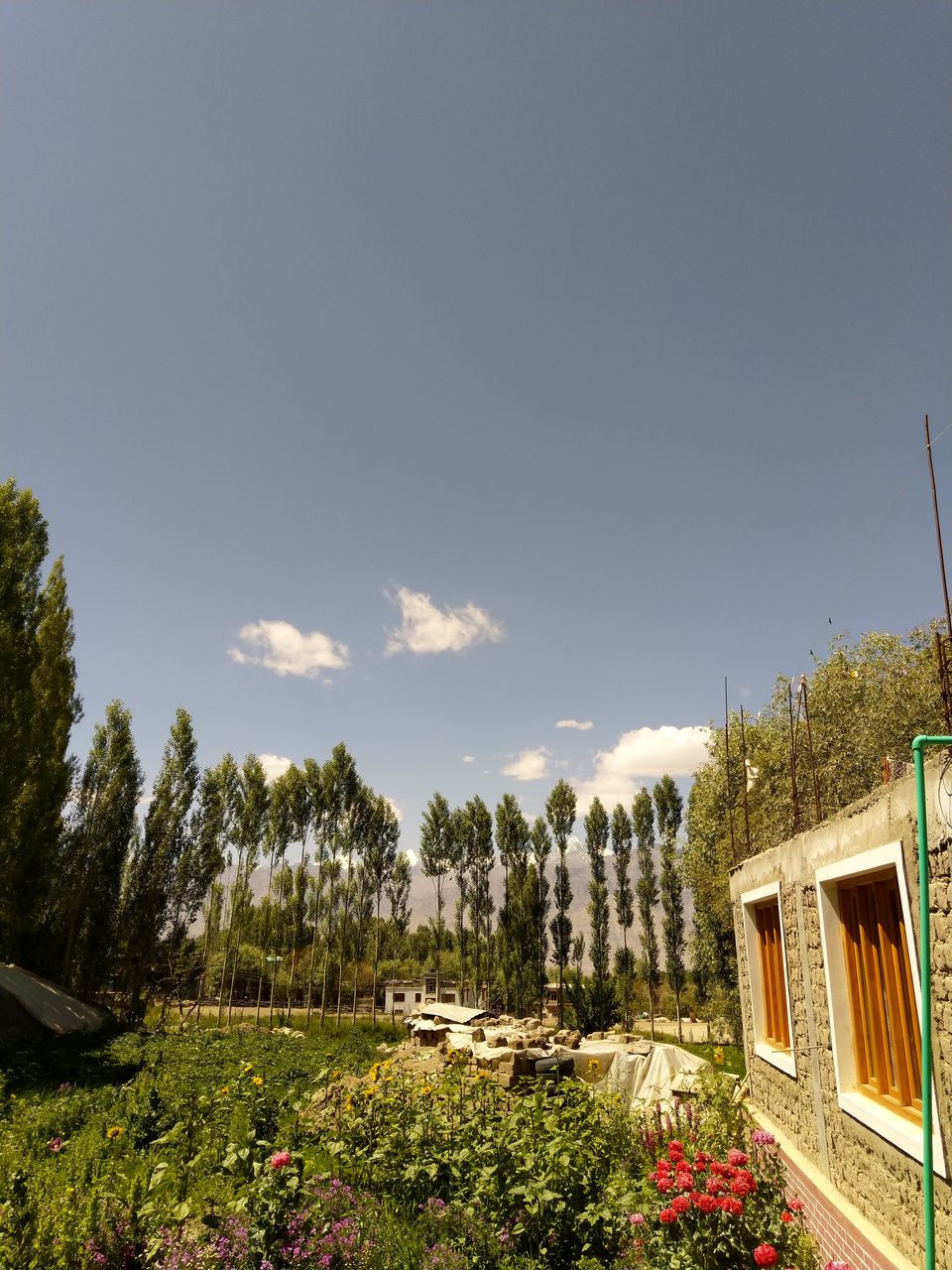 *Note: Remember one thing, on the very first day you arrive at Leh, ask your hostel owner/hotelier to arrange for the permits. You have to provide your Aadhar Card/passport details for the same. The fees required for this will be added up in your hotel/hostel bill.
Around 10:30 am, I started for Leh sightseeing. Here's the list which you should go sequentially in to utilize the whole day.
Started with Hall of Fame, then headed to Spituk Monastery near the airport. After seeing that directly went to Gurudwara Patthar Sahib via Leh-Srinagar highway, then to Magnetic Hill and then to The Confluence of Indus and Zanskar.
After completing all these, again drove back via the same route and headed to Leh – Manali highway by crossing Kalachakra Stupa. Now the next destination was Shey Palace. By the time I reached there, the sun was at its best form. It was hot and I was drenched and hungry. It was a wise decision then to have some meal. After that ascended to Shey Palace – A steep walk to the top. After Shey, headed to Thikse Monastery.
Now, its time to go back to leh town again. There are two places left which I had to cover on that day. So, without wasting any time, started for Shanti Stupa. It was quite congested there. After heading half an hour, it was time to head to Leh Palace – last stop of today's journey. If everything goes alright, then one should complete these places within 6 pm.
*Note: If you have a driving license, then please remember to take it with you. You can hire a scooty and can enjoy these places by yourself at a nominal cost. The hostel owner/hotelier will arrange it for you. I forgot to take it with me and ends up paying almost 4 times of what it would have taken if I went with a scooty.