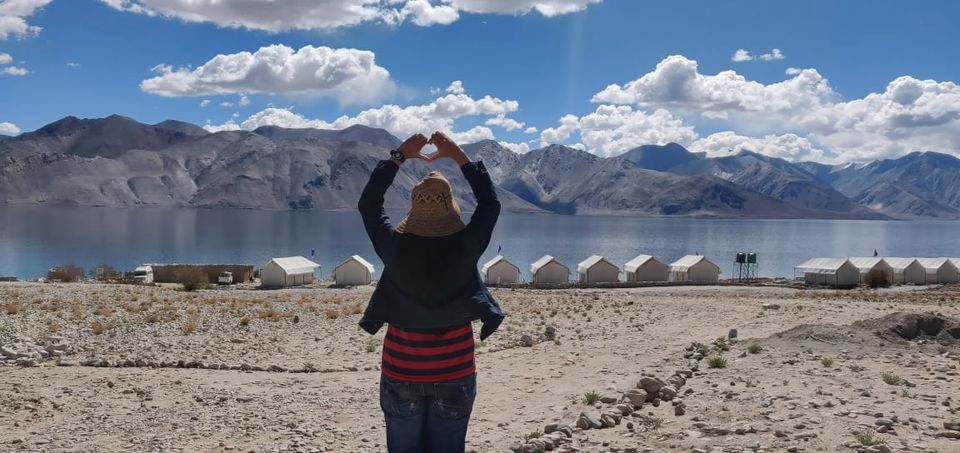 There are some things which cannot be put in words. Love is one of them and then there is Ladakh- the land of scenic beauty, rustic charm and nature at its best. Nevertheless, I will try to pen down my experience of Ladakh as best as I can, trying hard not to lose myself in those brilliant moments spent in the lap of majestic Himalayas.
Once I attended an exhibition in India Habitat Center in New Delhi which was about Ladakh photography done by some bikers. Since then I just wanted to visit this beautiful place at least once in my lifetime.
And after so many years of waiting for the opportune moment, I finally decided to pursue that dream. I saw an ad of Goomo.com and raised a trip query. Mr. Abhishek called me and gave me the best travel deal for 7 nights and 8 days that included our accommodations, meals (breakfast & dinner) and private transfers. And in no time at all, I packed my bags, looking forward to living the beautiful itinerary hand-crafted by our agent Mr. Abhishek from Shoes on Loose.
Day 1 - Delhi to Leh
The moment I touched down in Ladakh, I was sure this is going to be a magical experience. Fortunately, I got a window seat, So it gave me the opportunity to click the jaw-dropping beauty of the sky.
I landed in Leh at around 9:30 AM. As it was a group trip of 6 people and I never went on a group trip, so I was more excited about my first group trip.
Before going to Ladakh, I always thought that Ladakh is a place for young people. But my thought changed completely when I met with my group members. We were 3 couples, we and 2 other couples. One couple was in their 60s and the other one was about 50.
We were waiting for our driver at the airport, then we first met with those couples who were traveling with us. Frankly speaking my excitement about the trip had just vanished. We were thinking like how we will enjoy ourselves with those people. Anyways we reached our hotel snow view, the staff was so good. They welcomed us warmly. They suggested us to stay at the hotel for the full day to acclimatize ourselves with the environment.
We decided to have our lunch at the hotel. Meanwhile, we started a conversation to know each other. After lunch, we headed to our rooms to take some rest and planned to meet at 5 PM for evening tea together.
After a couple of hours of acclimatizing myself with the place, we all met at the cafeteria and decided to visit the Leh market and Shanti Stupa. I was so surprised to know that both couples were more excited about the Ladakh trip than us. However, our hotel manager advised us to stay at the hotel and take rest but we all are so enthusiast to visit as many places in Ladakh as we can. First, we went to Shanti Stupa, and then Leh Palace. On the way back to the hotel we explored the Leh market.
Day 2 - Leh to Sham Valley
After a hot breakfast, we started for Shyam Valley. on the way we visited Hall of Fame then magnetic Hills, the confluence of Indus and Zanskar river, Gurdwara Pathar Sahib, Moonland and Liker monastery.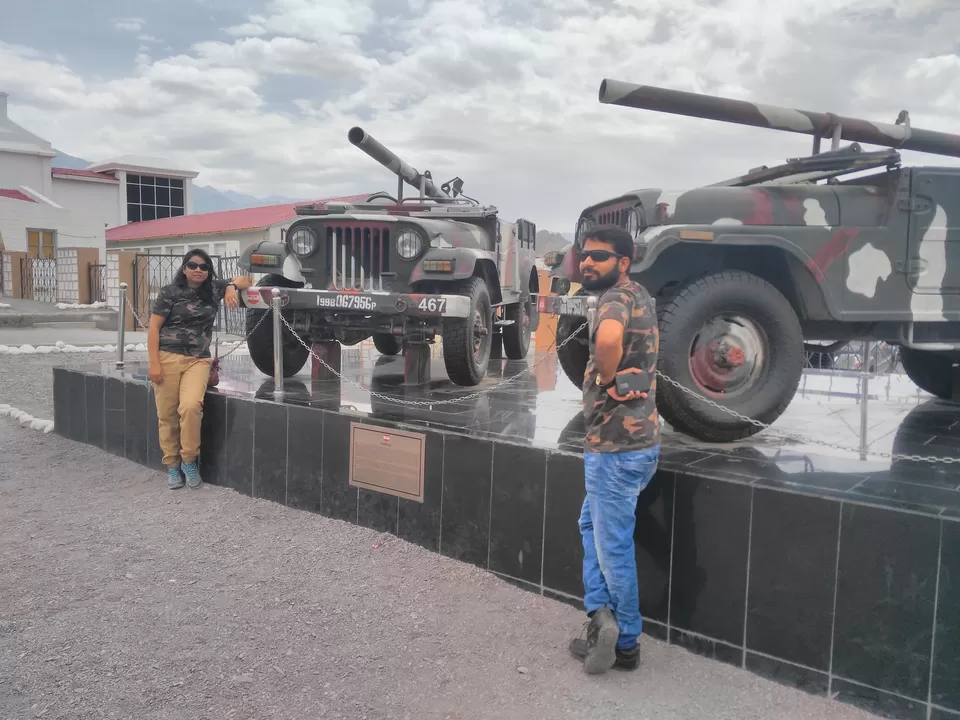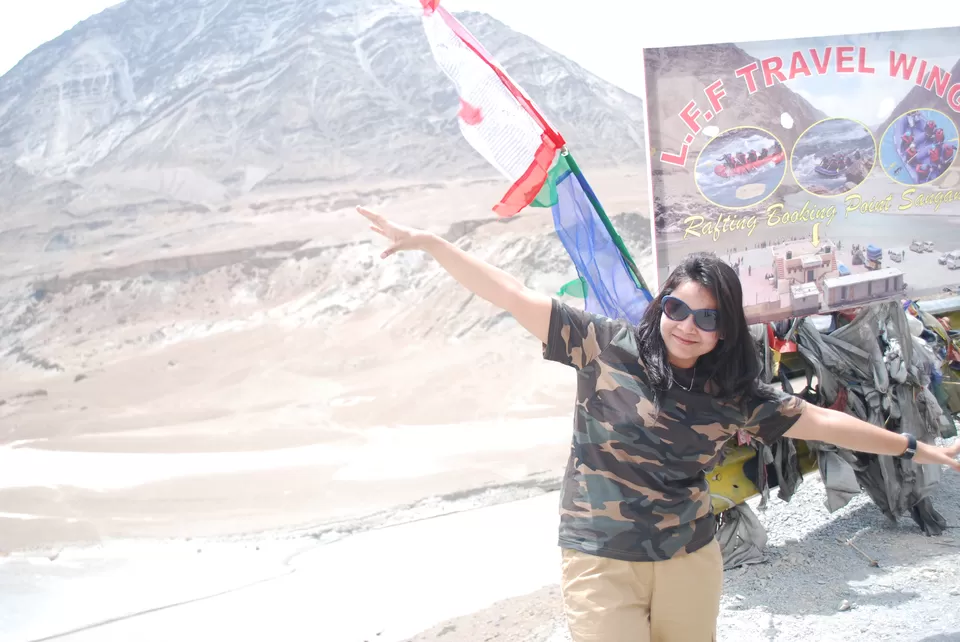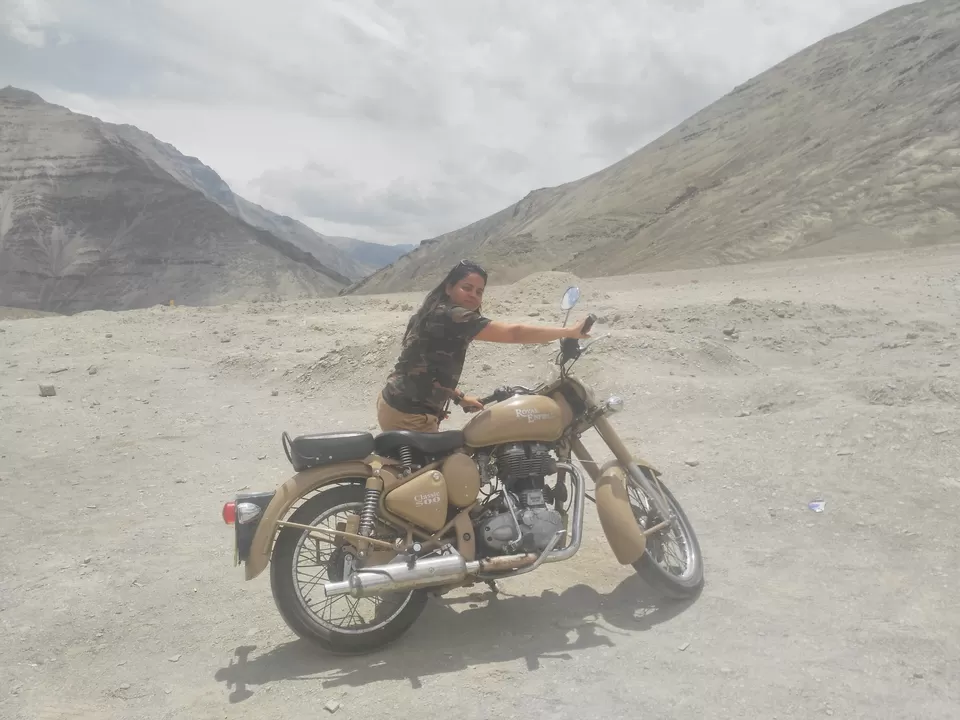 We had our night stay in Sham Valley so we headed to our hotel Duke that was the most beautiful place with the most warming people I have ever met. The owner of the hotel took us to his beautiful house and offered us tasty Ladakhi tea and bread.
At dinner, we all group members chat a lot about our interests and habits.
Day 3 - Sham Valley to Leh
After breakfast, the hotel's owner took all of us to visit their apricot garden. Then we started back to Leh. On the way back we visited Alchi monastery and local markets and bought some souvenirs. Around 7 PM we were at our Leh hotel Snow View with some more memories.
Day 4 - Leh to Nubra Valley
it was time to explore and discover the hidden gems of Ladakh which everyone talks about.
After a good breakfast, we started early for Nubra Valley. On the way to Nubra Valley, one has to cross the highest motorable pass in the world – Khardung La. The view from 18,380 ft here was mind-blowing. Post a delicious lunch in a local restaurant in Khardung village, we continued our journey while the River Shyok flowed right beside us.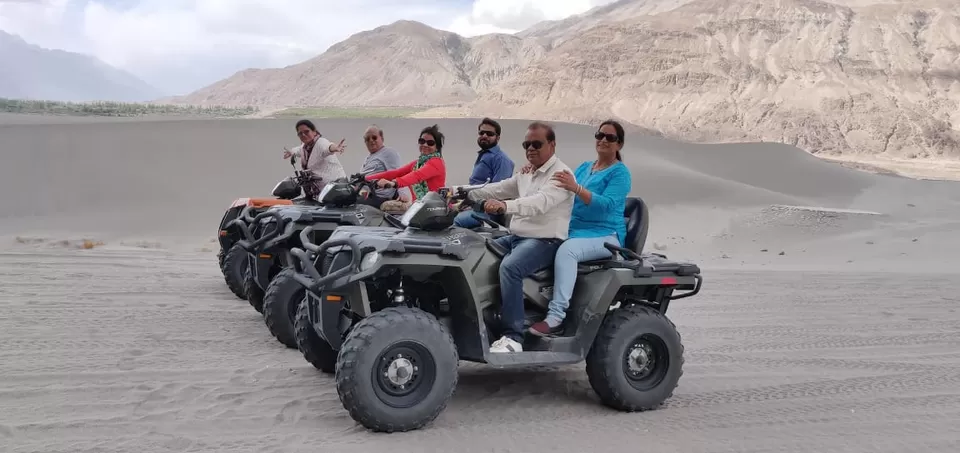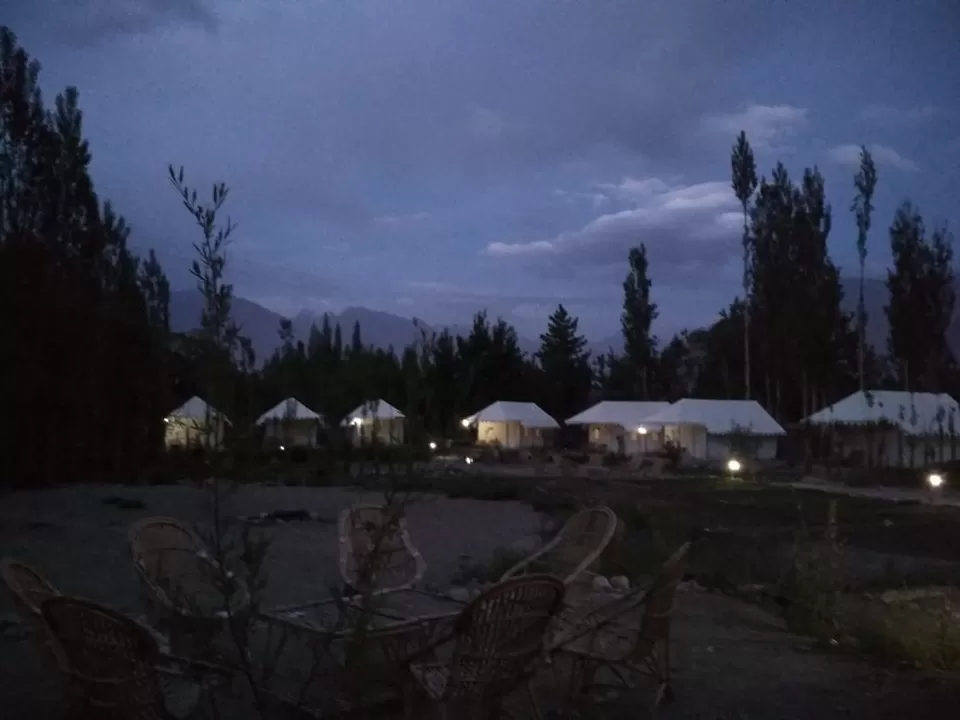 Upon our arrival, we decided to visit the sand dunes before checking in to the hotel. We rode peculiar looking double humped camels and took a stroll on those velvety sand dunes which turned breathtaking in the golden light of the setting sun.
Day 5 - Nubra Valley to Leh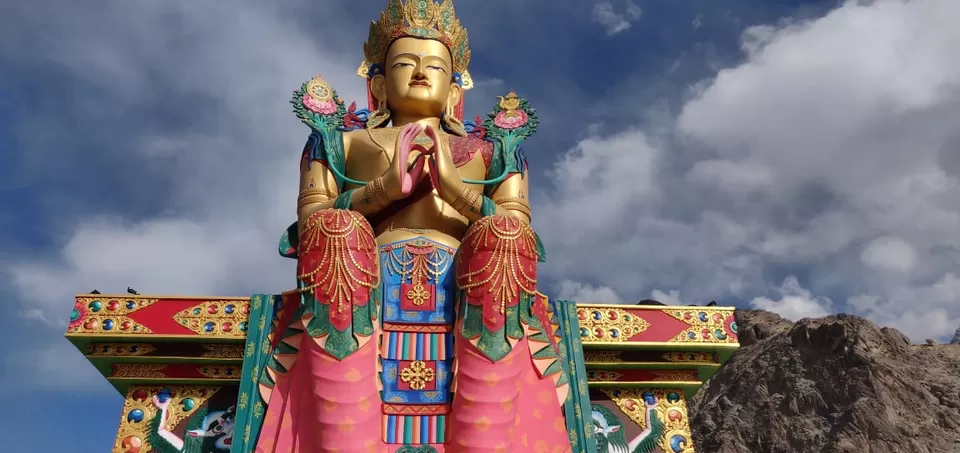 After breakfast, we started back to Leh and on the way we visited Deskit Monastery. The main and unique attraction of the Diskit monastery is a gigantic statue of Lord Buddha on the top of it. I captured almost every angle of this beautiful monastery.
Day 6 - Leh to Pangong
Now finally it's time to visit my most awaited place in Ladakh trip that was "3 idiots" fame Pangong lake. I was at the top of my excitement. After breakfast, we left for Pangong lake. It's situated at 14,500 ft. On the way, we passed through Changla Pass 17,350 ft, the third highest motorable road in the world.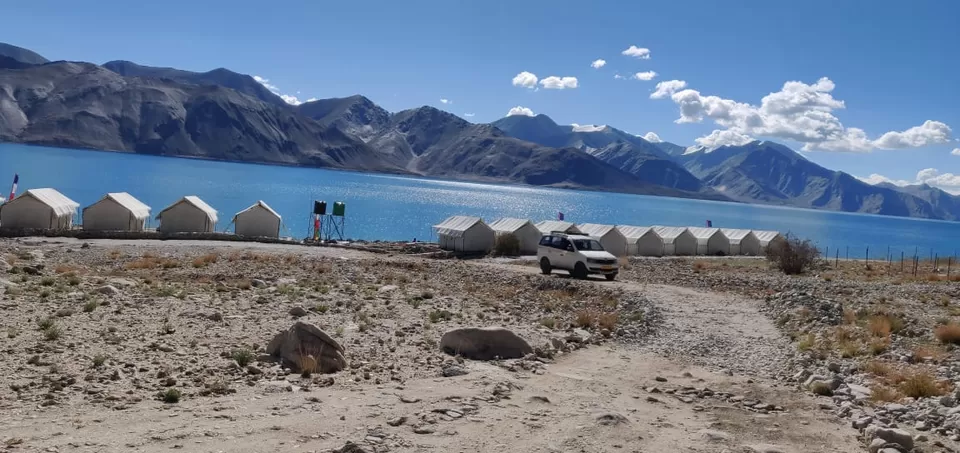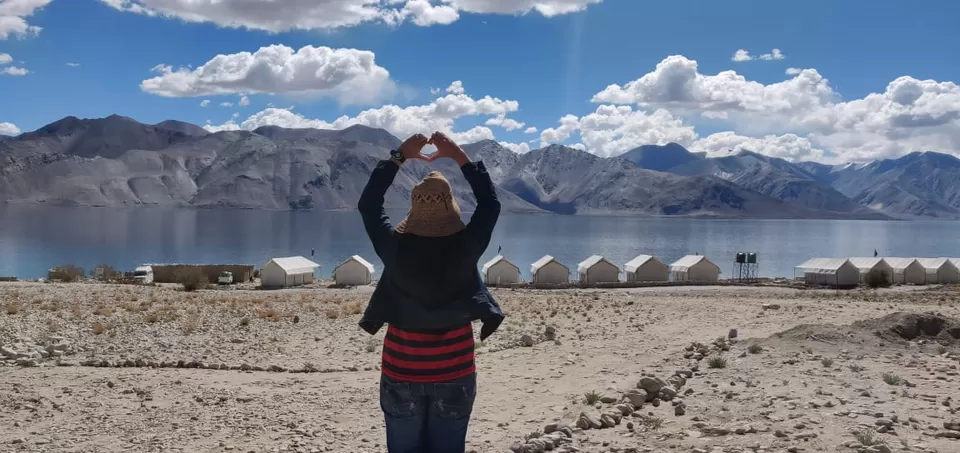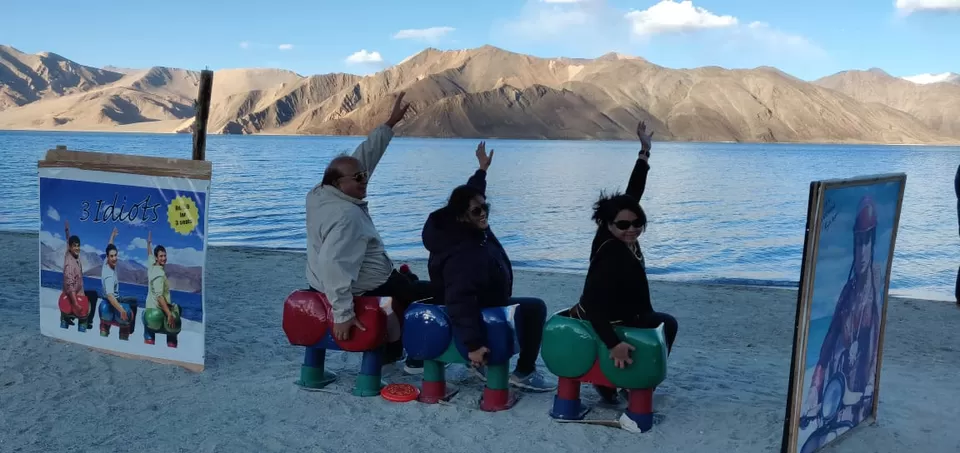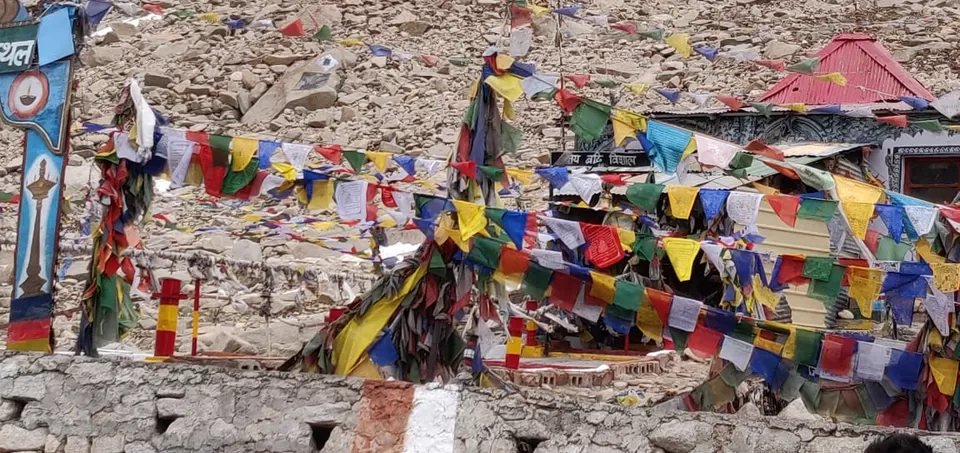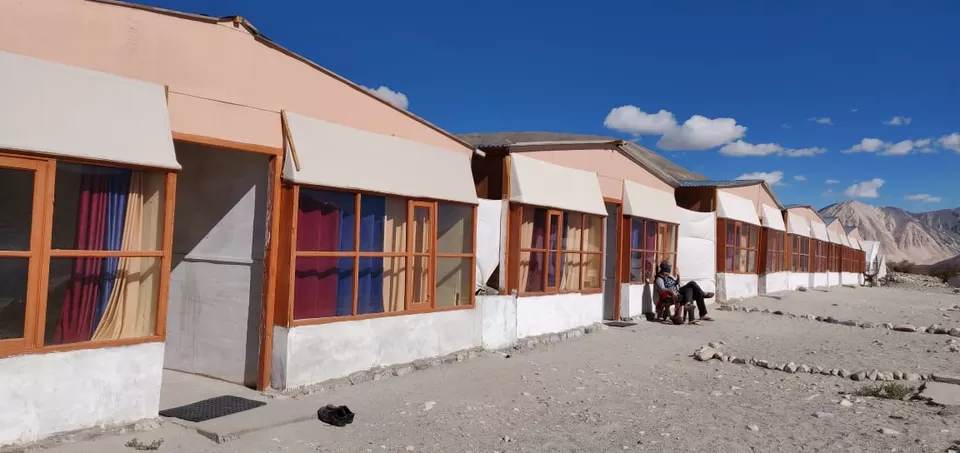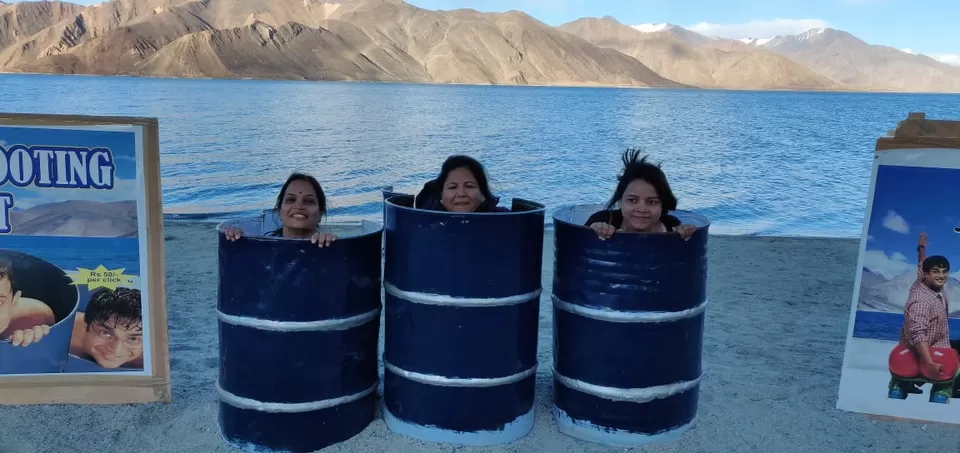 We reached around 4 PM at the lake. When I saw the first view of the lake, I forgot my tiredness of 7 hours journey on an uneven road. I got almost mad to see the changing colors of that beautiful lake. We enjoyed the sunset & the color changing lake at leisure. After taking almost 100 pictures of the lake, we moved to our cozy tents.
At Pangong, electricity goes off at 11 PM. When everyone was in their tents, we came out to our tents to click some night sky views and it was an incredible experience to see the galaxy for the first time.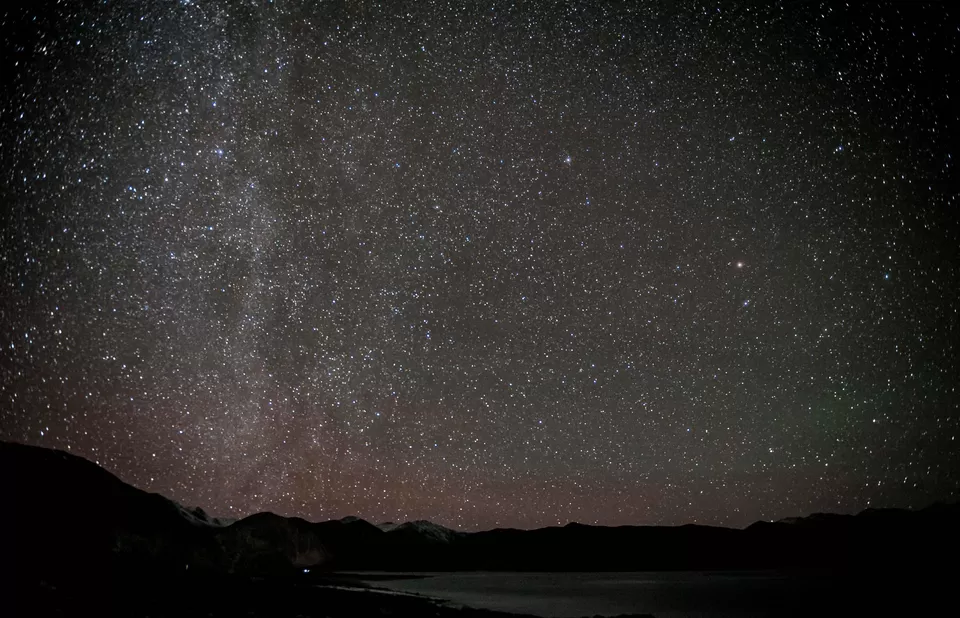 Day 7 - Pangong to Leh
We woke up early to see the sunrise because we didn't want to lose any view of that amazing place. We sat there for about 2 hours. As I am a yoga lover but was not allowed to do yoga at that height so I did my meditation to complete my Pangong trip.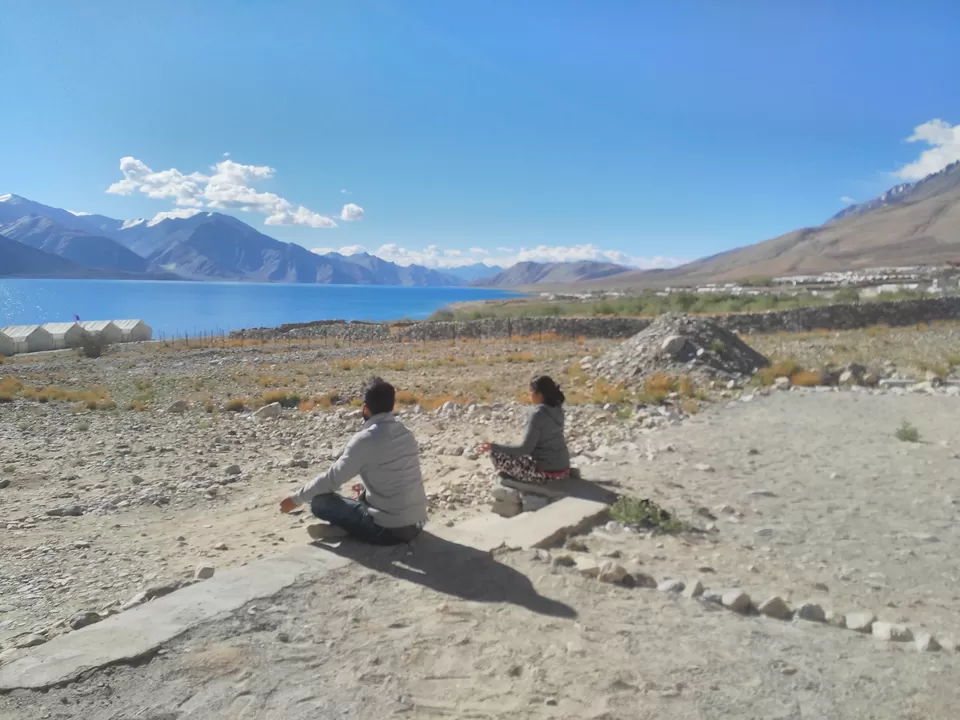 Then its time to say goodbye to Pangong lake. We started our way back to Leh, visited the monasteries of Hemis and Thikse, Druk White Lotus School (again 3 Idiots fame), Shey Palace.
At the evening in leh, we all shared our best moments of the trip to each other.
Day 8 - Leh to Delhi
I was a little upset because I didn't want to say goodbye to this place. But life is all about to keep moving. One of my group members (Manju Aunty), she was just like me, planned a beautiful way to say goodbye to each other. At Leh airport, she gave us a paper to write something for each member of the group. We all wrote and made our memories on hard paper as well.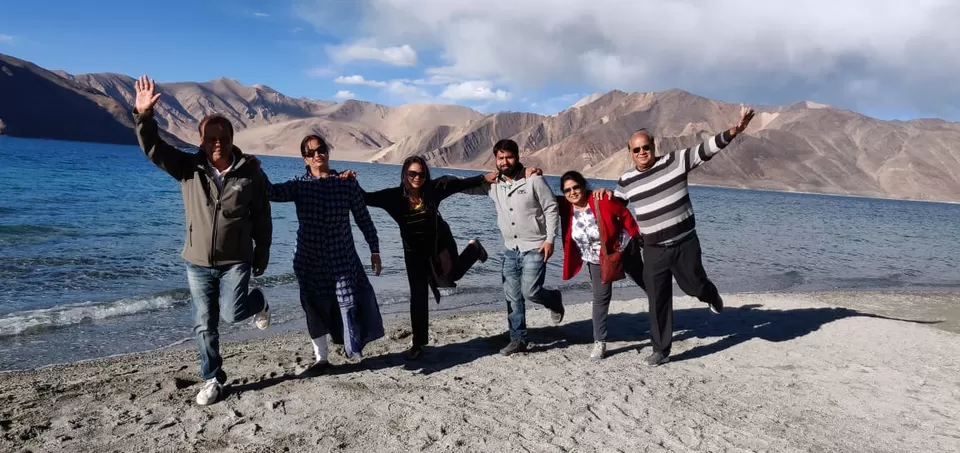 I know I just wrote a very brief of my trip because Ladakh can't be described even in 50k words.
If anyone is planning for Ladakh this summer, message me to get tips if you need any.
I can say that "I am in love with Ladakh and visit again soon."
Keep Travelling!
You can follow me on Instagram at https://www.instagram.com/yogagirl.dipti/
Frequent Searches Leading To This Page:-
Leh Ladakh Tour Packages with Prices from Delhi, Top Leh Tour Packages for Family, Leh Ladakh Tour Packages with Airfare from Delhi, Leh Holiday Tour Packages, Leh Ladakh Tour Packages Itinerary