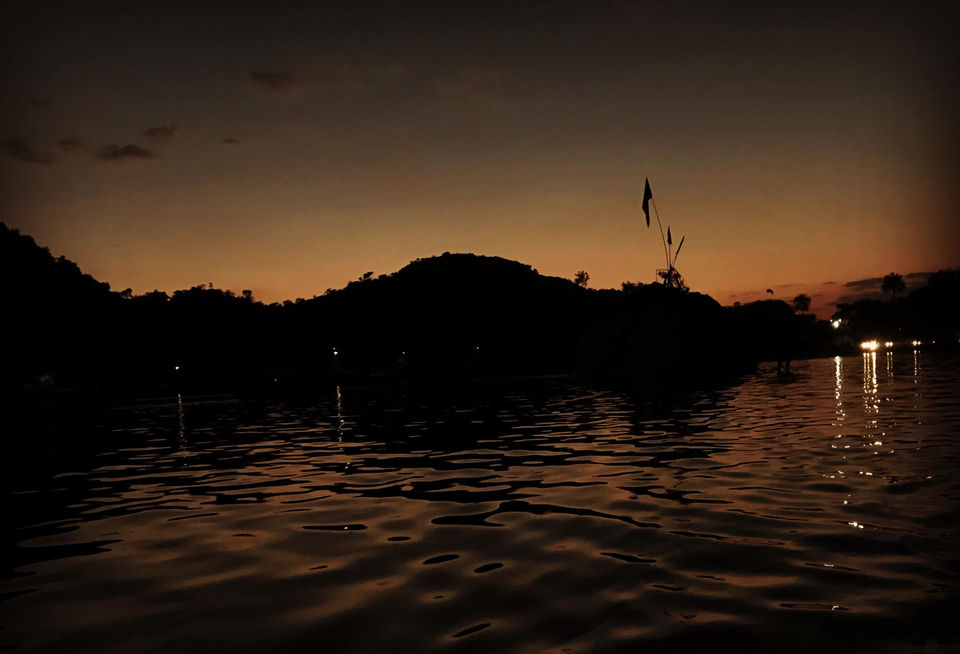 When it comes to traveling, I would rather like to die with memories than live with dreams!
Country must be burning their evils and sorrows with Ravana effigies but we took to the roads for doing likewise this Dussehra. Although the destination was still on slate but it was decided to leave the city behind, and the intentions were quite clear that we have to drive through the plains this time. It was basically a nomads trip with little to stay and more to travel which was only possible due to the good road conditions.
It was to Moubt Abu. Rajasthan again!
We started at around 1700 hours from Delhi and picked up the rest two buddies from Gurgaon's Sohna road coz they were busy winding up their business so that trip shall mean solace. And thank God that happened. God of roads were quite supportive considering the long weekend and gave us only a few hiccups before kicking us out of the city. Music, drive, talks and fun carried us till a bit near Jaipur till we felt the urge of refuelling our food tanks. Unlike others, this trip of our was loaded with ample of time in hand so we managed to take several casual breaks and some comprehensive ones too. The first one costed us good one hour of time and we were rejuvenated for the wheels again.
Driving for some one more hour, we reached to a dhaba which was almost closed but damn it, we wanted tea and we needed it that bad to wake him up. Relaxation that a cup of tea can give you on the road trip can not even be compared to the anything else in this world. Crew changed and but Shiva tracks still dominated the car play. We crossed the city of Ajmer from the circumference and promised it to visit soon.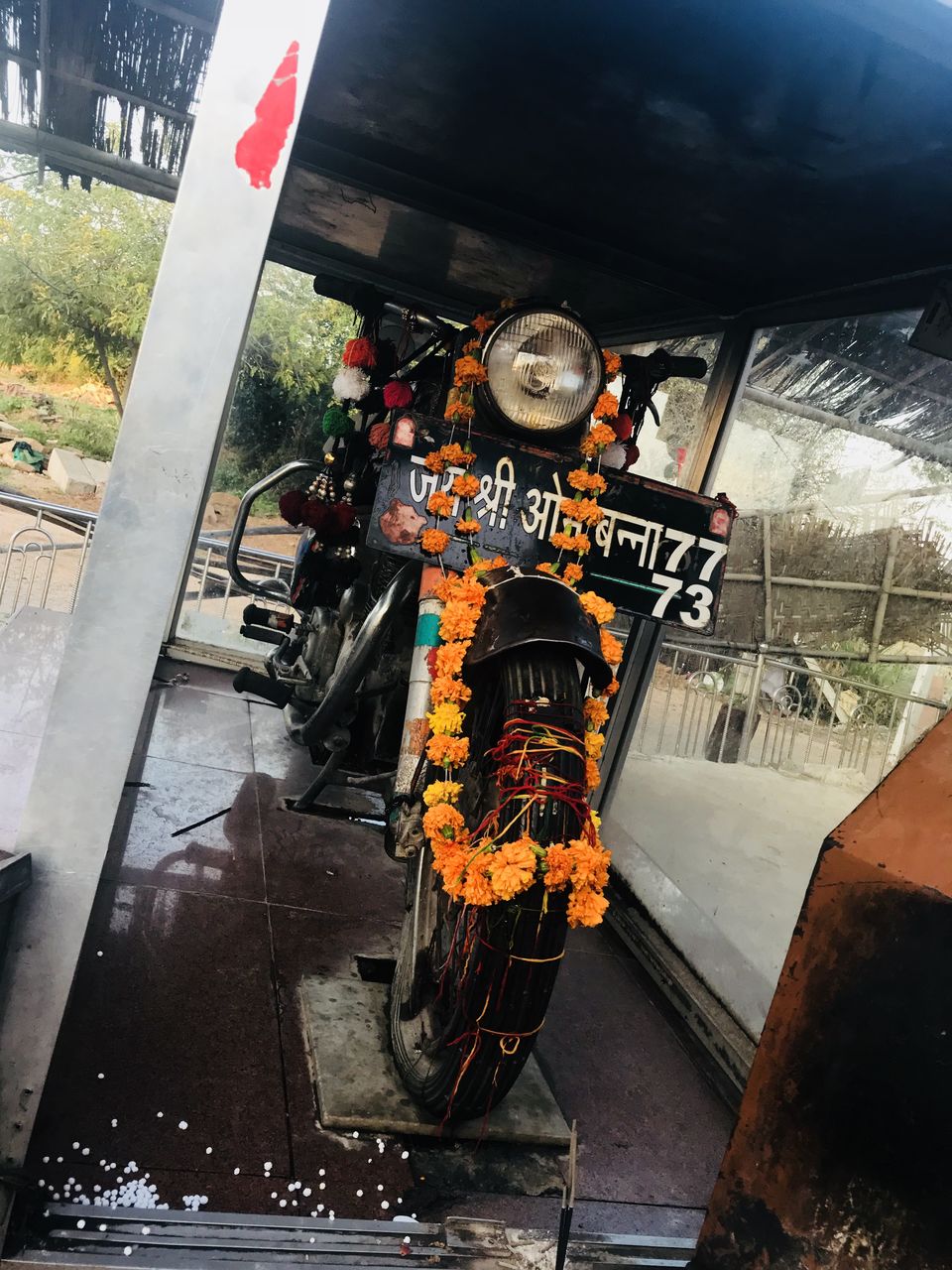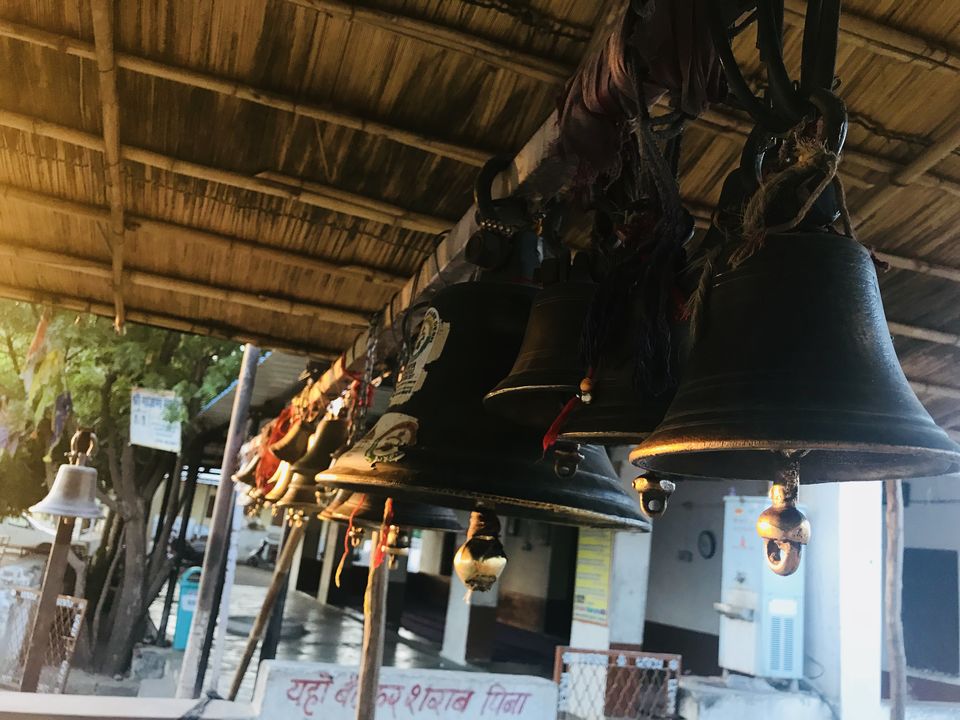 Our first destination on route was Om Banna! The place is also known as 'Bullet Baba Temple' which is situated in Pali, Rajasthan. I won't say this is the final destination one should plan but will recommend to visit if your are traveling in the periphery. We were astonished to see the devotees turn out at the shrine even if it was too early a morning. This was surely quite a place. You can read about the shrine on its Wiki page which details the incidents that built the shrine. I do not preach the myths quite a much bit till the time it's supporting people to earn their livelihood out of it by all fair means, its wonderful! The attraction has inhabited few restaurants, hawkers and nukkads who solely rely on the travellers stopping by at the place.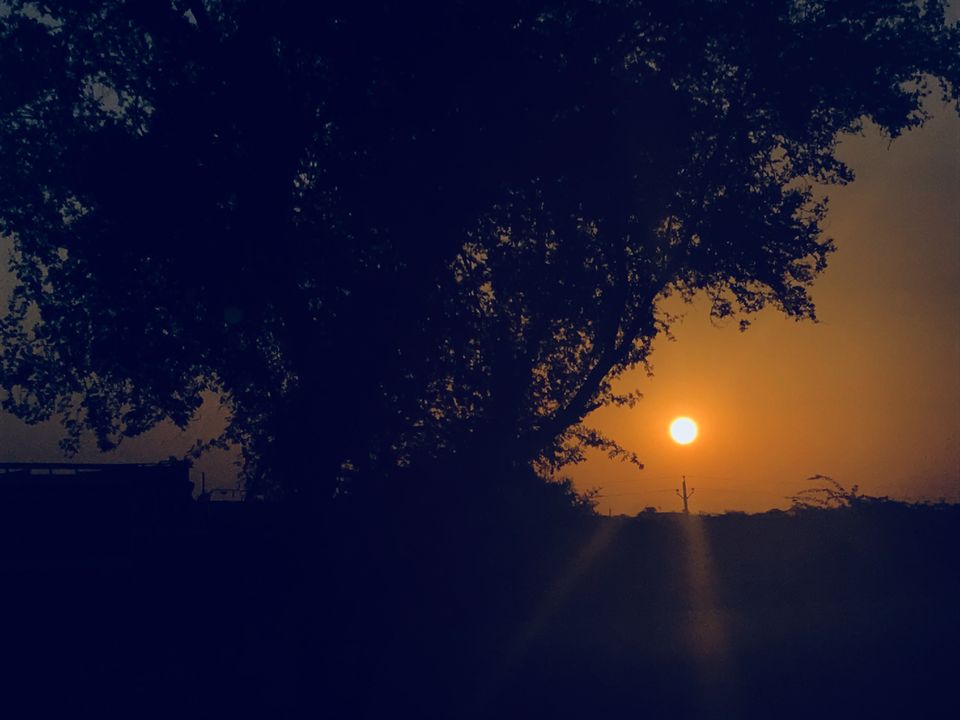 We broke the dawn at Pali and by the time we finished visiting Om Banna, Sun was in its full swing already. As far as mornings are concerned, Pali is a beautiful place with quite a scenic view on both sides of the road. There's a river following you on one side of the road while you are entering the place and this adds to the view to an extent especially when you are a solitary vehicle on the road.
Like its said, 'Every clock that matters ticks continuously.' Keeping this adage to its respect, we left the place where we actually aimed to be. All I can summarise about Pali is- it's a beautiful place as far as mornings are concerned!
It was almost 7 in the morning when we bid adieu to our first on journey destination and forged ahead towards Mount Abu. And let me just tell you that the scorching sun was already promoting the Rajasthan tourism and was chanting Padharo Mharo Desh! Eyes which were wide open since the last 24 hours starting succumbing to the pressure of dozing off. For keeping that at bay, we decided to open the windows and allow the breeze to blow the yawns away. It worked for us but only for a bit of time till we found a station to break our fast and start our day. The break was again for an hour before we started for nonstop drive to Abu. We danced our sleeps out inside the car and played some games to make sure that all the companions are very much awake.
For me, traveling does to sorrows, what bloating paper does to Ink!
The essence of road trip is only when you get some good roads to drive upon and Rajasthan proves the point. If you have to travel from one place to another in this largest state of India considering the geographies, it will at least take you to drive some 200 kms. But the roads are so relenting and saviour. It hardly took us some 2 hours to reach the foothills of Abu and sooner we started elevating. The place is full of Indian langoors and one has to drive quite warily keeping the wildlife in utmost consideration. Alas being in the state of Rajasthan, one can spot more vehicles of Gujarat at this place, being one of the most approachable place for the people of 'dry state' to have some ball. Anyways, the elevated roads took some 45 good minutes for us to reach at the destination. It was Dussehra and City was all quite in prep for it.
Talking about the boarding cost, it is a little dearer as compared to the places of Himachal or call it just the long weekend be the reason for the tariffs soaring up. Also, this is the only hill station nearing the cities of Rajasthan and Gujarat which might be keeping the cost escalated. Leave the cost aside, we had real tough time nestling at the place as there were very few rooms at Abu due to sudden rush of long weekend. After relentless hunting for 1 hours in two groups we finally managed to get a decent accommodation. Talking about the amenities of the property, our hotel had a balcony, a beautiful lawn area and a lovely pet- Stella! We got ready in no time and had the mouth watering Shev bhaji, what's kind of a synonym of food in Rajasthan for me. We have only this day for visiting places and had only half of it left after lunch. We hurried to the top most peak of the place, which they call Guru shikhar and spent some half an hour there by clicking amazing photographs.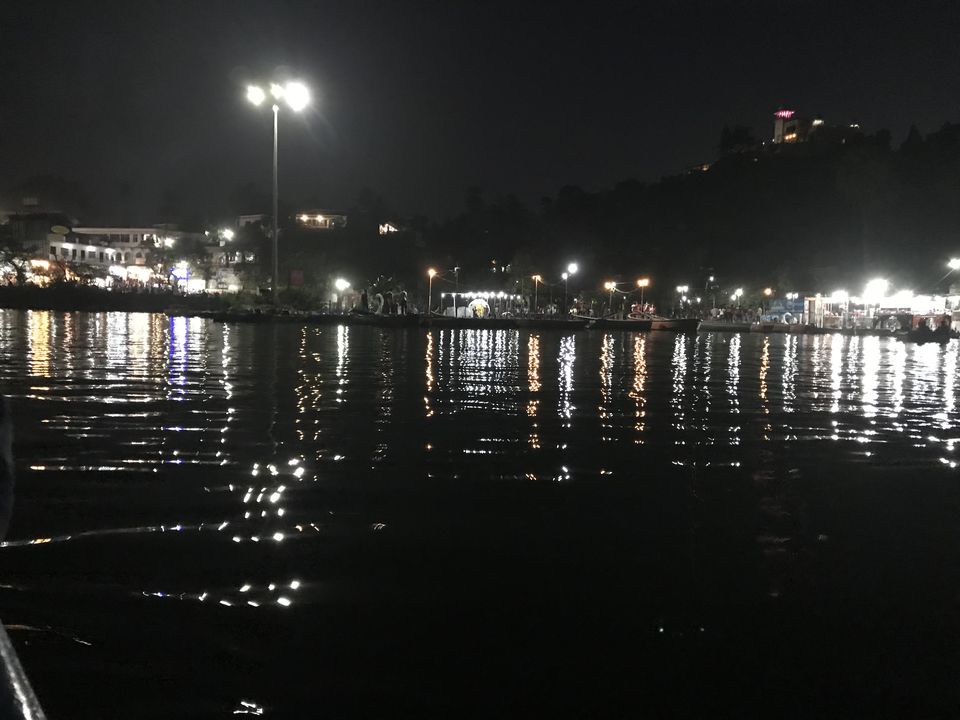 Of the very limited things to do at the place, we found boating in the lake suiting our interest the most. The twilight around, made the experience fabulous and the landscapes of the mountains around lake made it even more better. We sang crazily for the whole 30 minutes we were in water and now we were kind of satisfied by dodging our sleep for some 36 hours straight. After de boating we felt the temptation of have Vada Pav which seemed promising as it appeared to be. We ordered and till the time was getting ready we seen a Durga procession which was going for immersion and the dhol beats mesmerised us to do the steps. We participated for good 10 minutes till we found our snack ready which was followed by Chochak chai!
We had quite a few more things to eat before we finally reached our hotel. We got fresh in a jiffy and found a monk who was also guest at the place. All four of us sat with him for ample of time and got a better perspective of how to perceive various situations as they pop up in the journey of life. He basically asked us about our pasts and discussed the future. Trust me, it had nothing to do with astrology but was quite a factual conversation which prolonged for around 4-5 hours. He was quite human to have dinner with us considering the relation we just developed. We finally called it a night and and hit our beds for the much needed rest to our body. Call it bragging but I was the most awake person through this whole trail so the moment I fell on to the bed I was practically dead for the world for at least 8 hours in a row.
Next day we had our morning tea and checked out to meet a friend who was posted in Abu Road, which is actually a foothill town. We, somehow crippling, managed to locate the address and had lunch there. Talking about the food, Rabdi is a real attraction there and can be trusted for its taste. We had it in abundance (thanks to our host) and packed some for the transit as well.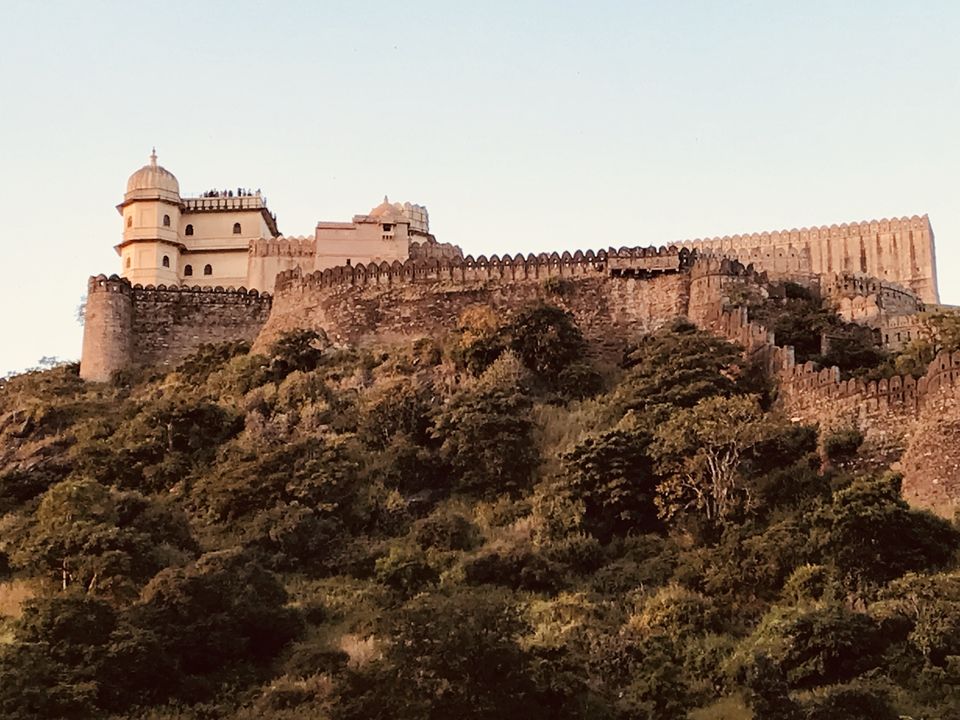 It was almost 1430 hours and we were quite ambiguous in choosing the next destination. It was either gonna be Kumbhalgarh fort or Udaipur. Reaching Kumbhalgarh was not an issue but covering the fort or getting a entry into it seemed to be skeptical enough. However, we decided to go to Kumbhalgarh only and risk it. The roads to the place will give you a good speed for the first 50-60 kms and will even allow you to drive smooth on 150 kmph. Later that one has to take a left turn towards Kumbhalgarh which is all a single road but with fewer traffic. The drive is still quite cautious one as it takes you through the heart of villages. Beating all the odds we reached fort and managed to see that attraction at least- The wall. Fencing of the fort is what it is drawing quite some eyeballs these days as it's said to be the 2nd longest wall of Asia, only after the Great Wall of China! We had limited time left there as it was already turning gloomy. Still we took the heritage walk from outside and decided to make it back to the pavilion.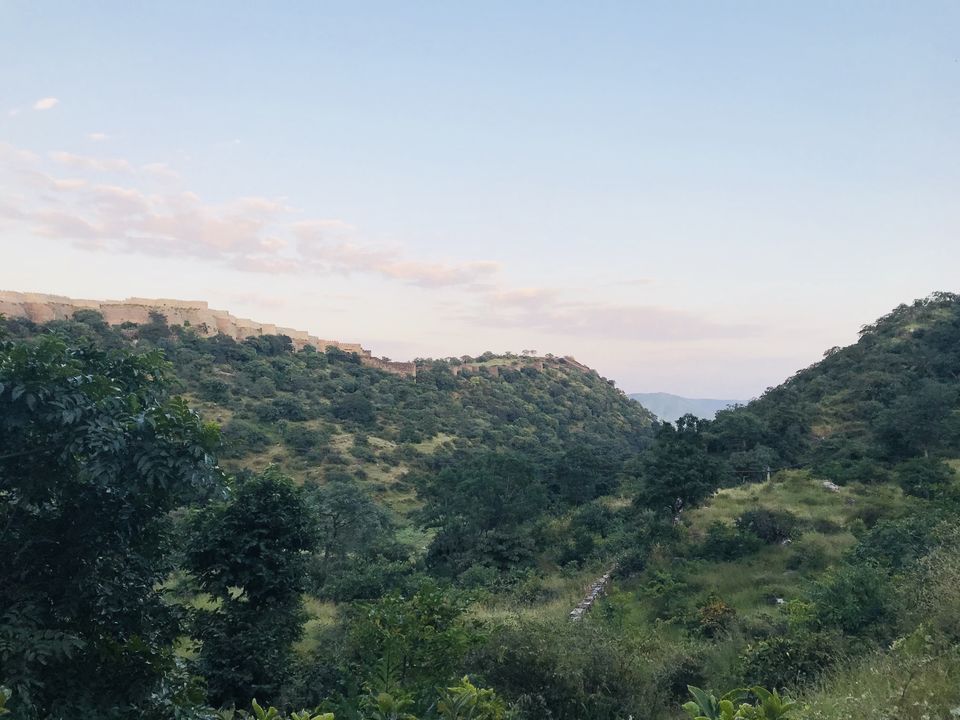 With fewer or no fellow vehicles on the road, moon was the only true companion which followed us till our destination. In between, we stopped for dinner, fuelled the tank, broke for tea and reached to the city for some sleep again. Then began another day of Food Safari in Delhi till the time I got the train back to Jammu.
Oh thou, what a weekend it was!