When one thinks about Leh Laddhakh immediately has visions of scenic Mountains. But Ladhakh has more colors to it than the mountain-scape. Our 5 night/6 day's trip was once in a life-time experience to the fairy land.
We started our journey from Mumbai Airport with an early morning hopping flight from Mumbai-Delhi-Leh. Although one would prefer to travel to Srinagar and take a road trip to Leh as it is a scenic route, we chose other-wise as we had time constraint.3-hour flight landed @ Leh early by 10 am. We started feeling dizzy as soon as we stepped down because of the thin air and the altitude. Coping with the atmosphere can take some time & for few can take a couple of days as well. Hence it is preferable to travel by road from Srinagar as one gets accustomed to the climate slowly.
Hotel Bookings were previously done so we got our airport pickup and went straight to hotel to have some rest. Day was pre-planned for a basic city tour. Our first stop was "SHANTI-STUPA" a 5 km drive from Leh. It is a Buddhist white domed stupa, an absolutely serene place which provides a panoramic view of the surrounding landscape. Built in 1983 to promote world peace & prosperity by Japanese & Indian Buddhist monks it overlooks the city of Leh. Stupa provides the best views during sunrise & sunset & is open to tourist from 5am to 9pm.At a height of 12,000 ft this stands tall. Leh is a place where one can get full worth to SLR/DSLR cameras. Fortunately for us a friend had carried one and we got some jaw-dropping pictures. After the Stupa we took a tour of the local market & museum. One can get some nice local souvenirs' but don't expect them to be cheap. Had our dinner @ German Bakery in the market and dozed off to our hotel rooms as next day was an early start.
Shanti-Stupa & the View
Next day was planned for an excursion to probably the most beautiful, picture-perfect portrait of nature the "Pangong" Lake. Yet to find a person who has not heard of this place & especially after the movie "3 Idiots" has been shot here. It is in "To Visit" bucket list of every passionate traveler. We had hired a taxi for our entire journey of 5 days & the driver was a local so moving around was easy. Journey to the lake is a 6 hours drive from main city one-side. Ofcource it is scenic & picture perfect but the ghats can take a toll on your heath so would recommend carrying good amount of medicines with you.
Our first stop was the "Druk White Lotus" school (Famously known as "3 Idiots school").It has become a tourist attraction after the movie released in 2009.The last scene of movie where Rancho build his own learning center is being shot here. Mid-way to the lake is "Changla Pass" @ the height of 17,000 ft. One can find a café serving hot Maggi/tea/coffee named "Changla Cafeteria" promoted by the govt. This stop was refreshing as the journey was getting bit cumbersome & tiring. Road down from the changla pass leads through Tangste and other small villages. As you reach near the destination the lake shines with dark blue hue gratifying your vision & senses.
It is pure magical stuff to look @ Pangong lake from a distance. About 60 % of lake is in china. Chinese border is hardly 10-15 km away from the place where we halted. During winters the lake freezes completely. Reached @ half past 4 we decided to halt at one of the Tent hotels. Should say this was adventurous. Not that we never stayed in the tent but this was something different as we stayed @ the banks of the ever changing hue of Lake pangong. It is said that the lake has 7 different colors for different times.
Dinner was not that great & one is recommended to carry food. The strong winds made sure we could not get good sleep as the temperature was dropping & even the cover of 3-4 cozy blankets was not enough to get some warmth. Morning was even more beautiful and picturesque. Sunrise here is mesmerizing. One should definitely stay besides the lake. Options for hotels are many. One can stay in normal hotels if tents are not suitable.
View of pangong from a distance
Tents for Stay
We left after a breezy & fresh morning around 8 am from the lake. On the way had our brunch and reached leh at around 2 pm. We had a leisure day @ our hand and as was pre-planned did not want to miss out on the world-famous In India (pun-intended) combination of Leh & Royal-Enfield bike ride. There are many bike expeditions from Shimla to Leh (Royal Enfield as official bikes).We booked three bikes for 5 people from the local market. (350 & 500 cc bikes).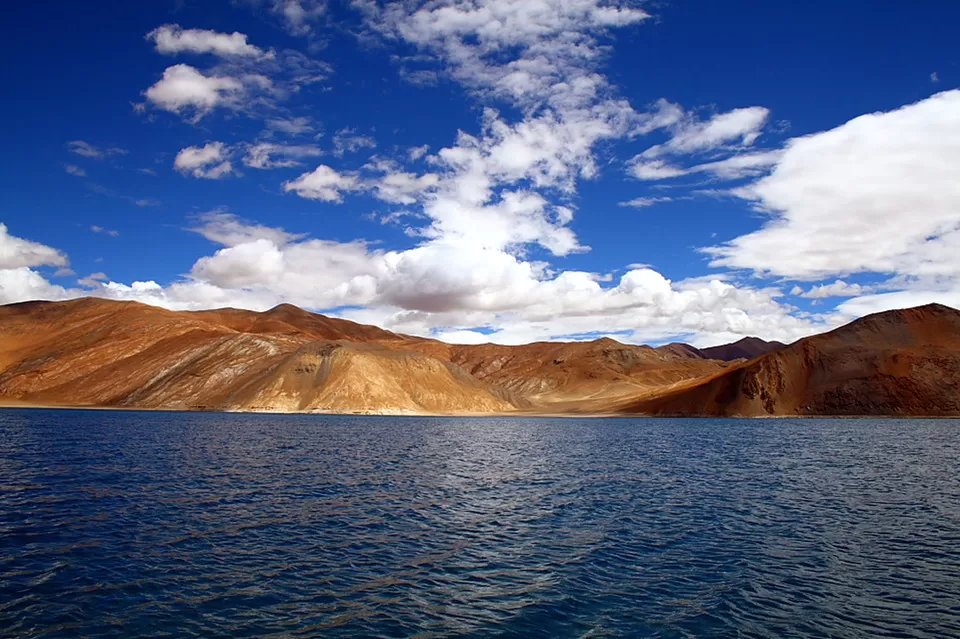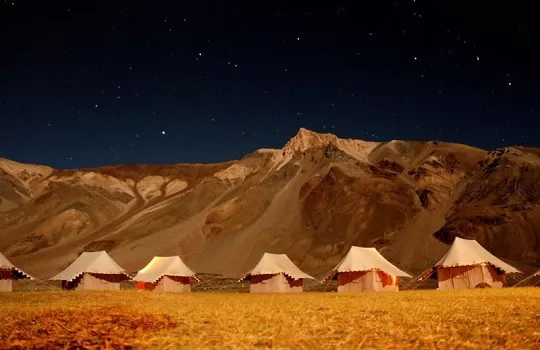 Filled up the tanks and took the Leh-Alchi route as suggested by the local chauffeur. This 75 Km route is supposed to be the most scenic route for bike rides. Ofcource riders travel to pangong/tsomoriri/nubra valley which is far off locations. For beginners this is the perfect way to start. The resonance of Enfield, scenic mountains, dust, cold breeze flowing around your cheeks & the blazing sun takes you to a different world. We made sure we had good protection around with head/hand gears. These are a must while riding in Laddhakh.
"Royal" Bike Ride to Alchi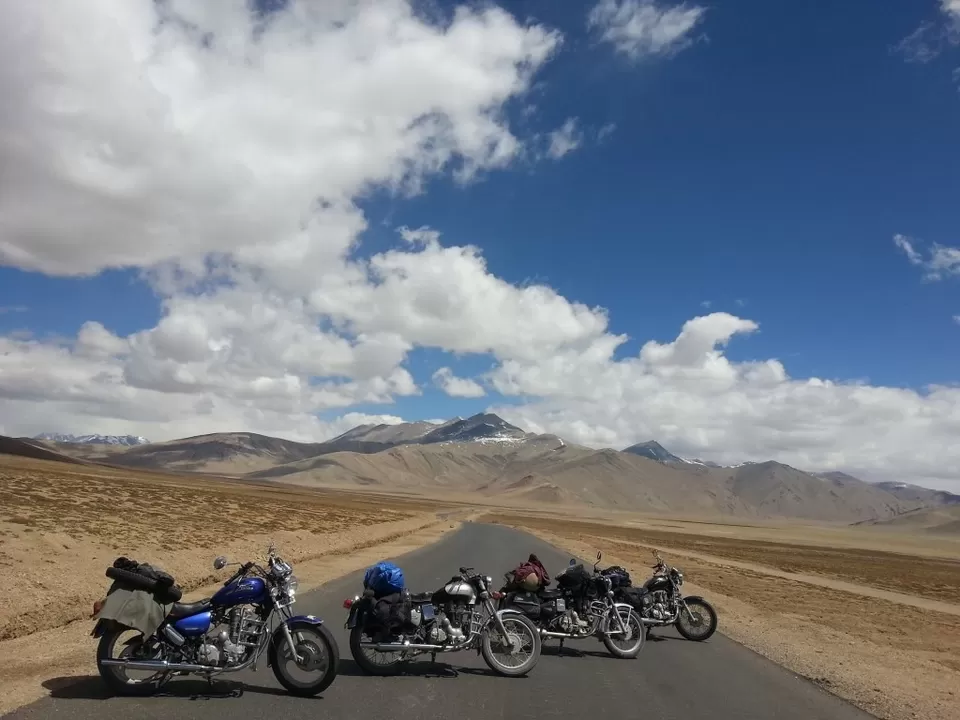 Alchi is famous for its monastery which preserves 11 th & 12 th Century wall paintings. On the way is the "Magnetic Hill". It is a "Gravity Hill" where objects travel defying the laws of gravity. Bikes would travel uphill the road while the engine is stopped. This effect is created by some "optical illusion" stuff which we failed to understand as bikes literally rode upwards without any kind of force applied. Also the place is a good photo-op. In-fact any place in laddakh resembles a studio. Pictures are always perfect. On reaching Alchi we visited the "Nimoo Bazgo" Hydroelectric Plant (Dam).Road to the dam is a small ghat which was quiet narrow for a bike ride. On the return we halted @ the market for dinner and the day ended with rich, thrilling & chilling memories of the biking experience.
Day 4 was planned for Nubra Valley & Khardungla Pass. We started early as usual and our first destination was "Thiksay" Monastery. Located on a hilltop in Thiksay village monastery houses many statues, wall-paintings & swords. It contains a 49ft tall statue of Maitreya Buddha, largest statue in laddakh covering two stories of a building. The view from the hilltop is breathtaking & a gr8 place to sit and meditate.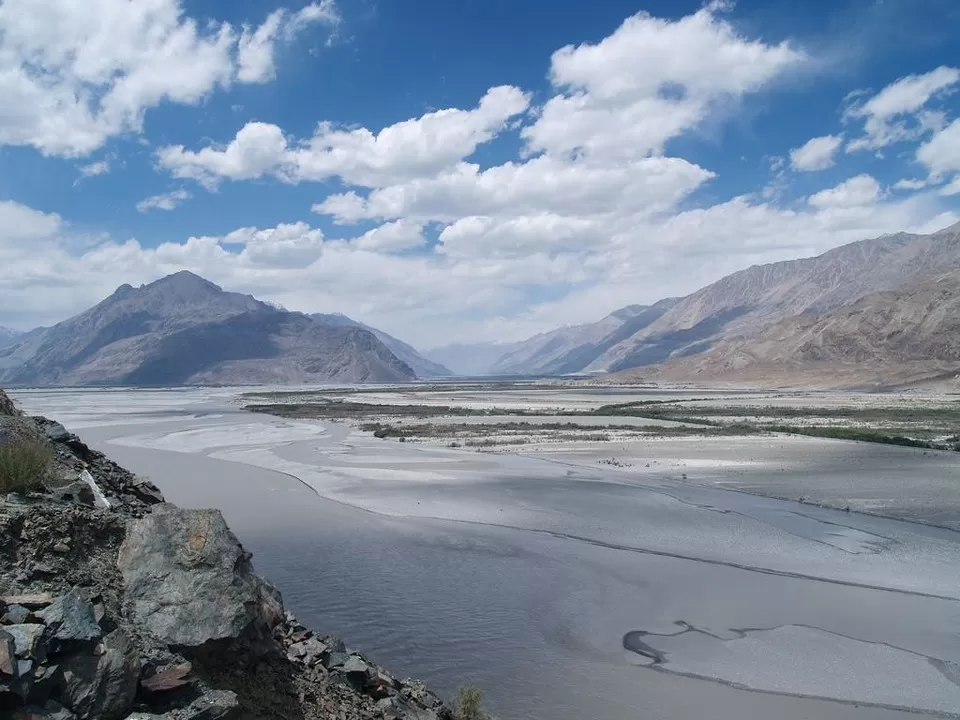 Nubra Valley is around 6 hours journey from Leh (150 km).On the way is the Khardungla Pass which is the highest motor-able pass in the world.(Height around 18500 ft).Temperature here drops down significantly and air is much thinner making it difficult to even stand & take snaps. Nubra Valley is a white sand desert with some water bodies around, basically another picturesque location. Here you can opt for a camel ride for about 300-400rs.(20-25 min ride).
Nubra Valley & Diskit Monastery
We also visited the Diskit Monastery which has a Maitryea Buddha statue of 32m height. Monastery also gives a panoramic view of the valley. We returned around 9 pm and were tired enough to skip the dinner.
Last day we were thirsting for some more adventure so decided to go for some white water rafting. There are around 5 locations of rafting in Laddhakh according to the levels. Rafting happens on the Indus River. We opted for rafting from Phey -Nemo route with rapids of grade II & III (Rapids up to grade V are open to adventure enthusiast).Rafting time was about 1 and half hour.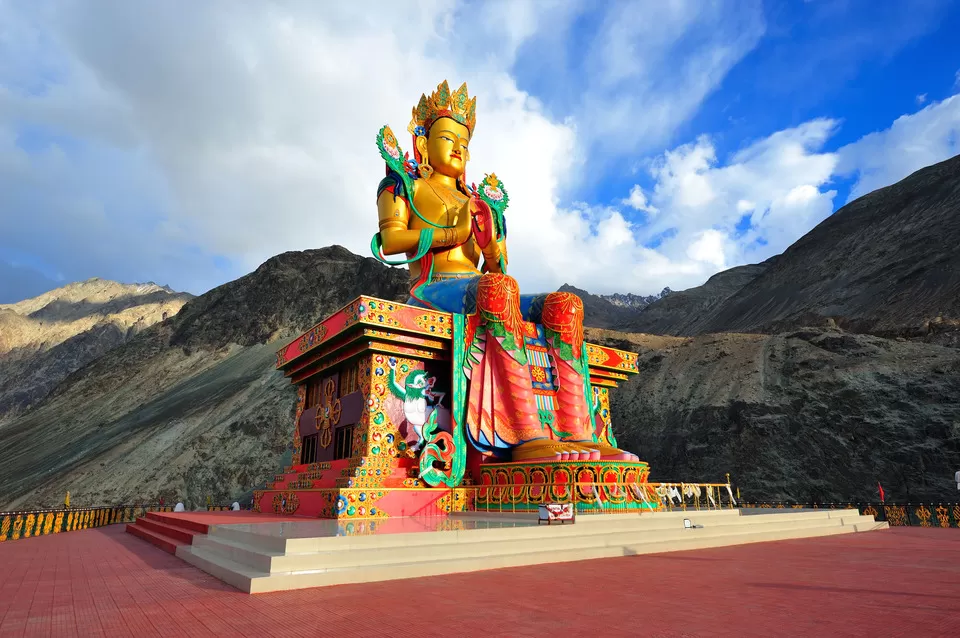 This route passes through astoundingly beautiful mountains, many of them with tiny hamlets & imposing old monasteries nestling among the valley, starting from Phey village & ends at Indus-Zanskar confluence at Nimo. It was indeed a hair-raising adventure with suits and the raft on.
Ideal time to Visit: July-Sep
Travel Tips: Best to travel in groups/Take regular medicines along/carry durable home cooked food/Carry warm clothes. Plan to travel by yourself & not opt for Tour packages to explore more & soak in more experiences.
Courtesy : Ashwin Sarda
After the rafting we went back to hotel and relaxed the half day playing cards & feeling lucky to have visited this land. Next day we took a morning flight back to Mumbai. Lack of staff @ the tiny leh airport meant a lot of horror and delayed flight.
Laddakh is an ideal place to capture true essence of raw nature & have some rough adventure. We missed out on a few stuff like trekking adventures/Tsomoriri Lake due to lack of time. You will find firangs aged above 60 staying here for months and exploring the place by trekking & camping the entire mountain-scape their fitness levels matching their enthusiasm to explore. If Laddakh is not in one's bucket list he/she is probably not a traveler.
This post was originally published on Winkreative.