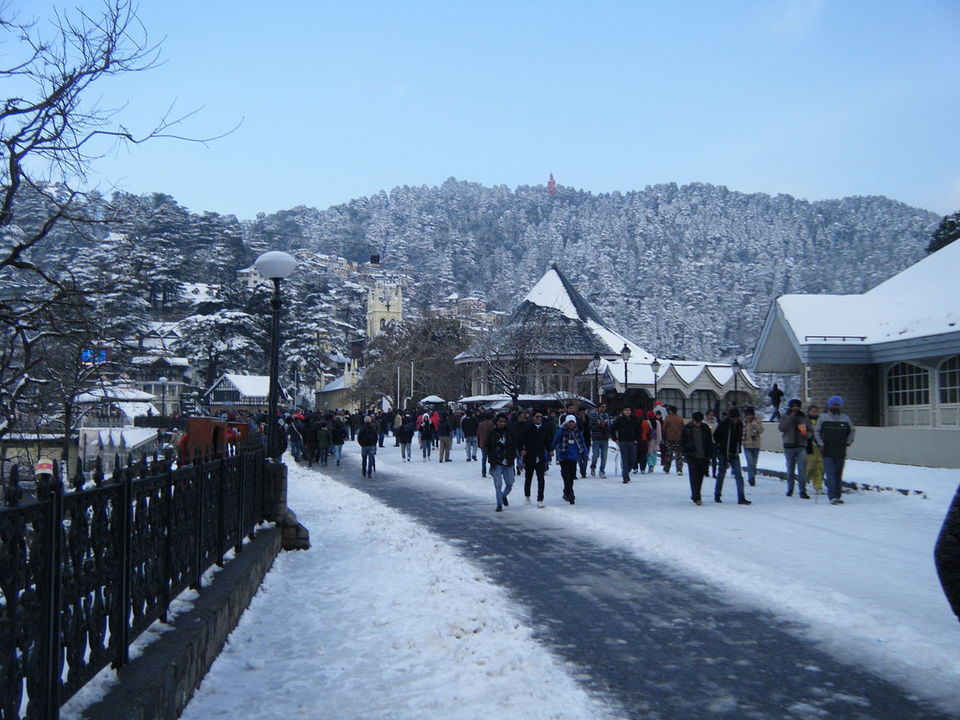 Has it ever occurred to you that a place you just visited didn't look as mind-blowing as it did in the picture you saw on Instagram? Well, there is more to it than just the 'filter' thing that makes it look beautiful. May be, you simply visited the place during the proverbial best-time-to-visit, and not in winters.
It's that time of the year when hill stations receive snowfall, camel safari in deserts seems pleasant, and beach vibes are at their vibrant best. So, here is the list of destinations that look more beautiful and offer great holidaying experience when visited during winter.
Not for nothing is Khajjiar known as 'mini Switzerland of India', which looks even more stunning during winters when it snows. The thick rim of pine trees that borders one end of the snow-covered meadow with snow-capped mountains in the backdrop would remind you of the picture you stopped by at while scrolling through your Instagram. Only after you explore Khajjiar in winter will you know how different and stunning it looks during in this season.
Best way to reach:
Reach Dalhousie and then take a bus or hire a taxi to Khajjiar, which is only 24 km away.
It's a year-round destination for honeymooners and mountain lovers, especially for the travellers in the nearby north Indian towns and cities. And thanks to its elevation (approx 1,800 metres), Mussoorie gets covered under dense cover of snow during winters. And that's when the snow-clad landscape of Mussoorie is at its beautiful best. Whether it's the Mall Road, Lal Tibba, or the famous Kempty Falls; everything just looks picture perfect. To add to the beauty, Mussoorie witnesses very less visitors in winter. So if you are planning to travel to some easily accessible hill station and experience snowfall, Mussoorie is the place to be.
Best way to reach:
Although Jolly Grant Airport and the railway station in Dehradun are the nearest air and rail link, respectively, travelling by road remains to be the best way to reach Mussoorie. Buses and taxis are easily available from the nearby cities of Chandigarh, Dehradun, and Delhi.
If there's one hill station in India which has served as go-to destination for tourists over the years, it's Shimla. Also known as 'Queen of Hills', it's so popular that the peak tourist season often means huge crowds and traffic jams which eventually overshadow the charming beauty of this hill station.
And just in case you also felt the same, we'd rather suggest you travel to Shimla this winter when it snows and see the difference yourself. With everything covered in the blanket of snow, Shimla resembles a toy-town from some Hollywood flick. With almost every facility a tourist can expect, Shimla is just the right kind of winter destination for couples and honeymooners.
Best way to reach:
The best way to reach Shimla in winter is by road. Frequent bus services are available from the nearby cities of Chandigarh, New Delhi, Amritsar, and more. Also, travelling by the toy train to Shimla in winter is a great experience. The narrow gauge train plies between Kalka and Shimla, and the journey can take up to 6 hours.
For someone who has already been to places like Shimla and Mussoorie in winter, Auli in Uttarakhand can be a great alternative. Located at an elevation of around 2,800 metres above sea level, Auli boasts of the famous Auli-Joshimath cable car ride, mind-boggling scenic vistas, and views of the towering Himalayan peaks. This makes it perfect destination during the summer months for those who wish to escape the heat.
But very few realise how stunning Auli looks during winter. Yes, it's cold, but for those who are ready to bear with anything to witness how this hill station looks and feels when covered in snow, that's the time to visit this place. The ski resorts come alive and even the otherwise 'usually beautiful' landscape of Auli seems like a piece of land straight from some hill town in Europe.
Best way to reach:
Travel to Rishikesh by bus or taxi, both of which are available from the nearby towns and cities. From Rishikesh, take an early morning bus to Joshimath or board a shared cab. Joshimath is about 8-9 hours from Rishikesh. From Joshimath, Auli is only accessible by cable car in winter as the Joshimath-Auli road remains closed due to snowfall.
Did you wish to visit Spiti in winters but just can't seem to do it? Why not try Zuluk in winter? Located in eastern Sikkim at over 10,000 feet, the tiny hamlet of Zuluk, which once served as transit point for travellers on the ancient Silk Route, is home to the gorgeous views of snow-clad Mt. Kanchenjungha and the nearby Himalayan peaks. Although, equally beautiful in summers, Zuluk is least crowded during winter and you can easily get a cosy homestay for a very nominal price.
Another highlight is the road from Zuluk to Lungthung which has over 32 hairpin curves that promise one adventurous road journey if you dare to take one.
Best way to reach:
Road is the best mode of transport to reach Zuluk. If you're travelling from Gangtok, it's just a 4-hour journey which can be covered in a shared cab or taxi. If you're travelling from NJP railway station or Bagdogra Airport, it's a 6-hour journey to Zuluk via the town of Rangpo which also serves as the entrance point for those travelling to Sikkim.
This one's the experience that's only possible during winters. And it's not for the 'tourists', it's for the hardcore adventure lovers who not only love winter but also have the right kind of mental and physical fitness to take on the some of the coldest faces of Mother Nature. Also known as the Frozen River Trek, Chadar trek requires more than 100-km of walking, mostly on the frozen Zanskar river, which is also used by the locals to travel from Zanskar to Nerak and vice versa.
It's mostly about walking on flat terrain, but the extreme temperatures of around -30 degree Celsius can put the most seasoned adventurers to test. So, if you are an adventurer who gets bored of staying indoors during winter, this is the experience you must try once.
Best way to reach:
Travelling by air is the only option during winter in this region. Take a flight to Leh and then take a taxi to Chilling which is also the starting point for Chadar trek.
So, does it mean that winters don't have anything for the travellers who can't stand cold of the mountains? Well, thankfully, we have Thar Desert in the heart of which lies this 'golden city' of Jaisalmer. Known for its historic forts, hilltop citadels, palaces, yellow sandstone architecture, and close proximity to some of the untouched regions of the desert, the city of Jaisalmer is just the kind of destination for those who love camel rides, culture, history, and of course, warmer places.
A cozy destination whose beauty gets accentuated in the winter months, Jaisalmer simply starts buzzing with lively tourists when most other tourist destinations are dealing with utter cold during this time of the year. Another must-visit if you love travelling in winter.
Best way to reach:
There two ways to reach Jaisalmer and relish the journey: by road, and by rail. Travelling by rail is comfortable and train tickets to Jaisalmer can be booked from cities like Delhi, Jaipur, Mumbai, and others. If you're driving, that makes for a great road trip through one of the most culturally vibrant state of India.
Talking of travelling during winter and not including beaches is next to being sinful (in the world of travellers, at least). And one of the most spectacular but lesser known beach destination that we recommend visiting this winter is Varkala. Located in Kerala, Varkala is a small town with a tempting mix of hippie culture, stunning beaches, and classic restaurants serving exotic seafood to travellers from all across the world.
Varkala beach, Kapil beach, and Black beach, which remain lull during the rest of the year, experience a completely vibrant makeover in winters. The market along the edge of Varkala Cliff is just the place you'd want to be with your friends to relish the nightlife and lip-smacking cuisines in Kerala.
Best way to reach:
Varkala is linked to the nearby cities by trains and buses. If you are in Kochi or Trivandrum, both of which also have airports, then the best bet is to take a train to Varkala and then hire a taxi, a tuk-tuk, or rent a bike to explore Varkala.
So, no matter what kind of traveller you are, just take some time out from your daily routine and experience holidaying at these destinations in winter. In the most likelihood, you'll fall in love with travel again, if you haven't already. What do you think? Share your thoughts in the comments below.
Also, you can create your own travel blog and share it with travellers all over the world. Start writing now!
Subscribe to Tripoto on YouTube and watch exciting travel videos.
Get travel inspiration from us daily! Save our number and send a Whatsapp message on 9599147110 to begin!