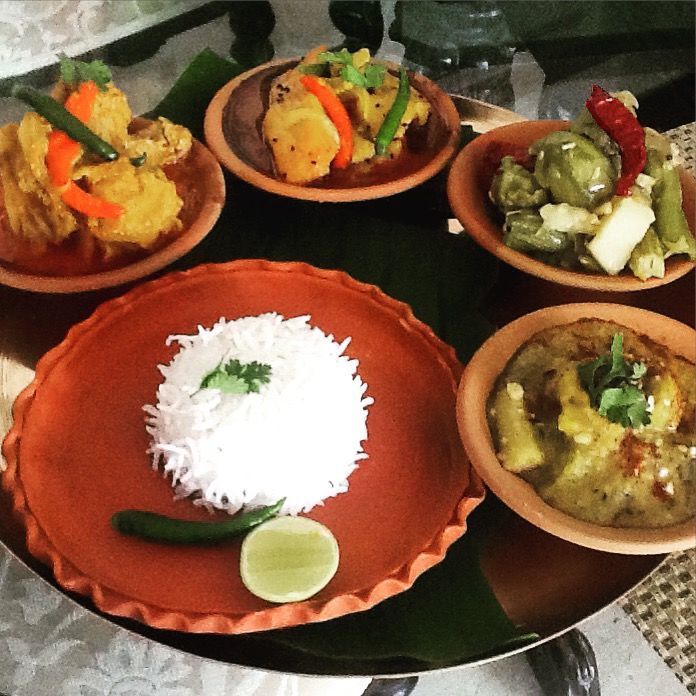 India's diversity lends itself to variety in it's culture, history and stories. Most of that diversity manages to find a space in the rich food traditions that each of its regions boast of. While the lack of funds and holidays for some of us who are corporate slaves, restricts us to armchair travel more often than we'd like to, not all is glum when it comes to sampling food from across the country. No, I'm not talking about that popular restaurant down the road serving Udipi fare or your favourite dhaba for Punjabi Kaali dal. While those are good too, there's a whole new world opening up, a kind of Hogwarts where you will find secret recipes and magic potions from around the country. Homechefs specialising in regional fare open their homes and hearts to foodies, allowing them to sample traditional, regional fare and recipes that are passed on through generations. Here's my pick of seven homechefs whose feasts you can't afford to miss when you're in Mumbai.
A Bohri Thaal at The Bohri Kitchen
When you enter an Art Deco building, near Churchgate station, to reach the spacious apartment of the Kapadia's, there are no signs to caution you against the food coma that you may hit after the feast here. The Bohri Kitchen or TBK as Mumbai foodies lovingly call it, is an experimental lunch concept where a maximum of 25 guests (or friends of friends) book their place in the Kapadia home for a mouthwatering 6 course Bohri meal cooked by Nafisa Kapadia.
After you sign up for a TBK experience, a WhatsApp group is created where each participant is sent details about the address, parking space and the menu. You are also requested to wear expandable clothing (and to avoid party clothes), as it would restrict eating. You walk into a large living room and dining area, meet fellow foodies and bond over food as your welcome drinks of coconut water blended with the malai of the coconut is served. Before you begin your meal, Munaf Kapadia, the brain behind TBK, introduces you to the Bohri tradition of the thaal and the salt. "Typically, a Bohri meal is consumed in a huge thaal, and the family sits around it (on low seating) to eat out of it. You need to mark your little territory on the thaal as it can get messy. There is a little container called the namak daani that has salt. The youngest family member is asked to take it around to the group as each one takes a pinch and tastes it. This helps you to activate the salivary glands, making one more sensitive to the flavours they are going to taste," he explains. As you tuck into the flavourful Raan (a gorgeous leg of lamb marinated for 48 hours), you learn a lot more about Bohri traditions like serving a sweet dish, in between savoury dishes of the meal and treated to many fun facts and stories.
Cost: ₹1500 per person
Cuisine: Bohri
Standout dishes: Crisp and juicy crumb fried chicken, served on a stick, TBK special Kheema samosas, Dudhi halwa, The Rann in red masala, the Kaju chicken cooked in a rich cashew paste, the Kheema khichdi with Paaya soup served in a closed dish with coal in the centre, giving it a smoky flavour (the paaya is on the pot for about 3 hours), Sancha ice cream (hand churned ice cream made from fresh fruit, strawberry, mango and pear, sourced from Udwada, 200 kms away from Mumbai).
Contact: 09029020285
(The home dining experience takes place on every weekend. If your group is larger than 10 people, you can request for it to be organised on a weekday as well with sufficient notice. Apart from the home dining experience TBK has also started home delivery services and the concept of Traveling TBK where the traditional Bohri meal is served at your home or a venue of your choice. The experience is complete with a thaal, a host and his stories.)
An ode to Odisha with Ananya Banerjee
For some reason, when you think of exotic desi khaana, you don't really count the state of Odisha in. The simple yet delectable food is full of surprises and is yet to be fully discovered by the foodies of the world. Owing to how the state is geographically placed, many confuse this cuisine with the overpoweringly popular Bengali cuisine. Food cooked in the northern parts of Odisha share similarities with Bengali cuisine, such as the use of mustard oil and seafood. The area near the Chilka lake is particularly popular for its high quality seafood. The southern parts of Odisha use ingredients like tamarind and curry leaves influenced by its other neighbour Andhra Pradesh. If you are in Mumbai and are willing to experiment, talented artiste and homechef Ananya Banerjee can whip up a storm from this eastern state. Having spent a few years of her childhood in Odisha, Ananya grew up tasting the cuisine. She found it both strange and sad that no one serves Odia food in restaurants. "Unlike Bengal and Andhra Pradesh whose food can offer a rich and fine-dine like experience, the fare from Odisha is rustic and doesn't use ingredients like garam masala and dry fruits. It's simple every day home food but is delicious." she tells us.
The food from the region around Puri and Cuttack, which is influenced by the Jagannath Temple's kitchen, interests Ananya the most. "They prepare Chappan (56) Bhog (feast) as offerings to the diety. The food is cooked in earthen pots that are placed on top of each other. I have always wondered how heat from the fire reaches the pot that is placed the highest. By some miracle, each grain is cooked to perfection. There are so many stories that I grew up hearing about the temple traditions of Odisha. I'll tell you when you come over for a meal," she says.
Cost: ₹1500 per person
Cuisine: Odisha
Standout dishes: Bori Chuda (fried lentil dumplings), Santula (mixed veggies slow-cooked in their own juices), Pokhal Bhat (fermented rice served with accompaniments like fish and prawn chutneys, sautéed greens, and spiced potato mash, Khaja (sugar-coated crispy fried dough) and Chana Poda, which tastes like a baked cheesecake made with paneer.
Contact: chefananyabanerjee @gmail.com
(Check with Ananya Banerjee for her home dining experiences and pop ups organised at various venues across the city)
Anglo- Indian and Jewish delights with Pia Promina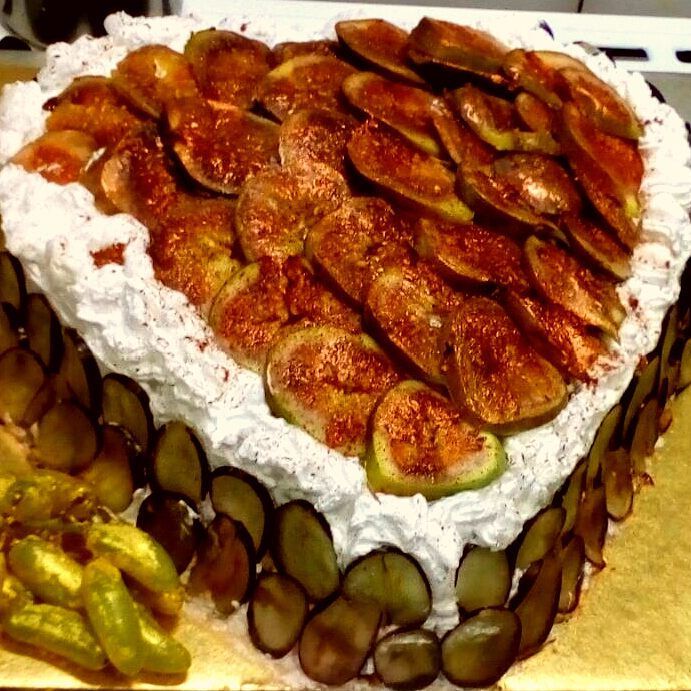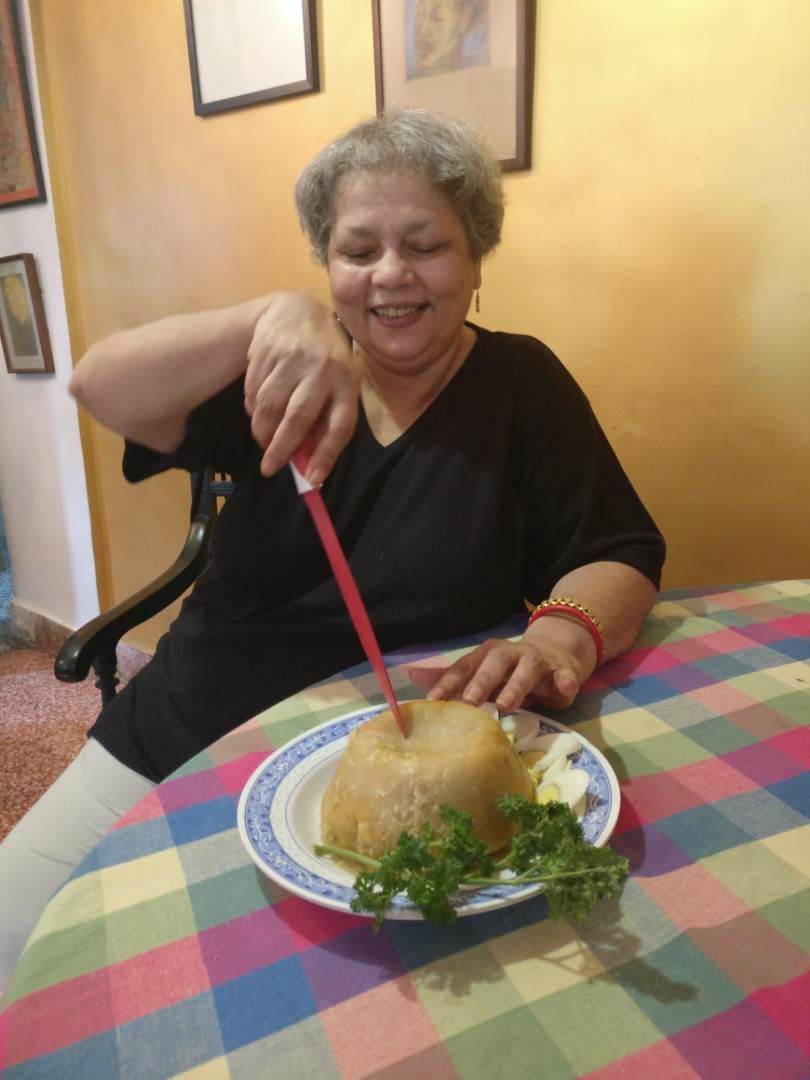 Pia Promina Dasgupta Barve has a personality that is as interesting as her name. Born and raised in Kolkata, she has mastered the diverse fare that West Bengal's most popular city serves. Her family owns the highly regarded Kewpie's restaurant in Kolkata. Apart from traditional Bengali food, she cooks Kolkata Chinese, Armenian and even food influenced by the British Raj and the club culture in Kolkata. The most interesting of the lot, according to me was the Anglo Indian and Jewish food she makes. These are rare recipes and difficult to find elsewhere. "My teacher was Jewish and she was a major influence on my love for Jewish cuisine. The Jewish community were inclusive of other communities and their cuisines. For example, Cochin's Jews use coconut milk in their cooking and the Bene Israel Jews who settled in Alibaug have a lot of Maharashtrian influences. I have Bene Israel relatives," she says. Her Anglo-Indian fare is stellar too. "Their's had Bengali, Raj and Portuguese influences, but it was always spicy" she explains.
"I love making the typical British tea party food that was very popular in Kolkata. I make the sausage rolls, the patties, the cakes and the works. People don't even make the steak and kidney pudding anymore. It's time consuming and difficult to make. They choose to make the steak and kidney pie because they buy ready made puff pastries for it," she tells me. When you're in Pia's home though everything you eat, including the bread, will be freshly prepared at home.
Cost: ₹1500 per person
Cuisine: Food from Kolkata
Standout dishes: Sausage curry; Pepper Water; Shepherd's Pie, Jhalfarezi, Vindaloo (very different from regular vindaloo), Mille Fuelle, Fish and chips, Quiches, Prawn Cocktail, Aloo Makalla, Anjoli (a cold fish dish made with coconut milk), Chopped Chicken Liver and Mahashas (a classic Calcutta Jewish dish featuring stuffed vegetables).
Contact: 09920370638
(Check with Pia Promina Dasgupta Barve for her home dining experiences and choose the kind of cuisine you'd like to sample. Even if it's just two of you Pia will welcome you to her home with as much warmth.)
A Pathare Prabhu feast at Dine With Vijaykars
Sunetra Sil Vijaykar is Bengali by birth and married into a Maharashtrian Pathare Prabhu family. Her love affair with the cuisine of one of Mumbai's oldest communities began when she sampled her mother-in-law's cooking. You can sample a typical Pathare Prabhu meal in the relaxed ambiance of their ancestral home in Jogeshwari. "It's a quiet place and gives you the joy of enjoying a home cooked meal, away from the mad rush of the city. My mother-in-law, Dr Padmaja Vijaykar and I have been organising these meals since September 2016. We started with cooking for a few of my husband's friends who happened to be media professionals. They gave us the idea of opening our kitchen to guests. That's when we made it official and called the event Dine With Vijaykars," says Sunetra, who flies down from her home in Gurgaon every time they host a meal owing to which, the family hosts people once every two to three months.
"Some of our guests are from within the community. While they remember these dishes as things their parents and grandparents cooked, it is increasingly difficult to access these recipes today," she says. The family sources some of the ingredients from their garden and everything from ghee to masalas, is prepared at home. The fare is different from what is prepared in other Maharashtrian communities. For example, not as much coconut is used in a Pathare Prabhu meal. Some dishes use coconut milk. Prawns and Pomfret are used often while small fish like Mandeli, don't make the cut. Fish and Mutton are common features in a meal while Chicken is not the preferred meat. The cooking process involves steaming of the seafood rather than frying. The masalas used are different too. We refrain from asking what these special masalas are because some secrets are just delicious.
Cost: ₹1399 per person
Cuisine: Pathare Prabhu
Standout dishes: Bombil Bhajji (Bombay Duck fried in besan, Vangyachye Aani Bhoplyache Kapa (rice flour coated brinjal fritters and rawa coated pumpkin fritters), Surmai Rawa Fry, Paplet-Kolambi Bhujne (traditional pomfret and prawn curry), Mutton Kalwan (mutton curry cooked in coconut, green chillies, tamarind and coriander), Karandiche Lonache (shrimp in spicy pickled masala), Keema Pulao, and Tomatochi Sheer (tomato and coconut curry); Kela Podi — sweet banana pancakes made by slow cooking bananas with jaggery, stuffing them in rotis and then baking them, and Sago Kheer.
Contact: 09818093595
(Check with Sunetra Sil Vijaykar for the next available date for her home dining experiences.)
A Parsi treat with Perzen Patel
It's not like you don't get Parsi food in restaurants in Mumbai but there's something about Perzen Patel's home cooked meals that make you want more. "I have always been fond of food. Eating food and feeding food runs in my DNA – my Mamaiji ran a Parsi dabba service before I even came into this world and later, my mom sold cutlets and pattice when we moved to New Zealand," she tells me. Perzen started her blog titled Bawi Bride as an attempt to document her quest into mastering Parsi food and restoring it back to its former glory. A month into her journey, her husband and readers convinced her that simply writing about Parsi food wasn't enough and that she should start feeding it to others too. And, that's how the Bawi Bride Kitchen was started.
You can head to Perzen's home in Mumbai's largest Parsi colony, Dadar Parsi Colony and enjoy a completely customised Parsi meal. The food is served buffet style and all you have to do is show up. If you're looking for a more immersive experience Perzen offers a cooking class which is followed up with a lunch or high tea at the house. "The best way to learn how to cook is to get your hands dirty. Which is why we provide immersive cooking classes where you cook everything from scratch," she says. The classes are typically 3 hours and you learn to cook a Parsi starter, main course and dessert. There's also the delicious food walk! Perzen offers personalised food walks for groups of 2 – 8 people and undertakes them in Fort as well as Grant Road. Each walk has a mixture of Irani bakeries, snack outlets and full service restaurants. The best part of these experiences are Perzens's stories. Her blog offers a glimpse of some of them.
Cost: ₹2000 to ₹4000 per person, depending on the menu.
Cuisine: Parsi
Standout dishes: Istoo na Kebabs (mixed root vegetables cooked in a sweet and sour stew and then made into kebabs), Kera na Kebabs (kebabs made from plantain bananas and mixed Parsi spices), Mamaiji's Red Curry (a signature red coconut curry made using my grandma's heirloom recipe served with steamed rice and kachubar), Chicken Vindaloo (a Parsi rendition of the Goan favourite cooked with garlicky potatoes in Navsari's cane vinegar), Prawn Patio Bombs (prawns cooked in a tangy sweet and sour patio gravy then mixed with potato and fried onion).
Contact: perzen@bawibride.com
(Check with Perzen Patel for the next available date for her home dining experience, food walk, cooking classes or delivery services.)
Bihari Khaana with Dolly Singh
A Bihari by birth, Dolly Singh's culinary skills are a result of the traditional home-cooked Bihari cuisine she has grown up eating. Her's was the first Bihari cuisine pop-up in Mumbai. Bihari food is usually cooked over fire and the dishes are heavy on meat, pulses and flours of different kinds. Since the state shares borders with West Bengal, many dishes are similar to Bengali food. "Sometimes, the masalas and ingredients are the same, we might just tweak the way of cooking slightly. For instance, Biharis too eat their fish in mustard gravy but we don't add sugar." she explains.
Dolly quit a successful media career to take to cooking. "It began with my friends coming home for a stay over. After eating my food, they suggested that I should get more people to come over and eat my food. One thing led to another, and the next thing I know, an event was set up on Facebook, " she says. You can either book an appointment and enjoy a meal at Dolly's Bandra home or pre-order and pick up your meal from her.
Cost: ₹1200 for a 8 course meal for non vegetarian food, ₹800 for a vegetarian meal
Cuisine: Bihari
Standout dishes: Sattu (flour made from roasted Bengal gram, sattu is integral to Bihari cooking), Litti Chokha (a stuffed dough ball made from wheat flour, filled with sattu. These are fried or roasted and served with Chokha, which literally means mash), Bajka (an assortment of fried fritters made using cauliflower, brinjal, bottle gourd and coriander leaves that are coated with besan (gram flour) batter and deep fried, Khada Masala Chicken (slow-cooked chicken with whole spices and pods of garlic along with their covering), Matar Daal (a curry made from boiled green peas, traditionally slow cooked on fire), Malpua (this variation of the Bengali dessert, is made from refined flour, and is coated in sugar syrup), Suran chutney (yam boiled and mashed into a paste and fermented in mustard oil along with garlic and green chillies for three to four days), Thekua (a fried sweet with a hard upper crust and a soft filling. A dough consisting of wheat flour, dry fruits and ghee is prepared and then shaped into cookies using moulds.)
Contact: dollysingh82@gmail.com
(Check with Dolly Singh for the next available date for her home dining experience or availability of delivery services.)
If you have sampled any such delicious fare, share your experience with us and fellow foodies. For exciting travel videos, log on to our youtube channel. If you enjoy what you see, hit like and subscribe.
Frequent Searches Leading To This Page:-
weekend getaways from mumbai, weekend holidays from mumbai, weekend trip from mumbai, weekend holidays trip for couple, 2 day trip near mumbai