Many of us have enchanted the beauty of Ladakh and experienced the best of roads between the mighty hills. But there are some patches which really test your driving skills. Whenever you visit Ladakh everyone suggests you to start early and halt somewhere before the sunset because night driving is strictly a big NO! Now there are some of the exceptions and i am one of them. I am sharing the story of my 80 kms night ride till Sarchu and it would remain the bravest of journey i ever did.
In order to do some extra photo shoot at Pangong Lake in the morning, I left later at around 09:30 in the morning while my group left early at 07:30. We had to come to Karu, fill up our Petrol tanks and ride towards Sarchu. So, in total we had to cover 380 kms which was covering the ChangLa Pass, TanglangLa Pass, NakeeLa Pass with around 200 kms of Off Road riding.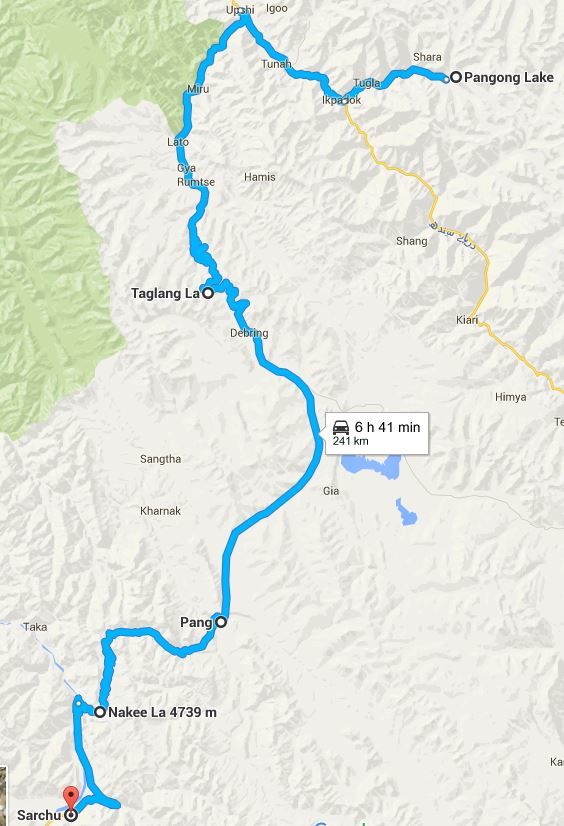 After crossing Pang town, i wasn't aware that i am going to drive on the worst roads. This was the last pic from my phone camera as it was around 07:30 in the evening and battery was almost dead.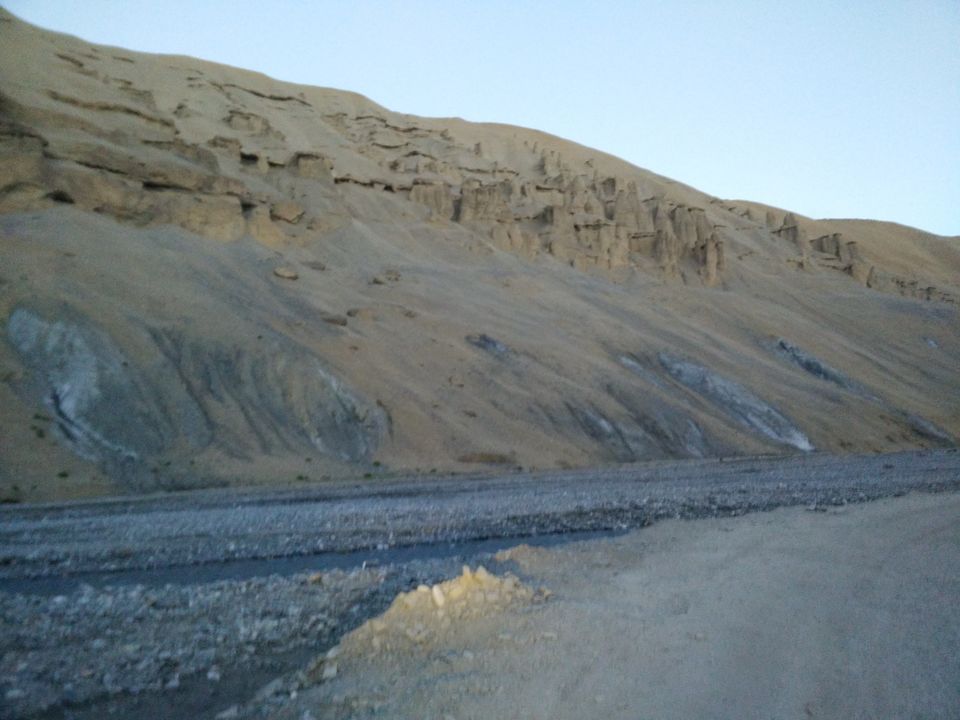 My group was around 30-40 kms ahead of me. With no communication and any place to halt in between, i had to cover 80 kms more to reach Sarchu. Now it seems to be the daunting task for me, right? And that too ALONE. A maddening task but remember the saying "When It Gets Tough, The Tough Get Going" After 8 PM there was no light. Through my Bull's headlight, barely i could see more than 10 meters ahead of me. With shooting stone mountains on my right and long trench on my left, i was riding cautiously at 2nd Gear and my speed could rarely exceed 30 kmph. With God's grace, i was lucky to see a rare vehicle after 15-20 mins of driving. I was having strong feeling that what would i do if some strange activity happens or someone with knife come on my way? Add to the worst, each and every ghost story came in my mind. At one point, i felt that someone touched my right shoulder and whispered something into my ears. But i concentrated on driving and didn't look anywhere else. With temperature dipping very fast(around 5 degrees), my body was shivering and my hands were freezing. After every 20 mins i stopped and held silencer with both hands to get some heat and keep blood flowing.
Little i knew that i was going to pass the NakeeLa Pass (2nd highest pass on Leh-Manali Route) and what followed it was the Gata Loops, 21 Hair Pin Bends. I remember that i was at the top of NakeeLa Pass and a board there stating "Gata Loop Starts". I could see Tail-Lights of a car right down the hill. Then i asked myself "How much time would it take to pass this mighty hill and catch that car?". But within few mins that car vanished too. I kept on looping around the hill and it took 20 mins to complete the beautiful hair pin bends. It seemed like i was driving on Formula 1 circuit. This is how the Gata Loop looks(Source:Internet),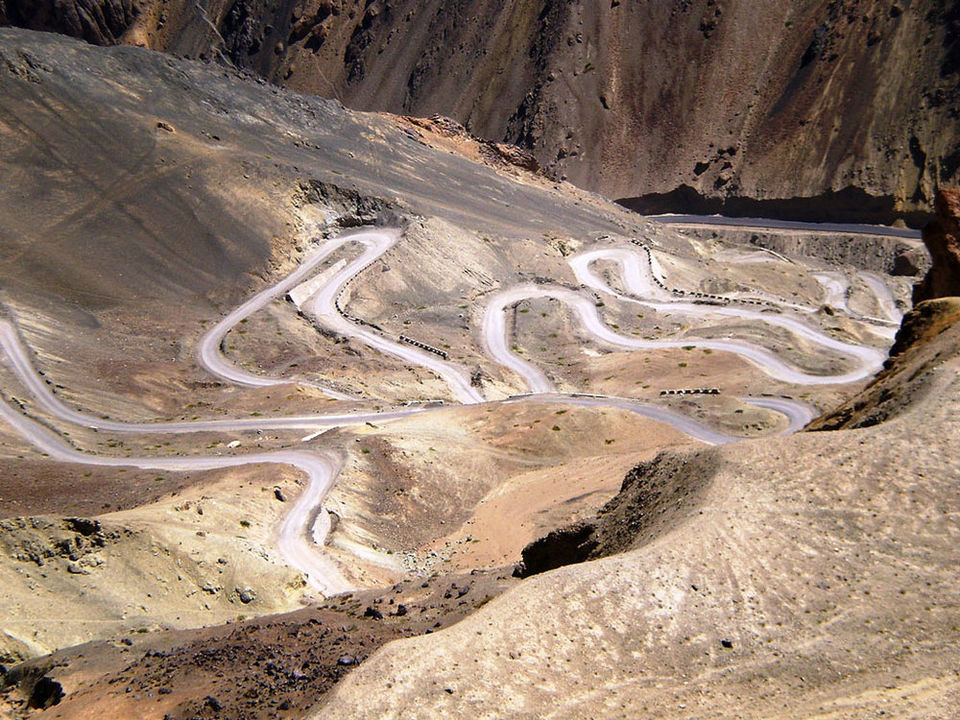 When you complete the Gata Loops, after few kms, there comes a bridge which lets you cross the river as you can see in the below pic. Believe me when i crossed it, the bridge produced a sound that it might collapse soon. Just imagine in the pin drop silence suddenly if you here a sound what would happen? That sound terrified me a lot and add to the worst, after crossing the bridge i stranded at a junction with no idea what path to chose(There was no sign for Sarchu). Luckily i chose to go right(you can see in the pic there is a left path as well) and there i saw a board(sigh of relief).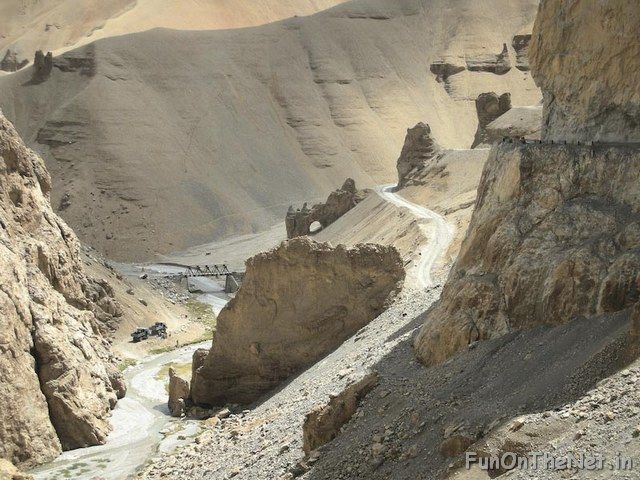 After riding few kms more, just before Sarchu, there was a water passing and i had to drive against that water passing as you can see in the pic (Pic has been downloaded from internet).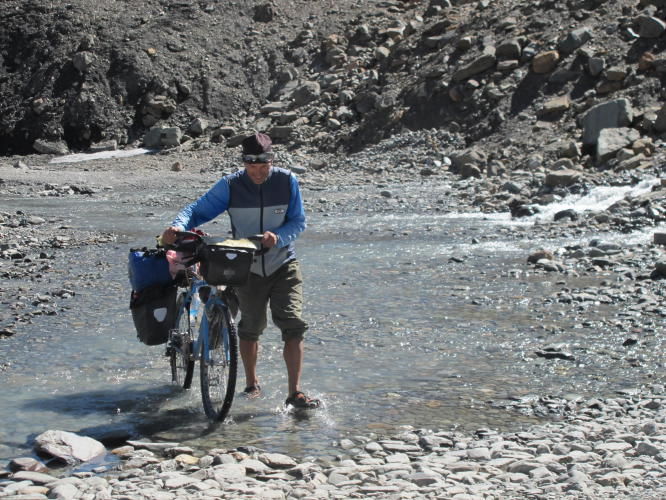 Finally at around 10:30 PM i found my Adventure Camp and most importantly my group. They had also reached around 20 mins before me. When they heard the voice of my bike, one of my guy came out and waived hand and told me to directly come inside the restaurant. After entering into the restaurant, everyone clapped and applauded me and asked "How did you make it so far? We thought you might take halt somewhere in the middle." I said, "To catch you all, I came so far!" With that note and temperature dipped to around 2 degrees, everyone Cheered!
After reading this Article i came to know that i crossed many haunted places, though most of them are rumors only. So guys night ride in Ladakh is a strict NO. Follow my blog because there are lot of other stories waiting for you to hear.