Who wouldn't like to stay away from hustle and bustle of city life for a couple of weeks and enjoy the pristine beauty of India's less explored travel destination? After wanting to visit Ladakh for many years, I finally made it this summer :) (summer of 2018).
I have now been working at the same place for four years and had taken less than five long vacations. I had a lot of leaves and was in need of a much needed break. To add on, my parents were looking to get me married and I sensed this could be my last free summer to do things that I have been wanting to do from a long time.
A month of planning by watching vlogs of fellow travelers on YouTube and travel posts on Tripoto helped me finalize the places to visit and the route. A few finer details were given my friend from college who completed this trip a year ago. The most difficult part was to convince my parents about this solo trip. After convincing them about the safety and showing them a few articles about Ladakh, they finally agreed to this trip :)
I started off in Bangalore on 15th June. The first major task was to get my bike on train to Delhi. I reached the parcel office of Bangalore railway station by 9am and quickly got my bike packed and it was ready for parcel. As I was ready to board my train at 8pm, there was a heavy downpour. My brother and parents had come to the station to help me with the luggage and saw me off. My dream vacation finally began.
It was my first journey on India's elite train - The Rajdhani Express. One encounters people from different walks of life on trains and I always have had memorable experiences on train journeys. My companion on this journey was a one and half year old kid and the journey didn't seem like 33 hours.
I reached Delhi on Sunday and I checked into a budget backpack hostel. I quickly freshened up and went to the railway station to receive my bike which was coming on Karnataka Express. I collected my bike after a small amount of paper work and against as planned to rest in Delhi, I started off my journey at around 1pm from Delhi.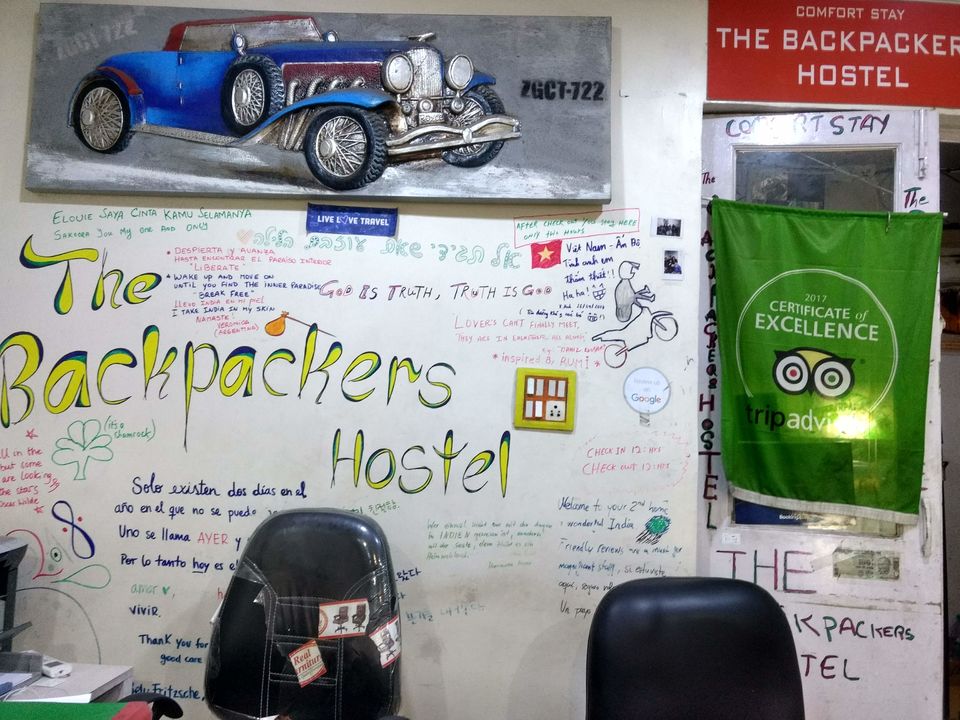 I wanted to cover as much distance as possible and I set Bilaspur as my target for stopping at for overnight rest. A few stops on the way for the famous Punjabi lassi later I realized that it would be wise to stop at Chandigarh and rest. The journey from Delhi to Chandigarh was smooth and the highway had huge paddy fields on both sides for almost throughout the journey.
At about 40kms before I reached Chandigarh, I was happy to see a KA registration bike overtake and stop to talk to me. I had my first travel friend and we decided to explore Chandigarh together. A quick check-in at a home-stay booked via Booking.com and we were off to visit the Rock Garden and Sukhna lake. The planning of the city impressed me a lot - well planned roads, localities and civic amenities.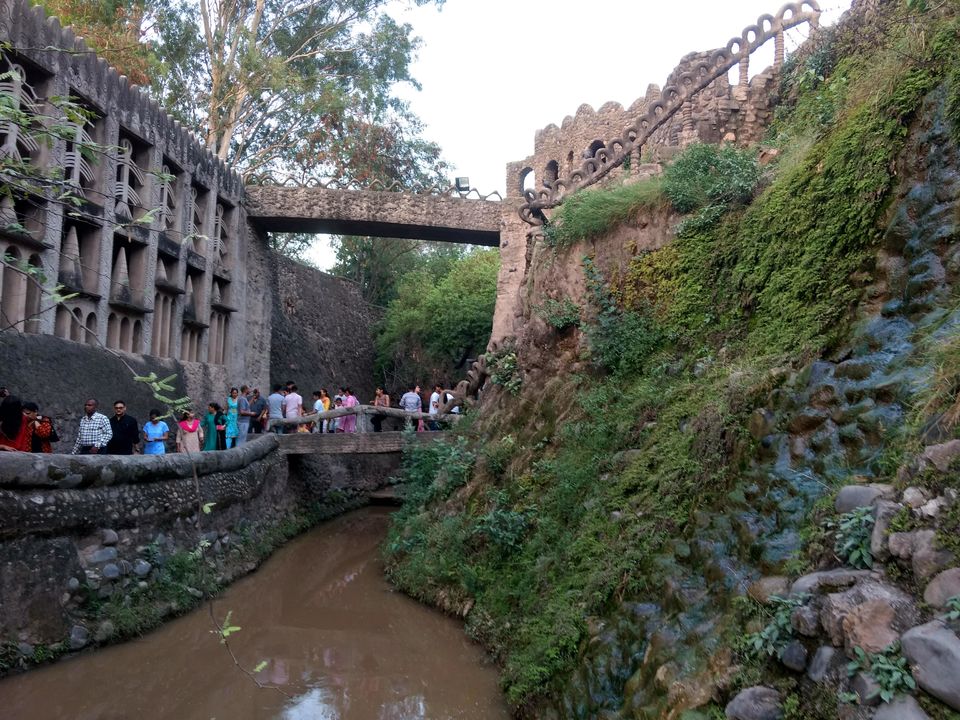 I really enjoyed walking around the Sukhna lake and it was an evening well spent. Once sun set, we headed back to our room. We ordered food at the home-stay and the cook prepared a delicious meal - or was it good because I didn't have a proper meal since breakfast? It was actually good :)
After a good night's sleep on a bed finally (first time outside the train), we set out on our journey to Manali. Rahul was to accompany me until Manali and he would catch up with his group at Manali. I however wanted to reach Keylong, a small yet beautiful place in Himachal Pradesh. We set out by 5 30am and twisting roads through the many mountains led us to Manali. The journey had its share of breaks for food, pictures and fuel.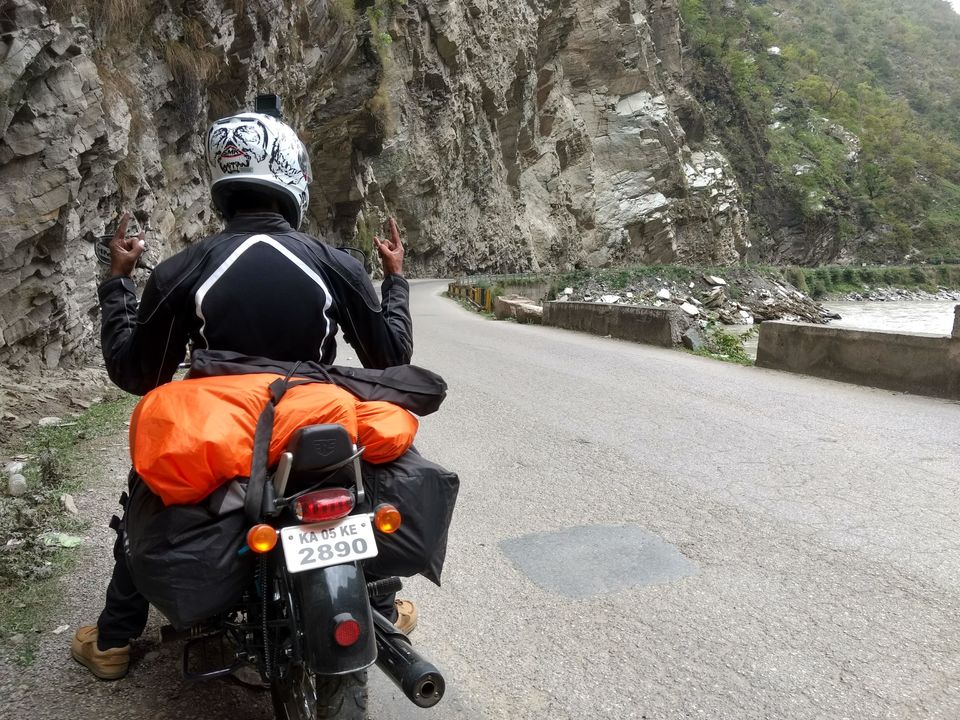 After having lunch in Manali, I continued to Keylong. Rain gods accompanied me for about two hours. An hour and a half from Manali was the first checkpoint where permits had to be shown. I was unaware that a permit had to be collected in Manali as there were no instructions/sign boards mentioning this. When the police first told me to go back and get the permit, I literally had tears in my eyes. It was already about 4pm and returning to collect the permit and crossing Rohtang pass was an impossible task. Also, Rohtang pass is closed on Tuesdays for maintenance. Had I not cleared Rohtang pass then, it would have unsettled my entire itinerary. A sorry face and me pleading the official for about 20 minutes, they finally let me towards Rohtang pass.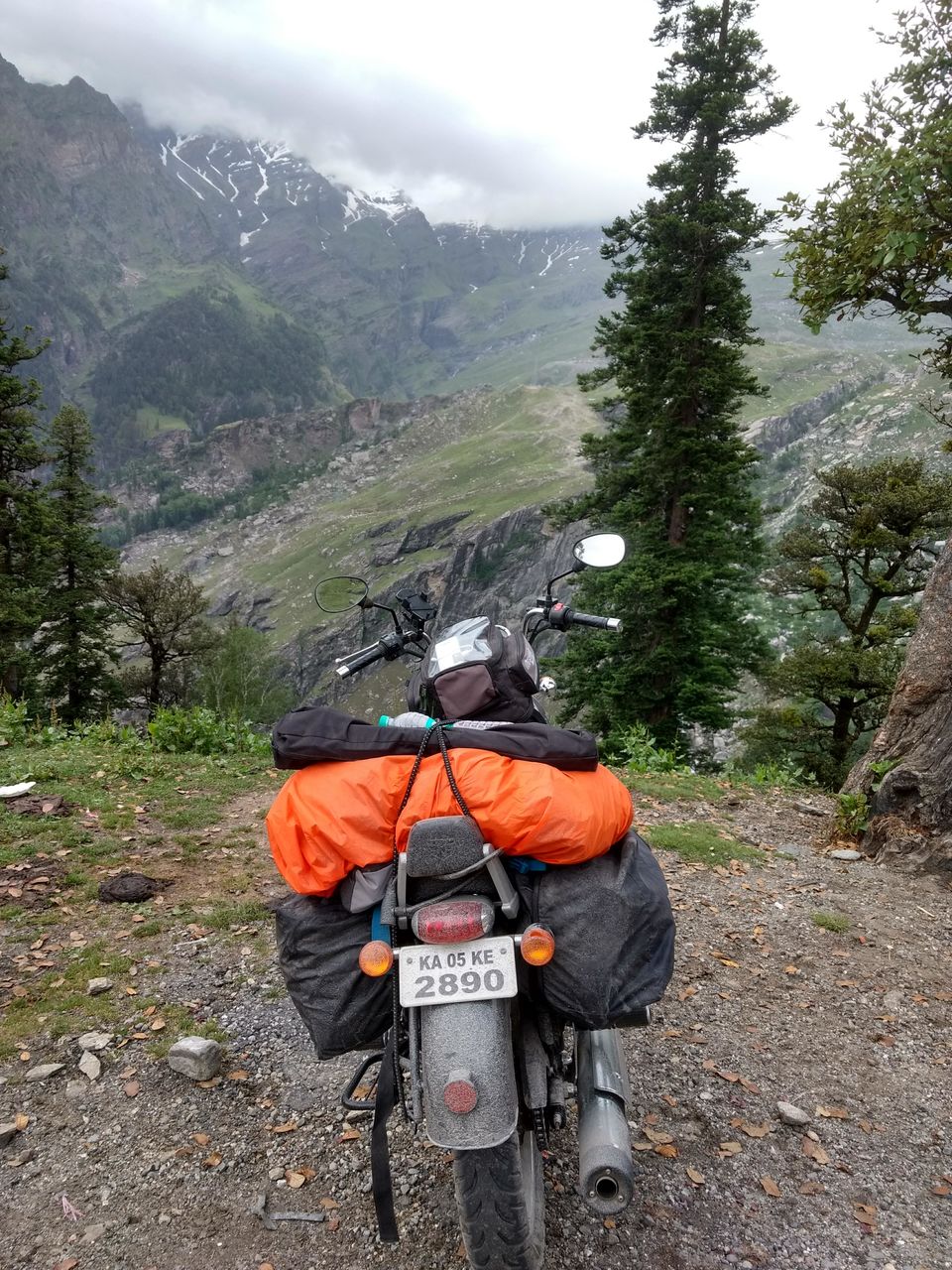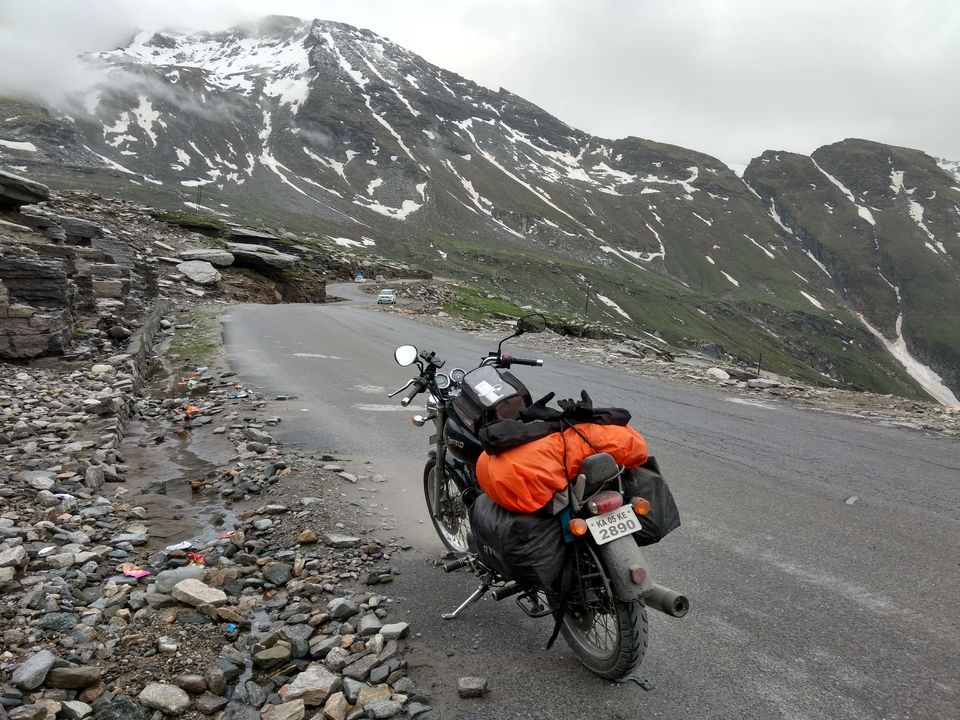 Sharp turns, steep ascent and freezing weather - the journey had all elements for an exciting ride. I finally made it to the top at about 5 30pm. A lady was selling tea at the peak and I celebrated my first accomplishment with two cups of hot tea. I met a group of 4 people from Tamil Nadu at the summit and we started the descent together. Heavy rains made the descent a lot more difficult and by the time sun set, I could only make to Koksar (40kms behind my target of stopping at Keylong). It was already about 14 hours of drive for the day and I decided to stay in a tent with the people from Tamil Nadu. It was freezing cold but being tired, I fell asleep quickly after a small meal.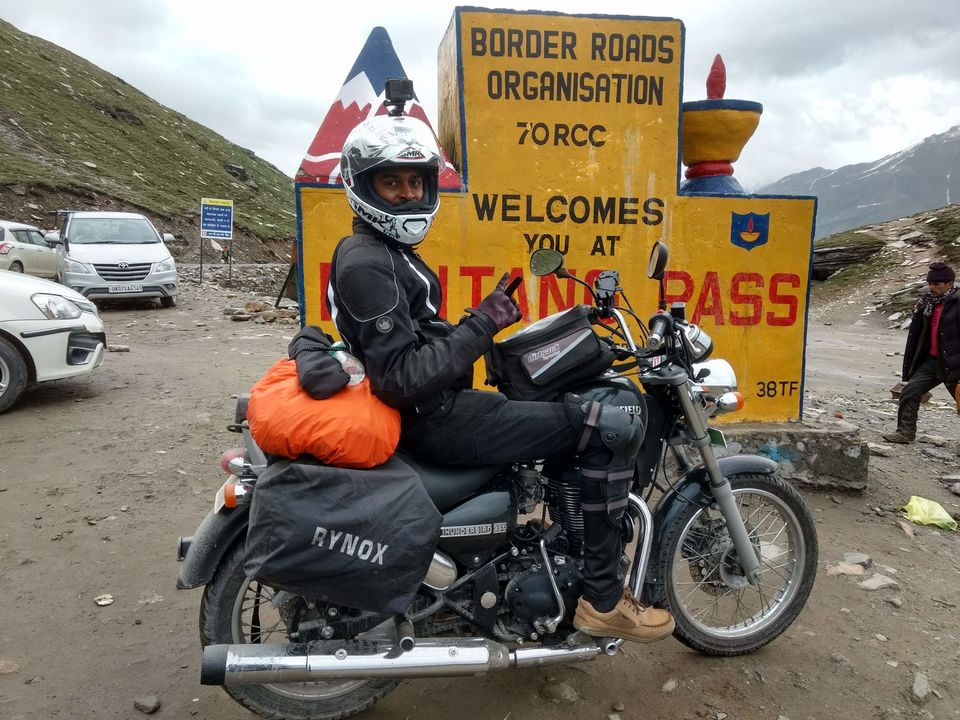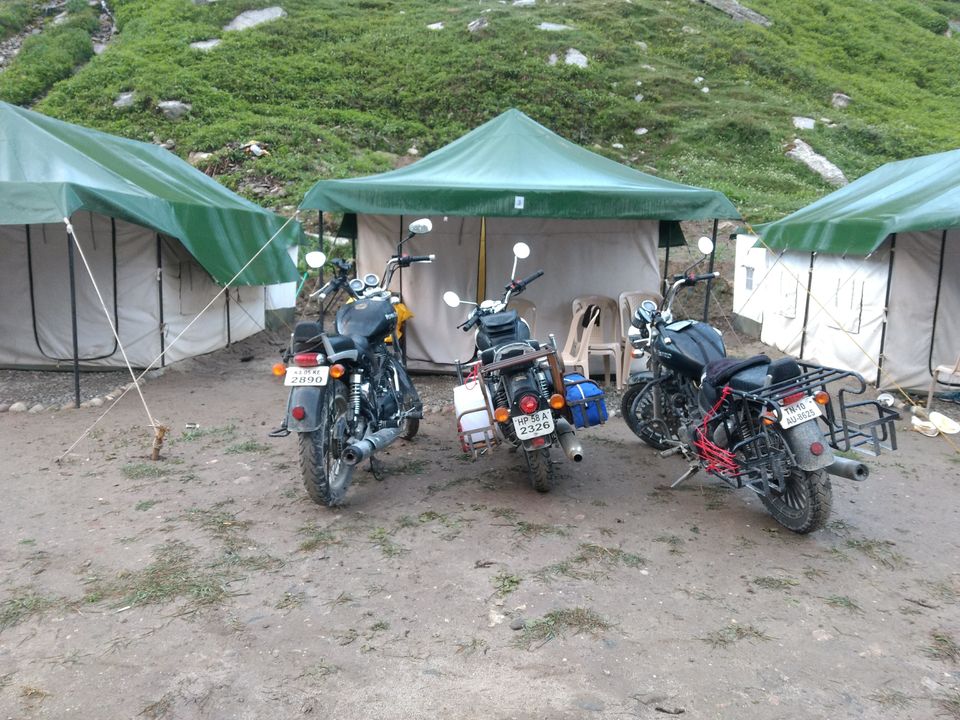 After a good night's rest, we wanted to start off early and reach Leh but we started off late. We stopped for breakfast at Jispa at 9am. The road ahead had a few river crossings and the group from Tamil Nadu were slow. I decided to break away from the group and started riding solo. I made it to Sarchu by around lunch time. The scenery around me was very beautiful but the roads were in a very poor shape (this isn't a complaint on any government/organization - just sharing the experience). The concentration and focus needed on these roads is very high and the journey was painstakingly slow. This passage is a true test of one's physical and mental strength. I wanted to give up this journey and turn back.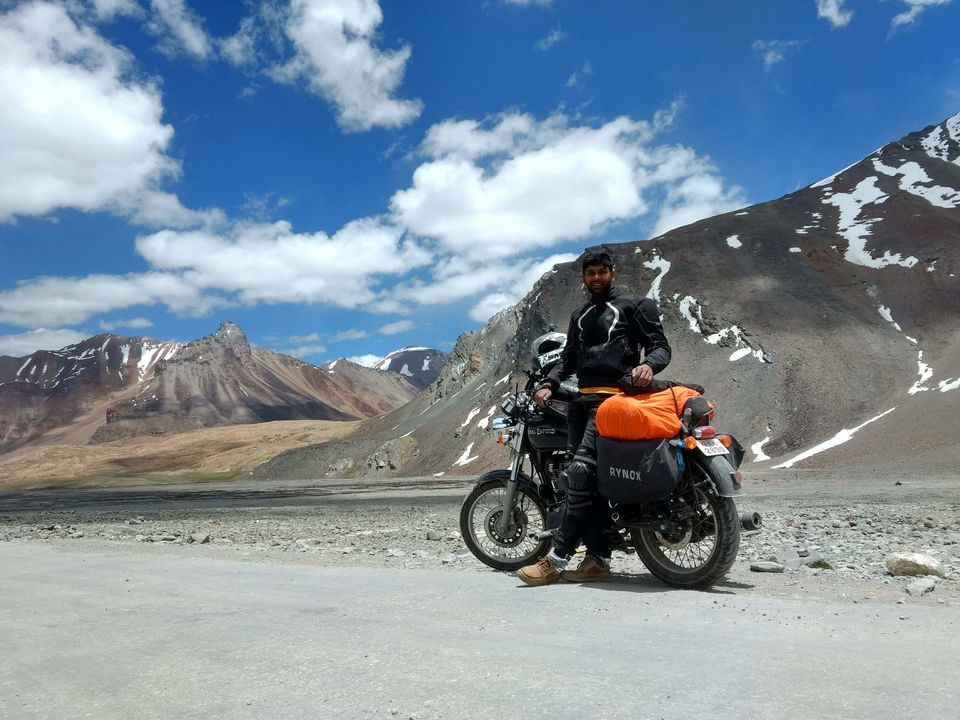 While I was taking a break, I met two students from Hyderabad in their final year of engineering. Two of them on a single bike on a shoe string budget who made it with sheer passion and love to travel! I tagged along with them and made it to Pang where I halted overnight. It was freezing cold and oxygen levels were low at this altitude. After spending about two hours at this campsite, many of us at the place started developing headaches and breathlessness. The host however was a very sweet man and took good care of us. We were served delicious aloo paratha and tea.
A relatively longer rest at night brought up my energy levels and I was in a good frame of mind today. We set off to finally reach Leh. The road from Pang was excellent and I zoomed past mountains :) On the way I got the chance to experience driving in snowfall. I was overjoyed. En-route to Leh we crossed TangLang-La. A few snaps and timelapse experiments later, we headed out to Leh. In one of our break, we realized that we had to make to Leh by 3 30pm to get the inner line permit to go to Nubra valley and Pangong lake. We decided to speed up and reached Leh by 3pm just to find out that it was a holiday in Leh - yet another minor upset in plans. We then looked for a room and rested for a while.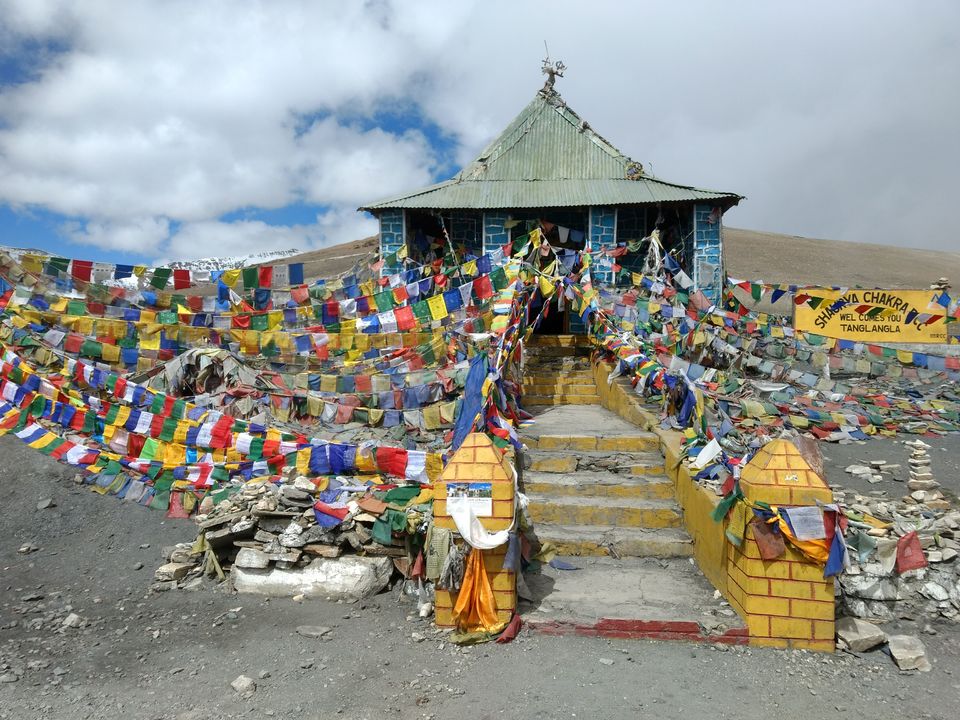 Once sun set, we headed off to explore the Leh market. It was a wonderful evening spent amidst lovely people and hospitality. I absolutely loved the evening spent in Leh.
The next morning, we were up quickly and took the inner line permit needed to visit Nubra valley and Pangong lake. En-route to Nubra valley is Khardung La (the world's highest motorable road open for public). As we reached Khardungla, there was a sense of achievement. There were a group of few Germans talking to the Indian army and appreciating their efforts and services - goosebumps!! Next, we headed off to Diskit - a small village in Ladakh region. Awaiting at this place was a giant beautiful statue of Mythreyi Budha statute. There was a sense of calmness at this place as we sat down admiring the giant statue. The view from this place was just amazing - snow capped peaks at a distance and a desert nearby.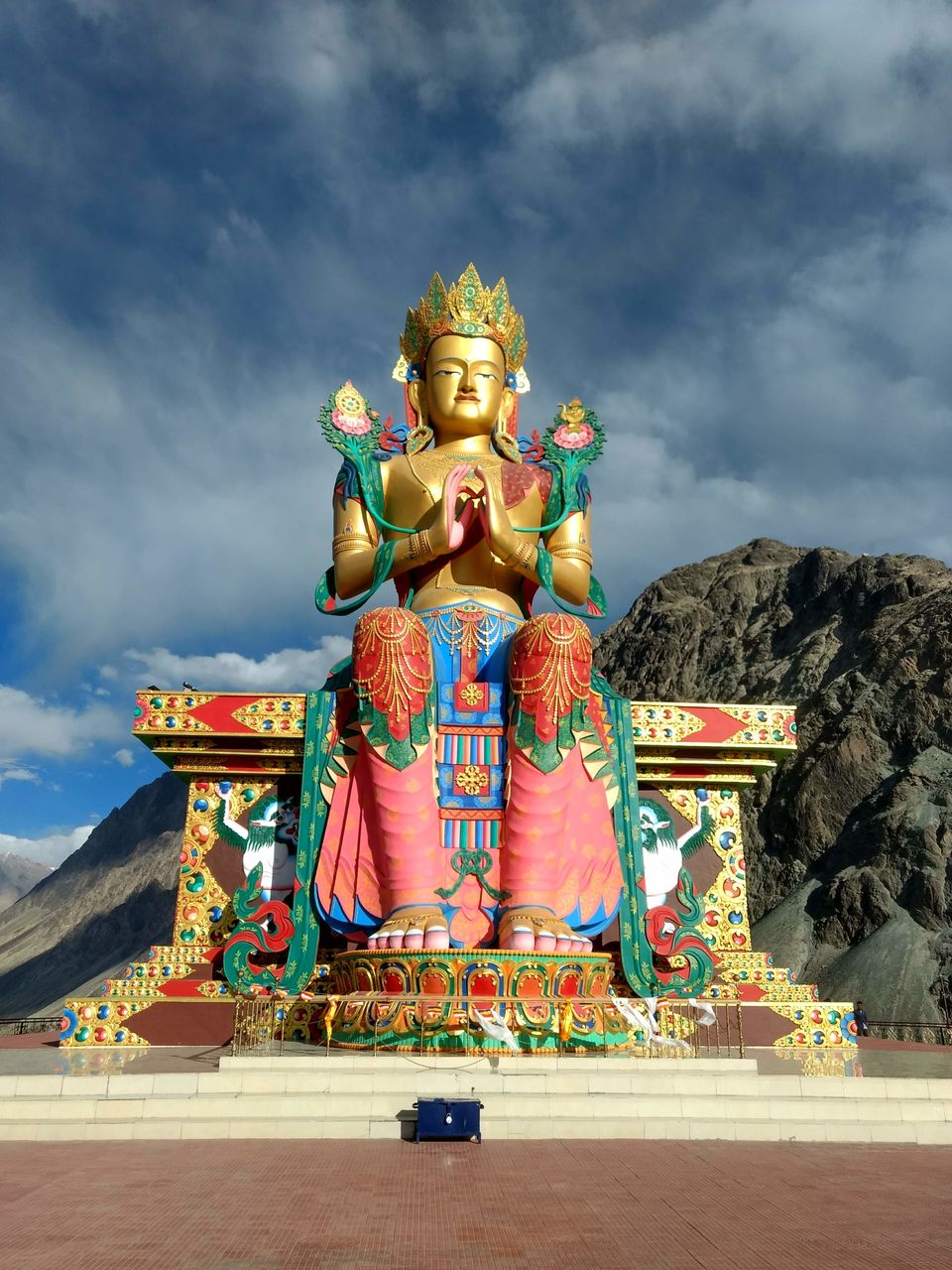 Before sunset, we also wanted to enjoy the double hump camel ride. We started off to reach the ride place but we took a wrong route which we realized after travelling about 25kms. We accidentally ended up in a village called Sumur. I think this stay was the best so far in this trip - a beautiful homestay and delicious food for a very reasonable price. As we had missed the camel ride, we decided to go for it again the next day.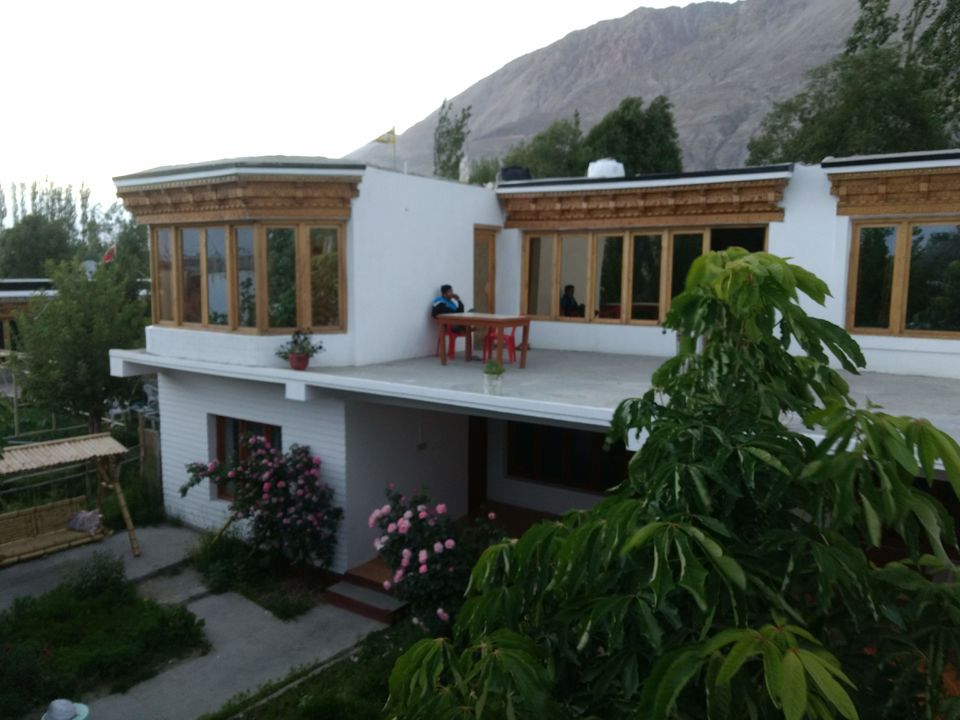 The camel ride was at a place called Hunder, about 10kms from Diskit. We ended up passing by the Budha statue again. The camel ride was a good experience. We found a lot of young children playing at this place. The famous Pangong Lake was the next stop for us. Visiting this place had been my dream for many years and it was just a few hours away from coming true.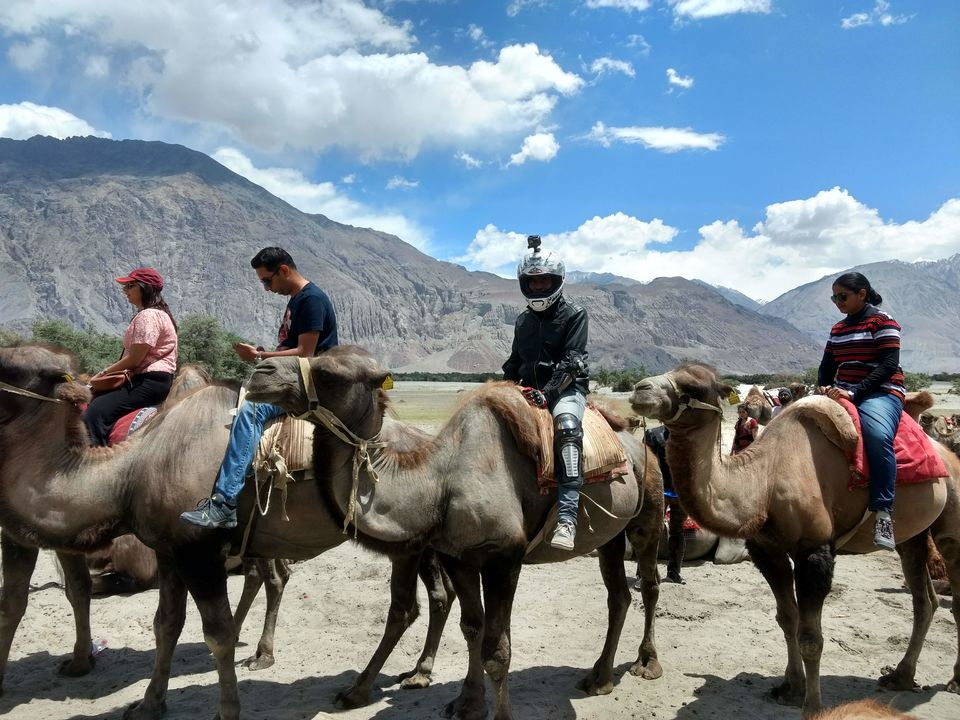 To add twist to the tale - this incident happened. As I was riding from Hunder, I heard the sound of a bolt falling off. I quickly stopped and looked around to see a 2 inch bolt lying on the ground. However, not knowing from where it fell off, I put the bolt in my pocket and headed off to Pangong Lake. The route from Hunder to Pangong Lake is the lesser chosen route by travelers. After covering about 30 kms, my front wheel stopped moving. The area looked very deserted and we could hardly find anybody around us. Upon inspection, I realized the bolt holding the disc brake to the wheel was missing. I somehow managed to fix it with the help of my friends travelling along and headed off to Pangong Lake. We reached the place by around 5pm and again, it was freezing cold here. From at about 20kms before we reached the lake, there was heavy army presence. It scared me a little not that something would happen to me or my life - but just that the sight of guns all around isn't as pleasing. We found a room right in front of the lake and we spent the evening at the lake. My dream finally came true :)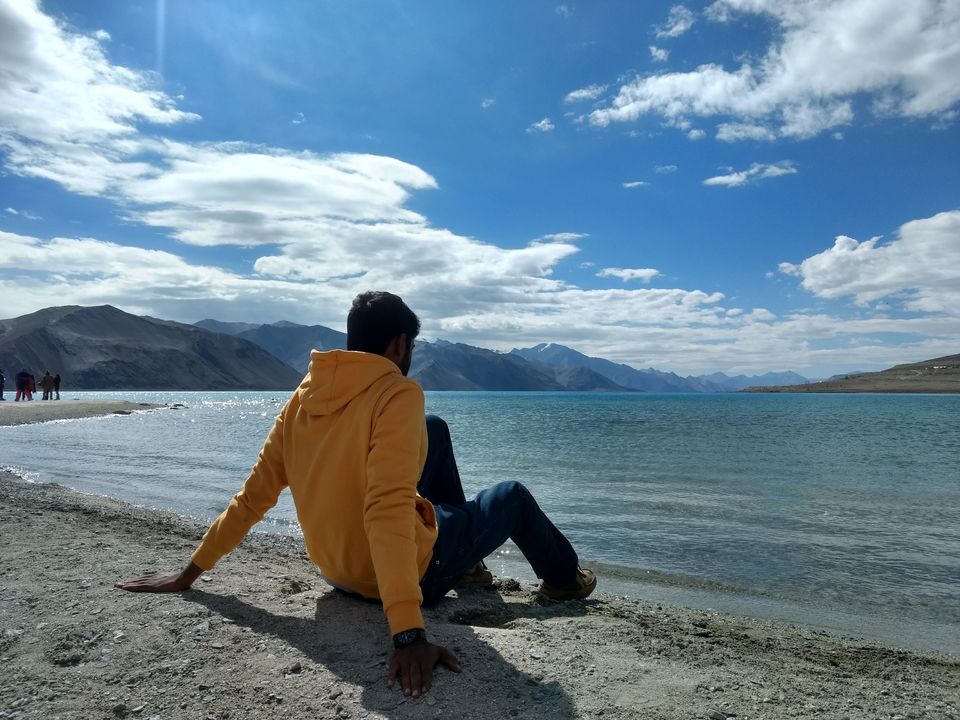 The next morning, we enjoyed spending time at the lake with sun shining upon the lake and the lake began showing its true beauty by changing colors as a result of reflection of light on water. It was a beautiful sight - a memorable moment for lifetime. As we started back to Leh, I realized that I was low on fuel and the next place where fuel would be available was about 150kms away. I bought fuel in black paying Rs110 per litre.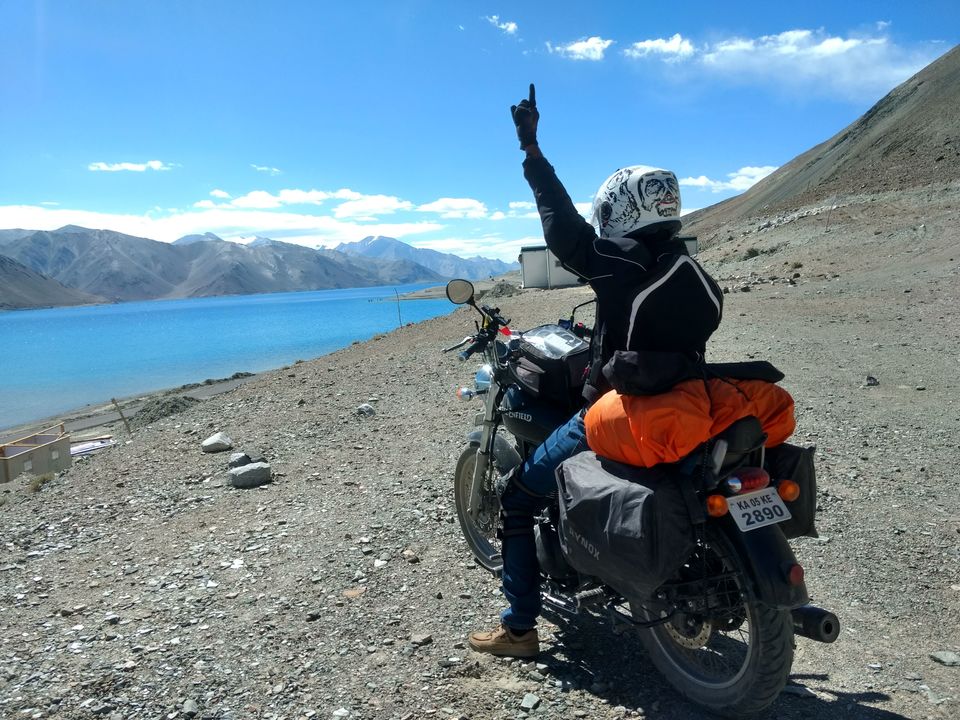 On the way was an army camp distributing 'Prasad' and a handful of dry fruits to all. After a brief stop at this place, we continued our journey to Leh and stopped at Thiksey monastery. The monastery was unique in architecture and was very beautiful. From this height, the view of Leh city was amazing.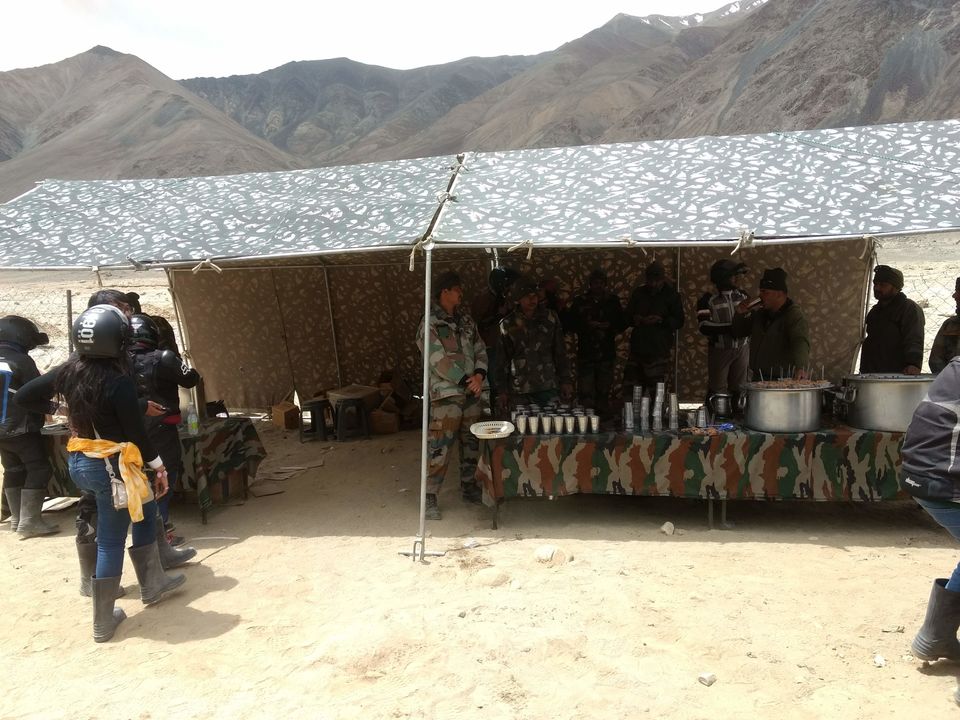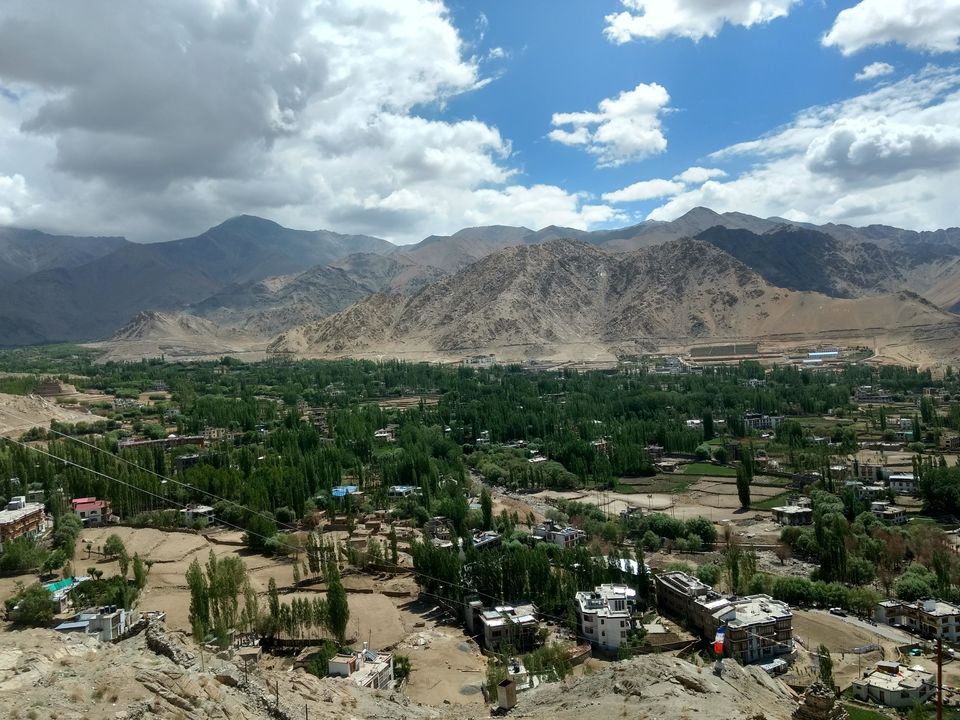 After covering about 1700kms, our bikes needed some attention and care. We got the bikes repaired at a small place in Leh city. We reached Leh by night and this was also when Fifa was being played. We caught up on the Fifa action for a while having dinner and were off to bed quickly.
This was the end to our stay in Leh and Ladakh region basically. The trip was on my wish list for years and a month of planning later, the time in Ladakh ended very quickly. Our destination for the day was Kargil. The ride to this destination however had many breaks and we took it easy as the roads were in excellent condition and we had to cover only about 200kms.
Pauses at Hall of Fame, the famous sangam at Zanskar valley and magnetic hall for our breaks and a long stop for lunch at Saspol later we realized that we had to cover about 150kms and it was already 3pm. As we started off to Kargil, there was heavy breeze and riding to this place was extremely difficult. Our progress was slow but we finally made it to Kargil. The place looked very scary. The muslim population was very high. We got a room cheaply again on the edge of a river. A walk to the city center for dinner scared the hell out of us and we ran back to our room.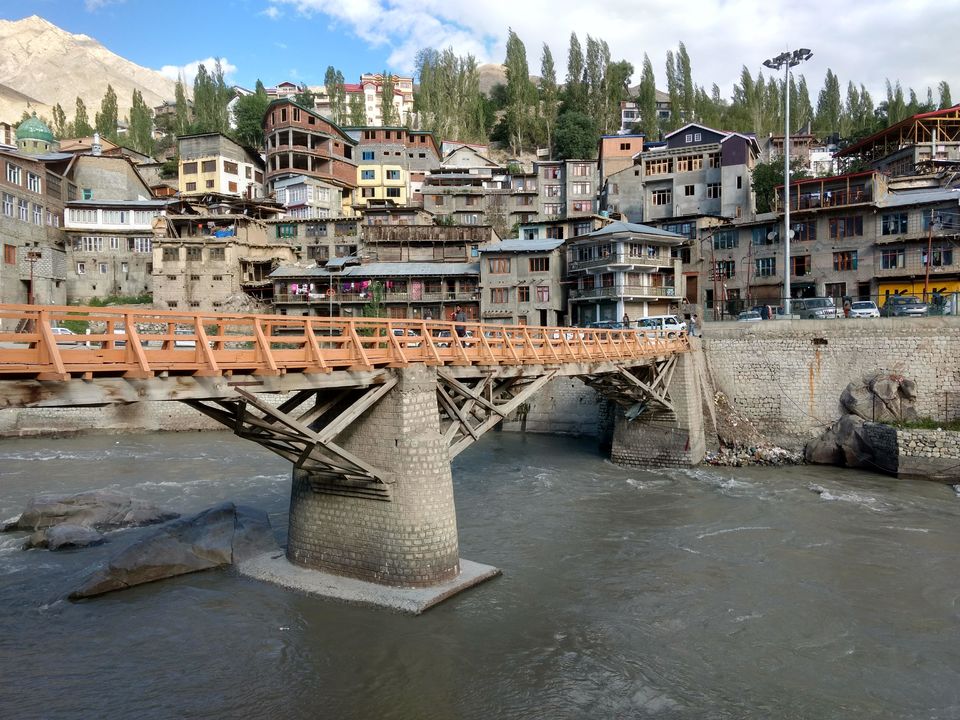 We got up quickly and headed off to Srinagar the next morning. Dras war memorial was our first stop for the day. A short movie was played at this memorial about the Kargil war and we all got goosebumps watching it. The memorial is a good tribute for the brave Indian army.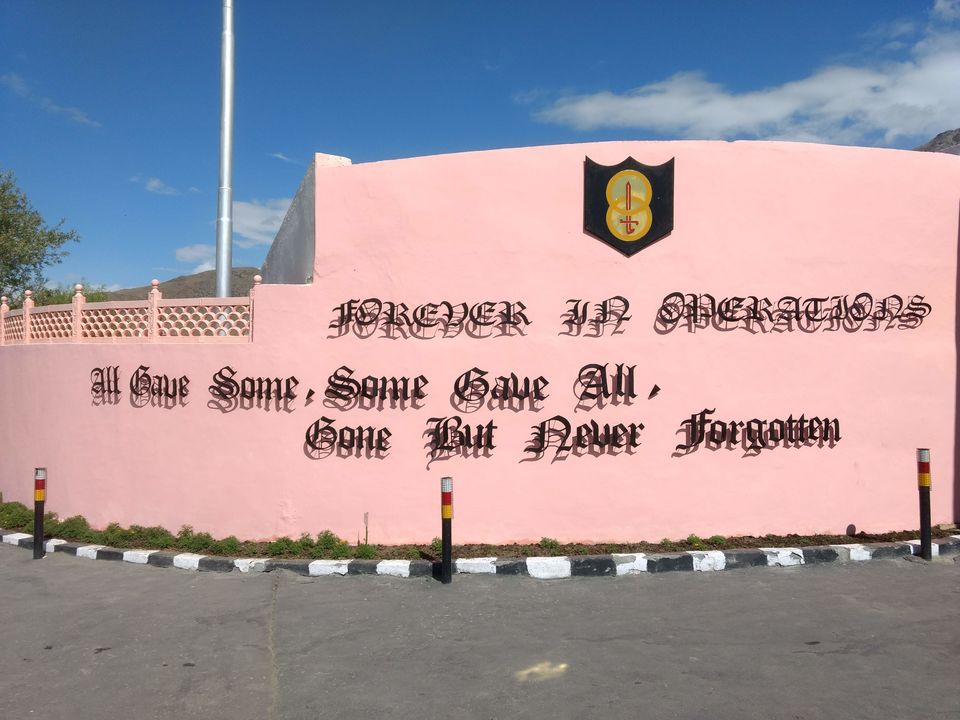 The last pass on our trip was the Zozila pass on the way to Srinagar. The roads to the pass were in very bad shape and overnight showers at this place made the ride challenging. Once we crossed Zozila pass, it was plain roads and we pushed our bikes to the limit. We reached Srinagar by 4pm but army presence around the city scared us. A wise decision take by us however was to change plan of stopping at Srinagar. As the highway to Jammu was brilliant, we zoomed past mountains, small villages and towns.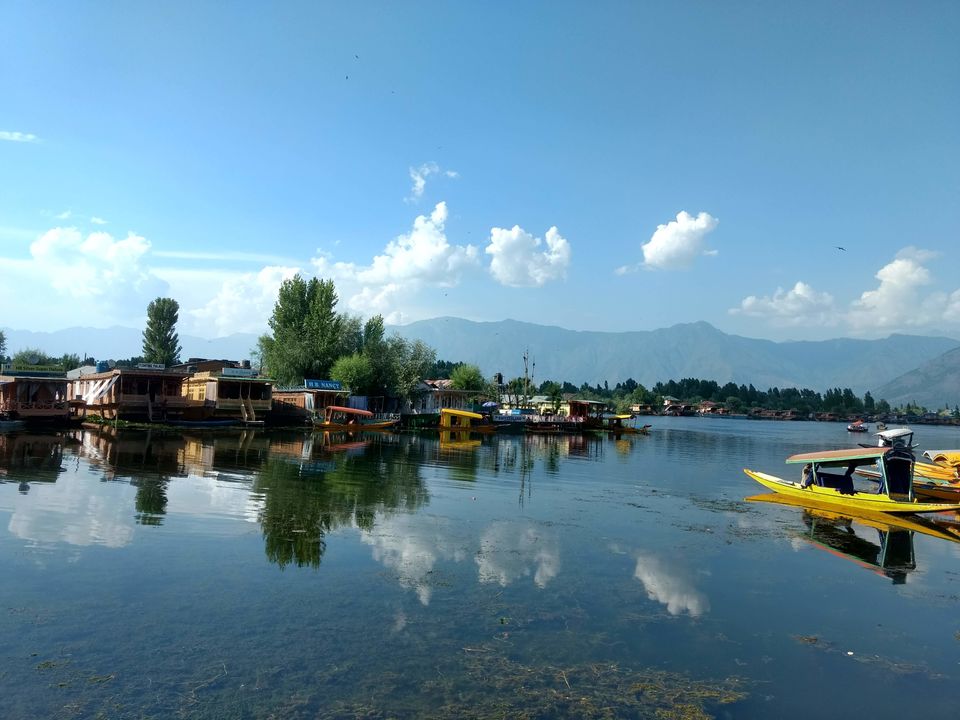 After a suggestion from army personnel and a shopkeeper, we decided to stop at Ramban. Ramban however seemed quite far away and it took 3 hours to reach from the time we enquired with the shopkeeper. We checked in by 9pm and were completely exhausted after the long ride.
By reaching Ramban, we made things easy for ourselves by reducing the distance to be covered for the next day. Good roads meant we could cover distance quickly and we reached Amritsar rather easily. There was a drastic change in weather conditions though as we entered Punjab. It was about 5-10 degrees in the evenings at Pangong/Pang and it was about 45 degrees in Punjab!
We made a booking via OYO rooms and it was 2km from the Golden temple. After checking in and freshening up, we were out again to see the Golden temple. The temple was brilliant under lights and we sat down for a while admiring the beauty of the temple and observing people who had been visiting the temple. Being tired on riding our bikes from the past ten days, we decided to take an auto to the temple. The ride back was again in auto and it had just begun to rain. This will probably be the most unforgettable ride in life. The auto driver was zooming in 10 feet roads and there was many instances when just two wheels were in contact with road!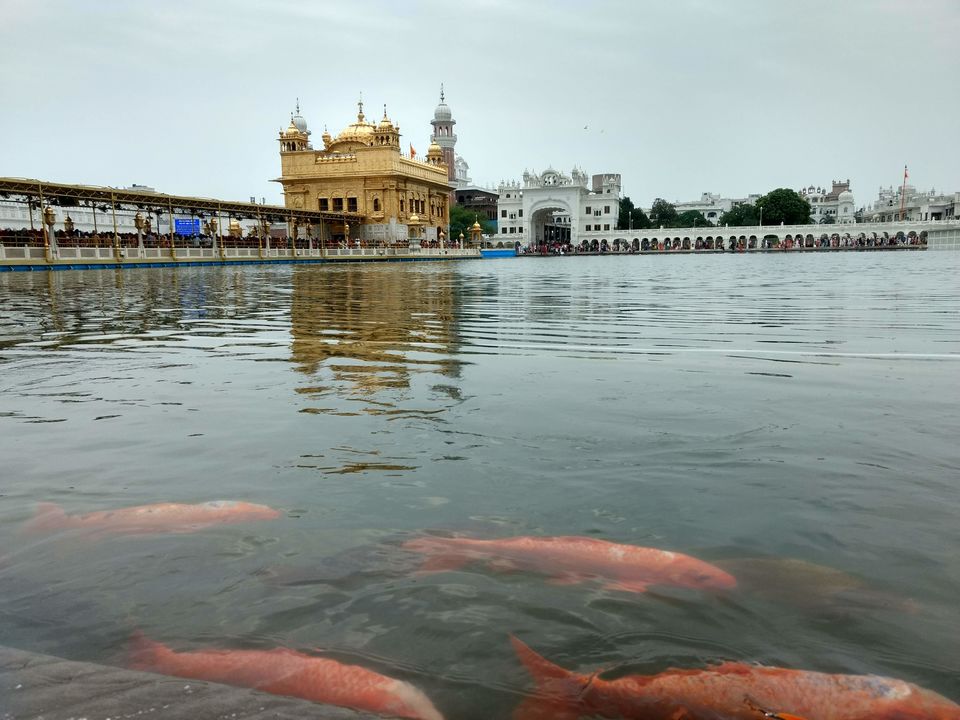 We got up a little late the next day and went to Golden temple again to see the temple in daylight and have a darshan. It was a peaceful morning and I'll cherish the time spent. We next went to see the famous Jalianwala Bagh - a historic site. I was finally at the place I had read about all my childhood and we could see the bullet marks on the walls.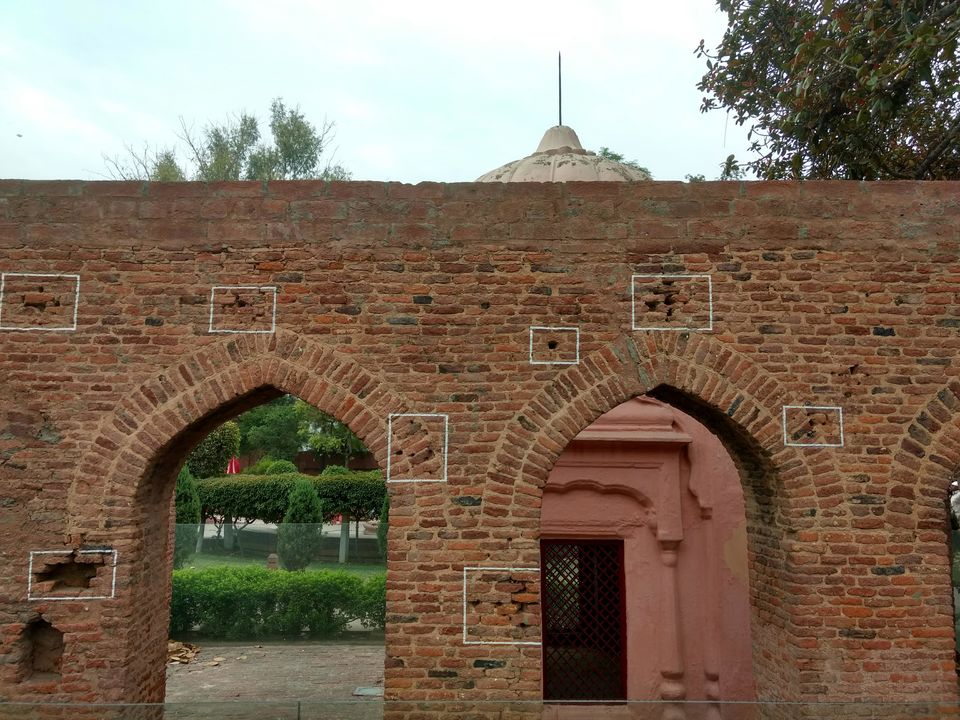 At about 30kms from our room was the Attari border (Wagah border). The evening retreat is regarded as one of the few priceless cultural moments in India. We had reached there by 3pm for a 5 30pm ceremony only to find scores of people already waiting. Though the conditions were overcast and rain threat looming large, we sweat profusely in the humidity. The weather conditions however couldn't dampen our excitement. The venue was like a stadium and we were few meters away from actual Pakistan border. There was happiness, excitement, energy in each of the visitor at this place.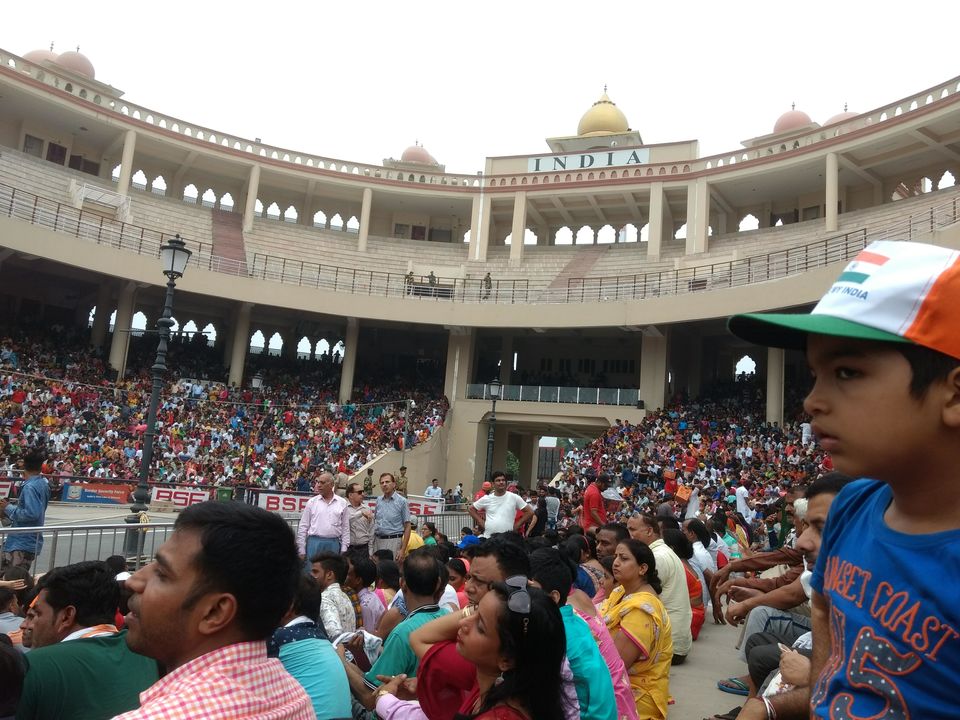 There was one person narrating the event to us and was ensuring the crowd was engaged and ensured that we spectators cheered the policemen performing the retreat. There were chants of "Bharat Mata ki Jai" and when close to six thousand people chant it together, the atmosphere is filled with energy and patriotism. The evening spent at the border will never be forgotten.
It was time for the last leg of our journey and we headed off to Delhi at about 5 30am to beat the heat. After an hour's ride, we encountered heavy rains - it was time to pull out our raincoats. I think the rain gods heard our complaint that Punjab was too hot and humid and decided to give us a wet send off. The rain was relentless and continued to pour for the next four hours.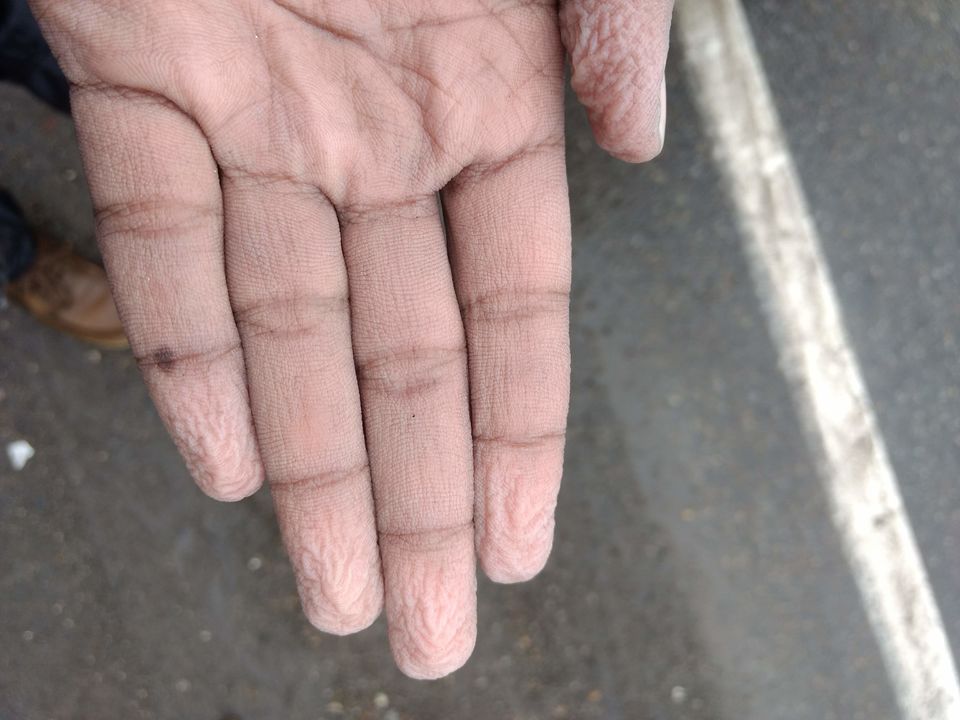 We finally made it to Delhi by around 5pm completing the 500km journey from Amritsar. We had a quick shower and were off to bed in no time.
The main task for today was to get back our bikes on train and I had heard already from my friends that it isn't an easy task in Delhi. We had reached the Delhi station and the packing of our bikes began. Once we took the vehicle inside, we found that my bike wouldn't be taken here as my train ticket was from a different station (Hazrat Nizzamuddin). I was shocked to hear that. The confusion occurred because in Bangalore I was told bikes will not be loaded in Rajdhani Express as it is reserved for perishable items. So, I thought a step ahead and went to Delhi station (the starting point for Karnataka Express).
I unpacked the bike and was racing against time to reach Hazrat Nizammuddin station packed my bike. I got back to our room and took all luggage to board the train. After spending a week with these two people, we had to head back to our homes but we already a good bond and vowed to stay in touch.
I reached the station early and wanted to see my bike being loaded but walking with my huge luggage was very difficult. I still managed to walk around and after bribing different people (railway official, bike loading person at station, bike loading person at platform), my bike was loaded.
Happy and grateful for a safe trip and for being able to do all that I wanted, I boarded the train to Bangalore :) The journey back home was very boring and painful - sitting idle for 33 hours was a pain after having a wonderful previous 10 days.
Because my bike was also in the same train, I decided to collect my bike and return home. After an hour's wait at the platform after getting down from train, I got my bike and returned home :) My parents and brother were waiting for me and all the stories that I had to tell about this trip.
The sunday was spent showing them all the photos and videos during my trip with a smile :)
I am thankful for the friends I made during the trip, thankful for the people who helped me, also thankful to the people who prayed for my safe return and the many hospitable locals during the entire trip.