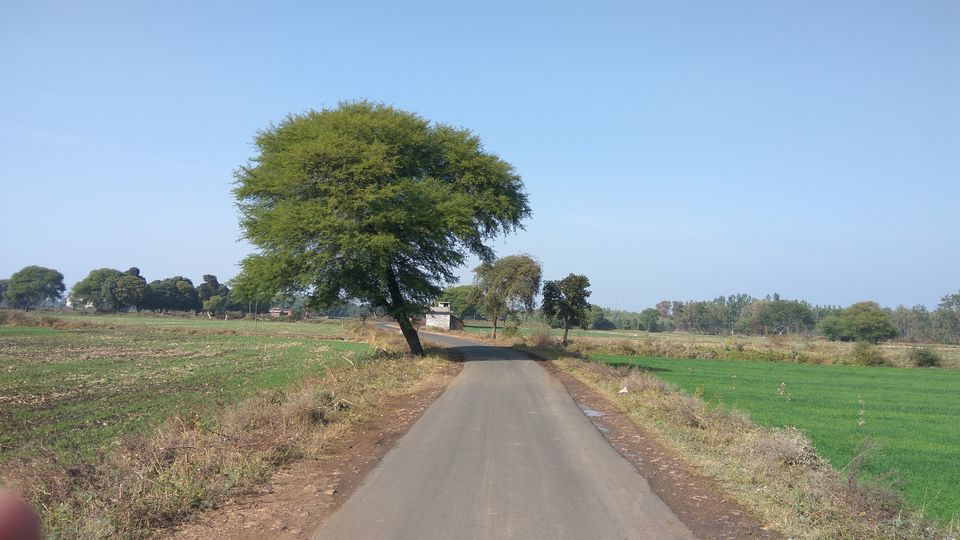 Madhya Pradesh - The Heart of Incredible India.
For a Long time, Madhya Pradesh was on my list. Also I wanted to do it on a bike like I did Lonar, Shegaon and ChikalDhara. You may read it later. I have shared it on Tripoto.
Some things remained same for this Road trip too. The enthu, excitement, happiness and me - a pillion.
Lonar - Shegaon - ChikalDhara was done on a commuter bike - Mahindra Centuro.
This time my rider friend Abhieshek upgraded his ride to Hero Karizma ZMR. What a Machine. I am not an expert in this segment. But this machine was smooth and powerful. It climbed the ghat roads with so much ease, I can't put to words. May be an expert would find a relevant adjective for the smooth experience I had.
On 05th January I called up my friend to plan a one or two day road trip some where in Maharashtra.
However, when two travelers discuss itinerary and they become nostalgic on call. There is no way they are going to settle for some place which is near. When you complete 500 KM multiple times then touching some thing lesser than that is not acceptable.
Mumbai - Pavagadh (Gujarat) - Mandu - Maheshwar - Panchmarhi - Jabalpur - Bedaghat - Sanchi - Mumbai
On 06th January, as usual, at 05:30 we started the trip.
Our first stop was Pavagad, Google Map showed 8 hours for Pavagad from Mumbai. Had no doubt in mind, as I know the condition of the roads in Gujarat. We took the National Highway 48 bypassing Baroda to reach Pavagad. Maintaining a decent constant speed will do it for you.
We filled the petrol the moment we entered Gujarat. As fuel price is cheap compared to Maharashtra. You will also find sign boards at various gas filling stations in Gujarat stating " Fuel Price is cheap than Maharashtra."
With the tank and Throttle at Full - we reached Pavagad as per our calculation around 02:00 PM.
"Pavagad" is a Shakti Peeth. If you know the story about Daksh Prajapati's daughter "Sati" then you would understand how much important this place is for Hindus.
I always wanted to visit this place, because this mountain has a mention in one of my favourite Garba song "Pavli laine hu to Pavagad gai thi. Pavagadi madhi maa ne Darshan de"
I am sure, you must have also heard this song, if you live in a cosmopolitan / metropolitan ethos such as Mumbai.
So here I was at Pavagad and it was Sunday. We were tired and trekking to get to the top was no where on my mind.
We bought return tickets for Rs.116 each for the (Udankhatola) Ropeway. I love stressing and usage of Hindi words such as (Udankhatola) because I used to hear such words when I was a kid and now a days everything is English and I do not get to hear such words in our city. It is only when I travel, I am reminded of such things. Want the bond to stay for Life.
After exploring and clicking some pictures, we left for Mandu.
It was quickly getting darker so we had to halt. We searched for a room and was able to find one quickly at a decent rate.
We started early at around 05:00 AM towards Mandu and reached Mandu at around 12:00 PM.
Mandu is a hill station so we had pass through Ghat Roads. The roads are under construction with major portion completed. The site is amazing and also the roads, however some patch are under construction.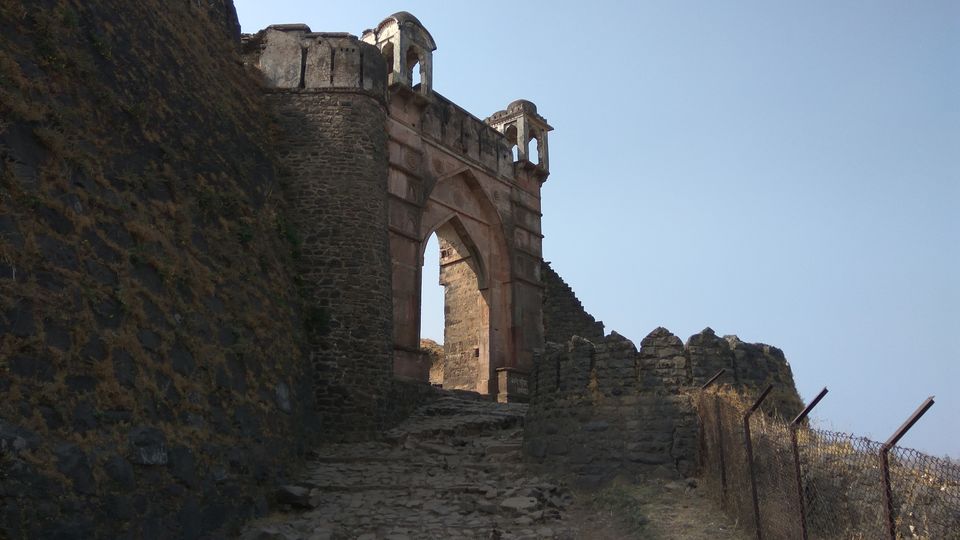 Mandu - is typical a Hill Station with its own history.
So important spots are spread across on his mountain plateau.
It is very well designed. You will find good accommodation options, Resort, Restaurant at Mandu.
These are some places we covered in Mandu.
From Mandu I headed towards Maheshwar. The Land Of Mahishmati.
I learnt about Maheswar during my visit to Haridwar. One Poojari told me about an ancient personality.
Sahastra Bahu Arjun - The one with 1,000 arms who was the king of Mahismati.
He told me the beauty of that place. I too did some searching on the net about Maheshwar. Where I learnt that it was the capital of Rani Ahilyabai Holkar. Please read about Rani Ahiyabai Holkar - She is one of the most important administrator to walk.
After learning this connection, I was always wanted to visit Maheshwar. What a great way to start the year.
So here we were in the land of Mahismati - The land of Queen Ahilyabai.
We found the most beautiful stay option at Maheshwar. I always make a point to spend not more than Rs.500 towards room.
After checking few options, we reached a point and asked for the price. The reception at the property told me Rs.800 due to high occupancy. I was reluctant at the start, as I wanted to explore more hotels to find a better deal.
So I went out and was discussing with my friend. So after few minutes that person came to me and told me that he is ready to offer the room at Rs.500. I did a mistake by not clicking the picture of the room that was offered to me.
It was the best room for Rs.500. In fact, through out the course of our trip, we found one of the best deals.
For Rs.500, we got a Clean and Tidy room. I should say the Cleanest and Beautiful room. The washroom was a western one, but most important it was clean and the availability of Hot Water 24/7. It was much needed, the temperature was about 12 or 13 Celsius then at Maheswar.
The name of the hotel was "Mahishmati"
We started exploring Maheshwar. It can be explored in one day. But I would like to visit this place again and spend at least 2 to 3 days at the Narmada Ghat.
Here are some of the pictures clicked by me.
I saw students of Architecture doing their research & Study at this place.
I have always felt that our technology & development should keep our ancient wisdom in mind. We need structures like these which can stand the test of time.
I would like to end this journey here at Maheshwar.
One thing which was the highlight from our trip to Madhya Pradesh.
And that was the "People of Madhya Pradesh"
To be honest, I found the most helpful people during this entire trip.
They were travel minded and suggested us things which we were looking for. Right from Hotels, to Spots, to Restaurants and also helping us with the correct costs.
Every things was just happening as per our plan and budget.
Specially budget.
Hotel Mahishmati had room service option available.
However, they suggested that we should go to "Hotel Devashree" which was Five minutes walk from the hotel.
We reached "Hotel Devashree" after withdrawing some money from the ATM.
The hotel offers "Thali" systems at a reasonable price.
We opted for the Rs.70 Thali and it was heaven. Every one was very well looked after by the hotel.
I got the chance to taste their famous cuisine Dal bafli which I mistook for Dal Baati Churma.
It was out of the world. The Khatti Meethi Dal was again some thing new for me. I am going to Maheshwar again specially for this Khatti Meethi Dal and for the hospitality of Mahishmati.
Here it is.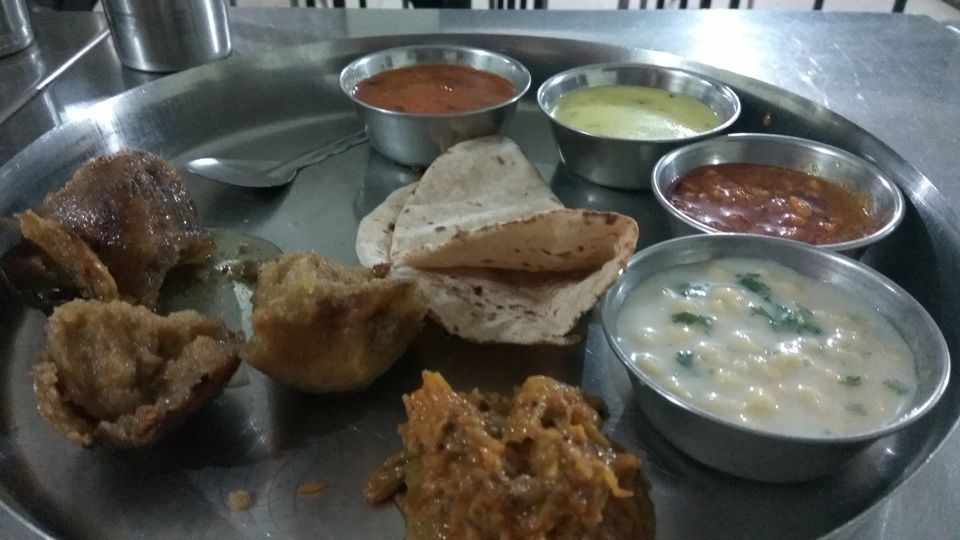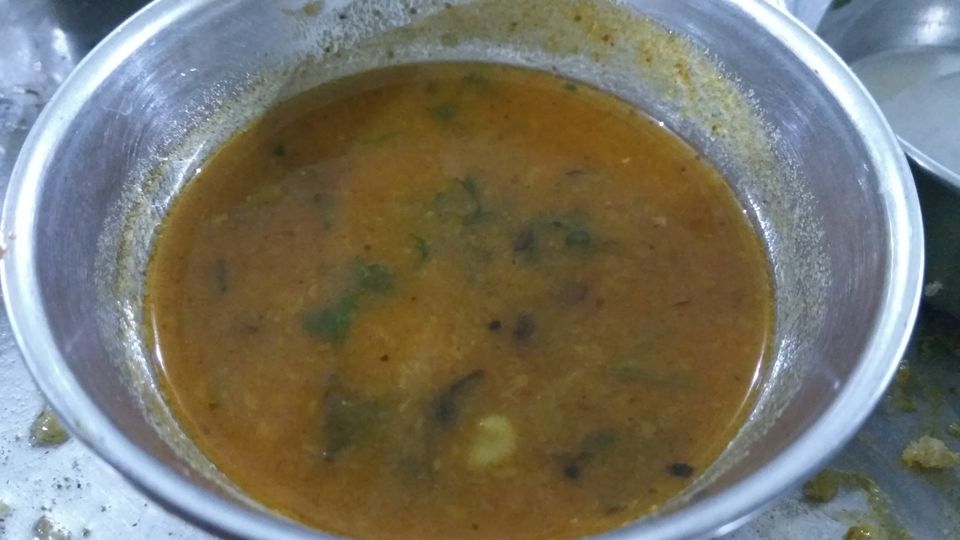 How could I forget about the Raita. The Raita was also unique.
Khaana Khazana Experience at Maheshwar.
No destination has been so perfect like Maheshwar.
Place, People and Food - All Were Inspiring.
I am ending this article here on this note. I don't want it to be lengthy one.
We did rode further to some places. I will share it later.
I hope you enjoy reading this piece.
Do follow me on Tripoto and Instagram.
On Instagram you can find me with the name @oldschoolindian
Till then. Good Bye.
Keep Travelling.
Regards,
Bonny
Insta - @oldschoolindian
Frequent Searches Leading To This Page:-
road trip in madhya pradesh, road trip madhya pradesh, historical places in madhya pradesh, historical tourist places in madhya pradesh, places worth visiting in madhya pradesh