Trip to Riskhikesh was a pre-decided one as it was one of collegues birthday and he insisted on to do something different and exciting for his birthday and Haridwar-Rishikesh had been on my bucket list .
What's better way to celebrate your birthday than to visit a holy place and also to get your adrenaline pumping . So it was all set and decided and we were all set for the trip .
We could have opted for the train but where would fun be in that .We borrowed bike from one of our friend's Avenger 220 which was in very good conditioned and well maintained .We packed some woolen clothes , put on our driving gloves , covered our faces and we started our road trip to the holy city .
Our trip started at around 8 in the morning .Since it was Saturday , the road of Delhi almost empty and there was no morning hour rush since people were enjoying their weekend tugged in the warm blankets .
The road to Haridwar took us through Noida, Greater Noida and Ghaziabad . In Ghaziabad we found some mild traffic but nothing serious . We are moving at 40-50 km/hr amidst the city traffic .But once we hit the highway everything changed . The speedometer hardly went below 70 km/hr except for some ocassional bumps .
The cool breeze whistling past us and the warm-wintry sun seemed to rejuvinate us for every km we travelled .The roads were very good and the green farmlands on both sides of the roads offered the much needed tranquility for mind which is lost after slogging for weeks in the corporate world .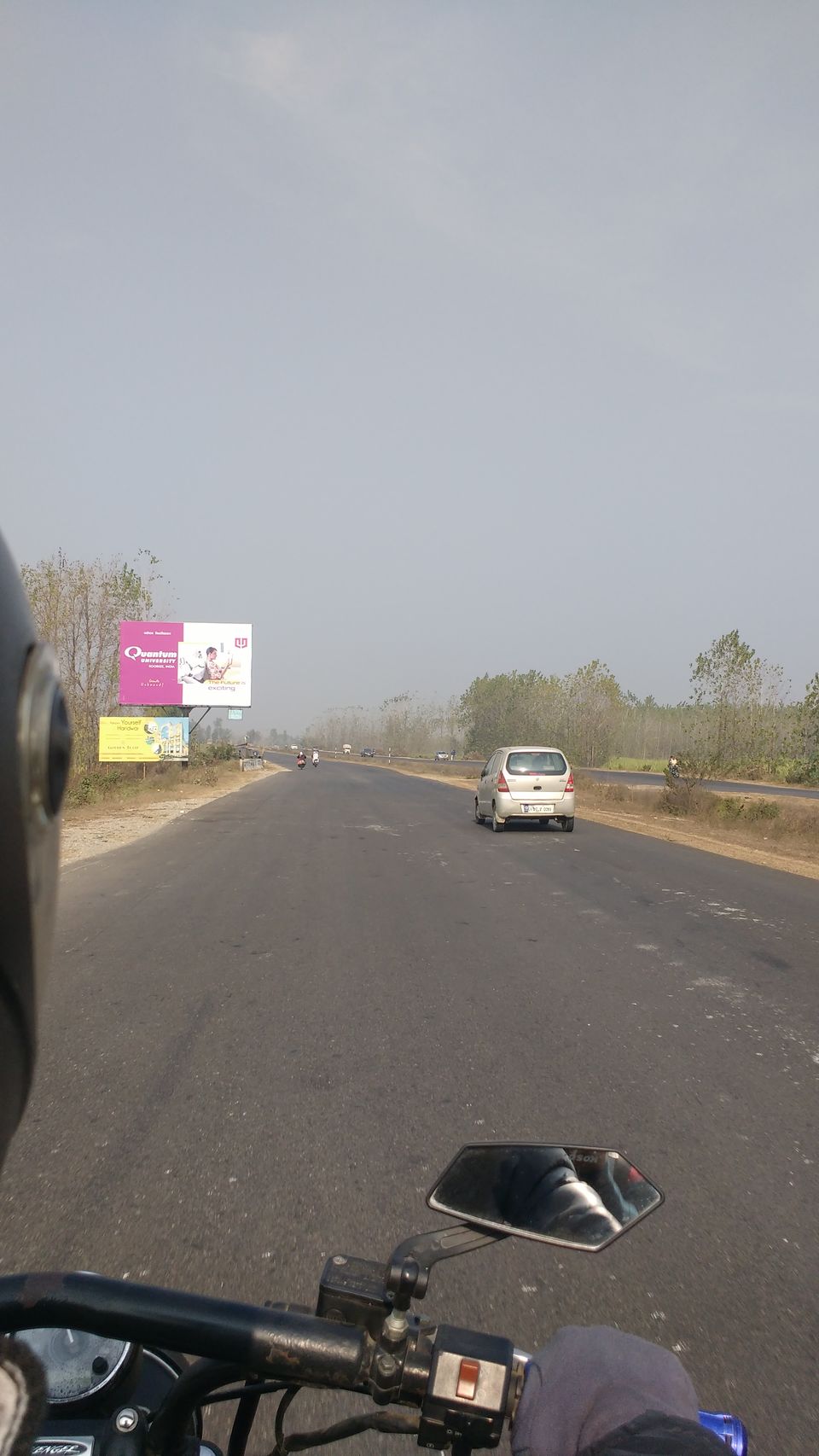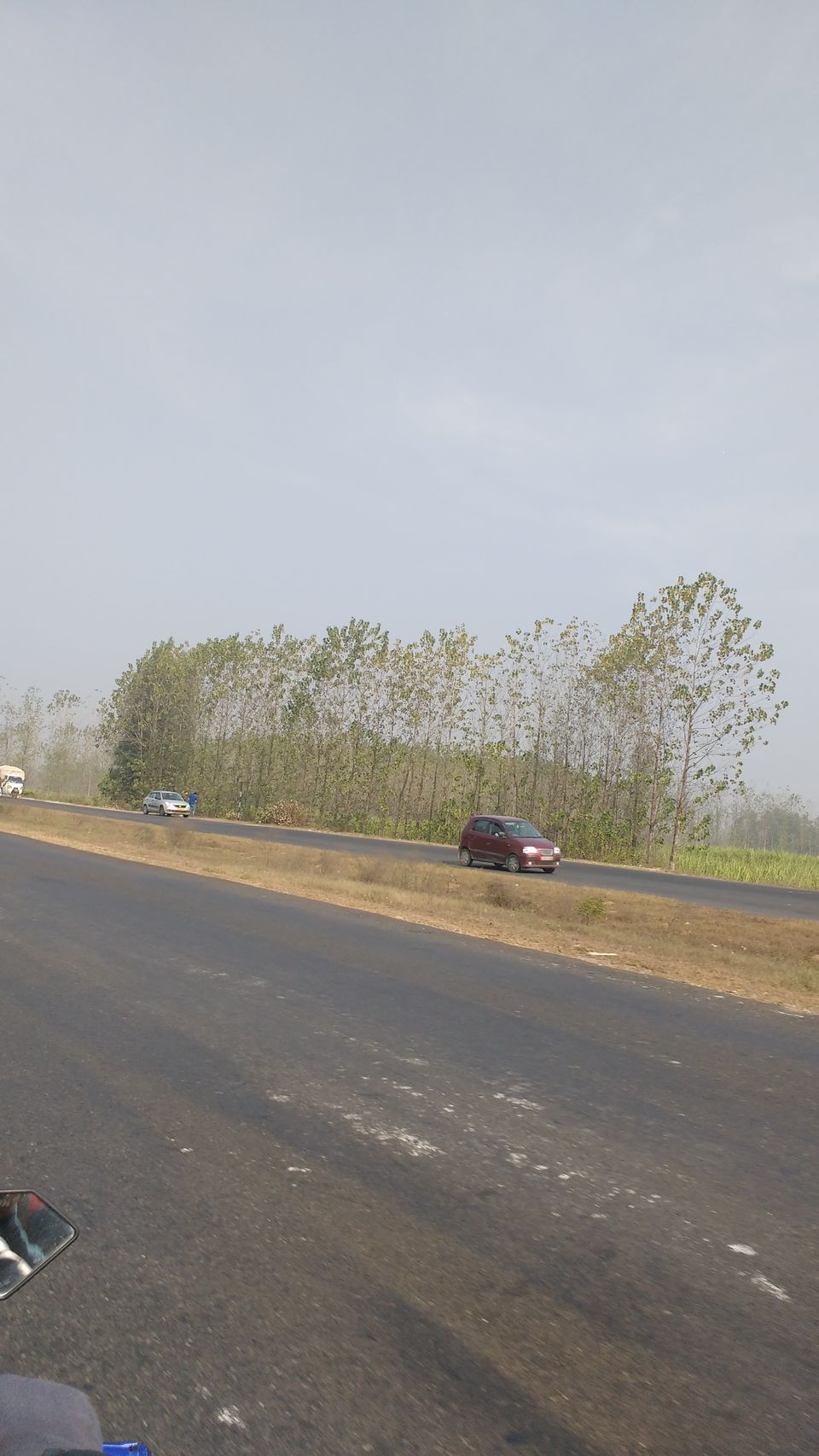 We made a pit-stop for the breakfast near one of the roadside dhabas and started again on the road .
It rook around 6 hours of drive to reach Haridwar along with ocassional pit-stops on the way . We reached Haridwar at around 3 pm . Our hotel was pre-booked . We checked and took a nice and cozy nap for 1 hour .
After the nap we felt freshened , took a nice long shower bath and went to watch the much acclaimed GANGA AARTI at Haridwar .
The Ghat was 10 mins walk from our Hotel .It was really mesmerizing view for us .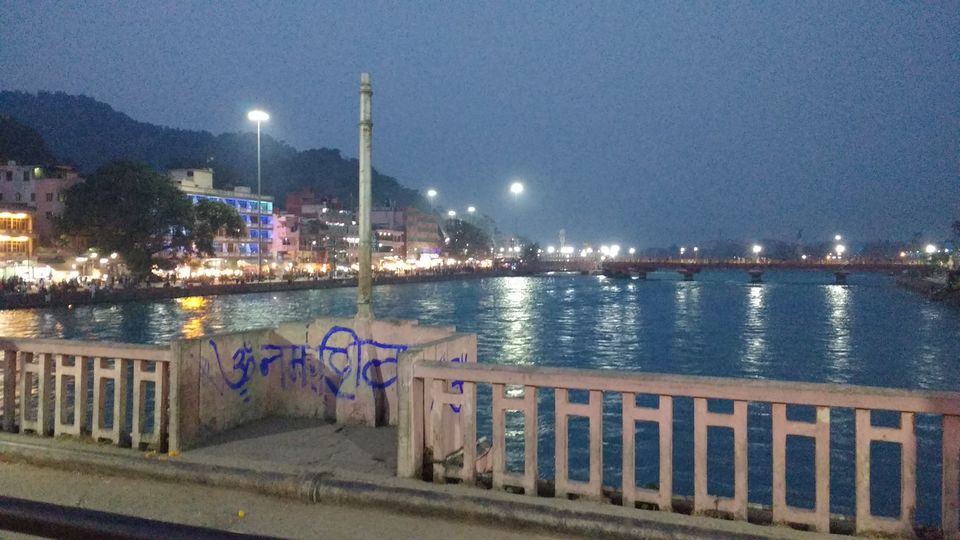 It was astonishing to see that even in the chilly weather in the evening , people were many taking bath in the Holy River Ganga which serves as the life line for the plains of the North .Also nearby is the Har ki Paudi .It is believed in Hindu Mythology , that if you take bath in River Ganga , all your sins are washed away .
Along side the ghats , there are plenty of roadside eateries where you can munch on various lip- smacking snacks which are served hot.It is a common sight in Haridwar that people can be seen filling up their containers with water of River Ganga whish is considered holy for various rituals .
As there was nothing much to do , we called it a day and retired to our room .
Next Morning we woke up early , freshned up and headed towards Mansa Devi Temple which a famous temple and situated on the hill-top .
There are two ways to reach there - one by the rope-way which doesn't start till 8-8.30 am and the other is by foot.
We opted for the latter and started our climp on the spiralling roads up the hill .There were many people on the way to temple at 6 am in the morning and the rituals were at the full swing in the temple .
We came back to our Hotel Room , had our breakfast , checked out and stared our journey to Rishikesh . Rishikesh is approximately 30 kms from Haridwar and is an ideal place for you if you are looking for some heart-racing adventure such as River-Rafting , Bungy-Jumping , Cliff-Jumping , Rappelling , Swing and to name only a few .
One can find a plethora of agencies offering these heart-throbbing activities . Since it was an off season , there was not much crowd and and we got our deal for River Rafting pretty cheap . Bungy Jumping was a little expensive so we decided to call it off for the next time .
We were grouped with 5 other poeple . We boared the vehicle and taken to the Rafting site .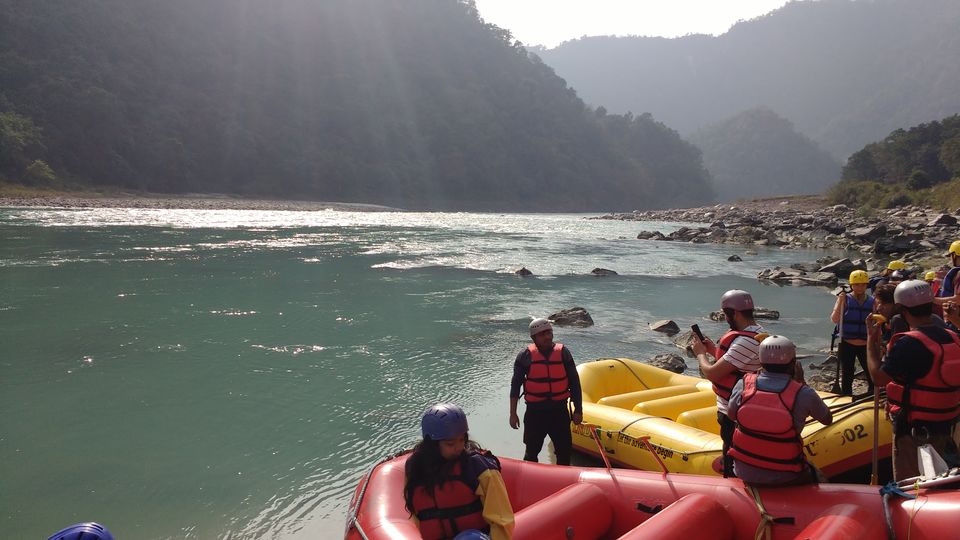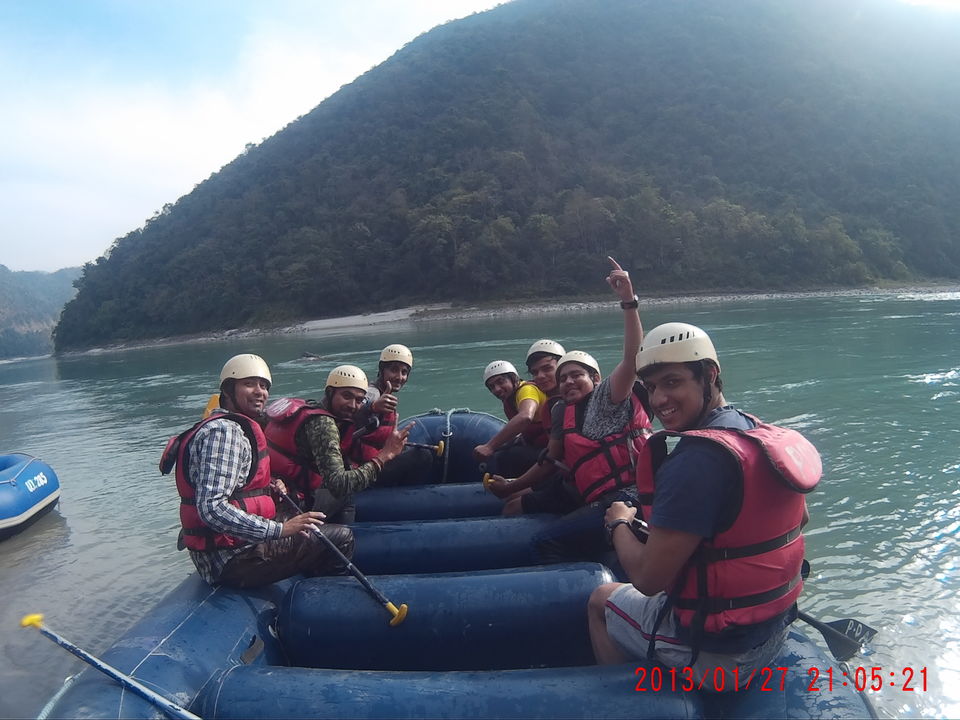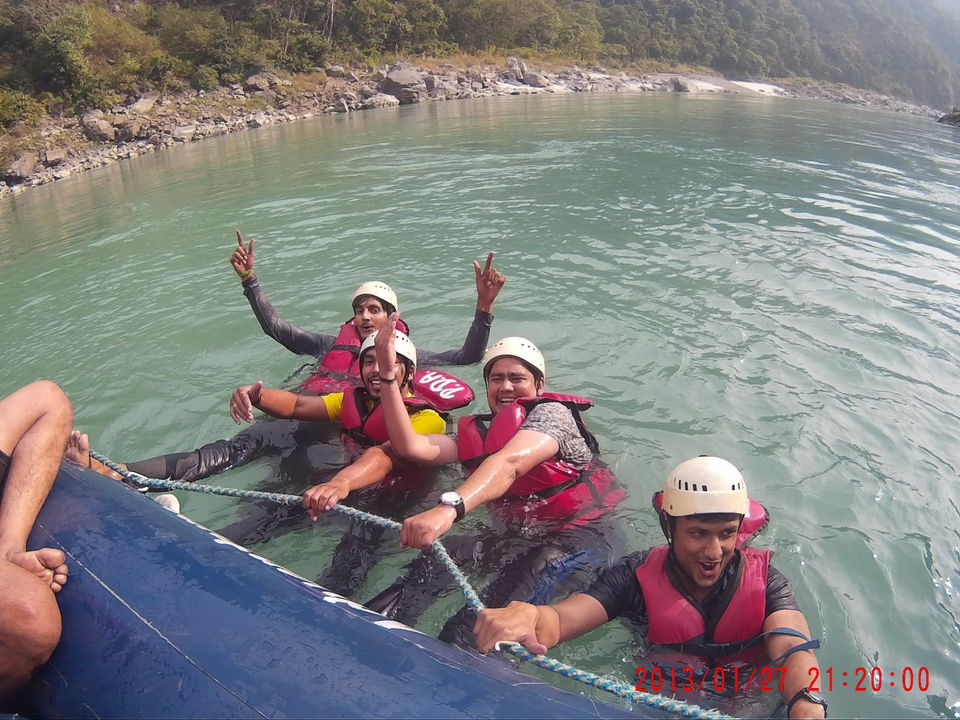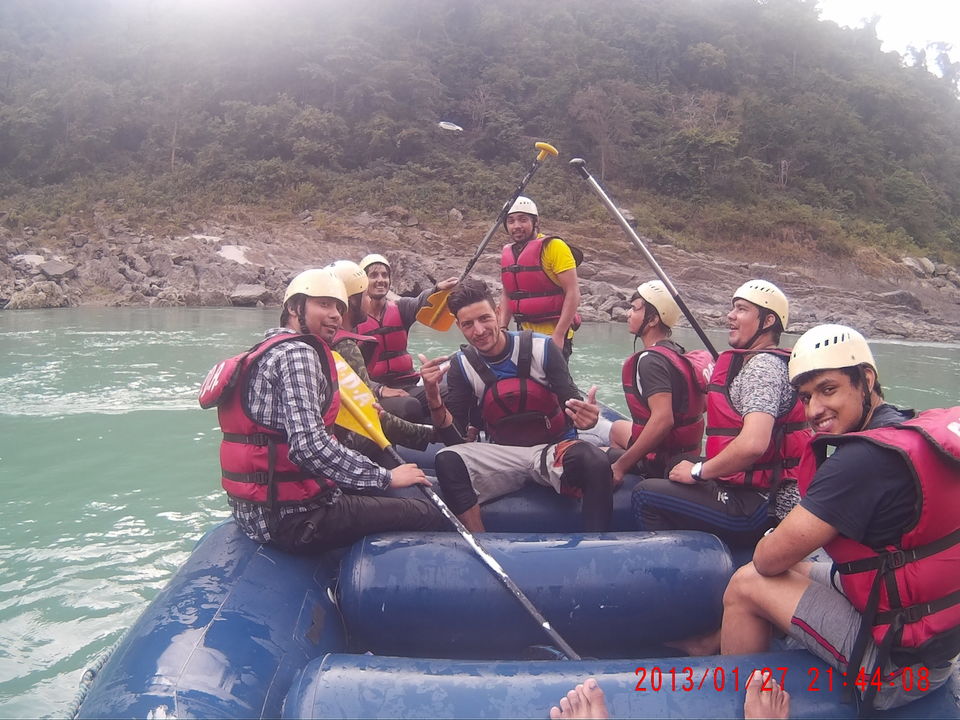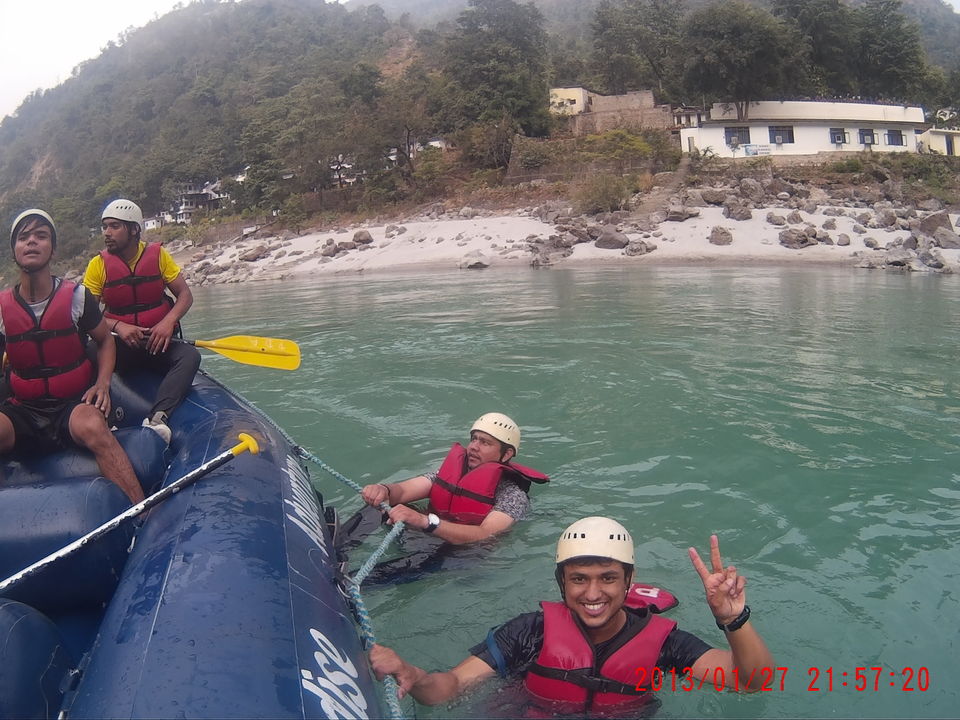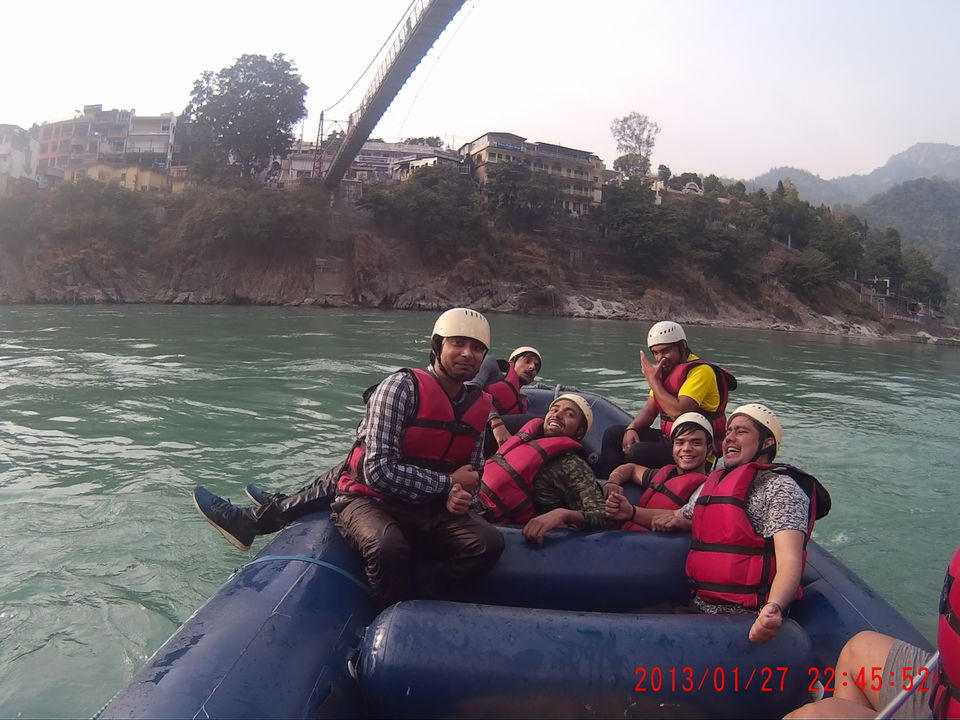 We all suited up and were given some instructions for the same . Since it was 1st time for most of us were a bit nervous and quite excited .
Along the way we also tried cliff-jumping . Jumping in the water from a cliff . One should definately try it
The Rafting was 18 kms long and we went through 9 rapids .It was rollercoaster ride all the way .We dived into the water several times and to feel the fresh water of the river on our face was all together a different experience .
We all were wet from head to toe and were shivering in the cold .
Even our shoes were badly drenched .We should have had kept our shoes dry land which we realised later .We quickly went to the travel agency where we had kept all our belongings and hastily changed our wet clothes . Since our shoes were wet too , we had too put on slippers with our socks on .
Word of advise - Take only the essentials which you can afford to get wet . They also provide you the rucksack where you can keep your wallets and cellphone .You wont be needing your shoes . One can do river-rafting barefoot.
We drove our bike with our slippers on to the hotel , which was prebooked and also nearby . Once we checked in , we took all our wet clothes and let it dry overnight and we snugged in the warm-blankets .
We ordered dinner in the room-itself and dozed-off .
Next Morning , we tried putting our shoes on . It was still wet ,so we put on aur slippers with our socks and checked out from the hotel .
We went to Lakshman jhoola to click some pictures and we got more than what we had asked for.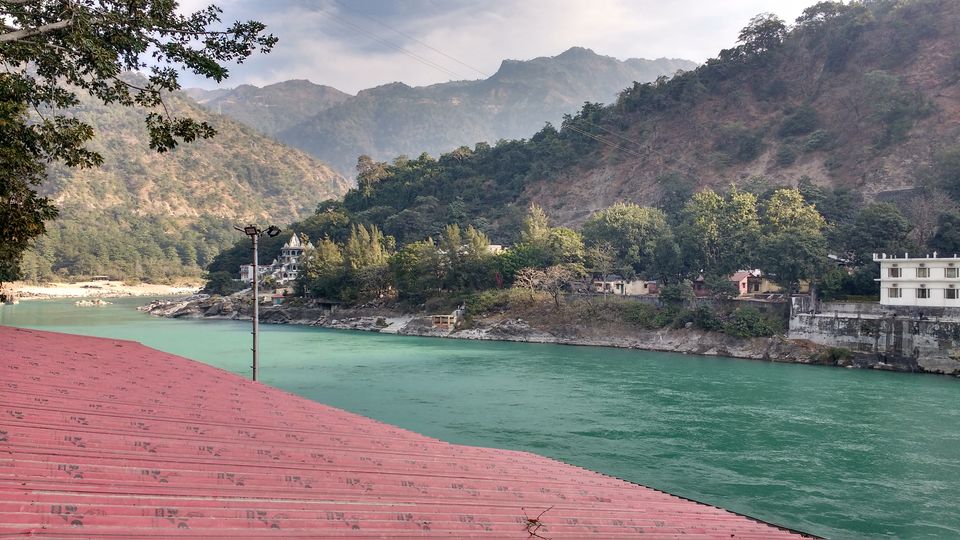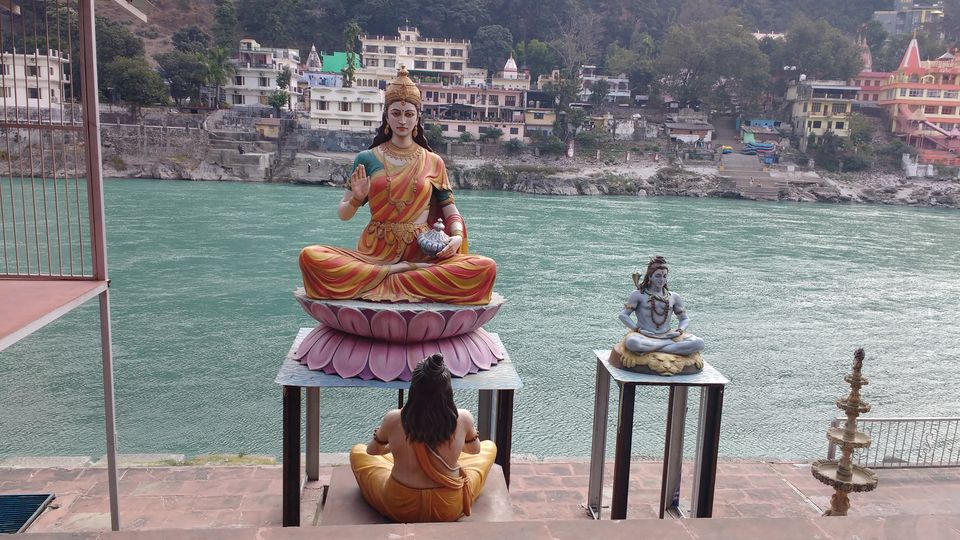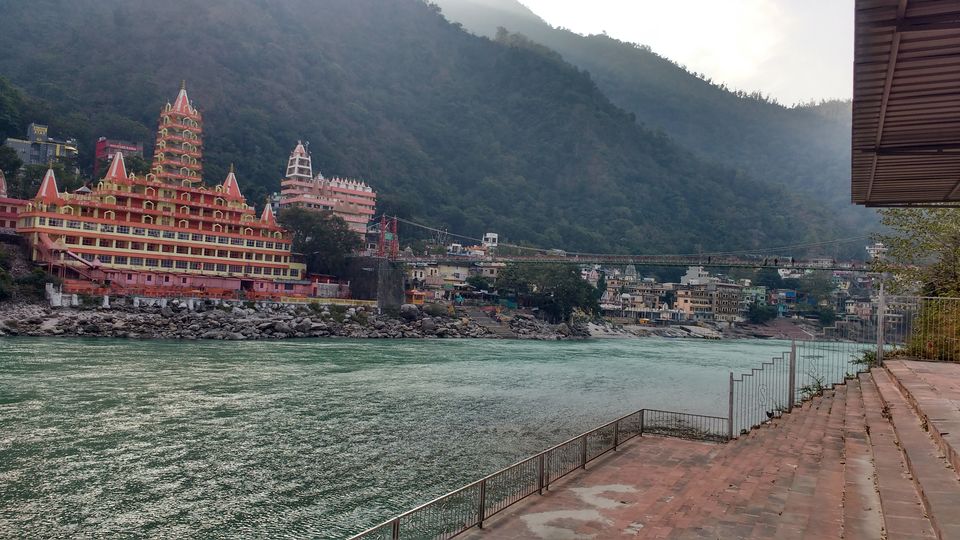 We headed towards another famous temple named Neelkanth Temple. Its is situated 21 kms from Rishikesh amidst the dangourly curving roads .An amateur driver should never try their hands on these roads . One has to be very careful .One mistake and you will find yourself in the deep valley .Did I metion that everypoint on this valley can bring out the photographer in you ?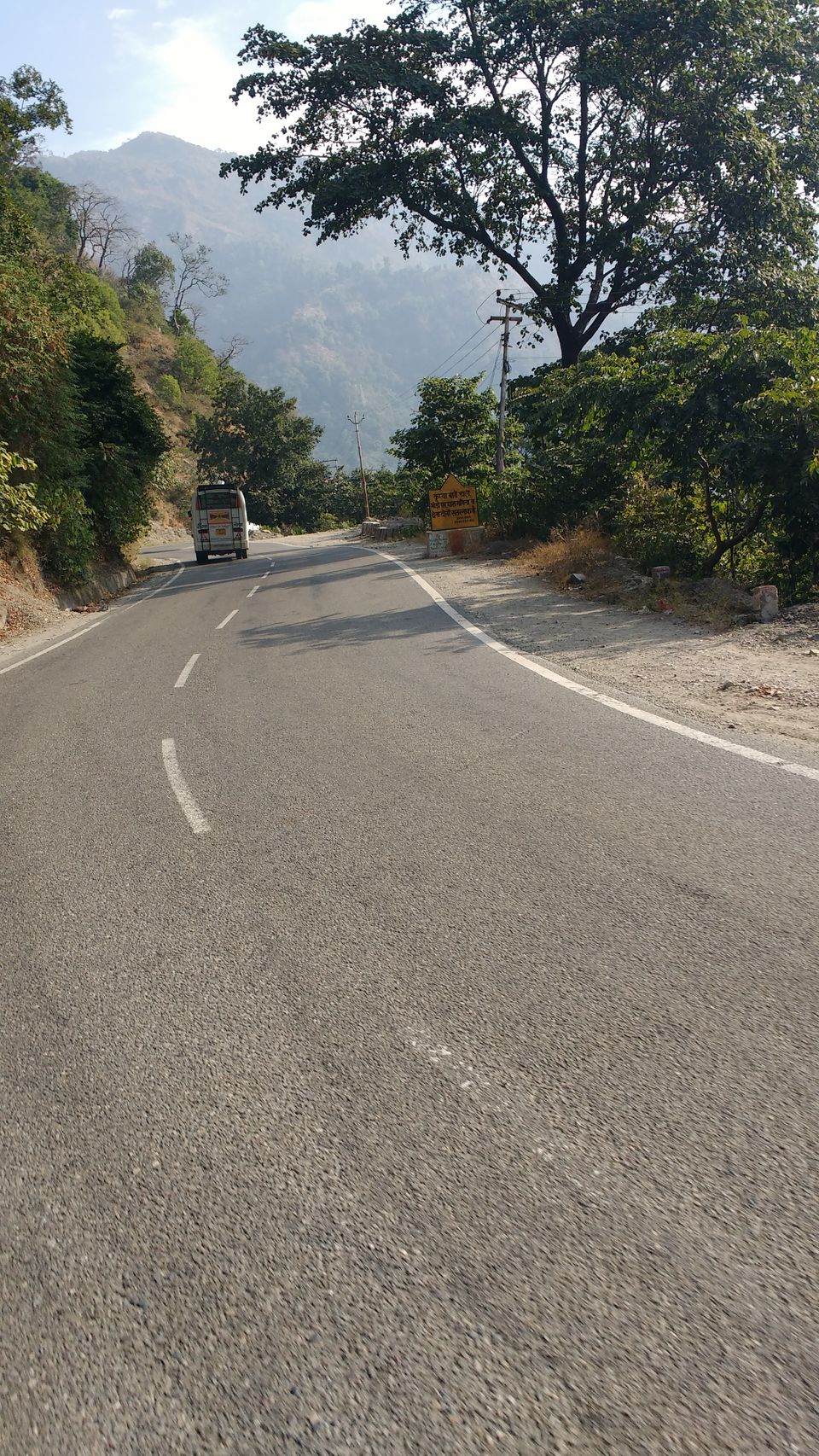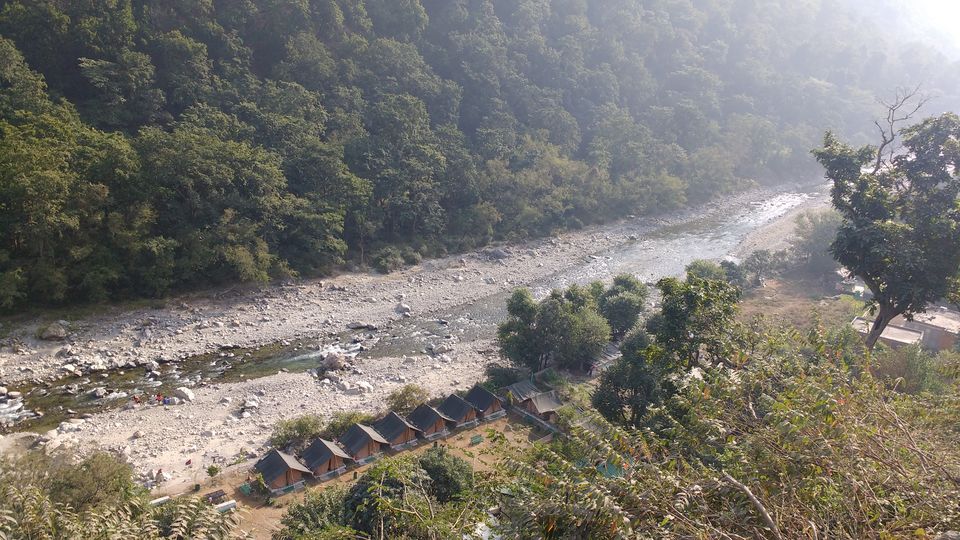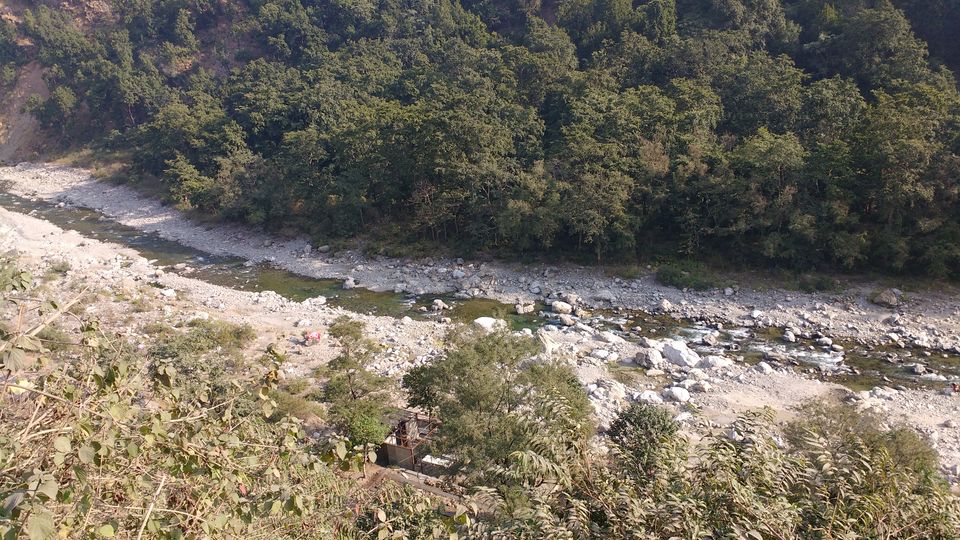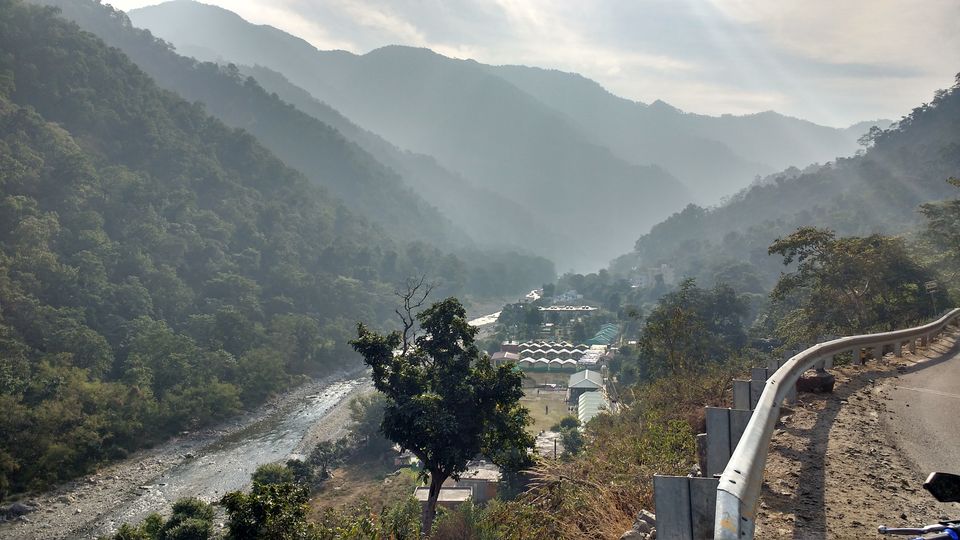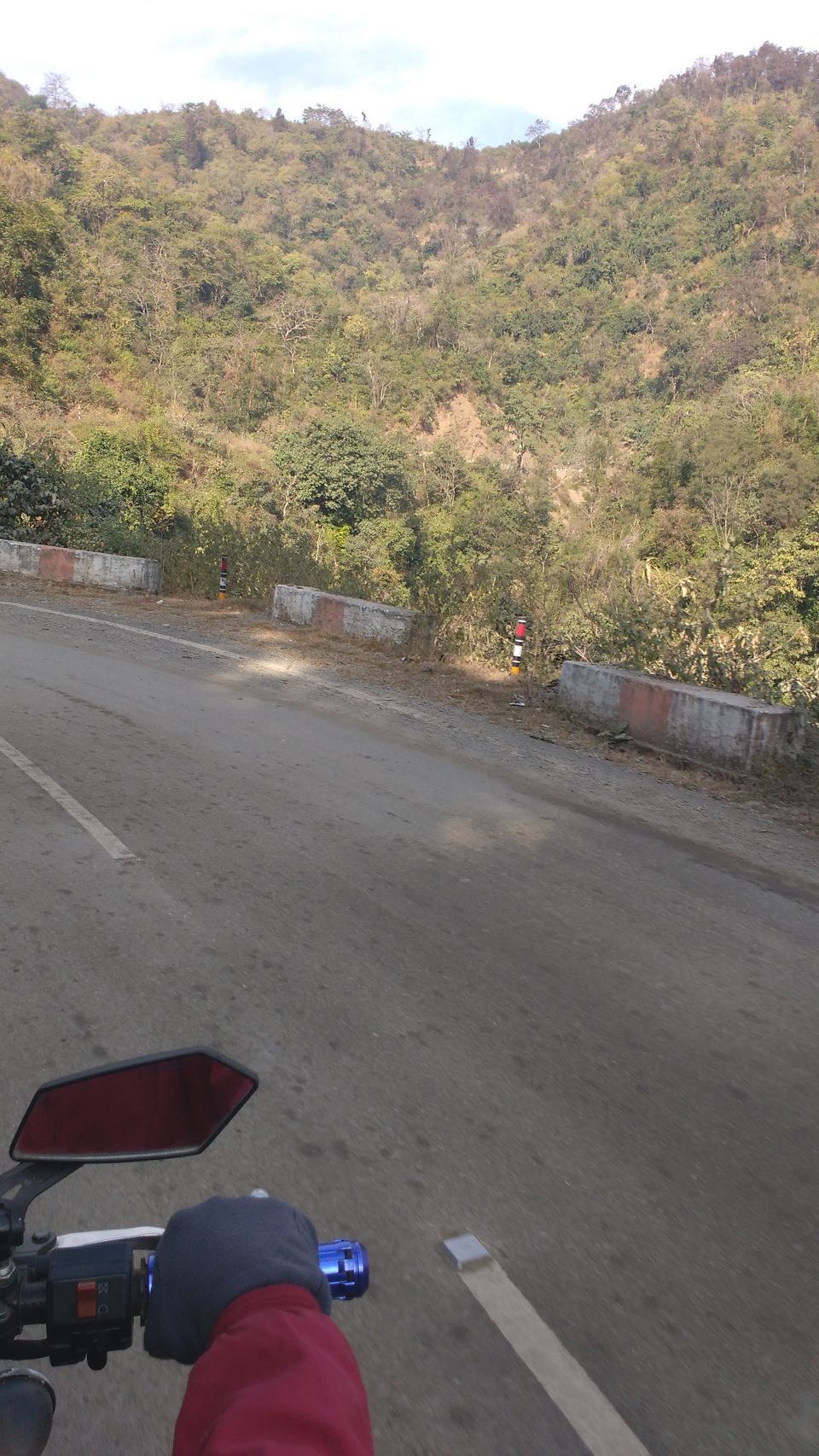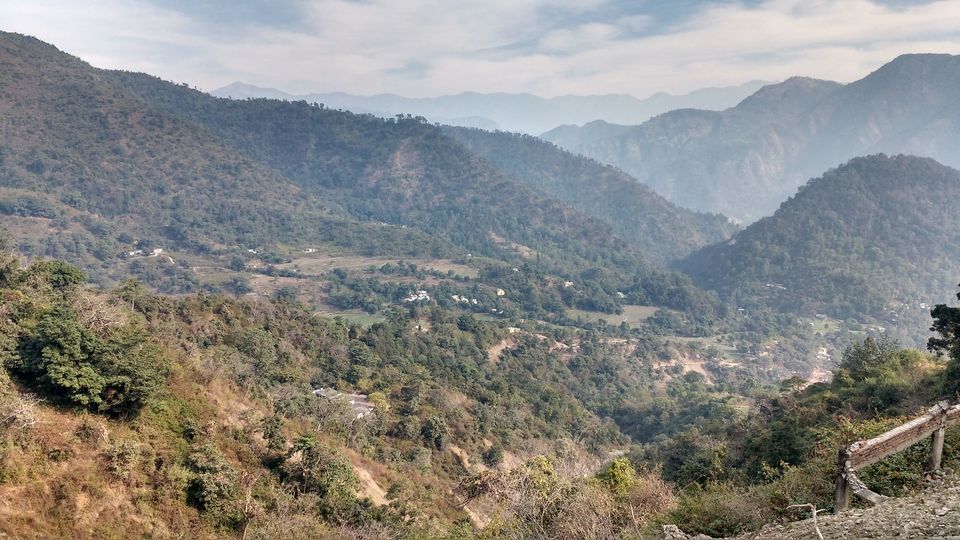 We spent almost half n hour here and started our journey back to Gurgaon.
On the way back we stopped at one of the road-site eateries .We had hot pakodas along with the green chuttnis.It was yumm .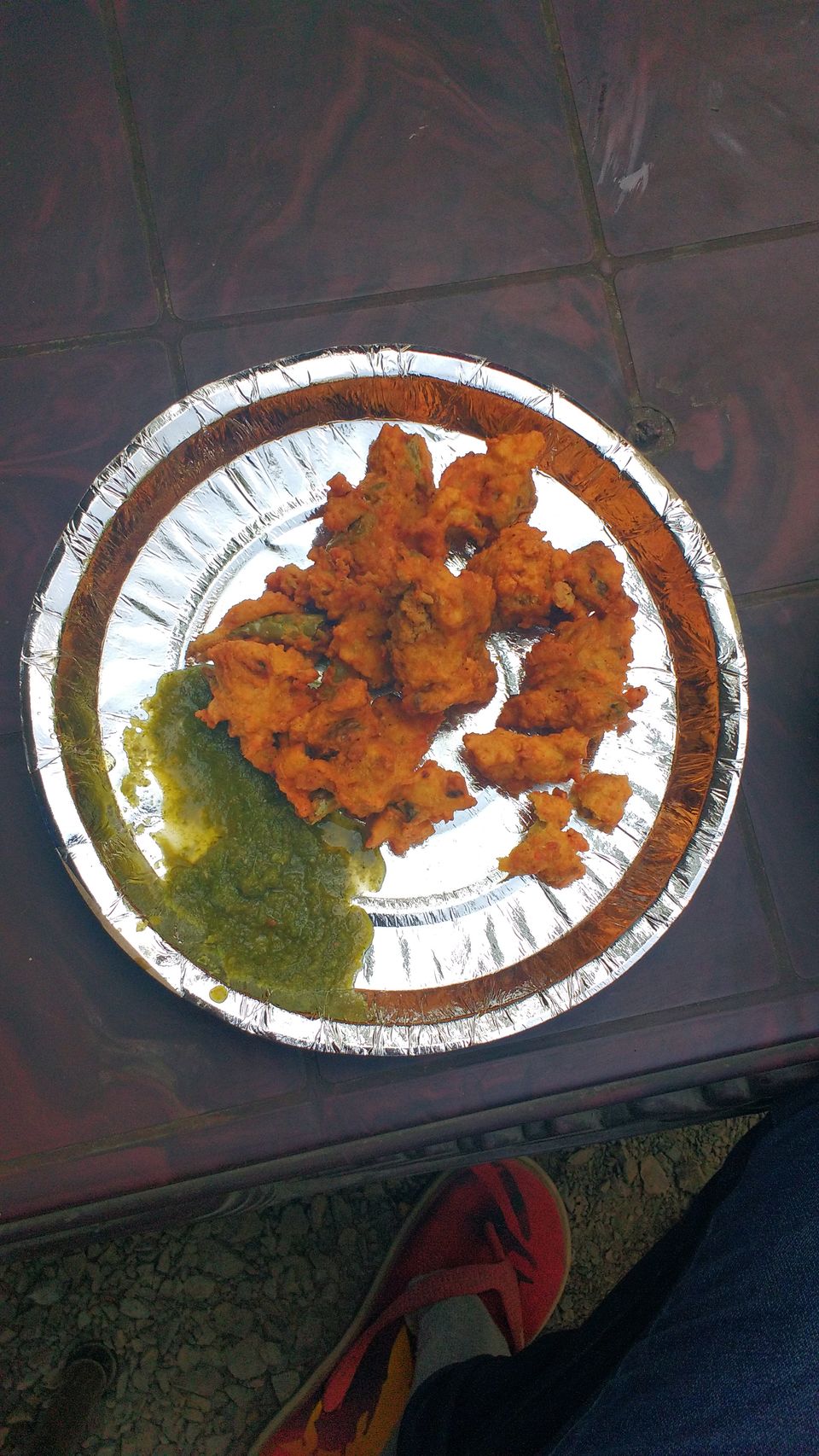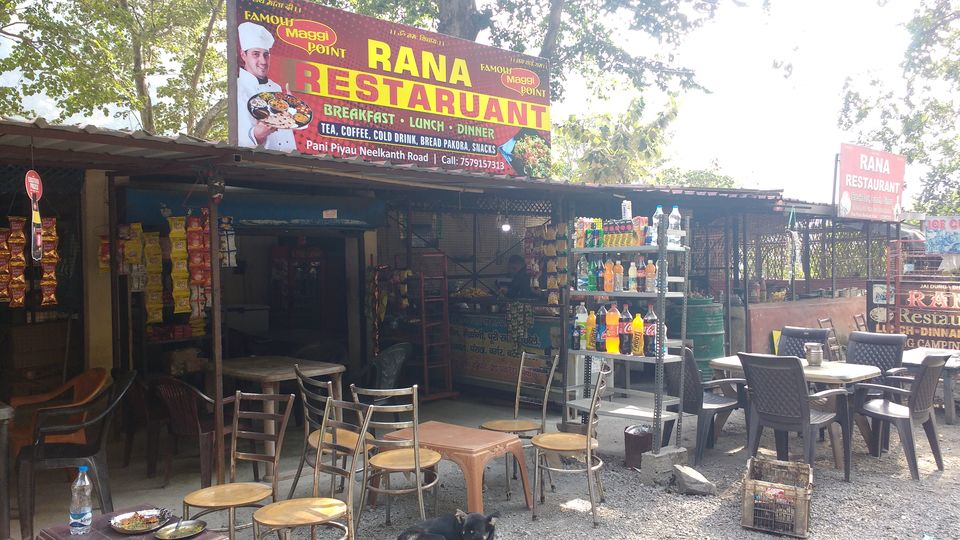 For the people lining in the NCR region , hilly areas are like breath of fresh air .You get to experience clearer air , serene atmosphere and lush green beauty .
It took us another 5 hours to get back to our place in Gurgaon .
We drove 260 kms with our slippers and socks on .
The experience and the memories are still fresh in my memory . I wish I could stay there forever .