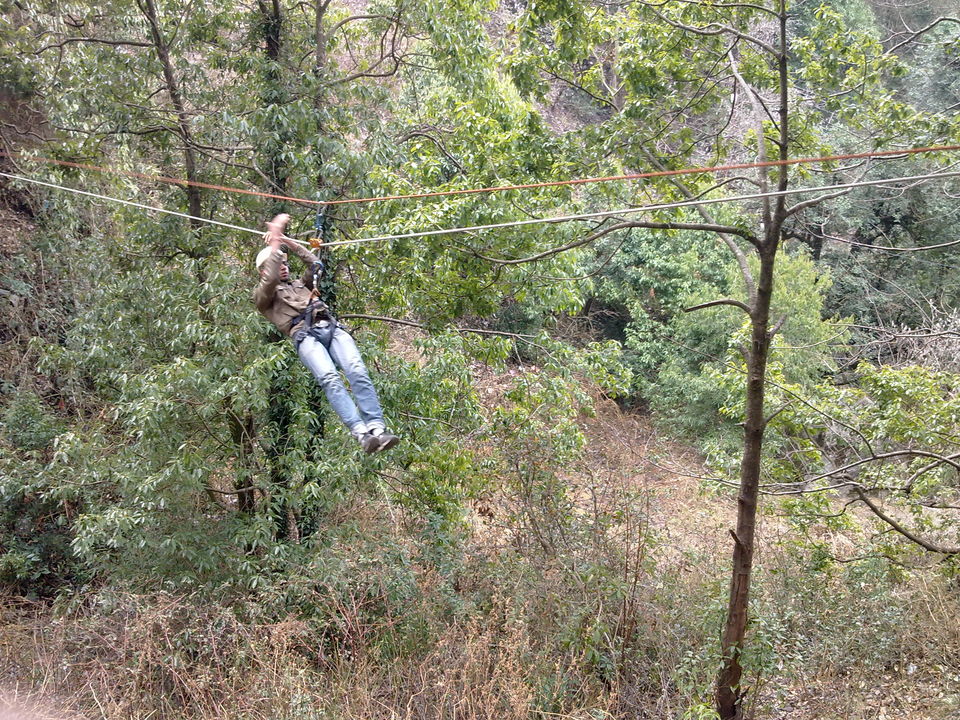 I will mention about one of my cornerstone trips in this blog. This was the starting of my traveling life. It was the 7 day basic diploma course in rock climbing from The NTMC institute in Nainital.
I did my rock climbing course in March 2012. A basic diploma level course is perhaps the best way to start trekking as an adventure activity.
During the course, I underwent a first hand training in rock climbing. Being brought up in a plain region and having spent my entire life in it, I had a very little idea about the mountains and the rules of the mountains.
Believe it or not, the travelling, especially hiking in mountains has its own rules. There are some basic stuffs which every trekker should be aware of for his own as well as his teammates safety.
Day 1:
The course is designed in such a way, that it makes you aware of these basic rules on the first day. The instructor took us on a long mountain hike and told us all the rules while walking.
Some of these are-
1. Never cross your fellow traveler while trekking.
2. Make sure that the stones do not fall while climbing. Even if a stone falls, make the sound, "there", "there". Hearing this, the teammate, knows that a stone is coming down.
3. Look for the signs of the stone. They tell you path. Do not disturb them.
Apart from these, he also told a lot of things about the types of rocks and the mountains.
Day 2:
It started with a warm up and an exercise session of almost one hour.
Next came the boulder climbing. Boulder is a large rock. We were told about the various kinds of grips and how to identify the various kinds of cracks in the rocks which one could be used for the grip. Yes, you do get a feeling of some movie star, while gripping those rocks.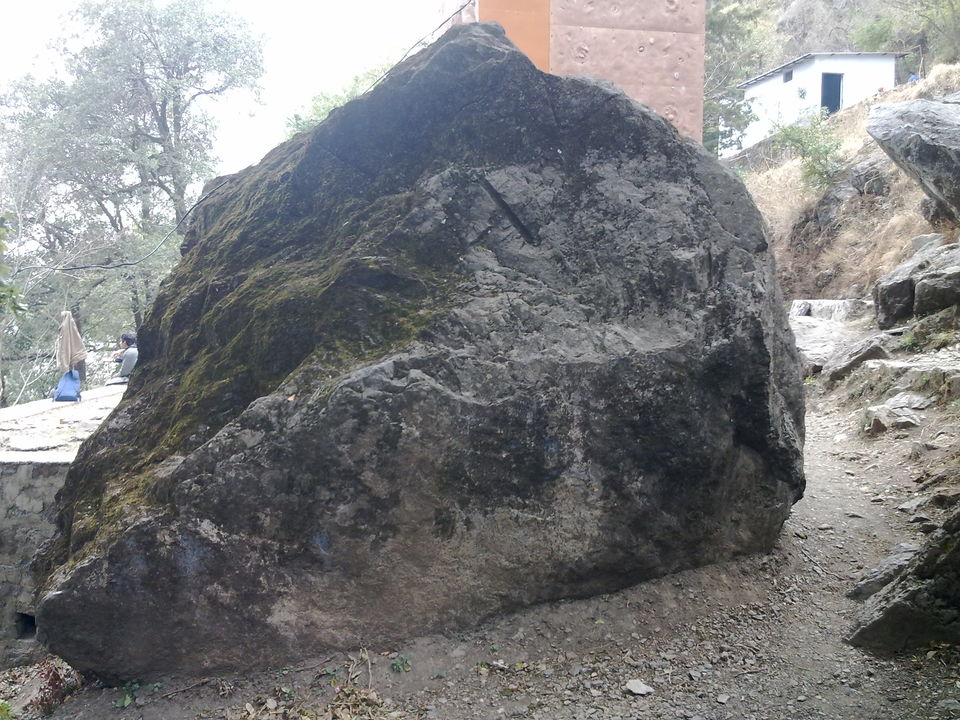 The level of boulders kept on increasing. Once the simple ones were done, there were the hard ones. One really needs very good forearm, fingers and muscle strengths for rock climbing.
Once, we were done with the practical part for the day, there came the theory part. Surprised!!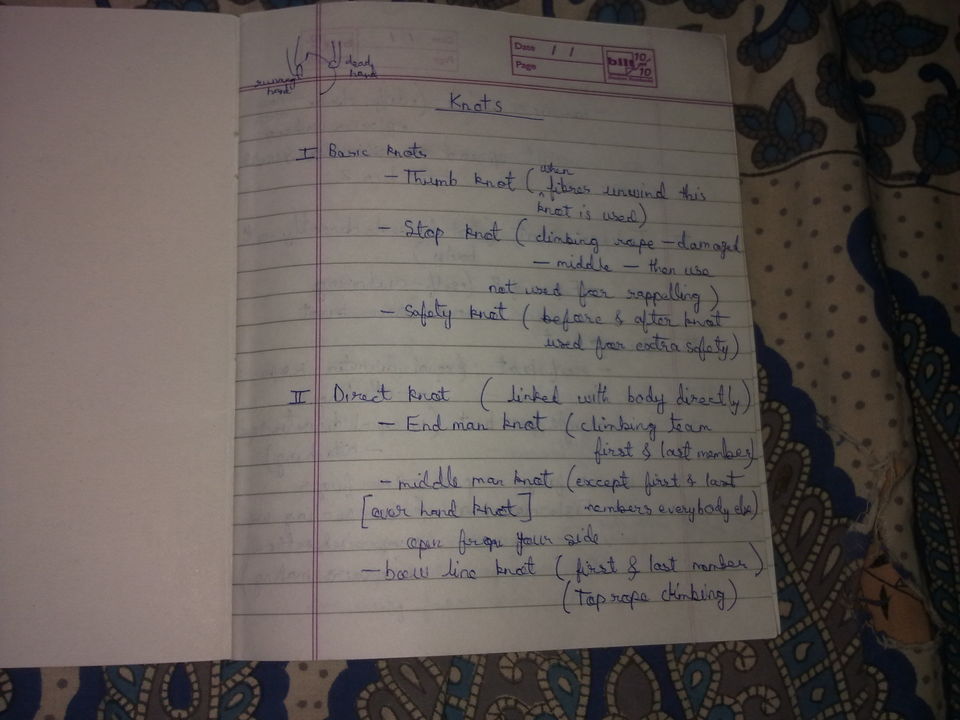 The theory part included the types of rocks, nodes in the ropes and the various instruments which one carry while climbing a mountain. This was pretty basic and actually fun.
Day 3:
Start was the same as Day 2, with mandatory warm-up exercises.
After that we trained on the bigger boulders and smaller hills. It was a level up from the second day. Our hands and shoulders were no longer paining as they had got accustomed to that. Further, there were a lot of bruises in our hands.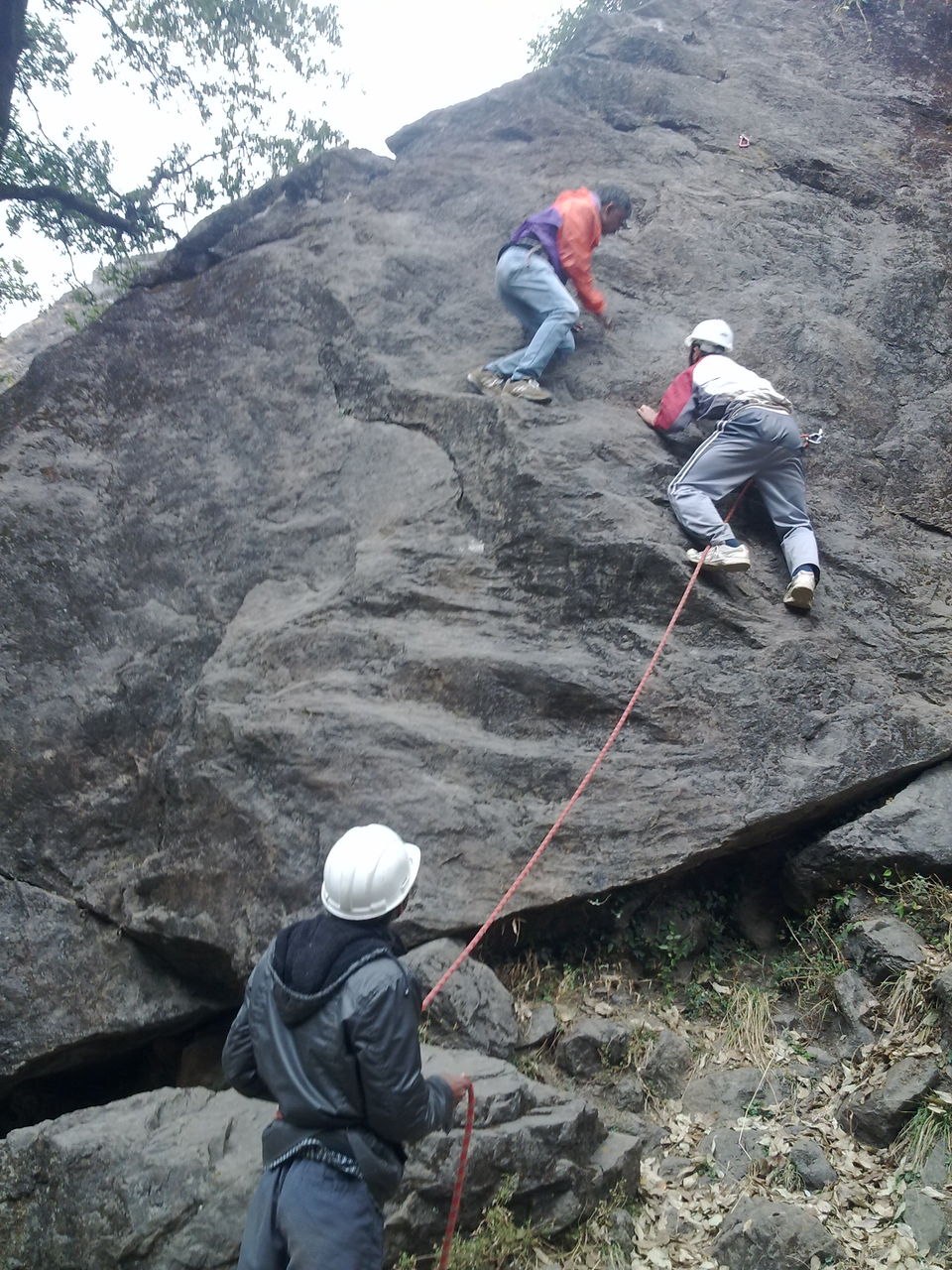 Day 4:
Customary warm-up.
We learned about rappelling and climbing down. There are multiple type of rappelling depending upon the type and terrain of the rock.
I particularly remember the one where the rock was almost vertical and we had to walk on it facing the earth. It was wonderful experience as if I were walking vertically for the first time.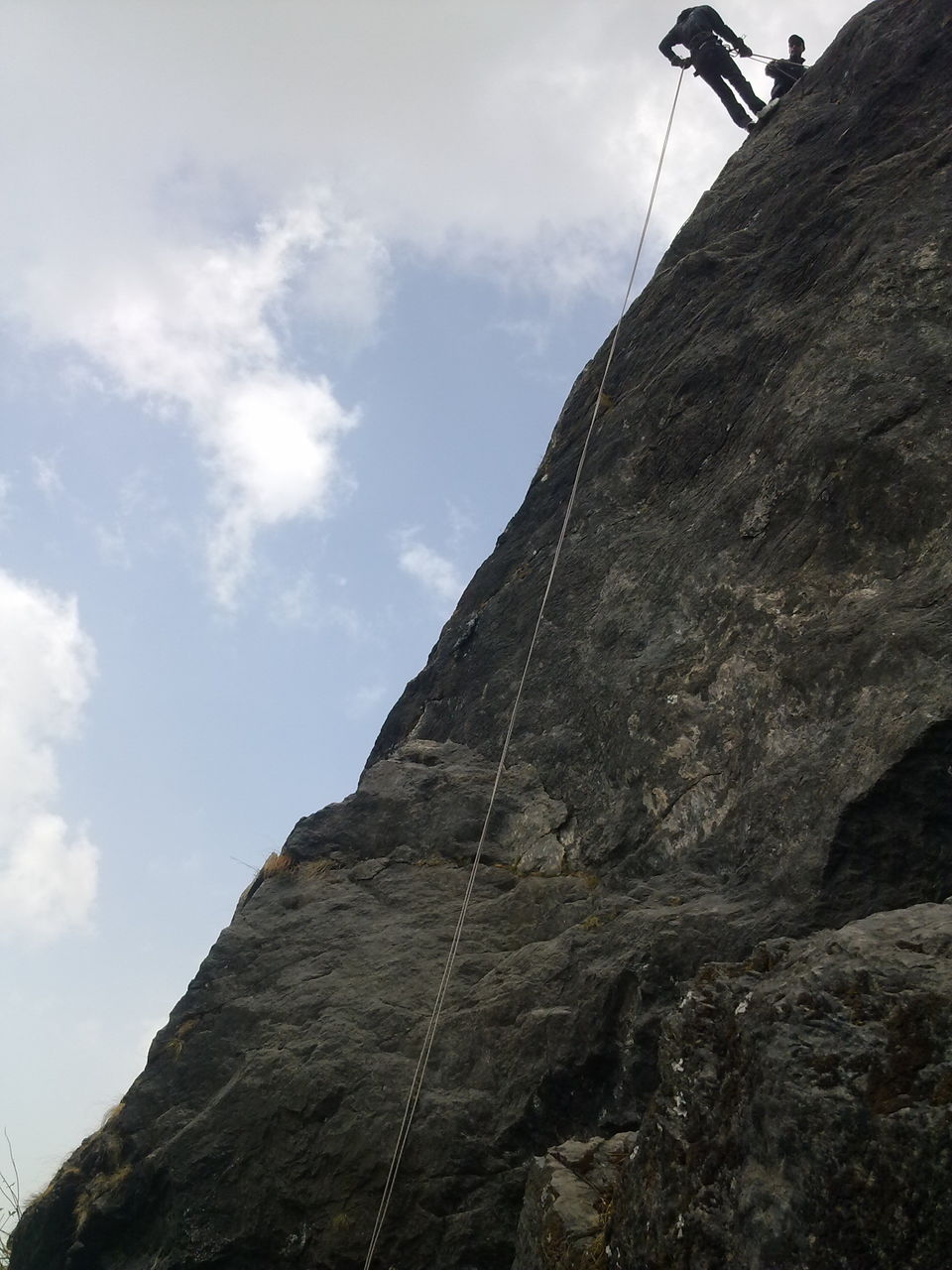 It was done in both ways- facing toward the rock and away from the rock.
Day 5:
Mandatory warm-up.
Continued with rappelling. Practiced more about the things which we have learned on the previous days.
Day 6:
We had river crossing and other fun activities.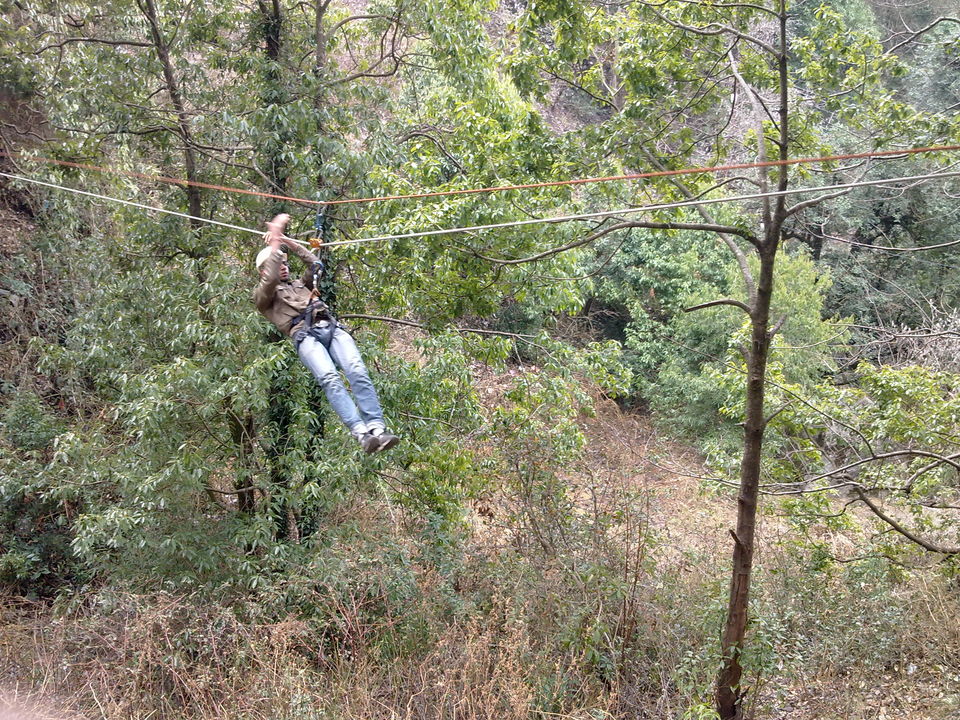 Day 7:
We had our evaluation. It included both practical and theoretical evaluation. We had to climb various rocks, rappel down them, tie the nodes, write down the names of the nodes and all those kind of the things.
In all, it was a wonderful experience. They had an artificial rock climbing wall there. We practiced at it and had a lot of fun.
Though we were boys only group, NTMC is a co-ed institute. We had our training from 9 am to 2 pm. After that, we utilized our time in exploring Nainital. Needless to say that we explored every hidden part of the hill station in 7 days.
Seven years down the line, when I look back retrospectively, I find that rock climbing course have proved a boon for me. Perhaps, I will have to write a separate article mentioning the impact of this course on my future.
Till then, good bye. If you ever get a chance to do this course, never give it a second thought. Grab the opportunity with both hands.
Don't forget to follow me to stay updated on other budget and useful travel stories.
You might like the following travel articles-
Frequent Searches Leading To This Page:-
Nainital Honeymoon Package Price, Top Nainital Tour Package For Family, Top Nainital Tour Packages For Family, Top Nainital Tour Package For Couple From Delhi, Top Weekend Getaways From Nainital, Top Weekend Getaway From Nainital, Nainital Tour Package