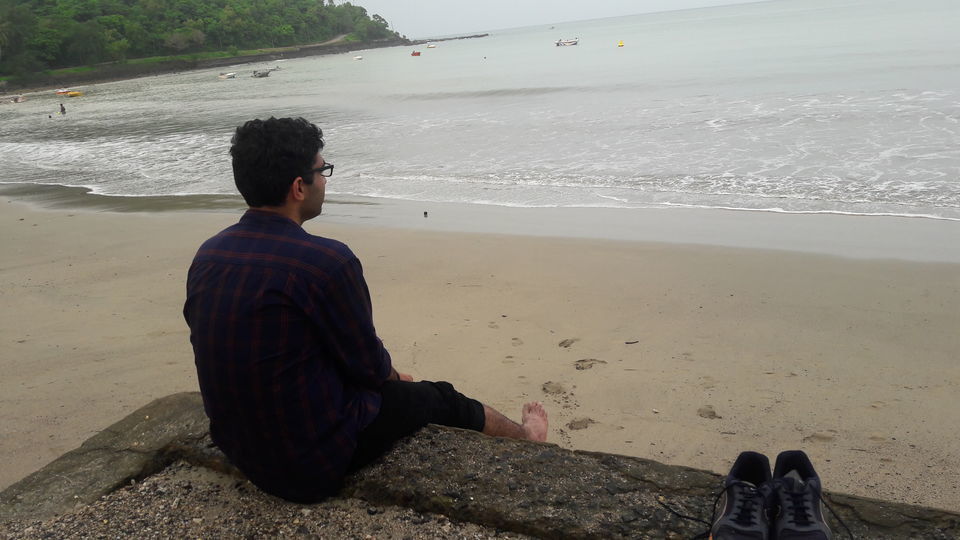 It all began after completion of my hectic 6 days a week internship program , my dad asked us about the weekend plans , I thought it might be a boring plan to a nearby mall or he could plan a drive to Vrindavan Temple ; but our ( mom , sister , me ) mouths remained wide opened when he showed us the flight tickets to Port Blair ( Andaman and Nicobar Islands) and a night stay in Havelock Island. The happiness on our faces after long tiring hectic schedule had no bounds.
We packed our bags and my dad called a cab around 3 am in the morning , as the flight's scheduled departure was around 6 am in the morning , according to me this was the worst flight timing as one cannot sleep peacefully even for an hour . Anyways, as we live in Faridabad it took us merely an hour to reach the airport , we reached airport around 4 am , done with the security checking and got free by 4.30 am but the flight scheduled departure was 6 am so we looked at those overpriced coffee shops and end up buying 4 cappuccinos for whooping Rs 760. We sipped that coffee as slow as possible so as to pass the time and eventually the boarding gates showed OPEN. We ran towards the gates and got into bus and reached the plane.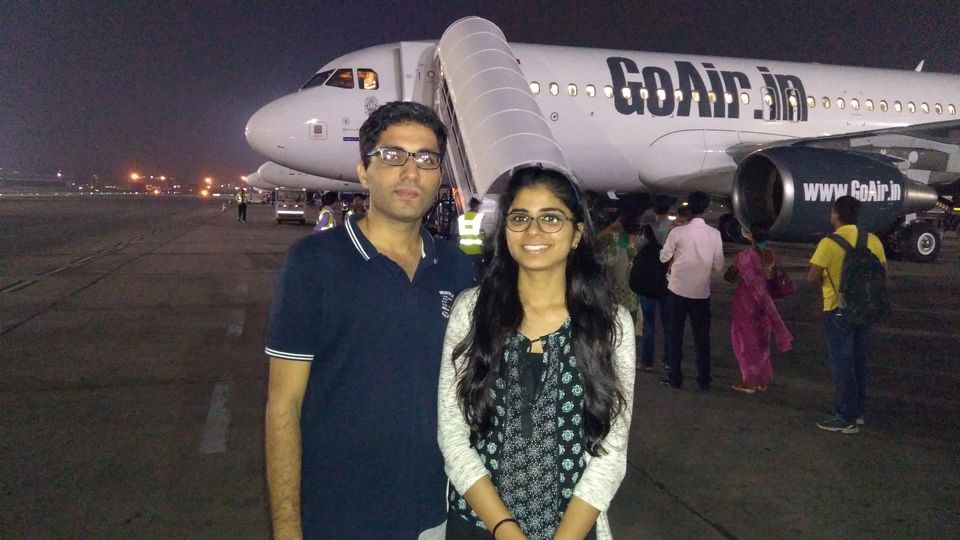 After a couple of minutes we boarded our plane and clearly visible its dark being the wee hours of morning . Being a novice in air travel my mom was most excited among us all . As the plane raced towards the runway my mom catched her breath as if she is going to fly out of the plane . Soon, the plane was over the clouds and we could witness the raw nature from our naked eyes , the best sunrise of my entire life .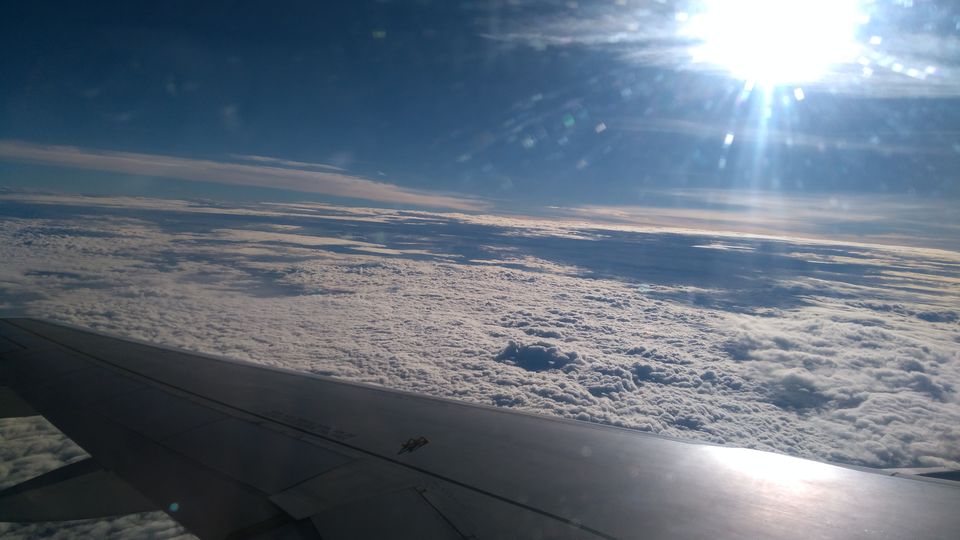 I was more happy to see my mom getting so much thrilled as she worked all of her life to gave us such luxuries ; soon fresh and smoking breakfast arrived , we grabbed our sandwiches and cup of coffee ; my mom's happiness had no bounds :) . Within no time we all dozed off and slept closed to 2 hrs straight. I woke to the sound of announcement of seat belts safety . Capturing the beauty of the island through the window , the eyes turned to saucer shaped.Finally, we reached our destination (Port Blair) around 10 am in the morning.
I tried to act smart by booking those app based cabs (Uber, Ola) but there was no network coverage and even if there would be there were no such services available. Finally , after this little confusion , we took a prepaid taxi and checked into our hotel . We all got refreshed and took ourselves to the streets of the Port Blair to look for explorative places. As we inquired from local people, we found out about Ross Island. We took a ferry and reached the island.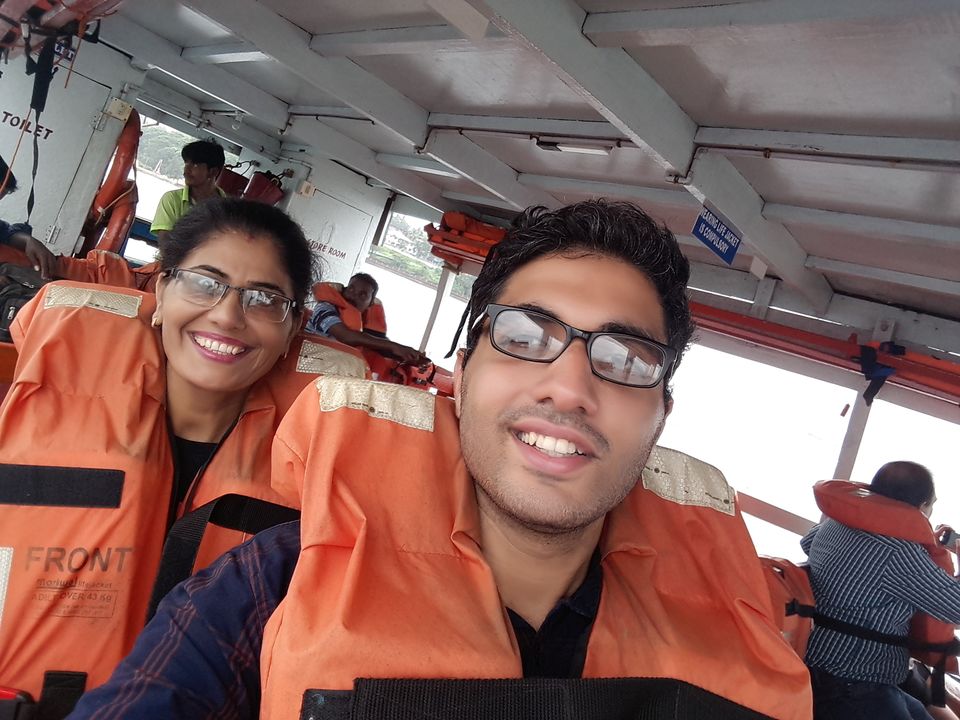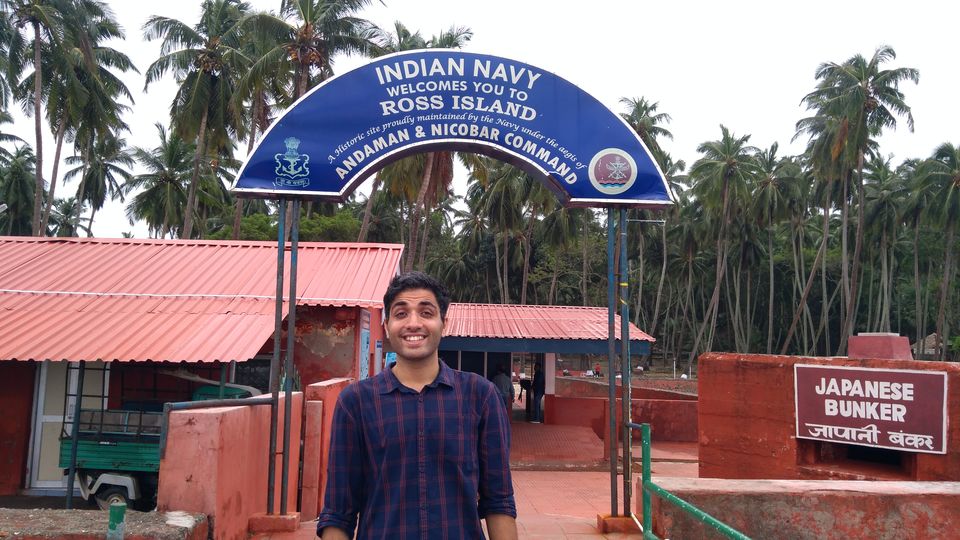 I was really surprised with the beauty of this place .Its so calm and raw in nature . I could actually feel the nature syncing into me . (A quick update - this was only island which saved city of Port Blair from Tsunami of 2004). I was amazed to see a Naval base camp at such a remote location of India . we were allowed to roam in specified area of the Island due to the Naval Base. To my utter surprise there were rabbit and deers which were roaming so closely to people and were way too friendly with the tourists ; we even fed the deer with couple of bread slices we were carrying. Today, if you visit the Island you will see the state of the art light and sound of show commissioned by the tourism department to keep alive the vibes of the past.
A few more picture from the Island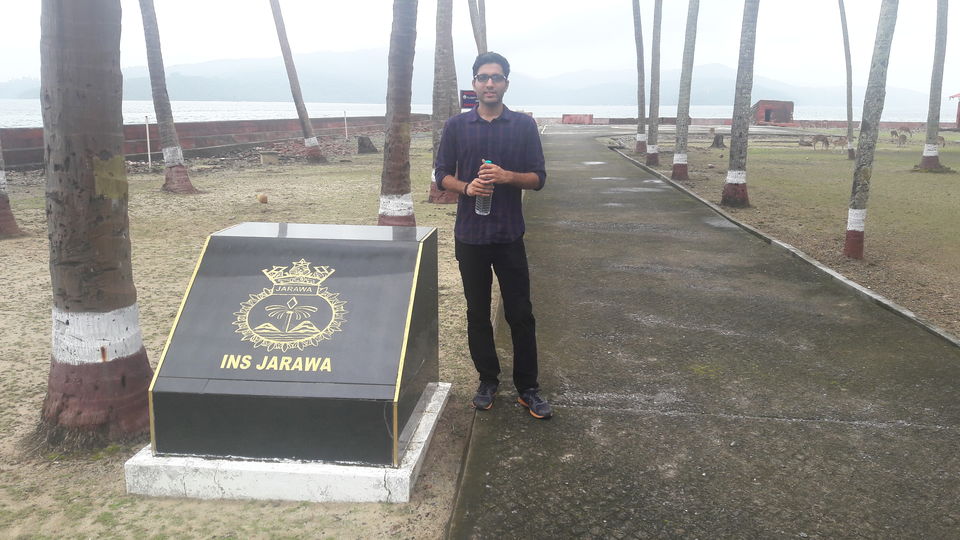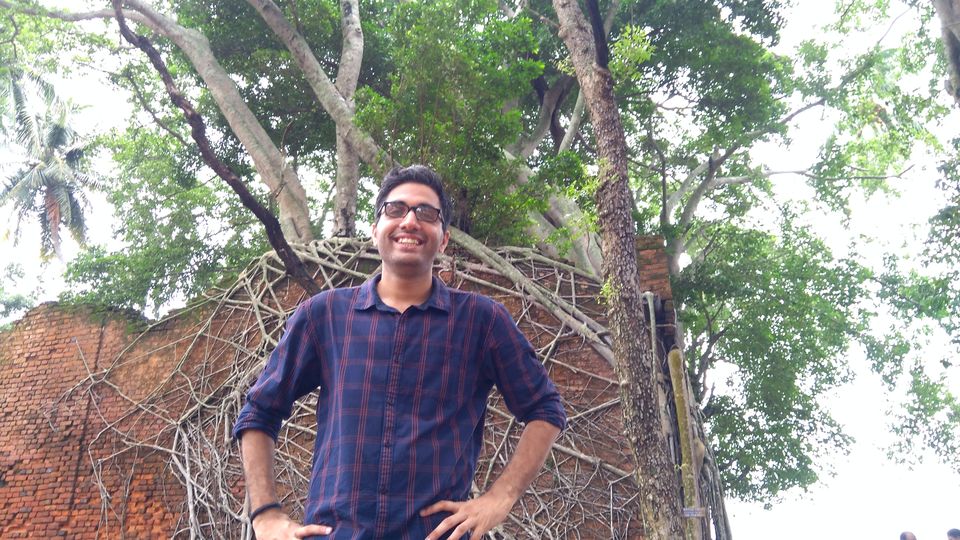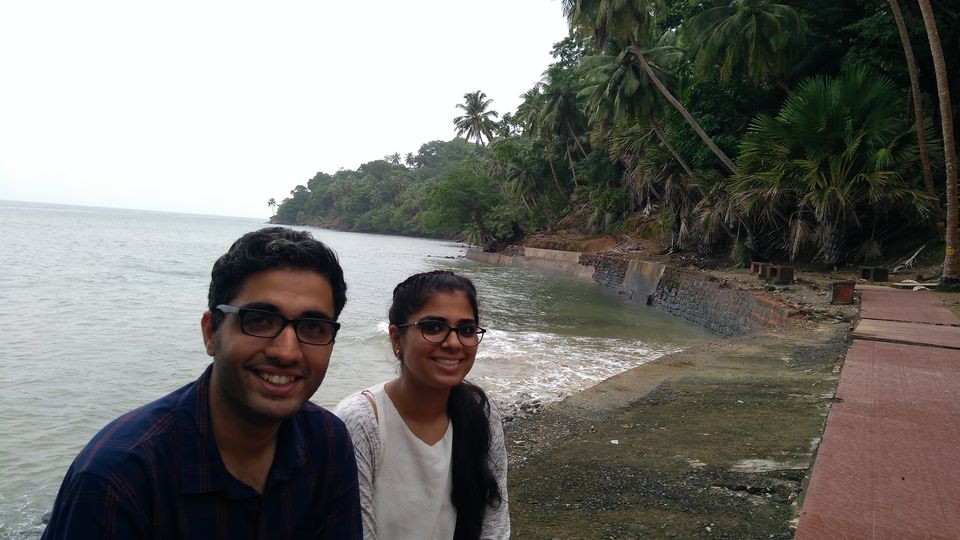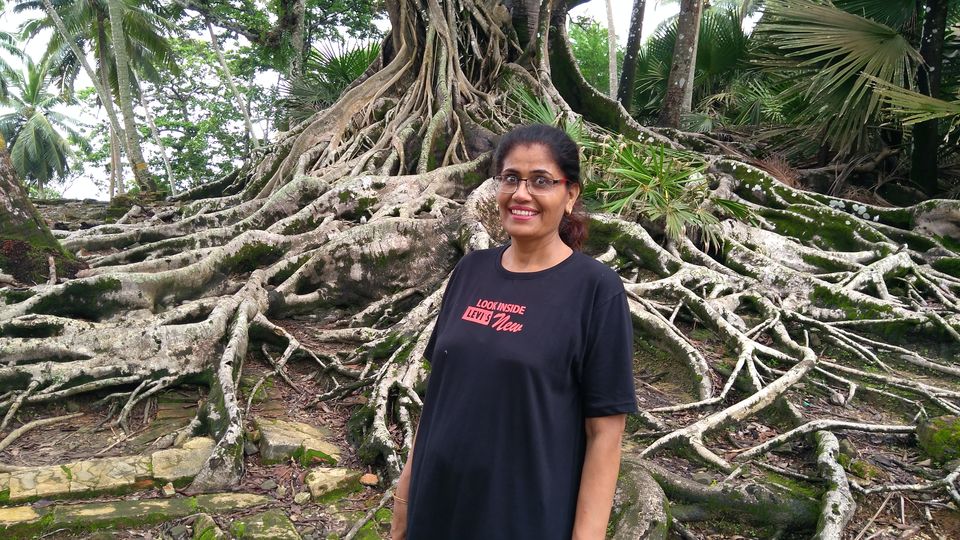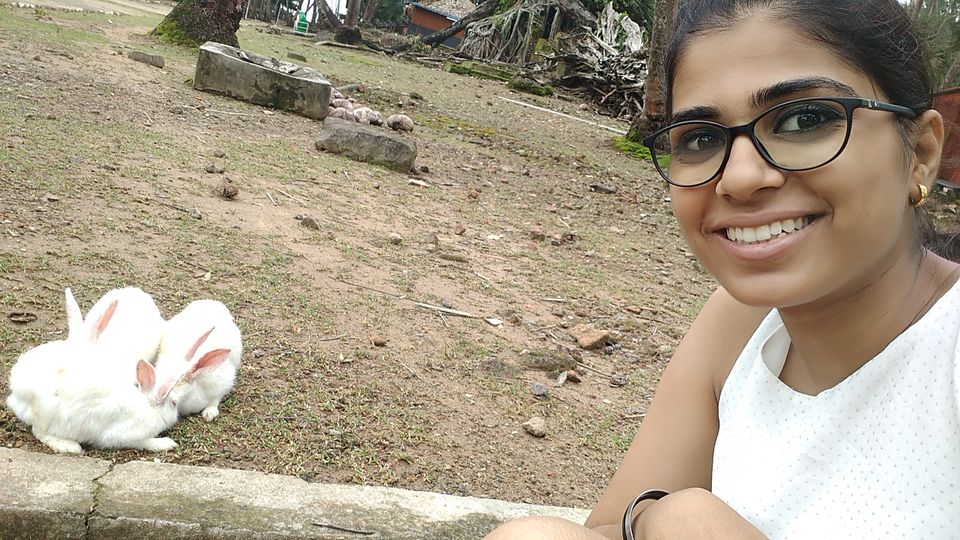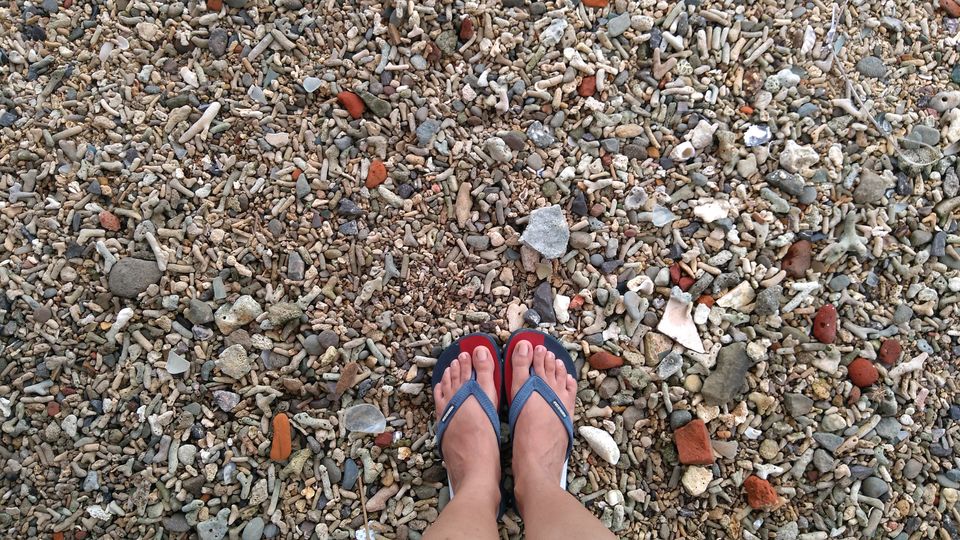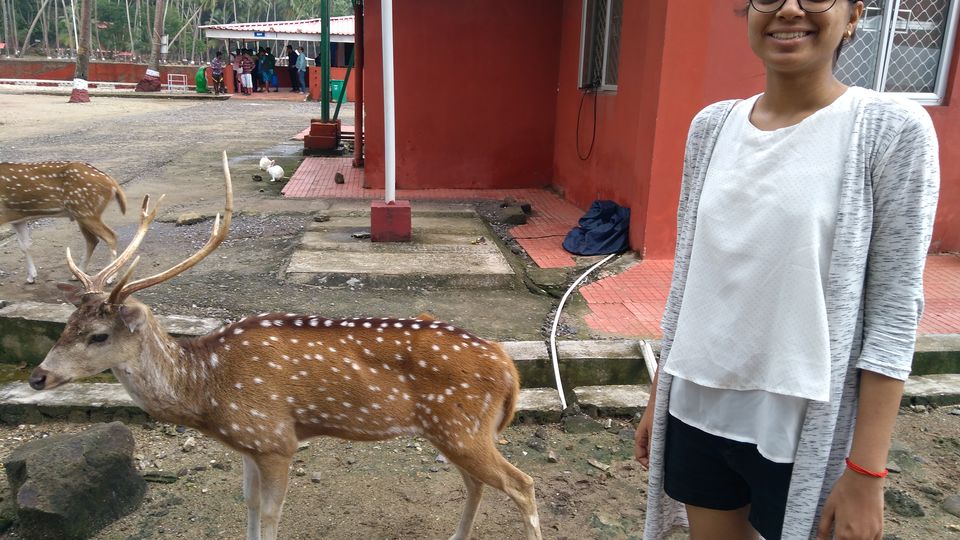 After this mesmerizing short trip we returned to the Port Blair island as we all were starving , then we had some local delicacies including rava and idlis tossed with a pinch of black pepper and my all time favourite coconut chutney, completing with a shot of caffeine. After this adventurous ride we returned to our hotels as we had a tired day.
The next, as planned we had to reach Havelock Island, but were unaware how to reach there. Then our hotel local boy advised us to book a ship from a specific spot . As directed we booked 4 tickets to Havelock Island costing 1000/- per head as it was 70kms away from the island Port Blair. Our scheduled departure was 12pm in the noon, we swiftly packed our bags and left the hotel and reached the Port.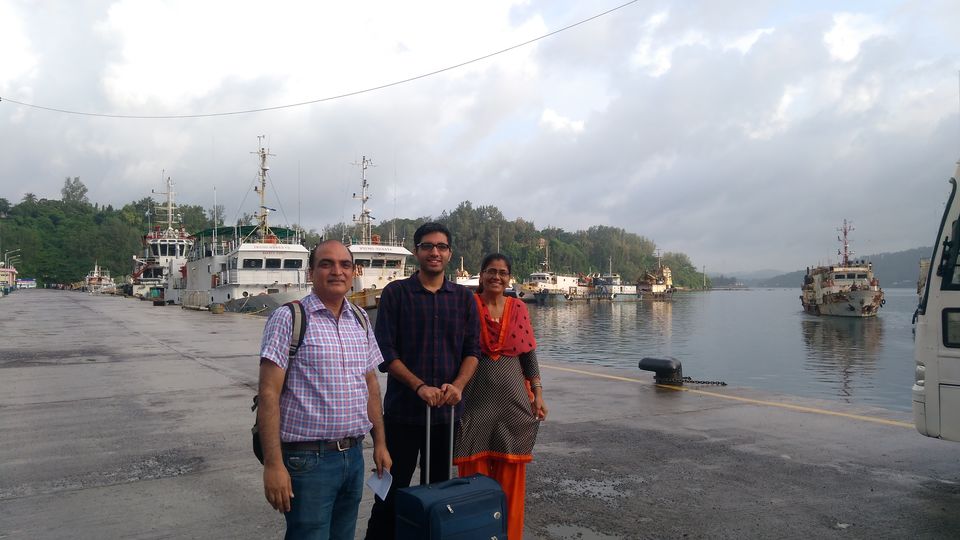 As we reached the port we were checked 4 times along with baggage so as to verify we were not smuggling any illegal drug or weapon , as there has been cases of smuggling of cocaine by tourists .After this hustle and bustle we finally boarded our ship , it was worth every penny spent , the interiors we super luxury and seats were ultra comfortable , there was also a small cafeteria in order to cater the craving for coffee and snacks . I too explored the upper deck of ship which was VIP lounge and costs 500/- more than usual ticket fare , we reached Havelock Island by 3 pm . As we stepped out of the ship ,this is what we saw (words cannot do justice to these views).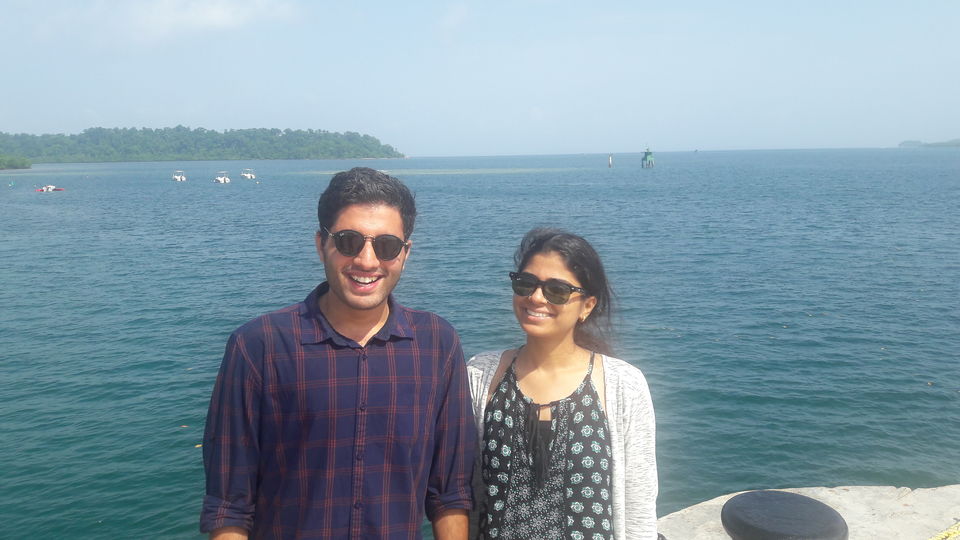 After this quick fake candids and poses we arrived to our hotels , we were given warm welcome by the staff and the complimentary breakfast was served . My mouth got watered to see Aloo Paranthe at such remote location on earth, I ate 7 of "em (aah) , when i looked at my watch it was 4pm , I asked my family to have a casual walk to the local market around the beach. The best thing in Port blair island and Havelock is the coconut.Although it costs Rs 40 yet the taste of water is simply heaven.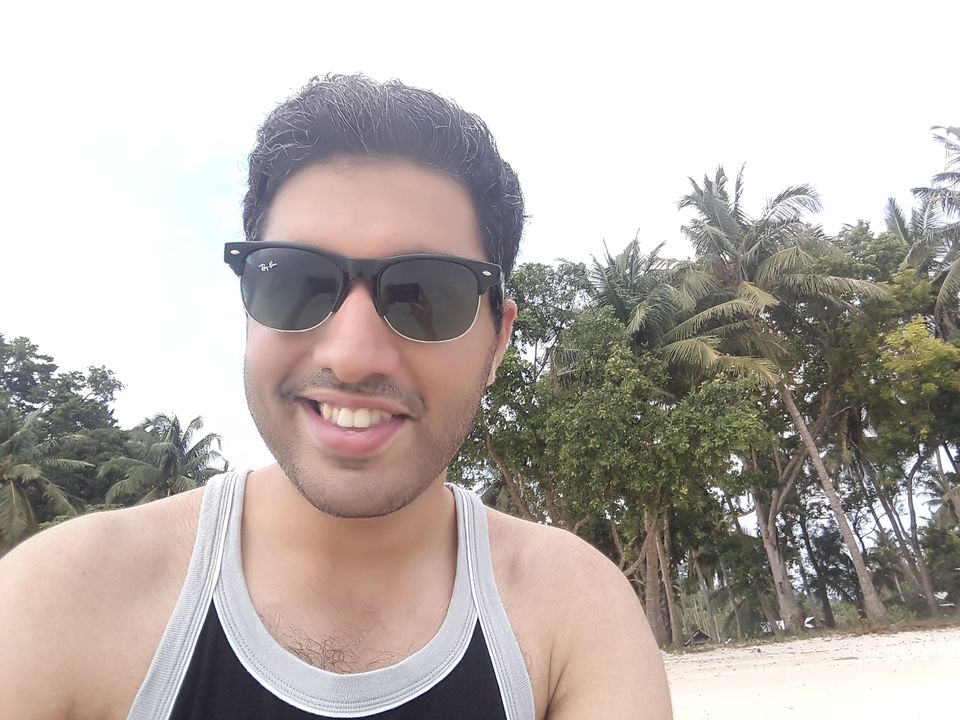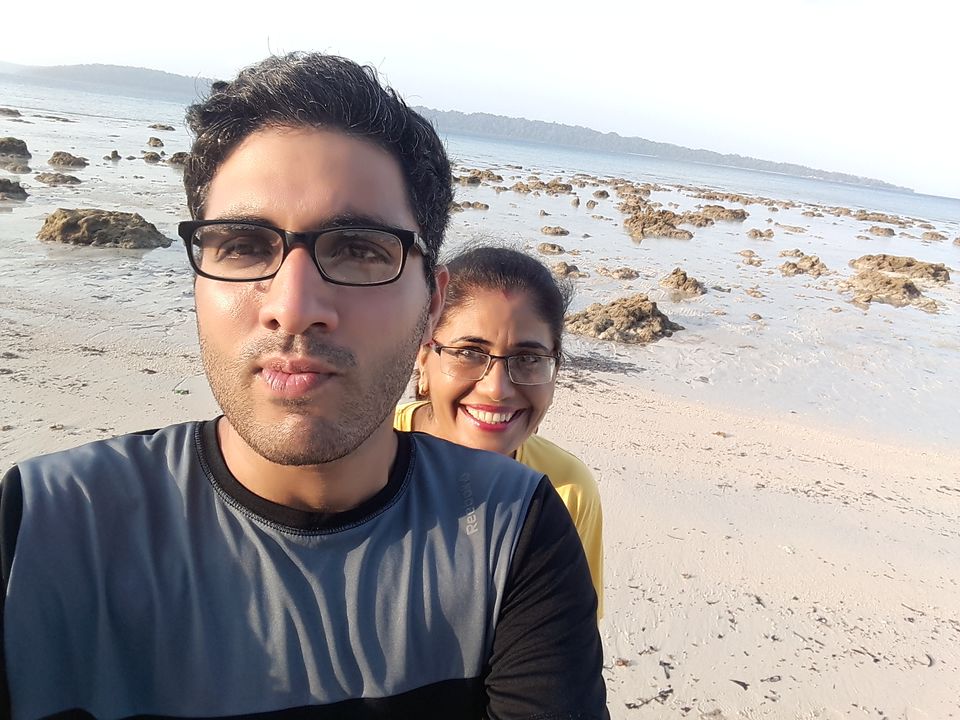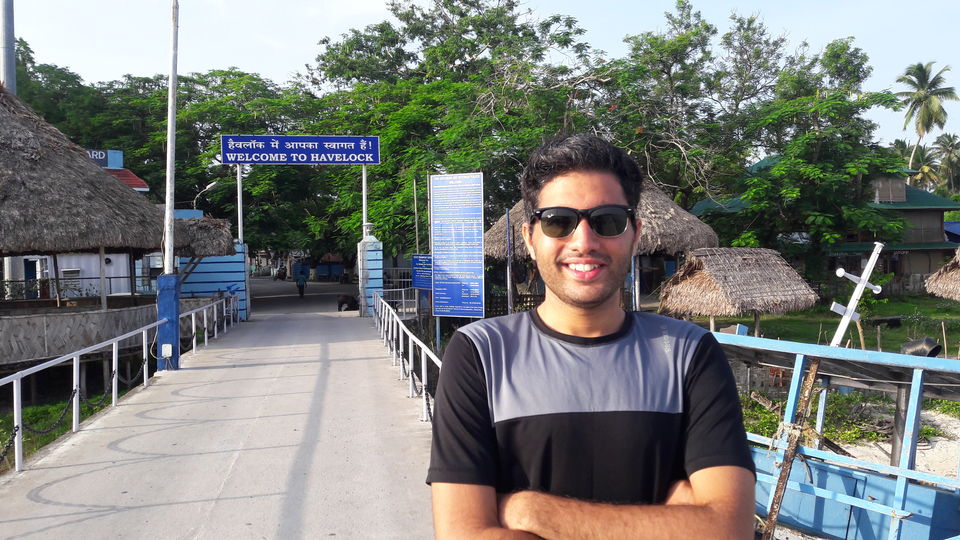 We ate local food including fish and crab(which I only ate). We had an amazing cup of powdered milk tea as there were no cattle in Havelock island so available milk is only in powered form .We bought locally grown bananas and carrots sizing 10 inch too. After this walked to our hotel rooms and we planned to view the sunrise early morning. Among 4 of us my dad was the most energetic person . He used to make all the weird and vexatious plans and even executes them easily.
Again next morning my dad woke up early and was trying to get us off from beds, soon, we all woke up after his constant nagging. We hired two scooters and made our way to see the sunrise , we were driving at a low pace so as to absorb nature's divine beauty, we all were surprised to see lush vegetation and greenery all over the place. Finally we reached a raised platform from where we cheer the beauty of mother nature.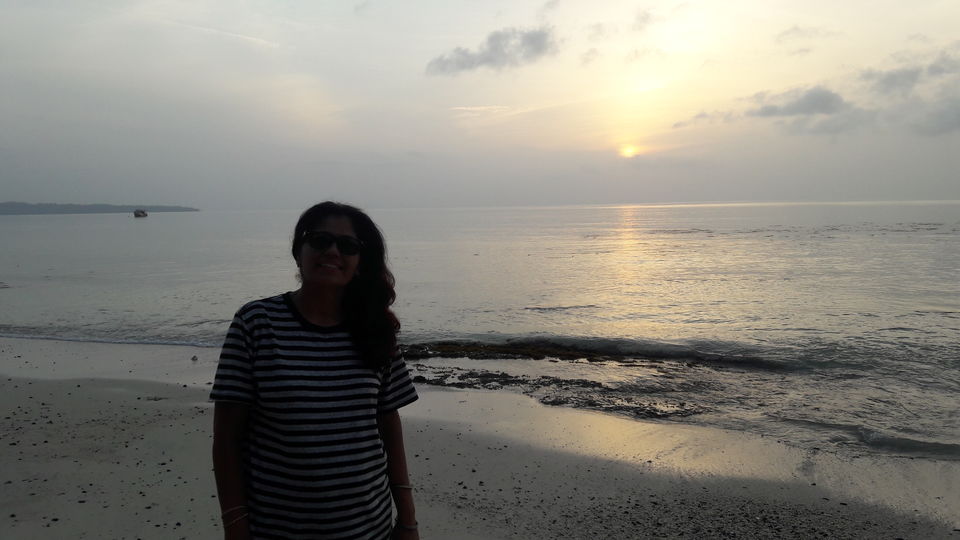 After this early morning long drive we came back to our rooms , quickly got freshened up and got ready to visit the Radhanagar Beach which was around a hour drive from our hotel .We were energetic as hell as it was our last day in Havelock Island.We hop on our scooters, fueled them up and drove towards the beach. According me to me this was the cleanest beach among all the beaches in the entire Havelock Island . I really wished to take dip in water but couldn't as I was dressed well and has to catch the ship later in the evening and mom was also worried as I walked along the beach thinking as if sea is going to engulf me inside it with its waves. We took a couple of nice pictures at the beach :-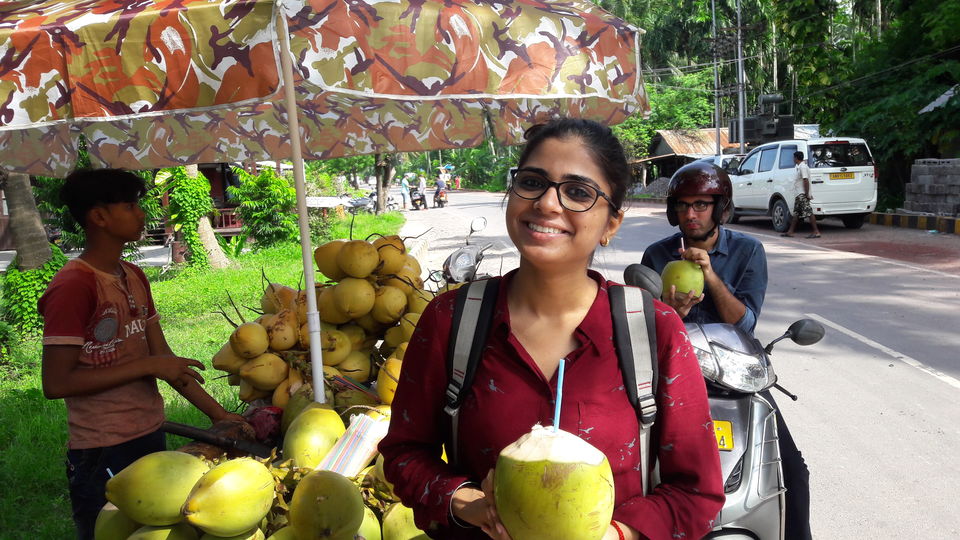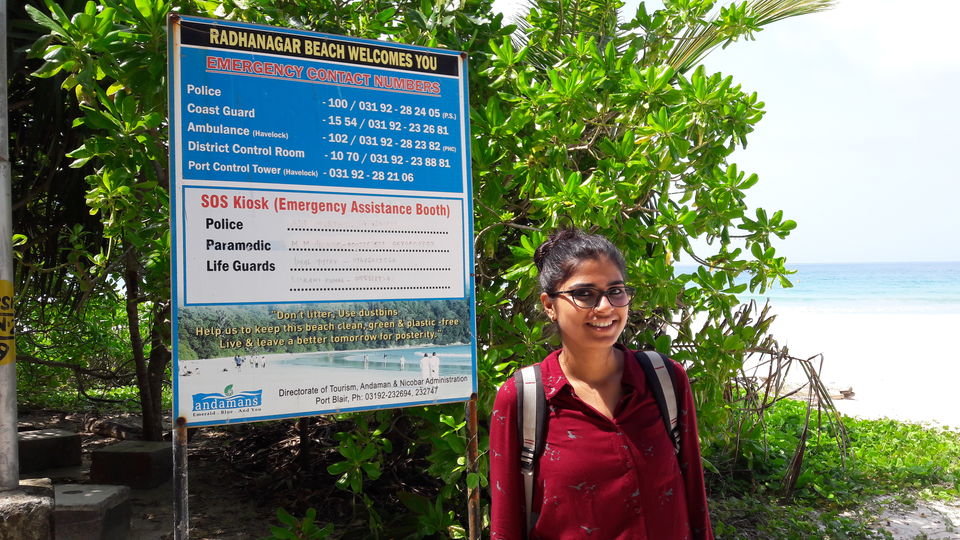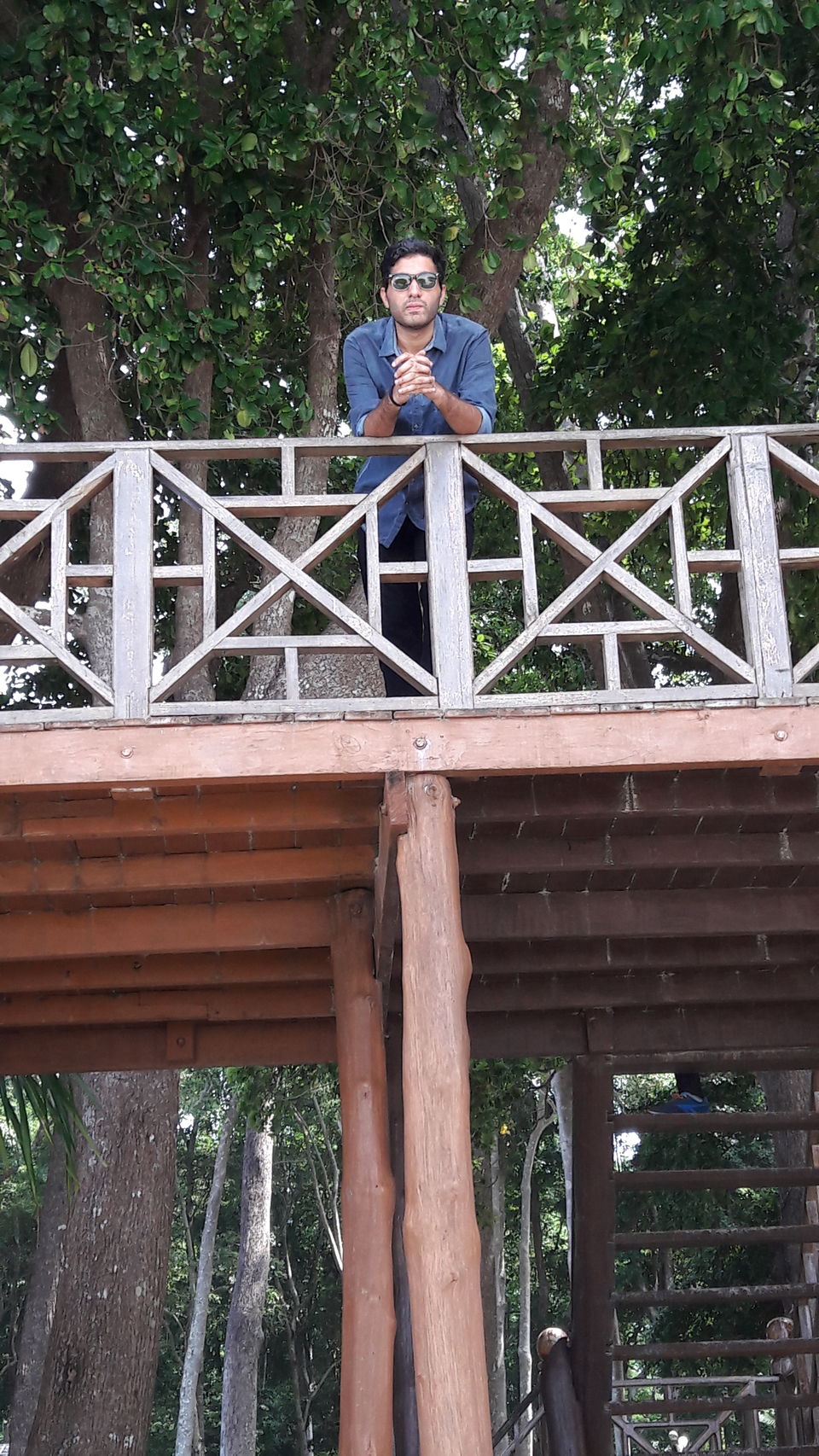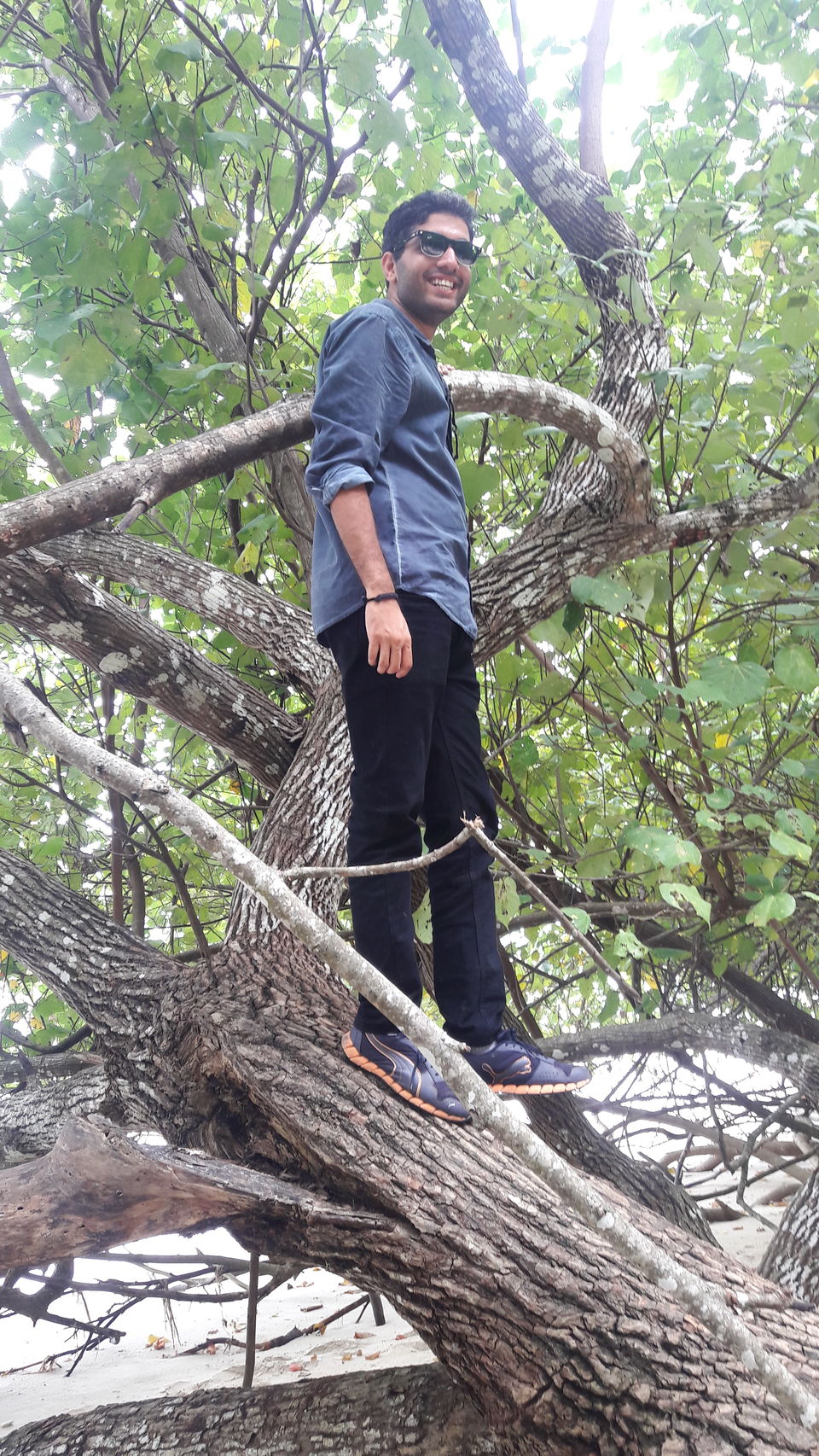 It was really a fun filled trip to that island , we spent around 4 hrs here , but we had to hurry up as our ship was scheduled to depart by 7 pm in the evening , so had closed to 2 hrs left on this island. Somewhere on this Island we found a north Indian restaurant (Anju Coco Resto) which was run by a Sikh manager , who are known to have an artistic nature when it comes to food. In the beginning we were quite skeptical to visit this restaurant but my food instincts dragged me there.It looked something like this -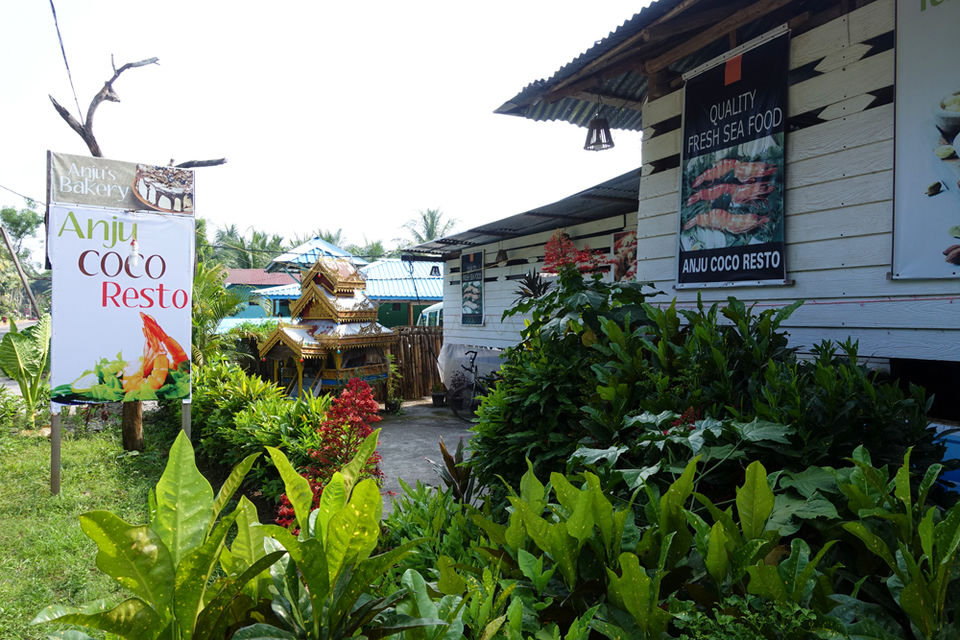 We were really delighted after feasting our taste buds with the much needed north india food. The price of food which were also not sky rocketing but quite economical. I guess per person it costs somewhat around rs400/- or lesser.
We hired an auto and reached the port. Our ships departed and we were lost in our own echoes in the ship. We discussed this was the much needed trip after our hectic schedules in our daily lives. There I realized one thing that people in coastal area are much happier even they are living on the edge to meet their basic daily needs but they live happily and are contented with their livelihood . On the other hand we people have every luxury ranging from high end cars to white collar jobs and what not , but are struggling in search of peace and fulfillment in our daily lives . Alongside people on this island whose only source of income is tourism , are much happier and living a life without a regret , even they know they can only afford only a single meal a day.
After reaching Port Blair we still had 1 more day in hand to roam around in the local places before our flight to New Delhi, I quickly took out my phone searched for local places to visit and found Cellular Jail as the most visited tourist destination among tourists. After a quick discussion with my family members we decided to visit this place , we threw our bags in the hotel room , and took walk towards cellular jail as it was 700mtr from our hotel. Each person ticket costed around rs30/-
After taking tickets we stepped inside the cellular jail. It was much bigger than we thought it would be. There were close to 700 cells in that jail. (Quick fact - Freedom fighters of India were kept in this jail so that they couldn't escape and even if they would they can't go anywhere because they were on an island). We roamed around all the cells and i felt proud that i am born in country which is full of rich culture and people who can starve to death in order to give freedom to their nation. The working of the Cellular Jail initially had seven straight wings each associated with a pinnacle in the center giving the entire development a look of something like a bike wheel with each wing appended with the inside pinnacle like a discussed wheel. This outline depended on English savant and social scholar Jeremy Bentham's idea of the Panopticon. The pinnacle in the middle that framed the purpose of convergence of all the seven wings filled in as a watch point for the watchmen of the correctional facility to keep vigil on detainees. It had a substantial ringer for raising caution. The wings, every one of which had three stories, were built in such way that the front of one wing faces the back of another so one prisoner in a wing can't see or speak with another detainee in any of the neighboring wings. Indeed, even the cells in a wing were in succession with the goal that prisoners in a similar wing likewise can't convey or see each other.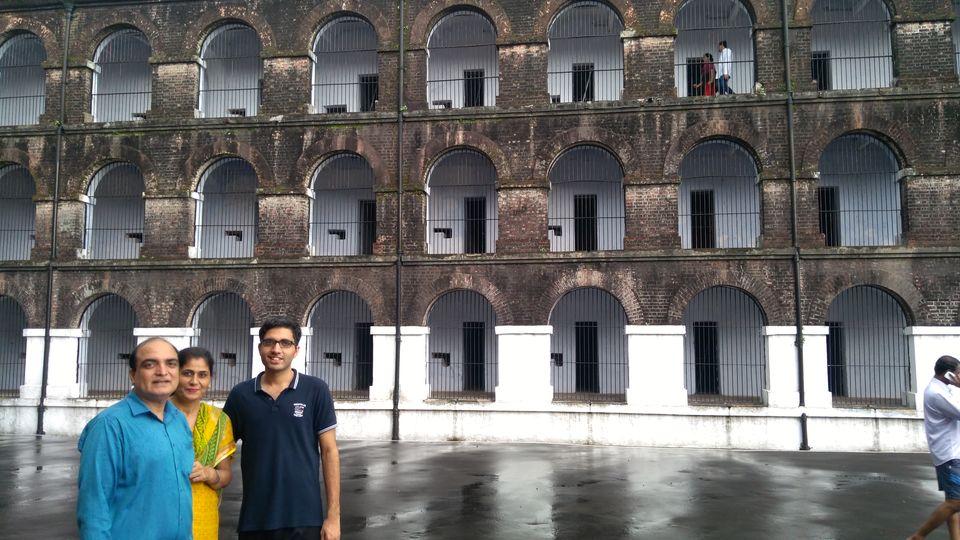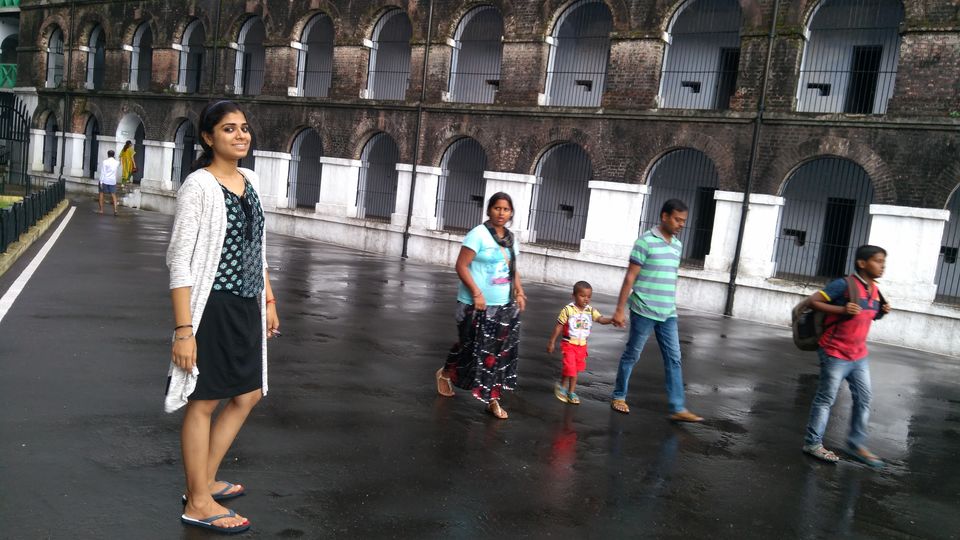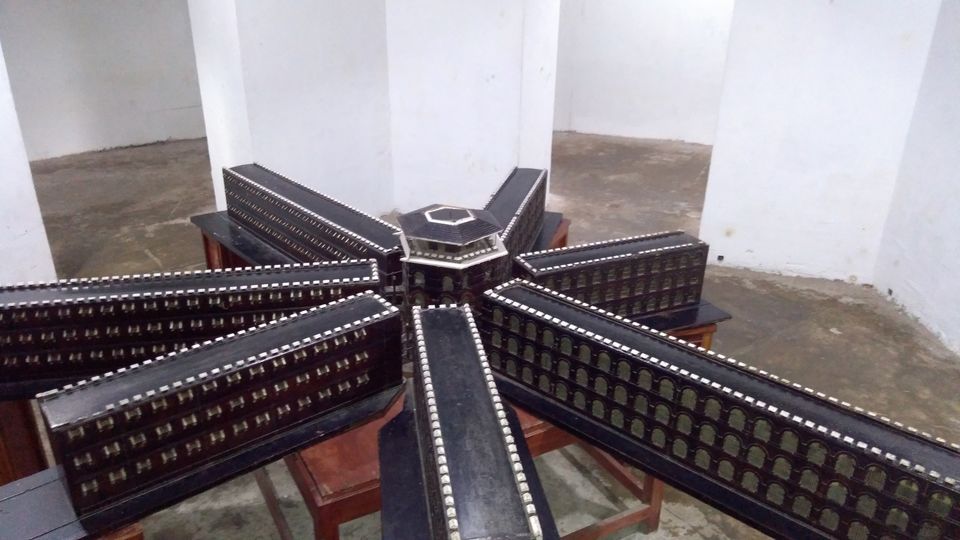 On the final day of our journey , our flight was scheduled to departure early in the morning and again we packed our bags and left for airport . Our flight took off at 7am and we reached Delhi , by 11am .
I must thank Tripoto for giving me such a opportunity to express my self . I poured my heart and soul into this content,this was my best performance until now. Anyone who is reading this might have understood this. Although i am writing this content at 2am in the midnight ie 5 sept 2018 , but my brain is still stuck in Havelock.
VOILA !!
KUDOS !!