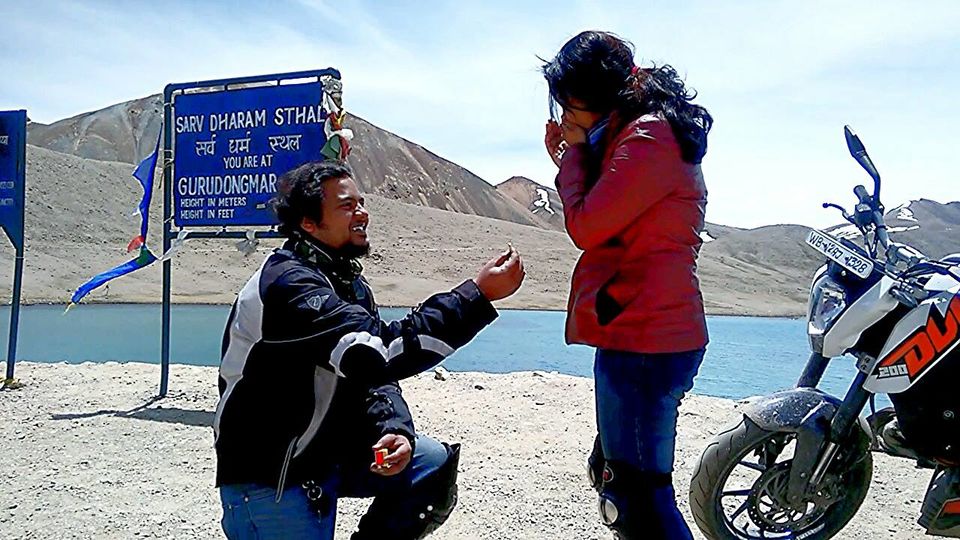 I hope I get to travel the world; and I hope that I get to do that with you by my side.
Most people in life have aspirations. While some want to get rich, others want to be successful and famous. My life's aspiration can be summed up by the phrase mentioned above
It has been about 5 years since I have been travelling the length and breadth of our magnificent country and the Gurudongmar Lake in North Sikkim is without a doubt my favourite destination. Every time I have reached anywhere close to it, the person who I have missed the most is my significant other, Miss Mallick. I cannot recollect exactly when, but I had decided since a long time that if there is one place where I will pop the question of taking our relationship to the next level, it will be at G-Top.
After several failed attempts to make this trip happen, it was in the month of May-June that our stars were inclined correctly and we managed to get leaves, permissions, cash and a new and capable bike for this ride. I knew that the months of May and June would bring a deluge of rain but it was a risk we were willing to take. Needless to say, Miss Mallick had no idea whatsoever that she was about to be swept off her feet in a few days.
Day 1
The condition of the road from Kolkata to Siliguri is what the Dakar rally tracks are made of and I decided to not let her go through the pain. I was supposed to ride from Kolkata to Siliguri during the day and she was supposed to reach Siliguri by train at night. While I did ride to Siliguri and reached there in record time, we got shocking news in the evening that a rail bridge in Assam had collapsed because of rain and her train had been delayed by more than 12 hours! Our love-hate relationship with rain for this trip started. My love-love relationship with beer and friends ended the day for me.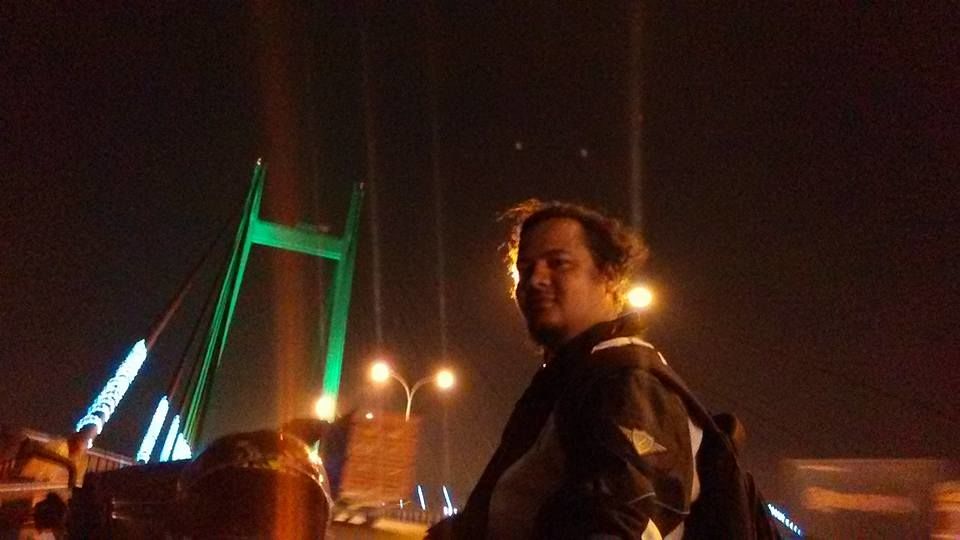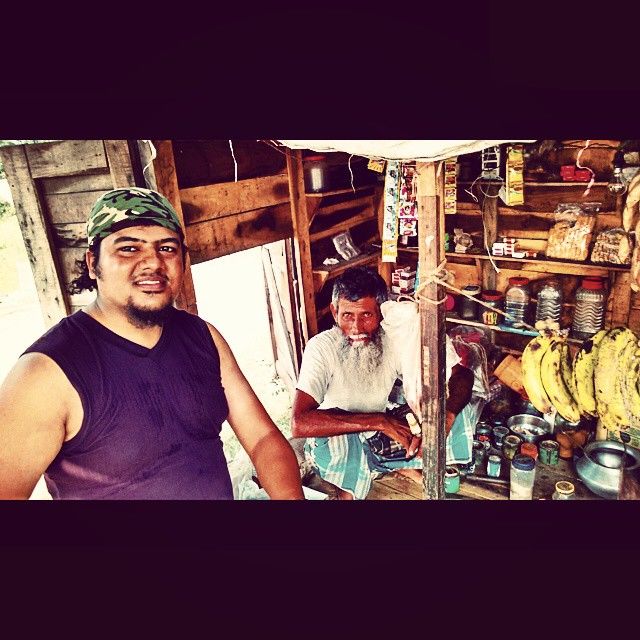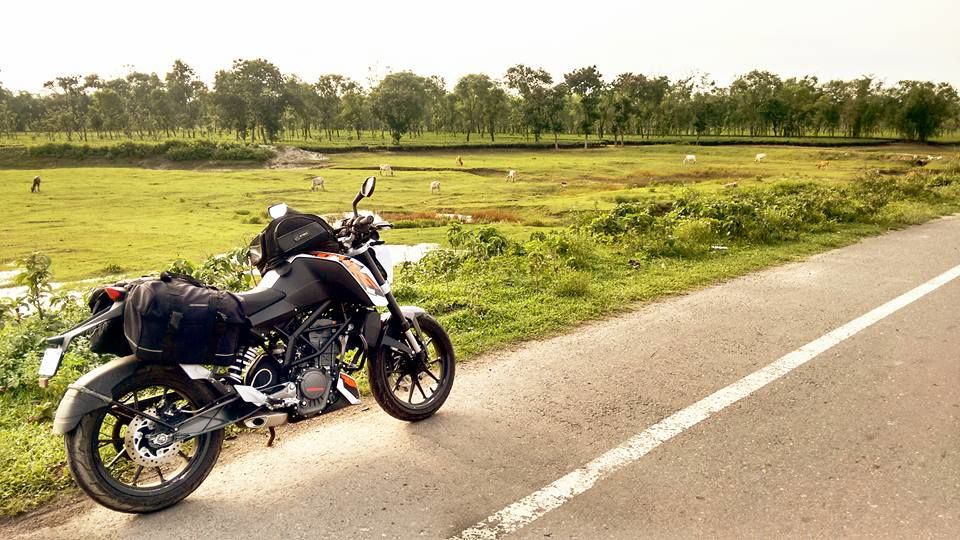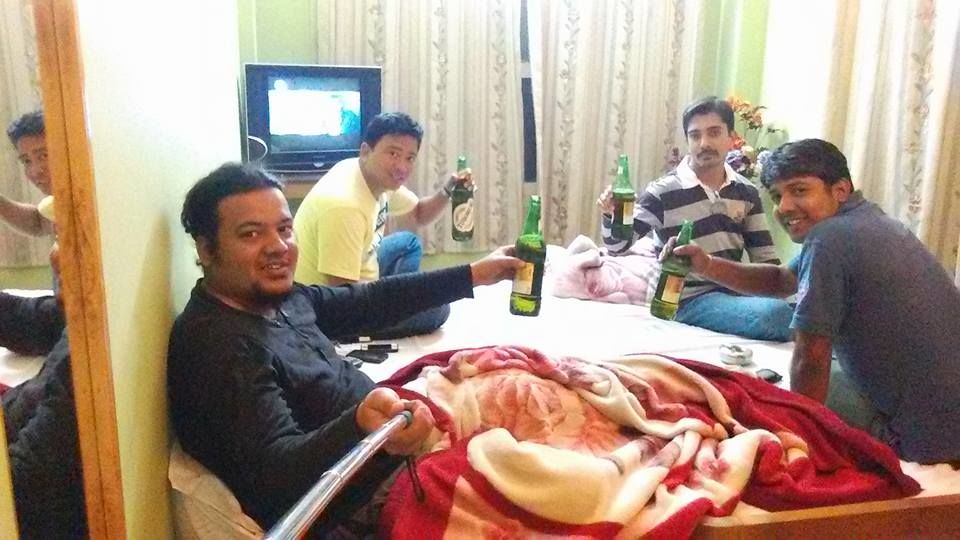 Day 2
Since I had nothing productive to do for the next day, I decided to ride to Darjeeling and have some tea at the famous "Glenary's". My big brother Santanu had initially planned to just see me off till the foothills but the sight of the hills persuaded him to join me till Darjeeling. A foggy-rainy ride of 3 hours and we found ourselves at the famous mall road of Darjeeling. We walked, we ate and we clicked to our heart's content and after a refreshing cup of tea at Glenary's we started our ride downhill. I was riding on hills after months and I made the most of it. By this time Miss Mallick had finally boarded her train which was by now close to 15 hours late. Late at night I went and picked her up from the railway station and even though I was shocked and worried after seeing the size of the backpack she was carrying, I was excited with the prospect of "The Proposal Ride" finally kick-starting the next day after much delay.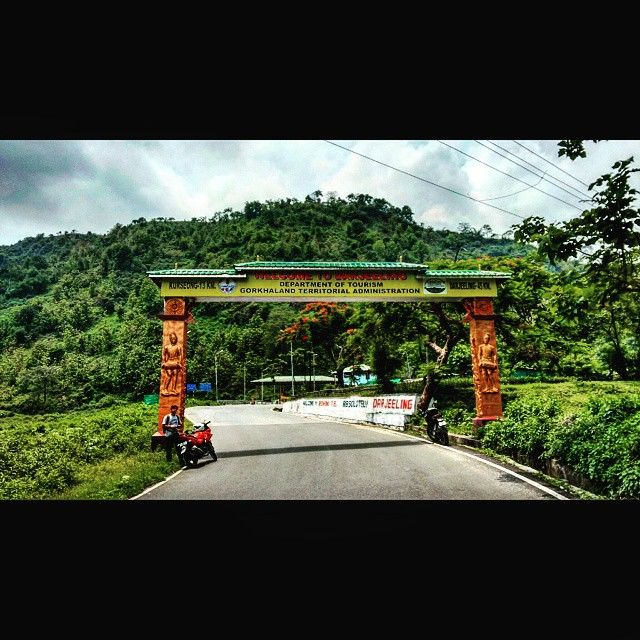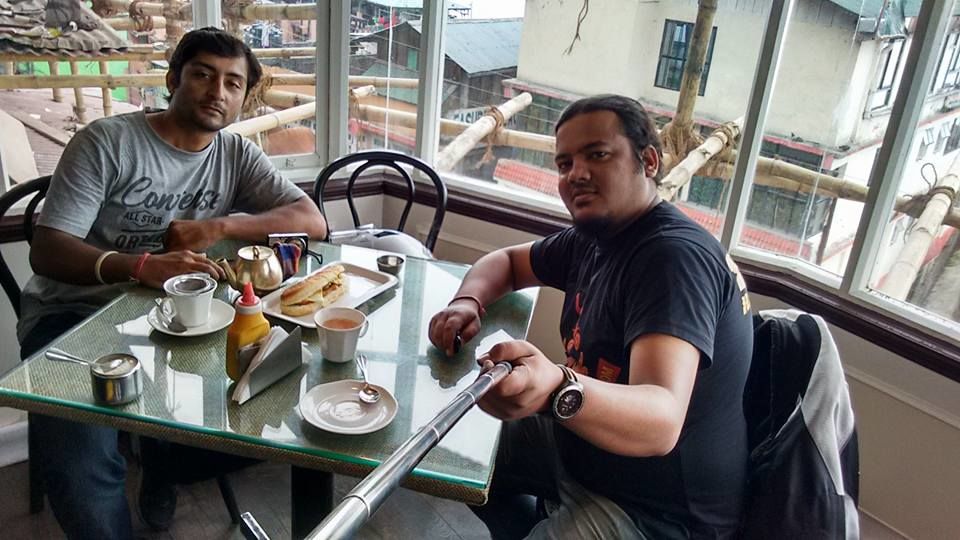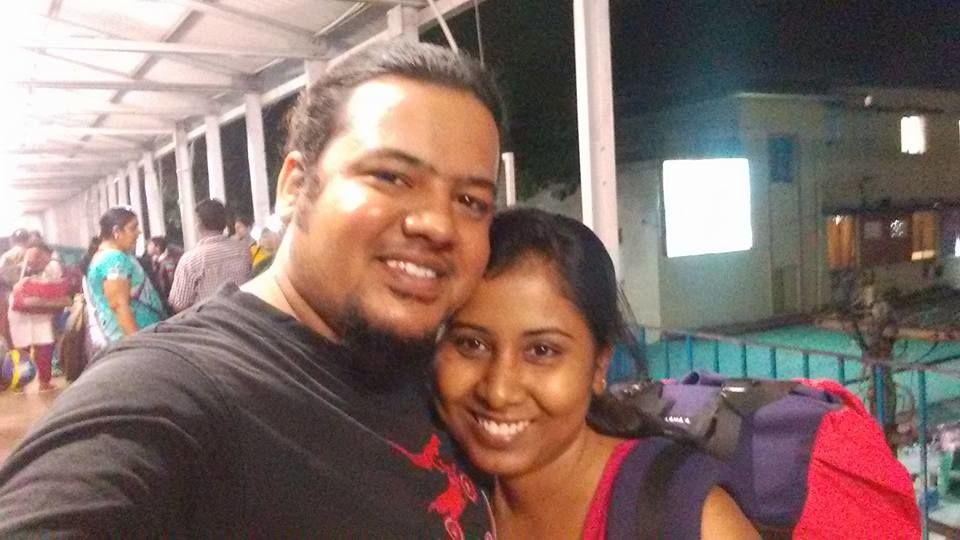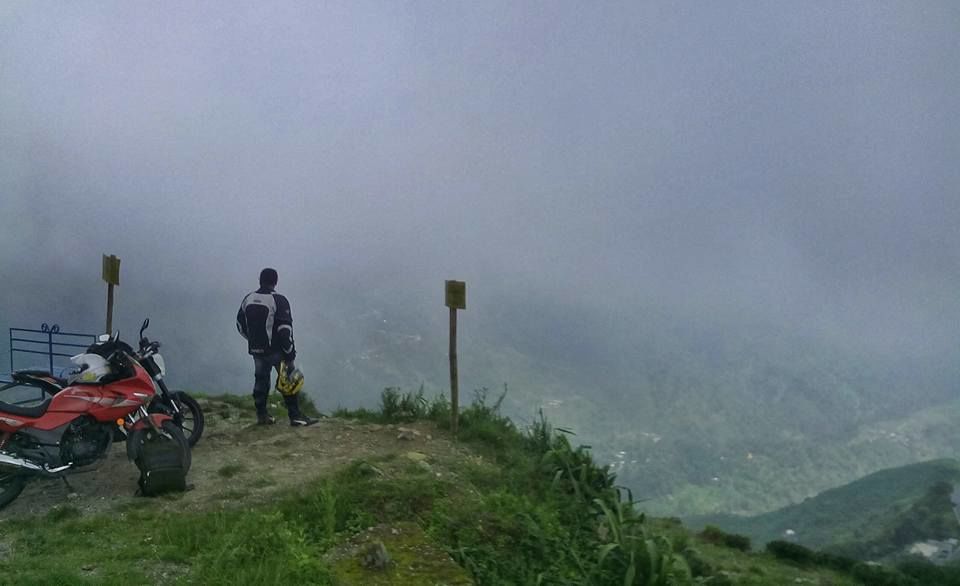 Day 3
The security guard at the hotel gave us curious looks from his sleepy eyes when we asked him to open the door in the wee hours of the morning in all our riding gear glory. About 10 kilometres out of Siliguri we were surrounded by dark monstrous clouds and the drizzle turned into a downpour in a matter of seconds. Wet and slippery roads, excessive luggage and unforgiving rain followed for the next few of hours. "You know we are either extremely courageous of extremely stupid to be doing this" I told her. "Actually we are both" she retorted and we laughed the situation off and continued riding. After an hour long delay due to a landslide we reached Rangpo and saw the sun shining brightly at us. Thanks to my buddy Abhradeep, we had secured the necessary permits in advance for this ride and headed straight to Lachen. I took a wrong turn after Singtham and we wasted an hour retracing ourselves. It was now that the biggest problem of the ride started. The saddle bag which we were using was not designed for the Duke and Miss Mallick was not getting space to keep her legs on the footrest. Given the already challenging sitting posture of the Duke, the pothole filled roads and the heavy backpack; she was having an extremely tough time. At Mangan I readjusted the saddle bag which made life somewhat easier for her. It was only after sunset that me and my superhuman pillion reached Lachen. A small room in a hut with the sound of a water stream was just what we needed. I was about to ask the biggest question of my life the next day.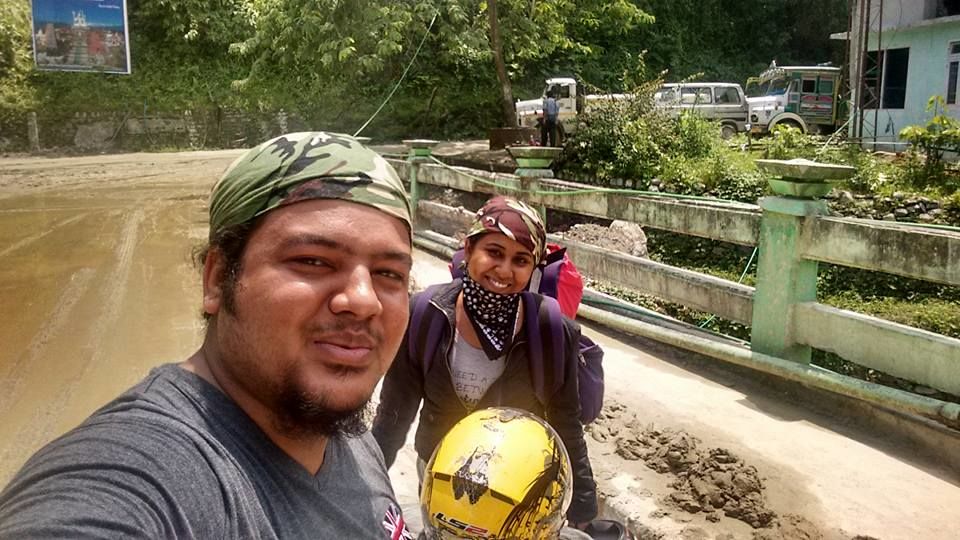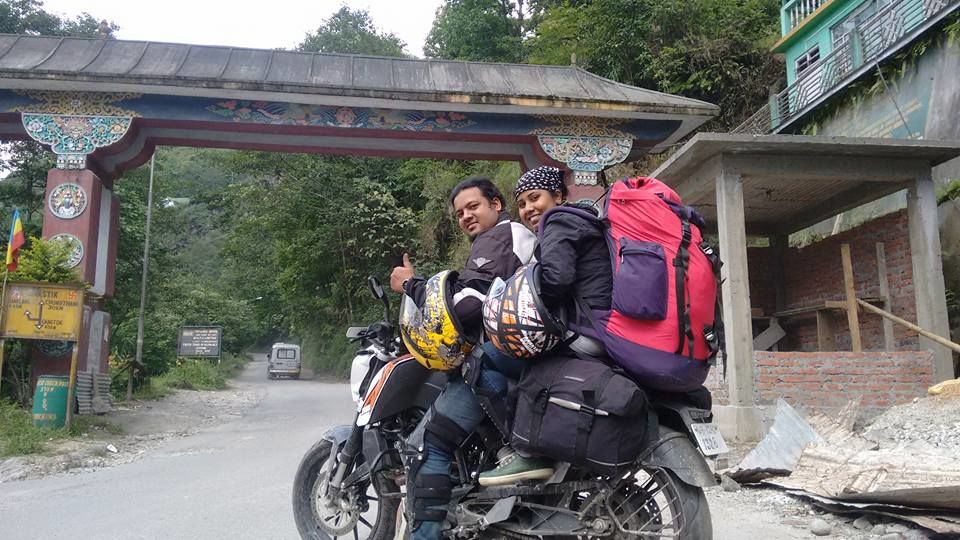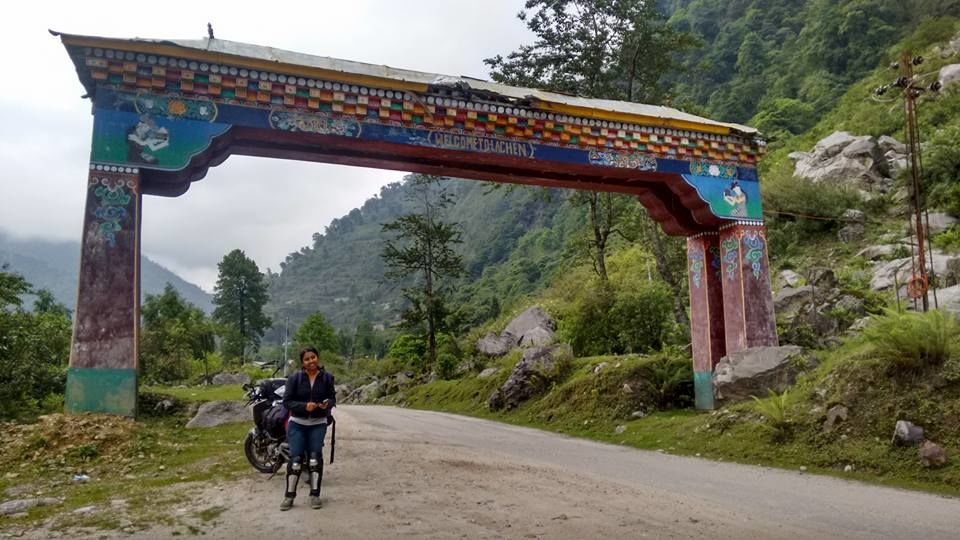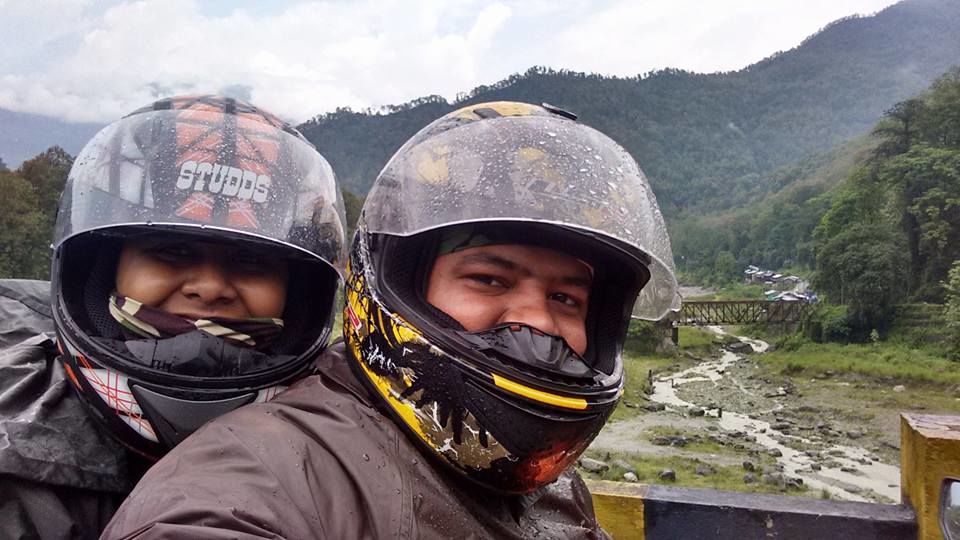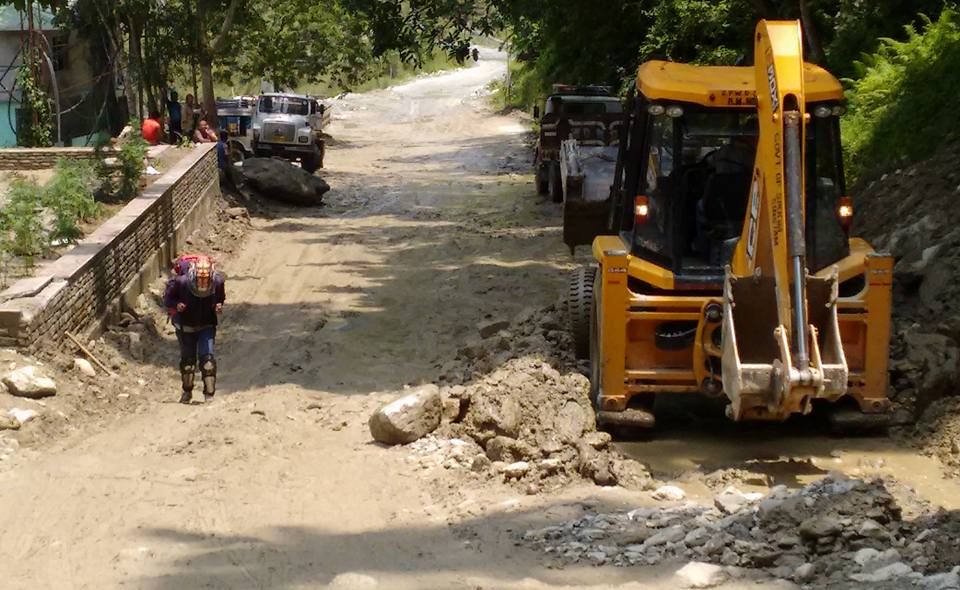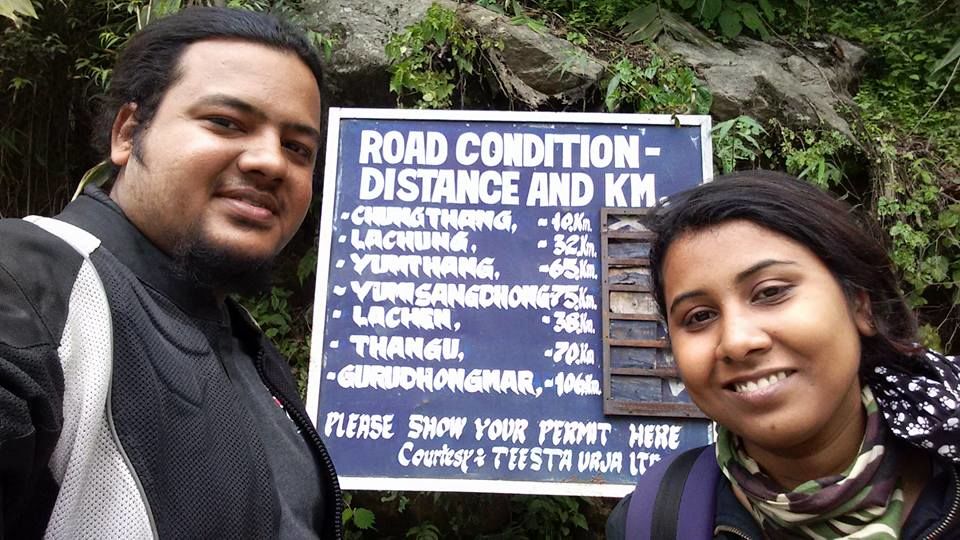 Day 4
As always, the most difficult stretch of the road to Gurudongmar is from Lachen to Thangu. But with no saddle bag and backpack we were riding rather comfortably even though the jerks from the boulders and potholes broke the mud guard of the rear tyre of Dukey. Oh, I forgot to introduce the newest member of my family, I brought Dukey home in February after a teary eyed farewell to Bikey (my Pulsar 135) and it has since then been my secret keeper. We gained altitude at an incredibly fast pace after Thangu and I knew that nausea, headache and sleepiness would catch up soon and hard. While I was struggling with a mild headache, the lack of air was shutting down Miss Mallick's brain and she was continuosly falling asleep while sitting pillion so much so that I had to sing songs to keep her awake. But the moment we took the turn after the last check post at Geighoon, our headache and sleepiness disappeared, albeit temporarily, as what lay ahead of us was the beautiful and barren Tibetan plateau. This was what we had taken all the pain for.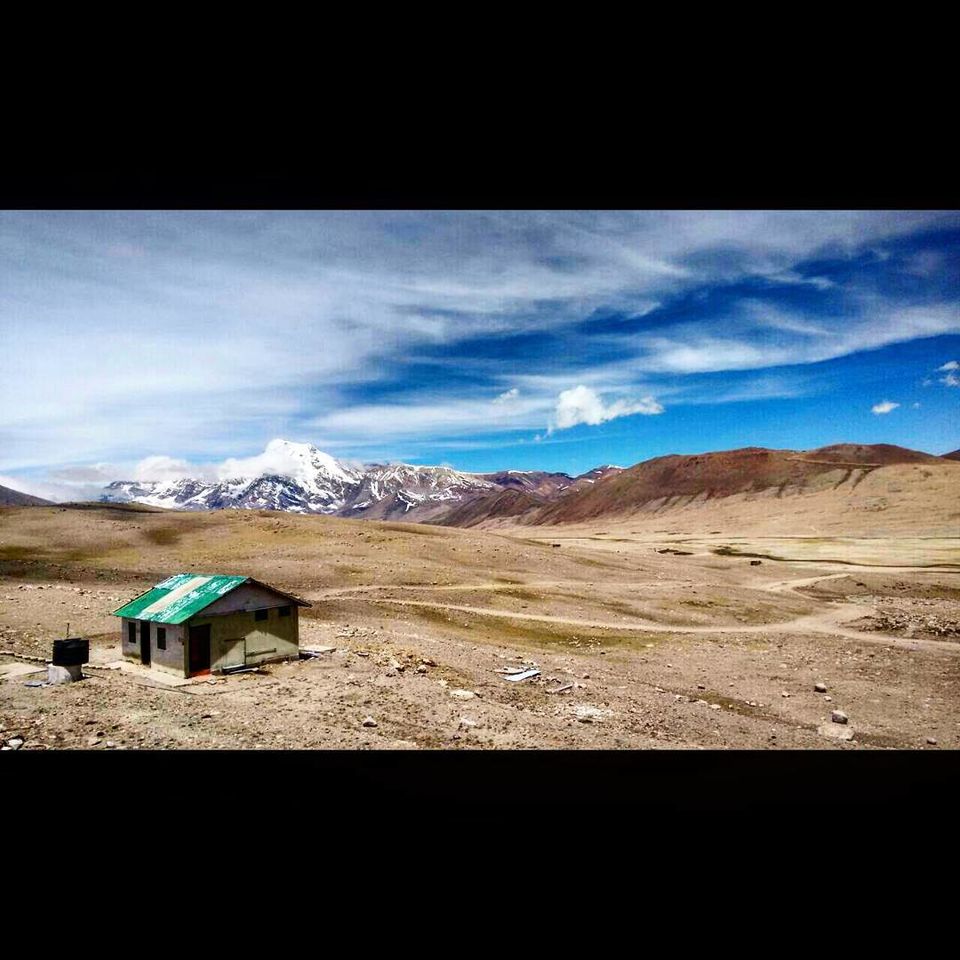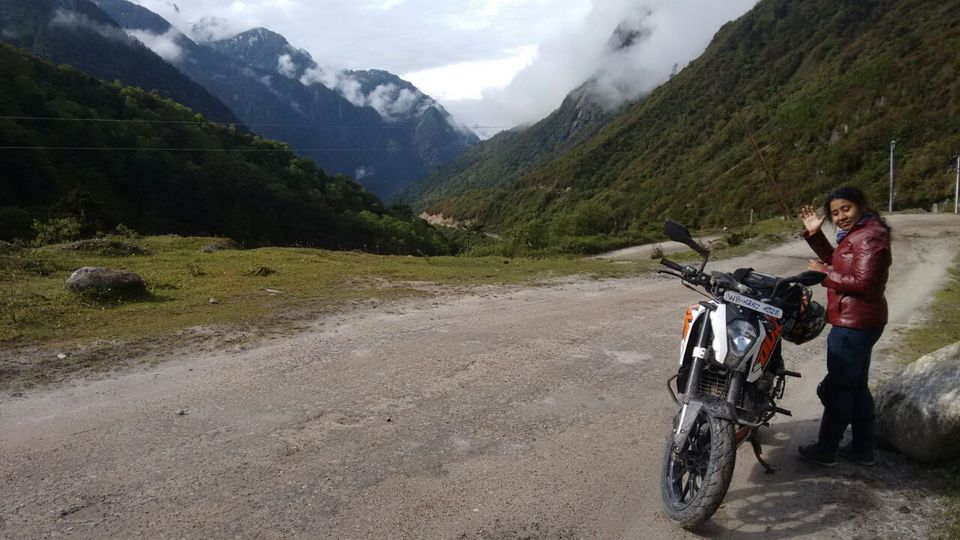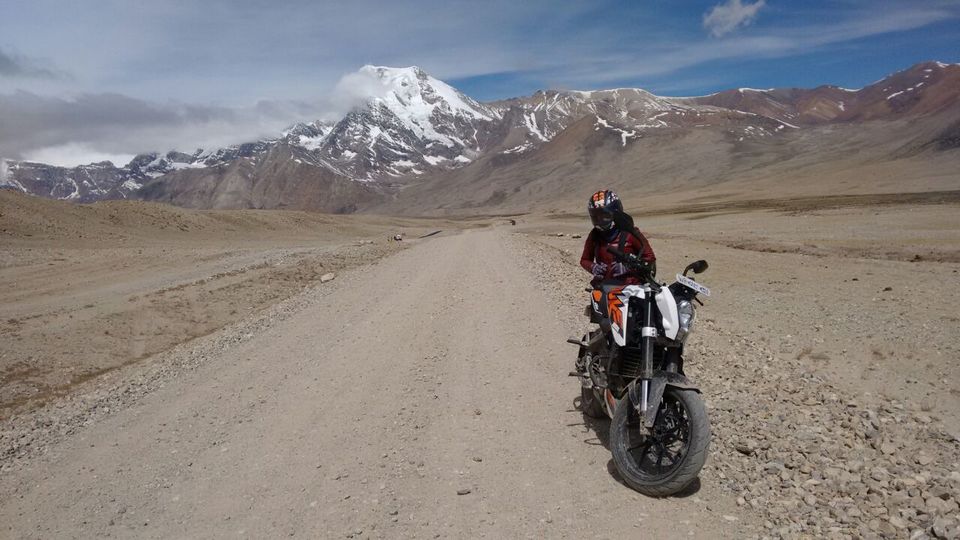 Absorbing the incredible surroundings we continued towards the pious lake. In spite of being ridden with a pillion, Dukey showed no signs of distress. We followed the dirt track to a tiny handwritten milestone which showed Gurudongmar to the right. The last 100 meters to the lake is where most bikes give up but Dukey managed to climb it with relative ease. We had finally reached my favourite place in the world which was now the favourite place of Miss Mallick as well.
We watched in awe, we laughed, we hugged and we clicked. While Miss Mallick was having the time of her life, I was having butterflies in my stomach. I decided to transfer the butterflies to her stomach. There were a few other tourists on the lake, I told them my plan and asked them to take a video when I go down on my knee. With the beautiful lake in the background, the board claiming the place to be a "Sarv-Dharm-Sthal" and Dukey as my witness, I walked up to Miss Mallick, took out the ring, went down on my knee and said "The last couple of days have been the days I want my whole life to be like, if you also want the same, will you please agree to spend the rest of your life with me?" all that she could say was "Yes!"
It was the most magical feeling ever!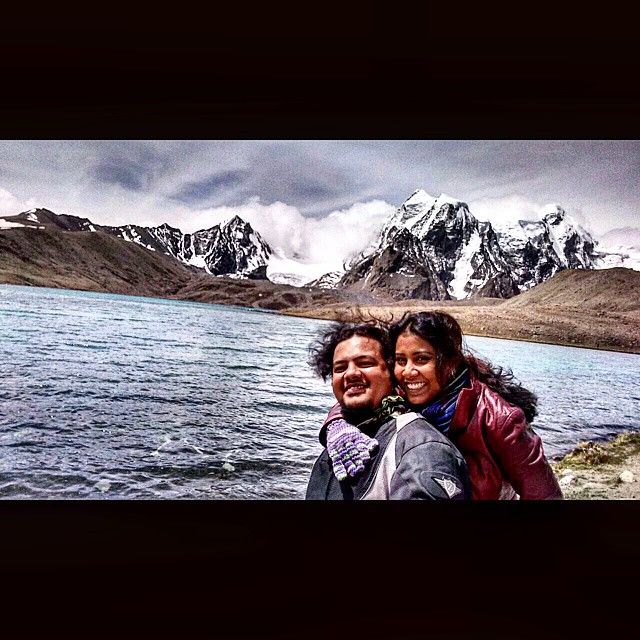 The ride downhill from Gurudongmar was filled with mixed emotions for me. On one hand I felt happy, satisfied and content, on the other hand AMS was catching up with me and my headache was getting worse with every passing second. At the check post at Geighoon the generous army folks gave us chocolates and a drink of corn and water to deal with the AMS. We saw the video of the proposal and giggled like kids.
Lachen had changed drastically from the last time I had visited a couple of years back. On my previous visits to Lachen the only meals we got were rice, dal and local sabzi. Now Lachen had restaurants, hookah bars, WiFi, mobile network connectivity and most importantly, an ATM. We celebrated the evening to our heart's content.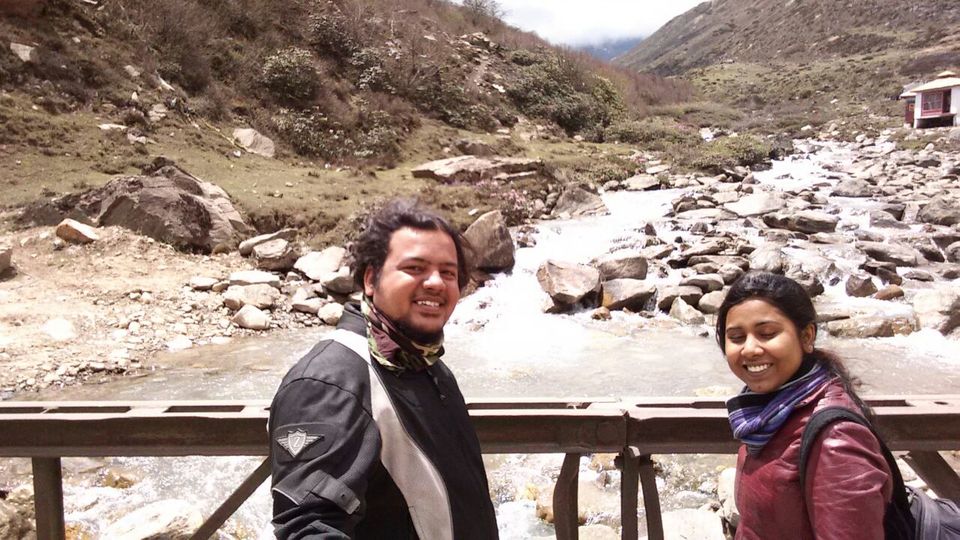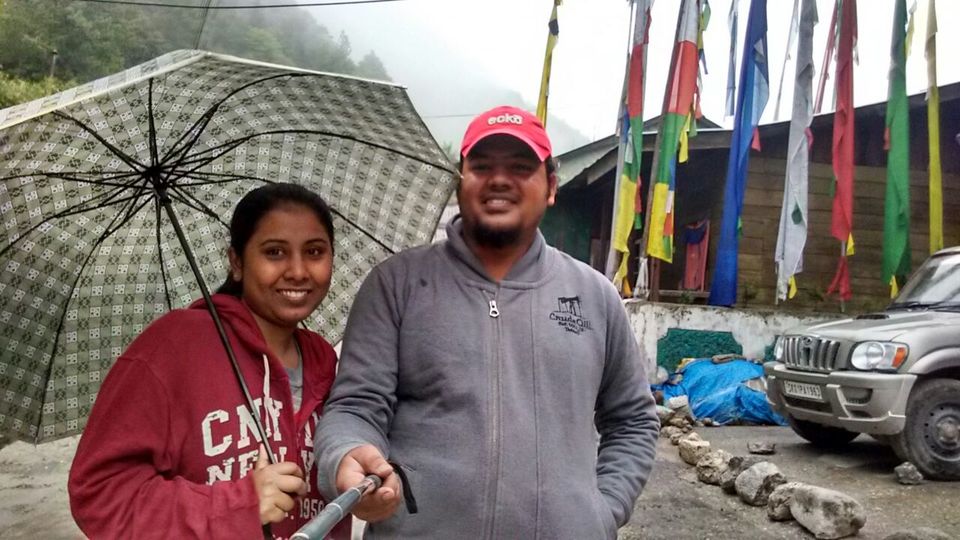 Day 5
We had initially planned to visit Bhutan after Gurudongmar but the rain gods had other plans for us. The adventure quotient of the trip was about to reach a whole new level! A gloomy morning made us realize that it would be a day filled with rain. We crossed Chungthang and saw lots of cars coming back with the drivers waving us to go back. At the Toong check post we saw a row of cars waiting. The torrential rains had resulted in several landslides. We went to a small canteen to keep ourselves warm but with each passing minute more and more people entered the canteen and soon there were close to 100 people of all ages cramped in that small canteen. Thankfully we got the news that the landslide has been cleared and we slowly moved forward with the hope of making it to the land of the thunder dragon. Within 10 minutes of riding our hopes drained down the Teesta River as we saw a ferocious stream of water about to break the connecting bridge. Such was the force of the water that even four wheelers were sceptical to cross it. We waited for 4-5 hours but the stream showed no mercy. We were forced to head back and find help. The nearest large village with accommodation was at Chungthang but a fresh landslide had cut us off from it. Basically we were stuck in between a landslide and a ferocious stream of water.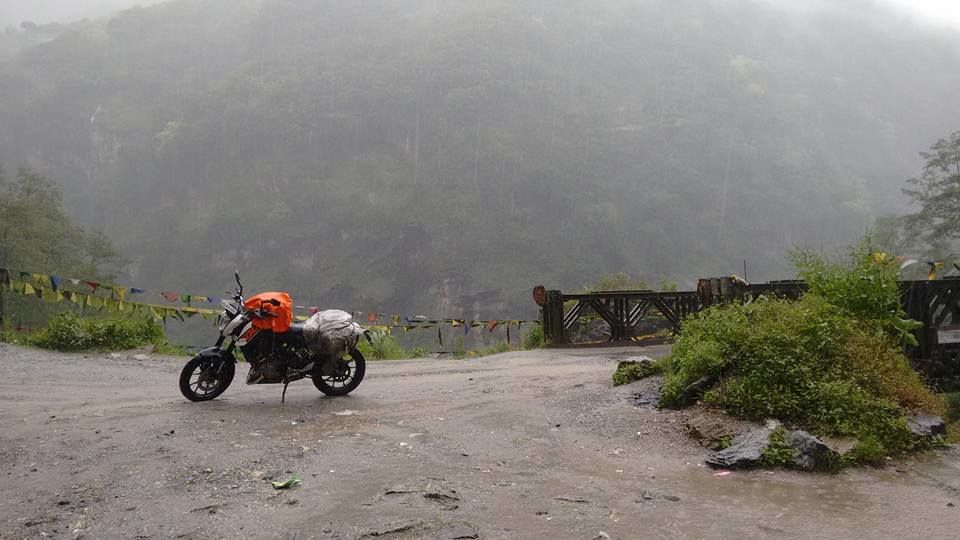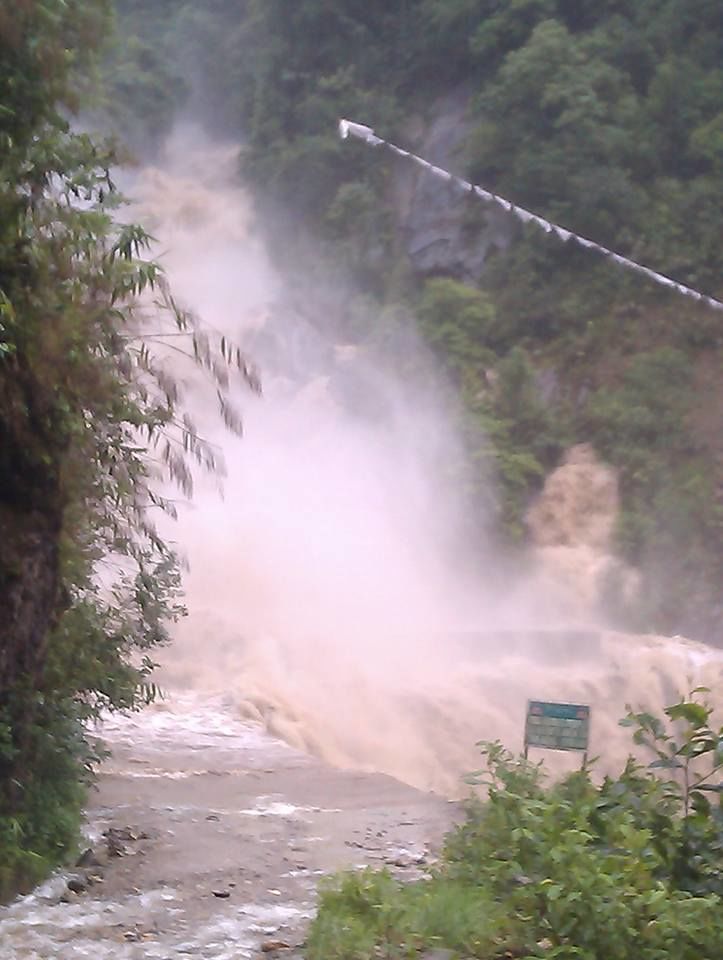 The people of the hills are known for the simple and generous nature and we were not disappointed. After a few attempts we found a house where an Aunty gave us a room to spend the night. What could have been disastrous turned out to be a blessing in disguise. Both of us had stayed in many home stays but spending the night in a real stranger's home was a priceless experience. The kids of the house made us forget about all our problems. We played with them, walked to their school's playground, sang Nepali songs and even took selfies. At night Miss Mallick helped Aunty cook vegetables freshly plucked from her back yard while I helped myself to a glass of the homemade Tongba alcoholic drink. That night we did not turn off the light by pressing a switch, we reduced the light by turning the knob of the oil lamp.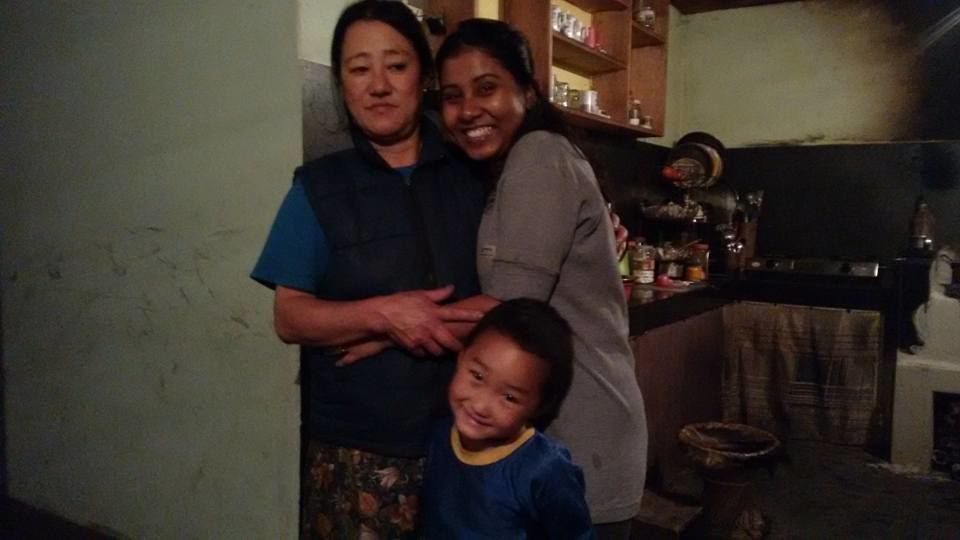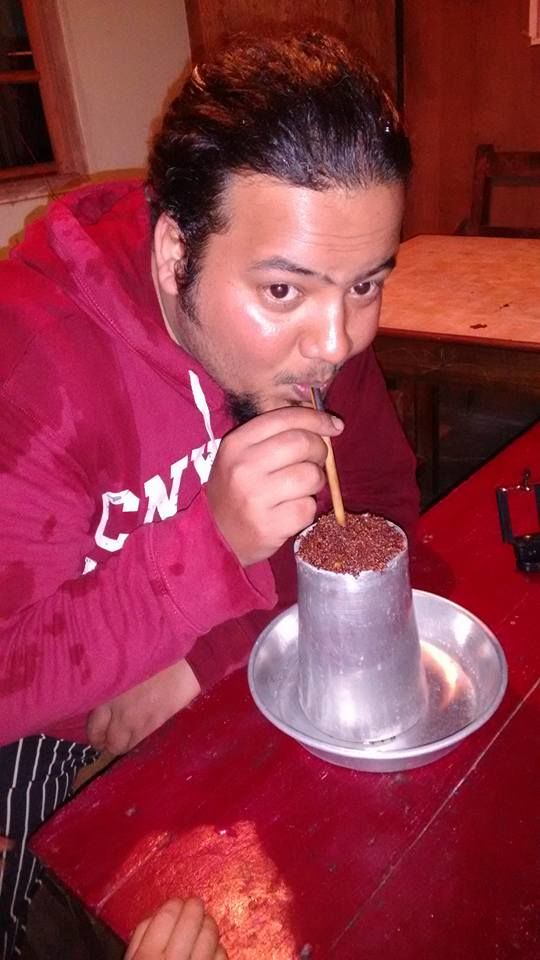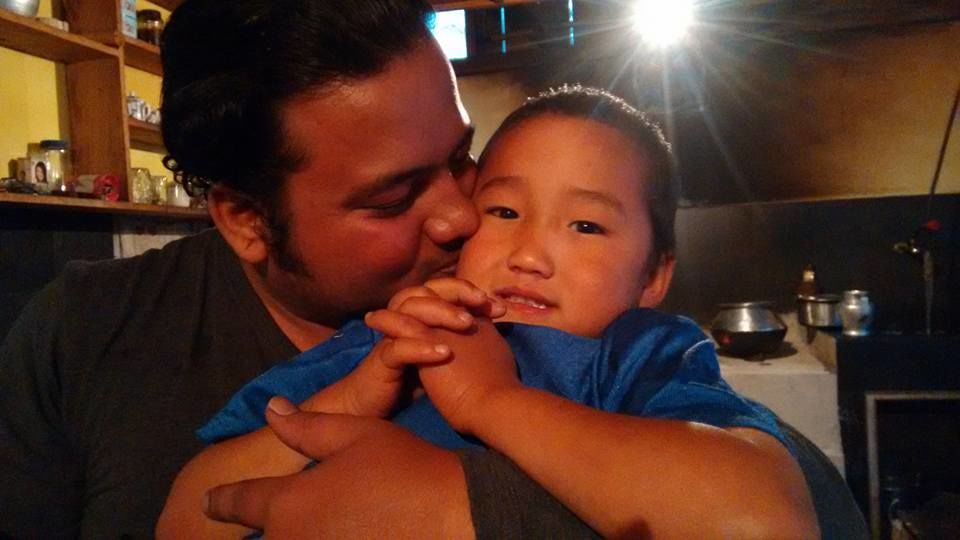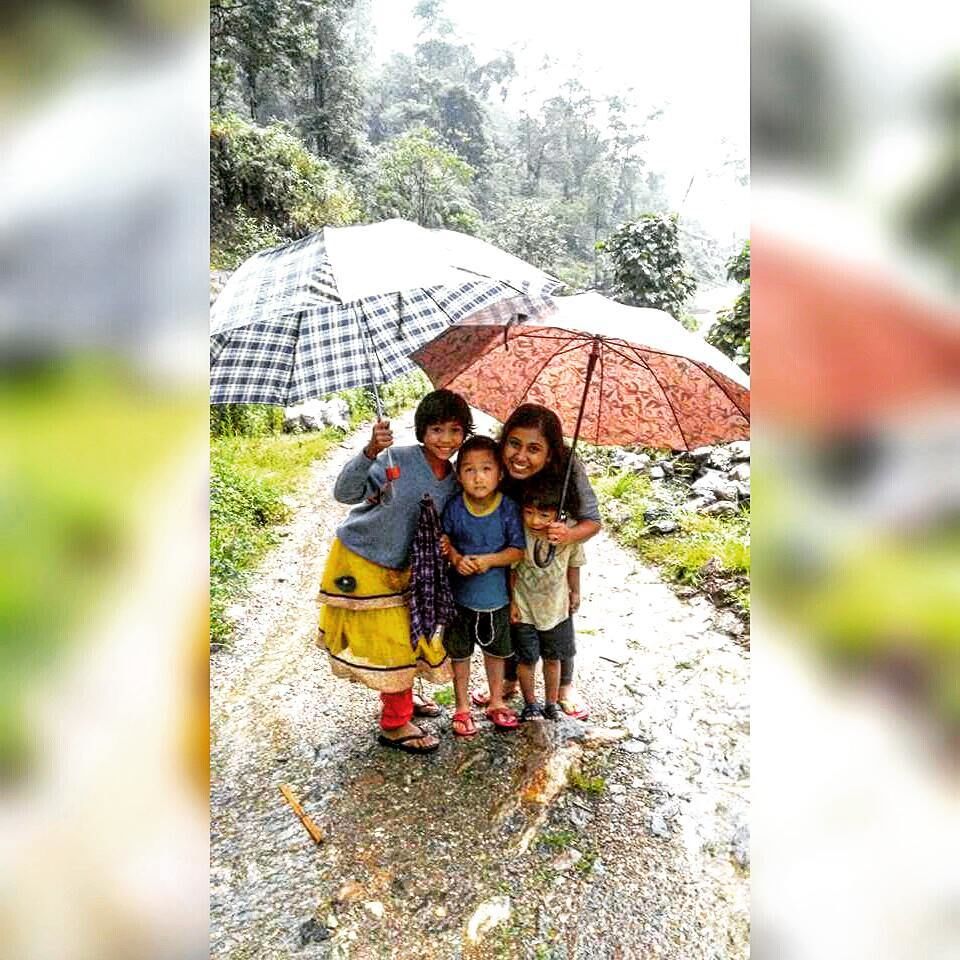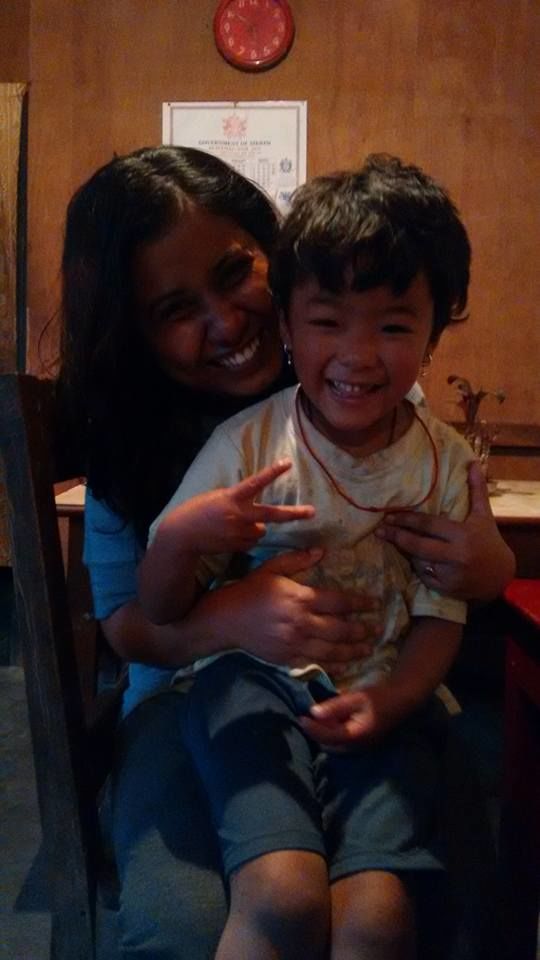 Day 6
Clear skies greeted us the next morning and we wasted no time to be back on the road. The monstrous stream of the previous day was reduced to a trickle. Even though the weather was on our side there were several landslides due to the previous night's rain. At one such landslide the brave hearts of the BRO were working hard to clear the landslide but it was taking up a lot of time. Finally all the tourist, drivers and locals joined the task of clearing the huge boulders and tree trunks off the road and with our very hands we cleared the landslide in a matter of minutes. Mangan was just a few kilometres away and we were hopeful to reach Gangtok by the end of the day. However, it was not to be. What we witnessed next was the mother of all landslides. The entire road was washed off and one whole side of mountain had completely blocked the road with boulders two storey high! We saw that the tourists on this side of the landslide were abandoning their vehicle and trekking their way to the other side of the landslide with their entire luggage and then taking a different car from there. This made me realize that there was no way that this route would open in the next 2-3 days.
It was our extreme good luck that the volunteers of the BRO working tirelessly to clear the road and help the tourist to trek across the landslide were all part of a Sikh regiment. I went to one of the soldiers and explained him our situation in Punjabi. Even though they were sceptical they couldn't turn down my persistent requests in their native language. Soon 5-6 "Gabru Jawans" of the Sikh regiment came to Dukey, picked it up on their shoulders with their bare hands and started to trek across the huge landslide. They transferred the bike across the landslide in a matter of minutes but those were the most anxious minutes of my life as even a small slip would have resulted in Dukey falling off the cliff into the river below. I pray to god that he gives all the happiness to each and every soldier who made the impossible possible.
The day was not over yet. While crossing Mangan we asked the locals for the road ahead till Gangtok and they confirmed it to be clear. But the weather transformed within minutes and an extremely heavy downpour started. While it was very dangerous to ride in such heavy rain we kept edging forward with one eye on the road ahead for any traffic and the other on the mountain above for falling boulders. In an almost repeat of previous day's events we saw a strong stream of water making it impossible to cross it on two wheels and forcing us to head back to Mangan to look for an accommodation there. Once again while on our way back we saw a fresh landslide blocking the road. The only difference this time was that the distance between the stream of water and the landslide was a matter of a few hundred meters and the number of houses in between the two was less than half a dozen. The locals of this area were Lepchas and they knew nothing apart from their local language making it almost impossible to make them understand our need to find shelter for the night. An old man who could speak broken hindi came to our rescue and we found a home to stay.
By looking at the condition of the home we understood that this Lepcha family was in economical distress. Yet, they opened their kitchen and all the groceries for us to use. As a gesture to repay them for their help I bought excess supplies of groceries like rice, dal and egg from the local village store and we cooked for not just us but for the Lepcha family as well.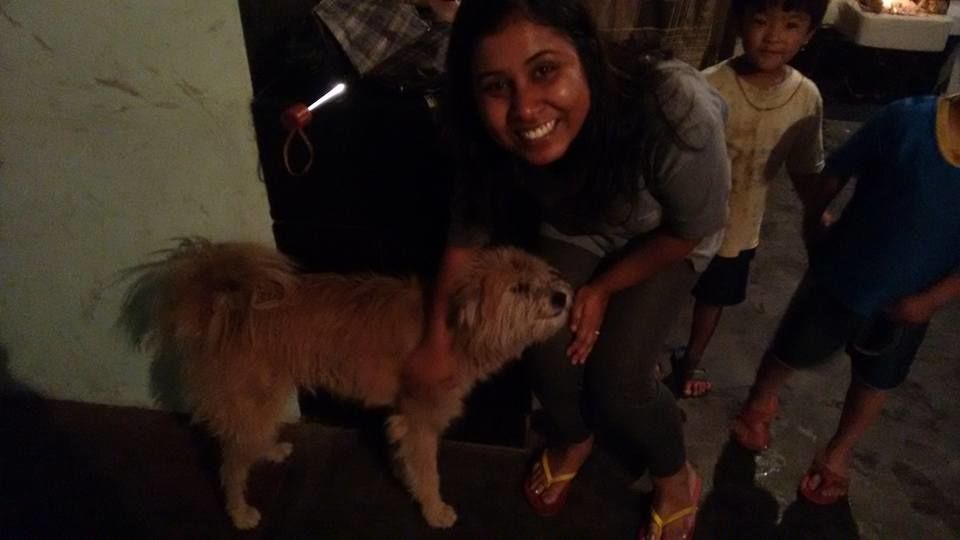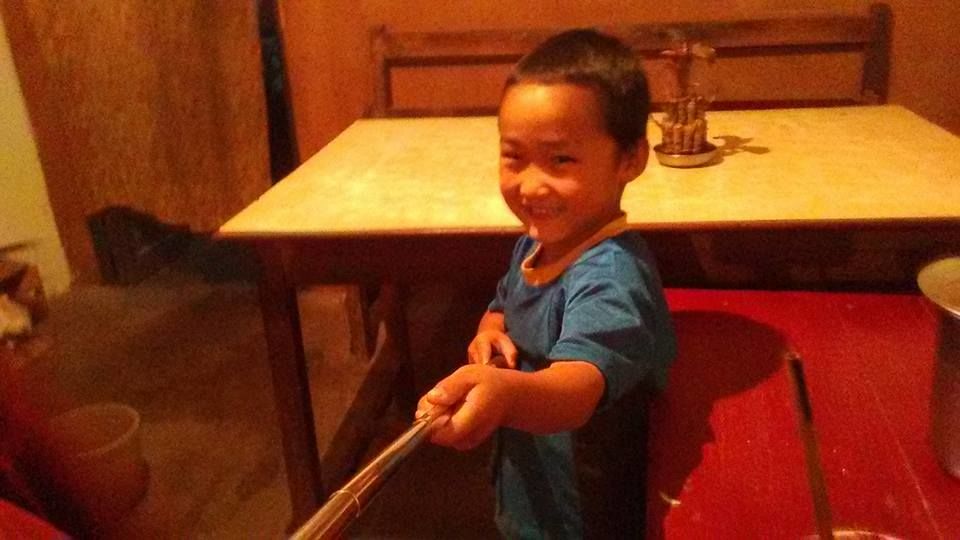 Neither the Lepcha family nor Aunty was willing to take money from us. We forcefully paid them whatever we deemed fit for their generosity.
Day 7
Yet again, we were welcomed by a landslide after riding for a few kilometres. Compared to the size of the landslides we had seen in the past days this was a small one and we were sure that it would be taken care in a couple of hours. Since the last two days we had been riding in continuous rain and every piece of cloth that we were wearing or we had in our bags was wet. The sun was shining brightly after days and since we had nothing better to do while waiting for the road to be cleared, we decided to open our own clothes wholesale shop at the side of the road.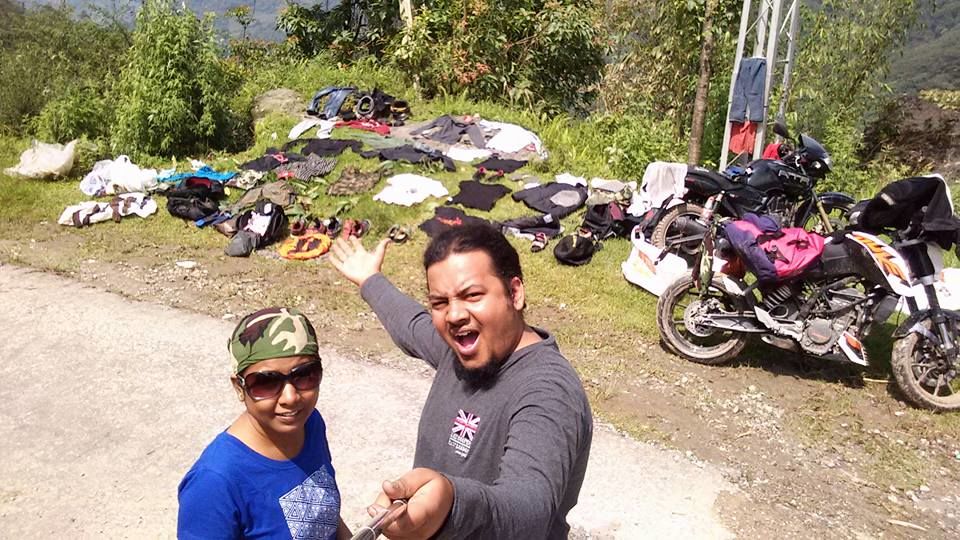 Gangtok. Civilization, a warm bath, a soft bed, electricity, television, mixed fried rice and cold beer. These small things which we consider as necessities were luxuries for Aunty and the Lepcha family. Life could not have given us a better lesson about the things we take for granted.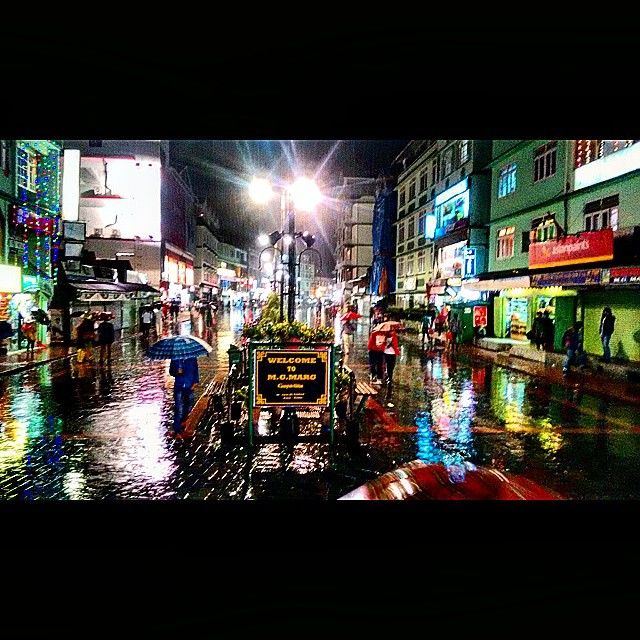 Day 8
There is a term in Bengali called "Lyadh-Khawa" which basically translates to lazing around. That is exactly what we did on this day and we deserved every bit of it. We woke up at noon, had brunch on our beds, shopped at the M.G. Marg in the evening, saw the whole city from the ropeway and went to a place called "Cafe Live and Loud" at night. Now I have visited the famous Someplace Else in Kolkata and the Hard Rock Cafe in Delhi but the whole feel of this cafe was different. The local band which was playing was extraordinarily good; the food was lip smacking and they best part was that they had got their LIITs right. We let our hair down and simply had a blast!
Day 9
The morning started with a disaster! I found that my phone was completely formatted and all my pictures, videos and data were lost. For convenience sake, I had clicked all the pictures and the videos of this ride on my phone but it was lost forever, including the proposal video. It was heart shattering news.
We somehow managed to pull ourselves together and decided to seek some peace at the Rumtek monastery. Within a few minutes we were our cheery selves as there was nothing which we could do about the lost video. We consoled ourselves by saying that the video is sure to be in our hearts till the rest of our lives. Thanks to Facebook and WhatsApp we managed to at least salvage the pictures we had uploaded and shared.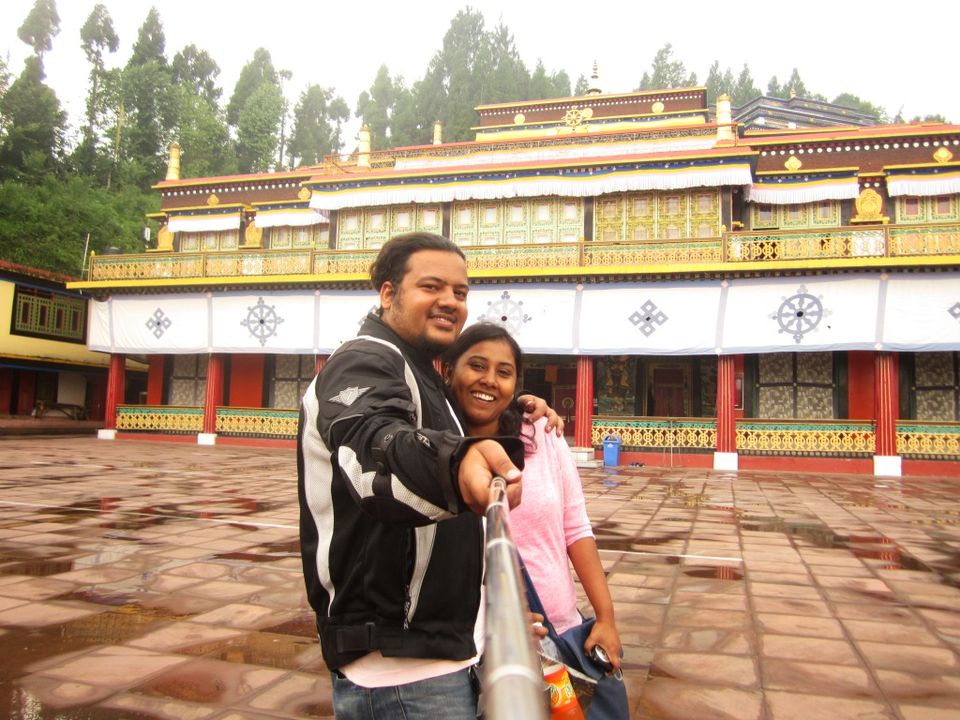 Our plan was to head back to Siliguri after visiting Rumtek but our experience at Cafe Live and Loud the previous day made us stay back for another day at Gangtok, just to see the band perform, to eat their grilled fish and sip their LIIT. Well done Cafe Live and Loud.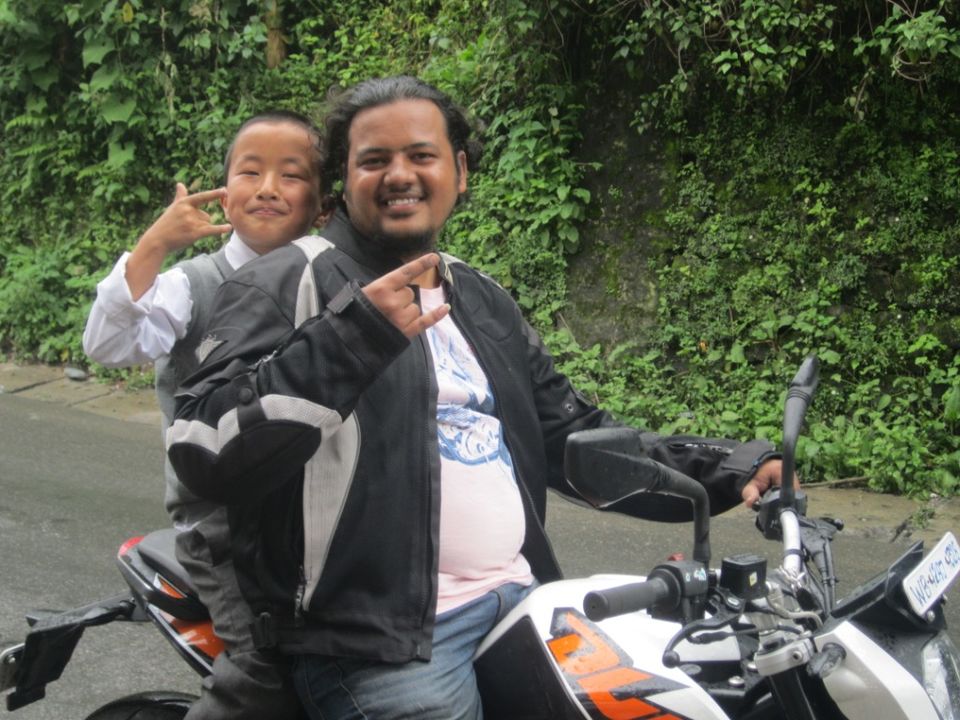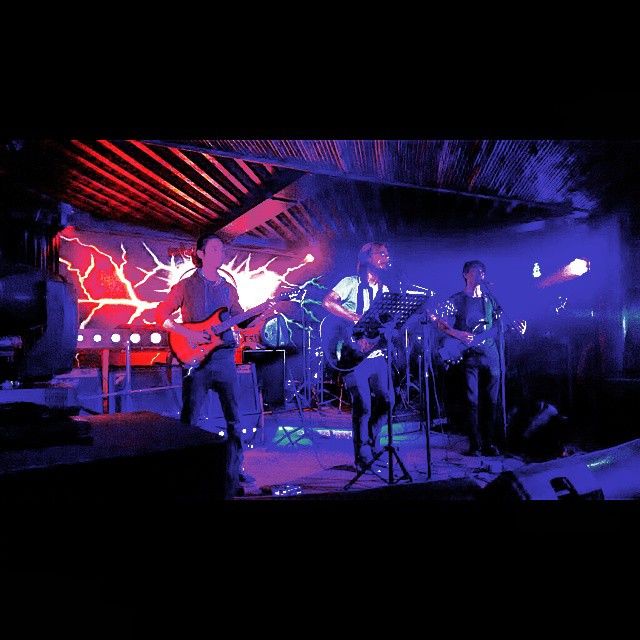 Day 10
I fail to understand girls and their urge to go shopping. In spite of realizing the fact that we were already carrying extra luggage, Miss Mallick wanted to shop for people back at home from the hongkong market in Siliguri and that is exactly what we did. We headed straight to the market after dumping our luggage in the hotel.
Just like the onward journey our plan was that I would ride from Siliguri to Kolkata and Miss Mallick would reach Kolkata comfortably on a train. Unfortunately we could not get tatkal tickets for her and we were left with no option but to ride to Kolkata. My dear friend Rahul Das had visited North Sikkim a couple of weeks ahead of us and on his recommendation we decided to take the slightly longer but supposedly more comfortable route to Kolkata via Purnea, Bhagalpur and Dumka.
Day 11
Anticipating the tough day ahead we started from Siliguri before sunrise. We covered a good distance early in the morning and rode non-stop for 175 kms till Purnea, the only problem so far being Miss Mallick falling asleep behind me due to the butter smooth road. Things started to get from bad to worse as the day progressed. By the time we reached Bhagalpur the weather had already become really hot and the super crowded roads of Bhagalpur added to our misery.
Now we had managed to reach all the way to Gurudongmar, braved the landslides, stayed in very basic conditions but nothing deterred our spirit more than the ride from Bhagalpur to Dumka. We were told by Rahul that the road was bad just for 20 kilometres but the entire stretch from Bhagalpur to Dumka was worse than the NH 34. What made things worse was that we were crossing the most difficult stretch of the day with the sun right over our head and the super heavy backpack made things literally impossible for Miss Mallick.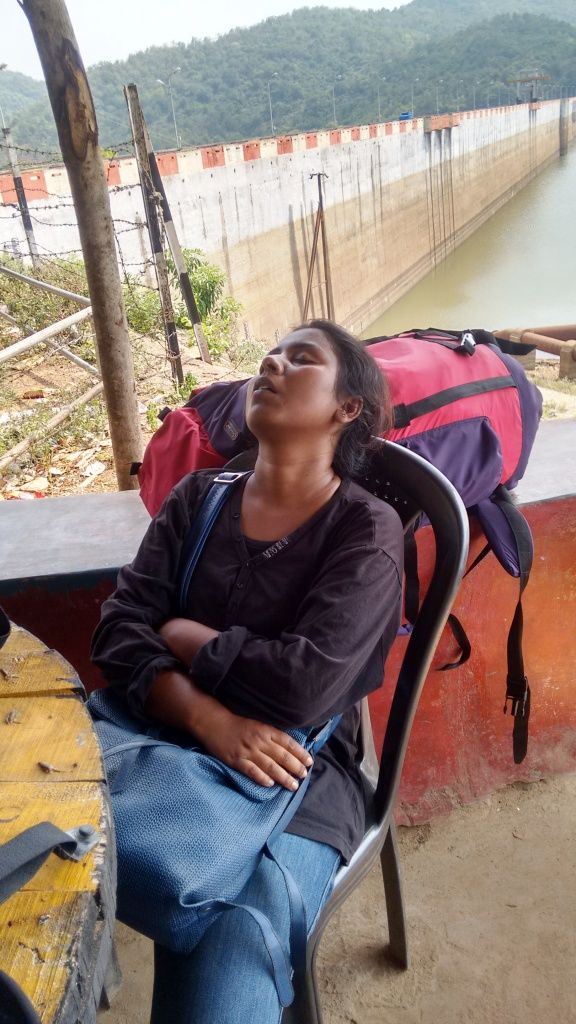 During one of our breaks I literally saw tears in Miss Mallick's eyes and it broke my heart. I was determined to make the ride easier for her and so I decided to ask for lift from someone for Miss Mallick while I would continue to ride behind her. Considering the fact that we were in the heart of Bihar, it was a dangerous proposition, but it was a risk we were willing to take. To our pleasant surprise we managed to find 3 different cars which gave Miss Mallick lift and we managed to cover a considerable amount of distance all the way till Massanjore. At Massanjore I let Miss Mallick sleep for more than an hour hoping that the power nap would help her carry on till Kolkata but there was no end to our miseries.
A few kilometres before Siuri Miss Mallick heard something falling down from the saddle bag. We stopped and found out that it was my shoe. The saddle bag had been continuously rubbing with the rear tyre and it now had large holes on both sides. We were not sure how much luggage we had lost but we had no other option but to carry on. A little later I realized that the due to the scratching of the saddle bag with the tyre, the tyre had multiple punctures. It could not get worse than this.
At Siuri Miss Mallick's patience gave away and the tyre punctures made the ride impossible. So we went too Siuri bus stop and found that a bus to Kolkata would leave in 45 minute. I got Miss Mallick a ticket, gave her most of my luggage, filled my tyre with air and started for Kolkata. Even though we would have loved to complete the ride but we were pushed to the limit and hence decided to take things easy.
We finally made it back home, thoroughly exhausted but totally content after experiencing the best 11 days of our lives. Just when we thought things cannot get better than this, we got the news that Limca book of records has certified this as "The highest marriage proposal!"
:-)