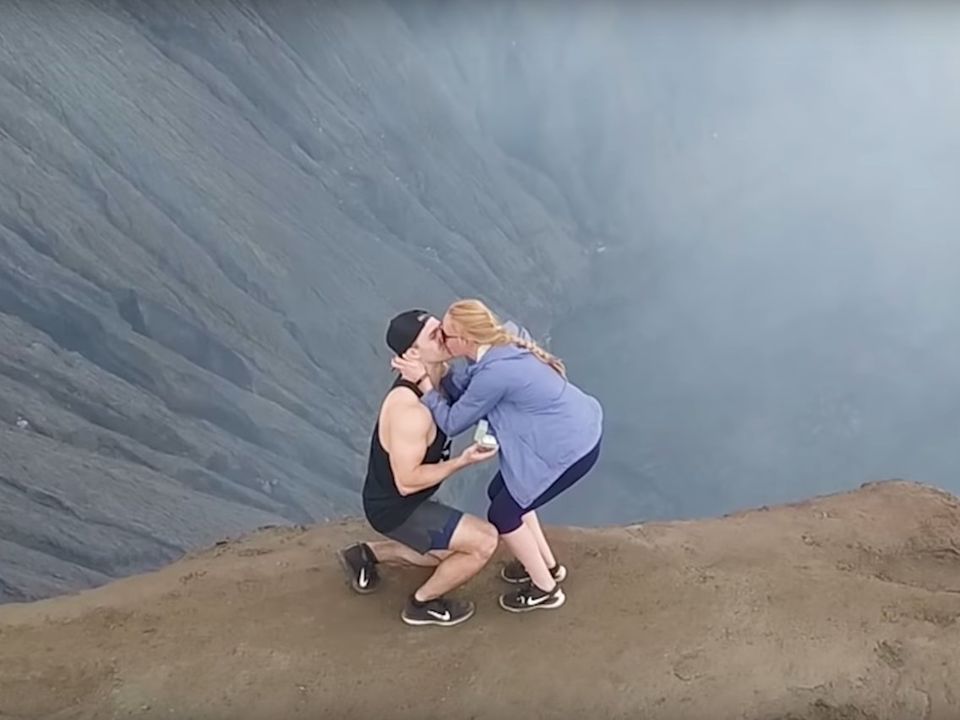 Love is mad, we know! But the extent to which this madness can go has been redefined by this travel blogger who came up with this unique idea to propose to his girlfriend.
This travel blogging couple getting engaged on top of a 7,000 ft. active volcano is the new couplegoals for all travelers out there!
Jardon and Alison were top of Mount Bromo in Indonesia, which is 7,641 ft. above sea-level, when Jardon popped the question.
"While walking atop the crater rim, hearing the deep rumble down below and stunning 360 landscape views, I got down on one knee and asked the love of my life to marry me," Jarod wrote in the video's caption. "She was so shocked and couldn't believe it was really happening."
Jardon was sure that he wanted to marry Alison and had been planning this for almost six months because he wanted to make it amazing.
The couple took along two of their friends on the trip and one of them was a drone pilot so you know where those perfect shots came from.
Despite such extensive planning, Jardon managed to keep the secret until the last moment and that is how he could get pure shock on Alsion's face and joy in her eyes
Destiny favours those who favour themselves and thus, just 10 minutes after their romantic moment, the sulfur smoke got so bad that they had to get off the volcano.
Share your travel experiences, stories and plans with the Tripoto community here.