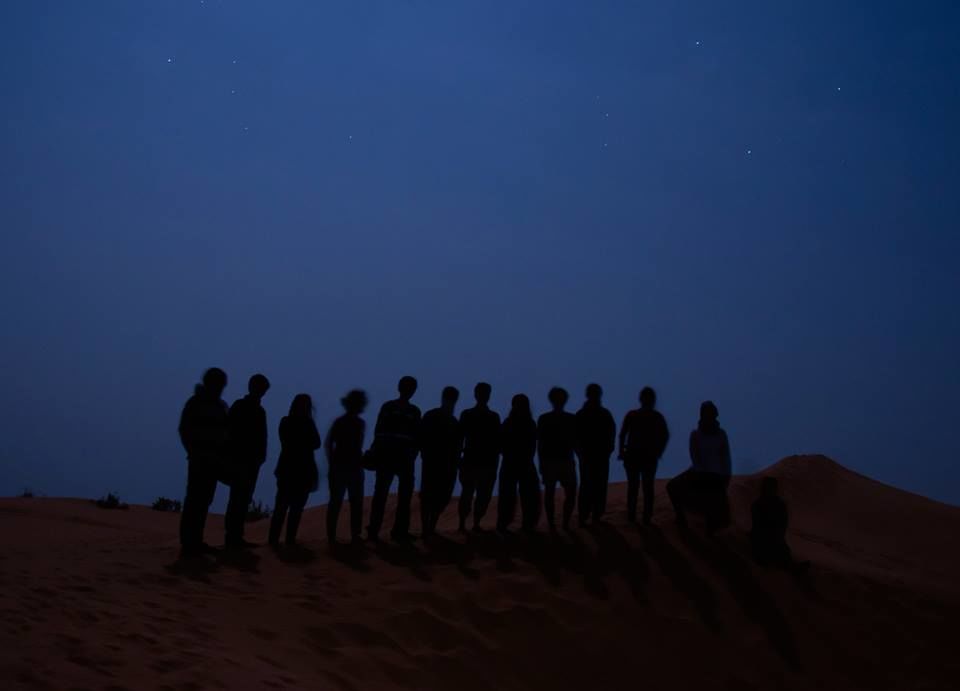 A bunch of us set out on a Friday night by bus from Ahmedabad at around 9 PM to go to Jaisalmer and spend the night in the desert, away from architecture, away from city life.
After a night well spent by playing all sorts of games one can play in a bus, disturbing every other person around, we were arriving close to Jaisalmer when a local man in the bus happened to ask us about our plans and how we intended on getting around there.
LOCAL KIDNAPPING:
Having absolutely no clue as to what we were going to do next other than the fact that we wanted to spend the night in the desert we told him so. He immediately asked us to get off the bus and come with him in the car which somehow happened to be waiting right near the moving bus saying he could arrange the tour for us. Shoving aside our suspicions that we might be getting kidnapped we got off our bus and into the car. The car luckily wasn't meant for kidnapping as it took us safely to a tourist agent's office who charted out a plan for us at 1000 Rp per person for the weekend excluding food.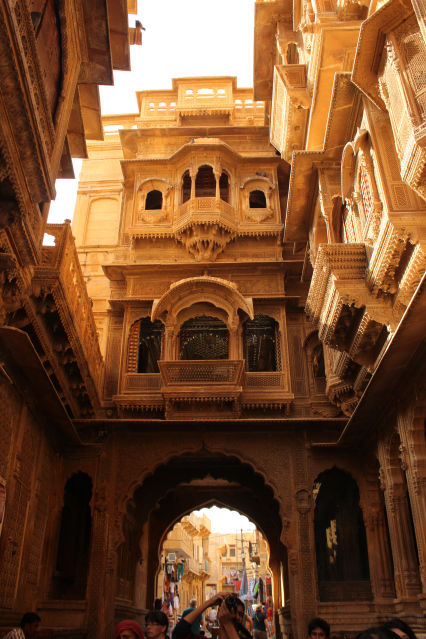 JAISALMER FORT:
We decided it was fair enough and thus got into the car which first took us to Jaisalmer fort which happens to be a marvelous piece of architecture (no we architect can't run away from architecture whatever it be). Its sandstone walls with no mortar in many places, the intricate detailed caving near the windows or the stairs which just jut out here and there. It is a beauty.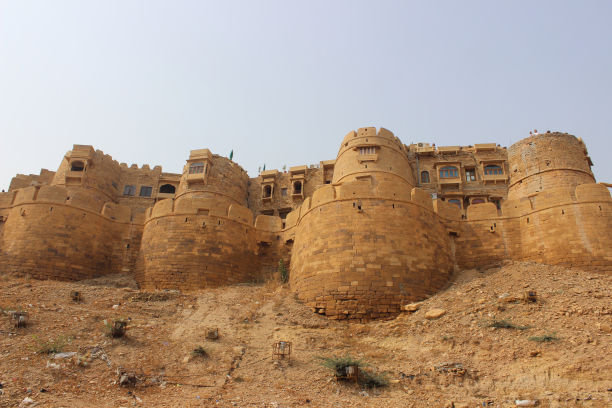 It has a whole city living inside the fort walls and the way it is designed with the shops near the entrance, the private residential areas at another corner, the highest point still belonging to government which acts as a view point. It's a urban wonder.
After walking around exploring the fort while shopping for local handmade ornaments sold by women dressed in authentic Rajasthani attire and listening to music played by local artisans all on the road all morning we headed out for lunch.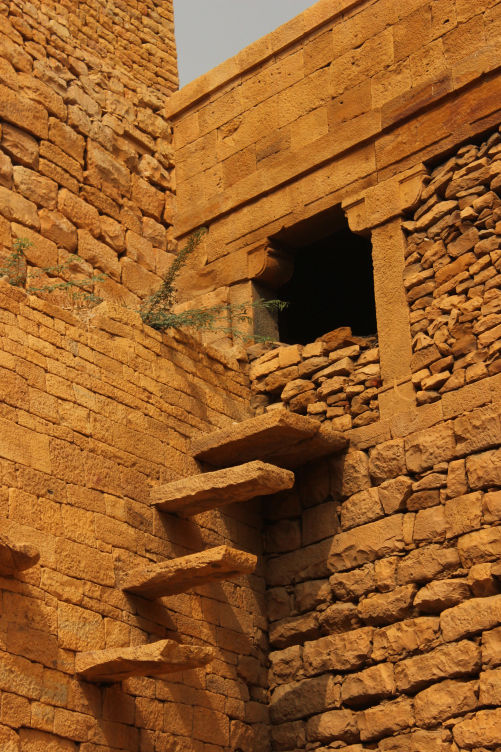 Wonder how proud the residents must feel to write their address as Mr xyz, Jaisalmer fort as their address.
GADSISAR LAKE:
After spending sometime at the fort exploring its nook and corners and having lunch we were taken to another marvelous sandstone structure built near a man-made rainwater harvesting lake in the 14th century now called the Gadsisar lake. Here we decided to rest for some time by the water admiring its beauty.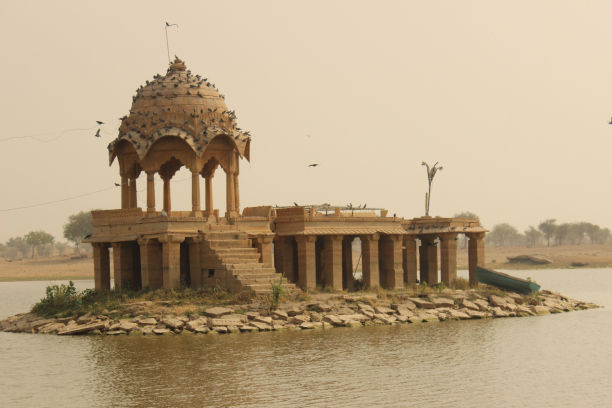 The pigeons flying away all together from the ruins out of the blue is definitely a spectacle to watch for. Then we were asked to hurry to reach the sand dunes in time to go for the camel safari which was to take us to the desert where we were to spend our night in the wild.
SAM DUNES
After a jeep safari, which took us to the edge of the Sam sand dunes, we saw our next mode of transport waiting for us eating dry hay not bothered about anything in the world. Our beloved camels.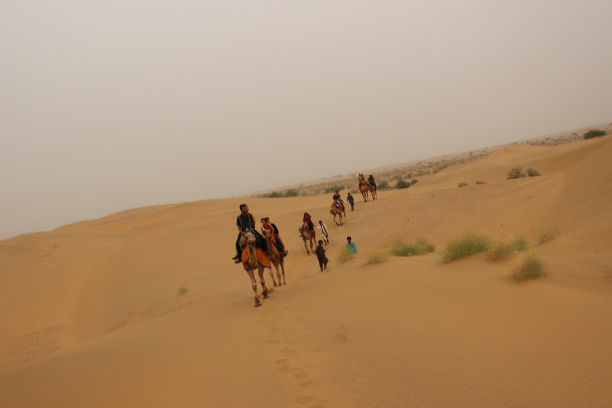 We somehow managed to hop on to them and not fall off when it got up, soon we were off into the desert. The beautiful sun setting down amidst the sand, the light wind blowing on to our faces, no man made/vehicular noise made this a memorable ride.
After around an hour and half on the backs on the camel, an encounter with a baby snake and our backs all worn out we arrived at our campsite which was like any other part of the desert. Barren. Isolated. Perfect.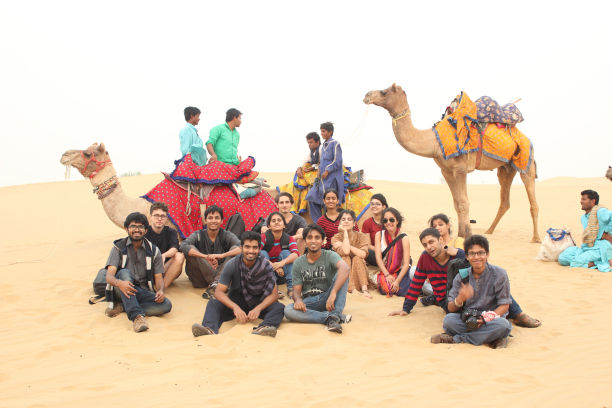 After settling in we were told that in a camp nearby (with tents with concrete floor base and food) a typical Rajasthani dance performance was happening.
So, we decided to go and enjoy an evening by going back in time with live music and dance for entertainment like the ancient blue blood royals instead of looking into our phones updating our Facebook pages.
After an hour of entertainment, we had to head back to our part of the desert for dinner which was cooked by a cook out there in the open. After gulping down whatever was provided as we were all very hungry we settled down by the campfire to warm ourselves and look at the beauty of the desert under the stars and moonlight.
We then decided to take a walk in the desert and that happened to be the best decision taken that day. The sand looks so beautiful under the moonlight. We ended up walking, pushing each other down or just rolling on the slopes on the sand dunes ourselves as no one can ever get hurt in that soft silky sand.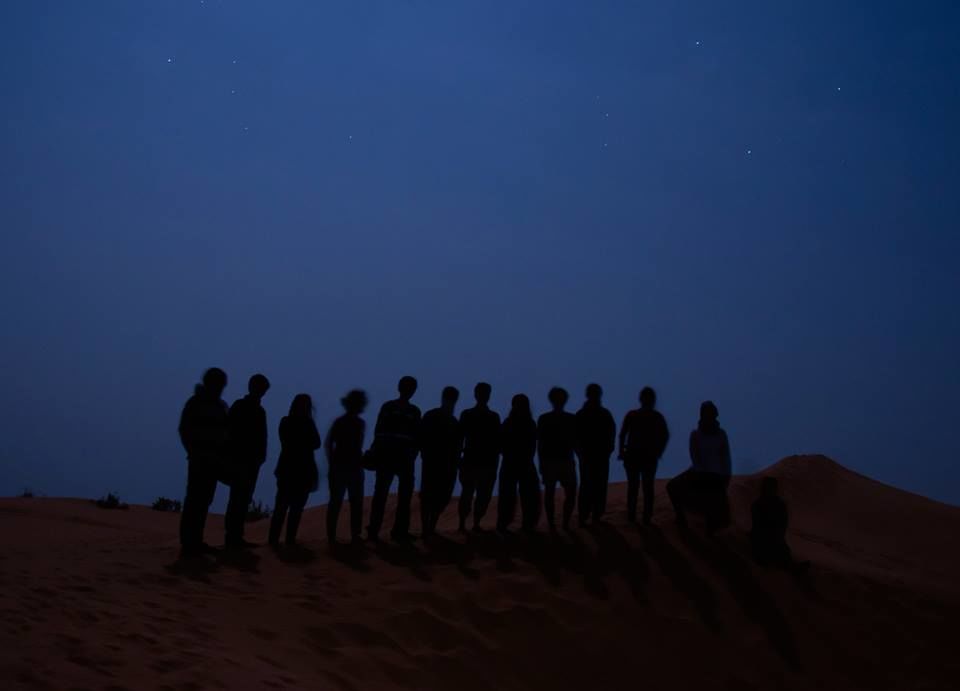 After what seemed like ages of rolling and pushing each other down reliving our childhood days we decided to head back to our campsite and tuck into our blankets to sleep under the open sky by midnight. Of course, being out in the open does mean that we had a lot of insects and apparently, scorpions who could visit us during the night but putting our brave face on we spoke until we all fell asleep under the blanket of stars above.
Next morning, I was woken up as my mattress was being carried and thrown of another dune by my beloved friends. After having breakfast we were on our camels again to head back to the city life. No escape from that!
Oh, we did somehow manage to lose a good pair of Nike shoes and a wallet in the wild desert in the night though. Maybe it got covered in the ever-shifting sand. Maybe it got stolen. We shall never know.
After getting back to the room and freshening up we took an auto to see the famous Patwon ki Havelis of the city. They are magnificent. The carvings, the amount of work gone into each and every detail is sure to have you mesmerized.
Those narrow streets housing those havelis give you a feel which I haven't experienced in any street in India yet. They make you feel like you are in a dream city of Aladdin. After spending as much time as we could afford to spend there we head back to the Jaisalmer fort to see the sunset sitting on the edges of the fort.
As the sun set it was time to head back to the bus stand to get back to our office life. We had dinner at a nearby hotel and walked to the bus stand where our bus was waiting. Loaded with lots of memories and smiles on our faces, we were all refreshed and set to go back and face the complex problems of where to put the toilet in our hostel design!