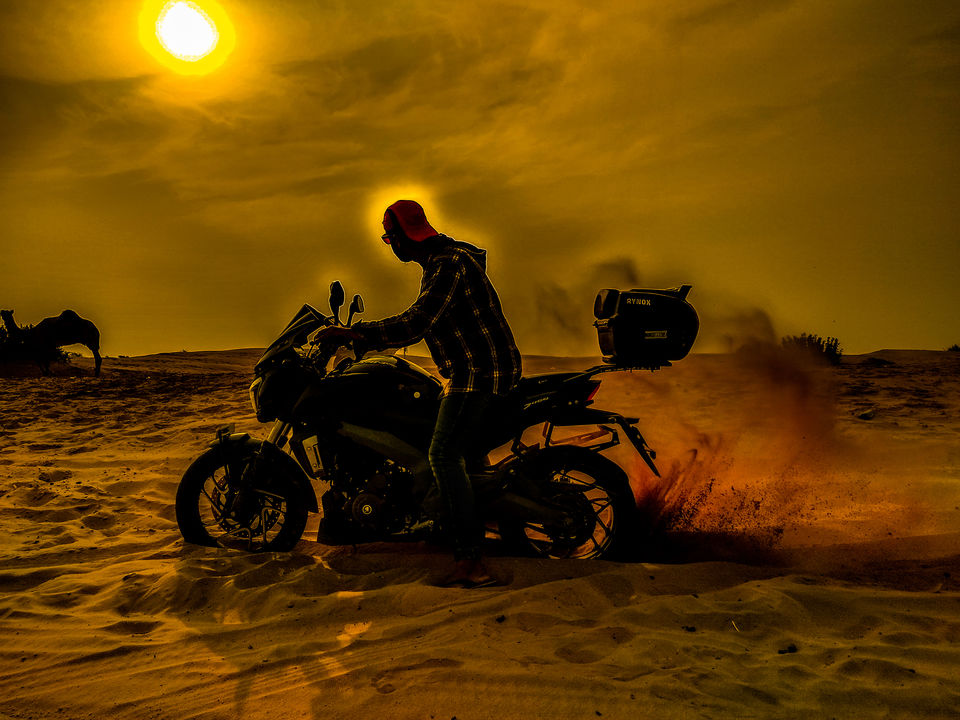 After My experiences in Jaisalmer yesterday,I was super excited for this,because this would be my first time seeing a desert.
And it was exactly how I imagined it to be.
The day started at 6 am with a camel ride to watch the sunrise,with no one else in sight,except the camel handler.
The sunrise was beautiful.
After witnessing this beauty,it was time for some bike adventure,how about a burnout in the sand,sounds lovely doesn't it?
Well here is how it looked like.
Fun story though,5 mins into the burnout,I noticed that along with the sand there was smoke also flying from the back of the tyre,and it was only then I realized that,apparently the sand has all moved already and I was now doing a burnout on the road.
Yepp,and there goes 2000km of my tyre's life 6th day into the ride.
Btw here is how it looked like -
Did I told you I was excited to be at the dessert. Oh I did, but you wouldn't get the extent of it untill I show it to you.
Watch this -
So I was legit rolling into the sand in the style of Sunil shetty in border,coz I was that happy.
But the best part about the desert had to be the desert safari.
It was more of a rollercoaster ride,without the harness though.
Fun and scary at the same time.
I did try my hands on driving the jeep here as well,but it always kept getting struck.
No worries.there's always a next time.
Hope you enjoyed today's adventure.
Catch the full journey on my
- instagram - https://www.instagram.com/khiskabanda/
youtube -https://www.youtube.com/channel/UC5Rm2QlCWahf_7t-hl6kpPQ
facebook - https://www.facebook.com/khiskabanda/
Do follow me for more amazing journeys to come.