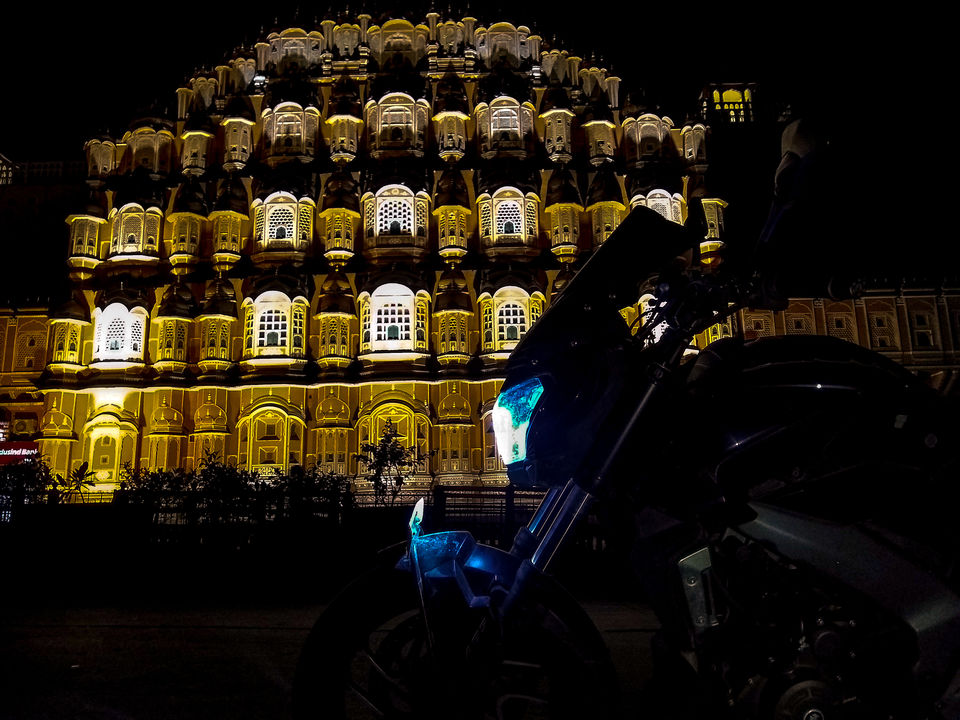 After agra my next destination had to be Jaipur,but since it was also a city I had visited earlier I would be only staying for a day here.
The road was good,but just as I was about to enter Jaipur - I ended up taking a wrong flyover highway ,and midway through it I realized that this would be a very long U - turn.
Not a problem,I am all for following the rules,but just as I was searching for a signboard for the next U - turn,the bike started feeling heavy.
To my dismay,the front wheel was completely out of Air.
There was no way I was dragging my loaded bike with zero air pressure for 40 kms,without damaging it.
The Up guy in me took over and well "kabhi kabhi wrong side pe chalna padta hai"
Anyways luckily as soon as I got off the bridge there was a puncture shop within 500 mtrs,and I got it repaired.
And I was in Jaipur,checked into a zostel.
It was raining heavily so I could only get out in the evening,which I did ,and the first thing I did was head to Amer fort,the place from where you get the best view of the city.
Here's how the view was -
Watching Jaipur in the golden hour,I got back and tried my hand on light photography for the first time in front of Hawa Mahal and this is how it went.
Ain't that bad for starting right :P
And to end the day what better way than to click Eve with the Iconic Hawa Mahal at 1:30 am in the night.
Looked beautiful doesn't it.
That was it from Jaipur.
Though I was surprised that I didn't find any rider today as well,because this is genrally the most loved routes by us riders.
Hope you enjoyed today's adventure.
Catch the full journey on my
- instagram - https://www.instagram.com/khiskabanda/
youtube -https://www.youtube.com/channel/UC5Rm2QlCWahf_7t-hl6kpPQ
facebook - https://www.facebook.com/khiskabanda/
Do follow me for more amazing journeys to come.