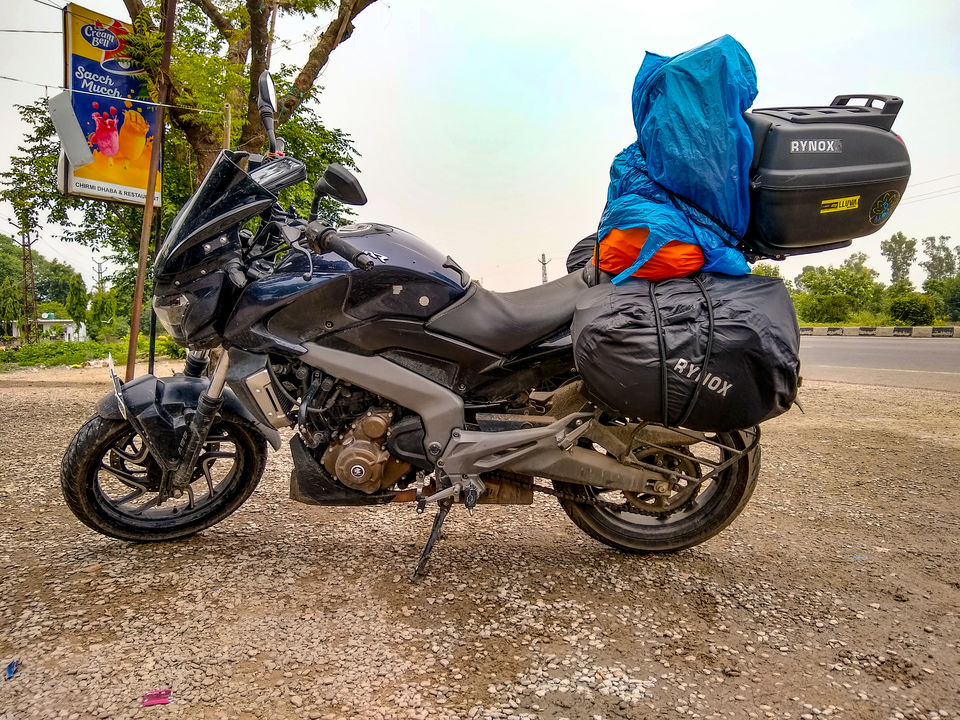 Leaving Early,because I was excited for Bikaner,it being the first city in the route that I had never visited before,I was halfway through the highway and this happened.
"3 days 3 flat tyres - The story of a hattrick". It's been 3 days riding and I was blessed with a a flat tyre each day.
Honestly speaking I was wishing for it to happen today so I could post a story about a hattrick today. ( just kidding ????) Though I am not sure whether my luck is too good or too bad; bad you know why,good because I always found a puncture shop within a km of it happening.
Imagine dragging the bike with all that weight , wearing a biking armour( thankfully I never needed to do it). Though it did get to me and dishearten me a bit yesterday ,today it felt like part of the job because I did think it was a part of the ride.
And the road between Jaipur and bikaner would definitely motivate you to go on (video coming). Eventually it turned out the reason was a faulty valve which was fixed within a minute at a Bajaj showroom. ...Ab thoda gyaan from the road.
Often times the smallest of things can leave you frustrated.Something as small as a non working keyboard or a slow internet connection can leave us in a bad mood.Though these problems can be fixed very easily ,we start focusing on our bad mood instead of solving them and that results in a downward spiral.
Every little problem is an opportunity.
For me visiting the bajaj centre today resulted me in getting a hotel in the heart of the city for 700 bucks.
Just keep going.
Well Why wouldn't you keep going if you get roads like this -
And did I tell you about the hotel I stayed. Well I did,but did I tell you it was an old palace converted into a hotel.
Here is what I was upto at the hotel terrace in the night.
Today I also started getting responses on instagram from people in differents parts of India telling me they would meet and show me around once I reach their place,and it felt amazing.
Though I was still surprised by the fact that I did not find any riders even today.
Anyways that's it for day 3
Catch the full journey on my
- instagram - https://www.instagram.com/khiskabanda/
youtube -https://www.youtube.com/channel/UC5Rm2QlCWahf_7t-hl6kpPQ
facebook - https://www.facebook.com/khiskabanda/
Do follow me for more amazing journeys to come.