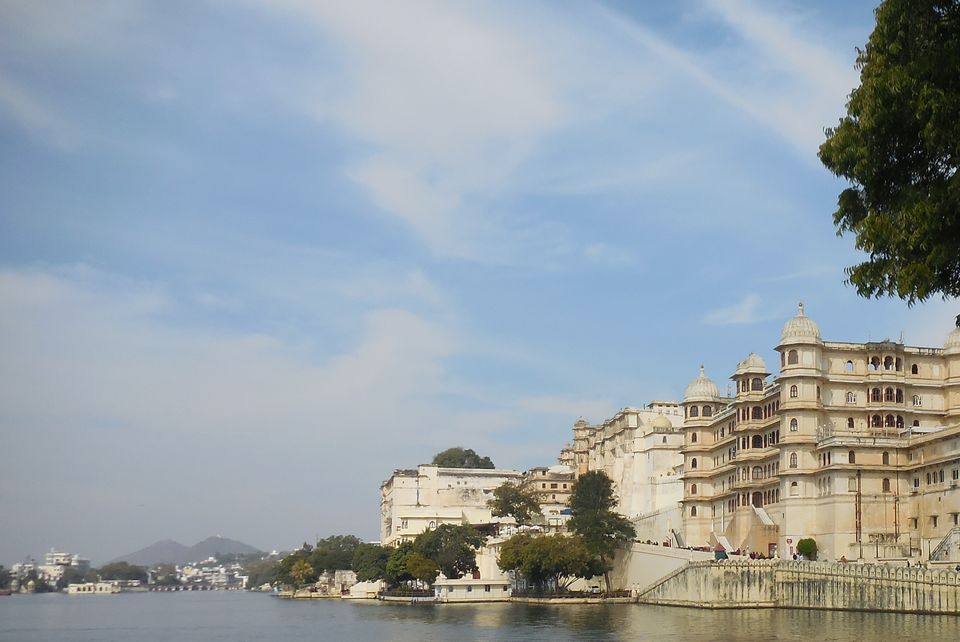 We (me and my 5 other friends) were planning a trip the moment we were done with our end semesters, and I thought this would be no different, we would plan and then slowly it will fade away until we begin planning again (Story of our lives, isn't it?).
However, I was wrong this time.
After a day or two of hustle and bustle, we decided we could visit Rajasthan at that time of the year. The vibrant culture with an extraordinary heritage of the state had to be witnessed. 3 cities (Udaipur, Jaisalmer, and Jodhpur) in 3 days was the itinerary and we went away in a breath, Impromptu trips be the best.
On the 13th of January, around 7 PM, we boarded our bus from Chandni Chowk and reached Udaipur the next morning around 10 AM and were welcomed by the chilling January breeze. We took some rest, freshened up, threw our bags aside, and rushed into the streets of a new city to explore its culture and history.
Beguiled by the enigma that the city besets you with, Udaipur is every traveller's delight. The city of Lakes, or the Venice of the East, is known for its history, culture, scenic locations and the Rajput-era palaces. The palaces reflect the architectural grandeur that prevailed during the opulent period of Rajputs. The lakes add to its surreal beauty and the cultural heritage of the city is worthy of the view.
Our first target was The City Palace. It is situated on the banks of Lake Pichola. We decided to walk from our hotel to the palace. While strolling around the streets, we came across many antique shops, emporium places, and eateries. A few times, we asked the locals, dressed in their traditional wears, for directions.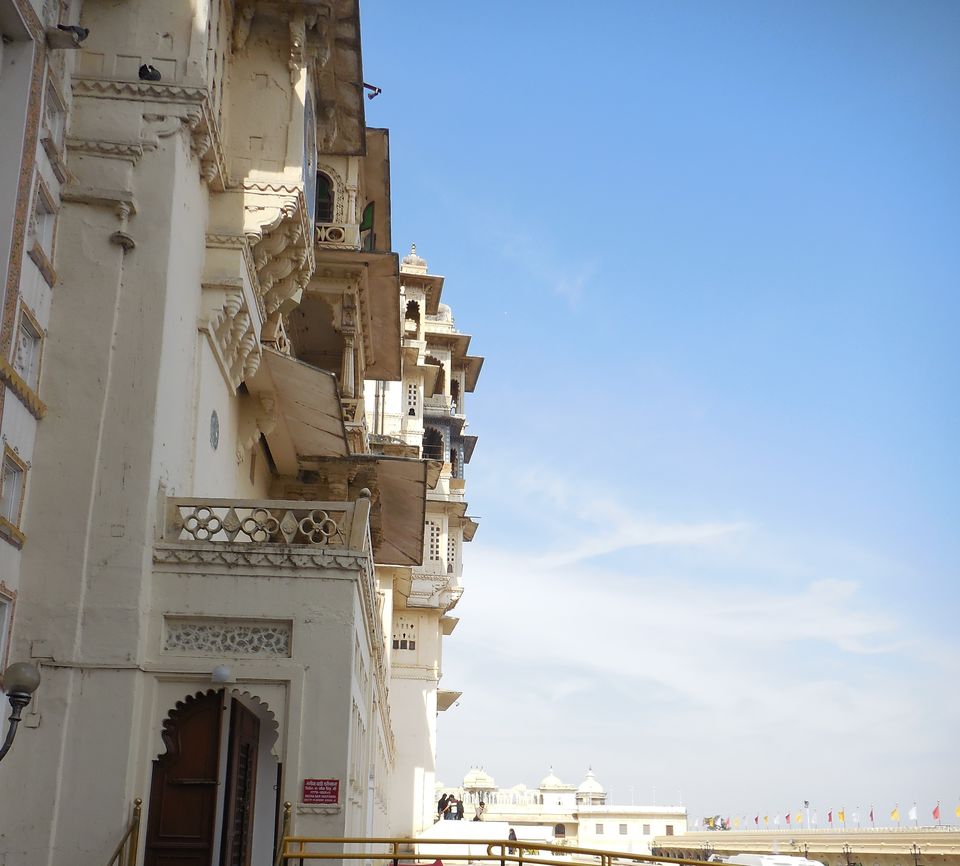 The moment we stepped into the Palace, we were awe-inspired by its size and its gigantic three-arched gate. The main gate led us to a series of courtyards, corridors, terraces, hanging gardens, uncountable rooms and passages. The Palace houses a museum that showcases many historical articles, antiques, paintings, decorative furniture, swords and utensils from the royal era. We spent about 3 hours there: walking around the corridors, admiring the architecture, learning about its history, clicking pictures, posing vivaciously, and walking briskly near the lake. Despite gushing waves, it was still tranquil near the lake. Besides that, boating facility was also available at the Lake Pichola to visit the Jal Mahal or the Udai Vilas, or to just wait for sunset. But we didn't go for it because we were famished.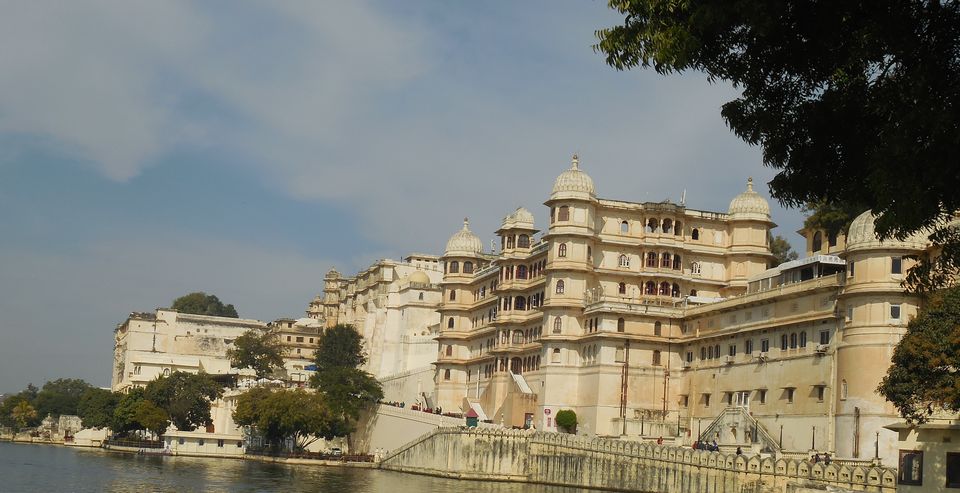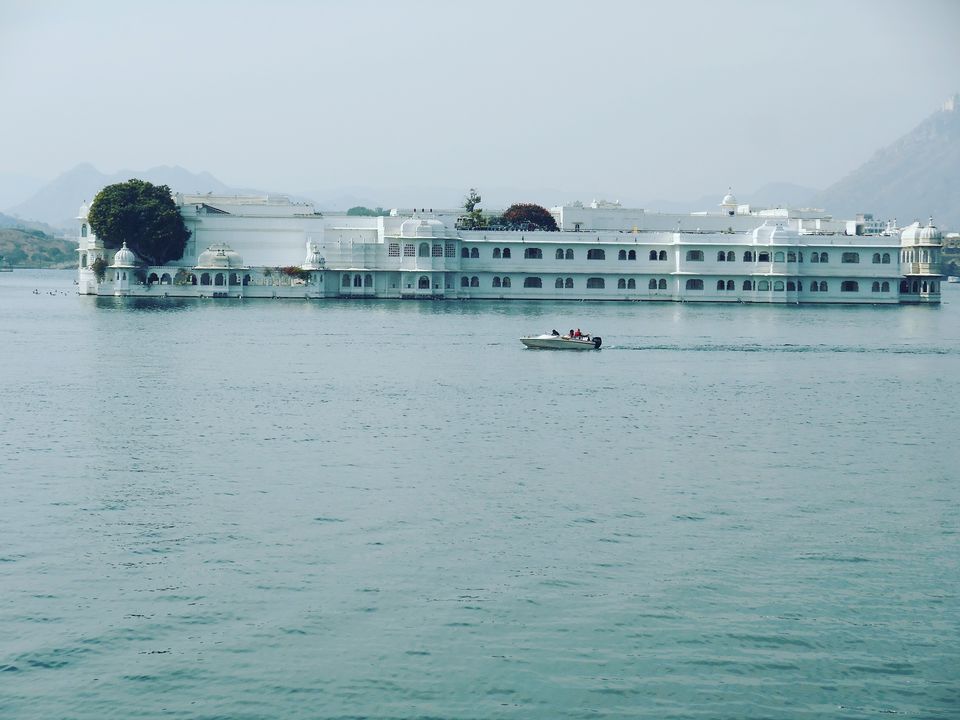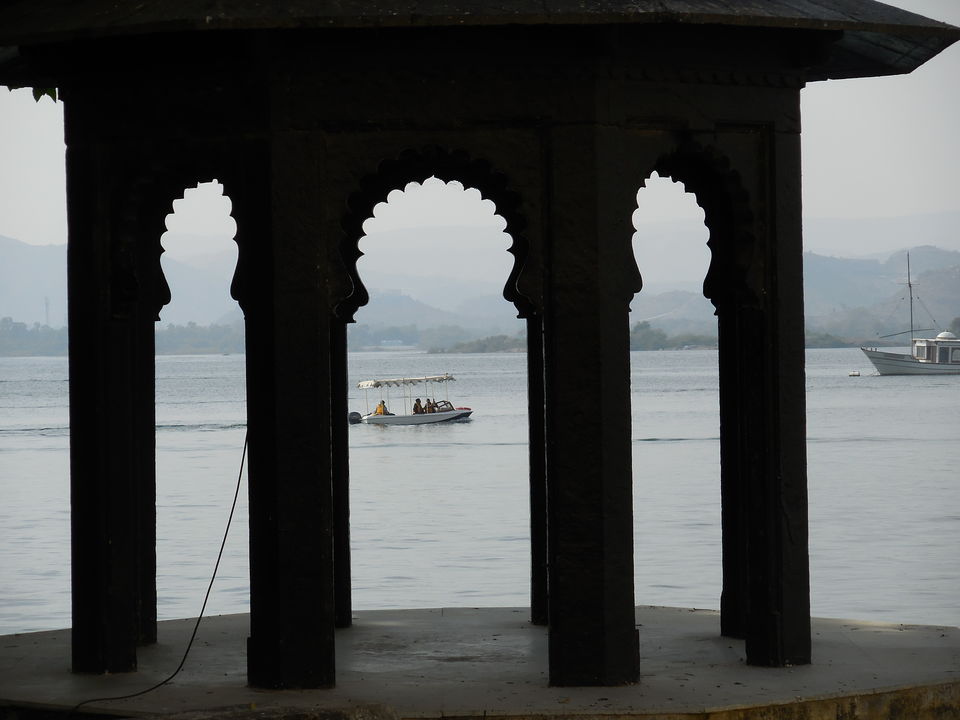 Since a friend of mine had been to Udaipur before, so, he knew the perfect place to satisfy our hunger. The restaurant was a 3 km walk from the City Palace and my friend made us all walk up to there saying that, "It's just a few meters". But it the end it was worth it. We almost reached on time (Lunch available till 3:30 PM) at the Nataraj Dining Hall and Restaurant (Highly Recommended). The moment we sat on the table, the attendants started pouring dishes into a large thali and we began gobbling up the delicious food. The buffet consisted of 10-12 items, from sweet to savoury, and a glass of lassi. Next thing, you know, we ate so much that we couldn't walk anymore and decided to take an auto and asked the driver to take us to the nearby places.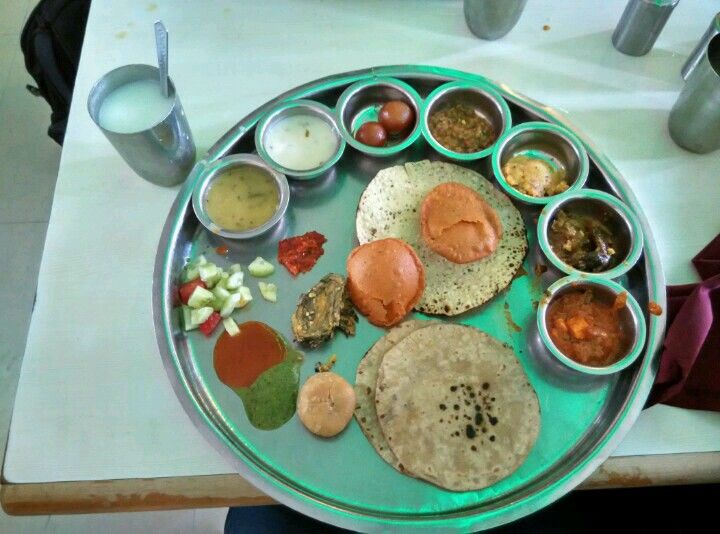 Post Lunch, the auto driver took us to a cable car station named Mansapurna Karni Mata Rope-way (or Doodh Talai ropeway). We waited for our turn for 20 minutes (Long Queues) and then the cable car (with a seating capacity of 6, 90 Rs. per head) took us to the Karni Mata temple. The platform up there offered a panoramic view of the Udaipur city, with lakes and hills on one side and thousands of white houses (as far as you could see) on the other side. After reaching the top, we visited the temple and in about a few minutes, it was time for sunset. We couldn't miss that for the world. So, we just sat there to let that feeling sink in with wind rushing at about 100 miles/hour in the background.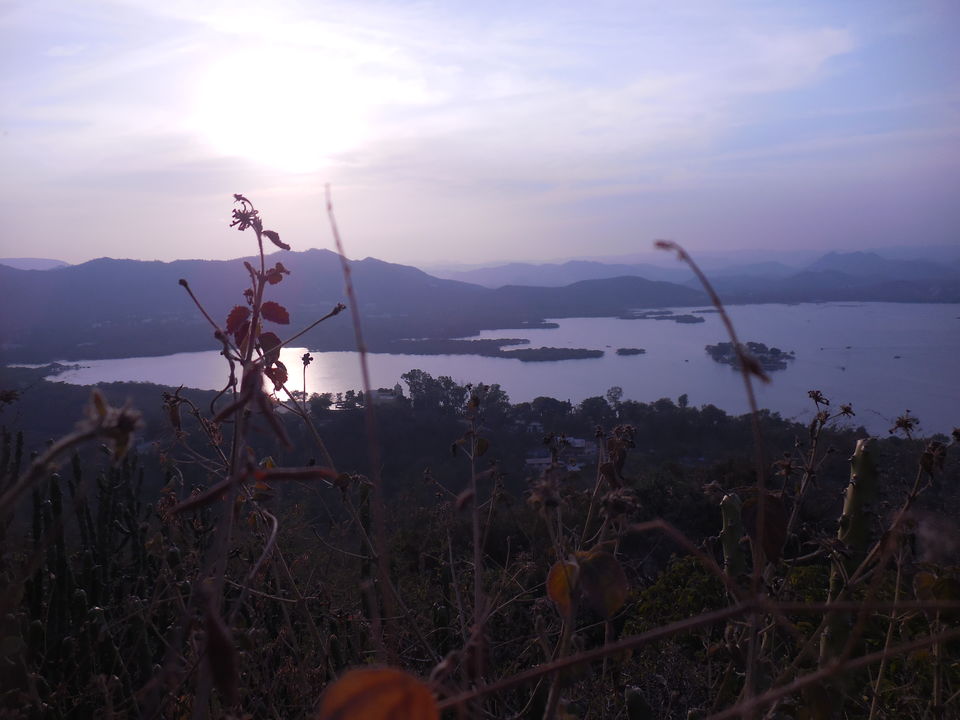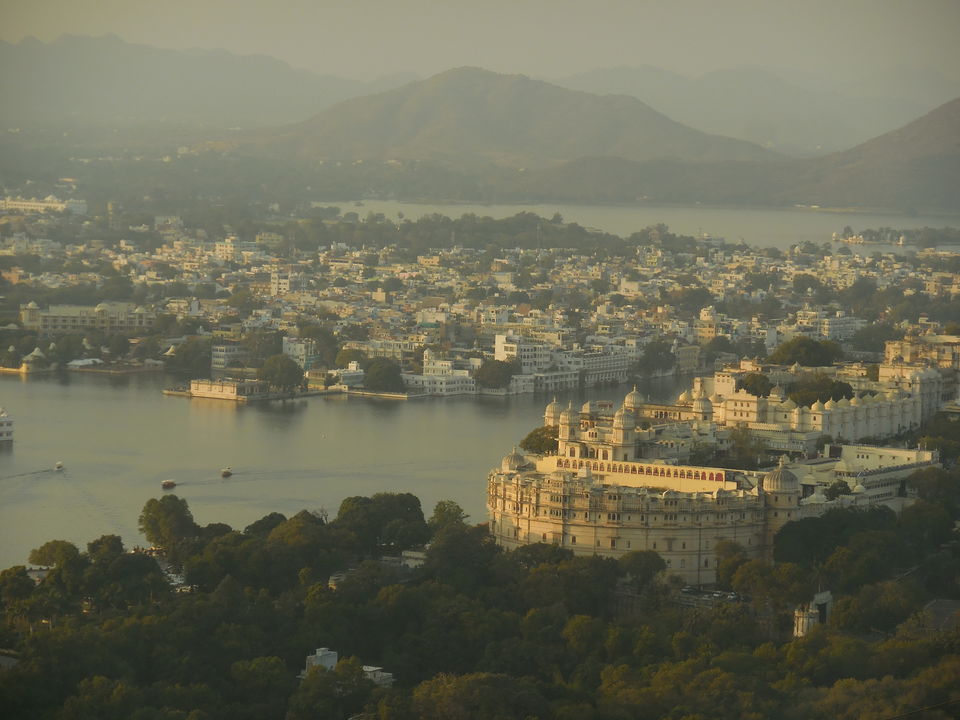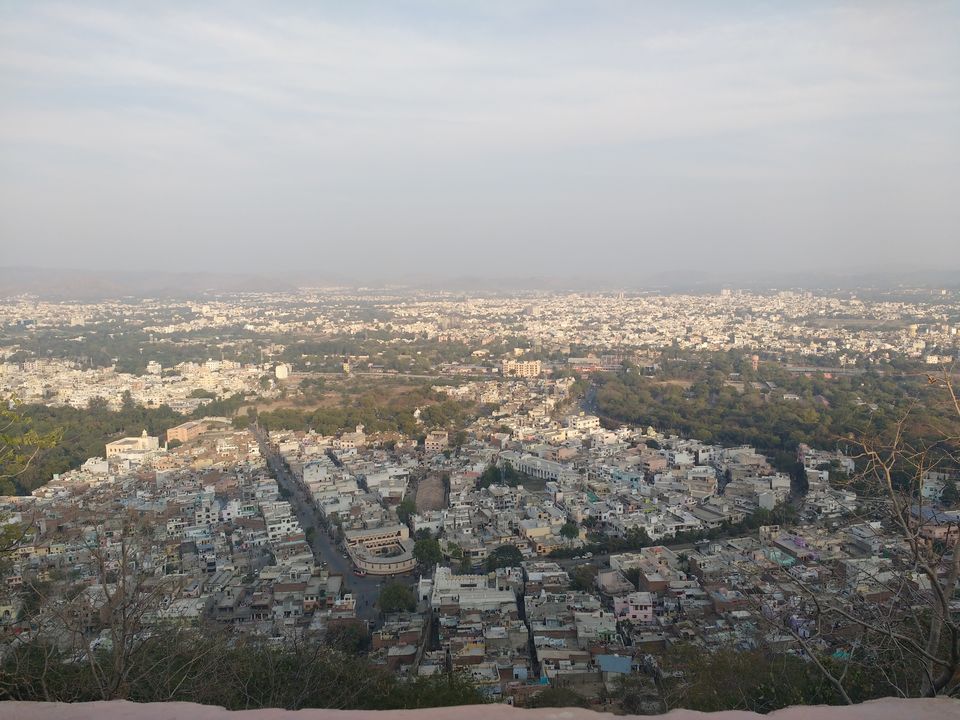 After sunset, we headed back to our hotel, picked up our bags and left for Bus station and before we realized, it was time to say goodbye to the beautiful city. Upon reaching the bus adda, we inquired about buses to Jaisalmer and around 8 PM, we boarded our bus.
It was a 10-12 hour nonchalant journey from Udaipur to Jaisalmer with dark black skies, full moon and soulful music. The only thought in my head at that point of time was that this is what heaven would feel like. We slept for a few hours and reached early morning and it was drizzling.
After disembarking the bus, we took a cab, and the cab driver named Poonam Singh (a loquacious person) had links with one of the hotels and camp sites. So, we stayed in their hotel and choose Mika Rai Desert Safari Camp for the overnight stay. The package included sightseeing in Jaisalmer, overnight stay at the campsite, camel ride, desert safari, and meals (Total: 2300 per head).
Our day in Jaisalmer, The Golden City, began by a visit to the Gadisar Lake. It was a peaceful place to spend time. We had Maggi there, bought some souvenirs, and then went to see the Jaisalmer fort.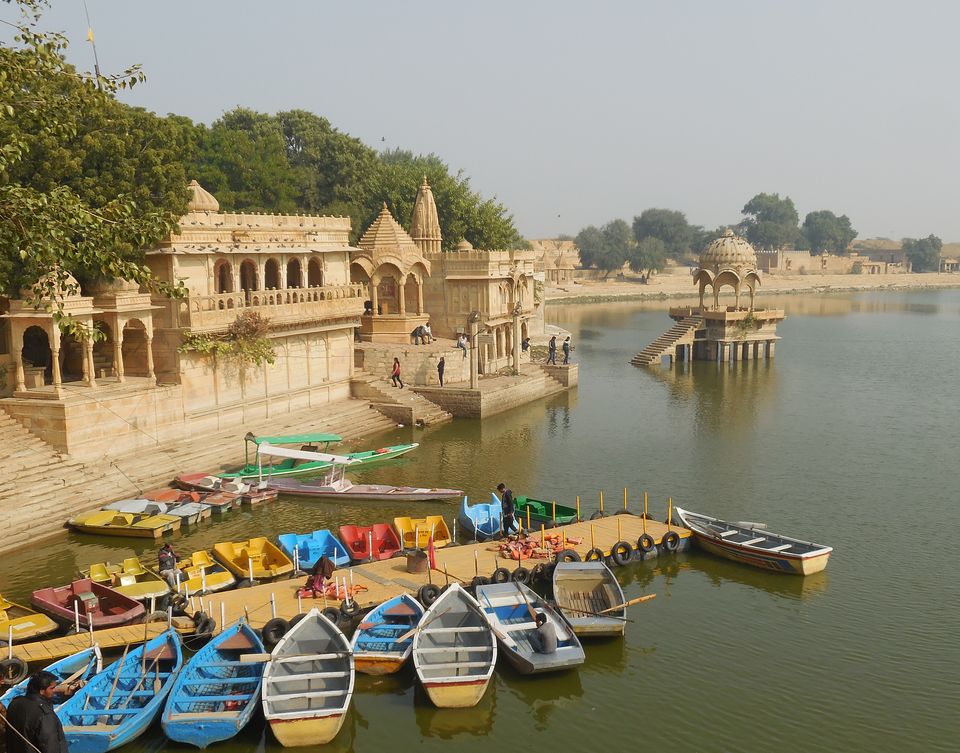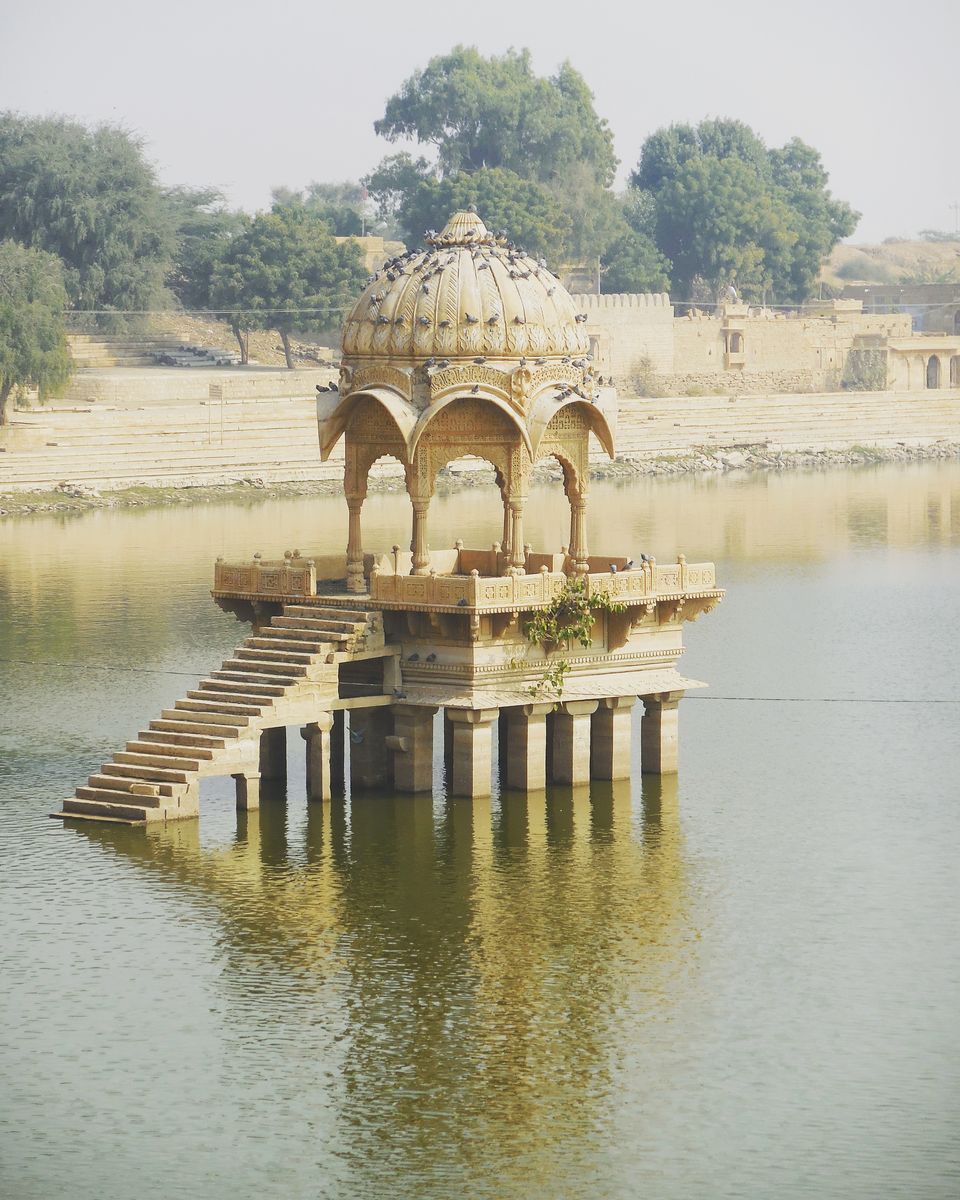 The city stands on the ridge of a yellowish sandstone, crowned by the fort, which contains a palace and several Jain temples. Its massive sandstone walls are a tawny lion colour during the day, turning to a magical honey-gold as the sun sets. The Fort houses many museums that showcase its history.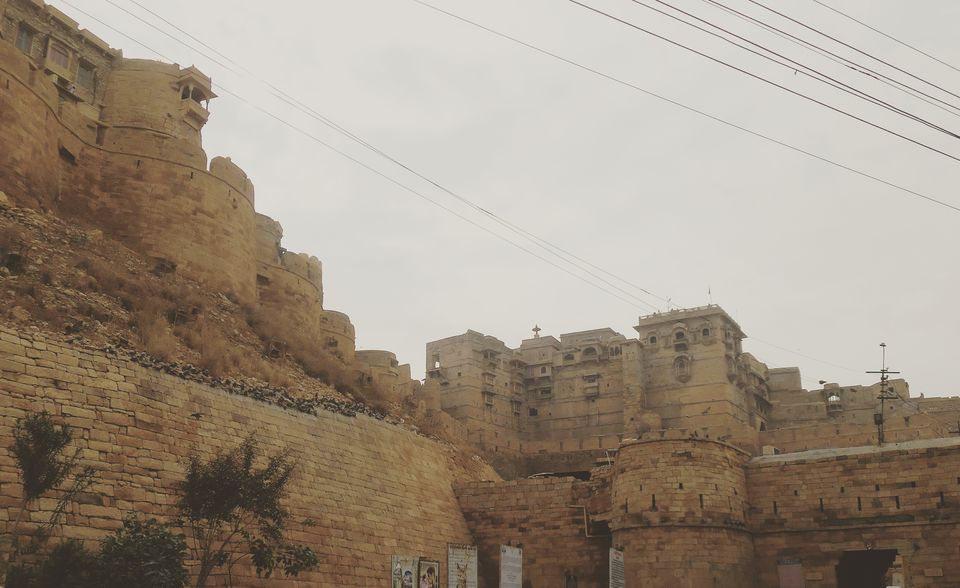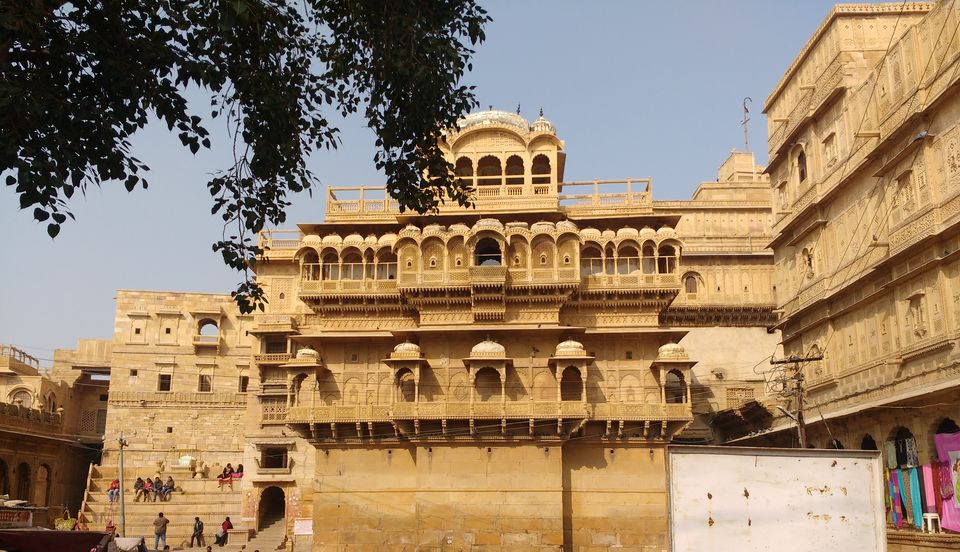 Post sightseeing, we headed to the Thar Desert (I was too excited for that!). It was 30 km ride from the city. Enroute to the campsite, we stopped in between for a camel ride. The six of us rode on 3 camels viz. Raja, Lucky and Michael. It was our first camel ride, bumpy and exciting. The camels rode us to the Sam sand dunes. They were perfectly shaped and we jumped, ran barefoot, raced up and down the dunes. Besides that, there's a one little anecdote that I wish to share (Disclaimer: It was totally unintentional and no body was hurt), "While jumping and racing, a friend of mine broke his spectacles (Thank God, he had an extra pair), and there were a few female passersby, riding on camels, and one of them was consoling the other by saying that,"Ye shaakahaari hai, ye nahi kaatega" (Meaning: the camel is a vegetarian and he won't bite), and to this the friend-with-the-broken-spectacles replied that "Shaakahaari to hum bhi hai lekin hum to kaat lete hai"(Meaning: we too are vegetarians but we can bite). The moment we heard this, we all burst into laughter (those passersby also laughed), rolling here and there, not able to control ourselves. It was the best part of our trip.
Again, it was time for sunset. This time it was even more beautiful than yesterday. We sat there until the sun touched the horizon and sky turned reddish orange.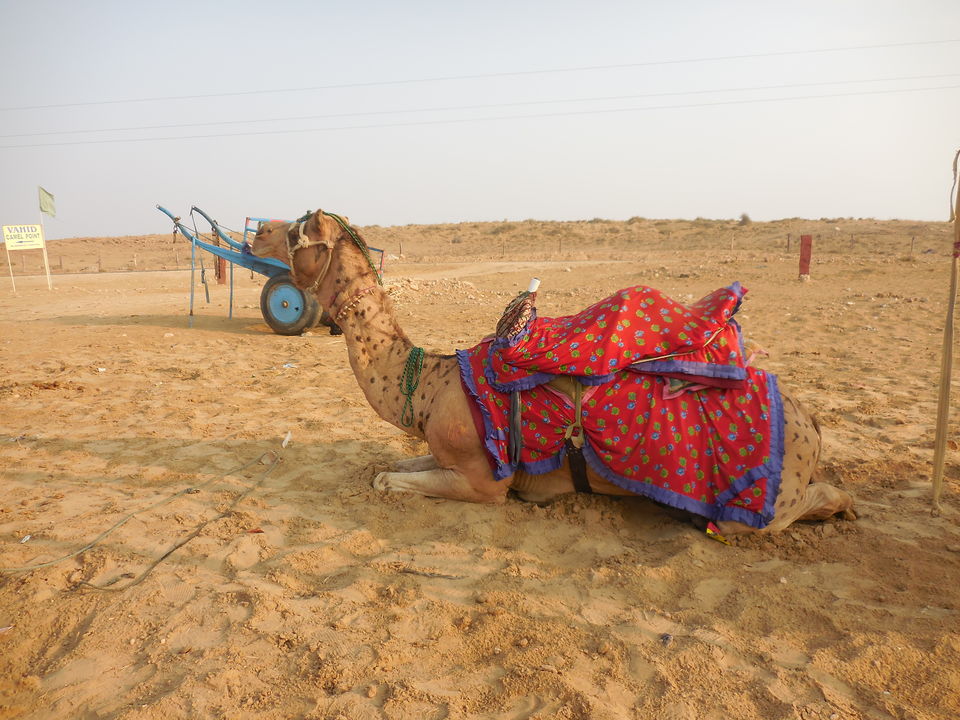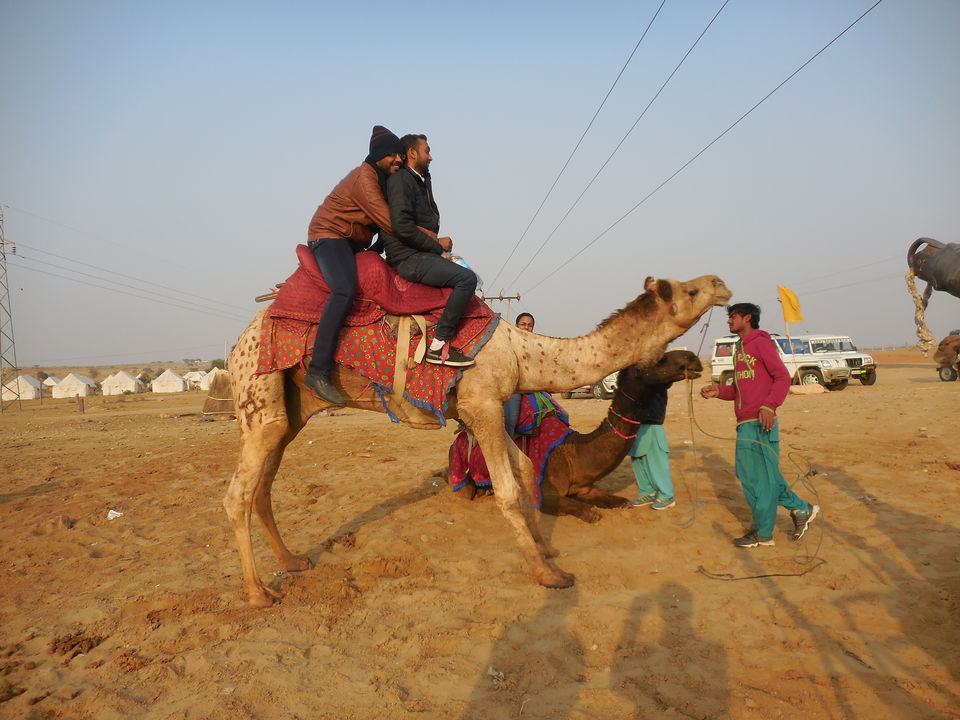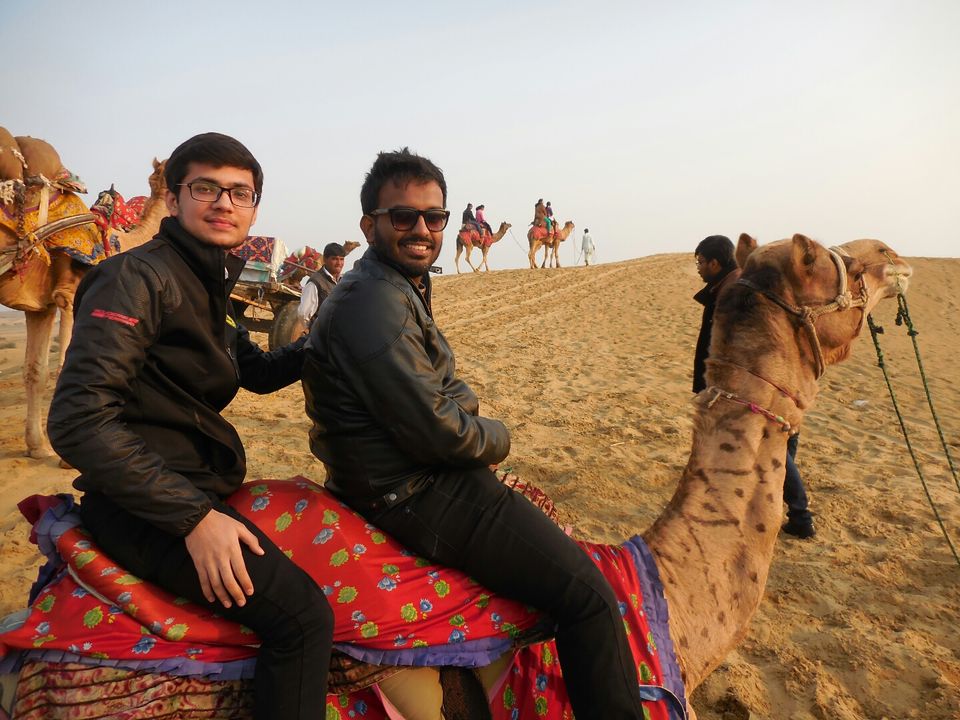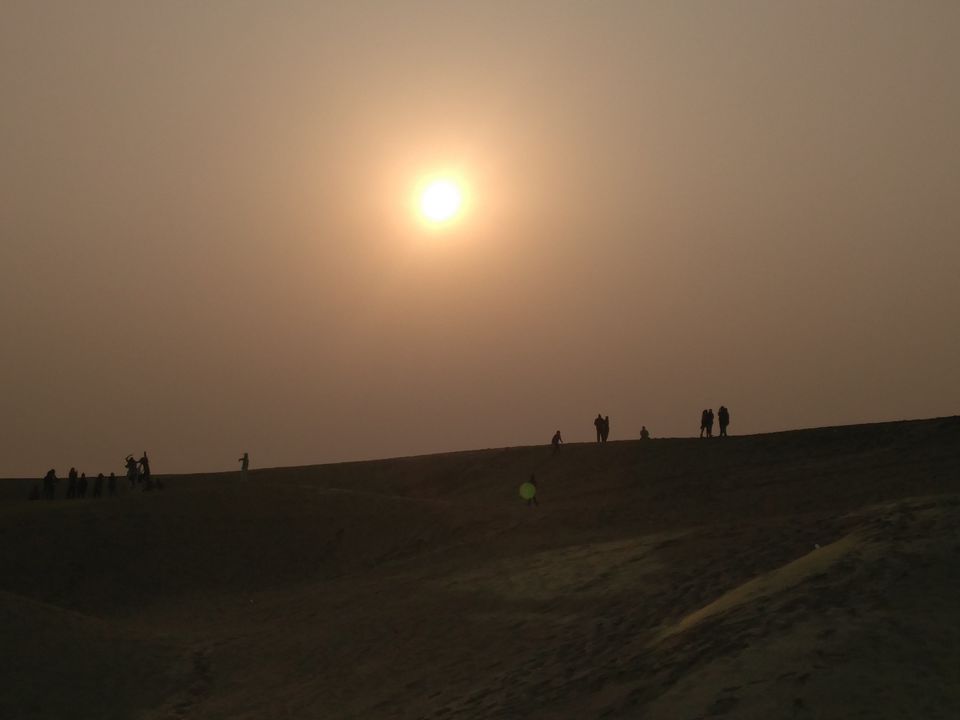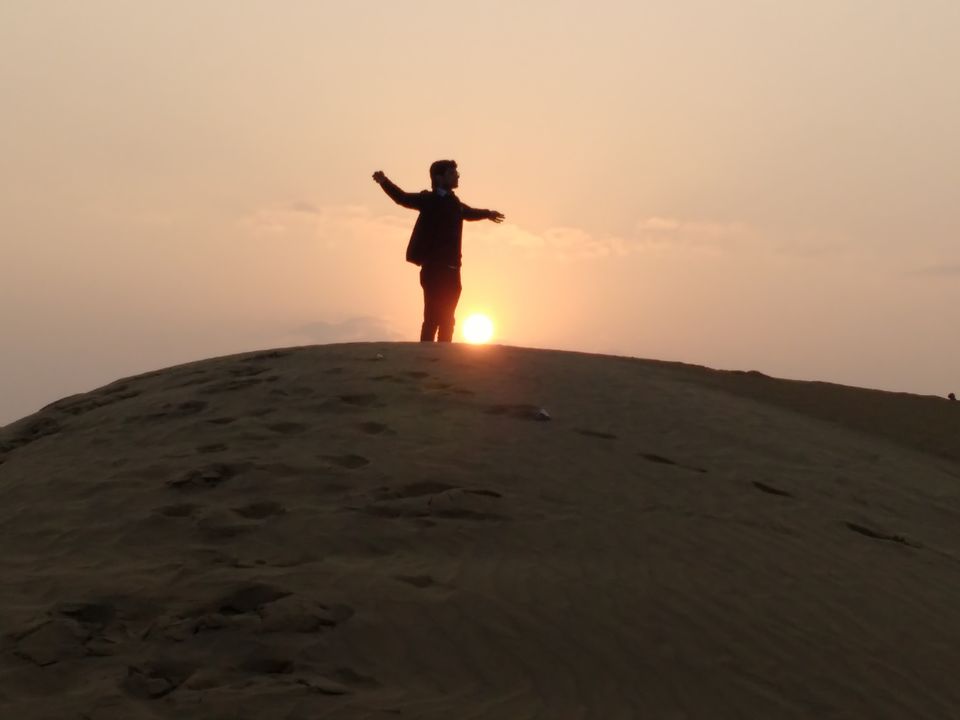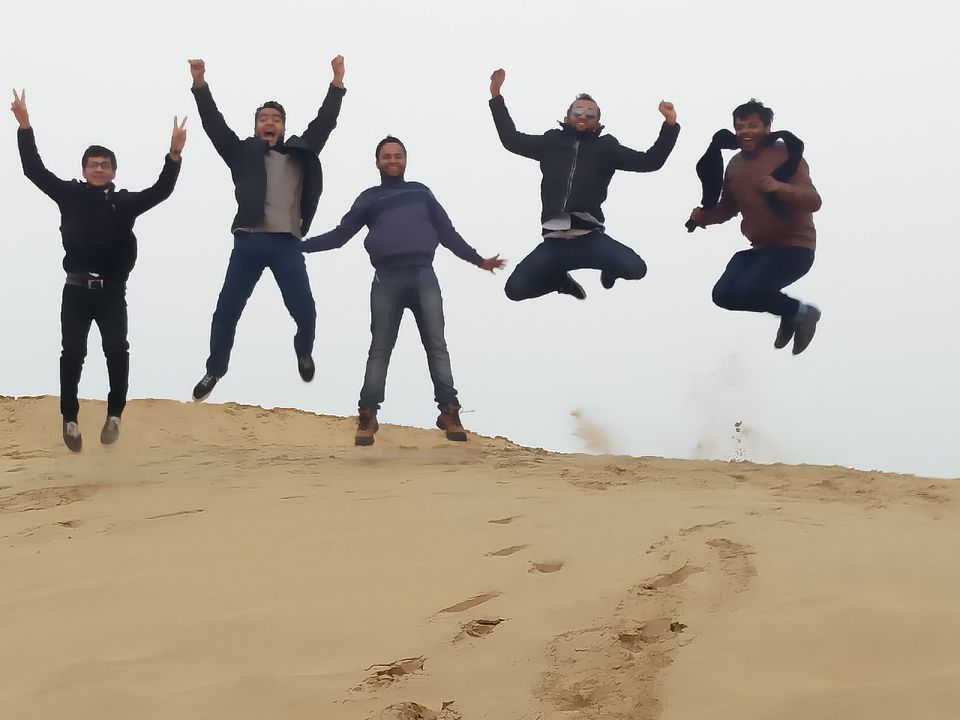 Post that, we went to the camp site and were welcomed with garlands. The camps there were like small huts aligned in a perfectly straight line. After relaxing for a while, now, it was time for the cultural program around the camp fire. The arrangement was totally ethnic and there were dance and music performances, fire acts, and later on, DJ added to the entertainment. We danced to the music because, you know, "We're fools whether we dance or not, so we might as well dance." Then we had dinner, and walked around the campsite and spotted the Orion constellation. We slept around 1 am (the only night we spent in a hotel) and we were scheduled for desert safari at 6:30 in the morning.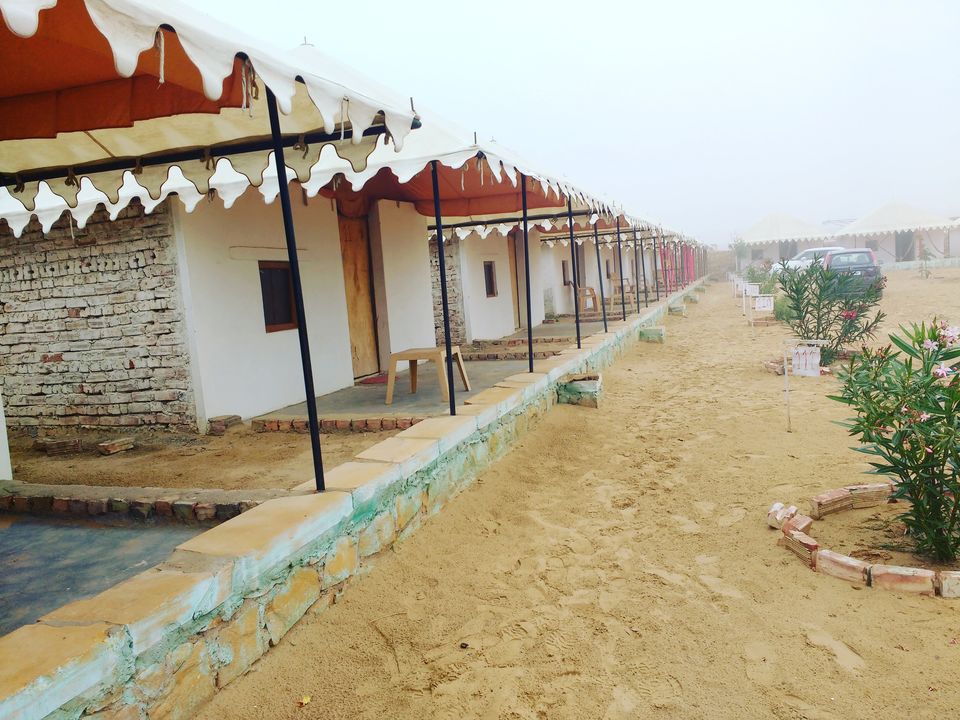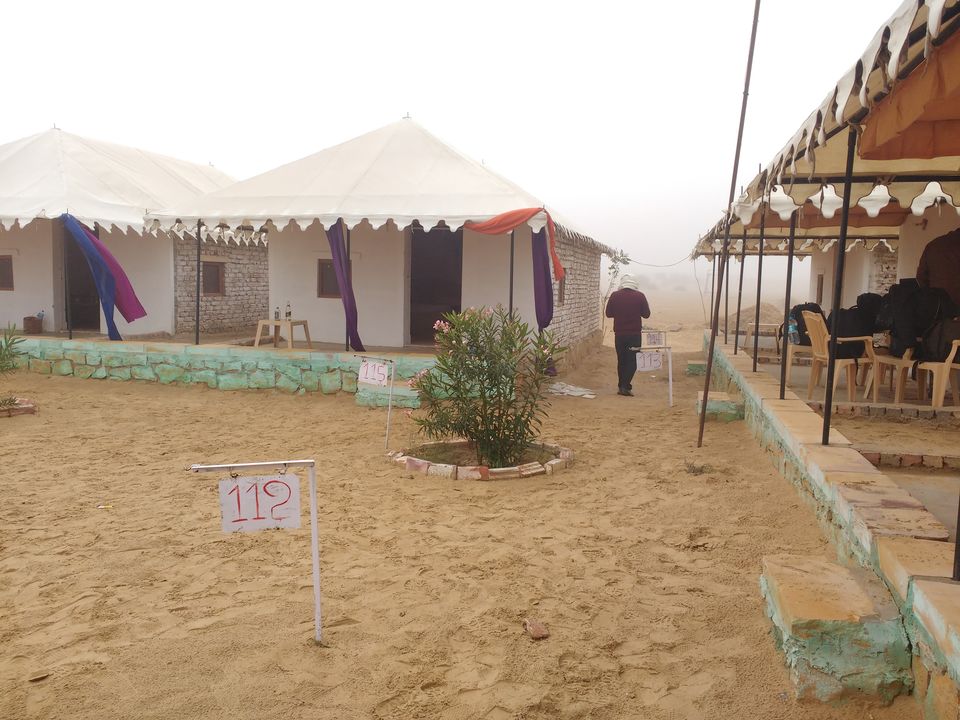 The next morning, I was the first one to wake up and forced the others to leave their beds. It was frigging cold outside (maybe 5 degrees), so, we wore our jackets and covered ourselves with blankets and headed out for our adventure. The cab driver took us to a tea stall in the middle of nowhere, and we couldn't see anything because it was too foggy. After a sweet cup of tea, we packed ourselves in the back of the jeep and a roller coaster ride started. It was a bumpy ride with sudden ups and downs while the chilling wind thumped our faces really hard. After a half hour of adventure, we reached back to the campsite, freshened up, had breakfast and packed our bags and headed back to the city.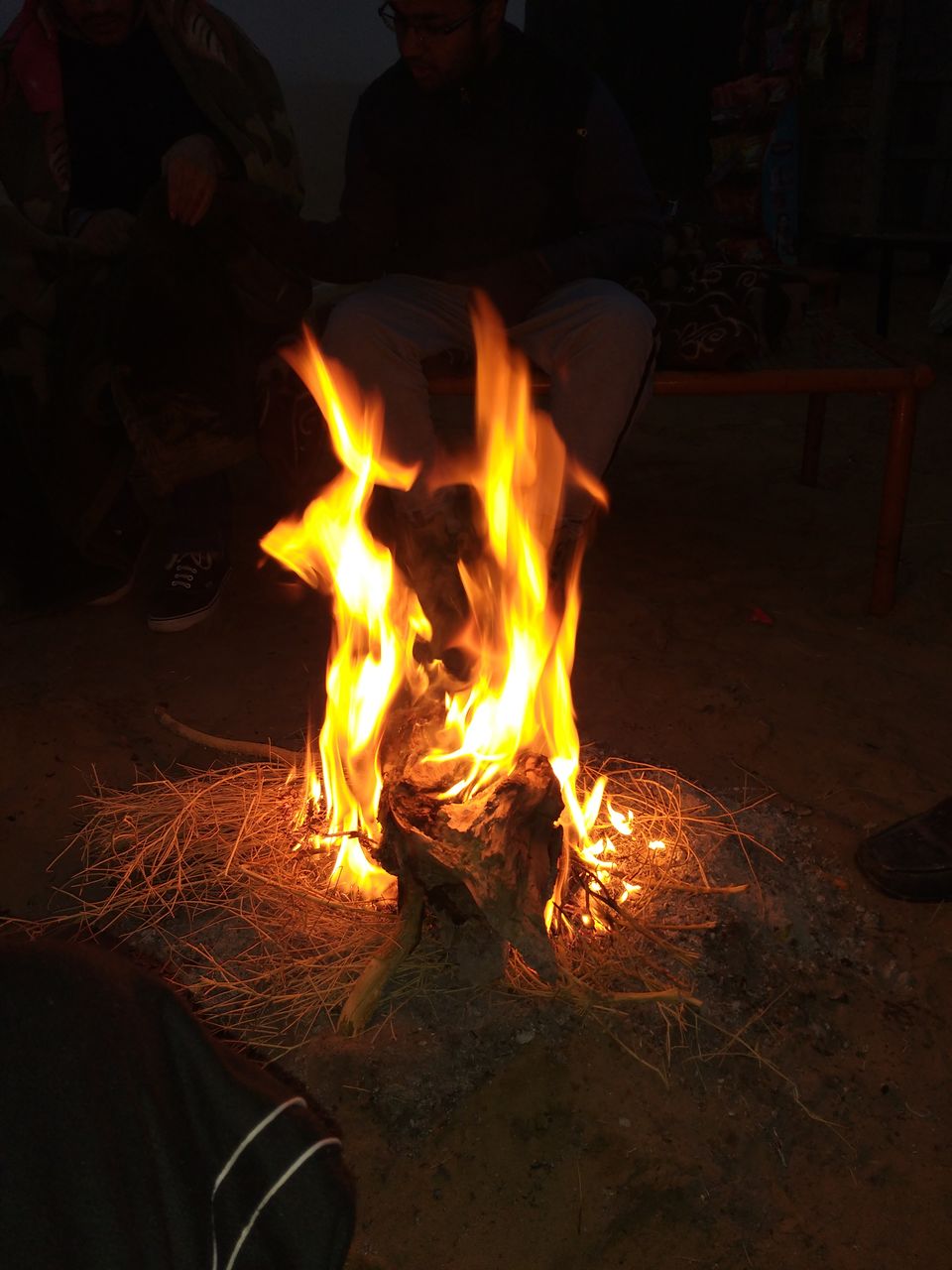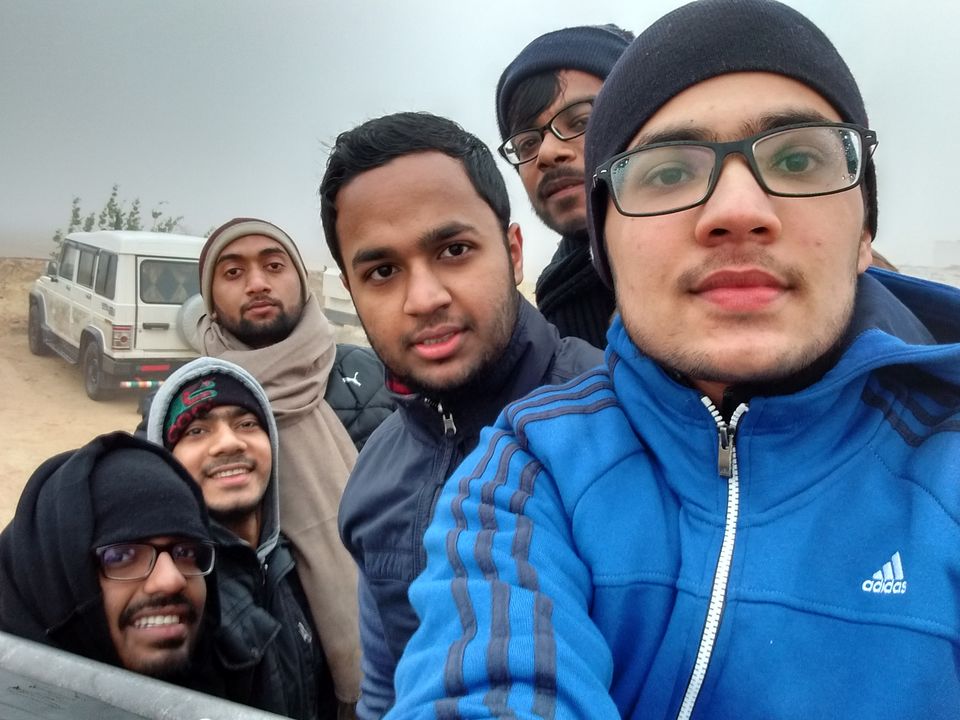 We reached at the Jaisalmer bus stand around 11 PM, and in about half hour, we boarded the bus for The Blue City, Jodhpur. It was a 4-hour journey. We reached there around 4 PM, had lunch at the restaurant named 'Gypsy'(Okay-ish), went to see the mighty Mehrangarh Fort, and bought some Ghevar (It's a must). We couldn't cover much of Jodhpur as it was already 7 PM, and we started inquiring about buses to Delhi. But unfortunately, there were none. So we boarded the only bus to Jaipur at 10 PM. We passed time by strolling aimlessly in the streets of a new city (It felt amazing not knowing where to go and just wandering). We didn't even realize, and the clock ticked 10, so we gathered our stuff, and boarded the bus to Jaipur. Next morning, at 6 AM, we embarked on the Haryana Roadways (Man, they drive swiftly!) and were here in Delhi at 11 AM.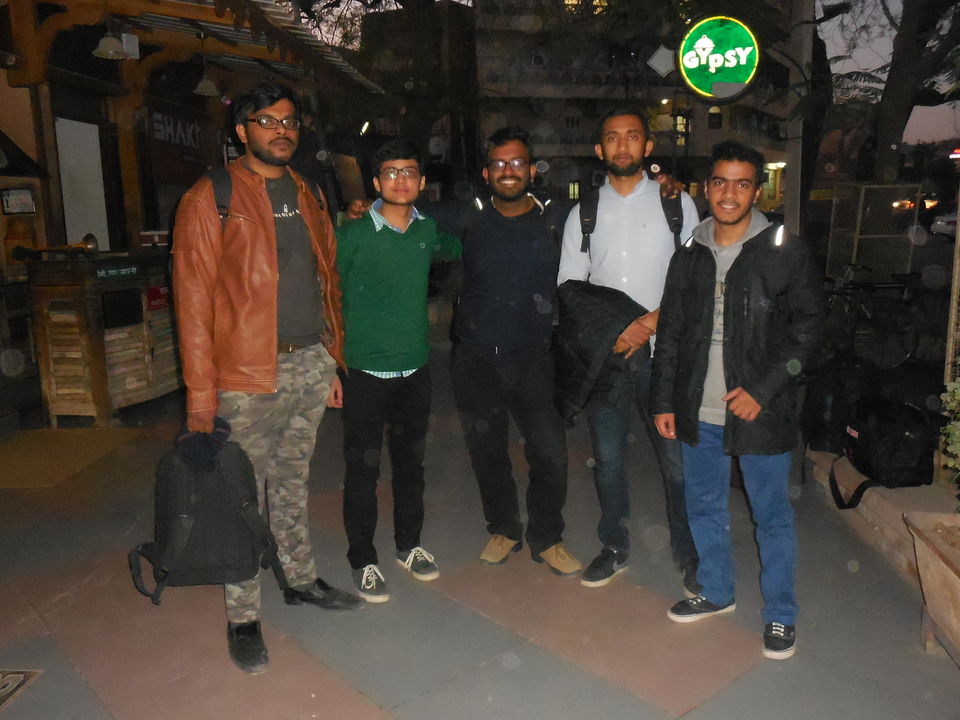 Alas! After 3 days, 2000 kms, 40 hours of travel, and chilling winters, our journey came to an end. It was a fun trip and the moments we shared together are the ones we'll cherish forever.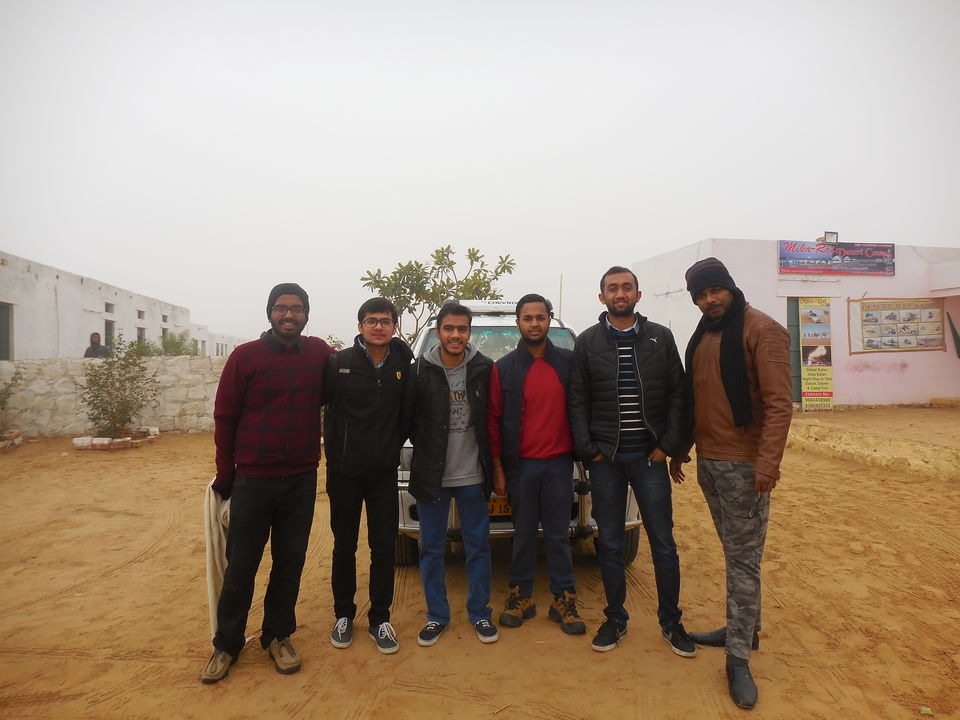 Trivia:
1. If you go in winters, it gets really cold in the night, so pack your clothes accordingly.
2. There is no direct bus from Delhi to Jaisalmer and vice-versa.
3. It's a lot of travel from one city to another, so make sure you get proper rest.
4. Buses ply at right time, so don't be late in catching your bus.
Apart from the places we visited, there are a few other ones which we couldn't cover:
In Udaipur: Bagore ki Haveli, Lake Fatehsagar, Jag Mandir(or Jal Mahal), Kumbhalgarh Fort (80 kms from Udaipur city), and several temples.
In Jaisalmer: Bada Bagh, Patwaon-ki-Haveli, Salim Singh-ki Haveli
In Jodhpur: Umaid Bhawan Palace
Last but not the least, Happy Traveling!
Frequent Searches Leading To This Page:-
best tour packages in rajasthan, rajasthan family tour packages, rajasthan travel packages, rajasthan trip packages, rajasthan tour package for family, honeymoon packages in rajasthan