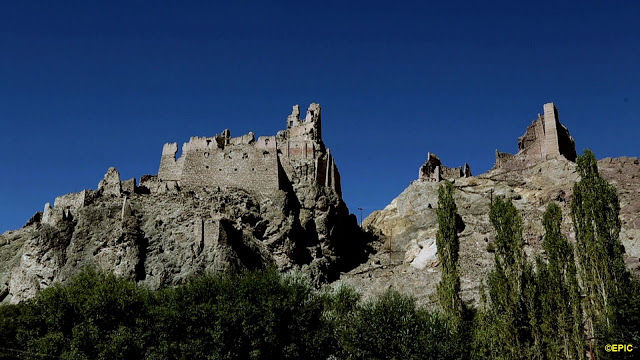 Also known as Chiktan Khar, Chiktan Fort is located in Chiktan village of Kargil district by the river Indus. The fort was built in the 16th century and had nine storeys. Though the fort stands in ruins today, it still attracts visitors who love the spectacular views of snow-capped mountains that form the backdrop.
Chiktan fortress is shrouded in many mysteries. Legends of its making, numerous sinister and violent events, magical tales of wondrous creations and a heart-wrenching tailspin of destruction and apathy encompass the story of this fabulous fortress set in an almost fantastical location.
History
Back in 8th century, Prince of Baltistan Tahtah Khan took Shelter in Chiktan area and decided to construct a fort as he was completely mesmerized by the beauty of this place. Though he could only build a small palace, Balti craftsmen constructed the castle in the 16th century that served as a royal residence for centuries.
Architecture
Reduced to rubble due to negligence, Chiktan Castle was once a magnificent piece of architecture thoughtfully designed by architect and carpenter Shinkhen Chandan. Made of rammed earth and stone masonry with mud mortar, timber was used to support the ceilings of the structure and to frame the doors and windows. It is even said that the castle had a rotating room which used to rotate with support of air blowing.
The Downfall
What once was a symbol of unity, strength, fraternity and community for the people of the region, stands today in advanced state of decay. The downfall of the castle started after late 19th century when it was abandoned and mid 20th century brought more destruction for the historic site. Large portions of its outer walls collapsed, partially due to the removal of stone for a local government hospital. It is said that the King's father-in-law decided to use bricks of the wall of the fort for the construction of hospital.
Significance
The castle was a significant political center and military fortification as the capital of Chiktan region. It remains an important site to study the shared history and culture in the region.
Do you know about any glorious fort that stands in ruins holding glorious history in its bosom? Share with the Tripoto community here.
Meanwhile, watch some really amazing travel videos to get inspired by the beauty of this world at Tripoto's Youtube channel.