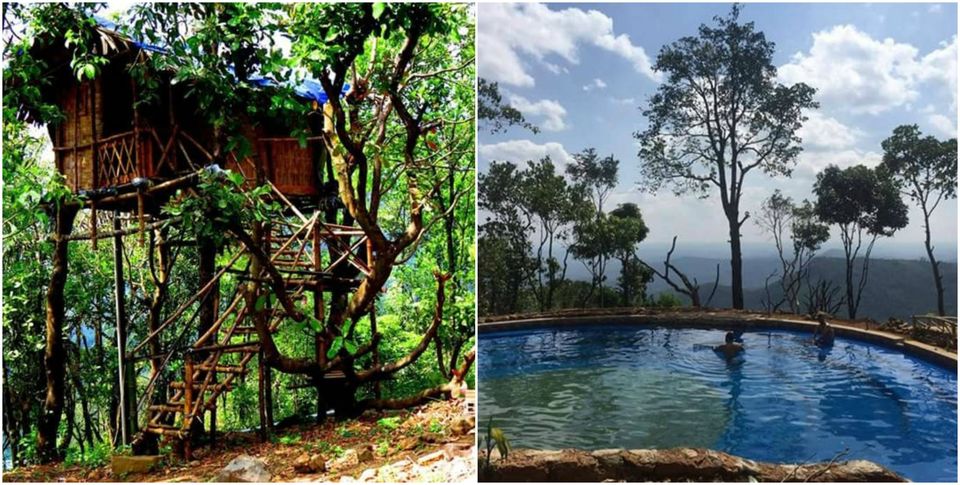 Whenever someone mentions Kerala, it invokes pictures of the famous backwaters in our minds. Although they are one of the most beautiful parts of this stunning state, the interiors offer a side that is unseen and unexplored. In one of these very beautiful interiors is a laid-back sleepy village called Vellad, which is situated in the gorgeous Kannur district. The population here is around 30,000, and they depend upon agriculture for their livelihood.
While this might sound like the most unlikely place to go for your next vacation, a glance into one of the treehouses in Kerala at ReginaSilva might change your mind. So if you're looking for a different experience, stop thinking conventional and read on about this great vacation option.
Where is it?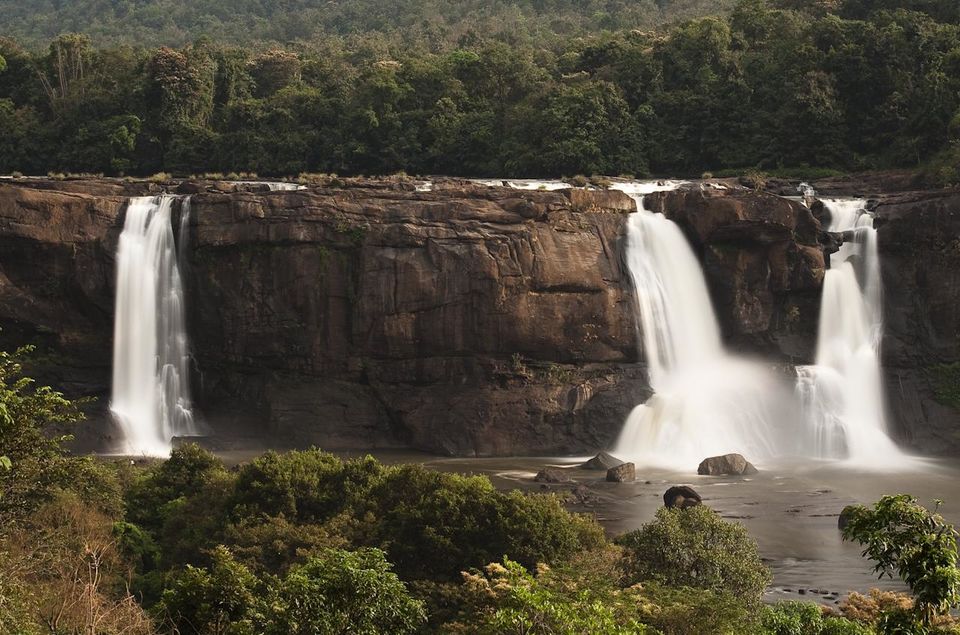 The village is quite accessible from Goa and Mumbai from the northern side and Kochi and Trivandrum on the southern side, but one has to reach the nearby town of Taliparamba to further go inside Vellad; both are just 24km apart. Let me tell you how to reach Taliparamba in more detail further down the article.
Why should I visit it?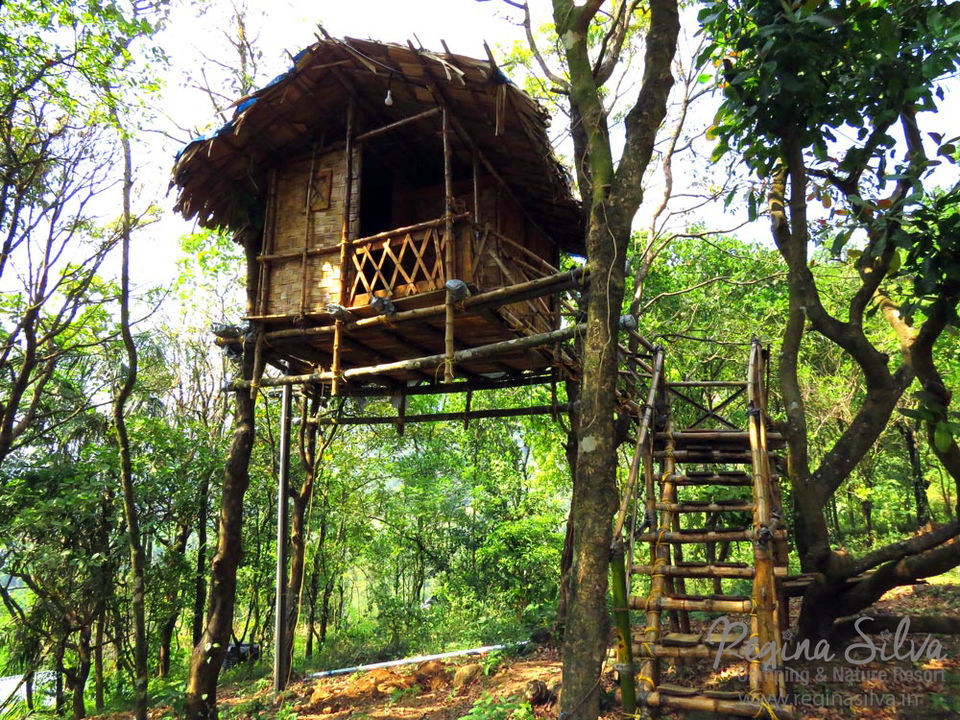 Because living amidst the monsoon clouds high up in a treehouse is not an easily forgettable experience. Even though you will live in a real treehouse in Kerala at this eco resort, there will be no compromise on modern amenities to ensure maximum comfort for you. There is a television, private bathroom with essentials, free parking on premises, a fantastic breakfast spread, badminton court, barbecue and bonfire, a restaurant called Lemon Drop, conference hall, theatre, laundry services, doctor-on-call facility, and of course the natural spring water "infinity pool", which is chlorine- and chemical-free. Since the resort is made inside a pollution-free village, the stay in itself is detoxifying for urban visitors. You can further opt for their various massage and healing treatments such as fish pedicure, 100% Ayurvedic oil massages, steam bath, mud and water therapy.
Staying here for a weekend is an experience totally different from modern hotel stays. In these times, it is important to switch off from gadgets and urban luxuries intermittently to be able to appreciate the gifts of mother earth better. ReginaSilva is one of the places that enable us to do so.
What makes this treehouse in Kerala unique?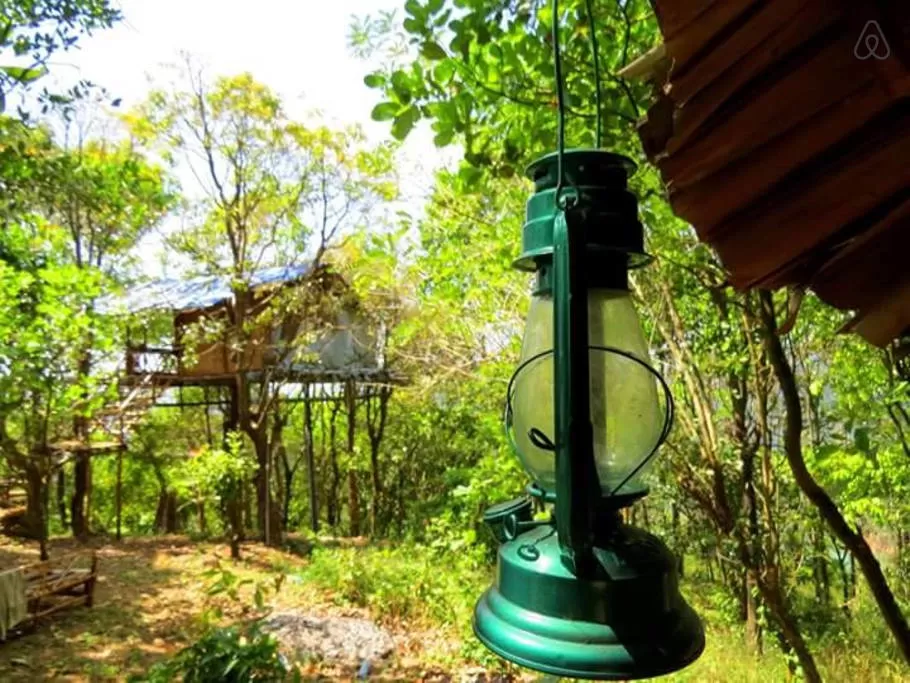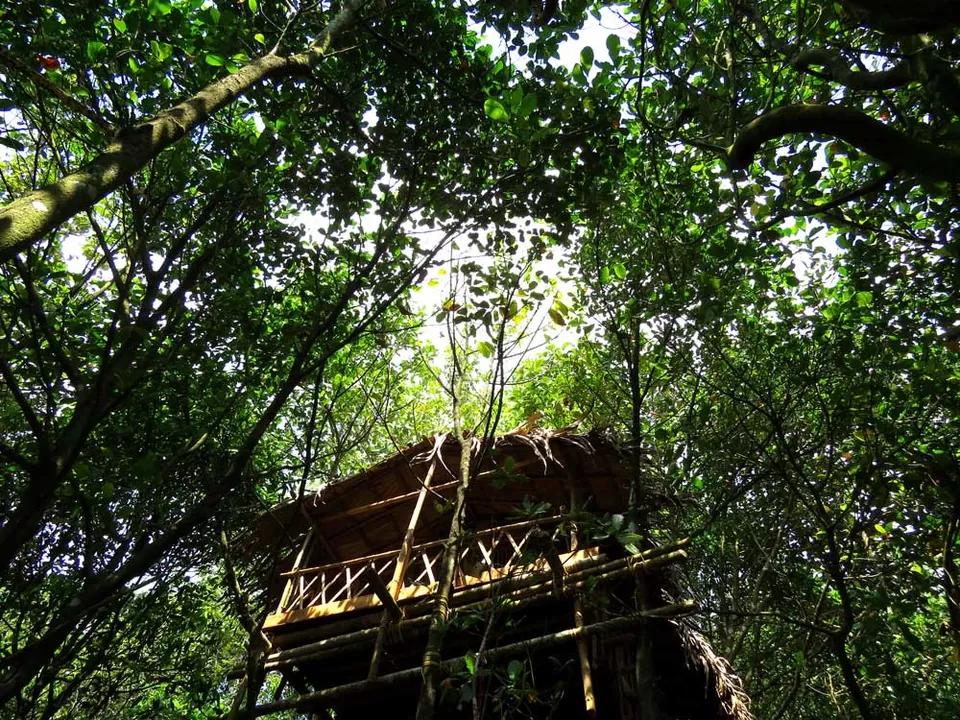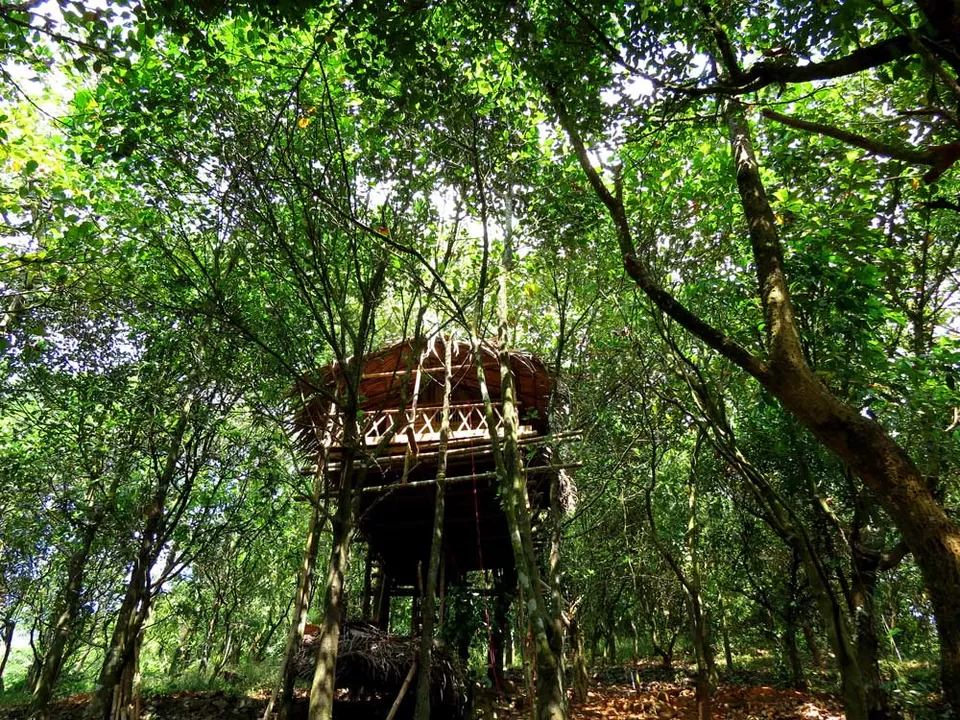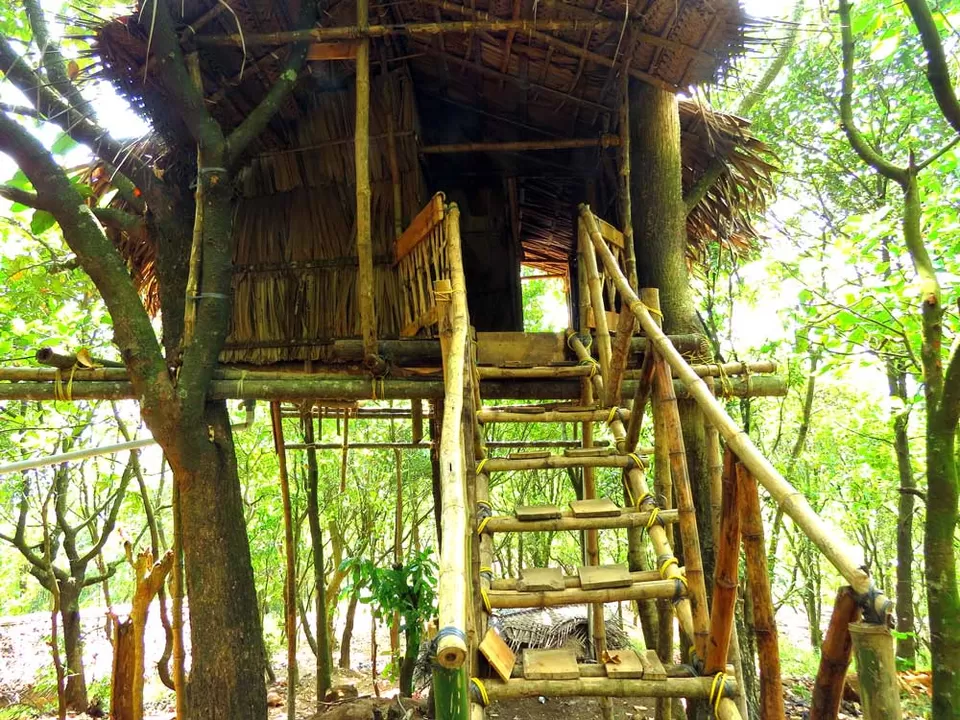 Roy (the owner and promoter) and his wife Preethi also live inside this settlement to take care of the visitors personally. Since this village is located in a relatively unexplored hill station called Paithalmala, you will witness many incredible sights. There are short but beautiful treks nearby that can be traversed on your own, but you must consult Roy for an appropriate trail. An absolutely rejuvenating experience is on the cards should you choose to take it. Pro tip – Do not miss out on the Kerala-style dinner by the bonfire, coupled with soothing music.
ReginaSilva is ideal for: Couples looking for an ultra-peaceful weekend retreat, peace-seekers looking for natural seclusion to meditate, and families looking for a drastic change from the hectic city life.
How much will living at a treehouse in Kerala cost: Rs. 4,190 per night for two
How to reach, what to do, and how to book?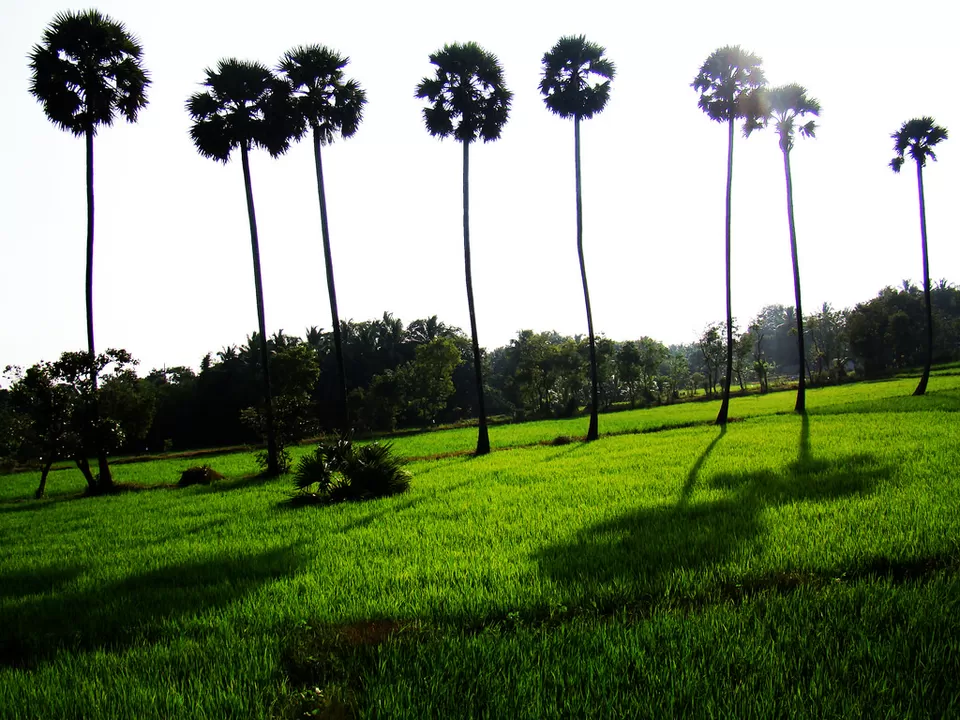 By Bus: The nearest well-connected bus station is in Taliparamba, from where buses are easily available to all parts of Kannur district, as well as to Mysore, Bengaluru, and other major South Indian cities.
By Train: The nearest railway stations are Kannapuram and Kannur on Mangalore-Palakkad line. Trains are available to almost all parts of India. You can either catch public buses to Taliparamba or take private taxis to Vellad.
By Air: There are airports in Kannur, Mangalore and Calicut. All of them are small international airports with direct flights available to major Indian cities. Whichever airport you land at, you can take private taxis to Vellad.
By Car: 90% of the customers are from Bengaluru since it is only 330 km/6.5 hours away via car with a smooth road and a scenic route. Take the NH275 for the same. You can also drive down easily from other nearby cities such as Mysore and Tiruchi.
Things to do in and around Vellad: Elephant watching and sightseeing in the nearby tribal villages. You can witness toddy tapping and rubber tapping and processing in the factories. There are plenty of churches and temples nearby, such as Cheekadu Infant Jesus Church and Parassinikkadavu Muthappan Temple. Watch the sunset from the top of Paithalmala after a 6-km trek.
You can book ReginaSilva right now if you're interested. The property also allows free cancellation so your money is safe. You can also message the owner, Roy, directly on Airbnb for detailed information on the property.
If you've already been to ReginaSilva or any other property with a treehouse in Kerala, do share your experience on Tripoto and help 25 million fellow travellers choose their next vacation destination. We promote safe travelling and believe in preserving nature.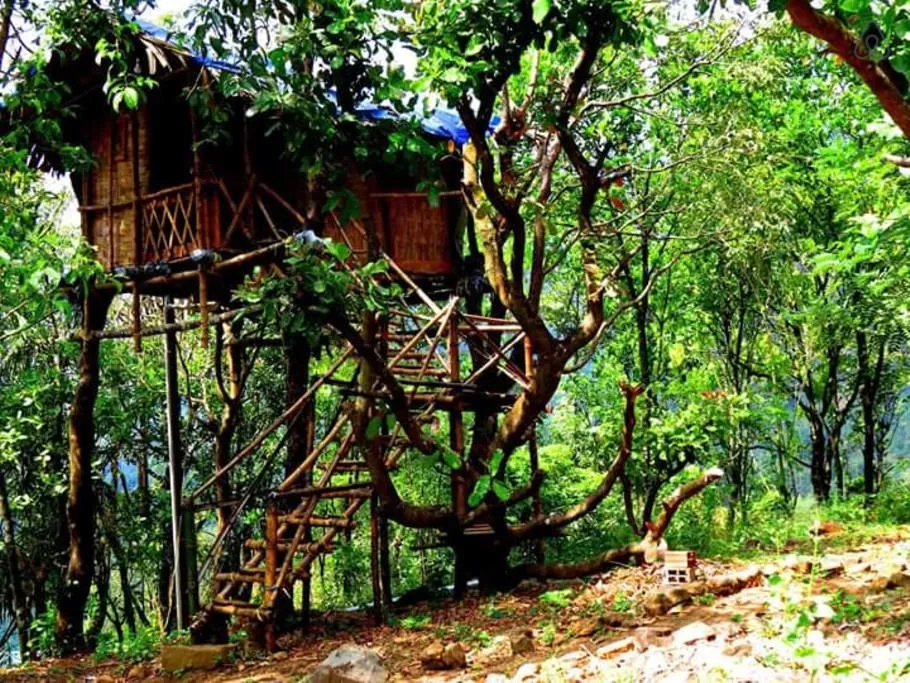 Frequent Searches Leading To This Page:-
top tree house in Kerala booking, best tree house at Kerala, best tree house in Kerala