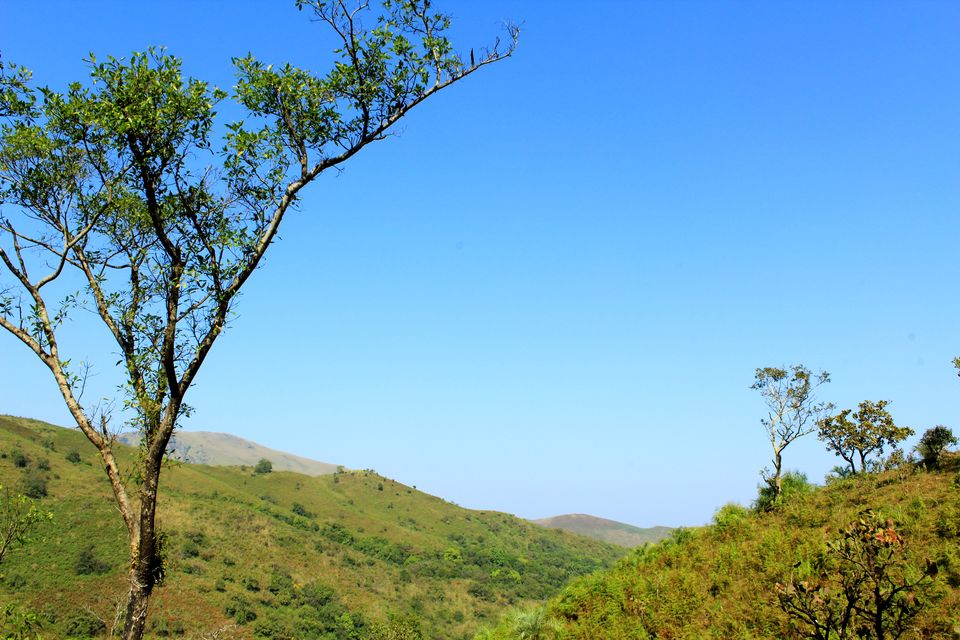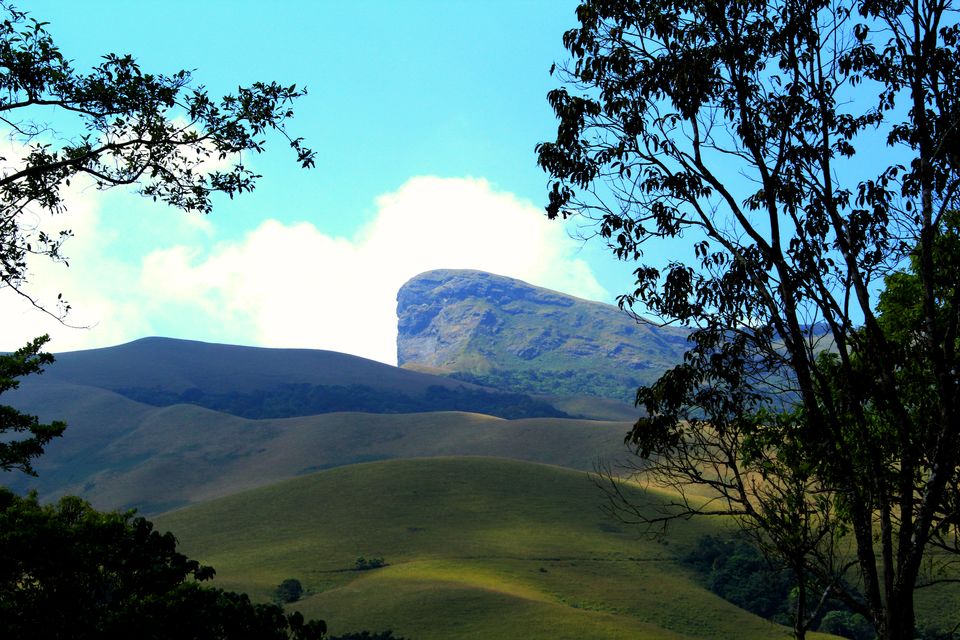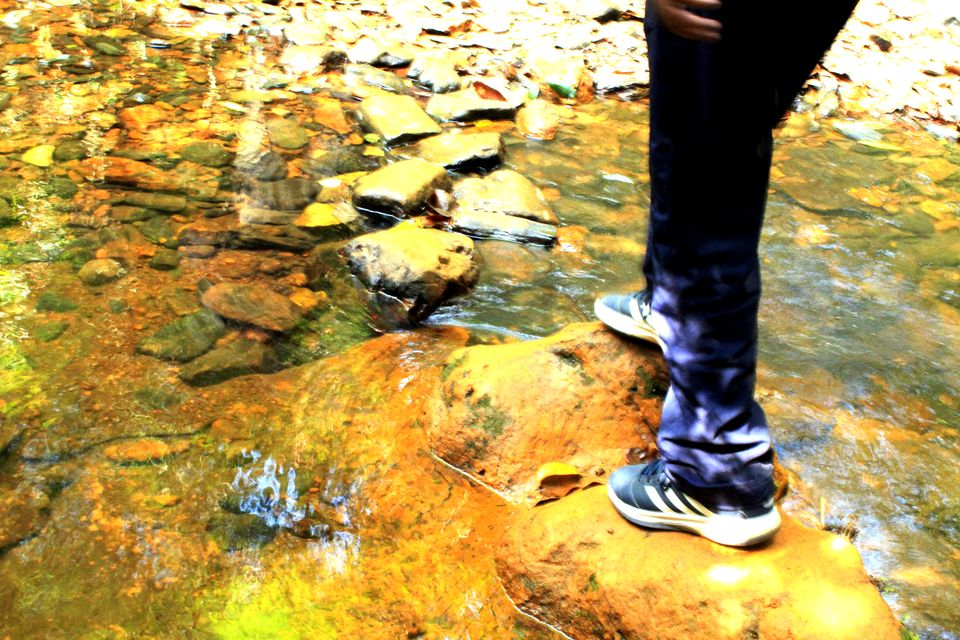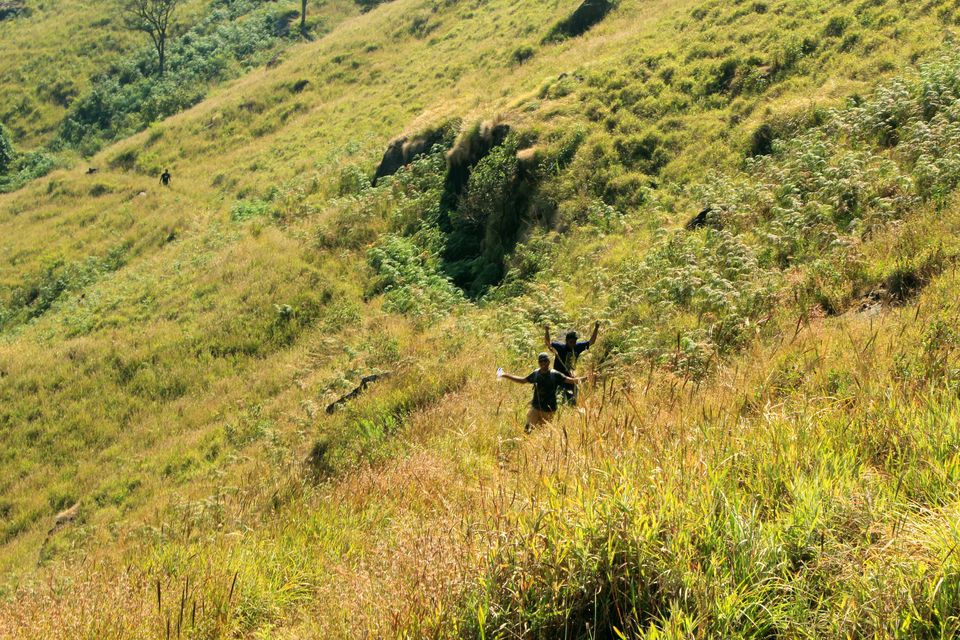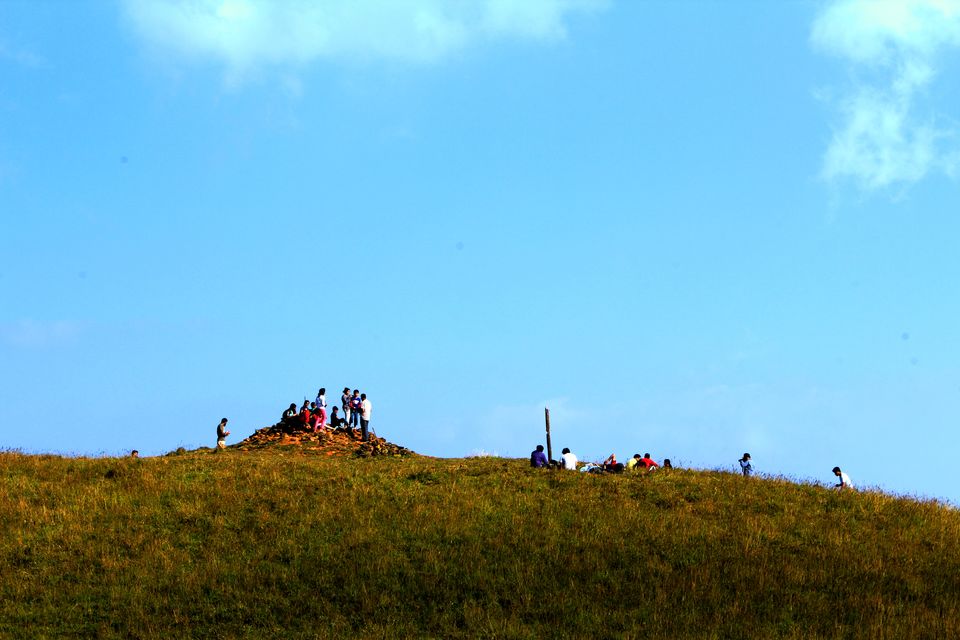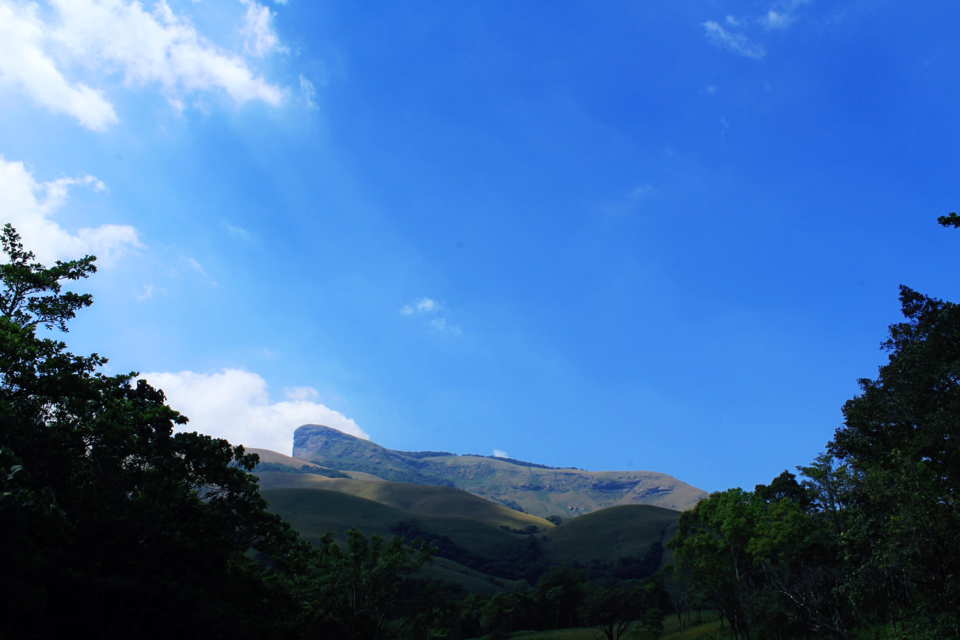 Kudremukh also spelled Kuduremukha meaning "Horse-Face" is the highest mountain range in Chikmagalur and third highest in Karnataka. To say that the mountains cast spells on me would be an understatement. I undertook few short treks around Bangalore and that was it, I am slightly a fanatic now! Kunti-Betta, Kabbaldurga, Bheemeshwari treks were some easy getaways from Bangalore and well, enough to quench my trekking thirst. Do you see the edge of that mountain? That was our destination point!
The trek was organized by a travel and adventure based company from Bangalore and they did not disappoint. As anybody else, I did my homework about the place and the picture came out heavenly. But it was much more scenic and pure in real. We started around 9:30 PM, a day before the Christmas eve. A group of over 30 people all set to embrace the adventure that was coming. The road to Kalasa from Bangalore gets beautiful once you enter the ghats, the night was pretty tiring and I am not an early morning person but something caught my eyes and the view still remains fresh. A faded orange shone brightly across the surface of the moon as it peeped through the trees to check the one's who disturbed the night's silent monotony. The mountains stretched wide holding with itself a magical charm. This ride was sort of a ride to home. I always had this feeling that a part me of belongs here. The zigzag roads could give anyone nausea but the scenery next to it took the sleep right out of my eyes and placed awe instead. We passed through the tea estates, the aroma was in the air, but the magic had just begun.
We reached Kalasa at around 7:30 AM. We needed to head to Mullodi village, the base point of the trek. Unfortunately, the rugged terrains to Mullodi are too rough for cars. Enters, Jeep! Those robust machines will do the job. Ours were arranged by the Homestay we booked at Mullodi. After about 30 mins of a bumpy ride, where you get to see the vast forest, the mountains, the mini water streams by the side, houses with kids waving hands at you(who, by the way, were adorable), we finally made it to the Homestay. Our bums hurting pretty bad and stomach growling with hunger. The homestay was pretty packed since it was a long weekend, we quickly freshened up, had a few idlis and left for the trek with packed lunch. We started in a very happy note, the scenery captivating us to take more selfies and pictures, and the trek lead reminding us to keep the pace. Since this was around 24 km trek (round trip), we had to maintain time to reach base by sunset, else the forest department will get pretty mad, and you don't want to experience that. To do this you need to start early, it would take around 8 hours (round trip) to finish the trek. So, try and descend from the peak by 2 PM, else you might end up with an experience like mine (read on to know more about it)!
The landscape was getting hold of me, all I needed was to take a seat and watch the mists take off, feel the cool wind against my skin and hear the musical notes of the stream but instead, I walked to see what the fuss was all about this trek. I heard the little birds say that this is one of the most beautiful treks of South India and they were nothing but right! I expected it to be a tiring one, but that again will be an understatement and a strict NO-NO for the first timers. We walked and walked, I was grabbing every opportunity to capture the scenery around me, but I think the beauty is too shy to be caught in a camera, you have got to experience it.
The rugged trail looks like the picture above, which gets narrower and steeper as you move ahead. I walked past few river streams, the only drinking source to keep you hydrated as the sun is quite determined to squeeze the hell out of you. The crystal clear water tasted surprisingly good, I was a bit hesitant at first but now that I am still healthy and running, you have got nothing to worry about! Then we walked right into the forest and I was in relief to finally get some shade. But the view around was too enchanting to neglect, the trees served as an umbrella with little holes that brightened up our way. And then we walked and walked and then walked some more, the sun right above our heads, roasting our exterior and the breeze cooling it at the same time and definitely bringing in a sense of relaxation. We finally reached a point where everyone was resting and I thought we have reached, but nope!
Our lead gave an evil grin and said, "We have another 8 km to go, we just finished 5". And my heart jumped to my mouth! I didn't want to rest, although my body was giving up already. I just knew I had to summit the peak by any means, but the moment I started walking, something hurt bad and apparently it was a muscle cramp. I squeaked as I tried to lift my right leg and the shit just got real. The scenery had started to unveil itself and it looked drop dead gorgeous.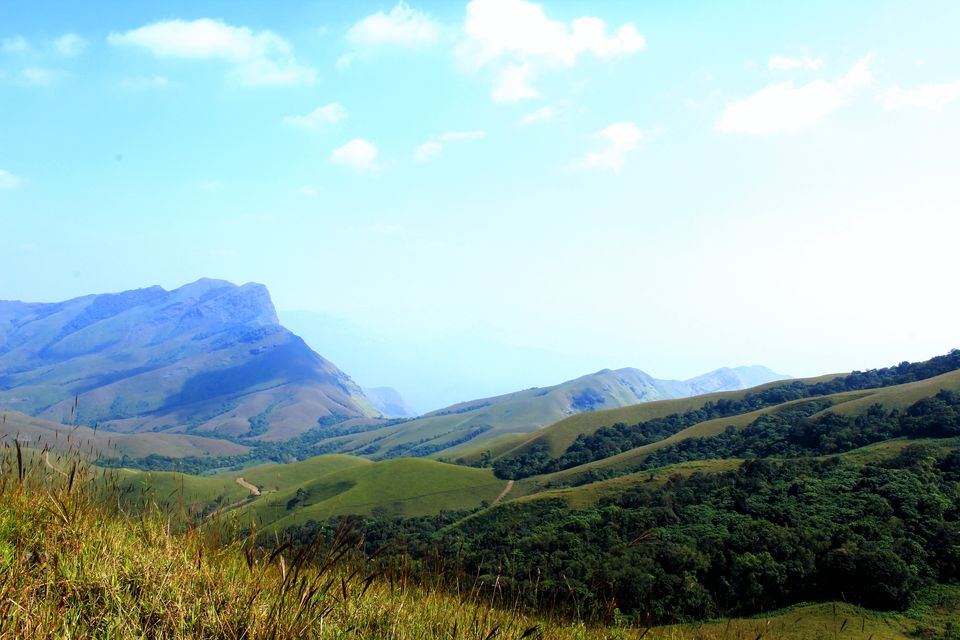 The scenes around triggered my courageous bone every time I thought of giving up and that kept me going. That and some wonderful companions I befriended along the trip. Few had some questionable and inexplicable stamina, we nicknamed them as "Mountain Goats"; all that time at the gym did pay well! So, this friend of mine sadly had to say goodbye to her shoe's outsole, that was drastic since we had a ton of moving to do.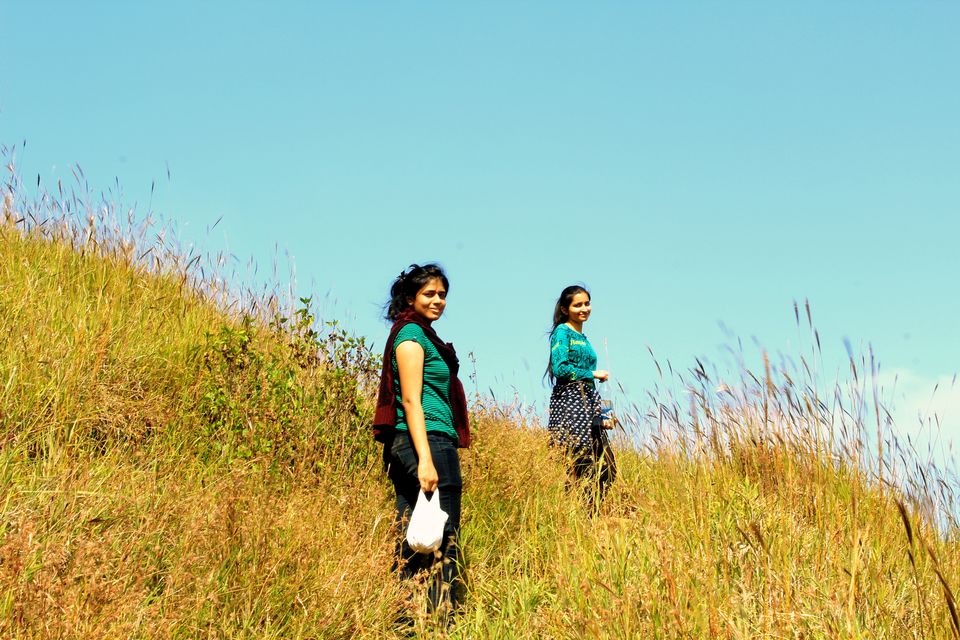 And there she is holding onto the lunch; precious lunch as you are definitely not getting any tea or maggie up there to boost up your stamina. My body was functioning on its own, if it were for my body I would have given up a long time ago. I sat to drink up some water and my phone rang. No network at the base and here my rings. Astonished, I checked to see my mom calling and the conversation went something like this:
Me: "Hello"
Maa: "Where the hell have you been? Your phone is not reachable since last night. Did you have any food?"
Me: "I am climbing a mountain maa! And apparently I missing you and I am fine by the way (trying to hide my overwhelming emotions that started flooding out of the blue)".
After that inexplicable emotional outpour, I began my journey just to see that I still had a long way to go. The path got a bit crowded, and I clearly remember someone playing and singing to the lyrics of "BABY, by Justin Bieber". Weird things happen!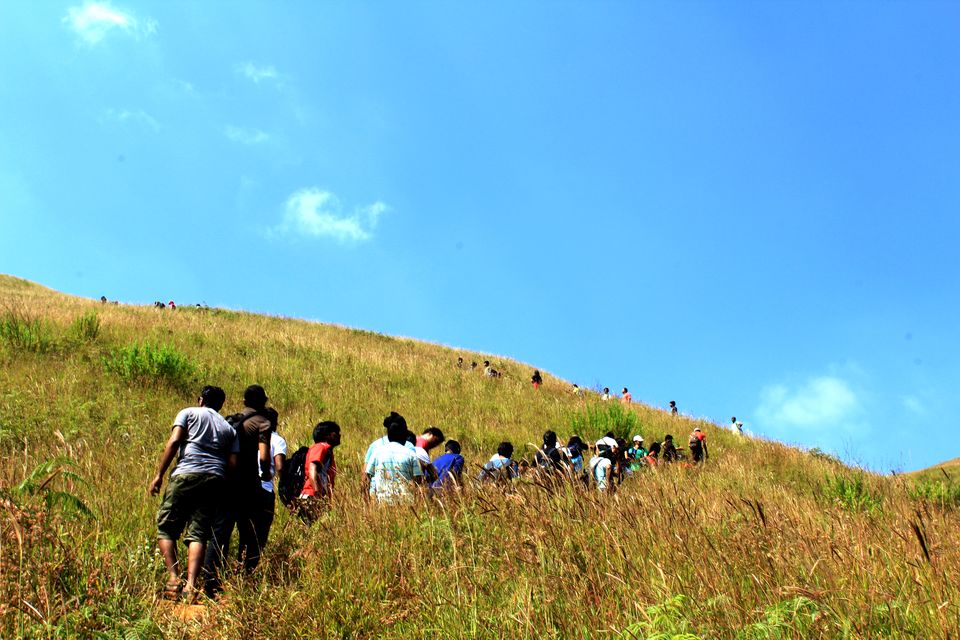 These hills, play with your brains. You look up and say, "Oh! that's it. Few more steps and I can finally rest". You give everything you got and reach the top to find a series of them just lying there, looking all pretty, but you can feel it in your bones that they are grinning and saying, "Gotcha!". I could wait no more, so I sat and had my lunch as I kept my eyes on the peak. The gang was very supportive, I might have had a different without them. We took a deep breath and started back with the trail. Many were coming back after summiting, then there were these bunch of kids, that my brain couldn't register were actually climbing this thing. The adults of their team boosted the little fellas to finish the trek and I couldn't agree more. The view was just right. You know that feeling when something feels just right, not less not more, but in correct proportion? Yes, this is perfection!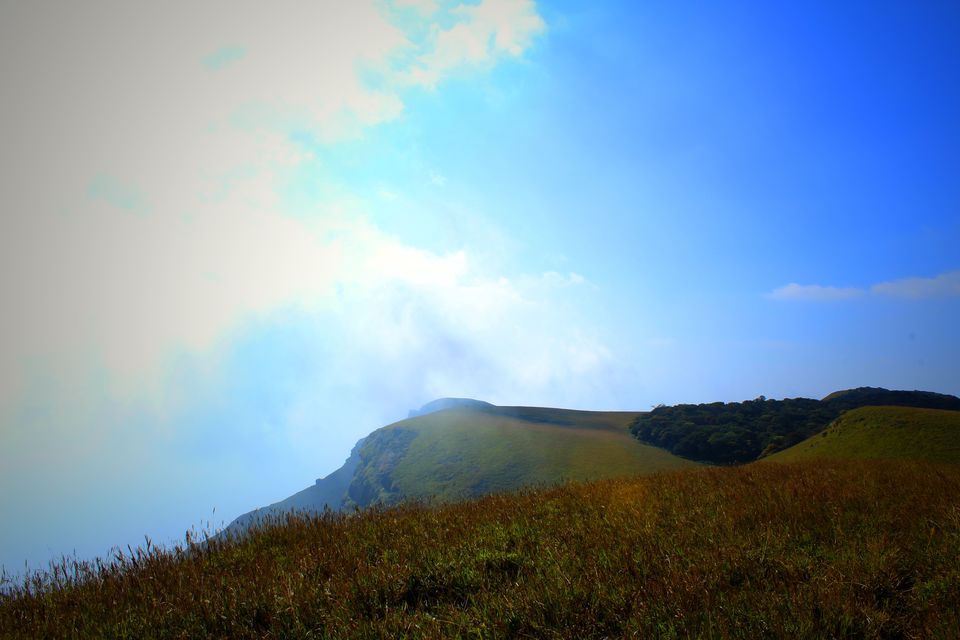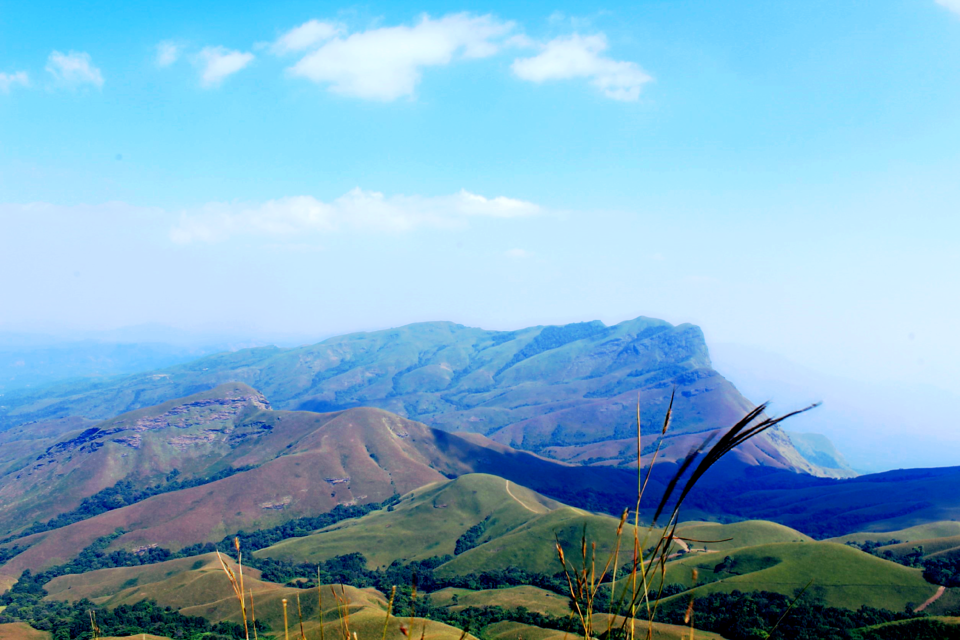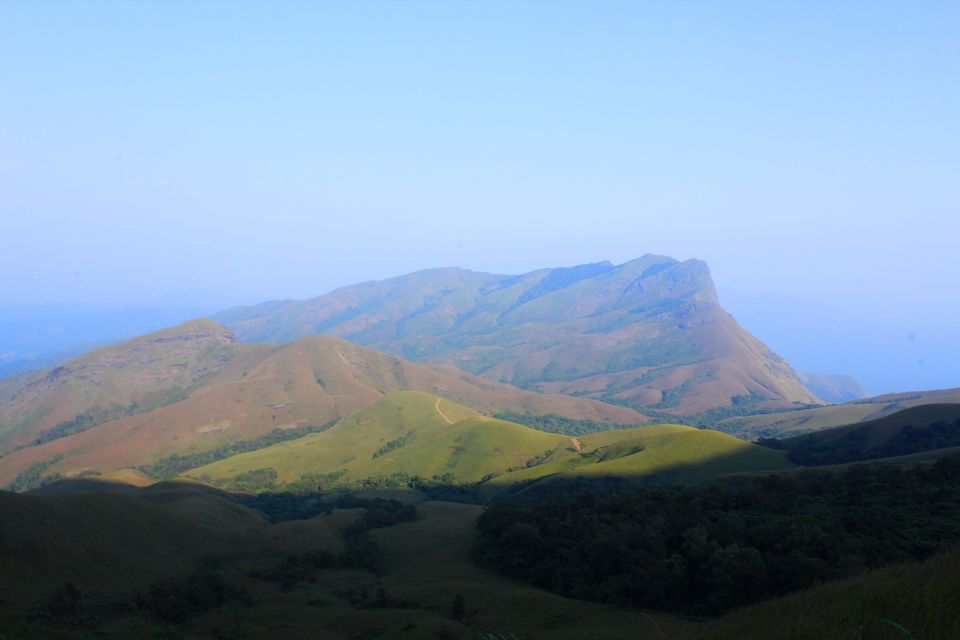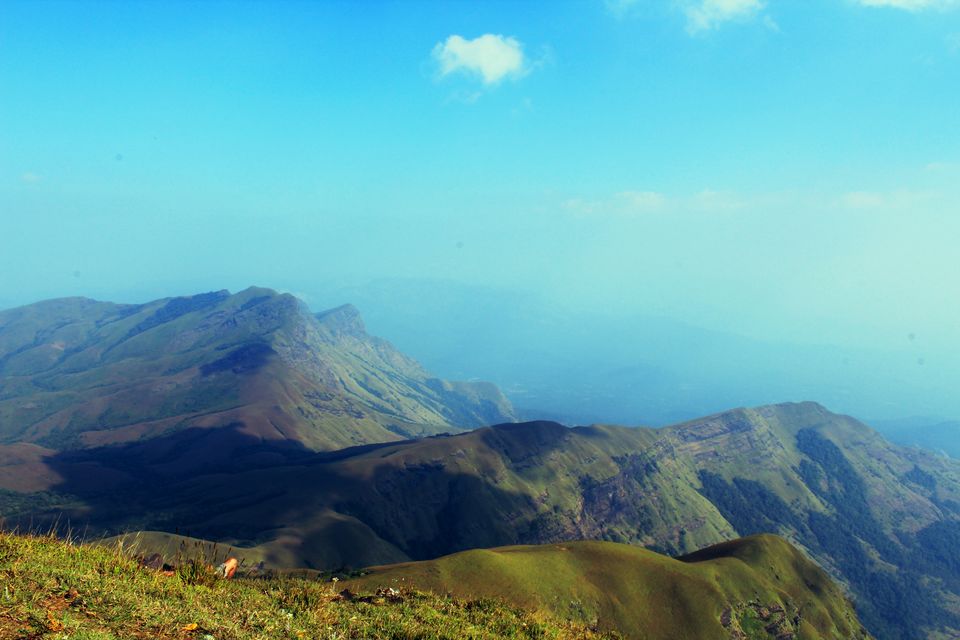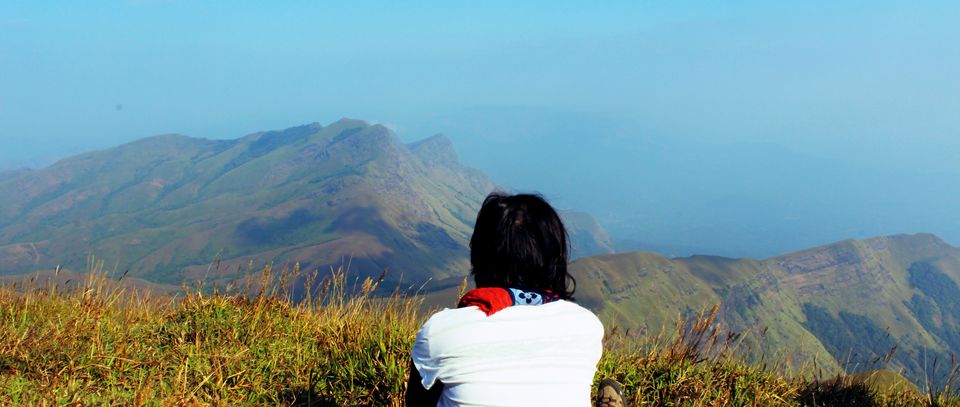 I deserved a fine nap up there and so I said to myself, "I wanna take a nap, I take a nap right here, Goodnight!" It was pretty short as our lead suggested we start heading back right away since we have lost a lot of time climbing. So late that we descended at around 4 PM, which is very, very late. The trail felt much longer while returning, we had a few hours of light left and our energy was just hanging by a thread.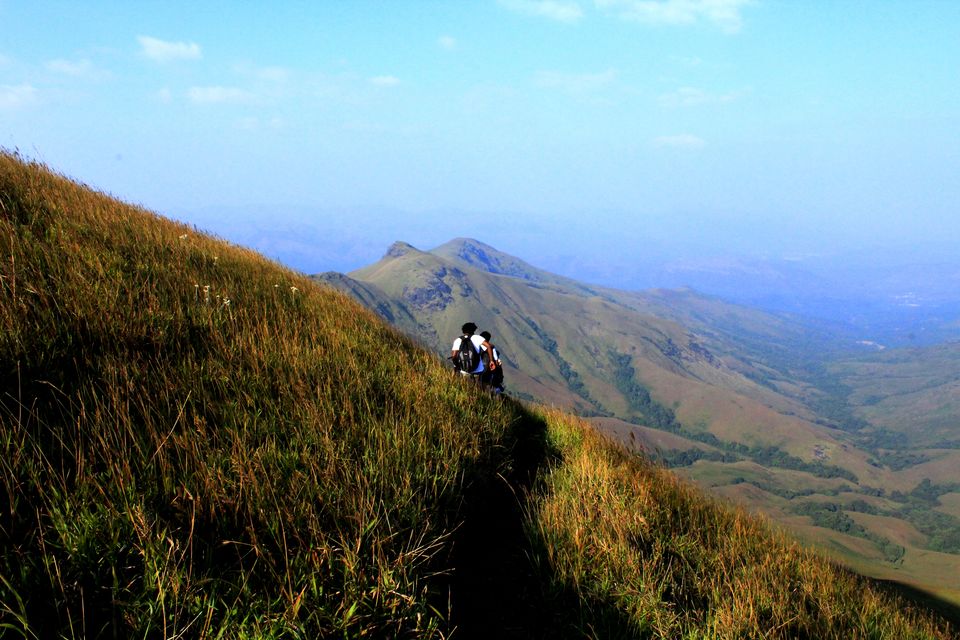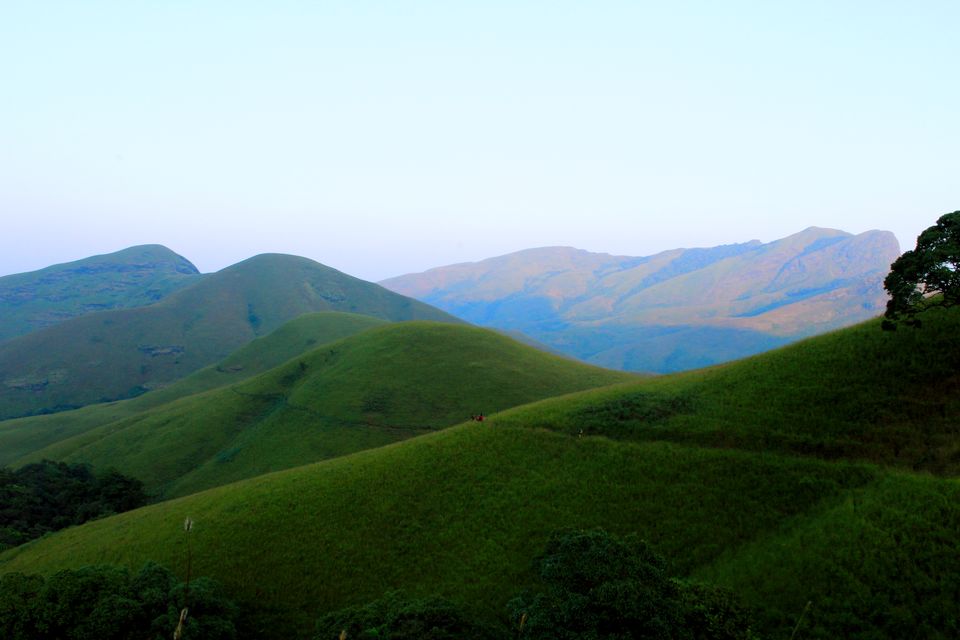 You can see the trail in the above picture and it's only 20 percent of it. My feet hurt like it was to fall off but I still had to walk and I kept reciting, "Food is at the base" and trudged meekly. The never ending trail tested not just my physical strength but also my mental stability; I passed with flying colors. The real excitement began when the Sun went to light up the other side of the world. Torches/Phones were dearer than anything at that moment. The place is definitely pretty for the eyes but your feets will curse you! !@#$%
I knew we were late but we figured soon that we were actually very late. It was around 7, pitch dark! thankfully a local guide walked with us, the trail was pretty confusing inside the forest. I was holding my backpack and a camera bag, struggling to keep them in place as my shoulders were in terrible pain, the gentleman asked if I needed help with the bag, which I did. And I can't really thank him for the gesture. Time was running slow and we were nowhere near the base and suddenly a bunch of locals came in and asked us to move quick. The forest department were quite pissed that we were so very late; can't really blame them. I helped and boosted my friends and stayed at the back to make sure no one was left behind and next to me was the guide. We did converse without knowing each other's language, it was rather funny as I was gesturing at him in dark and spoke words that made no sense. And then finally, we reached base. The clock said 8:30 PM, and I was already looking for a place to lie down. My body pained beyond explanation. Ended our day with some hot dinner and my sleeping bag couldn't be more comfortable. We bid farewell the next day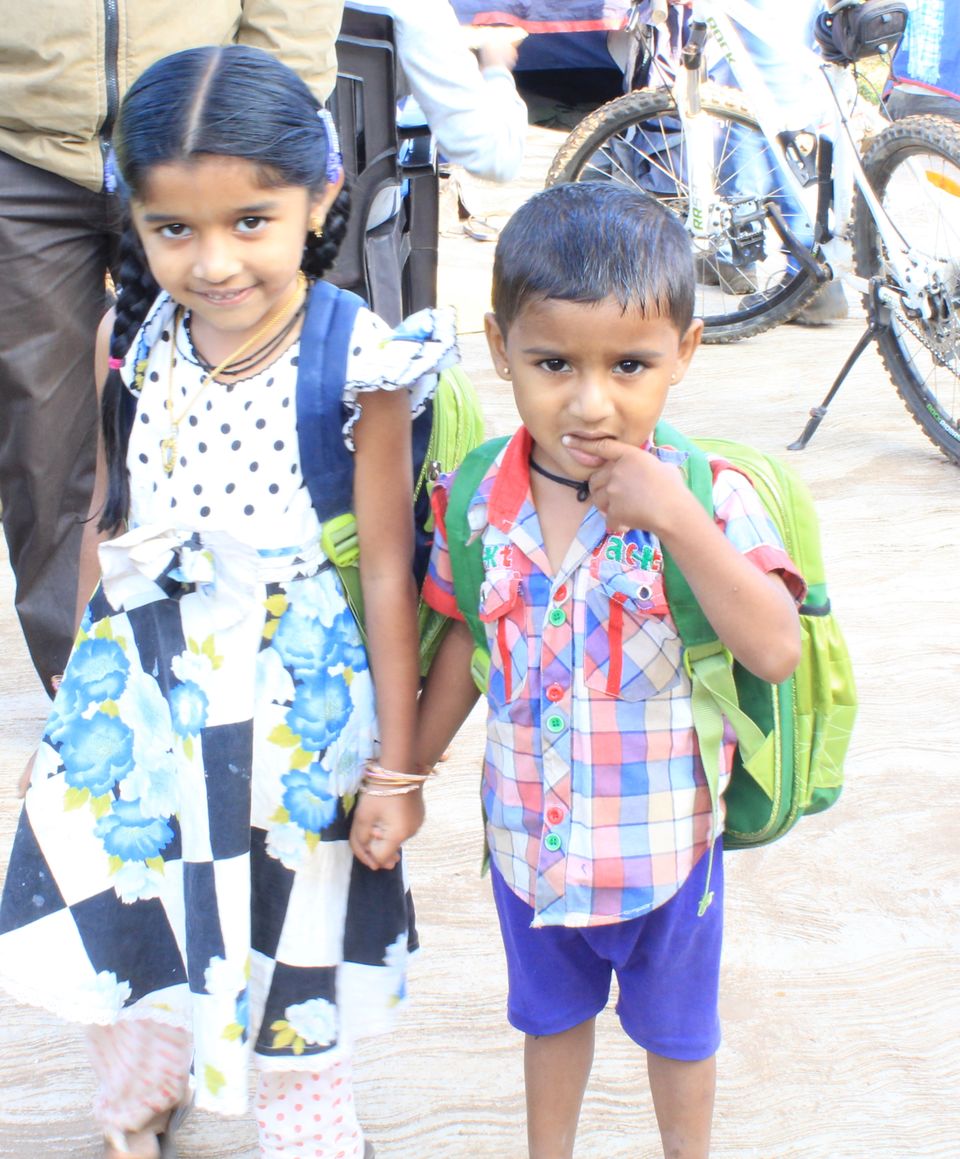 Shy and too quick for the camera, the owner's kids are 'adorablicious'! We also had the chance to sleep in nature's lap, literally!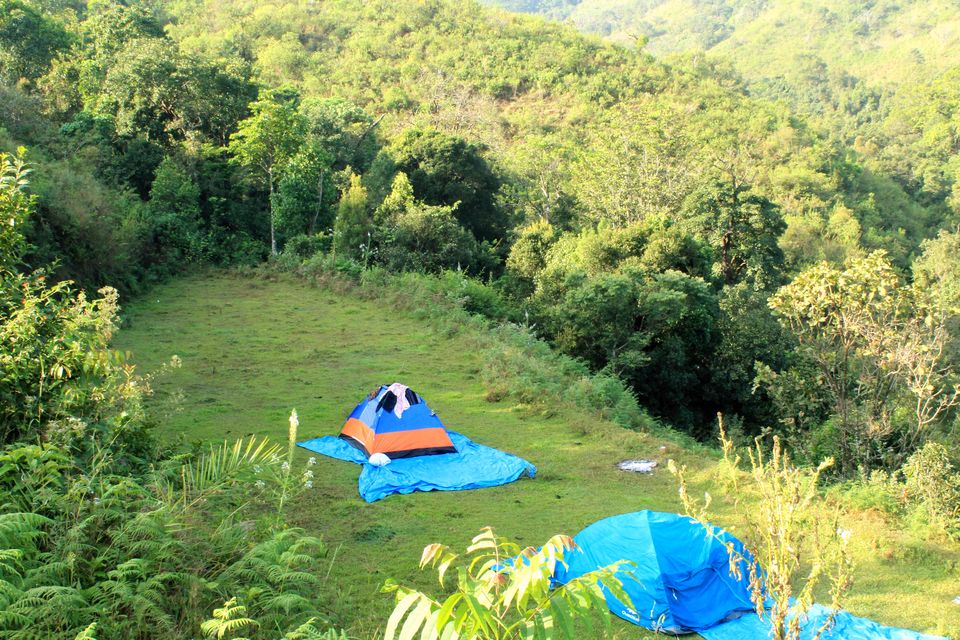 Well, I had some pretty great weekend. Did you? I insist you go have one!
"Because in the end, you won't remember the time you spent working in the office or mowing your lawn. Climb that goddamn mountain."
― Jack Kerouac