So, this trip was one of my biggest decision. I had never traveled alone but this time I decided to celebrate my birthday on my terms, a rebel born! I heard about Gokarna from a lot of friends and hence decided to check out this place since it was not much tampered by the humans plus me being a beach person. So, I compared the tickets on competitive traveling sites and found the cheapest rate in Yatra.com. I traveled during the off-season period so I got cheap rate and I booked 2 months before hand. My flight tickets costed me Rs. 6000/- round trip (Economy class - SpiceJet) from New Delhi to Goa, a 2.5 hours non-stop flight . I chose Goa and not Bangalore because Gokarna is 3 hours away from Goa airport and 8 hours away from Bangalore airport So, the choice was easy. I had done my research and chalked down the routes and the hotel location so that everything is nearby and that would require least transportation cost. I finalized on the Hotel Taxi Service as well which was taking care of my pick and drop to the airport at Rs. 6000/-, this included the toll charges as well and less costly than the rental self-driven cars for 4 days. Also, since my friend and I didn't know how to ride a scooty, we didn't have an option but go ahead with taxi service. Also, you don't have Uber or Ola in Gokarna, so even such services were chalked out.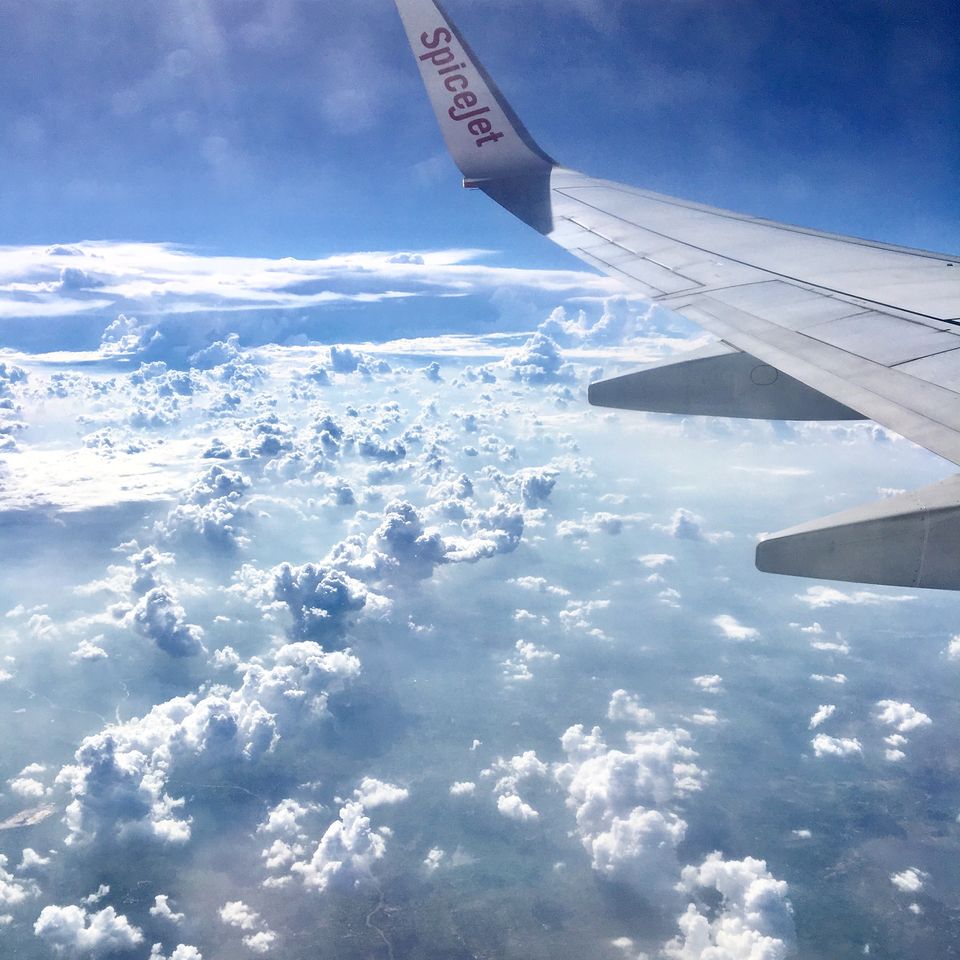 So, we landed in Goa at 2:05 pm and our driver was already waiting at the pick up location. We soon headed towards Gokarna but we first had to take care of our hunger pangs. So, we asked Manju Bhaiya to stop over a good restaurant. His next question was - "Non veg. or Veg?" and in unison and my friend and I responded - "Non-Veg. of course, koi doubt matt rakhna manju bhaiya." So, yes the next thing I'm about to tell you guys will sound a little strange but then some people really know how to maintain a work-life balance. So, it was 3pm on a Saturday, this is the usual lunch hour in Delhi, isn't it? But in Goa every other small cafe or local restaurant was closed except 2 main big restaurants. Though we had to skip those since they were not serving Non-Veg food. Finally, we found a dhabba that served local non-veg food. We decided not to waste any more time and headed straight towards it. We were stuck between pomfret fish and Kalamari fish. So, the question which solved our problem was - "Which has lesser bones?" We went ahead with Kalamari Fish, 2 plates of chicken fried rice and to add fizz, we ordered some Pepsi. The food was delicious and finger licking good plus our total stood at Rs 550/-. We then asked Manju bhaiya to stop over at a 'Theka'. It was actually difficult to make him understand what a 'Theka' meant but finally, we were successful. So, guys when you go to Gokarna, ask for an alcohol shop and not theka. :P
We had to cover a total distance of 143.5 km from Goa Airport to our drop off location - Sanskruti Resort.It took us 4 hours to reach the place (including the lunch time +stopover at the alcohol booth in Goa). We didn't find congested roads since it was a weekend. From fifty shades of grey in Delhi, we were now amidst fifty shades of green, 1980.1 km away from our hometown. We reached Sanskruti at 7 pm on 19th Aug'17. By that time the sun had set and hotel lit up with its mud styled cottages. So, the place had two types of rooms, one the cottage styled rooms surrounding the swimming pool. The swimming was divided into 2 parts as well by an over bridge. Behind the cottages was a concrete building that had less costly rooms and was bigger than the cottages. The rooms were spacious, washrooms bigger than expected and the mattresses, heaven. The weather was great so we didn't require the air conditioner but we didn't mind the extra cool breeze coming our way so we kept them switched on. We headed for the dining area which was designed to look similar to a cave. We ordered butter chicken, Pahadi Rara Musalam and Tawa Roti (because that's the only bread they were left with at that point in time, it was 9-9:30 pm, I suppose). The food was undoubtedly tasty and the service was good too. After having a fulfilling dinner, we hit the swimming pool. We had brought along King's Beer (rice beer) which cost us Rs. 50/- each. Since, I am not fond of beer that much, I won't be able to guide you about its taste and how much different it was as compared to wheat beer. At the pool, we could only gaze at a few twinkling stars looking over at us due to the cloudy weather. It hadn't rained much during the day though there were a frequent spell of rain. We then decided to head back to our room. The next morning, I woke up early, can't help but beat my morning routine, was still in the city phase. Without making much noise, I slightly made my way to the back balcony. The view of the dawn was just breathtaking, the birds chirping and the leaves rustling in sync with no foreign sounds! After spending a few more couple of minutes there, I wished to take a warm bath. (Kaash inke paas bath tub hota :P) I was looking for some warm water to wash the cold night away but got none. So guys, a heads up, if you want warm water, do update the staff there before jumping into the shower as the water is really really cold! <shivers - goosebumps - shivers>.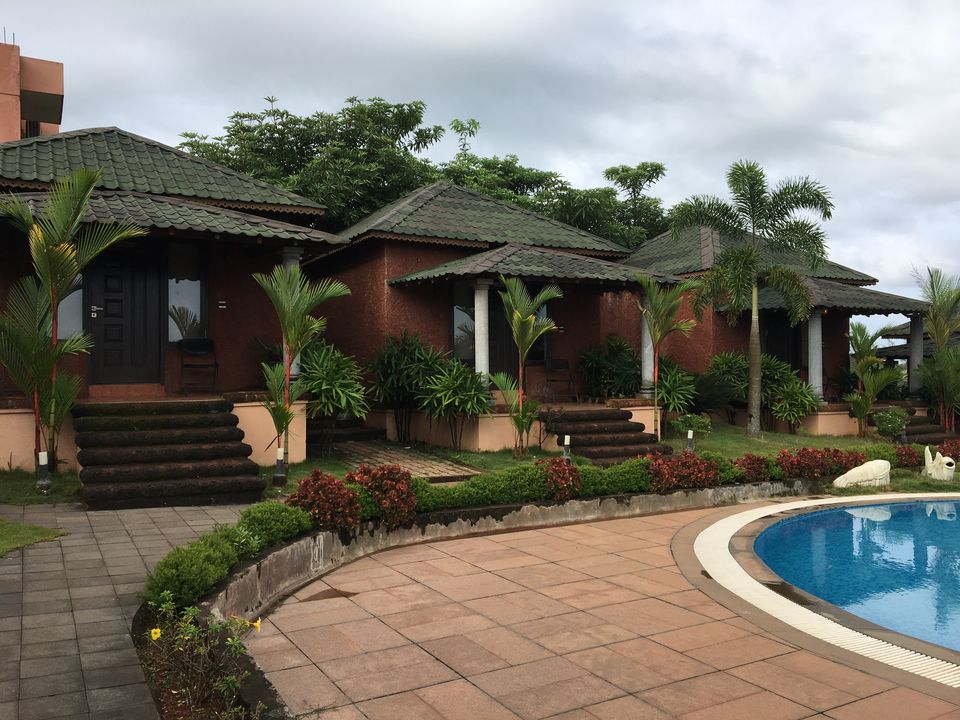 It was time to checkout from this hotel and move towards our next stay for the coming 2 days, Kudle Beach View Resort and Spa, a hotel built on a small hill overlooking Kudle Beach. We just fell in love with the resort, the moment we entered the space. We could look at the beach from our balcony and in between the beach and the room, we had a fantastic view of the hotel garden merging with the jungle ahead, mid-air. Coming to the room, the interiors were beautiful. Oh! I forgot to mention! The hotel had 2 categories of rooms - Beach View and a garden view room. We were provided with 'Bose' speakers and it had a perfect socket for the i-phones. The bed was king size with a red backrest. The room was well lit and had LED lights at the back of the bed, giving the room a perfect ambience. They also provided us with a hairdryer and an iron which was very thoughtful but I hardly knew how to iron, that's sad! Really sad! And of course, the usuals were there - electric kettles, coffee mugs with milk powder sachets (something I stole from the hotel on the last day!:P). There was the TV which we never switched on. Also, there is a thing which I noticed in the 2 hotels I stayed; the bathrooms had a window wall. So, if you open the curtains, you have a full view of the room looking over to the beach to yourself. The resort's special feature was the Yoga Room, a calm and serene hall with only the sound of rushing water to be heard across the jungle where you could see the langoors playing and prancing from one tree to another. The hall was large enough to accommodate 100 guests. It had 2 rocking chairs and yoga mats for their guests. As we went during the offseason, we didn't get a chance to be a part of the cultural events that were held here at night. From there if you go down a flight of stairs, you will come across the 'Spa Room'. I'll tell you about this later.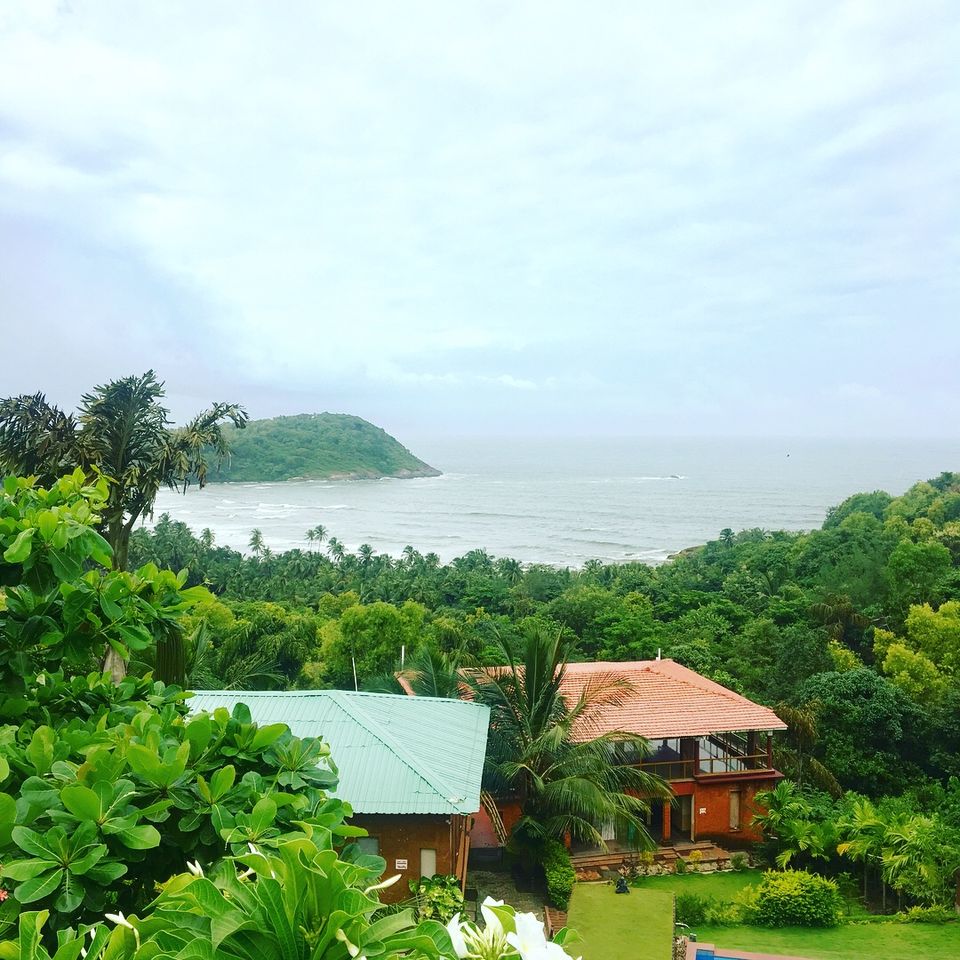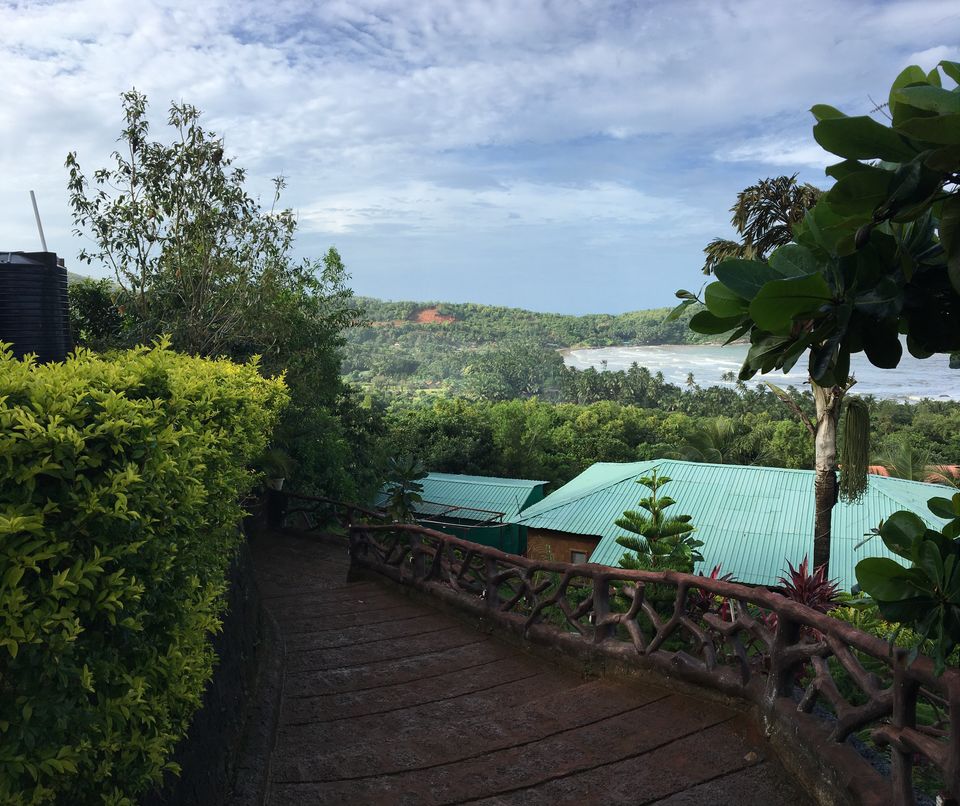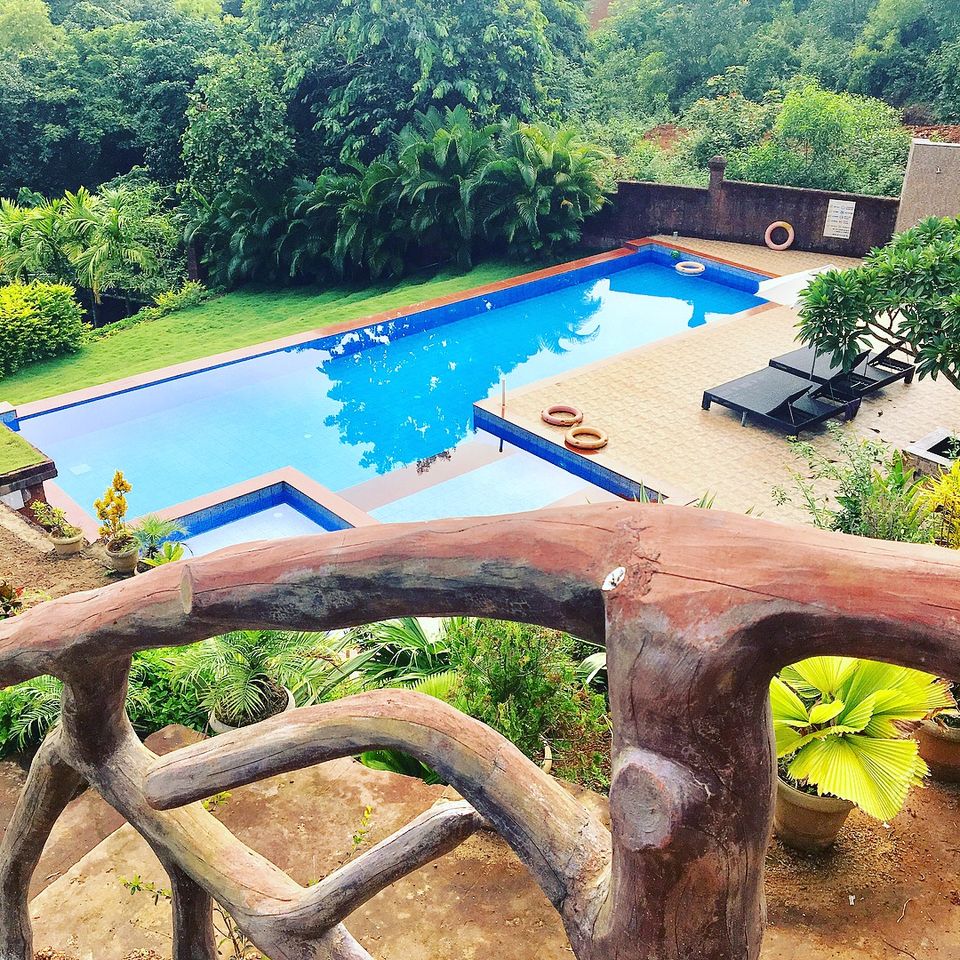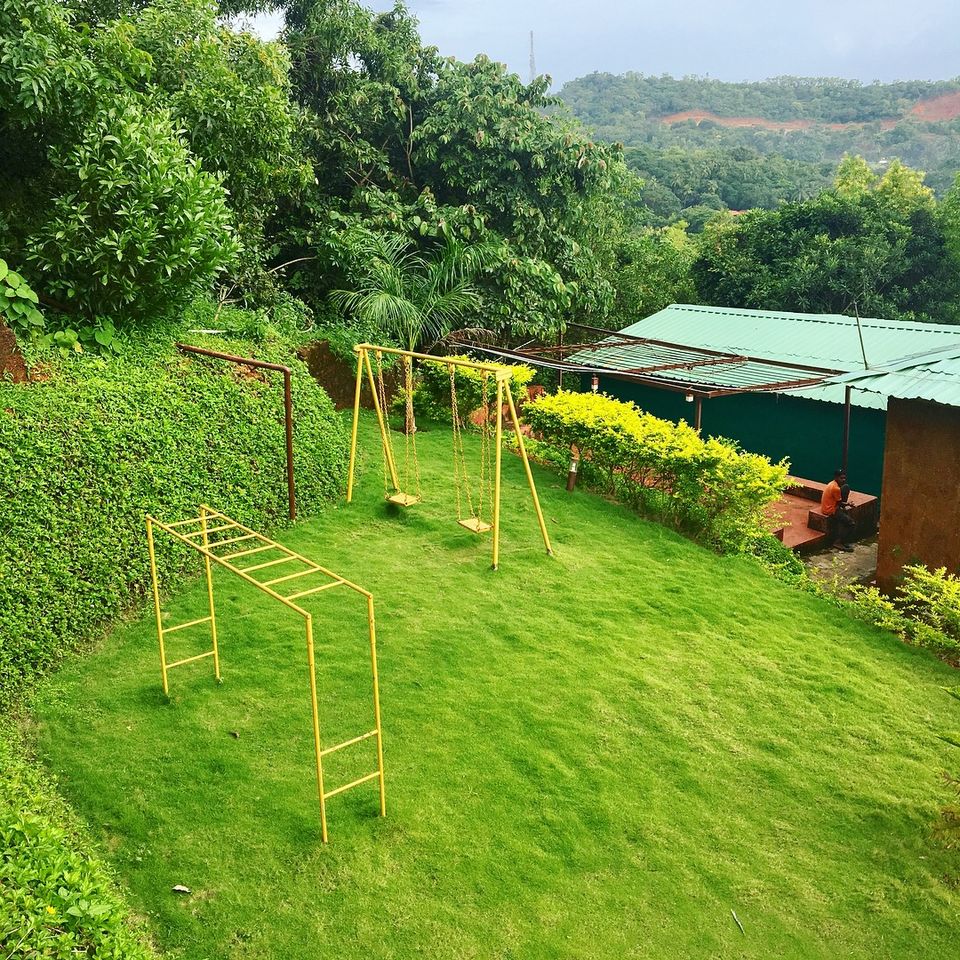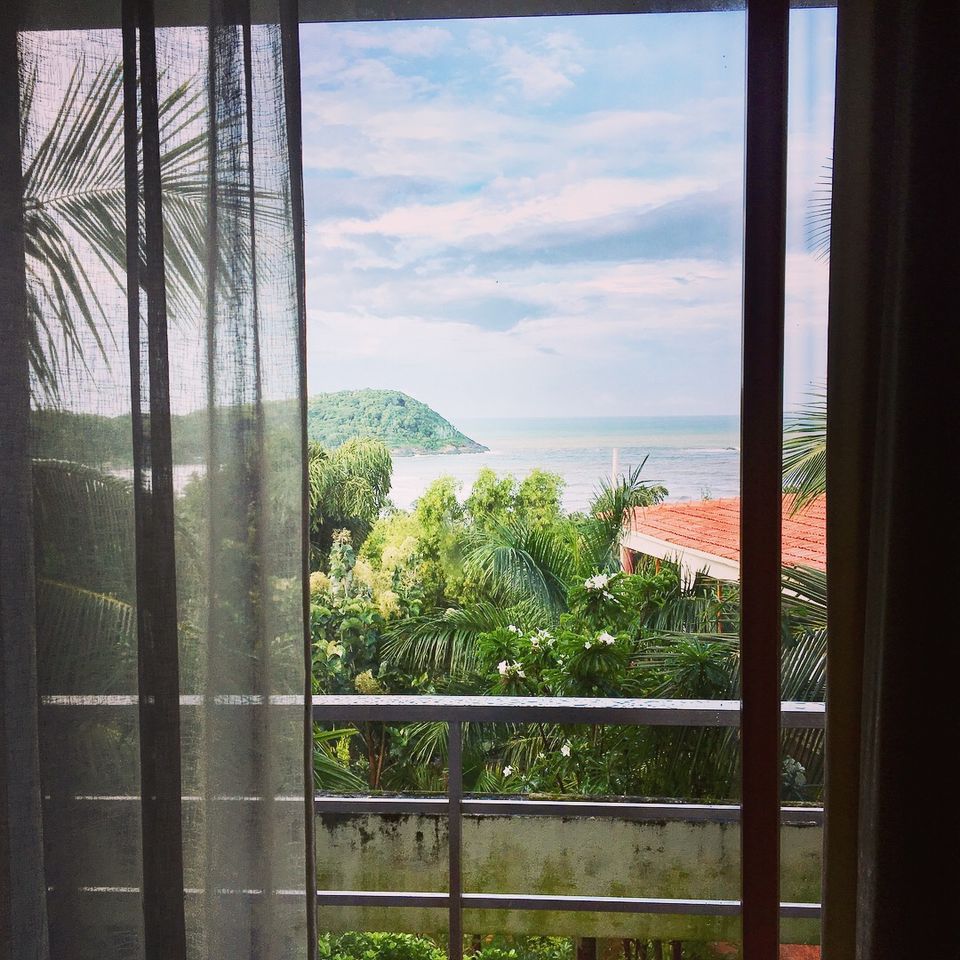 So, that day since we didn't want to lose time, we decided to hop into an auto and head for 'Om Beach'. The auto took Rs. 150/- one side. So, without showing our bargaining skills which Delhi girls are popular for, we sat in the auto and headed towards our 'sightseeing' spot 1. So, you don't require an auto ride to Om Beach. If the weather is good and you are comfortable walking for like 25 minutes. Then, you are good to go. The roads are straight and you don't have to fear about the animals in the morning till evening 6:00 pm. At one point, there is a diversion. Left goes to 'Om Beach' and right goes to 'Kudle Beach'. Both the distances are fit for walking. It's just that we didn't know the routes hence preferred an auto ride. Hence, you can easily save Rs. 300/-. Once we reached there we had to go down a couple of rocky stairs to reach the beach. The entrance is in itself so beautiful. Being a rocky beach, you witness huge rocks. The waves hit the rocks and it was a beautiful scenery which I could easily paint on my canvas. There is a small bench on the rocks where the lovebirds can spend time and sketch their future together :P. You can even sit on the smaller rocks and dip your feet in the water and experience a wonderful twilight. We took plenty of snaps there, enough to bombard our Instagram account (@VoicelessVagina, guys I wouldn't mind a few new followers).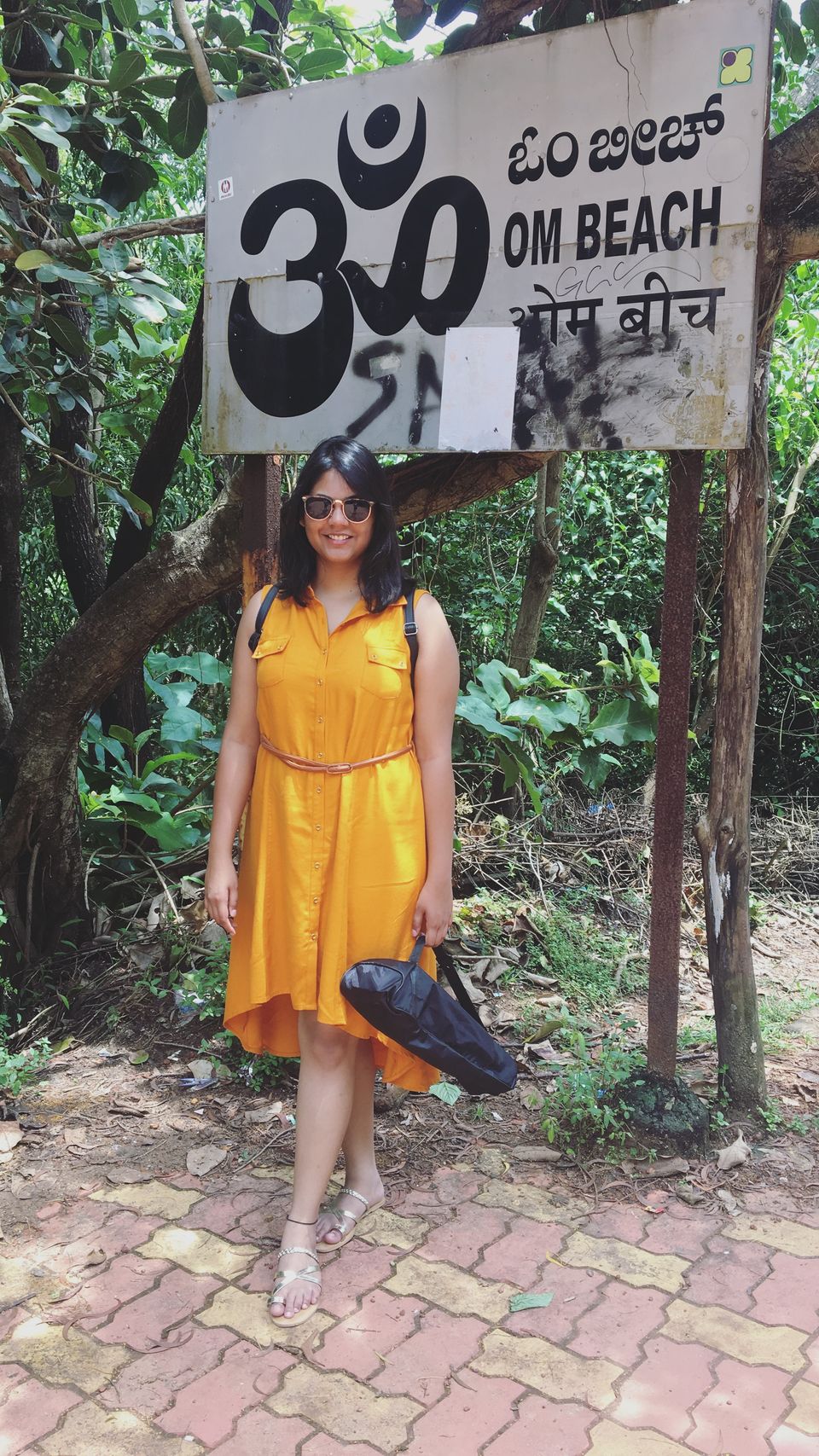 We could feel the hunger pangs already setting in. So, we decided to feed our tummies at Namaste Cafe, which is open all year round unlike other cafes on the beach which opens only during peak season. The location was fantastic, you had a wonderful view of the sea from the shack. Even in the offseason, we couldn't find seats on the ground floor, so went to the upper floor which too was occupied by the college students. So, this cafe is adjoined with its hotel. Being fans of seafood, we quickly scanned through the menu to look for what we were really hungry for. We saw crabs, fishes, prawns, chicken and other North Indian dishes and Chinese Cuisine as well. ...And off course, we had left our North Indian souls behind us for the upcoming days. We finally decided to order Garlic buttered crab served with mashed potato, chili prawn for starters, chicken hakka noodles which tasted like heaven and cold coffee (not that great), lemon soda and Pepsi since we were not in the mood of alcohol at such an early hour of the day. They served alcohol too. Our total bill stood at Rs. 1500/- which I guess is decent. Anyways, guys another advice, don't go for noodles in Gokarna. They are too thick and not meant for those who have got North India taste buds. After those frequent burps and finally resting our hand on our tummies, we decided to hit the beach again. The beach takes the shape of 'Om' symbol and that's why it's named as Om Beach. The only disadvantage which I felt was that the sky was too cloudy else we would have treated ourselves with a beautiful sunset view. The cafe had a small tattoo shop in the corner. The cool breeze all that we needed. After spending a few hours there, we returned back to our hotel. We decided to lie down for a few minutes and then hit our next destination, Kudle Beach.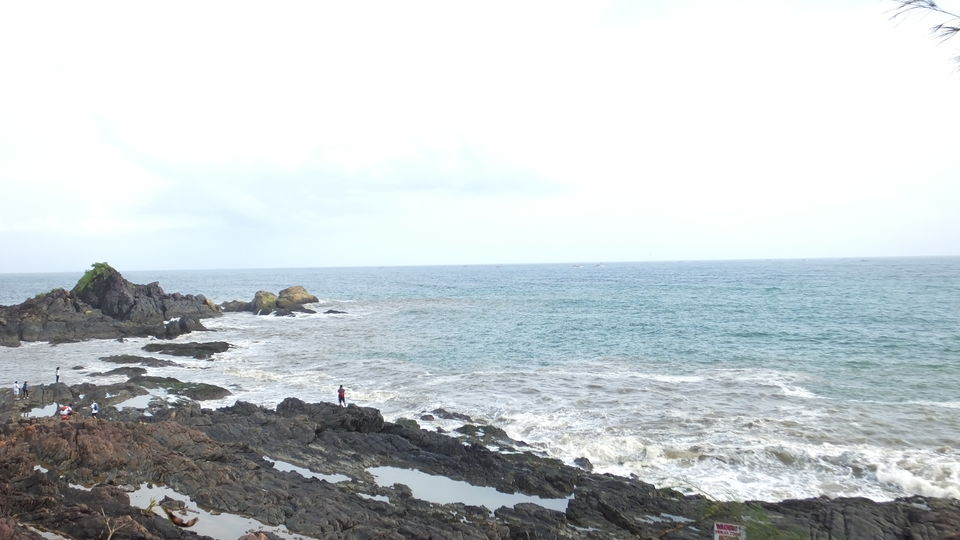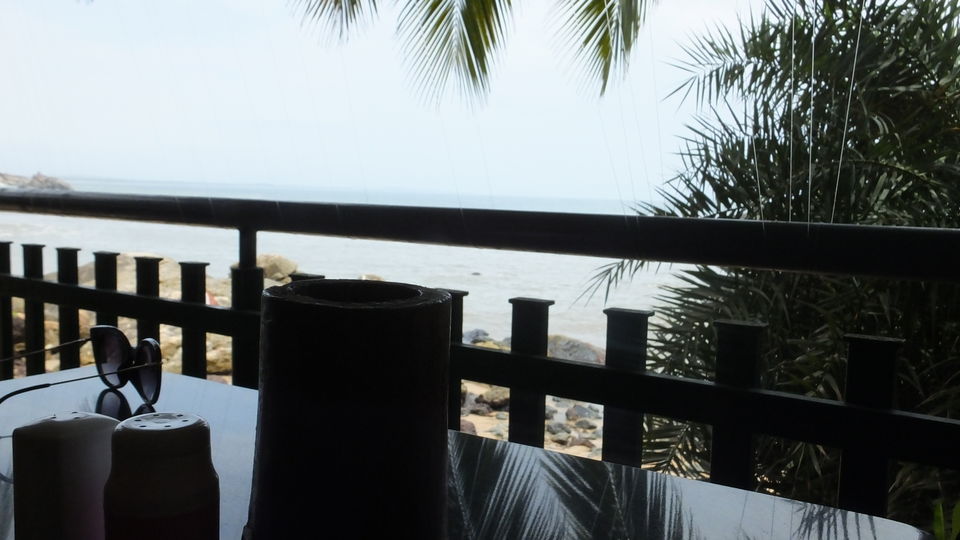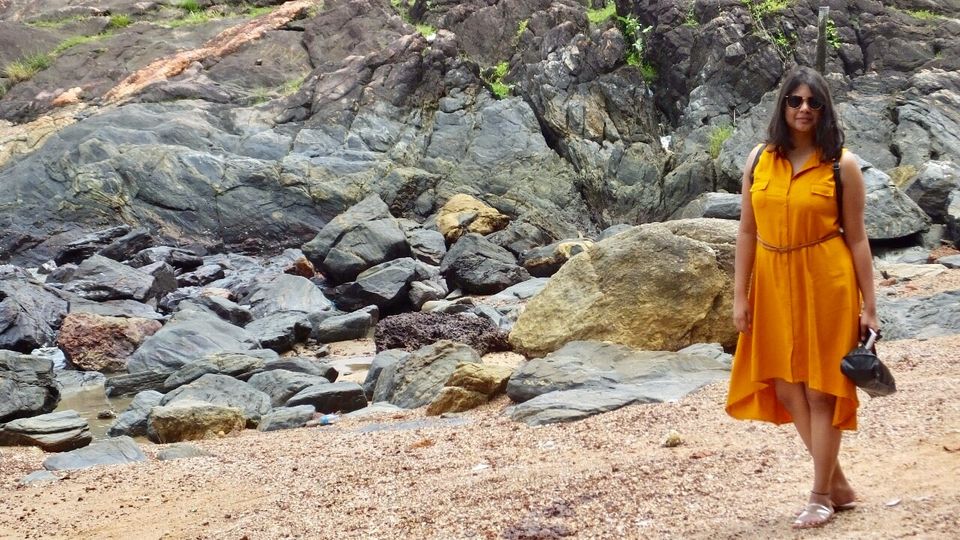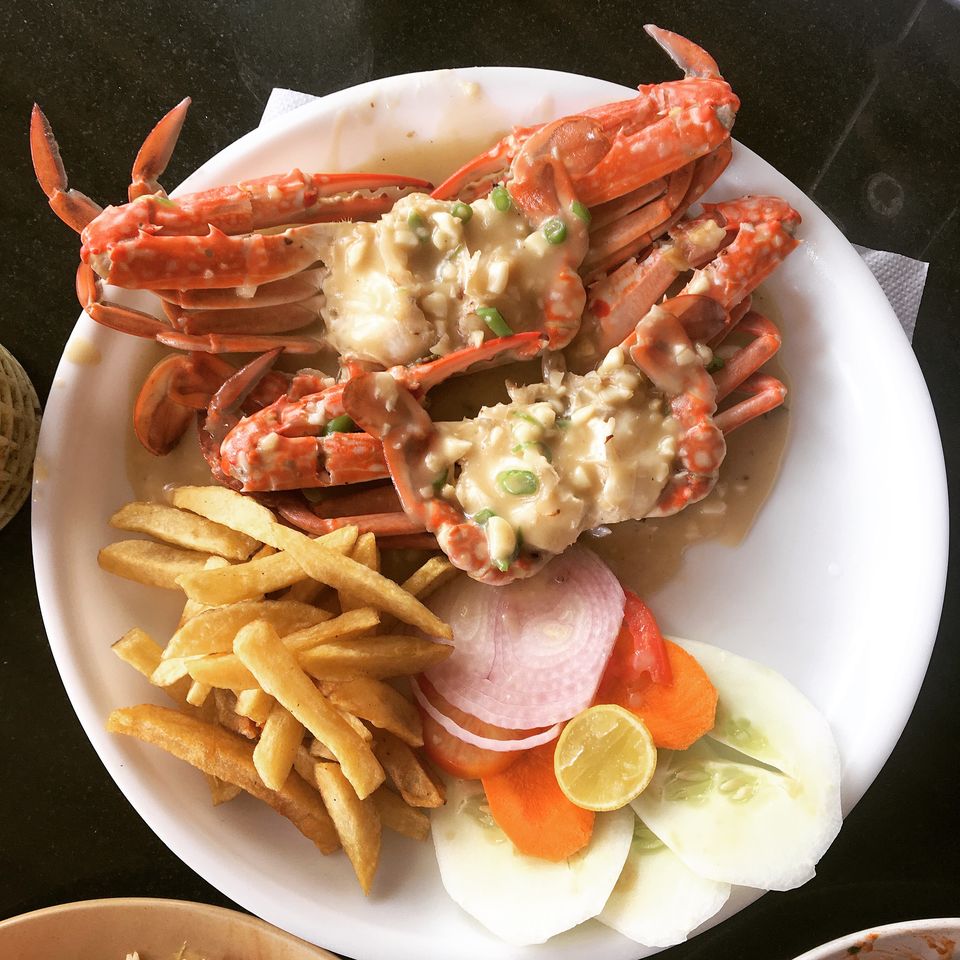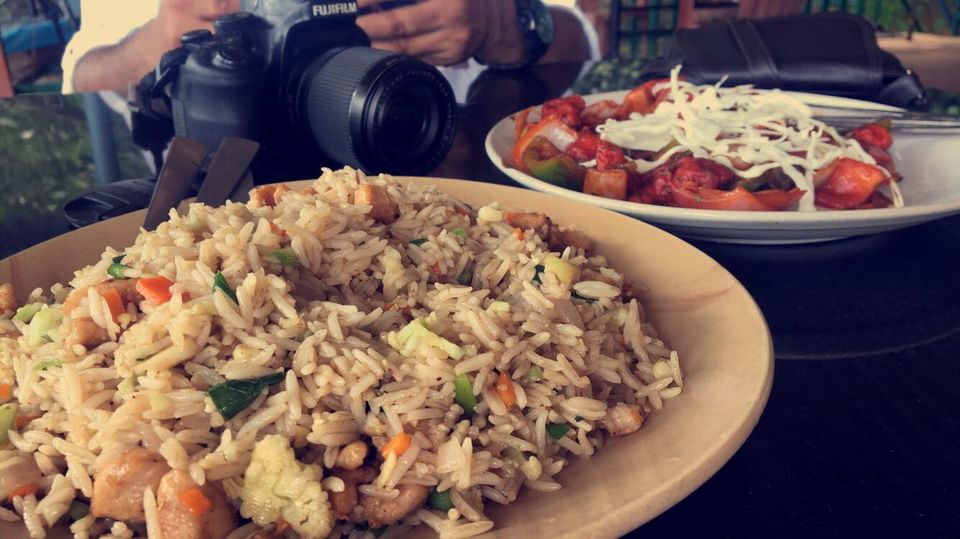 From our resort, Kudle Beach was 10-15 minutes away walking. We had to go down a flight of stone stairs cut from the hill. It was easy going down but we could already tell that it would be a hard time getting back to our hotel. Also, chappals were not a good option. This beach had fewer rocks than Om Beach but the waves were more rough and nearer to the shore. As we entered, we had 'La Pizzeria' on our right and quite a few more shacks 0n our left. Yet, this beach was a perfect hangout place for a laid-back evening, away from the "shor" of the city! The high tides were on, full on. Slowly, the sky started to get darker and the beach was now moonlit. We carried our booze. So, we quickly decided on a cafe and came down to 'Sea Rock Cafe'. We ordered chili chicken which was not that great but okayish and some amazing masala peanuts. What was surprising about the place was the Punjabi soundtrack at the cafe. South got taste, fellow! :P They had laid out few benches and a table and mounted them on a raised solid surface of the sand. The view was as usual remarkable. We certainly lost track of time and realized that it was time we head back to our resort. And that's when the adventure began...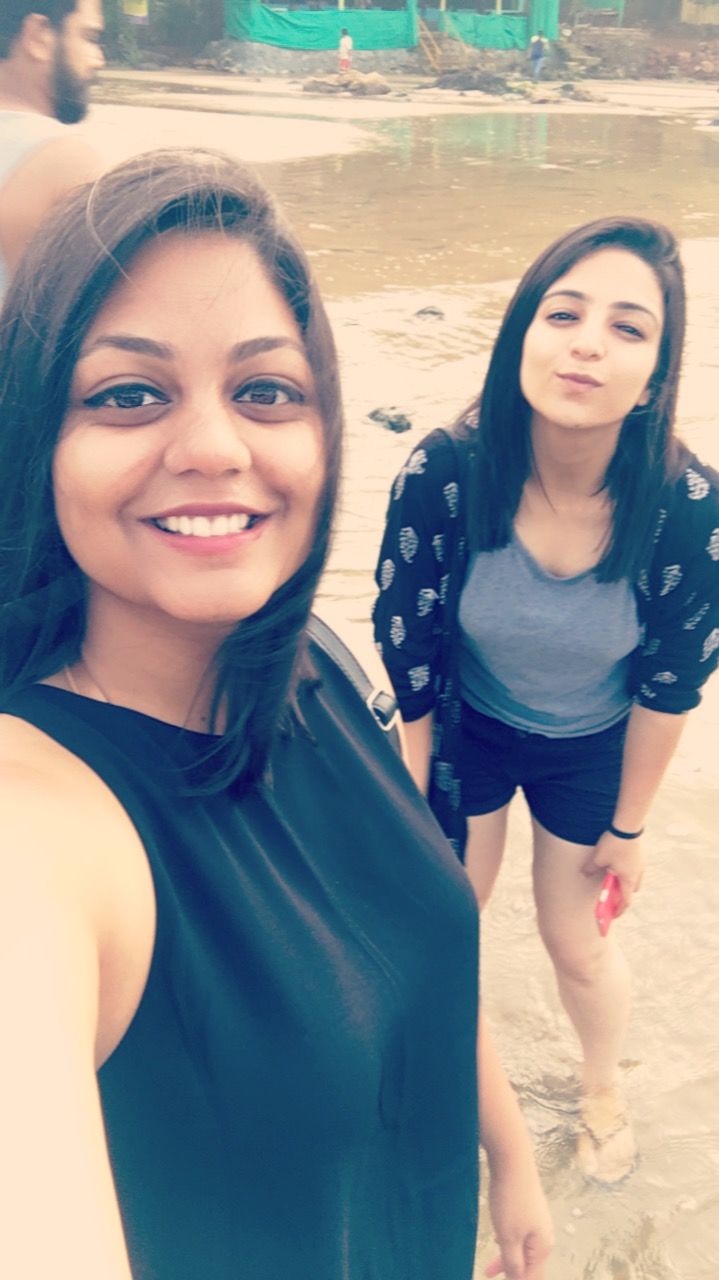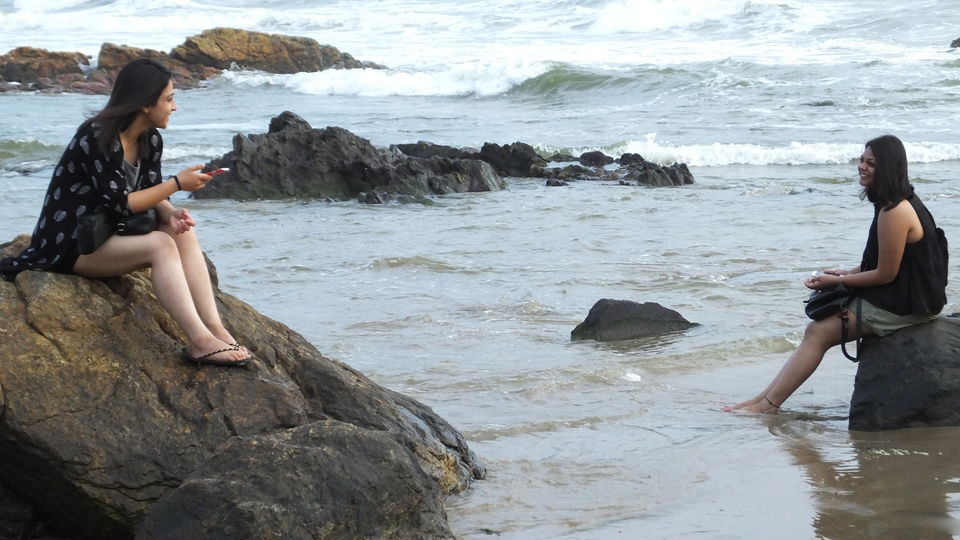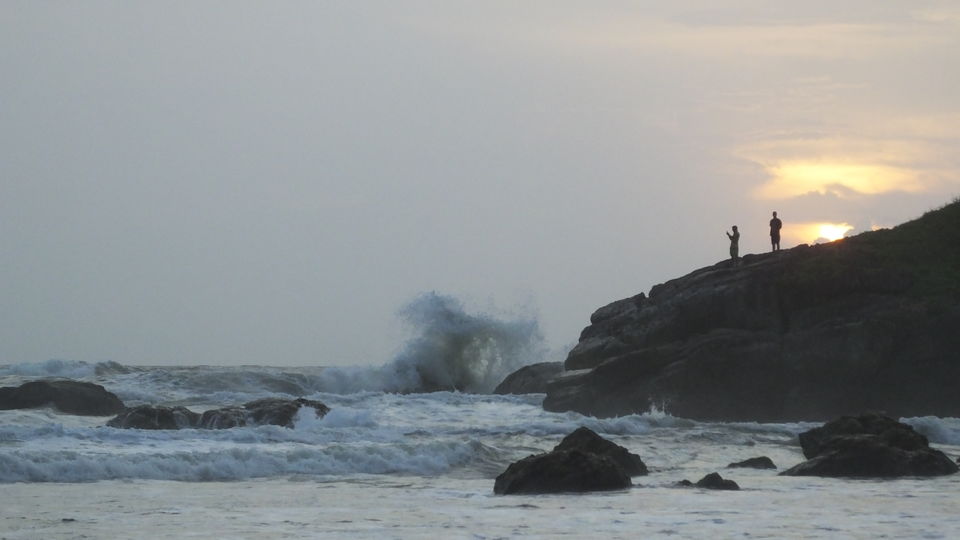 We could only see mobile light at a far distance and nothing was visible even at 2 feet away from where we were standing. It was pitch dark and we could only hear the sound of waves hitting the rocks. We were panic-stricken. The clock had struck 9 pm. Both of us switched on our mobile torches and started walking, remembering the landmarks like Hansel and Gretel. So, a quick advice, carry your torch if you are traveling at such late hours. We finally reached 'La Pizzeria' and then found the flight of stairs. We headed forward in full speed, fingers crossed and lips whispering the chant we knew. I don't know why my friend asked me this question while I was trying to catch up with her - "Nikhita, can you see anything at all behind you?" ..And like a fool, I did turn and look...Guys, don't ever turn back, even when somebody asks you to do it. Trust me! It was like I was walking with my eyes closed. I turned back immediately and held her hand.By that time, I had lost my breath and we were fear struck and it was written all over my face. With the crickets making noises, the only other sound I could hear the beat of my heart. Finally, we made it to the top, took a deep breath, found the first and the only street light in that area. That's the time we lowered our pace as we walked into our hotel's gate. And the moment we entered, there was a cloud burst. Such was this 'Famous Five' Adventure. Soon, we hit the pool and took our portable speakers. Okay, the food at Kudle Beach is not that remarkable. So, I did rather prefer you guys to either eat @ a nearby shack or get it packed. That night, we let loose and let our blood fill with C2H6O. Clock struck 1 am that morning and we couldn't stay away from our fluffy pillows.
The next day, after having our buffet breakfast (included), we hurried downstairs, changed and were all set to go to our next destination, Yana Caves and Jog falls. We started at 10:30 am from our hotel and as per the taxi driver, we would be only able to reach back at the hotel by 7:30 pm. So guys, if you're planning to visit these places, head early as it takes 2 hours to reach Yana Caves from Kudle Beach and then 45 minutes to spend some time at the location. Then, another 1 hour to reach Jog Falls plus 45 mins to spend there and finally head back to the resort which takes another 3 hours. Also, we couldn't include Vibhooti Falls+Unchalli falls in this plan due to insufficient knowledge. So, a heads up guys, club Yana+Jog+Unchalli+Vibhooti falls together and start early. On that day, we skipped lunch and took some tit-bits and booze in our car so that we don't lose time.
So, Yana Caves is a place, you're not supposed to wear your chappals to since you have to walk 15-20 minutes on a jungle trek to reach the exact spot. So, the parking fee for your car would be Rs 30/- and there is a small shop from where you can buy aerated drinks and snacks. With butterflies in our tummy, we took tiny steps. On our left was a huge covered with green plants, shrubs and mosses. On our right, we had dense forest, as natural and untouched by the humans. There were no barricades on either sides to stop the animals from coming on the forest trail. A few seconds later we saw a tall tree with a broken entry gate. The scene reminded me of Jurassic Park and became a warning sign for us to not walk alone. It was just us two looking 360 degrees always and stepping each foot with caution. After walking for a few minutes, we found a huge log on the trail. We could only hear birds chirping which were not the usual ones we hear in the city. It was strange and frightening at the same time. We were scared af and after walking 5 steps we used to contemplate whether we should continue or turn around and go back. All we were hoping was to see few beings from our own species so that we could feel safe in their company. Finally, after walking another stretch, we saw the caves. It was giant and facing another cave (the main one and the one we had access to I suppose. Thick trees covered the way to this cave and we were skeptical if at all there was a route to reach that cave. Eventually, we could hear footsteps and sounds which we could interpret. ...And there it was, the enormous cave, made up of limestones, standing tall with sharp edges. To all the GOT fans out there, it actually looked like the dragon stone. There was a small temple of Shivaji at the foot of the cave. We were advised not to go inside the caves and do the parikrama but guys come on we all know, who listens to free advice? We were now calm and compose and relishing what nature had offered us. We were actually lost in its wanderlush and high on the overdose of its greenery. So, we decided to take a parikrama of the caves because we were not at all comfortable about coming to a place and not enjoying that moment to the fullest. We were asked to keep our shoes outside and climb a concrete staircase which led us to the cave's entrance. Since, were barefoot, the thought of any slimy thing made us jump. It had started drizzling a little. As we entered the caves, we almost turned our heads 90 degrees to measure its height. There were 2 holes in the caves through which the rain water was pouring inside. It was not pitch dark as well since the light rays brightened up the inside up to a small radius. Flat rocks acted as steps. It was breathtaking. If we were not alone, we would have stayed a little longer inside the cave and search for some carving, Jon Snow might have drawn :P. Now, we had to make our way through a narrow opening. That was fun and we made our way out. We were surrounded by lush green forest again. We had to walk down a couple of stairs and then head upwards. But guys trust me, we lived each and every minute we spent here. We truly felt like khatron ke khiladi. And by the end of this parikrama, we didn't want to leave the place at all. Our way back to the entry gate was a piece of cake since we were not the ones feeling endangered anymore. We sat in our car, rolled down the windows and put our heads out, not caring about our messed up hair.
The in between showers turned the city into a painting. So, there are two ways you can view the falls. One, where you have to pay Rs. 50/- per head and for the car separately and the other where you get the side view and have to pay nothing. The side view is much closer to the falls but we headed to the front view route since the economy has to run. There were many visitors even in off-season. The view was amazing. Since, it wasn't the season, the current wasn't that rough and the water fell so gracefully from about 253 m. We couldn't trace where the water was actually coming from. We also caught a beautiful rainbow which appeared at intervals. So, this is the second highest plunge waterfall in India located in Shimoga, district, Karnataka. Not only this, it's a major world famous tourist attraction and that is why we could find the only ATM there along with a few ration shops. Also, a head up guys, if you are visiting this place do pair it up with 'Unchalli falls' which is about 54 kms from this place. There was a government guest house and the place had washrooms too. Though you have to pay Rs. 5/- to take down your own shit. There was a tiny bridge there which took you a little ahead less crowded place where you can take the support of the railing and just simply gaze at the waterfall. Not to forget, this place had a lot monkeys roaming around, so folks, all of you who are scared, please beware! Now, we headed towards the other direction to the falls from a different perspective. There were these flight of stairs that take you closer to the falls but eventually we found out that it was locked but people were jumping the railing to get a closer view. There was a balcony area there, the nearest you can go to the waterfalls but since it looked risky, we avoided it. The scenic view was mind boggling. After spending another couple of minutes, we hit the streets stalls and ordered 2 mandatory plates of Maggi and tea. There was another guest house/hotel at this end. Later, we got back into our car and started off back to our hotel. This was supposed to be a long journey.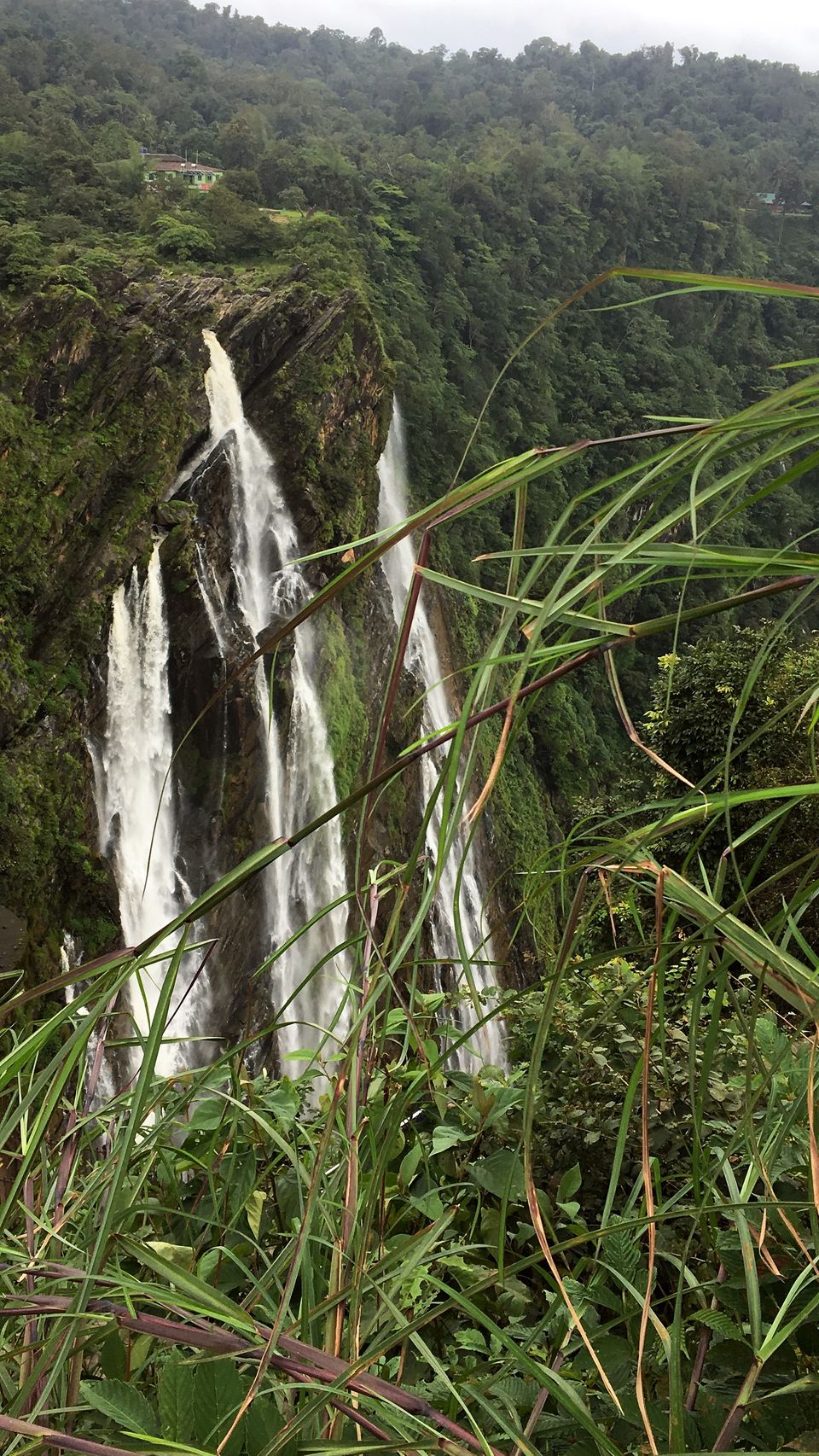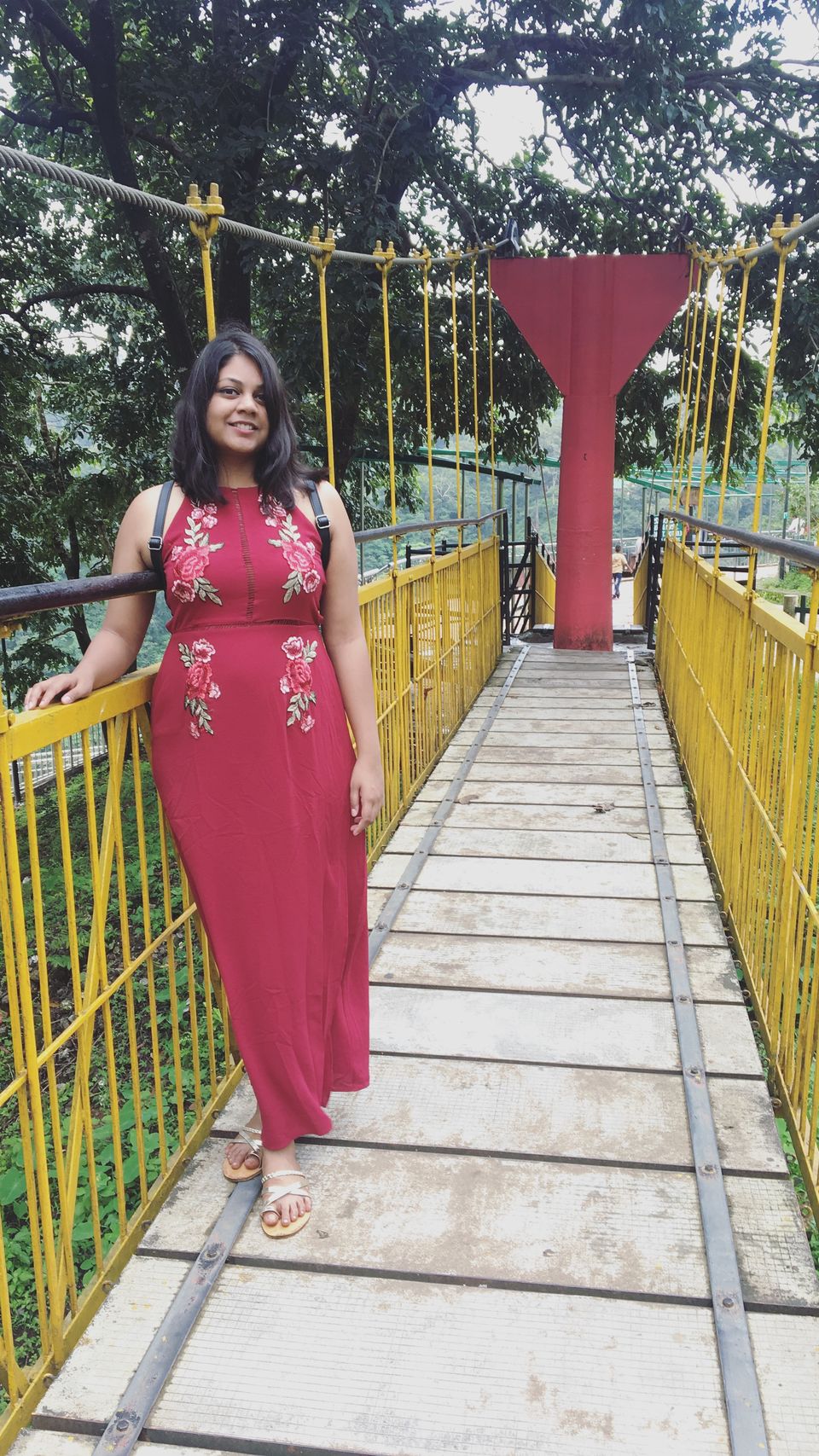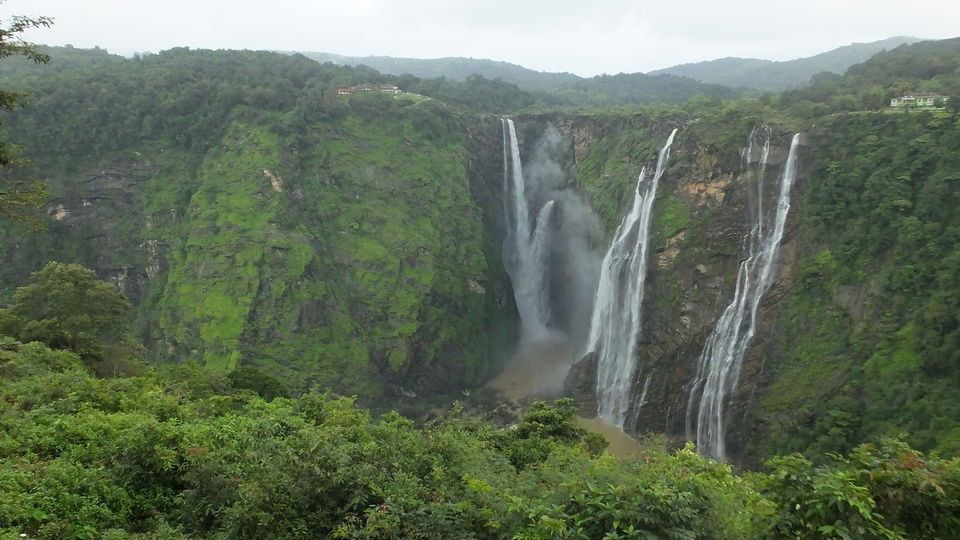 We reached our hotel around 8:30 pm that day and had to rush for our SPA session we had booked earlier. As we entered the room, it was an entirely different world. No other sound to be heard except the slow rhythmic music. This was my first time for a spa and I went ahead for a full body oil massage which costed me about Rs. 1200/-That's decent amount of money. I was directed towards my room. The place was as serene as it could be. I had never found a quieter place than this. Even my washroom back at my home doesn't provide this comfort. You guys can trust me on this. The music was calming to my ears and mind. It was a dim lit room. Unfortunately, I don't have a picture since I was asked to keep my phone on silent. She in the meanwhile got the oil ready. ..And then what followed was heaven. Everything was just so smooth. I didn't want this to stop. I wanted this thing to go on for like ages ad put me to sleep. Like it was actually working like anesthesia. But knowing that how restless I am, I couldn't put my mind to rest. She, then directed me towards a bamboo box which kind of looked like a magic box. She opened the door for me and asked me to sit on the chair inside. In the meanwhile, she started the steam and my body had never felt that kind of warmth. It wa sbliss, pure bliss. Unfortunately 45 minutes had passed and asked me to take a shower. and bitch please, showers are magic. Isn't it? And what could make my birthday more special? They offered me a discount of 60% and my bill dropped to Rs. 800/- (steam was complimentary). They gave me a glass of fresh mango juice and wished me a great day ahead. Later, we hit the pool and had ordered chili prawns and a chicken starter which was good. However, we didn't quite like the dinner item. We had ordered butter chicken and another chicken dish. But it was not at all tasty. The garlic naan was actually maida roti stuffed with chunks of garlic. So, it's a request guys, when you go south, leave your northern soul behind. Though the staff later on exchanged it for Hyderabadi Briyani which was okay. We then had some drinks and soon after we went to sleep. It was our last day in Gokarna. Alas!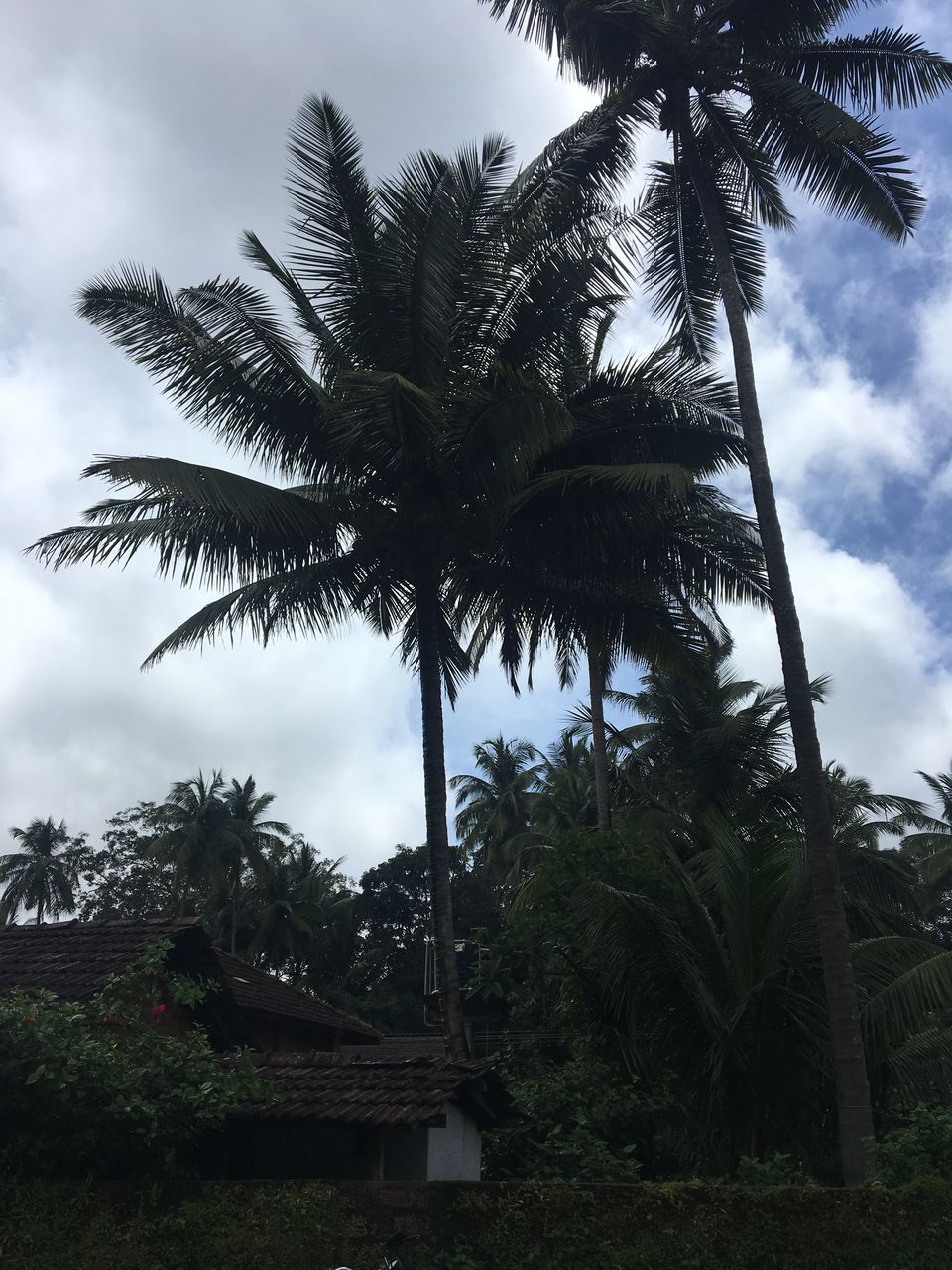 Our flight was scheduled at 2:00 pm the next day and we needed atleast 3 hours to reach the airport. It was 10:30 am when we left the hotel, our hands joined together and praying that we reach on time. The driver rushed, taking us through this beautiful Goan landscape. On our way back, we crossed the Karwar port where we saw this huge ship. He just took 2 hours and 15 minutes on a weekday to drop us at Goa Airport. But Goa airport was a disappointment. There were no popular food joint except Chicago pizza, selling basic food at high rates and one family restaurant. Hence, I decided to have lunch at Spice Cafe itself, something that Spice Jet boasts about. I had to check it out anyways. The snacks and the food was good but I was upset with the quantity of food. The pictures on the menu card were not true at all plus the packaging was not great either.
It was a matter of time, actually 3 hours that we were back to the known landscape, the city noise, the usual honking.
So peeps, this was my journey, my first ever trip without m family but friend to Gokarna, Karnataka, India. Thanks mom and dad this was the best birthday present (the permission) you could have ever gifted me.
...Signing off, Nikhita Biswas.. (to see more pictures of my journey, find @TheOrdinaari on Instagram)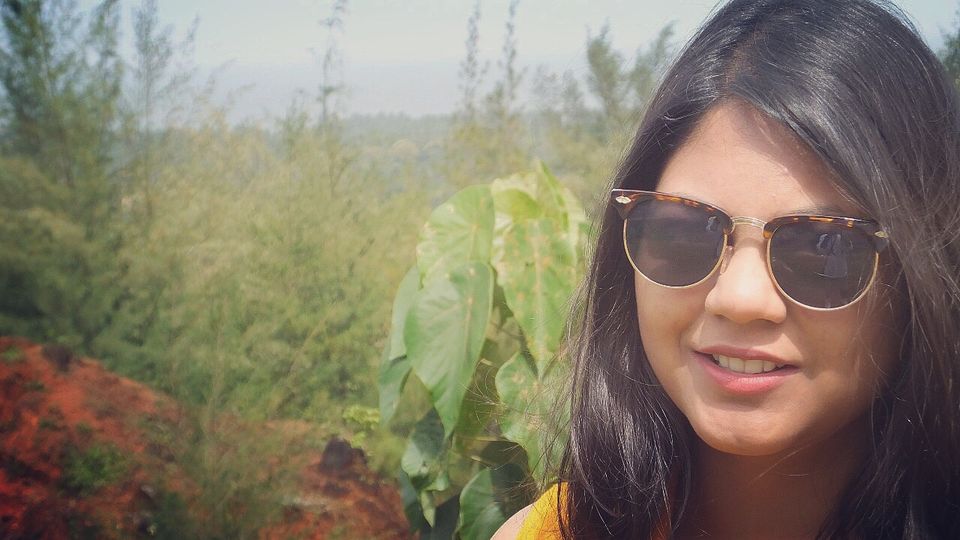 <Summary Expenses>
1) Flight - Round trip- Spice Jet- Economy - 6000/-
2) Pick up drop off from Airport - 6000/-
3) Sight seeing - 1 day - 4000/-
4) Sanskruti hotel - 1 night - 2,231/-
5) Kudle Beach View Resort and Spa - 7000/- (2 nights)
6) Spa - 2 adults - 1600/-
7) Alcohol - 1800/-
8) Miscellaneous expense (food, tickets, etc.) - 3500/-.
Frequent searches leading to this page:-
karnataka tourism honeymoon packages, karnataka tour packages from hubli, karnataka tourism packages from hyderabad, karnataka tourism packages from hubli, coastal karnataka tour packages from hyderabad